9 Best WooCommerce Gift Cards Plugins 2022
You can easily manage, create and sell gift cards in your eCommerce store using these advanced WooCommerce Gift Cards plugins. Creating customizable gift vouchers can easily be done with predefined gift card templates. Amazon Gift card is really famous because they allowed you to choose gift cards based on seasons or festivals such as birthdays, winter holidays, Mother's Day, weddings, Valentine's Day, Christmas, Halloween, New year celebrations.
More people buy gift cards more sell you will receive in your store so selling gift cards in your woocommerce store will boost your sale by 68%. Gift cards are an amazing way to bring in more customers, foster your relationship with your existing customer and boost your sales. The gift cards plugin for woocommerce helps you to sell gift vouchers to your customer based on their cart subtotal, product categories, specific products or quantity shopped. These plugins also allow your customers to send these gift cards to their friends and families as presents.
In totality, digital gift cards are vouchers that offer customers to redeem on online stores. As wooCommerce is an open-source eCommerce plugin of WordPress, it offers helps generate more potential & loyal customers. This in turn helps in creating more revenue. It gives the best shopping experience from home!
Why you Must Try these Amazing WooCommerce Gift Card Plugin?
There are multiple reasons for opting for a gift card from WooCommerce. Suitable for Those who look for Personalized and Convenient Gift Options. Gift Cards give you all reasons to win your customer's loyalty and compel them to return to your shop because with Gift Cards you can
Send a personal message to the recipient
Select a custom delivery date for each gift card purchased
Send a selected gift card to multiple recipients
Do an occasion-based image selection
Build your own brand by selling Gift Cards voucher-like amazon
Gift Card offers a joyful customer experience while placing the order. The process is fast and there is no need to input the credit card details for every payment. Use the balance from past redeemed gift card codes. The accounts page is a source for all information related to redeemed gift cards, current gift card balance, transaction details etc. Those who don't have an account can enter Gift card codes manually during checkout and avail of the gift cards.
Awesome Tracking Features
The plugin has comprehensive management and reporting feature for tracking each issued gift card. Use any criteria such as code, sender, or recipient for searching or editing gift certificates. Besides generating an extensive detailed transaction log, you can generate balance records for all types of gift cards codes. This gift certificate plugin has offered an array of choices and options to the users. Not only you can create Simple and Variable gift cards but also sell the expiring ones.
Convenience and speed are among the top factors affecting the buying decision of customers. Gift cards are easy to give and receive. That's why gift cards are becoming popular with time.
These Digital gift cards are suitable options for all types of occasions such as birthdays, housewarmings and anniversaries. If you're confused about what to buy as a gift for others, then it can be the best option too. Not only this, the payments are secured. The simple interface that customers get with the digital gift cards by WooCommerce makes it a preferred choice among them. Its purchase, receipt and redemption are very similar to that of Amazon's.
How to Use WooCommerce Gift Cards?
Once a customer purchases the card, a unique gift cards code of equal face value gets generated and sent to the intended recipient. The code can be used directly at the checkout for immediate use or added to the account for later use after redemption. In the latter case, the redemption value of the gift card gets summed up to the customer's total gift card balance. So, the customer need not remember the code when he returns for a purchase. Suppose the recipient did not redeem the card initially, then he/she can input the unredeemed gift card code during checkout. The recipient can also share the gift card code with others for letting them use it.
Prepaid Gift cards –  As the name suggest these are stored-value codes that must be bought before they are issued & are of multi-use. Depending on accounting there are divided into Single-purpose & Multi-purpose gift cards as it affects taxation.
In this blog, we have collected and explained the 9 Best WooCommerce Gift Cards plugins which can help you create and sell an unlimited number of gift vouchers on your WooCommerce site and boost your cash inflow. Check out the following WooCommerce gift card plugins and choose the one that's best suited according to your business requirements. Let's dive in:
1. Woocommerce Gift Cards

Woocommerce Gift Cards is a well oriented powerful WooCommerce Gift Cards plugin that lets you sell digital gift accessibility to your customers which they can utilize for shopping thereon. When the entire world is going virtual & digital meeting people in person has become far from reality. But the digital world offers the best resolution to gift your near & dear ones through Digital Gift Cards! One such Gift card by SomwhereWarm! As digital gift cards are aesthetically beautiful & lure people in shopping more. So if in case you are looking for more sales & want attractive offers then the digital gift card plugin is what you are looking for.
For an e-commerce website, offering gift cards work very nice that attract new customers as well as the existing ones. Such gift cards are so convenient to redeem and purchase the available products on the website. Install Gift Card in just a few minutes and distribute them among your customers to increase sales more than ever before. Allow your gift cards to keep showing in suggestions when someone looking for gift accessibility on the site. Aware your customers of the maximum discount while they are willing to purchase the personalised gift cards.
Why Do You Need Gift Cards?
Bulk Creation – Let you generate thousands of beautiful gift cards for your customers and export such coupons as email or CSV of the recipient.
Multi-Sharing – Just design the Gift Cards that provide a link to share anywhere either on social channels or emails quickly.
Free Shipping – Allow your users to enjoy free shipping whenever they place orders from your site.
Provide Coupon – Introduce the gift card to the customer when they order any product from the online store and reserve them for their next purchase effortlessly.
Price – Single Site – $49/annually
Screenshot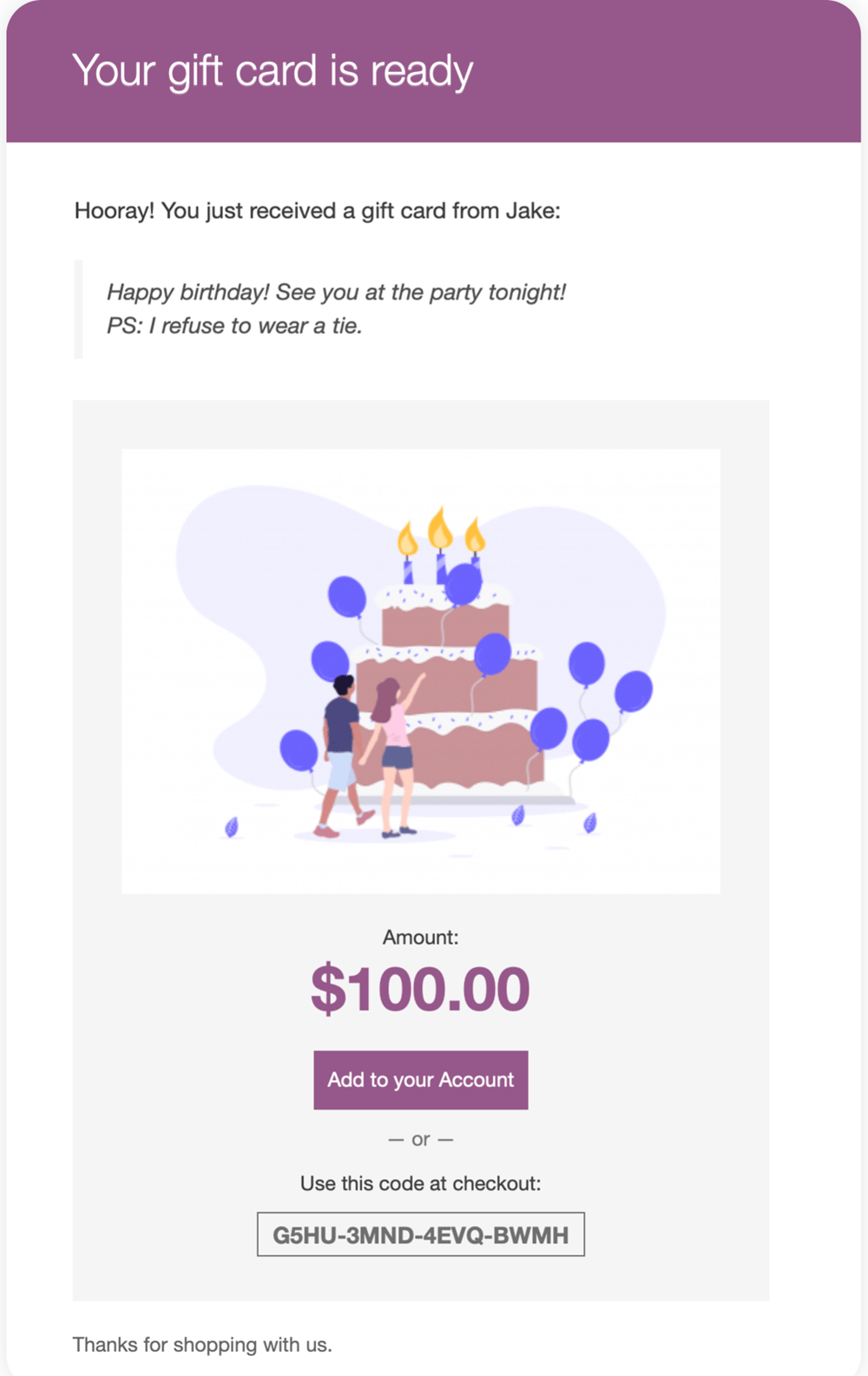 2. WebToffee Smart Coupons

Smart Coupons for WooCommerce is the All-in-one Advanced WooCommerce Coupon Plugin that helps you create and manage giveaways, buy one get one free (BOGO) offers, gifts cards, store credits and more on your WooCommerce site. The plugin comes with exclusive features and functionalities that help you create successful marketing campaigns that will eventually help you boost sales on your WooCommerce store.
Features
Advanced Coupon Rules- Using Smart Coupons for the WooCommerce plugin, you can easily configure advanced coupon rules and conditions on your offers and coupons.
Behaviour-based coupon creation- The plugin allows you to create coupons based on the behaviour and choices of your target audience and customers. Thus, it increases the conversion rate and enhances the customer retention ratio.
Multiple Offers and Discounts- You can create a variety of offers and discounts on your WooCommerce store using the different combinations and features and restrictions offered by the Smart Coupons for the WooCommerce plugin.
Email Store credits or coupons- Smart Coupon plugin allows the customers to send their coupons, gift cards or store credits to their friends and family through email.
Count Down Discount Sales Banner- You can set up a countdown discount sales banner on your WooCommerce site with the help of this plugin. Hence it gives your customers a sense of FOMO and thus, persuades them to make purchases from your store before they miss out on offers and discounts.
Price – 1 Site – $69/annually,  5 Site – $99/annually,  25 Site – $199/annually
Screenshot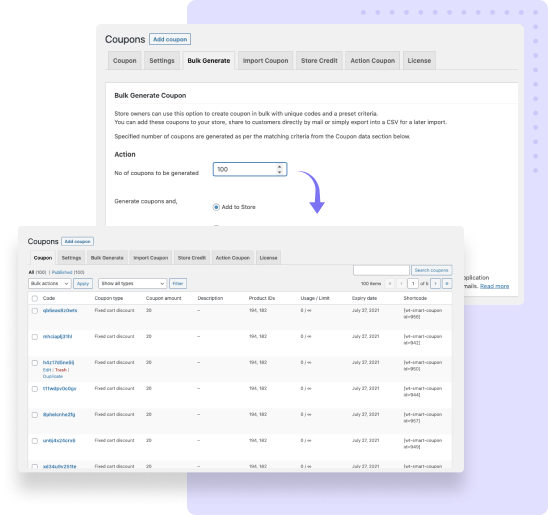 3. WooCommerce Store Credit

WooCommerce Store Credit is a beginner friendly WooCommerce store credit plugin that allows you to create store credit coupons for your customers on your WooCommerce site. The users can redeem these coupons at a later date when they shop from your website. You can also allow your customer to buy your store which can be redeemed at any point in time. You can even send Store Credit coupons to make them feel special or as an apology. The store credit plugin also allows your customers to gift these store credits or gift vouchers to someone. The best part about store credit coupons is that it allows your customers to make multiple purchases on your website until the coupons get expired or the credit is exhausted. Thus, it encourages the customers to shop more on your website and boost your overall revenue.
Features
It allows you to create and manage store credits, personalized coupons and gift vouchers on your WooCommerce website.
Using this plugin, you can send a unique store credit coupon to your customers through email.
You can also apply the coupon either before or after deduction tax. You can also choose to apply a discount on the shipping cost.
The plugin enables your customers to use their store credits either individually or in combination with other coupons.
Using this plugin, you can easily customize your emails in a few clicks, coupon code formats, etc.
The store credit coupons can be used by the customers for future purchases or can be used for gifting their friends and families.
Price – Single Site – $79/annually
Screenshot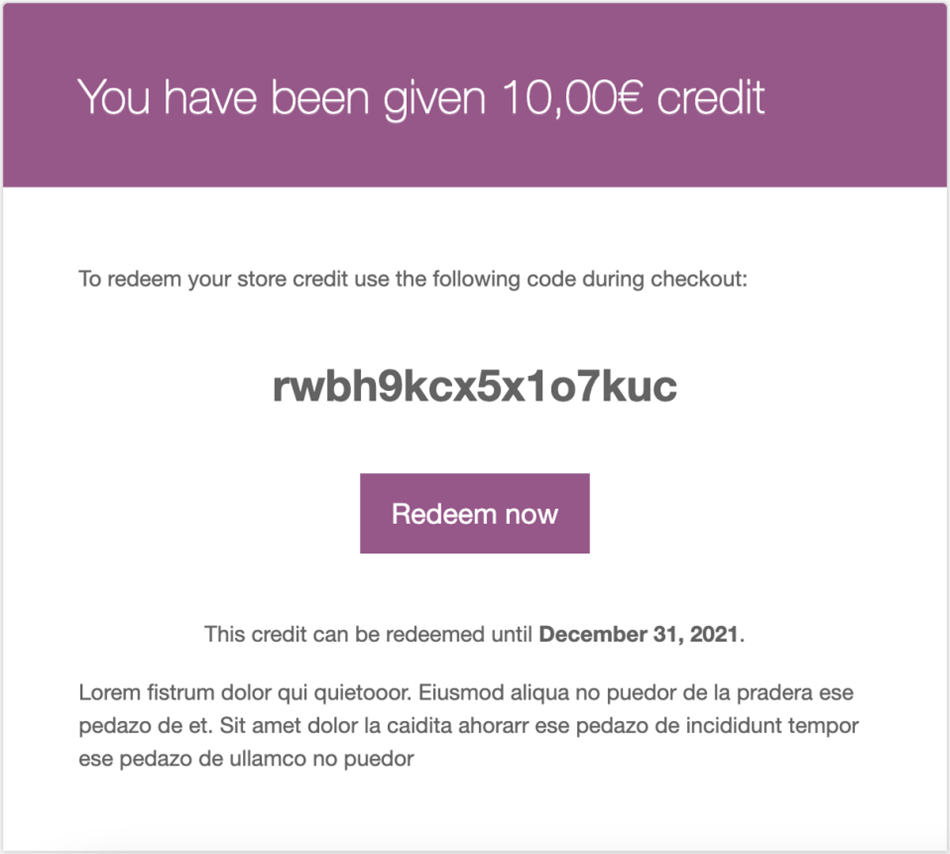 4. YITH WooCommerce Gift Cards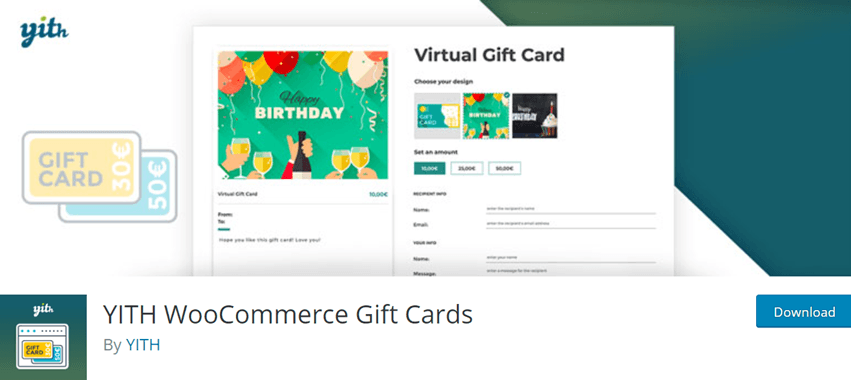 YITH WooCommerce Gift Cards are a freemium gift cards plugin for WooCommerce which allows you to sell gift vouchers on your eCommerce store. Customers are always eager to receive discounts on their purchases be they an ordinary middle-class man or a millennial. Who doesn't like to save some extra bucks? This is the reason gift cards have become so popular these days. They have been found to increase sales by a considerable amount.  The following are the features that come with the gift cards:
The owner can set the amount of the gift card or let the buyers do so.
It allows the customer to customize their virtual gift cards like text, images, colour, size, and shape.
The gift card can be sent to one or multiple people by just adding their email ids.
These gifts can be physically printed as well.
The gift card can be temporarily blocked from use.
It offers a range of gift cards to choose from.
Gift card stock management can be offered.
The users can even take the advantage of WPML compatibility.
The gift card can be created and edited from the back end allowing to correct mistakes.
Total number of users – 9,000+
Price – Single Site – $129.99/annually
Screenshot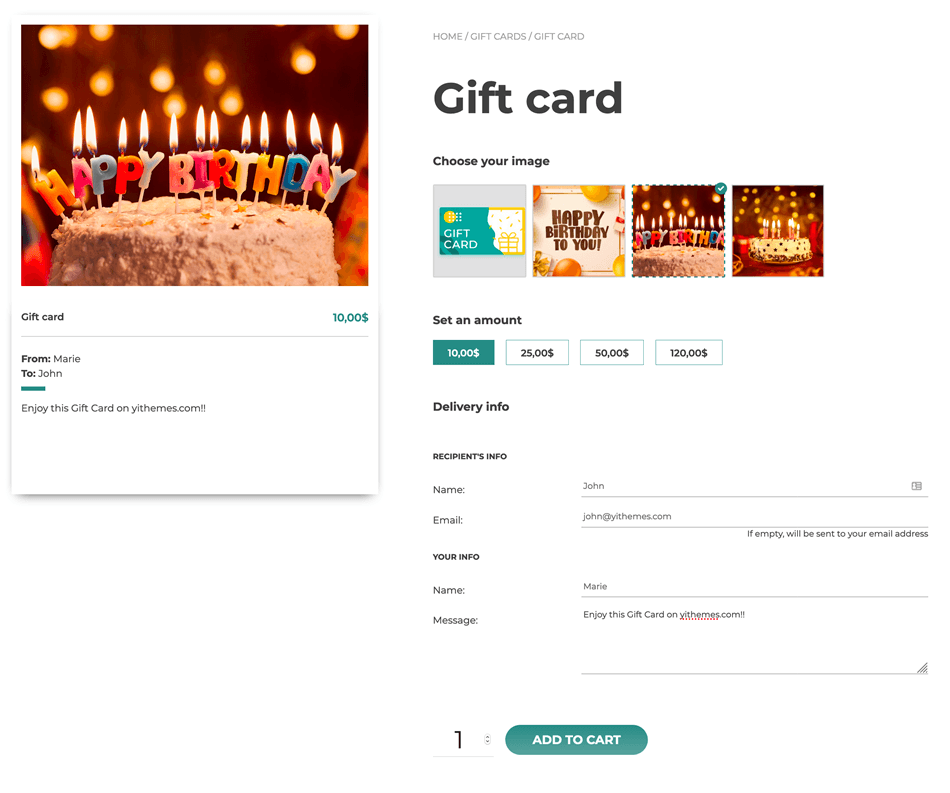 5. Gift Up!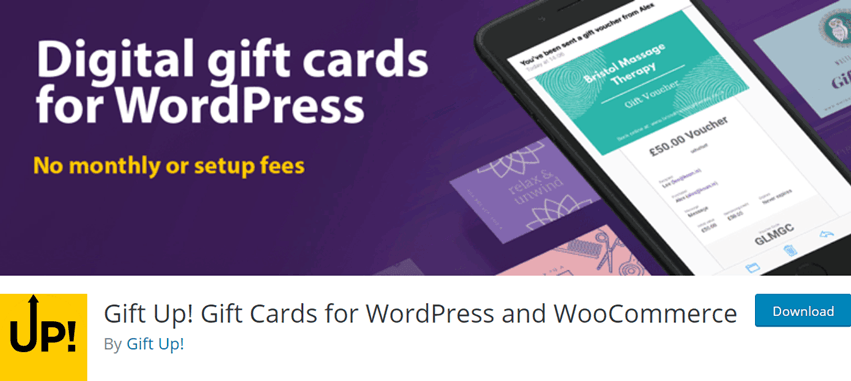 Gift Up is a most advanced freemium WordPress Gift Cards plugin that allows you to sell gift cards for your business automatically. It provides a seamless way to introduce gift cards among customers and encourage them to purchase more thereby. An intuitive and easy-to-use integration that prepares your website to offer gift cards to the customer with relevant discounts availability. Allows you to customize the gift cards as the necessity of the website. Although, streamline the advertisement of fixed rate of gift cards on different social media with appropriate click-through links. Design the captivating gift cards through the assistance of Gift Up in just a few clicks. Availability of 100+ unique designs which flexibly modify in the way you need. Enable our users to personalize such gift cards according to the need while providing information either from email or elsewhere.
Key Features –
Shortcodes – Just integrate the website with an elegant gift card and make it available on separate posts or pages to the visitor that encourages them to continue hassle-free shopping on the site.
Email Accessibility – Enable automated email to your customers to aware them of valid gift cards and enhance the shopping experience along with end-to-end encryption.
Dashboard – Manage the activity of gift cards through the specific dashboard by admins and junior staff of the store.
Validate Gift Cards – Generate every gift card with some validation period that expires afterwards.
You can sell gift cards for your business in any language or any currency automatically.
You can send gift cards instantly via email or you can even send postal delivery
Total number of users – 4,000+
Price --  3.49% fee (subject to a $0.50 minimum)
Screenshot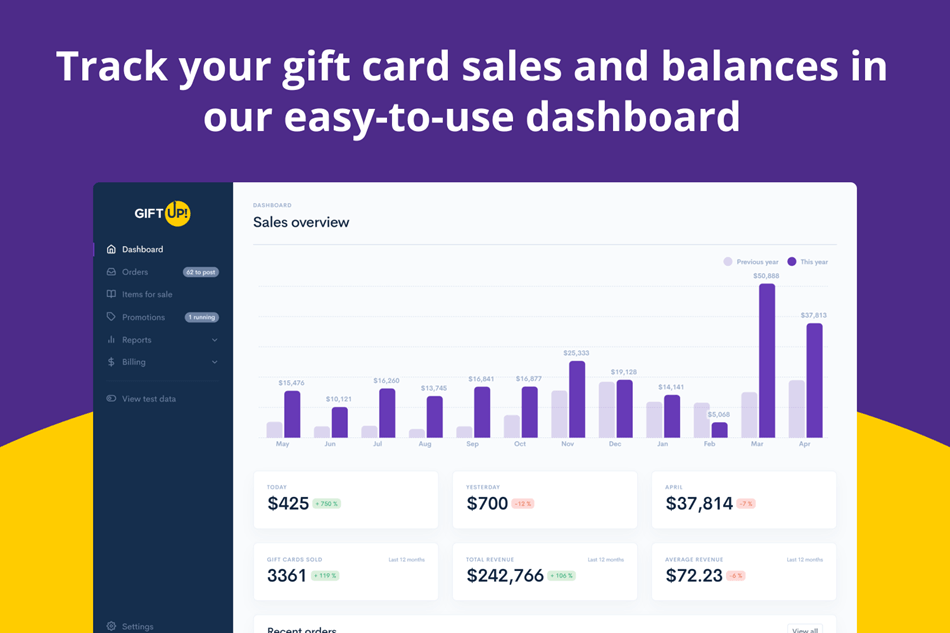 6. Ultimate Gift Cards for WooCommerce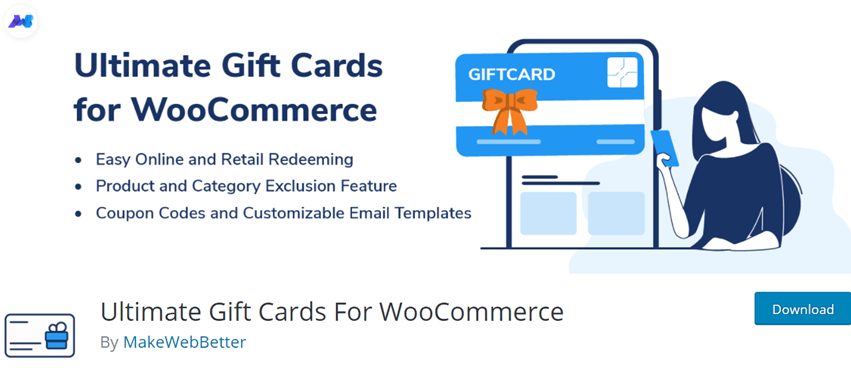 Ultimate Gift Cards for WooCommerce is a paid WooCommerce gift cards plugin for wordpress that enables store owners to create and sell gift vouchers on their WooCommerce store. The customers can use these gift cards to make future purchases at the store or gift the vouchers to their loved ones through emails. The customers can also redeem or recharge these gift cards at your online store or retail store. Using this plugin, you can also exclude the products, categories, or sale items so that you can restrict your Customers from buying specific products.
Features
The plugin comes with customized built-in gift card templates.
You can sell your gift in any current because these plugins support almost all WooCommerce Currency Switcher plugin
You can easily show the gift cards on your shop page or individual products page.
It also allows you to enable or disable tax calculation for gift cards.
Supports multiple languages even you can translate it to any language you want.
19+ Gift Card Templates predefined template available for customers choose to depend upon occasions
You can also set gift cards for a specific use, thus, the customers can't use any other coupon along with the gift card.
Ultimate WooCommerce Gift Cards allows you to customize the coupon code length, expiry date, usage, prefix etc.
WooCommerce Pre-Orders plugin is also supported by its gift card feature.
Supports for offline and online gift card resumption via pdf download
Total number of users – 3,000+
Price – 1 Site – $69/annually,  5 Site – $159/annually,  10 Site – $211/annually
Gift Card Tutorial 2022: How To Create and Sell Gift Cards On WordPress Website
Screenshot
7. Gift Cards (Gift Vouchers and Packages) (WooCommerce Supported)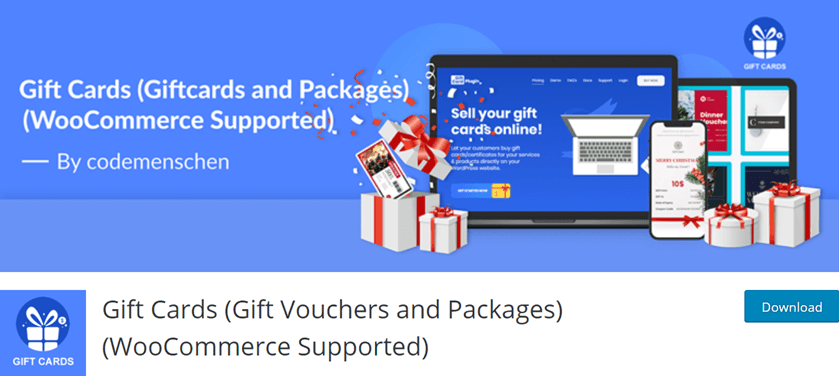 Gift Cards By Codemenschen is a customizable free gift cards plugin for WordPress that also supports woocommerce platform . This plugin lets the WooCommerce store admin to create and sell an unlimited number of gifts cards on their online store. The plugin is fully customizable, so you can tweak it according to your business requirements. Using this plugin, you can create basic gift vouchers for events like birthdays, anniversaries, Valentine's Day, New Year and more in a hassle-free way.
Features
The plugin lets you create and sell an unlimited number of gift vouchers on your online store.
You can choose from the bundle of ready-made templates. Thus, it saves a lot of time and effort.
It comes with several customization options like assigning card values, choosing card designs, offering regular product characteristics, writing personal messages and more.
You can set four different pricing types for selling WooCommerce gifts-card at your store.
It automatically sets an expiry date for the gift vouchers according to your choice.
You can also accept the postal delivery of your gift cards.
Total number of users – 2,000+
Screenshot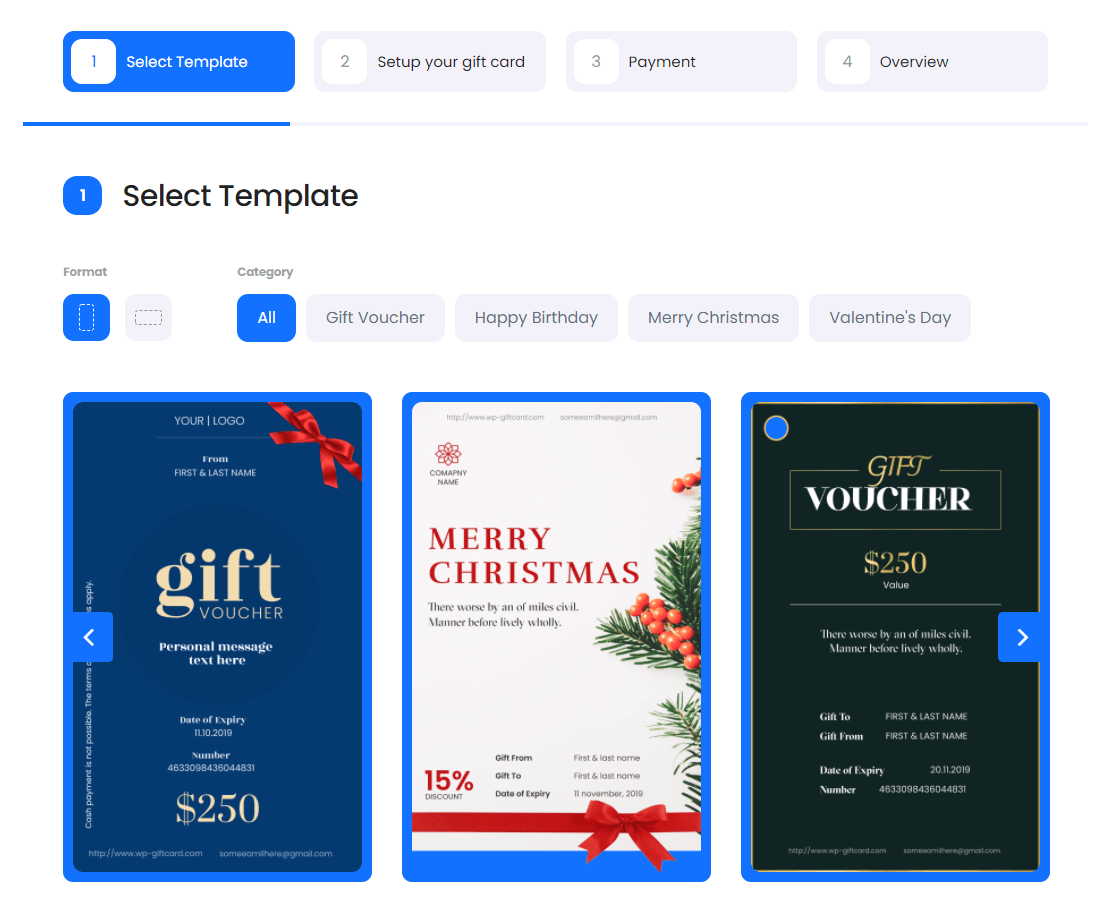 8. PW WooCommerce Gift Cards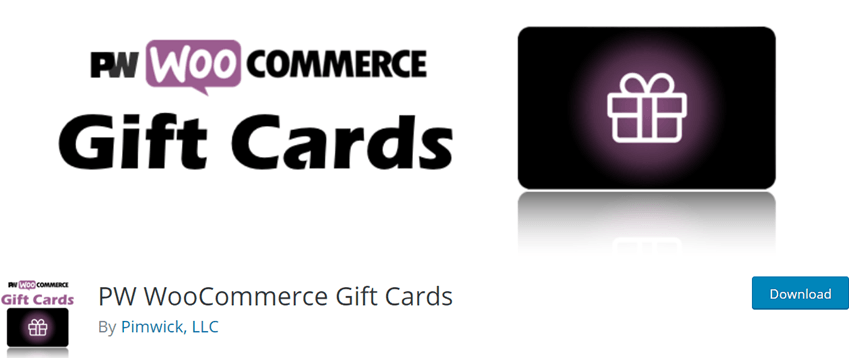 PW WooCommerce Gift Cards is a free WooCommerce Gift Cards plugin that lets you sell gift cards so easily on your eCommerce website while engaging more customers. A presently extensive WooCommerce Plugin that assists you to design gift cards and distribute them widely to increase sales. Easily manage the gift card accessibility on the site and keep updating your customer via email and text SMS. If you install the PW WooCommerce, you get access to the one-click creation of such cards without any complexities. Select gift card's category, amounts, and validation according to the pursuits. Allow your customers to customize the gift cards whenever they place orders within a certain time to purchase them.
Essential Features –
Available gift cards on the purchasing of products from your site for a limited period.
Let your customers directly cart the gift cards through the available link on the email.
Allow access to the gift card and customizing options after finalizing the payment. And, also allows your customers to pay with vouchers and gain advantages.
Enable users to access gift cards even without having an account on the site and encourage them to continue their shopping in the future.
Oversee the individual gift cards availability while taking care of the liability that occurs in the store.
It has a WooCommerce email template system that allows your customers to choose background images for your gift card even they can upload their own custom photos
Total number of users – 20,000+
Screenshot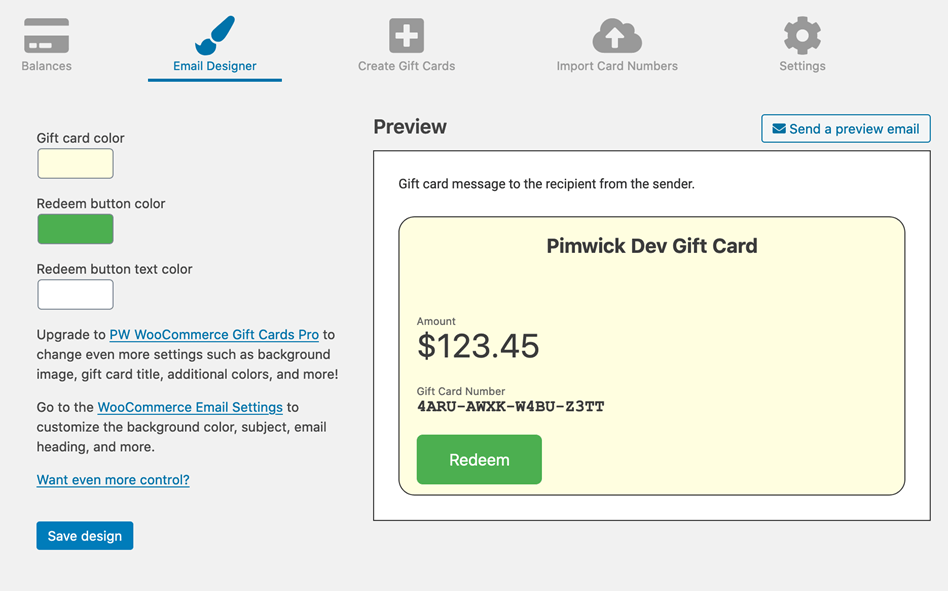 9. Woocommerce Gift Card Pro

WooCommerce Gift Card Pro is the most advanced and premium gift card plugin for Woocommerce which facilitates the eCommerce store manager to sell gift cards to the customer and make them interested to continue shopping as well. An intuitive and lightweight gift card extension that is relevantly cool for WooCommerce and WordPress websites. Although, hereby you may generate beautiful gift cards with certain validity that enables you to personalize such cards before purchasing. Place such gift cards links into email and text then send it to the customer which keeps engaging them effortlessly. Just prepare your website to create occasional Gift Cards while having personalized value according to them. Manage the entire activity of creating such gift cards through the professional dashboard.
Why Do You Need WooCommerce Gift Cad Pro?
Create eye-catching gift cards based on price scheming such as fixed, selected, or custom price.
Enable admins to edit and sell those created gift cards with more flexibility.
Just create beautiful gift cards simply through a drag and drop alternative wherever you can customize from thousands of available templates.
Access the share of generated gift cards through the backend as a CSV file or email that delivers it to the customer after completing the payment process.
Generate Gift card by BARCode, QRCode, Or A coupon option.
Customers can add background images based on their festivals or mood.
Price – Regular license – $1005/annually
Screenshot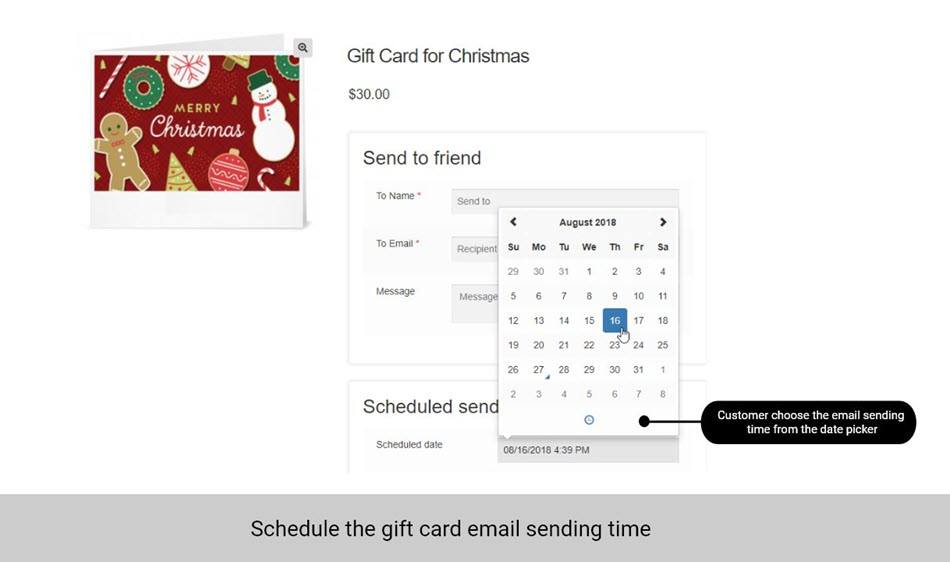 Conclusion – Still confused about which is the best WooCommerce Gift Cards Plugin then I will make your choice simple. If you are looking for free Gift Cards plugin then I will recommend you to try Yith but for the premium plugin, then I will recommend you to choose woocommerce or Giftup