8 Best WordPress Translation Plugins 2021 Make your Website Multilingual
Worried about how to translate your website language to support all international visitors? Don't worry many WordPress Translation Plugins in the market will help you to make your website multilingual.

These WordPress multilingual plugins support 3 forms you can either Self-translation, Machine translation or Human translation. Those days were old when we were hiring people to convert our languages into another language for that professional translation service they charge 1000's of dollars. But now you can do these works in a few clicks.  That too you have the option you want to go with manual or Automatic Translation.
Why Translating a blog or eCommerce website into another language is important?
SEO – Trust me google gives preference to the people who provide their content into the local language for that particular search result region.

Conversion increase

– Whenever I met anyone who can speak my native language I will talk to him casually and we provide each other better understanding Which will result in a better conversion rate.
You may also be interested in Email marketing, Fomo Plugins and landing page tools
So let's have the list of top WordPress Multilingual Plugins are as follows:
Table Of Content
Comparison between  WPML vs Weglot vs Polylang Vs Loco
1. WPML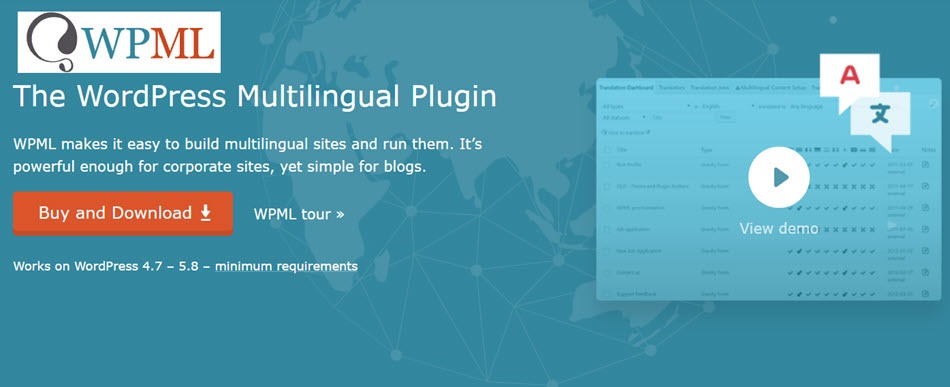 WordPress Multilingual Plugin popularly known as WPML is a well-known player in the translation plugins niche. The premium tool has a powerful dashboard for translation and language variation management. It has gone many updations over the years and has the ability for any type of string translation – menus, theme, custom post types, and more. And even they provide professional translation service
Features
Human, Machine, and self-translations are supported by WPML.
WPML can translate 60+ built-in languages. Besides, other language variants can also be included such as Mexican, Spanish.
The plugin is compatible with almost all WP themes and plugins.
Professional services can be easily activated with WPML such as Translate by Humans and iCanLocalize.
Easy integration with eCommerce solutions to create a store with multilingual support, carts, confirmation emails, checkouts etc
WPML offers a Multilingual CMS package and blog.
Price – Blog – $29/annually (1 Site),  CMS – $79/annually (3 Site),  Agency – $159/annually (Unlimited Site)
WPML - The WordPress Multilingual Plugin
Screenshot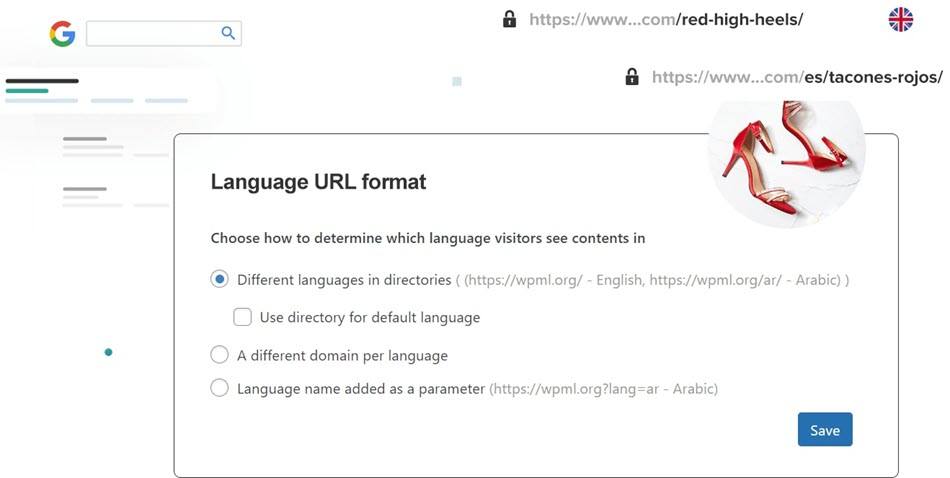 2. Weglot Translate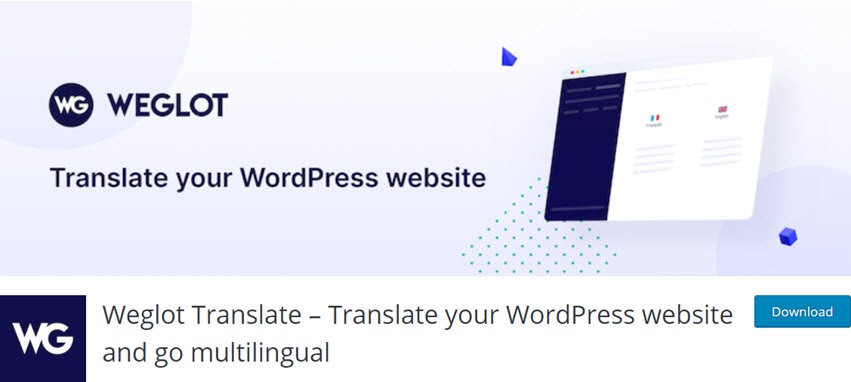 WeGlot is an extremely flexible and user-friendly Automatic WordPress translation plugin that is trusted by e-commerce, corporate websites, landing pages, SaaS, and blogs. The translations done by WeGlot are optimized for Search Engines and have proper Google indexation. WeGlot's interface is one of the most preferred ones and let's see why?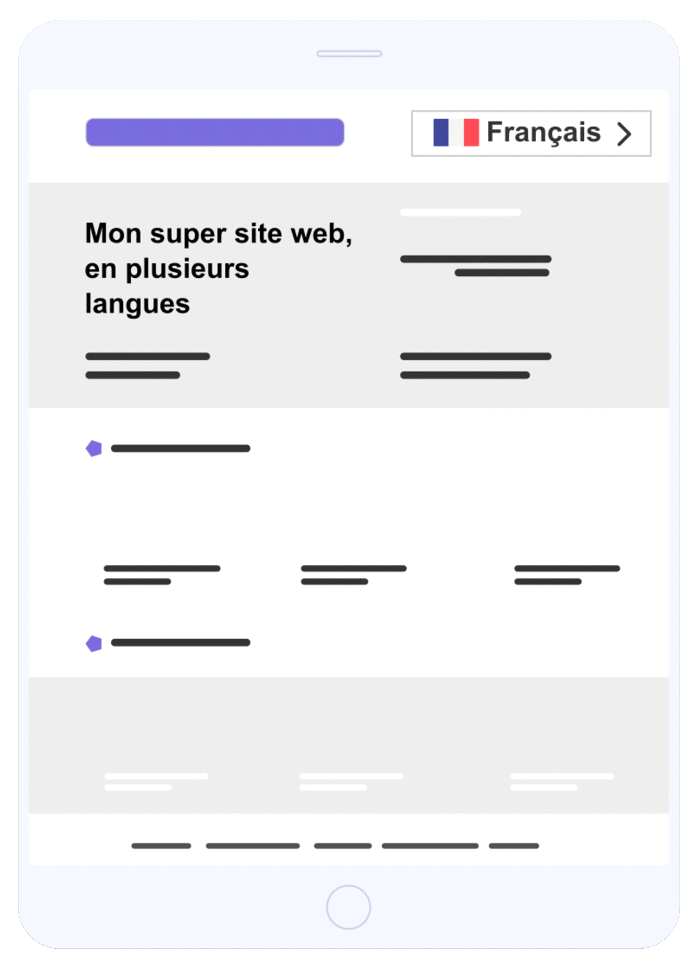 Features
Human, Machine, and Professional translations are available for site translations, all of which can be mixed and matched.
WeGlot can translate more than 60 languages.
This Plugin Translation API helps in auto-detection of the content to be translated and also translates it.
WeGlot supports all WP Plugins and themes.
The tool is compatible with WooCommerce and hence helps in building up your store.

Free Trial is available for 10 days for one language up to 2000 words for 1 website.
Total number of users – 40,000+
Price – Starter – €99/annually (1 Site), Business – €190/annually (3 Site),  Pro – €490/annually (5 Site),  Advanced – €1990/annually (10 Site),  Enterprise – Starting At €4990 
Translate Your Website With Weglot
Weglot Translate WordPress plugin - Make your website multilingual
Weglot installation on WordPress Tutorial
Screenshot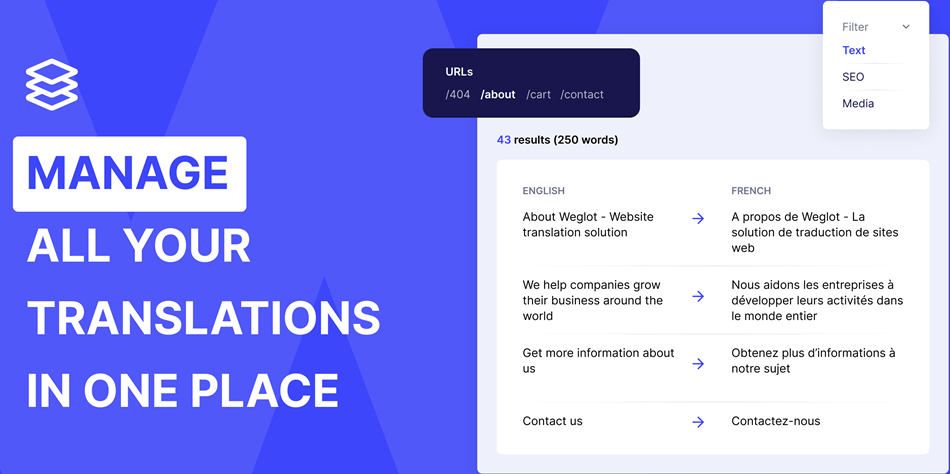 3. TranslatePress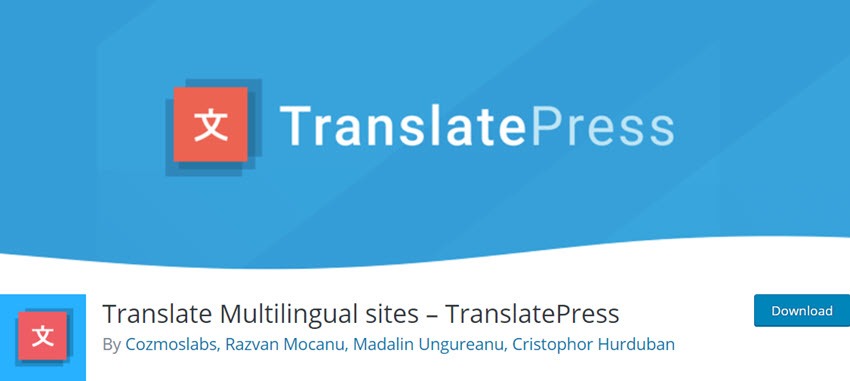 An amazing self-hosted plugin when you are planning to have a global reach and in turn better traffic to your website. TranslatePress is an intuitive solution that lets you translate your site directly from the front-end using an intuitive easy visual interface.
Features
You can easily translate your site from the front-end and need not toggle between the string translation interfaces and the editor.
Translate Press is fully integrated with WooCommerce and comprehensive site builders.
It is compatible with all major and complex themes out there.
The entire site can be translated with Google Translate API Integration.
It also supports both manual and automatic translation
Total number of users – 100,000+
Price – Pro – $9/annually (1 Site), Premium – $99/annually (Unlimited)
TranslatePress Multilingual - Free WordPress Translation Plugin
Screenshot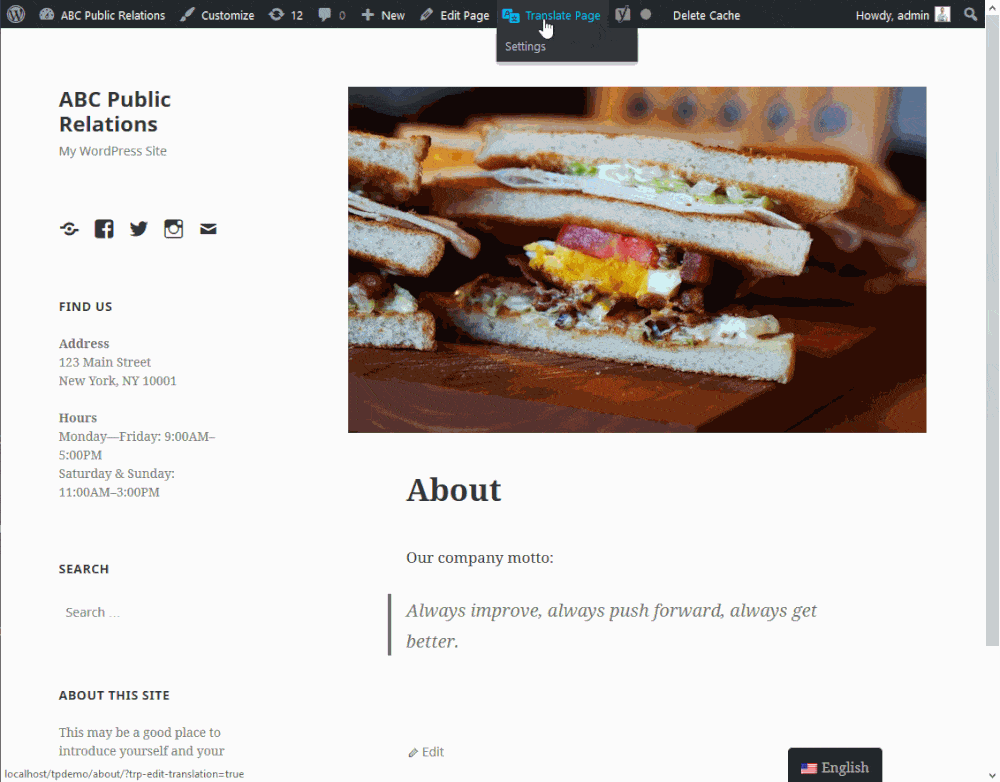 4. Polylang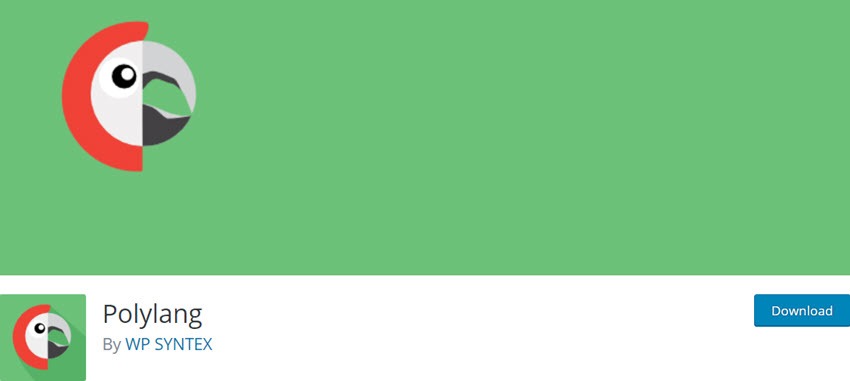 Polylang is another best Free translation plugin that is an old player of the Multilingual Plugin kin with a minimalistic approach. It lets you create a different post for each language that can be connected later – this feature is very much similar to that of WPML. Another feature similar to that of WPML is generic string translations – title, date, menus, categories, or other global displays.
Features:
Translations can be done manually or via language packs. However, with the help of add-on like Lingotek Translation, Professional and automatic translation can also be facilitated.
The translation is supported for 100+ languages.
A fully customizable widgetized language switcher is available with Polylang. Language switcher can be installed as a navigation menu also.
Polylang offers support for all WP themes, plugins, and RTL.
Using domain and subdomain separate URLs can be set for each language.
With Polylang you get both free and premium versions.
Pricing – 1 site –

99.00€

,

3 sites

 – 

198.00€

,

5 sites

 – 

297.00€

and

25 sites

 – 

495.00€
Total number of users – 600,000+
Screenshot
5. Loco Translate
Loco Translate ranks among the top most popular WordPress translation plugins in the WordPress.org Respiratory. The plugin enables editing of these translations.PO file.
Features:
Language files can be created right into your theme or plugin.
The WP admin has a built-in translation editor.
Easily translatable strings can be easily extracted from the source code.
Free up to 2,000 translations after that

$5.95

/mo

nth.
Total number of users – 1M+
Screenshot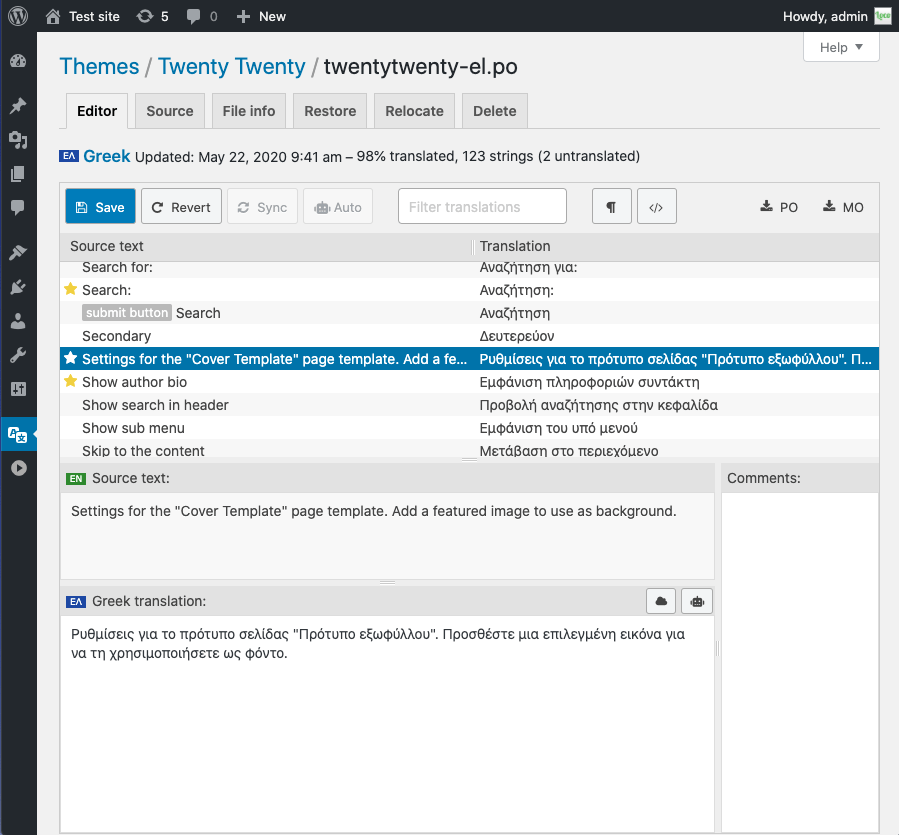 6. Translate WordPress with GTranslate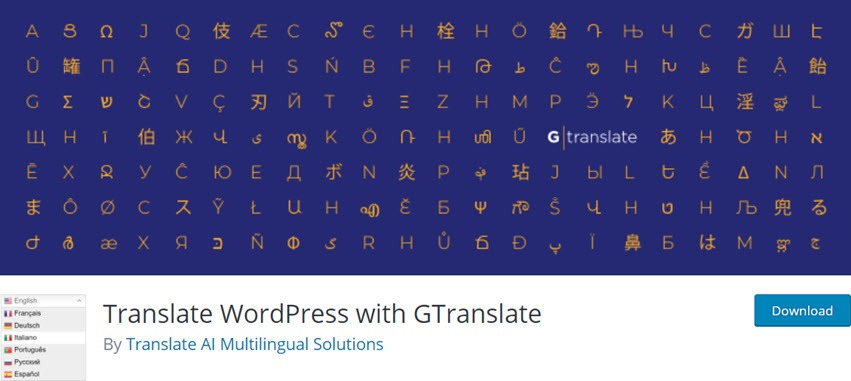 GTranslate is an Affordable professional translation plugin powered by Google Analytics that helps you measure the impact or the usefulness for the users. The tool is highly widgetized that enables the users to select their language.
Features:
With GTranslate you get Machine translation, however with the premium version of the plugin you get neural machine translations which has a human translation quality.
Supports translations for 103 languages. In case of any errors, you can manually do the corrections.
You can translate posts, pages, menus, widgets, tags, and categories.
Once the translation is over " Suggest better translation" pop-up and Google top frame auto hides.
Free and Premium both the versions are available.
Pricing – $5.99 a month
You get additional features like search engine indexing, WooCommerce compatibility, manual correction of translations, Centralized Translation Cache, translation proxy, and many more with the premium version.
Total number of users – 300,000+
Screenshot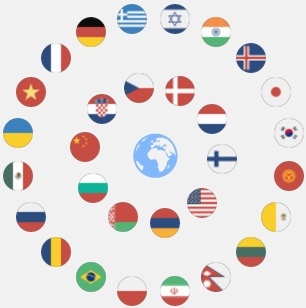 7. Google Website Translator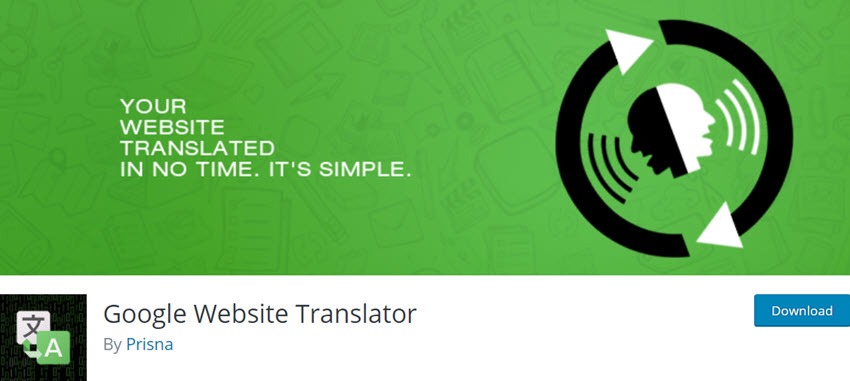 Google Website Translator is an extremely simple and lightweight WordPress language plugin tool that just needs to be added to your WordPress site and there you are ready to go!
Features:
The tool offers only machine translation hence nowhere near to human translation.
You can enable as many languages as you want for your site.
Your pages in different languages are not saved as static files.
Total number of users – 10,000+
Screenshot
8. Multilanguage
MultiLingualPress is another alternative WordPress language plugin. Operates uniquely for translation.  It creates standalone installs for each language post. Later on, with the help of a simple interface, it merges all those sites. Thus, you get a versatile mix and match with the numerous link-ups. For Instance, if your website has English as the preferred language, you can utilize MultilingualPress to connect to individual multi-site installs of French or Japanese.
Features:
Supports 174 languages and allows the readers to read posts and pages in any of the supported languages.
Posts, pages, and taxonomy terms are easily translatable with MultiLingual Press.
Translation links can be embedded in the navigation menu.
For editing purposes, there is no need to switch between multiple websites. With the original post editor, all corrections can be made at a common interface.
Even, when you deactivate MultiLingual Press, the translations will be retained, unlike other translation plugins where the stuff gets lost. excellent in terms of data integrity.
Both Free and premium versions are available.
Pricing – 1 site –

$75

, 

5 sites

 – 

$95

and

10 sites

 – 

$190
Price – Annual – $34.99/annually (1 Site),  Perpetual – $349/Lifetime (1 Site),  Membership – $250/annually (1 Site)
Comparison between  WPML

vs

Weglot

vs

 Polylang

Vs

Loco
Vs
TranslatePress
| Plugin | WPML | Weglot | Polylang | Loco | TranslatePress |
| --- | --- | --- | --- | --- | --- |
| Type of Translation | Human, Machine, and Self-translation | Human, Machine, and Professional | Manual | Self-translation | Human and Machine |
| Translation Focus | Manual & Automatic | Automatic & Manual | Manual | Manual | Automatic & Manual |
| Number of Languages Supported for Translation | 60+ | 108+ | 100+ | | 221 |
| Main translation interface | WordPress backend | Weglot cloud interface | WordPress backend | WordPress backend | WordPress backend |
| Automatic Language Detection |   |   |   |   |   |
| Support for Language Variants |   |   |   |   |   |
| Support for String Translation |   (custom post types, taxonomies, menus, theme text, etc.) |   All |  Limited |  Limited |   All |
| RTL Support |   |   |   |   |   |
| Language Switcher as | Menu, Widget, Footer | Menu, Widget, Shortcode, Source Code | Widget, Navigation Menu | Not Available | Anywhere as Menu, Floating dropdown, Shortcode |
| Support for Professional Services |   |   |  * |   |   |
| eCommerce solution(Currency Support) |   |   |   |   |   |
| Translation API |   |   |  * |   |   |
| SEO optimized |   |   |  * |   |   |
| Theme & Plugin compatibility |   |   |  * |   |   |
| Users | Unknown | 20,000+ | 400,000+ | 700,000+ | 30,000+ |
| Free Trial Available |   | Yes(10 days for one language up to 2000 words for 1 website) |   |   (up to 2000 words) |   |
| Support | Support Ticket, Forum | Forums, Documentation | Forums, Documentation | Forums, Documentation | FAQ, Documentation, Support Ticket, Troubleshooting |
| Money-Back Guarantee | Within 30 Days | 25 days(10days free trail+15 days after subscription) | Within 30 days | | Within 15 days |
| Pricing | Multilingual Blog version – $29, Multilingual CMS version – $79 | €8.25 /mo 1 language for 10000 Words, €16 /mo 5 languages for 50000 Words | 1 site – 99.00€, 3 sites – 198.00€, 5 sites – 297.00€ and 25 sites – 495.00€ | Pro – $5.95 /mo for 5,000 words, Business – $19.95 /mo for 25,000 words, Agency – $29.95 /mo for 125,000 words | Personal Plan – €79/yr(for 1 site), Business plan – €139/yr (for 3 sites),Developer Plan – €199/yr (for unlimited sites) |
| | Buy | Buy | Buy | Buy | Buy |
Conclusion – Still confused Which multi-language plugin is suitable for you? In my experience, I trust and recommend three Plugins Wpml, Weglot and TranslatePress. I hope the name for Wmpl it's self popular and it doesn't require any introduction. But Weglot is also worth buying because of their feature and the best of it is the host of your language. This means it will not affect your website loading. However, its pricing is based on  €8.25 /month up to 10000 words. That too they provide free 14days trial without any credit card. When we talked about WPML the quality and support no doubt is the best. And their pricing is based on per year nominal charge.  However weglot supports other eCommerce platforms too like Shopify, bigcommerce, and Wix. TranslatePress is also feature-rich and a good value for money. Their yearly pricing is also economical. It's a must-try Plugin. They all are compatible with the eCommerce website. And most powerful part of TranslatePress is 221 language support.
Note – Please make sure You should create a backup of your website before you start making translation work.
So I hope you were able to make your decision about which one you should choose. Please let me know in the comment section if you have any suggestions or feedback about our comparative blog. And which one you will BUY?