9 Best Custom Post Types Plugins for WordPress 2022
Are you looking for Best Custom Post Types Plugins for WordPress? Custom Post Types WordPress Plugins are really important for any website designer or developer. Using these plugins you can easily create custom posts and custom Taxonomies and Custom Fields. Because Everyday people want their website to look different and amazing by designs as well as with functionality.

Many different professions exist in today's world. A separate kind of website is needed for each of them. Though it is not possible for WordPress to individually build website themes and templates for them. But each one of them needs a separate post and content. To individually customize a website, a custom fields plugin is required. It receives input data from the user who visits the website.
For developing websites such as real estate listings, online directory sites, free classified ads, or custom post type woocommerce Products for eCommerce websites then this plugin is necessary. These Plugins are necessary if you are a beginner and want to customize your website without knowing PHP and also if you are a professional developer. For professional developers, it will reduce your workload and save time while creating a meta box.
You may also be interested in Grid Plugins, Landing Page Plugins, Email Marketing service 
So let's have the list of top Custom Post Types Plugins for WordPress which help the users to customize their WordPress site's content and post are as follows:
1. Meta Box ( Advance level used By Developers )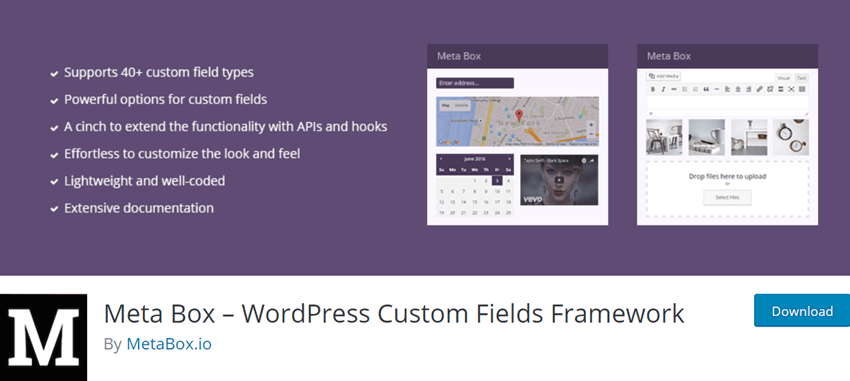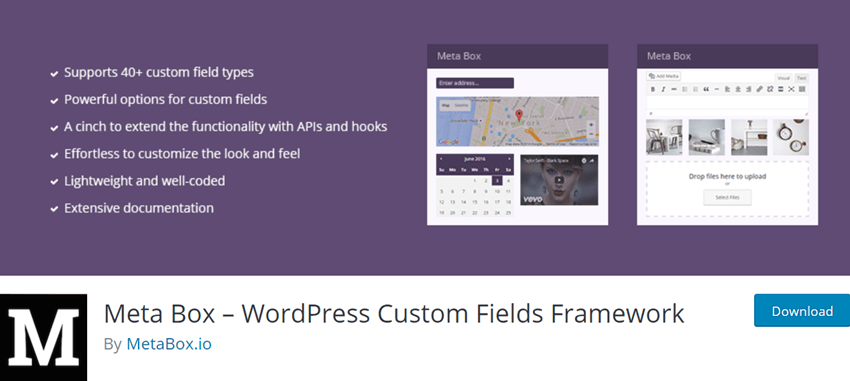 Meta Box is one of the Best Custom Post Types Plugins for WordPress which is custom fields plugin and framework which helps the users to customize their website. It is a professional toolkit for developers which lets them create and handle everything related to custom fields and custom meta boxes for WordPress. There is a wide range of field types as well as a lot of options for all of them.
Meta Box is a feature-packed custom fields plugin that lets you create unlimited custom fields in minutes. You don't need to go through complex coding to manage the custom data of custom posts types available on your website. Let you manage and organize the custom field to enhance its appearance on WordPress. Insert custom fields anywhere you need to customize the data including posts, pages, taxonomies, custom post types, user profile pages, and more. Meta Box is a lightweight and well-coded solution that eases the task of developers. All you need to do is select the option suitable option then get access to the automatically generated code for that. Copy and paste such code to your website and the custom field become active promptly.
Core Features –
Generate codes online and save the same for future use to insert a similar custom field.
Place your custom fields anywhere with the drag and drop option.
Highly customizable where you configure various field types and field settings however you require.
Provides cloning fields where you can reuse such fields whenever you need them with infinite custom options.
Select when and where to show or hide meta boxes.
Supports multiple sites and works smoothly with any theme.
Total number of users – 400,000+ 
Rating – 4.9/5
Pricing  – Depends upon extension or 349$ Complete Bundle For Life Time OR else 179 for Developers Or 79$ CORE BUNDLE
Screenshot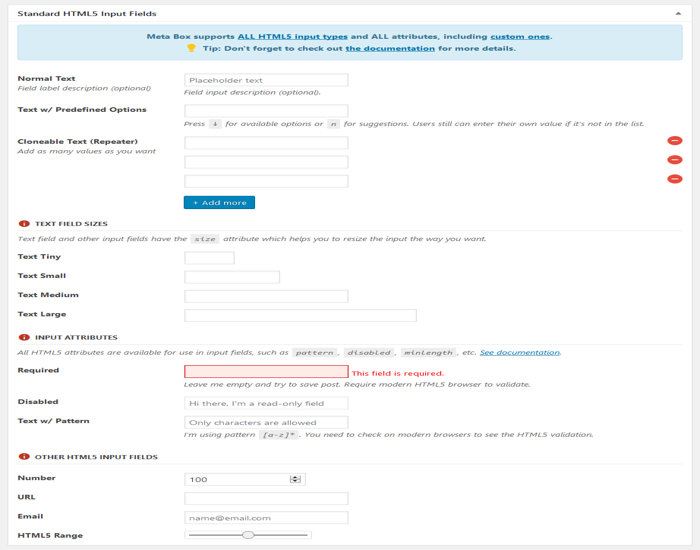 2. Toolset Types

Toolset Types is one of the Best Custom Post Types WordPress plugins which has a convenient dashboard that helps the users to create a custom field, custom post types, and custom taxonomies all from a common interface. Different field types can be added to different user profiles. The visitors can edit and view all the fields, and even customize these using this plugin. The taxonomies can be associated with custom post types.
The Toolset is a lightweight and easy-to-use extension for creating and managing custom post-type functionality so well. Hereby, you can easily create custom post types even without any PHP coding. This provides a better chance to beginners and developers as well while saving a lot of time with its effortless configuration. Such a feature-enriched plugin that supports multi-site and existing themes as well. Toolset lets you insert advanced features on your website to make it more accessible like building post-relationship. Create extensive templates, searches, and archives for your custom post types with Toolset Blocks in minutes.
Essential Features –  
Create and manage custom grids, tables, and lists to display the content however you desire to.
Let you insert sliders, front-end forms, maps, and custom searches on your website.
Provide Toolset Blocks that let you create blocks using Gutenberg editor along with dynamic content.
Create a post-relationship where you can connect related posts that becomes easy to manage.
Integrated well with popular extensions like WooCommerce, Elementor, and WPML.
Total number of users – 200,000+ 
Pricing -- Presentation $69, Interactive $149, Agency $299 for one year update and support
Rating – 4.2/5
Screenshot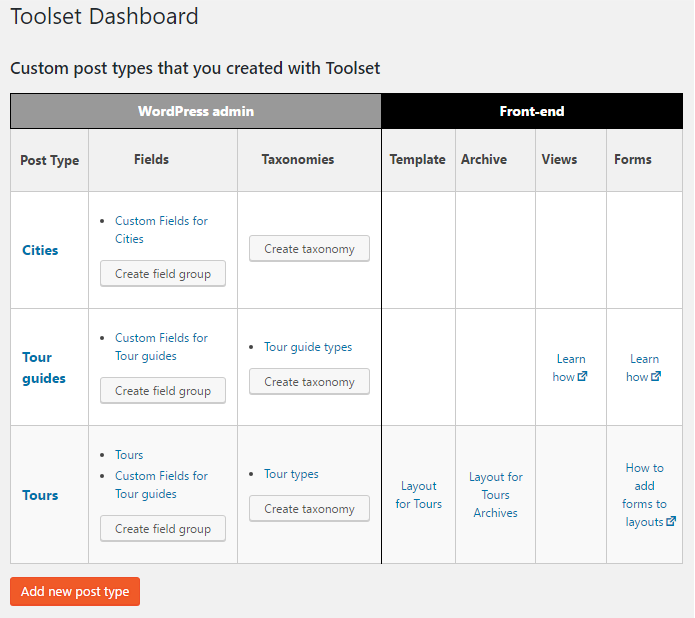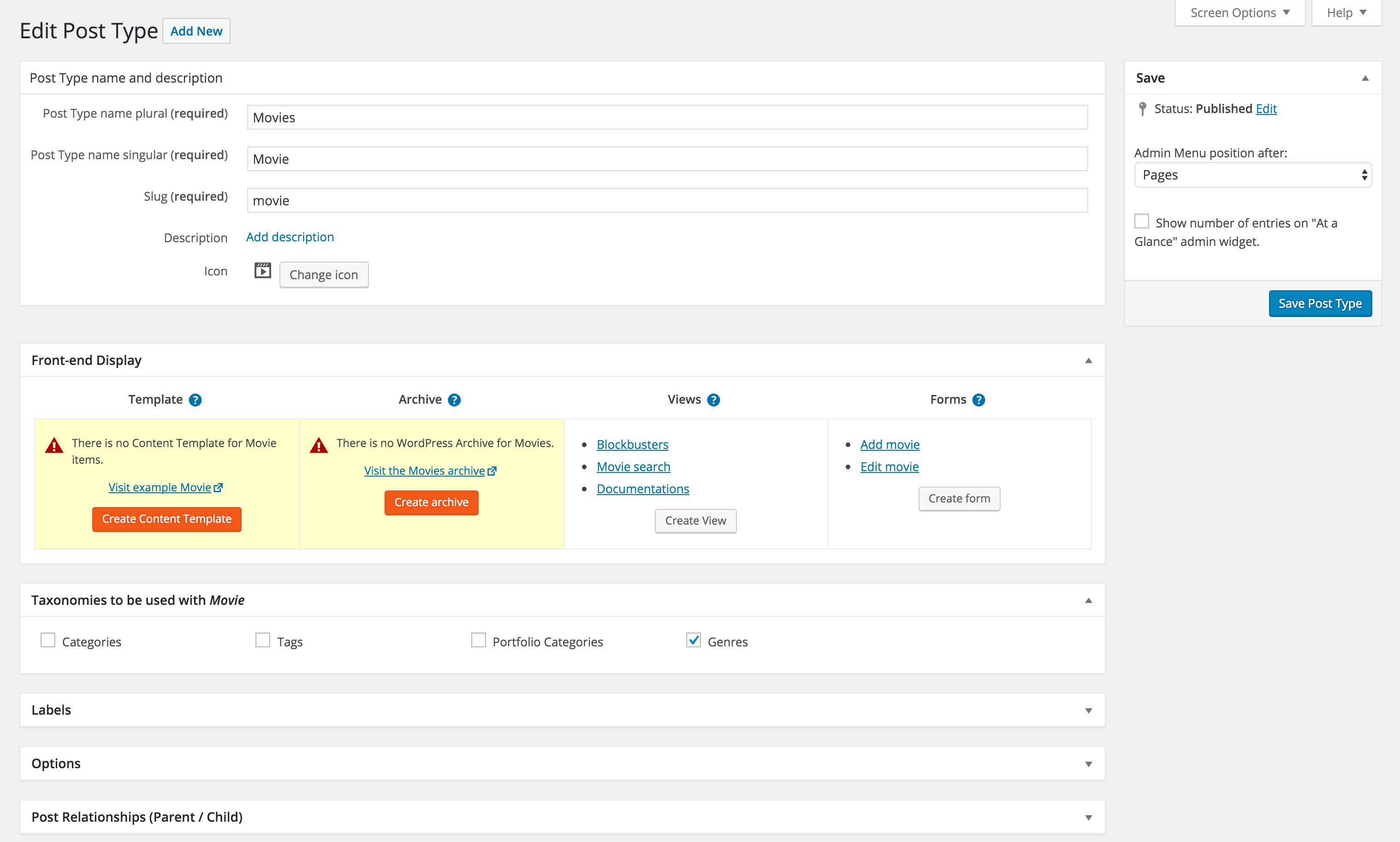 3. ACPT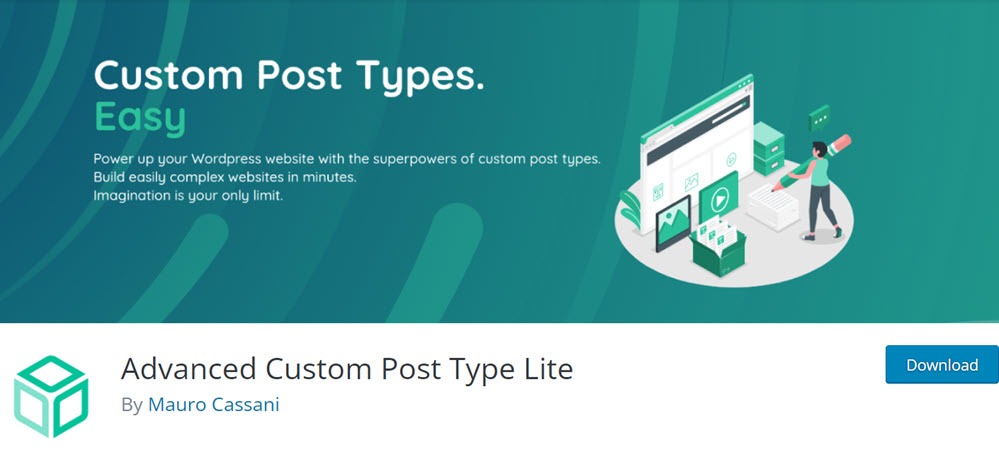 ACPT is a nicely integrated Custom Post Type Plugin where you build a robust website in minutes. Even without complex coding manage and create custom post types easily. Just enhance the appearance of your WordPress websites with a well-versed custom post types framework. ACPT lets you control everything about custom post types from creating a custom field to importing or exporting data. The drag and drop interface lets you act so conveniently while managing custom post types of available posts on the website.
Integrated Features –
Create and register a new custom post type and taxonomies in minutes.
Create posts meta box fields with available field types.
Tackles the relationship of various posts types in the field manager directly.
Advanced HTML Builder enables you to generate custom post-type archives and pages from scratch with custom templates.
Let you generate custom shortcodes while using WordPress Gutenberg editor.
Parent/child relationships can be defined between post types. A one-to-many and many-to-one relationship can be set up along with setting up a robust website.
The plugin is multilingual and WPML compatible.
Both free and paid versions are available.
Total number of users – 10+
Price – Basic – $49.99/annually (1 Site), Professional – $69.99/annually (5 Site),  Agency – $99.99/annually (Unlimited)
Screenshot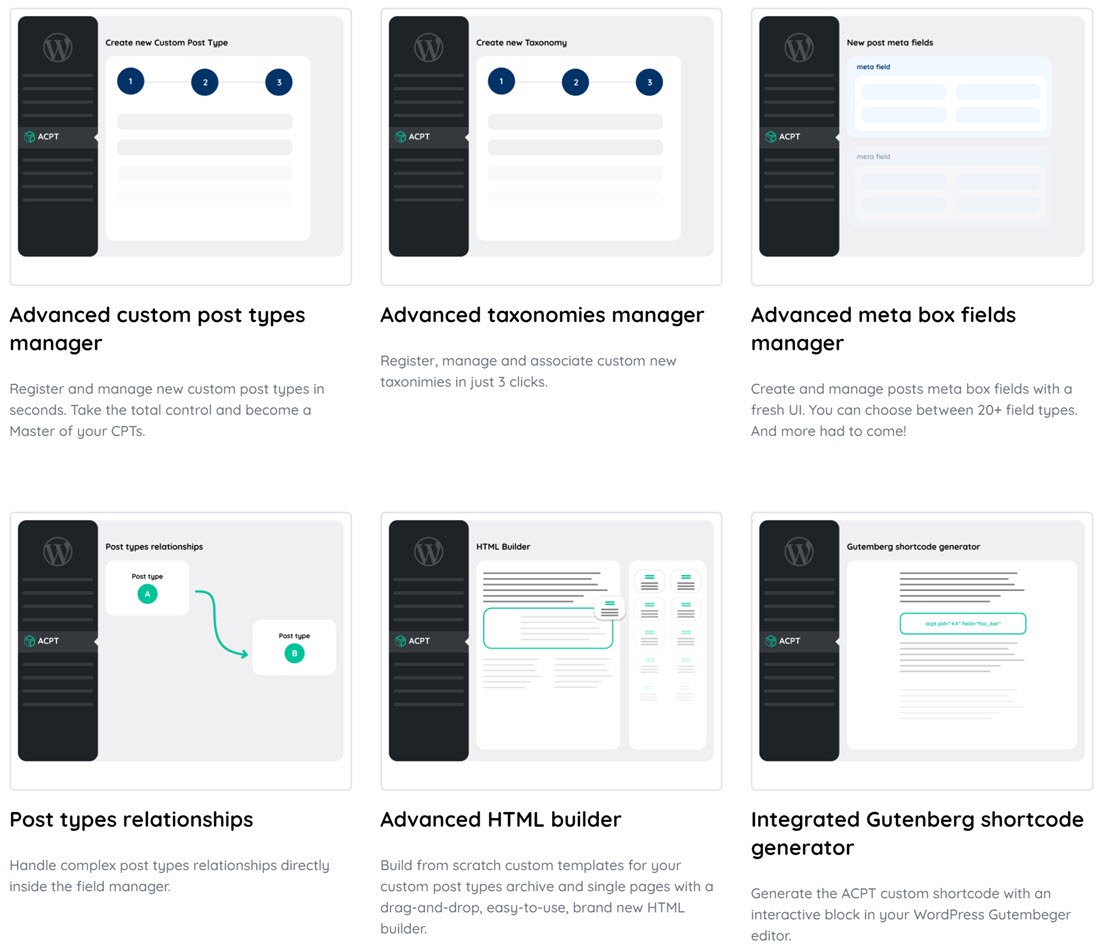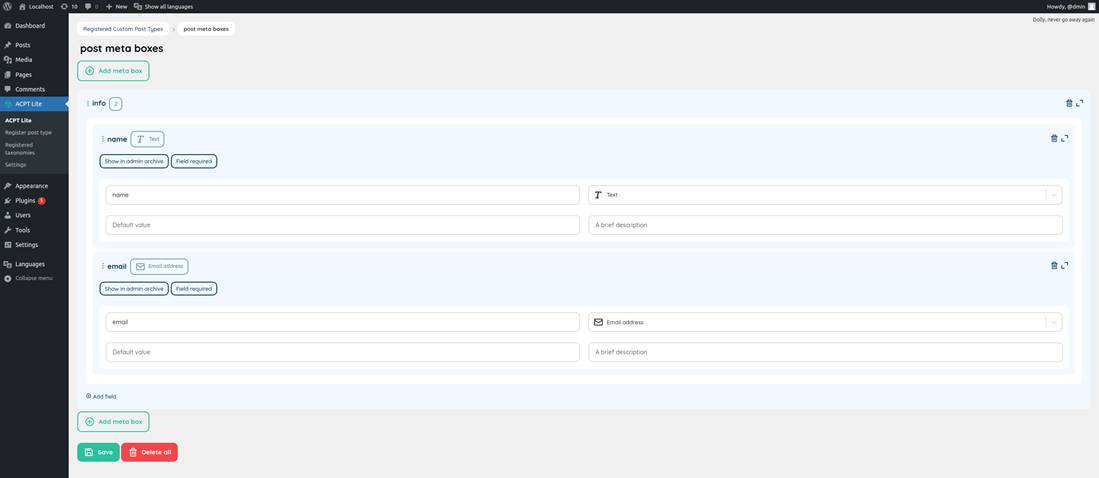 4. Custom Post Types and Custom Fields creator – WCK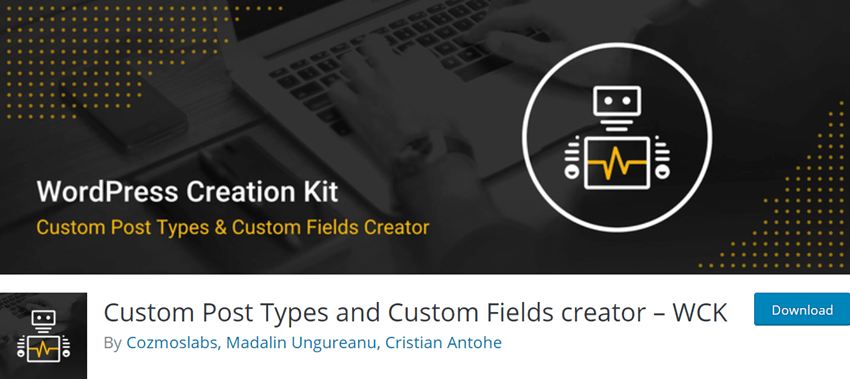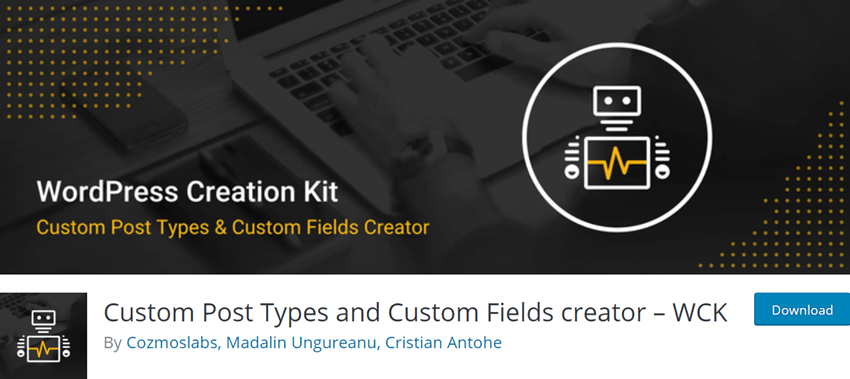 WordPress Creation Kit helps the users to create and maintain custom taxonomies, custom post types, and custom fields and meta boxes for pages, posts, and custom post types with ease.
It has three tools to achieve this. The first one is WCK Custom Fields Creator which gives the user an interface for setting up custom meta boxes with custom fields for posts, pages, and custom post types. WCK Custom Post Type Creator helps them to create custom post types and WCK Custom Taxonomies Creator for creating and editing custom taxonomies.
Key Features:
All the data is handled by Ajax and saved as post meta.
Repeater Fields and Repeater Groups of custom fields are supported by WCK with Drag and Drop sorting method.
WordPress Media uploader helps to upload images and files.
Advanced Labeling Options are also available.
Both the Free and Premium version is available.
It can integrate the controls over custom fields display for different post types.
Custom fields are available both for content and users and everything can be controlled by an integrated dashboard.
Pricing – Hobbyist Version – $49 (1 site support), PRO Version – $139 (for unlimited sites)

Total number of users – 20,000+ 
Rating – 4.8/5
Screenshot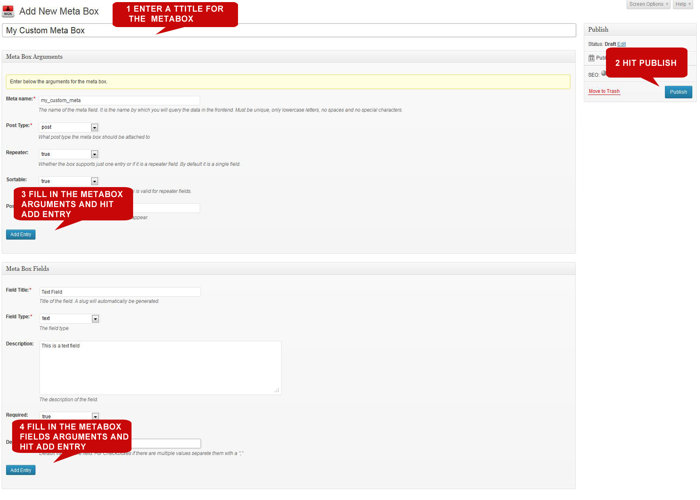 WordPress Creation Kit Intro
5. Post Type Builder WordPress Plugin (Specially Designed For Beginners )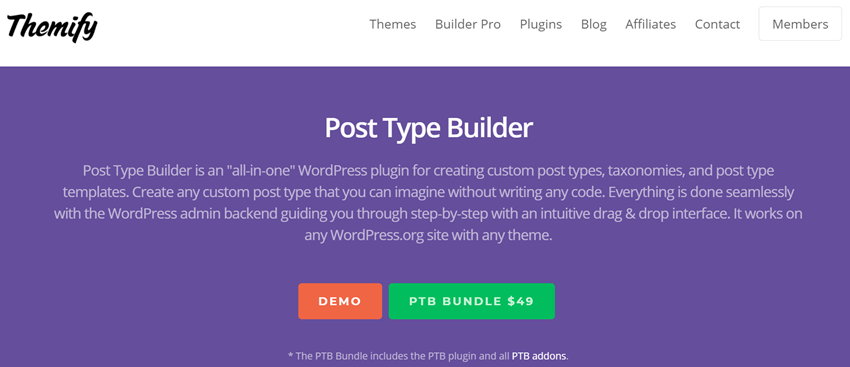 For creating custom post types, post type templates, and taxonomies, the Post Type Builder plugin is an 'all-in-one WordPress plugin. With an intuitive drag and drop interface provided by the WordPress admin back end, everything is done seamlessly. Only the associated modules are smartly loaded by the template which is created in the meta box. The layout is then rendered by the front end as directed by the template.
Key Features:
The interface is intuitive and features a drag and drop attribute.

Create any custom post type without any type of coding.
It is integrated with WPML through which multilingual custom post types can be created.
Associated post types, templates, and taxonomies can be imported/exported together or separately.
The interface is user-friendly with drag and drop functionality.
Meta boxes can be built for user meta, term meta, and settings page as well and can be displayed with groups, columns, and tabs.
It is also compatible with WPML multilingual plugin.
Post Type Builder supports major themes and plugins.
Post Type Builder also supports Custom Fields type for WooCommerce Product in eCommerce website.
Pricing  – 29$ Without Addons / 50$ With Addons
Quick Overview: Themify Post Type Builder
Screenshot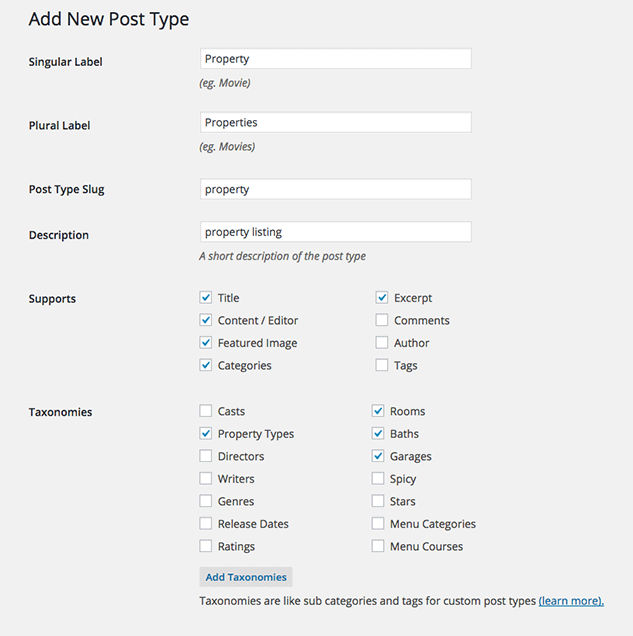 6. Custom Post Type UI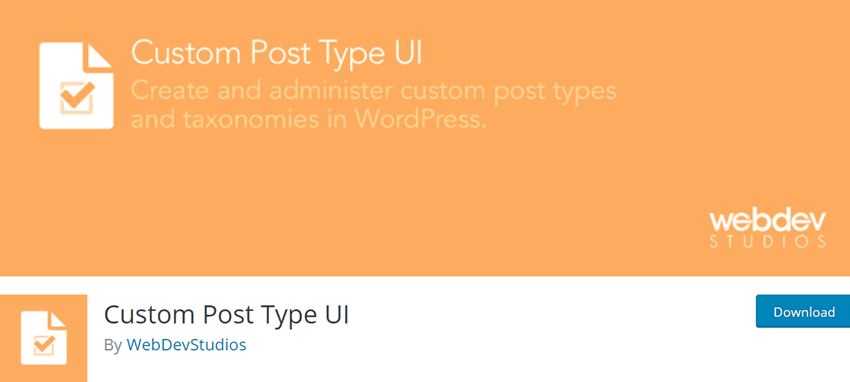 A user-friendly interface for managing and registering custom post types and taxonomies for the website is Custom Post Type UI. The extended version of this plugin has also been created to display the data gleaned from custom post types with detailed UI. T
his plugin was officially developed on GitHub. It provides many post types and is a very simple yet powerful plugin to use.
Custom Post Type UI supports many post editor features.
Key Features:
Assign the post types with an advanced labeling tag.
Attach the post Types with both built-in and custom taxonomies.
Easy Configuration of custom taxonomies and custom post types.
A robust admin UI for management.
Allows transferring settings between sites.
Pricing – Both Free and Paid versions of the plugin are available. The extended version pricing starts at Single – $29,  2-5 Sites – $49.00, Unlimited – $84.00
Total number of users – 400,000+ 
Rating – 4.7/5
Screenshot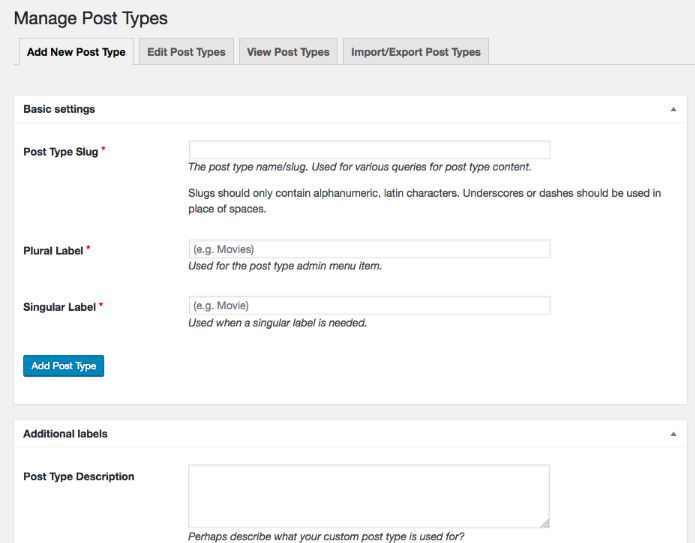 Display custom post type data with CPT UI Extended
7. Pods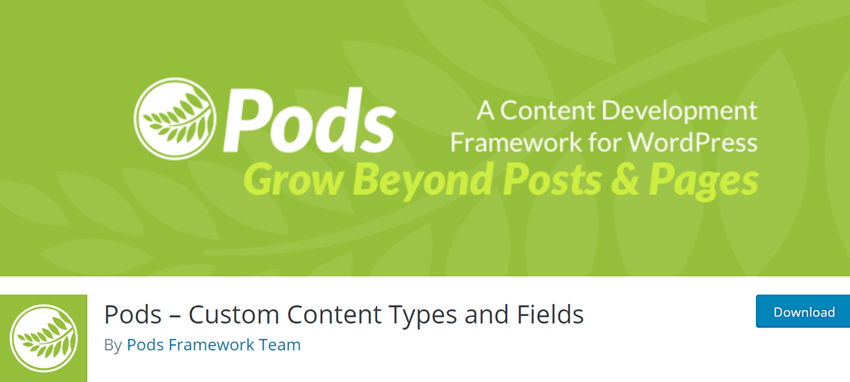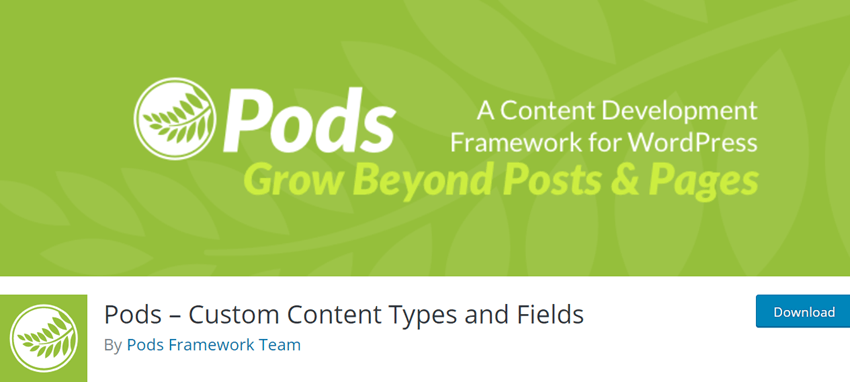 Pods plugin helps the user to manage all the custom content needs in one location even with extreme complexities. Custom post types, taxonomies, and fields can be created using this plugin. Custom content can be easily displayed using shortcodes and widgets.
Connections can be created between content to help organize it in a logical and useful way with the related fields. Skills can be developed and content can be managed beyond standard WordPress posts and pages.
Create and Manage fields for media uploads. Additional context and uploads can also be easily added to it. Tightly integrated modules can also be used for Builder in layout.
Key Features:
The interface is user-friendly and contemporary.
Front-end sorting controls are provided by Pods.
Classified sites, membership sites, and directory sites can be created along with eCommerce sites.
Custom templates for posts & Custom templates for archives are available.
The plugin is multilingual and integrates with Polylang, WPML, etc.
Total number of users – 60,000+ 
Rating – 4.9/5
Screenshot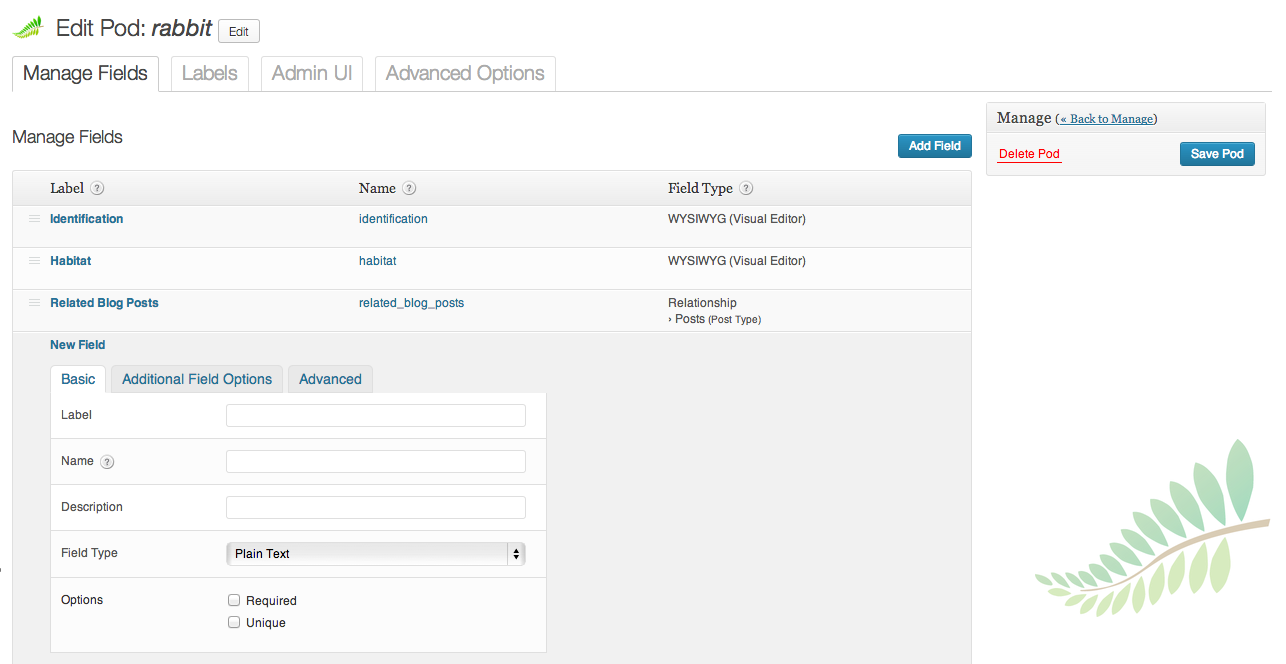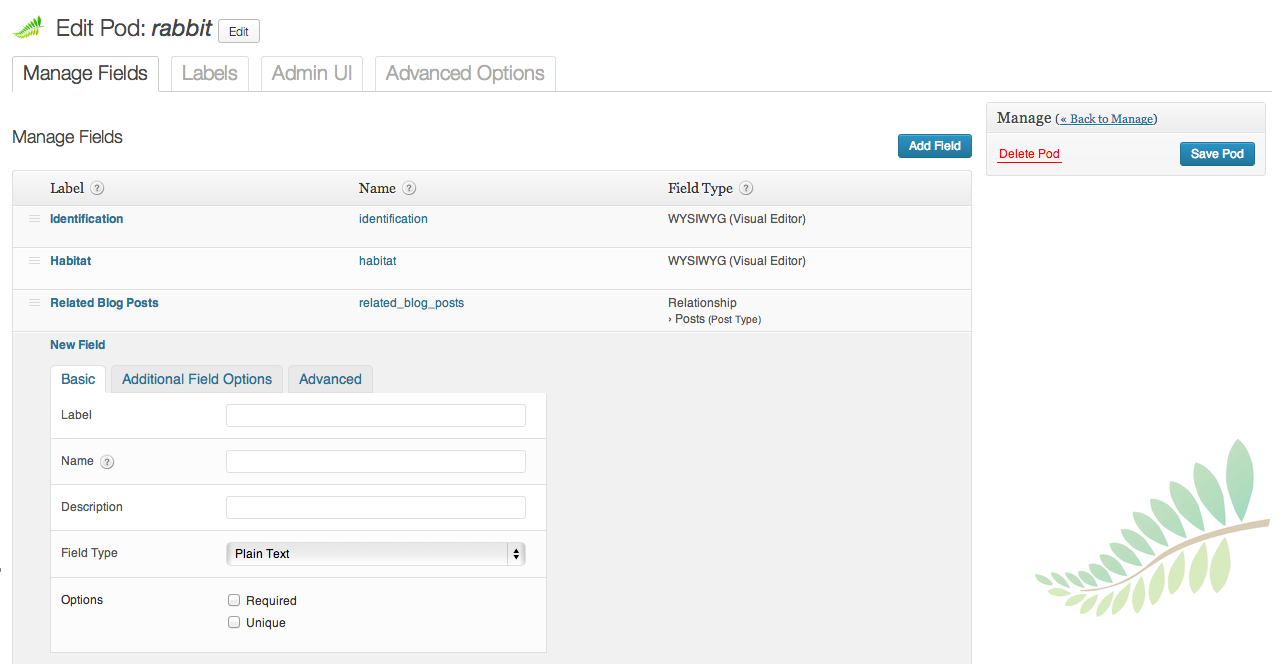 Grow Beyond Posts and Pages: Introduction to Pods
8. Custom Field Suite

Custom Fields Suite is a lightweight and tested plugin that helps users to add custom fields to posts. This is not a free plugin. To use it the user first needs to browse to the "Fields Group" admin menu.
There are many field types such as text, text area, date, color, file upload, relationship, loop, hyperlink, tab., etc.
Key Features:
Custom Field Suite offers 14 field types.
Create a field Group using multiple custom fields.
The placement Rules box helps you choose the Field Group location.
You can display the custom file using the get method in the template file.
The plugin is free.
Total number of users – 40,000+ 
Rating – 4.9/5
Screenshot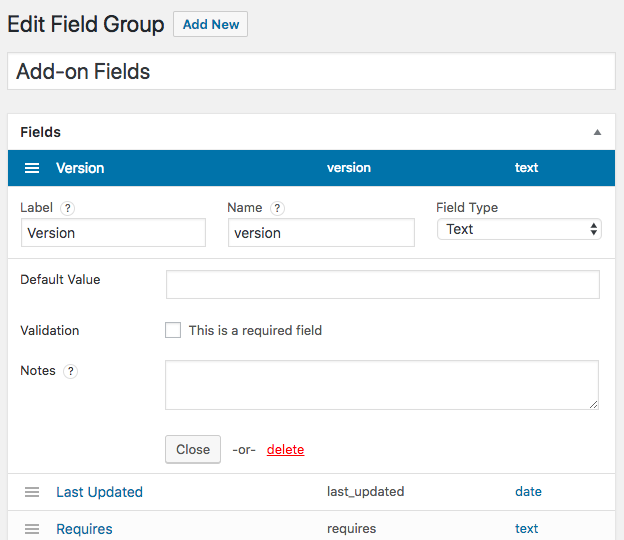 9. Custom Post Type Maker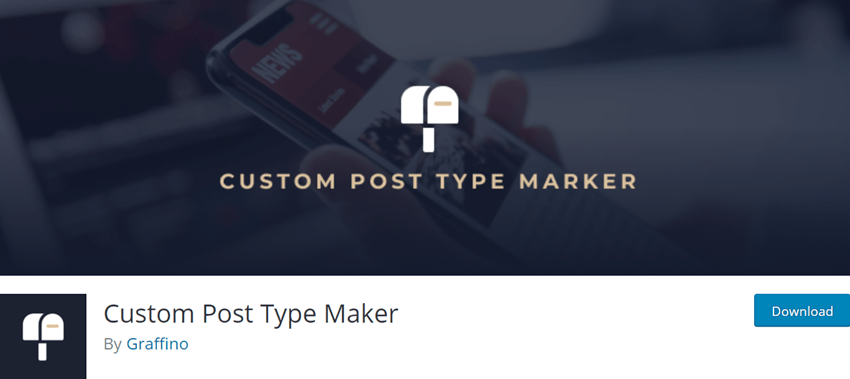 Custom Post Type Maker Plugin has an easy-to-use interface and is friendly for non-developers as well. You can build any type of website can be as there is no need for coding.
Using this plugin, you can easily create custom post types, meta boxes, custom taxonomies, and custom fields. It automatically creates theme templates files by this plugin for taxonomies and post types. You can easily export the code for the custom post. Create and choose any different post types from the predefined ones.
Key Features:
The interface is extremely easy to use.
You can display the custom post types anywhere within the website using shortcodes.
Drag and drop filed organizer is available with the plugin.
Meta boxes and custom fields for these boxes can be created and edited too.
Screenshot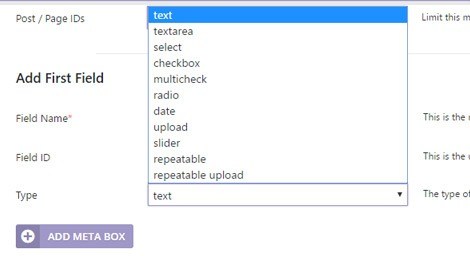 Comparison Between Meta Box Vs 

Toolset Types

Vs

Advanced Custom Fields Pro (ACF)

Vs Pods Vs 

WCK 
Plugin
Toolset
Meta Box
ACF PRO
Pods
WCK
Custom Fields
Management thru Admin UI
 
 
 
 
 
Custom Settings Pages
 
 
 
 
 
Drag and drop your custom fields
 
 
 
 
 
Post Fields Available
 
 
 
 
 
User Fields Available
 
 
 
 
 
Taxonomy Fields Available
 
 
 
 
 
Advanced Fields Types
 
 
 
 
 
Site Building Capability
Ecommerce
 
 
 
 
 
Subscription Support
 
 
 
 
 
Directory, Classifieds
 
 
 
 
 
Elementor Support
 
 
 
 
 
Beaver Themer field
 
 
 
 
 
Gutenberg
 
 
 
 
 
Front-end Form Management
User Registration
 
 
 
 
 
User Editing
 
 
 
 
 
Front-end post publish
 
 
 
 
 
Post Editing
 
 
 
 
 
Payment Facility with forms
 
 
 
 
 
Custom Notification Facility
 
 
 
 
 
Others
Custom List Post, taxonomy, users
 
 
 
 
 
Field-based filtration
 
 
 
 
 
Taxonomy based filtration
 
 
 
 
 
Text Limiter
 
 
 
 
 
Pagination
 
 
 
 
 
User-based Role management
 
 
 
 
 
Show or Hide Meta
 
 
 
 
 
Front-end search
 
 
 
 
 
Front-end filter
 
 
 
 
 
Custom Comments Fields
 
 
 
 
 
Automatic UpdateGoogle Maps Geocoding API
 
 
 
 
 
Buyer's Query
Support
Support Forums, Documentation
FAQs, Documentation, Toll-Free
FAQ, Discussion Forums, Expert advice, Support Ticket
Documentation, Forum
Support Tickets, Documentation
Free Trial
  (for 30 days)
  (for 30 days)
 
  (for 30 days)
  (for 14 days)
Money-back guarantee
  (within 30 days of purchase)
  (within 14 days of purchase)
  (under many T&C)
 NA
   (within 15 days of purchasing)
Pricing
Presentation Plan -$69 Interactive Plan -$149, Agency Plan -$299 (one year update and support)
Core Bundle -$79 (12 pro extensions) Developer Bundle -$149 (all pro extensions) Lifetime Bundle -$349(all pro extensions) (one year support and update)
Personal Plan – $25 AUD (1 site lifetime updates) Developer Plan – $100 AUD (Unlimited Sites lifetime updates) Single time payment
Free
Hobbyist Version – $49 (1 site support), PRO Version – $139 (for unlimited sites)
Buy
Buy
Buy
Buy
Buy
Conclusion – Still confused about which is the Best custom fields Plugins for WordPress? Don't worry my friend I will give you correct guidance over this selection. If you are a beginner and want to make small customization then I will request you to go for Toolset Types. Even toolset is recommended for Developers who are experts and want to finish their work within minutes instead of spending hours. But if you know at least some PHP and wants to build something amazing then Metabox Plugin is highly recommended. Metabox also supports custom post types for woocommerce Products. They have 30+ add-ons to make you're easier and easier. And if you looking for a simple, easy one with more Custom Fields then we recommend you to choose WCK