6 Best AMP Plugins for WordPress 2020 And Setting Up AMP on WordPress 
In this articles we will be learning about which is the best amp plugins for WordPress based on faster speed SEO design and advertisement support . And we will be learning how we can setup Google AMP in WordPress .
What is Google AMP ?
AMP means accelerated mobile pages and its was started by google so its called as google AMP . And its open source platform which is started to increase user experience on mobiles. And its its represented by lighning sign in your google search which means loading at lighting speed
Why Google amp is important for website ?
AMP or Accelerated mobile pages are the best way to increase your website speed on mobile devices. When your website loads faster then it will increase your website traffic as well as increase your website revenue
How does Google AMP works?
Accelerated mobile pages limit the number of javascript and css files used on any pages or post so that its should loads fast . And one more best part of it is that to increase more speed google used to cache your website content and host them from their own server so that server response time can be eliminated . It is almost similar to work of Facebook instant articles
You may also be interested in Adsense Plugins , Cache Plugins , Fomo Plugins and Email marketing service 
Positive and Negative aspect of Google amp 
Everything has positive as well as negative aspect. Even google AMP has that .
Accelerated mobile pages Positive aspect
Faster loading on mobile version .
Increase user experiences
Increase Your website ranking
Loads faster on slow internet
Accelerated Mobile pages Negative aspect
Increase In bounce rate
Will loose Your Website brand and design
Switching back to non amp more is difficult
Low earning on Adsense .
Lower conversion rate due to low quality design and user experience
Negative effect of amp is more than positive effect that's why we are not using amp in our website

So lets have the list of top AMP Plugins For WordPress are as follows 
5. AMP for WP
AMP for WP Plugin can be used to make your website page into Google mobile accelerated pages for mobile users. This plugin is the best plugin for amp because its support both pages and post both
Add Different layout To your Blog pages or post
Advertisement (Google adsense supports in amp )
You can even add one signal push notification
You can even add woo-commerce to amp
Two amp seo plugin supported All in one seo and Yoast
Youtube video Support
Genesis Theme supported in amp mode
Free
Premium
AMP for WP – Accelerated Mobile Pages WordPress Plugin Tutorial 2020
1. AMP for WordPress By
AMP for WordPress is created by WordPress team and its free amp plugin for WordPress . This Plugin only supports post . They are still working on pages in amp mode. You can add google analytics code to your website and favicon images for brand . This plugin have limited feature . This plugins is completely open-source and if you will look at contributor then even google has also contributed in this plugin development
Free
AMP for WordPress Plugin Setting Tutorial 2018 How to Implement Amp in WordPress
+
2. Glue for Yoast SEO & AMP
The yoast AMP SEO need amp glue for integrating amp pages with the meta description correctly (Only for Yoast seo Plugin User)
The Yoast SEO: AMP Glue plugin integrates Yoast SEO into your AMP pages. This makes sure your meta-data is implemented correctly.
Free
3. All in One SEO Pack
All in One SEO Pack plugin is also known by name semper plugin . This plugin the one of the must have plugin for WordPress . This plugin manage all your seo . If you have All in One SEO plugin for WordPress then you don't need any extra plugin for using amp inside your website .
Because it have built in feature for Google AMP support (Accelerated Mobile Pages) . Once You activate it You are ready to rock not much Plugin configuration .
Free 
Free
4. WP AMP — Accelerated Mobile Pages for WordPress and WooCommerce
WP AMP is a WordPress plugin which provide supports to amp pages and this is a premium plugin . You can configure its in very less time.
This Plugin works perfectly with pages, post, tags and category .
This Plugin even support WooCommerce products and shop .
You can even supports AdSense on AMP in WordPress
Create Your pages with drag and drop bulider for amp
Mobile Redirection – Redirect all your mobile visitor to amp pages to increase user experience
Gravity form support and contact form 7 support in amp mode .
Email option form supports
Facebook Disqus comment
Premium
6. Better AMP – WordPress Complete AMP
Better AMP is another free Amp plugin for WordPress which one of the fastest and all-in-one solution for Google AMP that offers a comprehensive support system.
Complete support for RTL languages.
Loads Fast – created in speed mater
Customizer with live preview.
Supports posts, page, categories, search, tag, author page and more.
Works well with WooCommerce.
Boasts excellent customer support.
Download
Premium 
7. AdSense Plugin WP QUADS
AdSense Plugin WP QUADS is an improved version of Quick AdSense and has a widespread application with more than 80,000 installations . Now you can this wp quads for AdSense on AMP in WordPress
Supports huge websites.
It can handle heavy traffic of million of page impressions on the monthly page.
AMP ads are added automatically to your website thru its pro version.
AMP plugin installation is required to activate the AMP features.
It will Support AMP AdSense on WordPress automatically
Supports for any Ads code apart from Google Ads.
Multi-language support.
Easy migration of the plugin thru Import / Export function.
Free
Premium
8. AMP on WordPress – WeeblrAMP CE
weeblrAMP CE helps you create a fully featured mobile version of your site in the most attractive way possible.
Pages, posts, tags, categories and archives are supported.
Built-in Yoast, Jetpack, Elementor, Beaver Builder, Analytics, ads, schema.org and comments.
Supports Polylang.
Auto converts Contact Forms 7 and Gravity forms, WooCommerce or Easy Digital Downloads, Mailchimp For WP in the pro version.
70+ filters and actions feature
Template overrides
Highly customizable.
Free
How To setup amp in WordPress

?
You need to install Free  official AMP plugin and activate it
After activation You need to Hover over appearance and then click on amp .There you can change the design such as background header color and choose the theme of the pages for example – light theme and dark theme .

Then click on publish and You are done with setting up amp pages in your WordPress website
Next Steps is that You need to add glue to amp pages with your normal pages to avoid duplicate content.(Only for Yoast Plugin user) . All in One SEO Pack plugin have built in almost function.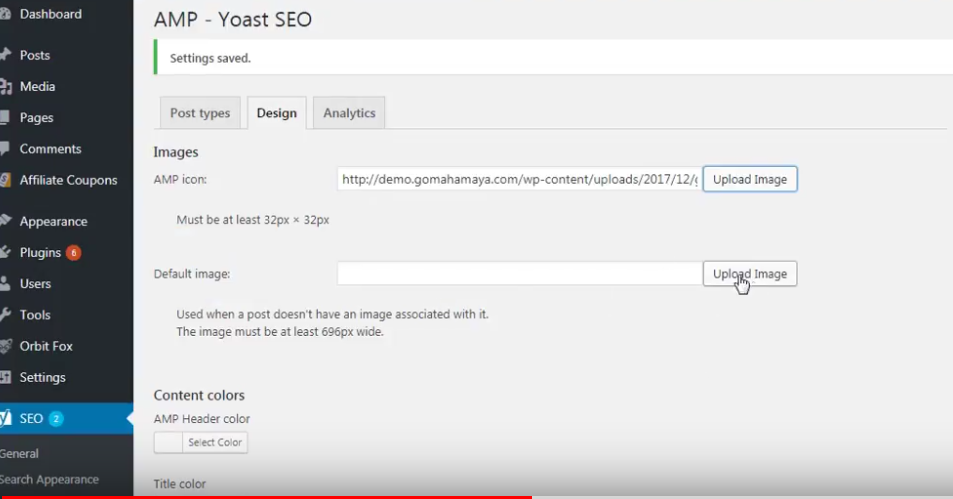 Inside AMP you will find design and inside design you can set logo in amp pages and post .
Now click on analytics tab then paste the google analytics code there and click on save
How To check if AMP is working on Your website?
Open any blog post and then add /amp/ in the end of Your post url for example  https://www.gomahamaya.com/amp-plugin-wordpress/amp/
Next You need to validate your post by using amp validator 
Note – You need to validate amp post . You should be testing any link by adding /amp/ for example –   https://www.gomahamaya.com/amp-plugin-wordpress/amp/ if you will test a url without /amp/ in the last you will get fail error
Error In AMP for WordPress
404 error in amp

– If you are 404 error inside your website after activating amp plugin in WordPress then Hover over setting and click on permalink and then select one perfect permalink for your website and click on save change. and clear the cache Then You will not get 404 error in amp mode
 

The mandatory attribute '⚡' is missing in tag 'html ⚡ for top-level html

– You are getting that error because you are checking non amp post . And amp validator checks for amp post so please add /amp/ in the end of url  Then You will not get errors like The mandatory attribute '⚡' is missing in tag 'html ⚡ for top-level html

This was my research on Highly recommended AMP Plugins for WordPress and How You can set up amp in WordPress . If you have any other request or question about amp please let me know i will update the post.