8 Best Caching Plugins For WordPress 2023 (Compared)
Let's Best Caching Plugins For WordPress. Nowadays, your WordPress website's performance is crucial, which holds for you as well as the visitors. Installing a caching plugin will help you get high traffic and high rank in google, but it will also increase your website visitor's experience. Before I start explaining the list of plugins to increase your website performance, let's look at some basic details first.

Caching is a short-term or temporary storehouse used by users to store their data. You can quickly increase the speed of your website with the addition of caching. If not added, it could take time to load, and it will seize information from your database. By adding caching, you will be able to retrieve your content fast as the entire network round trip is not required. Adding to that, it helps by decreasing network cost as when the content is cached closer to the client, requests will not cause any additional network.
What do You mean by caching, and what does caching do?
Caching is temporary storage used in Your computer and web server for storing all your data so that faster it a retried information and deliver it to the visitor. There are two places where caching will get stored.
Inside your file manager – You can trace this path for getting the location of cached files –  public_html/wp-content/cache or domain-name/wp-content/cache
Inside Your browser ( Google Chrome / Mozilla Firefox  ), the cache will get a store once the visitor any website their images CSS and other resources get stored and downloaded. And once get the store, it will not fetch that information again and again. Only new information will be downloaded that why opening a website for the first time takes lots of time.
What are the benefits of adding caching?
Increase website speed
Better user experience
More traffic and better conversion
Better search engine ranking ( SEO )
To increase Your website Speed and user experience, We need caching. If you do not add caching, your website will fetch information from your database, which takes lots of time in loading.
You may also be interested in Landing Page Plugins, Email marketing Plugins, and lead generation Plugins.
List of top fastest WordPress caching plugins To Increase Website Speed :
Comparison between  WP Rocket Vs WP fastest cache Vs w3 total cache Vs WP super cache 
1. WP Rocket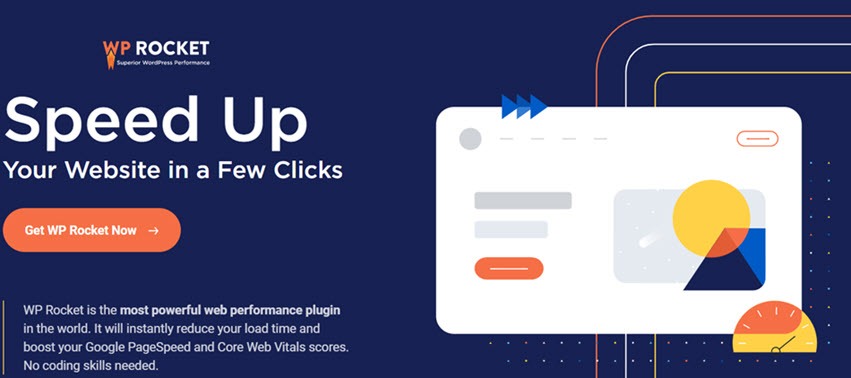 WP Rocket is the fastest caching plugin for WordPress. If you will, it can be configured with a simple click. You don't need to be an expert in WordPress For configuring the WP-Rocket WordPress plugin.WP Rocket is a well-built cache plugin for WordPress Site that speed the page loading. Enhance the loading experience of the website by creating the cache file right before carrying out any particular function. Provide a better user experience than ever before that significantly increase the engagement and conversion rate. WP Rocket makes your website's functions so fast and smooth as it automatically creates the cache file so fast to open any page available on the website. It was built with essential features that tackle the workforce of the cache so efficiently. However, it contains an easy-to-configure interface that anyone can easily set even without coding access. Let you achieve a scoring result for Pagespeed that makes the website SEO-friendly.
Core Features –
Caching – Boost page loading experience and make it work faster than ever with caching access. Enable your website to be available the entire content immediately after clicking thereby.
Compression – Enable compressing the files of the website that ease the loading image, content, videos, etc., and fast visible to the visitors.
Preload Cache – Speed up the website visibility by ensuring the cache for the content is available thereby. Then, this plugin automatically preloads such cache when you enable any change on the web page.
Exclude Pages – Not every page on the website needs caching, and eliminating any disruption on selling, WP Rocket just excludes such pages sensitive to cache.
The speed with minimal configuration –  You don't need much time configuring this plugin. Even beginners can easily configure it.
Search engine visibility improvement –  This plugin will improve speed and increase your website ranking in google.
Woocommerce support – When we discussed speeding up WooCommerce websites, almost all of us failed to optimize it with faster and perfect results. So We recommend you use wp rocket as the best cache plugin for the WooCommerce store.
Static Files Compression – File compression is significant for any website that can be easily be configured.
Language available – English, German, French, Spanish, Italian
Developers friendly – If You are a developer, you will love this plugin. Codes are so simple to understand.
GZIP Compression – You can compress all your pages and post for increasing your website load time.
Translation Compatibility – This plugin supports all languages, and you can easily translate your setting is to your required language and use it.
Wp rocket WordPress plugin is used by Top WordPress theme developer Themeisle, codable, and much more.
Price – Singal – $49/annually (1 Site),  Plus – $99/annually (3 Site),  Infinite – $249/annually (Unlimited Site)
Wp Rocket Review + Plugin Setup And Settings Tutorial 2020
Screenshot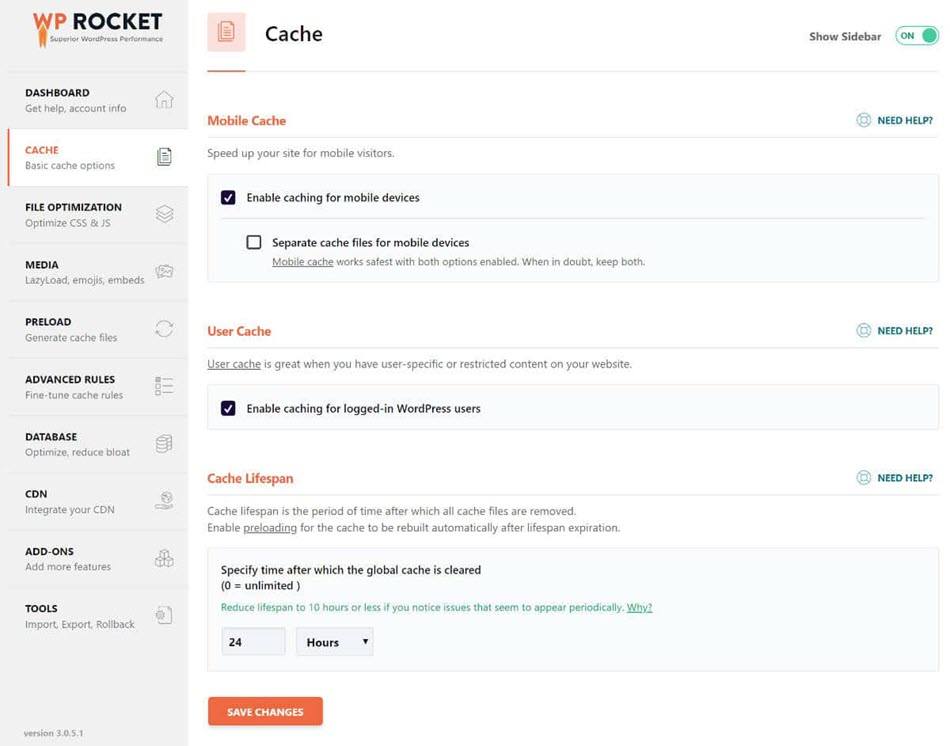 2. WP Fastest Cache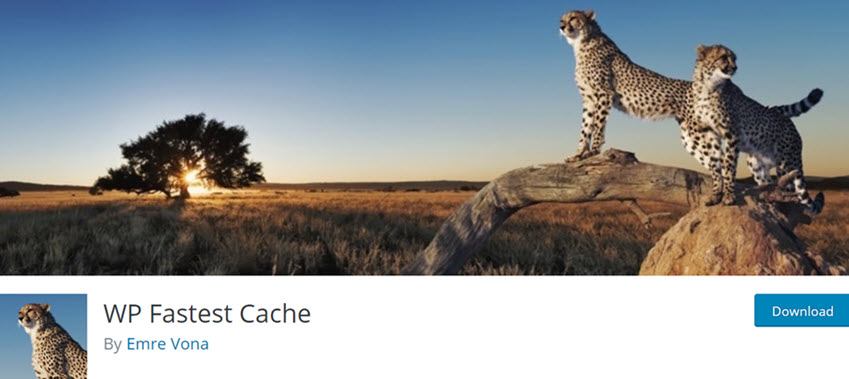 By name, WP fastest cache declares the fastest WordPress caching plugin they mean their words. To be frank, the free version has lots of limitations, but still, you can use it to get high speed. Millions of developers and beginners trust this plugin. This plugin provides cache and helps you minify and compress your content.
WP Fastest Cache is a user-friendly plugin and extremely simple to use because you need not modify the .htacces file. It is on the auto-modification mode by default. Other commendable features are auto-deleting all cache files once the post is published at a determined time. You can also set a cache timeout for particular pages. Besides, the plugin supports Cloudflare, SSL, and CDN.
WP Fastest Cache's incredibly integrated Cache plugin speeds up your site to enhance the Google ranking and reachability on other search engines. Provide appropriate cache for every required page on the website to streamline the ultra-fast access of the content than ever before. Assure the fastest loading of the website just in less than 3 seconds which engages more visitors. Excellent compatibility to pre-existing themes and plugins to efficiently carry out the entire caching function. Although, WP Fastest Cache is integrated with more efficient features necessary for creating cache and preloading the same whenever changes occur.
Essential Features –
Create cache for required pages automatically for a better content loading experience on the site.
Delete the cache file automatically after publishing the post or page to continue the fast access.
The options page provides manual deleting of the cache files that are unnecessarily accumulated.
Disable cache for such pages which is sensitive and need not create cache at all.
Enable to select cache timeout for any particular pages, which automatically delete the cache after a configured time.
Support SSL and CDN.
Cache supported – WP fastest cache supports Browser, widget, Mobile, and desktop cache.
Minification supported – Combine and minify HTML CSS and javascript files.
Gzip compression – You can compress your content by adding gzip compression.
Render Blocking JS (Premium version)
Image Optimization (Premium version)
Google Fonts Async (Premium version)
Total number of users – 1M+
WP Fastest Cache WordPress Plugin Setting 2020
Screenshot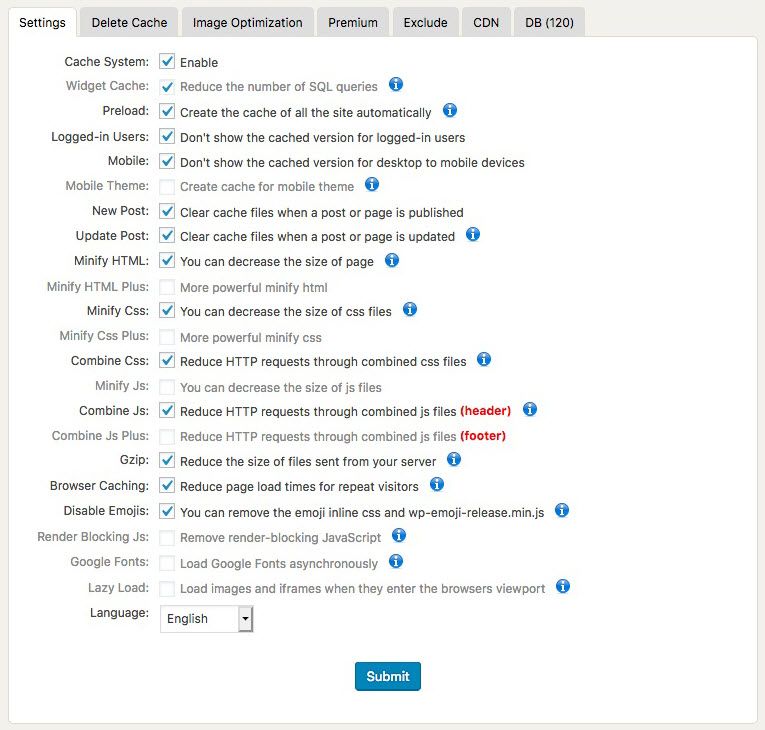 3. W3 Total Cache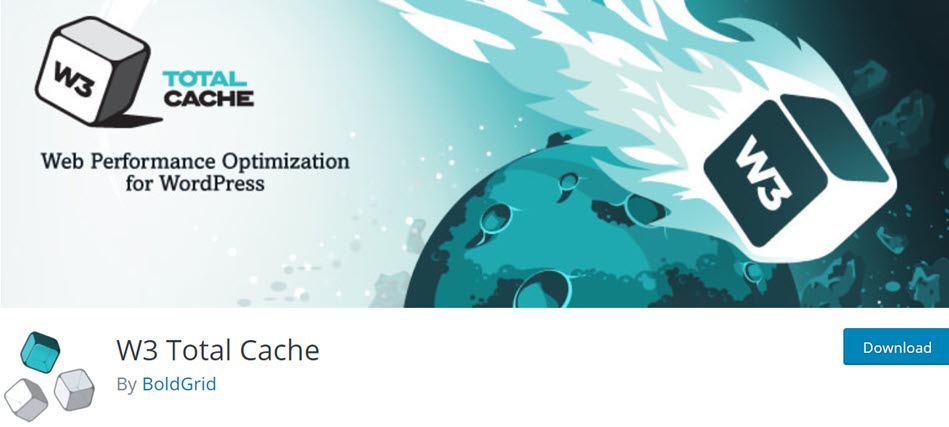 W3 Total Cache is a well-versed Extension that fastens the loading of the website's available content, including video, audio, images, or any database. The most famous free Caching plugin is w3 total cache used by more than millions. This plugin has lots of functionality like increasing Speed, SEO, content delivery network (CDN) integration modification, etc. This plugin works fine with High-quality hosting (dedicated or virtual servers ). For example – Kinsta, Fastcomet. An intuitive interface for creating inappropriate cache manner without writing any code to configure. Just easily install this plugin, and it automatically creates and removes the cache as per the necessity of the website. Lessen the rate of abandoning the website for the sake of loading speed. It just enables the higher processing PageSpeed and SEO-friendly attributes for the website. Establish the fastest loading of the site that welcomes more and more visitors.
Elementary Features –
Let you manage every necessary file on the site, such as media library, WordPress, and themes with approved CDN.
Enable cache for selected pages and configure to delete such cache after establishing the required functions.
Compressing JavaScript and CSS for fast visibility of any page or post content.
Cache posts and pages improve visitors' reachability and convert them into customers significantly.
Compress any files on the entire website that reduce the downloading time and are immediately visible within a couple of seconds.
Browser caching – You can enable Browsing caching To reduce browser load time.
The plugin has an extra feature that can be enabled only on a dedicated and virtual server, increasing your website speed.
Minification of HTML CSS and javascript files – You can combine and compress those files.
You can enable Reverse proxy integration on w3 total cache via Nginx or Varnish.
This plugin supports caching of the fragments in memory, objects in memory, and database objects in memory.
Total number of users – 1M+ Active Installation
Screenshot
W3 Total Cache Setting and Configuration 2020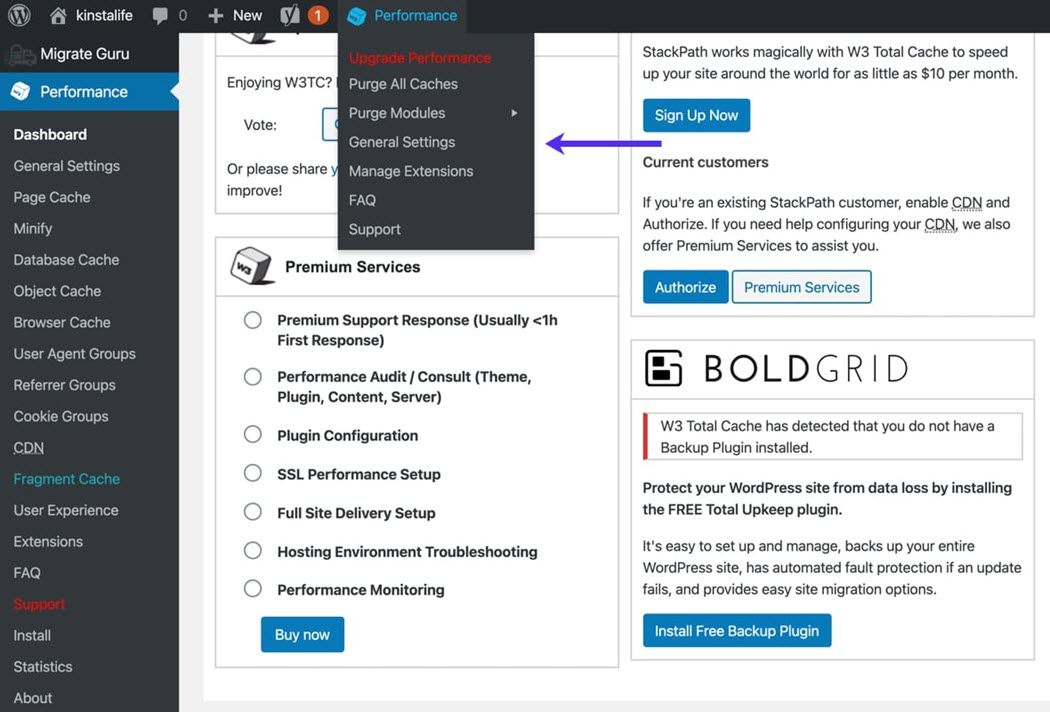 4. WP Super Cache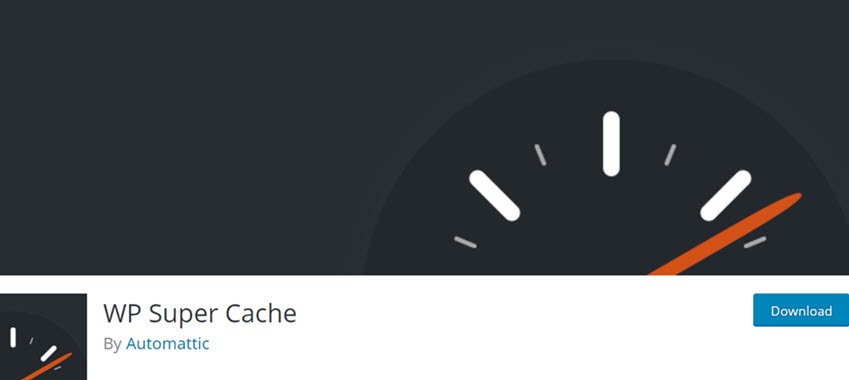 WP super cache is a popular Caching Plugin For WooCommerce that will convert all your dynamic website content to static so that it can load faster. No more content loading via PHP script to reduce delivery time. With this plugin, you also get The Garbage Collection functionality wherein the old files are deleted in the cache directory. This clears up space and is even more helpful, especially if you are billed by capacity. Also, this prevents your cached pages from going stale.
WP Super Cache is integrated with unique features that create an HTML file to display the website's dynamic content. An extensive cache plugin for WordPress enables you to maintain the fast accessing pages and available content. However, let you generate a specified HTML file of the PHP script of WordPress to display such heavier files within less downloading time. Serve HTML static files to a user who is an irregular visitor and doesn't log in. Let you serve cache files numerous times after creating once. Moreover, create and utilize custom files of cache for visitors accordingly.
Core Features –
Preloading – Create cache files for available posts, pages, and databases to minimize the loading time and provide fast content access with the preloading attribute.
Free Garbage – Allow removing old cache or garbage that traps the space of your server and slows down the appearance. Just configure the cache timeout option for the required time to clear the cache automatically.
CDN – Support Content Delivery Network to process the website's content quickly. Boost the loading speed of JavaScript, CSS, and image files with a bit of configuration.
Rest API – To get into the extension settings, you must have the authenticity of being an admin. With the availability of Rest API, only admins can access the settings thereon.
You can easily manage caching settings for login users or non-logins.
They have a preloading mode for caching, drastically decreasing page load time.
Efficiently fixing for leverage browser caching issue
This plugin can be configured in 3 format
Expert
Simple
WP-Cache caching
Total number of users – 2M+
Screenshot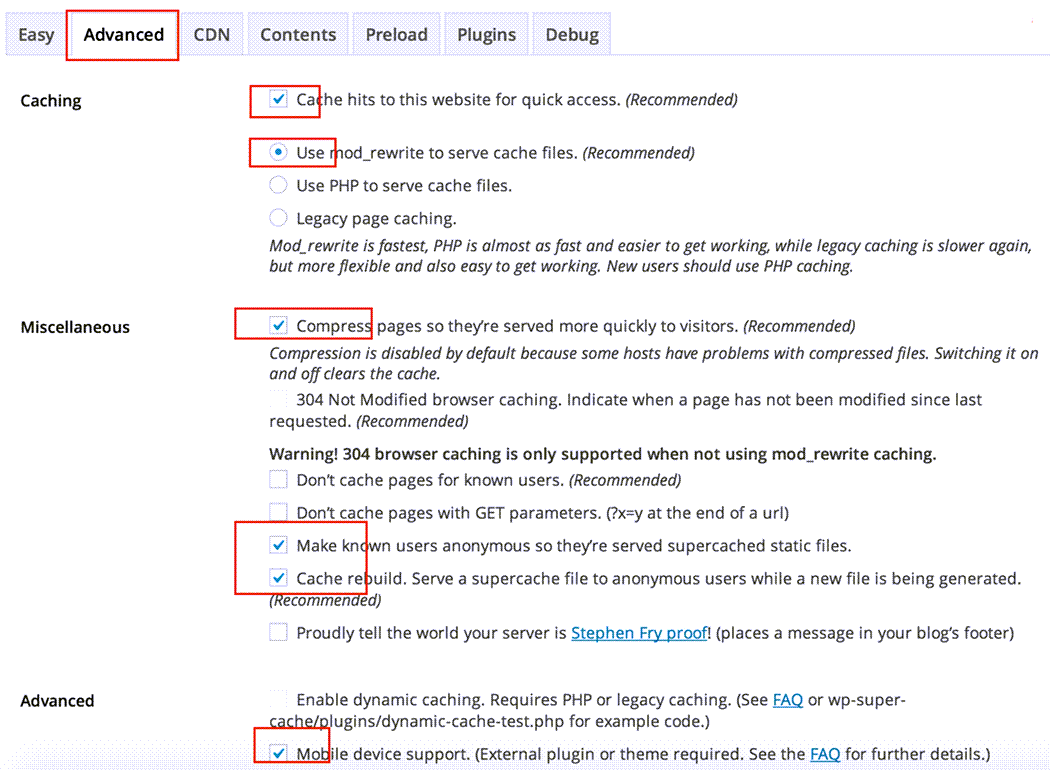 5. WP Cloudflare Super Page Cache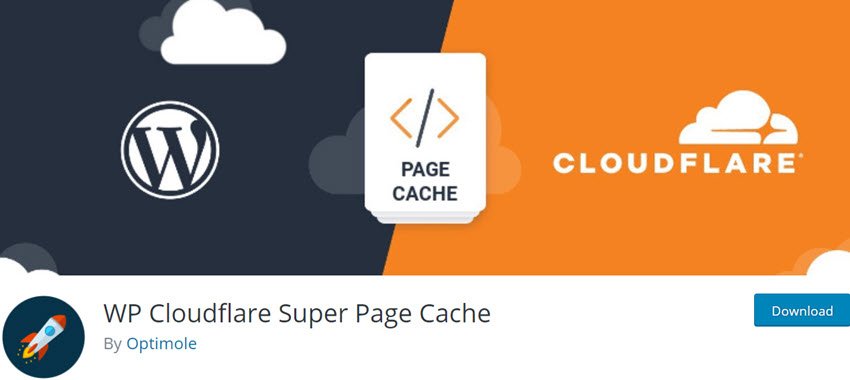 WP Cloudflare Super Page Cache – An elegantly designed Cache plugin that lets you generate cache for static and HTML files available on the site. Such a lightweight and intuitive extension provide complete assistance for fast accessing the page and post of the website. Although, cache the static files, including images, CSS, JavaScript, and more, even without coding skills. It has authenticated admin panel with API that is only accessible to the admin, who may change the configuration if necessary.
Advanced Features That Require To Cache Files Are Mentioned Below –
Enable or disable Cache Buster according to the necessity of the website. If enabled, the users won't be able to see the content cached while disabling needed when you are caching solutions via Cloudflare Worker.
Establish preloading either manually or automatically whenever necessary to create cache files shortly.
Customize the requirement of cache for some selected pages or post accordingly. Also, stop caching the file that contains sensitive data.
Clear the cache after some specific time eliminates excessive engaging space on the website and fastens the page visibility.
Page Caching – You don't need to do anything for adding caching. Just activate the plugin, and you are ready to go.
Image loading – This plugin will help you load images via lazy loading. You don't need an extra plugin for doing that, And you should use a minimal number of the plugin for better loading.
This plugin is perfect for eCommerce Stores by increasing performance and caching ability.
Total number of users – 20,000+
Price – Starter – $283/annually (25K Visitor Monthly),  Business – $580/annually (100K Visitor Monthly)
Cloudflare Optimization for WordPress (FREE method)
Screenshot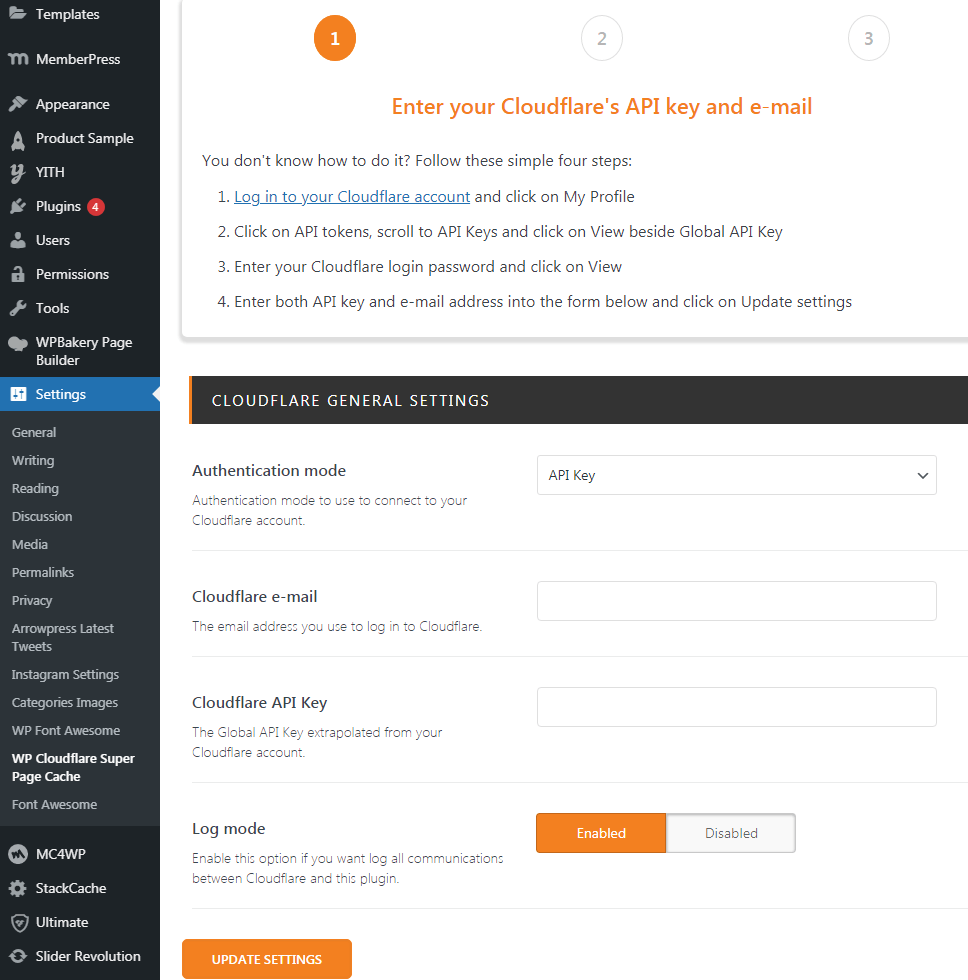 6. Cache Enabler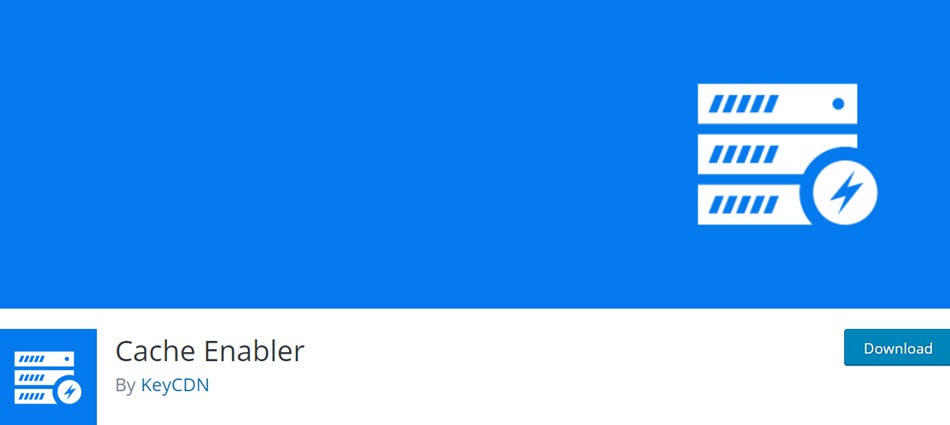 Cache enabler is a straightforward and free cache WordPress plugin that stores all your static file in server disk and serves it to your visitors for a faster experience. This plugin support minification if modified since header and images compression.
Cache Enabler is One of the best caching plugins for WordPress that automatically saves the page content on the server's disk as static HTML files delivered without any database queries, thus helping your site load faster. It is easy to use a plugin that requires minimum configuration and is robust and practical at the same time. It is one of the best ways to enable caching on your website and boost your site speed. Some of the plugin's key features are that it offers multisite support, allows manual and automatic cache clearing, has a powerful disk cache engine and supports Custom Post Type.
Features
It is a fast and effective plugin that automatically clears all the caches on your website.
The plugin is fully mobile responsive, and this works seamlessly on all devices.
It supports the images in WebP format and supports Gzip and Brotli pre-compression.
It minifies HTML on your website by including or excluding CSS and JavaScript files.
The plugin is fully compatible with Autoptimize and many other third-party plugins.
Using this plugin, you can view your cache size on your WordPress website in real-time.
It is being continuously modified as an open Source software for better outcomes.
HTML & JS/CSS Concatenation & Minification – You can easily compress Your website Html CSS and javascript files using a comet cache plugin.
Total number of users – 100,000+
Screenshot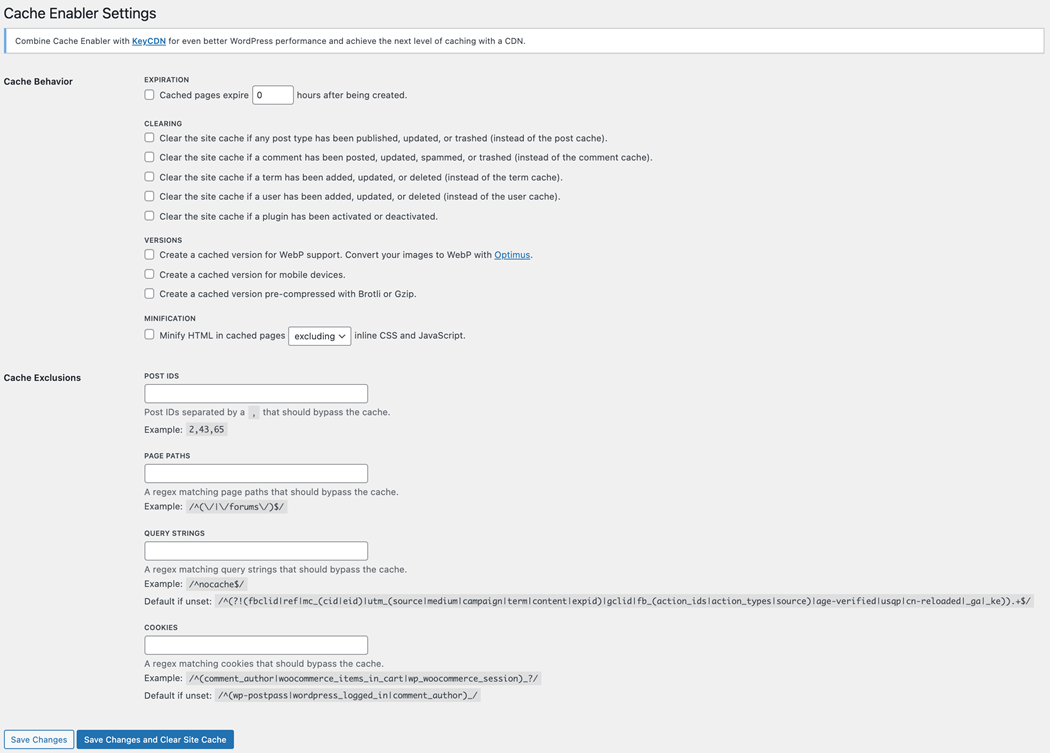 7. Comet Cache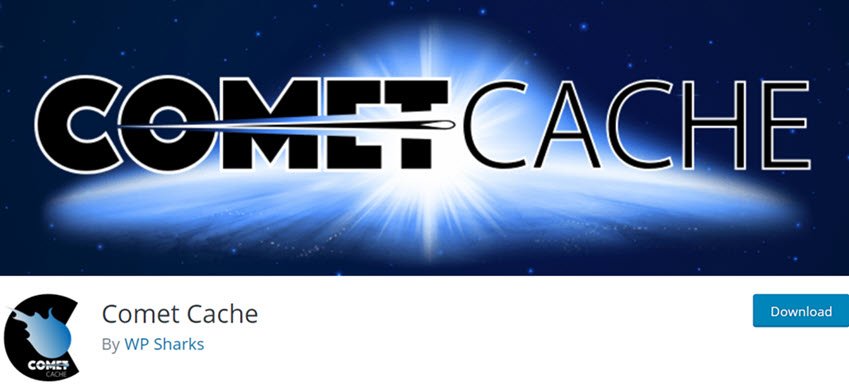 The most trusted, Famous, and Fastest Caching Plugin For WordPress is comet cache. Which has Pre setting done for getting maximum optimization? Comet Cache is the top-notch plugin for boosting your site speed and eventually your site traffic and conversions. The pleasure automatically captures the real-time snapshot of all the posts, pages, and categories on your website, creating caches and storing them as references. Thus, it saves you a lot of processing time and eventually helps your site load faster. While caching, the plugin excludes Login pages, administrative pages,  CLI processes, and POST/PUT/DELETE/GET requests. Also, it is an Advanced Cache Plugin system for theme and plugin developers.
Features
Comet Cache is a simple yet powerful plugin that automatically enables caches on your WordPress website and boosts your site speed.
Using this plugin, you can manually control the caches on home and post pages, category, custom post types, author page, RSS/RDF/ATOM Feeds, and XML Sitemaps.
It also comes with Apache Optimizations that help you enable GZip compression on your WordPress website.
With Comet Cache, you can also set the automatic expiration time for cache files.
It comes with User-Agent exclusion patterns, URI exclusion patterns, HTTP referrer exclusion patterns, and supports wildcards.
The plugin also allows Client-Side Caching for 404 requests and RSS, RDF, and Atom Feed caching.
Configuration – You can step this plugin into two simple steps. You Don't Need to mesh up with plugin configuration. As I have mentioned, this plugin has presetting done. After activation, save the setting, and you are ready to rock.
Caching supported – This plugin also supports caching of pages post, tags, categories, and browser caching.
Comet cache Feature
Total number of users – 50,000+
Price – Pro – $9/annually (1 Site), Premium – $99/annually (Unlimited)
Screenshot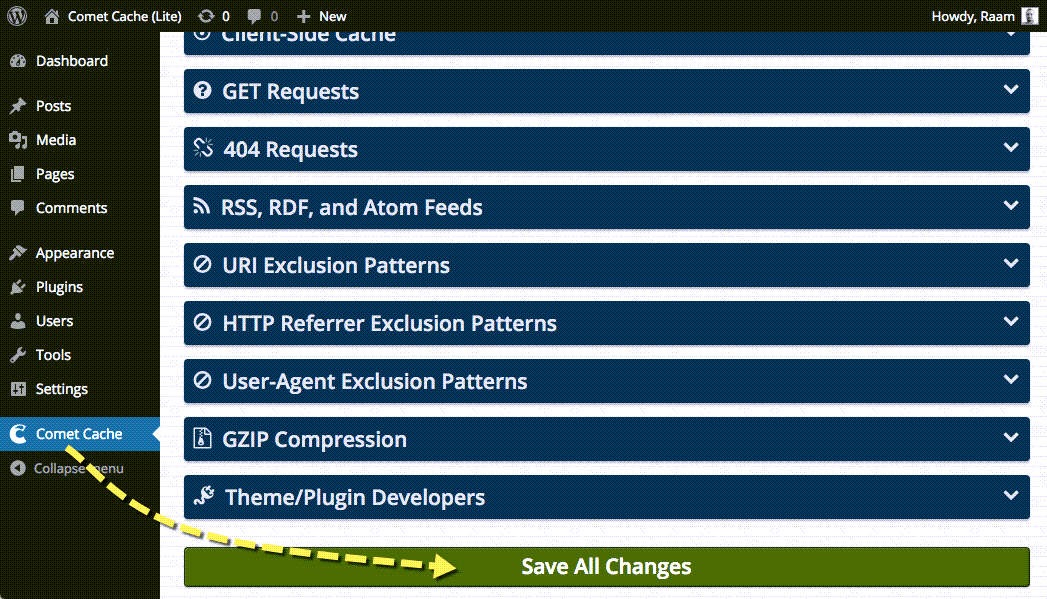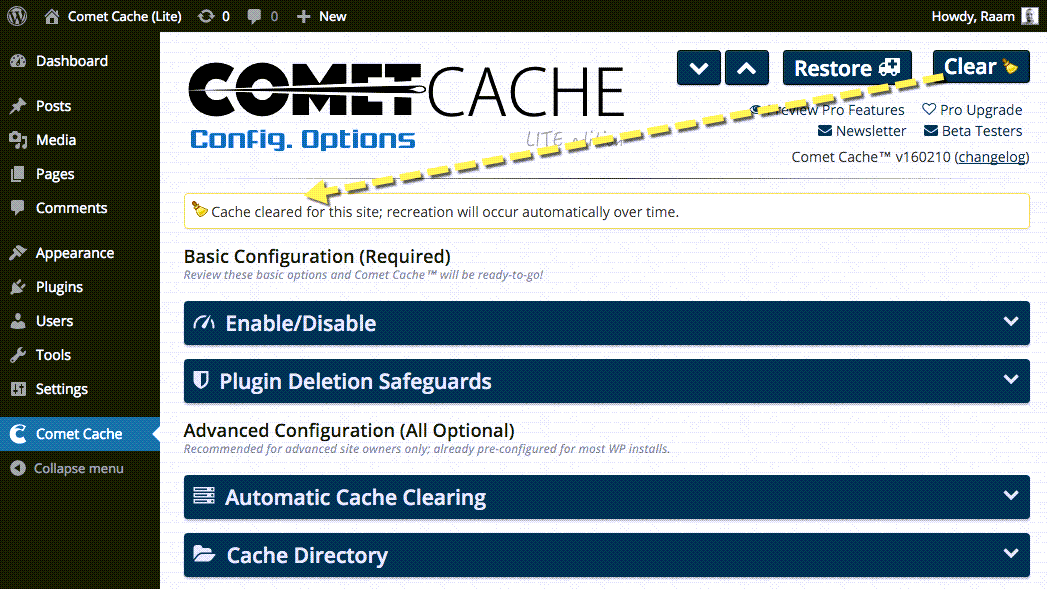 8. Hummingbird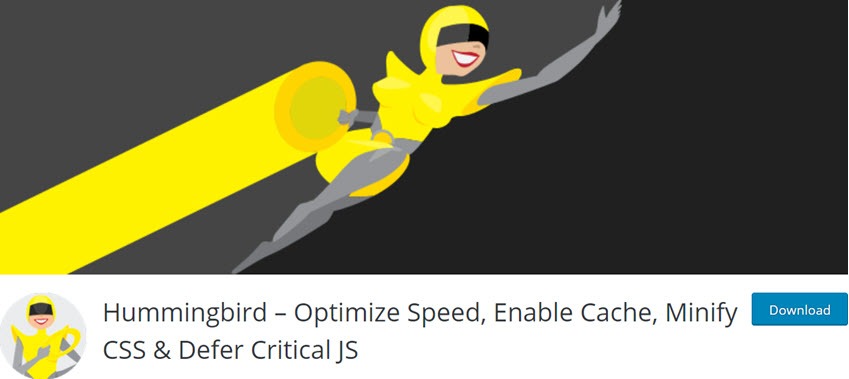 Hummingbird – Optimize Speed, Enable Cache, Minify CSS & Defer Critical JS is an effective caching plugin for WordPress That helps your website load faster and boost your Google page speed insights by employing various actions such as  Minifying CSS and JavaScript files, deferring CSS and JavaScript styles and scripts, world-class caching, Lazy Load integration and compression. Hummingbird automatically scans your website and fixes all the problems to boost your website speed. The plugin can help you enable text compression,  fix your JavaScript execution time, use efficient caches, Preconnect to required origins, minify CSS and JavaScript files, eliminate render-blocking resources, avoid enormous network payloads, and Lazy Load offscreen images. Thus, it helps your site load faster, gives your users a fantastic experience on your website, and eventually helps you rank higher in Search engines.
It improves your stacks by storing pages, posts, and custom post types as static information. Cachify allows you to save your information either through the database or you can simply store it in the web server's system cache. Moreover, at whatever point a post or page is stacked, it tends to be pulled straightforwardly from the reserve.
Here are some of the highlights of adding caching :
By adding caching, you can be reconnected to multiple sites of WordPress. Also, caching can serve end-user content even when it is unavailable for a short duration from the origin server.

You can avail of the offer of working with custom post types.

It provides you with a manual and programmed cache reset.

The plugin comes with a world-class caching suite and browser cache tools that help your website load faster.
It also automatically scans your website, identifies elements that are slowing down your website or increasing your site load time, and fixes all those issues in just one click.

It facilities the user with resilience through filtres or hooks.

It also provides you with performance reports and pro tips for reducing your site load time and providing your users with a happy experience on your website.
Reducing your site load time improves your search engine rankings, enhances the user's experience, and thus boosts your conversion rate.

It comes with the settings for Apache and Nginx servers

WooCommerce – One-click optimization make this cache plugin Perfect for the WooCommerce store
Developer Friendly – This Plugin has many hooks for developers to edit codes easily.
Total number of users – 100,000+
Screenshot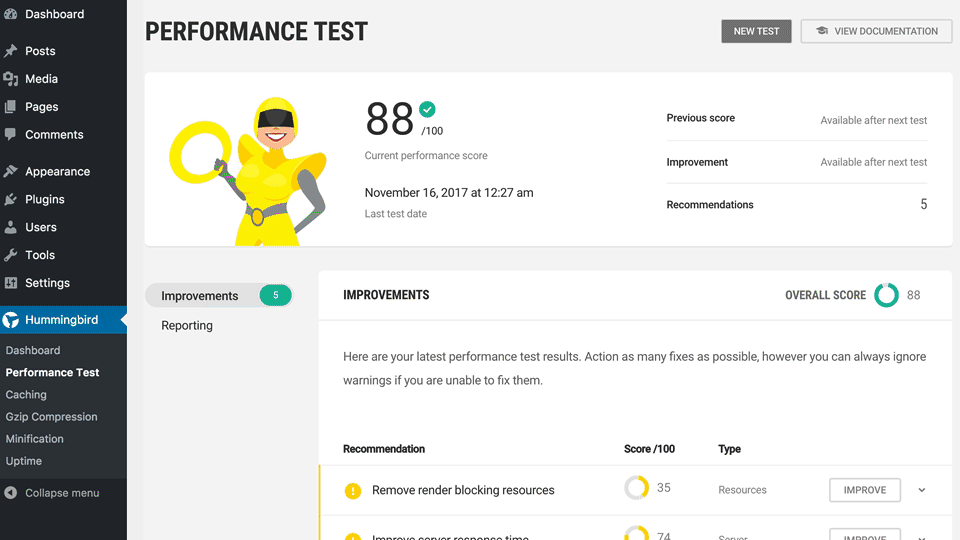 Comparison between
WP Rocket
Vs
WP fastest cache
Vs
w3 total cache
Vs
WP super cache 
| | | | | |
| --- | --- | --- | --- | --- |
| Plugin | WP Rocket | WP Fastest Cache | WP Super Cache |  W3 Total Cache< |
| Free? |   |   |   |   |
| Page Caching |   |   |   |   |
| Desktop Caching |   |   |   |   |
| Browser Caching |   |   |   |   |
| Mobile Caching |   |   |   |   |
| Preloading Bot |   |   |   |   |
| Ecommerce Friendly? |   (Easy Setting) |   (Medium Setting) |   (Easy Setting) |   (Difficult Setting) |
| Configuration & Setup Complexity Level |  Extremely Low |  Low |  Low |  High |
| Support | FAQ, Ticket System, Expert Technical support, Documentation | FAQ, Forums, Documentation | FAQ, Forums, Documentation | FAQ, Forums, Documentation |
| Multisite Support |   |   |   |  Partial |
| Lazy Loading |   |   |   |   |
| GZIP Compression |   |   |   |   |
| Database Optimization |   |  Only For Premium |   |   |
| Minification & Concatenation of JS,HTML and CSS files |   |   |   |   |
| Multilingual Compatibility |   (All WPML Multilingual certified) |  23 Languages |  17 Languages |  7 Languages |
| Mobile Detection |   |   |   |   |
| DNS Prefetching |   |   |   |   |
| CDN Support |   |   |   |   |
| Cloudflare Support |   |   |   |   |
| Moneyback Guarantee | (Within 14 days) | (Within 30 days) | NA | NA |
| Active Installs | 6,24,000+ | 8,00,000+ | 2,000,000+ | 1,000,000+ |
| Pricing | $39 – single, $99 – 3 sites, $199 – infinite | 39.99$ – Single Licence | NA | $99 / year |
| Developer Friendly |   |   |   |   |
| Setup | Extremely Easy (Few Clicks) | Medium | Easy | Difficult |
| Render Blocking |   |  x |   |   |
| Remove Query Strings from Static Resources |   |   |   |   |
| |  Buy |  Buy |  Buy |  Buy |
Conclusion – This was my research about the caching Plugins For WordPress. I hope you find it helpful. If you are still confused, don't waste your time go for wp-rocket it's the cheaper best and has almost the functionality whatever a standard caching plugin requires, With premium support from developers. You can also hire an expert for your website performance enhancement if you find it difficult to set up.