7 Best Lazy Load Plugin For WordPress 2020
In this article we will be learning about best lazy load plugin for WordPress . And We will be also be learning How implement Lazy load images and video to increase our website . This feature not only increase our website by also save our bandwidth which will ultimately result in saving Our money .
Speed is the need of the hour in this fast paced world. Its more so in the case of Internet where webmasters want to increase the search traffic. Adding high definition images and videos on a website makes it more informational but it also reduces the speed of the web page. This is the reason we need to optimize a web page's images. But simply compressing the images still doesn't help as it still takes a lot of space. That is why we need to Lazy Load images and videos to increase the speed of a website.
What is Lazy Loading?
A website contains many images and videos which a visitor may not even need to see. But these images can slow down the speed of the page. So to optimize the speed of the page we delay the loading of the images and videos until the user scrolls down to the specific image. So the images and videos are not loaded simultaneously as the other contents. This is known as lazy loading. Only the images up to which the user has scrolled will be visible and the images which are still in the fold will not download hence saving time.
Why should we lazy load images?
No one wants to remain behind. The proverb "Slow and steady wins the race" doesn't seem to apply in today's cut throat competition. Similarly a slow website can increase bounce rates. A research has found that a few second's delay in loading of a websites has resulted in 8-10% decrease in conversion,15-20% decrease in satisfaction of the customer and 10-13% lesser page views. Most of the time are taken by the images on a website to load. Every time an image is added to a website it increases its load time. Using CDN services helps in optimizing web pages by loading multiple images using servers located nearby. But this doesn't completely solves the problem as the images are still being downloaded. That's why lazy loading images becomes even more important.
How does Lazy Loading images and videos work?
Lazy Loading works in the following manner:
The web page DOM is built by the browser without preloading the videos and downloading the images.
What all images are to be downloaded and the videos preloaded when the pages is loaded initially is decided  by JavaScript based on the content. Only the required images are downloaded and videos are preloaded
The remaining images and videos are not downloaded until until the site visitor scrolls down the page and he unfolded contents come into view.
So videos and images are held from downloading until they are actually needed. This help many websites to boost their performance which use many high resolution images and videos.
Benefits of Lazy Loading images
Lazy Loading helps in basically two fields:
It helps to boost the speed of page loading time- Readers don't often go through the entire contents of the web page.So to download all its contents may not be necessary and it can slow down the website loading time. So it is in the benefit of the webmaster to immediately load the initial contents of the  web page and subsequently  load the rest of the contents as the user scrolls through.
It helps in saving user's bandwidth- For people who are still using 3G plans or are not using unlimited bandwidth, Lazy Load may be in their profit. So it would be a nice gesture to save their bandwidth. This way their data will be lost for only the images that they want to see.
Some of the Best Lazy Load Plugin For WordPress are as follows :
1. BJ Lazy Load
Bj Lazy Load is one the best lazy load plugin for WordPress and free plugin which replaces all the gravatar images, post images, post thumbnails and content i frames with a placeholder and as the visitors scrolls down and the folded up content comes close to the browser window, it loads up. It is also built to work with text widgets.
Working with i frames enables it to cover videos embedded with Vimeo and YouTube. Original images are available in no-script to non-JavaScript visitors. Other images and iFrames can also be loaded into the user's theme using a simple filter. It is also compatible with RICG Responsive Images plugin for responsive images.
Total number of user – 80,000+ 
Free
2. A3 Lazy Load
A3 Lazy Load is another popular and very easy to use plugin which is Mobile Oriented and speeds up site page load speed. This plugin's performance increase with the weight of the site. It is powered and inspired by the ressio Lazy-Load-xt JavaScript.
Plugin admin settings can be easily used to select contents that are lazy loaded and the image for their lazy loading. So as the visitor scrolls down the web page, the contents will be loaded as set up in the plugin.
Total number of user  – 200,000+
Free
Screenshot

3. Lazy Load by WP Rocket
This plugin displays iframes and images on a web page as the visitor scrolls down and the contents become visible on the page.It works on all images in a post content, thumbnail, smileys, avatars, iFrames and widget texts. JavaScript library such as jQuery is not used and the weight of the script is around 8-12kb.
Total number of user – 100,000+ 
Free
Premium
4. WordPress Infinite Scroll – Ajax Load More
It is an infinite scroll plugin for for lazy loading single posts, comments,posts and pages with queries powered by Ajax. The shortcode builder provided by Ajax Load More helps to build complex custom WordPress queries and then the generated shortcode is added to the user's page via the content editor or directly into the user's template files.
Popular e-commerce plugins such as Easy Digital Download and WooCommerce with have endless scrolling, Ajax Load More is compatible with them.
Total number of user  – 50,000+ 
Free
5. WP YouTube Lyte
The webmaster's videos can be lazy loaded by inserting responsive "Lite YouTube embeds" through WP YouTube Lyte. These normal looking embedded YouTube actually calls the fat YouTube player when clicked on thereby rendering time substantially and and reducing download size. when occasionally embedding YouTube and drastically improving page performance when there are multiple YouTube videos on the same page.Privacy and Performance can be both improved by configuring the plugin to cache YouTube thumbnails locally.
Since Lyte embedded YouTube Videos don't require requests to the YouTube servers and hence allows better GDPR-compliance.The plugin takes over from WordPress core's oEmbed and picks up on normal YouTube links. Also an entire playlist or a YouTube link can be added with "httpv" instead of "https" or a Lyte widget can be added to the sidebar and that link is replaced by correct performance-optimized code by WP YouTube Lyte.
The primary goal of writing this plugin was optimal performance but it has also be found for maximum browser compatibility  as well as accessibility. They are very responsive and automatically embeds videoObject microdata as well.It is multi language with support for English, French, Hebrew, Dutch, Spanish and Romanian.
Total number of user  – 20,000+ 
Free
6. Lazy Load for Videos
It improves time for page load as well as increases a webmaster's Google PageSpeed score. A clickable preview image replaces Vimeo and YouTube videos. This plugin is mostly used on websites with many videos as the video will download only when user clicks on the Preview image using jQuery and hence no additional JavaScripts are loaded. Some of its features are:
The controls are hidden from YouTube players.
Annotations like 'Subscribe to channel' are hidden and hence removes distractions.
Videos in text widgets are supported.
A choice can be made among several 'Play' buttons.
Video titles can be displayed on preview images.
Thumbnail size can be chosen.
All videos can be converted into a playlist and any  product teaser,corporate video and another video advertisement can be added automatically to he video.
Custom CSS can be added via plugin's option panel.
It also works with WordPress multi-site.
Total number of user  – 10,000+ 
Free
7. Lazy Load XT
This plugin can be used to lazy load Vimeo and YouTube videos,iframes and images. It is lightest and fastest among all other plugins as well as fully customizable lazy load plugin in WordPress plugin directory.It works by loading the Lazy Load XT Script and replaces the src attributes with data-src when the content of a page or post is loaded on the front end of WordPress site.
Total number of user  – 3000+ 
Free
How to Enable Lazy load images and video In WordPress
BJ Lazy Load WordPress Plugin | Increase Your Website Speed 2019
You need to first install and activate BJ Lazy Load this plugin
Once your plugin gets activated you need to click on setting >>>>>  Bj Lazy load Plugin setting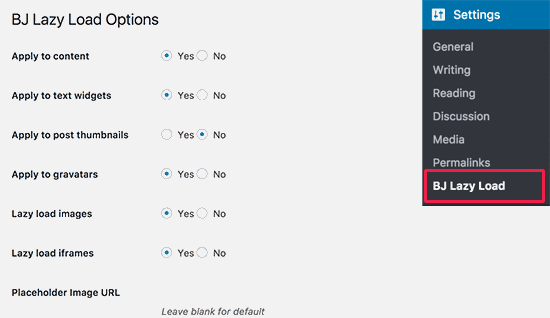 Now set the setting as given in Screenshot 
And now bingo you have learnt which best lazy load plugin for WordPress and How How implement Lazy load images and video .