7 Best Different Menu Different Pages WordPress Plugin With Tutorial 2021
Are you planning to add a different menu to a different page? You can easily create Page-Specific Menus with some conditions with category, tags and custom taxonomies.
Even when I started my website I to have added this plugin and visitor was able to see the different menu on different pages. Sometimes will much be helpful if you will show them on with certain categories.

You may be interested in knowing more about membership plugins,  FOMO marketing plugins and the best menu plugin
Let's have a list of Page-Specific Menus WordPress plugins which are as follows:
1. JetMenu CrocoBlock

JetMenu is a well-organized extension used to create a more enhanced mega menu on the website to navigate all through the site with more convenience. Design your store along with the intuitive menu for displaying the product based upon categories such as essential items, attractive banners, and so more. JetMenu lets you decide the navigation accessibility on the site and let you present it with various animations templates whichever suits perfectly on the website. Hereby you may establish the menu consisting of Vertical, Horizontal, and Hamburger navigations. Enable the menu expressive the same on the mobile and other devices while designating the menu along with required content anywhere including footer area, header area, and Breadcrumbs area as well.
Price – All-Inclusive – $130/annually (1 Site),  All-Inclusive Unlimited – $256/annually (Unlimited Site), Lifetime – $750/annually (Unlimited Site)
Screenshot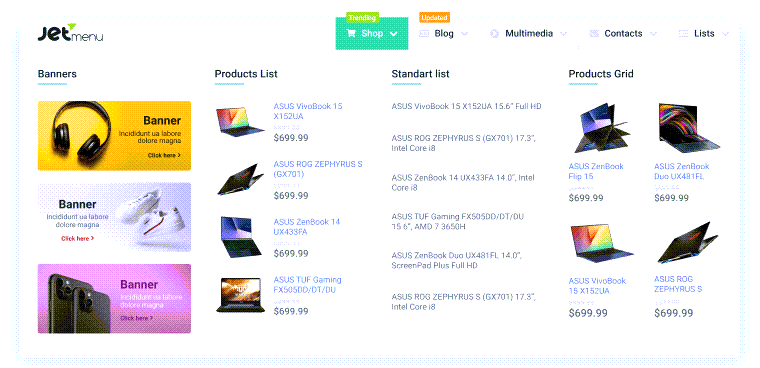 2. Conditional Menus

Conditional Menu contains an extremely easy-to-use interface that enables you to maintain menu appearance on the site. Just place the variety of menus on the available posts, pages, and custom posts, tags, and elsewhere with the assistance of this Themify WordPress. Insert such eye-catching menu essentials which compatible perfectly with any themes of WordPress. Allows to integrate the functionality of the entire menu and take supervision from a single platform inefficient manner. Create the menu into the admin panel of WordPress and then enable the management of location through add condition. Also, let you easily access to swap the menu of different location when required.
Total number of users – 60,000+
Screenshot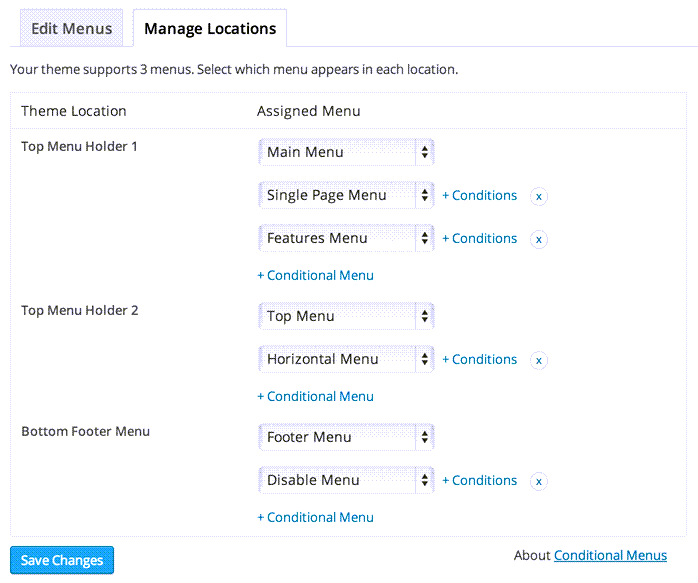 3. Page Specific Menu Items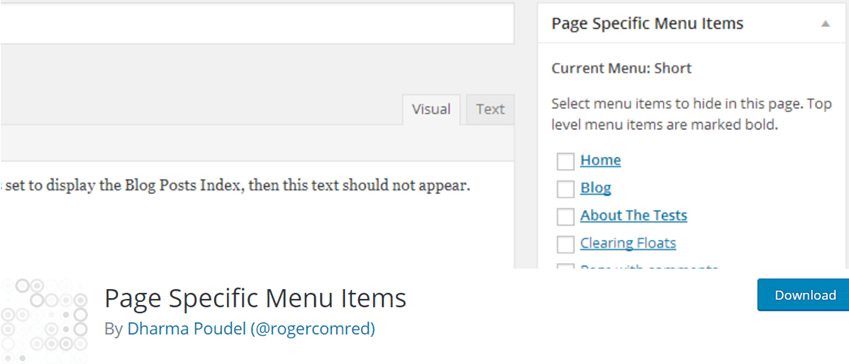 This plugin allows you to single out menu items on a per-page basis. You can select different menu items for every page. It also works on custom post type pages. You can create the menu first and then install the plugin or do vice versa, this plugin will work. The WordPress menus are pre-programmed to appear on every page under the menu location.
However, if you want to replace the menu of a particular page to high point the contents of the page, then this plugin comes in handy. It overrides the default WordPress navigation menu with the customized menu that you want to set per page, per post or per tag as the need may be. It can also replace the custom taxonomies on your website.
Total number of users – 10,000+
Screenshot

4. If Menu – Visibility control for Menu Items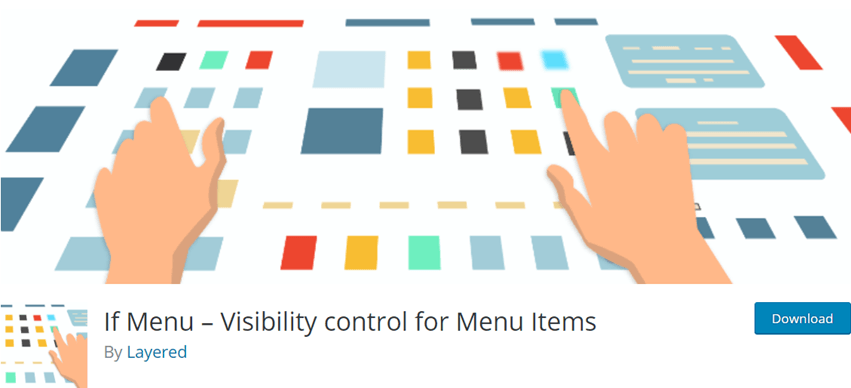 This plugin works on visibility rules and determines which menu items the site visitors will see. It works on an array of selection of the menu rules as each menu item is equipped with a new option of "change menu item visibility". It will give you both a basic and advanced set of visibility rules. The latter requires a premium plan.
Some Basic set of visibility rules that feature in this plugin are
User State user is logged in
User Roles author, admin etc
Page Type front page single post
The user device is mobile
Few Advanced set of visibility rules under the premium plan
Visitor Location country
Visitor Language selection
WooCommerce subscription and membership
Group Information etc
Total number of users – 80,000+
Screenshot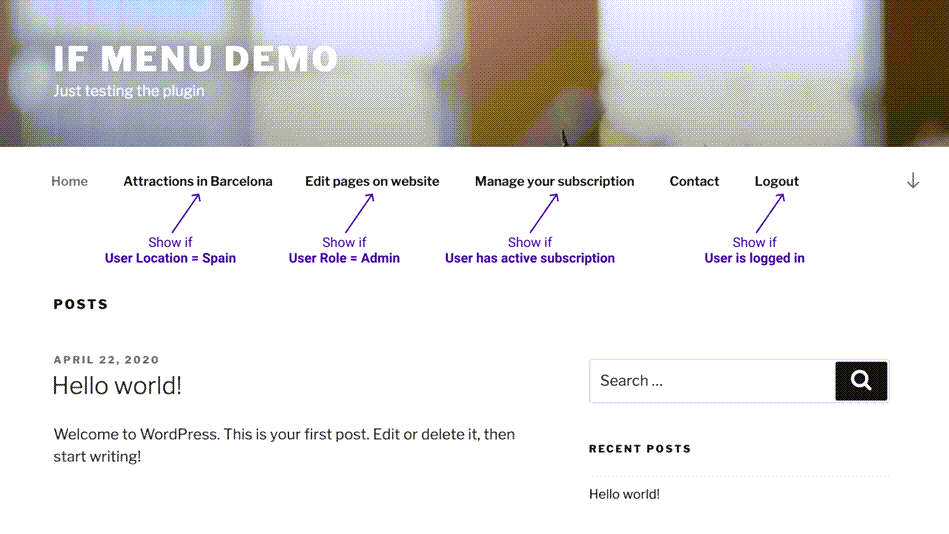 5. Control Menu Visibility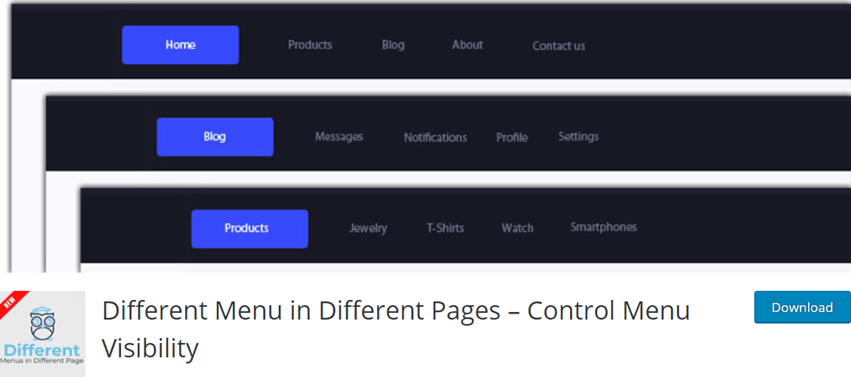 This plugin is simple yet efficient and sets off well with any WordPress theme. You can easily and instantly replace the default menu with your customized menu on any page. It supports Single Post Type pages, Specific or All pages, All Archive pages, Month Archive pages, Date Archive pages, Author Page, Searches Result pages, Category pages, Post Type Category pages. It uses the standard WordPress menu function. Based on specific scenarios it allows you to switch the menus in the theme, thus gives you a platter of different menus to go with different pages, posts or categories.
Total number of users – 4,000+
How to set a different menu?
Screenshot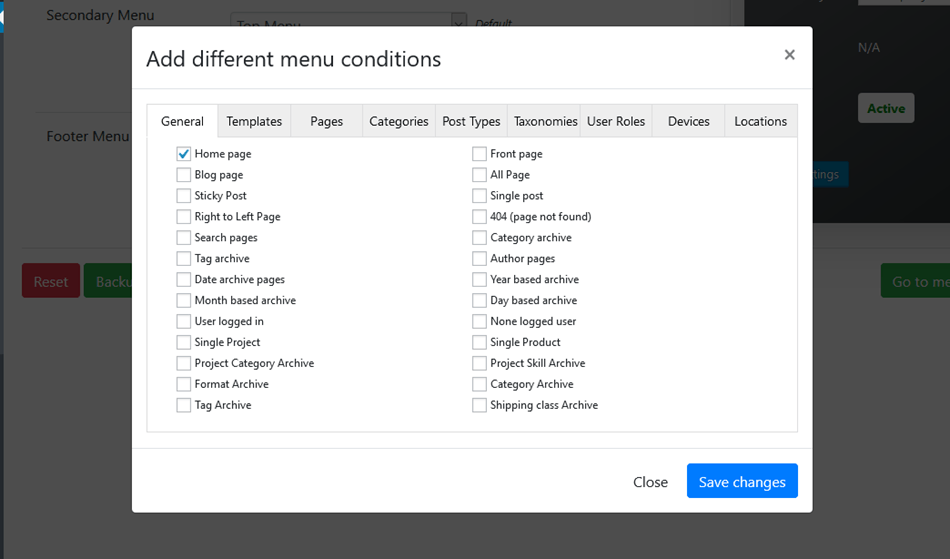 6. Menu Item Visibility Control

Menu Item Visibility Control assists you to manage the menu establishment in the different possible locations of the website. A feature-packed menu plugin of WordPress allows to restrict the accessibility of the menu and make your site easily navigable. Simply enable as well as disable the menu essentials through just front-end configuration whenever required. Administrate the menu functionality on different places of website and acts similarly as Widget Logic in the way for maintaining menu visibility. Utilize the functions of WordPress or PHP to insert logic and conditions for the existing menu. Hide or show the menus on any particular location with some sort of commands thereby.
Total number of users – 10,000+
Screenshot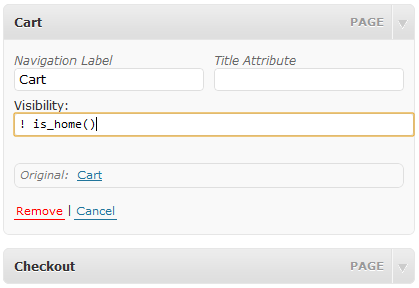 7. PageMenu
PageMenu enables you to establish the different attractive menu styles on a particular page, posts, custom taxonomy, tag, and category efficiently. An immensely organized different menu extension by WordPress avails you the better possible option to manage flawless navigation on the website. Enhance the user experience while they get access to a menu that works so smoothly on any device. Place such menus all over the site within a few easy configurations to make them appear everywhere. Let you select the location wherever you want to place it and also enable to add such menu on existing posts through editing option available thereby. Allows hiding the menu whenever required while utilizing the shortcodes.
Total number of users – 3,000+
How to Use Page Menu : WordPress Plugin
Screenshot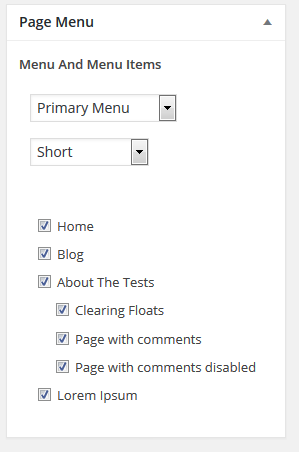 How to Add Different Menus To Different Pages In WordPress
How to Add Different Menus To Different Pages WordPress 2018
You need to download any of the above-mentioned plugins & activate them.
After activating. Create 2 menus and apply the condition to like on which page you want or which one you don't want.