10 Best Social Proof, FOMO Marketing & Fake Sales Notification Plugins 2023
Are you looking for the Best Social Proof & FOMO Marketing Plugins for your Platforms like WordPress, Shopify, Wix, and other eCommerce websites? Using these plugins, you can easily increase your website conversion by Showing recent sales notifications on your website.


Using the Fomo marketing technique, you can easily create anxieties in the mind of buyers that everyone is buying the products and why you should stop yourself. Be in a hurry to get the products. You can create fake recent sales notifications on your WordPress website, also. No matter which platform you use, it's free to open source WordPress or Shopify. So for this, we need Social Proof Notifications for the Ecommerce website.
What is Fomo Marketing?
In simple terms, FOMO can be elaborated as "fear of missing out ", which is a psychological marketing technique that creates a feeling of trust, urgency, and anxiety In your customers' minds so that they can buy your products faster. Mostly, people increase their savings by 15-25% more. Sticky Reviews on the bottom, which pop up at intervals of 3-5 seconds, will boost your business by 200%.
You may also be interested in Lead generation Plugins, Email marketing Services, and Landing Page Tool.
So let's have the list of Top Social Proof Notifications Plugins For Your Website as follows:
1. ProveSource Social Proof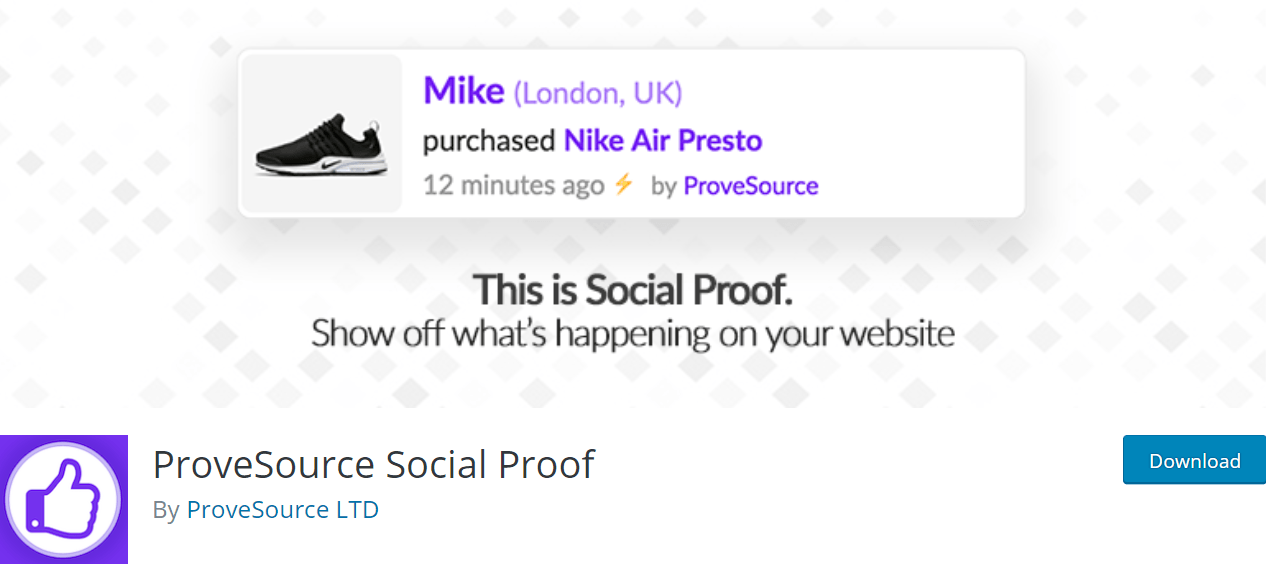 Provesrc social proof plugin for WordPress helps to catch subscribers and contacts with many responsive templates. More leads can be converted, and customers can be retained using SMS, Email, Push, and In-app messaging.
Leads are captured from subscription forms, signup forms, and many more, and then in the segmented list, they are automatically stored. The plugin also uses its delivery services and offers free Social Proof Notifications Plugins for WooCommerce Stores.
Features
Choose from a beautiful built-in sales popup and customize it according to your choice.
It makes your notification fully clickable, thus, boosting sales and conversions.
Mobile responsive.
It supports more than 22 languages, thus, you can use social proof & FOMO tactics in your store.
You can create 5-star review popups from Facebook, Google, and Trustpilot.
Total number of users – 2,000+
Price – Starter – $216/Annually (10k Visitor Monthly), Growth – $540/Annually (50k Visitor Monthly), Monster – $1092/Annually (200k Visitor Monthly)
Provesrc supported Platform – Almost Cms like WordPress, WooCommerce Shopify, Weebly, etc.
Screenshot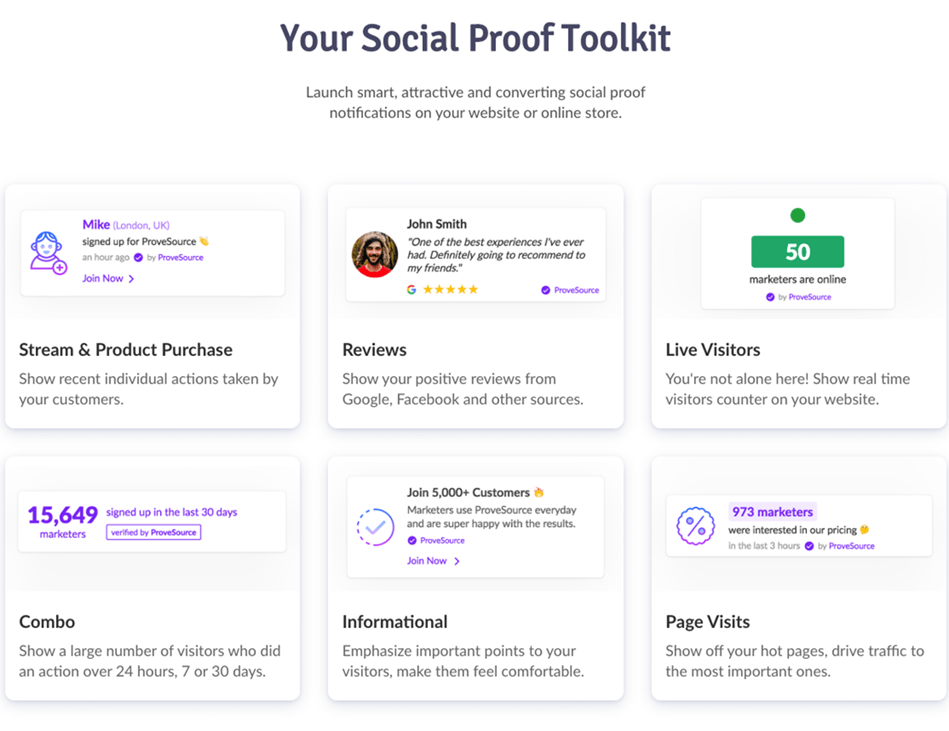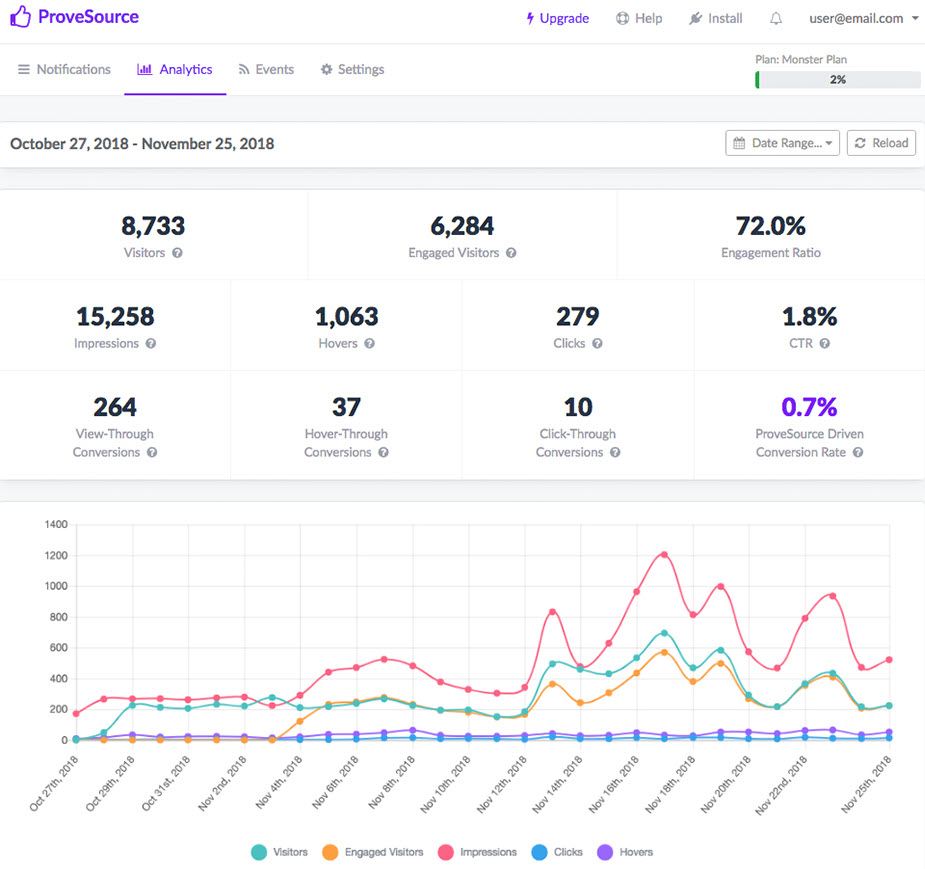 2. Nudgify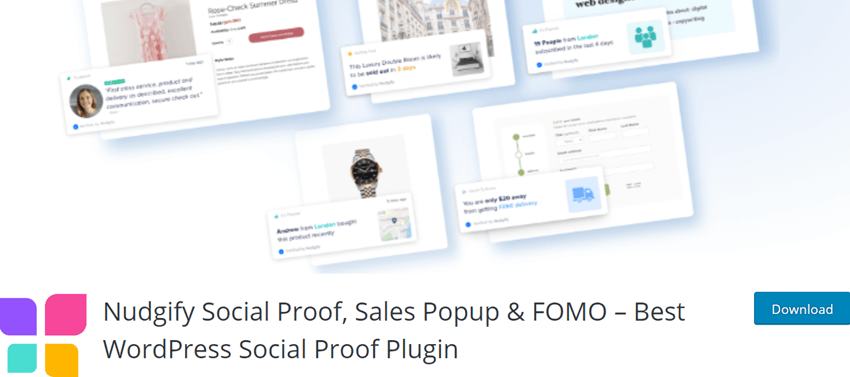 Nudgify is one of the top-notch social proof plugins that increases your sales by showing a sales popup and customer-watch product on the right corner. It uses real-time data and, thus, enhances the trust of your customers in your product, thus increasing sales. It comes with a library of website notifications, commonly termed nudges, that help you create a sense of urgency and FOMO effect among your audience. Thus, it enables you to enhance your conversions, improve customer satisfaction and reduce cart abandonment.
Features
It comes with a website notification called nudges that you can choose from.
Supports more than 25 languages.
The plugin also comes with an analytics dashboard that allows you to keep track of your nudges.
Nudgify has a drag and drop interface that lets you customize and control the nudges how you want to.
The form auto-capture collects real-time data quickly.
Total number of users –  400+
Price – Plus – $108/Annually (10k Visitor Monthly), Genius – $348/Annually (100k Visitor Monthly), Agency – $1068/Annually (1000k Visitor Monthly)
Screenshot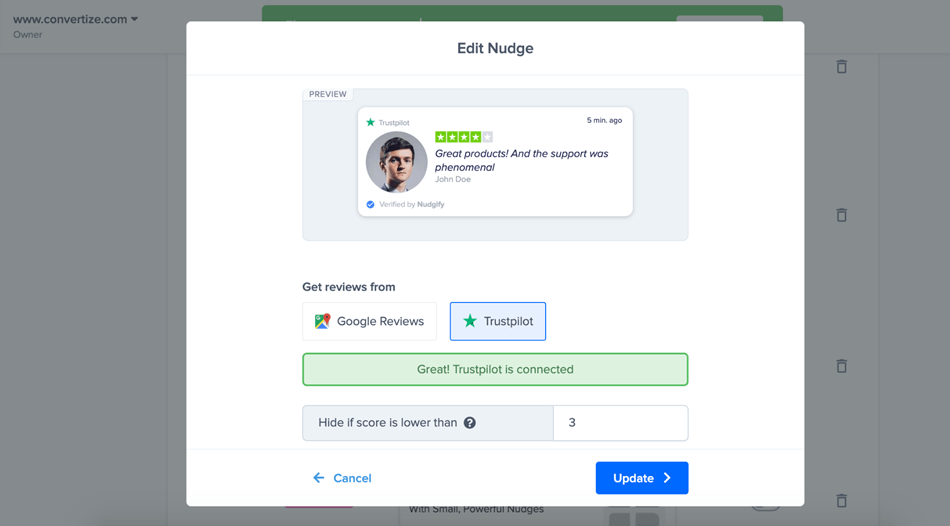 3. Proof Factor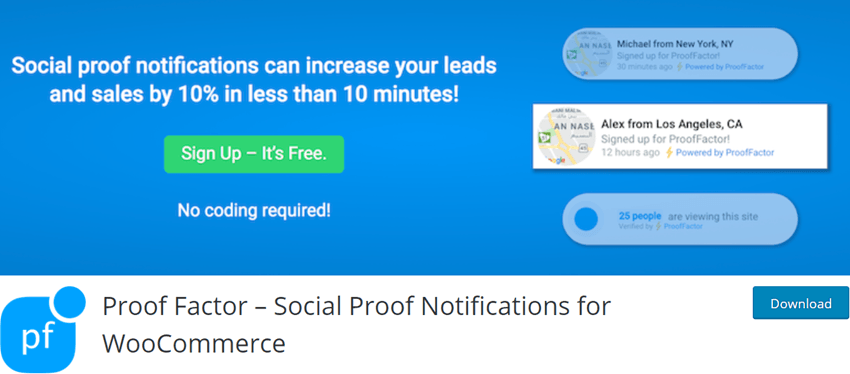 Social Proof offers amazing ways to draw visitors' attention by creating urgency to buy. With this smart tool, you can display live activities such as real orders to your visitors and facilitate confidence building.
Another great feature you get with the tool is gamified popups. Interactive games – discounts thru the fortune wheel and exit-intent triggers are some of the exciting features to build positive customer relations.
It integrates well with tools like WP, WooCommerce, Shopify, Zapier, and BigCommerce. The free trial is also available for start-ups.
Features:
The plugin is fully customizable, i.e., you can easily place the proof factor in any location.
You can also hide the proof factor from the specific pages.
It is a lightweight plugin; hence it doesn't slow down your website.
You can customize the style, position, message, and timing in such a way that it suits your brand.
The plugin works seamlessly on both mobile devices and computers.
Total number of users –  200+
Price – Small Business – $29/Month (10k Visitor Monthly), High Traffic Site – $79/Month (50k Visitor Monthly), Enterprise Traffic – $179/Month (100k Visitor Monthly)
Screenshot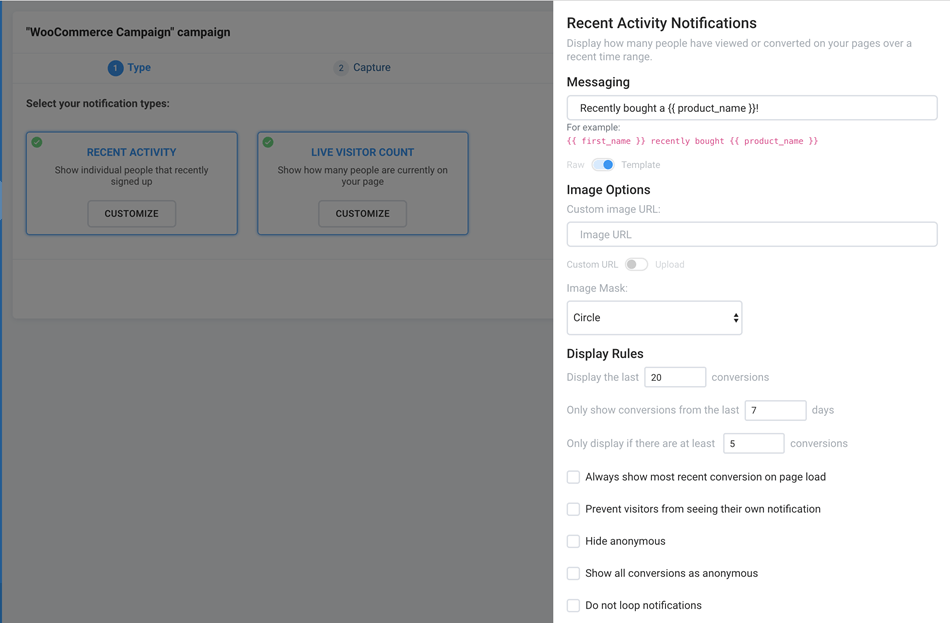 4. Provely

Provely plugin helps to boost conversion manifold time by adding a line of code and real-time social proof to any social media site. This plugin auto-detects new signups to display.
Lead or sale notifications can be displayed in real-time or rotated over a selected period. Provely is the alternative for useproof. There are many sleek popup templates to choose from. The widgets of this plugin can be seamlessly integrated into the website with its colour scheme.
The lead notifications can also be chosen to display in a specific location or country. Using Provely use can easily create fake recent sales notifications for woocommerce Websites.
Features
The plugin is extremely easy to set up and use, and it hardly takes 2-3 minutes to configure it.
Provely automatically detects new signups that are to be displayed.
You can easily customize your Provely popups.
The plugin comes with a library of beautiful built-in widgets to choose from.
You can make your social proof more attractive by customizing the colour scheme to match your brand image.
Provely integration availability  – WordPress, Shopify, Magento, Thrive Themes, Leadpage, etc.
Price – Basic – $97/annually (1 Site), Pro – $147/annually (5 Site), Ultimate – $197/annually (Unlimited Site)
Screenshot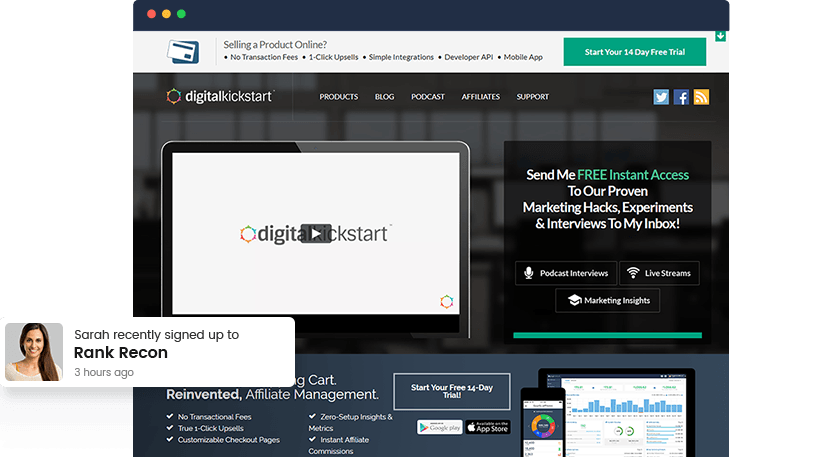 5. Proof

Use proof is a fake recent sales notification popup Plugin that makes getting a social boost very simple. More and more website visitors can be converted into purchases and signups, and visitors can see what all other people trust for their purchases. UseProof is the alternative for Morevago.
And when they get this social proof, even they want to try it out. The plugin has also come up with a new feature of HOT Streaks, which shows the total number of people who have made a purchase or recently signed up on the website. The count of all those people who are currently viewing the page can also be seen.
Supported integration platform – WordPress, Squarespace, Bigcommerce,
Price – Pro – $66/Month (10k Visitor Monthly), Business – $129/Month (50k Visitor Monthly), Premium – $199/Month (100k Visitor Monthly),  Platinum – $299/Month (300k Visitor Monthly)
Screenshot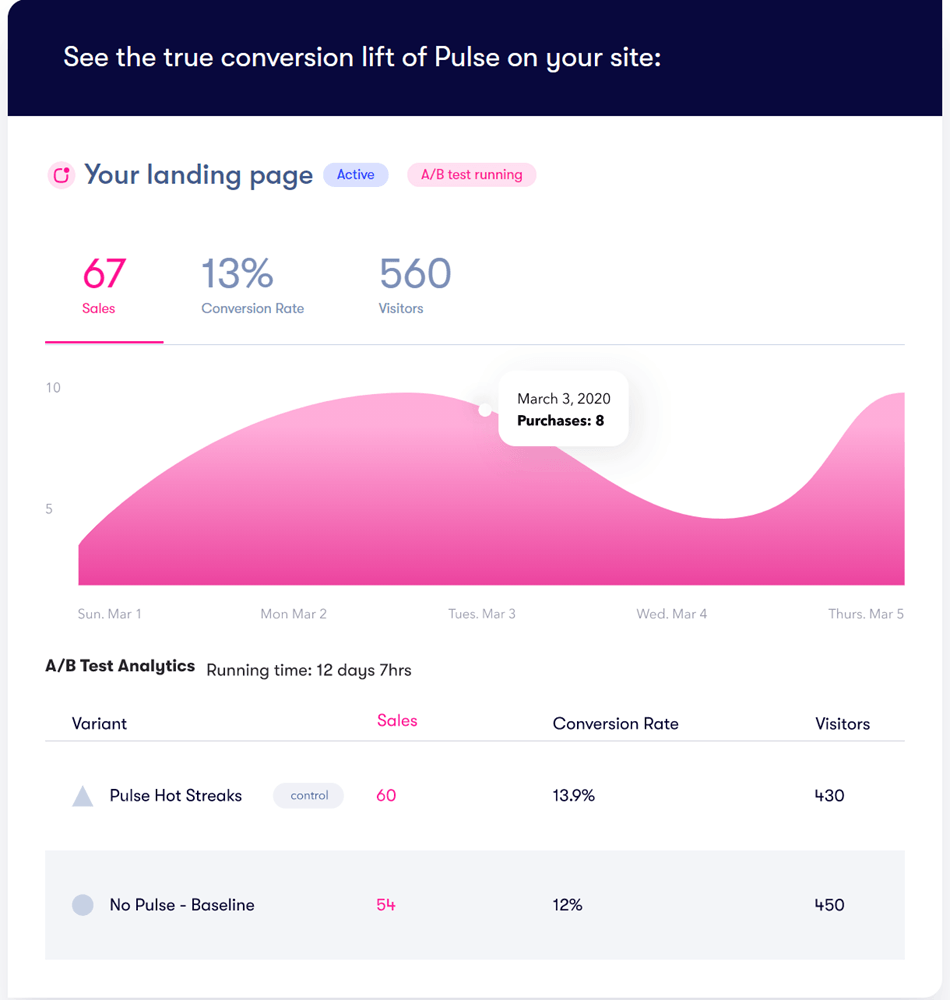 6. Beeketing
Beeketing helps to convert more visitors into revenue for eCommerce businesses by allowing you to show fake recent sales notification popups on your website. The plugin integrates seamlessly with e-commerce platforms and tracks the customer's behaviour through artificial intelligence.
It helps the marketing apps to convert their store into a money-making machine. The smarter marketing apps help to increase sales. The interest in the store can also be analyzed and learned.
Available Platform –   WordPress, Shopify, Bigcommerce, Weebly, Lightspeed. Etc etc.
Features
It helps you reduce cart abandonment by offering checkout notifications.
You can create a social proof with recent sales notifications.
The plugin is extremely easy to set up and manage.
It offers to upsell notifications, thus, increasing average order value.
The plugin is highly responsive and works seamlessly with all devices.
Beeketing Coupon – BEEKETING-FRIEND
Price – Mailbot – $29/mo (single user), Checkout Boost – $20/mo (single user)
Screenshot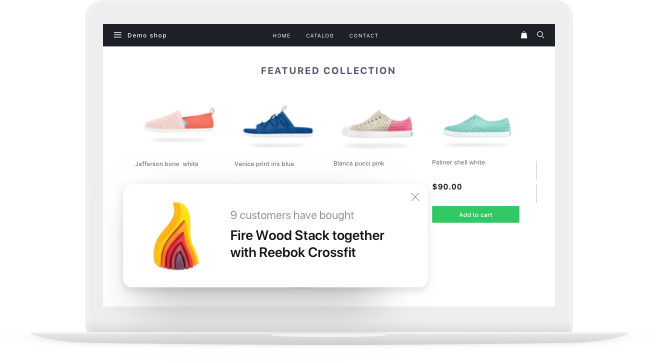 7. Wpfomify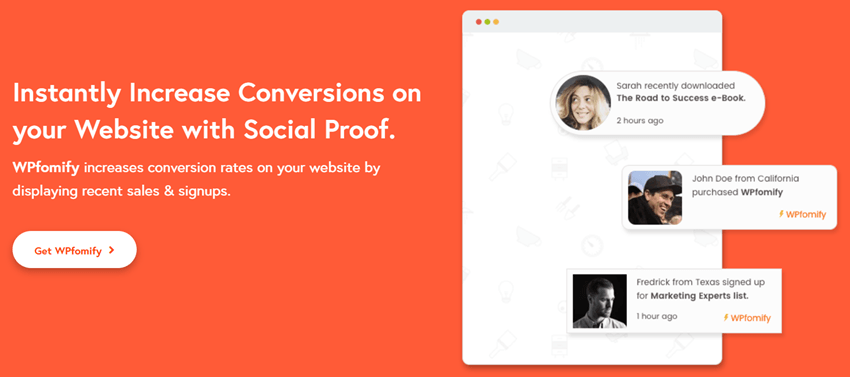 WPfomify is a Social Proof Notifications Plugins Plugin for woocommerce Websites. WPfomify helps to increase conversions with Social Proof on the website instantly. Sales are increased by displaying recent sales and signups.
Visitors can be converted into subscribers and customers. Credibility is increased on the website with real-time customer activity. The visitors can be told about reviews, signups, and purchases of other visitors. All this helps to increase conversions greatly.
Features
The plugin is integrated with top-notch email marketing tools and WordPress plugins.
It is super simple to set up and use.
It improves the conversion rate on your website by displaying conversion count notifications.
You can also display recent activities like recent purchases and signups on your website.
It builds credibility by showing real-time customer activity on your website.
Integration availability – Only Limited for WordPress – For example – WooCommerce,  LifterLms, Covertkit, Givewp, etc. etc
WPfomify Coupon – CNC10
Price – 1 Site – $99/annually,  Unlimited Site – $299/annually,  Lifetime License – $399/One Time (unlimited Site)
Screenshot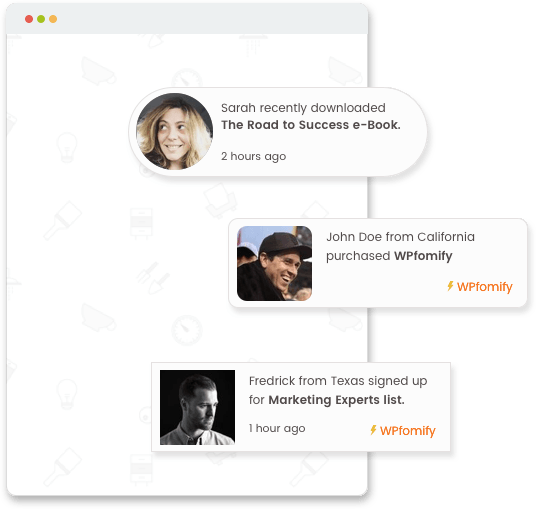 8. Fomo for WooCommerce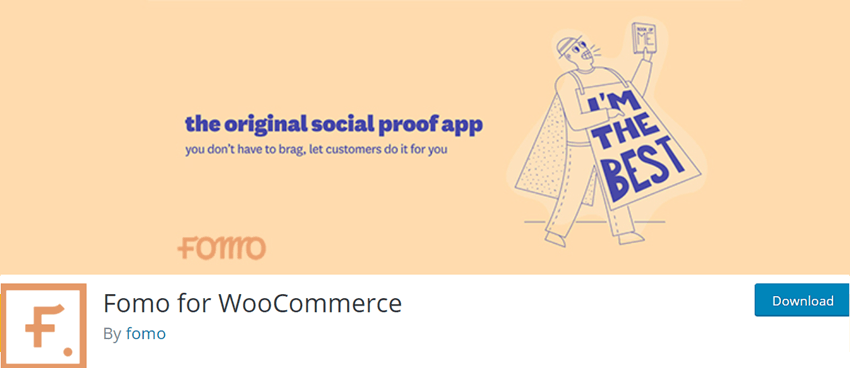 FOMO plugin is a Woocommerce Social Proof Plugins. Credibility is provided by social proof. To gain that, this plugin shows what other visitors are doing on the website, such as comments, purchases, and many more.
UseFomo is the alternative for Provely. All this creates a sense of urgency for the website and drastically increases purchase conversion. FOMO can be positioned in any corner of the store and is also very lightweight and customizable. Using Fomo, You can easily display recent sales popup Notifications on the woocommerce website.
Features
The plugin is highly customizable, thus, you can display every order or specific order on your website.
It is a lightweight plugin and doesn't slow down your website.
You can hide FOMO notifications from specific pages.
The plugin is responsive, i.e., it works flawlessly on mobile phones and computers.
You can track your users' interactions with your notifications.
Usefomo Coupon –  usefomo 50% off Coupon
Total number of users – 50+
Price – Starter – $19/Month (25k Notification),  Essential – $39/Month (50k Notification),  Plus – $79/Month (250k Notification),  Advanced – $199/Month (3000k Notification)
Screenshot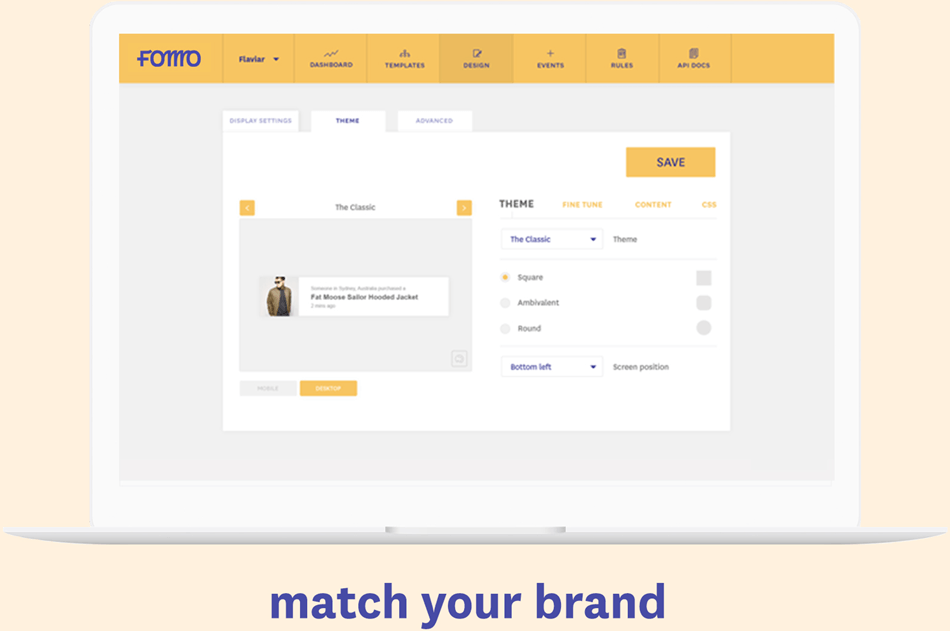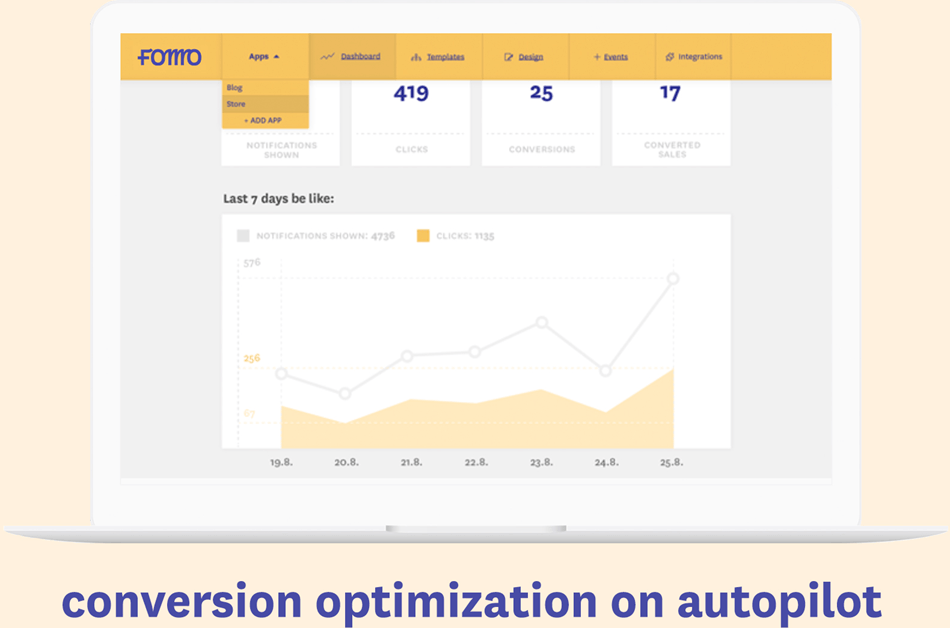 9. Nextsale Pop Notifications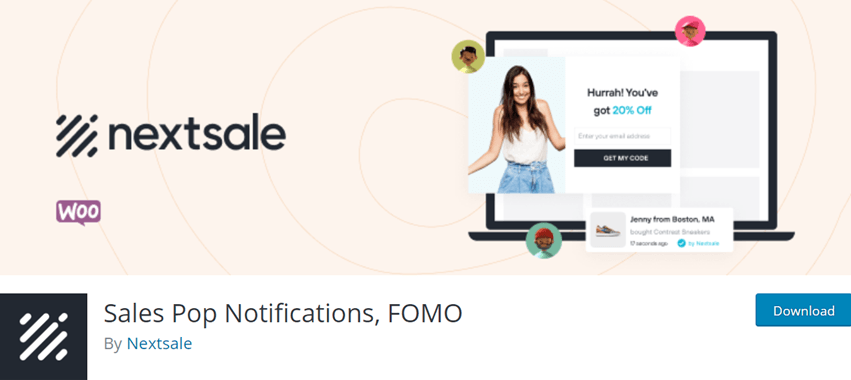 Nextsale Pop Notifications leverages social proof to increase conversions, and it is a very simple plugin. Recent sales and newsletter signups can be shown from the most popular mailing list platform and eCommerce, and Nextsale is the alternative for WPfomify.
The visibility of the plugin can be easily controlled for logged-in users, new visitors, visitors to certain pages, and much more. There is also detailed documentation, the appearance can be easily customized, and the plugin Is very responsive.
Features
You can add social proof popups such as testimonials, website traffic or recent purchases.
It also allows you to show promotional campaigns when your customers are about to leave your site.
You can show live visitors count, product views, and order counts with eye-catching popups on your site.
Using this plugin, you can set up a countdown timer to create a sense of urgency and FOMO effect among your customers.
The plugin works seamlessly on both mobile phones and desktops.
Major Integration available with – WordPress, Thrive, Wix (in beta), Shopify, Weebly, OptimizePress, GetResponse, and much more etc. etc
Total number of users – 400+
Price – Basic – $29/Month (15k Visitors),  Growth – $99/Month (100k Visitors),  Premium – $149/Month (150k Visitors),  Enterprise – $249/Month (300k Visitors)
Screenshot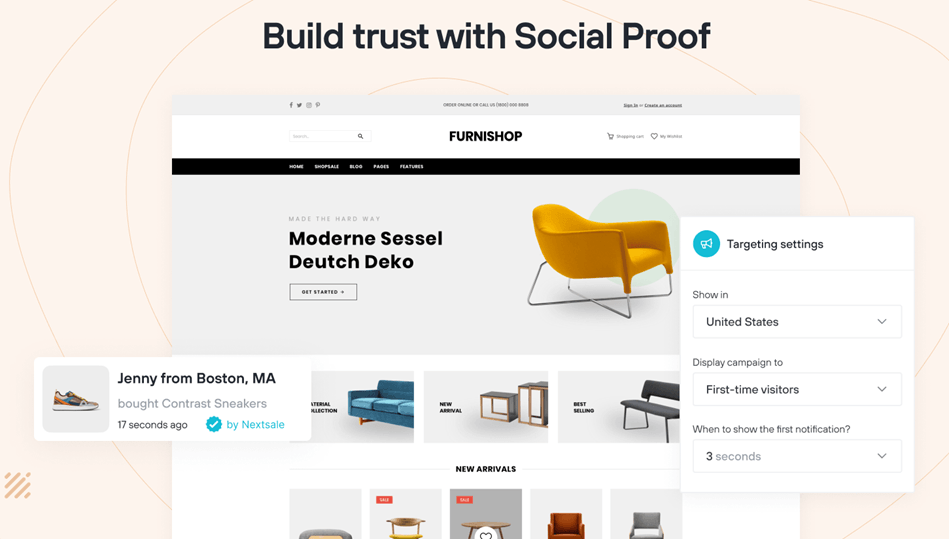 10. Notifia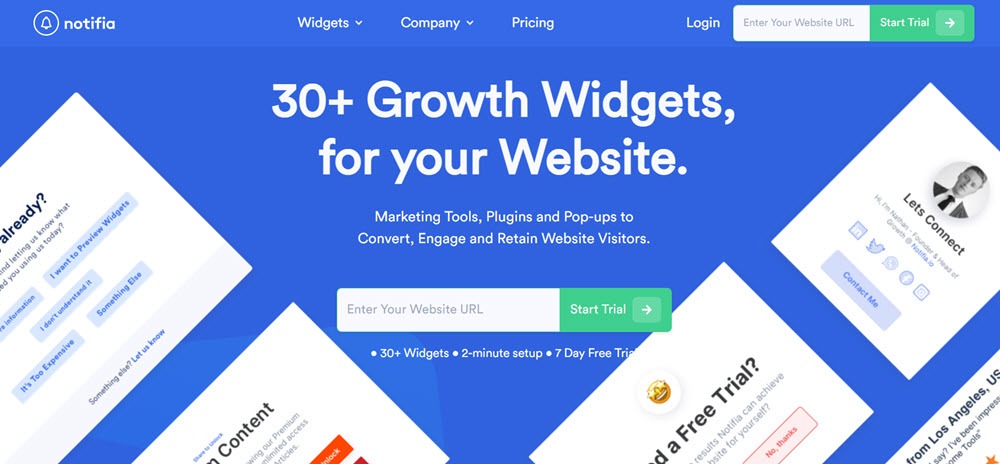 Notifia is a WordPress Social Proof marketing plugin that allows users to display social proof popups, blog comments alerts, email subscriptions, and sales notifications to enhance their conversion rates and skyrocket sales. It helps the store owners build credibility and gain the customers' trust by displaying social proof and creating a sense of urgency and FOMO effect.
Features
You can use notification bars to inform your customers about announcements, offers, and exclusive deals. You can also add a call to action (CTA).
It allows you to display your WordPress download count, thus, building credibility among the customers.
You can also show the reviews to gain the trust of your users.
Using this plugin, you can display the recent comments on your blog posts. Thus, you can attract more readers and boost engagement on your posts.
Show the recent purchases on your site and gain the trust of the targeted audience.
Price – Growth – $9/Monthly,  Unlimited – $49/Monthly,  Lifetime – $149/OneTime
Screenshot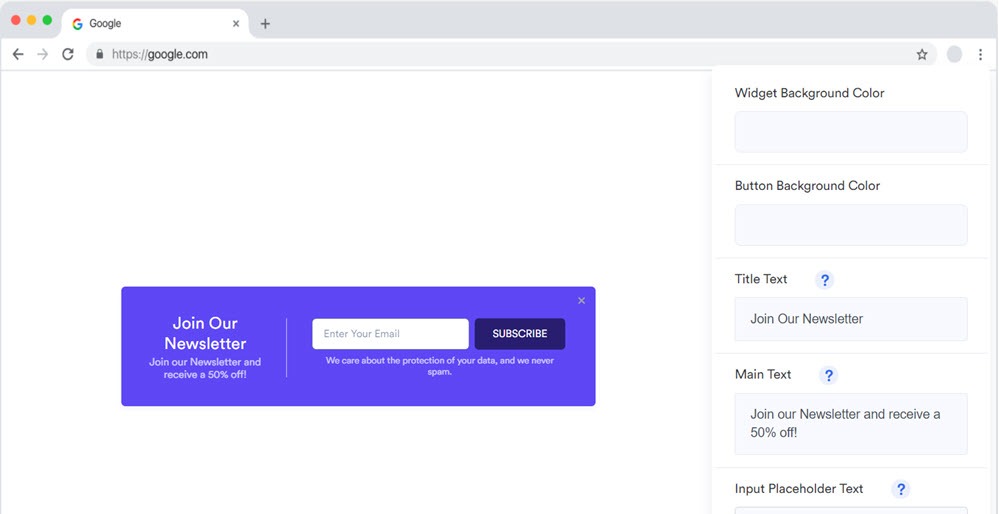 Major Platform support by FOMO plugin – WordPress, Shopify, Wix, woocommerce, Bigcommerce, Aweber, etc.
Comparison between
Provesrc
Vs
Provely
Vs
Use Proof
Vs
Beeketing
Vs
WPfomify
Conclusion – Still Confused about which is the Best Social Proof Notifications Plugins Plugins For Your Website. For FOMO marketing apps, you shouldn't get confused, my friend. I Know the decision is difficult, but you have to choose the best one. First, you check which one supports your platform. Like woocommerce, WordPress, Shopify, Wix Weebly, etc. Secondly, check How is their support.
Do they care for you? If I get stuck during Integration, will they help me? You need help only until the first Integration. Select any one of the above plugins all are best and created by a master. Mostly I recommend  UseFomo, Provely, beeketing proof factor supports almost all of the platforms, so I will recommend you choose between these based upon your budget. If your budget is low, then go ahead with  provely
But if you are looking top among all, you should blindly go with provesrc without any doubt. It also has Free Social Proof Notifications Plugin for WooCommerce.
Let me know which social proof plugin you are using or which one you will buy now in the comment section.