6 Best Customer Upload Files Plugins For WooCommerce 2023
Allow your customer to personalize their order by uploading the design required by them. The customer Upload Files plugin for WooCommerce can be used to allow the user to upload images or PDF files on the checkout page, product page, cart or order page by drag and drop method. You have an option to restrict the file type and size to protect your website resources.

Woocommerce Customer Upload File enables you to establish appropriate uploading management on your site with effective admin panel administration. Allow your users to upload files to complete the ordering procedure of any WooCommerce products directly from the well-integrated front end. Let you accept different file uploading without any complexities of coding. Just enable your customers to submit files of selective formats and sizes directly to the checkout page or wherever directed and conveniently proceed. Although, with the assistance of Customer Upload Files, you can access every possible customization and apply the same to the order of your preferred customers. As we discussed through an example, if any customer wants to purchase a personalized gift item and enjoys custom designing such a product. Then allow such customers to upload files like images, documents, and video, whichever defines appropriate customization accordingly. Satisfy the customization of your customers' products to way them back to your site for future purchasing. 
Why select Customer Upload Files For WooCommerce?
As you install the Customer Upload Files plugin, it will meet your requirement to stabilize the file uploading on your site by your customers for customizing the product accordingly. Here are some of the elementary features listed below that assure to get this extension and boost the sale of the website –
Enables adding a button for file uploading on different areas such as the product page, cart page, and checkout page. Let you place the button wherever you feel necessary.
Allow customers to send notes that are attached so easily along with particular file uploading, thereby which assists you in completing the order on their desired request.
Accepts multiple files for any particular product and allows customers to preview the file before uploading it on the site.
Assure your customers via email that their files are approved or disapproved before purchasing.
Have multiple file upload options such as text boxes, checkboxes, dropdowns and radio
Moreover, it eliminates the missing element of communication between owner and customer that boost engagement on your sites widely. Restrict the file uploading on some products according to the necessity. Customers upload files for WooCommerce tackles the entire system of file uploading shortly and open a way to purchase personalized products while making customization as desired.
Table Of Content
1. Customer Upload Files for WooCommerce

It is an effective WooCommerce customer file upload plugin that helps you eliminate the communication gap by enabling the customers to attach and upload the files with their orders. Through these files, the customers can easily communicate their requirements related to their orders. This feature can be enabled on either cart, products or checkout page. You can also configure the types of files and the file size you want to accept on your WooCommerce store.
Features
You can easily add a file upload button either on the checkout page or the products and the cart pages.
Using this plugin, you can easily configure if the customers can upload single files or multiple files simultaneously. The customers can also preview or delete the files.
You can also determine the file type and the file size allowed to your customers.
It also allows you to send an email notification to your customers if their file gets approved or rejected.
You can also charge your customers for uploading files along with their orders.
The customers can also attach an optional note along with their file uploads.
Price – 2 Site – $49/annually
Customer Upload Files for WooCommerce - WordPress Frontend File Upload Plugin - FME ADDONS
Screenshot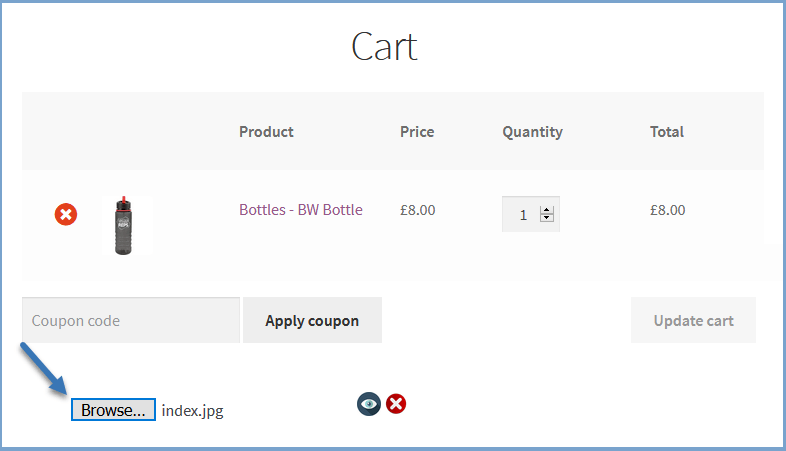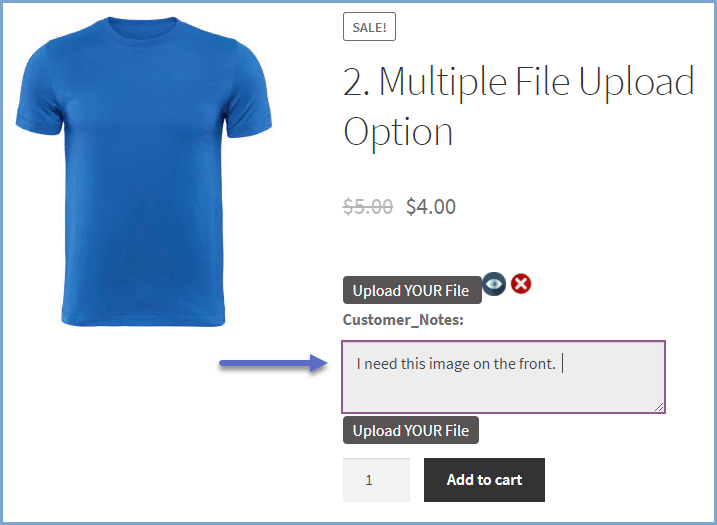 2. YITH WOOCOMMERCE UPLOADS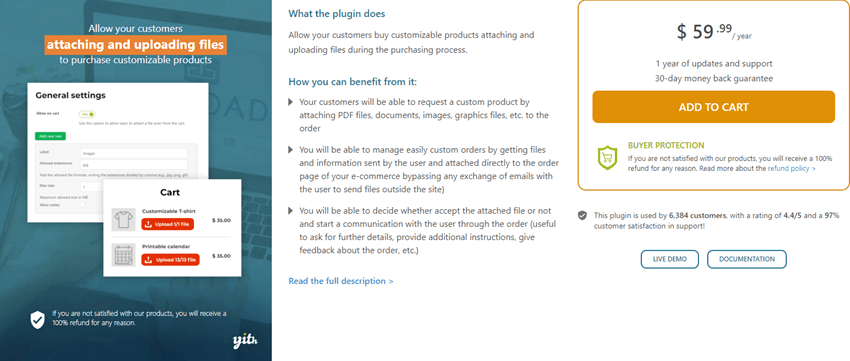 YITH WOOCOMMERCE UPLOADS is a paid customer file upload plugin for WooCommerce that enables your users to send their customization requirements and orders by uploading additional files during the checkout process. The customers can attach PDF files, images, graphics files, etc. The plugin gives you complete control over whether to accept the files attached or disapprove them. You can also communicate with your users for further details if needed.
Features
Your customer can easily upload a single file for each order on the product, checkout page or cart. However, you can always determine the size of the files to be attached.
The customers or the administrators can add a note to the file for convenience. You have complete control to approve or disapprove the file attachments.
You can send an email notification to your users informing them whether their files have been accepted or rejected.
The plugin allows users to remove or delete the attached files based on their order status.
You can easily create custom rules for file uploads based on single products and their variations. It also allows you to deactivate the file upload on specific shop products.
Price – 1 Site – $59.99/annually
Screenshot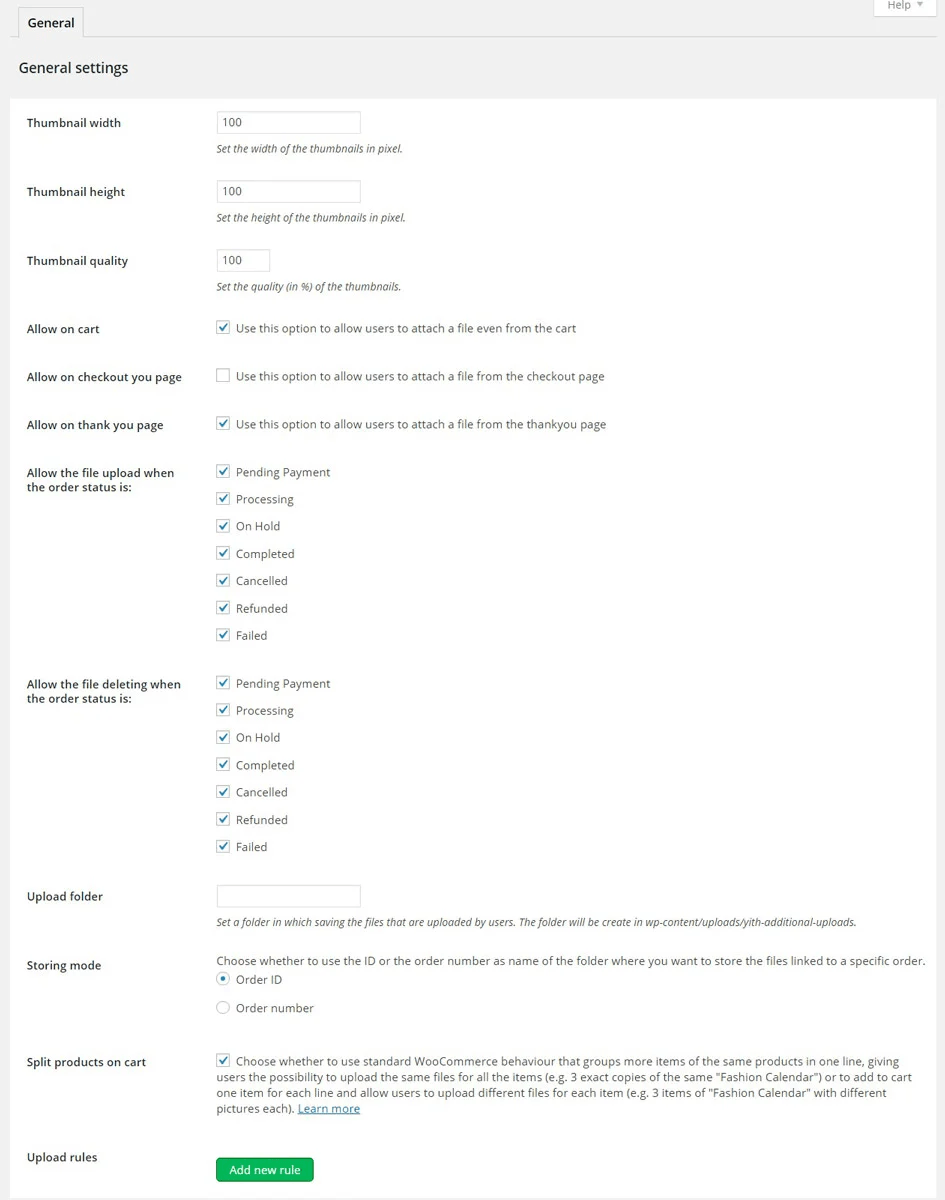 3. WooCommerce Upload Files

WooCommerce Upload Files is a powerful WooCommerce file upload plugin that enables your WooCommerce store users to upload the files and their purchase orders for customization or to communicate their requirements. They can upload the files from the checkout, product, order details or cart pages. You can also add additional costs for fees to the customers for uploading their files.
Features
The plugin supports cloud storage, i.e., it moves all the temporarily uploaded files to your Dropbox or Amazon S3 account.
It allows you to receive an email notification every time a customer uploads a file and orders. Also, you can directly receive the file in your email inbox by tweaking the settings. You can also set multiple recipients for your email notifications and attachments.
You can always set restrictions on files based on their size, formats, numbers or DPI.
It also allows your customers to upload unlimited files without restrictions on the file type.
You can charge additional costs to your users based on the number of files they upload or the length of the file.
Price – Regular License – $29/Lifetime (1 Site)
Screenshot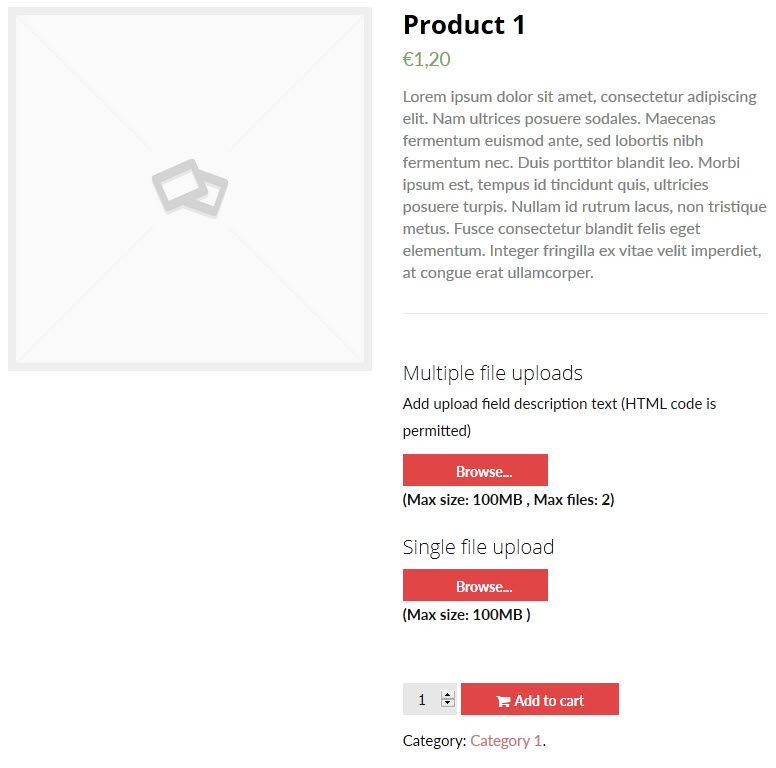 4. Pluginrepublic WooCommerce Product Add-Ons Ultimate

WooCommerce Product Add-ons is the most advanced plugin that allows customers to upload files during orders for customization. Let your customers quickly catch the images of whatever product they want to purchase. Then, before placing orders, it enables them to download such images while informing access to the available admin at the backend. Provide a better experience to your users while allowing multiple file uploads quickly. A well-featuring multi-purpose extension facilitates file uploading with various alternatives such as pause retry, concurrent downloading, folder access, renaming the file, etc.
Integrated Features –
Multi-type Uploads – Accept multiple types of files such as PDF, photographs, or even excel that easily be uploaded by customers on the website for any perspective formalities.
Upload Anywhere – Establish the file uploading functionality anywhere on the site, including the checkout page, product page, and cart. Then, help your client quickly access their files to you without going through many formalities.
Uploading Quantity – Let your customers upload the required files, either single or multiple, according to the demand of the ordering details.
Add or Remove – Allow your customers to attach the files and remove them whenever they wish to before the last minutes of checkout; that eliminates the risk of unnecessary uploads.
Price – Basic – $69/annually (1 Site), Pro – $119/annually (Unlimited)
Screenshot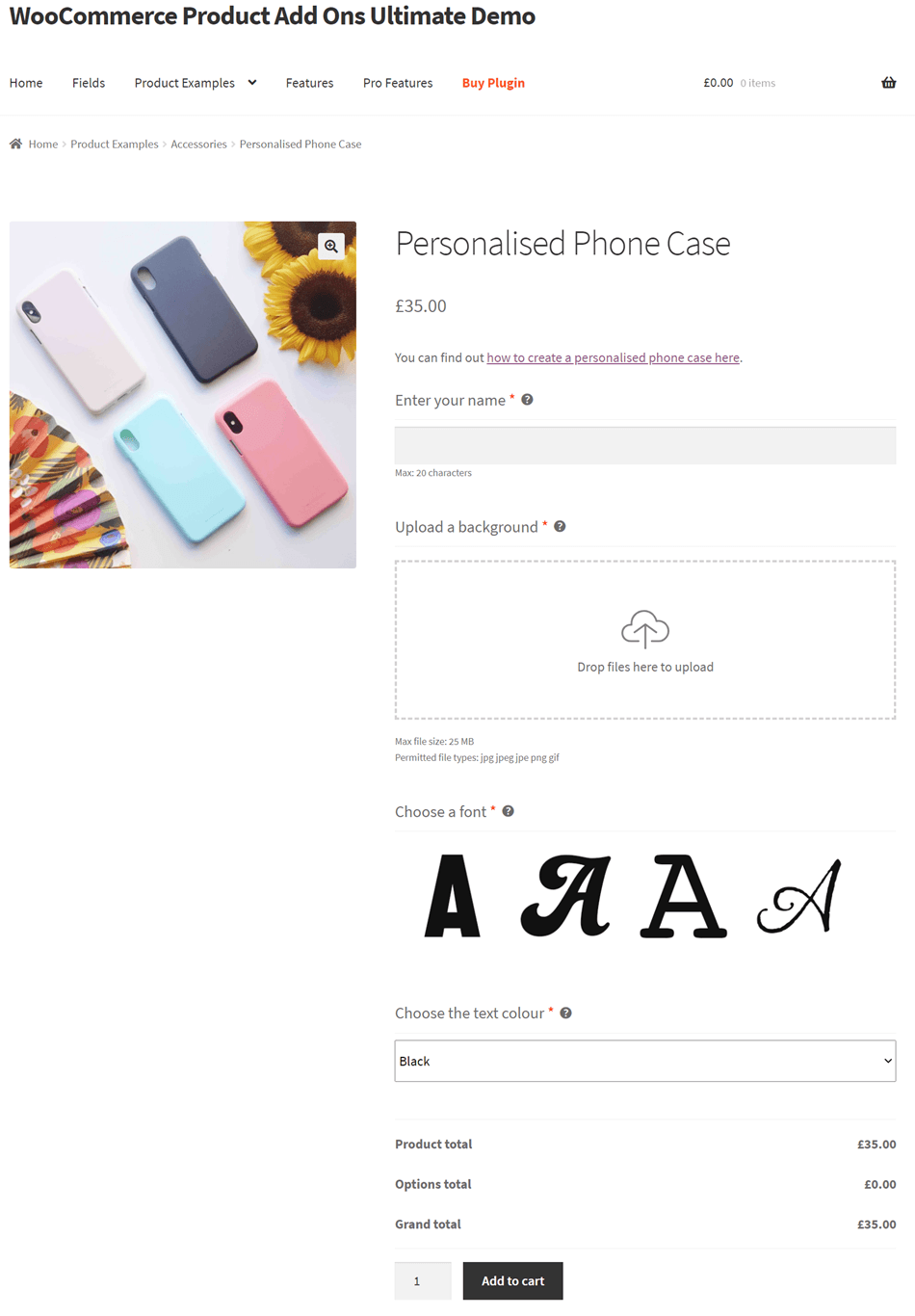 5. WooCommerce Checkout Drag and Drop Files Upload

WooCommerce Checkout Drag-and-Drop Files Upload is a feature-enriched WooCommerce Customer Upload Files plugin that allows your customers to upload any files to complete a personalized order efficiently. A well-integrated extension for WooCommerce that sets up the entire functionality of external uploading and manages the same and ease of drag-and-drop alternative. Your customers can upload the images and patterns required accordingly before placing any personalized order, such as gifts, t-shirts, and other items. Our admins are available to catch those files from the backend and utilize them to complete the order with perfection. Enable your customers to upload such files, either one or more than one, without wasting any minutes on formalities.
Essential Features –
Such an easy-to-use interface allows you to set up the uploading functionality in just a few configuration steps.
In addition, it provides you with a systematic functionality of the backend where the admins easily collect the uploaded files and attach
them with the product detail.
Let you establish the standard of acceptance that accepts only specific valid files according to the website. Either the size or the type of file must be selectively uploaded in the demanding format of the website.
Restrict the number of files that could be uploaded for every particular product.
Price – Regular License – $18/Lifetime (1 Site)
Screenshot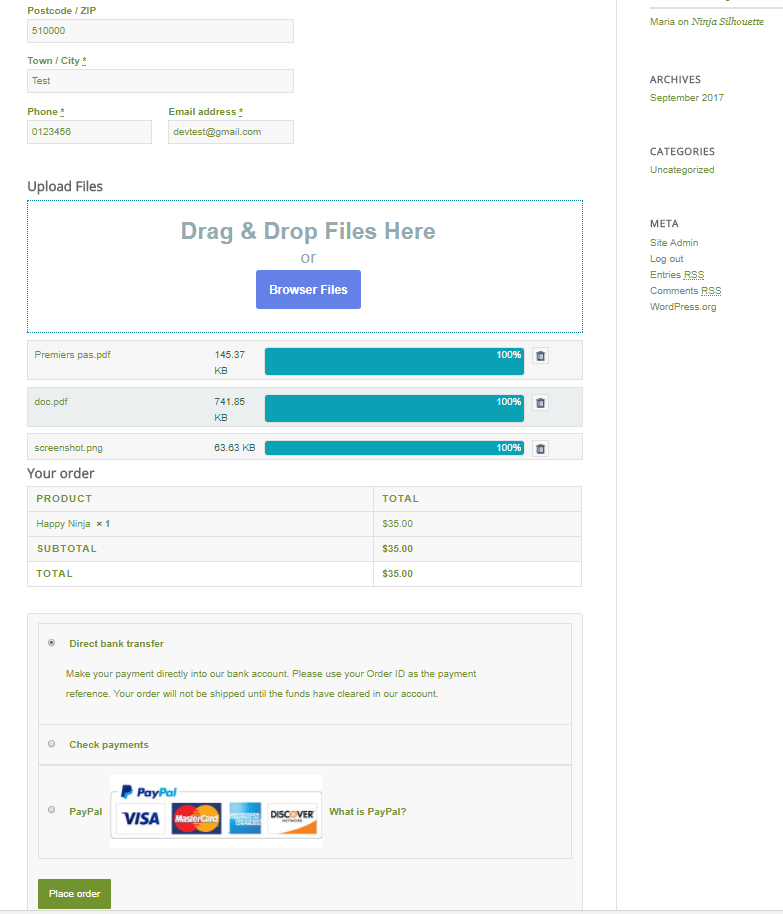 6. WooCommerce Checkout Field Editor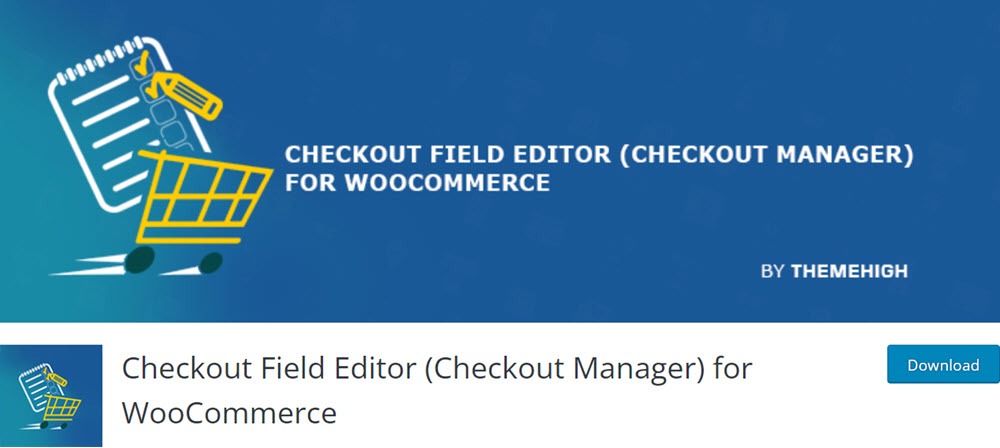 WooCommerce Checkout Field Editor is a paid customer File Upload plugin for WooCommerce that allows customers to upload the files uploaded by their customers to meet the complete formalities of the order of any personalized product. If your website works on distributing personalized items among customers, then this plugin is a must-have for you. Ajax File Upload lets you establish the enhanced file acceptance functionality. Your customers quickly go through the different files uploaded, such as pictures, patterns, designs, or any specific text on the product. Without refreshing the product page, our customers can upload different files at once and get the order acceptance in just a few seconds. Provide a better user experience to your customers while conveniently availing them of a smooth uploading system.
Well-Built Features –
File Acceptance – Accept the 600+ types of files your customers want to upload within a quick response from the backend, as it works automated.
Price Consideration – Your customers can oversee the product's price based on demanding orders and uploaded files.
Restrict Quantity – Allow your customers to upload the files in mentioned quantity for any product accordingly, and it eliminates the risk of unnecessary file uploading, which raises confusion.
Add file upload button on cart, checkout and product pages for customization of the product
Price – Regular License – $199/Lifetime (1 Site)
Screenshot
[FREE Plugin] Add Customisations to Your Checkout Page - Checkout Field Editor for WooCommerce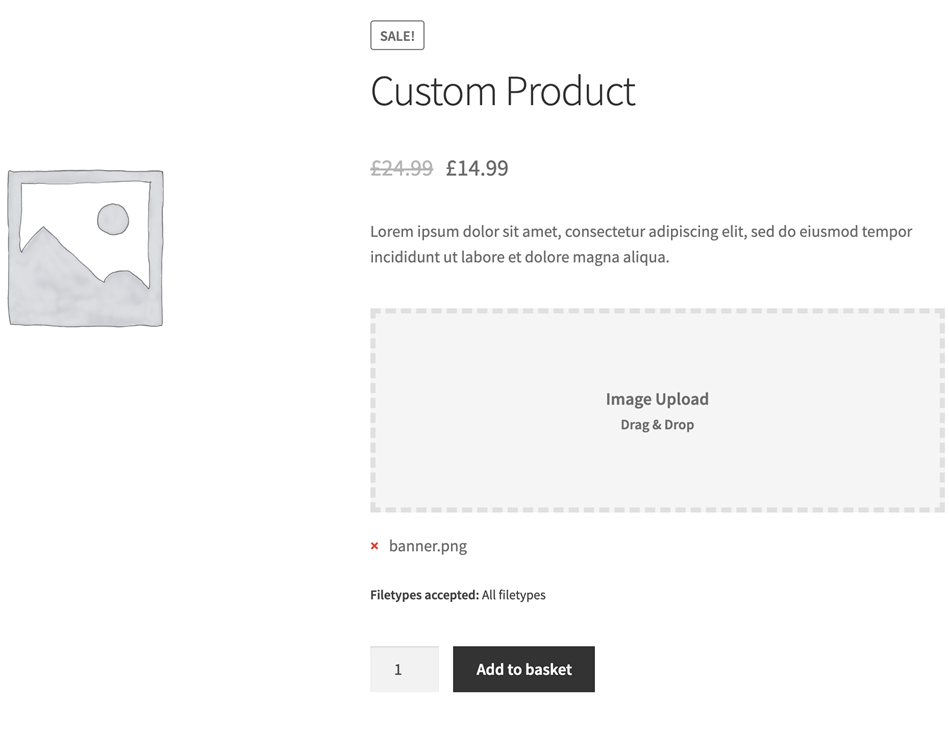 You might be interested in Checkout Field Editor Plugins Custom Thank You Page and Page Builder Plugins.