8 Best Custom Thank You, Page, For WooCommerce 2023
Thank you page on your Online eCommerce shop can be used for upselling or cross-selling products. Or you can offer coupons for new purchases and ask them to share with friends that they bought a product. You can easily design a customized Thank You Page with recommended Custom Thank You Page plugin.

WooCoommerce's Thank You Page enables your website to encourage your customers to shop more. Its simple appreciation assures loyalty. Although customize the thank you page according to the necessity of your business and available products. If you get access to the "thank you page extension", it will provide you with numerous templates. While utilizing such intuitively designed templates, you can establish various thank you pages on different product pages accordingly. For an e-commerce website, this plugin upsells the available products widely, which significantly boosts revenue. Widen the scope of your selling concept by installing such an essential extension for any WooCommerce and WordPress website. Optimizing options ensure a better user experience than ever before.
Moreover, insert the related product section on the thank you page that shows the variety of alternatives and the 'purchase by customers tab'. By doing so, you will get the best opportunity to sell more products to your customers. Maybe not every customer will proceed to purchase such products from the related items section. Still, they keep remembering your website whenever they feel it is necessary to buy it later. That's how you will get more customers that come back to your site for future purchasing.
Appreciate customers for purchasing the product from your recognized website and share onboarding notes that make them happy. Add the detail of bought products to assist them through effective guidance on whether they purchase physical or downloadable products. As you help your customers, they feel nice to get anything else from your website without considering it too much.
Thank you page is one of the effective tools for marketing that leads to remarkable business growth. You need Thank You Page Extension that involves reliable customers on your pre-existing website. Just layout the best thank you pages with customization options that help you create more presentable notes. In short, you can say that thank you page streamlines the standard accessibility for assuring your reliable customers by showing support and concern. After any purchase completion, the customers will receive an email that lets them be direct to a specifically designed thank you page. Establish excellent communication reach to your customers for long-term continuity of selling.
Let's have the list of top Custom Thank You Page For WooCommerce as follows.
1. Pluginrepublic WooCommerce Thank You Page

Thankyou page is an effective tool for building relationships with customers. It is an effective marketing tool that encourages customers to purchase often and saves time.
You can customize your thank you page by showing offers to customers after they checkout with the help of the WooCommerce Thank You Pages plugin. This page can be used to show deals and coupons. It is helpful to build loyalty and increase customer trust by providing valuable information like shipping time, documentation links, and FAQs. New products can be showcased here for a promotion, and you can show customers similar products they bought, which can help increase sales.
This plugin is easy and flexible and works for both non-coders and developers. It comes with a simple setting, and you can define a single global page or different pages together.
Price – Basic – $49/annually (1 Site), Pro – $89/annually (Unlimited Site)
Screenshot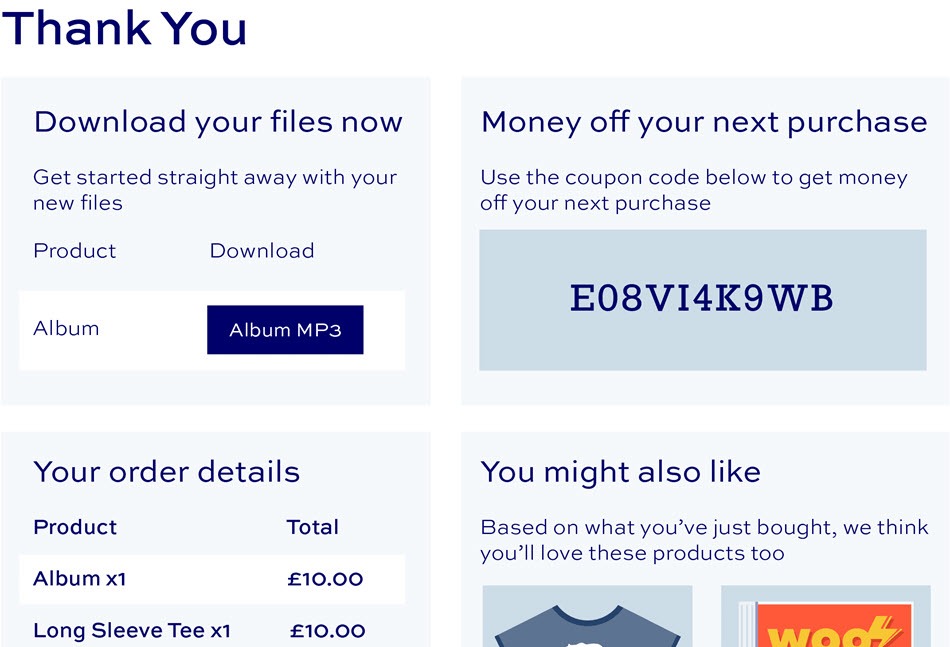 2. Store Customizer

Store Customizer is an effective and lightweight WooCommerce plugin to Customize all the pages of your online store. You can enable this plugin on your website to customize an extinguishing Thank You, Page. When any customer buys a product from your website, display an attractive thank you page. Such Thank You Page may contain instructions to use the product, advertise any relevant product, or a newsletter sign-up form. Store Customizer provides bundles of customizing alternatives while creating thank you page. Create a trending thank you page and configure the same where you want to display it on the website.
Core Features –
Provides various intuitive layouts integrated with Elementor Page Builder to design an eye-capturing Thank You page.
Configure Thank You Pages as the default one, per payment method or the product page.
Mobile ready Thank you Pages run smoothly on any device and display the same to enhance user experience.
You can easily optimize your default Thank You Page and Redirect your customer to new pages after order confirmation.
Total number of users – 30,000+
Price – Single – $9/annually (1 Site),  Plus – $99/annually (5 Site),  Devloper – $99/annually (Unlimited Site)
StoreCustomizer - Free WordPress Plugin to customize all your WooCommerce store pages
Screenshot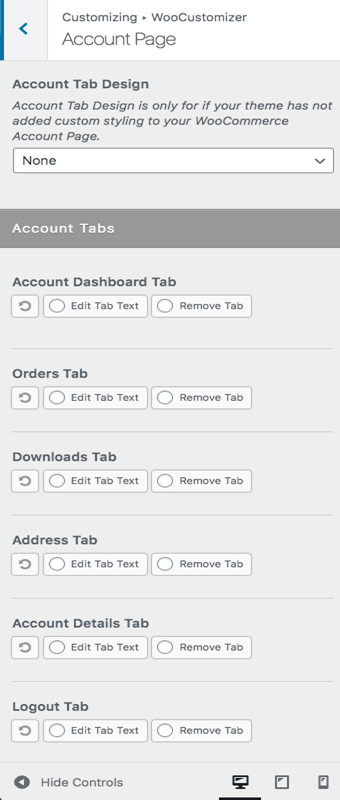 3. WooCommerce Thank You Page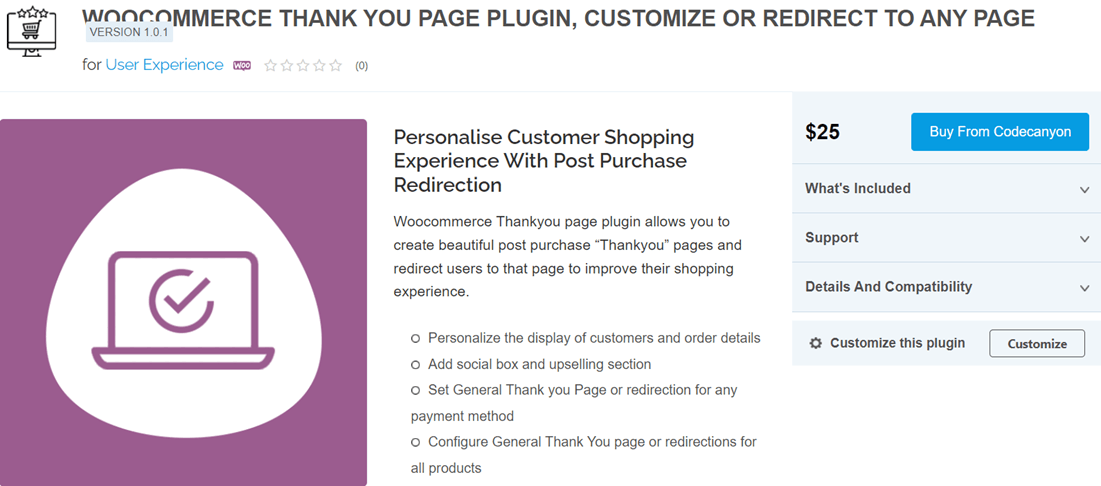 To improve the shopping experience you can create post-purchase "thank you pages" for your online store with WooCommerce thank you page plugin.
Using custom thank you pages, you can display social sharing boxes, upsell products, customer details, and order tables. Using redirections, you can change the default thank you page to a custom one.
The UpSelling section can display more products for selling and generating revenue. Multiple rules can be created, managed, and prioritized for adding Thank you pages to products, categories, and payment methods.
Core Features:
Display details about customers and orders in a personalized manner.
The custom thank you page can display customer information, order details, social media links, or upsell products.
For any payment method, set up redirection.
For all products, configure a general thank you page or redirection.
Price – 1 Site – $25/annually
Screenshot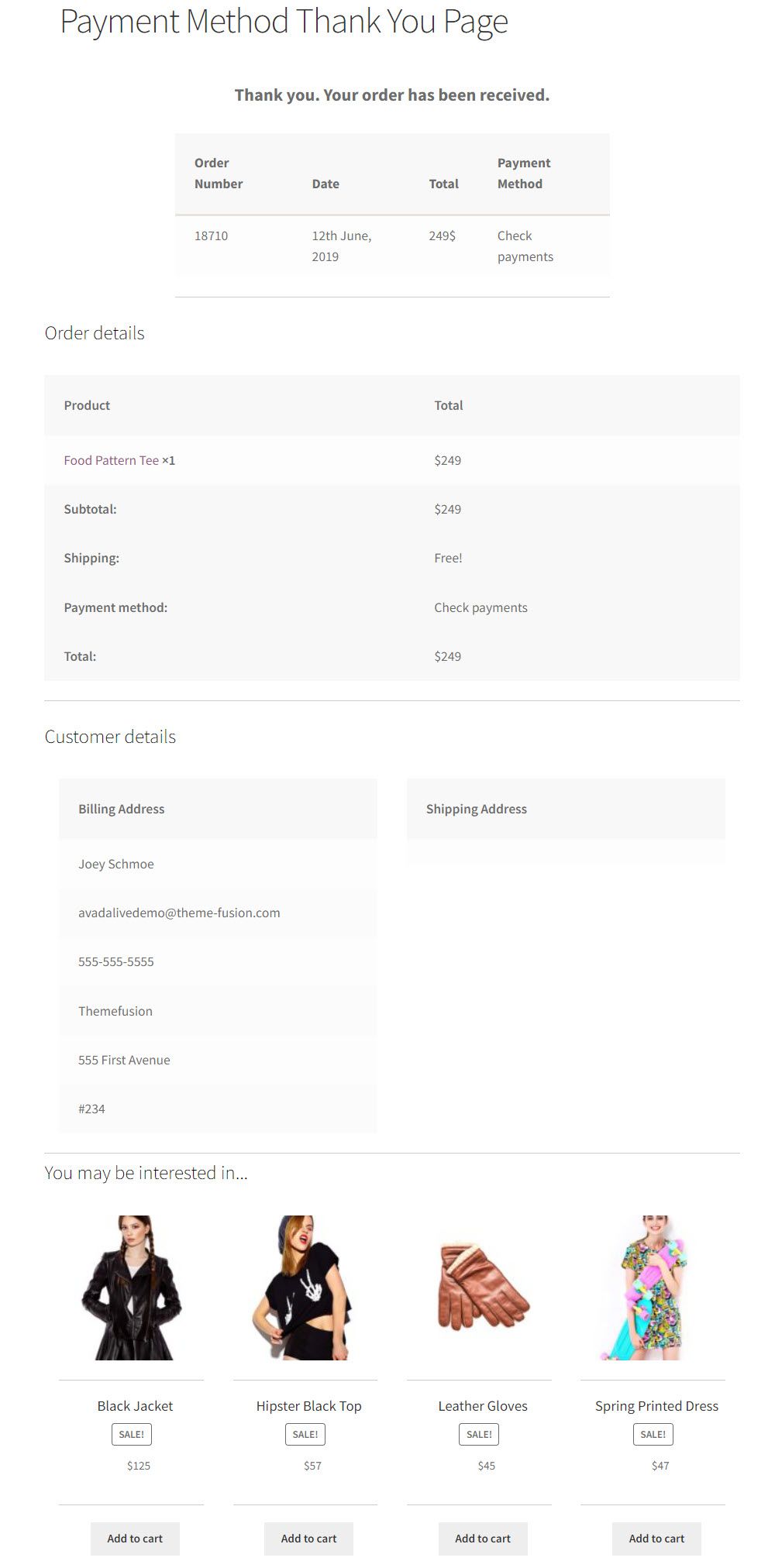 4. WooCommerce Custom Thank You Pages

Custom Thank You Page is a powerful Custom Thank You Pages plugin to create amazing thank you pages for your eCommerce websites. Display such pages to your customer as there is a great chance to access more sales from the same customer. Configure the Thank You Pages as per product that lets your customer continue shopping or go back to your site for the next shopping. Follow the strategy of Upsell and offer the related products on the Thank You page. This is the best place to provide more related products as they shop on your website and find it reliable. Maybe they won't purchase such products that time but they remember your store when they require that product.
On Thank You Page, provide your customer with an onboarding experience of their purchase product. Let them know about their product, either a physical product or a virtual product, and explain its initial functionality, like how to get access. Asking your customer to subscribe to the newsletter as they complete their shopping on your site and want to connect with you is more possible at that time.
Price – 1 Site – $49/annually
Screenshot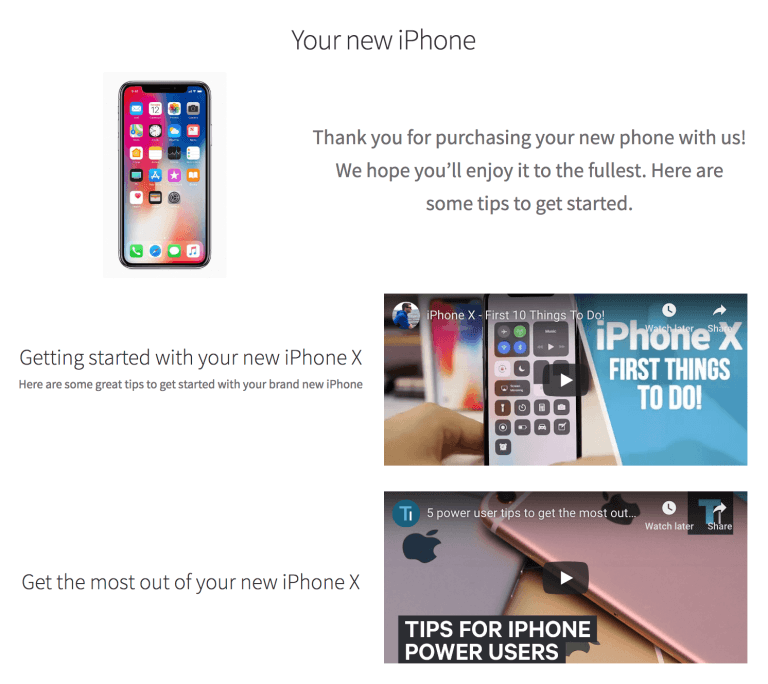 5. YITH Custom Thank You Page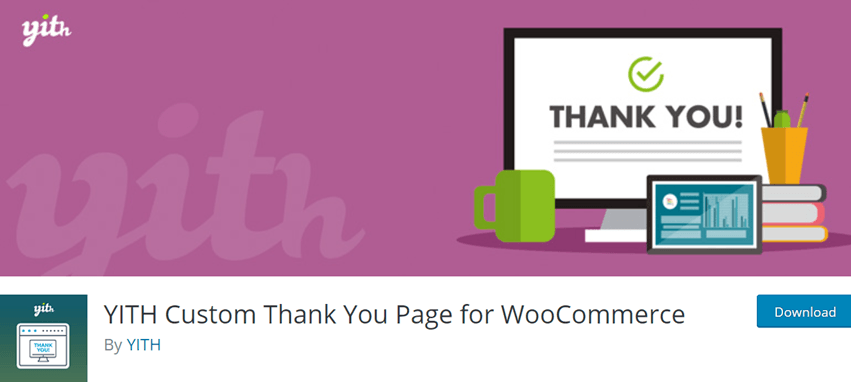 YITH Thank You Page is a feature-packed paid to thank you page plugin for eCommerce websites that assist you in creating a customized thank you page. Display such Thank you page when your customer completes their placing order process. With this robust extension, you can make your customer interested in purchasing other related products by presenting such items on the Thank You Page. Promote upsells that let you expand sales and have better revenue.
Core Features – 
Create numerous Thank You pages, place them on different product pages, and categorize products.
Utilize the custom CSS code to enhance the style and appearance of the Thank You Page.
Enable upsells that let you display suggestions of related products on the Thank You Page according to the recent purchase made by the customer.
Let you insert a feedback form and newsletter sign-up section that enables you to collect feedback and grow your email list, respectively.
Total number of users – 8,000+
Price – 1 Site – $79.99/annually
Screenshot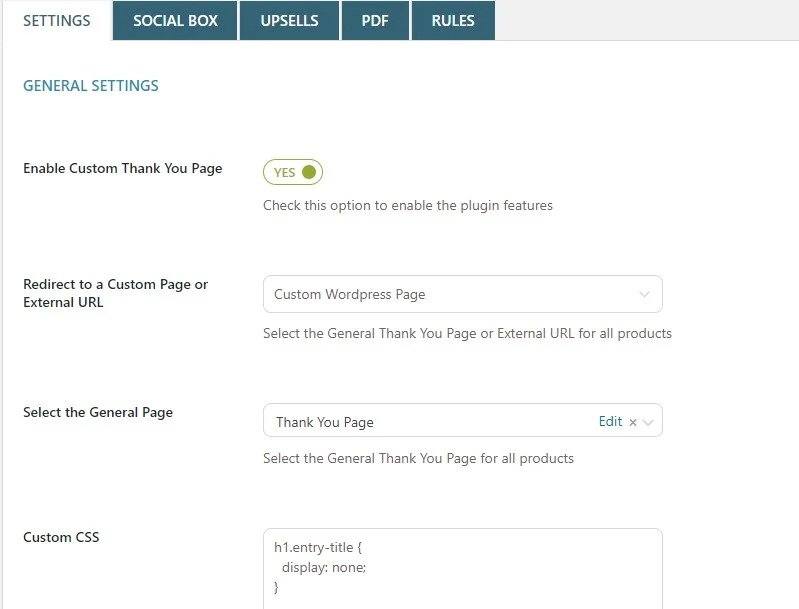 6. Storeapps Custom Thank You Page

Thanks Redirect for WooCommerce is an easy-to-configure, lightweight WooCommerce Thank You Page plugin that lets you create a custom Thank You Page for available products. With this, replace a default WooCommerce Thank You page with your designed custom Thank You Page. Let you add the custom content and elements you want to display on such a Thank You Page.
Prepare an intuitive thank you message and show the same when anyone completes their order in your store. Redirect your customers to different URLs based on the products that they purchase. Enable the redirect configuration on various URLs as per products and show order details on Thank You Pages accordingly. Compatible with other extensions and allow to connect multiple sites for inserting Thank You, Page.
Price – 1 Site – $39/annually,  1 Site – $119/Lifetime
Custom Thank You Pages per Product plugin for WooCommerce from StoreApps
Screenshot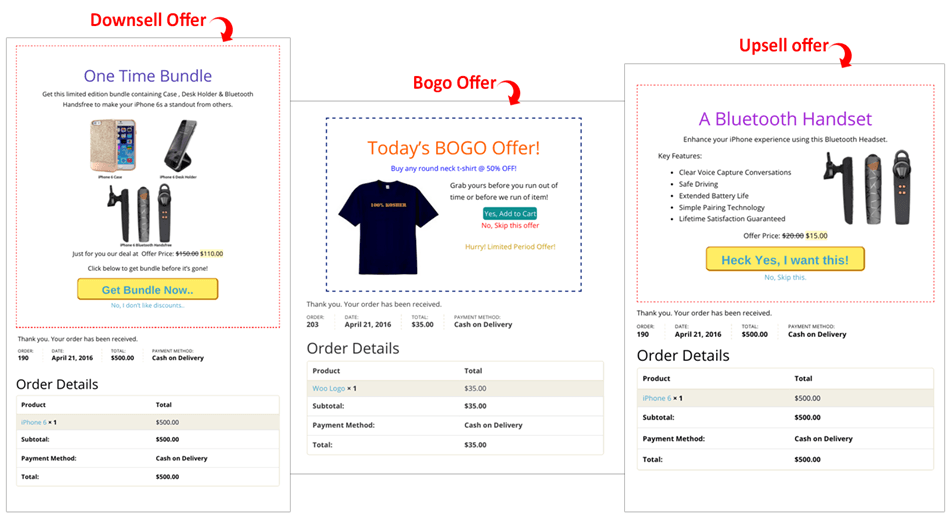 7. Thanks, Redirect for WooCommerce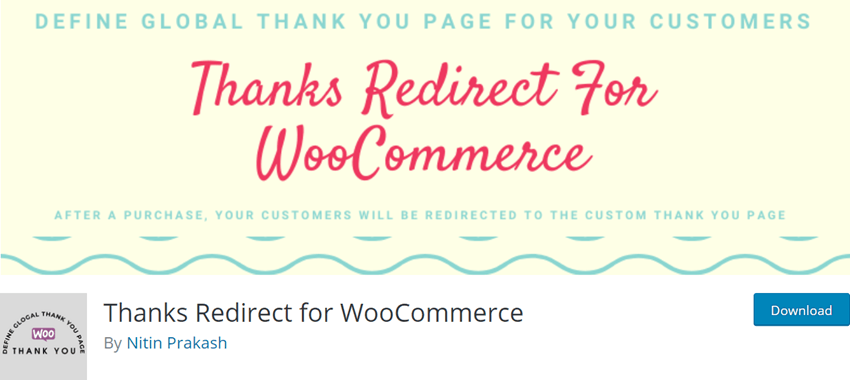 Thanks redirect for WooCommerce allows you to make your thank you page according to your objective. It will enable you to define a global thank you page, which can be based on customers' reactions to success or failure. This beginner-friendly WooCommerce Thank You Page plugin will allow you to make a custom redirect page and redirect customers to that after you complete shopping. The custom page can show the objective of your page, mainly your store.
This plugin can create feature requests based on which further changes can be made. Thanks redirect plugin is fully compatible with the latest versions of WordPress and WooCommerce and supports multiple products in the cart. You can translate to various languages using POT files. You can set a global thankyou page and set URLs per product.
With the pro feature, you can redirect customers to multiple WordPress sites. It is compatible with WooCommerce donations and subscriptions.
Total number of users – 5,000+
Price – 1 Site – $14.99/annually,  3 Site – $38.99/annually,  Unlimited Site – $89.99/annually
Screenshot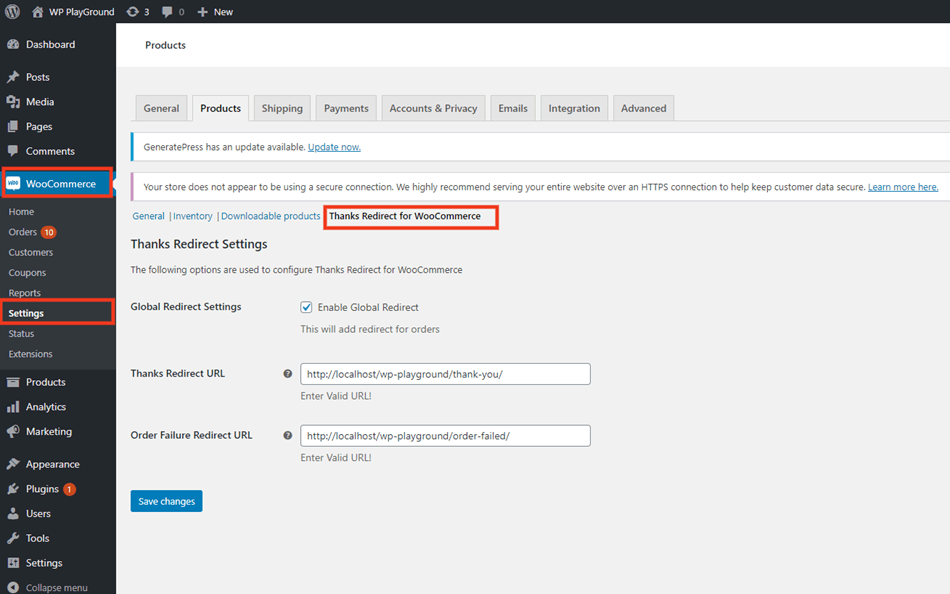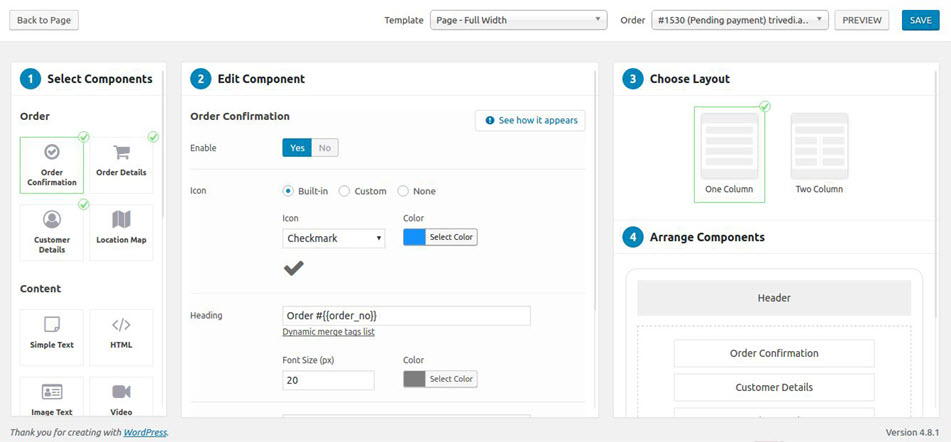 8. WooCommerce Custom Thank you & Order Confirmation Page

WooCommerce Thank You Page is designed intuitively that enable you to present an attractive Thank you Page to customers. This is user friendly Thank You Page For the WooCommerce plugin that allows you to promote upsells and places a social share button on the Thank You Page to increase your online store sales. When your customers place an order, redirect them to a custom page while using an external URL if required.
Let you modify the style, font, header, footer, and content to enhance the look and feel of the Thank You page. Display an attractive Thank You Page and allow customers to share their orders on social profiles to help you get more customers. Moreover, suggests related products to your customer according to their shopping on Thank You Page that lets them continue shopping thereon.
Core Features –
Create a custom thank you page and replace the default one that looks more professional on the website.
Promote upsells on Thank You Page with different rows visibility.
According to your necessity, display or hide the order detail on the Thank You Page.
Price – Regular License – $19/Lifetime
Screenshot