11 Best WooCommerce Coupon, Discount And Offers Plugins 2021
Are you looking for Free or Premium Best WooCommerce Coupon Plugins For WordPress? These Coupons Plugins will help you to grow your sale to the extreme because almost all of the customers want a discount. Even if you will ask me I will buy the product from the company who is giving me an extra discount So now Coupon management is most important for us that why these Plugins are most important.

Using these plugins you can add so many options and functionality to coupon management in your WooCommerce website. Like Automatic bulk coupon generation, Gift Certificates, Store Credit system, URL Coupons, Subscription coupons, Shipping methods, etc. Above mentioned functionality will make your woocommerce website a smart eCommerce website.
You may be interested in the Facebook pixel plugin and FOMO marketing plugin
Now let's have the list of top WooCommerce Coupon management plugins for WordPress are as follows:
1. Discount Rules for WooCommerce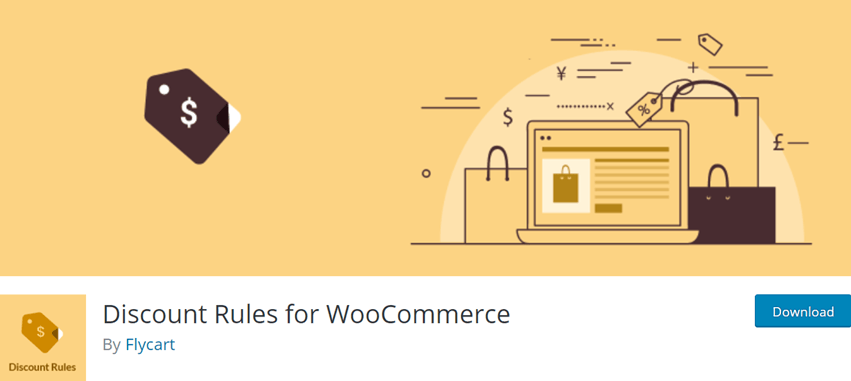 Discount Rules for WooCommerce – PRO is a WooCommerce dynamic pricing and discount rules plugin that helps you create dynamic pricing and discounts like in your WooCommerce site. In addition to the top-notch features, the plugin offers the best customer support services. Using this plugin you can create a variety of discount types such as Percentage based discount, Price based discount, cart discount, BOGO offers, conditional discounts, user-based discounts,  user role based discount, category wise discount, storewide discount and more.
Features
Discount Table on Product Pages
SALE Badge for discounted products
"You saved" message inline items/totals
Exclude products on SALE from discount rules
Alerts in the cart when a discount is applied.
Set cart-based percentage discount.
You can also create an order total based discount.
Quantity range based tiered pricing percentage discount.
Pro Features
Fixed price discounts
Category Based discount
Bundle / package deal
Buy One Get One Free discounts
Dependant product based discounts
Total number of users – 70,000+
Price – 1 Site – $49/annually,  5 Site – $79/annually,  25 Site – $129/annually
Screenshot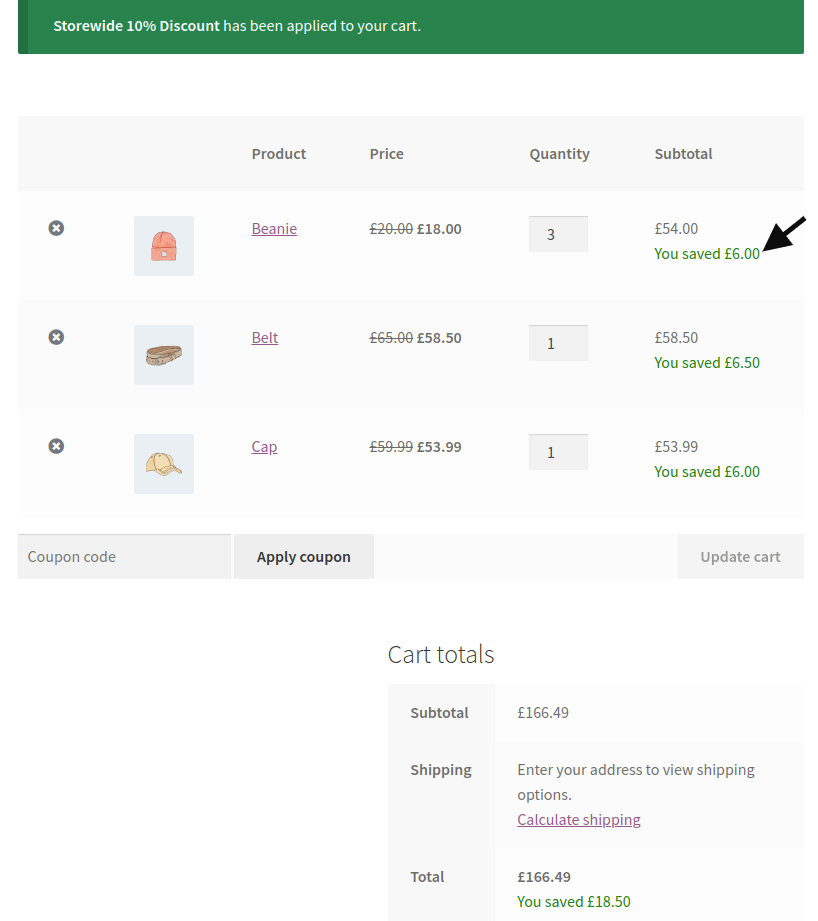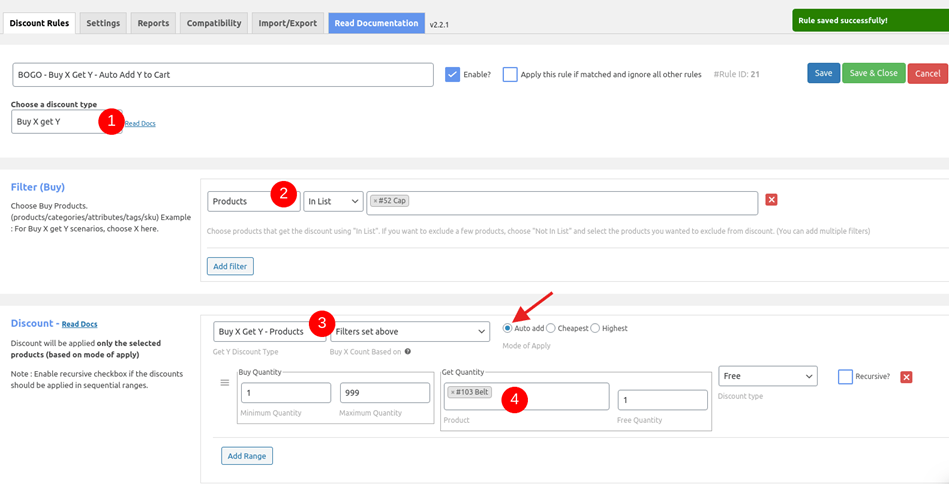 2. WooCommerce Smart Coupons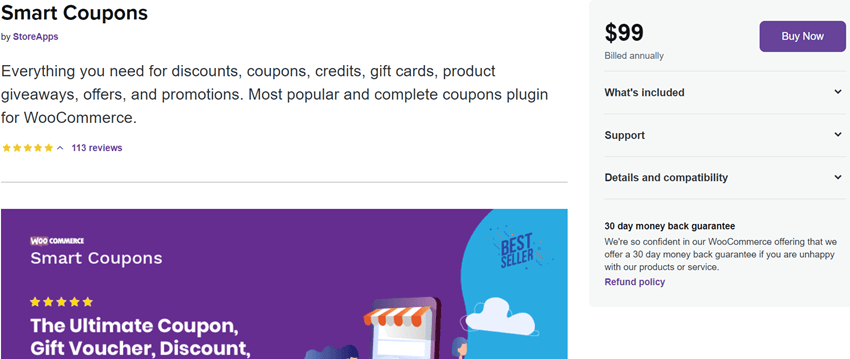 These days gift cards have become an impressive way to lure customers for a next visit to the shopping site. A gift card is useful for both the marketer and the receiver since they are very flexible. The salesperson can set the amount of the gift card and the buyer can choose among a variety of products to buy.
Users can check the email address linked to each gift card before making the purchase.
 The buyer can set the receiving date when he wants the desired people to get their gift cards.
An expiration date can be set for each gift card so that the cardholders use the balance before the expiration date.
These cards often have the amount of the selected product and the users can advise their friends on the purchase of the products.
The product owners can set conditions when to display the offer according to the cart content and the total billing amount
Users can set the time period for different offers.
The card can be synchronized to the related orders.
A gift card template can be selected.
You can show the discount table on the products page.
Create date-based discount.
You can also create store based global discounts.
Price – 1 Site – $99/annually
Screenshot




3. WebToffee Smart Coupons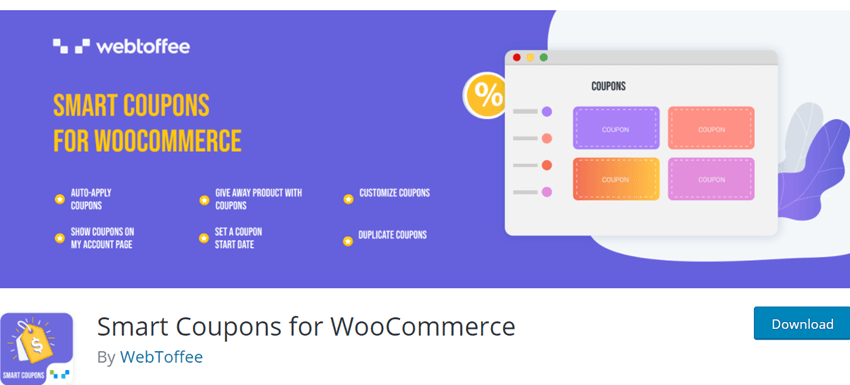 WebToffee Smart Coupons is a WordPress discount plugin that enables you to create multiple kinds of discounts and dynamic pricing on your WooCommerce store. Using this plugin, you can create percentage-based discounts, cart-based discounts, tiered discounts, advanced discounts, Buy One Get One (BOGO), discounts on total orders and more. You can also set discounts based on categories, user roles, attributes, customers and more. It also allows you to show the pricing discount table on the product page beautifully. Giving the customers some extra by taking some extra money after the buyer has spent a certain amount of money is a tricky way to make the buyer shed out some extra shells
The coupons can be restricted via shipping methods and a combination of products.
Auto Coupon Priorities can be set.
The user gets notified via email whenever a purchase is made using a gift card.
The gift card sending status can be verified.
Total number of users – 10,000+
Price – 1 Site – $49/annually,  5 Site – $99/annually,  25 Site – $199/annually
Screenshot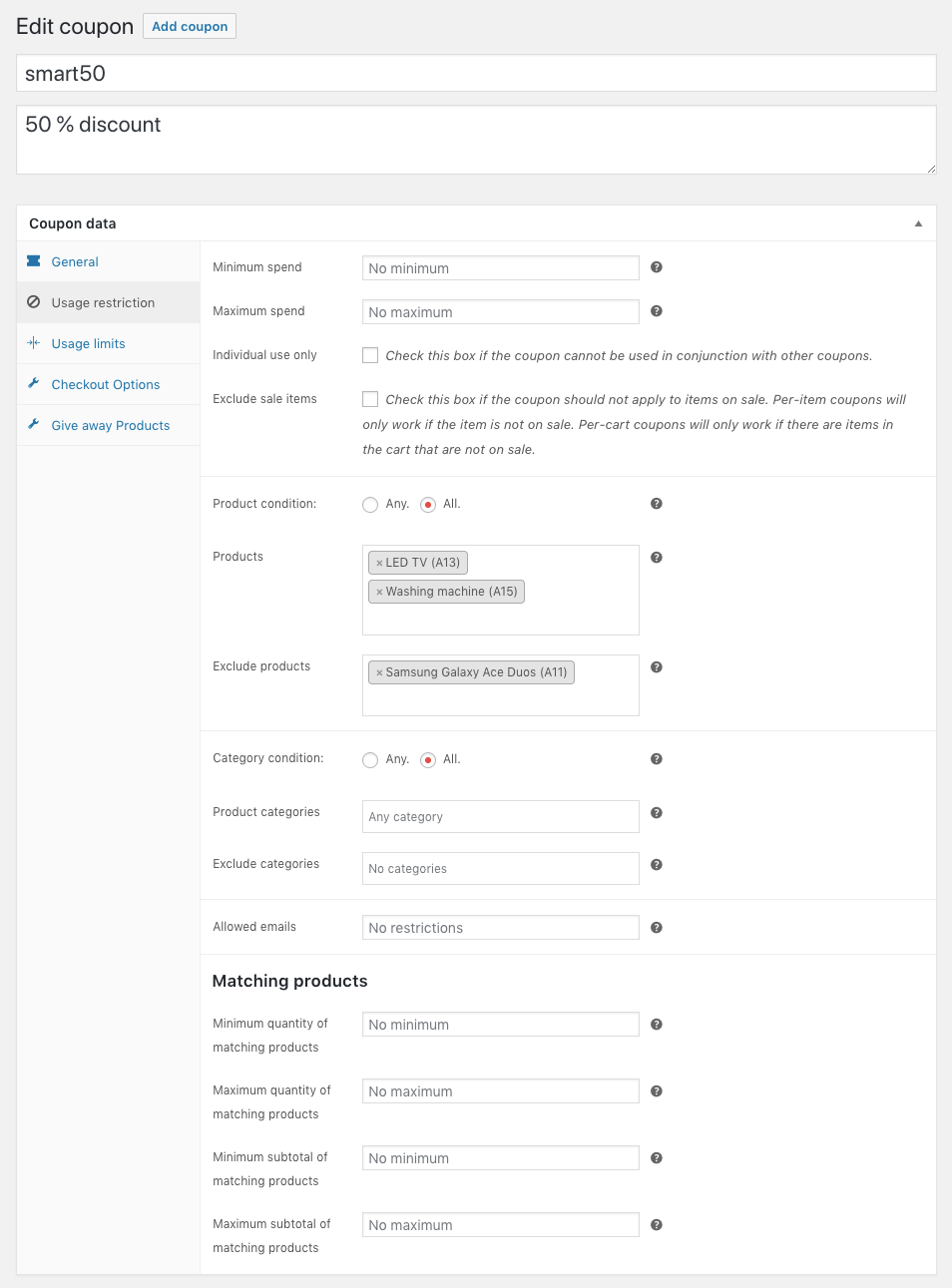 4. Advanced Coupons for WooCommerce Coupons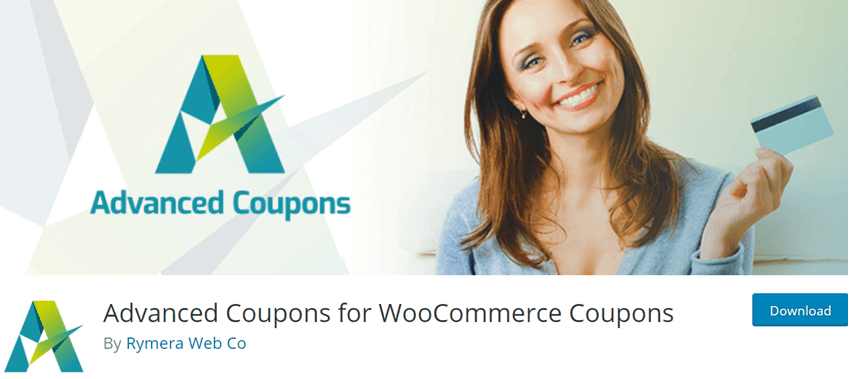 Advanced Coupons is primarily dependent on the customers' perception and smoothly facilitates the deals that are sales-driven. WooCommerce Advanced Coupons gives you an "out of the box" solution to market your store. It equips you with tools to run deals that must not go unnoticed by the customers such as :
Pliable, high-impact deals such as "Buy Two, Get One Free" or "Flat 50% Off".
"Conditions Apply" deals that are evergreen.
Creative deals such as "Scratch and Win"
With Advanced Coupons, you can
Design complex cart scenarios that must be fulfilled before a coupon can be applied.
Run BOGO deals with ease.
Schedule the deal timer by setting the start and end dates.
Coupon applicability based on "User Type".
Auto application of coupons once the cart conditions are fulfilled.
URL generation.
Total number of users – 10,000+
Price – Growth – $99/annually (1 Site),  Business – $199/annually (Unlimited),  All In-One – $248/annually (Unlimited)
Screenshot

5. Advanced Coupons For WooCommerce
The Advanced Coupons For WooCommerce helps the WooCommerece owners to create auto-apply coupons. Using this plugin, you can customize the coupon codes, set restrictions and expiry dates according to your choice. The plugin also allows the admin to share the coupons with the users through URLs or email.
Features
You can add new coupons for the new users. You can add these coupons to both the cart and checkout page or on the my-account page
It also allows you to customize the coupon codes. You can also play around with the coupons like border colour, coupon colour, etc.
You can generate automated coupon codes for the new users as well as existing users.
You can also configure restrictions on the coupons based on the product category,m country of shipping and billing.
You can also import or export WooCommerce coupon codes.
It also allows you to enable or disable the email restrictions on WooCommerce coupon codes.
You can set the expiry date, coupon amount, discount percentage and more.
Price – 1 Site – $49/annually,  5 Site – $199/annually,  25 Site – $399/annually
Screenshot
6. Tyche Software Payment Gateway Based Fees and Discounts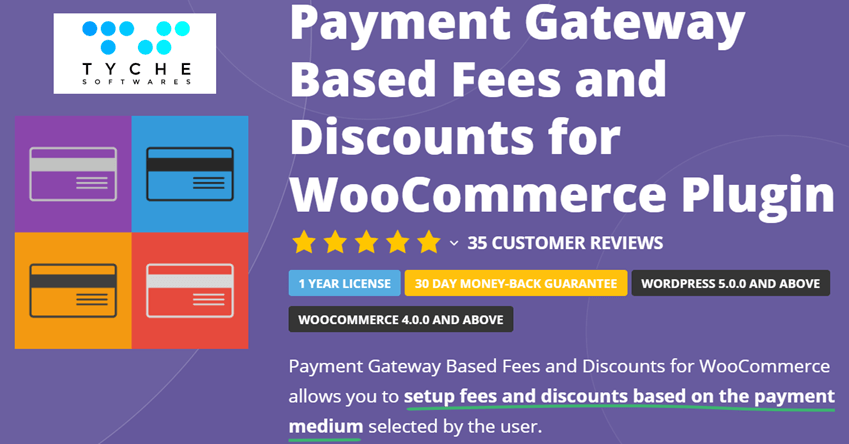 Payment Gateway Based Fees and Discounts for WooCommerce Plugin allows you to set up discounts based and fees based on the payment gateway. You can apply the feeds based on the country, product category or state. Using this plugin, you can also apply taxes on fees. You can also exclude the shipping charges from fees if you require.
Features
You can set up fees and discounts based on payment gateways.
 You can also set up fees on the percentage value or as a fixed amount.
It also allows you to display fee information on a single product page.
You can set up fees and discounts based on product level.
Apply fees based on country, state or product category.
You can Include/Exclude Product Categories.
You can also apply taxes on fees.
It allows you to set up minimum and maximum fees or discounts.
Total number of users – 10,000+
Price – 1 Site – $39/annually
Screenshot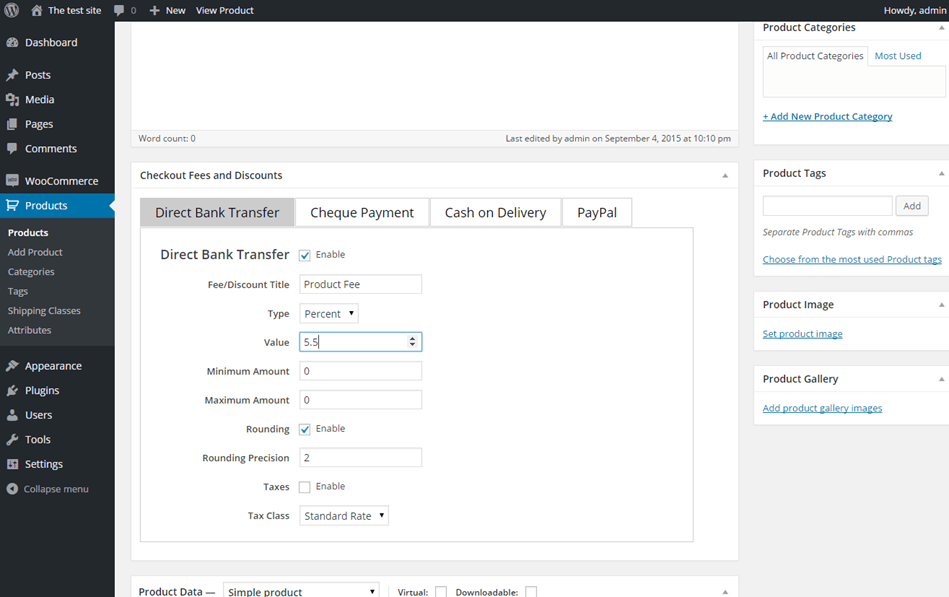 7. YITH WooCommerce Coupon Email System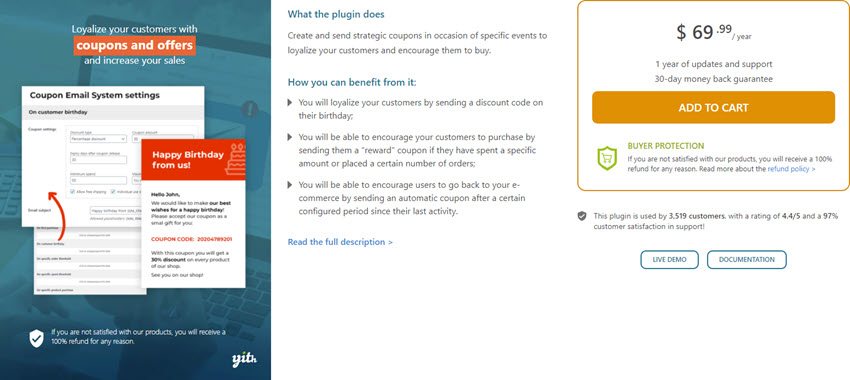 Making customers happy is the key to a successful business. So rewarding them is a good way to make them happy. YITH WooCommerce Coupon Email System enables the owner to send an automatic rewarding email for the first purchase of the buyer. This will make the customers loyal to the online shopping site and make them come back for more products. Its features are:
This allows owners to reward their buyers once some specific criteria have been met such as a certain amount of purchase of the number of purchases so that people buy more and more.
This also rewards buyers on their registration and Birthdays and make them want to come back.
The email of the coupon can be customized according to needs.
Mandrill a powerful tool to engage more users can be used for benefit.
It is WPML compatible.
Total number of users – 700+ 
Pricing –  Single Site – ,  6 Sites – ,  30 Sites – €149,99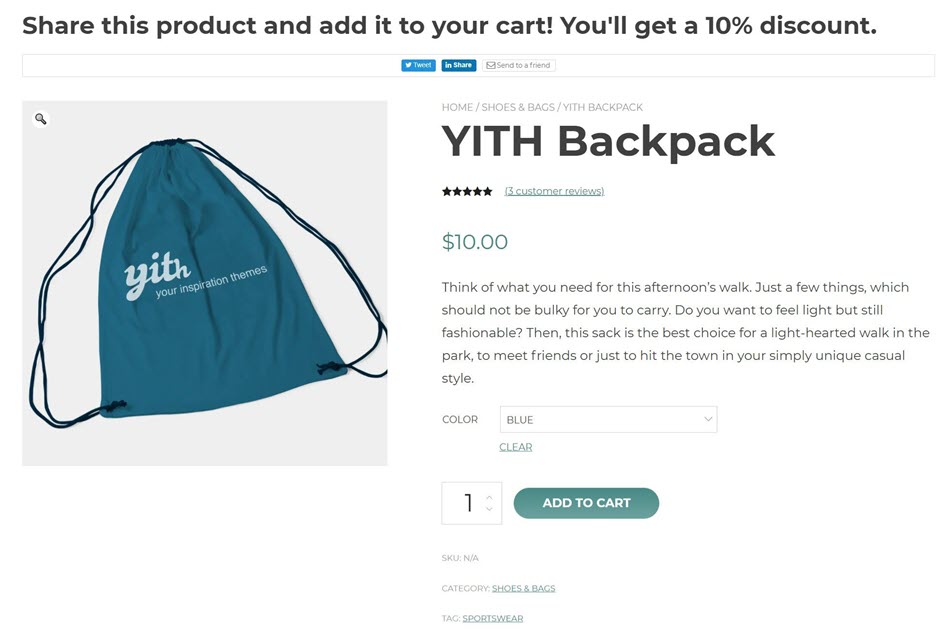 8. YITH WOOCOMMERCE SHARE FOR DISCOUNTS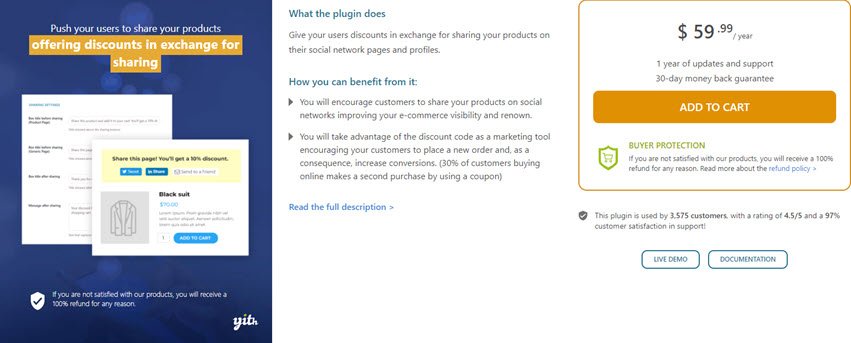 In this socializing era sharing is the keyword. So an idea was developed to give buyers a discount on their purchases if they promise to advertise their products by sharing on social media sites. YITH Woo-commerce Share for Discounts does just that. So it's two targets with one arrow- The products get promoted as well as the buyer gets rewarded. This increases the sales considerably. Its key features are:
The user can decide what type of discounts and rewards to offer their customers who share their products.
The URL can be specified if the user wants the buyer to share different content from the one owned by the user.
It provides for email sharing.
It is also WPML compatible.
Buyers can share their cart and checkout pages.
The position of the sharing box can be decided by the owners.
The texts can be customized.
Shortcodes are available to add activated sharing buttons wherever the owner wants.
Total number of users – 60000+ 
Pricing –  Single Site – € 49,99 , 6 Sites – , 30 Sites – € 129,99
Screenshot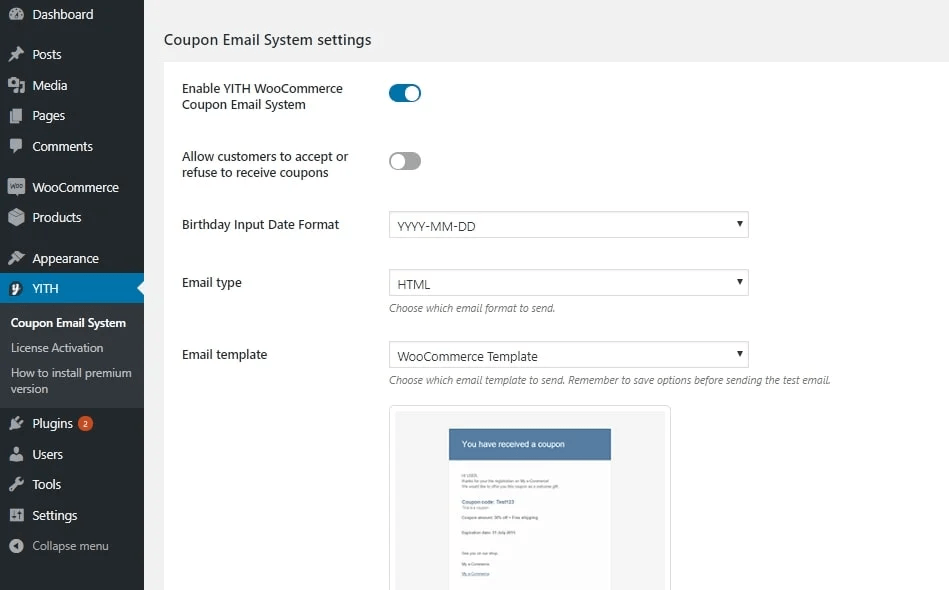 9. WooCommerce Extended Coupon Features FREE

This plugin simply adds functionality to the Woo-commerce coupons. It also provides for automatic discount rules. It is very easy to use and is integrated conveniently into the Woo-commerce Edit Coupon Panel. Its features are:
The coupons are automatically added to the buyer's cart if the conditions are met.
It restricts the coupons to specific customer rules.
The coupons can be applied via URL.
It coupons can be restricted by payment method.
Free products are added to the customer cart depending upon coupon rules.
Cart discounts can be added based on a number of matching products.
API allows developers to use the functions of this plugin.
Total number of users – 30,000+
Screenshot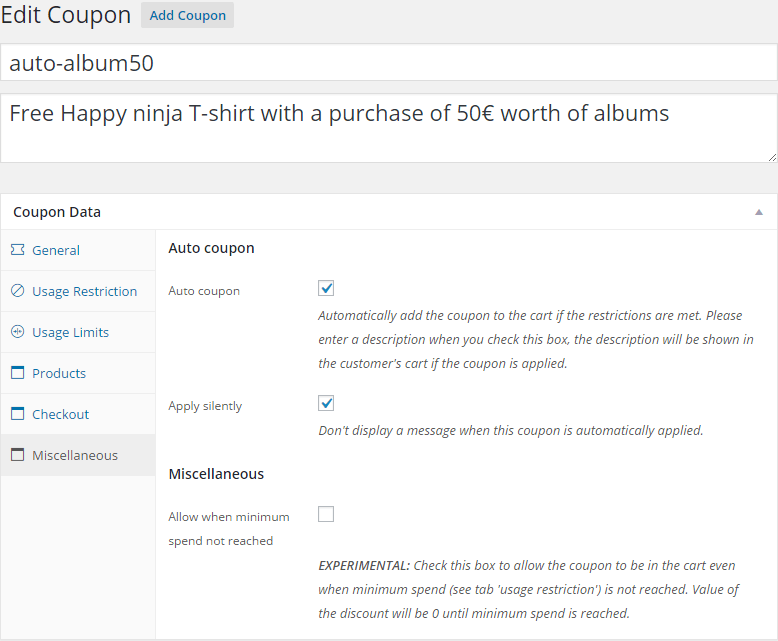 10. WooCommerce Coupon Shortcodes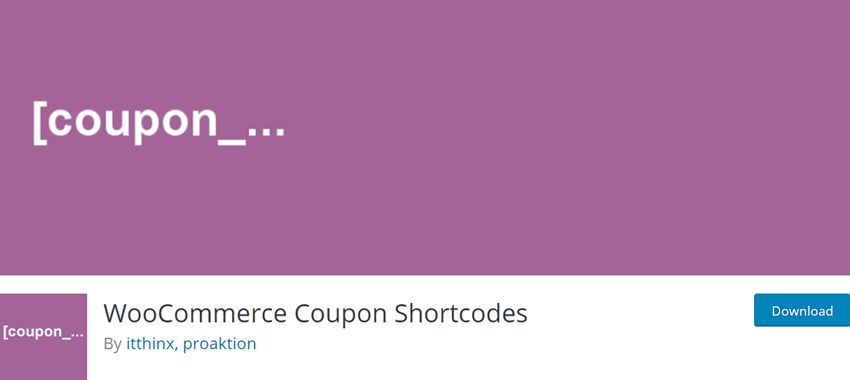 WooCommerce Coupon Shortcodes is an extensive plugin that is used for coupon availability and displays such content to your customers thereby. If your website deals with a different range of products which distribute among numerous customers then the Coupon Shortcodes Extension works very well for you. Hereby, you may easily manage the products on which the coupon may apply. Let your users add the product that they want to purchase into the cart and then see the available coupons work on it or not. You can configure the quantity and price of products on which the coupons become valid or not. While you install Coupon Shortcodes for the WooCommerce website, it automatically provides the information of volume discounts on the total of cart products available there.
Core Features –
Shortcodes – let you run the entire functionality of coupon through shortcodes like availing the content for coupon validity, and provides a description of valid discount as well. Just create beautiful coupons with the assistance of such shortcodes.
Automatic Application – Let your users redeem the coupon by overseeing the discount availability whenever they finalize the items into the cart.
Restrict Redemption – Allow your users to redeem the coupon only when they have access to the membership on the website.
Total number of users – 2,000+
Screenshot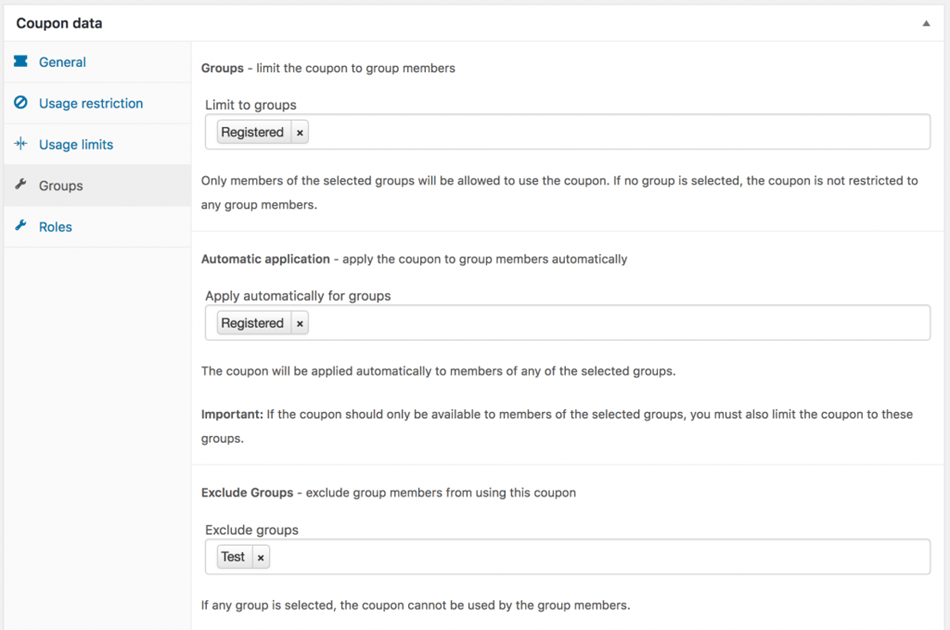 11. WooCommerce Volume Discount Coupons

WooCommerce Volume Discount Coupons automate coupon discounts on the product in the cart for valid quantity and price. A well-integrated extension for WooCommerce that lets you establish the discount through coupon availability on the products so well and display such coupons to the customers wisely. For any e-commerce website, coupon utilization depends upon the awareness of validity among customers unless it is such a waste effort. Therefore, it is necessary to aware your customers of their valid coupons while showing options whenever they add to the cart something to purchase. Although, in such cases, if they access coupon discounts then the chance of purchasing additional items is getting high. As much as they get coupon discounts on purchases they love to continue shopping through your website and also encourage others to shop thereby.
Key Features –
Let the available coupons be applied automatically while the items in the cart meet the requirement of redeeming.
Set up the maximum and minimum limitations on the coupon that can access the criteria of available discounts on the coupon.
Enable your customers to utilize the volume discounts through coupons to experience shopping with more benefits.
Design and customize the look as well as the content of coupons while using newly added shortcodes thereby.
Price – Regular license – $29/annually
Screenshot