8 Best WooCommerce Order Delivery Date Plugins 2023
Allow your eCommerce website customers to choose a convenient delivery pickup time and date that can easily be set up with Order Delivery Date Plugin. Customers can choose a delivery slot during the checkout process and add a delivery note for more instructions. These Delivery time slot Plugins work perfectly with WooCommerce subscription and membership plugins. You can also charge differently based on time and days of delivery to compensate for your shipping costing.

Let's have the list of WooCommerce Order Delivery Plugins as follows.
Table Of Content
1. Order Delivery for WooCommerce

Order Delivery for WooCommerce is a highly customisable WooCommerce Order Delivery Date Plugin that lets your customer select a willing date and time for delivery during checkout on your online store. You can configure the accessories that will enhance the delivery experience for your customer and grow revenue. Let you configure different delivery fees based on order or product delivery time and date. Limit the order per day within a timeframe for your online store that executes hassle-free and standard delivery.
Elementary Features –
Allow customers to select delivery dates and times from their availability calendar, excluding bank holidays and specific shipping methods.
Let you present an order delivery date picker right on the checkout form that lets customers select whenever they prefer.
Enable automated notifications via email regarding selected and estimated delivery dates to customers.
Configure the range of delivery for different shipping methods like same-day delivery, 2-3 days delivery, and more weekdays.
Price – Regular License – $129/annually (1 Site)
Screenshot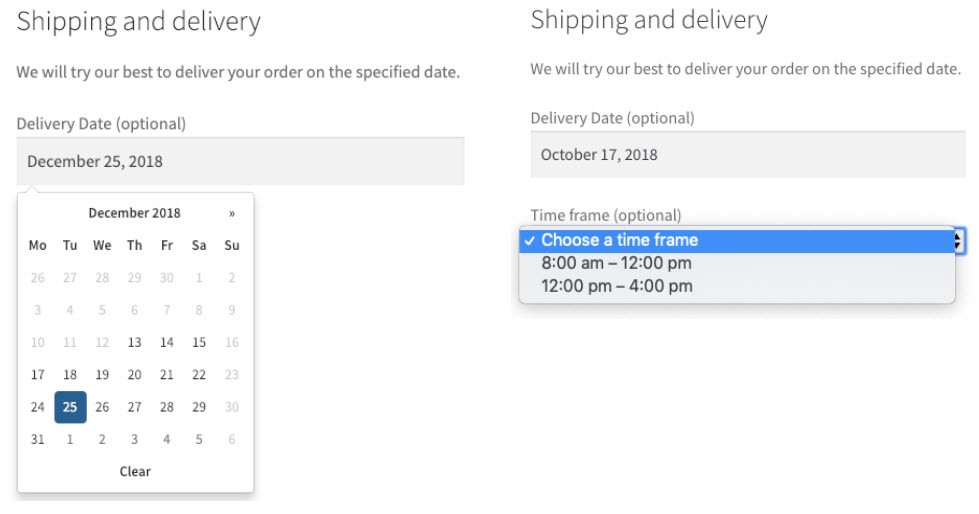 2. IconicWP

WooCommerce Delivery Slots is a well-oriented WooCommerce Delivery Slots plugin that ensures customisable delivery scheduling for customers. Any customer can select their delivery date and time at checkout. Let you improve your customers' experience by availing them to choose flexible dates and times for the whole order or any particular product. Enable you to configure delivery and pickup for various shipping methods accordingly. Also, this plugin lets you add different delivery pricing for fast and standard delivery.
Essential Features –
Let you create distinctive time slots for different available shipping methods.
Enable or disable delivery time slots for specific products or categories whenever required.
Availability of beautiful calendar themes where you can select any of them accordingly.
Define the validity of minimum and maximum delivery dates in your store calendar.
Configure delivery fees according to the same-day delivery, next day, or other weekday delivery.
Notify customers for confirmation of estimated delivery that they selected on their own.
Price – 1 Site – $129/annually,  3 Site – $259/annually,  30 Site – $799/annually
Screenshot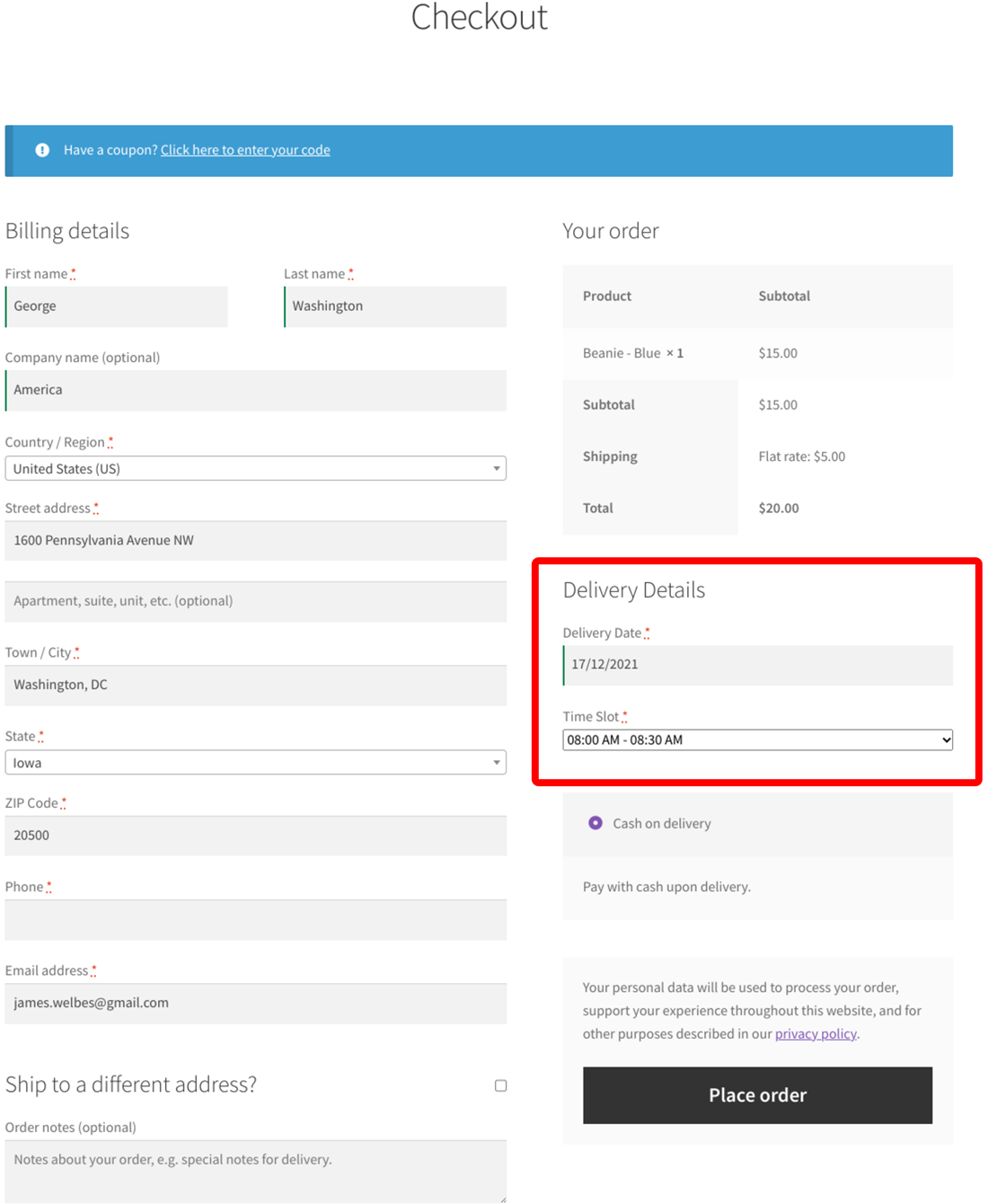 3. Delivery Slots for WooCommerce

Delivery Slots for WooCommerce is a beginner-friendly Delivery Slots plugin for WooCommerce that enables you to create a delivery schedule on your online store. With this unique plugin, you may offer your customer to select a delivery time and date for their orders and product. Moreover, you can also display an estimated delivery date to your customer when they place any order thereon. Features many helpful delivery options that enhance the user experience of any WooCommerce shop. Flexibility to select the order or product delivery estimation lets your customer continue shopping with your online store. Such consequences are so lovely for your shop that it rapidly grows revenue than ever before.
Delivery Slots for WooCommerce enable you to add an extra charge for customised delivery dates and times that could be beneficial to create additional revenue. Configure notification where you can notify your customer via email or text before delivery. Access your delivery schedule on Google calendar, which eases the complete functionality to both ends, i.e., customer and admin.
Price – Regular License – $79/annually (1 Site)
Screenshot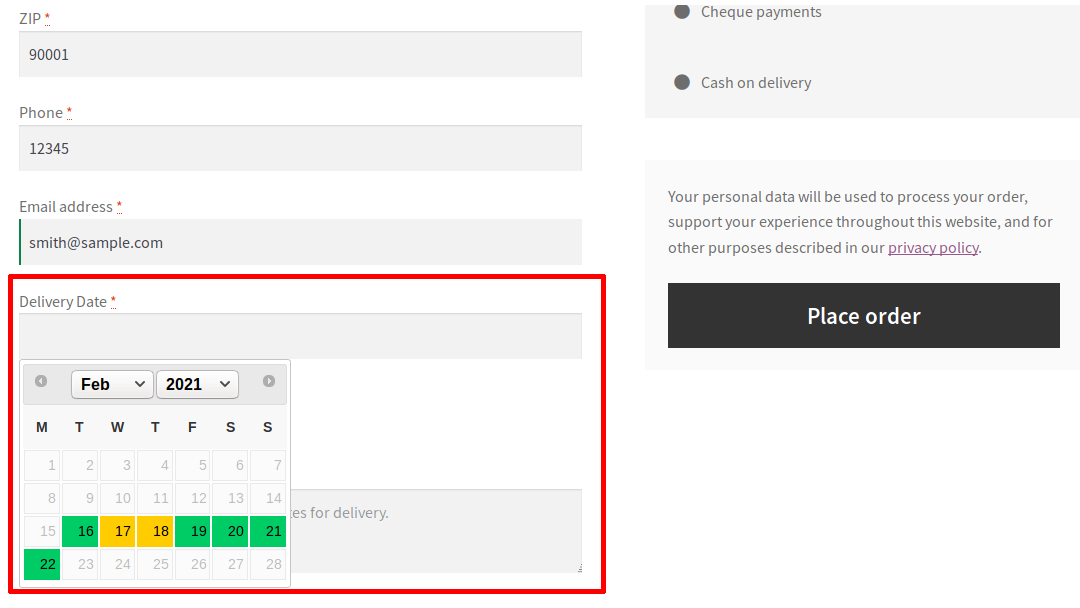 4. Order Delivery Date Pro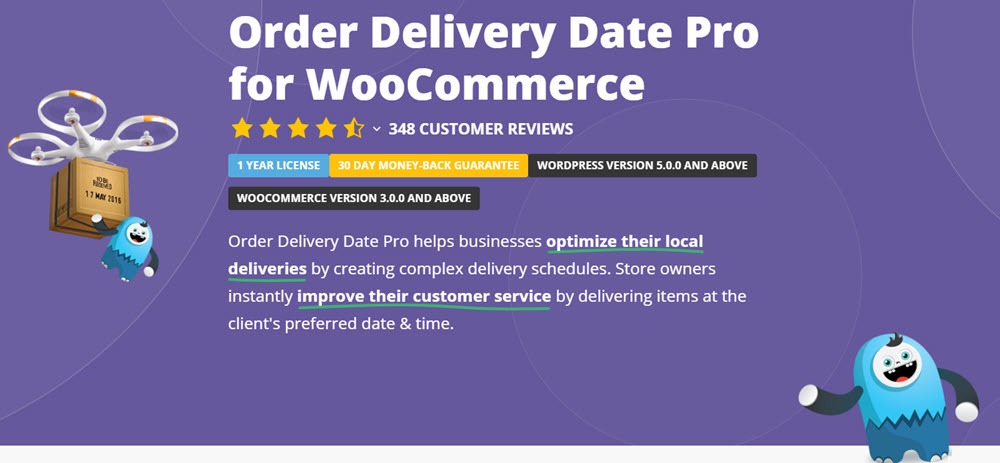 Order Delivery Date Pro is a paid Order Delivery Date Plugin for WooCommerce that lets you establish delivery schedules on your eCommerce websites. Enhance your Customer Experience by letting them shop from your online store and get their order on a scheduled date and time. Allow customers to select an appropriate time and date for collecting the delivery and charge accordingly. Sync Google Calendar in real-time lets you track delivery charges for weekdays and regular days. This WooCommerce Order Delivery plugin enables variable delivery schedules based on product categories, pickup locations, shipping methods, etc.
Essential Features –
Let you configure the delivery date and date.
Configure various price modules for a particular weekday.
It provides you with a calendar where you determine holidays or closed periods.
Remind your customer with an email before delivery.
Enable Google Calendar, i.e., synced within two-way deliveries.
Limit the orders or product quantity to maximum delivery per day.
Enable rescheduling order deliveries either by admin or customer.
Price – Regular License – $99/annually (1 Site)
Screenshot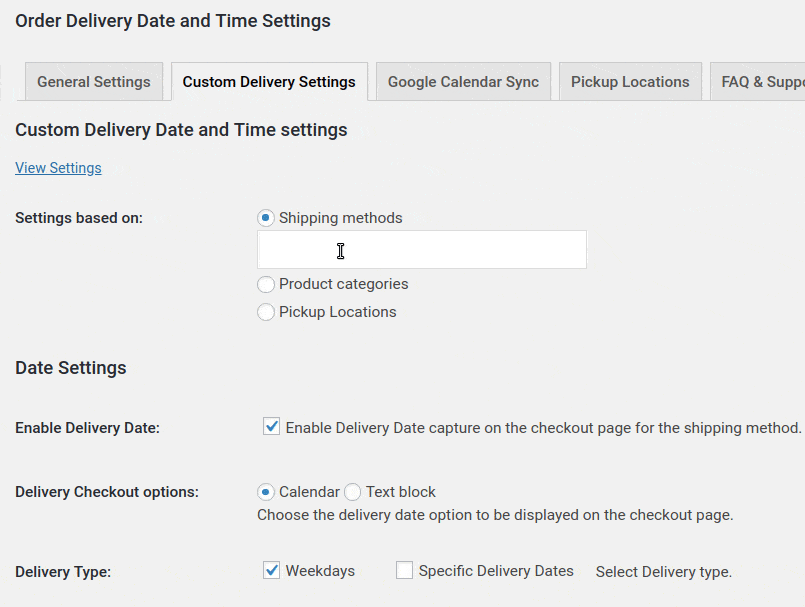 5. YITH WooCommerce DELIVERY DATE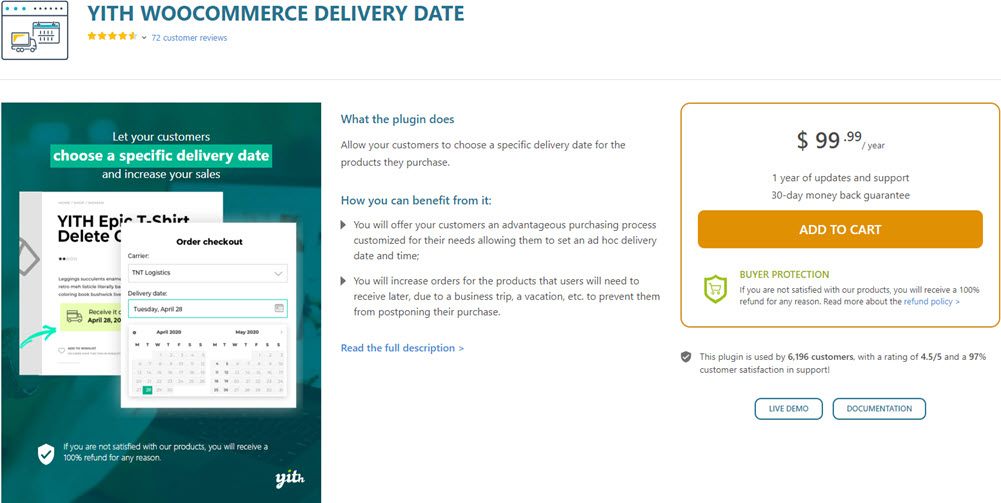 Yith WooCommerce delivery date gives an advantage to your business by letting customers choose the delivery time and date of products they order. The specific delivery date provides an advantage by prioritising customers' needs. Most customers don't buy because they aren't available to receive the products. Giving them a specific date and time to purchase will eliminate the chances of not ordering because of unavailability.
This Order Delivery Date plugin is dedicated to gifts and home delivery products and will help get back your lost customers. Vendors also have an option to show the dates and times on which their products are available. It provides an extra feature or advantage to your store over others.
Many features are available, like editing the shipping date later or getting orders in the minimum possible time. These features will build a tremendous customer-vendor relationship, making your business more efficient and boosting sales.
Price – Regular License – $99/annually (1 Site)
Screenshot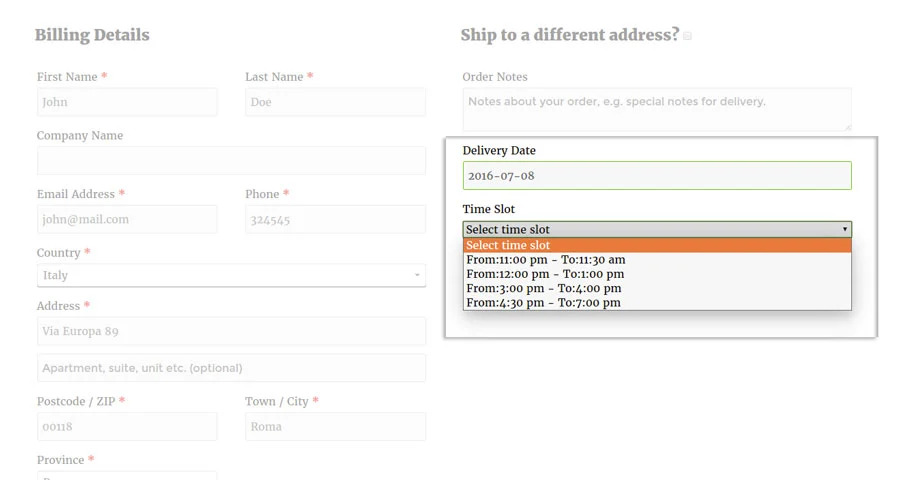 6. Delivery & Pickup Date Time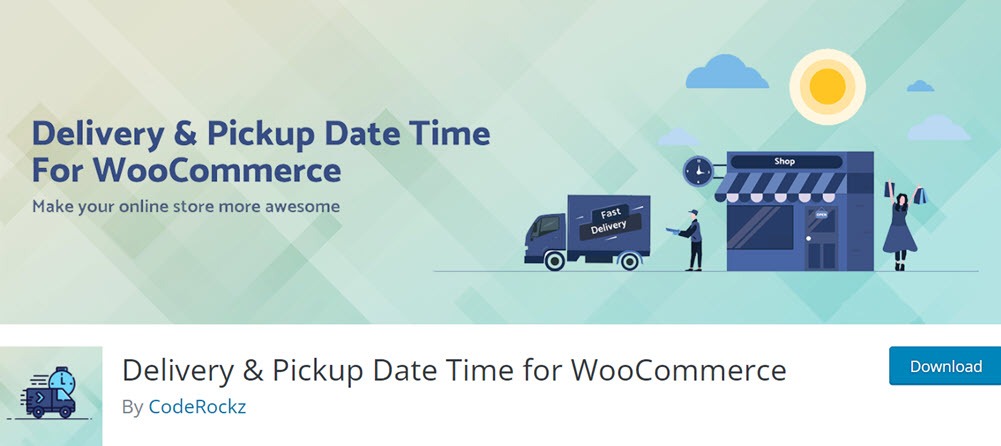 Delivery & Pickup Date Time for WooCommerce helps your small business by providing options for customers to choose delivery time and date at the checkout page. Customers can give special delivery instructions via this plugin. The store admin can list selected pickup stores, and customers can choose to pick up from those stores. Store admin can control the pickup date and time as per their convenience. They can choose to show selected slots and change slots so that customers have books at their convenience. In this case, the customers will be notified via email.
This is a free WooCommerce Order Delivery Date plugin that can be customised based on the theme of your page. It a hassle-free and easy to set up. With the pro version, you get many features. You can give options to customers, like self-pickup or home delivery. There is an advanced option for dates and times based on different time zones. You can restrict delivery or pickup based on the quantity of the product, category and cart amount.
Total number of users – 8,000+
Screenshot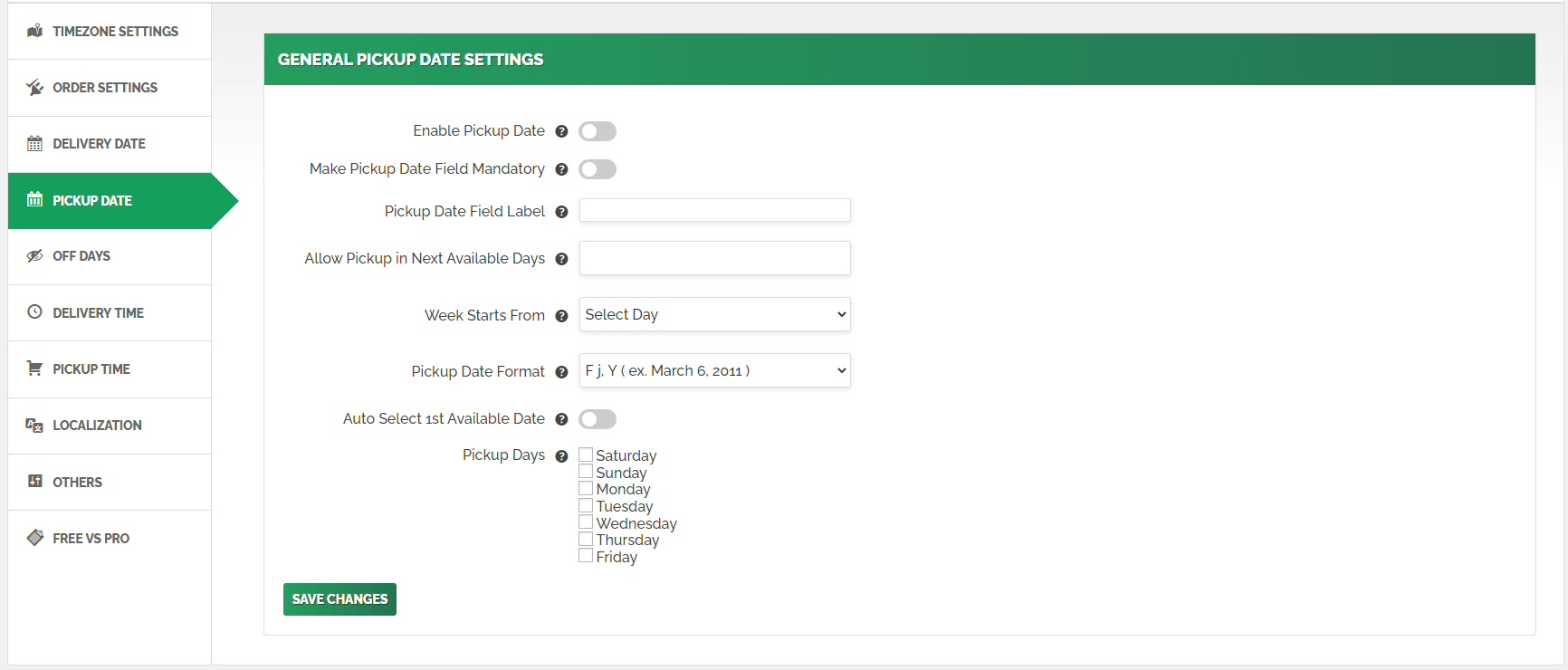 7. Delivery Times for WooCommerce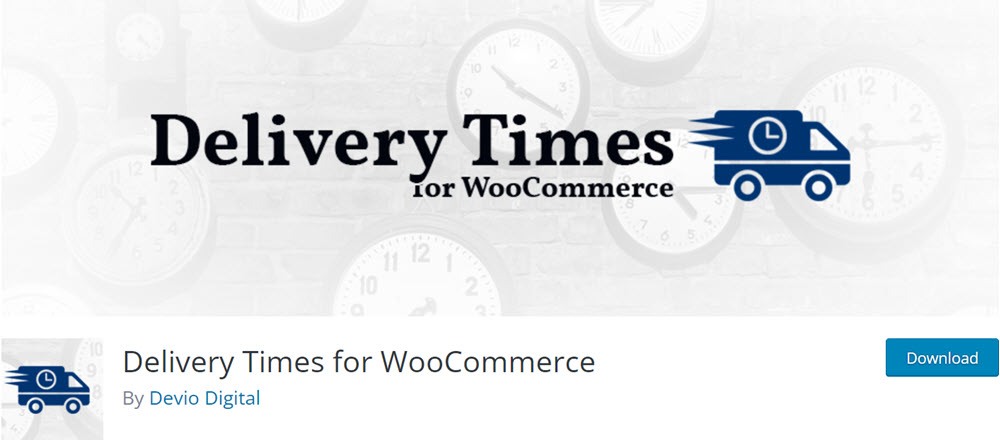 Delivery times for WooCommerce help you choose their desired delivery time and time during checkout. It has several features, like deciding when to pen slots for pre-order and showing days or hours required by you to deliver a product. Customers can choose their delivery date, time, and labels about the same will be provided on the checkout page. This plugin is easy to use, well coded, and helpful for non – developers. It merges nicely with the theme of your website, so you don't have to worry about it.
For better workflow, the driver management system is also provided for delivery agents who use WooCommerce. This will help to increase the bottom line of your business. Business hours of your WooCommerce, opening, and closing times can be shown on your WooCommerce website using this plugin, which will improve the user experience.
Total number of users – 1,000+
Screenshot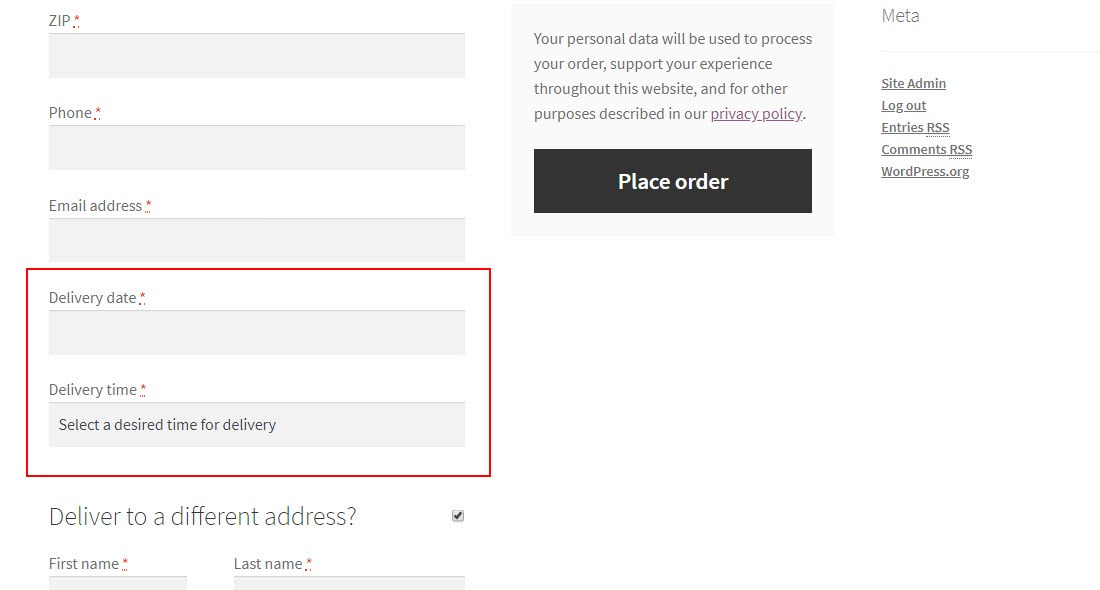 8. Woocommerce Delivery Time Picker for Shipping

WooCommerce delivery time picker is an easy WooCommerce delivery date picker plugin for customers. This plugin has multiple actions, like choosing the positions, times, and dates, and you can also select the theme and part of the calendar.
Delivery date and time can be enabled or disabled based on the admin's preference. They can choose holidays when delivery is unavailable, or the store is closed. Admin can choose from the different time and date formats available. Customers can enter the maximum suitable time for delivery of products, and customers choose the delivery time during checkout.
This will help you better with local deliveries. It will be easy to set up and improve the customers' experience. Customers can choose the delivery time at their convenience, increasing your store's revenue. Customers will shop according to their convenience, increasing the chances of shopping again in the future.
Price – Regular License – $39/annually (1 Site)
Screenshot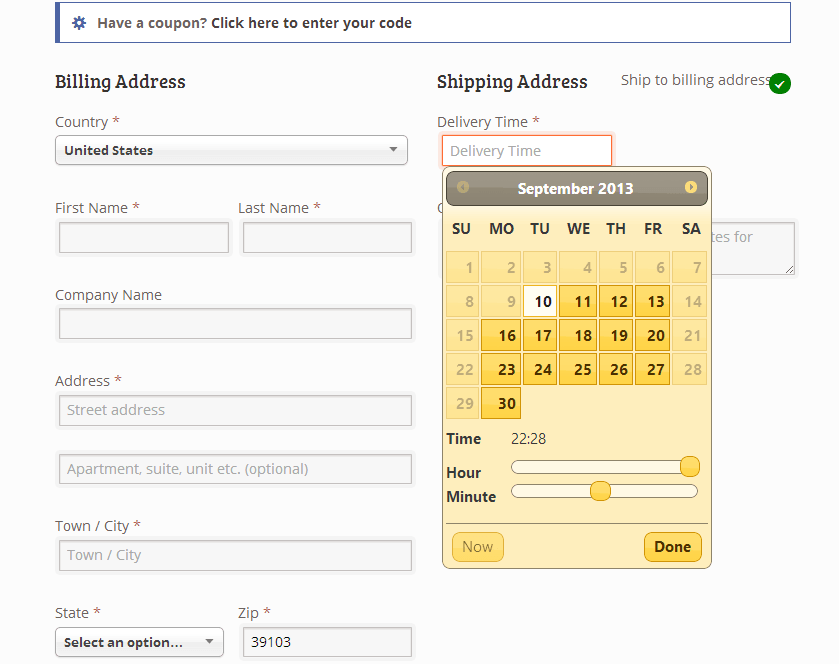 You might be interested in USPS Shipping Plugin, DHL Express Plugin, Referral Plugin and Email Hosting Services.