9 Best Business Email Hosting Services for Organization 2023
Professional business email provide branding to your Organization. Many of the hosting company like Kinsta, Google Hosting, Cloudways, Linode, Digitalocean, Vultr, AWS, Google Cloud etc doesn't offer email hosting services . And Hosting your email id outside your hosting space required a secured email hosting for hosting your business email.

Emails are the backbone of every eCommerce business. It is one of the best marketing channels that help you reach many audiences and engage with your customers. In addition, emails can notify your audience about the new updates on your store and help you store or archive your critical information and files.
Choosing the correct email hosting service provider is crucial for your business as it can make or break your business. While selecting an email hosting provider for your business, you must review the available options and choose the one that suits you the best according to your business requirements.
Factors to consider while choosing an Recommended email hosting service provider
Email hosting is one of the most critical elements for your eCommerce business. Hence, selecting the best email hosting service provider for your business is crucial. You have to consider a lot of functionalities and features including-
Custom Domains- You have to look for an email hosting provider that lets you create an email address using your company's website domain, such as email@yourdomain.com.
Security- Always opt for an email service provider that provides top-notch security like antivirus protection, anti-spamming, etc.
Customer support- Choose an email hosting service provider that provides round the clock customer support. You should ensure that their support team is available 24X7 to solve all your problems, queries and doubts.
Mailbox storage- If you use emails as a primary channel for communicating with your clients, you will need a lot of storage space in your mailbox for archiving your critical emails or shared files.
Attachments- You should look for an email service provider that lets you send attachments of at least 25 MB in size. You can also check if you're allowed to send large files using various FTP tools.
We have prepared a list of the eight best email hosting service providers who fulfil all the above criteria. Let's look into each of these in brief, and then you can decide which one works the best for your eCommerce business.
Lets have the list of top business email service providers for your online business are as follows
Table Of Content
1. Google Workspace

Google Workspace is the most powerful business email hosting for big organization.
Google Workspace is the awesome alternative for Microsoft 365 emails.
Price – Starter – $2/Monthly (30 GB Cloud Storage), Standard – $9.89/Monthly (2 TB Cloud Storage), Business Plus – $19/Monthly (5 TB Cloud Storage)
Screenshot
2. Microsoft 365 Email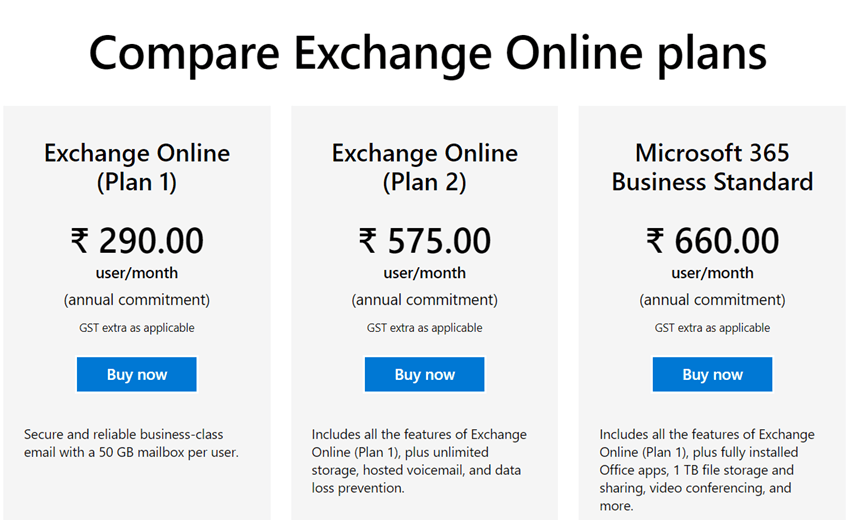 If you use multiple Microsoft Office Email services in your organization, Microsoft Office 365 is the best choice business email hosting services. Office 365 is an email hosting service provider with numerous functionalities like preventing data theft and data loss, email receiving and sending, custom domain addresses, etc. In addition, the subscription includes all the up to date versions of the standard office apps like Microsoft Excel, Word, PowerPoint, Skype, SharePoint, OneDrive, Outlook, OneNote and more. Zoho business email solutions is the best alternative for Microsoft 365 email.
Features
Top-notch security
It comes with anti-malware and anti-spam options that help you protect your personal in formations and mailboxes via Exchange Online Protection.
Easy maintenance
It is one of the most accessible tools to maintain and helps you save your time and efforts by sending automatic business emails to your users. In addition, it eventually helps you to stay connected to your users.
Mobile devices security
It ensures security across mobile devices by allowing you to control the list of approved mobile devices, remove confidential and essential data from the phone in case of mobile loss, and set passwords and PIN locks.
Reliable
It ensures that your emails are continuously running and sent to your users even in high loads, as it comes with 99% uptime.
Admin Center
It comes with an efficient admin centre and a web-based interface that helps you quickly manage your organization.
Storage
Every user gets at least 50 GB of mailbox storage in the basic plan.
Support
Apart from the top-notch services, the company provides exclusive customer support. The technical team is available 24×7 to support you with any queries or doubts.
Price –
Exchange Online (Plan 1) $4.00 user/month
Exchange Online (Plan 2) $8.00 user/month
Microsoft 365 Business Standard $12.50 user/month
Screenshot
Set Up Microsoft Email Hosting Office 365 With Custom Domain Business Email & Cpanel Email Migration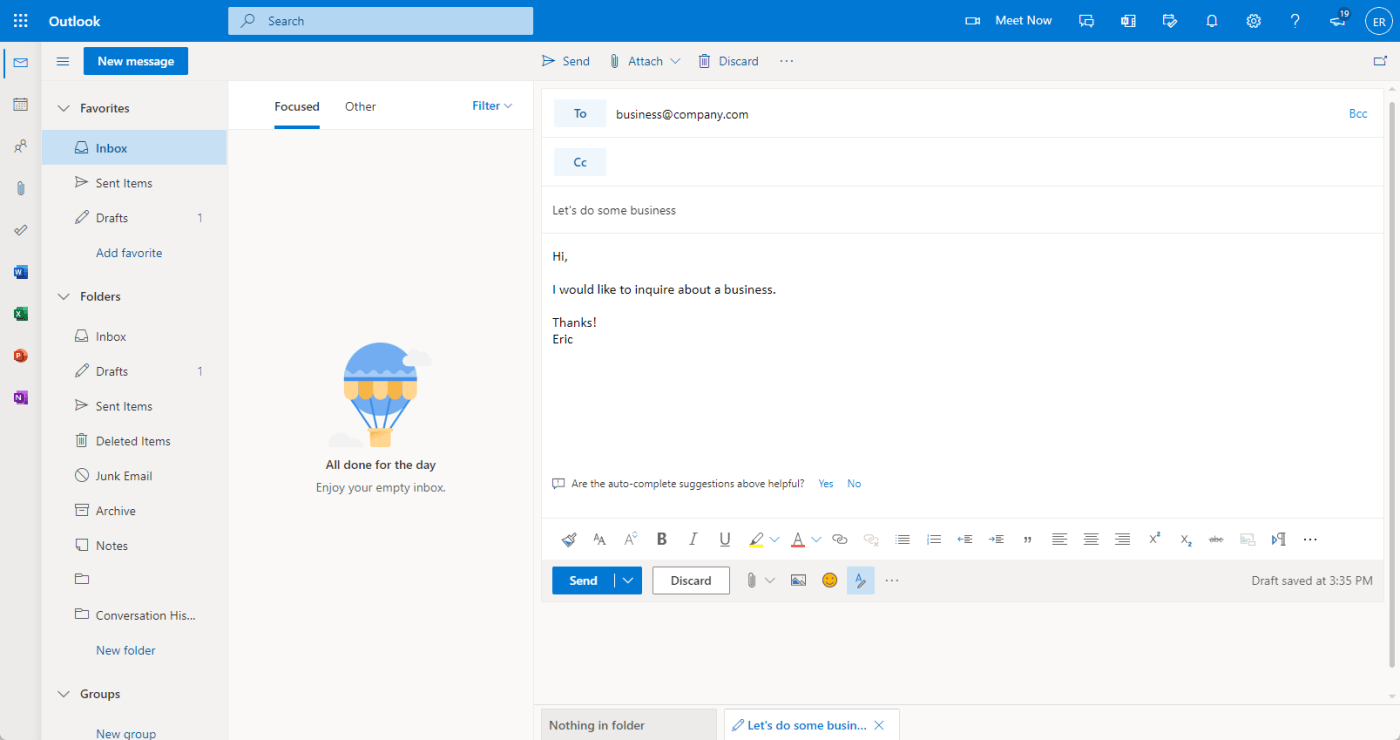 3. Rackspace Email Hosting

Rackspace is one of the popular professional email hosting, app and web hosting provider. Renowned for its excellent uptime, the company guarantees you compensation if you ever face downtime on your site. More than just email hosting services, Rackspace helps you connect, communicate and collaborate with the top-notch email solutions in the industry. Racesapce will be great alternative for zoho business mail if you need email service for small business.
Features
Custom emails- The Company provides you with custom email domains that match your brand name. '
Uptime- Rackspace guarantees 100% uptime, thus, your site never slows down even in case of high traffic, and your emails are always up. Furthermore, in case you ever face downtime, it offers extra compensation.
Support- It provides commendable customer support, and also RackSpace is highly reliable as the team remains constantly connected to the customers. The support team is available around the clock on-call, chats, or e-tickets.
Deep Expertise- With over two decades of experience, the company takes pride in managing professional email and collaboration solutions for all businesses, irrespective of their size and nature.
Hosted email service- The hosted email service comes with functionalities to manage your team's calendar, emails, and contacts on the Rackspace webmail application. You can also use it by syncing on your mobile device or desktop.
Microsoft Exchange- Rackspace also offers Microsoft Exchange that helps you run an exchange on your server without installing anything. Thus, it enables you to use advanced functionalities such as archival tools, push emails or shared contacts and calendars and also save you a lot of cost and effort.
Price – Rackspace Email – $2.99/Monthly, Rackspace Email Plus – $3.99/Monthly with 30 GB files storage, Add Archiving – $6.99/Monthly with 30 GB file storage
Screenshot

4. Zoho Mail

Zoho  WorkPlace lets the users host corporate business emails and personal emails on an encrypted and secure platform cost-effectively. In addition, it offers some of the best collaboration and communication apps, such as Office Suite, Docs and Cliq, and hosted calendars, emails, and contacts. Using Zoho WorkPlace, you can also create shared emails so that every partner in the team can share the duplicate emails. Zoho email hosting is conisder as highly professional email hosting service for business
Features
Top-notch security- The Company provides 99% uptime and secured and encrypted email hosting services. Thus, it offers unparalleled protection and surveillance.
Control Panel- The Zoho Mail's control panel allows you to customize and configure the settings according to your business requirements. Moreover, you can always add users, set up policies, manage group aliases, etc.
Professional emails with custom domain name- Using Zoho Email, you can create professional and unique email addresses and get your custom email address based on your domain name. For example, email@yourdomain.com.
Retain emails- Zoho mail allows you to retain your emails for a specified time. You can quickly discover these emails using e-discovery and use them to comply with company standards or use them in case of legal attacks.
Stream- You can connect your social media to your mailboxes using Stream thus, you can easily share files, tag your teammates, manage tasks and more.
Support mobile devices- It comes with mobile apps such as Stream, Mail and Mail Admin that help you manage your emails easily from your mobile devices.
Price – Mail Lite – $0.89/Monthly, MAIL PREMIUM – $1.79/Monthly
Screenshot

5. Liquid Web

Liquid Web is one of the best enterprise email hosting solutions renowned for providing 100% uptime so that your emails are never down and you can stay connected to your customers all the time. In addition, it comes with tools that help you migrate your calendars, emails, journals, tasks, and contacts to Liquid Web premium business email hosting from your previous email service provider. It also helps you slash down your costs by allowing you to free up the space across the server for email services.
Features
Cost-Effective- Liquid Web's premium email hosting helps you reduce server competition and thus, ends up saving a lot of costs and effort.
White-Glove support- Apart from the top-notch services, Liquid Web's team provides you White glove support, i.e., they help you migrate your calendars, emails, journals, tasks, and contacts to Liquid Web premium business email hosting from your previous email service provider.
Prevent Spam- Liquid Web provides complete control over your inbound and outbound mails. Also, it ensures that you don't receive spam emails in your mailboxes.
Constant Uptime- Liquid Web is renowned for its 100% uptime guarantee. They ensure that your emails are always up to stay connected to your customers.
Industry's best support- Liquid Web is known for providing the best customer support. The highly skilled and trained team is available 24X7 on chats to help you with all your doubts and issues.
Accessibility- Using Liquid Web's premium business emails, you can easily access your emails anytime via webmail, mobile devices, mail clients, etc. Thus, it increases your productivity and helps you work efficiently.
Price – Standard- $2 mailbox/month for 25 GB Mailboxes, Plus $4 mailbox/month for 25 GB Mailboxes, Microsoft Exchange $11 mailbox/month for 100 GB mailboxes.
Screenshot

6. Fastmail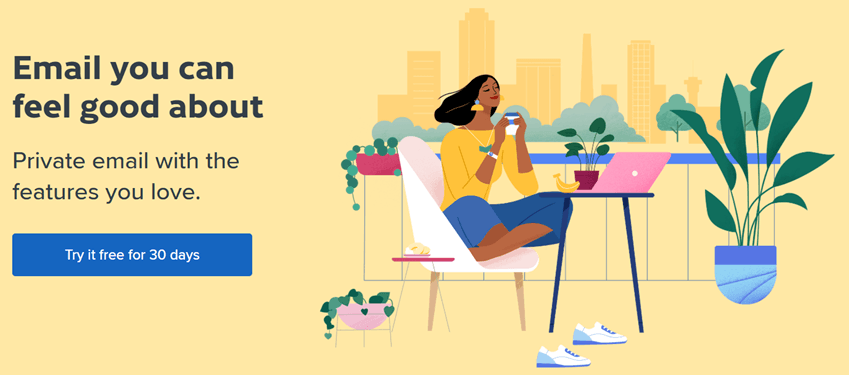 When we talk about the most advanced email hosting services, FastMail is one of the premium business email hosting providers as it mainly focuses on the email essentials of calendar, contacts and messages. It is a powerful high-speed tool to quickly add multiple domains and subdomains to your account. Then, you can share these subdomains with your team members within the same department. It also comes with various mobile and web applications that allow you to add quick filters to store archives or organize your emails. The best part about FastMail is that you can easily customize the storage options for varied users. In addition, it comes with some fantastic features and functionalities. For example, you can add a company footer to the emails you send to your users, share your contacts and calendars with your team members or within the entire organization, or customize the brand image to the app and login screen.
Features
Three-in-One- With FastMail, you need merely one app to manage your messages, contacts and calendars. Getting all three apps in one place makes your task easier and helps you work more efficiently.
Calendars- FastMail comes with beautiful calendars that you can share with whomever you want. Also, you can plan events and get a clearer picture of your life sorted into months, weeks and days.
Customized Emails- Using FastMail, you can create a custom email that matches your brand's domain name, e.g., email@yourdomain.com. You can also create hundreds of email addresses and manage them on one account.
Sort and group your contact list- You can create a group of the essential ort VIPs on your email list. Thus, you get notified whenever a person of utmost importance emails you.
Supports Multiple devices- FastMail works seamlessly across devices like mobile devices, web browsers, and desktop apps such as Mac Mail Outlook.
Price – Basic- $3/ user/ month with 2 GB per user. Standard- $5/ user/ month with 30 GB per user.
Screenshot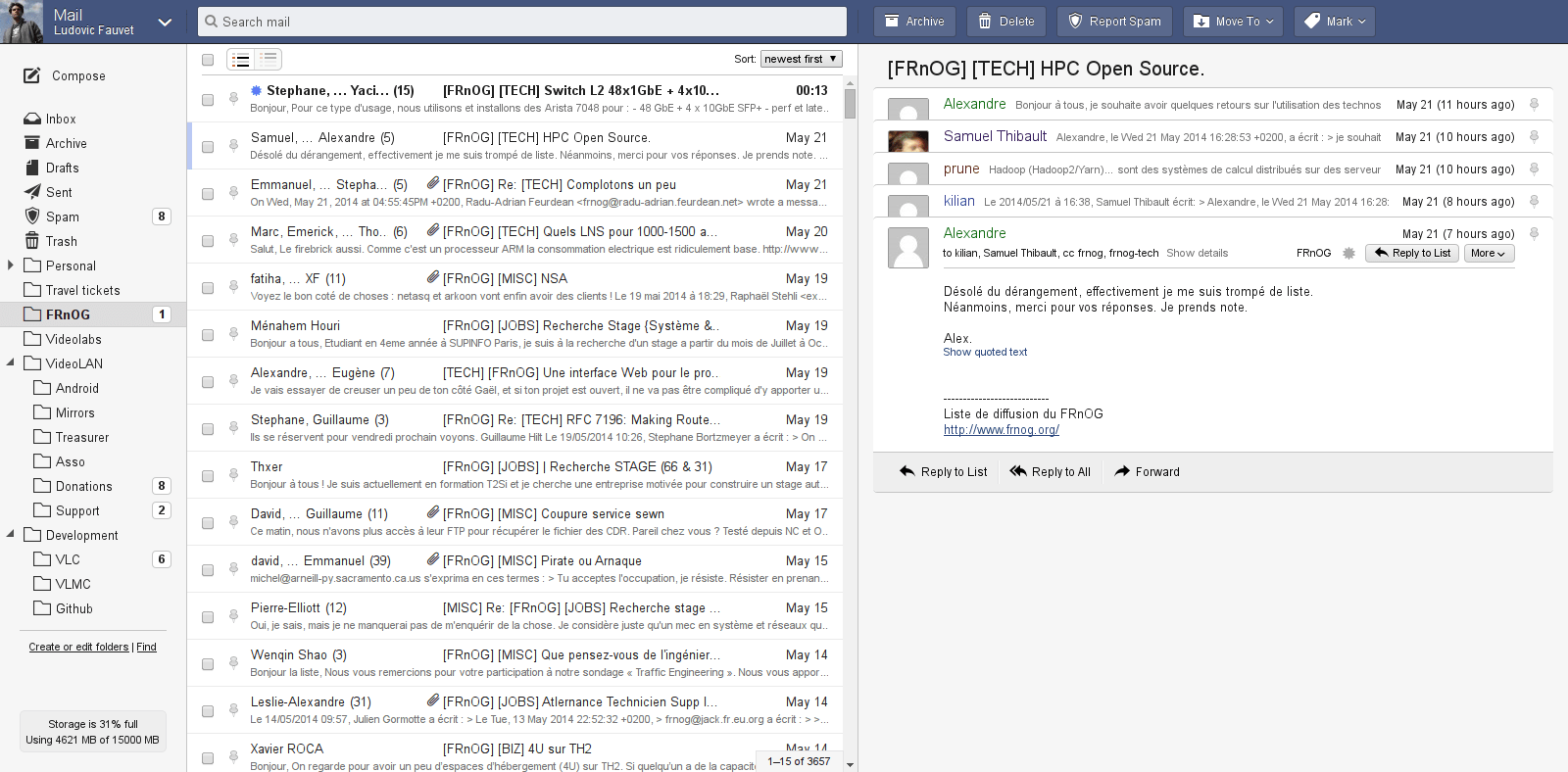 7. Greatmail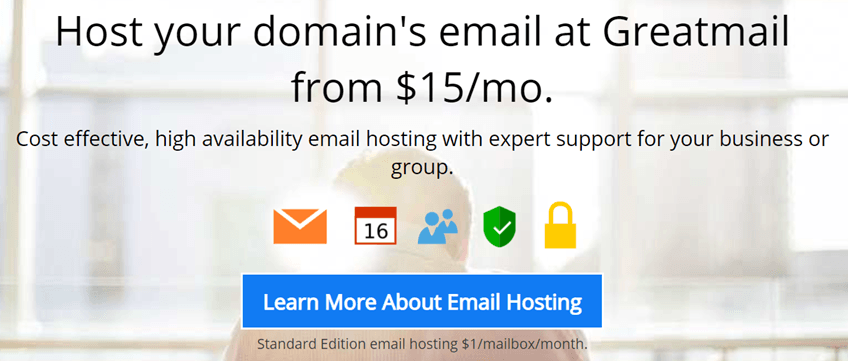 GreatMail specializes in world-class small business email hosting such as email servers, business-class email hosting and SMTP hosting. It comes with various services designed especially for different organizations, including small and medium enterprises, enterprise clients, and startups. It enables you to migrate over 1000 emails to the GreatMail cloud easily. GreatMail is a cost cutting and cheap email hosting with highly quality service provider for small business. The company takes pride in providing world-class security, privacy and reliability. Their email hosting is compatible with webmail, mobile devices, and mail clients such as Thunderbird, Outlook, and Apple Mail. It provides services in two broad categories: Standard plan and groupware plan.
Features
Easy Accessibility- GreatMail comes with popular client applications like webmail, Outlook and wireless devices; thus, it allows you to access your mail anytime.
Synchronization- You can easily synchronize your email messages with webmail, Outlook and various mobile devices.
Protection and security- Greatmail ensure antivirus and spam filtering and thus, keeps your emails protected and safe. Also, it connects your emails securely with SSL and TLS encryption and thus, ensures advanced level security.
End-User Controls- The users can configure settings and manage their accounts by vacations, forwarding, allowing listing and blocklisting, settings passwords and filtering spam emails.
Support- With over ten years of professional experience, the experts are available round the clock to help you via mail, phones and online ticketing.
Price – Standard edition- $1/mailbox/month with 10GB storage Groupware edition- $2/mailbox/month with 25 GB storage
Screenshot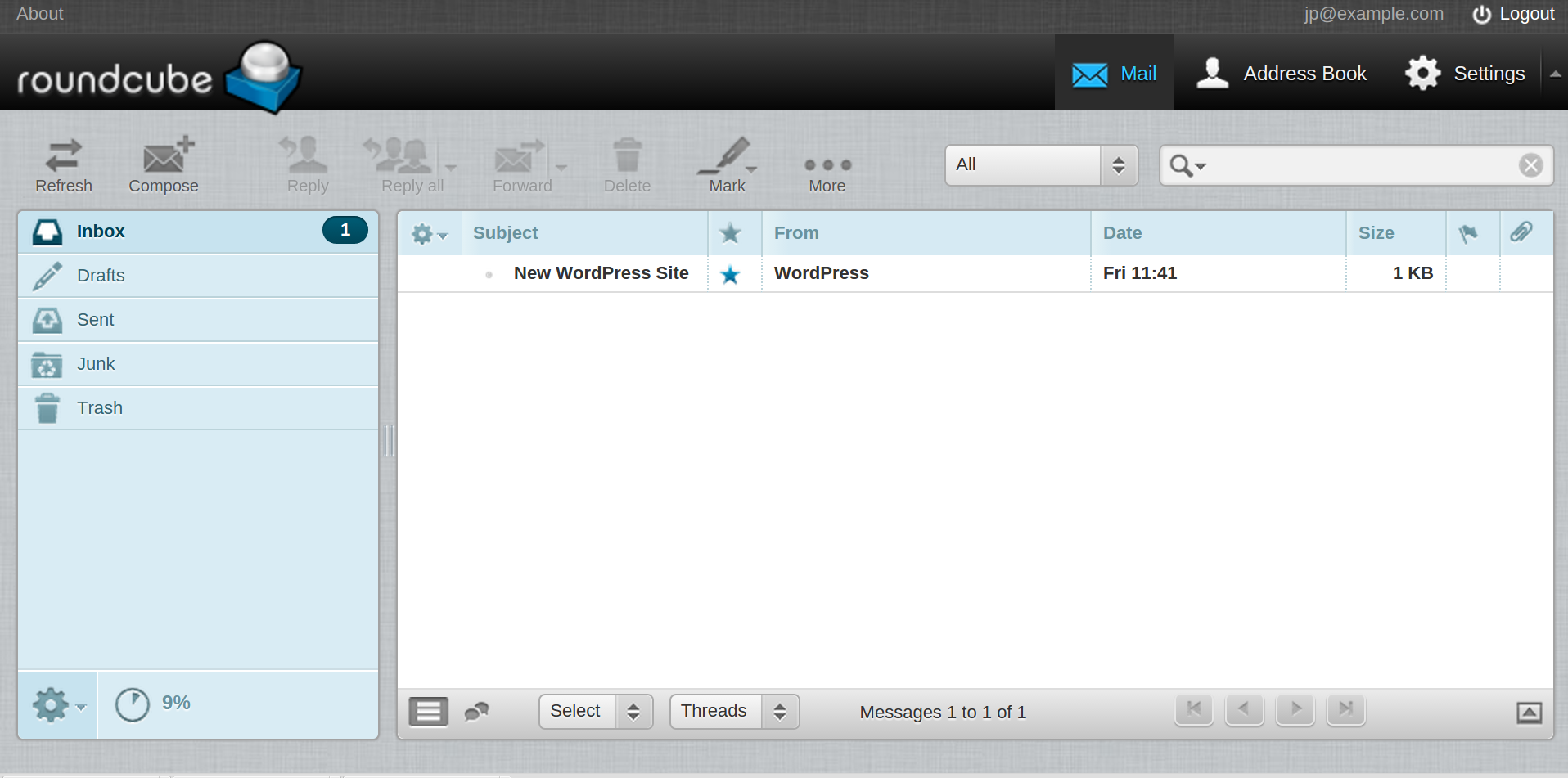 8. InterServer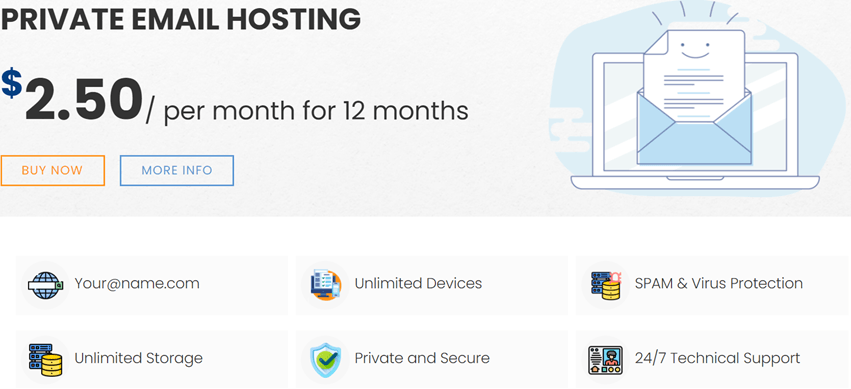 InterServer is a powerful yet affordable business email service provider that provides everything you need to run a business email. Their services include huge 25 GB mailboxes, mobile, Outlook and webmail access, unlimited group list, forwarding and aliases and a 100% uptime guarantee. Thus, it helps you surpass your competitors and stay at the top of the market. They have a team of a skilled and experienced professional who enables you to migrate your data in a hassle freeway. They also enable-spam and virus protection, thus ensuring that your mails are always in safe hands. With InterServer, you can always make your emails look professional by getting an email address with your domain name.
Features
Advanced Security- InterServer provides top-notch security by securing your emails with end-to-end encryption. Thus, your emails can never be shared with third parties.
Anonymous Emails- You can create anonymous emails as InterServer doesn't keep any IP logs of emails sent by anonymous accounts. Hence, your personal information is always secured.
Easy to use- InterServer helps you access your emails on any device without the need of installing additional software. Moreover, it is compatible with other emails service providers as well.
Open Source- InterServer's emails are based on open source and basic codes, thus, maintaining your privacy.
Web Site- You can easily build a website using InterServer's website builder. Also, the email package includes all the features of the Cloud Web Hosting package.
Price – Private Email Hosting- $2.50/month for a year.
Screenshot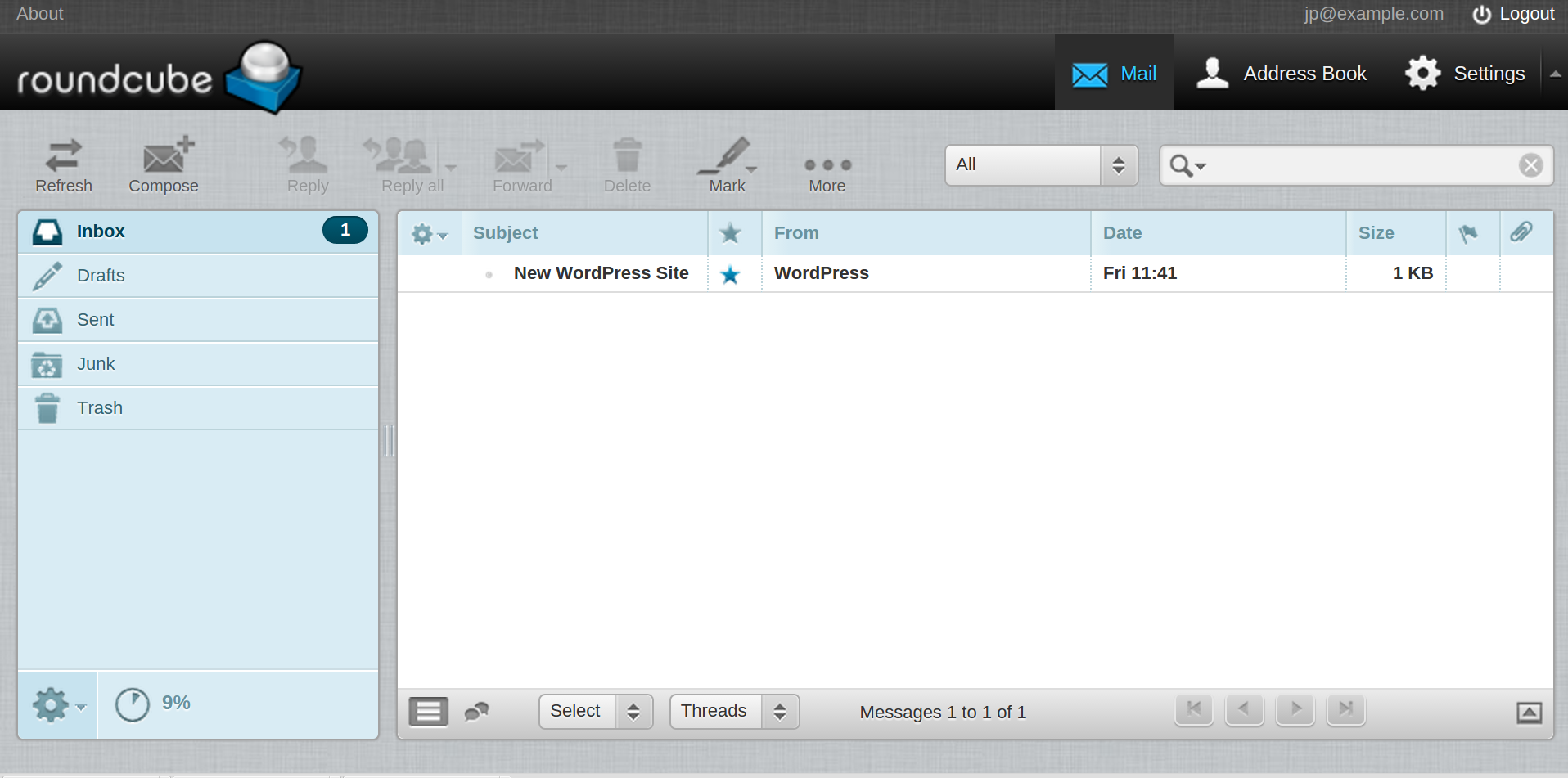 9. IceWarp Email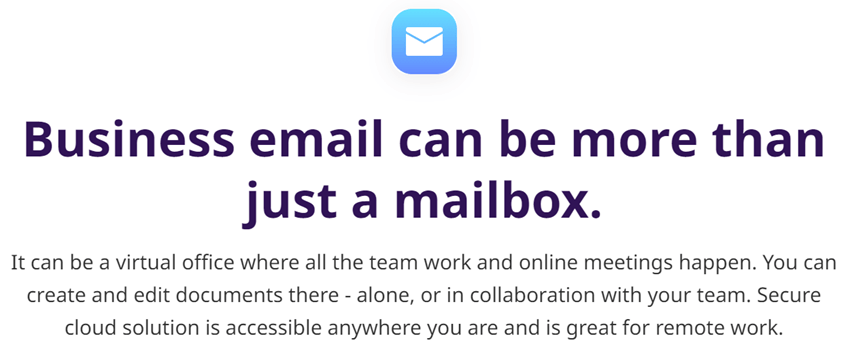 IceWarp is a popular email hosting provider that helps you create unlimited business emails accounts, share calendars and contacts and provide you with tools that help you manage your email addresses on multiple domains and subdomains. Using IceWarp, you can create customized webmails for your clients. You can add your brand image and identity to your clients' webmails. In addition, the IceWarp business email package gives you access to team chat, spreadsheets, custom documents, voice and video conferencing and presentation editors. IceWarp is highly recommended email server for startups and small business.
Features
Administer and Customize- It comes with a multi-tenant architecture that helps you manage multiple domains and accounts simultaneously.
Compatibility- You can easily synchronize your Outlook with Emails, Tasks, Calendars, Contacts, Notes, and more.
Advanced Level Security- IceWarp ensures advanced level security by enabling online CYREN AntiSpam, Two Factor authentication and Signature-based Kaspersky AntiVirus.
Supports MultiTasking- It supports multitasking like you can compose multiple emails while chatting with a coworker or reviewing a document on a conference call.
Innovative Attachments- Using Smart Attach, you can easily upload large files to the cloud-like presentations or videos by adding a link to your email.
Price – Lite- $3.00/month for 30GB Email Lite Standard- $3.90/month for 100GB Email Lite Professional- $7.00 for 500GB Email.
Screenshot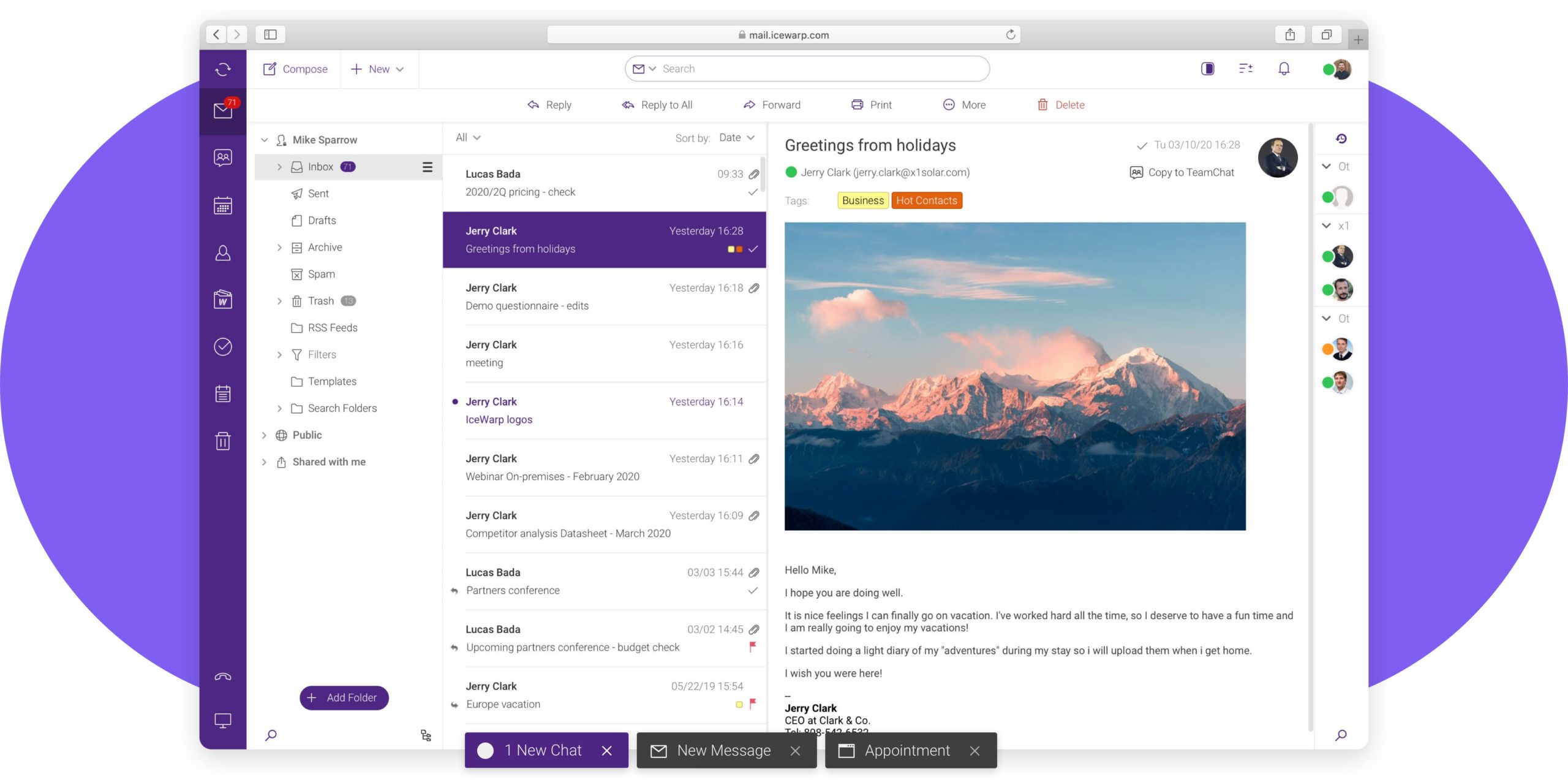 Conclusion – Our Recommendation is always Microsoft 365 Email for your organization  becasue it have easy migration, secured hosting, hybrid email environment and better support than anyother company.
You might be interested in WooCommerce Email Customizer Plugin , Lead Generation Plugin and Landing Page Plugin