6 Best Managed Google Cloud Hosting Platform for WordPress 2023
World most fastest hosting is Google Cloud web hosting. You can host any dynamic or static website with one Click Deployment. Hosting Website on Google Cloud need technical knowledge and experience i.e why to avoid the technical gap our expert designed Managed Google Cloud Hosting Platform.
Managed Google Cloud Hosting for WordPress is the best solution for website security and performance. There are thousands of shared hosting providers. However, you need premium managed WordPress hosting for a fast loading site, better security, and a performance-optimized site.These web hosting doesn't provider cpanel their have their own custom designed control panel for managing your website sql, file, email etc.
Shared Hosting have lots for feature for beginners and its quite easy to use. But main issue in shared hosting is website traffic and server speed which is not designed to handle large website traffic. Then those entrepreneurs things about migrating their website to VPS, Dedicated hosting,Cloud VM (virtual machine) web hosting to manage large website traffic . But this might be costly if you buy these cloud web host from general hosting that's why you should choose Google Cloud Hosting.

Google cloud hosting locations
Google has locations available in 200server, 88zones, 29regions and 146 network edge almost all over the world and to enhance their service quality they are keeps on expanding . They are bringing their server in Tel Aviv (Israel) Paris (France), Milan (Italy), Dammam (Kingdom of Saudi Arabia), Dallas (Texas), Turin (Italy), Columbus (US), Doha (Qatar), Berlin (Germany) and Madrid(Spain)
And Google Cloud servers are currently present in
AMERICAS

Oregon (us-west1)
Los Angeles (us-west2)
Salt Lake City (us-west3)
Las Vegas (us-west4)
Iowa (us-central1)
South Carolina (us-east1)
N. Virginia (us-east4)
Montréal (northamerica-northeast1)
Toronto (northamerica-northeast2)
São Paulo (southamerica-east1)
Santiago (southamerica-west1)

EUROPE

London (europe-west2)
Belgium (europe-west1)
Netherlands (europe-west4)
Zurich (europe-west6)
Frankfurt (europe-west3)
Finland (europe-north1)
Warsaw (europe-central2)

ASIA PACIFIC

Mumbai (asia-south1)
Delhi (asia-south2)
Singapore (asia-southeast1)
Jakarta (asia-southeast2)
Hong Kong (asia-east2)
Taiwan (asia-east1)
Tokyo (asia-northeast1)
Osaka (asia-northeast2)
Sydney (australia-southeast1)
Melbourne (australia-southeast2)
Seoul (asia-northeast3
Google Cloud Platform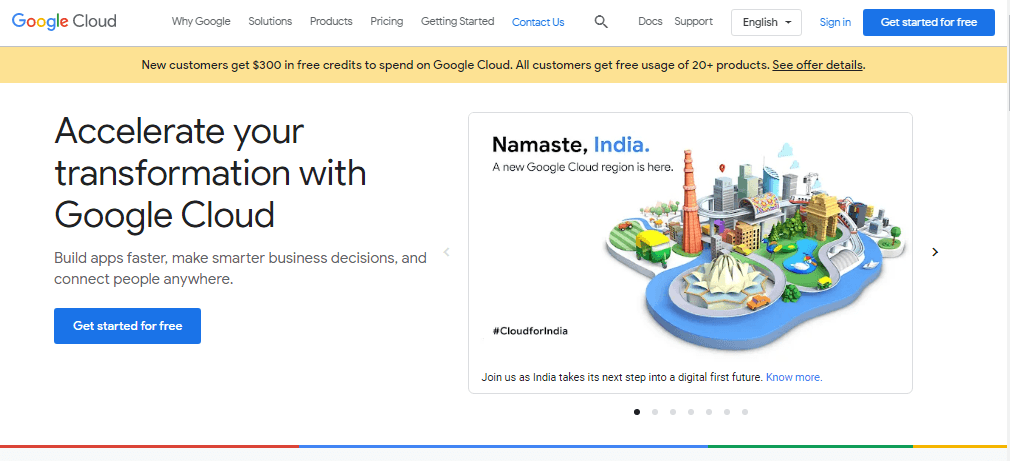 Google Cloud Hosting is a suite of public cloud hosting services among the many services provided by Google Cloud Platform. It offers the user's cloud storage, CDN, DNS, Cloud SQL, Big Query, Cloud Functions, etc. Apart from the set of physical servers, the Google data centers also contain virtual machines (VMs) across the globe. The major cloud computing products in Google Cloud Platform include Compute, Storage and Database, Big Data, Networking, Machine Learning, Identity, Security, etc.
Benefits 
Google Cloud Platform's pricing plans are much better than its competitors. You only get to pay for the overall compute time you use.
It has one of the world's most extensive networks and a privately distributed backbone between all the data centers.
It also allows the live migration of virtual machines (VMs). All the competitors, including Azure, Aws, and Digital Ocean, do not provide this functionality.
Google Cloud Platform ensures perfect uptime and blazing fast site speed or site load time.
The platform equips the best security technologies in the industry. Hence, you don't have to worry about the bad guys entering and manipulating your client's websites.
It stores your data redundantly in at least two regions. Thus, you never have to worry about the loss of your data, not even in the case of a disaster.
This blog will see the best Managed Google Cloud Hosting for WordPress service providers.
Table Of Content
1. Kinsta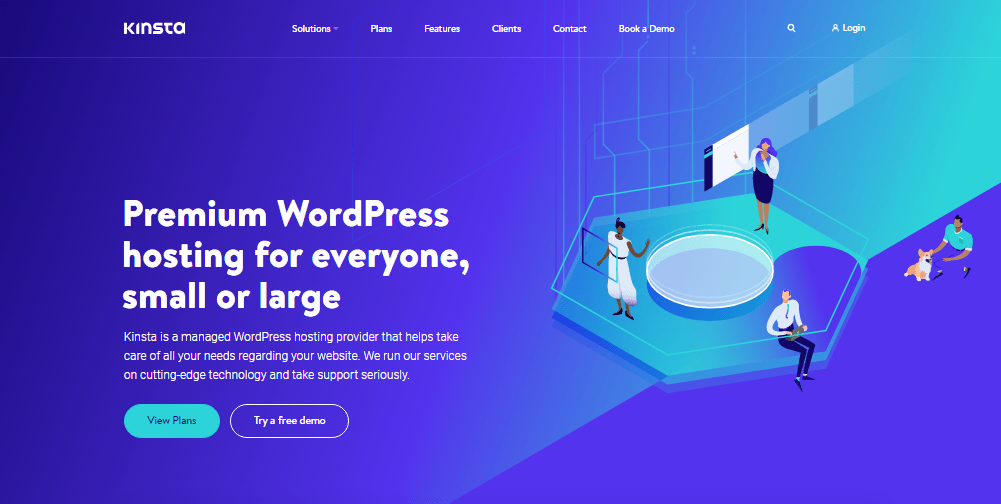 It is one of the best managed WordPress hosting providers that enables you to set up your WordPress website and helps you with all your website needs. It provides the right managed google hosting solution for each category of the website. Apart from the top-notch services, Kinsta is a popular alternative for cloudways which is known for its unparalleled customer satisfaction and support. Starting almost ten years back, Kinsta has done a remarkable job and is even recommended by Google. It also monitors your WordPress website 24×7 for malware, speed, uptime, DDoS, etc. Kinsta also manages your website in case of traffic spikes and prevents downtime. It also provides you with a beautiful dashboard where you can configure and manage the settings. It also uses the best technologies for speed, including LXD software containers, PHP 7.3, MariaDB, compute-optimized VMs, and Nginx.
Features
It provides the highest security network as it uses the firewall by Cloudflare. Hence, it prevents any malicious activities and attacks on your website.
Kinsta also provides excellent uptime, scalable infrastructure, and complete resource isolation.
It also provides you with free site migration without incurring any downtime.
The Latest and the best technology is employed and updated at Kinsta.
They check for your website's uptime every two minutes, i.e., 720 checks a day.
It also backs up your site at least once every day.
They provide fast and unparalleled customer support 24/7.
It also provides you with a wide range of analytics covering all your resources and performance.
Screenshot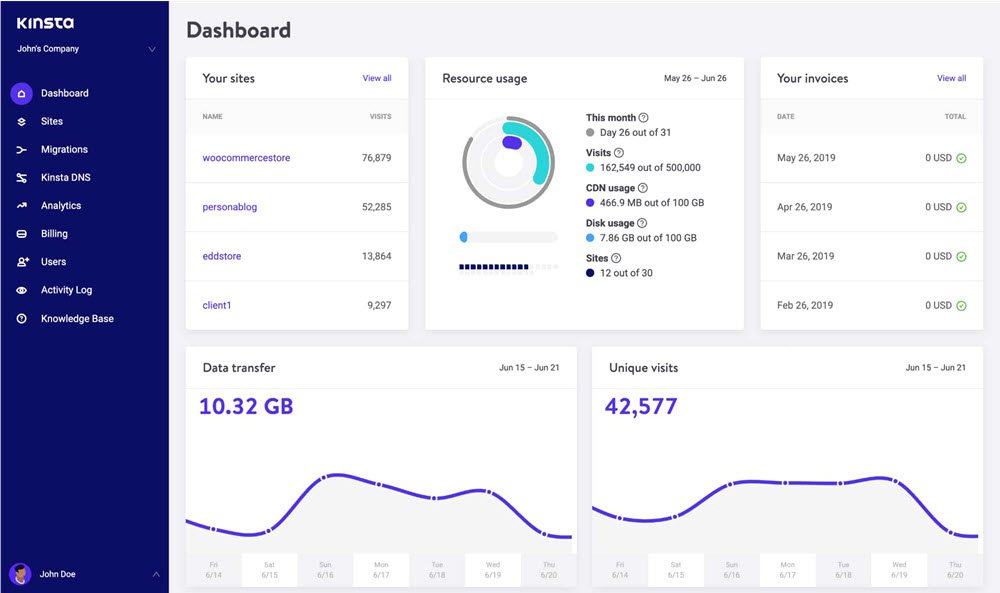 Pricing
It has various plans starting from $30/month. Also, you get two months free if you pay for a yearly plan. You can also get a customized plan by contacting the sales team.
STARTER- $30 / month, PRO- $60 / month, BUSINESS 1- $100 / month, BUSINESS 2- $200 / month, BUSINESS 3- $300 /month, BUSINESS 4- $400 /month, ENTERPRISE 1- $600/month, ENTERPRISE 2- $900/month, ENTERPRISE 3- $1200/month, ENTERPRISE 4- $1500/month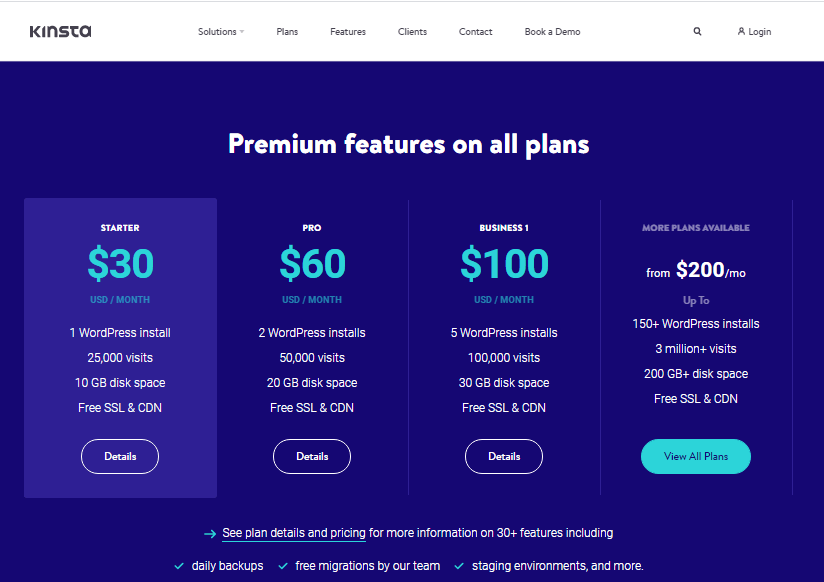 2. WP Engine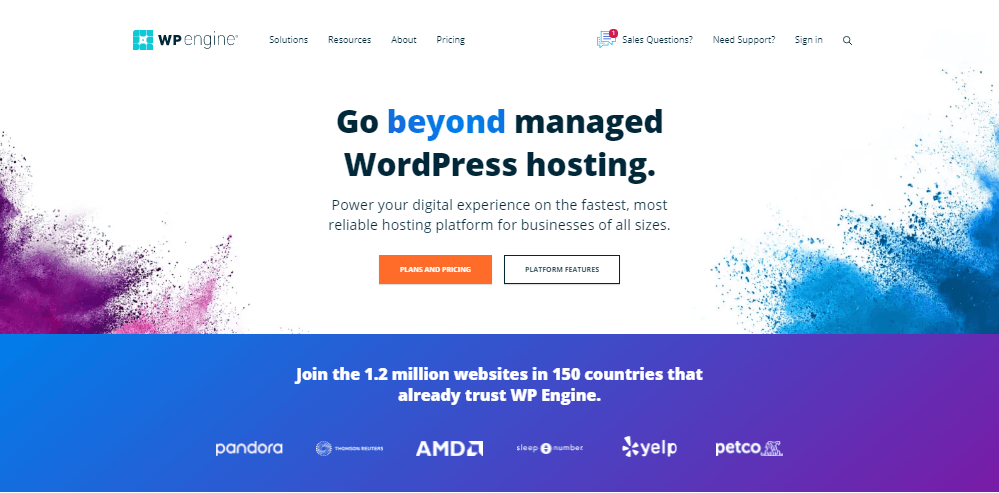 WP Engine is one of the Recommended WordPress managed google cloud hosting providers started back in 2010 to offer the best hosting services. It provides a broad spectrum of services for small businesses, creative agencies, and enterprise brands. It also partners with Google Cloud, New Relic, and AWS to provide its clients with an everlasting experience. Majorly known for its fantastic uptime, top-notch security, continuous monitoring, and a very stable WordPress hosting environment, it has provided the best customer experience over all these years. In addition, WP Engine comes with Free CDN, EverCache caching, Google's infrastructure, HTTP/2, DDoS mitigation, and the latest PHP 7 support. The brand comprises the four pillars: Creative Agility, Ecosystem Integration, Enterprise Performance, and Actionable Intelligence.
Features
It provides automated daily backups so that you can relax and concentrate on jobs of higher priorities.
You can easily migrate your data in just a few clicks.
It ensures top-quality security and reliability for the users.
You can also take advantage of Google Information Security for the safety and security of your data.
It comes with the finest support teams available 24X7 to solve your queries and issues.
Builds the website faster with the dev and design tools.
Pricing
Managed Hosting Startup- $ 25/month ($ 300 per year), Managed Hosting Professional- $49/month ($ 590/year), Managed Hosting Growth- $ 95/month ($ 1150/year), Managed Hosting Scale- $241/month, ($ 2900/year)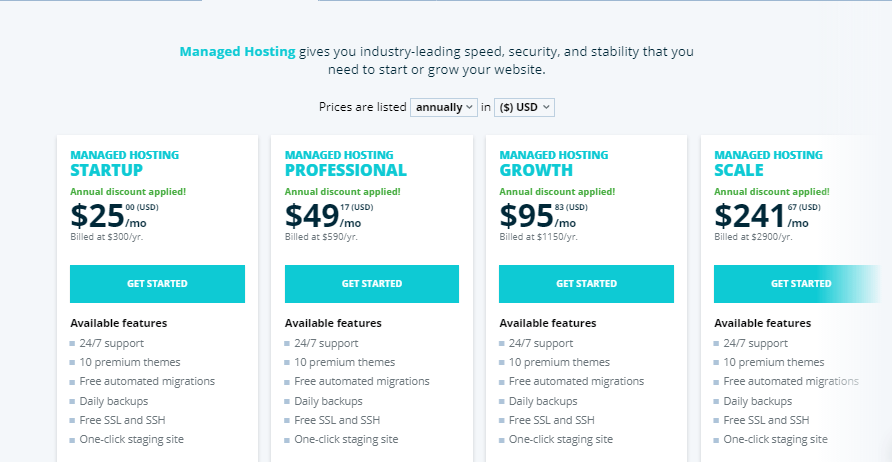 3. TempI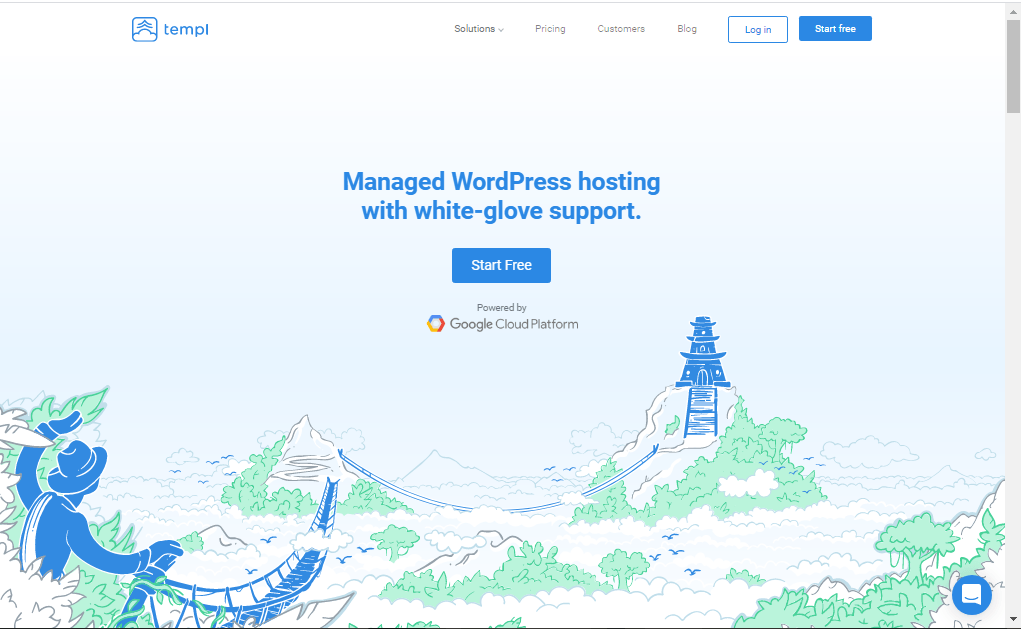 Since 2016, TempI has been one of the leading Google Cloud WordPress hosting companies. It leverages the best technologies that enable you to host your WordPress website on the Google Cloud Platform. Based on the Google Cloud Platform, the company ensures the fast loading of your website. As part of their tradition, they show your website load time before and after. The best part about TempI.io is that it offers Google Cloud + CDN + DNS on all its plans. It also comes with advanced technologies like Ngnix web server, Php 7.4, Redis database Cache, Brotli, and Quick. TempI also comes with a super easy and efficient control panel that lets you launch your WordPress website in just a few clicks.
Features
It provides free site migration for your WordPress/WooCommerce website.
TempI is equipped with high-speed connectivity, ensuring fast site load speed.
Continuous monitoring and removal of malware.
Templ Offer WooCommerce managed hosting powered by Google Cloud
It allows you to launch your website in minutes and help you scale up your business.
The company takes pride in a friendly and professional support team that is always available to solve your queries.
Screenshot

Pricing
Micro $14/month billed yearly, Small-$27/month billed yearly, Small Plus- $50/month billed yearly.

4. Cloudways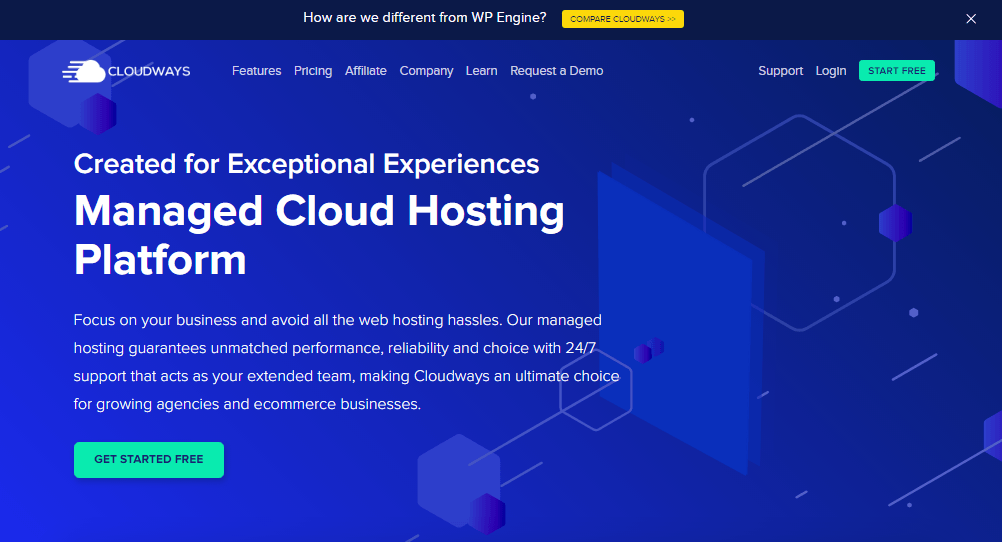 Cloudways is a more straightforward yet brilliant Managed Google Cloud WordPress hosting platform for big as well as small companies, having 60 data centers in over 15 countries. The best feature of CloudWays is that it allows you to host your site on Google Cloud, DigitalOcean, AWS, Vultr, Linode, and Kyup. Furthermore, it will enable you to launch a website within a few minutes and ensures incredible page load speed backed by PHP7, CloudwaysCDN, Optimized Stack, Advanced Caching, HTTP/2 Support, and Auto Healing Servers.
Features
It equips firewalls, free SSL, IP whitelisting, regular security patching, and two-factor authentication for advanced security.
The company has some powerful addons like CloudwaysBot Channels, DNS Made Easy Add-on, Rackspace Email Add-on, Cloudways API, SMTP Add-on, and more that help you scale up your business and operations.
You can also choose from the top 5 infrastructures, including Google Cloud, AWS, Linode, and Digital Ocean.
It ensures speed and performance-optimized websites that too without any configurations.
It also comes with a built-in staging area and GIT Integration.
The team provides brilliant customer support and helps you walk through the entire process smoothly. You can contact them through Slack, Live Chat, Phone, or Online tickets anytime.
With Cloudways, you also get the free migration of your site.
Pricing
Standard- $10/month for 1 GB RAM, $22/month for 2 GB RAM, $42/month for 4 GB RAM, and $80/month for 8 GB RAM.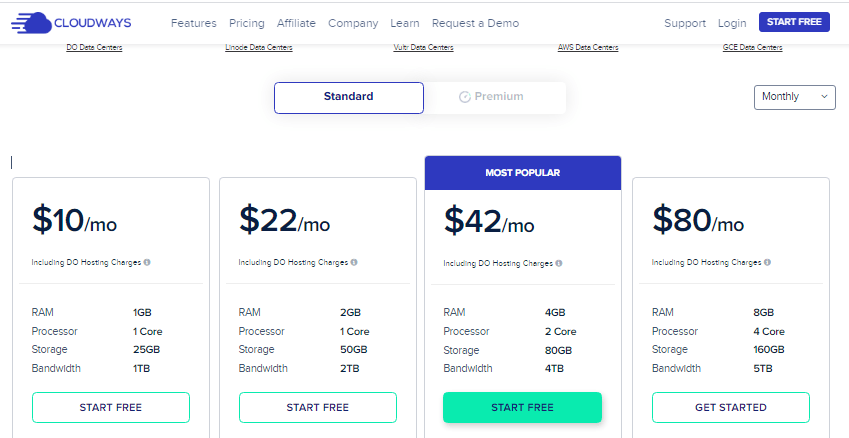 Premium- $12/month for 1 GB RAM, $26/month for 2 GB RAM, $50/month for 4 GB RAM, and $96/month for 8 GB RAM.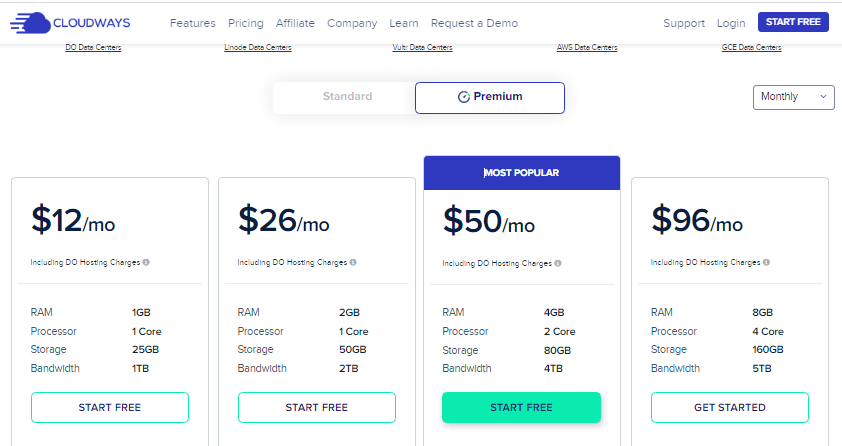 5. Closte
Closte is amazing alternative for kinsta which offer Managed Google Cloud WordPress hosting for eCommerce website that leverages the Google Cloud Infrastructure and is known for its excellent transparency. It provides its users with core updates and semi-automated updates. Also, it comes with rock-solid security, and you don.t have to rely on any third-party plugin or services for security purposes. It also leverages lightspeed technologies, Google Cloud CDN, DNS, PHP Processing, and WordPress Caching. It hence allows you to launch a speed optimised and performance-optimized site in a hassle-free way.
Features
You get automated core updates and semi-automated significant updates.
It leverages the Google Cloud CDN and Lightspeed Technologies for a speed and performance-optimized website.
The best part about the Closte is that it comes with a built-in CDN.
It provides free SSL and the staging area.
You can also choose from the PHP versions.
It also provides you with a beautiful dashboard to manage your website.
Screenshot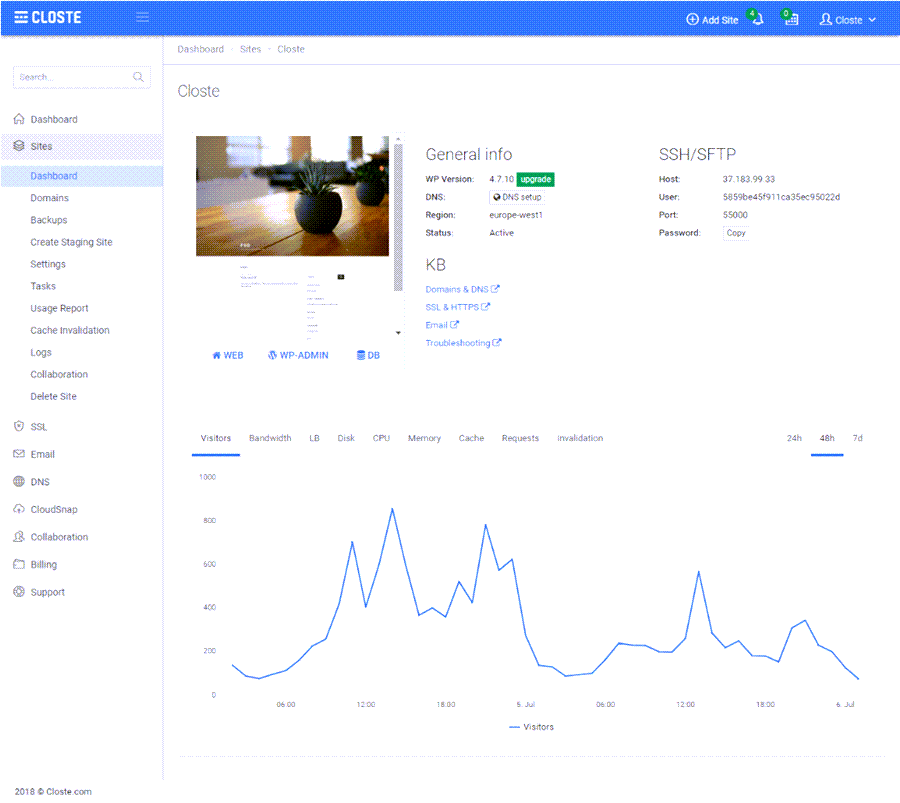 Pricing
Closte pricing remains the same irrespective of whether the traffic on your site grows or shrinks.
For example, you'll have to pay $3 if you use 37.5GB * 0.08 per GB.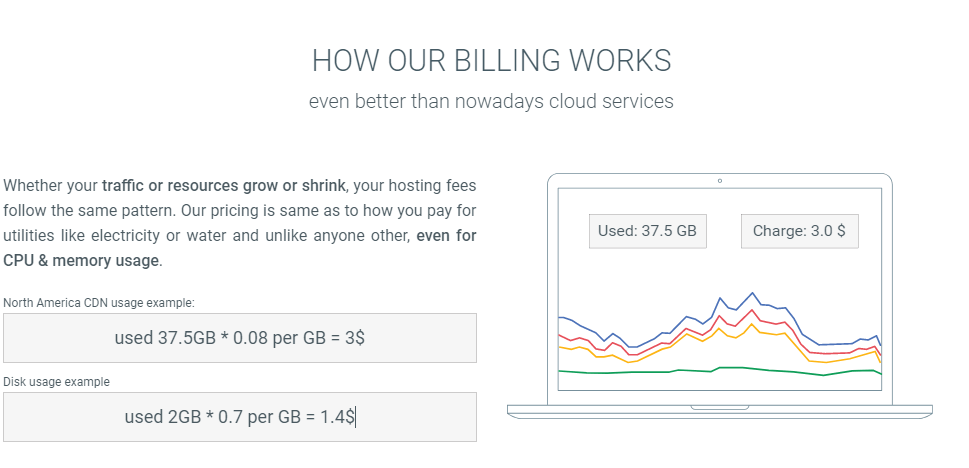 6. Flywheel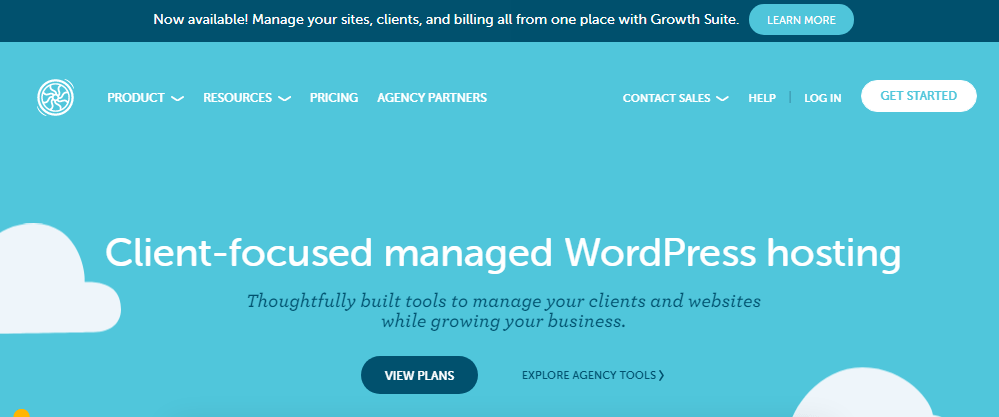 Flywheel is a white labelled Managed WordPress hosting for agencies and freelancers. It is an all in one solution pwoered by Google Cloud Platform, which helps you attain a tremendous speed record for your websites. It provides customized plans according to your needs and the right mix for websites of all sizes. The best part about Flywheel is the intuitive dashboard that allows you to manage your sites and connect with your clients easily. The Google Cloud Platform provides a blazing fast site speed backed by the Google Cloud Platform. It also offers top-notch security and keeps your website secure from suspicious and malicious activity.
Features
It provides you with top-notch, hacker free security.
It also allows you to collaborate with your coworkers and clients.
Flywheel allows you to add a CDN to your site and scale your business.
You can directly install free SSL from your site's dashboard.
You can also make changes to your website before it goes live, using staging for every site.
It also provides you with a fantastic support team working by your side to solve all your queries,
Pricing
Freelance- $1350/year (Up to 10 sites), 100,000 monthly visits, 20GB disk, 200GB bandwidth; Agency- $3300/year (Up to 30 sites), 400,000 monthly visits, 50GB disk, 500GB bandwidth; Custom: Contact to know the price (Starting at 100 sites), 1.6M monthly visits, 50GB disk, 500GB bandwidth
Screenshot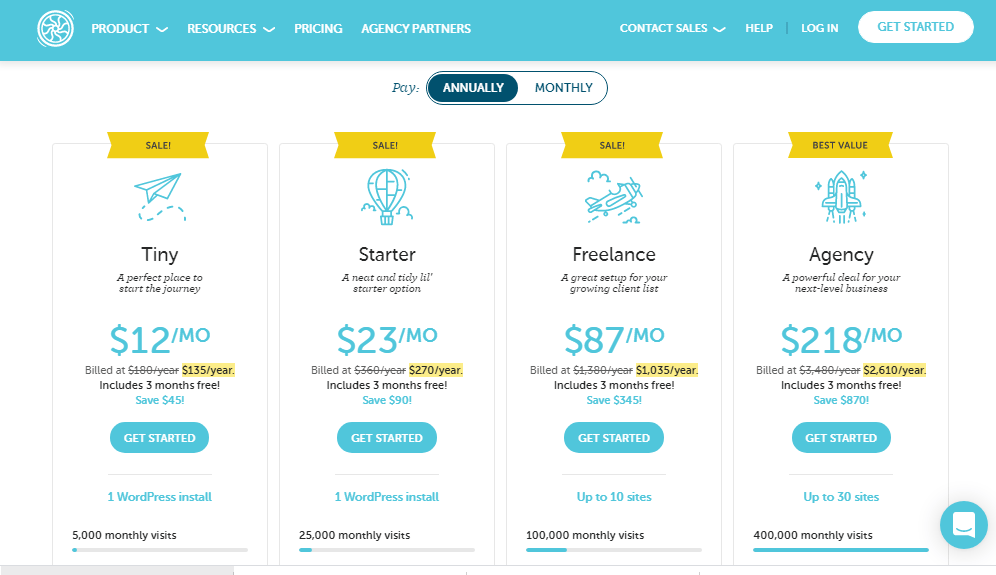 Conclusion – Hosting your website on google cloud for non technical people can easily be achieved by buying premium managed hosting platform. We have listed all the trust and secure Cloud web hosting service provider . Our recommendation will always toward Kinsta and  because they offer high quality customer support, faster hosting and as well 100% uptime on your website.
You might be interested in Amazon s3 plugin, Business Email Hosting Services  and email customizer plugin