9 Best Amazon S3 And Cloudfront Plugin For WordPress 2021
Are you looking for Best Amazon S3 And Cloudfront Plugin For WordPress? By loading all your WordPress media files library from Amazon S3 & CloudFront You can easily increase your website speed.

Cloud Computing is in vogue these days to speed up the website. Cloud storage refers to uploading a site's file such as stylesheets, images and other assets to a remote server. CDN stands for the content delivery network which connects to file storage and server files, to users across a wide network of fast servers across the globe. This helps to fasten up download times and connections. For all these needs in the cloud computing world, Amazon Web Services is the best solution. specifically their S3 and Cloudfront services. So Amazon Web Services plugins, with a quick setup, helps to speed up the site and backup all the files regularly at a low cost.
Some of the Best Amazon S3 And Cloudfront Plugin For WordPress are as follows:
1. Delicious Brains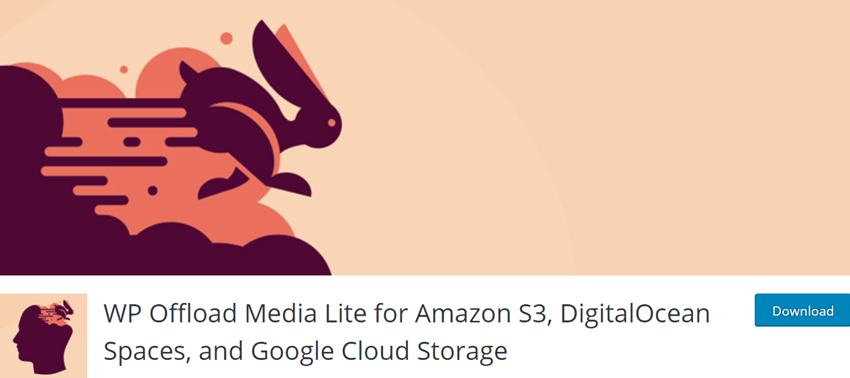 WP Offload Media S3 Lite lets you make a copy of the multiple media i.e. available on the website and store upload those files to DigitalOcean, Amazon S3, or even Google Cloud Storage. A complete WordPress Cloudfront Extension allows configuring the CDN accordingly and automatically create the URL of such media respectively. Besides the media such as photos, videos, and documents, hereby you also copy the thumbnail of the images alternatively that followed right with URL i.e remotely available. Although, WP Offload Media S3 will not directly upload the media files to different CloudFront storage. Firstly it uploads such files to the server directory and then copies them thereby to the bucket. However, it removes the files automatically from the server after keeping them in the bucket.
Amazon Web Services has AWS SDK already included in it so the user can define AWS access keys and other plugins can also be hooked into it. This plugin was developed so that other plugins can be dependent on it and everyone can use the same AWS SDK. So this plugin is used by many other plugins as well. It requires PHP version 5.3.3 or greater. It has curl_multi_exec enabled in it. You can easily serve you javascript file, CSS, font's and image directly from the AWS which will tremendously result in increasing your website speed. It has the WooCommerce Integration with AWS to make your eCommerce website load faster
Features That Make Amazon S3 Essential –
Automatically copy files including documents, videos, and images that you add via WordPress Panel and place them on DigitalOcean Spaces, Amazon S3, Google cloud wherever you want.
Replace the URL of such files within the enabled storage space. Configure those URLs with a customized domain or as original accordingly.
Clean the files that once copied to the bucket of WP Offload Media.
Total number of users – 50,000+
Price – Bronze – $56/annually (2000 Offloaded Media Item), Silver – $80/annually (6000 Offloaded Media Item), Gold – $160/annually (20000 Offloaded Media Item), Platinum – $200/annually (40,000 Offloaded Media Item) , Adamantiam – $320/annually (1,000,000 Offloaded Media Item)
Tour & Tutorial for WP Offload Media
Tour of WP Offload Media (formerly WP Offload S3)
Screenshot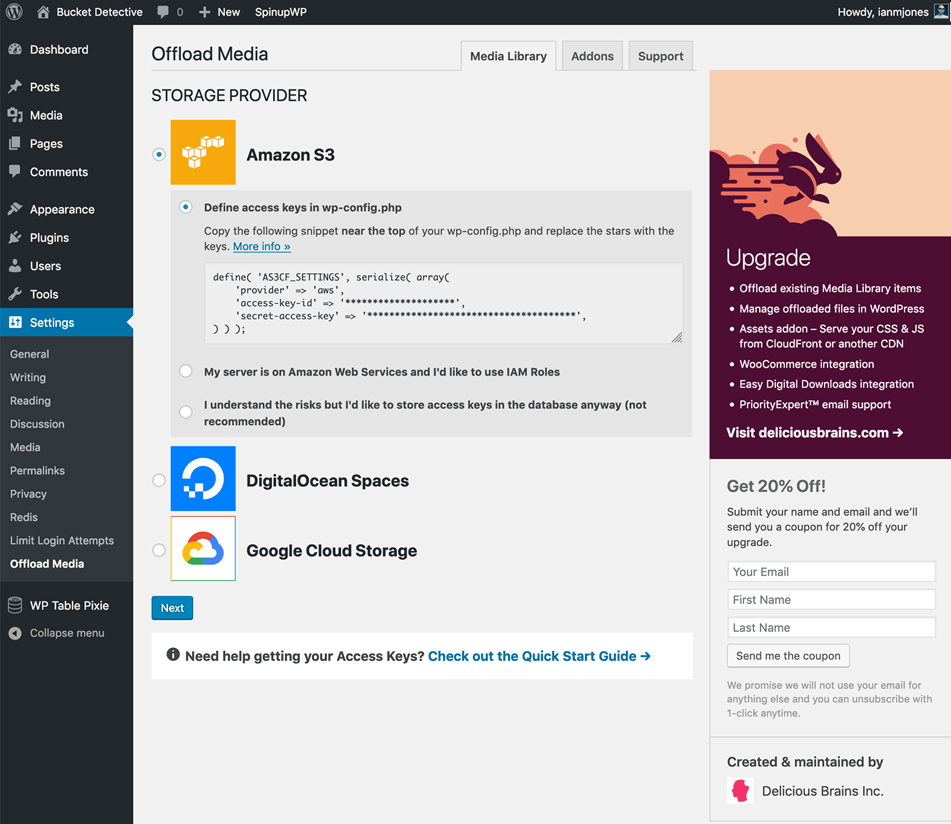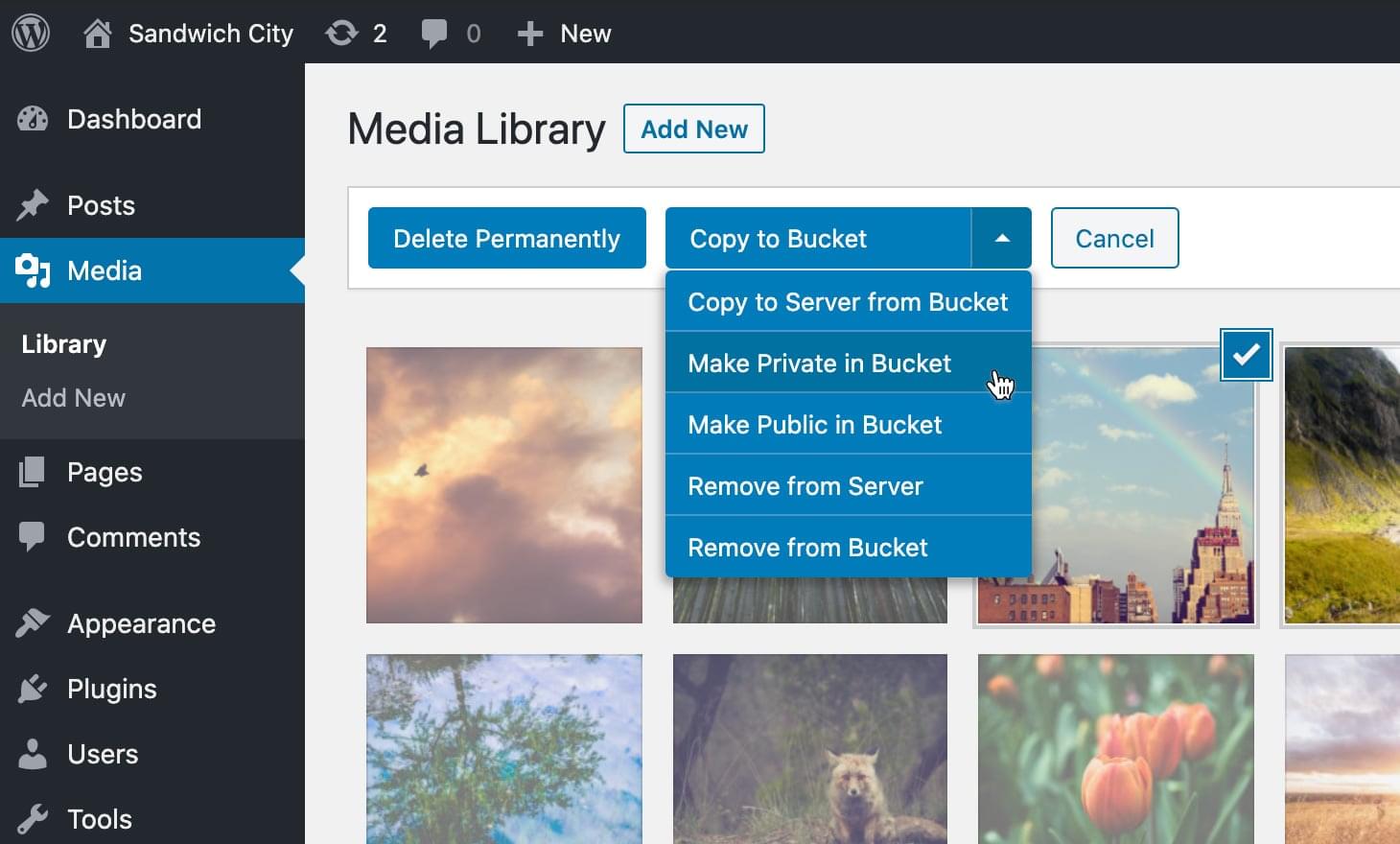 2. S3 Media Vault

S3 Media Vault is a comprehensive tool that can securely deliver any kind of content from your Amazon S3 account to your WordPress Membership website. Links to the PDF, Video, and Audio files will not work when shared illegally with unauthorized users that mean content protection is provided by the S3 Media vault Plugin. With the help of CloudFront, you can deliver them to your website visitors across the globe in a super speedy way. By this, we mean up to 45% faster loading speeds for both video and audio files.
This plugin helps the users to create an audio version of posts, create podcasts, and translate them into other languages. It helps to turn text into a lifelike speech. It has a dozen of voices across a variety of languages. The ideal voice can be selected and engaging speech-enabled applications can be built which works in many countries. An auto-feed can be generated for text-based content. Then they can be inserted into an embedded player so that the accessibility of the WordPress site is increased.
In S3 Media Vault, you have HLS Video Streaming support which is a protocol for distributing audio and video files online.
It features CloudFront integration, true streaming videos, transcribing ability for audio and video, Video & Audio Playlists Player, and more. Format supported by this plugin is mp4, mp3, aac, Wav, Zip files, PDF, and Doc
Through secure video streaming, you can control the downloads of selected videos.
Price – Pro (One Time) – 1 Site – $69, 2 Site – $99, Unlimited Site – $199, Lifetime – $299
Elite (Annullay) – 1 Site – $69, 2 Site – $99, Unlimited Site – $199, Lifetime – $499 (One Time)
S3MediaVault.com - Secure Video & Audio player and File Protector
Screenshot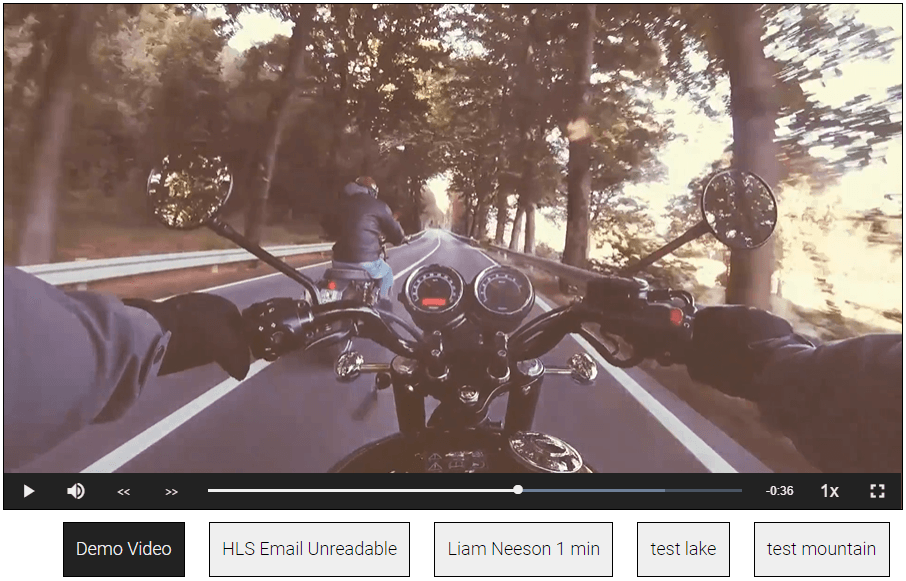 3. Amazon AWS CDN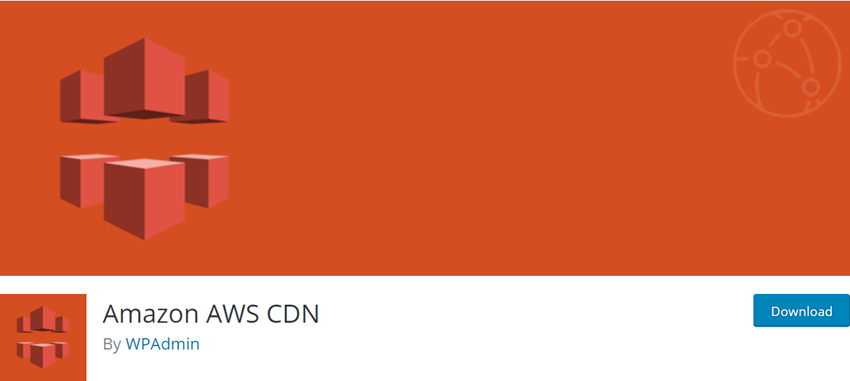 Amazon AWS CDN helps the users to set up their AWS CloudFront Distribution. Other CDNs which provide a custom CDN URL can also be used. It is open-source software. It works with minimum setup. Setting up Amazon CloudFront Distribution can't get any simple, All you need is to create a user on AWS.Amazon.com, enter the Access key ID and Secret Key, the plugin does the rest.
You can specify the minimum and maximum time to cache and also define the price class to limit the CDN deployment. Currently, at version 1.2.6, this plugin is actively maintained and preferred by the WordPress community for using Amazon AWS CloudFront CDN. Amazon AWS CDN is free to use.
Amazon AWS CDN plugin helps the users when they publish posts, by clearing all Cloudfront Cache. CloudFront can be easily used in front of WordPress. Published page URL, Top page URL, Category Archive Page URL are the page URLs that the plugin sends to CloudFront Invalidation API. Using cookies, this plugin prevents CDN caching when the user is previewing his posts and contents. When the user logs out, the cookie is removed by this plugin.
Total number of users – 1,000+
Screenshot

4. Wasabi Smart File Uploads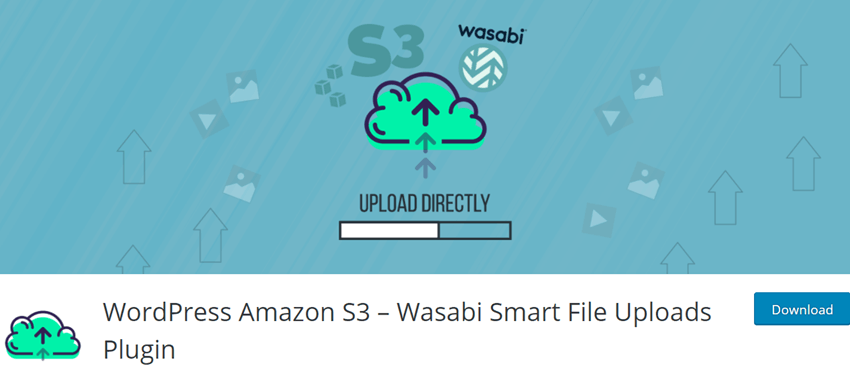 Amazon S3 is an amazing WordPress Extension that enables the website to upload essential files immediately from any local drive. Hereby, you can directly upload such files while eliminating the store them elsewhere on the server. Save our time and storage space as well which ultimately smoothening the workflow on the site. Easily accessible to upload the file particularly that goes a maximum size of 5 GB without any hassle. Let anyone can upload files at Amazon S3 Bucket or upload it by themselves while register as an admin or grant permission to others.
Elementary Features –
Configure Amazon S3 Bucket – Select the directories that you want to display on your own Amazon S3 Bucket. Configure the settings including the location wherever you want to upload.
Upload Accessibility – Allow to upload files either from the frontend or product page while going through the setting on the website.
Media Privacy – Uploading files to the S3 bucket and add such files on Media of WordPress Dashboard along with the privacy of either public or private as you want to.
Remove Media – Enable you to remove any files from media of WordPress without affecting the files that exist on the Amazon S3 Bucket.
Total number of users – 200+
Price – Personal – $179/annually (3 Site), Plus – $323/annually (10 Site), Pro – $359/annually (15 Site)
Screenshot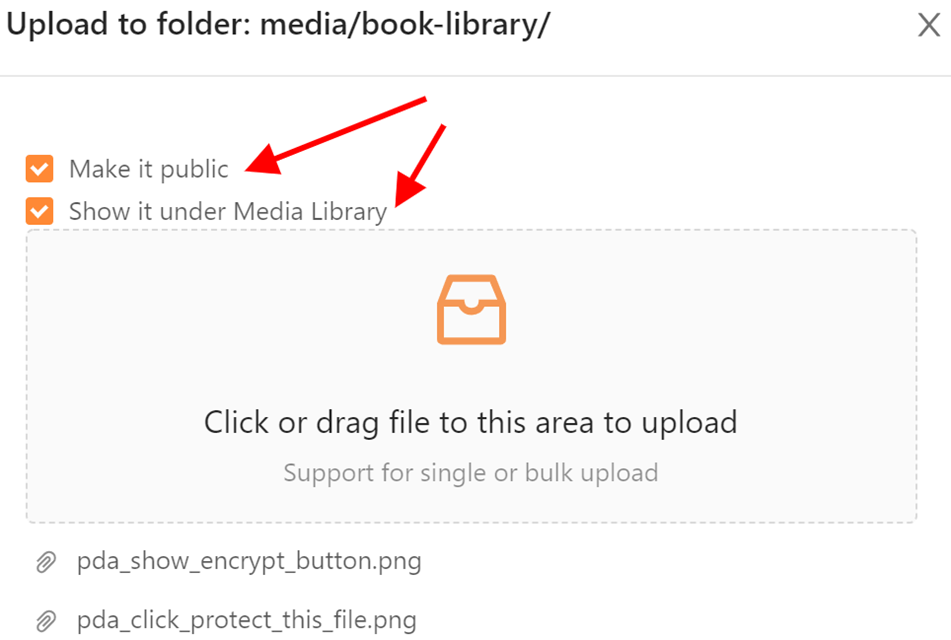 5. Publitio Offloading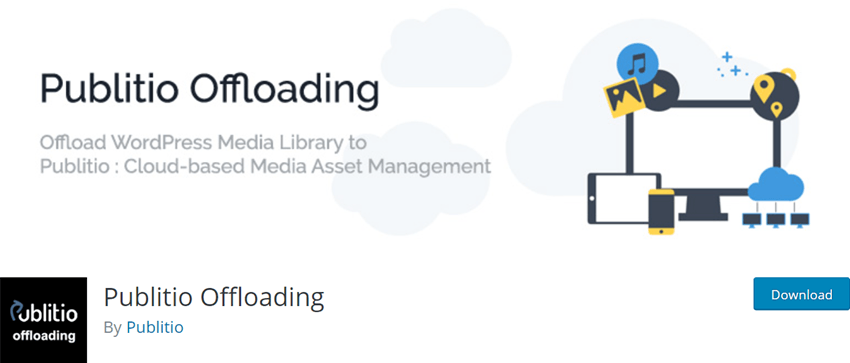 Publitio Offloading is a leading CloudFront extension that enables you to offload the media i.e. in cloud storage. Let do your job of media uploading on your own and control the loading of anything else that is not essential at that time. With the functionality of Publitio, you can copy the local files of media and place them on the storage as a cloud. Get install and activate this extension directly through the dashboard of WordPress. Once you installed it thereby you have been accessing to offload different media available on the site through configuring the API directory. Enables your users to download the various media i.e. photos, videos, and more from the site easily. Limit the category of files that you want to offload from the local storage.
Using Amazon Web Services for WordPress plugin, any media can be automatically copied which has been added through WordPress' Media Uploader to Amazon Simple Storage Service. Then the URL is automatically replaced to each media file with their respective S3 URL. While editing a post, a new icon can also be found next to the "Add Media" button. An extra layer of security is also provided by this plugin from hackers using 2-factor authentication through Google Authenticator. The Google Authenticator secret key can also be backed up to a free CloudManager account.
Why Do You Need Publitio Offloading?
Enables you to restrict downloading of the media available on your site by configuring offloading such files.
Store a copy of the file in the cloud and make it available with settled CDN accordingly or the exact storage attributes.
While utilizing geographic location it accesses the entire functionality comprising cloud storage, content delivery, and optimize the media on the website.
Total number of users – 400+
Price – Pro – $9/Annullay
Screenshot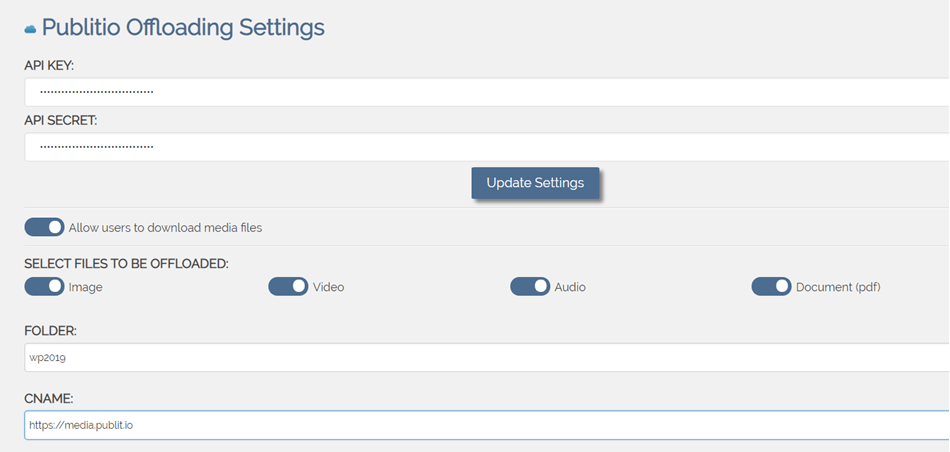 6. Woocommerce Amazon S3 Storage

Amazon S3 Storage is an appropriately designated extension by WooCommerce lets your customers download the products i.e. digitally serve with convenience. A well-integrated Amazon AWS S3 allows access to such digital products widely as well as promptly within few clicks. Enables to give permission to purchase digitally launched products along with the specific downloading path. Although Amazon S3 Storage is finely compatible with another extension that was previously established on the site. Streamline the functionality of digital distribution and administrate the activity through the WordPress Dashboard. Works automatically while allowing you to create the bucket as you required. Name the path of downloaded products that are visible to your customers when they own them.
Amazon S3 Features –
Translate URL – Comes along with shortcodes that will modify the URL into Amazon S3 URL and later on serve your digital products likewise.
Boost Downloads – As you install this extension, it represents the downloading products with more speed than likely enjoyed by your customers and brought them back for next purchasing.
Bucket Layout – Build Variants of buckets for the same product and let it access to download more alternatives when anyone purchases that particular product.
Ease Storage – As much as your customer own your products let them easily accessible either big or small files to store into their local device perfectly.
Price – 1 Site – $29/annually
Screenshot

7. Yith Amazon S3 Storage

YITH Amazon S3 Storage lets you manage the file and website storage functionality and also decide whichever to be accessed on Amazon S3 alternatively. In addition, this WooCommerce extension also minimizes the loading of the server as well as band usage. Maintain the storage space of the server automatically which won't let you worry about insufficient space for streamlining any specific job. Hereby, assurance of privacy of the uploaded data on Amazon S3 Bucket is end-to-end encrypted. Just secure the products that you sell online and restrict their accessing attributes efficiently with the assistance of YITH Amazon S3 Storage.
Reasons to Install This Extension –
You don't need to prepare any specific configuration for the purpose of upload media, create or copy URLs or replacing such URLs manually with WP.
Just install this extension it entirely manages the aforementioned activities simply within few clicks.
Speed up your website while introducing Amazon S3 URL accessibility over the products.
Once the files are uploaded on Amazon S3, it automatically removes them from the website and frees up space thoroughly.
Enable you to sum up the products manually on Amazon S3.
Restrict the availability of any particular product and more.
Price – 1 Site – $69/annually
Screenshot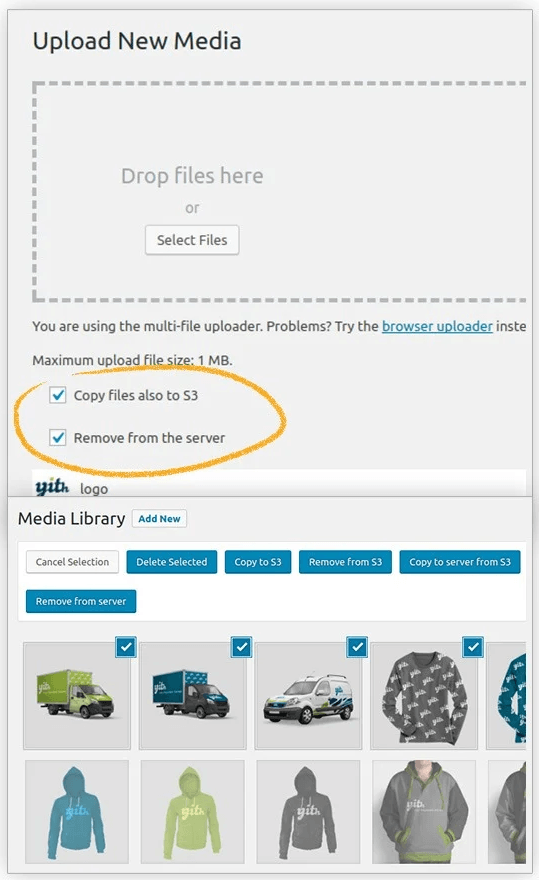 8. S3 Media Maestro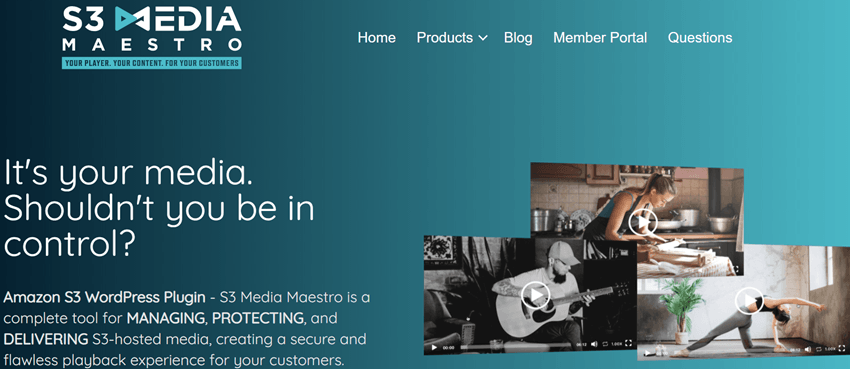 S3 Media Maestro is an extraordinary Extension that is widely utilized to restrict the media uploads respectively within defined visibility and size. Increase the chance of accessibility of the products that you sell online with the assistance of a comprehensive media player. A well-organized Plugin is integrated perfectly into Amazon Web Services which enables the S3 Cloud Storage i.e. cost-efficient as well. Designate your website along with extensive video hosting appliances and improve the experience of your users effortlessly. Make your media player so much flexible that engage your website with more customers consequently.
Key Features of S3 Media Maestro –
Administrate Accessibility – Establish the entire upload procedure of downloading videos within restricted specifications. Control the resolution, player visibility, following playlist and so more.
CloudFront CDN – Manage the accessibility of videos without worrying about its hosting services. Present your videos hassle-free streaming experience among your customers.
Dashboard Inability – Let you manage the uploaded media directly through WordPress Dashboard while having admin accessibility only.
Flexible Configuration – Allows uploading media files that are followed with close caption in any specified language according to the necessity of the website. Enable multiple resolutions with the assistance of automated transcode configuration.
Price – Editor – $99/annually (2 Ste), Director-$129/annually (10 Site), Producer – $159/annually (25 Site)
Screenshot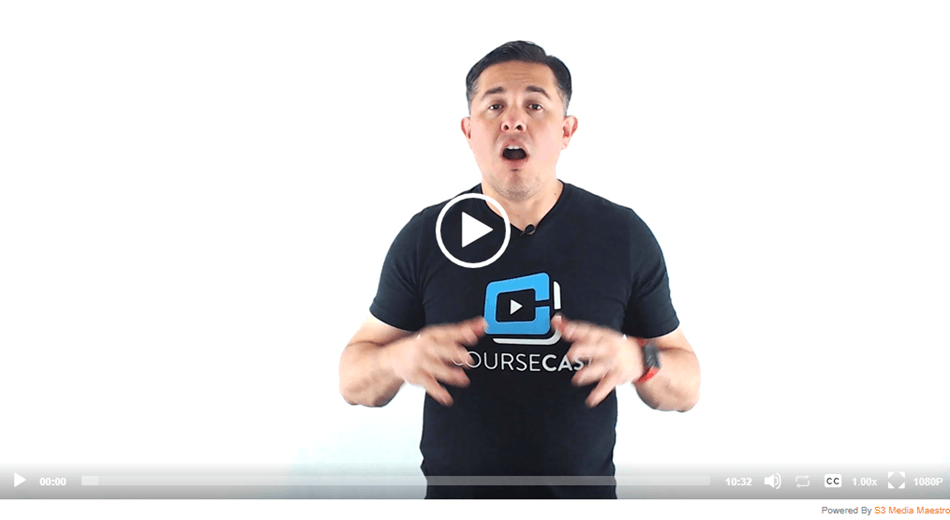 9. Easy Digital Downloads S3

To serve digital downloadable products through the Amazon AWS S3 service, Woo Product Download from the Amazon S3 plugin is the ideal choice. Existing buckets and files can be simply browsed and the chosen file can be added to the file path. This way users can be given access to upload files to a specific bucket. That file is served as downloaded by the extension when a customer downloads his purchase. Non-AWS files can also be added to the downloadable file path.
Amazon S3 essentially required extension to ease up the upload file and storage management of any digital store widely available nowadays. Easily connect your digital shop to the created account on Amazon S3. A perfectly integrated platform for managing various media files efficiently while securing the same from any unwanted threatens. Every digital shop needs this kind of reliable plugin that saves the file along with its available data and presents the same to the customers at an affordable range. Amazon S3 extracts the files and uploads them on its own host which enables customers the fastest downloading experience than ever before.
Why Do You Need Amazon S3?
Access easily only by installing Amazon S3 and configure it shortly according to your necessity.
Add more products to your pre-existing host of Amazon S3 without configuring it every time.
Arrange the multiple fields such as pricing and files of download automatically into S3 bucket i.e. created by you considerably.
Allows Frontend uploading alternative which assists vendors to add products more conveniently.
Price – Personal Pass – $99/annually,  Extended Pass – $199/annually,  Professional Pass – $299/annually, All Access Pass – $499/annually
Screenshot

Conclusion – Still confused about which is the Best Amazon S3 And Cloudfront Plugin For WordPress. Don't get Confused my friend Close your eyes and start working with WP Offload Media. Because You will never find the easiest Plugins like this. Configuration is easy, setup is easy. I except pricing is a bit higher but this is the only plugin in the market and there is no replacement. You can't find an alternative to w3 offload s3.