9 Best WordPress Recipe Plugins 2021
Are you a food Blogger and Looking For premium or Free Best Recipe Plugins For Food Blog Websites? Using these Recipe Generator Plugins you can easily organize recipes on a WordPress website. It will all make your website looks beautiful.

Some so many people are food bloggers and YouTubers related to cooking and making who amount from the Adsense. Normally if you will publish your recipes list then first of all it will not look good and secondly, it will not show in google as a rich snippet.
And these Plugins supports google rich snippet for food recipe and gets you a better ranking In google. So if anyhow you were able to create a recipe list without using plugins then it will not show with the rich snippet.
These Plugins have a Prebuilt modified template for making your blog layout beautiful. Just simply write a recipe and upload the image then you are ready to rock. Your website visitor can also create filtering of recipes based on their categories.
You may also be interested in Personal Blog and Cache Plugin
The List of the Best WordPress Recipe Plugins are :
1. WP-Tasty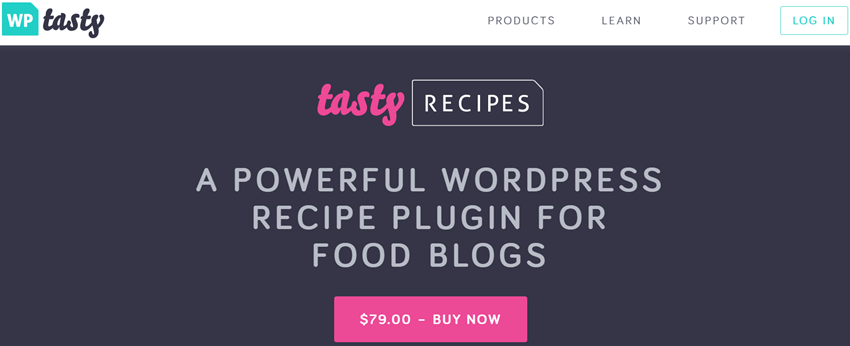 Tasty Recipes is an extremely amazing extension that allows you to publish recipes of any kind and make them beautifully presentable on your website. If you are someone whose blog is about food, then this WordPress Plugin is a must-have for you. Display the delicious food recipes with Tasty Recipes while showing reviews of your recipes on the top of the site. Hereby you got numerous templates for different recipes of food items which can be customized however you wish.
Features Integrated –
Import From Elsewhere – Access to transform the recipes from another recipe plugin easily. Convert such recipes with Tasty Recipes in a different style.
SEO Oriented – Let your recipes rank on search engines either is Pinterest or Google as it works on SEO-Friendly prospects.
Format and Designs – Create recipes in a unique beautiful format and customize the designs as you required.
Share Videos – Enable to share the video of your recipes or to promote it wherever you want on the site and for multiple purposes.
Nutrition Information – Display the nutritional chart to your visitors about the ingredients available in your recipes. They find information about calories, fibers, and other micronutrients that are acquired by eating such food items.
Price – Buy Now-$79
Screenshot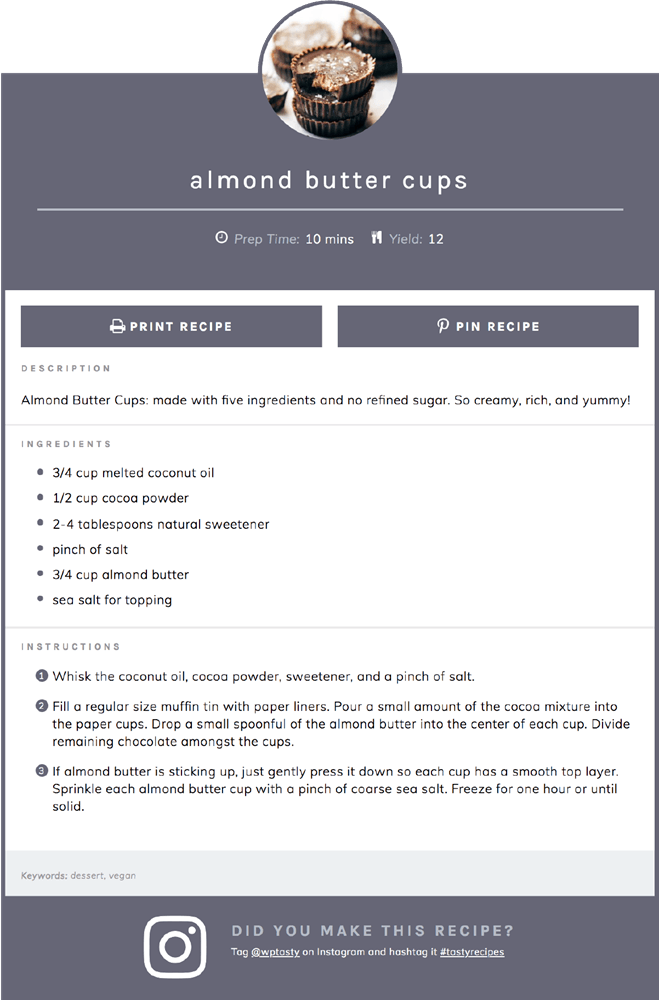 2. Delicious Recipes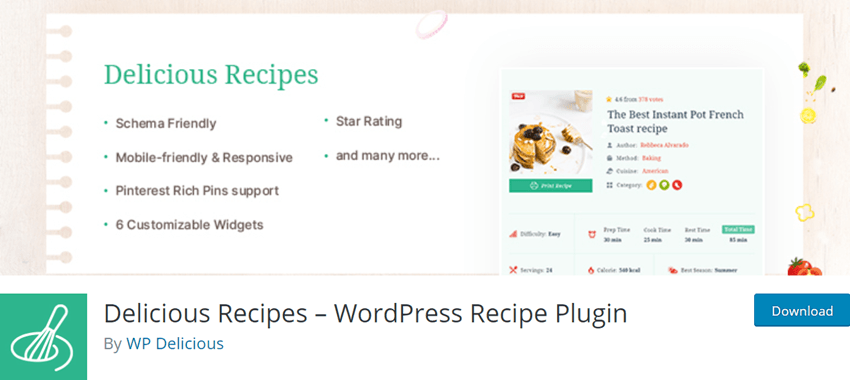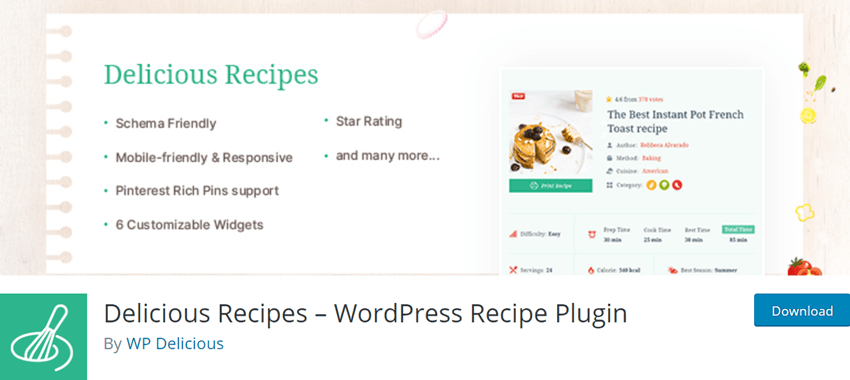 Delicious Recipes immensely known for recipe extension by WordPress provides you with the essential features to create beautiful recipes for your blogs and pages. Contains easy to use interface and lets you create and share amazing recipes within several minutes. Not only design your recipe visibility but it also provides the SEO-friendly aspects to rank your recipe on different search engines. Enables to create and display unlimited recipes along with galleries of images and videos. Integrated with dashboard for particular users that they can sign up and wish list the favorite one.
Features of Delicious Recipes –
Numerous recipe cards are available that are designated so beautifully to show your recipes on the website.
Enables the visitor to advance search as they conveniently find the recipe by applying filters.
Integrated with widgets that are fully customizable such as Recipe Tags, Recipe Keys, Popular or Recent Recipes, and Recipe category.
Supports Gutenberg blocks whereby you can add and create new recipe blocks in your creative way.
Make your recipes visible among Rich Recipe Pins on Pinterest and also allow sharing options to Instagram as well.
You can create a profile of the author who created the relevant recipe separately.
Total number of users – 2,000+
Screenshot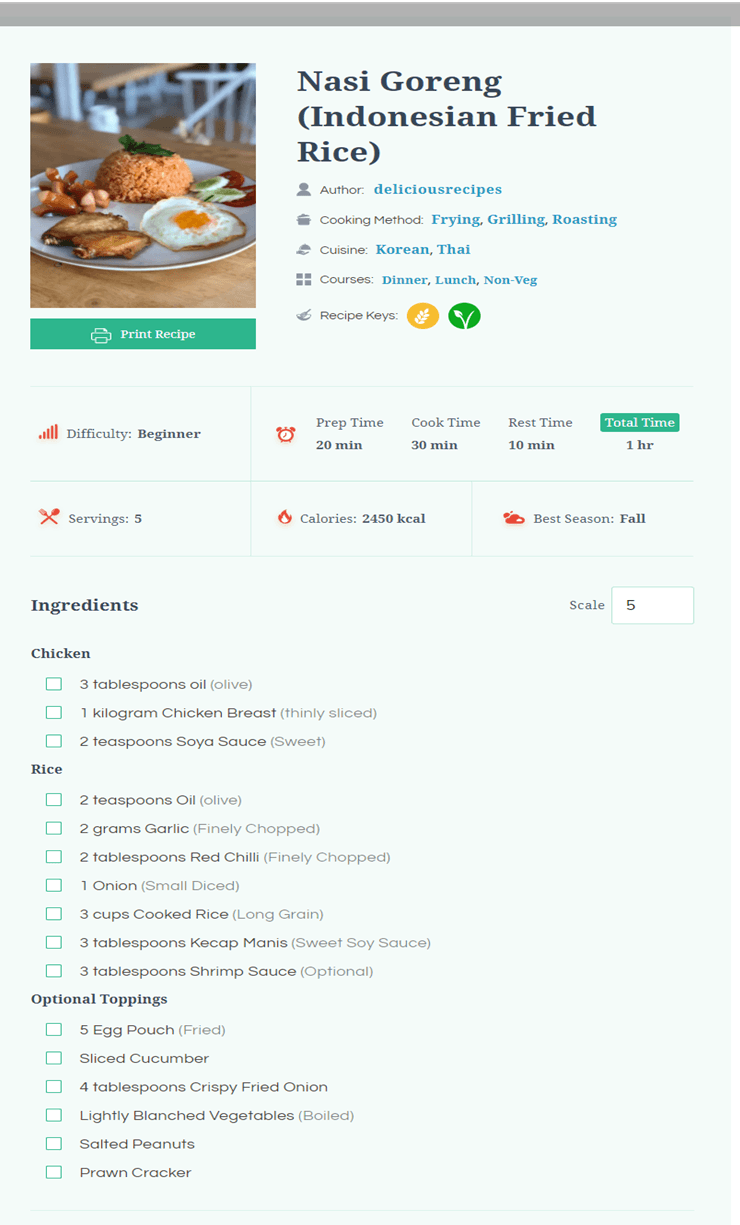 3. WP Recipe Maker
WP Recipe Maker is a user-friendly plugin that allows you to annex recipes to posts or pages with the automatic JSON-LD metadata, which ultimately triggers your SEO and number of visitors. A plugin is an excellent option for hosting websites related to recipe listing and also giving opportunities to others for submitting their recipes.
The plugin features compatibility with both classic and Gutenberg editor; the option to disable metadata for DIY recipes, recipe rating functionality, integrating photos at different steps of the recipe, and many more.
Creating custom card recipe themes and styling them is not a distant dream with Recipes by Simmer. It discards the necessity to retype the content every time you create a new recipe. The plugin gives you expertise in professional recipe development.
The sidebar widgets enable you to showcase the recent recipes. The multi-lingual plugin facilitates excellent social sharing as well.
Total number of users – 60,000+
Price – Premium Bundle-$49/yearly,  Pro Bundle-$99/yearly,  Elite Bundle-$149/yearly  Check/Yearly/Lifetime
WP Recipe Maker - Introduction
Screenshot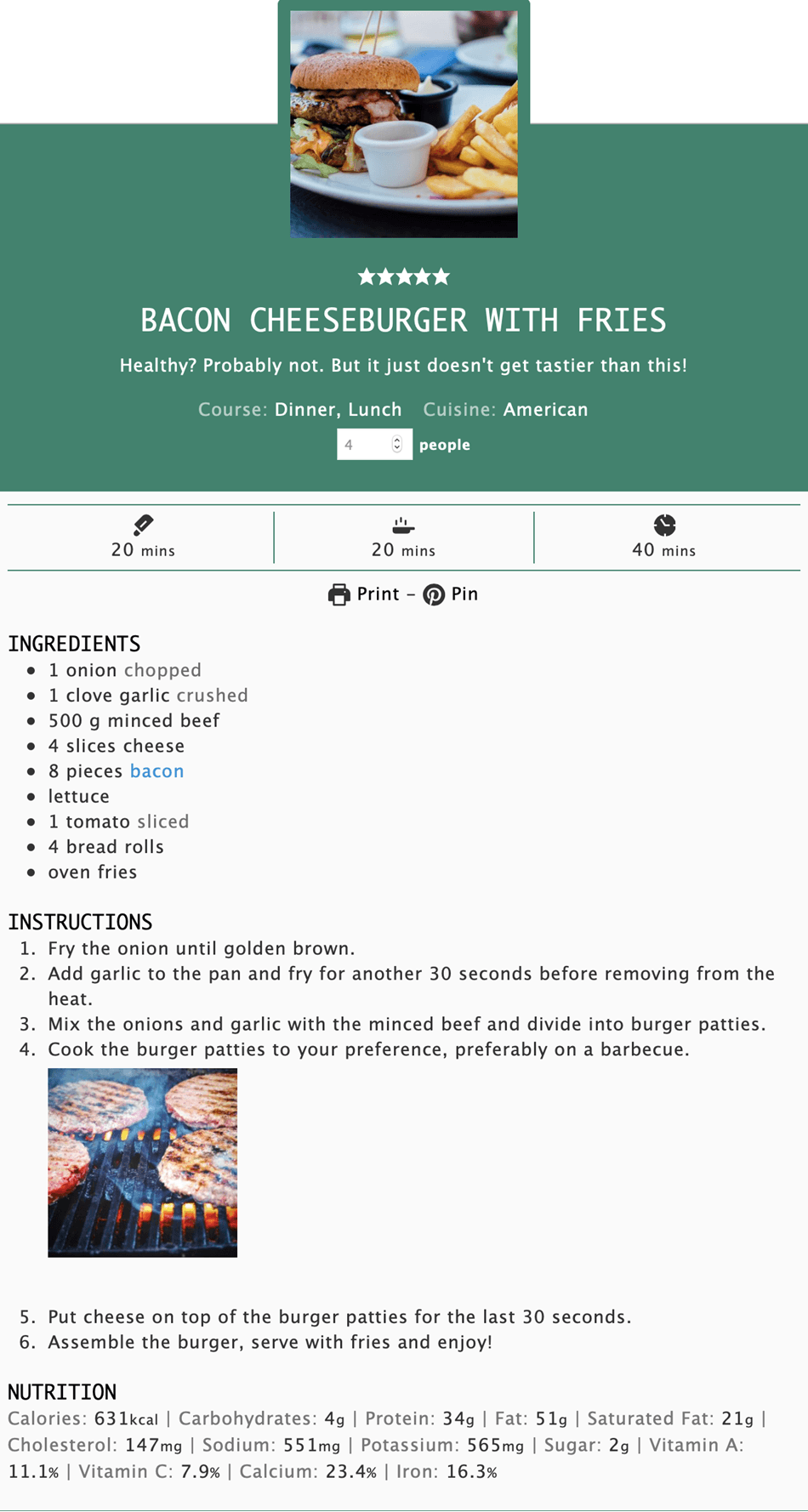 4. WPZOOM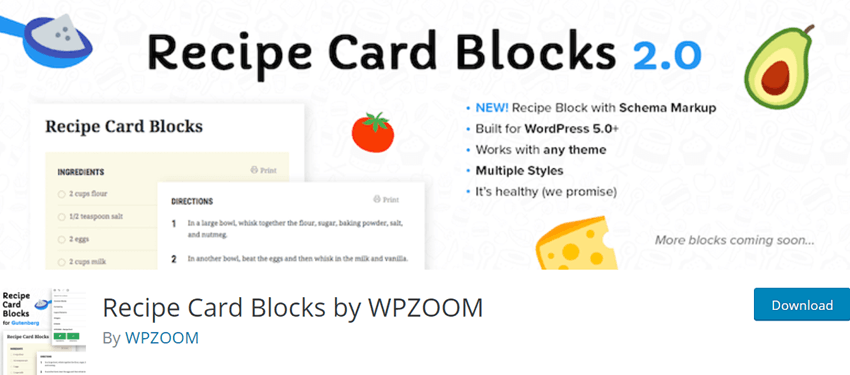 Recipe Card Blocks enables you to create different recipes in elegant style to display on blogs and websites as well. A well-oriented Recipe Plugin accesses you with amazing ideas to share your recipes in the world while sharing them in trending design. Create and add recipe blocks for your post with the assistance of Gutenberg Editor. Recipe blocks including recipe details, nutritional facts, ingredients, and directions are easily prepared within a few minutes.
Recipe Card Blocks Features –
Recipe Card Templates – Provides a variety of recipe cards designation where you can select one of your choices according to the need of a website.
Schema Markup – Let your blogs and post be available to the different social media platforms by schema markup which ultimately raises ranking and better search results.
Themes Accessibility – Work on different themes that enhance your post visibility among the audience and you may customize it anyway if you have the pro version of Recipe Card Blocks.
Footer Buttons – Add different profiles of social media account as call-to-action in the footer section of recipes whereby your visitors get into if they want.
Promoting Videos – This allows you to promote your recipes through interesting videos which catch the attention of everyone on social media.
Total number of users – 9,000+
Price – Personal-$99/yearly (3 Site),  Business-$149/yearly (5 Site), Agency-$199/yearly (10 Site)
Recipe Card Blocks by WPZOOM
Screenshot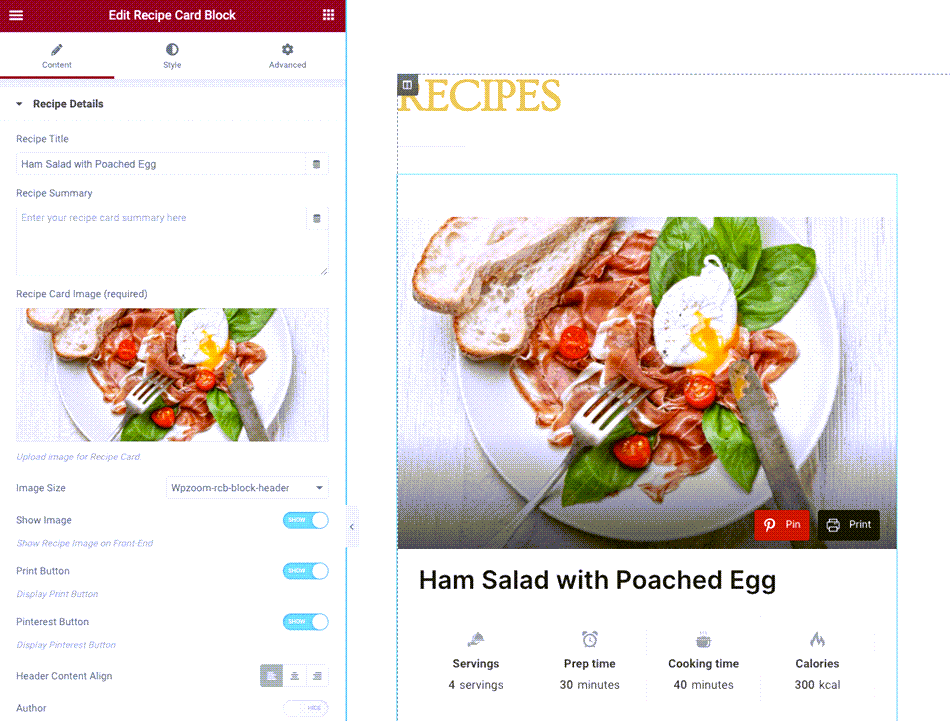 5. Ultimate Post Recipe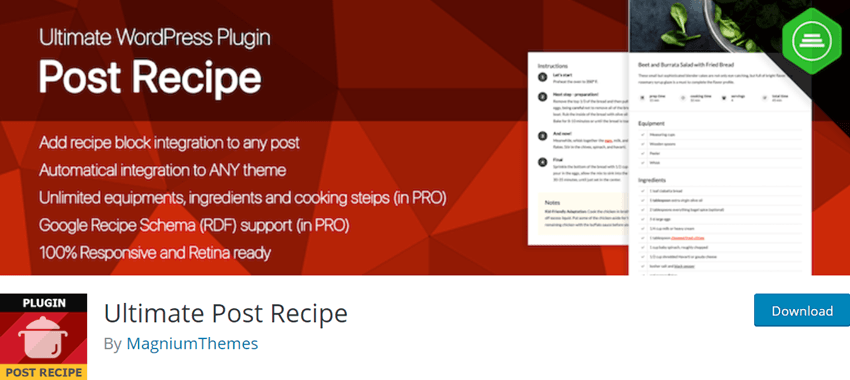 Ultimate Post is an extensive Recipe Plugin that allows you to add recipe blocks for the post of the site associated with food. Create recipes with beautiful available templates and customize them in your interest for relevant posts. You can customize your recipe blocks with various additional details like lists of ingredients, steps to cook, summary, nutritional facts, and more. Easily install this WordPress recipe extension without any specific knowledge of coding. Initiate your adding recipe to your website in a well-organized manner within some sort of time. Ultimate Post Recipe will provide you with SEO-friendly features that rank your site on search engines. Without making so much effort just globally promote your recipes.
Features Integrated –
Display the recipes on your site as blocks of posted recipes.
Access with a lot of styles for designing any of the elements of your recipe post.
Highly responsive on different devices including mobiles and desktops.
Supports link and HTML everywhere of recipe designation either it is ingredient list or cooking steps as well.
Make it rank on google search and elsewhere as it integrated with Schema.org and RDF.
Utilize it for multiple sites that tackle by you and let your users share it on different social accounts.
Total number of users – 10+
Price – Regular License-$25/Lifetime
Screenshot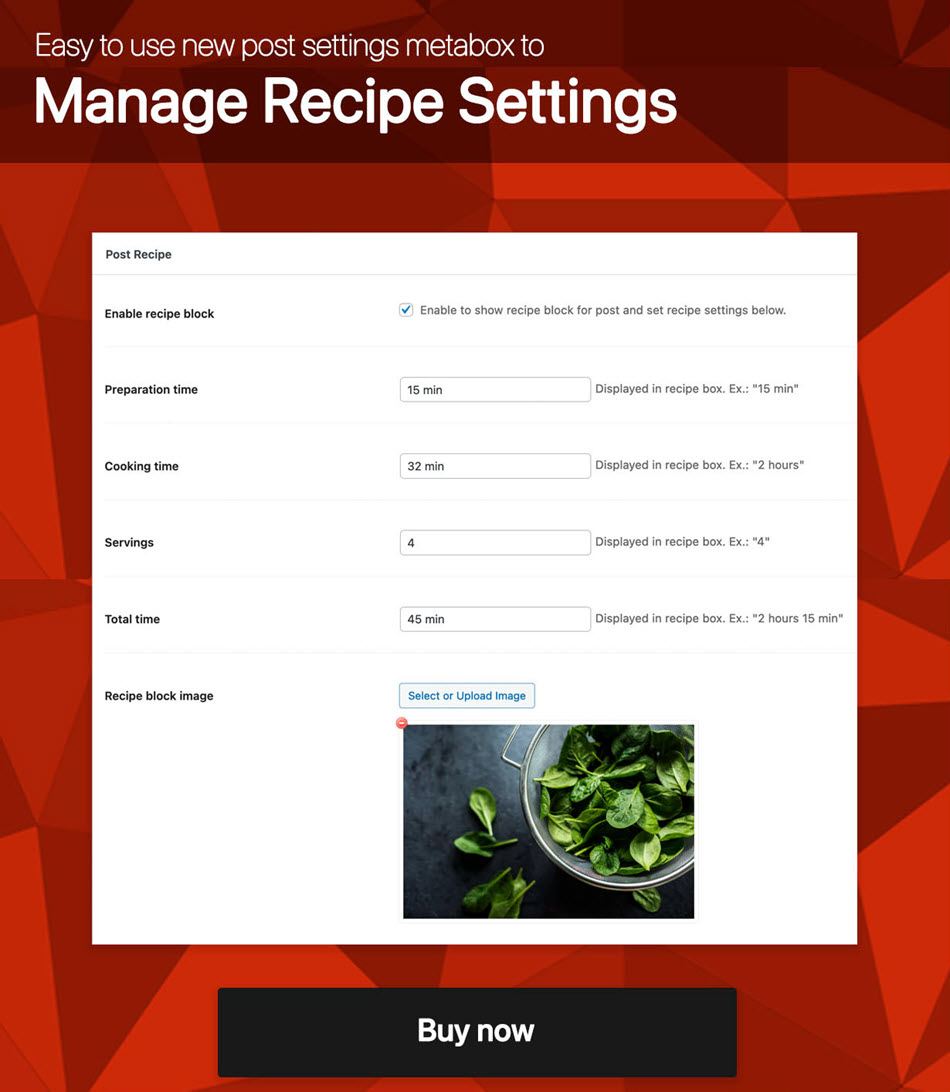 6. Cooked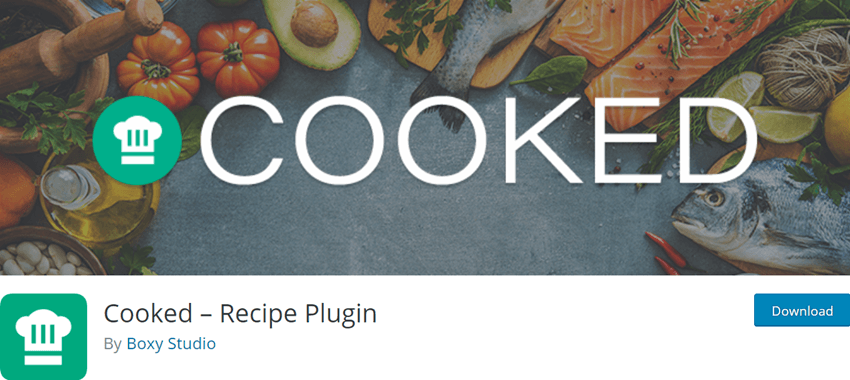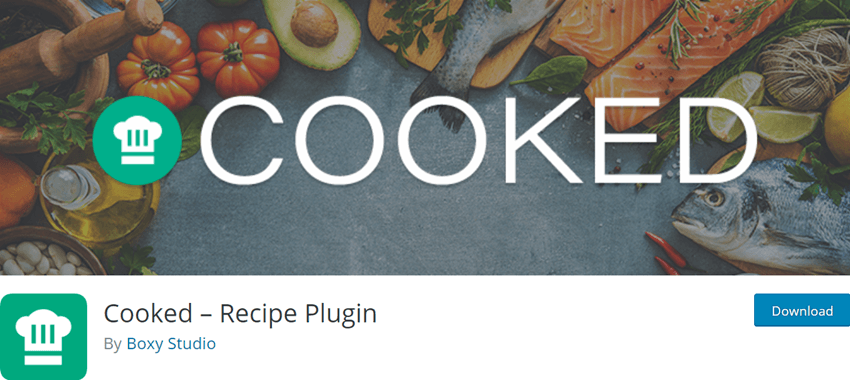 Cooked is yet another tool to exhibit your recipes with expertise. Features like SEO optimization with rich snippets, cooking timers, recipes that can be printed, and an image gallery are worth mentioning.
The plugin uses a drag-and-drop recipe builder to add ingredient lists, nutritional facts, images, and cooking time. Semantic structure and schema.org microdata infuse automatically into Cooked.
Publishing and organizing recipes on your WordPress website is rendered extremely easy with a cooked plugin. The plugin is SEO optimized and looks amazing on the website.
Total number of users – 8,000+
Screenshot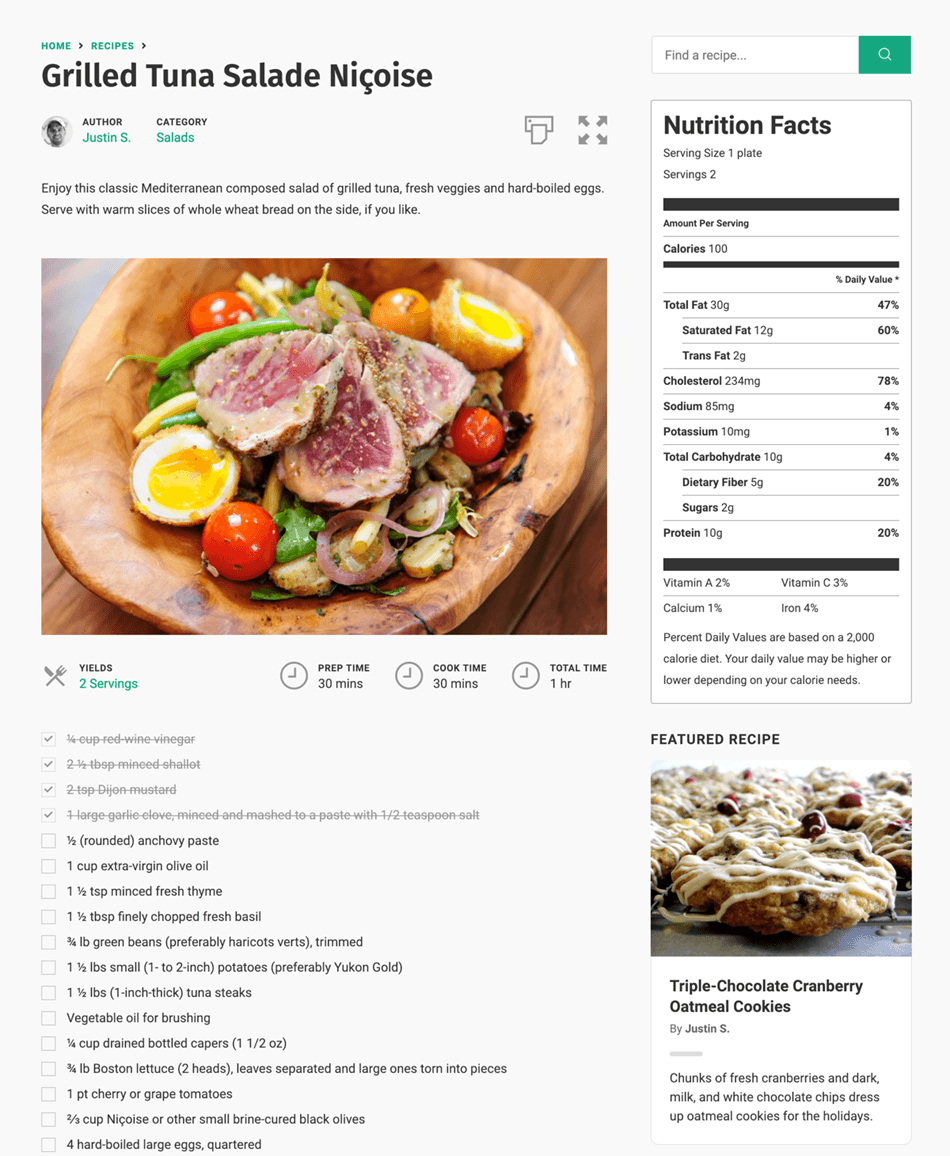 7. Zip Recipes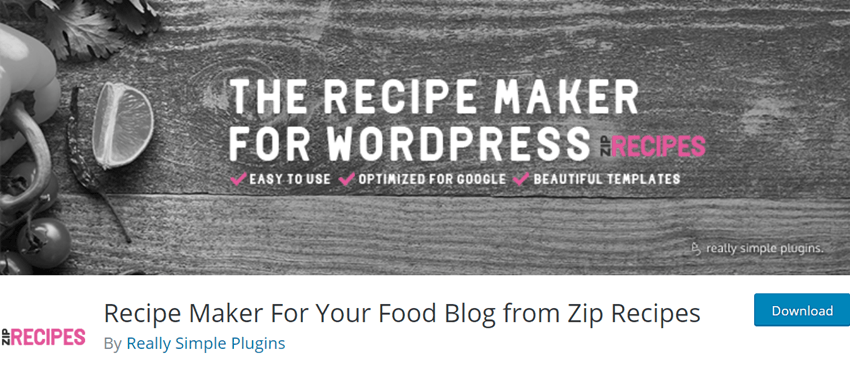 Zip Recipes is one of the exclusive Recipe Extension of WordPress whereby you can add recipes for your blogs in unique templates that create a professional attire. Design the website with your elegant presentation of recipes as a gallery consisting of related images and videos. Let your recipe be appeared to your users and give them more facilities to make contact with your site in the coming future. Establish the relation between you and your visitors with the assistance of Zip Recipes. Supports schema.org that makes your recipes more and more visible to the audience and creates organic traffic.
Zip Recipes Features –
Various Templates and Settings – Build a new recipe or redesign it with available templates in just easy steps.
Feature Image – Supports adding any featured image once and it displays every single time you post other recipes.
Make Recipes Look Professional – Just adding such essential elements to your food blogs such as nutrition information, ratings, and many more, creates an impact on visitors to come back to your site for more recipes.
Printable Recipe – Allow your users to print your recipes in elegant print layouts by just clicking.
Total number of users – 5,000+
ZIP Recipes Template Editor
Screenshot
8. Recipeomatic Automatic Recipe Post Generator

If you want to take your recipe publishing functionality to the next level, then Tasty Recipes can be the right choice for you. Many free WordPress recipe plugins such as Ziplist, Cookbook, and Meal Planner Pro integrate well with the tool from where you can import recipes easily.
This is a comprehensive tool that offers rich snippets to create suitable Google Search results. The plugin has 60 customization options for typography, labels, color, text, and others. A meta box is created with your post with ingredients, description, nutritional facts, images, and many more.
Your content can be illustrated with details, descriptions, a list of ingredients, and recipe images. The user interface is highly organized and managed separately from other contents of the website. Pinterest sharing buttons can popularize your recipe.
Price – Regular License-$29/Lifetime
Screenshot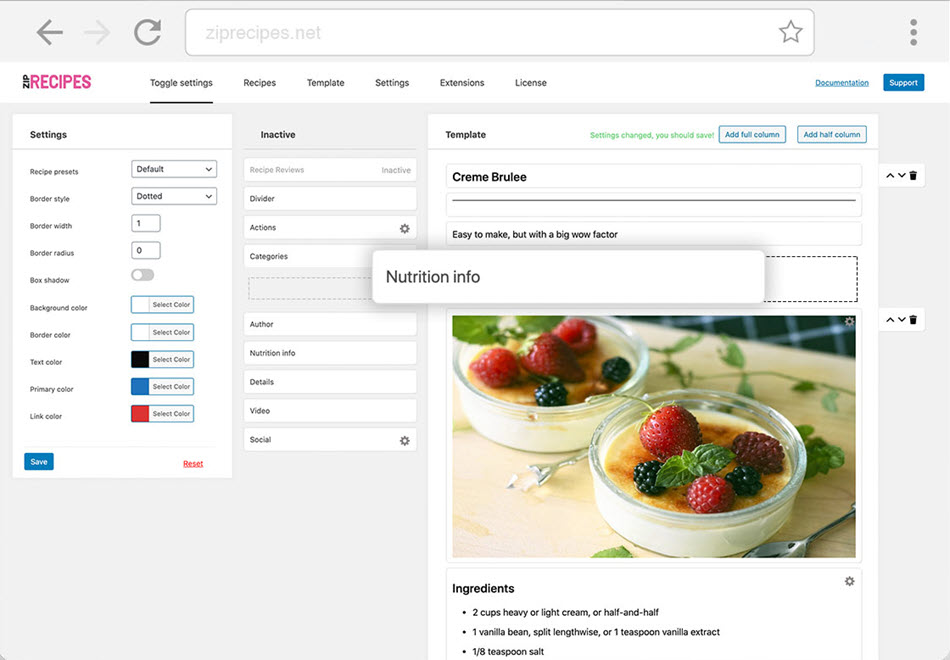 9. Total Recipe Generator-WordPress Elementor addon

Total Recipe Generator eases up the process of posting recipes with its prebuilt templates and drag-and-drop functionality. You do not require to put extra effort into SEO optimization as the developed content is a blend of internal links and suitable meta tags along with schema and JSON LD microdata.
The layouts and styles of the plugin show cross-browser compatibility. Other features like title management, thumbnail, and display of recipes on any page or post are also available. You can later customize these recipes as per your preference. The plugin also gives ample options to monetize your site by choosing from an array of recipe card presentation styles or by integrating advertisements into the content of the recipe.
Price – Regular License-$29/Lifetime
Conclusion – We mostly recommend people to use WPTasty Recipes for their food blogs because this plugin is optimized for better google snippets and prebuilt templates. And it also has 15 days Money back guarantee.