8 Best Author Box Plugins For WordPress 2021
Are you looking for the Best Author Box Plugins WordPress? So many people are interested to know more about authors when they find their blogs really helpful. And so many visitors want to connect them socially. No matter whether your website has one author or multiple authors, bio box plugins for WordPress is really important for any website.

What are the author box Plugin and its use?
Author Box is an important part of a blog written by a single author and it becomes even more important when the blog is handled by multiple authors. This way it helps to distinguish the posts of several authors. The author box gives details about the author and helps the readers to build a bonding with them. It also adds a personal touch to the blog.  Also, the reader can follow these authors and try to learn from them.
Developing bonding with the authors is beneficial as is developing trust among the readers. This helps in building Author Authority. Moreover, people are more likely to visit sites run by actual feeling than mere computer bots because of the sense of oneness.
Building Author Authority by making Author Box Impressive:
Visitors come back to the same author and build connectivity with them only if they come to know how to connect to them. An impressive Author Box attracts the attention of the readers and lures them to come back. So a few key points must be kept in mind while adding it to your website are
The first step to grab a reader's attention on every single post.
The Author Box should provide the necessary details of the authors to fascinate the reader and ignite in them the want to know more about the author.
The real name of the author should be displayed in bold letters to help build the trust of the visitors.
The author avatar should be added to help visitors know him more.
The links to all the social media should be provided for easy connectivity by the users.
The email id should also be provided so that visitors can contact the author directly.
Adding the number of posts by the author is a tricky way to grab the attention of the visitors.
You May also be interested in Fomo Plugins, Email marketing Services, Support ticket Plugins and Lead generation Plugins
WordPress offers several Author Bio Box plugins to help authors do the required magic to grab the attention of the visitors. So Let's have the list of Top WordPress Author box plugins are as follows
1. Simple Author Box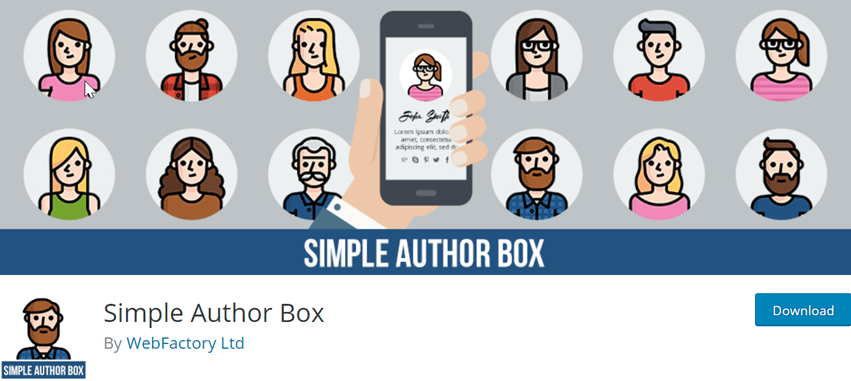 Simple Author Box is an amazing WordPress Plugin that gives access to create an author section where the post ends. Websites are composed of great content written someone, you must accredit such person for their work. Introduce the author of the relevant content along with an essential description. With the assistance of Simple Author Box, you can create an exciting bio for authors that comprising of name, avatar, and description and place it on the exact page of the site. It mainly requires if your website is the one that accepting guest posts. Hereby you easily set up a detailed author box for your guest authors and make them feel nice while writing for your site.
Features Integrated –
Customize the author directory i.e. color, text, size, and style to make it greatly match up with the overall website presentation.
Automatic establishment of author box to the post as you complete the settings.
Allow inserting manually the author box wherever required.
Compatible on any devices like tablets, laptops, desktops, and mobiles.
Supports AMP and RTL conveniently.
Total number of user – 50,000+ 
Price – Mono-$39/yearly (1 Site),  Trio-$69/yearly (3 Site), Agency-$499/yearly (30 Site)
Screenshot

2. PublishPress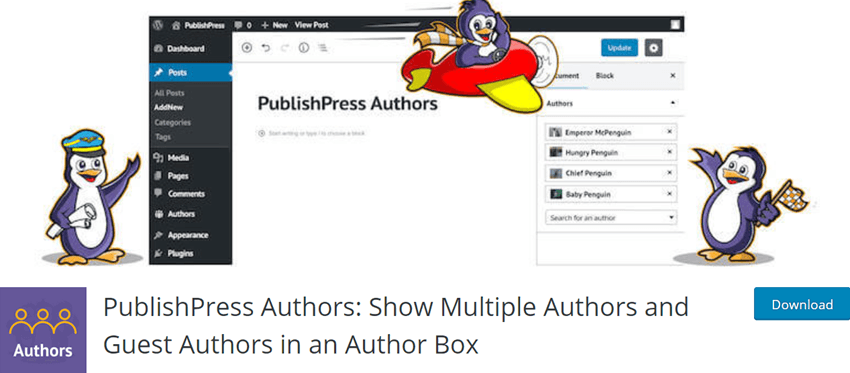 PublishPress Authors just enables you to create an author box for every particular post to define the author's profile who had written the post. A well-organized WordPress Extension lets the visitors know about the background of the author. Display such description of authors either they are the guest authors or any recognized one. Enable to add posts of multiple authors to your website and also compliment with separate author box for each of them. Create an amazing author profile including name, avatar, and description of the author and display the same on relevant posts. Establish such author boxes anywhere on the site such as Gutenberg Blocks, shortcodes, and widgets.
Key Features of PublishPress Authors –
Availability of amazing layout for author description such as Inline, Boxed, Centred, Simple list, and Inline with Avatars. Access to customizing such layouts with the PRO version.
Additional customized fields can be inserted into the author panel like email ID, and external links.
As you accessed Pro, you get enable to more features comprising managing the roles of users and restrict the permission as well.
Total number of users – 3,000+
Price – 1 Site-$69/yearly, 5 Site-$129/yearly, Unlimited site $199/yearly
Screenshot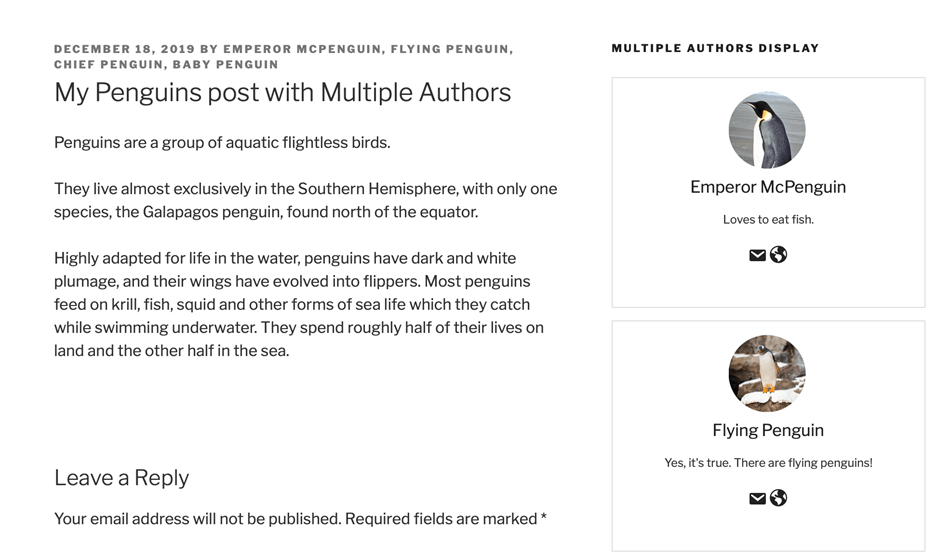 3. Avatar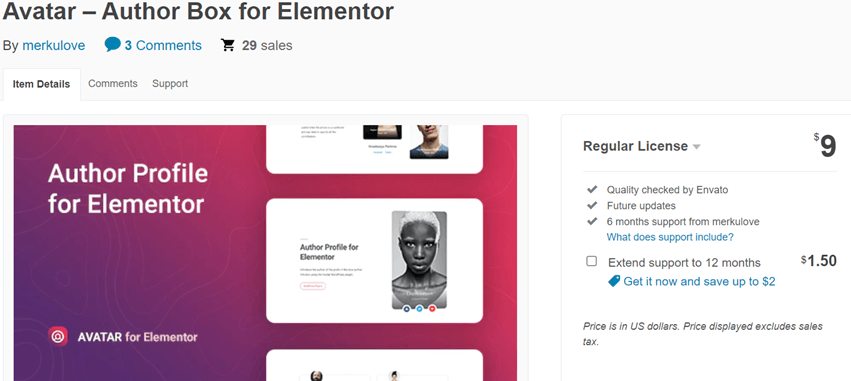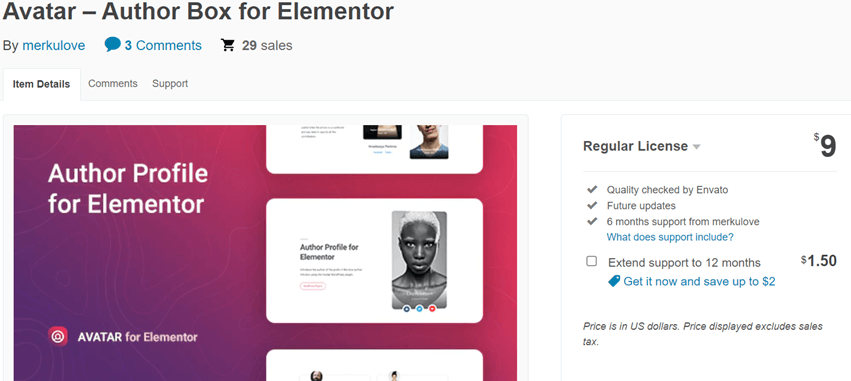 Avatar – The Author Box for Elementor is a WordPress Plugin that allows you to share information about the person who had written the post. Share the information of authors, co-authors, and guest authors with descriptions, names, and photos. As you share the author's bio for a particular post, it will increase the excitement of visitors to see the next post if they like their writing pattern. In such way, you can increase the organic traffic on your site. Place such author panel anywhere on the website with the assistance of widgets and allow the readers to follow them personally on their social media channels.
Avatar Extension is well-integrated with lots of elementary features to make the visibility of the author box so professional. Availability of customization of author profile along with CSS effects that display at the end of the particular post. Perfectly compatible with Elementor plugin consisting of its templates, and popular themes. Avatar smoothly works with different browsers including firefox, chrome, opera, safari, and edge.
Price – Regular License-$9/Biannually, Extend license-$29/Biannually
Add an Author Box Widget to WordPress Posts
Screenshot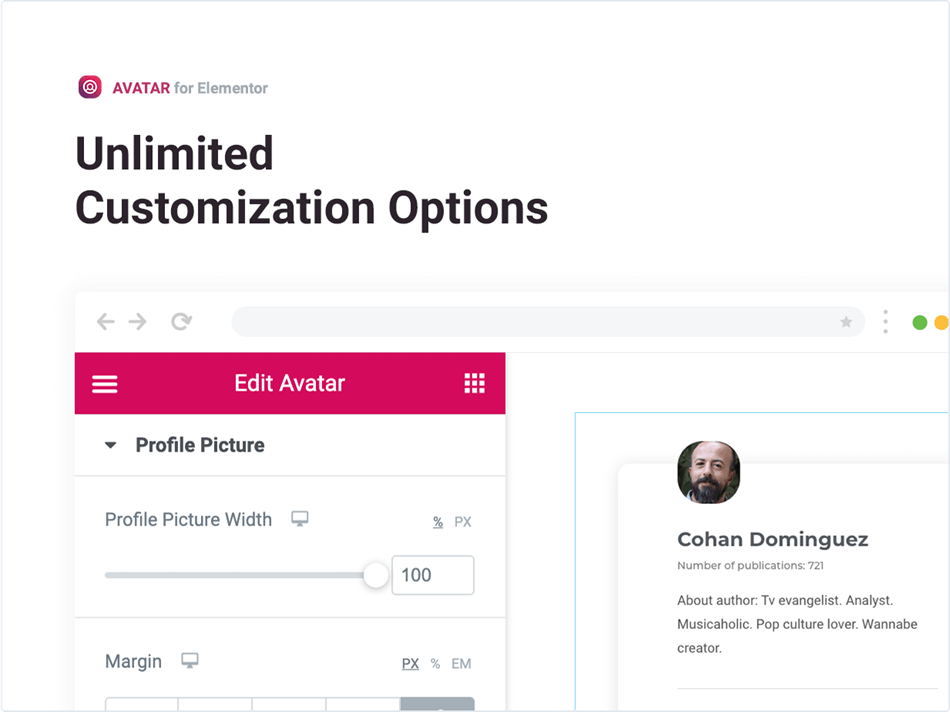 4. WP Post Author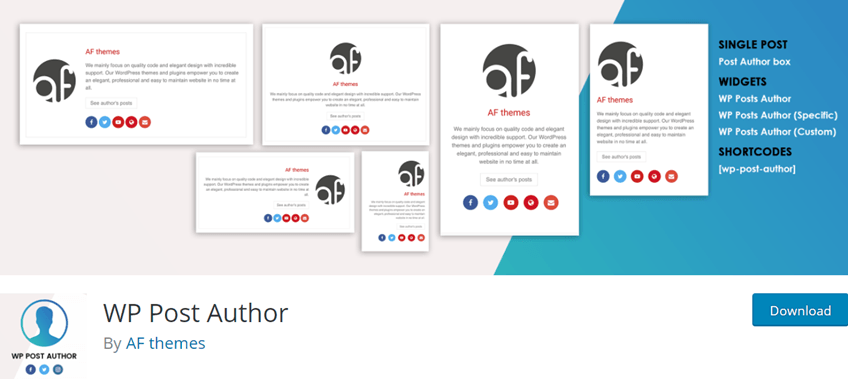 WP Post Author is a Free WordPress author page plugin. It allows users to add information about authors in a Post, Page and Custom Post Type. In my opinion this the Best WP Post Author Plugins For WordPress. And the best part of it-it doesn't require any coding skills. Some of the features of this awesome plugin are:
It comes with 15+ pre-designed templates.
Tabs can be easily added in the widget area.
Pop up display to make it catchy and easier navigation.
Bundles of color scheme.
Allows users to customize author box post.
Social media feeds to help connect with authors faster.
Total number of users – 20,000+
Screenshot

5. VK Post Author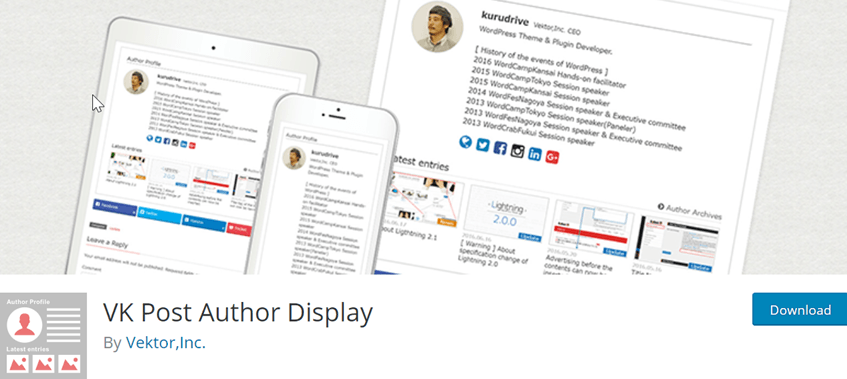 VK Post Author Display Considered as the best author bio plugin for WordPress, it is developed and supported by vekor,inc. It is ideally suited for guest users as social widgets allow to present authors with a more personal touch. It also helps in highlighting articles in search result pages and improves the blog's functionality. Its key features are:
It is retina ready.
It helps in connecting two social networks- Pinterest and YouTube.
Lazy-Loading social tabs help in maximizing website speed.
Compatible with Co-Author Plus plugin.
Users can pick their own colour scheme from Color pickers.
You can easily add Google Authorship.
This Plugin is translation ready.
You can automatically add it before or after pages, posts and custom post types except for archived pages.
Author box with RSS speed .
Total number of user – 10,000+
Screenshot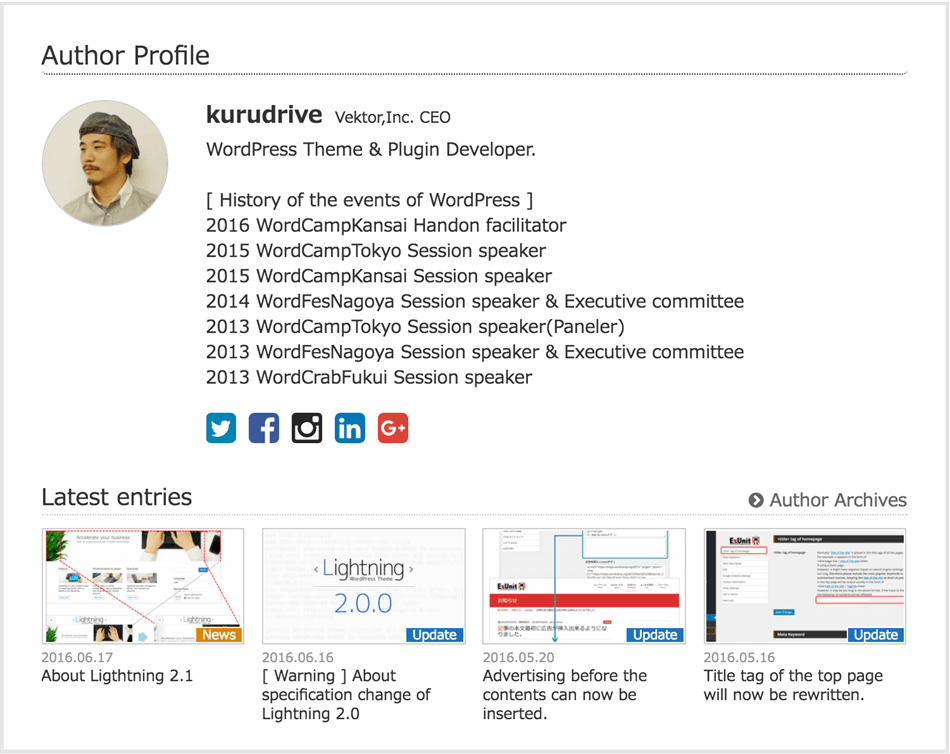 6. Molongui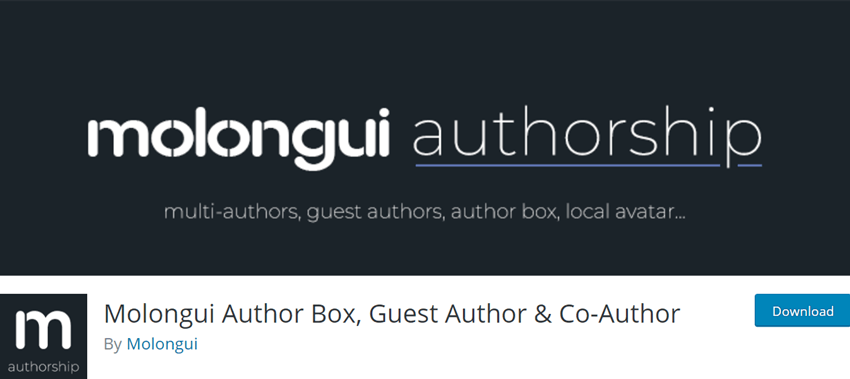 Molongui Author Box is a simple yet smart plugin that allows you to show author/user info with auto-detection options and flexible display. Its features are :
The avatar size can be customized.
Author archive can be linked to avatar image.
On single post and author templates, post author can be auto detected.
Designation tab of the company.
Inbuilt contact form or external contact form by just using shortcodes.
Custom tags for widget and shortcode support.
Extra information can be added through unlimited tabs.
Total number of user – 4,000+
Screenshot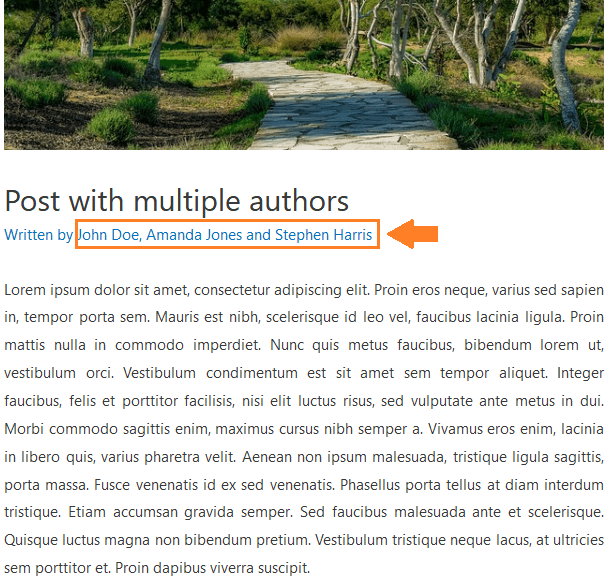 7. Starbox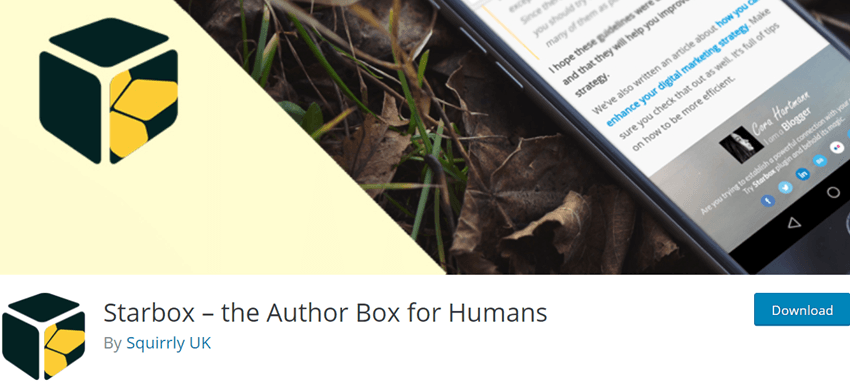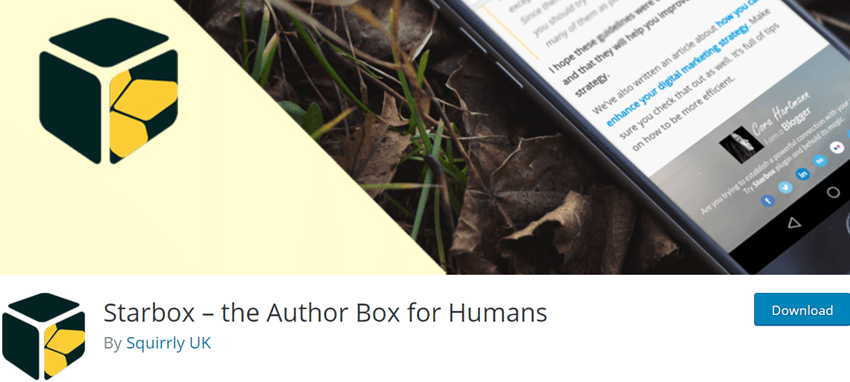 Starbox is another free Author Bio Box Plugin for WordPress which Provide a way of giving identity to posts, pages and custom post types is Starbox Author Box Lite. It also increases reader engagement by creating a responsive profile and recent posts box. Its features are highlighted as follows:
Quiet responsive and looks good on phones, tablets, desktops and smartphones.
Automatic Google verification by just adding Google+ profile link.
Automatic Facebook verification by just adding a Facebook profile link.
Option of hiding author box as per post.
Added automatically at the beginning or end of posts or both.
Provides widgets and shortcodes.
Also available Custom Css option.
Author picture can be made round/circle.
Total number of user – 30,000+
Screenshot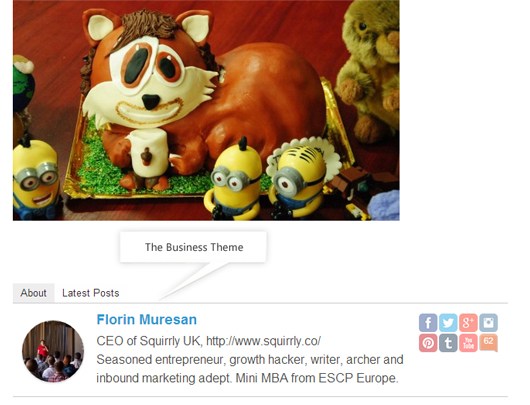 8. Bio Box

With the capability of handling single and multiple authors with the help of Co-Author Plus, Author Bio Box provides plenty of options to customize the author box after the post has been made by WordPress. This plugin adds a responsive author box along with the author name, author gravatar and author description. Also, 30+ social profile screens can be added to display the author's social icons. Some of its features are:
 Name, description, website, author's gravatar and social icons are displayed.
Can be customized completely to match one's theme design.
Looks good on laptops, smartphones,  desktop and tablets.
It is added automatically added at the end of the post.
Author Box can also be added manually in the template file
It has RTL and AMP support.
Very responsive.
Option of choosing from five social icon sets.
Supports social networks like Blogger, Facebook, Flickr, GitHub, Behance, Delicious, Instagram, Tumblr, etc.
Total number of users – 6,000+
Screenshot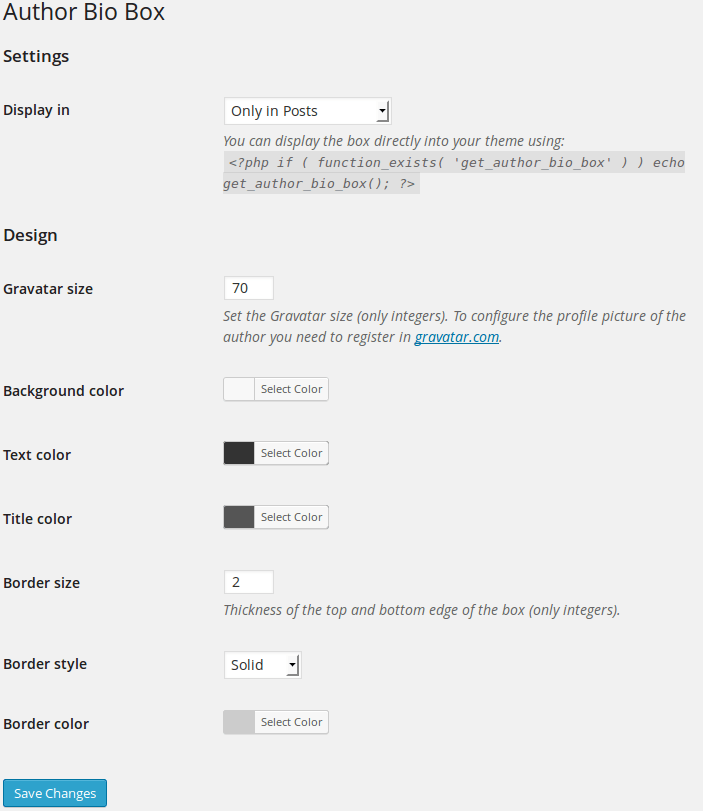 Conclusion – Still Confused about which one to go for? If you want free Best Author Box Plugins for WordPress then go ahead with Simple Author Box Worth if you can also check out its Premium version.