10 Best HelpDesk & Support Ticket System Plugin For WordPress 2023
Are you looking for Premium or Free Best HelpDesk & Support Ticket System Plugin for WordPress? Providing awesome support to customers will ultimately help you overgrow in online business.

Whenever you buy any product, the customer will ask if they will provide support for it? So to Provide World-Class Support, we need to integrate third-party Help Desk software services in our WordPress website. So that customers can quickly create a support ticket and get a resolution as soon as possible. So to make a robust support system, we need to take each issue raised by customers seriously. When we talk about the woocommerce website, when the product sale is too high, you need proper management to handle all queries and manage all complaints. So for this job, we need HelpDesk & Support Ticket System Plugin for WordPress
Why should you add HelpDesk & Support Ticket System to Your WordPress website?
Best support means the best brand. Because worst brand can't resolve their issue because of scrap products Quality
Promotion increase – When you exchange or replace products or create a refund for misunderstanding, people share your Words with friends, which means more sales.
Without the ticketing option, you will not be able to create a sequence in Problem resolution, and you will get confused.
You can quickly build long terms relations with your customer.
So to help you in creating a great system, we have decided to write a list of Best HelpDesk & Support Ticket System Plugins for WordPress so that you can easily select the Top Ones.
Table Of Content
1. Zendesk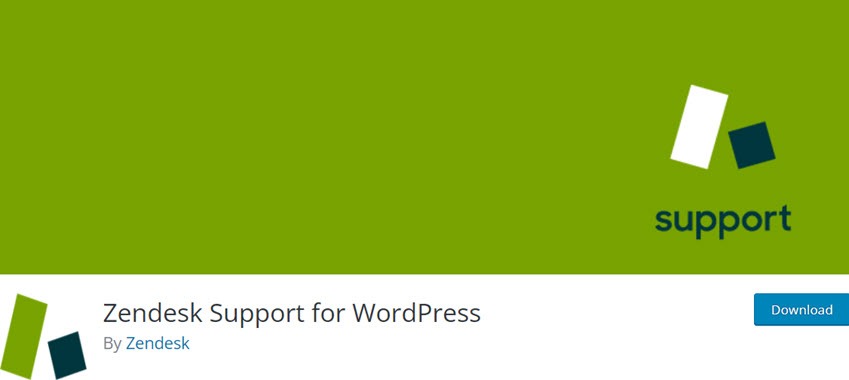 Zendesk is an extreme WordPress Plugin for accessing practical Help Desk and Support Ticket on the website. Allows to get in touch with your users and let them help anytime. Establish a better communication centre that facilitates various options for fast conversations. Once your users sign on, they don't have to log in repeatedly. Zendesk plugin is used when customer support interactions are a matter of concern. Before getting in, the users need to complete a Captcha, and the login system is encrypted and protected from brute force attacks. The plugin focuses on creating a more organized management of the support system. This helps save time wasted unnecessarily in back and forth in the long run. Let your users quickly access the helpdesk anytime they require and connect instantly with our dedicated experts. Zendesk provides support for customers seamlessly to enhance their experience thereon.
Core Features –
Single Sign-On – Required sign only once then, it will send your details directly to the admin, and you don't need to insert a password for every time you log in.
Support Ticket Conversion – Allow your users to get support tickets by commenting on your related blogs.
Web Widget and Feedback Tab – Let you add the widget and tab for support webpages that your users quickly get access to whatever they are looking for or communicate with our agents.
It has a powerful text editor and HTML mode. Documents can be created for multiple projects.
The plugin has a robust ticket system to the users the best support. Rich and detailed articles can be created to help the users use Knowledge Base.
Zendesk WooCommerce Plugin is used for helping and supporting the ticket system.
Total number of users – 5,000+
Price – Team – $588/annually,  Growth – $948/annually,  Professional – $1188/annually
Screenshot
2. Freshdesk

Freshdesk is a seamlessly integrated plugin that lets you establish help widgets on the blog or website. It also assists well for support ticket conversion of comments. Let your user login with SSO into the support panel. Freshdesk motives to an omnichannel that provides continuous customer support for more conversions. Satisfy the expectation of customers while instantly fixing their issues so effortlessly. Facilitates agents for understanding the necessity of their customers and taking the next step accordingly.
Freshdesk plugin helps the users to create a fully-featured support ticket system helpdesk for business. WooCommerce and Easy Digital Downloads are integrated with it. The customers can be provided with a unique and impressive support experience with unique roles for agents, customers, and support admins. This helps to increase customer satisfaction.
Essential Features –
Automated workforce and intuitive tools let your agents resolve the issue of customers shortly and provide them extensive support like a customer champion.
Connect your customers where they are likely to take their conversation on. Help or guide customers on various networks like web, live-chat, contact customer, and mobile.
Create support tickets from comments of users on blogs or other pages.
It is very responsive and is super fast, and the users don't need to know any coding or use many resources.
Tickets can be viewed, managed, and commented upon. Their status can be updated directly from the WordPress dashboard.
Customer support can be worked upon from a beautiful and user-friendly interface.
Total number of users – 2,000+
Price – Growth – $162/annually,  Pro – $583/annually,  Enterprise – $924/annually
Screenshot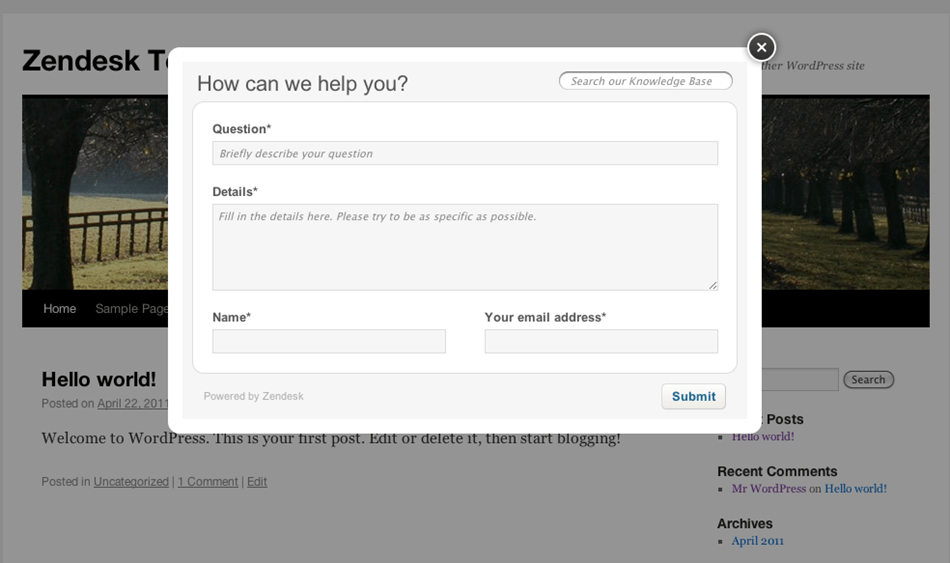 3. WooCommerce Help Scout

WooCommerce Help Scout is a powerful plugin for furnishing comprehensive helpdesk on the website. Answer the query of your customers shortly and clear every doubt anytime. Chat options are available for contacting and resolving customer issues, which is preferable over traditional methods like phone, SMS, and Email. Increase revenue by satisfying customers" queries so well that it will make them shop within your store more conveniently. Expand your circle of selling products or offering services from your online store.
More on, Help Scout assists the WooCommerce store in creating a support ticket in just a few seconds. Allow your customers to comment on your blogs, posts, and elsewhere and simultaneously convert such relevant comments into support tickets. It will reveal the exact data of your customer's queries, support tickets, and feedback within a bit of configuration.
PHP MVC use is built with OOP and Bootstrap 3. x framework and LESS CSS. New tickets can be created, and tickets can be replied to. The admin replies can be rated. Customers, staff teams, and departments can be added or edited. Social login and statistics dashboard is available. Browser and system are instantly notified when a new ticket is created or assigned. RTL is supported.
Price – 1 Site – $79/annually
Official WooCommerce Help Scout Plugin Intro
Screenshot
4. ELEX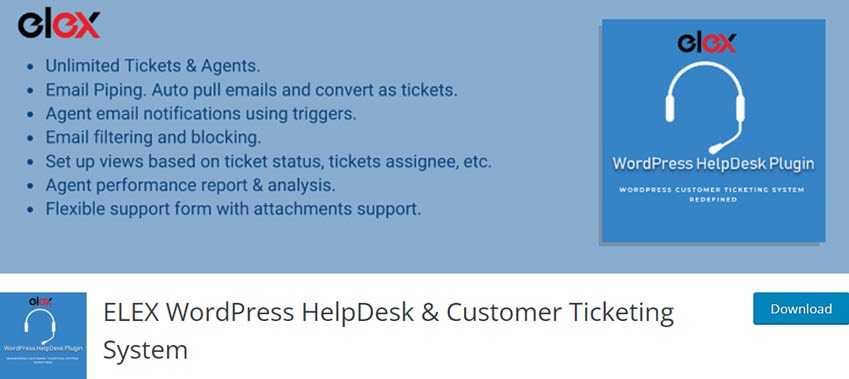 Elex – A complete WordPress solution for providing instant customer support while reaching customers by ticketing. It combines all kinds of support systems that can easily be set up inside WordPress websites like Email piping, Ticket creation & management, customizable email reply, unlimited tickets, unlimited agents. You can easily attach files to the support system. Resolve queries, clear doubts, and get your customer everything they want to know about your store and its workforce. Integrated with every essential tool that lets your agents tackle the customer efficiently and provide a top-notch helpdesk service in just a few minutes of configuration. Elex lets you create unlimited tickets and expert agents who continuously be there for your customers. Collect better revenue and conversion rates from the implication of this robust helpdesk and support ticket plugin of WordPress.
Integrated Features –
They are designed with simple UI for establishing robust helpdesk management to win the audience's trust.
Provides you with customizing options for enhancing the appearance of customer service.
Availability of unlimited agents and Support tickets.
Keep track of feedback and reviews that customers give to agents after getting service.
Connect widely to customers to communicate instantly over any channel, including email, phone, SMS, live chat, etc.
Email Piping- To chat in a ticket, both the customer and agent don't need to log in. The email can be used to reply to a ticket notification. The rest of it is handled by FAST.
Terms and Conditions- Users can be asked for terms and conditions before opening the ticket.
Sorting and Filtering- There is excellent sorting, filtering, and tagging system for tickets.
Total number of users – 300+
Price – 1 Site – $79/annually,  5 Site – $79/annually,  25 Site – $79/annually
Screenshot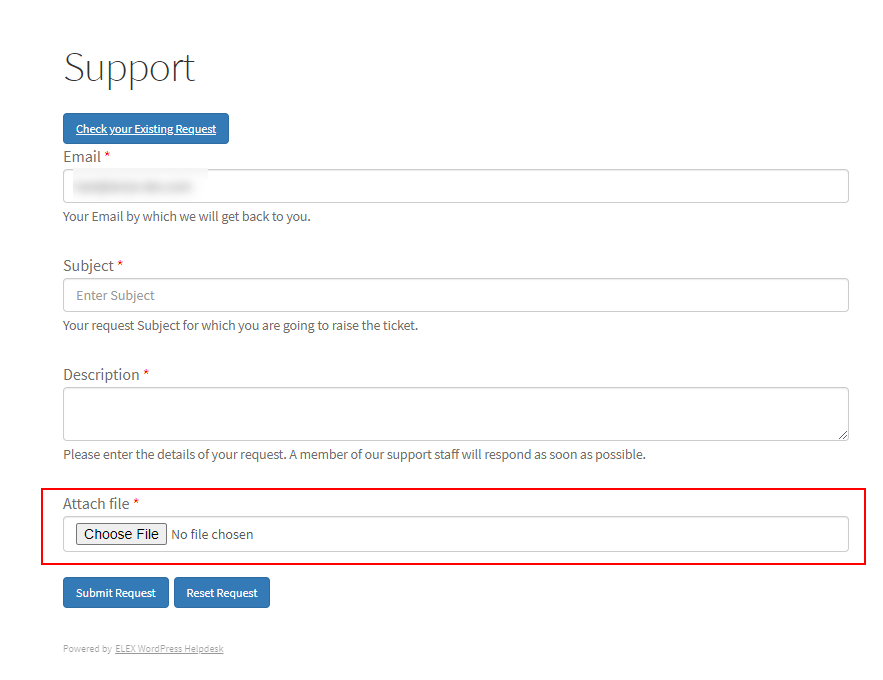 5. FAST

Fast is an entrusted plugin for a helpdesk that works instantly to fix issues of customers, i.e. revealing by its name. An intuitively designed plugin with many handy features that automate the entire functionality so well. An utterly professional set-up that enables your agents to tackle customers" queries. Please provide them with a better experience by satisfying their doubts shortly. Enhance reliability and increase the revenue of your e-commerce in just a few minutes. It supports multiple devices to connect your customers with a responsive communication channel.
Why should you Rely on Fast for Helpdesk?
Instantly reach your customers for providing customer service too fast.
It gives them access to chat, calls, SMS, and anything else they prefer comfortable connecting with.
Customize support tickets on your own and insert fields, whichever is necessary accordingly.
It is integrated with email piping that lets you reply instantly to notifications of tickets.
Assign Agents- Tickets are distributed by FAST to agents as they arrive.
Customizable Ticket Fields- More fields can be added to get more information from the users.
Saved Replies- The most common replies can be saved to respond quickly.
Slack Notifications- The whole team can be tracked using FAST. A message is posted whenever a ticket is created, replied or assigned.
Price – Regular License – $39/OneTime (1 Site)
Screenshot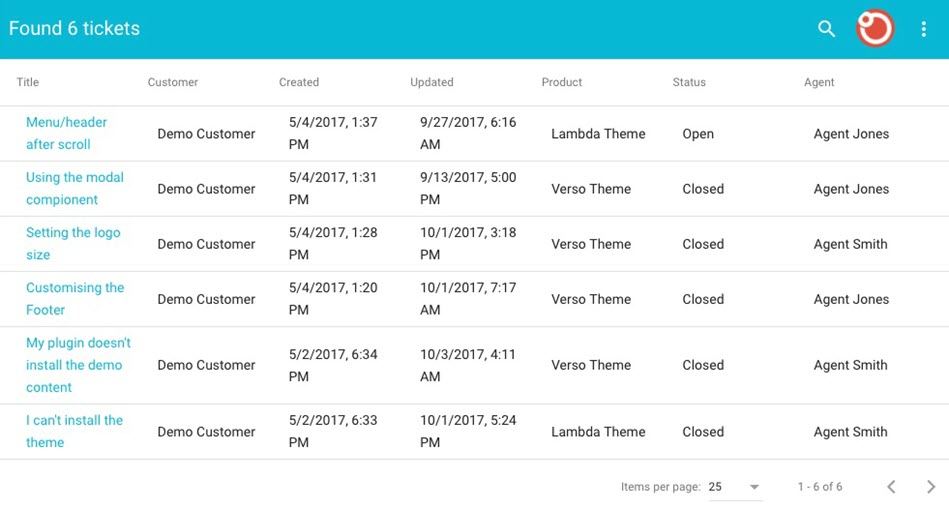 6. JS Help Desk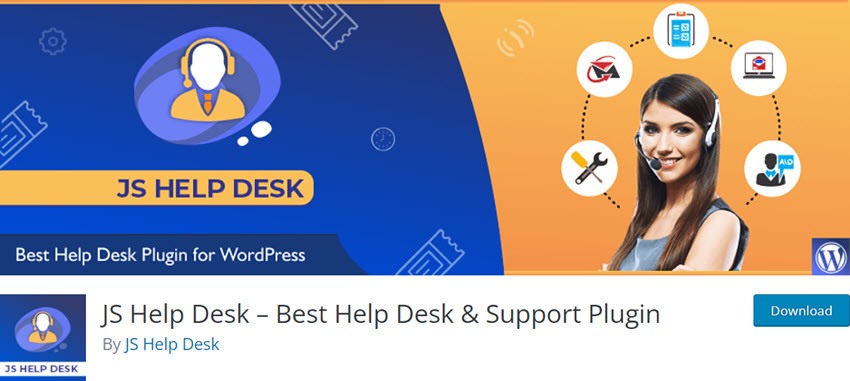 A trusted open source ticket system, the JS Support Ticket plugin is simple and easy to use. It is a web-based customer support system. The user from the front-end can create tickets. It is entirely free and has a lot of features. Tickets can be created from the front end. For the front end, there is a support icon for various positions. The admin can create the ticket on behalf of any user. For proper management, tickets can be assigned to departments. Proper ticket message is shown and highlighted. The admin can edit tickets at any time. He can also publish the unpublished ticket fields.
Support Analytics- All the reports can be needed for faster and better support.
Unlimited tickets- Any number of tickets can be processed, and customers can be supported.
Ticket Customization- The user can create his custom fields for his tickets through the built-in form builder of the plugin. This way, the user can get all the information needed from the customers.
It has a Bootstrap-based design.
Total number of users – 3,000+
Most powerful WordPress help desk plugin
Screenshot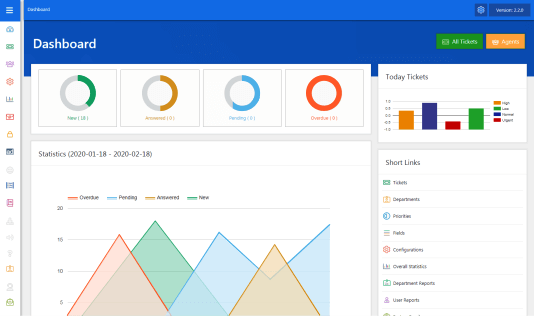 7. SupportCandy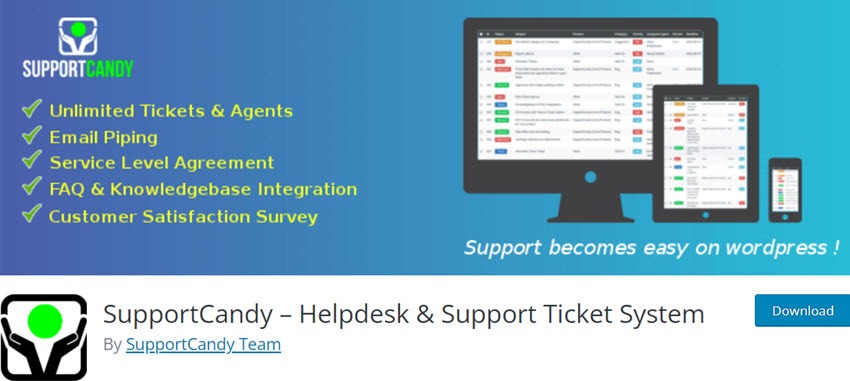 SupportCandy provides a complete and professional support system. It is an unlimited support ticket plugin. It is quite a fast plugin, and its response time is speedy. The plugin helps keep the users in contact with the users, unlike any other support system. Waiting customers are prevented by email, slack and live browser updates.
The help desk ticket system features are added to the WordPress site through the SupportCandy Ticket System plugin. It provides unlimited tickets and unlimited agents. It acts as a supervisor to manage agents. Tickets can be submitted on behalf of others. Guest tickets and file attachments are available. Advanced ticket filters are available with save features. Tickets can be edited through HTML. If there is any need for adjusting style, Custom CSS can be used. Notes can be added for support staff to keep private notes among the support team.
It is a complete package and does not have any restrictions or add-ons. WordPress developers and e-commerce business owners are the ones who need this plugin the most since it is integrated with Evanto Marketplace and WooCommerce.
Total number of users – 10,000+
Screenshot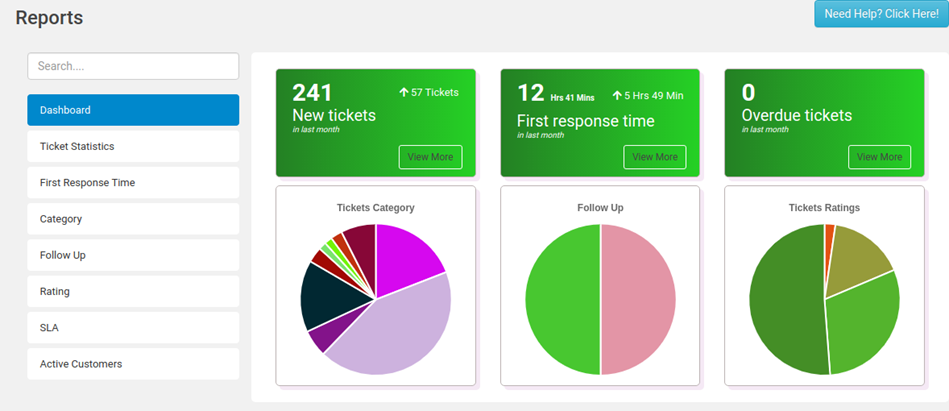 8. NanoSupport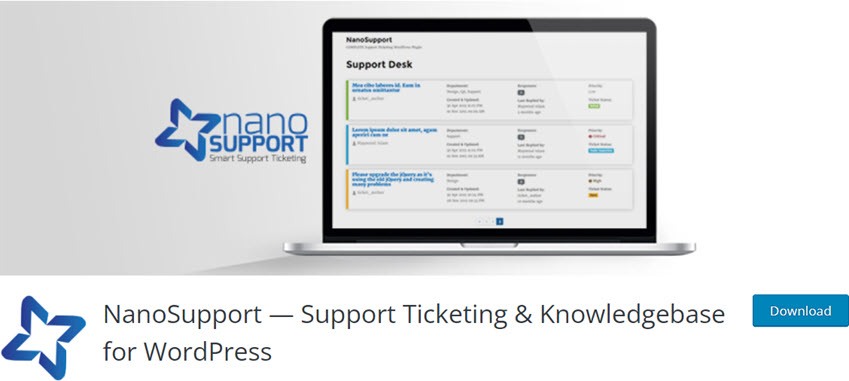 NanoSupport Tickets is a very easy-to-use Help Desk and Support ticket plugin. Support and help desk can be created quickly and easily using this plugin. A full-fledged ticketing system can be added with all the bells and whistles, which helps run an efficient support system. There is only a support agent with the plugin, so add-ons need to be purchased to use it. It supports the following features:
Support tickets can be managed.
Email notification can be received for new support tickets and support ticket responses.
A submit ticket page can be added to the website.
Only one support agent.
Priorities- Priorities can be added to the support ticket: urgent, high, low, or critical.
Internal Notes.
There is an option of making support tickets private or public.
Default ticket status can be chosen.
The other support agents can be assigned tickets.
Total number of users – 400+
Screenshot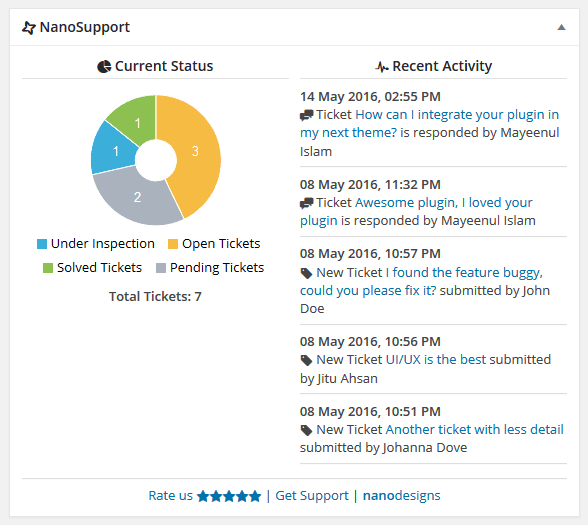 9. KB Support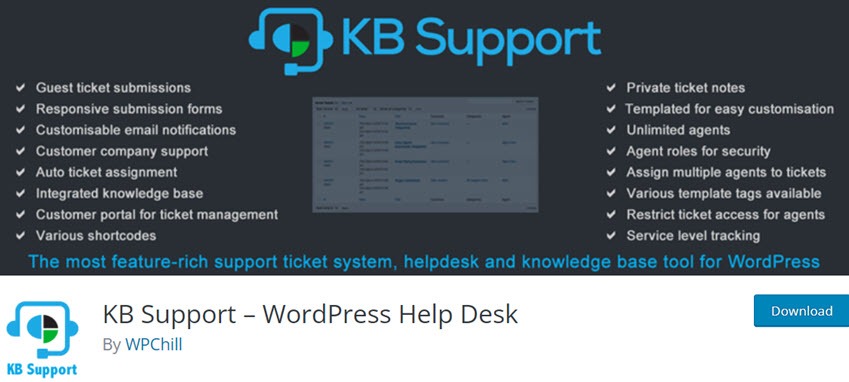 KB support is the ultimate solution for providing helpdesk services and support to the customers. The visitors can find the solution to their issues using the built-in Knowledge Base during the ticket submission process. This helps to reduce the number of support queries received by the helpdesk. The submission form can be easily managed and customized.
There is no need for coding, and many forms can be created and used. The customers don't need to create an account to create or manage support tickets. The ticket number is sequential. Customers, admins, and system agents are updated with ticket events via email.
Through this plugin, roles can be assigned to customer support staff. An unlimited number of customer support staff can be created. The customer support form can be easily customized. Customer support can be protected from spam.
Tickets can even be assigned to agent departments. When a support ticket is created or updated, action can be specified. Recent support tickets and comments can be displayed in the sidebar. Many powerful tools are available using which the helpdesk can be customized.
Using import/export add-on, users can migrate from other customer support. The replies come very fast to common customer support requests.
Total number of users – 1,000+
Screenshot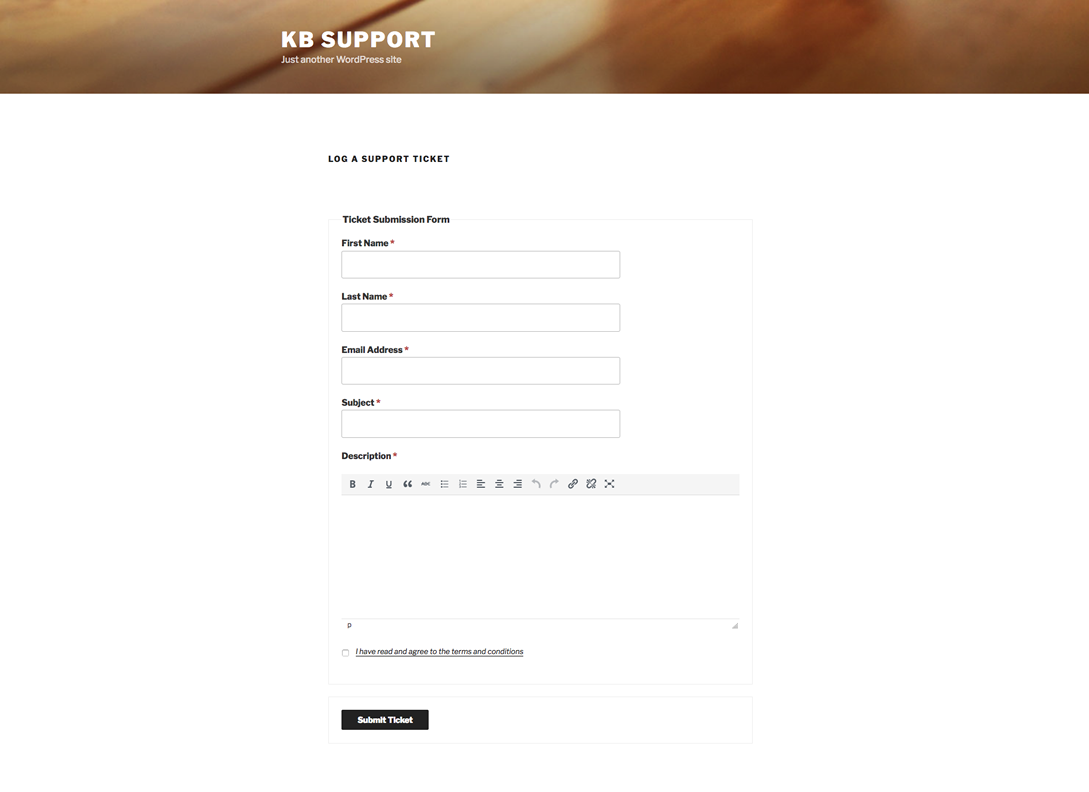 10. Awesome Support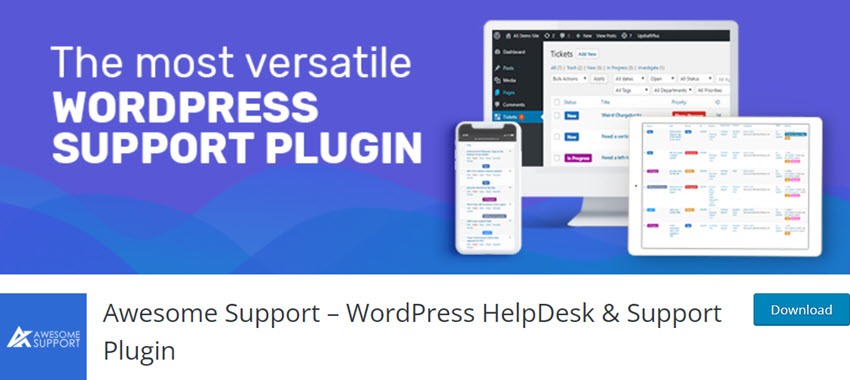 Awesome support is the most versatile WordPress support plugin. It is rich in features. It can be used for a full-fledged help desk system. The features of the plugin can be extended through add-ons. The plugin can be integrated with any number of websites.
The only support ticketing and helpdesk plugin that matches the feature set of a SAAS solution such as Helpscout and Hendesk in the market is Awesome Support. Its features are:
Ticketing- The users can submit the tickets from the front-end to which the agents respond from the WordPress backend.
Restricted Access- The correspondence between the client and agents is private. This is till the PUBLIC TICKET premium is installed and configured.
File Upload- The time of uploading the file, the number of files, and the length of files can be controlled by the user.
Import- Using the free importer add-on, tickets can be uploaded from Helpscout, Zendesk, and Ticksy. This way, the transition is seamless to the new helpdesk.
Email Notification- Certain actions are notified to specific parties by email. The emails are customizable as well. A choice can be made among six notification emails.
Old Tickets- Old tickets can be identified quickly with a tag. The viewable ticket list can be limited to showing old tickets with a couple of clicks.
Total number of users – 10,000+
Awesome Support Product Tour 2017 - The Most Versatile WordPress Helpdesk And Support Plugin
Screenshot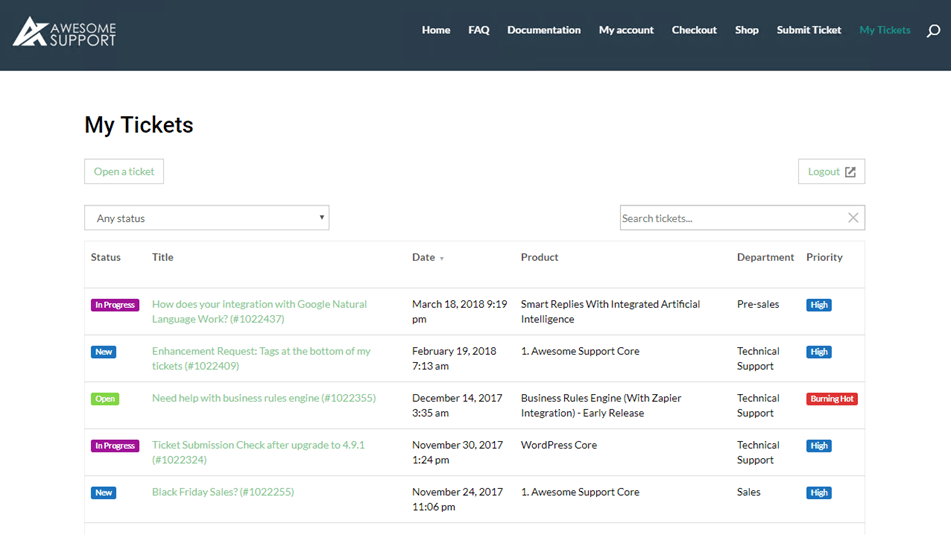 Conclusion –  For the ticketing system we need an advanced complaint management tool. If your budget is low, go ahead with the free version of the help-scout plugin. But if you are looking for a premium version, then trust me, Sprout apps will be worth buying. Let me know in the comment section which support plugin you are planning to buy.