9 Best Breadcrumb Plugins For WordPress 2023
Are you planning to add Breadcrumb to your site and looking for Best Breadcrumb Plugin For WordPress? Breadcrumbs are the path followed to reach a particular post or Product. With its help, Product or post, the path can easily be understood by normal users or Search Engines to understand its structure and relevancy.

In simple words, you can call this a path of navigation in a website. That's why we call it SEO-friendly navigation. Nowadays, most of the premium Multipurpose themes have a built-in function. But if you have Free themes, you might have to add this feature for better ranking in google.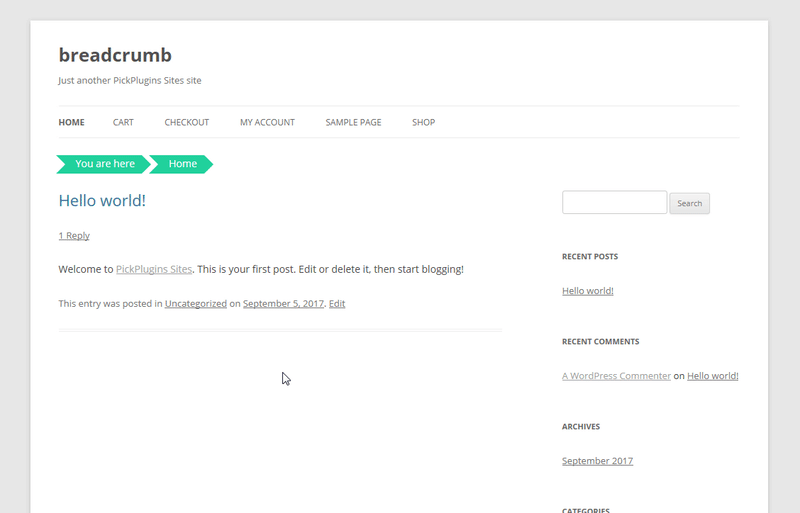 Breadcrumbs in google search engine tell the user about Category, Attributes, and path of Post / Products. This Features also hide Your ugly long URL with Replace it with a beautiful structural path for that post or Product. Especially in the case of the eCommerce website, it shows to the user in google search its results that this Product comes under specific categories.
On Post 

Breadcrumbs In Google SERPs

You may also be interested in Rich Snippet Plugin, Rating Plugins, and Fomo Plugins.
Note – Nowadays, almost all SEO Plugins have a Breadcrumb feature. Let's take the example of Yoast SEO Plugins  IF You look under the Search appearance of Yoast plugins tab. You will find Breadcrumbs settings. Just enable that option, and you are ready to rock.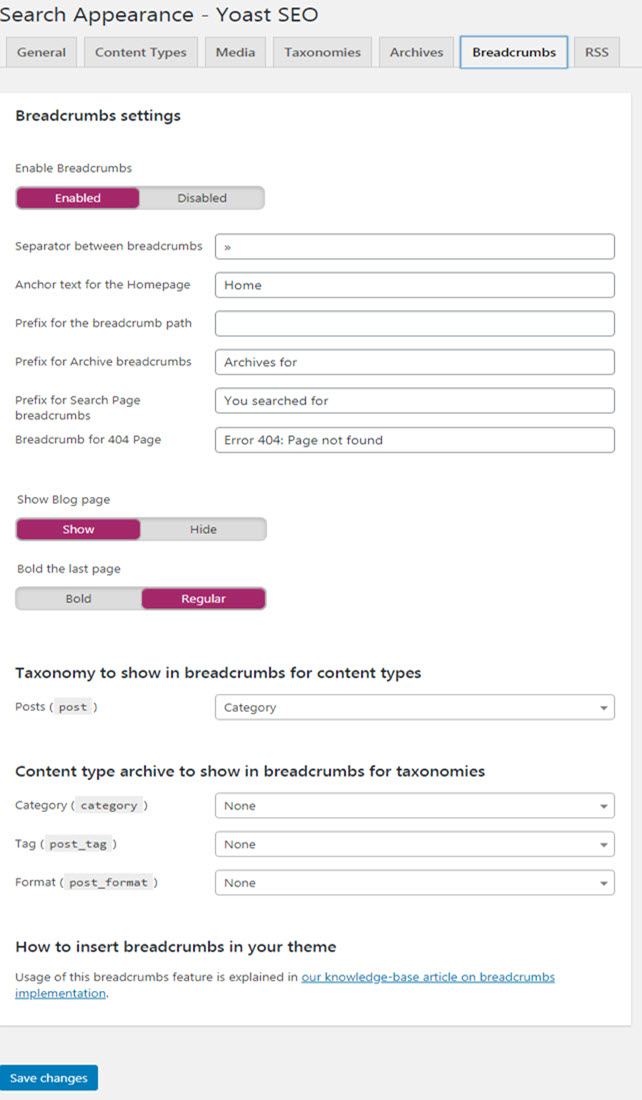 So let's have the list of top WordPress Breadcrumb Plugins to add Breadcrumb in your website so that you can improve SEO ranking  are as follows
1. Breadcrumb NavXT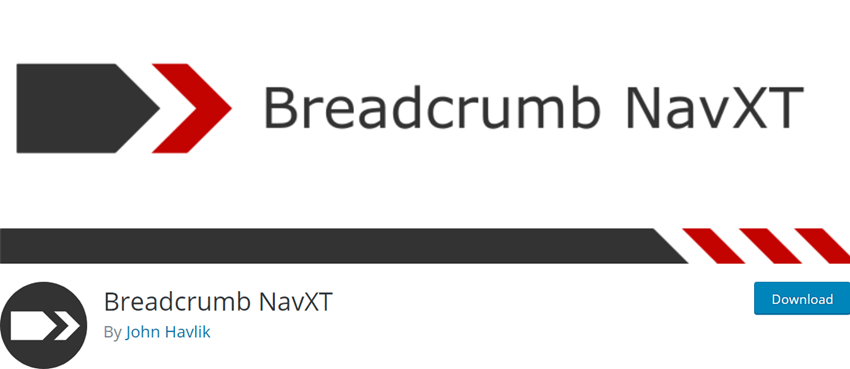 Breadcrumb Navxt is a free WordPress breadcrumb plugin that helps you generate a location breadcrumb trail. Any site WordPress can use these highly customizable breadcrumb trails. It is an improvised version of an old WordPress breadcrumb plugin. Navigation XT has been rewritten to make a better version of itself, so breadcrumb Navxt originated. The plugin with the potential to generate a localized breadcrumb trail is an improvised version of Breadcrumb Navigation XT. The breadcrumb trails developed by Breadcrumb NavXT are derived from online blogs & websites and can be customized as per the user's need.
Breadcrumb NavXT is highly compatible with bbPress, BuddyPress, WPML, and Polylang. The admin can easily customize the settings and the navigable features through the administrative interface. The theme developers have been given direct access for customization. The plugin is also supporting WordPress.org language packs. This breadcrumb plugin is highly compatible with, Polylang, BuddyPress, WPML, bbPress extension plugins. The setting page has extensive breadcrumb customization, which will help to provide default value mainly. NavXT has Supported all WooCommerce related products breadcrumb
Total number of users – 900,000+ 
Screenshot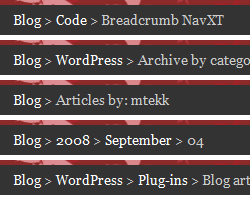 2. Flexy Breadcrumb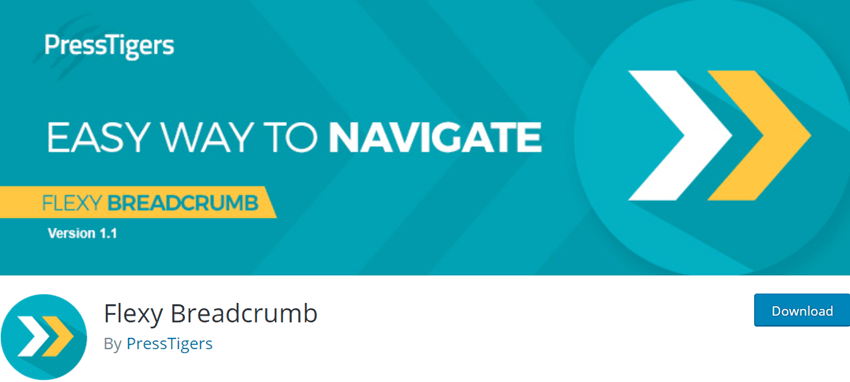 One of the most robust and most straightforward WordPress breadcrumb plugins available on the market is Flexi Breadcrumb. PressTigers has developed it. Flexy Breadcrumb is a user-centric Breadcrumb plugin that imparts an excellent experience while navigating your website. The plugin also uses shortcodes for navigation purposes. The plugin gives excellent customization features to the admin, such as setting the Home text & End text and word limit for the navigation menu. You can even modify the breadcrumb separator. Flexy Breadcrumb is SEO optimized.
This plugin allows you to display breadcrumb navigation based on your liking on the website. It has the option for you to choose separators and links, format and the text of Breadcrumb, and make your website according to your liking. The menu system is available in this plugin for WordPress sites. Option wise, the plugin is rich and lets you change the colour for separator, link, text, etc., and set the font size for Breadcrumb. Flexi Breadcrumb is highly customizable. It allows users to pick font icons for home, link separator, change text colour, and background. You can also set up end text, navigation menu, word limit and home text. Flexi also is an SEO-friendly breadcrumb. WooCommerce related products in your WordPress Site is Supported by Flexy Breadcrumb.
Total number of users – 10,000+
Screenshot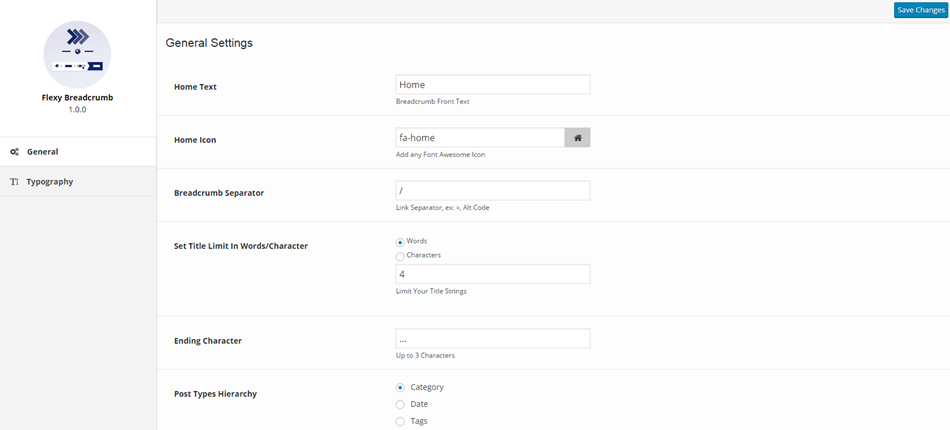 3. Breadcrumb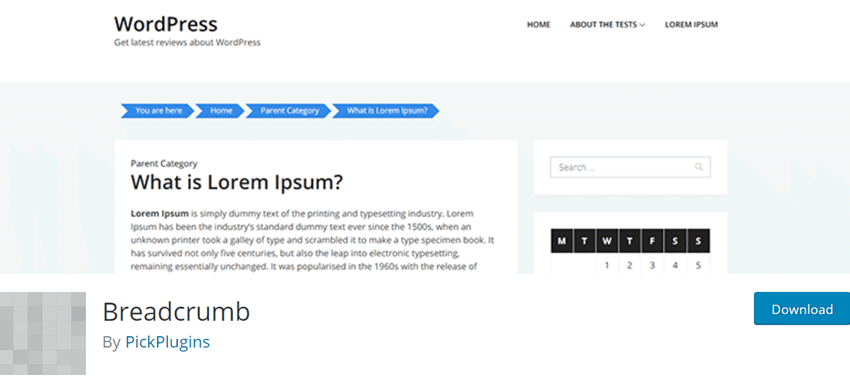 Pickplugin is a lightweight, easy and free Breadcrumb plugin. It is an easily customizable plugin used to display navigation for your WordPress site. Shortcodes are used for visitors to keep tracking their locations. This plugin uses shortcodes to display Breadcrumb navigation at any part of your website. The best part of the plugin is that it allows you to see the navigation history in detail – pages you clicked to reach the current location.
The plugin is available in two versions, viz. Live Demo and Buy Premium. You have complete control of your website through the front-end without the requirement of any long codes. Besides, you can also manage the transition for any remittance. With Pickplugin, you can choose custom background colour, separator text, page length and word limit, editing of title and text in front of BreadcrumbmbI, a transition-ready plugin used via shortcodes. There is a pro feature of this plugin available. You can hide by archive pages, post ids, and post type by getting a pro subscription. There are many themes ready and available for users using Pickplugin pro.
Total number of users – 2,000+
Price – 1 Site-$9/yearly,  10 Site-$39/yearly, Unlimited Site-$69/yearly
Screenshot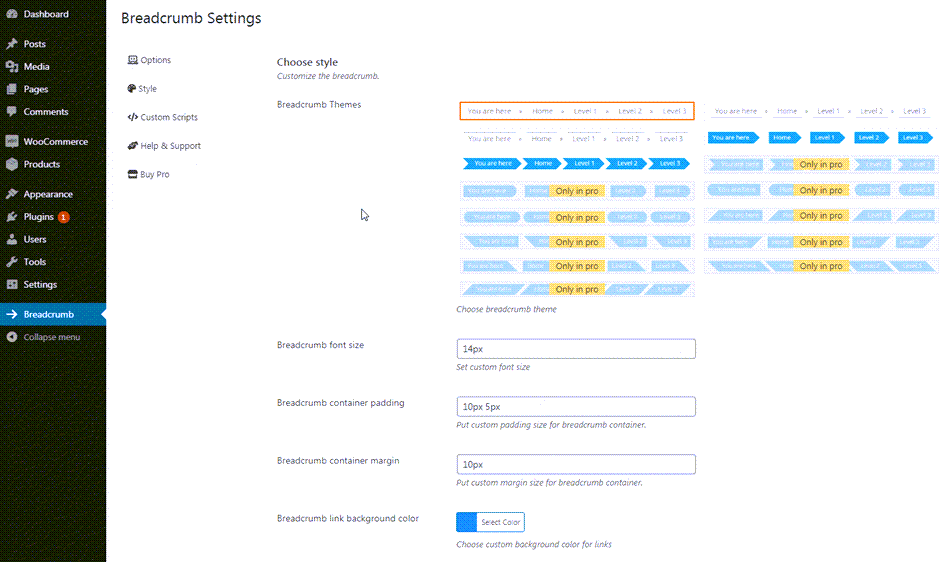 4. Catch Breadcrumb

Catch Breadcrumb is yet another best WordPress breadcrumb plugin with excellent customization features. You can also modify each element to match your brand style with minimal effort. The fantastic features of the plugin include a breadcrumb selector and separator, shortcodes, and a responsive layout. The breadcrumb trail can be displayed anywhere on any website page for effective navigation. You can also uncheck the navigation display on the home page of your site. It is packed with some fantastic features and allows full customization. Us ng this feature-rich breadcrumb plugin. You can easily add breadcrumbs navigation to your  WordPress website.
Features
Catch Breadcrumbumbmes with a responsive layout that allows the plugin to work seamlessly across all devices.
The users can easily enable or disable the breadcrumbs from the homepage of their website.
It allows the users to make their website look professional and user friendly by helping them add sophisticated breadcrumb trails.
Catch Breadcrumbumbmes with unique features, including a separator, breadcrumb selector, shortcode options, and more.
The plugin is fully customizable, thus, allowing the users to play around with the settings.
You can also add intricate breadcrumb trails with Catch Breadcrumb to make your site look more impressive.
With these plugin theme developers, users get direct class access, and the administrative interface is also makes setting options easier.
 It is helpful for adventurous users who want to develop their theme.
Total number of users – 2,000+
Screenshot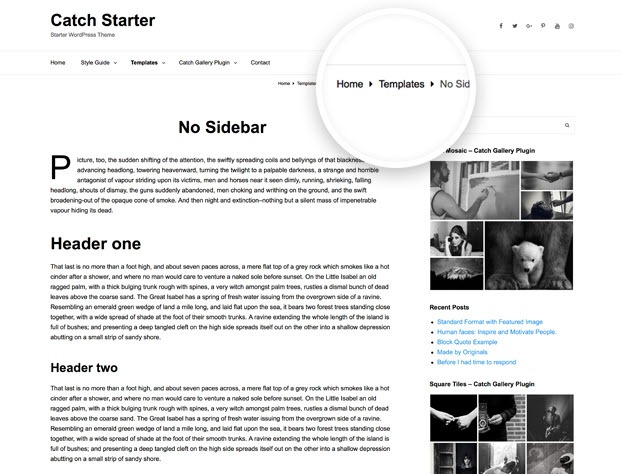 5. WooCommerce Breadcrumbs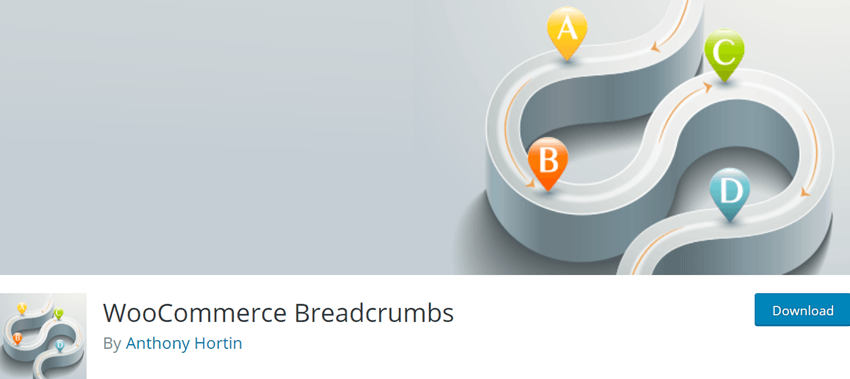 WooCommerce Breadcrumbs is a popular WooCommerce breadcrumb plugin that provides users with multiple options to restyle their WooCommerce Breadcrumb in different ways. Ho ever, the plugin doesn't style the breadcrumbs on its own. You can change the HTML surrounding your breadcrumbs to style them. It comes with the power of HTML tweaking, due to which you get a better breadcrumbs navigation. The overall effect is an organized website in your control. The plugin can be enabled or disabled very wholly and quickly.
Features
You can easily disable the breadcrumbs from your website by simply unticking the 'Enable breadcrumbs' checkbox.
This free Breadcrumb plugin for WooCommerce allows users to style or restyle the breadcrumbs differently.
It provides the tools to change the HTML surrounding your breadcrumbs thus, provide with better options to change your breadcrumbs.
The plugin is highly responsive and user friendly as it comes with significantly ease.
Provide your users with a better experience of getting access easily whatever they are looking for revenue of the website by engaging more audience while availing better navigation facilities.
To have additional options, you can have the WooThemes Theme in the settings on the website, which gives way to the WooFramework Breadcrumbs instead of WooCommerce Breadcrumbs.
Total number of users – 9,000+
Screenshot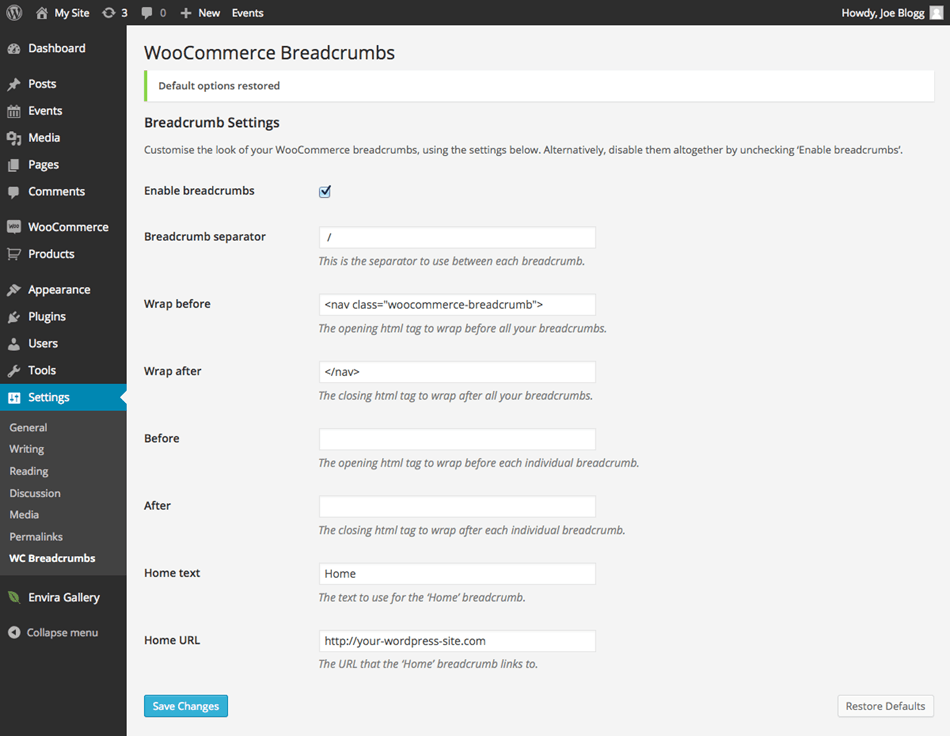 6. WP SO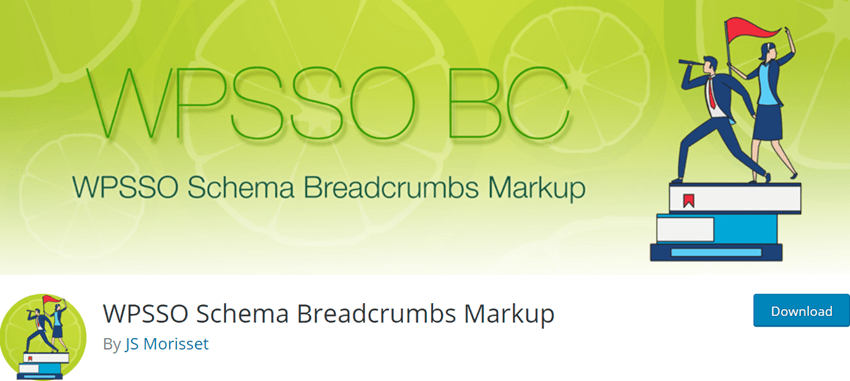 WPSSO Schema Breadcrumbs Markup is an integrated  Schema Breadcrumbs Markup Plugin that organizes the website's content and makes it available with a highlighted alternative. In ert breadcrumbs into different website sections such as tags, categories, posts, custom pages, taxonomies, and more. The assistance of arranged breadcrumbs allows your users to navigate so well on various pages available thereon. It contains an easy-to-use interface and requires no coding to establish the site.
Essential Features –
I was intuitively designed with a simple UI that beginners can easily tackle.
Let you establish a variety of updates along with highlights that show your audience essential updates on the page.
Display any new content update in breadcrumbs to enhance reachability.
Aware of your users about paths such as parent and ancestor page that anytime let them back to the page wherever they want within one click.
Enable or disable the list of breadcrumbs markup anytime whenever you feel necessary.
Excellent compatibility with existing themes and plugins.
Total number of users – 900+
Screenshot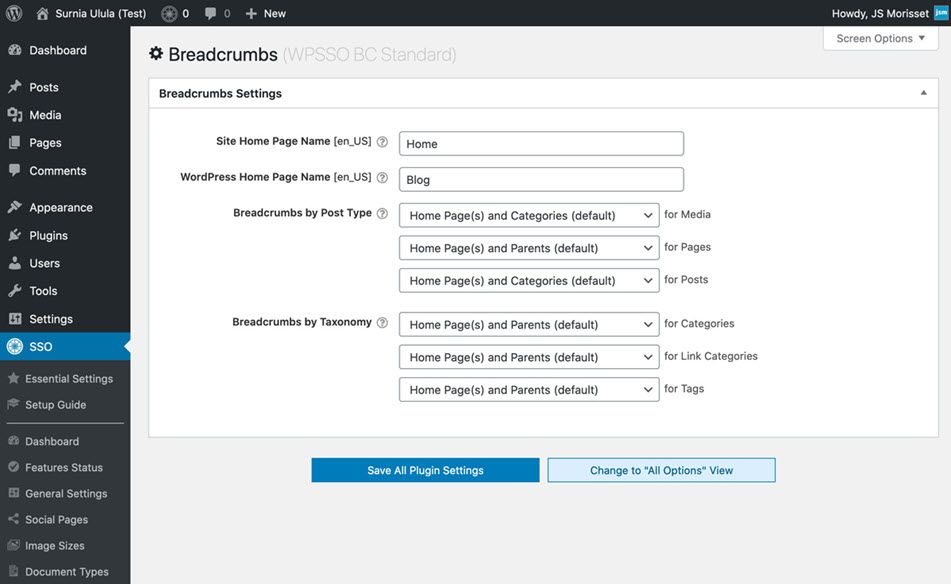 7. SE  Breadcrumbs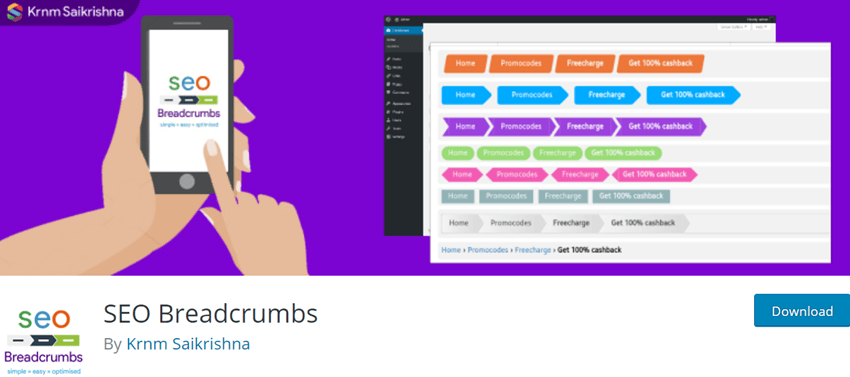 SEO Breadcrumbs are intuitively designed free SEO Breadcrumbs Plugin for creating better Breadcrumb elements to navigate thoroughly on the website. Al ow users to reach the destination easily and access the ancestor's page in just a click. Li ts breadcrumbs according to the necessity of web pages for convenient navigation to the audience. We attract more visitors to your website while putting breadcrumbs lists so elegantly. Ea y-to-install and configure within a few clicks to enjoy well-integrated SEO Breadcrumbs features. Breadcrumb Enhance Google search and ranking with the assistance of compelling markup.
Key Features –
Customize Designing – Design the look and feel of the breadcrumbs according to the necessity of your website.
Breadcrumbs – Create effective breadcrumbs up to five for different locations to navigate users thoroughly.
 SEO-Friendly – Make your website SEO-friendly while adding enriched markup for navigation into the web pages that invite more visitors to the site.
Style Layouts – Let you select the colours, fonts, effects, and more to style the breadcrumb lists so well.
Google Rich Snippets – Make sure your website ranks well on Google for better conversion promptly. Snippets lead your web pages to be widely visible on topmost Google ranking.
Total number of users – 800+
Screenshot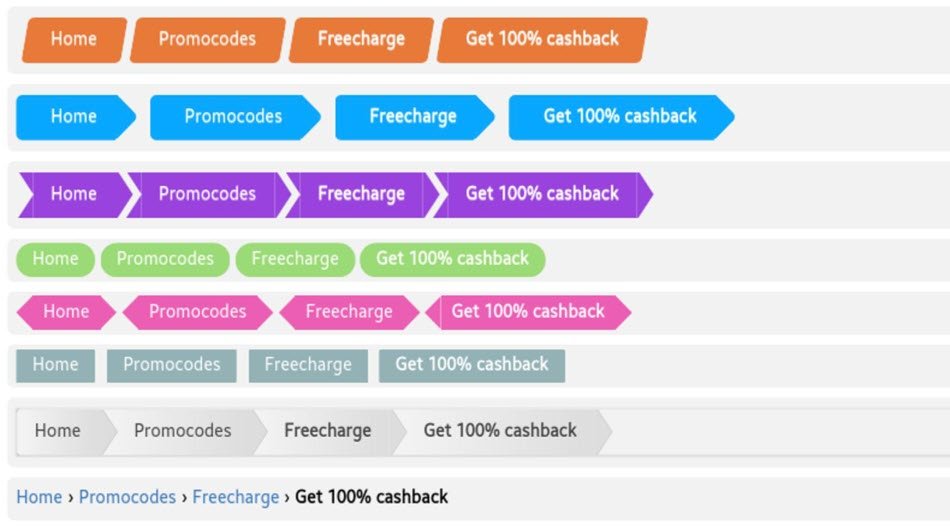 8. Breadcrumb TMC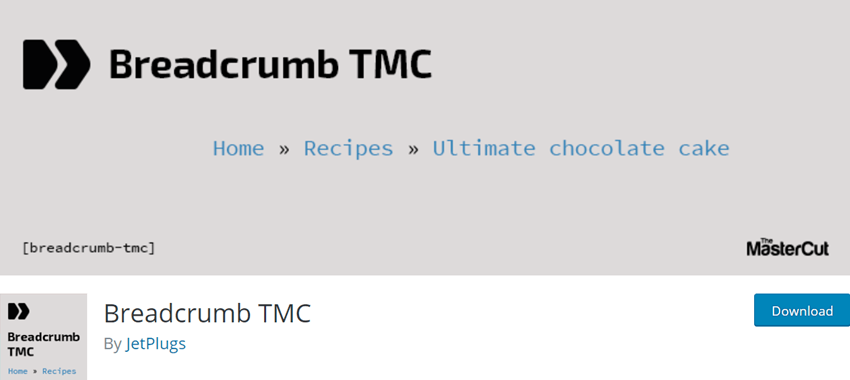 Breadcrumb TMC is the best location-based breadcrumb plugin that allows users to create and style their bread crumbs in different ways using multiple shortcodes. The plugin is straightforward to set up and use and is considered a developer-friendly plugin. You have to paste the shortcode to display the Breadcrumbumbh s robust plugin can manage anything related to taxonomy or custom post type. It explores the permalink settings of your site and creates a tailor-made breadcrumb trail for the website pages based on that.
Features
Breadcrumb TMC is a developer-friendly and straightforward breadcrumb solution for WordPress.
The user can choose whether to display the Breadcrumbrumbnot.
The plugin has no options page.
100% mobile-responsive plugin enables your users to easily access anywhere and anytime, even without any set of coding.
While accessing shortcodes and widgets, insert breadcrumbs lists anywhere on the website, including pages, posts, custom taxonomies, custom post type, and elsewhere.
The Breadcrumb plugin supports WooCommerce and provides immense scope for extensions due to the object-oriented programming (OOP) coding method. Outputs can be overwritten by the plugin or theme developers with the help of hooks.
Total number of users – 100+
Screenshot