6 Best Rating Plugins For WordPress 2019 To Add Rating 
Are you looking for Premium or Free best Rating Plugins for WordPress? These rating plugins help us to get a five-star rating for our website Pages, post, eCommerce Products, bbpress forum and Buddy press. When you add these plugin to your website the products or post rating starts coming into your google SERP preview. Which will result in more traffic.



When you add a rating plugin then your visitor of the website gets a right to rate your blog post or products or service which you can consider as feed. When you get feedback, if positive then no issue, if negative then you have to work hard to make it better. In certain case, you can vote option in a comment. These are the benefits of using these plugin And a good amount of visitor by adding start to your google search result.
So let's have some best Rating Plugins for WordPress which will help you get more feedback are as follows:
1. YASR-Yet Another Stars Rating

Everyone wants to improve the user experience with their website. Webmasters who care for their online activity want to promote familiarity and loyalty with their brand and enhance the visibility of their online activity. YASR is a good way to add SEO-friendly user-generated reviews and testimonials to their website pages, posts and CPC without affecting the speed.
The users are given the ability to vote by pasting a shortcode where they want the stars to appear. This can be added automatically at the beginning and end of each post. This plugin also comes with multisets which gives the users the opportunity to score different aspects for each review.
Note – This plugin will not work if you already enabled caching inside your website
Total number of user – 30,000+ 
Free
Screenshot

2. WP-PostRatings

Using WP-Post Rating, ratings can be made to appear in every post/page or just the selected post/page. For this one needs to open wp-content/themes/<YOUR THEME NAME>/index.php. After this, the user can place it in single.php, archieve.php, page.php or post.php. After this, the user needs to find   <?php while (have_posts()) : the_post(); ?>Then the place needs to be selected where the ratings have to be shown. If the ratings have to be shown in just a single post/page, the user needs to type [ratings] into the desired post/page to embed ratings into them.
The user can also display other post rating use and results into any desired content.
Total number of user – 80,000+ 
Free
3. kk Star Ratings

kk Star Ratings showcases a user-defined amount of ratings in their posts and pages. It has stylish mouse over effects and animations such as fueling up stars. It supports Google Rich Snippets. This way the ratings will now be indexed in Google search.
It even includes widgets to show the top-rated posts in the sidebar. The ratings can be filtered by category. There are also custom filter tag and functions.
Features
You can manually select the location to add the ratings according to your wishes.
To display the ratings manually in posts and pages without the need of using any shortcode a visual button is added in the editor.
Reset ratings for individual posts or entire sites.
Attach tooltips with the mouse so that when it hovers while rating with colours.
Even if there are thousands of ratings on one page, you can fetch them on a single request.
You can request votings per unique IP
It also allows you to request messages and strings.
The users can choose their own images.
Total number of user – 80.000+ 
Free
Screenshot

4. RatingWidget

One of the most popular, five-star review system on the web is Rating-Widget which is GDPR compliant as well. Using this friendly rating system, pages, posts, comments, BuddyPress, WooCommerce and bbPress forums can be rated.
This plugin has also introduced Review Add on using which a textual review can be received from the voters by setting up customs reviews to open review boxes. It requires zero configuration.
Features
It allows user to create and manage ratings from within the WordPress dashboard.
Star and thumb widgets can be embedded on pages, posts and comments.
Rating-Widget star ratings can be used across browsers.
They are completely customizable.
It supports multi-language.
They are CSS3 complaint.
Create unlimited thumb and star ratings and collect unlimited votes.
You can select top rated widget to display the rating widget in the sidebar.
Total number of user – 10,000+ 
Free
Introducing RatingWidget - 5-Star Ratings for Bloggers
5. Universal Star Rating

Universal Star Rating comes with two shortcodes that allow the user to insert ratings and reviews for the desired product, data and service with the help of a classic star rating system. It allows you to use the shortcodes to embed a tabular list of star rating or a single inline star rating. It supports German and English languages.
Total number of user – 5,000+ 
Free
6. GD Rating System

A successor to GD Star Rating plugin though having nothing in common, GD Rating System uses a modular structure with many features split into rating methods and add-ons.
It uses templates similar to WordPress theme templates for front end display plugins and allows the users to add a new template and override the existing ones. You can rate anything using this plugin simply. IIt supports several basic rating entities and there are several rating types for each entity such as posts with all custom and default post types, users, comments and terms for default and custom taxonomies.
Features
It uses the star rating method.
This plugin includes comment integration and comment integration addons.
It has rich snippet support and loads dynamically.
Sort the posts and comments by rating.
 Its pro version includes slider rating methods.
You can filter the posts by terms and authors.
It also allows for star reviews and thumb ratings.
It provides instant notification.
Total number of user  – 3,000+ 
Free
Screenshot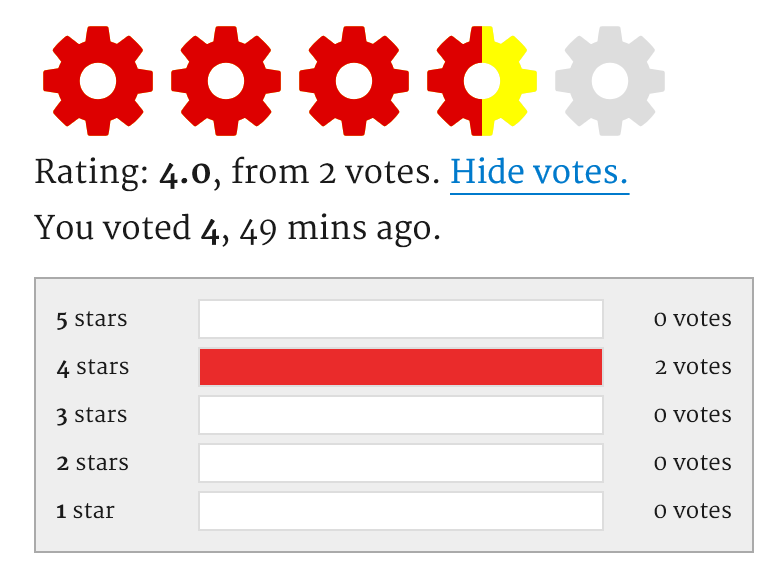 Conclusion – Still confused about which is the best Rating Plugins for WordPress? Don't Worry I will make it simpler. If you want a simple and easy plugin without any configuration then move with kk rating. If you want the best one then you can move on with Yet Another Stars Rating. 
In case, you have any questions, feel free to write to us in the comment section.