9 Best WordPress Lead Generation Plugins To Get More Email Subscribers 2023
Are you looking for Premium or Free Best WordPress Lead Generation Plugins? Lead Generation Plugins are the best way to increase your website email subscription. Email lists are really important for any business to grow online.

For email service providers, many users are using Getresponse and Aweber etc. Still, for getting a high conversion, we need the best email subscription plugin for WordPress to grow our email list. When you own a website related to an online business, blog, shop, agency, or big business, you need to do one thing nothing is content in the market. So even you are also not going to be always on top. So to keep your website visitors connect with you, you need the Best WordPress Lead Generation Plugins.
Business success and failure mainly depend on how many visitors visit a website and purchase something. Or even have a look at the products the store has to offer. So lead generation is of utmost importance in a business. Whoever comes to a website doesn't stay there for long. To lure more visitors and make them stay longer on the website, lead generation is essential. This way, more and more people subscribe to the website, and the bounce rates decrease. It also increases user engagement. This means more the websites will grow, and the user gets more revenue.
These are some of the best WordPress email subscription plugins which help to grow your mailing list is as follows:
1. Bloom Lead Generation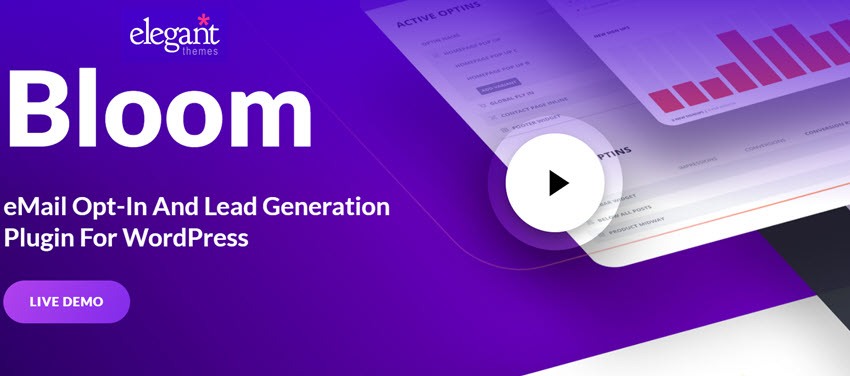 Bloom plugin is one of the Best WordPress Lead Generation Plugins, which helps the users to gain more subscribers as it is an email optin and lead generation plugin for WordPress. Using this plugin, visitors can be converted into loyal followers. Specific posts and pages can be targeted or excluded, and unique forms can be displayed on unique offers based on visitor location and interaction. This plugin has many unique pre-built templates, which can be customized using advanced settings. It has many optin types and locations, which can be used anywhere on the website. The features of this plugin are:
Automatic popup and fly-in triggers- A time delay can be chosen for popups and fly-ins. They can also be triggered when the visitors reach the bottom of the post or page. Or they can also be triggered after commenting, scrolling, purchasing, or inactivity.
Email Marketing Integration- Opt-in forms can be displayed using the integration of a popular email marketing system. Information on all the lists and subscriber counts can also be displayed using this plugin.
3 Opt-in form orientation- The form can be placed below or on the opt-in side depending on the opt-in type and location. The bottom left or right orientation can be chosen.
Customized borders and edges- This plugin has many different border styles, and edges can be applied to them. An edge style can also be defined that separates opt-in forms from the form contents.
Image Orientation Options- Image can be added to the opt-in, placed above, below, or to the right of the opt-in content.
Unlimited Color Options- The colours of all the elements of the opt-in forms can be easily customized.
Bloom Dashboard- A custom panel has been created in the WordPress dashboard, which helps access Bloom accounts, opt-ins, conversion rates, lists, and data.
Built-in Advanced Analytics- Full stats are collected by the plugin as to how the lockers are performing on the website's pages.
Any aspect of the locker can be customized to suit different needs and audiences.
GDPR- The plugin is compatible with GDPR entirely.
Delayed Content- The locked content can be loaded via ajax only when the user likes and shares the page.
Price – Yearly Access – $79/annually (Unlimited Site),  Lifetime Access – $199/OneTime (Unlimited Site)
Screenshot
2. OptinMonster Lead Generation and Conversions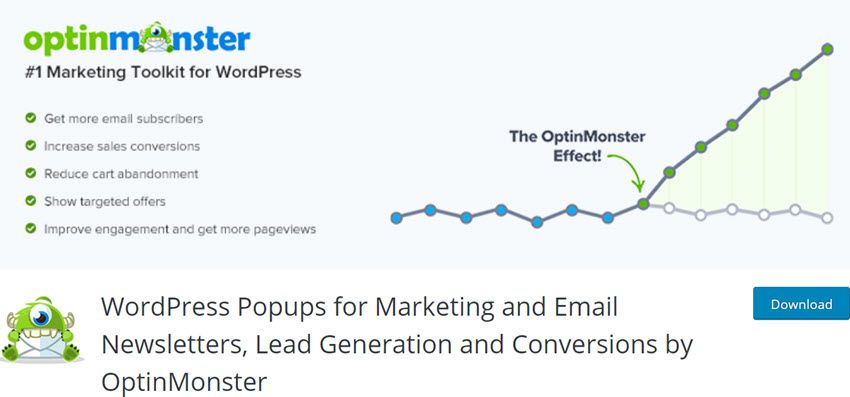 Available with an easy form builder, OptinMonster helps users create beautiful opt-in forms that indeed bring conversions. An email list can be expanded, and more subscribers can obtain popups and other converting opt-in forms. Various campaigns can be created, such as WordPress popup forms, slide-ins, floating header and footer bars, inline forms, mobile-specific forms, etc. This way, page reviews can be increased, and cart abandonment can be reduced. The features which make this plugin superb are:
Exit Intent Technology- Using this, popups are triggered as soon as the visitor is about to leave the page and convert subscribers into customers.
Timed Popup Forms- Opt-ins can be displayed after a certain amount of time or on the second view page.
 2 Step Opt-in Technology- This feature of OptinMonster helped to increase conversions by 750%.
Canvas Popup Forms- Canvas can be used to add WooCommerce products, Facebook like a box, or just anything.
Monster Effects Technology- This plugin has many animation effects which can make the visitor's eye pop out.
Mobile Specific Popup forms- This help convert mobile visitors into subscribers.
For enhanced conversion rates, there are scroll-triggered popups and optin forms.
A/B Testing- Data can be obtained through this plugin as to what works the best and end guesswork.
Page-level targeting- There is powerful page-level targeting to build a hypersensitive email list.
Visual Composer- The plugin is completely compatible with Visual Composer.
Custom Fields- Opt-in Panda forms can be easily customized for specific business needs using custom fields. Dropdown lists, custom checkboxes, and text boxes can also be created.
Total number of users – 1M+
Price – Basic – $108/annually (1 Site), Plus – $228/annually (2 Site),  Pro – $348/annually (3 Site),  Growth – $588/annually (5 Site)
Screenshot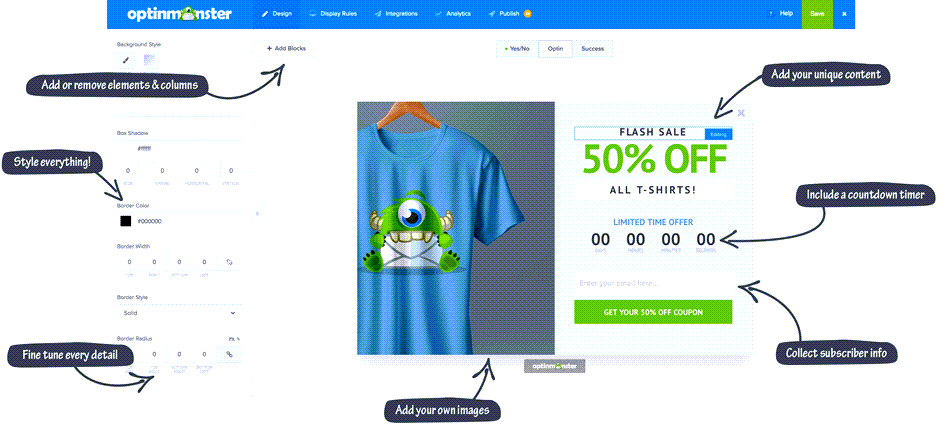 3. ThriveSuite Leads

Thrive Leads plugin is the second Best WordPress Lead Generation plugin and alternative for the bloom plugin, which helps the users to build a mailing list quickly. Every type of opt-in form is combined in a single plugin, and the perfect design can be created using the drag and drop builder. Highly targeted and relevant offers can be shown o visitors based on categories, tags, and posts. This helps to boost conversion rates. It has a highly advanced A/B testing feature. The performance of the opt-in forms can be easily monitored. The features of this plugin are:
ThriveBox ( Popup Lightbox)- This popup is unblockable and grabs the attention of everyone by displaying above the content.
Inline forms- An opt-in form can be automatically inserted at the bottom of posts or anywhere using CSS.
Opt-in Widget- An opt-in form can be added to the sidebar or any widget area on the site with a few simple clicks.
Scroll Mat- This is a new type of screen-filling in which the new content scrolls from the top and pushes the old ones down.
Multiple Choice Forms- By offering multiple choices, user engagement can be increased, and conversions can be boosted.
Content Lock- An opt-in incentive can be added inside the content. Then as soon as the visitors sign up, it is unlocked.
2-Step opt-in form- A 2 step opt-in process can be created by adding buttons and clicks that open a lightbox.
Sticky Ribbon – A ribbon-type form can be added that sticks to the top of the page even when the visitor scrolls down.
Widget Box- Opt-in forms can be added to the sidebar or any widget area, and the messages can be A/B tested.
Inline forms- Opt-in forms can be embedded inside a post, below the header, outside the post, or anywhere using a shortcode.
Info Bar- Infobar can be added at the top or bottom of the website screen with stick and toggle options.
Price – 25 Site – $228/annually
Screenshot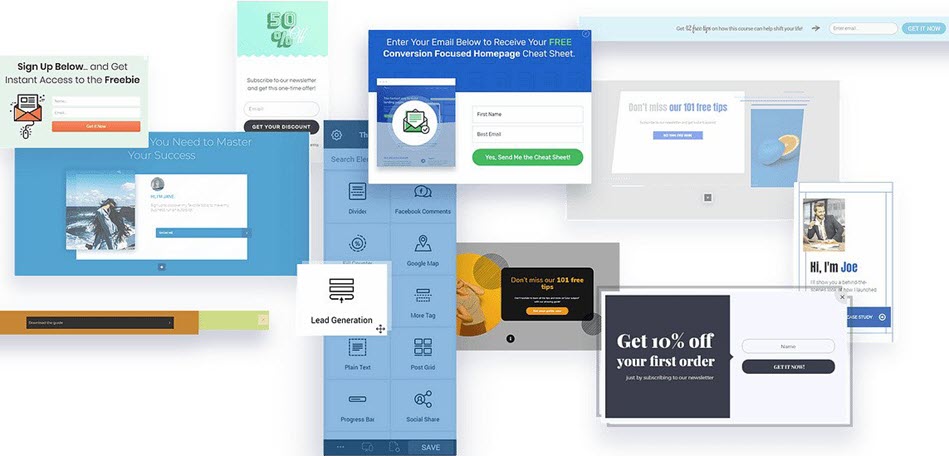 4. OptimizePress

OptimizePress helps users create a sales page, convert landing page, Influencer blog, Membership portals, complete sales funnel, and webinar and event signup pages. It is an easy way to capture leads and a list of eager subscribers that can be built. There is also a massive library of templates that can be used to design the pages, and they are also customizable. The features of this plugin are:
Easy Opt-in forms- To capture the data from the visitors, opt-in forms can be created just a few moments away.
Conversion Tested Landing Pages- The landing pages are tested and optimized to maximize conversions.
Membership Templates included- Beautiful and unique membership sites can be created with the already available templates in the plugin.
OptimizeMember- The premium content can be secured with OptimizeMember software already included in the plugin.
Stripe and Paypal integrated- To take payments for products, courses, and memberships, the plugin is integrated with Stripe and Paypal.
Premium Integrations- The plugin can be integrated with leading email marketing and CRM systems to save subscriber data.
Integrate with external services- The plugin can be integrated with CRM or autoresponder so that the buyers can be sent information to those services after purchase.
Content Locker- The premium content can be locked for more email subscribers, shares, and social likes.
Modal Fullscreen- Call-to-action can be amplified, and conversions can be maximized with a full-screen overlay. This helps to grab the attention of the visitors.
Multiple fields- The opt-in forms can be created with as many fields as wanted.
Price – Essential – $99/annually (1 Personal Site),  Suite – $199/annually (20 Personal Site),  Agency – $399/annually (20 Client Site)
Screenshot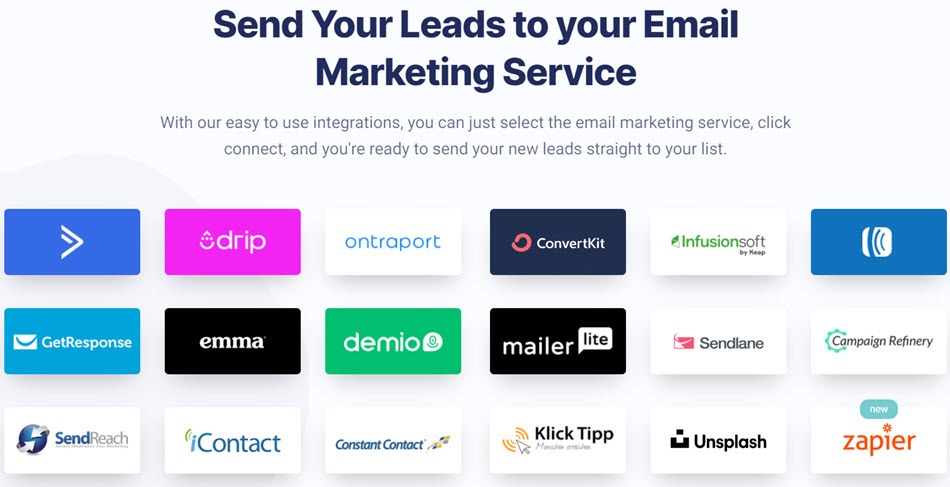 5. Nextsale Lead Solutions

The nextsale is a well-organized WordPress plugin that assists so well in generating more and more leads for increasing the website's revenue. Expand your email list by collecting it when visitors visit your website. Let you collect emails and other contact mediums of visitors for the very first time for sending them a text that contains relevant offers. The nextsale avails you of more advanced features for converting your visitors into reliable leads within a minimum time. Let you regularly keep in touch with your visitors by sending them meaningful emails or text that makes them visit your site anyway. Don't hassle by sending so many emails to your visitors that make them annoying. Make a strategy with optimum messages limitation over a certain period and follow them for practical significance.
Core Features –
Let you design a message with available templates in a few seconds of customizing if required.
Modify the background, colour, font, text, and more that match the look and feel of your website.
Target your audience and track their interest to send them relevant offers that increase the chance of conversion later on.
Create mobile-responsive messages easily accessible anywhere and anytime to your targeted audience.
Price – Basic – $29/Monthly (15k Visitor), Growth – $99/Monthly (100k Visitor),  Premium – $149/Monthly (150k Visitor),  Enterprise – $249/Monthly (300k Visitor)
Screenshot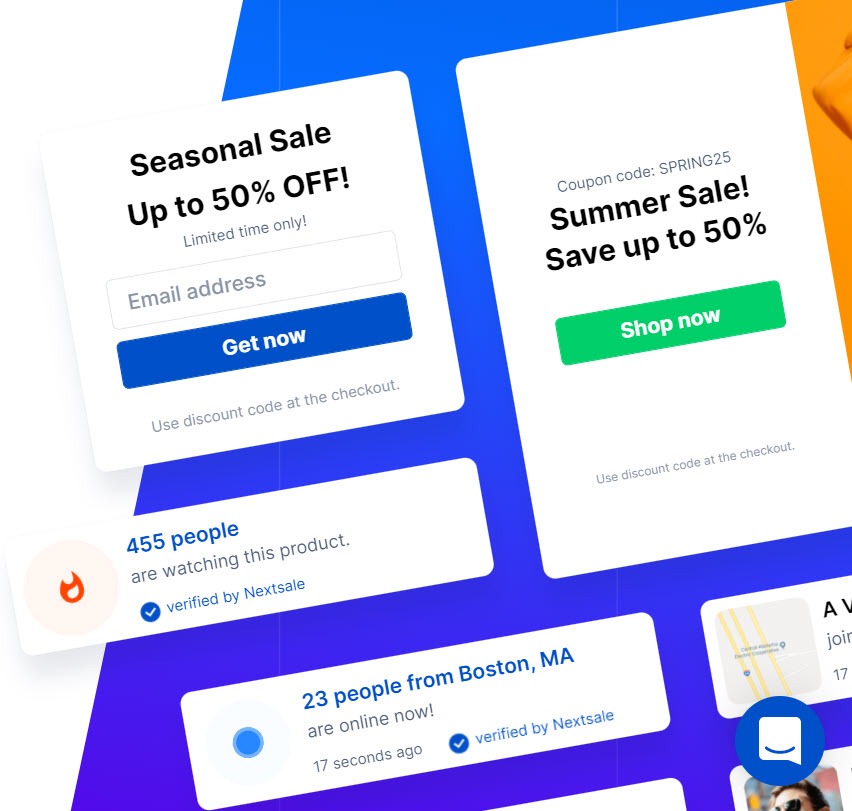 6. Optimonk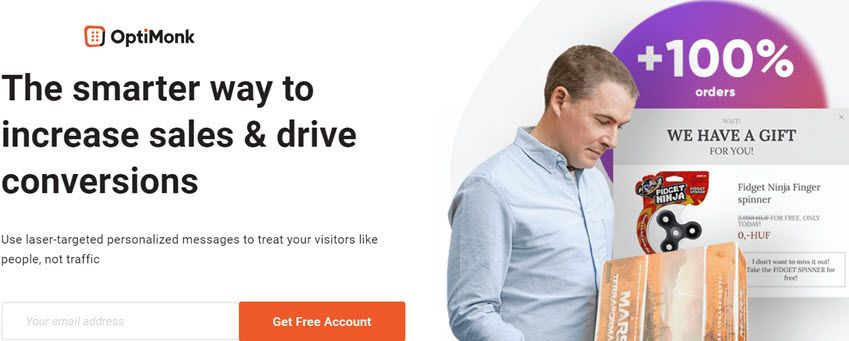 Optimonk is an exit-intent popup, which means that it will help users stay at the site for a longer time by treating them with discounts and coupons while trying to exit the site without shopping. Optimonk helps the users to get subscribers instantly by giving them instant action to their valuable content. In-content freebies can be created to serve the subscribers only. This way, visitors can be converted into subscribers effectively and easily. Also, a large mailing list can be built on MailChimp, GetResponse, Aweber, etc. This way, the income can be increased with more emails.   This is the most advanced popup plugin in the market. Popup Plugin for WordPress helps the users to is an all-in-one solution to convert a website into a lead generation powerhouse. An email list can be built faster, bigger, and more targeted. Using popups built in minutes, the website followers can be converted into social followers, subscribers, and customers. It has many forms such as exit popups, slide-in popup, opt-in popup, video popup, social popup, on-click popup, etc. Optimonk popup builder can also help you in many ways; some of the features of this plugin are:
it can help you reduce cart abandonment. This plugin will show users special offers and discounts if they exit the cart without shopping.
You can promote special offers on your website using this plugin which will help to turn website visitors into customers.
Recommend products to your customers based on their choices to help them choose better and shop more.
Improve your website's user experience by collecting feedback. This will also help you gather the user id and email of new visitors at an early stage.
Guide your visitors by helping them find the best product through this plugin.
Price – Essential – $29/Monthly (25k Visitor), Growth – $99/Monthly (100k Visitor),  Premium – $149/Monthly (500k Visitor)
Screenshot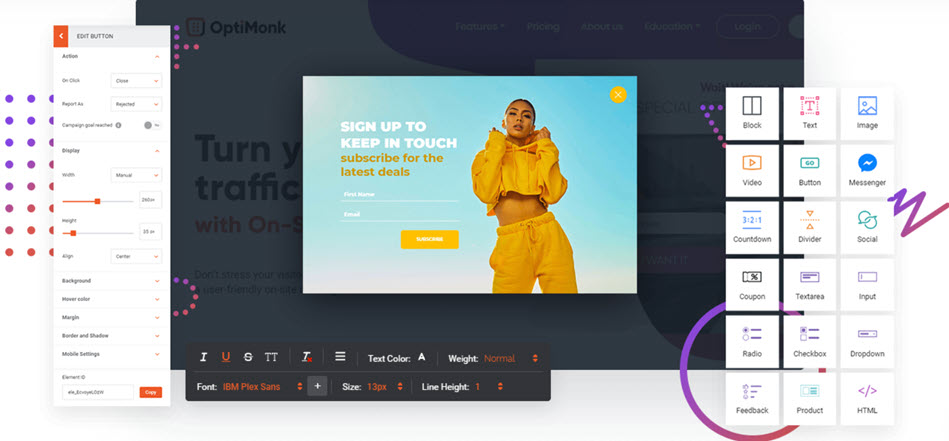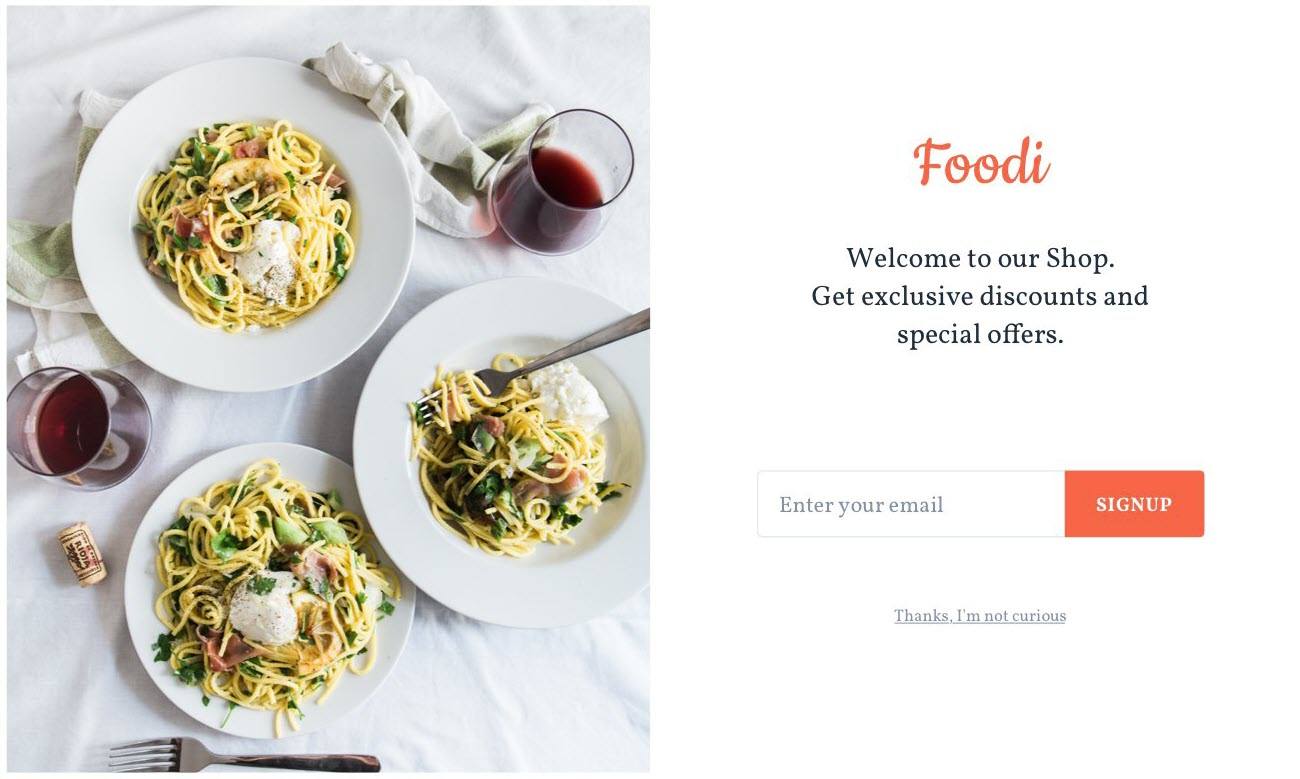 7. Adoric Popup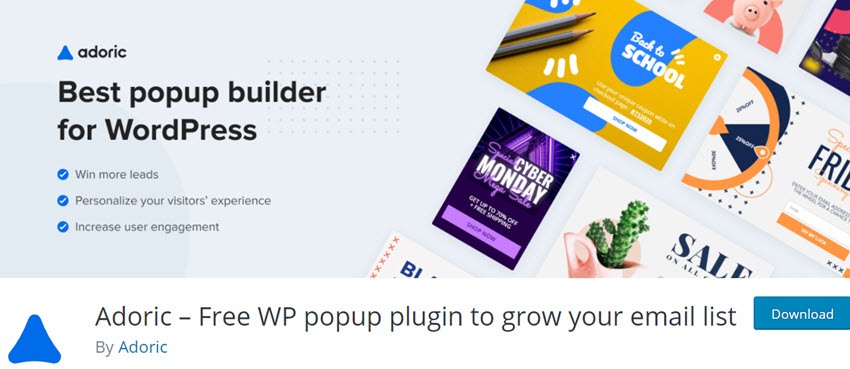 You can convert visitors to your website to customers by creating popups. Adoric is an easy marketing solution that helps you win more leads. Creating a popup lets you convert our website's traffic into customers without even writing codes.
Popup builders can be used to create opt in-form that will help you capture your visitor's email in adoric.
You can choose popups from our templates or create them yourself from scratch. There are over 800 options of popup templates available with us. Adoric has created e-commerce for publishers, agencies, affiliate markets, e.t.c. It chooses the right audience based on your niche, avoiding useless popup opt-in forms. It helps to avoid unwanted visitors to your site.
There are a lot of tools that comes inbuilt with adoric:
there's a countdown timer to create a sense of urgency. It helps to create a sense of urgency between customers.
A/B testing allows you to analyze what's working for your site.
We also have a feature of the lucky wheel, which allows users to spend more time on the website.
We have many template options available. Campaigns don't have to be created from scratch.
Seamless tracking of a campaign can be done through adoric analytic tool.
Total number of users – 60+
Price – Essential (1 Site) – $29/Monthly (25k Visitor),  Standard (2 Site) – $79/Monthly (100k Visitor),  Pro (5 Site) – $199/Monthly (500k Visitor)
Screenshot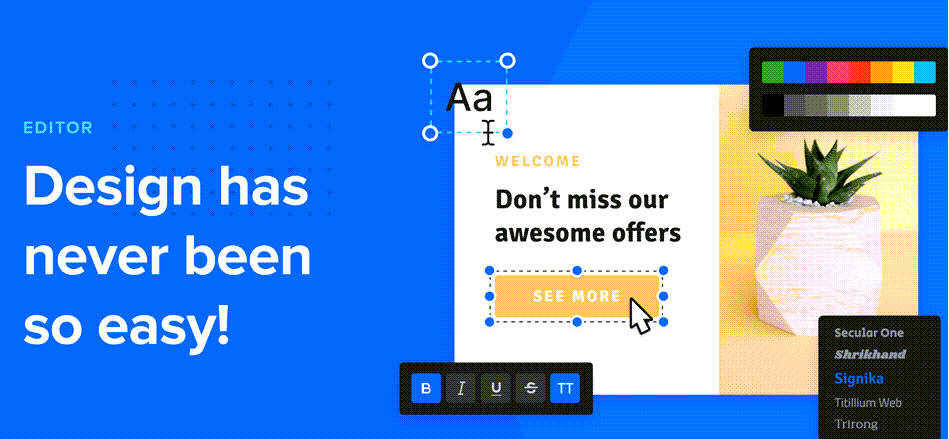 8. MailOptin Popup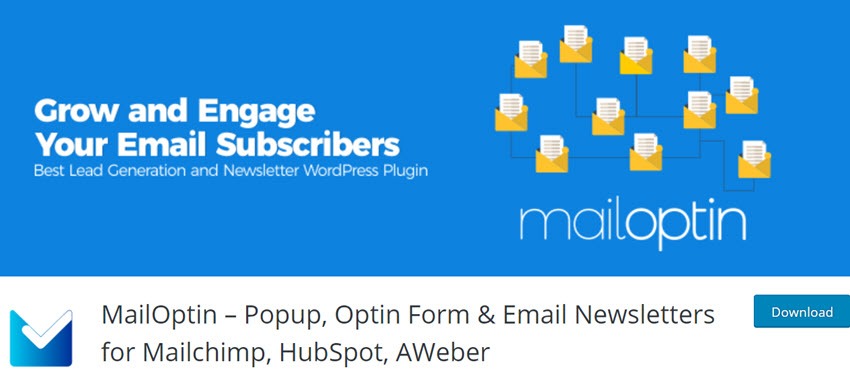 MailOptin is the ultimate customer acquisition lead generation, autoresponder, and email marketing plugin to grow and engage visitors. Using this plugin, the mailing list can be grown exponentially, and targeted messages can be displayed. Beautifully designed automated event-triggered emails help to convert website visitors into customers and email subscribers. It already has all the necessary plugins and software for lead generation. The features of this plugin are:
Notification Bar- These come in the form of a floating bar or sticky bar which attaches to the top of the page and remains there even if the visitor scrolls down.
Slide-in- This feature subtly grabs the user's attention by sliding into view from the corner, which is usually triggered by the user's behaviour on the site, such as scrolling.
 Before and After post optin forms- These help convert blog readers and website visitors into permanent subscribers.
Call-to-action button- Beautiful and click-optimized call-to-action button can be added to the WordPress site.
Page-Level Targeting- Optin of email signup forms can be displayed in specific posts and pages on the website.
Email Triggers- Automatic newsletter and multiple types of email triggers such as newly published posts can be used to list email marketing service providers.
Built-in Analytics- All the data and stats can be gained to see the performance of the optin forms.
Total number of users – 30,000+
Price – Standard – $79/annually (1 Site),  Pro – $199/annually (3 Site),  Agency – $299/annually (Unlimited Site)
Screenshot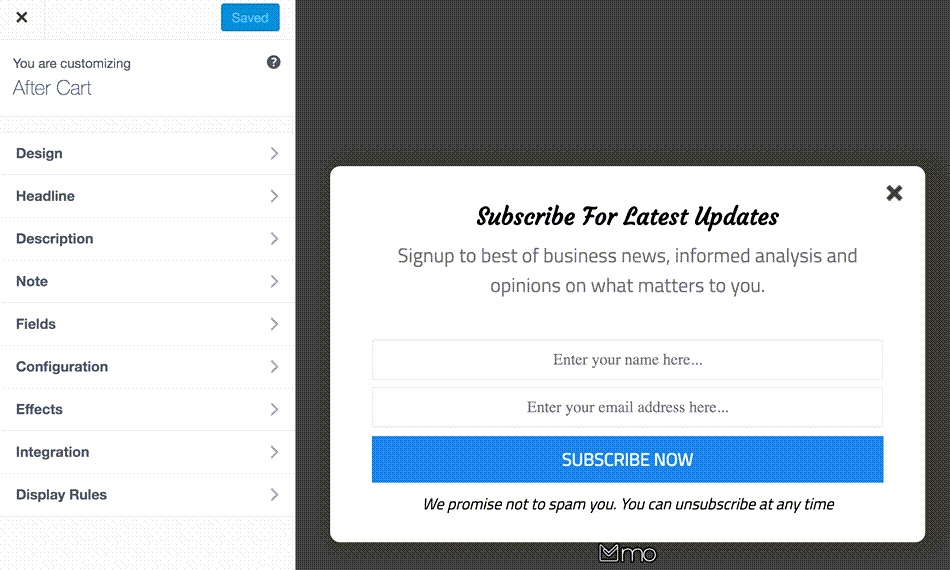 9. Leadpages

With the help of the Leadpages plugin, the business can be built confidently as it helps the users create high-converting landing pages and lead generation campaigns. And with the help of Facebook ads, even more qualified leads can be generated. It is mobile responsive and can be easily customized with the help of Drag and Drop editor. Online marketing apps can also be integrated to add leads automatically to email lists. The landing pages can also be easily tested, and spending can be managed. The features of this plugin are:
Checkout Pages- Sales and digital delivery products can be made from squeeze pages, landing pages, or popup opt-in forms with eCommerce integrations and built-in payments.
Unlimited Publishing- Unlimited pages can be published to WordPress, Leadpages' super-fast servers, Facebook page, etc., in only a few clicks.
Flexible Integrations- The campaigns can be connected to tools that improve the business, such as webinar platforms, payment processors, email automation, etc.
High- Converting Page Landing Designs- Many lead page templates are already available, which helps increase conversion on lead capture forms.
Popups for Lead Generation- Popups and opt-in forms can be quickly added to collect an email address when visitors visit the site.
Easy A/B Testing- The lead capture form can be tweaked, and it can be found out which works best to target the audience.
Built-in Lead Magnet Delivery- Digital products can be instantly delivered with the built-in lead magnet delivery system. The Leadpages can also be integrated with the email service provider.
Total number of users – 10,000+
Price – Standard Plan – $27/mo,  Pro Plan – $59/mo,  Advanced Plan – $239/mo – Billed Annually
Screenshot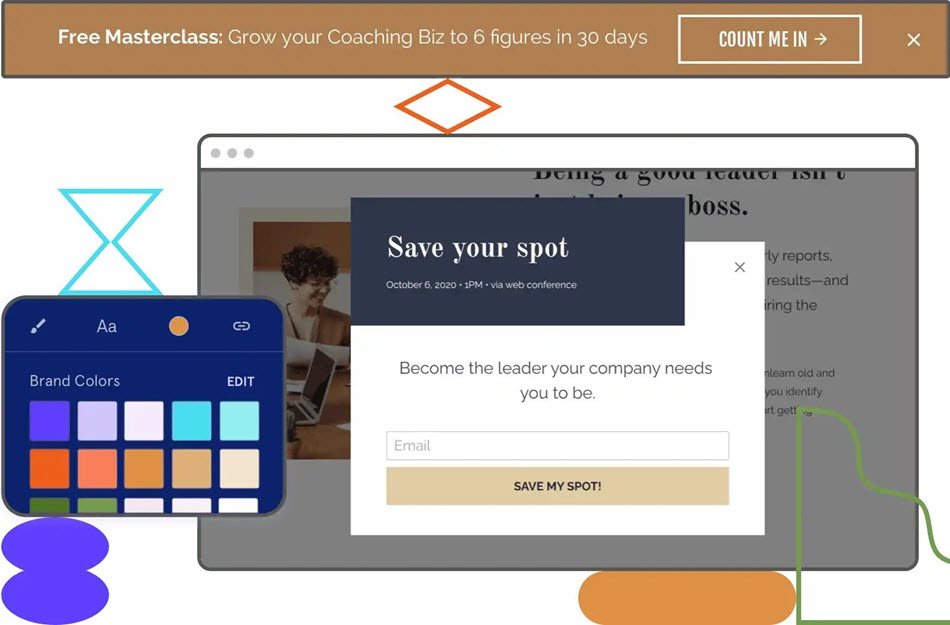 Conclusion – Still confused about which is the Best WordPress Lead Generation Plugins To Get More Email Subscribers? Please don't confuse my friend; we will try to make your selection much more effortless. If you want free best WordPress lead generation, I recommend you go with Mailoptin. If you want to grow your mailing list, you should go with premium. In the case of the premium plugin, I recommend you go for bloom. Because bloom is cheaper best with loss of the feature, even kinsta is also using bloom plugin. Bloom comes with a plugin bundle of 4 plugins if you divide 89/4, then on an average 22$ each. It isn't a bad idea when your budget is tight.
If you are an agency or big company, I recommend you use Leadpages that all big brands and agencies trust.
Only a few of them are suitable for email service if you see the inbox delivery report. So in my suggestion Aweber is incredible. You can even try Getresponse. We trust Aweber only for all our clients.