4 Best Meta box Plugins for WordPress 2022 Trusted by Developers
Are you looking for the Best Meta box Plugins for WordPress? Meta box plugins are a great way to reduce the developer's effort and time. You can also be called meta box plugins time and effort saver machines. These plugins are specially designed for developers to create meta boxes like custom fields, radio buttons, checklist boxes, buttons, etc.

A useful feature of WordPress, Meta Box allows the users to completely add custom data to a post or page in WordPress. Any number of custom meta boxes can be added to the post and page editing screens in the back-end of WordPress. This can be done for both custom post types and posts. They contain data and form fields. It allows the admin to delete, add or edit post metadata. In addition to the content in the main post editing area, extra information can be added by the user in meta boxes. The following are some meta box plugins that you can use:
You may also be interested in Custom post type plugins, email marketing services, and FOMO plugins 
1. Meta Box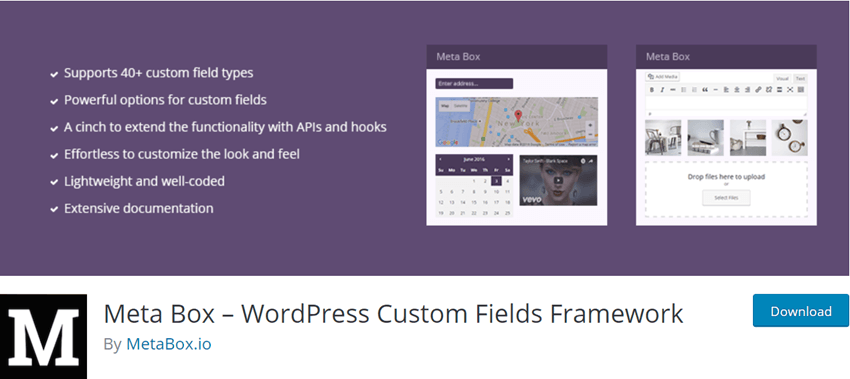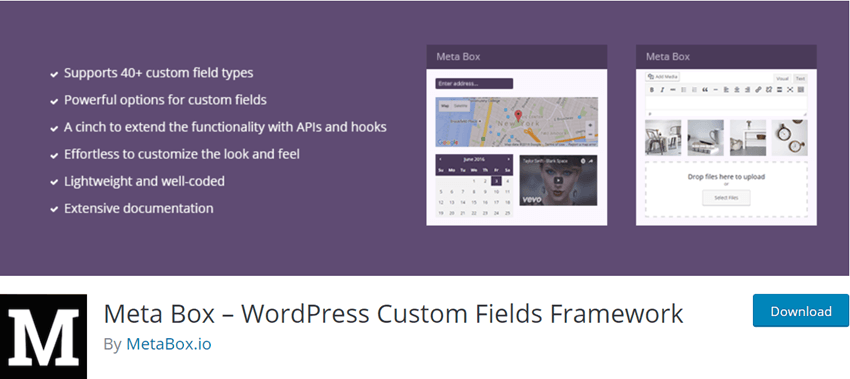 Meta Box is an online meta box generator that is one of the Best Meta box Plugins for WordPress and is trusted by thousands of developers. They provide an online meta box generator platform.   You can easily handle and create a WordPress custom fields plugin and framework for WordPress. A wide range of field types is provided by the plugin and there are a lot of options for each field type.
Meta Boxes can also be created for user mate, settings page, term meta, etc apart from custom post types. Code can be created for Online Generator and saved for future projects. The plugin integrates with any WordPress plugin and theme.
Features of Meta Box
ONLINE GENERATOR – You can easily create and generate code and used it in your upcoming project.
META BOX BUILDER – With the help of meta box builder you can easily drag and dropbox to build your complete project
PRE-BUILT DEMOS – Hundreds of pre-built demos are available to start with.
MB CUSTOM POST TYPE- Custom post types and taxonomies are a breeze with the CPT Extension.
Total number of users – 600,000+
Price – Core Bundle – $99/annually (1 Pro Extention), Developer Bundle – $199/annually (All Pro Extention), Lifetime Bundle – $499/Lifetime (All Pro Extention)
Screenshot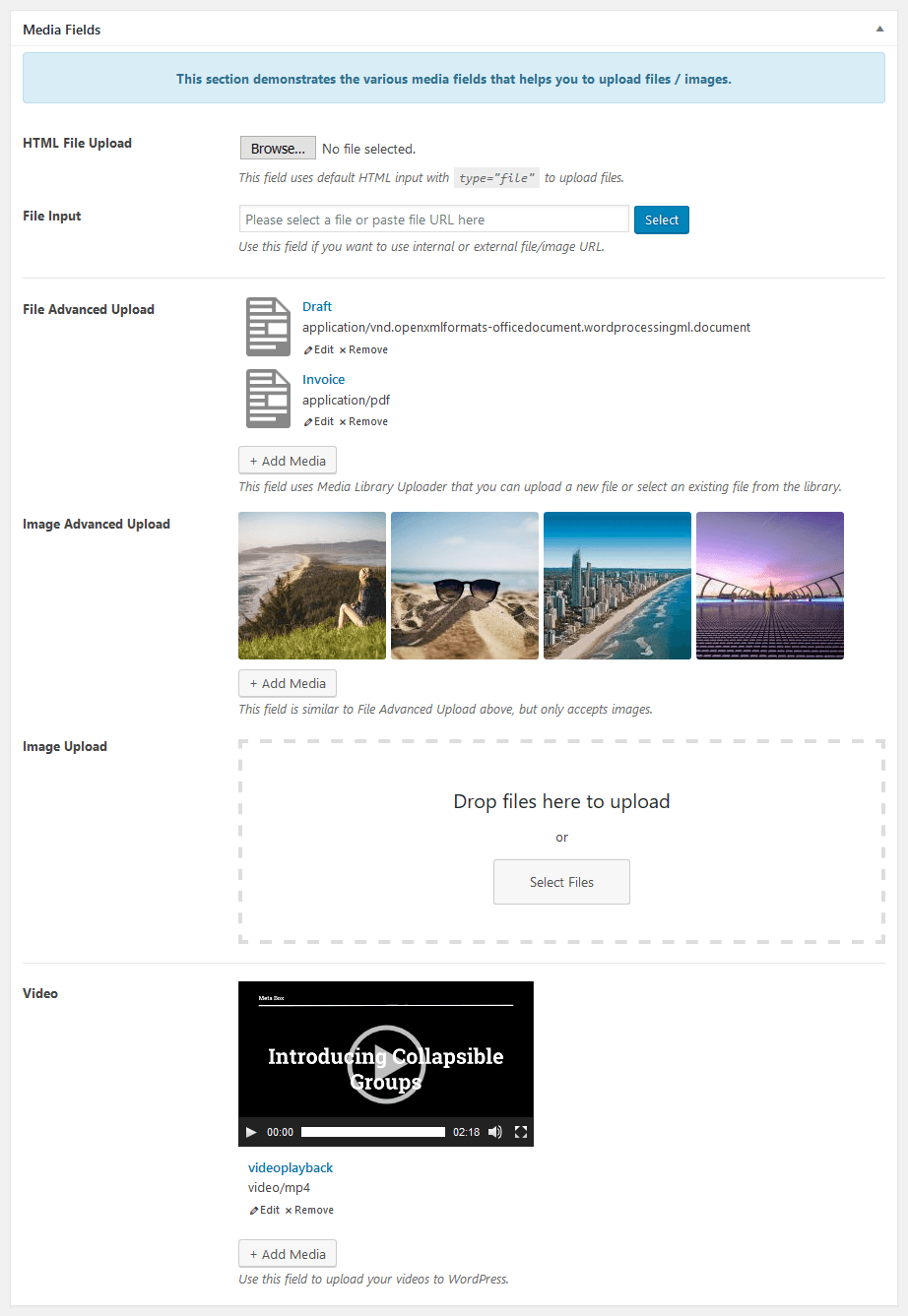 2. OptionTree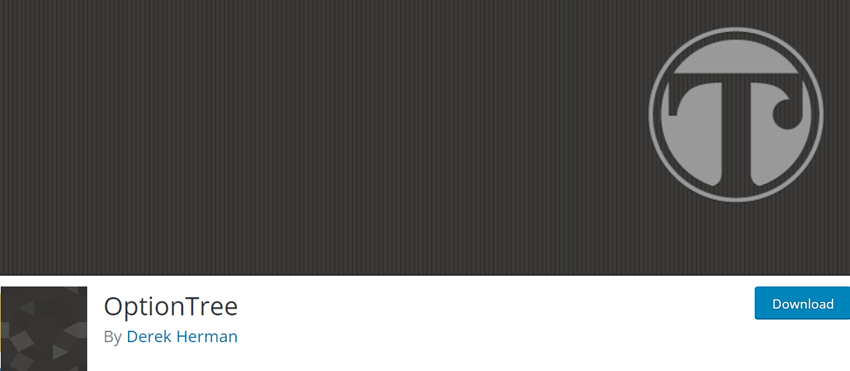 OptionTree plugin helps the users to create fully responsive option panels and Metaboxes very easily. This way it helps to bridge the gap between WordPress developers and designers and the end-users. Many advanced features are available with this plugin with well-placed hooks and filters.
It has a drag and drop interface which helps to build a Theme options Panel. Then so that none of the Theme Options conflicts with other themes that use OptionTree, the settings can be saved to the database with a unique array ID with some coding. Many new color schemes have also been introduced in this plugin.
You'll have the following options with OptionTree:
Backgrounds.
Box Shadow
Category Checkbox
Border
Category Select
CSS
Dimensions
Date Time picker
Gallery
Google Fonts
Radio Image
Social links
Tag checkbox
Text and more.
Total number of users – 100,000+
Screenshot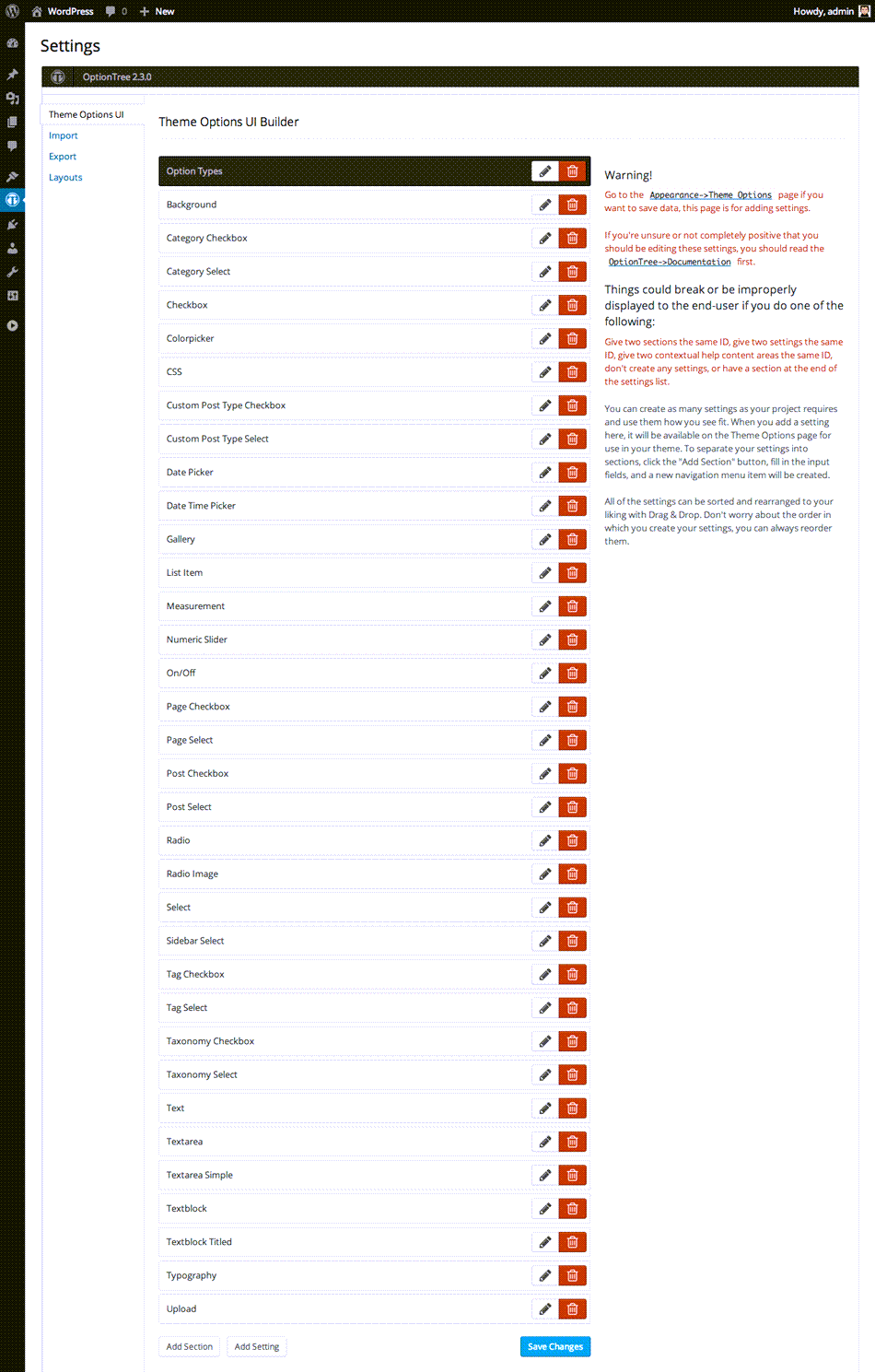 3. CMB2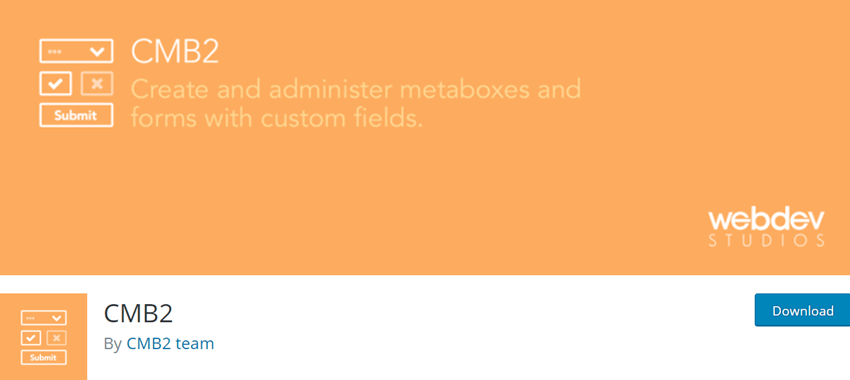 A developer's toolkit for building meta boxes, custom fields, and forms, CMB2 helps to manage meta for terms, users, posts, comments or create custom options page. Meta boxes can be created which can be used on post edit screens. Forms can be created for use on Option pages.
Forms can be created to handle term meta and they can be displayed wherever the taxonomies are used. It includes several field types. Own field types can be created using custom API hooks. Many aspects of the library can be modified using filters and hooks.
It also supports repeatable fields for most field types. The plugin can be easily bundled with any project.
Features:
You can create meta boxes that can be used on post edit screens.
It allows you to several field types.
You can also create forms that can be used on the options page.
It is compatible to bundle with any project.
Total number of users – 10,000+
4. Ocean Extra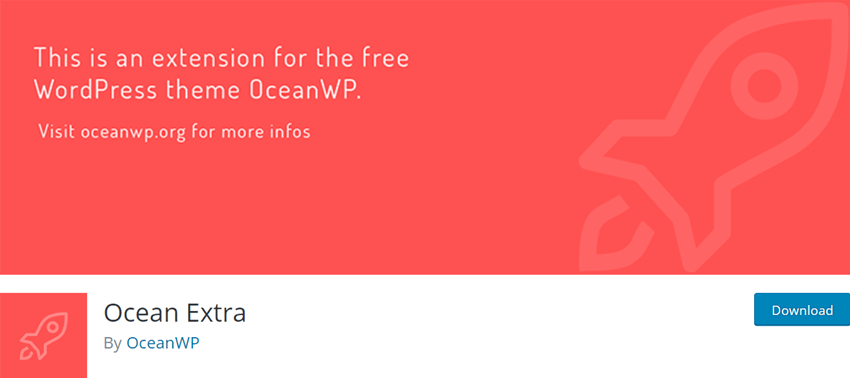 Ocean Extra is one of the best WordPress metabox plugins that enhance the features of OceanWP. It adds features like meta boxes, activates/deactivates the customizer sections, and styles. The plugin also allows you to customize the themes' styles and scripts. You can also import or export the customizer settings. You have to install the OceanWP theme to use this plugin.
Features:
Meta boxes
You can enable or disable the margins on top and bottom.
You can add a custom title, the subheading for your title and you can also choose the style of your title.
It also allows you to change the layout per page or post.
It allows you to enable or disable the customizer panels and theme scripts & styles also.
You can install demos and much more.
You can also add the gallery images for the gallery post format.
Total number of users – 700,000+
Price – Personal – $39/annually (1 Site), Business – $79/annually (3 Site), Agency – $129/annually (25 Site)
Conclusion – Still confused my friend which are the Best Meta box Plugins for WordPress? Don't be confuse If you are a developer and want to save some time and brush up your skill then I will request you to directly go ahead with meta box .io because it is trusted. Famous WordPress core developers like Ahmad Awais, Phil Clothier are associated with.