9 Best Google AdSense Plugins For WordPress 2023 High Income
Are you looking for Premium or free Best Google AdSense Plugins For WordPress? Adsense is a great and easy way to make money online, for you need to display the google ads on your WordPress website. And there are many alternatives for Google Adsense, but none of them stands in front of AdSense.

With Google Adsense, you need to display ads on your website, and when the user clicks on the ads, you will get revenue. To increase your revenue, we have decided to write about this topic so that you can easily integrate Google AdSense into your WordPress website with the help of our selected Best Google AdSense Plugins For WordPress.
You may also be interested in Fomo Plugins, Landing Page plugins, email marketing Plugins, and lead Lead Generation Plugins.
1. WPQUADS

Ads by WP QUADS is an effective solution to create and manage ads for the promotion of the website within just a few clicks. You cal also call this plugin an alternative for WP Quads Plugin. A well-coded and lightweight WordPress Extension for ads that lets you share your posts and other accessories among the audience to be aware of brands. Whether your website contains numerous products for sale or your profession related to digital downloads, you need to advertise your products or service. WP QUADS assists you very well to run unlimited ads anywhere posts, custom post type, homepage, taxonomy, and elsewhere where you feel appropriate.
Elementary Features –
Placing Destination – Let you place the Ad at numerous places on the site, such as beginning, middle, or end of the post and others with PHP and shortcodes tag for placement.
Layouts – Enables you to play ads with certified margins that make it more presentable.
Supports AMP – Within one click on AMP, it will display ads from AdSense.
100% Responsive Ads – Let you create unlimited ads, i.e. mobile responsive. Easily automate the configuration to display ads of different sizes for different devices.
Include or Exclude – Provide options for either including ads or excluding on various pages, posts, custom posts, and more.
And with the help of Google Analytical, it can be seen who all visitors are using Adblockers. This plugin has a high performance to keep up the website's speed.
Separate margins can be defined around ads for all four directions. If the visitors are using an ad blocker, it can be detected, and a customizable message can be shown to them.
The visibility conditions of ads can be set to mobiles, phones or tablets. For different devices, AdSense ads size can be defined.
Total number of users – 60,000+
Price – Personal – $99/annually (1 Site),  Business – $199/annually (5 Site),  Pro – $199/annually (Unlimited Site),  Ultimate – $199/Lifetime (Unlimited Site)
Screenshot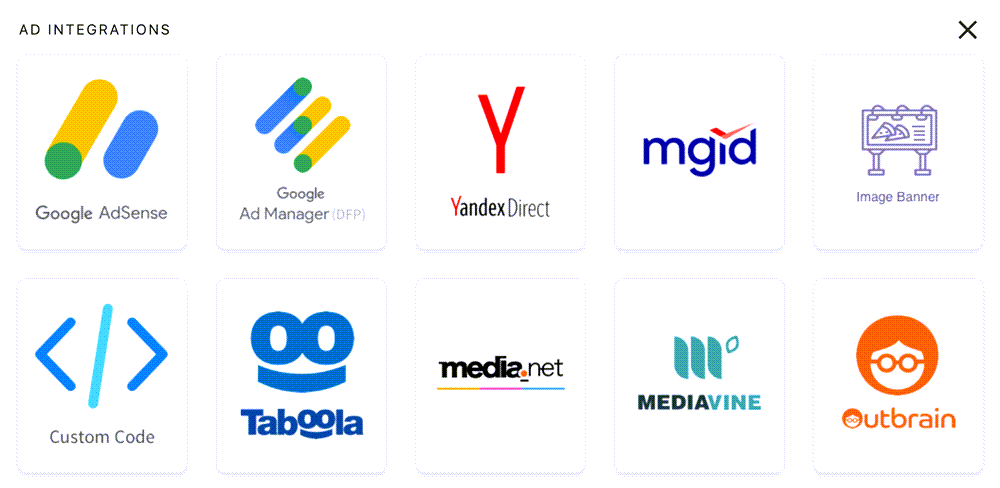 2. Advanced Ads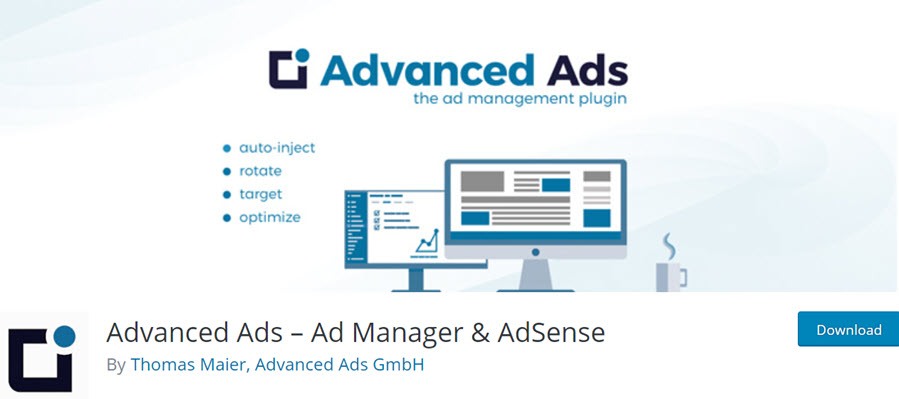 Advanced Ads WordPress plugins are one the Best Google AdSense Plugins For WordPress. This will help you manage ads, ads injection, and ads rotation in your WordPress website. Advanced Ads is a nicely integrated WordPress Extension that enables you to put comprehensive ads on the website. Unlimited ad creation and showcasing the same on the website to get your visitors' attention. Let you insert ads integrated with popular affiliate networks, including Google Ad Manager, Google AdSense, and Amazon. Provides better engagement of audience widely on the site while running such ads widely on the website. Advanced Ads lets you create ads that contain enriched content with the assistance of the WP TinyMCE editor. For better significance, get access to shopping ads on Amazon.
Core Features –
Provides intuitive Ad block for smooth function of the block editor.
It is integrated so well with Google AdSense, which takes care of all technical modifications and follows the policies of Google AdSense.
Let you select which ads you want to display on different devices in different formats accordingly for a better experience.
An automated Ad streaming lets you direct selling of Ads on the site.
Efficiently manage unlimited ads on the website as it contains many tools which provide action and hooks to Ads.
Let you place your ads anywhere on the website, either in between the post's content or elsewhere, with the help of shortcodes and widgets.
Total number of users – 100,000+
Price – Pro – $49/annually,  All Access – $89/annually,  All Access Long – $199/4 years of support and updates
Creating and displaying your first ad with Advanced Ads | Advanced Ads Tutorial
Screenshot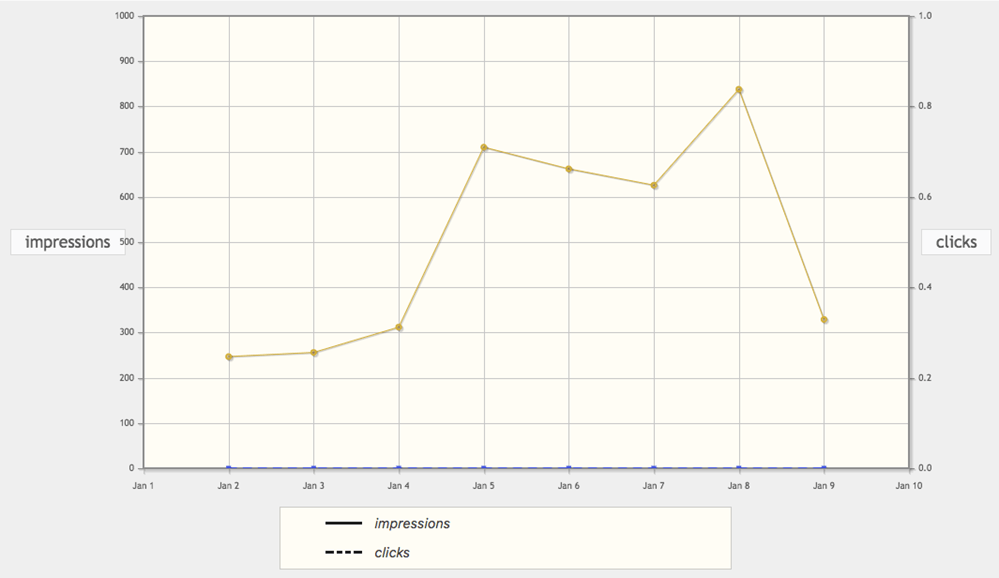 3. Advanced AMP ADS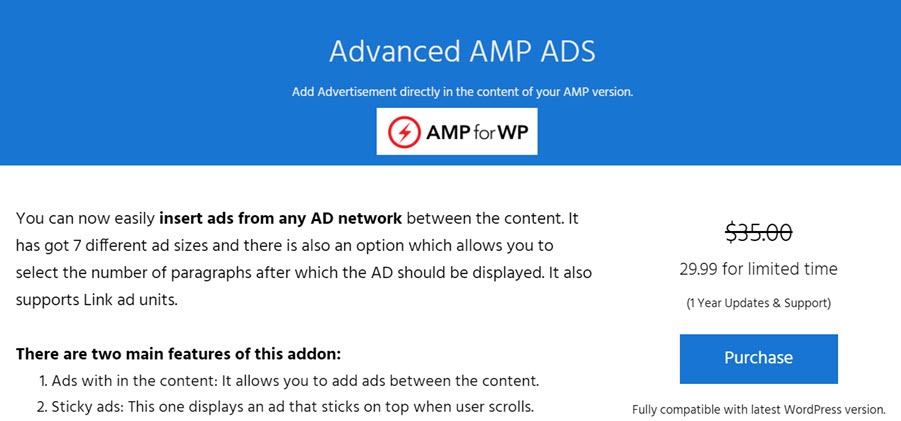 Advanced AMP ADS is an extensively integrated Plugin for creating and adding effective Ads on the website so quickly. Make your website more presentable while showing ads to the audience for more engagement thereon. Let you display ads wherever necessary, like in between paragraphs of the post, sidebar, custom post types, pages, or elsewhere. Advance AMP ADS provides you with mobile responsive ads that run so well on any device. Configure the size and layout of your ads that you insert into your website for playing it on different websites. It contains essential features that assist in managing ads all through the website at once.
Essential Features –
Supporting Network – Almost supports every popular network of Ads and AMP, including Google AdSense, Media.net, etc., that access you better revenue. Let you customize ads according to the need of your site.
Ads' Positions – Let you easily insert ads in between contents while providing you with the option to select the place where you want to show ads.
Sticky Ads – Create ads in the sticky form bar displayed over the screen while scrolling. Also, a button is available to close such ads overlay.
With this plugin, you can easily target a group of visitors based on their interests. These Plugins support many ads options like Adsense Double click, amazon, Chitika, BuySellAds, Media.net Etc.
Price – 1 Site – $99/annually,  3 Site – $99/annually,  10 Site – $99/annually,  25 Site – $99/annually,  Unlimited Site – $99/annually
Screenshot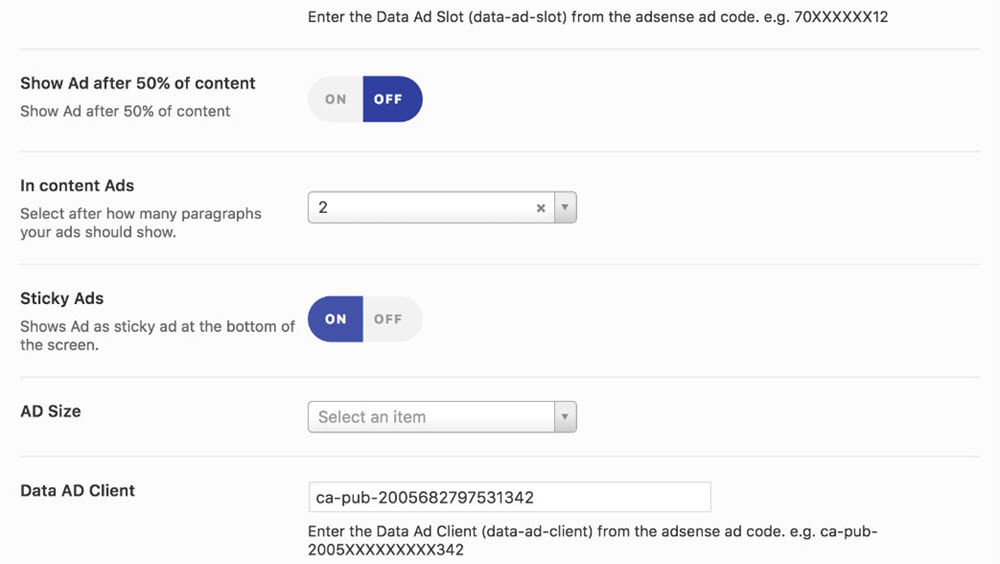 4. Ads Pro

Ads Pro is an extensive plugin designed with a simple UI for managing ads and inserting them into website-appropriate ways. Show 100% responsive ads that match the standard of your website genuinely. Let you decide whether you want to display ads for better revenue outcomes. Also, customize ads and their overall appearance within a few clicks. Integrated with various networks of ads and supports AMP. No matter of Adblocker, you can freely play ads as much as possible in different layouts. Ads Pro is integrated so well that it lets you display ads in more than 20 ways, contains 25+ Ad intuitive Ad templates, and includes various formats for advertising.
Why Ads Pro Is The Best Ads Plugin?
Enables to place responsive and well-matched ads on the website accordingly.
The target audience of a large geographical area.
A free plugin improves Quick AdSense, which was successful but discontinued.
Show ads to a different device by configuring the appearance of such ads on each one.
Organize ad access by scheduling and control over delay.
Insert ads with a determined session for show or close.
Provides hooks to display ads according to necessity.
Simple back-end that efficiently manages unlimited ads and plays it as configured.
It supports AMP so ads can be automatically inserted into the site.
Price – Regular License – $57/Lifetime (1 Site)
Screenshot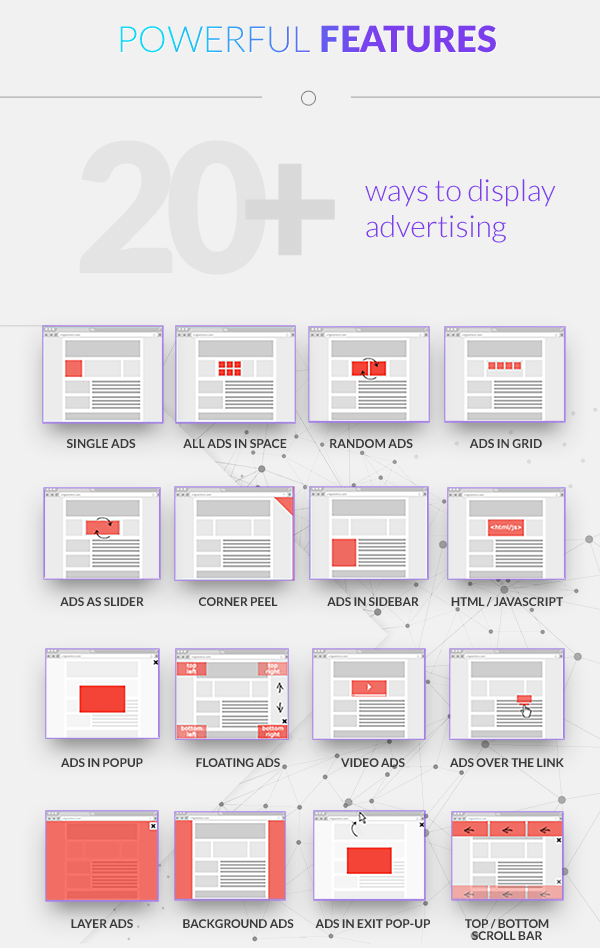 5. Adning Advertising

Adning Advertising is a fast, reliable one of the Best Google AdSense Plugins For WordPress that lets you insert unlimited ads. Manage the complete functionality of ads for better revenue. Let you access ads within different layouts and decide how you want to appear your ads. Configure the session of showing/closing ads that did not bother your audience to disturb their experience. Nicely integrated with high-profile ads network, including Google AdSense, makes users more secure and reliable. Adning Advertising allows you to insert banners and manage their appearance very well with ad zones and campaigns. Display such banners almost anywhere on the website, either automatically or manually.
Integrated Features –
Let you easily upload banners, i.e. created on HTML5 and place such banners anywhere on the website.
Create banners that have a similar appearance to post with some handy tools available thereon.
Place your designed banners automatically without bothering into shortcodes and widgets.
Monetize your website by selling ads directly on your site. And automate the workforce of ads distribution among advertisers, then keep the entire income to you only.
Display ads in different layouts like pop-up, fly-in, parallax, grid, background, etc.
Allow to display your ads widely on your multiple sites and control its administration with the leading site.
Any number of ads can be added to a site. The ads are very responsive and easily adjusts to mobiles, tablets and desktops.
Price – Regular License – $29/Lifetime (1 Site)
Screenshot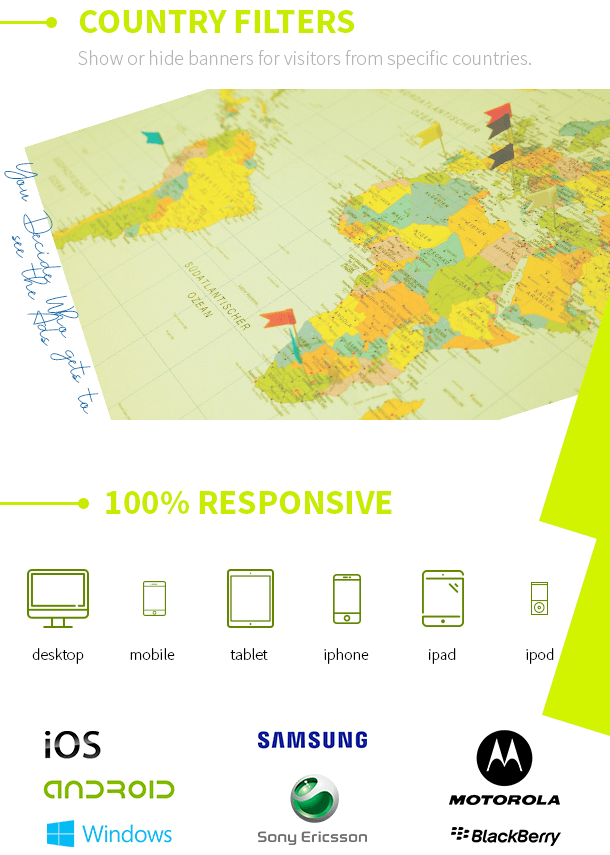 6. Ad Inserter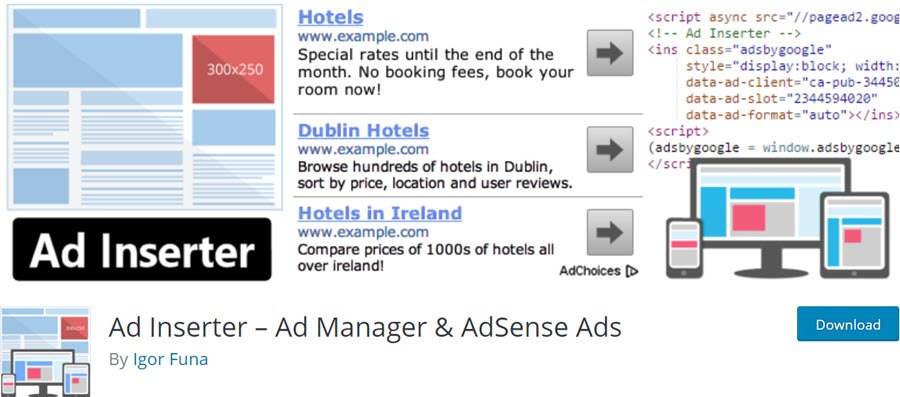 Ad Manager & AdSense Ads is one of the best ads management plugins for WordPress that allows the users to insert ads using the ad code at optimal positions in their WordPress website. Moreover, the plugin supports multiple ads, including Google Ad Manager, Google AdSense, Media.net, Amazon Native Shopping Ads, rotating banners, and Infolinks. Using this plugin, you can insert header scripts, opt-in forms, CSS, HTML, analytics, advert code, JavaScript, tracking, and PHP anywhere on your web page.
Features
It allows you to insert the ads on all optimal positions, including before and after paragraphs, before and after posts, before or after multiple paragraphs, Before and after images, Before and after comments, before and after random paragraphs, between post or blog pages, above the header or in the footer, between excerpts on blog pages, between comments, near any element on the page, before or after any HTML element using CSS selectors and more.
Using this plugin, you can insert Javascript, images, PHP, HTML, CSS code, Google Analytics, Matomo (Piwik) or any other tracking code, raw HTTP response header lines, header, and header footer code, ad codes and much more.
It allows integration with Google AdSense, Google Ad Manager, Amazon Native Shopping Ads, etc.
The plugin also lets you preview the code with a visual CSS editor.
It also allows you to disable the ads for specific posts or pages.
There is default ad positioning with which ads can be placed in the post's beginning, end, or middle. Or the ads can be placed randomly or specifically.
Total number of users – 200,000+
Screenshot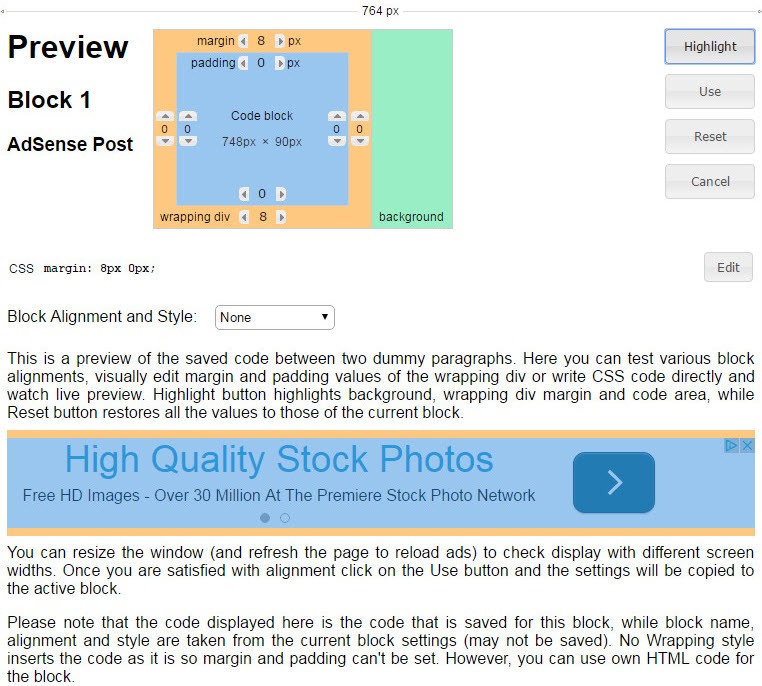 7. Quick Adsense

Quick Adsense Is another level of AdSense integration that helps to save time earn more which is a simple yet powerful and one of the best ads management plugins for WordPress that enables the users to insert AdSense or any other Ad codes in their WordPress blog post, pages in the easiest add new quickest way possible. The plugin comes with a straightforward and user-friendly interface and thus, makes it very easy for the user to set up and use it. It also comes with a lot of customization options for the users.
Features
The plugin allows default ad positioning, i.e., you can position or assign your ads anywhere on your WordPress website, including the beginning of the post, to the end of the post, in the middle of the posts, Before the last paragraph, after multiple paragraphs, After more tag, after specific images and more.
It comes with a straightforward and user-friendly interface, hence, you do not have to worry about configuring the settings. You have to copy and paste to AdSense code, and the plugin will handle the rest on its own.
Using this plugin, you can display ten ads on the page and the sidebar widget.
The plugin also allows you geo-targeting, device targeting, and visitor targeting, limiting your ads to specific countries, specific devices, and specific types of sources of visitors, respectively.
It supports any ad code type and is not restricted to AdSense only.
Ads can also be placed randomly on the website. There are no complicated customizable options, and it is effortless to use its settings page.
Total number of users – 70,000+
8. WP Simple Adsense Insertion

WP Simple Adsense Insertion provides an easy way to generate revenue from blogs using Google AdSense. It is one of the first plugins to give a complete solution for everything Adsense-related and is packed with features. The policy of not more than AdSense blocks per page is enforced by this plugin. WP Simple Adsense Insertion is a top-notch and the best AdSense Plugin for WordPress. That enables the users to quickly insert Google AdSense on their WordPress posts, sidebar, pages, and anywhere on the WordPress website using simple shortcodes. The plugin is simple to set up and use and has easy customization options. So it makes it's effortless for even beginners to use this plugin.
Features
The plugin is straightforward to set up and use and doesn't require prior coding knowledge. Hence it also enables beginners to use this plugin and let them insert the Google AdSense anywhere on their WordPress website easily.
It can also be used to insert an in-article ad code automatically.
Using this plugin, you can insert Google AdSense anywhere on your WordPress post, pages, or sidebars.
You can also use this plugin to store any ad code and if it isn't restricted to Google AdSense code only.
The plugin can automatically insert AdSense code at the end of every article.
Positioning and displaying AdSense blogs in each post and page are controlled by this blog. It is internationalized, and this plugin supports multiple languages.
It also provides sidebar widgets to search with customizable image and text titles, link units, and AdSense with content for the custom title.
Total number of users – 10,000+
9. AdRotate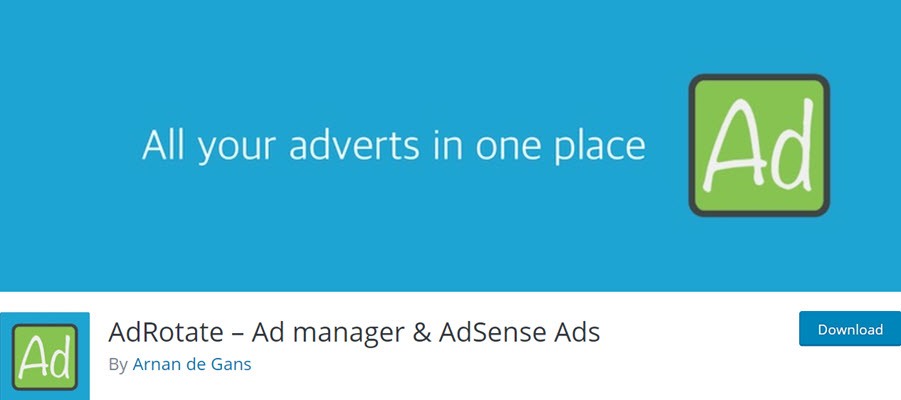 AdRotate helps users create in-posts ads in WordPress posts and websites and is considered the ultimate ad management plugin. This plugin has the A/B split testing feature, which helps find which ad position gets the most click and earns the highest profit. The ad's views are also counted to testify whether they are being seen and how much they are being seen. It also helps position the ads to the left-right or centre of the post to help generate more views and clicks. The ads can be added anywhere in the post using shortcodes.
After being displayed for X no of days, the ads can be chosen to be hidden or vice versa. The logged-in users may be made to be not able to see ads to give them some priority. The ads can be displayed randomly while watching their performance in each position, and Google Analytics helps watch over their performance.
Besides optimization, AdSense also helps to experiment with different ad formats and placements. A maximum of 10 ads can be placed in a blog in place of 3 using this plugin. And this is valid for the sidebar widgets as well. And this plugin not just lets the users add AdSense ads code but just any ad code.
The WP Simple Adsense Insertion Plugin can inject any advert or other content into the existing content of WordPress posts and pages. Based on the post length, the number of adverts can be limited, and the advert's visibility can also be restricted by postage, IP address and visitor referrer.
Total number of users – 40,000+
Screenshot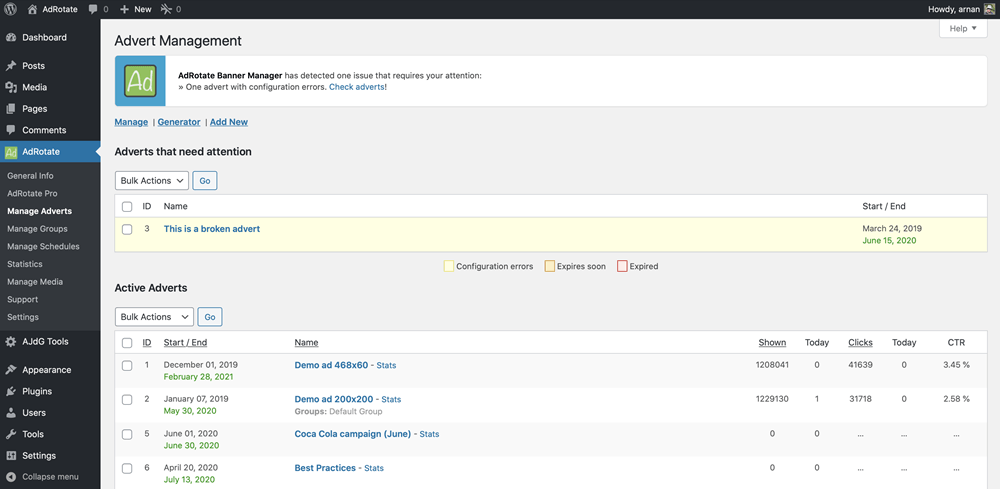 10. Universal Google AdSense And Ads Manager

Universal Google AdSense And Ads Manager helps link the websites to the Google AdSense account and manage the ads available easily from the admin dashboard. It is a fantastic solution to place ads on WordPress website pages, custom posts, search results, categories, widgets, and tags. Ads position can be changed to below or after the content or comments. Idle ads can be shown. Custom codes can be added via the plugin settings page. There is detailed and step-by-step documentation and videos. It is multilingual and is ready for ar RTL.
It is a highly intuitive plugin for beginners as it helps them place ads on the WordPress site very quickly. There are widgets that the user only needs to drag to the sidebar, upload an ad and save it. The ad management interface is not at all clunky. Image banner ads, Google ad tags, and other ad codes can be easily managed. Want a plugin that will allow you to insert ads at optimal positions and be packed with many advanced features?
If yes, then Ad Inserter is the plugin for you. It is not just an ad manager plugin. Still, it has many advanced options like header scripts, PHP analytics, opt-in formats, AMP ads, Javascripts, etc., Media.net ads, Google AdSense ads, conceptual Amazon native shopping ads, and this plugin supports rotating banners ad. Ads can be customized to be displayed anywhere in the post.
In any post or sidebar widget area, adverts can be configured. A/B split testing, and ad rotation is also restricted. The dynamic restriction is also supported. This is not a simple plugin and has many advanced options. Quick AdSense, an ad management plugin, helps users insert AdSense or any Ads code into the blog post quickly and flexibly.
Total number of users – 4,000+
Screenshot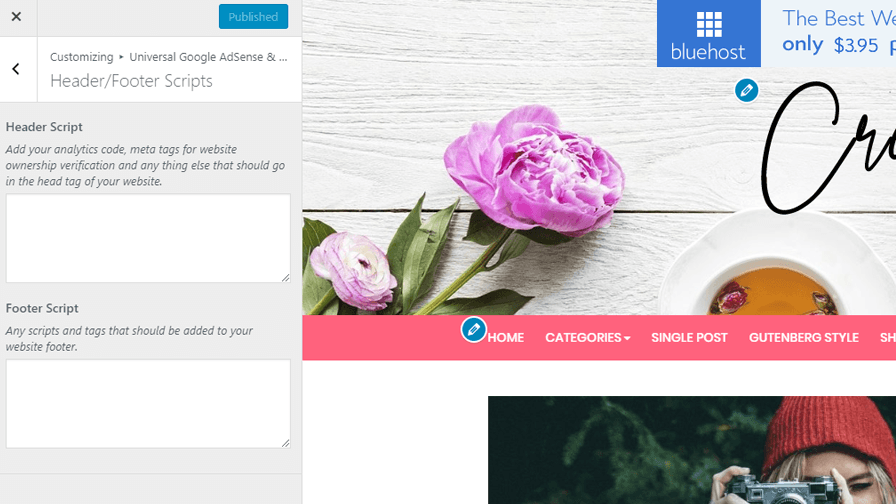 Conclusion – Are you still confused about which is the Best Google AdSense Plugins For WordPress? Don't worry, my friend, I will make your decision so simple. If you are looking for a free Google AdSense plugin, I request you to go for wp quads. But if you are looking for premium Best Google AdSense Plugins For WordPress, I recommend you go for wp quads pro. Trust me, my friend, it's worth spending money because it will support google amp. And when you enable google amp on your website, the earnings will reduce, so Be ready for it with the best option so that there are no more headaches in the future. But if you are looking to use another ads system like Double click, amazon, Chitika, BuySellAds Media.net, I recommend you use wp advanced ads pro.