7 Best Landing Page Plugins To Create High Converting Page 2020
Are you got fed up with Your old Non conversing pages? And looking for Best Landing Page Plugins which can create high converting and beautiful landing pages in few clicks .

High Converting landing page are highly optimized page which have beautifully page design, SEO optimized to meet high quality Products Standard . Its also help your to improve your conversions rate by converting your normal visitor into customers that too without having any coding skills .
Till yet almost of WordPress websites are not much optimized for generating more revenue . They all are simply designed with old layout pattern Which fails to attract visitor and finally result in less sale .
Almost of the sales funnel are successful do you know why ? Because their website meet the top industry standard. I too except earlier these technology was not there in the market so we can except less sale . But when our WordPress industry have reached 7th heaven if we are still using low converting landing page means its our fault .
These Landing Page Plugins are most Helpful when you are a creating a squeeze page , sales page or funnel , webinar page, course pages membership pages and Products page . You can easily create Highly optimized & converting page using drag and drop tools by using Prebuilt templates library to Boost your sales . These tools have multiple number of template which will be perfect for all kind of websites
What are Landing Page Plugins?
Landing Page plugins are self contained web pages which have distinct traits from the main website, and have been designed with a separate pivotal objective.
It's a matter of past when such plugins were available with limited functionalities and was very strenuous to work with. But, with the onset of technological advancement, our market is a hub of many such methodical plugins. So, the good news is now you can create beautiful pages without being an expert web designer and hence increase your conversion rates . No need of any developer to build and deploy landing pages anymore!
Features Your Landing Page tools must have are as follows
Before narrowing down our search to some of the flawless Landing Page plugins let's have a quick Q&A round  to judge you find the good parameters of a Landing Page Plugin.
Investment and Expected Returns

– What functionality you expect out of the landing plugin from the amount of your investment?

PreBuilt Template

– Does that tool have Builtin templates which will suits your idea ?

Theme Compatibility

– Whether the plugin works well with your current theme selection?

A/B testing

– Will that tool support A/B testing and allow you to check and c ompare which options will be more Converting .
Versatility – Can the plugin provide an entirely different landing page design from the current page design which you are using?
Mobile Friendly  – Does the plugin works good on  mobile too? 80% of the internet users use mobile phones.

Pricing

– Does the plugin fits my budget ?
You may also be interested in Fomo Plugins , Live chat Plugins and multipurpose Theme
Lets have the list of top WordPress Landing Page Plugins are as follows
Comparison Between ThriveArchitect vs LeadPages vs Unbounce vs Instapage vs ClickFunnels vs OptimizePress
1.ThriveArchitect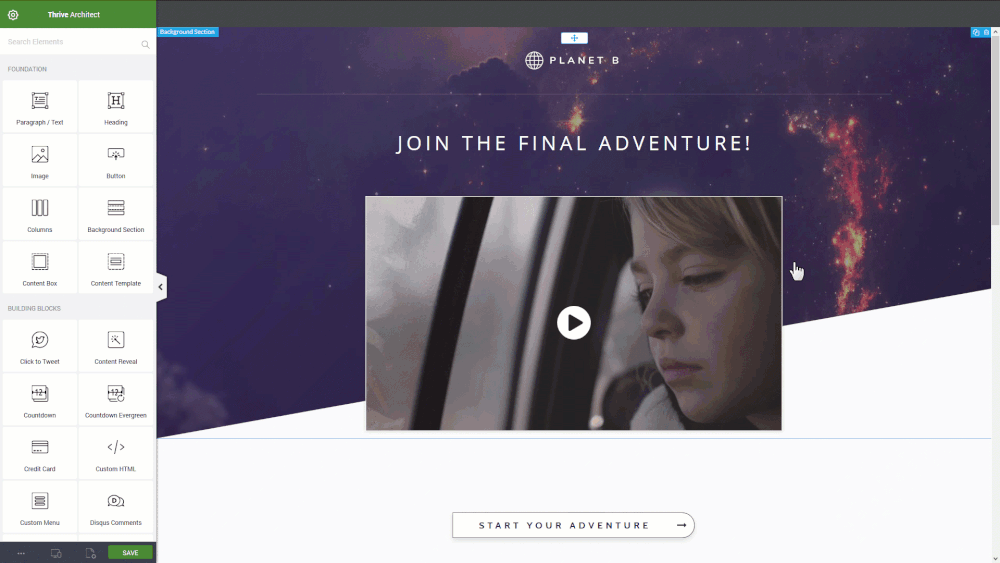 ThriveArchitect is the fastest and conversion centric WordPress landing page Plugin which is both a visual editor and a page builder. An amazing  platform that provides a friction-less base for transforming your ideas to business on page, by saving time and energy. With its inbuilt drag and drop tools functionality , any aspect of a landing page can be customized. An outstandingly large number of templates designed in sets to give a consistent experience to the user at every point in the sales funnel.
Pro Features:
260+ landing page templates – A wide range of templates that comes with 2 step opt-in forms and you can edit both page and the post.
Effortless Technique – The editor gets loaded instantly making the customization process a candid experience. The style editor further makes the customization an effortless process.
Easy Conversion – The plugin incorporates a number of conversion specific elements to your landing page.
External shortcodes within the editor is well supported.
Equipped with undo and redo functionalities.
Easily integrated with many WordPress Free Plugins like contact form 7 , Free Popups Plugins etc etc
Pricing  – Thrive Membership – $19/month, $97/year – 5 License,  $67/year -Single License
 Premium
New UI in the Thrive Architect Page Builder Plugin for WordPress
2. OptimizePress

OptimizePress is a popular Landing Page Plugin for a long time. The plugin is available in a kit that includes a theme, a plugin and a membership plugin. The sales and squeeze pages gives a professional look . OptimizePress is great alternative of thrive architect
Pro features  :
Apart from many in-built templates , a number of paid and free templates can be accessed from the Optimize marketplace.
Minute-level customization is not a distant dream with its advanced editor.
Accompanies membership plugin which is based on slightly tweaked S2 membership plugin.
Widens the scope of inculcating numerous elements to your landing page.
Anatomy of double-opt-in functionality applies with this landing plugin as well.
Pricing  – Core – $97One-Time 3 website ,  Publisher Use on up to 10 sites $197One-Time , Pro Use on up to 30 sites $297 One-Time 
 Premium
Template Design Example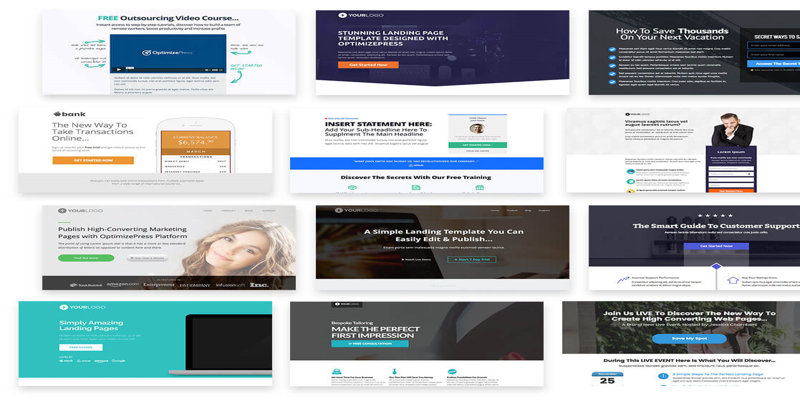 3.LeadPages

LeadPages is basically a Saas landing page builder tool but it does have a distinct and comprehensive Landing Page plugin too . You can use it with or without WordPress as it is a standalone plugin. LeadPages is great alternative of OptimizePress . It's Lead pages interface gives an easy view of multiple dashboards without any switching required.
Pro Features:
Inexhaustible product landing pages can be created and used on unlimited websites which can be later viewed from a single dashboard.
You are not charged on the amount of traffic unlike other SaaS landing page platforms.
The in-built Leadboxes can be used to add popovers to your content which helps to upgrade the content. These contents can be used on any domain ,even on other's website or guest's domain.
Leadpages cloud interface helps you to build your landing pages with the drag-and-drop builder and live preview.
Elements on the page can be selected by the "click and select" technique and beautiful landing pages can be created quickly.
Pricing  – Standard plan – $37/month, Pro Plan – $79 /month, Advanced Plan – $321 /month
 Premium
4. Unbounce

Unbounce is a trusted WordPress landing page plugin which comes with a strong support system and helpful community. The tool features a designing system with not only a page builder tool but a framework theme as well. Unbounce  is great alternative of LeadPages  .
Pro Features:
You can give wings to your creativity with the 100+ landing page free templates. Your own designs can also be saved as templates and can be used and reused on the site or exported .
Unbounce has a blazing fast drag-and-drop builder and hence makes the editing of any page quick and easy. Further they can be moved up & down and new modules can be added too.
Unbounce is compatible with any WordPress theme. The landing pages wont be affected even if you switch themes.
Your content will be transferred to a default WordPress editor in case you decide to stop using the plugin.
The plugin can be considered as the most beginner-friendly landing page creator plugin so far.
Pricing  – Essential Plan – $99/month, Premium Plan – $199/month, Enterprise Plan – $499+/month.
Total number of user  – 10,000+ 
 Plugin 
 Premium
5. Instapage

Another Saas landing page builder tool after LeadPages is Instapage  that can easily be integrated with your WordPress website. Instapage is great alternative of Unbounce . It can be the best choice if you are a part of team or agency as it comes with some great team collaborating features worth its price.
Pro Features:
Hundreds of landing pages can be created in a minute and its Global Blocks can manage and update the global templates in one click.
Instapage gives access to a huge library of customizable templates and thus numerous fresh templates of lead generation, eBook , webinar and many more can be created.
Faster  and higher-converting Google AMP landing page can be created in the Instapage platform, The pages are easy to scroll and instantly loaded and can be accessed in the mobiles as well.
The plugin has unmatched abilities to create multiple fields,radio buttons, drop-down lists and many more. Some hidden fields can be easily passed by.
Pricing  – Monthly Core Plan – $129/month, Annual Core Plan – $99/month for 1 Year, Enterprise Plan – Customized
Total number of user  – 20,000+ 
 Plugin 
 Premium
6. ProfitBuilder

ProfitBuilder is a very user-friendly visual website page builder that works on click and drag methodology. The essential designing elements are cherry-picked and helps to build attractive pages. ProfitBuilder is great alternative of thrive architect  . Some in-built tools are Icon button to input text,icon all in one;  Image button to choose from a number of pictures;Text button to edit any text directly, change fonts etc ;Maps to incorporate Google map directly and many more.
Pro Features:
ProfitBuilder comes with global color control technique where all the similar colors on your web page can be changed in one click. The global styling technique can also change all texts that have similar properties at a single instance.
Over 150 per-designed customizable blocks can help to design the main structure page in minutes.
Some advanced functionalities like Contact Forms, sliders and Smart Tabs comes with the free version.
ProfitBuilder can be switched instantly to give a mobile-friendly view and hence gains better accessibility.
Pricing  – BASIC $47.00 3 Personal Sites , STANDARD $67.00 10 Personal Sites , PRO $67.67 50 Personal Sites
 Premium
7. ClickFunnels

If you are quality-centric and want to organize all your digital market stuffs under a common ambit, then ClickFunnels can be your one stop shop. This comprehensive tool can be utilized for multiple purposes such as to sell your products, send follow up emails, generate leads,conduct a webinar and many more. ClickFunnels is great alternative of Instapage . Hence, it is a summarized yet powerful  package of all the elements that you need for conversion.
Pro Features:
Single click upsells through smart shopping cart.
Web page editor with drag-and-drop functionality.
Automated marketing through emails.
A well organized dashboard for easy control.
Pricing  – Monthly Plan – $ 97/month, Etison Suite Plan – $ 297/month
Total number of user  – 10,000+ 
 Plugin 
 Premium
Comparison Between Best Landing Page Builder
ThriveArchitect 

vs 

 Instapage vs  LeadPages vs
ClickFunnels 
vs
Unbounce 
vs
OptimizePress
Type of Page Builder

Drag-and-Drop Editing

Number of Landing Page Templates

Sales Page Template Available?

Lead Generation

Support for Blog Posts

Support for Webinar

Mobile Responsive

Compatibility with Email Marketing?

A/B Testing

Pricing

Customer Support

Money-Back Guarantee

Free Trial

Supported Platform

CRM Integration

Webhooks & API

Webinar Support
Visual WordPress Page Builder

Instant

274

Thrive Membership - $19/month, $335/year - 5 License, $67/year -Single License

Free for 1 year (After that support coverage fee has to be paid).

within 30 days

Only WordPress
Instapage Builder

Instant

200+

Monthly Core Plan - $129/month, Annual Core Plan - $99/month for 1 Year, Enterprise Plan - Customized

Unlimited - Live Chat, Ticket, Forum, Video Tutorials

(If you cancel within 24 hours of your order)

Free 14 day Trial

WordPress and Many Others
Drag-and Drop & Standard

Easy

150+

Standard plan - $37/month, Pro Plan - $79 /month, Advanced Plan - $321 /month

Unlimited - Video Tutorials, Phone, Email, Live Chat

within 30 days

Free 14 day Trial

WordPress and Others
Drag-and Drop

Easy

100+

Monthly Plan - $ 97/month, Etison Suite Plan - $ 297/month

Unlimited - Live Chat, Documentation,blog and support forum.

within 30 days

Free 14 day Trial

WordPress and Others

Only with Elite Plan
Drag-and Drop

Instant

125+

Essential Plan - $99/month, Premium Plan - $199/month, Enterprise Plan - $499+/month.

Unlimited - Live Chat, Phone and email.

within 30 days

Free 30 day Trial

WordPress and Others
Drag-and Drop

Easy

300+

Core Plan - $97, Publisher Plan - $197 Pro Plan - $197

Free for 1 year, Via Email

within 30 days

Only WordPress
Conclusion –  After going through the blog you must have understood that  it is impossible to nominate the winner. Because almost of them are Best In the Industry . The choice has to be yours depending on your need and budget and suits your need. If you are still confused then we will recommend you to go with OptimizePress , Leadpages or Instapage they with almost of big platforms
I hope you enjoyed reading our blog and was able to make decision for choosing best landing page tool . So please comment and let me know which one you will buy and any feedback will be appropriated