9 Best WooCommerce Email Customizer Plugins 
WooCommerce Email Customizer plugin allows you to customize your email. With This Plugin, You get a visual drag and drop email builder to edit your WooCommerce email template and turn your standard email into professional-looking emails for your e-commerce website. In addition, these plugins have built-in Email Templates that you can customize or prepare Email Templates from scratch without coding.
Emails are undoubtedly The primary source of communication and marketing For every eCommerce business. Therefore every email that goes out of your store to your customers should look good and create an everlasting impression of your brand on your customers, thus establishing your brand identity.


Email customizer plugins help you create professional-looking and responsive order notification emails that make an everlasting impression of your brand among your customers. These plugins enhance the looks of your emails and increase the chances of further customer engagement. Eventually, the email customizer plugins strengthen your bond with your existing customer, attract new customers and increase your conversion rates. These plugins help you surpass the boring WooCommerce default emails and help you create enticing and professional transactional emails sent to your customers every time they place an order in your WooCommerce store.
The WordPress community has multiple WordPress email customizer plugins, and every plugin comes with its features and characteristics.
Here we have created a list of the nine best email customizer plugins for WordPress and explained their features. Look into all of them thoroughly and choose the plugin that suits the best according to your business needs.
1. Flycart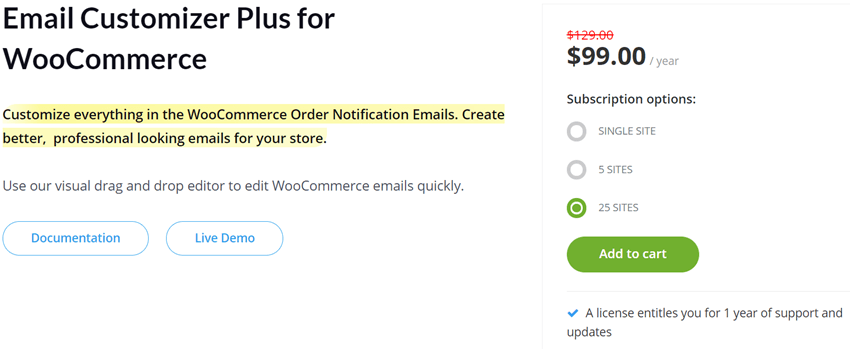 Email Customizer Plugin is a premium WooCommerce Email Customizer Plugin that lets you edit WooCommerce Order Notification Emails. You can design the email structure so elegantly with available templates. A fully responsive extension on different devices and contains an intuitive interface that enables a click-through solution. Effective email service is essential nowadays to create reliability among customers by keeping them updated for every step. Send emails for order confirmation, shipping, exclusive offers, and more to your customer without putting more effort into writing those emails one by one. Generate such emails in bulk by configuring the plugin for the Email customizer. Moreover, let you modify the email look by customizing the colour, body, text, and essentials according to the need of the website. If you want to get rid of boring emails and some excellent customized email templates, you must try WooCommerce Email Customizer with the click drag and drop.
Essential Features –
Pre-built Templates – Generate every type of email promptly while clicking on available templates and customize accordingly.
Insert Logo or Image – Let you insert a logo, image, or other visual graphics into your email templates to impress your customers and visitors. However, up-to-date your audience to keep them interested in shopping with you by sending promotional emails to them regularly.
Test Email – Check that the email you generate is going right for your customers by sending it on your network before sending it to customers.
You can uniquely design your store using Colors, Fonts, Images and Text.
Visual edits can be done easily without any coding knowledge.
It also allows you to check the live preview of your emails.
You can change the logo of your email template in just a few clicks.
You can also send a test email to check if everything is according to your requirements. Accordingly, you can make changes to your email template before it goes live.
Customize your WooCommerce Email Templates with drag and drop with HTML elements and custom blocks.
You can easily design your WooCommerce Subscriptions Emails and WooCommerce Booking Emails.
Price – 1 Site – $49/annually,  3 Site – $69/annually,  25 Site – $99/annually
Getting Started With WooCommerce Email Customizer Plus
Screenshot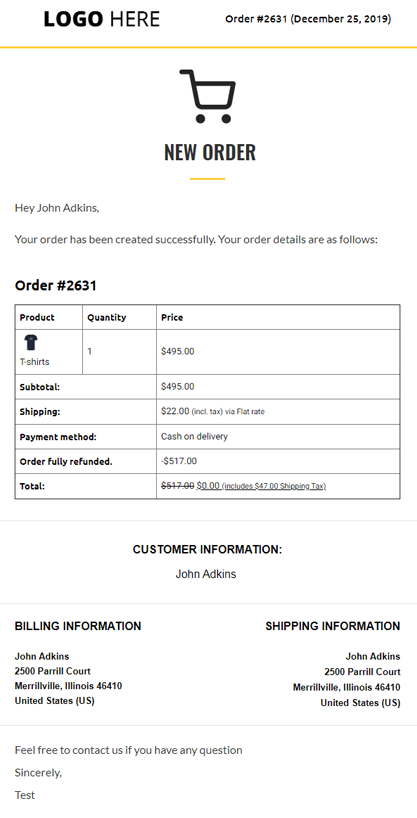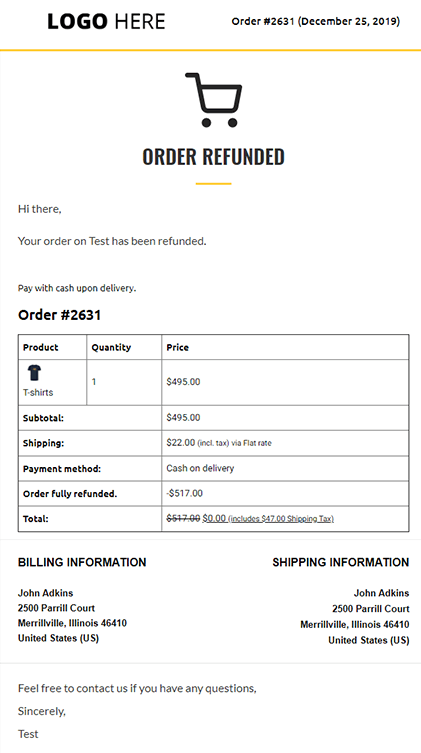 2. YayMail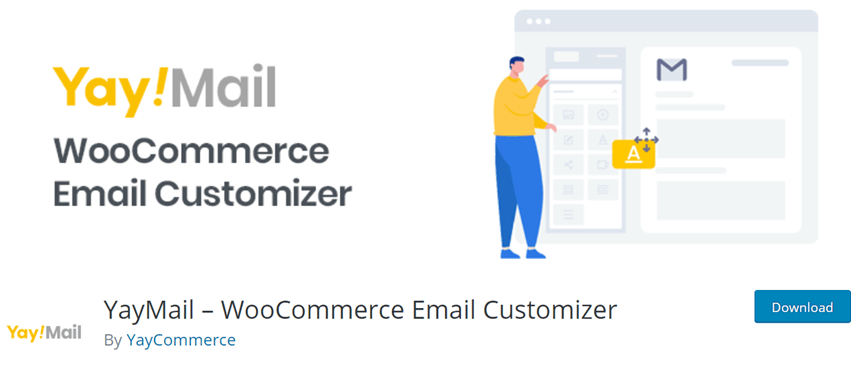 YayMail is an exclusive free email template builder plugin for WooCommerece. Let's build an email for a different purpose in just a few clicks. Availability of multiple templates that allows generating email for customers and visitors effortlessly. If you are running a website that sells the product or serves it digitally, you must communicate with your customers via email. Although, YayMail allows you to create such emails for customers to share to purchase or offer new discounts and deals. Customize the available email templates and make them adequate to send to your customers easily. Modify the email's content, appearance, and style while editing it accordingly.
Core Features –               
Drag and Drop – Let you customize the email easily while it contains a drag and drops email builder alternative whereby you may easily navigate thoroughly.
Variants Email – This allows generating emails for various purposes such as customer details, order details, payments, subscriptions, shipping, billing info, cancellation or delay in shipping, and more.
Test Appearance – Send email templates for assurance of look within one click. Consider that the generated email becomes effective for the client and different devices' compatibility before sending it to the client.
Live Editor – Enables to see the modification immediately as soon as it goes on.
You get predefined email designs to save you a lot of time. There are some 20 email templates available.
All the email designs are fully responsive to impart a great look on all devices.
The designs for emails are predefined for fast email structuring.
You can easily customize colour, font, image, text etc., as per your store.
Built-in WordPress Customizer allows drag and drops email builder for visual editing.
It has a 12 + WooCommerce Order Email Template for the eCommerce store.
Total number of users –  4,000+
Price – 1 Site – $59/annually,  3 Site – $139/annually,  Ultimate Site – $399/annually
Edit WooCommerce Email Template With YayMail - Best WooCommerce Email Customizer Plugin
WooCommerce Free Email Customizer Plugin Edit WooCommerce Email Template With Drag and Drop Editor
How to Customize WooCommerce Email Templates in a Few Steps
Screenshot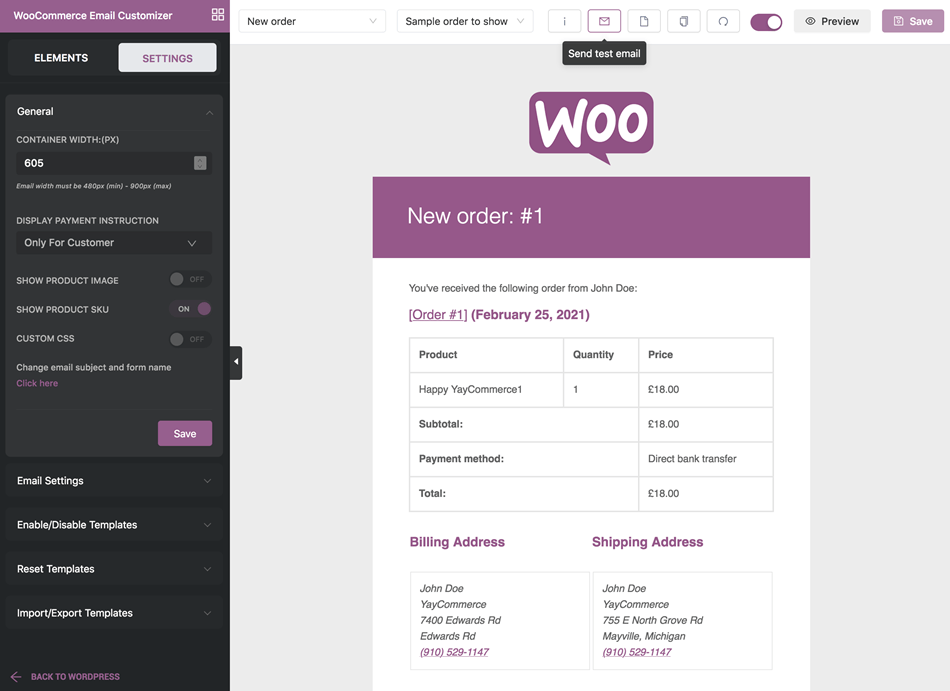 3. MailPoet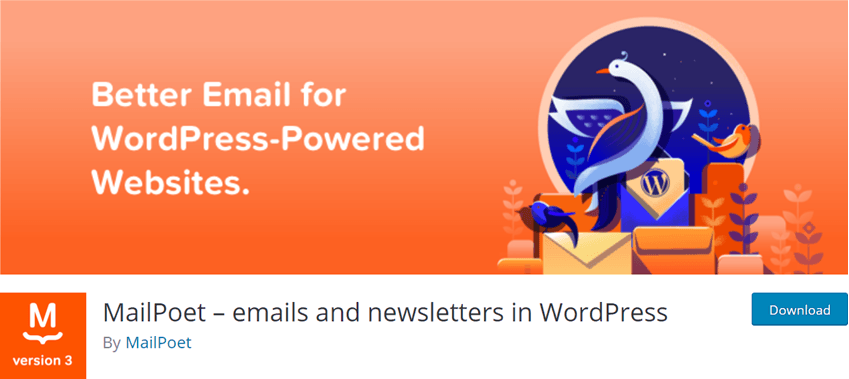 MailPoet is a well-organized free WooCommerce Email Template Customizer plugin that lets you generate an email for your customers to alert them about every activity on the website. Deal with numerous customers and visitors, particularly with integrated email notifications. Availability of various templates according to a specific subject you require to send your customers. Utilize such templates and customize them for your customers of e-commerce stores. When anyone comes to your website, let them register with their email accessibility, where you may send notifications of the latest deals, order updates, and more. MailPoet contains responsive features that work smoothly on every device along with it also poses excellent functionality alternatives where configuration is not required. You don't need coding knowledge to get access to MailPoet.
Key Features –
Let you offer email subscriptions to your audience and then manage them directly on WordPress efficiently.
Automate the email generation whenever a new post enables on the website.
Customize the email specifically by touch-up your own words through editing if you feel necessary.
If anyone new is added to the email list, you must send such accounts a welcome email.
Send emails related to the consequent offers that come to your website regularly to keep your customers' interest.
You can choose any template, add a logo, change its colour to suit your site style and edit the footer to make a personalized email in a few clicks.
Multilingual – English, French, Spanish, Chinese, Portuguese, Persian, Dutch, German and Russian.
Translation can be done thru Transifex.
Total number of users –  200,000+
Price – Pro – 150Euro/annually (1250 Subscriber)
The New and Improved MailPoet Form Editor is Here!
Screenshot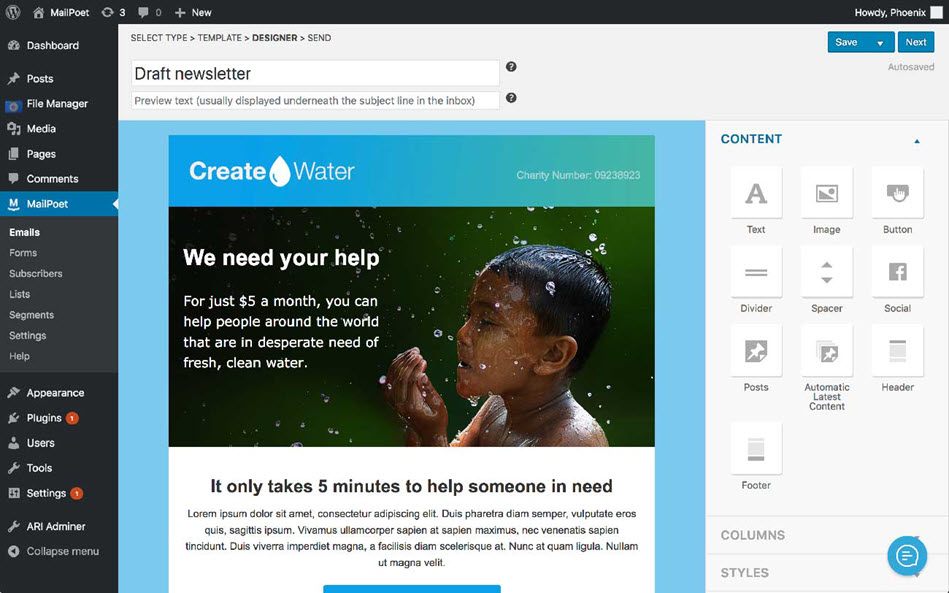 4. WP HTML Mail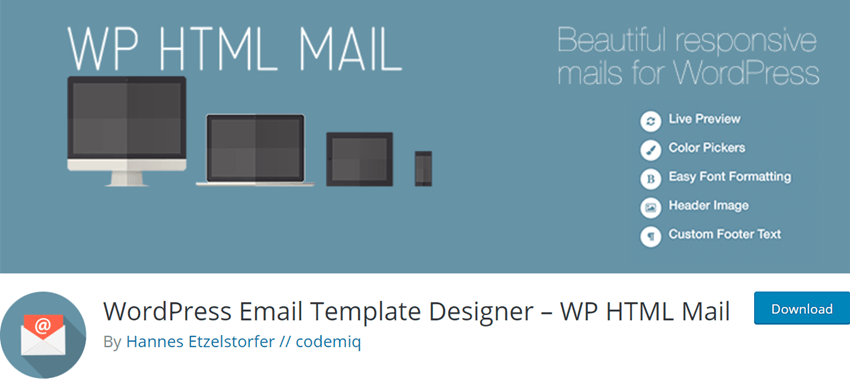 WP HTML Mail is a free WooCommerce Email Customizer plugin for email generation, which is nicely integrated and lets you edit your default WooCommerce email templates. Link the different product items into the email to advertise and distribute widely to gain more revenue. If your website introduces offers and relevant products, update the customers by sending the appropriate email. Consequently, the more traffic access your website, the more the swelling ratio increases. Moreover, WP HTML Mail lets you standard design the standard email to notify the customers in detail, along with content and visual graphics. Numerous templates are accessible to you while installing this plugin which can be customized easily.
Reasons to select WP HTML Mail –
Establish the Bar Code and QR Code of YITH WooCommerce into the mail very conveniently to provide detail about products.
With the assistance of WooCommerce Order Status Manager, modify the content present in the email.
It is integrated with professional WooCommerce Products that easily create different emails for different purposes so elegantly.
Preview the live modification you create to your email everywhere and confirm the responsiveness.
The plugin looks perfect in all screen sizes due to its responsiveness.
Web clients cannot overwrite your styling as all style definitions are moved to inline styles.
The Live Preview enables you to view the changes immediately.
The plugin is responsive and works flawlessly on all devices.
It comes with a professionally designed templates library that makes the task easier for website owners.
You can customize the change colours, fonts and alignment for headlines, text, and links to make your email look more professional.
This plugin is perfect for editing transaction emails and contact form emails. It can easily be integrated with Easy Digital Downloads, Ninja Forms, Contact Form 7, Gravity Flow, Birthday Emails, Elementor Forms, Caldera Forms, and Gravity Forms.
Total number of users –  20,000+
Price – 1 Site – $65/annually,  3 Site – $90/annually,  20 Site – $180/annually
WP HTML Mail – WordPress email designer v3
Screenshot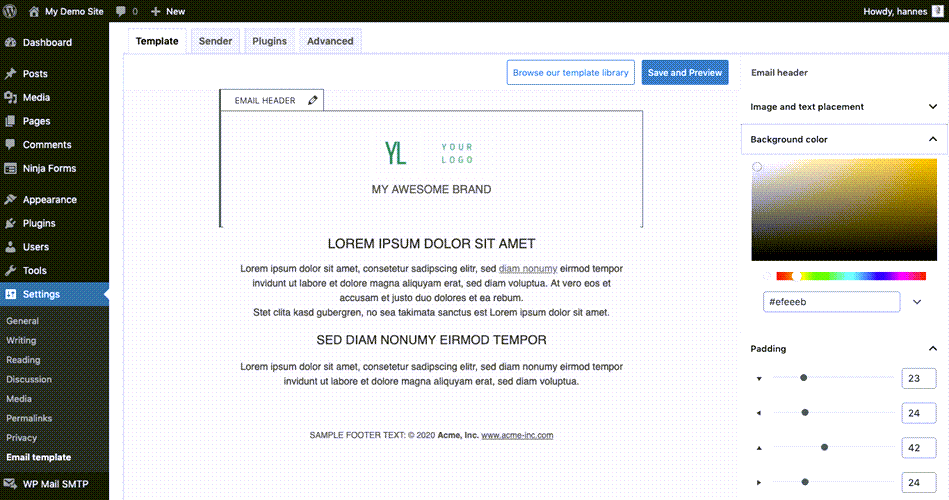 5. Email Customizer Pro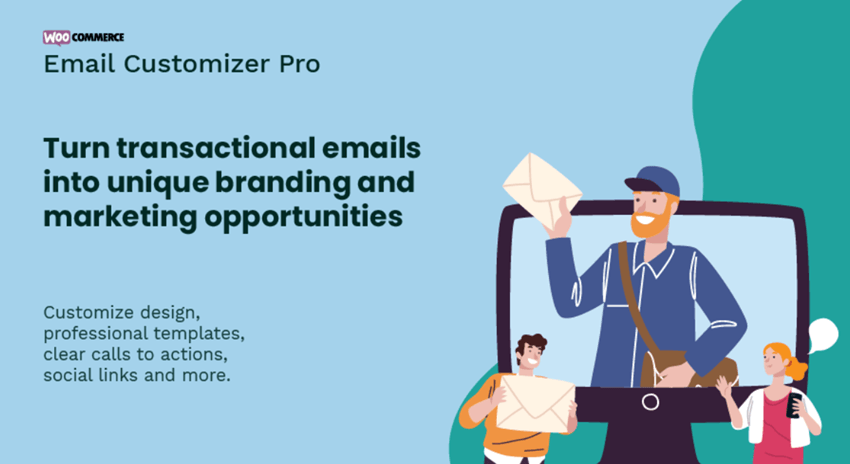 WooCommerce Email Customizer is an Email Template Designer plugin that assures you to deliver attractive emails to the visitor that creates interest and convert them into customers shortly. Customized WooCommerce emails can help you build your brand value, like Amazon and Alibaba. Extend your online business while preparing numerous emails for other Updates that include order status, tracking links, shipping confirmation, order cancellation, basic greetings, etc. Create emails without considering what to have in the content, respectively, as it automatically displays you the different categories of templates. While utilizing such templates, send emails that pose smooth responses on mobile and desktop. Increase the revenue by distributing emails widely, whereby viewers get interested in shopping more by just clicking the link available with subsequent offers. Sending beautiful emails is not a distant dream with Email Template plugins. Without much technical knowledge or coding skills, you can manage the tool very well.
Elementary Features –
Confirm Anything – From providing separate customer accounts to availing them of product updates, everything is accessed with email, which works as a medium to direct communication.
Flexible Styling – Create email according to the look of your site while adding and modifying the essential elements such as header, footer, logo, link menu, icons of social networks, and more.
Test Accessibility – This enables you to see the email which may be visible to customers before activating that for distribution among the public.
Live Editing – Edit anything available on the content while viewing such modifications at their exact time.
Complete designing for the email header can be done by inserting the logo, changing colours and adding text.
You can also create banners using the plugin.
The plugin also uses a customizer to modify the email templates with your desired colour, text, font etc.
You can also preview all the changes made or send test emails.
Price – By WooCommerce – $79/annually (1 Site), By StoreApps – $79/annually (1 Site)
Screenshot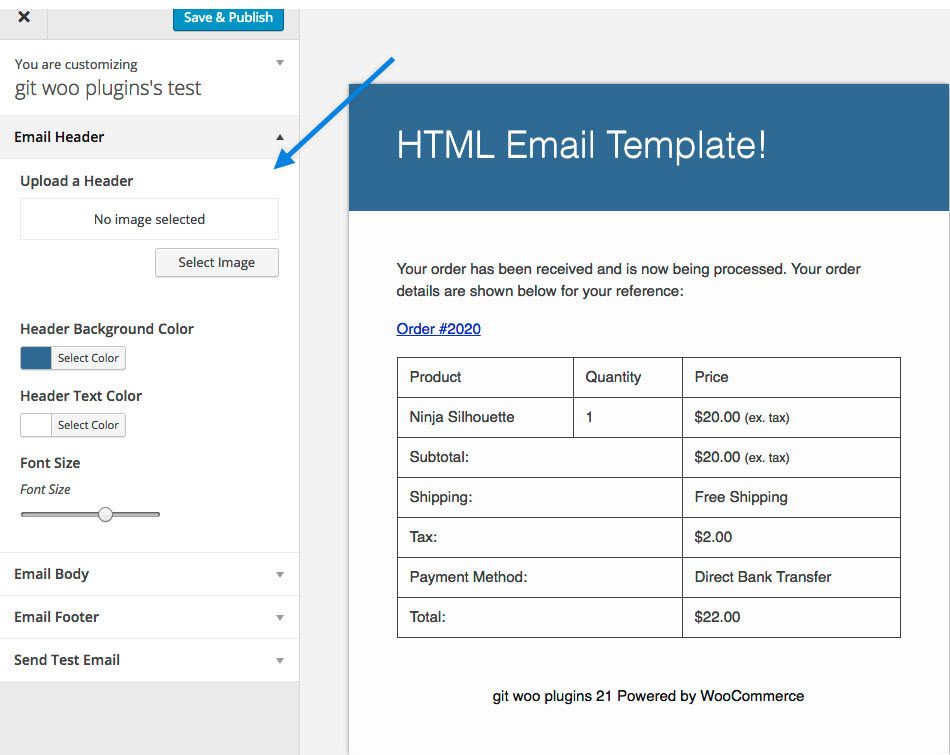 6. YITH

The YITH WooCommerce Email Templates plugin allows running the website job efficiently with the assistance of email services. Create better emails with numerous templates in just a few clicks for any purpose. Although, generate emails to confirm orders, cancel orders, deliver status, and recover customers' account passwords on the website. Let you customize the content utilized in a separate email. Enable to insert the social media links and product links which directly take them to a destined location just by one click. An organized extension that features so elegantly with intuitive UI design performs hassle-free tasks on every device. You allow adding multiple media like custom links, logos, and images. It also enables effortlessly editing the content of the email's header, footer, and body. You can send welcome emails to the newly registered users and confirmation emails to the purchasers for a more professional look at the messages you send to the customers.
Core Features –
Multiple Layouts – Access the email while applying the layouts such as default, casual, elegant, and informal, whichever you want.
Assign Templates – Modifying the templates' colour, text, and style makes them more attractive and professional.
Insert Menu – Let users link the menu essential on the header of the email prepared for them to redirect to the pages.
Customizable and Responsive – This allows you to customize every part of the email while building it so beautiful for customers and easily accessible on multiple devices, including smartphones and desktops.
You can create a graphic coherence between the email and your brand.
Each email type can be assigned a template that can be customized with text and colour.
There are four different layouts to design your customized email templates.
You can also insert social network buttons into the emails.
A menu can be inserted in the email head for easy navigation.
Price – 1 Site – $79.99/annually
Screenshot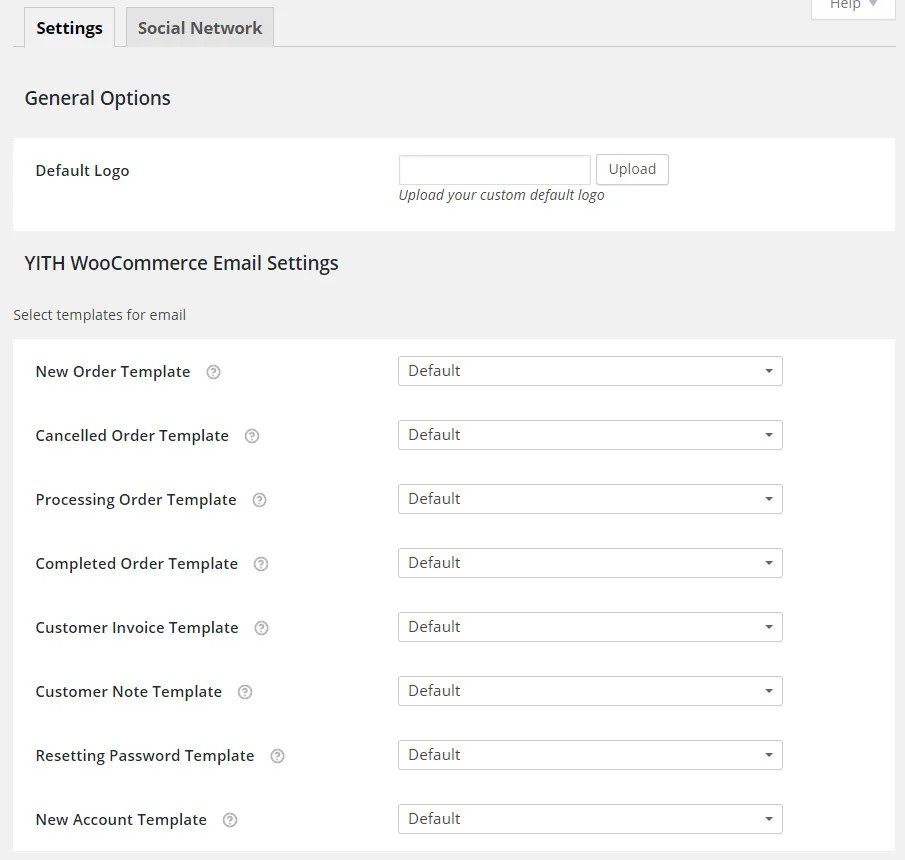 7. Template Customizer

WooCommerce Email Template Customizer is a powerful WordPress template customizer plugin that lets you modify your email templates. You can also use this to customize the email templates for WooCommerce, and it allows you to customize the email templates according to your choices. You can use the drag and drop interface and customize and style your email templates without the requirement of coding knowledge. Using this plugin, you can personalize your emails in just a couple of clicks. As the name suggests, this plugin allows you to add custom emails for each product, thus making WooCommerce customer emails more effective.
Features 
Drag and Drop Interface allows you to use the drag and drop email editor interface to build and customize the WooCommerce email templates.
Unlimited Rows- You can add many ro9ws to your email templates.
Email settings- You can assign the email type and add billing country and category in the email template.
Preview Changes- You can preview your email template and update it if you want to make any changes.
Adding Images- You can also add images like banners, logos, featured images and more to your email templates to make them look visually attractive.
Responsiveness- The plugin is fully responsive and works seamlessly on every device.
Test Emails- You can also send test emails to check the email design.
The robust Custom Emails menu helps you assign a custom message for each product and select the order status and the location for the custom content.
An excellent plugin for product instructions, terms & conditions, product advertising and many more.
Price – Regular License – $32/Lifetime (1 Site)
Screenshot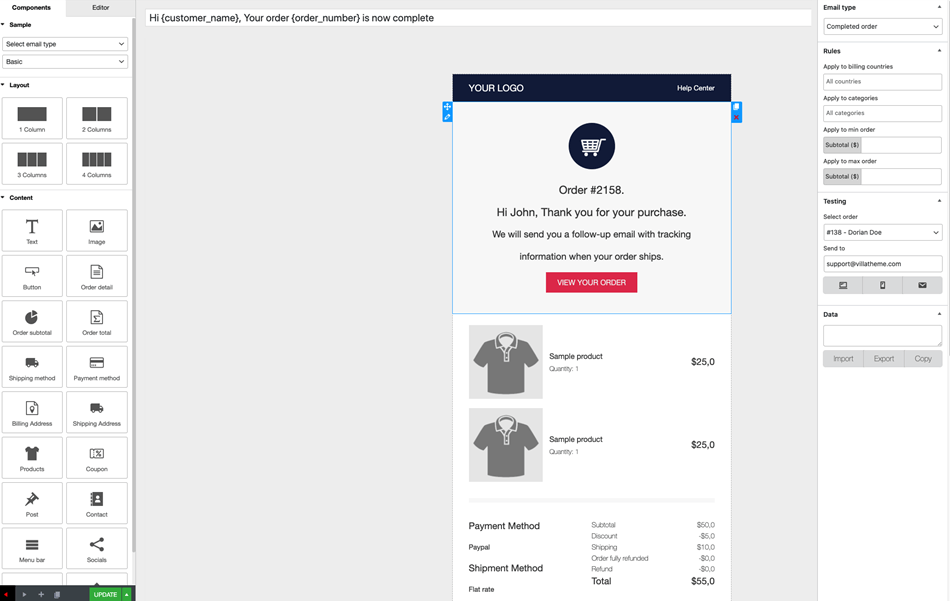 8. ActiveCampaign

Integrate WooCommerce with ActiveCampaign allows you to integrate your WooCopmmerce with Active Campaign to give your customers a fantastic time shopping on your website. You can automate emails and set customized welcome emails to reach more customers and enhance the user experience on your site. You can also use the pre-built automation templates to save time and inform your customers about the products they may want.
Plus Features
You can segment your email campaigns according to your shoppers' behaviour and demographics.
You can also send SMS to your users with promos and special deals.
It also allows you to stay in touch with your customers after they've purchased from your site.
The plugin allows you to track your customers' purchases by loading the customers' purchase information.
No duplication if you have multiple products with the same Custom Email Message or same Order Status email, the message will be displayed only once.
You can customize the email's body, subtitle, and heading as per your branding and send personalized emails to the customers for a better impact.
Settings can be exported and imported easily.
Some pre-built email designs can also be imported for an easy start.
Price –  Lite – $108/annually, Plus – $588/annually,  Professional – $1548/annually,  Enterprise – $2748/annually
Screenshot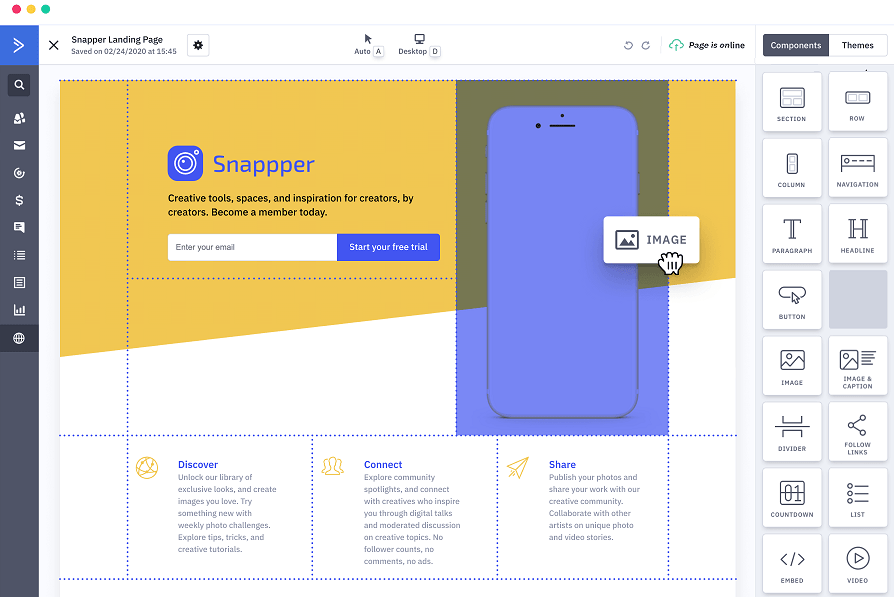 9. Sendinblue Add-on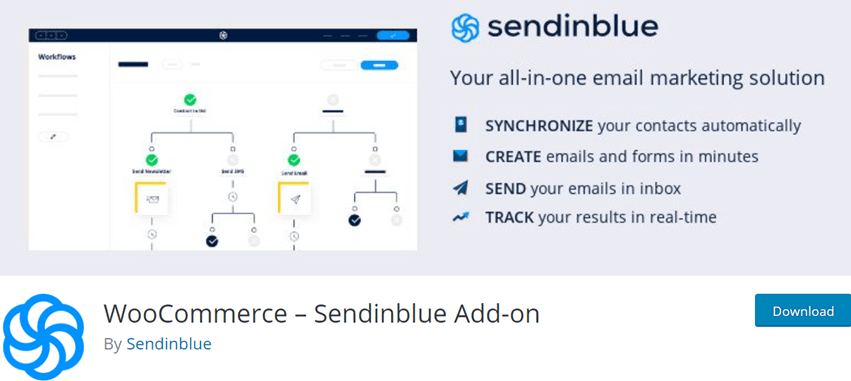 SendinBlue is a free WooCommerce Email Customizer Plugin that allows you to leverage the emails and SMS campaigns, improve your email marketing and track the email metrics such as click rates, delivery and open rates. It also allows you to add essential details to your emails and make them engaging for your users. Using this add-on, you can also send confirmation messages to your customers after important events such as order confirmation, shipment, and delivery. You can also personalize your message by adding the customer's name, order date or price. In addition, wooCommerce Email Designer, you get easy customization of default transactional WooCommerce email templates.
Features
You can send confirmation emails to your customers.
It shows you the up-to-minute analytics of your emails like click rates, delivery rates and open rates.
It also allows you to segment your email campaigns
You can also send confirmation messages after important transactions.
It enables you to send test emails or SMS to check if everything is in place.
The plugin also allows you to manage the customer subscription, such as opt-in, opt-out or double opt-in.
Live preview is available for the WooCommerce Emails so that you can make modifications before finalizing the draft.
It also allows you to send test emails to your email address to check if everything falls back in place.
You can also check all your changes in the live preview mode.
Total number of users – 10,000+
Screenshot