10 Best Photo Gallery Plugins For WordPress 2023
Are You looking for Premium or Free Best Photo Gallery Plugins For WordPress to create a photo gallery on your website? We have compared and found out the best of all by comparing the speed, user friendly and performance. Getting the Right plugin is quite tricky. We also know that installing all the plugins to check the pretty one doesn't make sense.

Using images gallery plugins, you can easily integrate amazing images portfolio with animation without coding knowledge.
In these articles, we have included both free Photo Gallery Plugin and premium. As all users will get benefited from these articles. So let's have the list of Best Photo Gallery Plugins For WordPress, which is as follows :
You might be interested in knowing which is the best grid gallery plugin for WordPress.
1. Customizable WordPress Gallery Plugin – Modula Image Gallery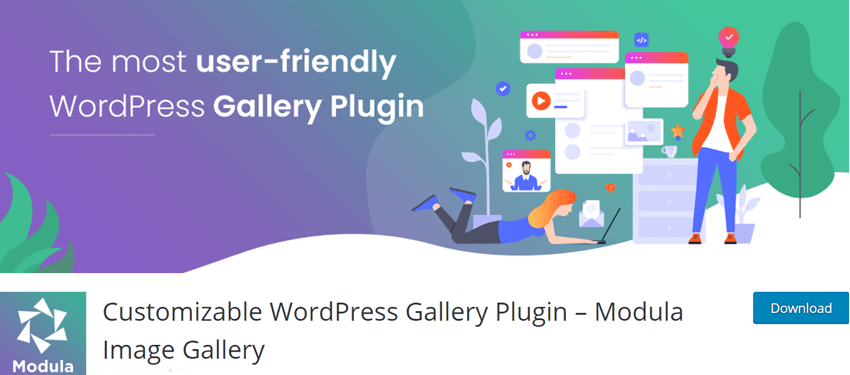 Modula WordPress Photo Gallery Plugin is created with Macho theme. They are known for their Creative work and better quality. This plugin is one of their best works. Using this plugin, you can create a beautiful photo gallery, image gallery, responsive gallery, and portfolio gallery. Modula is known for its fast speed and can be used to create a responsive image gallery easily.
Features
Adjust the Height and Width- Inside the Modula plugin, you can adjust the height and width of the gallery. Which will be completely responsive
Sometimes you face the issue of images cropped in other plugins, but you don't face those issues there.
Amazing Animations-This plugin will not only show responsive images, but also they will show amazing animations on mobile devices.
Simple Setup– Easy to set up and use, no coding required.
Highly customizable- It allows you to customize according to your choices.
Total number of users –9,000+
Price – Starter – $39/yearly,  Trio – $69/yearly,  Business – $99/yearly, Agency – $149/yearly
Modula - The #1 WordPress Photo & Video Gallery Plugin
Screenshot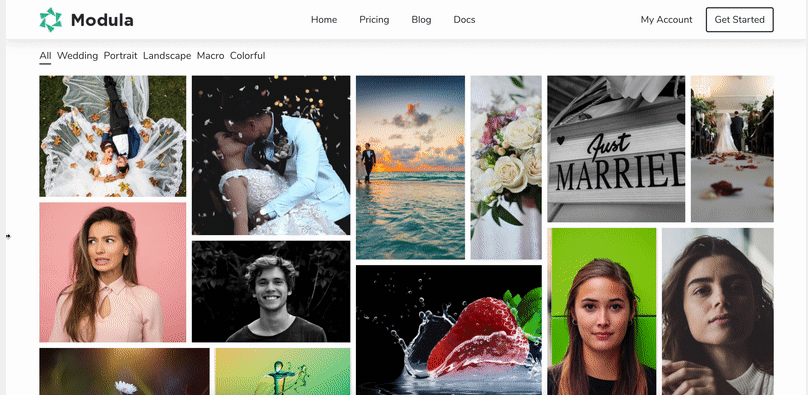 2. Gallery Plugin for WordPress – Envira Photo Gallery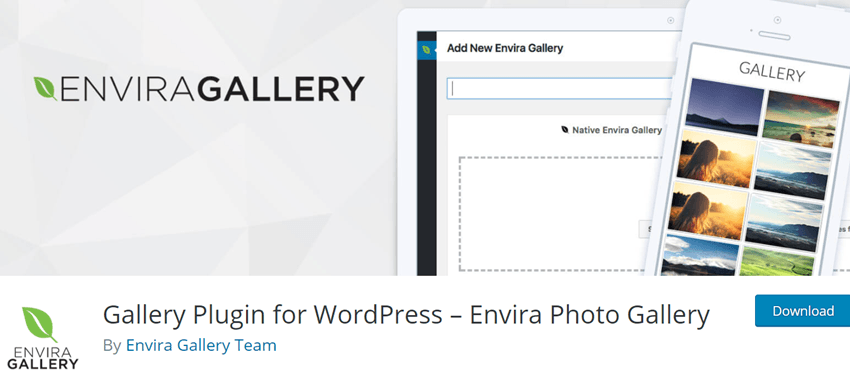 Nathansingh created the Envira Gallery plugin. And mainly owned by WPBeginner's team. Envira Gallery is one of the topmost, most famous, and Best WordPress Photo Gallery plugins.
Envira Gallery allows you to create a beautiful responsive photo gallery and video gallery for your WordPress site in minutes, not hours!
Features

Drag & Drop Photo Gallery Builder- Many plugins are completely bloated and have many bugs. To overcome such an issue, Envira Gallery comes into the picture. To create a photo gallery in just a minute Without coding. Using the drag and drop option, you can create a responsive photo gallery.
Mobile-ready, SEO friendly, and Optimized for Speed- This plugin is highly responsive with all devices. This plugin also has options to add the option to edit metadata, deep links, and much more. When we talked about the speed, this plugin was going to rock. They optimized it from the front end and backed it for better response time.
Sharing and Selling photos made easy –  You can enable Social media integrations and share images on social media. You can even sell images. All these things are covered In this plugin.
Easy to Customize and Extend- If you are a developer, you will love to edit code on this plugin because it's written in an elementary language. And you will find so many tweaks.
WooCommerce and Social media integration- This plugin allows integration with your WooCommerce store and many social networking sites such as Pinterest, Instagram, etc.
Total number of users –100,000+
Price – Basic – $14/yearly, Pro – $34/yearly,  Plus –  $49/yearly,  Lifetime $269/yearly
How to use and set up the Envira Gallery plugin
How To Add Responsive Image Gallery To WordPress Website
Screenshot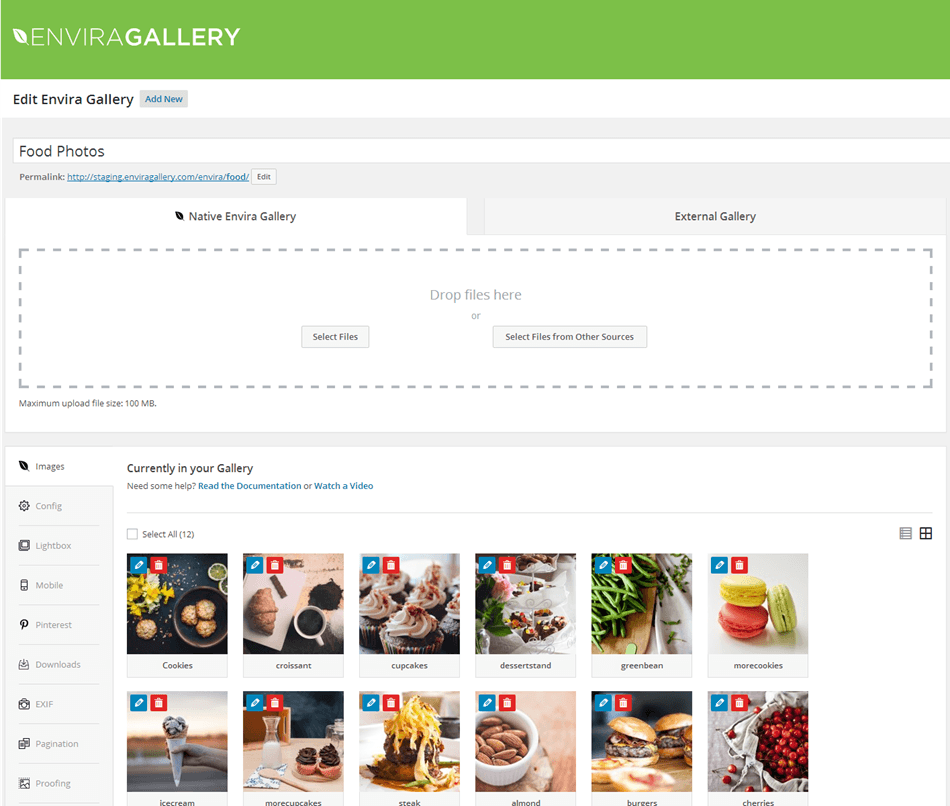 3. WordPress Gallery Plugin – NextGEN Gallery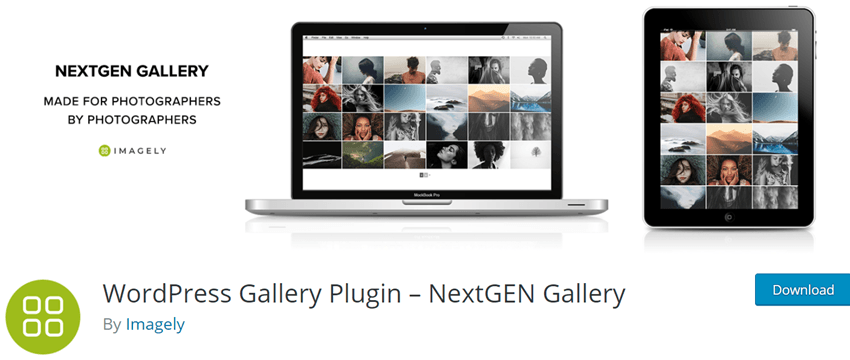 NextGEN Gallery is the most powerful and beautiful and Best WordPress Photo Gallery Plugins ever made. You can increase the beauty of the plugin by adding an extension. More than 1.5+M people have used this plugin for their photography websites. This plugin is trusted by millions of photographers, artists, and images professionals.
Note – This plugin is the second choice in my list because the free version of NextGEN Gallery has lots of limitations. If you want to go for exceptional features, go ahead with NextGEN Gallery Pro Version. This plugin has lots of features. So I will be reviewing NextGEN Gallery Pro.
Features
With the Free version, you can create a gallery by uploading images in batch, editing the thumbnail, importing metadata, and even adding or rearranging the images.
Photo Proofing- This plugin adds photo proofing to your WordPress site, making it easy for your clients.
Tax Calculations- NextGen Pro is integrated with Taxjar and auto-calculates your sales tax with accuracy.
Payments- Easily accepts payments through PayPal, Stripe, and Checks.
Offer Coupons- Using NextGen, you can easily offer discounts and coupons to your clients.
Selling Images- You can also sell your images by adding pricelists to your gallery.
Digital Downloads- It offers a digital download of your free and paid images.
Multiple Galleries- It also comes with many galleries such as Filmstrip Gallery, Masonry Gallery, Mosaic Gallery, Blog Style Gallery, Film Gallery, Sidescroll Gallery, Image Browser Gallery and more.
Comment on Individual Images- Pro Lightbox allows image commenting on individual images and lets you display images at full scale.
Total number of users –700,000+
Price – Starter – $21/yearly, Plus – $70/yearly,  Pro –  $98/yearly,  Lifetime $280/yearly
Two-Minute Introduction to NextGEN Gallery
Screenshot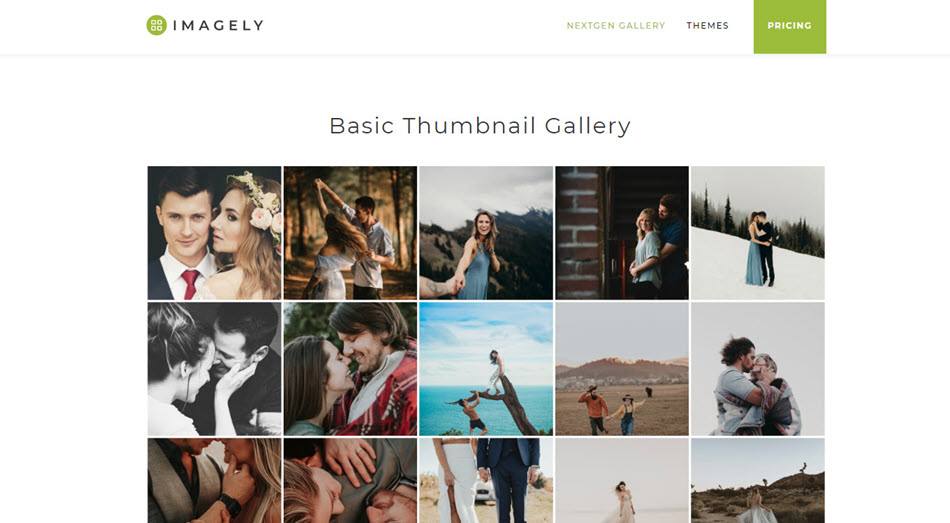 4. Photo Gallery by 10Web – Mobile-Friendly Image Gallery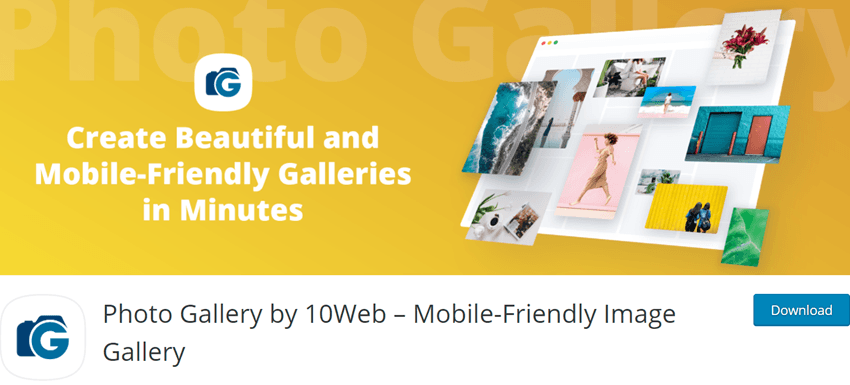 Photo Gallery by WD is a user-friendly plugin and an excellent choice for photographers' website designers who want features like responsive images galleries and beautiful photo galleries. This plugin allows you to create picture galleries and albums and even sell digital photo galleries online.
Features
Increased visitor engagement – You can create a beautiful photo gallery and grab your visitor's attention, ultimately boosting page views and decreasing your bounce rate.
Enhanced SEO – You can increase your post visibility in Google by adding tags and metadata to your images.
Full Control- This plugin lets you customize your galleries and albums to match your needs.
Better Navigation- This plugin aims to give a better experience to your users by creating organized galleries and albums and providing better navigation.
Support- You can always rely on the team for quick and efficient support.
Total number of users –300,000+ 
Price – Basic – $30/yearly, Pro –  $60/yearly,  Plugin Bundle – $100/yearly
Photo Gallery WordPress Plugin
Screenshot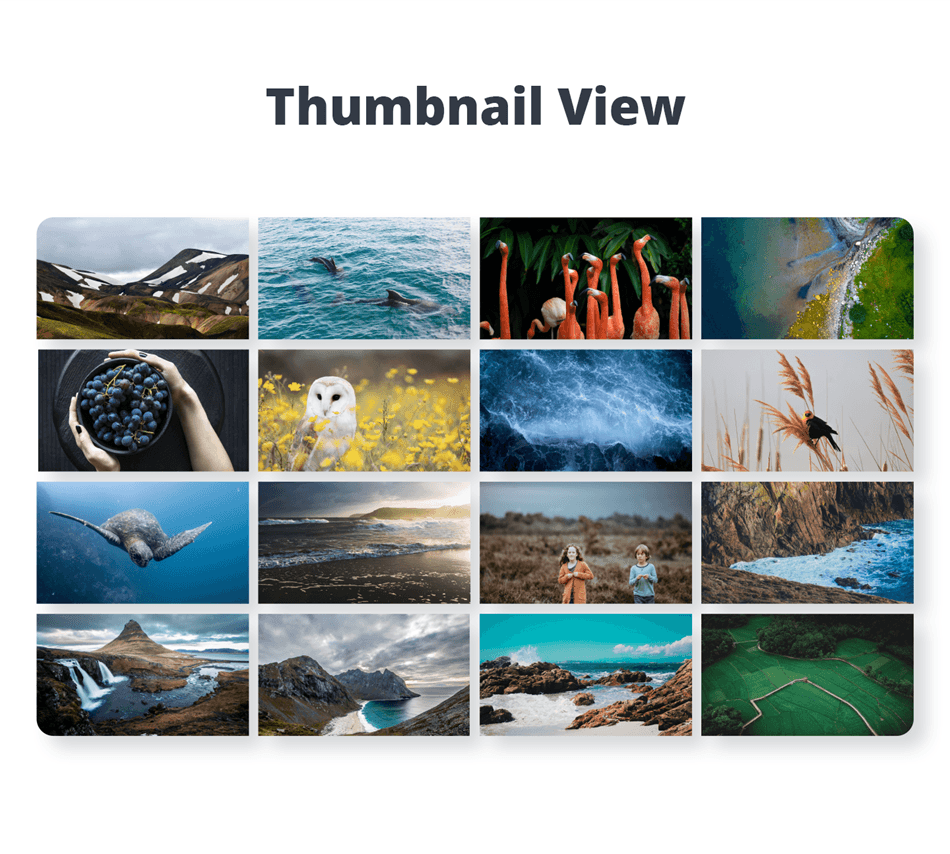 5. Photo Gallery by Supsystic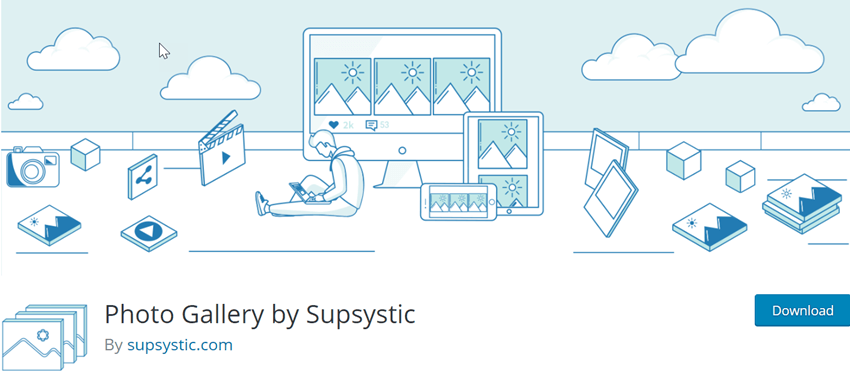 Photo Gallery Plugin allows the various arrangements to represent your available photos on the website. This WordPress Gallery Extension enables you to design your gallery with a sophisticated presentation of images and videos. Availability of different gallery styles such as Polaroid, Circle, Post Feed, Gallery with icons & captions, etc. You can customize the gallery style as you want to showcase your gallery. Completely responsive on devices with various screen sizes and let you free to add images from anywhere. You can choose the images already uploaded on any of your social media accounts or new ones.
Photo Gallery WP Extension enriched with all essential features including lazy load, load more buttons, social sharing buttons, pagination, responsive, etc. Utilize the watermark of your organization on photos & videos that makes your gallery view branded. This also saves you from theft of uploaded photos or videos as it contains your organizational watermark. It can be integrated with CDN, which enables your website to load at high speed, improving your site's user experience.
Total number of users –50,000+ 
Price – Single-$49/yearly, Dev-$69/yearly, Enterprise-$149/yearly
Screenshot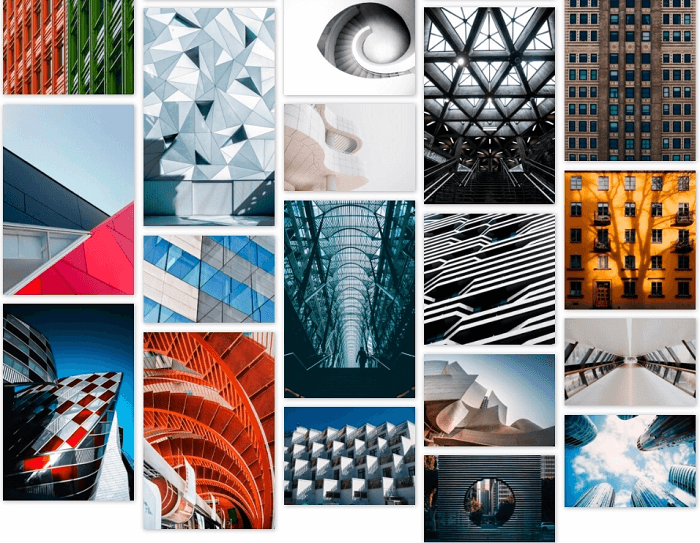 6. Portfolio Gallery – Image Gallery Plugin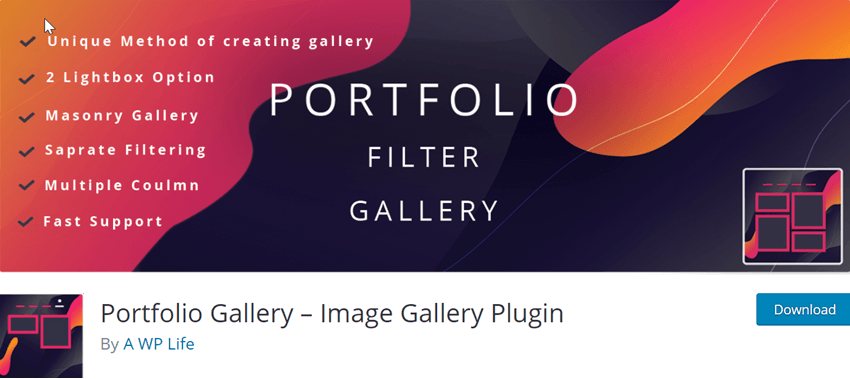 Portfolio Gallery is a well-integrated WordPress Plugin for building attractive and responsive portfolios for your WP websites. This extension is compatible with every category of devices such as PC, Tablet, Macbook, mobile.
Featuring with every essential element that you require as –
Filter Creation – Design your portfolio gallery by quickly creating and editing unlimited unique filters.
Various Presentation – Display your portfolio gallery in the way you want, show the gallery's desired columns, and mention the numbering on photos if required.
Effects and Title View – Make your gallery look professional using grayscale effects. Set up the image title to be shown in galleries like labels or captions.
Customize Easily – Create filters for pages and images easily according to necessity.
Link Portfolio – Enable to share the entire portfolio link or any particular image from such gallery anywhere.
Upload Video allows you to add videos to your personalized portfolio gallery. You can show your YouTube or Vimeo videos on such portfolio along with Icon and other required elements.
Total number of users –20,000+ 
Price – Personal License-$29/yearly, Business License-$99/yearly, Developer License-$149/yearly
Portfolio Filter Gallery WordPress Plugin - How To Use Portfolio Filter Gallery Plugin
Screenshot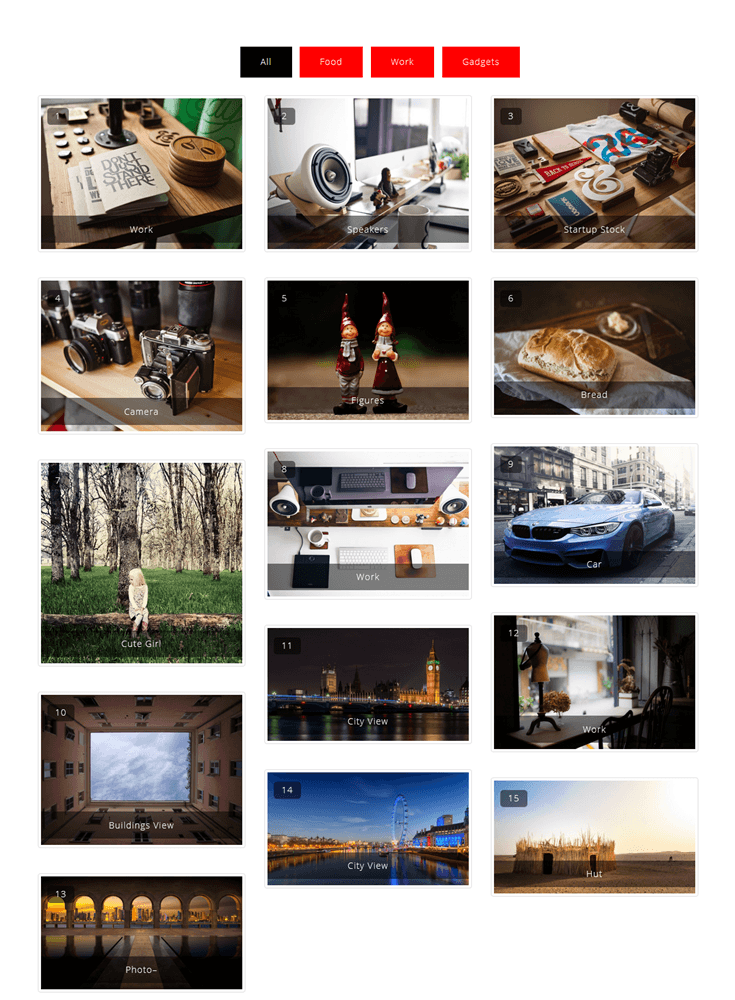 7. Best Image Gallery & Responsive Photo Gallery – FooGallery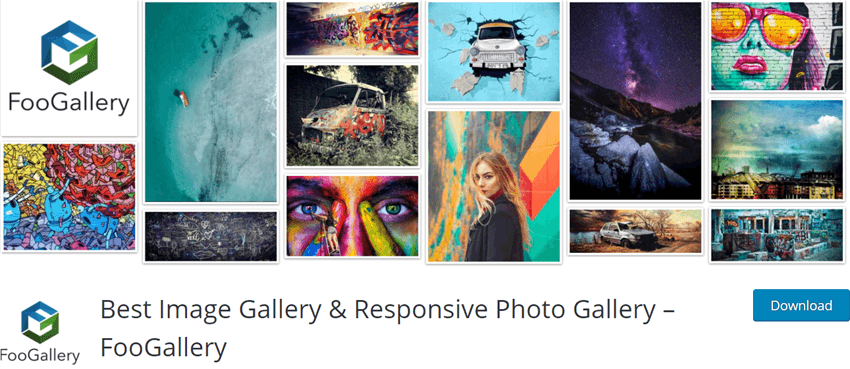 FooGallery plugin is yet another fantastic image gallery plugin for WordPress, which has lots of features required to create a beautiful album or photo gallery.
Features
PHP 7 Compatible

– FooGallery works fine with the latest php7.

Retina Support

– Your images gallery thumbnails look beautiful with this plugin on a retina-enabled display.
Beautiful

 Albums

– You can create different kinds of beautiful albums with pre-designed built-in features.
Image Gallery Templates comes with six beautiful image gallery templates: Responsive Image Gallery, Masonry Gallery, Single Thumbnail Gallery, Simple Portfolio, Image Viewer Gallery, and Justified Gallery.
Highly Customizable- You can easily customize thumbnails, border, hover effects, space and alignment.
Reordering Images and Galleries– you can reorder your images and galleries by the easy drag and drop method.
Total number of users –200,000+ 
Screenshot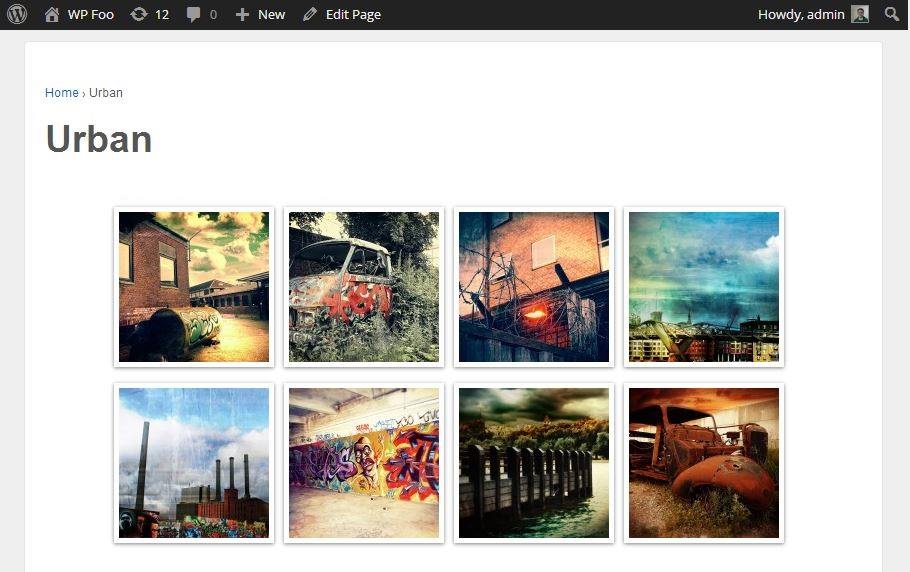 8. Responsive Lightbox & Gallery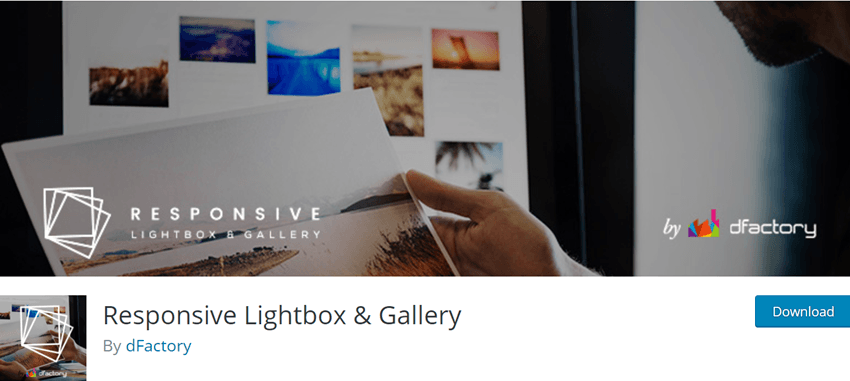 Responsive Lightbox & Gallery Extension contains an easy-to-use interface that provides Lightbox obligations and creates a gallery with an immense Drag and Drop option. You can easily customize its features on your terms. You get access to numerous Gallery Styles along with slider alternatives. Supports the WooCommerce Product to create a beautiful Gallery with our useful widgets and other elementary features. Settings of Responsive Lightbox & Gallery is fully customizable and supports workflow with more than one website.
Features Implemented –
Responsive Scripts – Lightbox comprising 8 Scripts, i.e. SwipeBox, FancyBox, Nivo, Image, PrettyPhoto, Magnific Popup, Toys "R" Us, and Featherlight.
Gallery Templates – Available in different gallery designs such as Masonry, Grid, and Slider.
Lightbox Automatically – Lightbox spontaneously added to WP image galleries & links, video links, Content of comments & widgets.
Extract Images to Create Gallery – Create a marvellous Gallery by integrating images and videos from elsewhere posts or uploading existing from local files.
Content Compatibility – Supports Iframe, HTML5, AJAX, and Inline Lightbox content.
Total number of users –200,000+ 
Screenshot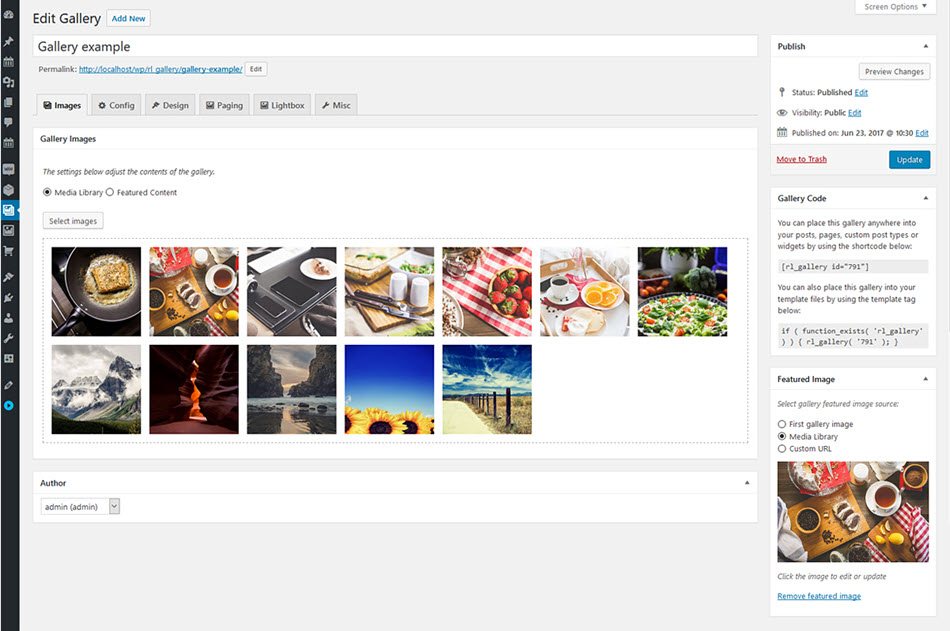 9. Visual Portfolio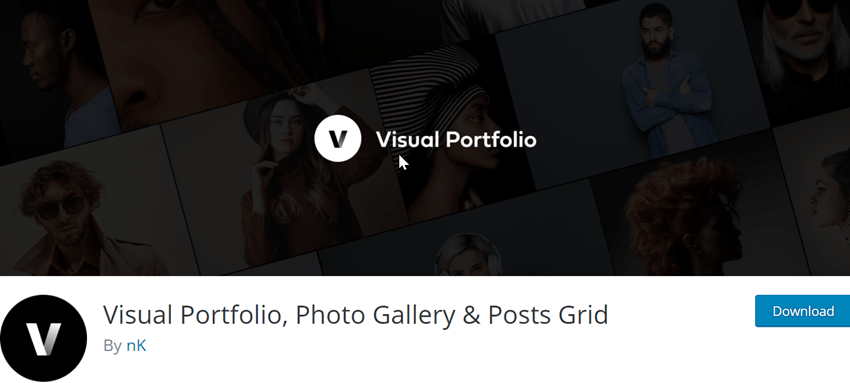 Smart Grid Gallery plugin can be used to create dynamic images grids with lots of CSS3 animations. This plugin also supports Vimeo and YouTube videos. You can make your gallery a vibrant image grid gallery with just one shortcode.
Features
Responsive Gallery

– Your gallery will look great on laptop, tablet and mobile.
Touch navigation – This plugin support touch navigation.
Unlimited colour – You can add lots of colour to your image gallery.
Shortcode generator – You can easily add a shortcode option.
Video gallery – This plugin supports Youtube and Vimeo videos.
Responsive- Smart Grid Gallery is built on a fully responsive layout.
600+ Google Fonts- This plugin comes with 600+ Google fonts that you can use simply by setting its family name.
Total number of users –50,000+ 
Screenshot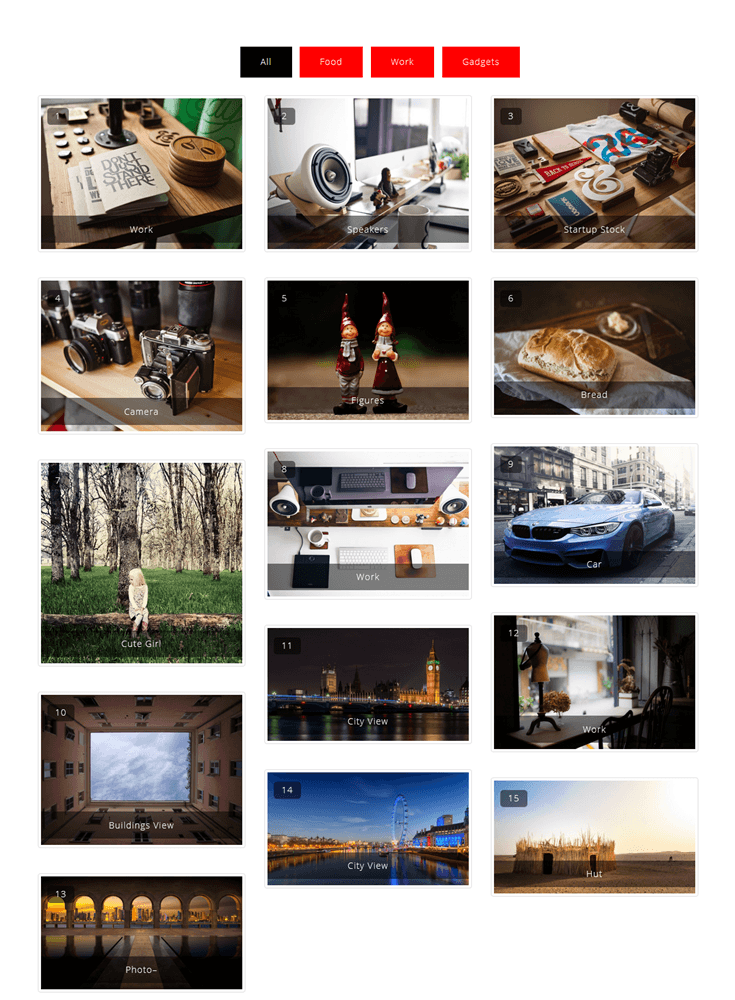 10. Photo Gallery by GT3 – Video Gallery & Gutenberg Block Gallery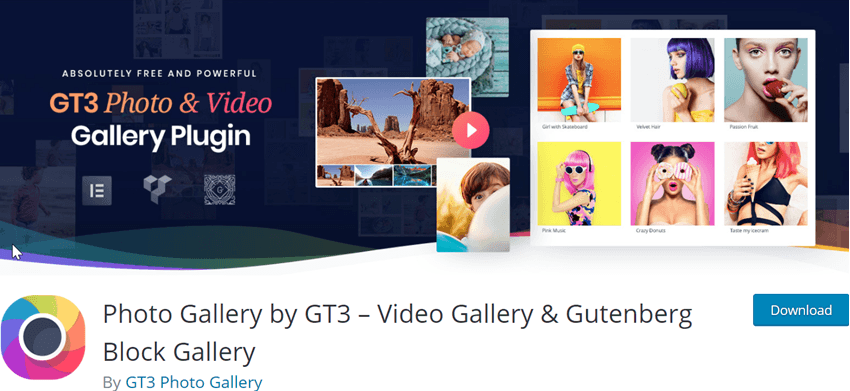 GT3 Photo Gallery enables you to visualize your idea and decorate images and videos into a gallery with discrete available options. An organized Gallery Plugin of WordPress allows you to work fluently with Gutenberg for editing. Customs options are available in the setting dashboard, from where you can create professional presentations of image or video galleries as well. If you embed this Gallery Plugin on your website, then you get to know that Image loading speed is excellent. GT3 Photo Gallery supports widgets and modules of popular builders like Elementor, WPBakery, and DIVI.
Integrated Features of GT3 Photo Gallery –
Create Sliders – Design your Gallery view with different sliders, namely fullscreen, ken burns, shift, and ribbon.
Categorize Filter Option – Select filter for images and videos by category set up.
Include Video Files – GT3 Photo Gallery accepts external videos, i.e. extracted from Vimeo, YouTube, and another source.
Style Layouts – Many layouts are available that you may utilize to style the gallery.
Convert Gallery View – Allow to convert Gutenberg Gallery into masonry or grid view.
Total number of users –10,000+ 
Screenshot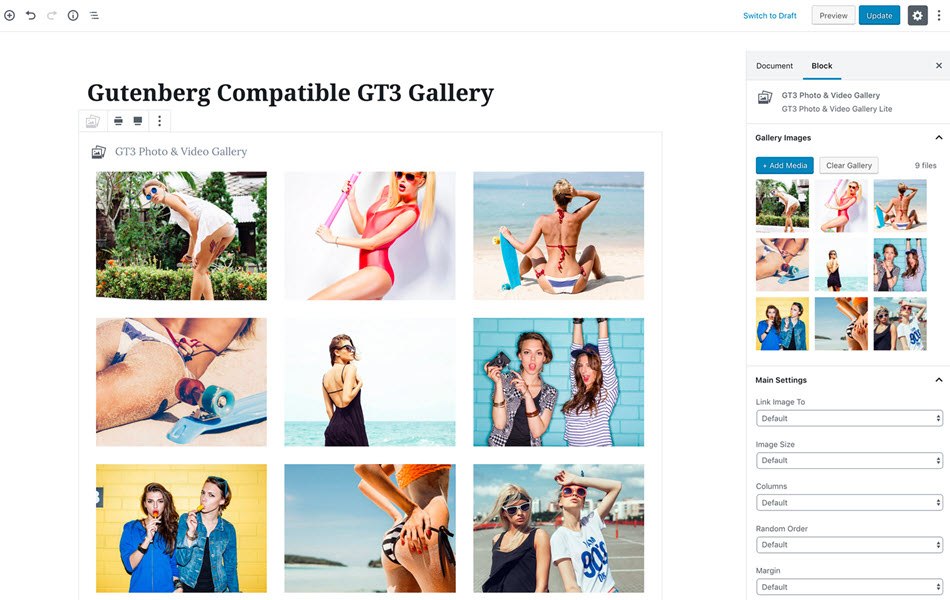 Conclusion
Are you still confused about which one to select as the Best Photo Gallery Plugins For WordPress? Don't get confused. If you want to choose free, go ahead with Envira or Modula. But if you're going to go for a premium, then go ahead with nextgen. They are one of the leading photo-related themes and plugin creators none can be better than it.