10 Best Grid Plugins For WordPress 2023
Are you looking for Premium or Free Best Grid Plugins For WordPress? Grid Plugins are the Most essential Plugins when you talk about the customization of a website. Grid Plugins helps you create a customized post grid, image grid, portfolio grid, Product Grid, Team member, Testimonial, and eCommerce website. You can also create a Customized search or filter custom field and custom taxonomy.

When we talk about grids,  there are many grids like the masonry grid, post grid, media grid, post masonry grid. The Grid can be easily created to make your website look more beautiful. So we have prepared a list of some Premium and Free Best Grid Plugins For WordPress, which is are as follows.
1. Content Views

Content Views is one of the Best WordPress Grid Plugins, a fully mobile responsive post grid solution that helps users create beautiful category post grids, recent post grid, tag post grid, author post grid, and many more. It is a simple tool but still very powerful. Grid provides a photo gallery, tiled gallery, portfolio gallery, and image gallery. It also supports a tiled grid gallery and also a Pinterest photo gallery. It also provides a hover effect and lightbox.
Features
Applies friendly and best SEO practices.
This plugin works with any theme such as WooThemes, Genesis, Thesis, ThemeForest, Divi, etc.
Its speed can be optimized.
Content Views Pro displays any WordPress content quickly and easily by keywords, date, category, author, taxonomy, tags, custom field, ID, and status.
It limits the number of posts in grids.
Responsive layout, I.e. works efficiently on all devices
It supports multiple languages, so you can easily translate it into your language
It is simple to install and use, i.e. it requires no coding skills and takes no time to learn.
Content Views Pro team is always available to solve your issues and queries through Email and consumer forums.
Pro features
Support With Easy Digital Downloads, WooCommerce, and Events Manager.
Supports translation plugins
Filter Grid Option
Pagination Filter
Total number of users –100,000+ 
Price – Personal-$39/yearly (1 Site),  Business-$89/yearly (1 Site),  Developer-$199/yearly (1 Site)
Screenshot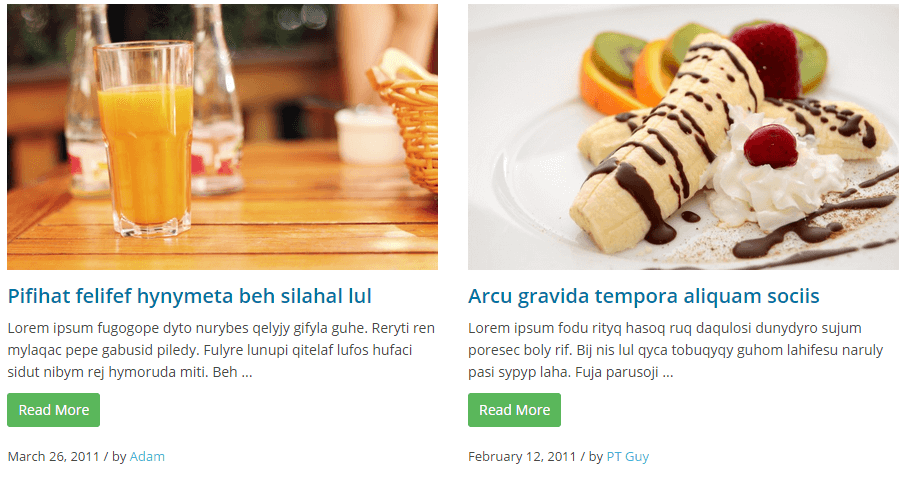 2. PostX Gutenberg Blocks for Post Grid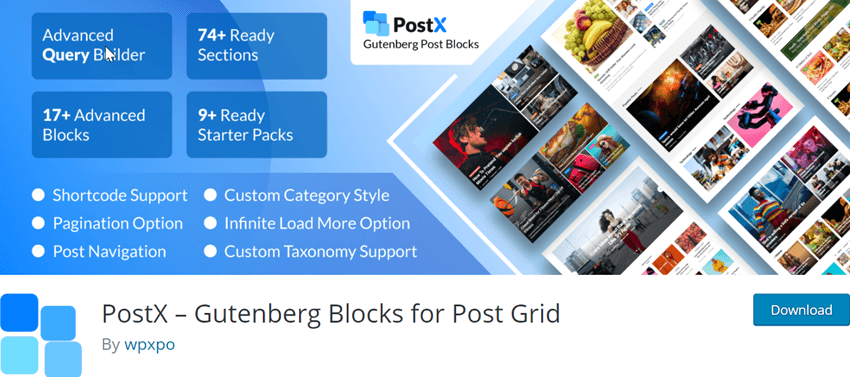 PostX is one of the best post grid plugins for WordPress and is equipped with unique tools to create Post Grid as Gutenberg Blocks. Utilize the amazing features of PostX for creating Post Blocks such as Magazine, News, Blog Post Listing or Grid, Post Slider, and many more with customization alternatives. You don't have to be familiar with a lot of coding skills. You can create a Grid by drag and drop facility. It is an amazing WordPress grid plugin compatible with various Add-ons, including All in One Meta, RankMath Meta, and Yoast Meta. Represent unique Post Block implemented with effective shortcode, custom CSS, and animations. PostX contains AJAX for the functions of navigation, load more, and pagination.
Key Features of PostX
Post Slider Block – Control the Post slider in the way you want to display it. Apply the selected filter and animation to design the slider.
Typography – Utilize Typography, which is available with advanced control options.
Custom Taxonomy – While creating Gutenberg Post Block, you can insert custom taxonomy and posts.
Compatible With Elementor – Users of Elementor Plugin can edit Gutenberg Blocks within their plugin or page.
It keeps the original size of the images and doesn't crop them.
You can sort the images manually or randomly.
It allows you to adjust margins between the images.
Comes with a video gallery.
It also provides for image sharing.
You can adjust the image size according to your screen size.
It has two types of layout-tiles and columns.
Total number of users –10,000+
Price – Personal-$39/yearly (1 Site),  Ultimate-$69/yearly (Unlimited Site),  Lifetime-$195/Lifetime (Unlimited Site)
Screenshot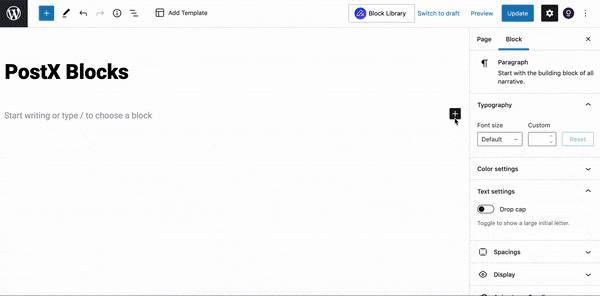 3. Smart Post Show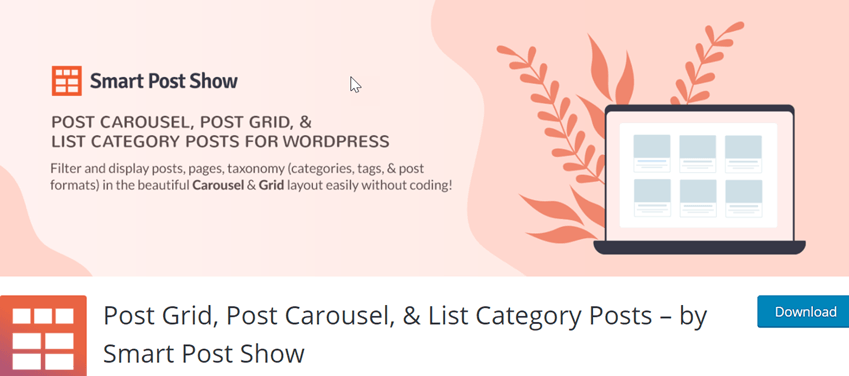 Smart Post Show helps users create a responsive squared grid to display their content interestingly and uniquely. It can display blog posts, services, designs, products, and team members. It can be easily modified to suit anybody's needs. This can help you if you are looking out for a designer portfolio photo gallery, products showcase photo gallery, wedding album photo gallery, and photography portfolio photo gallery.
Its features are:
Scrollable content.
Provides an easing effect.
It has custom social icons.
An item can be linked to some other page.
It has a very intuitive design.
The height and width of the images can be customized.
Colours and background can be accordingly set.
The order of items can be easily changed.
It allows you to link actual posts and featured images.
Provides multiple templates for your Grid.
You can create the grids according to your liking using the Template Editor.
It enables you to add the Grid anywhere using their shortcodes.
You can select multiple filters.
It also comes with a free version.
Total number of users –10,000+
Price – Personal-$39/yearly (1 Domain),  Business-$99/yearly (5 Domain), Agency-$199/yearly (Unlimited Domain)
Screenshot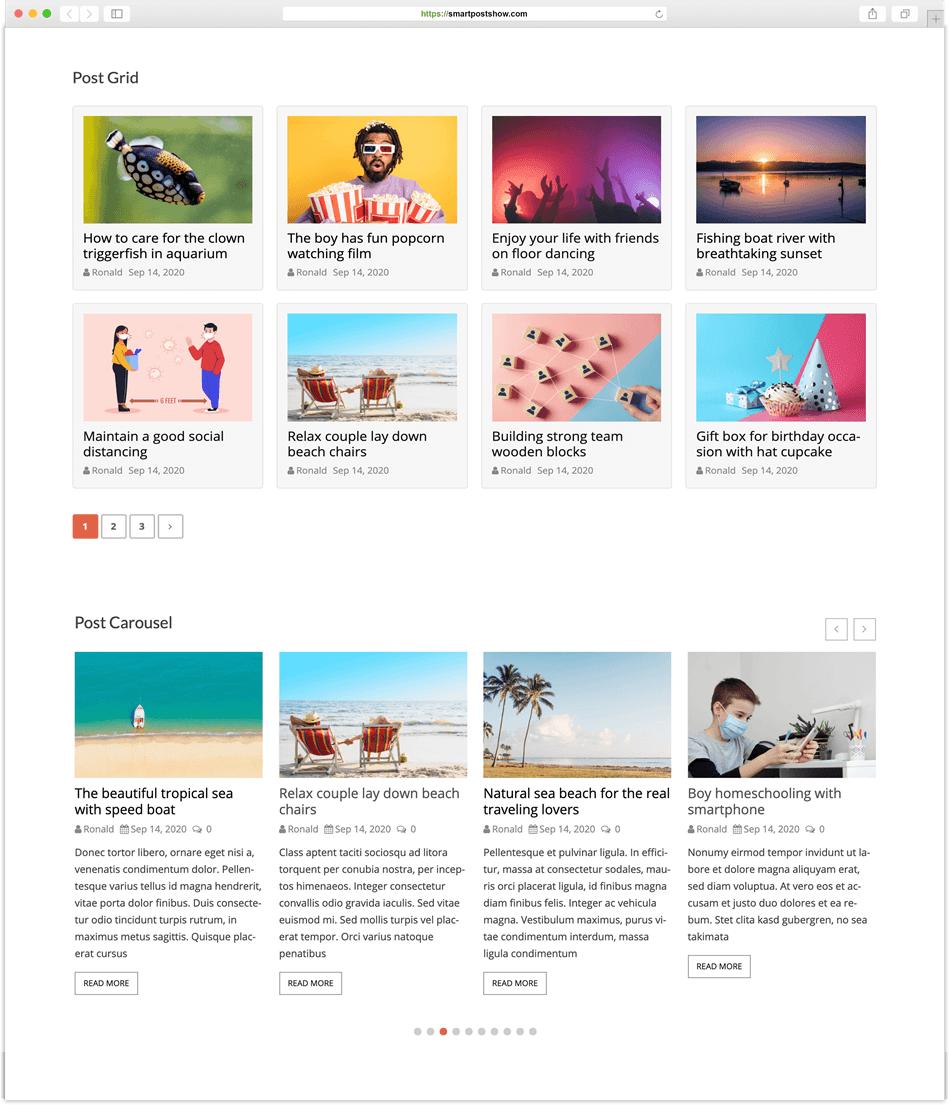 4. The Post Grid By RadiusTheme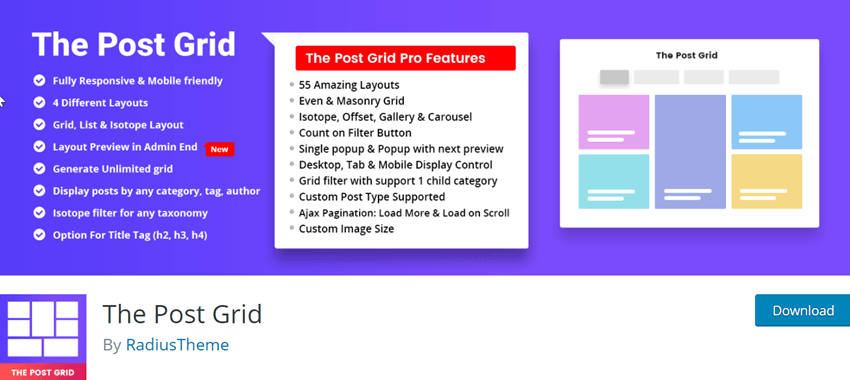 The Post Grid by Radius theme is a straightforward plugin that does not require coding knowledge. It enables users to generate a grid from the admin end and display it in posts and pages. It helps users build responsive grids for pages, posts, and custom-type posts. You can also add an isotope filter for the taxonomy associated with the post if you want.
Features
It has four types of offset layouts.
Posts and pages can be used as the source.
Provides complete control over Text colour, size, and Button Color
The limit can be excerpted in words or characters.
Create an unlimited grid.
Fields can be selected.
You can turn the layouts into grids or filter
Provides Button or Drop-Down filter.
Short by or Ordering option
Mobile friendly
It provides a query post with selection.
Filter by users.
It has a custom page resize option.
Total number of users –20,000+
Price – Small Bussiness-$149/yearly (10 WordPress/5 Site),  Agency Unlimited Use-$99/yearly (10 WordPress/Unlimited License), Agency Lifetime Unlimited Use-$149/Lifetime (10 WordPress/Unlimited License)
Screenshot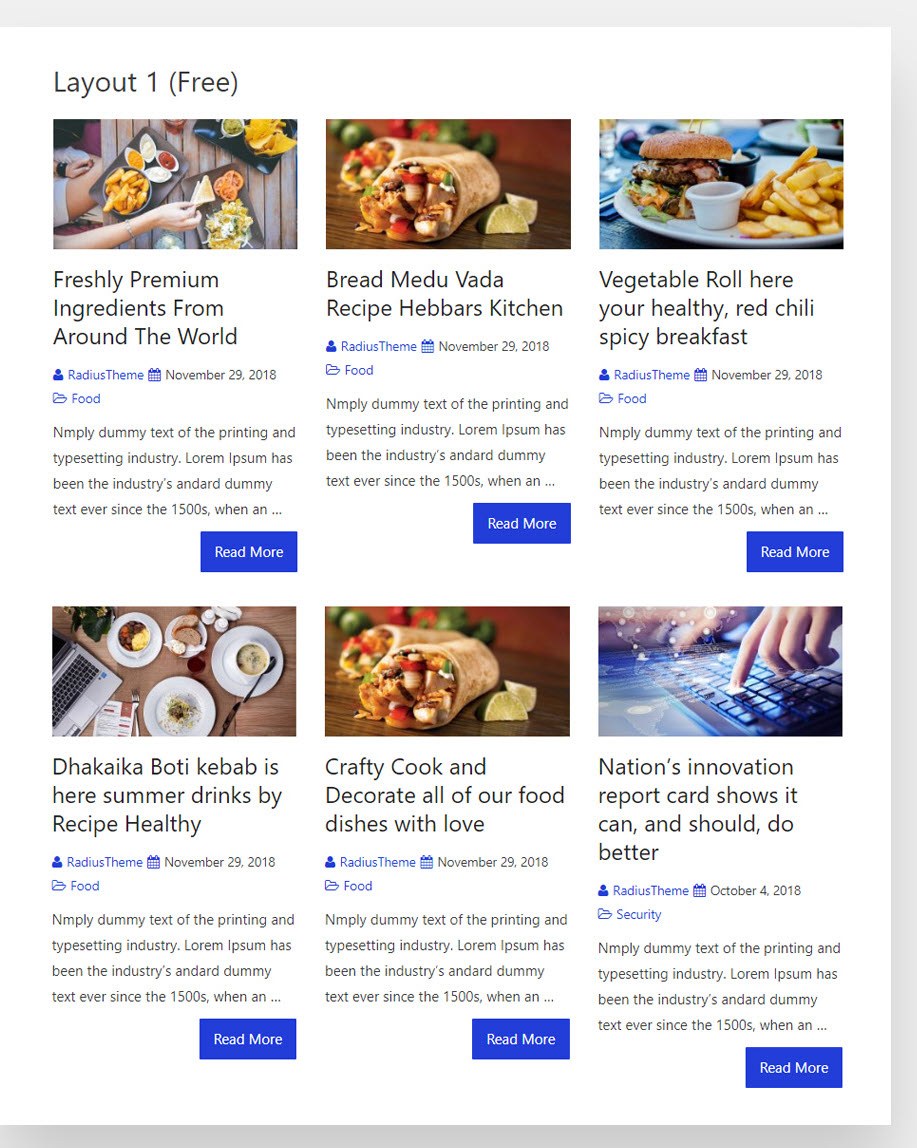 5. Post Grid Combo By PickPlugin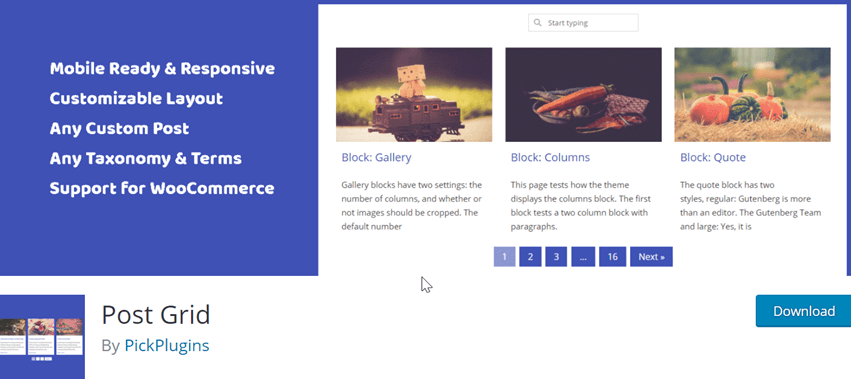 Post Grid Combo By Pickplugins is one of the best-selling WordPress grid plugins that offer the user to create fantastic post grids for any post type such as blog posts, portfolios, gallery, team member showcase, product showcase, category post display, and custom taxonomy. The grids can be created and displayed anywhere using shortcodes. It enables the post grid to display on archive pages dynamically on categories, custom taxonomy on terms pages, tags, etc.
Features
Any post type can be queried.
Grid width can be customized.
It is responsive and works well on any device.
Displays multiple post types on a single post grid.
Create an unlimited post grid on your website.
Pagination can be displayed or hidden.
Excerpt count length can be custom.
You can add a search input field at the top of the Grid.
There can be queries from multiple post types.
Grid thumbnail height can be custom.
It provides social share buttons.
Includes/Excludes post by IDs.
Display post grids based on keyword search.
It is based on skin and layout.
Total number of users –70,000+
Price – $19.00/Yearly (1 Site), $69.00/Yearly (10 Sites), $119.00/Yearly (Unlimited Sites)
$69.00/Lifetime (1 Site), $119.00/Lifetime (10 Sites), $149.00/Lifetime (Unlimited Sites)
Screenshot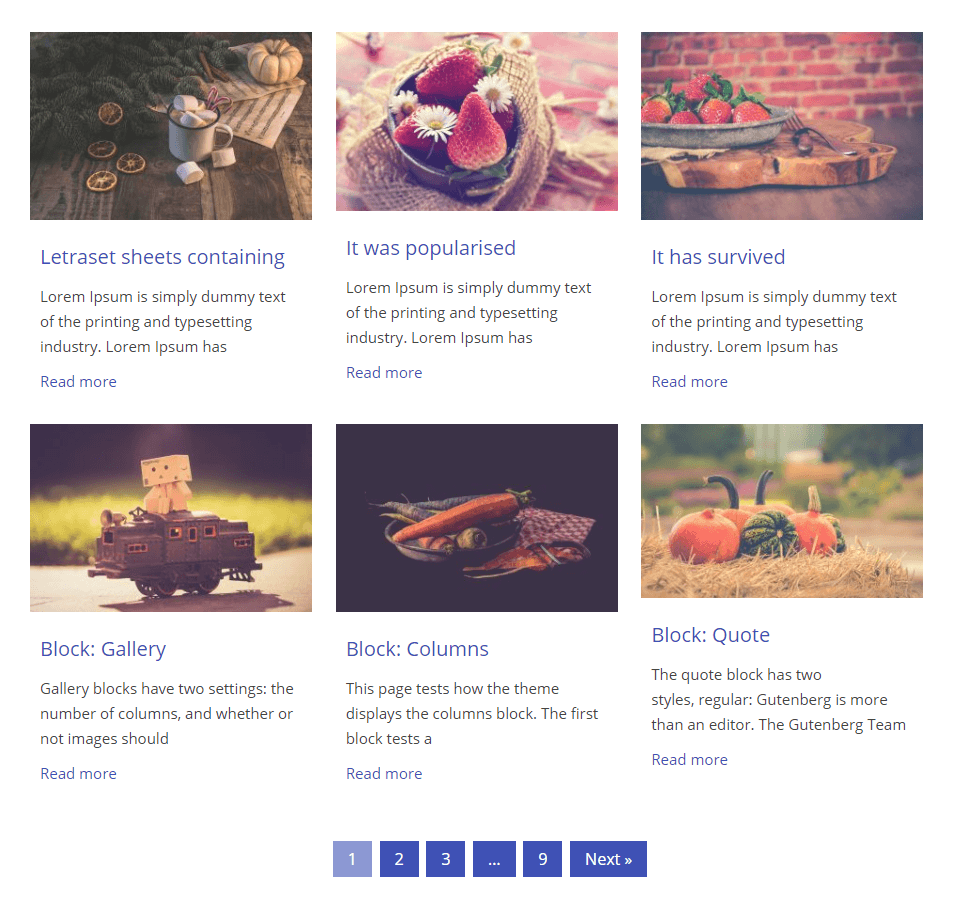 6. GS Posts Grid By GS Plugins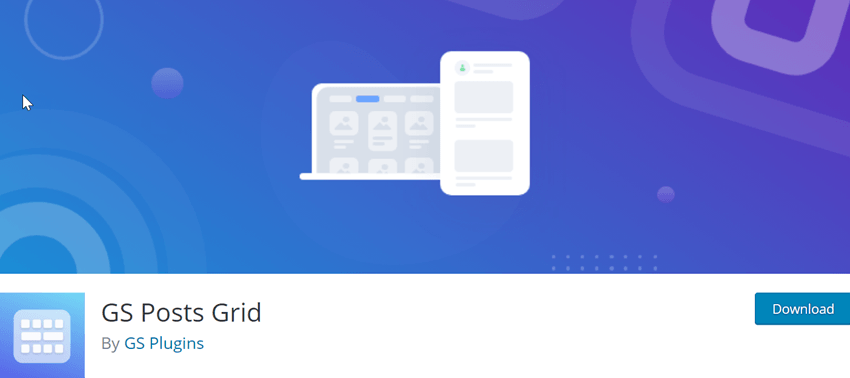 GS Posts Grid is a plugin that helps make unique portfolios and display them correctly on any browser. It has made possible the idea of unlimited layouts. Using Media Grids, you can create unique, filtered, and paginated portfolios very easily.
Features
Dynamic Grids- You can create massive grids according to your liking within no time.
Visual Grid Builder- You can build grids quickly by adding the items and sizing them through this feature.
Media support provides complete media support such as simple pictures, videos, image sliders, audio, etc.
Revolutionary Lightbox- Media Grid plugin allows you to keep your page light by handling huge content through the lightbox that supports HTML and shortcodes.
Unlimited Attributes- You can create unlimited attributes using the related icons.
Use your Posts- You can also use your existing posts to fill in grids.
SEO Pagination- It provides friendly SEO by serving your grid data to search engines.
Quick Setup- Media Grid is simple and quick to set up and use.
WooCommerce Integration- It is integrated with WooCommerce.
Comments Integration- You can engage your users and ask them for their opinion about your products by Media Grid integration.
Total number of users –200+
Price – Starter – $30.00/Yearly (1 Site), Business – $35.00/Yearly (5 Sites), Agency – $79.00/Yearly (Unlimited Sites)
Starter – $69.00/Lifetime (1 Site), Business – $119.00/Lifetime (10 Sites), Agency – $149.00/Lifetime (Unlimited Sites)
Screenshot
7. Essential Grid Gallery WordPress Plugin
Essential Grid WordPress Plugin is a premium plugin for WordPress and has outstanding features. It helps the user display various content formats in a highly customized grid. It is used in portfolios, galleries, blogs, services, price tables, WooCommerce products, etc.
Features
Visual skin builder and customizer.
It also has the highest standard documentation and tutorial videos.
You can easily export/import skins and grids for themes.
It has different layouts-boxed, full-screen, full width, etc.
This plugin comes with various animation types and Preloaders.
Essential Grid provides you with a template library with over 50 starter grids.
You can easily adjust space, rows, and columns
Responsive layout
It includes custom skins with a one-click plugin installer.
Price – Regular License -$69/biannual,  Extended License-$170/biannual
Screenshot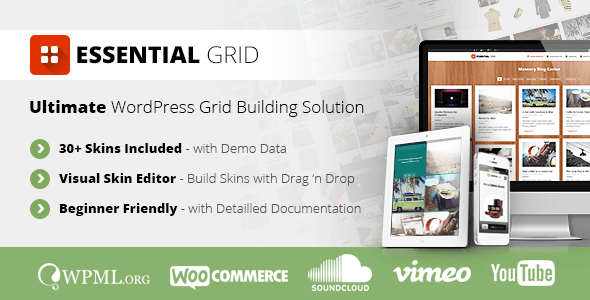 8. Media Grid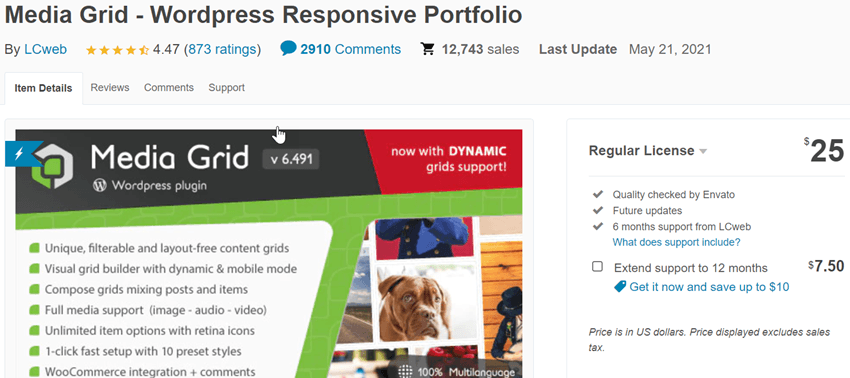 Media Grid is a premium plugin that let you create different layouts for presenting dynamic media content on your website. This immensely integrated extension enables beginners or non-tech participants to build professional portfolios easily with responsive and filterable features thereon. Endless layout designing is possible with Media Grid Plugin is displayed well on different browsers and is completely mobile friendly too. Featuring Visual Grid Builder eases the process of creating numerous grids in a few clicks. All you need to do is select items, customize size and sort them accordingly and that's it, moreover, you can see the live changes on screen. Generate dynamic grids in one minute while just finalizing the base layout and then configure elements to fit, it will automatically generate as many as grids you configured at that time.
Elementary Features –
Support for every media functionality such as inline, lightbox, image, image sliders, audio, and video player.
Multilanguage support for both frontend and backend systems.
Integrate comments accessibility of different social media platforms.
Advanced filter and real-time search grid access.
Price – Regular License -$25/biannual,  Extended License-$94/biannual
Screenshot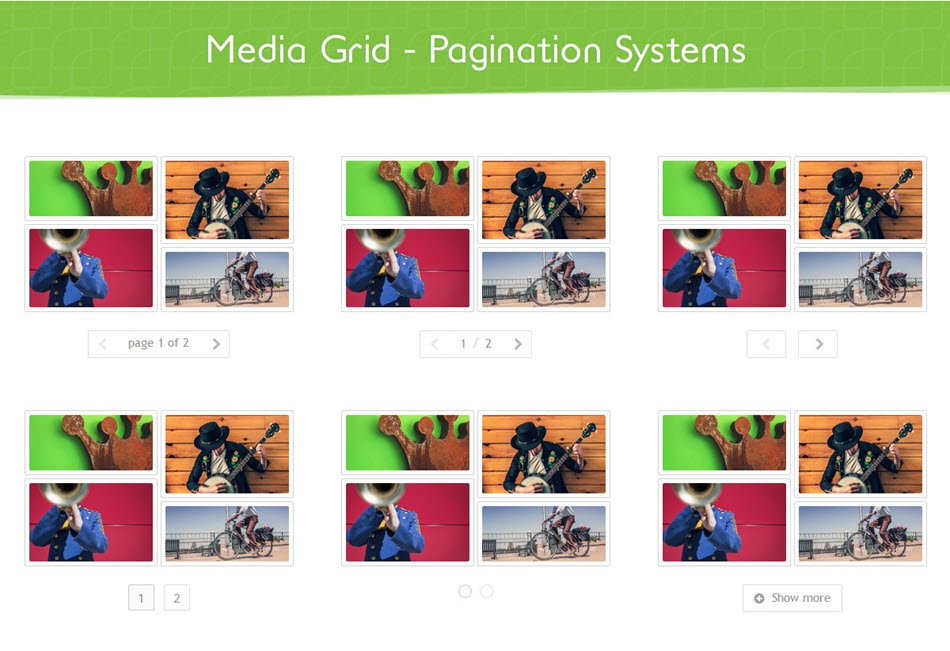 9. Grid Plus By G5Theme
Grid Plus WordPress Plugin is considered the most advanced grid plugin for WordPress. It has incredible grids for any post type and many possibilities. It is a simple way to generate grids for e-Commerce, work, and blog.
Features
Compatible with shortcodes.
Highly responsive, i.e. works efficiently with all devices
SEO friendly.
It has a powerful skin builder.
Easy to set up and use.
Comes with a media library.
It can be filtered in a real touch slider.
Import/Export with the click of the mouse.
Customize skins for WooCommerce with pre-defined elements.
Supports Instagram, Facebook, Vimeo, Flickr, Twitter, etc.
Create responsive grids which look good on any device.
It defines custom links and images for a post.
Use Posts, pages, and custom post types as the source.
It allows you to set the order by option.
You can also use pagination.
Total number of users – 9,000+
Price – Regular License -$25/biannual,  Extended License-$64/biannual
Screenshot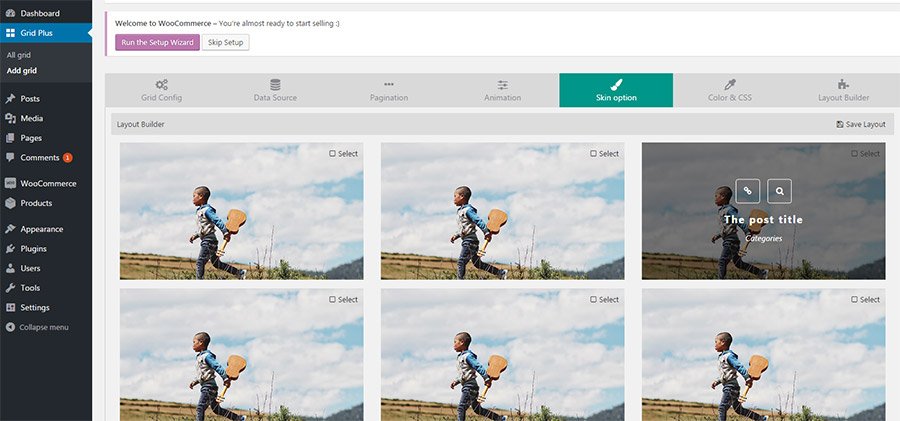 10. Display Post Types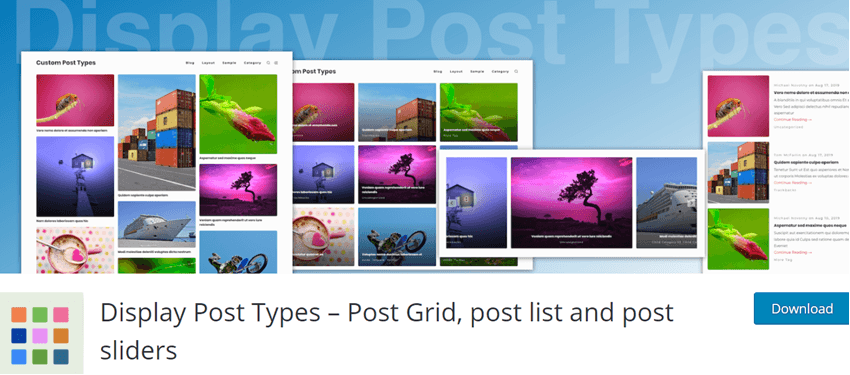 Display Post Types Plugin is quite a robust and responsive gallery builder. Using this plugin, users can create beautiful walls of square items defined manually or add automatically using WordPress posts. It can be used to present photos, blogs, portfolios, and much more. Its features are:
The Grid can be opened in a lightbox.
Light and dark lightbox themes are available.
A grid can be built automatically using existing posts.
Fast CSS3 effects and animation.
Moreover, it doesn't require any coding.
Customizable on hover descriptions.
Widgets are also available.
It has deep linking and pagination support.
There are multiple templates available for the Grid.
You can also check the live preview while building the grids.
Total number of users – 3,000+
Screenshot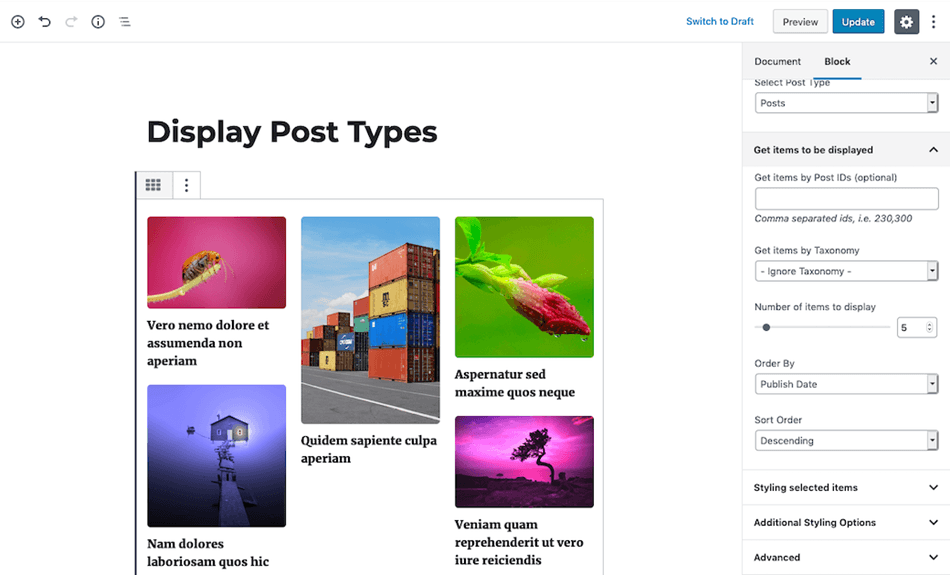 Conclusion 
Still confused about which is the Best Post Grid Plugins For WordPress?
Wait, we will make it even simpler for you.
If you want a free version, you should choose Content view, which is 1000 times better than any other WordPress grid plugin. But if you are looking for premium, you should go ahead with Contentview Pro. It is the best and worth each penny.
Please tell me which is your favourite Best WordPress Grid Plugins. Which one are you using for your image or blog grid?
Please let me know if we are missing out on any important grid plugins.