6 Best WooCommerce Custom Order Status Plugins 2023
Management of orders is quite difficult for any eCommerce platform as so many orders have to tackle every day. And to manage each one efficiently, you need the assistance of the WooCommerce extension for custom order status plugins. You can easily edit, create and delete the status of your eCommerce Order and manage it thoroughly with the powerful WooCommerce Custom Order Status Plugin. WooCommerce provides a wide variety of custom order plugins where you may select anyone according to your necessity. Such plugins let you create and manage the custom order status by replacing the default order status. Enhance the entire shopping experience of your customer and let them shop more from your e-commerce store.

Since the order is placed, many things need to manage and updated the order status to streamline the functionality so well. Notify your customers with customized emails for updating any order status. This process ends till the delivery of the ordered products. Custom Order Status Plugin enables customization of almost everything, i.e., concerned with order status. Whether displaying order status style, action buttons, email notifications, custom icons, and more, you may customize everything with Custom Order Status Plugins. Beneficial to both ends, customers or the order management team, it will assist all of them in tracking the order without any conflict.
Custom Order Status Assists Your Online Store –
Manage and create customized order status that grabs the customer's attention and lets them continue shopping thereon.
Smoothening the order status by replacing the default order status enhances the user experience.
An elegant and efficient order status lets your customer know exactly where their order product is and when it will be delivered.
Integrate the order section with multiple payment gateways, so your customers conveniently pay for their order anytime.
Access to cancel or pay anytime with a simple click of buttons respectively.
Best WooCommerce Custom Order Status Plugins are as follows 
Table Of Content
1. WooCommerce Order Status Manager

WooCommerce Order Status Manager lets you manage order statuses and customize the same. Streamline the effective workflow while integrating the functionality of custom order status. Edit, create, and delete order statuses and notify via email about the recent changes of both statuses, either custom or core. This highly customizable WooCommerce Order Statuses plugin seamlessly integrates bulk action and order action. You can implement a perfect order status for informing the customer's order details and the entire flow. Enhance the shopping experience and let your customer be back on your site for the next purchase. Allowing customers to access the whole fulfilment flow will ease the order management process.
Core Features –
Establish an attractive custom order status, icons, and order action buttons.
Convert default order status into custom order status for WooCommerce and import them.
Assist your customers while providing them with custom order status that contains detailed descriptions since they placed that order.
Let you delete the custom status anytime, even interrupting the order anyway.
This plugin gives you the ability to Customize your WooCommerce order statuses.
Price – Regular License – $49/annually (1 Site)
Screenshot

2. YITH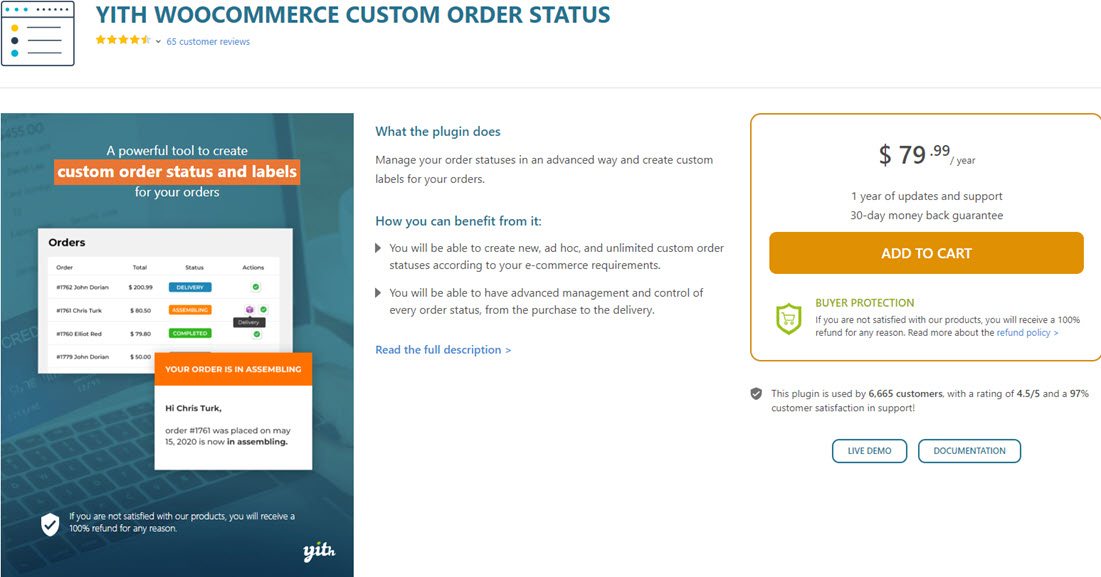 YITH WooCommerce Custom Order Status is a paid Custom Order Status plugin for WooCommerce that enables order status management. Establish an advanced order status functionality while creating customized labels for each order. Let you create unlimited custom order statuses and manage the same according to your e-commerce websites. Keep an eye on the entire process of order status that initiates order submission and delivers orders. This beginner-friendly WooCommerce custom order status plugin overviews the sales status of your eCommerce website. Enhance the appearance of the 'my order' page by customizing its order status, icons, labels, text, and more.
Core Features –
Customize the look and feel of the order status section however you require, according to your website's necessity.
Provides icons and labels that you can utilize to display specific order statuses instantly.
Administrate the order action by configuring it for a certain status.
Enable customers to pay for any confirmed order or cancel anytime.
Trace all orders in the report where you can analyze every action closely.
Configure customized email notifications and send every update to your customer.
Easily Overwrite order status on your eCommerce website.
Price – Regular License – $79.99/annually (1 Site)
Screenshot
3. Custom Order Status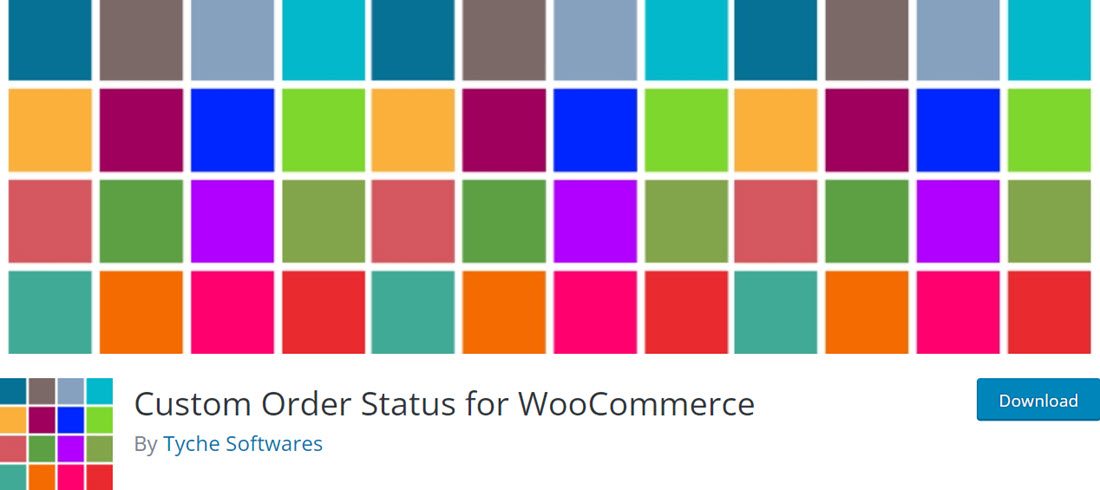 Custom Order Status for WooCommerce is a lightweight and easy-to-use WooCommerce order statute plugin that enables you to add descriptive order status while customizing it. Allow you to configure customized order status and make it a default order status that fits your eCommerce platform. Such default order status will be activated upon the order payment medium, while it may take a little configuration that you need to complete. Moreover, send customized emails for such order status and notify about changes to your customer. Custom statuses come up with the order action buttons that enhance your customer experience while representing their order updates with every update.
Essential Features –
Let you create an unlimited custom status for orders as much as you require.
Add custom icons and send custom emails to advance the functionality of custom order status.
Enable editing in any custom order status in WooCommerce.
Utilize custom statuses in the bulk actions list and order action buttons.
It gives you complete control to add custom order statuses to the eCommerce website.
Total number of users – 20,000+
Price – Regular License – $39/annually (1 Site)
Screenshot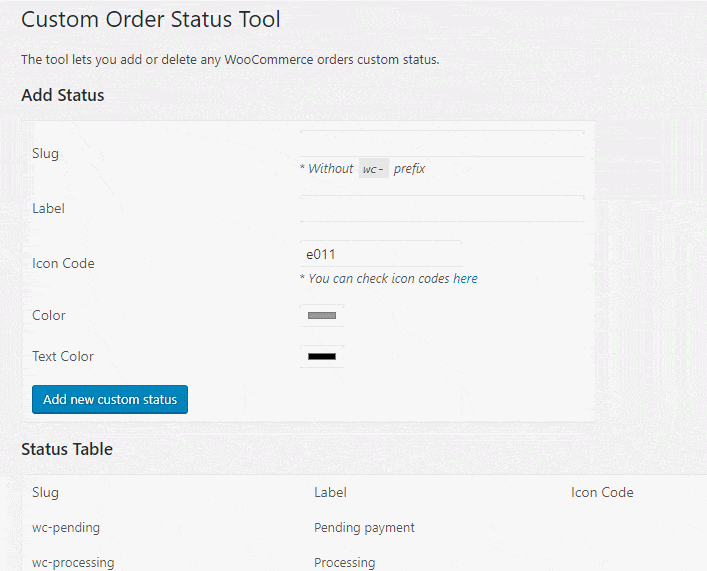 4. Order Tracking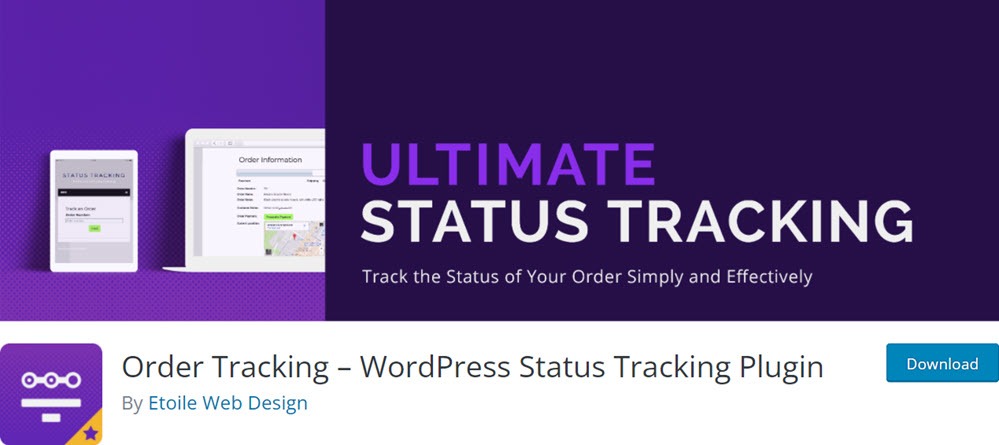 It is easy to manage the status of your shipments, products, or orders through custom order tracking. Gutenberg blocks the order status tracking plugin. Orders can be tracked by posting tickets number unique to every customer. This can be placed in front of your WordPress site via shortcodes. This can help to make order management quicker and easier for you.
Customers can automatically be notified through mail when the order status is updated. This plugin can be customized based on your business type, and it works great for managing operations in big companies as well.
It is mandatory to view and enter an email address to track any order. A custom order alert email can be sent for different operations, and it is possible to delete or hide orders here.
Premium order tracking feature includes integrated tracking into your existing WooCommerce account. Using the premium features, you can give specific details via shortcode or alert email and gather more information from customers.
Total number of users – 5,000+
Price – 1 Site – $39/annually,  5 Site – $119/annually,  10 Site – $199/annually
Order Tracking Plugin for WordPress
Screenshot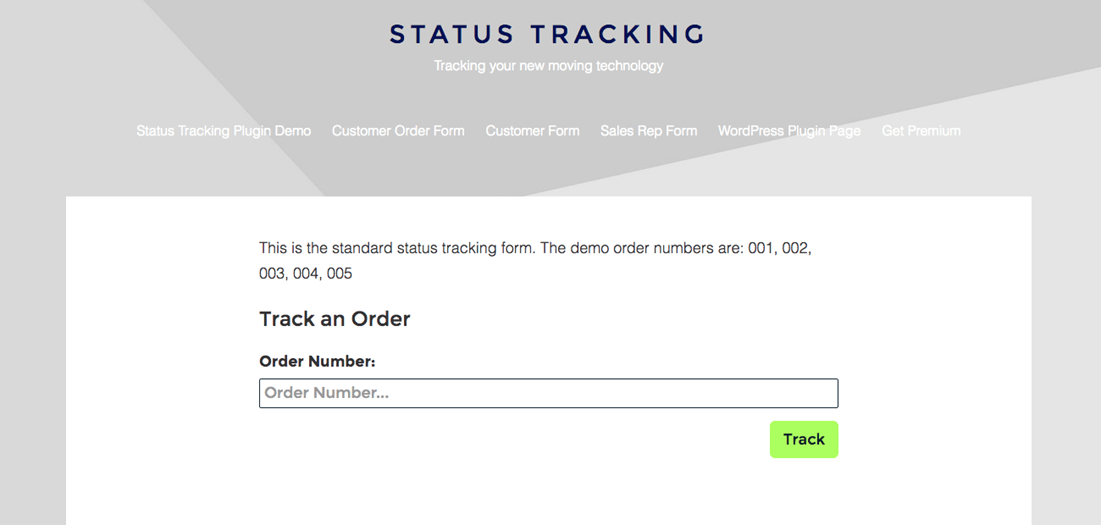 5. Order Status Rules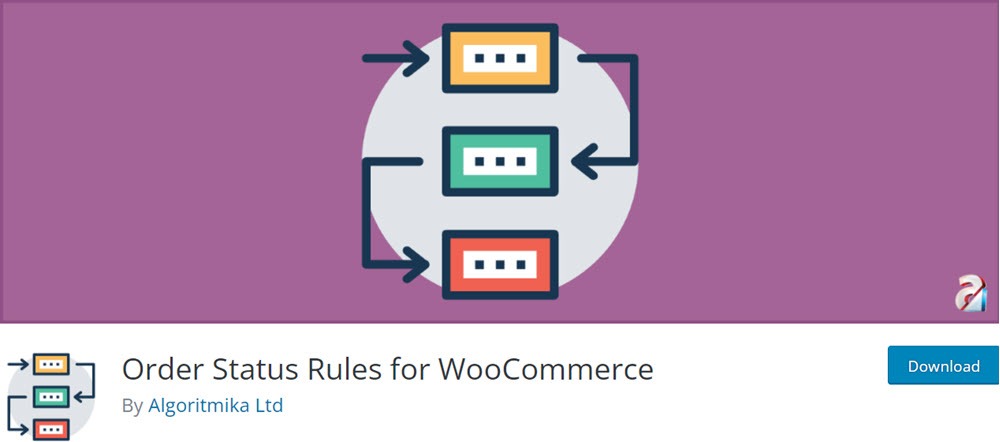 Order status rules for WooCommerce is a free WooCommerce Custom Order Status plugin that creates rules for changes in order status based on many parameters. It assigns order status according to the orders of different clients. You can also schedule the status of your order for the WooCommerce store. i.e., you can accept or decline the order automatically in a limited time or set the order status pending.
There are many rule options available, like setting the minimum and maximum order amount and quantity, choosing the required payment gateway and shipping method, etc. You can specify where the order status is from and where it must be sent to. You can also select user roles and required users for your order status. Time trigger is available in seconds to weeks with this plugin.
The promoters are open to suggestions for making it a better user experience.
Total number of users – 500+
Screenshot
6. Order Status Control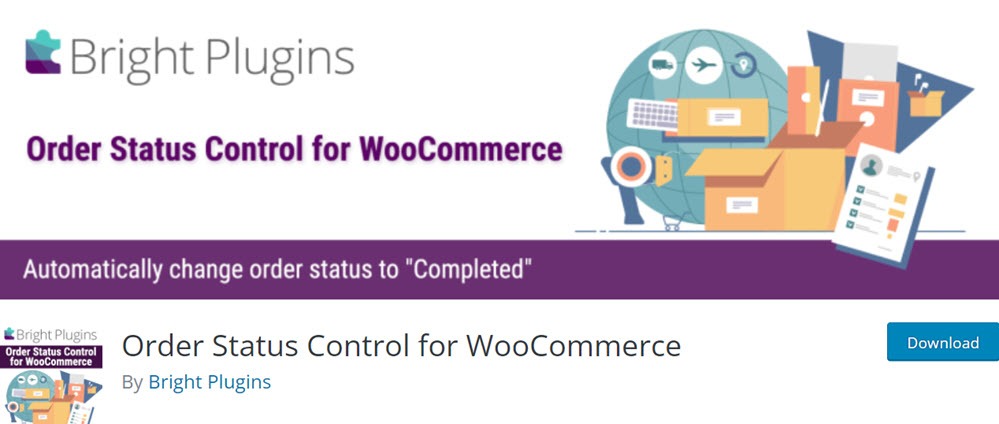 With this free WooCommerce Order Status Control plugin, you can easily complete the order status of virtual products. This order status control plugin helps shop admins control their order status by automatically completing the order's status by default, WordPress only auto-completes downloadable products and not virtual products. It is a helpful WooCommerce extension for shop admins.
The option to control order status is found under the general tab in settings.
An option is provided to use various methods based on your convenience. You can choose to complete orders with default order methods or orders with only virtual products. There is also a choice to mark an order complete, where payment is successful, or directly land customers on to thank you page, even if the payment status of the product is pending (virtual payment method is used). Either one or both options can be chosen together.
Total number of users – 900+
Screenshot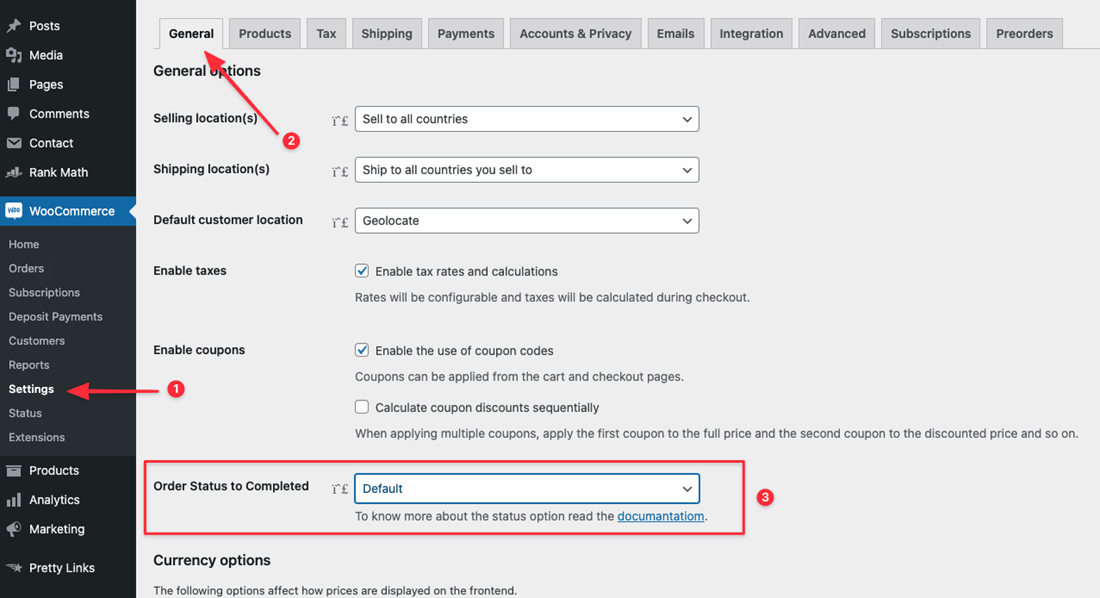 You may be interested in reading the email customizer plugin, Email marketing service and Fomo plugin.