10 Best Gutenberg Blocks Plugins for
WordPress 
2020
Are you looking for Premium or Free Best Gutenberg Blocks Plugins for WordPress ? Gutenberg is one of the open source and Free drag & builder . WordPress added Gutenberg editor so that we can make more beautiful amazing looking content .
These blocks editor are much more better faster and enhanced with functions than classic TinyMCE editor . In classic editor we are not able to add much design in our website . like creating columns,  button , map , accordions , testimonials , tabs ,  Post Grid , pricing table etc to use these feature We need extra plugins . But now you we can easily add such anything inside our post easily .
In our list we have added the almost important Gutenberg blocks Plugins which include space addition option till Product Block for WooCommerce .
You may also be interested in Fomo Plugins , multipurpose Theme and Caching Plugins
So lets have the list of Best Gutenberg blocks plugins for WordPress are as follows .
Table of Content 
1. Getwid
Getwid is a free Gutenberg blocks plugin that has the biggest number of blocks available – more than 40. Each block comes with deep styling options which make them flexible and adjustable to any website template. 
Apart from 39+ feature-filled blocks, Getwid provides a Template Library that has over 34+ pre-built layouts for different website sections – about us, testimonials, hero etc. With such a huge number of setting blocks, Getwid remains a very lightweight solution for all Gutenberg users. 
If you are looking for a free yet powerful addon for Gutenberg – pay attention to Getwid.
Total number of user  – 10,000+ 
Getwid - Free Gutenberg Blocks
2. Stackable
Stackable new and powerful options are provided in a very user friendly and manageable UI achieved by our three tab configuration. You can even use a single block as a stand-alone section, which can easily be achieved by turning on the block background settings (a uniquely Stackable feature) . Creating stunning front pages and landing pages is not a complicated process with the intuitive plugin like Stackable. A set of fully functional blocks is created by Stackable for the Gutenberg WP editor.
It is one of the few plugins that offer a really good number of blocks they offer which is 24. Stackable add-ons include Container Block, Feature Grid Block , Posts Block , Image Box Block , Accordion Block , Call to Action Block , Icon List Block , Header Block , video popup ,Count Up Block, Pricing Box Block ,Team Members Block , notification, Testimonial Block , counter, blockquote and more.
I'd also like to mention our brand new Design Library, complete with 231 Pre-set Block Designs, all ready to use with just one click.
Total number of user  – 20,000+ 
3. Atomic Blocks
Atomic Blocks is a presentation by the popular Array Themes. 11 new blocks can be added to the Gutenberg Editor such as container, post grid, testimonial, share icons, accordion, inline notice , CTA, spacer & divided, drop cap and author profile.
The Atomic Blocks section pops up as soon as the plugin is installed. If you want to view the live demos then simply click on the "View Block Demo" button next to each block. Atomic Blocks is compatible with all types of themes.
Total number of user  – 8,000+ 
Atomic Blocks Section & Layout Block
4. Advanced Gutenberg
Advanced Gutenberg creates a professional website by providing the missing configurations and blocks. The tool is a release from JoomUnited and has provided 20 new blocks to the Gutenberg Editor. You can have a team member add-on with Advanced Gutenberg as it allows you to create profile and then add a group to that profile.
With the plugin you can configure the block, customize the CSS styles and edit the icon colors too. Many blocks such as testimonials, social links, Google Maps, WooCommerce product slider, Advanced Button, Accordion and many more are offered by the plugin.
Total number of user  – 5,000+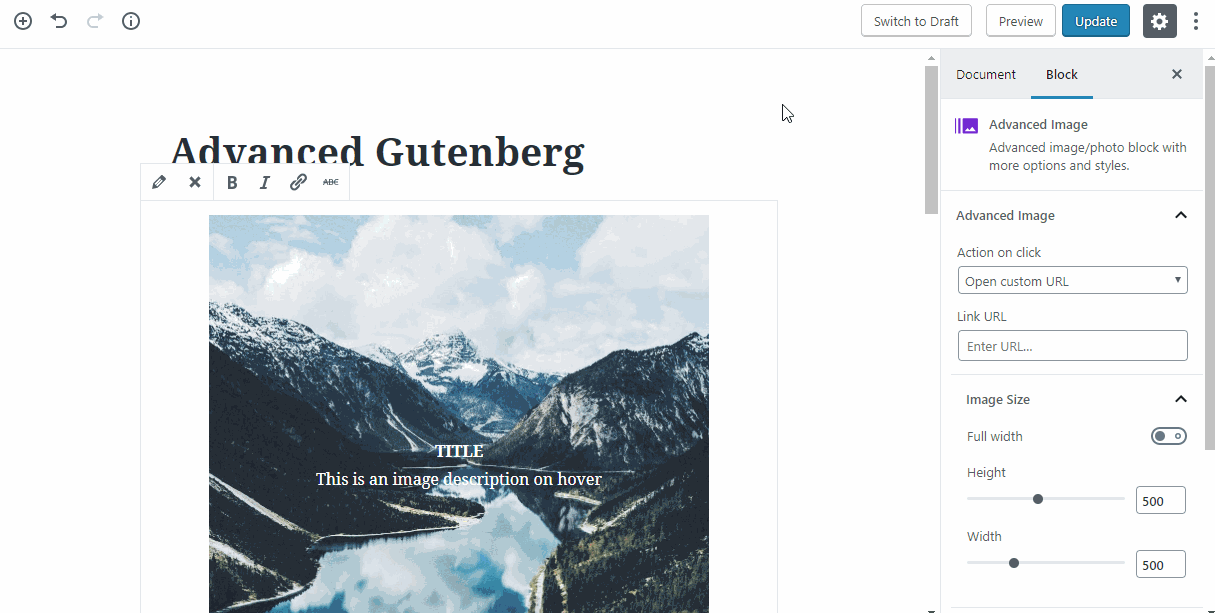 5. Ultimate Addons for Gutenberg
As the name suggests, Ultimate Addons for Gutenberg imparts an ultimate and one of the best user- experience. The powerful plugin is a presentation from Brainstorm force.
The add-ons offered by the tool are team, restaurant menu, social share, testimonials – content and post, info box, advanced heading etc. Demo websites are also available with Ultimate Addons for Gutenberg. thee demos can be imported easily and are ready-to use.
Total number of user  – 6,000+ 
6. Premium Blocks for Gutenberg
The performance based plugin Premium Blocks helps you create stunning websites in unison with Gutenberg – the new WordPress Editor. All the blocks of Premium Blocks are RTL ready and can be disabled when not in use for a fast loading website.
Though the plugin is relatively new but it is being constantly updated and enhanced with bug fixation on weekly basis.
The various add-ons available are Pricing, testimonial, maps, accordion, banner, counter, dual heading and many more.
Total number of user  – 3,000+ 
7. Kadence Blocks
Kadence Blocks is a free presentation by Kadence Themes that helps you experience out of the box capabilities of Gutenberg. You can use it and manage the columns and rows in a better way. A focused approach towards adding layout blocks especially Row layout.
Some of the modular blocks it offers are Advanced Button, Spacer, Divider, Row layout, Advanced Heading, Icons, Tabs and more.
For any screen size you can customize the background and the margins of the site with Kadence Blocks.
Total number of user  – 10,000+ 
8. Wootenberg
Showcasing products on posts and pages is very simple with WooCommerce Blocks. Even filters can be applied on products such as color, sale status, brand etc. with the Product Block of WooCommerce Blocks.
The latest version of the plugin has also introduced stand alone blocks such Product Category block to further simplify the category search and enhance user-experience.
Installation is quite easy and can be done by both automatic and manual methods.
Total number of user  – 200,000+ 
9. KingBlocks
KingBlocks offers and amazing set of blocks that can be used to enhance the usability of Gutenberg Editor. With these blocks you can create beautiful websites.
The key features of the tool are more than 150 admin area options, 20 blocks, map builder with Leaflet library, Youtube and Vimeo video compatibility, animations and many more.
Pricing    – $16
Total number of user  – 15+ 
10. Ultimate Blocks
Ultimate Blocks make you stand out of the crowd with 26 amazing add-ons such as customer reviews, author, company logos, Twitter share, CTA, GIF, Countdown, Banner, Timeline, Pricing, Google Maps, Feature List, Stats Counter, Flip Box, Accordion, Template, List, Code. Header, Button and more.
The plugin also offers a video tutorial to help you understand each and every block feature. It is built with device optimization. drag-and-drop interface to customize every element of your post without any technical expertise.
Total number of user  – 10,000+