11 Best Responsive Table Plugins for WordPress 2023

Are you looking for free or premium Best Responsive Table Plugins for WordPress, utterly responsive on the mobile, tablet, and desktop? Tables and charts are an excellent way to impact your blog and show accurate data and comparison tables. When you add tables to your website, it's pretty easy for visitors to understand.

Why Use WordPress Table Plugins?
Data Display

– It isn't easy to understand when displaying data in standard plain text.

Reduces bounce rate

– Many people, when seeing confused data prefer to leave the website. But when they got to the table, they spent some time doing the analysis.

High conversion

– When you create a product comparison table and compare prices with its feature in the tabular form, the conversion rate increases.
As we know that WordPress doesn't have a built-in responsive table plugin in WordPress to showcase comparison tables or pricing tables. We have to write about Best Responsive Table Plugins for WordPress and which are responsive too because the WordPress market is completely flooded with plugins and has significantly fewer updates and security. That's why we have collected the list of top plugins.
In this list, we have gathered free and premium Best Responsive Table Plugins for WordPress, which are as follows.
1. Posts Table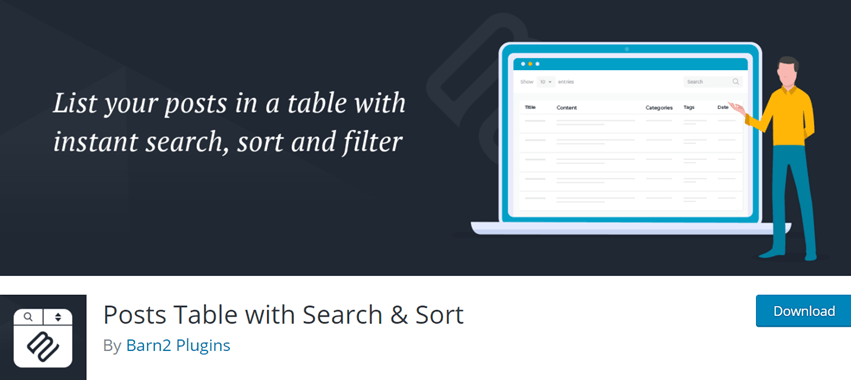 Posts table allows you to create specified product tables through WooCommerce stores. Posts Taborganizedorganized WordPress table extension that will enable you to represent the data of your posts in tabular appearance. Through this kind of representation, the visitors quickly found every information at a glance. This WordPress Plugin is accustomed to different filterable tables that filter the content by tag, author, date, or category. You can easily install the Posts Table Plugin by adding a shortcode on any widget or page. Holds the dignity of featuring on WP Newsify, WPlift, WP Mayor, and many other famous developers.
Posts Table features include –
In a tabular presentation, display Multi-MediaVisualize Visualise posts or pages such as documents, products, audio, articles, books, etc.
Advanced Supports – Add custom fields you require and support ACF Pro.
Responsive – Adapt the sphere of different devices with its solid responsive trait.
Distinct Filters – Different filter options such as categories, tags, and taxonomies are available.
Total number of users – 4,000+ 
Price – Starter-$69/yearly (1 Site),  Business-$119/yearly (5 Site),  Agency-$249/yearly (20 Site)
Screenshot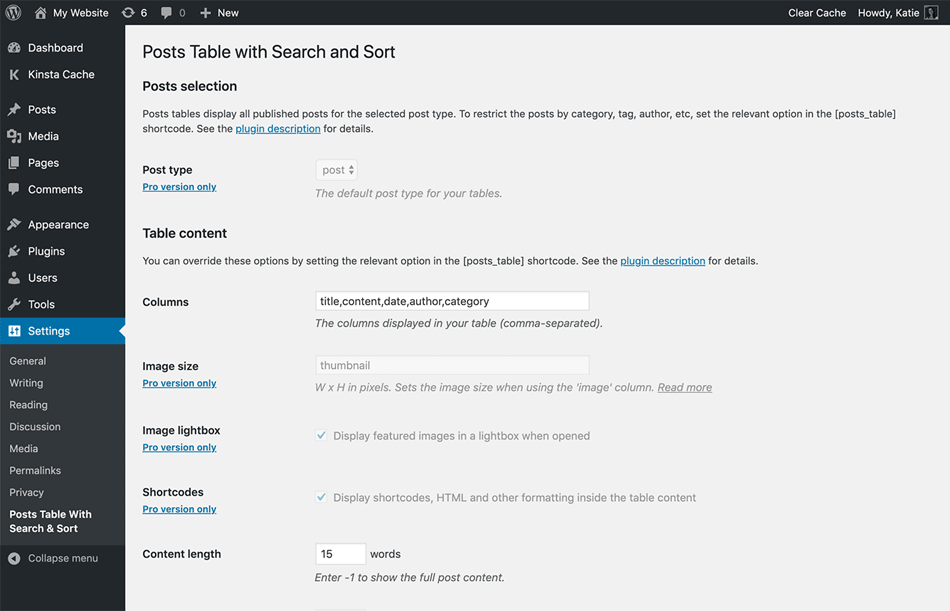 2. wpDataTables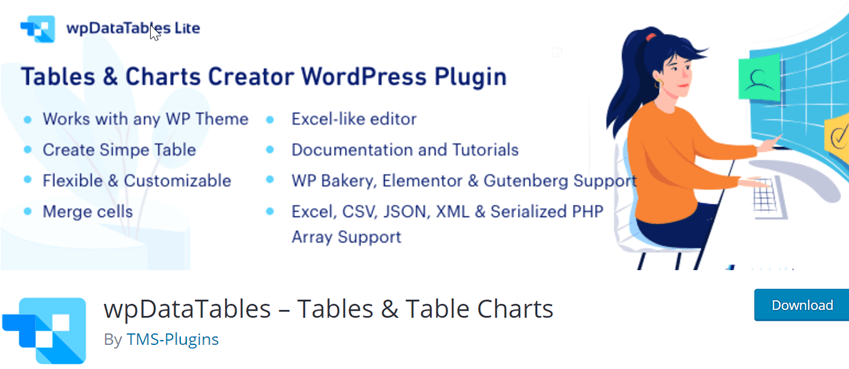 wpDataTables is a premium and one of the Best WordPress table plugins. It is an all-inclusive data manager for WordPress. This has fully integrated CRUD functionality for MySQL and other data sources. It helps the users to interact with data through tables.
Features
It helps to create and manage tables from existing sources.
Show totals in the table footer.
It helps to build tables without complicated configurations.
Tables and charts customized as per need.
It also gives the power of a Spreadsheet app in the WP plugin.
Data can be edited from the front end and the back end.
 Cells and rows can be highlighted based on their values.
It helps to generate MySQL queries automatically.
Total number of users – 40,000+
Price – Basic Plan – $61/yr (1 domain), Pro Plan – $119/yr (3 domains), Developer Plan – $249/yr (Unlimited domains)

Screenshot

3. TablePress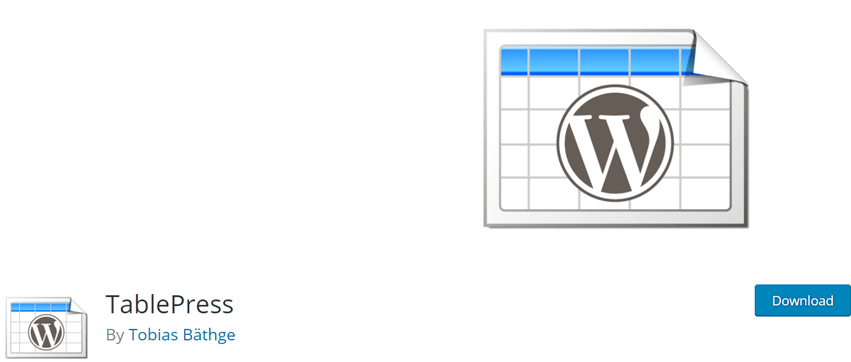 The TablePress WordPress plugin allows users to create and manage beautiful tables and embed them in posts, pages, and text widgets through a simple shortcode. It will enable the table data to be edited in a spreadsheet-like interface. This plugin can increase your chances of ranking in the Google rich snippets.
TablePress is a WordPress plugin that inscribes the ability to generate a fantastic table and manage it too. You inlay those tables into text widgets, pages, or posts with some shortcode. Enables you to edit the table with a simple interface similar to spreadsheet required no coding element. Enumerate any data into such a table and allow your visitors to enjoy the features like filtering, pagination, sorting, etc. This WordPress extension will enable you to export or import files through HTML, Excel, CSV, customize the row's Colour, highlight, description, and other features by allowing the corresponding checkboxes.
Features
It doesn't require any coding.
Tables containing can also be evaluated.
It also has an additional JavaScript library which helps to add features like pagination, filtering, sorting, and much more.
The files can be imported and exported to and from CSV. HTML, Excel, and JSON files.
Drag and drop builder.
Mobile responsive.
Total number of users – 800,000+
Screenshot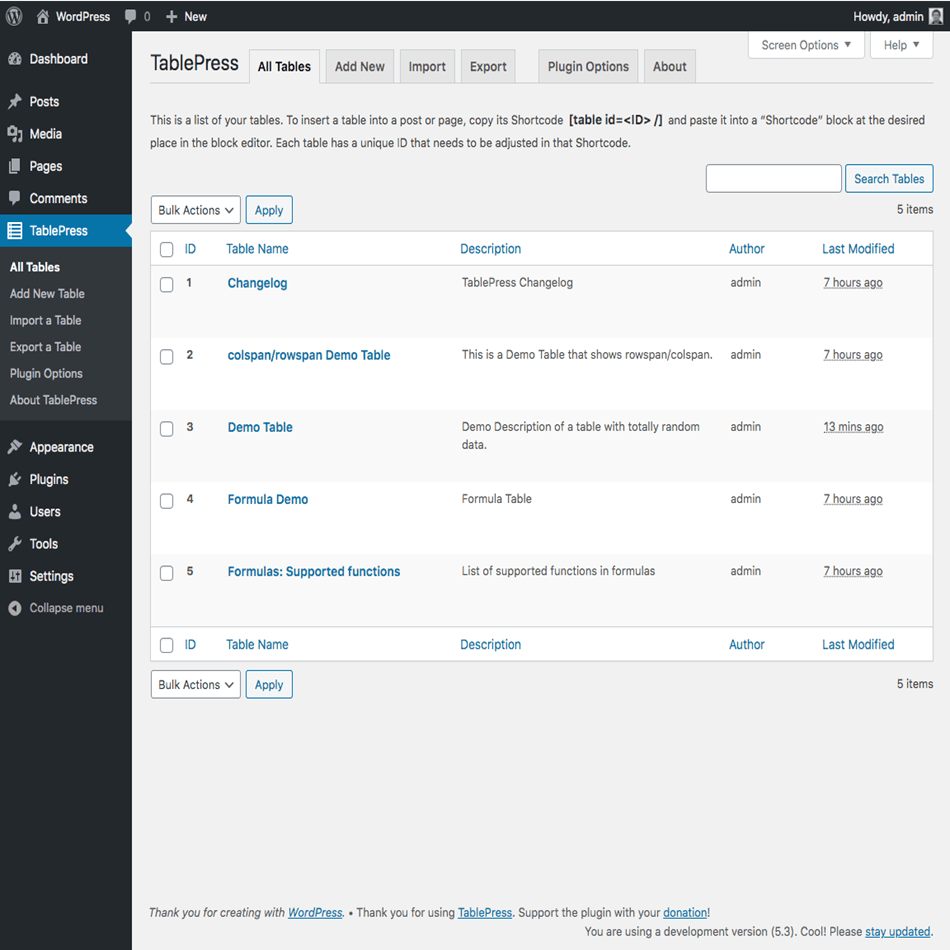 4. Pricing Table by Supsystic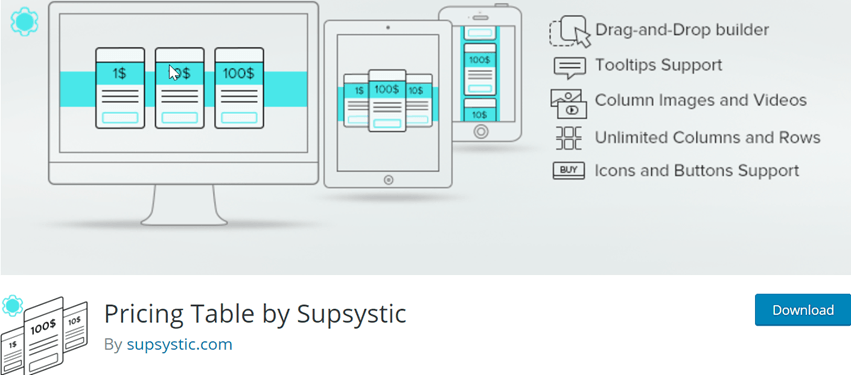 The Pricing Table plugin helps the users to build beautiful tables without the need for any coding skills. It enables the user in this function by drag and drop generator by Supsystic. Users can easily choose the pricing table template, edit the contents and publish it on the website.
Features
It has a drag and drop builder.
This helps to column videos, images, and icons.
Unlimited rows, columns, and pricing tables.
It has the support of Tooltips.
Includes responsive pricing tables.
It has a custom header, button styling, and features list.
Comes with text, buttons, and CSS style for any pricing grid.
Import and export tables.
Total number of users – 40,000+
Price – Single-$46/yearly (1 Site),  Developer-$69/yearly (5 Site),  Enterprise-$149/yearly (20 Site)
Screenshot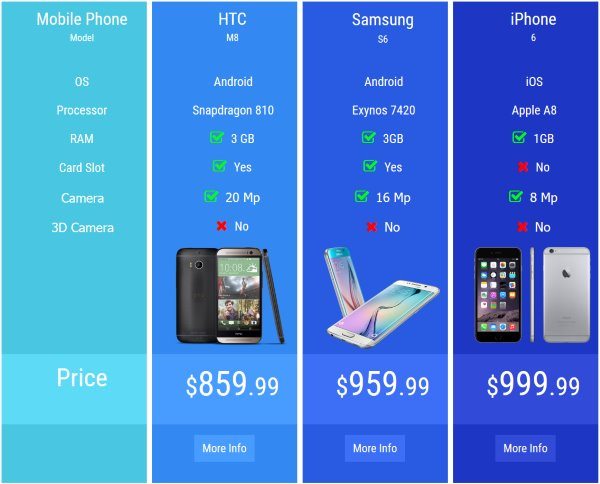 5. Ninja Tables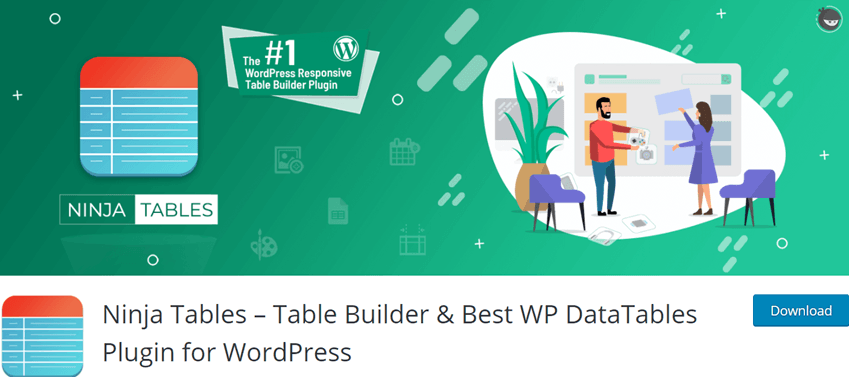 Ninja tables plugin helps to create and manage tables quickly, efficiently, and effectively from the admin panel. It also helps make the data table responsive with sorting, pagination, interactive charts and graphs, and filtering.
Features
It includes diagrams, charts, and graphs.
This has various style settings for any site type.
It allows for front-end table editing.
It comes with navigation with Searching and Ordering functions.
You can build diagrams from the data table.
This also enables you to change the Colour of the cells and fonts.
Imports automatically from Google sheets.
It has Formula support and HTML table support for data cells.
Total number of users – 60,000+
Price – Single-$49/yearly (1 Site), Agency-$99/yearly (20 Site), Unlimited-$199/yearly (Unlimited Site)
Screenshot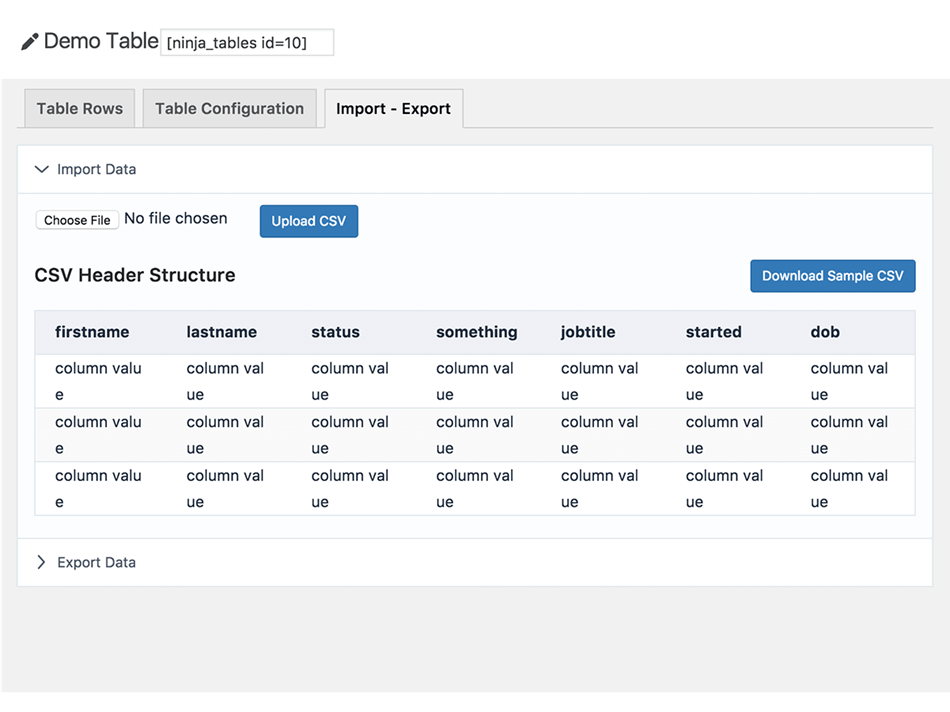 6. WP Table Builder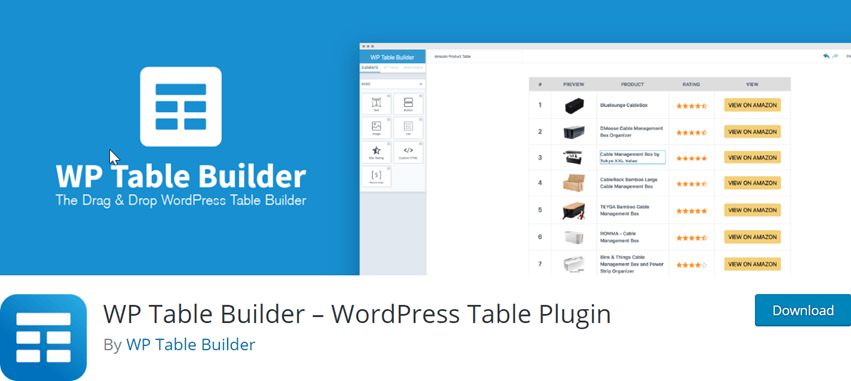 WordPress Pricing Table Plugin helps to increase pricing conversions by about 150%. It allows the user to create pricing tables and display all the information the prospective customers need to find what they are looking for and make the payments easily.
Features
Any number of columns can be set.
The pricing plan is displayed on a table with a tabCustomizabletomizable grid layout.
The column with the best deal can be highlighted.
It is very responsive.
Pricing plans can be displayed in the form of columns.
It has many predefined skins.
Very easy to apply custom colours.
Borders can be added to distinguish columns from the background.
Total number of users – 30,000+
Price – Starter-$39.99/yearly (1 Site),  Pro-$99.99/yearly (1000 Site),  Lifetime-$299.99/Lifetime (Unlimited Site)
Screenshot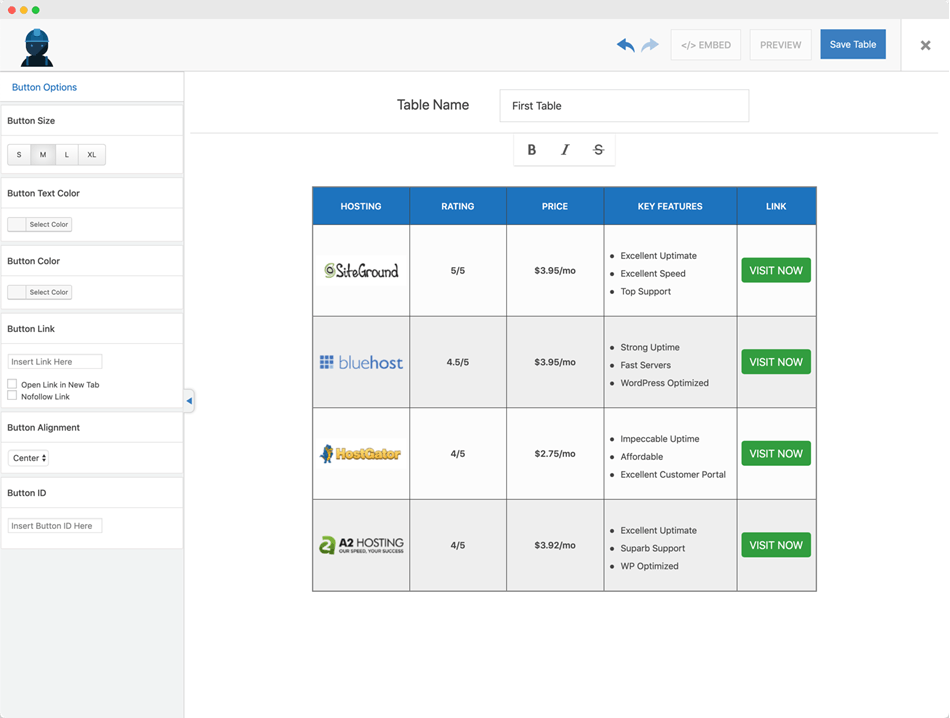 7. Ultimate Addon

Elementor Table enables you to create an informative table in beautiful representation styles. It features lots of styling alternatives which makes Elementor Table a conventional plugin. Creation of automatic table within a few clicks by uploading CSV file. Numerous set formats for raw & column avails to you for creating beautiful tables in a well-arranged manner. Add the various options for sorting the entries under relevant data. As per your requirement, expansion of rows & columns can be executed without compromising the styling procedure. Customize the table as much as you need to make it a relevant element for your website. The searching feature included in the table enables the visitors to search any single entry immediately, with no need to go through the entire data of the table. Thus, confront your ideas into reality through getting access to Elementor Table Plugin presented by WordPress.
Price – Ultimate Addons-$55/yearly,  Essential Bundle-$169/yearly, Growth Bundle-$249/yearly
Screenshot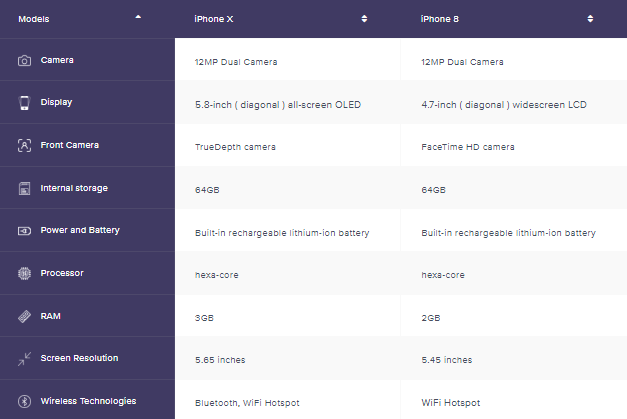 8. Responsive Pricing Table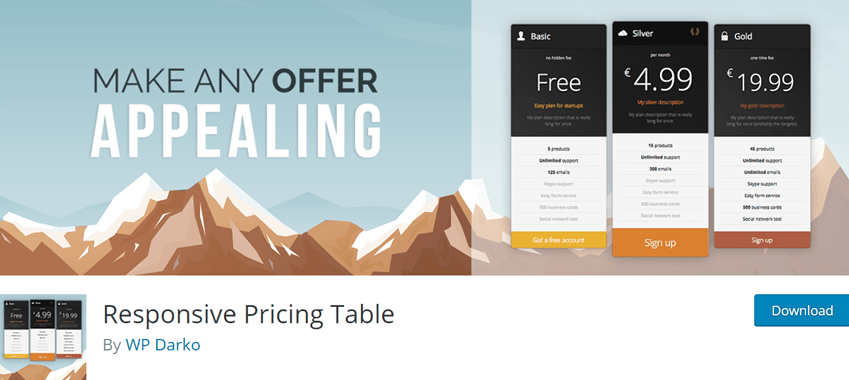 The Pricing Table plugin helps create clean and flat design pricing tables on WordPress. It also provides an unlimited package with unlimited features. It is quite a responsive plugin.
Features
Simple and lightweight.
It also has unlimited featured rows.
Its call to action background text colour is changeable.
Comes with unlimited tables and colours for table headers.
Automatically generates a shortcode for each table.
It has various good-looking flatOptimizedOptimized coding standards.
It has the option of highlighting feature text with changeable colours.
Total number of users – 20,000+
Price – Single Site-$19/yearly,  Unlimited Site-$49/yearly
Screenshot
Visualizer is Visualizerisualizer, is well known for managing the charts & tables in WordPress. This plugin assists you to create, embed and manage a perfect chart and table for posts on WP that contains the responsive feature. Flexibcustomizingstomizing options are available and support importing data through any database such as excel, googl4e sheets, CSV, and others. You have been synchronized your data within a specific time by uVisualizerisualizer plugin.
Including Features of Visualizer –
Different Chart Types – Present your data in various chart styles, including bar charts, bubble charts, area charts, scatter charts, pie charts, geo charts, and many moreCustomizabletomUtilize– Utilize the default setting of Google Chart Tools that allow-customize customize the graphs and chart that matches the requirement of your webpage.
HTML5/SVG Technology – Highly responsive on Android, iPhone, and iPad devices. It will finely work well with a web browser. Your Visitors need not have any additional software.
Total number of users – 40,000+
Price – Personal-$74/yearly (1 Site),  Developer-$185/yearly (3 Site),  Agency-$372/yearly (Unlimited Site)
Screenshot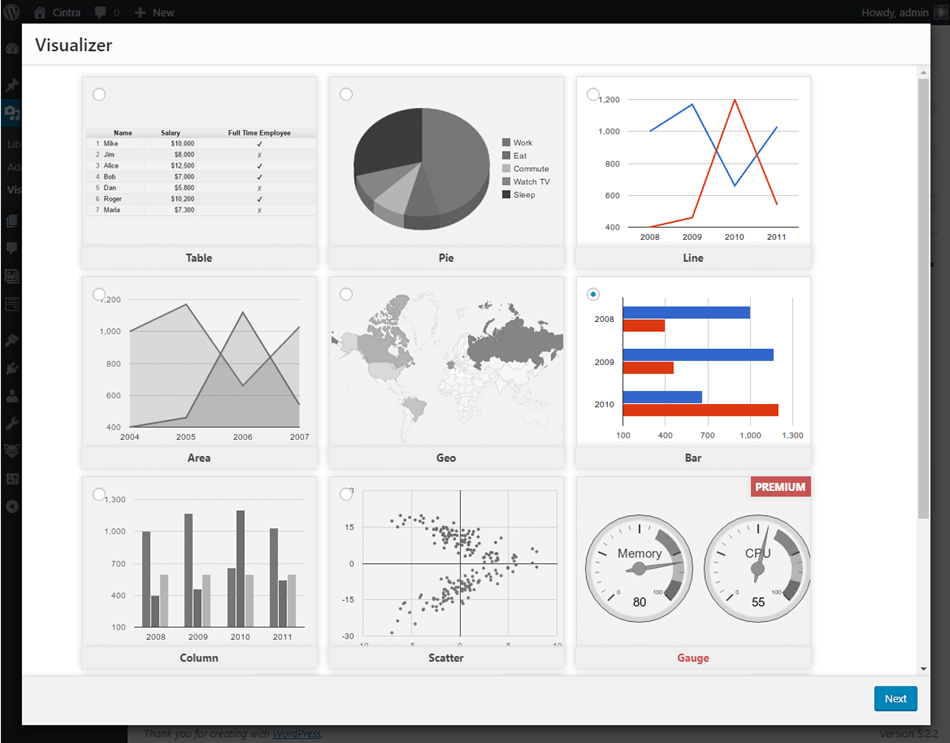 10. Pricing Table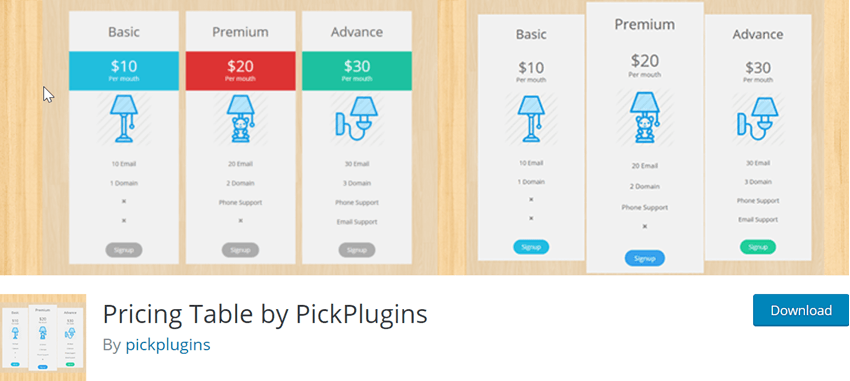 Pricing Table by PickPlugins is a fully-featured and complete pricing table for a plugin that helps the users to create unique and responsive pricing plans and comparison tables in no time at all. It has an impressive real-time editor. It also the users to create beautiful team showcases very quickly.
Features
It has many pricing table samples.
Moreover, it comes with a toggle price button.
Fancy animation effects.
There are unlimited colour options.
It is Visual Composer compatible.
There is a facility for column rotation.
Templates can be imported and exported.
Google Map Integration supports it.
Total number of users – 3,000+
Price – 1 Site $9/yearly, ten site-$49/yearly,  Unlimited Site $99/yearly
Screenshot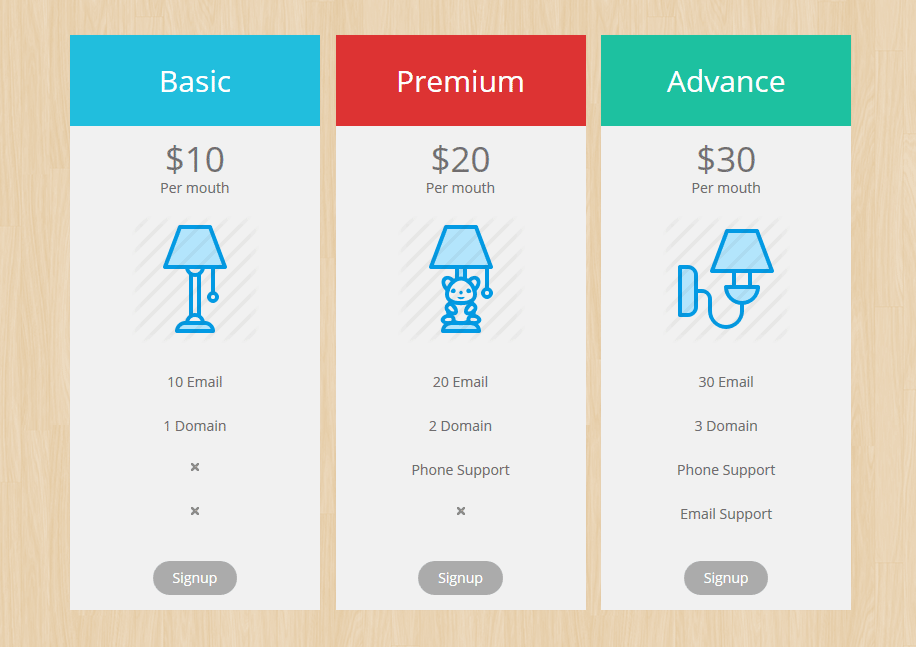 11. Go Pricing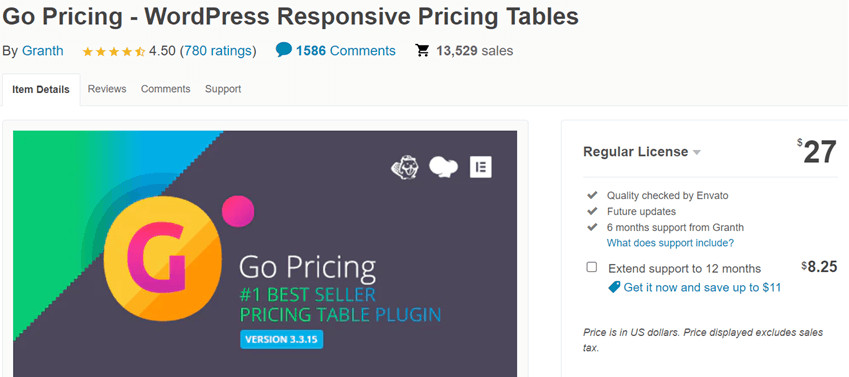 Go Pricing helps the user to create straightforward Pricing and compare tables. This plugin is easy to install. It supports many media elements such as maps, images, audio, and video. It is also one of the best-selling pricing table plugins.
Features
It has ready-made demo tables.
It is compatible with WPBakery and Elementor Page Builder.
Works with any WordPress themes.
It has an easy user interface.
Comes with 1500+ font icons.
It also has impressive column animations.
Columns can also be decorated.
It enables you to see live previews.
Total number of users – 13,536+ 
Price – Regular License – $27/lifetime

Screenshot

Conclusion – Still confused about the Best Responsive Table Plugins for WordPress? Wait, I will make your design easy. If you want to go for a premium responsive WordPress table plugin, you should choose WPdatatable they are worth spending money on. But if you are looking for free, you can go with TablePress, or you go with a responsive table. They both are fantastic.