9 Best Google Maps Plugins for WordPress 2023
Are you looking For Premium or Free Best Google Maps Plugins for WordPress? There are more than 1000's google Maps plugins in our WordPress Respiratory. But getting the right Plugins is quite tricky. So we will also learn how we can embed google Maps to our WordPress Website.


Google map is essential for everyone to locate their local business on their website. So that You visitors can easily reach your local business. We have decided to list Best Google Maps Plugins for WordPress. They are:
Table Of Content
1. Maps Widget for Google Maps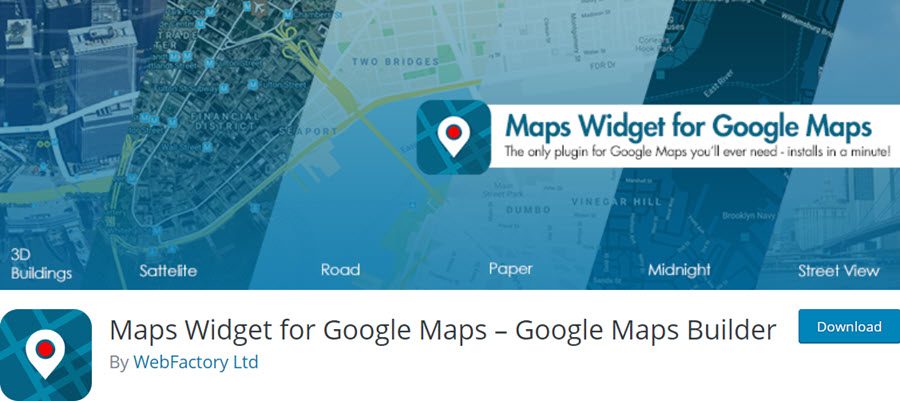 Maps Widget For Google Maps is a well-built plugin that eases up establishing maps on your websites. Let you create comprehensive maps to guide the location to visitors. Within a few configurations and less time, you will insert an elegant map that contains a lightbox and thumbnails. Don't worry about bugs you found while accessing other Google Maps plugins. Maps Widgets provides you fastest efficient setup for creating a beautiful map and placing it on the website.
Essential Features –
Let you insert multiple maps in less time on different pages website.
Insert various essential elements into maps, including directions, steps, street view, etc.
Place your maps anywhere on the site, like sidebars, menus, posts, pages, and elsewhere with widgets and shortcodes.
Let you create elegant mobile responsive maps that run smoothly on different devices.
Customize the view of maps so easily to enhance user experience.
Map customization can be easily set by map size(height and width), map type( satellite, hybrid, road, and terrain), and map colour scheme.
Text- Text can be added anywhere, whether above or below the map.
Total number of users – 70,000+
Price – Personal – $29/annually (1 Site),  Lifetime – $39/Lifetime (1 Site),  Agency – $79/Lifetime (Unlimited Site)
Google Maps Widget plugin for WordPress
Screenshot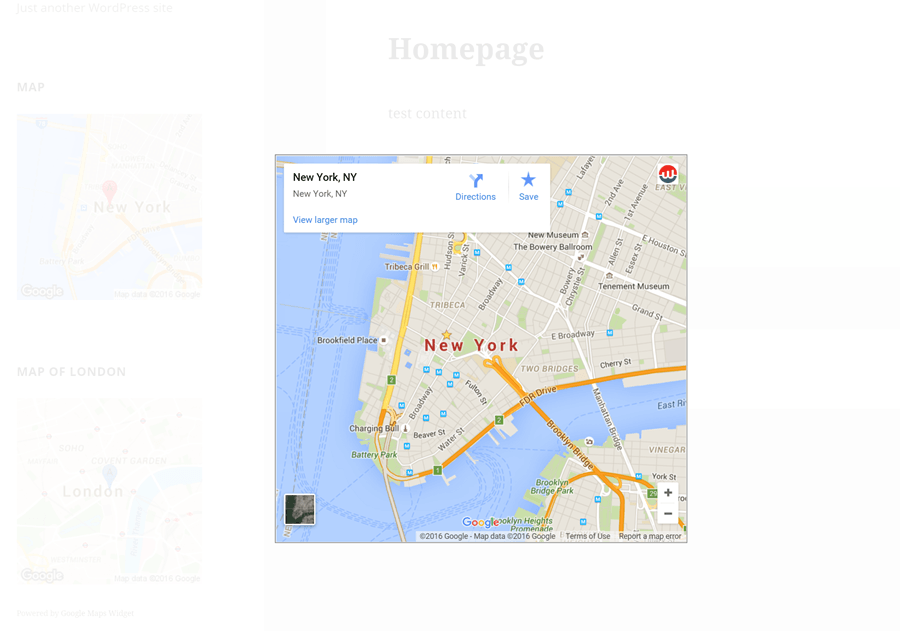 2. WP Google Maps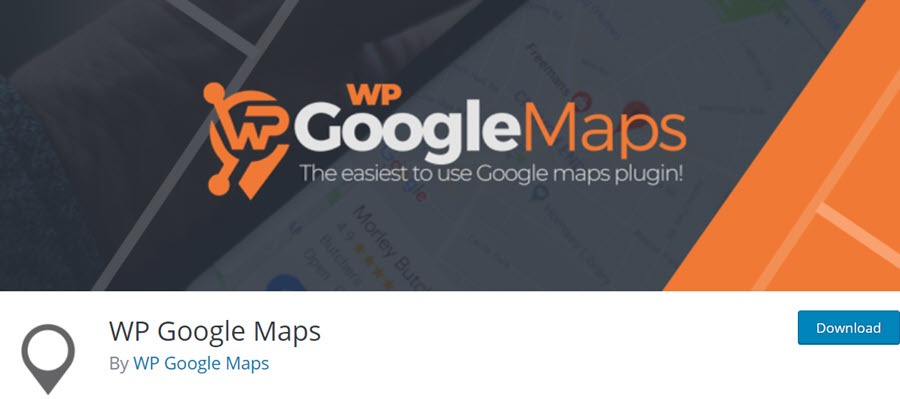 WP Google Maps plugin is an easy way to add Google Maps to the website. It is not messy, does not require any iFrames and is very easy to use. Google maps which can be customized with high-quality markers which contain locations categories, descriptions, images, links, and directions, can be easily created.
Custom Google Maps- Google Maps can be customized with markers in just no time without any fuss.
Detailed Markers- Markers and details such as links, descriptions, details, and directions can be included.
Great Support- Emails provide excellent support to the users in no time.
Google map widgets functionality – You can easily add a google map to your WordPress website widgets
Have the functionality to add maps like satellite, terrain, and hybrid
You can quickly locate your store using this plugin
Compatibility with caching function inbuilt
Total number of users – 400,000+
Price – Pro – $39.99/annually (3 Site),  Developer – $99.99/annually (10 Site),  Lifetime – $199.99/annually (Unlimited Site)
Screenshot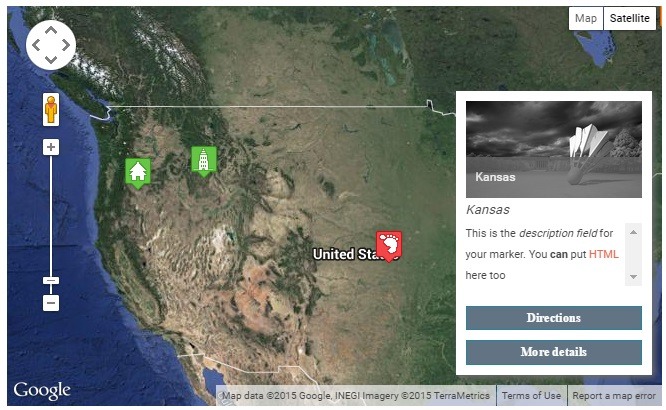 3. WP Google Map Plugin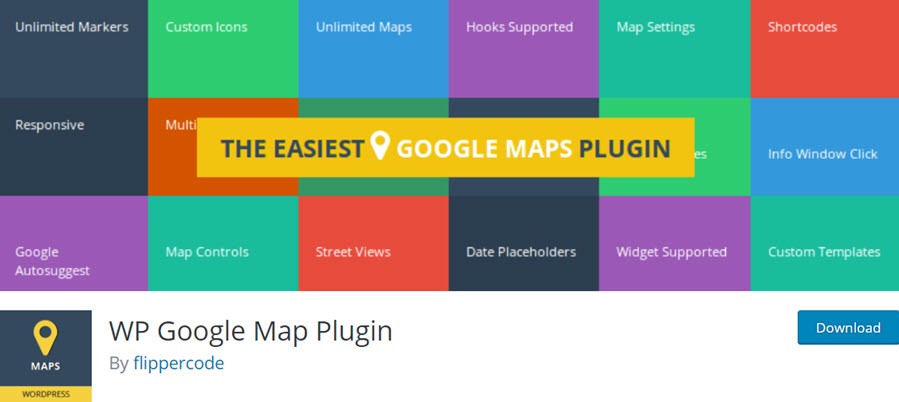 WP Google Maps plugin was developed using many customers' feedback and has become the most advanced Google Map plugin.
GDPR Compliant- User's information is not stored, nor any cookies are set.
Display Multiple Filters- Custom filters can be easily added or displayed by the admin on the frontend. The visitors can see this way more accurate results on the map.
Display posts on Google Maps- The admin can easily add blog posts or custom post types on maps. This post's description, title, and featured images are readily displayed.
Info window Cards- The admin can easily choose beautiful and responsive info window templates according to his needs.
The direction in Google Maps- Directions between two locations can be readily displayed over Google Maps.
Display Multiple Routes on Google Maps- Routes between two locations can be managed from the backend while displaying them on the frontend.
Total number of users – 100,000+
Price – Regular License – $59/Lifetime (1 Site)
Screenshot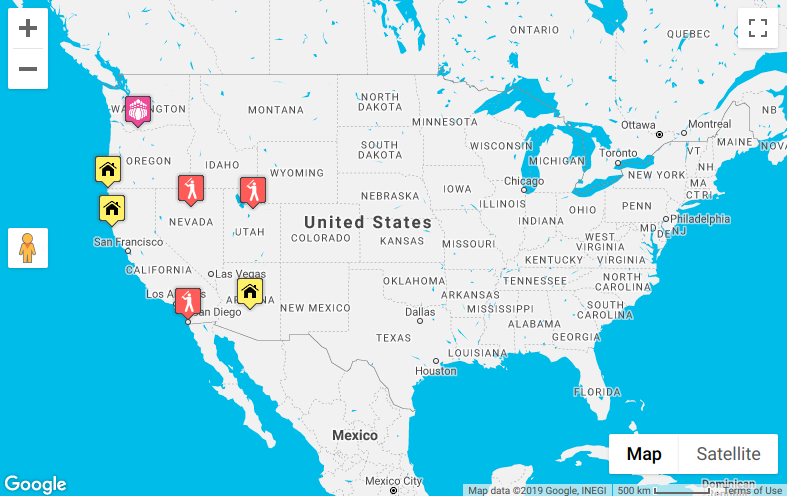 4. Agile Store Locator

Agile Store Locator and Google Maps V3 API render store list. Styles, Markers, Themes, etc., can be easily managed by complete backend management. It is an advanced WordPress plugin.
Multiple templates- There are numerous templates with various layouts for the plugin to adjust better to the website.
Filter stores- Users can get to their current location by prompting GeoLocation, and stores can be viewed near the user's location through the user range slider.
Snazzy Maps- Maps styles can be chosen under Agile Store Locator Plugin settings from the Snazzy Maps option.
Import/Export using Excel Sheets- Import/Export of Stores is supported by Agile Store Locator through Excel Sheet import. An Xls file is imported to fill up the store's list on the map.
Direction- Directions can be drawn between two locations with complete direction steps to find that location.
Price – Regular License – $34/Lifetime (1 Site)
Screenshot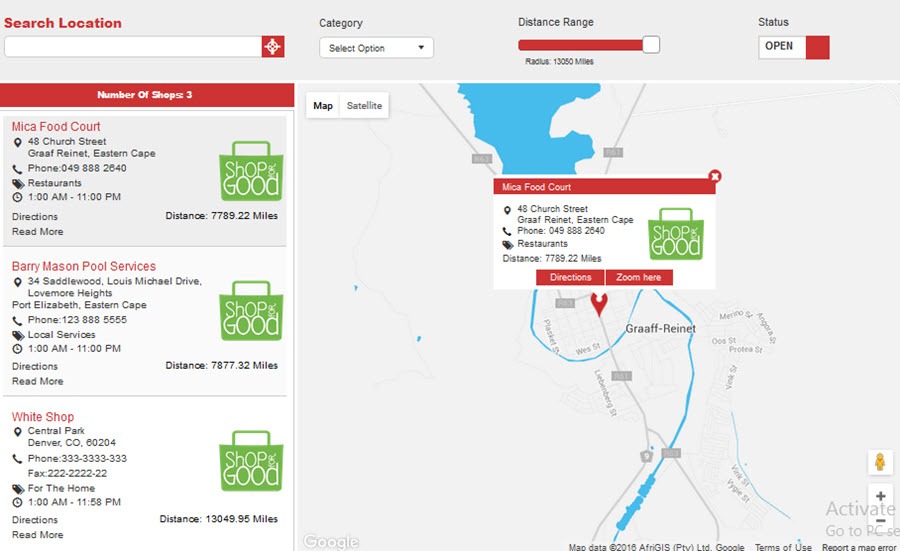 5. 10Web Map Builder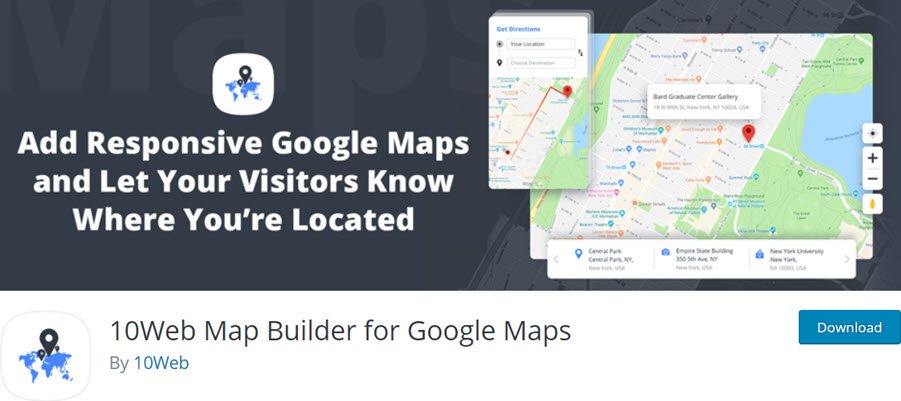 10Web Map is a convenient plugin for creating intuitive Google maps for your websites. An extreme and lightweight extension lets you insert unlimited maps, i.e. responsive. Provide your users with a pleasant experience while getting the help of your map. Give correct instructions of direction to customers that relax them to get your location anytime. 10Web Map is a feature-enriched extension that assists your website so well while placing unlimited maps wherever you feel necessary. It contains an easy-to-use interface that anyone can shortly create unique maps for websites and customize well for a better look and feel.
Why should you have 10Web Map Builder?
Create extensive Google maps for your website and place them within minutes.
Let your users navigate freely while creating customized maps along with essential tools.
Enables to markup locations and show descriptive instruction to customers that ease reaching the destination.
Let your customers easily find the way to reach you with the assistance of vast Google maps.
Lightbox features- Its lightbox has many features such as displaying map titles, close button, close on overlay click and close on the escape key.
Pin- Pin size, colour, type, and label can be easily set.
Total number of users – 10,000+
Price – Basic – $30/annually (1 Site), Standard – $45/annually (3 Site),  Advanced – $60/annually (30 Site)
Google Maps WD Plugin for WordPress
Screenshot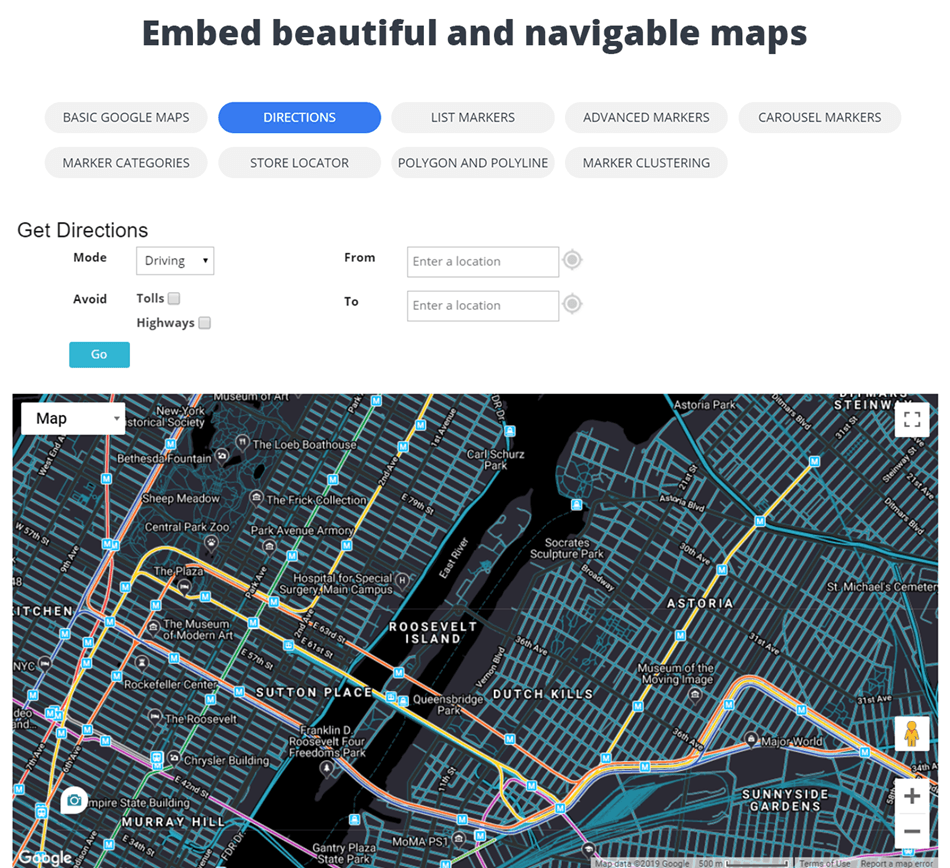 6. MapPress Maps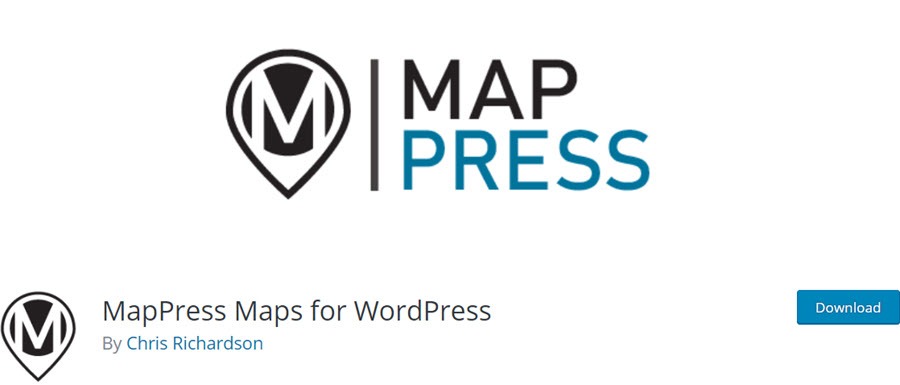 MapPress is an intuitive Google Map Builder plugin that lets you easily create comprehensive maps to navigate your customers. Although, make it simple and easy to create customized maps that match the standard of the website just in a few clicks. Such Google Maps contains almost every feature that assists your customers to reach your location. Create elegant maps as much as you require and insert them anywhere on the website, including posts, landing pages, etc.
MapPress is a well-integrated map builder plugin that comes with enriched features. Access to Gutenberg blocks that provides professional touch-up to your maps. Popup map editor eases the process and prepares Google maps within a couple of minutes. Enhance user experience while placing such responsive Google Maps on the website that smoothly works anywhere. Let your customers find you more conveniently with Google Maps, making them reliable customers.
Street Views- Street views are available on this plugin.
Post types- It supports custom post types.
WordPress Multisite- It is compatible with WordPress MultiSite.
Shortcodes- Many new shortcodes are available with many parameters.
Custom text and HTML- HTML and custom text can be created for the markers, including photos, links, etc.
Total number of users – 60,000+
Screenshot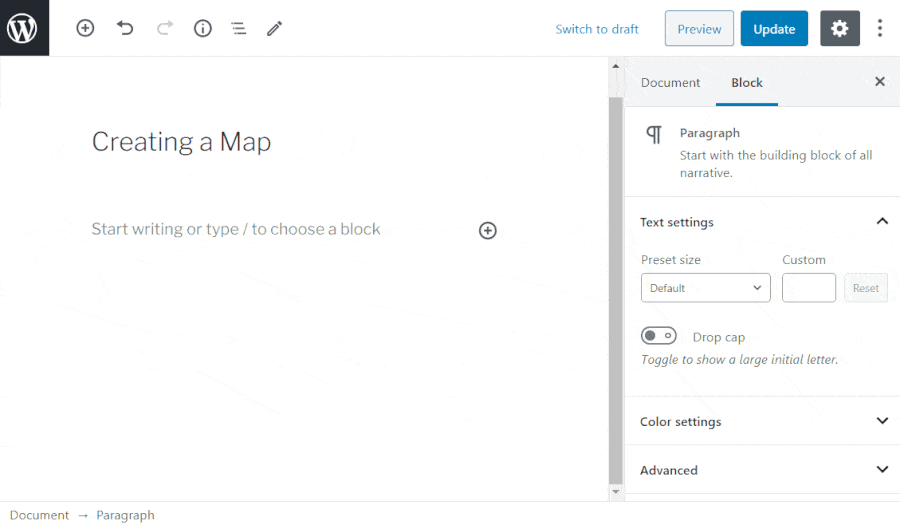 7. WP Store Locator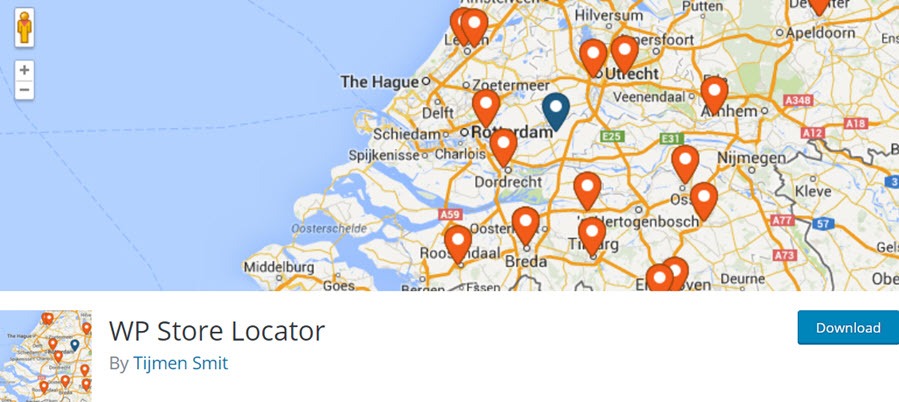 WP Store Locator has custom pinpoint graphics, tooltips, limitless locations, and informative popup galleries for the location, which helps to enhance Google Maps for WordPress. Any custom map image is also allowed by this plugin for the user to choose along with the zoom and pan effect of Google Map.
Google Map Integration- Google Map can be unlocked with this plugin's powerful features. It gives more control while still sticking to Google Maps. Users can toggle between custom map and google map.
Travel log- Places that have been visited by preserving them in memories by pinpointing them and including a gallery of photos taken at that spot.
Powerful and Intuitive Admin- Maps and locations can be customized using a simple and intuitive interface.
Detailed information and galleries on each location- Photos and videos can be added to the infinite number of locations on the map, which can be seen when a visitor hovers over that location.
Total number of users – 70,000+
Screenshot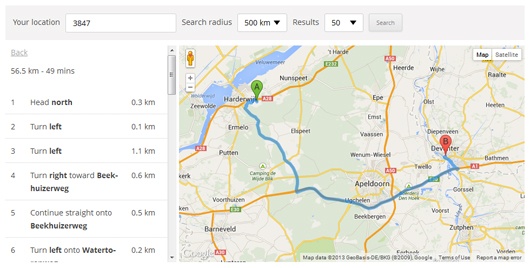 8. WP Google Map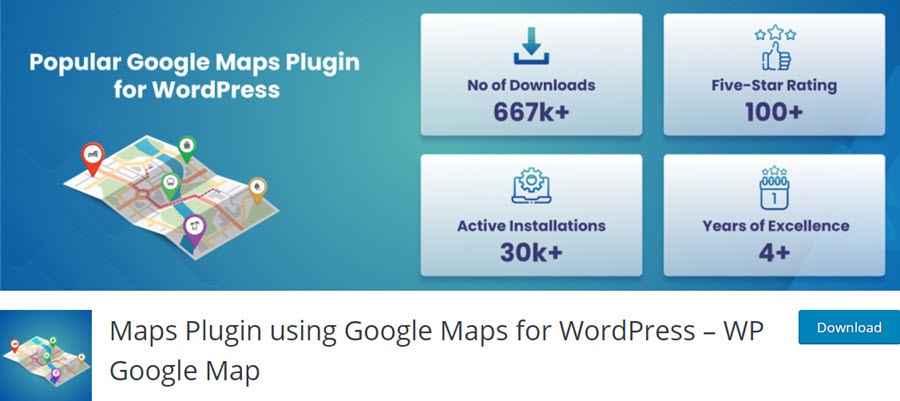 It is yet another though different Google Map plugin. It is the fastest Google Map plugin. Google Maps can be easily customized and built using this plugin without coding. It is also effortless to use and is very intuitive.
Google Places API Integration- Places of interest and close-by business places can be displayed along with customer marker icons, ratings, etc.
Full-screen Live Map Builder-This plugin brings the map live by enabling the users to edit it in a fullscreen Customizer-like environment.
Intuitive UI- This plugin has no out of fashion interfaces, and its Intuitive UI helps it blend with the surroundings.
Optimized- Styles and scripts are packaged and styled with Grunt.
Total number of users – 30,000+
Screenshot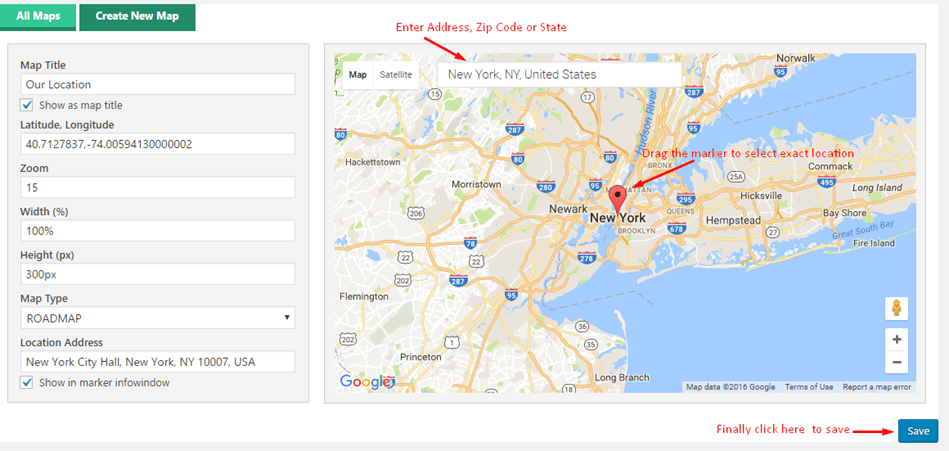 9. Map Block for Google Maps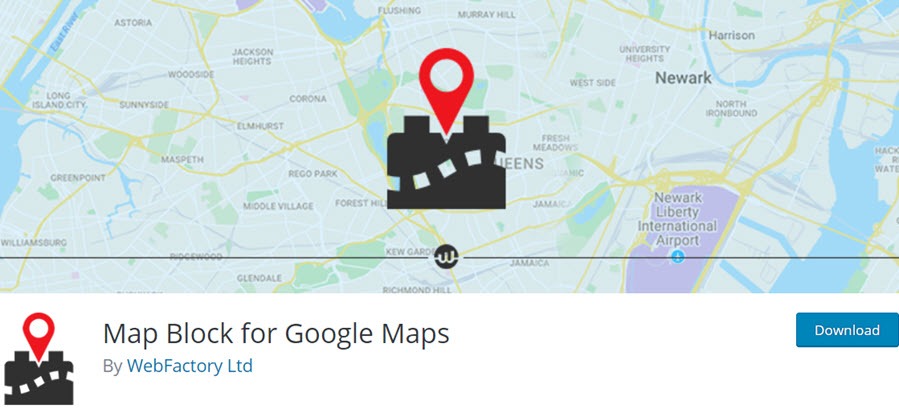 Map block helps to enhance the WordPress editing screen by adding an interactive map. Google Maps Block can be added to the WordPress website only through shortcodes. Any address that the user likes to map can be entered while editing a post or page. So a good-looking interactive map can be inserted automatically into the blog with custom map markers and directions. Google Maps Widget helps create Google maps and thumbnail, and lightbox in no time.
Different ways of loading a map- There are three ways to load a map: a street address, centre coordinates, and a URL to Google Earth KML file.
Support- This plugin is responsive, and multiple maps can be added to the same page or post.
Minimal dependencies- Not much is required for this plugin, only WordPress and Google Map APIs.
Other options- description and link for info window.
Total number of users – 10,000+
Screenshot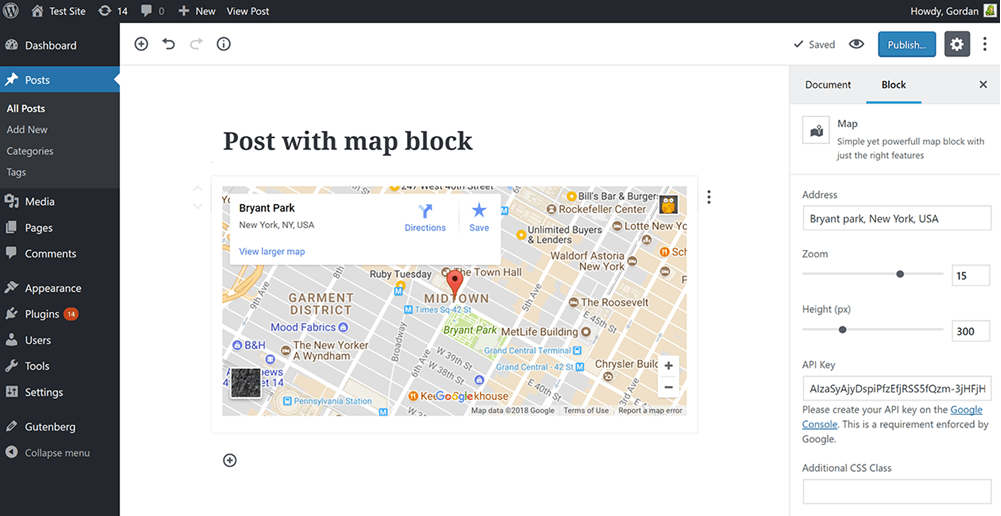 How To Embed Google Map In WordPress Without Plugin
Step 1 – Open the Google map website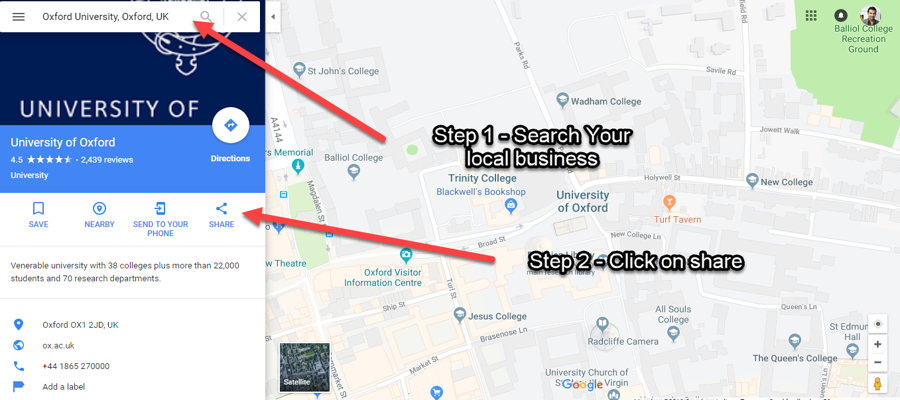 Step 2 – Now, in the search bar, search your local business and locate it. Once you are done, click on the Share Button.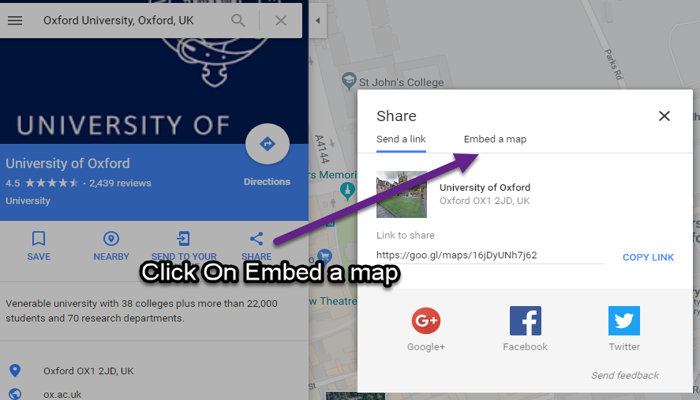 Step 3 – Once you click on the share, you will get redirected to the Normal share window. Now click on " Embed a map."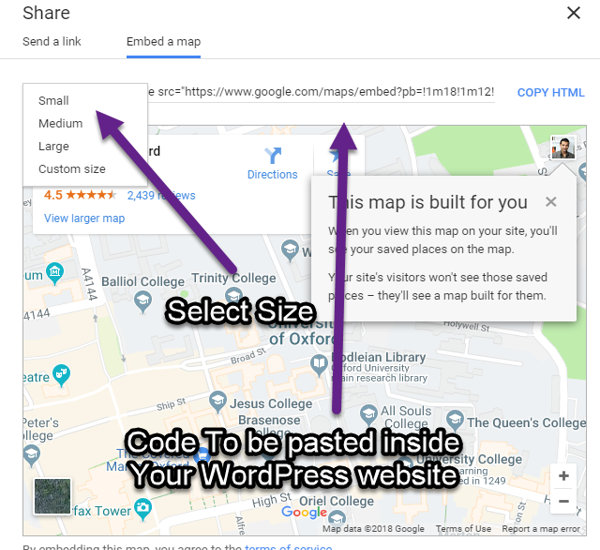 Step 4 – Finally, your code will look like the embed code below. If you need more functionality, I request you to use this map plugin. Now copy the code and paste it inside the Visual text part of your website.   You can even manage the height and width of the map too. 
<iframe src="https://www.google.com/maps/embed?pb=!1m18!1m12!1m3!1d2469.8088025254365!2d-1.2565554847540925!3d51.754819700404276!2m3!1f0!2f0!3f0!3m2!1i1024!2i768!4f13.1!3m3!1m2!1s0x4876c6a9ef8c485b%3A0xd2ff1883a001afed!2sUniversity+of+Oxford!5e0!3m2!1sen!2sin!4v1531207401883" width="600" height="450" frameborder="0" style="border:0" allowfullscreen></iframe>
Conclusion – Still confused about which is the Best Google Maps Plugins for WordPress? Don't worry, I will make your choice more straightforward. If you want a free or premium map, no matter for both versions WP Google Maps plugin is the best option.