16 Best Appointment and Booking Plugins For WordPress 2023
Are you looking for the Best Appointment and Booking Plugins For WordPress? Appointment and Booking Plugins allow our customers to To book an appointment online using Booking calendars.

Allowing customers to book an appointment online allows us to expand our business globally. Anyone can book a slot so that he can get service from you without wasting time. Booking plugins can be used in Barber Shops, Dentists, Doctors, hotels, gyms, Doctors, spas, Yoga, Event management, etc.
Why should we add an online appointment booking system to our WordPress website?
Flexibility – You can quickly know when the service slot is free.
Reach globally – You can expand your business online and reach customers globally.
Time-saving – When you meet someone without a meeting time, you will be wasting your time so much. Because there is no certainty that he be free or not.
The essential requirement for buying Best Appointment and Booking Plugins For WordPress
Booking forms should be easily customizable to meet any business requirement.
Time slot availability should be there on the plugin.
Upgradation Timely
Most people who book appointments must be using it via phone to be responsive.
Proper notification options via email or SMS should be there.
Integration into the WordPress website should not be complex.
Note – These businesses are almost similar to eCommerce websites, so you must regularly back up your WordPress website. For backup plugins, you can try my list of best backup plugins for WordPress
So let's have the list of Best Appointment and Booking Plugins For WordPress, which is as follows:
1. Amelia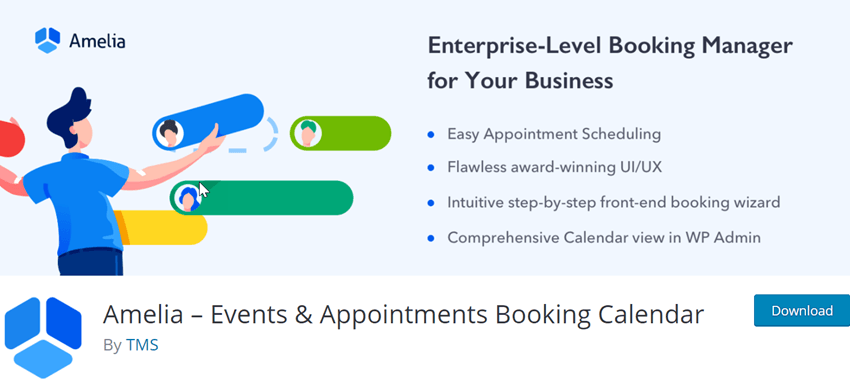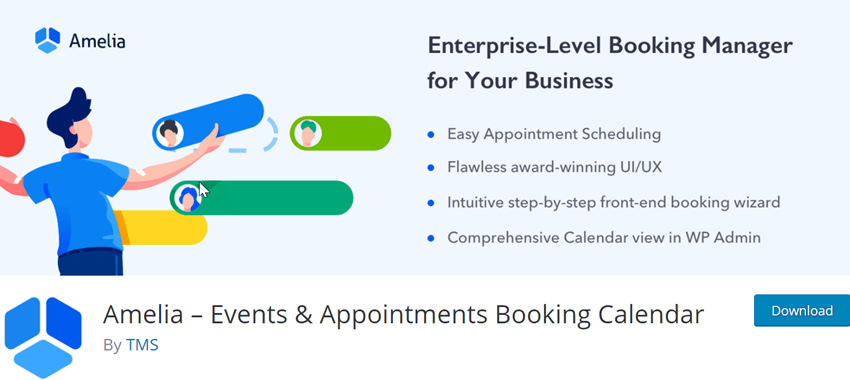 Amelia is one of the major WordPress plugins that provide the schedule for booking an appointment on your WordPress website. You can set up the features like an automated booking system on your website with the assistance of this advanced WordPress plugin. If you accompany a small business or an entrepreneur, then Amelia assures you of the steady process of booking appointments.
Amelia hold up the following features such as
General Setting Configuration as per your requirement.
Create a sight of step-by-step booking.
Customers will be notified by email of the status of the appointment.
The appointment management page is available on the WordPress admin dashboard.
To book your first appointment with the help of Amelia, you just have to configure it, which takes five minutes, and it will be all set for the following others. This WordPress Plugin is designated with leading technology that ensures a great user experience. The element of Amelia is well-organized with the approach of a single-page app, i.e. eliminates reloading the page. It establishes a good interaction between the admin and the customer.
Total number of users – 30,000+ 
Price – Basic-$69/yearly (1 Domain),  Pro-$99/yearly (3 Domain),  Developer-$219/yearly (Unlimited Domain)
Screenshot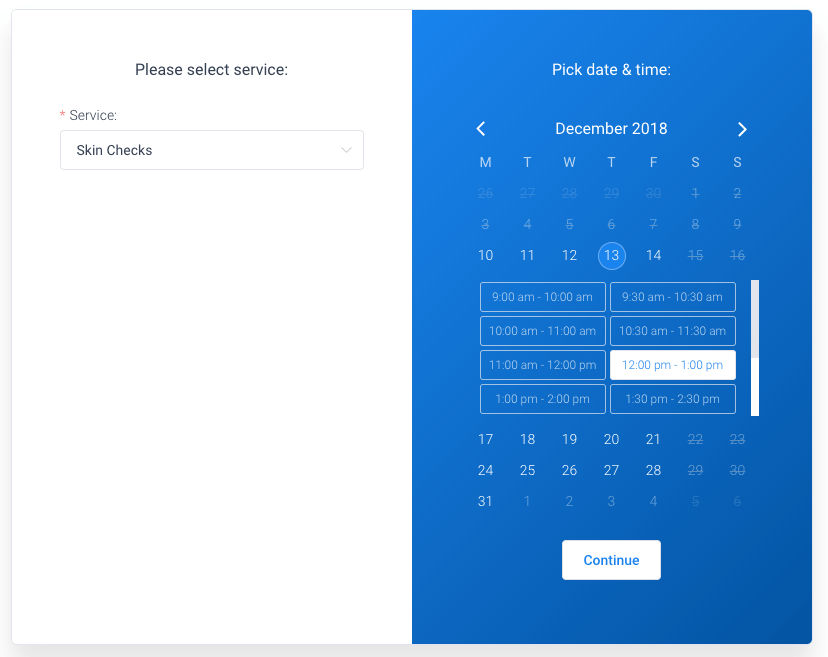 2. WooCommerce Bookings
WooCommerce Bookings plugin allows the users to book at their convenience. This way, it saves time and effort. Fixed appointments can be set, and users can even create their appointments. Time slots can be selected for bookings. Time can be blocked for leaves, and buffers can be created between bookings. Special pricing can be offered for days of the week or group size. Double bookings can be avoided for service, space, and equipment. The clients can be reminded of their appointments by notification emails.
This booking plugin enables your customers to book appointments and reservations without communicating with you. The entire booking procedure shall be done on your website created on WordPress and not involve you all through this. You may modify the time slots as you want to show up to your customers, comprising days, hours, or minutes. Set your limitation on the number of participants at a time of booking within your convenience.
Along with WooCommerce Booking, you can customize the booking price as much as you want to display in the form of special offers and discounts. You can also send confirmation and cancellation of appointments to your customers via email notifications.
Pricing – Single Site – $249/year, 5 Sites – $299/year, 25 sites – $449/year

Screenshot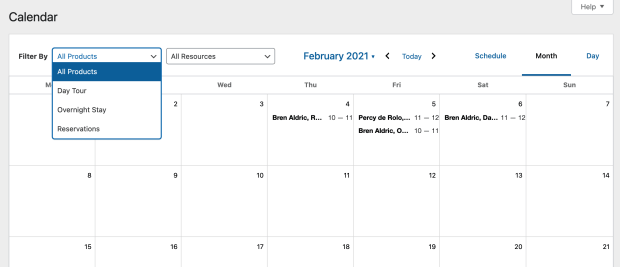 3. Booknetic

Booknetic is an advanced WordPress Plugin that utilizes online booking appointment functionality that facilitates your customers to schedule meetings. Let your visitors go through the booking conveniently without much complex processing. Suppose your website is associated with doctors, salons, and another online service that needs to take an appointment before visiting directly. In that case, Booknetic WordPress Appointment Booking assists you all through this. You get access to stabilize booking activity and confirm instantly. Connect the email of every visitor and send notifications for booking confirmation, payments, and other purposes to inform them. Although, convert more visitors into customers while keeping them informed about your services and offers. It is integrated with online payment accessibility through PayPal, Stripe, or other networks.
Elementary Features of Booknetic –
Admin Panel – Manage the backend functions on an organized admin panel and create different plans to attract the audience's attention.
Subscriptions – Offer your visitors to take annual or monthly subscriptions and enjoy hassle-free accessibility. Also, it offers discounts for the first month or year respectively.
Facilitates Tenants – Create appropriate registration and login forms for every separate tenant specifically that ensure them to book their appointment that encrypts the security of personal details and more.
Pricing – Regular License – $79/year (1 Site)

Screenshot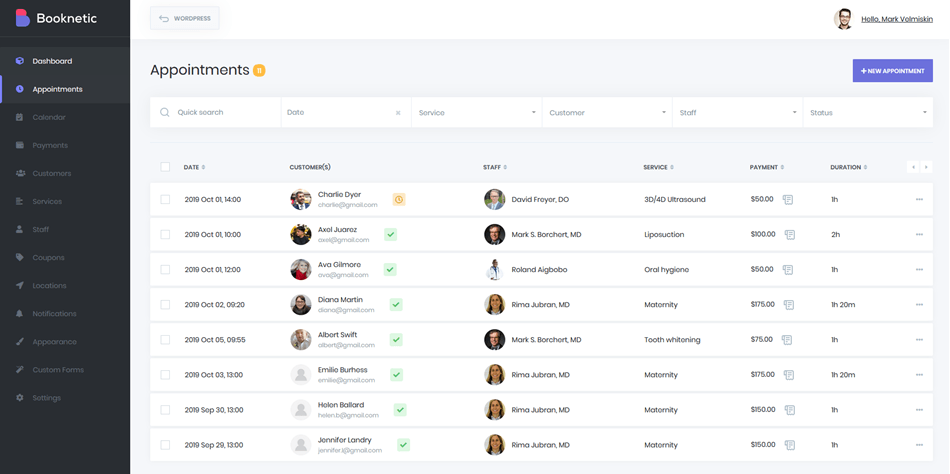 4. Simply Schedule Appointments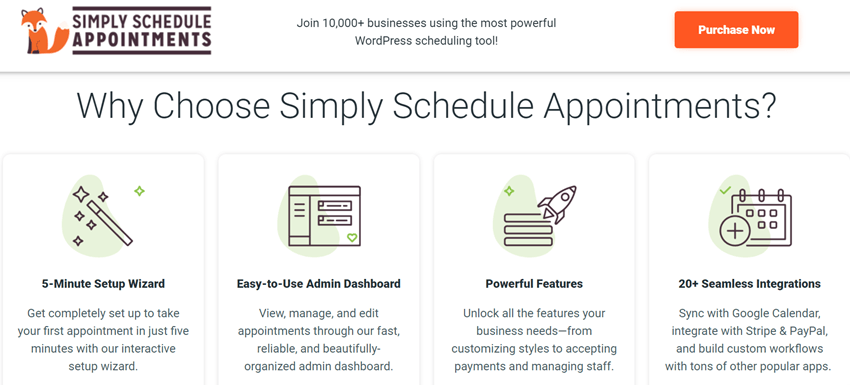 Simply Schedule Appointments consist of immense features such as booking form with custom field option, google calendar sync, book classes, group events, etc. This plugin is available in the free version, and premium ones allow smooth functioning of business prevails on the WordPress Website. You get access to the easiest way to add or manage your online booking on your website within quite simple steps.
Specific features that make Simply Schedule Appointment the best alternative –
100% free version – You become able to book unlimited appointments and also may customize your booking form according to your website pursuit.
Premium Version – When you access the premium version of Simply Schedule Appointments, you can receive the payment for appointments through Stripe and PayPal.
Quick response for any query – If you are dealing with any troubleshooting problems, then you may get help from the customer support team through Zoom call on the same day.
Frequent Updates – Simply Schedule Appointments avails the updated versions after calculating the entire reviews of their customers.
Every version of Simply Schedule Appointments, including the free version, interact with foremost page builders like Divi, Elementor, and Beaver Builder.
Price – Plus Edition-$99/yearly,  Professional Edition-$199/yearly,  Business Edition-$299/yearly
Screenshot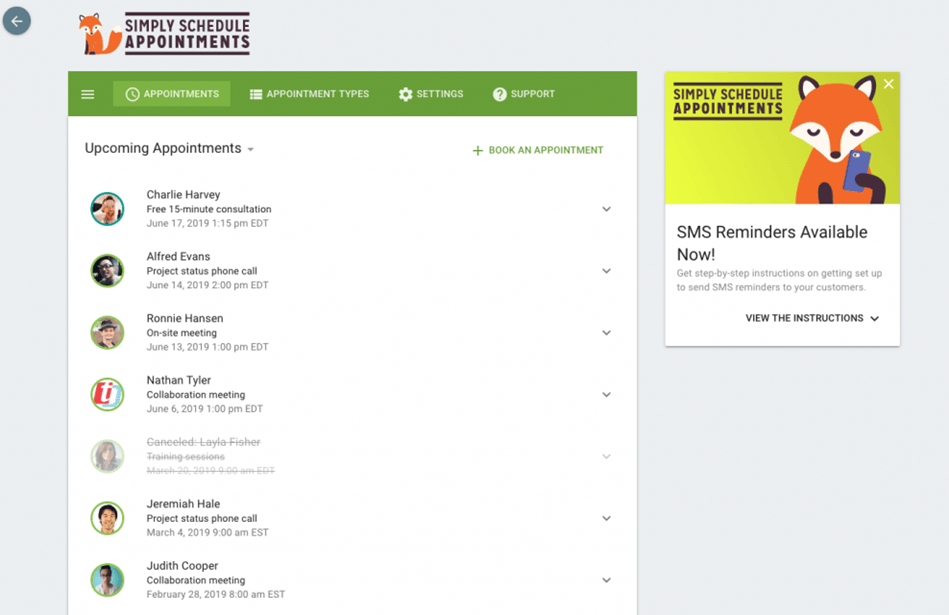 5. YITH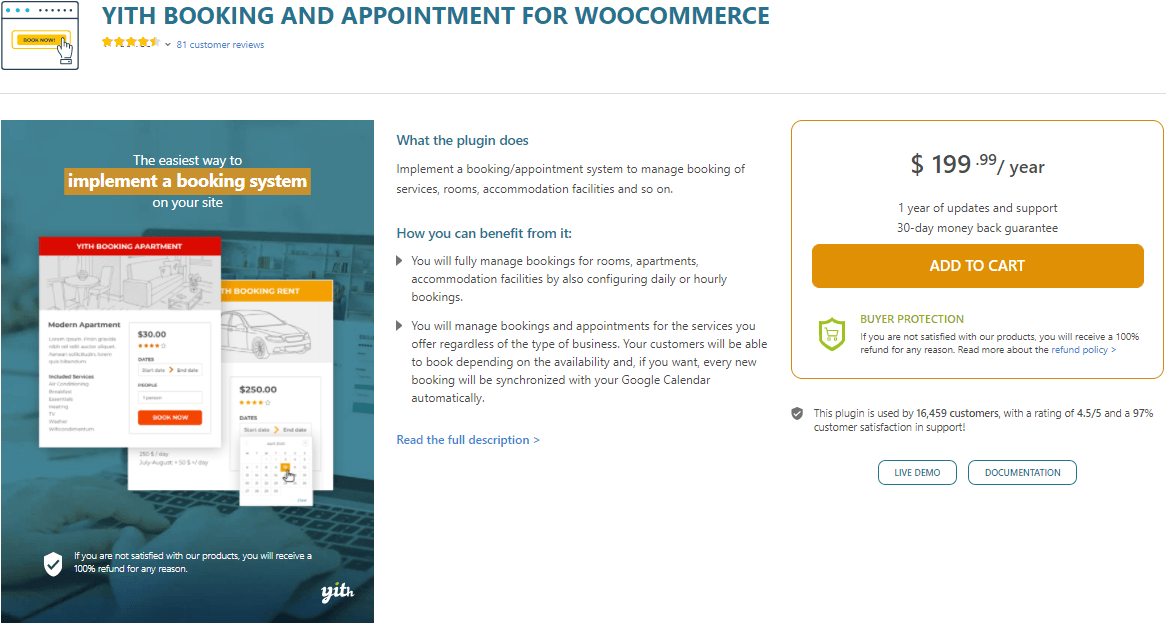 YITH WooCommerce Booking and Appointment is a WordPress extension that professionally manages bookings with accessible navigation facilities. You get access to an advanced appointment system that manages booking accommodation facilities, rooms, services, apartments, etc. This plugin is mainly effective for business consultants, doctors, hairdressers, and those whose business setup includes travels, items, or dates.
Specific features represented by YITH WooCommerce extension –
Boundless Booking Access – Option of multiple product booking are available at a time with the YITH WooCommerce plugin.
Different Term Of Schedule For Booking – You can set the booking pattern for your products monthly, hourly, daily, and per minute.
Automated Email – Confirmation, cancellation, or reservation will be automatically notified to your customers via Email services once they online book on your website.
Modification Of Booking Cost – Ability to increase or decrease the booking price with relevant factors such as off-season or in-season, the density of booking, and booking duration.
Multi-Lingual And Multi-Currency – Support different languages and currencies, enabling you to reach international customers.
Booking Theme – Select the theme you want to display on your screen and customize it as per your interest.
Price – Annually-$199/yearly
Screenshot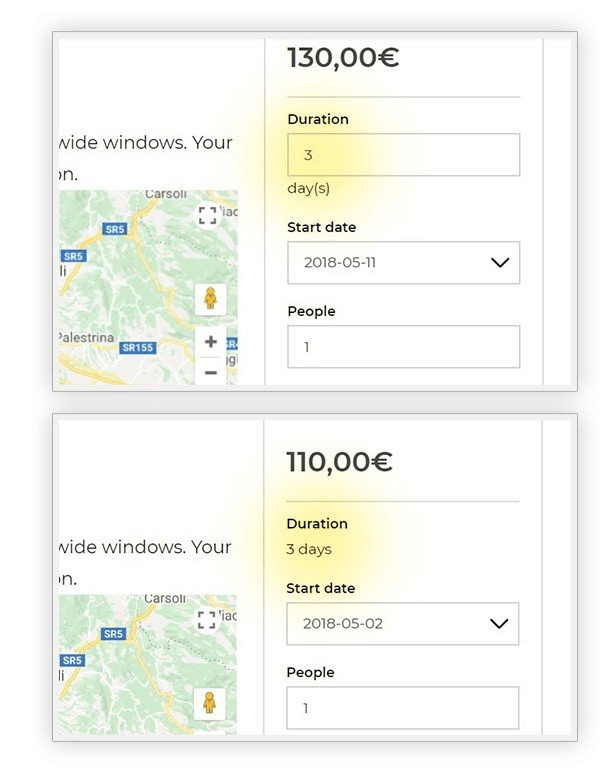 6. Plugin Republic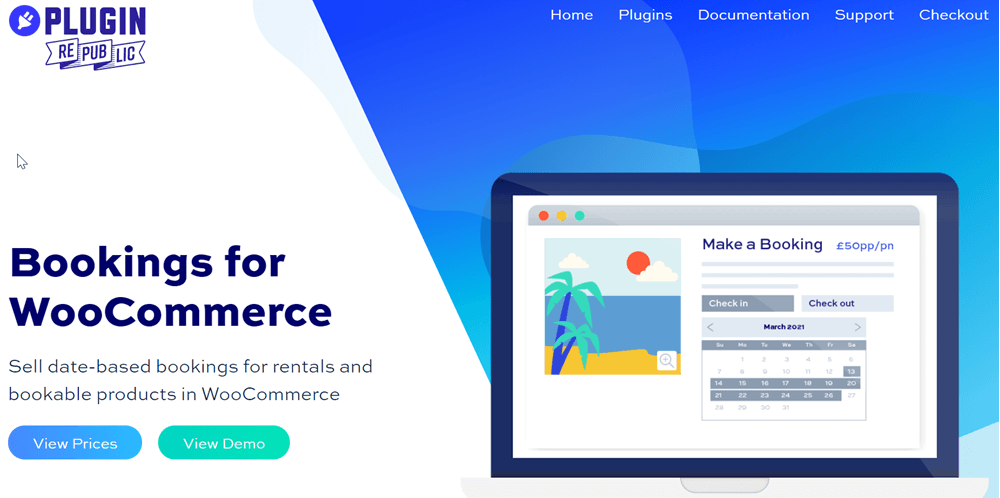 Bookings for the WooCommerce plugin enables you to book hotels or slots on a rental basis for your WordPress website. This extension offers more advantages and flexibility, such as various payment portals and permits to sell other products or services. Rentals, including property, vacation, rooms, villas, apartments, holiday lettings, etc., perfectly fit the Booking for WooCommerce.
Integration of WooCommerce Product Add-ons Ultimate concedes you to activate a more advanced chargeable option within your website. Cleaning fees, transfer costs, options like bed and breakfast, welcome packs, surcharge for extra guests, etc., are some of the options that may include Add-ons in WooCommerce booking.
This WooCommerce extension allows access to the booking duration and then shows the relevant cost itself. Settings at WooCommerce are pretty simple, and anyone can easily use them even without a vast knowledge of coding. The customer can overview the date of booking and modify it. You have access to this plugin with a zero risk trial as it provides a money-back guarantee of up to 14 days.
Price – Basic-$49/yearly (1 Site),  Pro-$89/yearly (Unlimited Site)
Basic-$129/Lifetime (1 Site),  Pro-$299/Lifetime (Unlimited Site)
Screenshot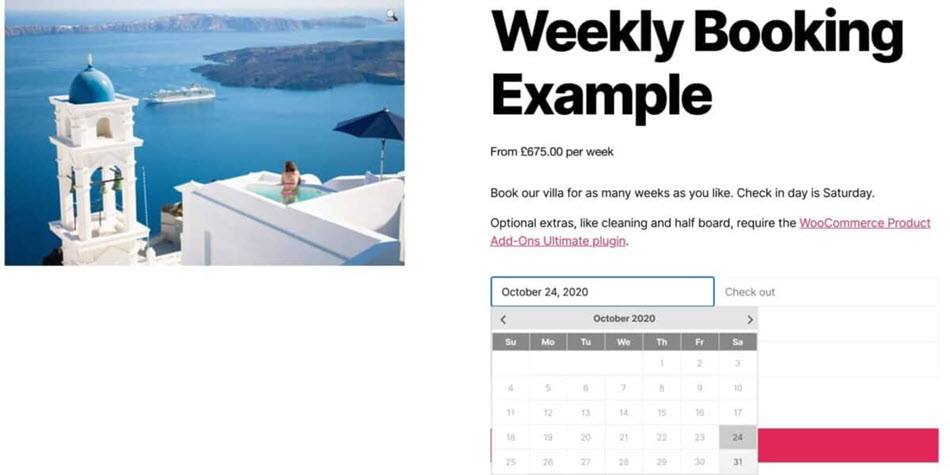 7. Hotel Booking Lite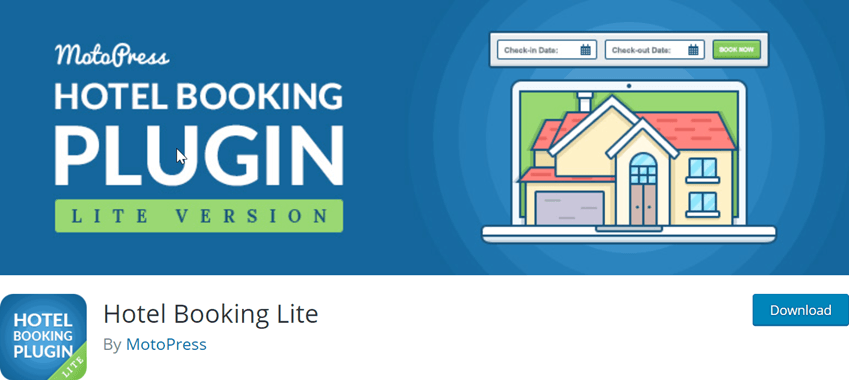 The Hotel Booking plugin has a professional WordPress booking system that helps manage and build a property rental site. Unlimited services and accommodations can be listed using this plugin. Direct online reservations can be accepted, and all bookings can be synchronized across OTAs. The accommodation details can be provided, which can be easily customized. Submitted booking requests can be confirmed automatically, manually, or instantly upon payment. Depending on the number of guests, the accommodation rate can be changed.
Hotel Booking Plugin developed by MotoPress avails the genuine consign for the business pursuit of property rental system on the WordPress. With this, you may be able to initiate well-built booking websites for rental property accompanied with many benefits, including inventory control, rates flexibility, custom policies, online and offline payments, information related to taxes and fees, and many more. Containing a user-friendly interface of the admin dashboard that can easily be accessed even by non-tech people without too much effort. Hotel Booking Plugin also facilitates the intelligent search algorithm, which enables your customer to view the best accommodation facilities according to the number of guests. This Hotel Booking plugin of WordPress is available in 14 languages and supports various currencies from different countries.
Total number of users – 10,000+
Price – Single Site-$89/yearly,  Unlimited-$199/yearly
Screenshot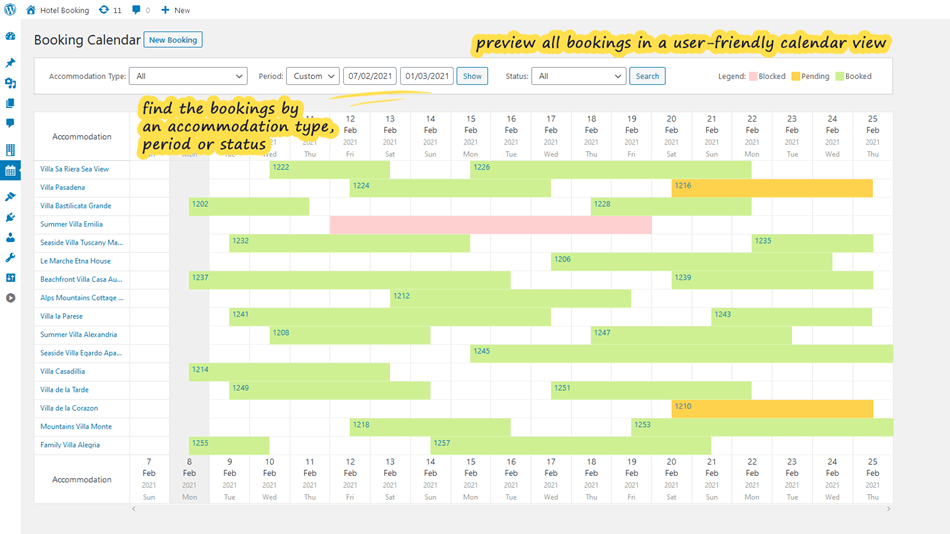 8. Tyche Softwares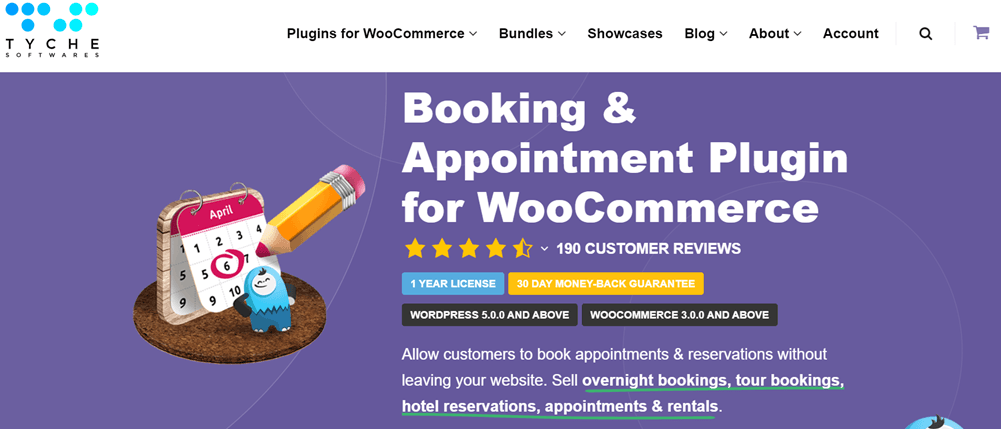 Tyche Software is an eminent Booking & Appointment Plugin for WooCommerce enables your customers to schedule a reservation and an appointment on your website without any interruption. This WooCommerce Plugin allows establishing the booking and appointment for virtual events.
Key Features of Techy Software –
Reschedule Booking – This allows the customer to modify the date and time on the My Account page.
Transform Time zone – Enables the view of time slot according to the customer's local time zone.
Compatible for Multi-lingual – Adapt offers PO/MO files and WPML.
Google Calendar Sync – Booking for products or services get synced on a different calendar.
Bulk Booking Setting – Enables to set up for various products booking at one place.
Reminder to Customer – Send Email and SMS to remind the customer of their booking availability.
In brief, Techy Software provides you to create and manage any type of booking services on your WP site. Now, you can schedule appointments, rentals, overnight bookings, and full-day bookings. The admin is also implementing manual booking along with checking real-time availability. Recurring booking also is supported as an Add-on subscription for WooCommerce.
Price – Starter-$119/yearly,  Business-$199/yearly, Enterprise-$249/yearly
Screenshot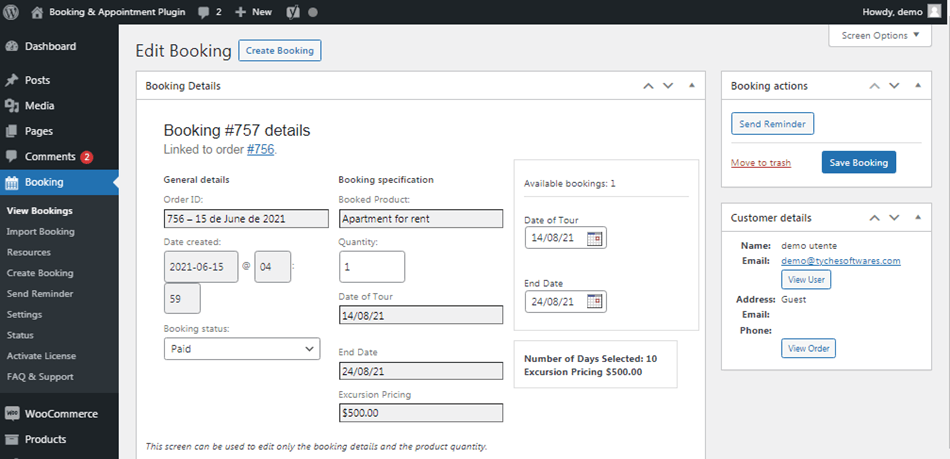 9. Appointment Booking Calendar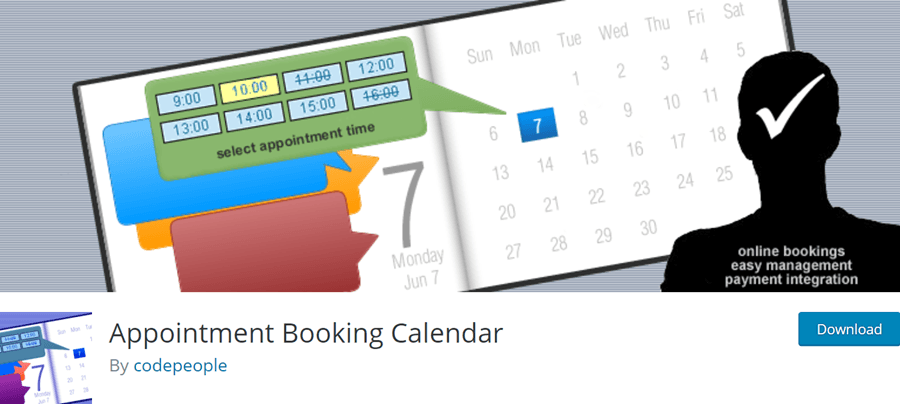 The Appointment Booking Calendar plugin has an easy-to-use booking system and a clean interface. The availability is simply shown, and bookings for property and service are quickly received. The functionality of this plugin is very flexible. A wide range of businesses can be accommodated with this plugin. The calendars can be made sleek and customized to fit the site. Bookings are displayed in Listing Tables and Calendar Overviews through an easy-to-use Booking Admin Panel. This way, the bookings are easily managed. The plugin is also straightforward to install and integrate with the site.
This plugin is a well-organized extension of WordPress, which defines a set of different time slots in a calendar that accepts the online booking. This appointment calendar plugin contains a booking form linked to the payment procedure through PayPal. A platinum version is available as Add-ons allow the extension to basic features of the form. Every update confronts customers through Email and SMS.
Total number of users – 4,000+
Price – Professional-53.88 Euro/yearly (1 Site),  Developer-107.88 (5 Site) Euro/yearly, Platinum-161.88 Euro/yearly (25 Site)
Screenshot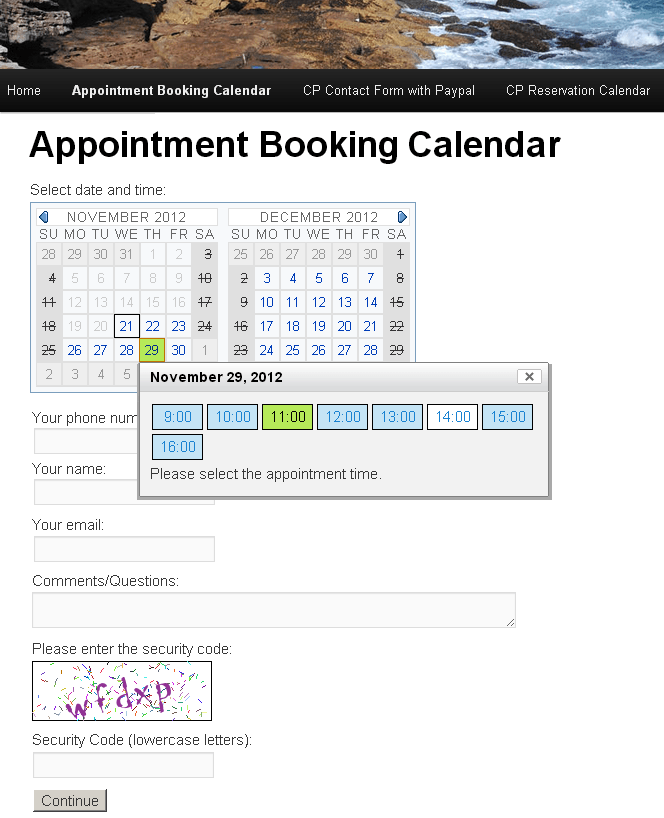 10. Bookly PRO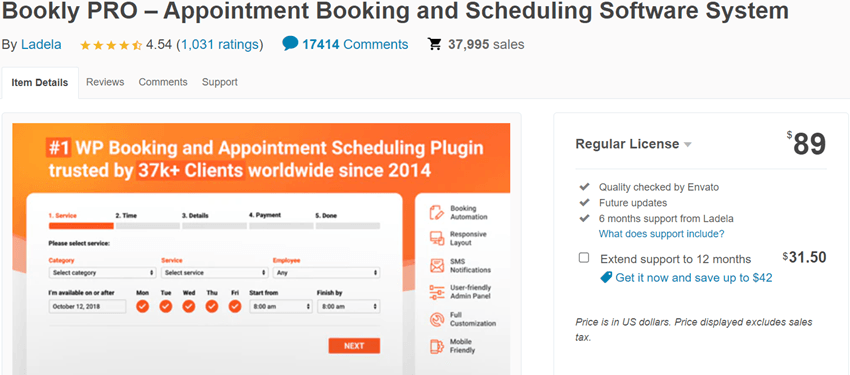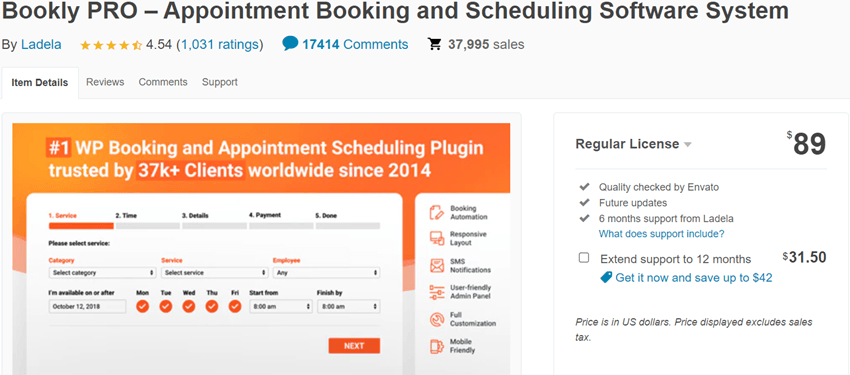 Bookly is an automated online booking and scheduling plugin for WordPress. It provides a fully customizable booking form complete with notifications, payment, and Google Calendar sync. The clients can book on the go with this plugin as it seamlessly integrates with mobile. For an easy WP setup, there is a user-friendly admin panel. The backend is also very user-friendly to manage the business on the go. The plugin can be integrated with many payment systems. The user and the client can be updated with SMS and email notifications.
It contains advanced features of booking online appointment plugin with fully customizable form. This online best appointment scheduling plugin integrates the availability of google calendar sync, online payments, and notification. Backend and frontend are designated very well, enabling you to customize the various section of the form without knowledge of coding. It is excellent for the management of small businesses owners as it is less complex.
There are both multiple slots and whole-day selection options available. Choosing a country from the drop-down menu is also there with this plugin. You can add extension plugins like calendar, SMS & email notification, PayPal and WooCommerce integration, and google calendar with 2-way notification.
Price – Regular License-$89/lifetime, Extend license $190/lifetime
Screenshot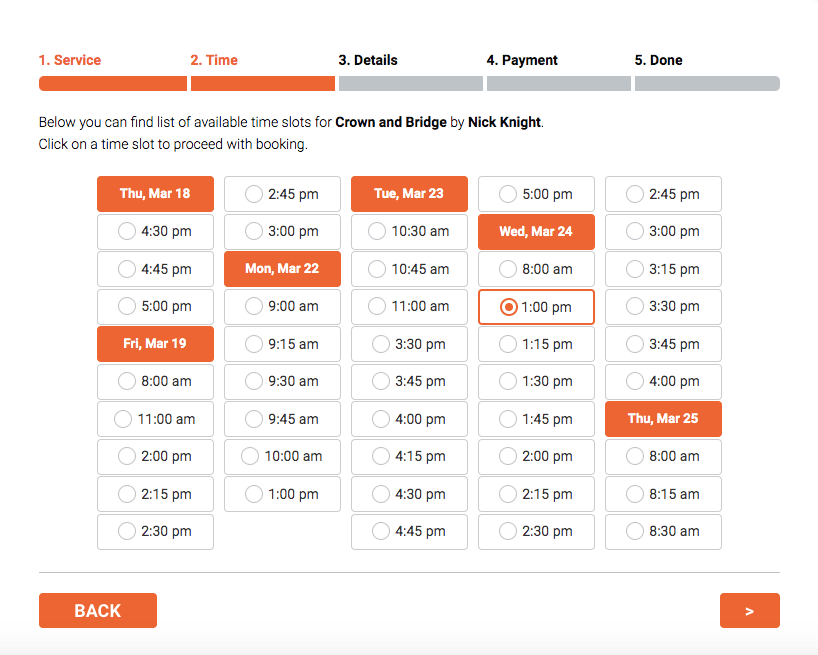 11. Salon Booking System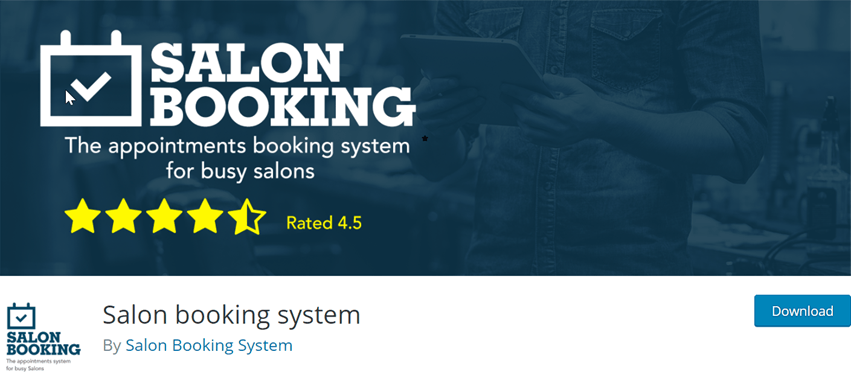 Saloon Booking System is one of the Best WordPress Appointment Plugins. It concedes simple scheduling appointments to get an excessive reservation for their services. This plugin is designated to manage the daily activities of salon owners, hairdressers, beauty centres, tutors, therapists, and other similar professionals. A well-organized set of notification options is available, including email, SMS, and WhatsApp.
Elementary features of Saloon Booking System –
Back-end Calendar – Daily, weekly, and monthly view that aware the administrator about a reservation.
Front-end Shortcodes – Saves a lot of time that you may waste implementing the catalogue, and you can simply use one of the shortcodes of your own choice.
Collect Feedback – Listen to your customer, what they experience from your service, and what they prefer for the best.
API Custom Integration – Well equipped with API that allows integrating with different apps.
Accept Online Payment – The option enables you to pay online as an entire or partial PayPal or another platform if you enrol with the premium version.
Google Calendar Synchronisation in Two Ways – Sync reservation details directly to the google calendar account of the administrator. And they also can cancel or add reservations with their google calendar account.
Total number of users – 8,000+
Price – Business Plan-$79/yearly (1 Site), Small Agency Pass-$199/yearly (10 Site), Unlimited Agency Pass-$299/yearly (Unlimited Site)
Screenshot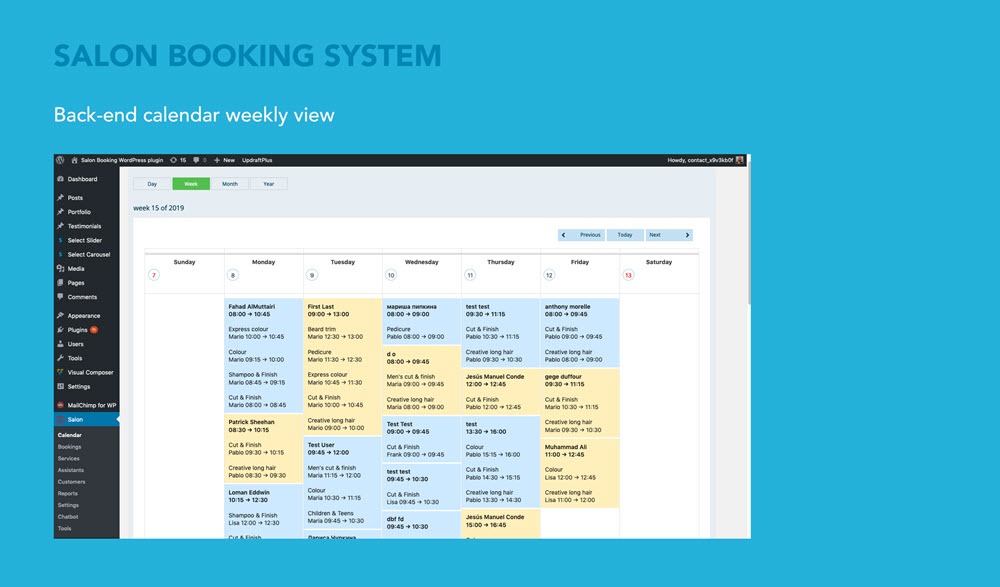 12. WP Time Slots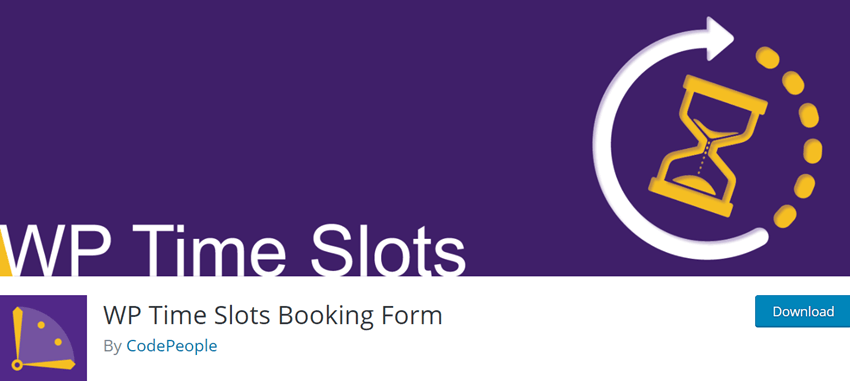 WP Time Slots Booking Form is integrated with the booking form that book time slots on calendar dates. You have to formulate a form with a calendar that enables your customer to choose the specific time into calendar dates for booking. This booking plugin is implemented for those who need to pick time slots from a set of time availability, and it is a good appointment plugin.
WP Time Slot is well-built for activities including purchase event tickets, medical appointments, reserve classroom, personal coaching booking, and other professional assistance.
Core Features of Commercial version of WP Time Slots –
Email Notification – Get every update of your booking promptly on your given email id.
 Reminders for Booking – Your customer will be notified for booking reminders of availability with SMS and Email.
 iCal Synchronization – Export or import iCal
Customize Form Builder – Conditional fields, uploads, multi-page forms, and others get to customize in the form.
External Services Integration – Integrates with reCaptcha, WooCommerce, Salesforce, MailChimp, etc.
Total number of users – 1,000+
Price – Professional-53.88 Euro/yearly (1 Site),  Developer-107.88 (5 Site) Euro/yearly, Platinum-161.88 Euro/yearly (25 Site)
Screenshot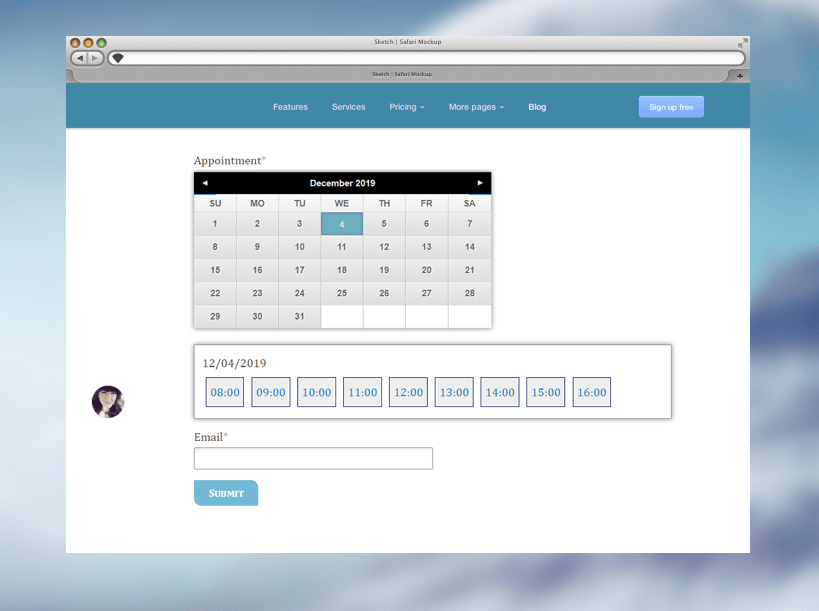 13. Appointment Hour Booking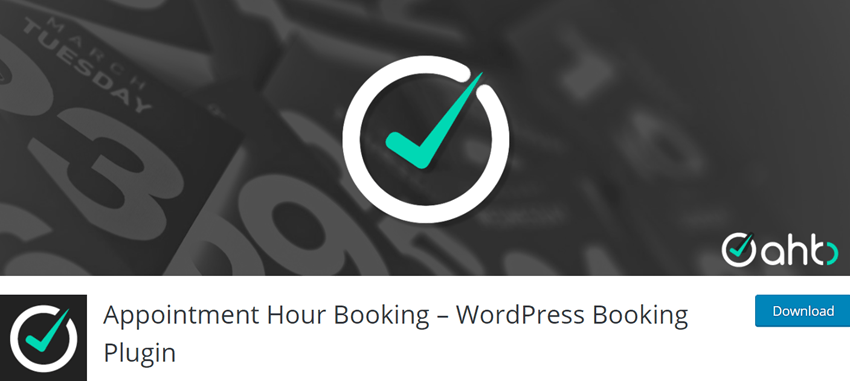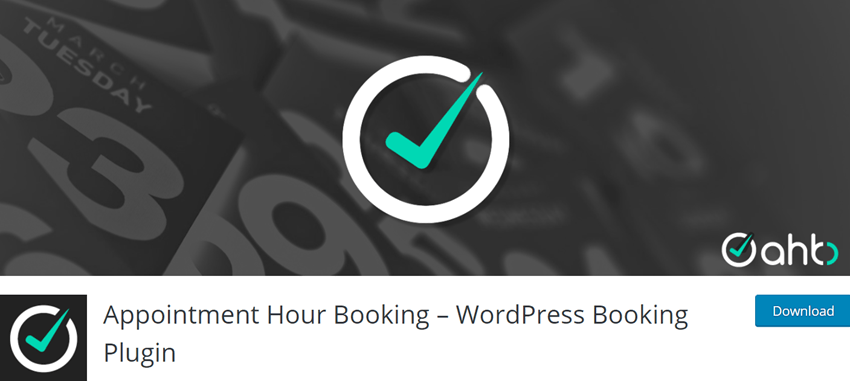 BirchPress is one the best online appointment booking Plugins For WordPress. BirchPress Scheduler allows service businesses such as yoga studios, spas, photographers, and contractors to book online appointments. The customer can book appointments for some specific time in a day. The booking forms can be customized for responsive themes, and the employees can be assigned for different services.
Client management becomes easy. Multiple locations, staff, and services are also supported. The date and time format can be configured. Appointment payment history can be tracked.
If you are in the hospitality industry and want to rent your property, you might need a calendar to display the availability of your room, hotel, equipment, holiday home, etc. The simple booking calendar is a free WordPress plugin that comes in handy if you want to show the availability of anything on your website. It allows checking availability with a few clicks.
You can customize or edit anything as per your liking using this plugin. The basic version helps you to keep track of your booking. By buying the premium version, you can do advanced editing and a wide range of customization. The unlimited booking option is provided with a premium version. This plugin also allows you to display multiple months and change days of week and month.
Total number of users – 20,000+ 
Screenshot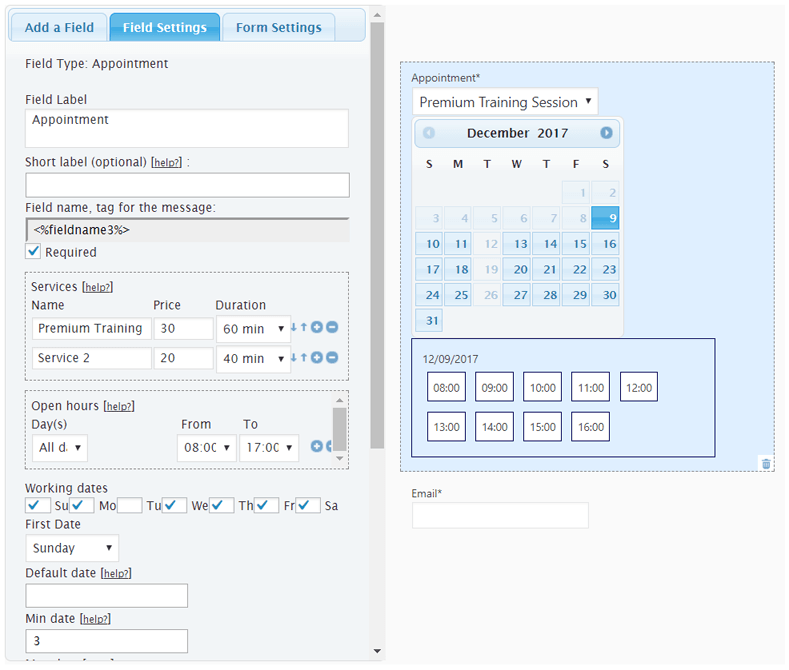 14. WP Simple Booking Calendar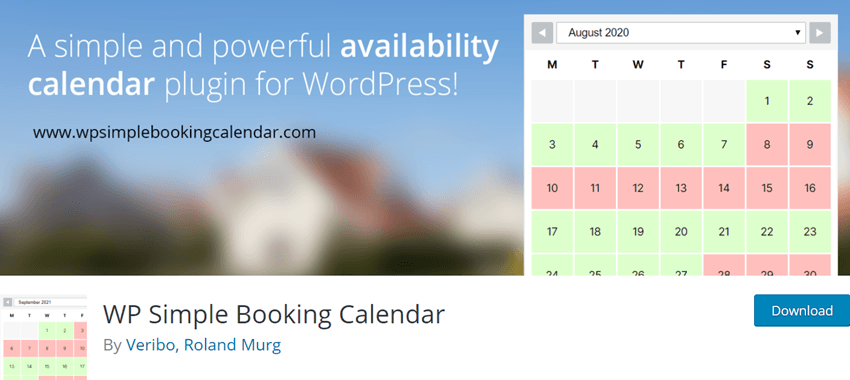 WP Simple Booking Calendar is an Appointment Booking WordPress Plugins. To display the availability of the room, holiday home, bed and breakfast, office, or equipment. WP Simple Booking Calendar plugin comes in very handy. A calendar can be created which has a simple, user-friendly interface. Using PO files, there are language translation options. Any number of booking calendars can be created. A legend can be displayed beside the calendar. The first day of the week can be changed. Booking history can be hidden from the visitors. Various language preferences are straightforward to display and use.
If you are in the hospitality industry and want to rent your property, you might need a calendar to display the availability of your room, hotel, equipment, holiday home, etc. The simple booking calendar is a free WordPress plugin that comes in handy if you want to show the availability of anything on your website. It allows checking availability with a few clicks.
You can customize or edit anything as per your liking using this plugin. The basic version helps you to keep track of your booking. By buying the premium version, you can do advanced editing and a wide range of customization. An unlimited booking option is provided with a premium version. This plugin also allows you to display multiple months and change days of week and month.
Total number of users – 10,000+ 
Screenshot

15. Booking Calendar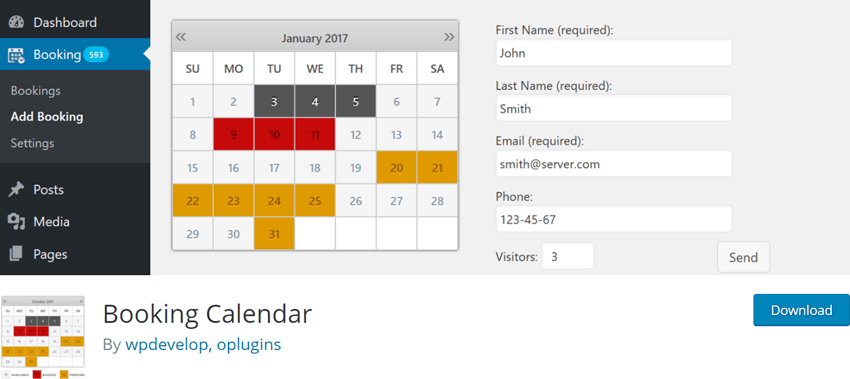 The booking calendar plugin was developed in 2009. It is 1st WordPress booking system with over 2,000,000 downloads to date. Booking calendar by WPdevelop is an easy to use WordPress Calendar plugin that allows the clients to view real-time availability, and they can self book their appointments. All types of businesses, big or small, can gain from it. It has a fast and clean frontend booking form. Everything can be customized from emails to forms and location time slots, booking policies, etc. The clients are notified when appointments are booked, cancelled, or rescheduled. The plugin is real-time 2-way synced with calendars such as iCloud, Google, etc.
It is an easy-to-use plugin and helps you make a hassle-free booking for your website by just showing availability. A smooth and clean interface allows visitors to make bookings for a specific time slot. Bookings can be made for your hotel room, apartment house, etc. An email will be sent to you through which you can accept or decline bookings. Made it a sleek and easy-to-understand plugin that displays a listing table and calendar overview and lets you manage to book. This plugin is very flexible. The font and style and be changed to fit the design of your website.
Total number of users – 60,000+ 
Screenshot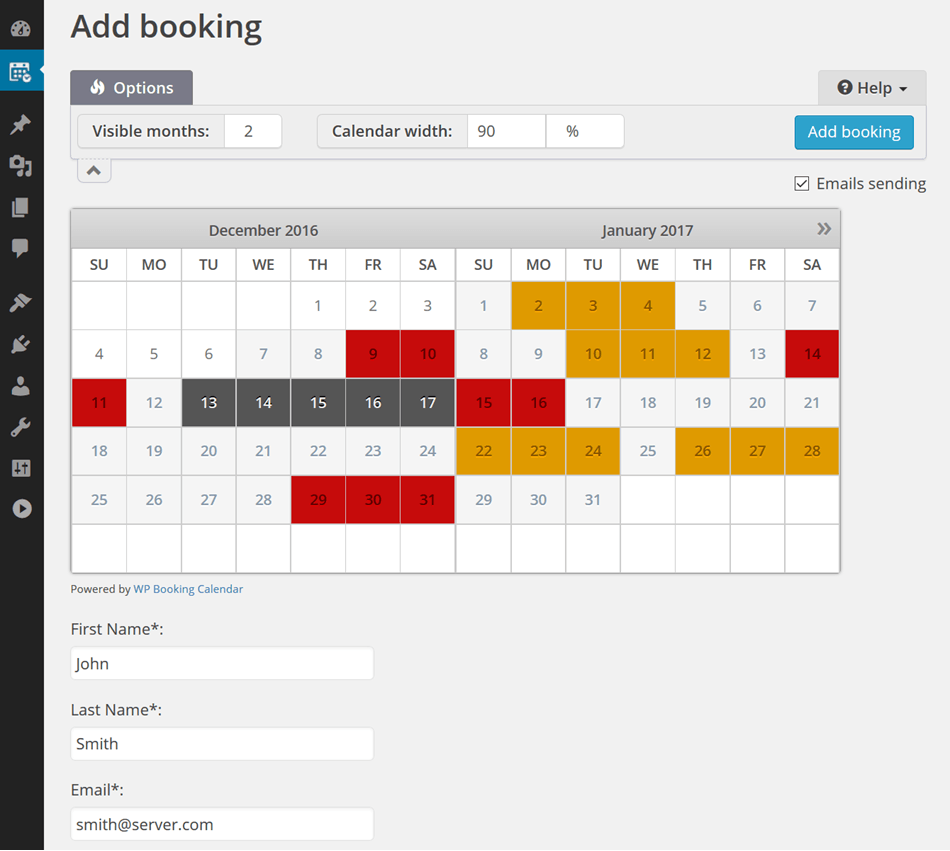 16. Easy Appointments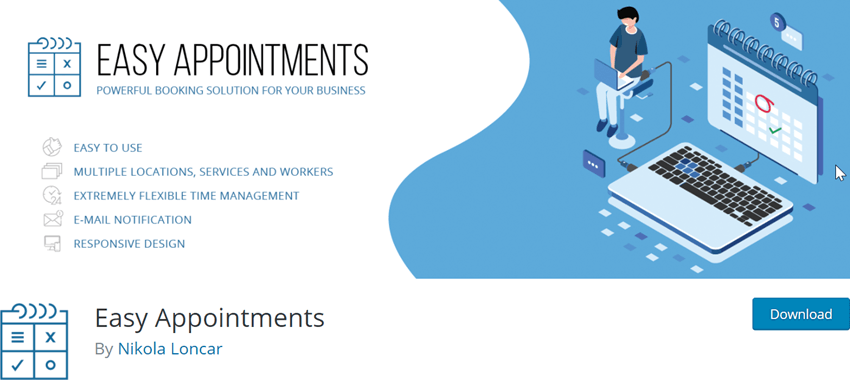 Easy Appointments ease you up for adding and managing the system of booking appointments to your WP Website. This booking plugin integrates with flexible time management, multiple location, multiple services, and multiple workers. Salons, Lawyers, Mechanic, Doctors, Spas, Personal Trainers, Escape Rooms, and many other business pursuits can own Easy Appointments Plugins, which better streamline their profession. Enriched with must-have features, including customizing form layouts, email notification, timetable overview, edit labels, creating time slots with location, and much more. In addition, there are also some extension plugins like WooCommerce integration, PayPal Integration, two ways Sync Google Calendar, etc. are, available. You can buy and add it to your Easy Appointment for more advanced features.
You can manage your appointments easily using Easy appointment. You can use this plugin to make appointments from multiple locations, workers, services through your WordPress site. This is a responsive plugin that gives appointment forms with a two-column layout. If you have international clients, this plugin can help you pick the dates in different languages, clients can also choose from many currency baskets, and over 70 languages are available.
Total number of users – 20,000+ 
Screenshot

Conclusion
Still, confused about which is the Best Appointment and Booking Plugins For WordPress? I suggest woocommerce bookings, bookingrobin pro, and Bitch Press are fantastic options. You can choose one of these best WordPress Booking & Scheduling Plugins.