10 Best Backup Plugins for WordPress 2023
Are you looking for premium or free Best Backup Plugins For WordPress? Everyone who owns a website should create a regular backup? Backup your WordPress website will make your website safe from hackers, theft, or sudden breakdown of your website may give you a sudden shock. That's why we should regularly make a backup of our website.

Preserving countless hours of work is essential. Otherwise, it may lead to the loss of precious data in just a few seconds. That's where the importance of the backup plugin comes into play. Web host backups are not efficient. Hence WordPress provides many backup plugins to solve the issue. We have decided to write an article on Premium or Free Best Backup Plugins for WordPress.
Table of Contents
1. Backup Buddy

BackupBuddy was set up in 2010 to provide you with a solution for WordPress backup. BackupBuddy is one of the Best Backup Plugins WP, a premium backup plugin. It automatically backs up the site on a fixed schedule. It not only backs up databases, unlike other plugins, but it also backs up everything on WordPress. Hence, it ensures that the user has a copy of all their WordPress website files. There's no inherent backup system in WordPress, and there can be several situations like server crashes in which your host backup isn't enough. We provide you with a solid backup solution for your WordPress site.
Having a bad command, malware, user error, hacks, deleted files can delete your website forever. To save your website from server crashes, user error, hacks, etc., you should buy BackupBuddy. To secure your account entirely, we ensure four steps backup. Firstly we backup the entire website data, i.e., all files and database. You can schedule backups, and automatic backup also happens occasionally. You also have an option to store your website's data in a safe location offline with us. In case of a website crash, it's easy for you to restore your website's data with the backup quickly and easily.
It also allows the user to remotely store the backups offsite using BackupBuddy Stash, Google Drive, Dropbox, Amazon S3, etc. It can quickly restore WordPress from a backup. The user also gets a downloadable zip file of their WordPress websites. You can schedule the backup to weekly, monthly, daily, etc.
Price – Blogger-$80/yearly (1 Site),  Freelancer-$127/yearly (10 Site),  Gold-$199/yearly (Unlimited Site)
Screenshot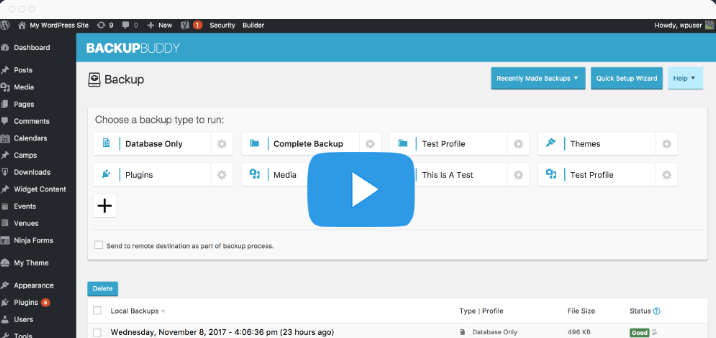 2. UpdraftPlus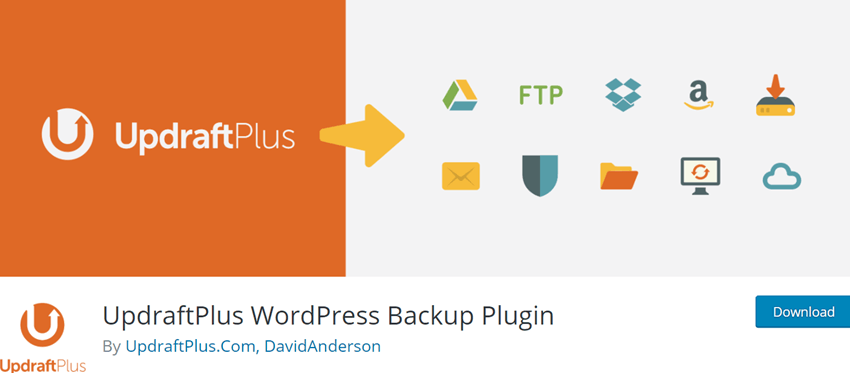 UpdraftPlus WordPress Plugin is the highest-ranking WordPress scheduled backup plugin. It restores as well as backs up the user's website. One of the world's highest-ranked and most popular backup plugins is updraft plus. It is made to help you with restoration and backup. This plugin allows you to backup files into the cloud. This plugin's over three million active downloads enable you to restore all your data in a single click.
With the free version of Updraftplus, you can backup files to Google Drive, Rackspace Cloud, Dreamobject, Email, UpdraftVault, Amazon S3, Dropbox, and Openstack Swift. If you buy the paid version, you can also back up to Google cloud, Microsoft One Drive, SCP, Backblaze B2, and WebDAV.
It is a great time saver as it automatically the backup directly from the WordPress control panel. Its features are:
The whole website or particular theme, plugin, or content can be backed up.
Multiple automatic backups can be differently scheduled.
Individual files, databases, or the entire site can be restored.
It tidies things for clients with no ads.
Access to UpdraftVault can be locked via password settings.
It provides fast and personal support.
UpdraftPlus Migrator clones the WordPress site and moves it to a new domain directly and easily.
Upon setting the schedule, the backups can be chosen to be stored in Cloud devices such as UpdraftVault, Amazon S3, Dropbox, or Google Drive.
Total number of user – 3,000,000+
UpdraftPlus coupon – Activate link and collect the latest discount 
Price – Personal-$70/year (2 Site),  Business-$95/year (10 Site),  Agency-$145/year (35 Site), Enterprise-$195/year (Unlimited Site)
Screenshot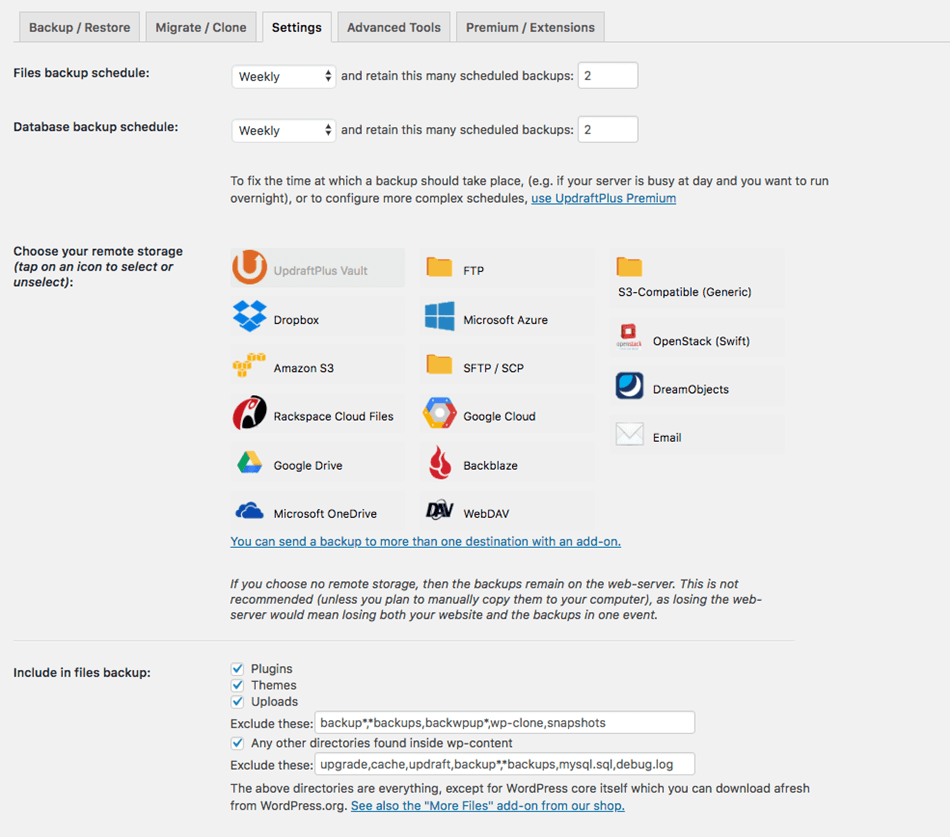 3. BoldGrid Backup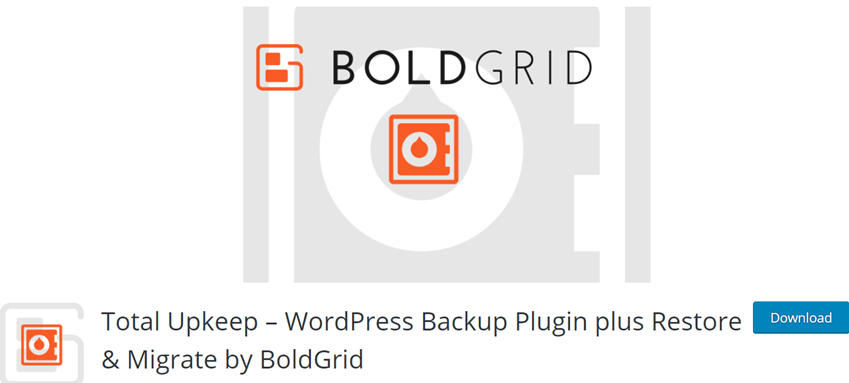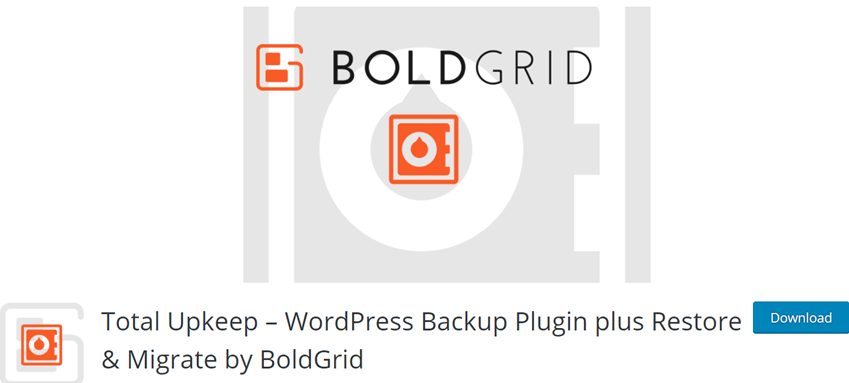 BoldGrid not only provides real-time backup as well as security scanning services. It backs up databases and every media file, post, comment, revision, and dashboard on the sites to the servers. To help secure your website from crashing even before it takes place, uses the Total Upkeep backup plugin. You can't control everything on your WordPress site. Even if you have taken all the required safety precautions to secure your website, a crash can happen. All your data can be wiped out without giving any prior warning. This plugin will help you prevent data loss, and even if any data loss happens in the worst case, it will help your site start running again.
Both manual and automated backup are available with this plugin. You can also customize the backup of databases or complete files you need in settings. Use this plugin to restore files, Backup from archives, back up a single file even if your WordPress website is down. For the best results, you can create a clone of your website all you need is to install Total Upkeep on both sites. Then restore backup on the second website. Both the websites should have a protected link. It also protects the site against malware, hackers, host outages, and accidental damage. But the users have to open a completely separate dashboard to manage security, stats, backups, and activity.
However, you won't be able to control some crisis, and it may happen that your website completely drains out even if you are doing everything right. In such cases, Total Upkeep fixes everything, making your site as it was.
Total number of users – 80,000+
Price– Premium-$60/yearly
Screenshot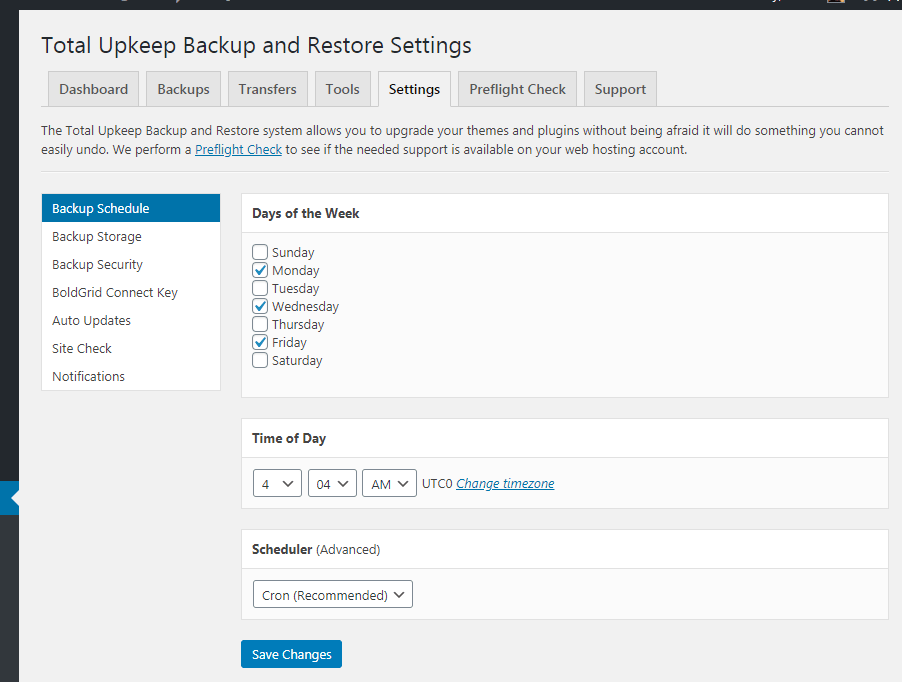 4. Duplicator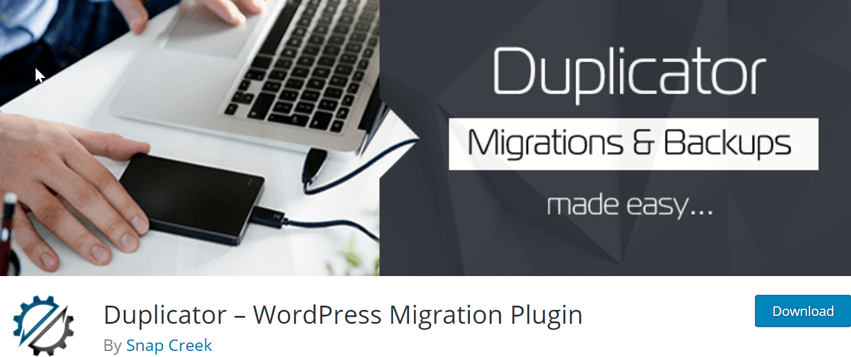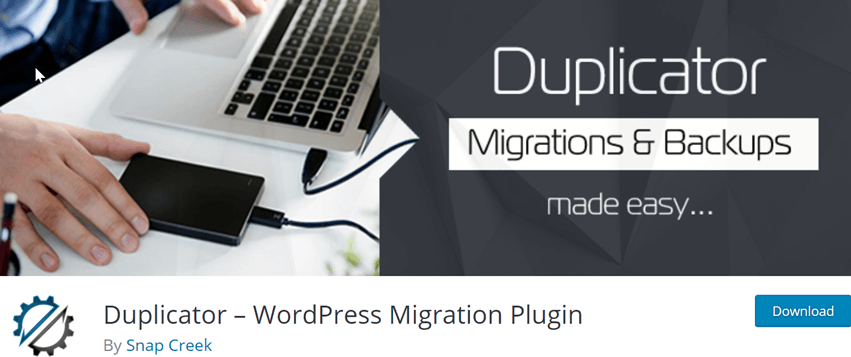 Willing to secure the database of a WordPress Site, Duplicator is one of the reliable Backup and migration plugins that will assist you all through this. It contains a user-friendly interface by which you can navigate your site to a new directory or existing one through drag and drop. Cloud Storage and API options are also available that enable you to connect and store Backups safely.
Specific features of Duplicator Pro are as-.
Management of Host Support such as WordPress.com, GoDaddy, and many more.
Supports Drag and Drop through, which you may overwrite the site simpler.
Integrates the multiple sites in a single archive.
Recovery points protect from misleading updates by revoking the system into better condition.
Streamlined Installer allows installation in two steps or with advanced, i.e. four-step Installer is supported.
Set up the Backup limits to avoid unusual filing in local storage and backup.
Elimination of unnecessary features compels Duplicator to be elegant and straightforward, avoiding conflict. If you have multiple WordPress sites, you can configure all such sites with the same themes through Duplicator Packages. You don't have to manually configure the same themes that will save a lot of time.
Total number of user –1,000,000+
Price– Personal-$69/yearly (3 Site),  Freelancer-$89/yearly (15 Site),  Business-$149/yearly (Unlimited Site), Gold-$549/Lifetime (Unlimited Site)
Screenshot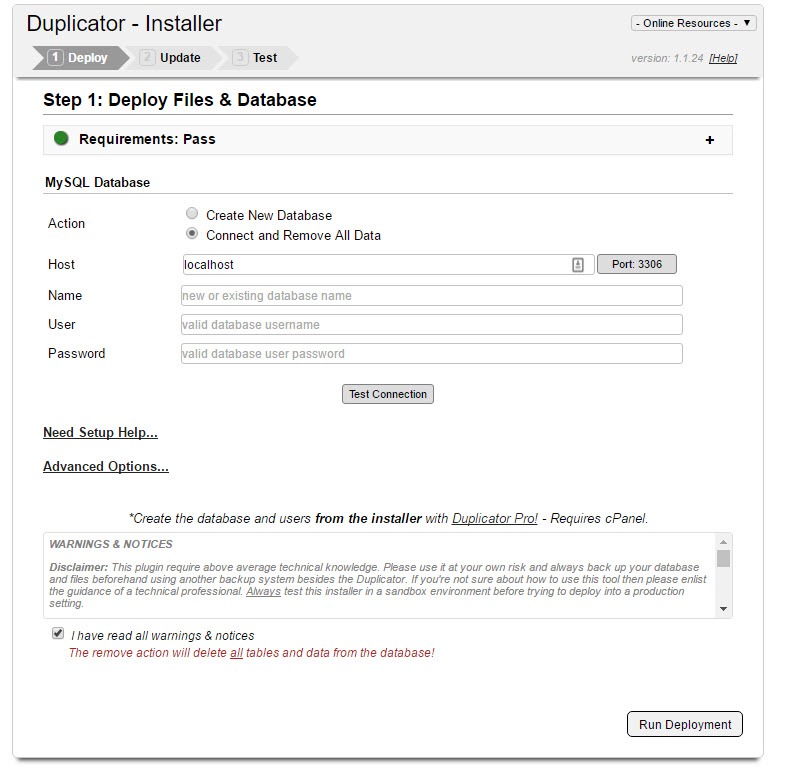 Basic- $89/year
Plus- $149/ year
Advanced- $249/year
Small Business (5 sites)
Basic- $199/year
Plus- $359/year
Advanced- $549/year
Developers (20 sites)
Basic- $499/year
Plus- $799/year
Advanced- $1499/year
Screenshot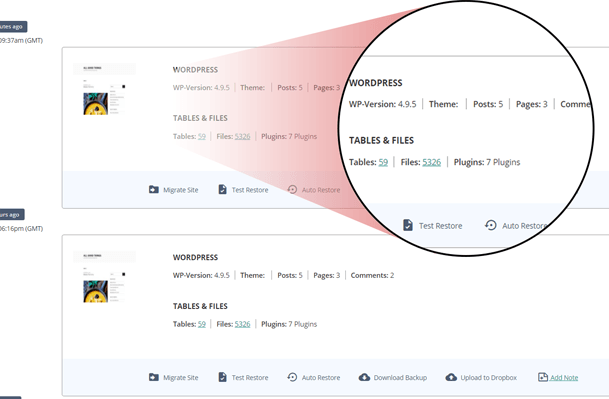 6. BackUpWordPress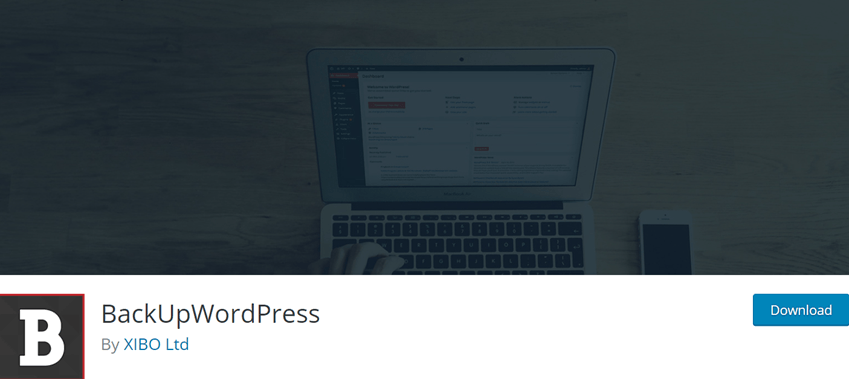 BackUpWordPress backs up the entire site, including all the files and databases according to a predefined set schedule. You have invested a lot of money and time in your WordPress site. Still, it is vulnerable to hacking, server crashes, bad plugin, insecure web host, etc. you don't want your efforts to get lost because of all the above factors; hence it's essential to create a backup and take other security measures. If something terrible happens with your website, you can fix this in seconds by restoring the backup. Its features are:
It works in low memory, 'shared hosts' environment.
The backup files can be emailed.
Selected files and folders can be excluded from backup.
It doesn't require ant setups hence is easy to use.
BackUpWordPress uses zip and MySQL dumps to backup files faster if they are available.
It can manage multiple schedules.
The plugin works on both Windows and Linux servers.
It gives good support and has translations.
Total number of users – 200,000+
Screenshot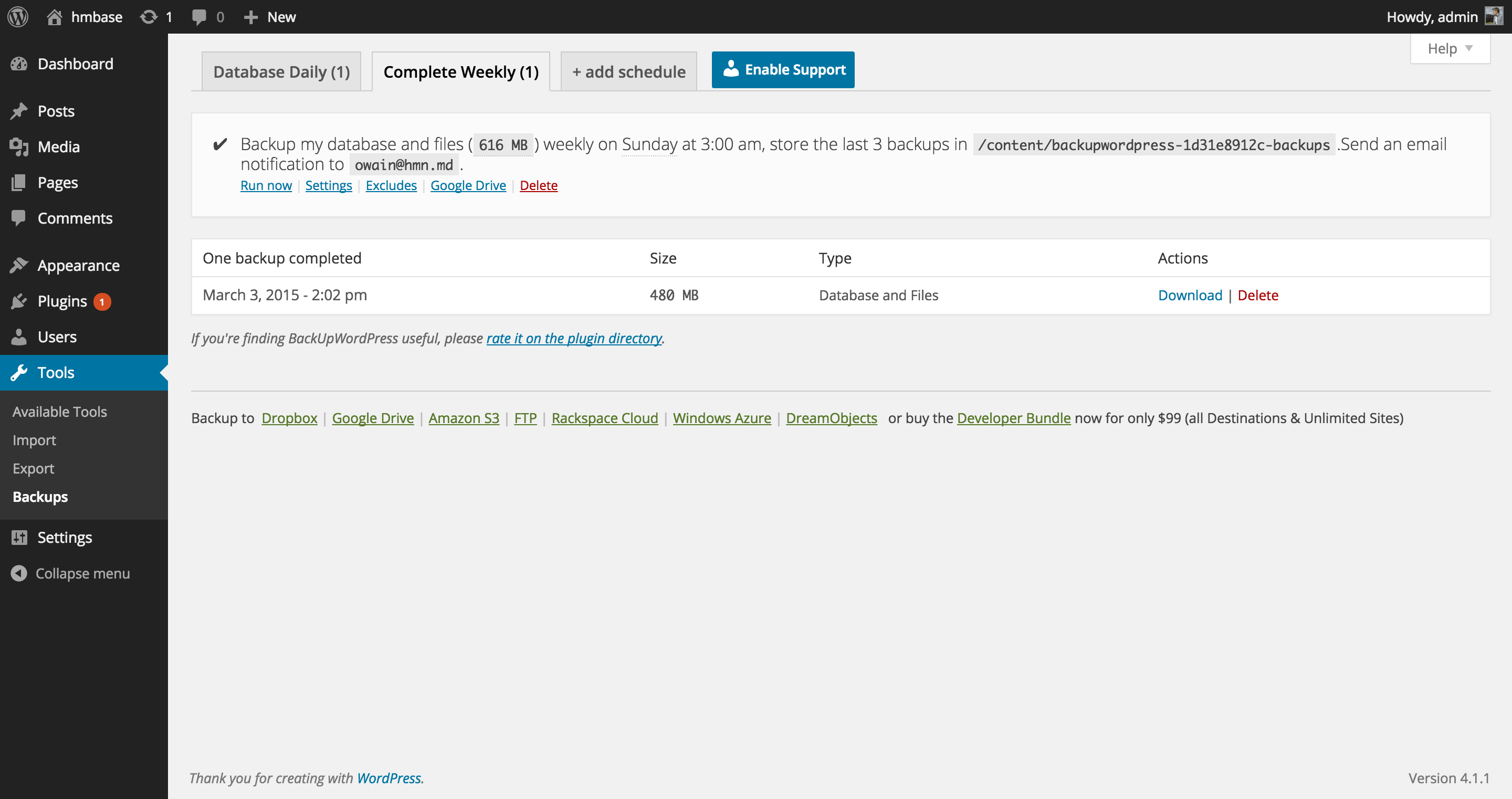 7. BackWPup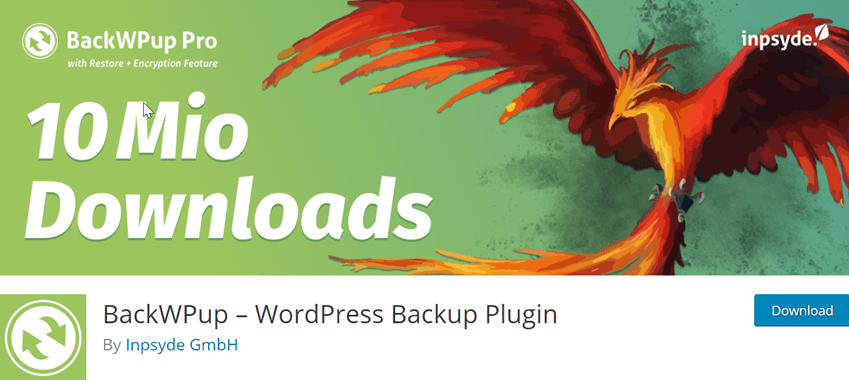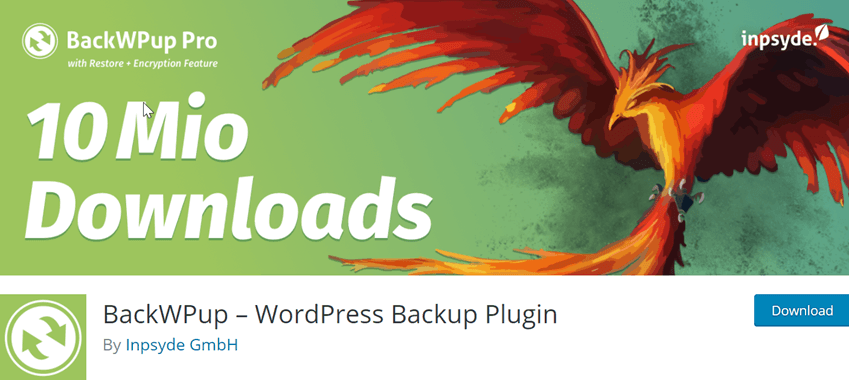 BackWPUp is one of the best free backup plugins. It is effortless to configure and use. It can be used to save the complete installation, including WP content, to an external backup service, FTP, Dropbox, S3, etc. An installation can be easily restored using a single backup .zip file. BackWPUp prepares a complete solution for backup and preserves your website from the tragic loss of existing data. One of the essential backup plugins of WordPress is bundled with 360-degree protection to your website's data. Prevent sudden crashes on any site if you install this backup plugin.
Its features are:
It uses WorsPress XML export.
You can easily optimize the database.
Logs and backups can be sent by email.
Multisite is supported as a network admin.
 It generates a file with installed plugins.
It checks and repairs databases.
Its pro version and support is also available
Total number of users – 700,000+
Price– Starter-$39/yearly,  Trio-$69/yearly,  Business-$99/yearly, Agency-$149/yearly
Screenshot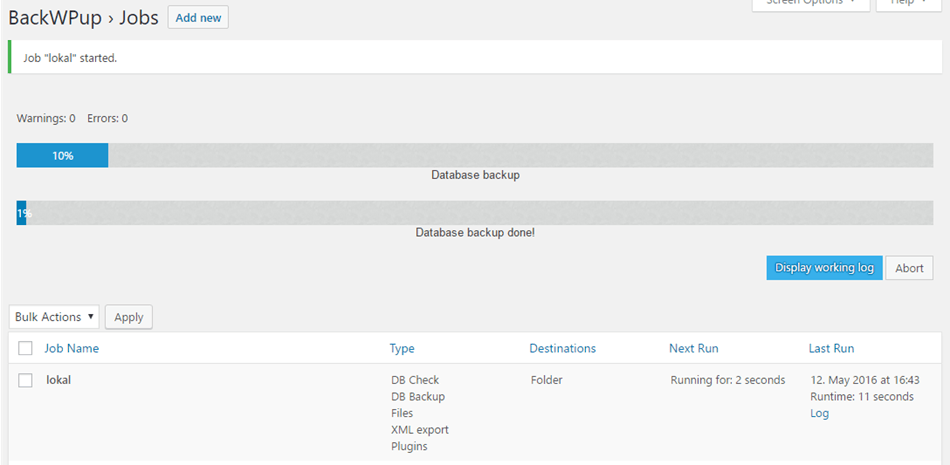 8. WPvivid backup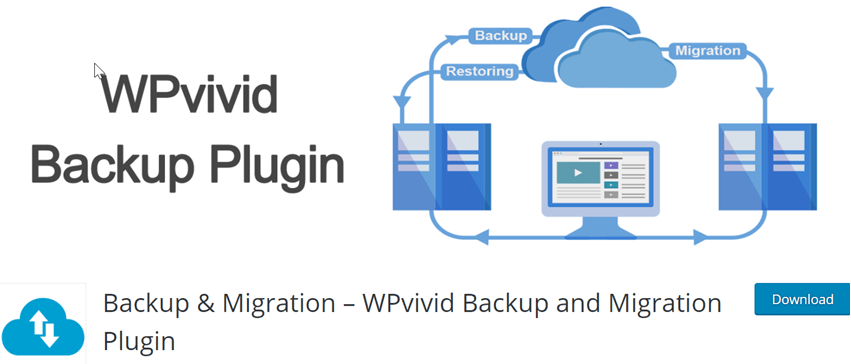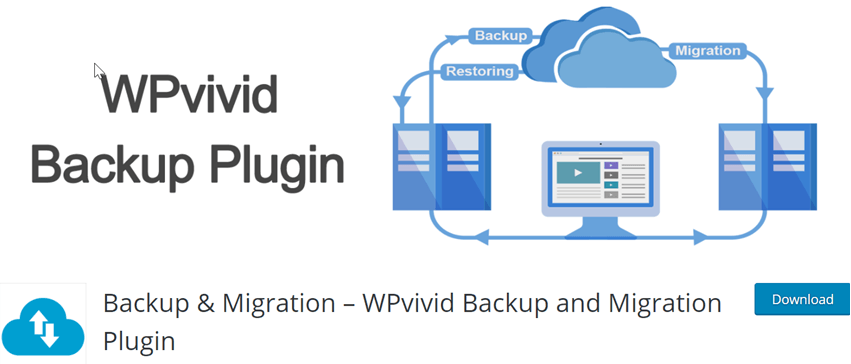 WPvivid is the one-stop platform where you get access to fundamental features consisting of program backups, relocate backups to various storage, move a copy of the site into a new domain, and clear the images that are not being used. You can prepare a backup and migration of the WordPress Site through WPvivid within less time duration. The extension provided by WPvivid Backup for MainWP assists you to regulate backup that is available in the version like free and pro both.
You acquire the entire core features for Backup and Migration comprising Scheduled Backup, Auto migration, restore in just a click, and many more. To make the backup process completely hassle-free, WPvivid also supports cloud storage such as dropbox, google drives Amazon S3 and others. Features like live progress, keeping your backup from auto-deletion, and renaming the backup directory are eligible, making WPvivid the best fit for the Backup and migration plugin.
Total number of users – 100,000+
Price– Basic-$49/yearly (3 Site),  Freelancer-$99/yearly (100 Site),  Unlimited-$149/yearly (Unlimited Site)
Screenshot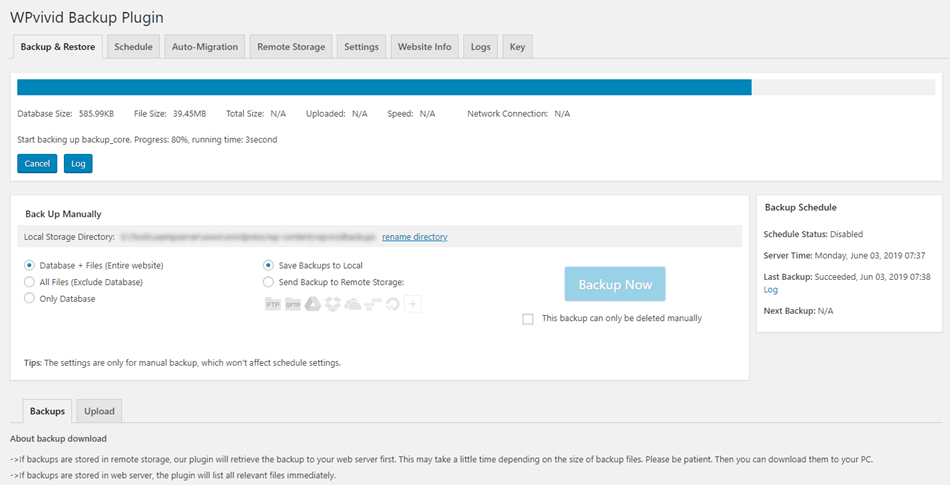 9. Database Backup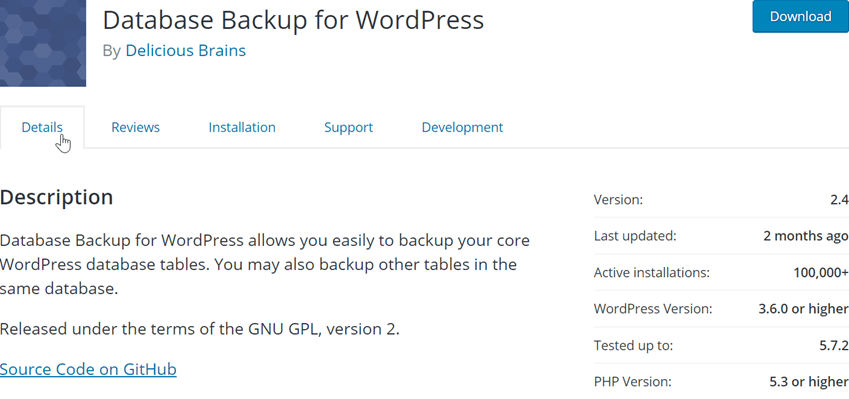 WP Migrate DB Pro backs up only WordPress core databases tables. We can also include other tables in the backup, which increases the size of the backup file. It can be selected as how the backup files have been received. As you email the database backup or send it to the browser for immediate download, the backup file is deleted from the server after the translation is finished. It is quite a popular plugin and easy to use.
In WordPress, the complete detail of your website records comprising posts, comments, and links are available in its database. Every activity on your website creates a record in it by default. However, this database might be corrupted or erased, which leads to everything on your website vanishing at such a moment. But if you maintain the appropriate database backup for it, you can restore those files with ease, and everything becomes back to normal as it was.
Different methods are available that enable database backup for WordPress as mentioned below-
Sync creation with site
Website Host
Copy the file into the desktop
Database and Files are elements of WordPress site, and hence, if you back up WordPress Database, you need to back up the entire site. It is essential to create a backup for the WordPress database at regular intervals, specifically before upgrading or transferring it to another location.
Total number of users – 100,000+
10. Jetpack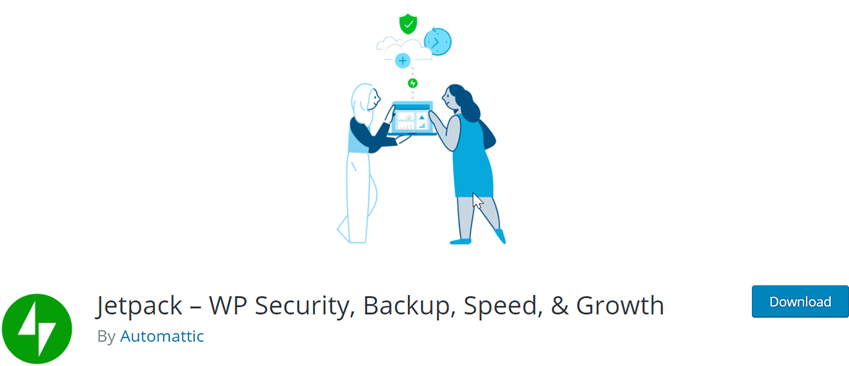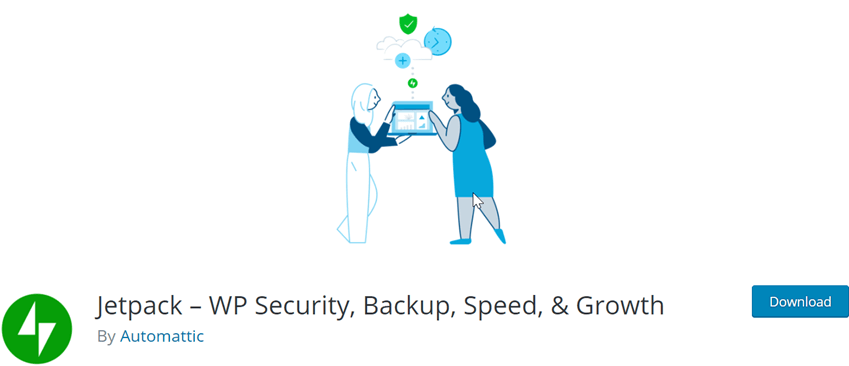 Jetpack is one of the most downloaded plugins in the WordPress market, and it's a must-have plugin. This plugin also supports website speeding, website security, backup, and social media marketing. With JetPack, you can get so many social media sharing buttons. It helps to grow traffic on your site.
It has almost all the essential features that can take your business to another level.
Features
It comes with automated malware scanning that keeps your site secure.
They monitor and let you know if your site goes down before your customer notices it.
They also help you understand any changes on your site.
It saves a lot of your precious time by clearing all the spam comments and form responses on its own.
It takes just one click to restore your site and backup.
Total number of user –5,000,000+
Price– Backup Daily-$40/yearly,  Security Daily- $152/yearly, Complete $615/yearly
Screenshot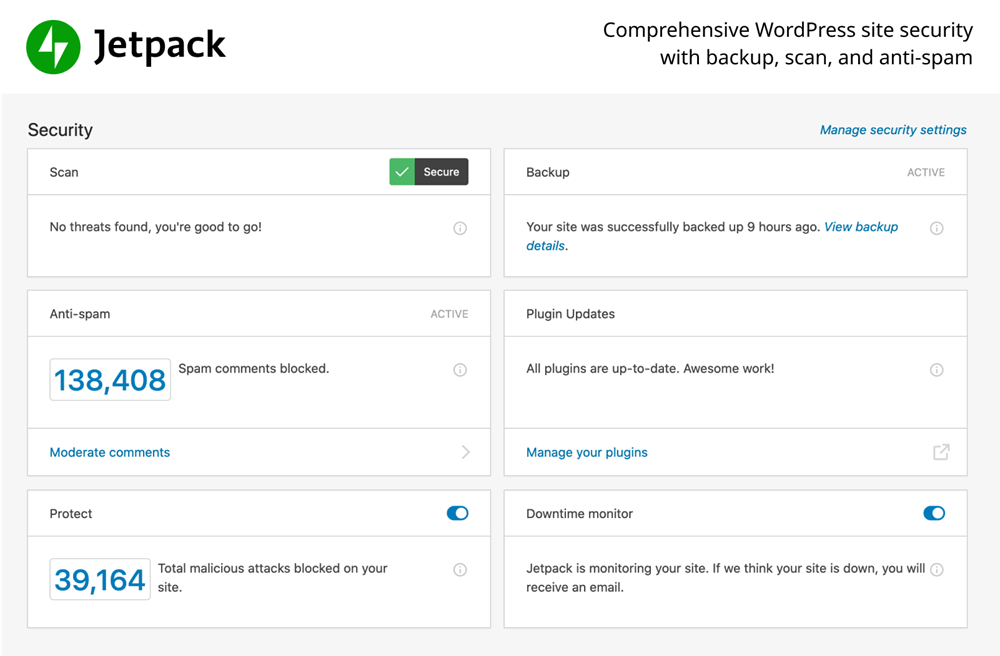 Conclusion – Still confused about which are the Best Backup Plugins for WordPress. Don't worry, I will make your choice simpler. Although all the plugins are the best, if you can spend a little bit for your website safety, you must get BackupBuddy which is better for beginners than any other plugin and worth your every penny. But if you are looking for free, then you can use Updraftplus. Still have any doubts or suggestions, feel free to drop them in the comment section.