12 Best WooCommerce SMS Notifications Plugins 2022
Are you looking for the Best WooCommerce SMS Notifications Plugins? If you are Panning to add an automated SMS Notification option when someone places an order on your eCommerce website then this blog is for you.

So many people want notification whenever the product gets Placed, shipped, or delivered. This maintains more transparency in the delivery system. So many of the below-mentioned Plugins support the majority of the SMS gateways networks like Twilio. Even I will feel happy and connected when I get a notification –   like my order has been placed or any follow-up messages.
You may also be interested in live chat, Fomo Plugins, and abandonment cart Plugin
So let's have the list of top WooCommerce order SMS notification plugins are as follows:
1. Bulkgate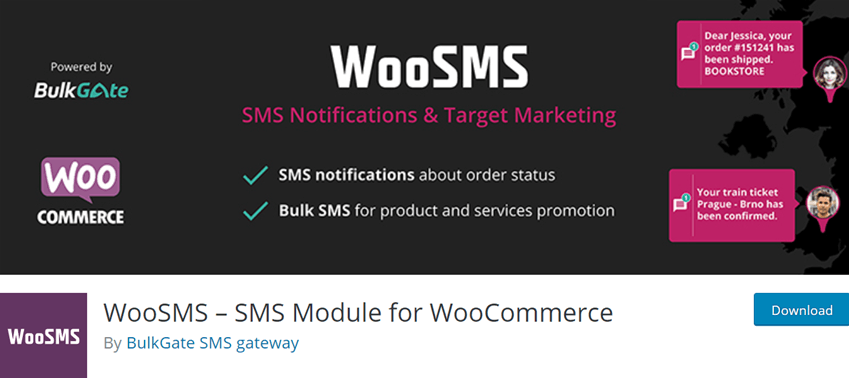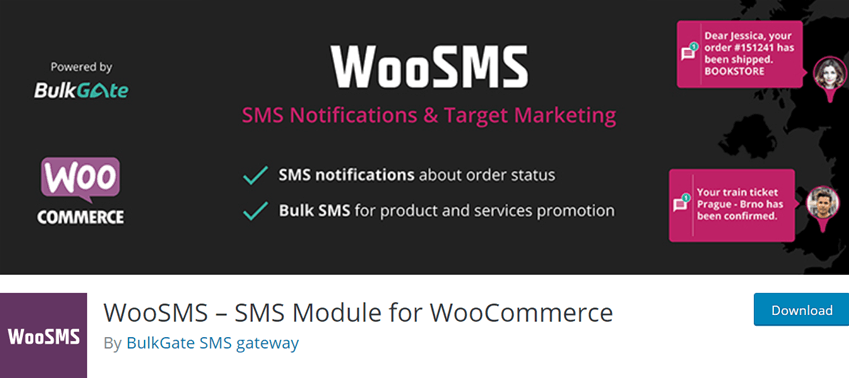 This plugin has an amazing feature that compliments the services provided to the customers. The customers are regularly updated about their order status through Viber or SMS notifications. Every status of an order has a definite template. Admins can design their custom notifications and send automated and personalized texts to the buyers.
Presence of the multilingual notification feature aids in improving the buyer-seller relationship. The numbers of the customers can be automatically converted to international format. The admins have the authority to activate or deactivate the notification feature at any point.
Every SMS template has the provision to activate single or multiple admins so that nothing is missed. There are various sender ID types available at varied prices for SMS campaigns. You always have the flexibility to switch to the DND mode.
Total number of users – 5,000+
Price – Bronze – 10Euro, Silver – 10Euro-799Euro, Gold – 799Euro-Infinite  €0.0019 Per SMS By using Text Sender ID Globally
Screenshot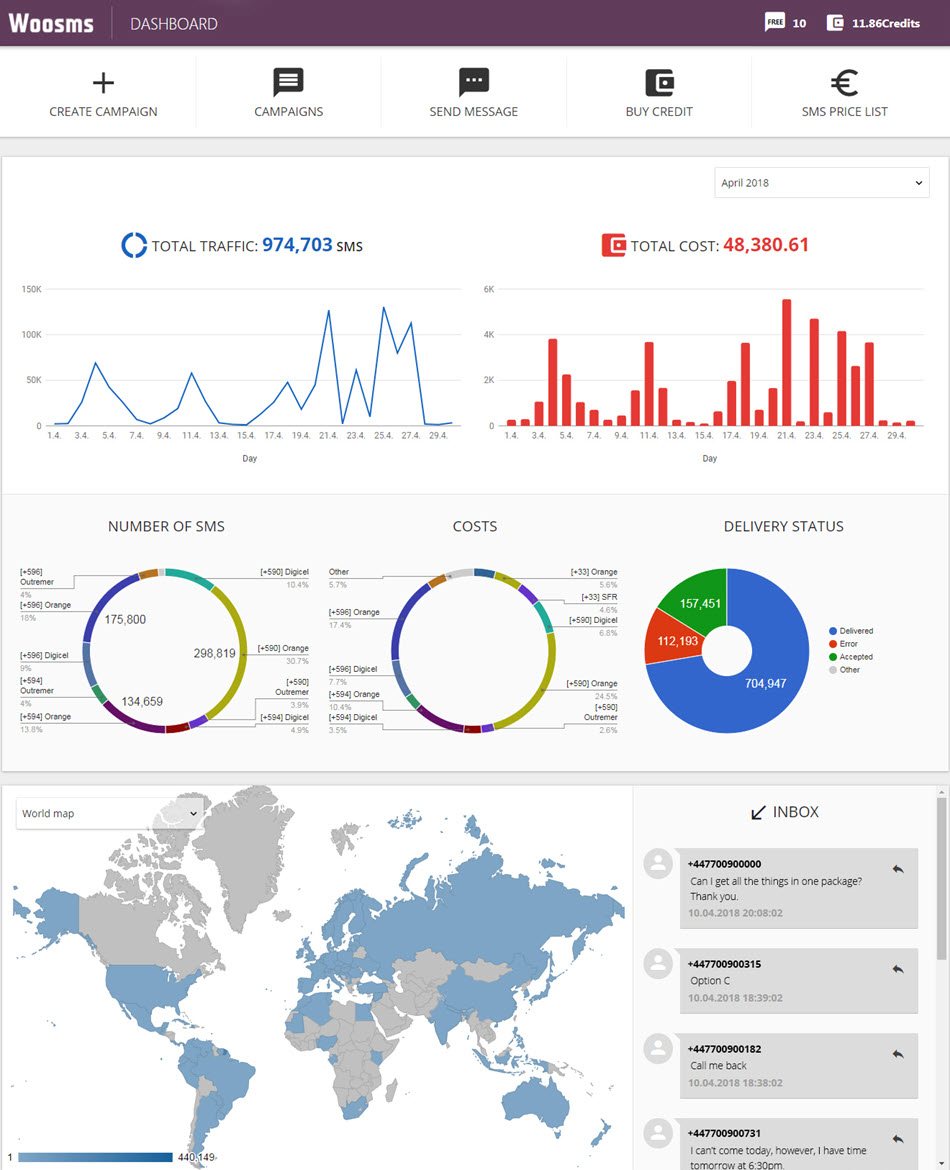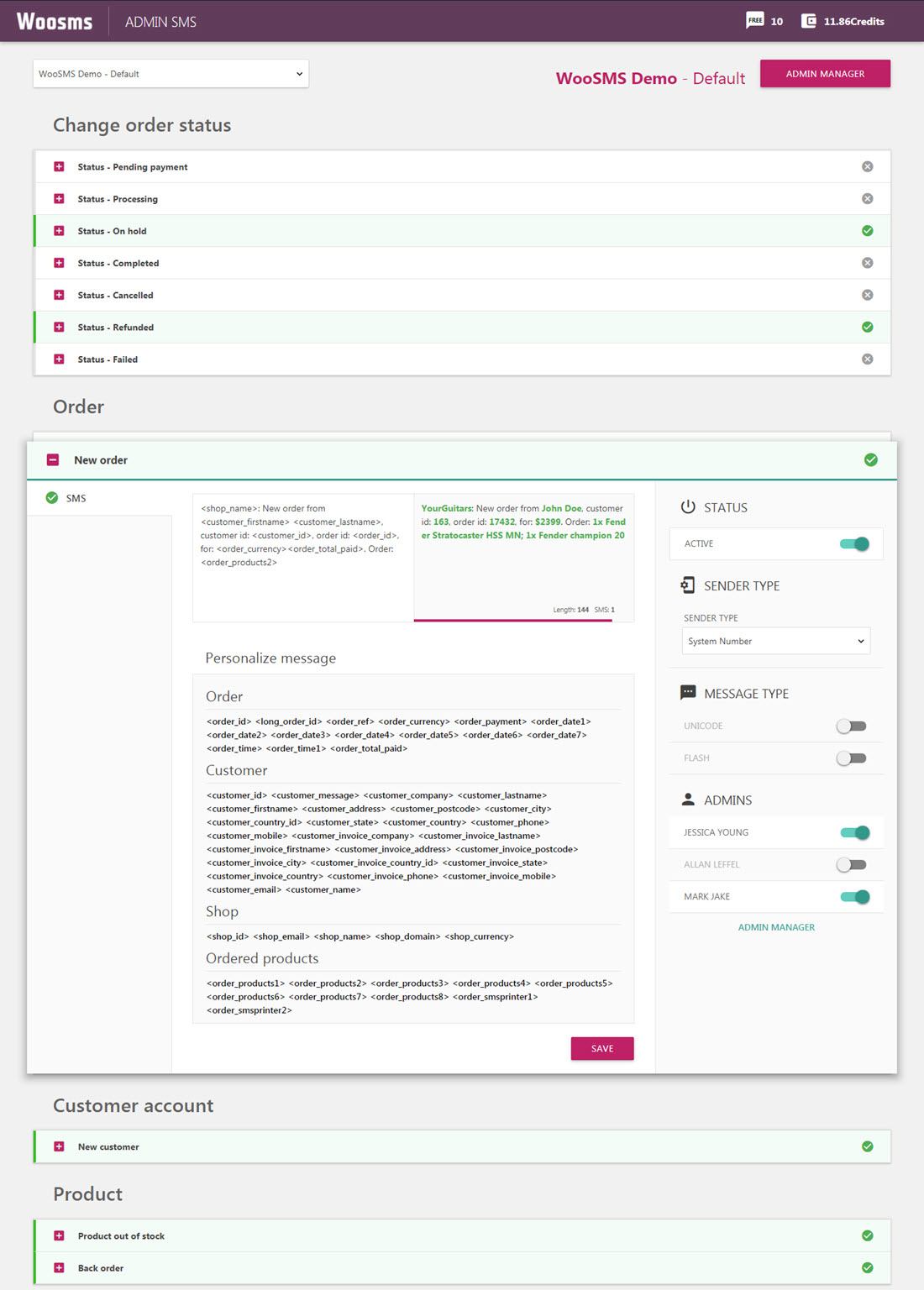 2. Twilio SMS Notifications

Twilio SMS notifications plugin helps in boosting transactional transparency by sending SMS notifications to the customers. Apart from the customization of default templates, there are several provisions to design new ones. The extension has been designed for the free Twilio account holders which is a leading cloud communications service. The plugin enables you to keep your customers updated and inform them about order updates through text messages.
Opt-in to SMS alerts can be done by customers during the checkout process. Now, whenever their order status changes, they will receive an SMS alert. Messages can also be sent on custom order status. The outbound SMS messages are not heavy on your budget and might be as low as 1 cent as per US standards.
Price – Single Site – $49/annually
Screenshot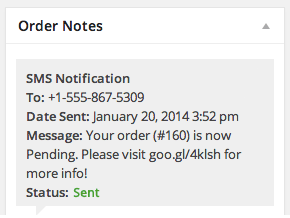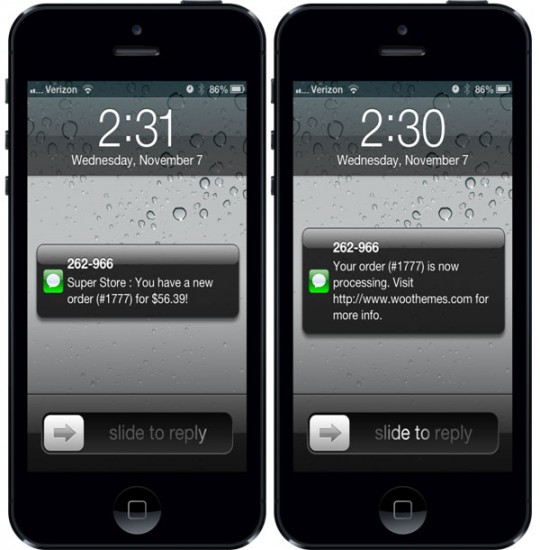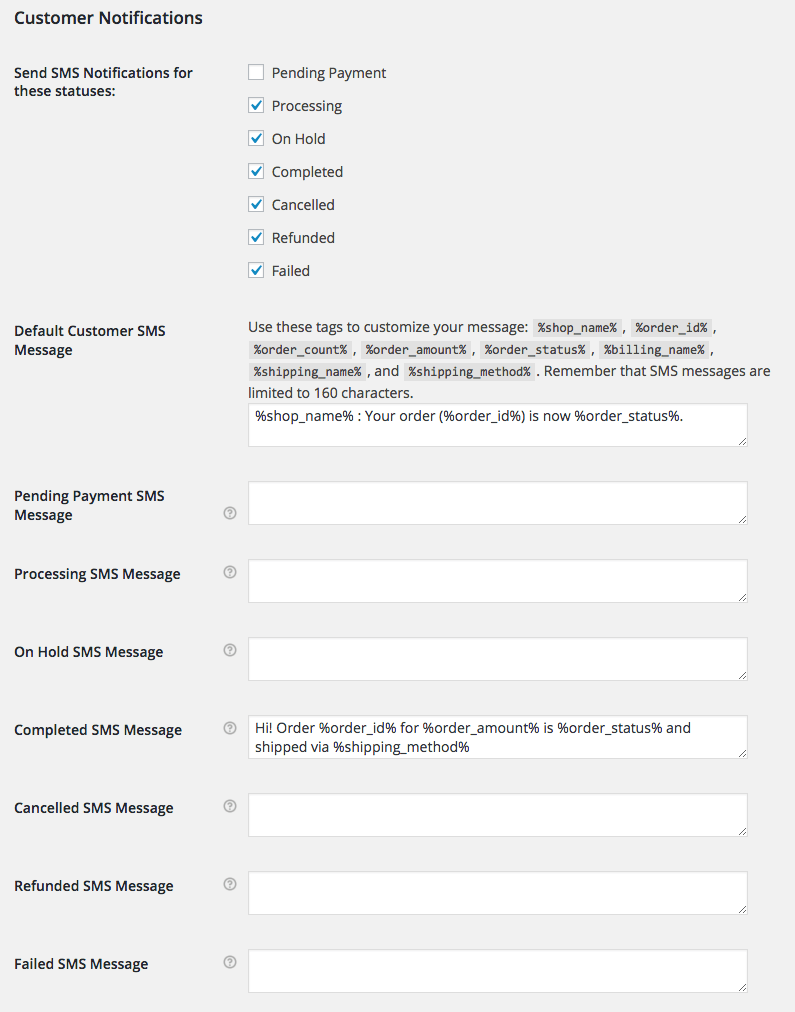 3. YITH WooCommerce SMS Notifications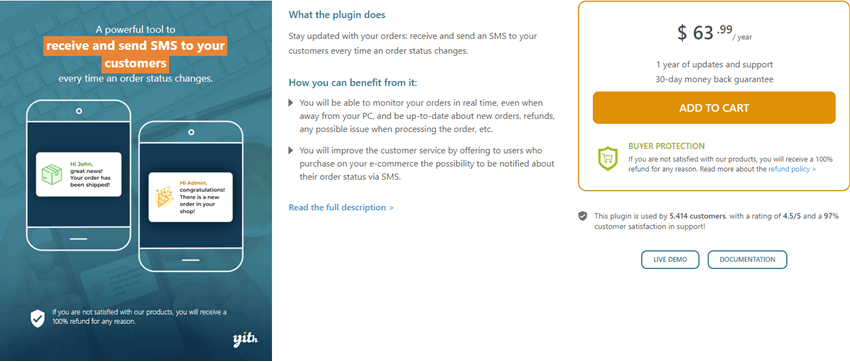 With the YITH WooCommerce Sms Notifications plugin, you are empowered to send custom messages to your customers. As and when there is any change in the order status, they get an SMS notification. The various gateways that the plugin uses are Twilio and Clockworks.
Also, if you want notification on each purchase to check that everything is getting processed in a streamlined fashion, then it is just a few clicks away and you are in full control of your wholesales. Provides a possibility to send notifications to a different number. The messages for orders that are on- hold can be delayed by any amount of time.
There are abundant variables present that help in the personalization of messages. Contact numbers of customers are automatically converted to international formats. Admins can add their custom variables. Presence of filters that facilitate customization of messages from third-party plugins.
Price – Single Site – €63.99/annually
Screenshot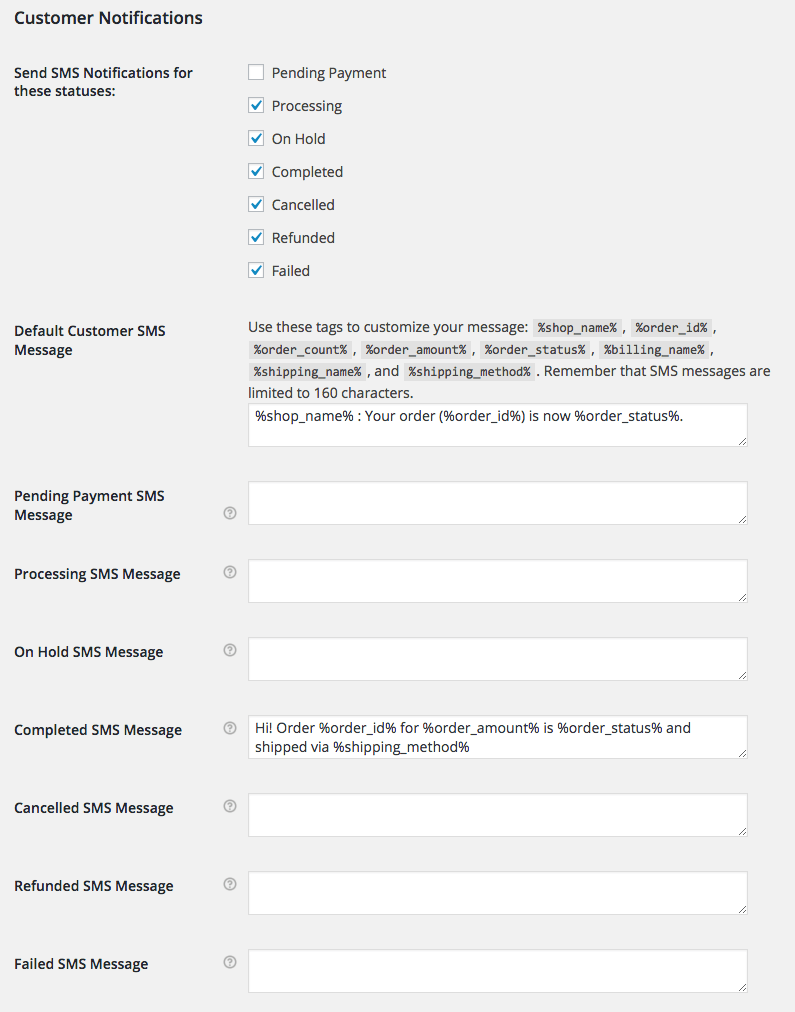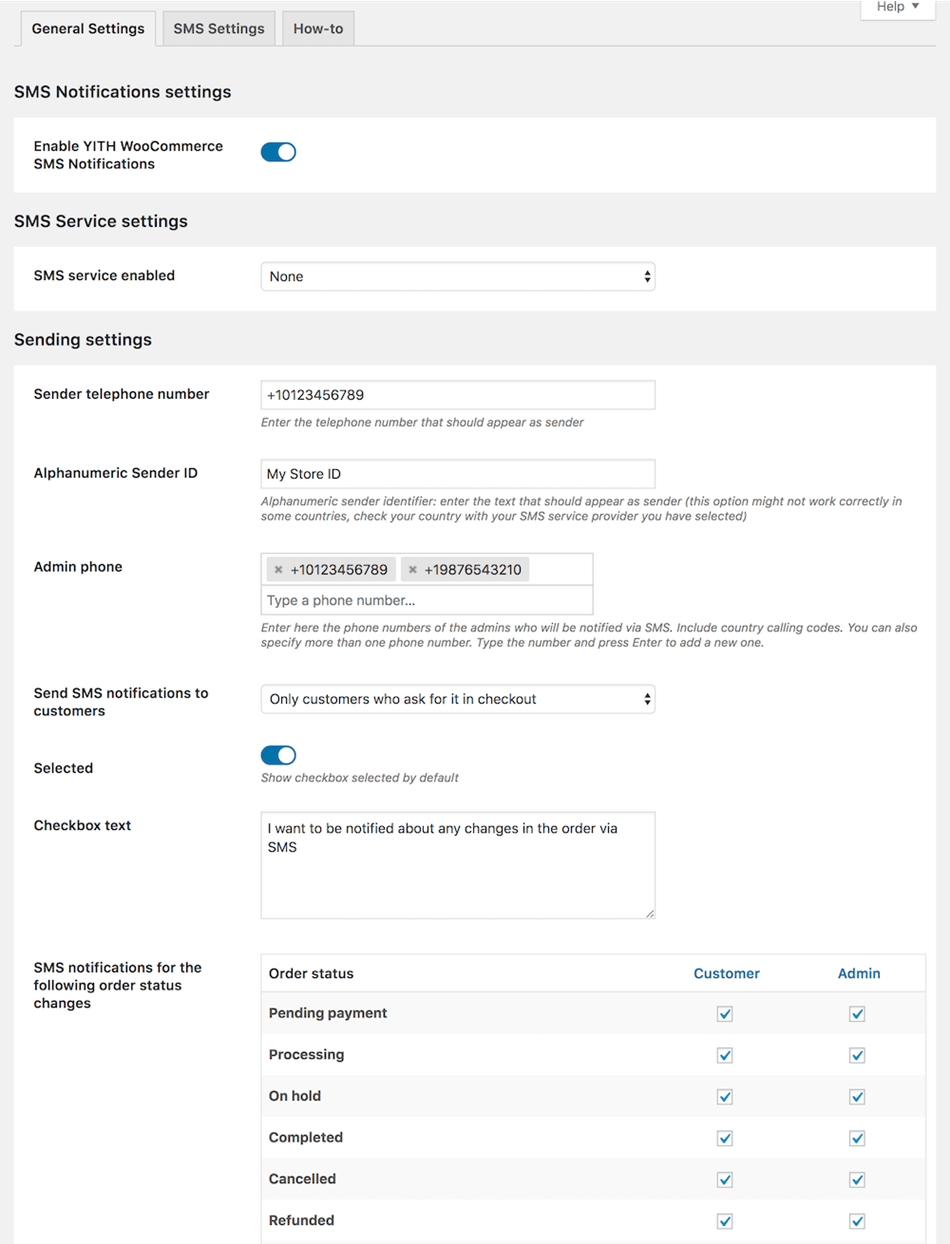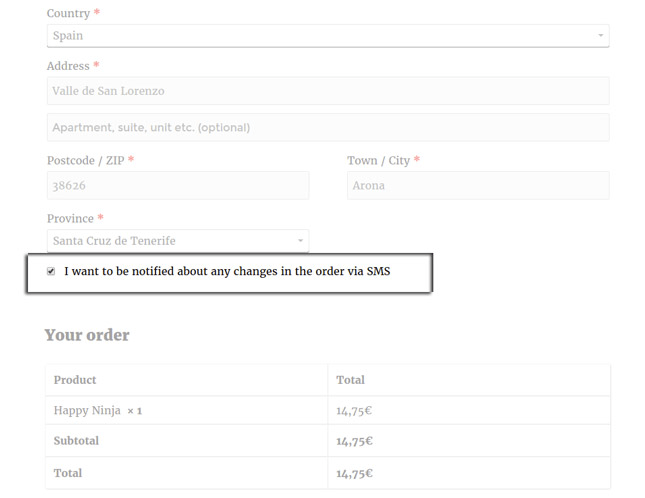 4. WooCommerce SMS Plugin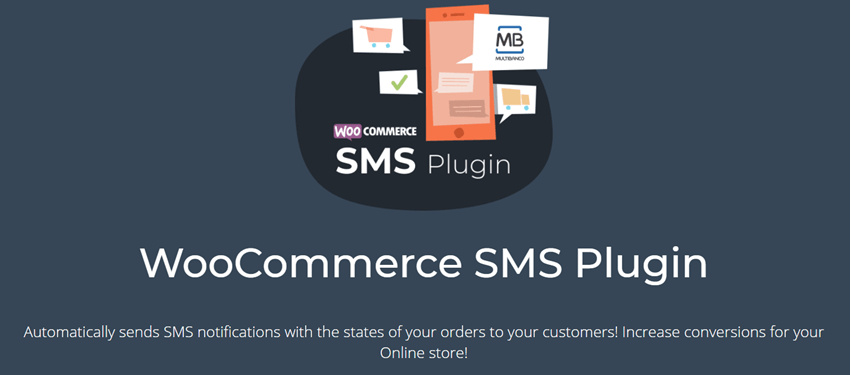 WooCommerce SMS Plugin by E-goi is an SMS Plugin for WordPress that enables the WooCommerce store owner to send SMS notifications to the customers regarding the status of their order. Thus, it helps you automate the process, boosts the confidence of your clients in your business, and eventually increases your conversion rate.
using this plugin, you can send the SMS notification related to the order status to either all of your clients all to the clients who have requested the order notification via SMS.
Features
It sends automatic SMS alerts to your customers regarding the status of their order
The plugin is thoroughly compliant with GDPR.
It builds the confidence of your customers in your brand, increases conversion and thus, boosts sales.
You can either send order notification to all your clients or only to those who have requested it
The plugin is extremely simple to set up and use and is free for all customers.
Total number of users – 100+
Price – Base – 7 Euro,  Pro – 26.99 Euro,  Corporate – 270 Euro
Screenshot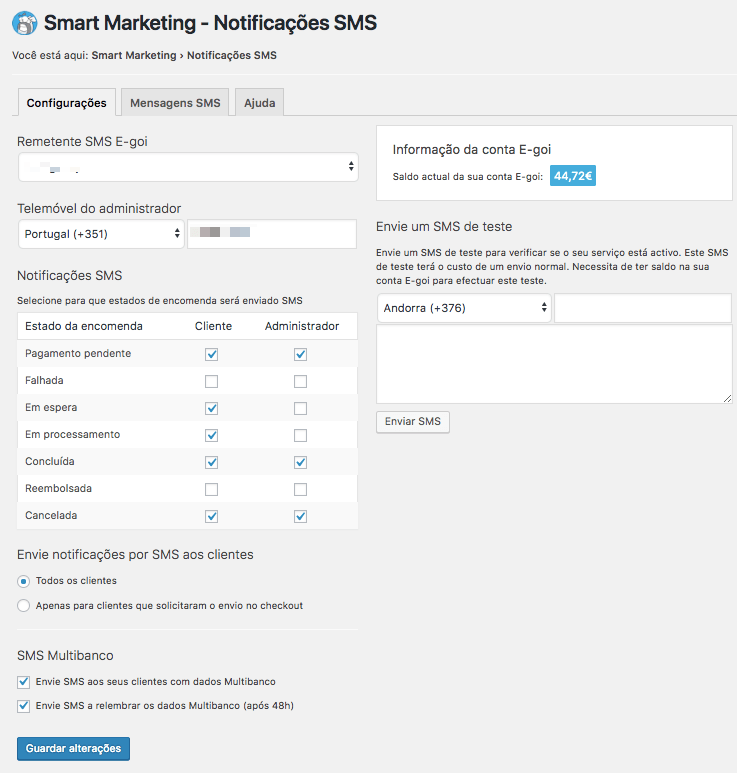 5. Texty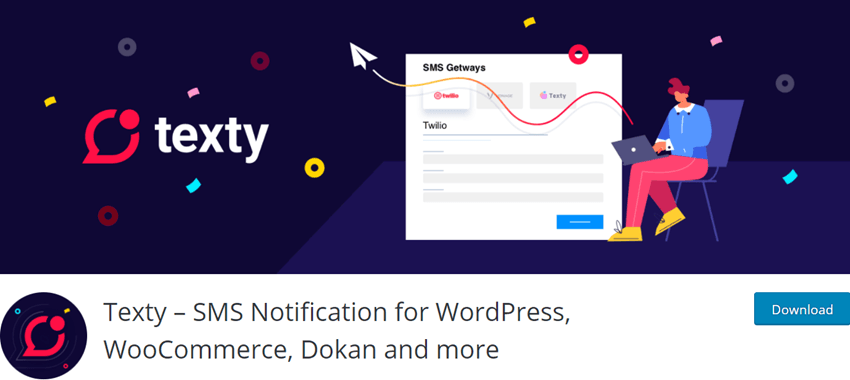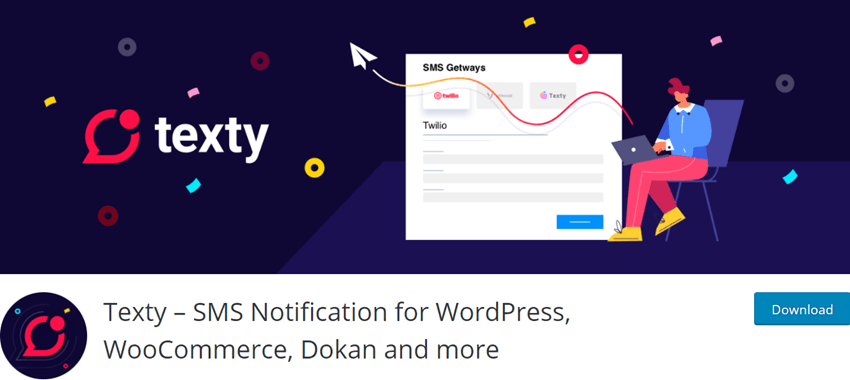 Texty is one of the best WordPress SMS plugins that helps you to send emails or SMS to your WooCommerce customers or your newsletter subscribers regarding your site and your products, thus helping you foster your relationship with your customers and increase conversions and sales. Using this plugin, you can send SMS to specific numbers or your user numbers. You can also get the numbers of your audience when they subscribe to your newsletter and then use them later for email marketing or target marketing campaigns.
Features
You can send automatic SMS notifications to the admins whenever a new user subscribes to your newsletter, new comments are posted, new releases are launched on WordPress when users are registered on your store, and more.
The plugin is compatible with over 200 SMS gateways including the most popular gateways such as Reach Interactive, Octopush, Global Voice, Dexatel, and more.
It allows you to collect the contact details of your users when they subscribe to your newsletter. You can later use this information for targeted marketing or email marketing campaigns
Using this plugin, you can also send activation codes to your subscribers on key events such as when a new post is published, or when a new user subscribes and completes the subscription process.
The plugin supports the widget for showing SMS newsletters to subscribers.
Platform Supported – Twilio, Vonage
Total number of users – 30+
Screenshot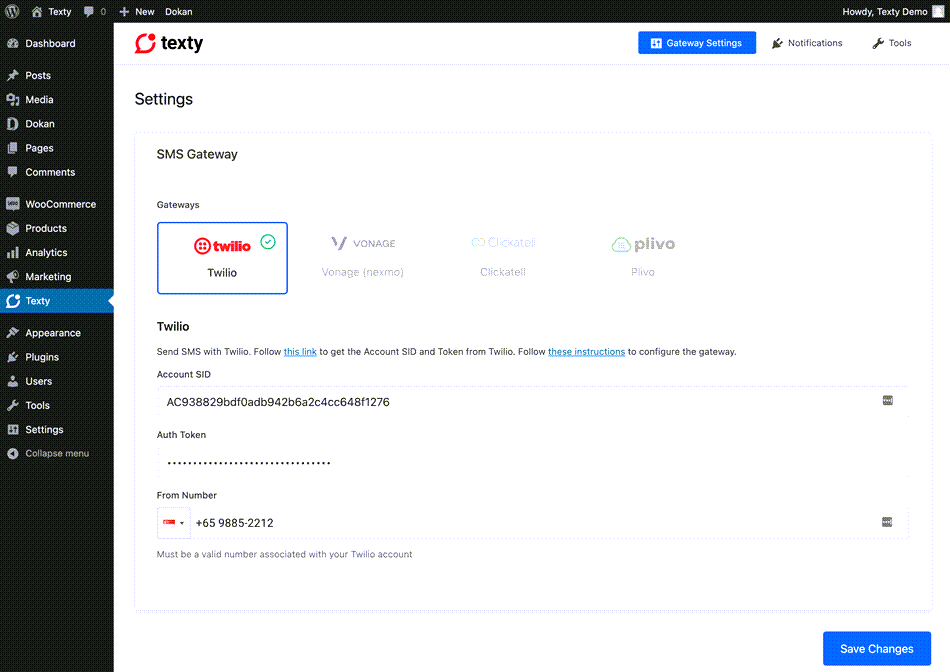 6. SMS Alert Order Notifications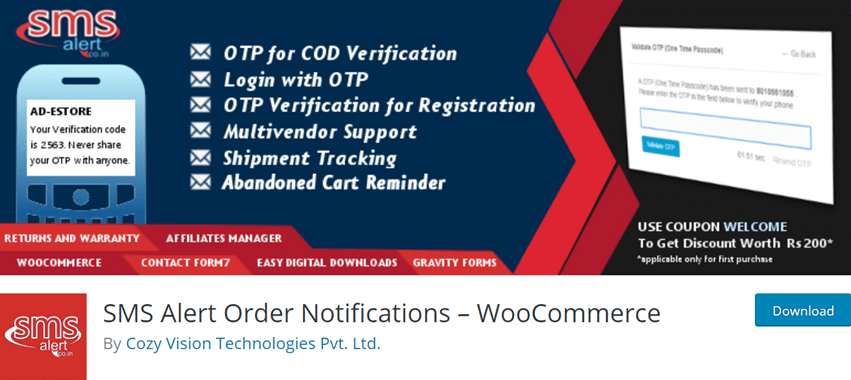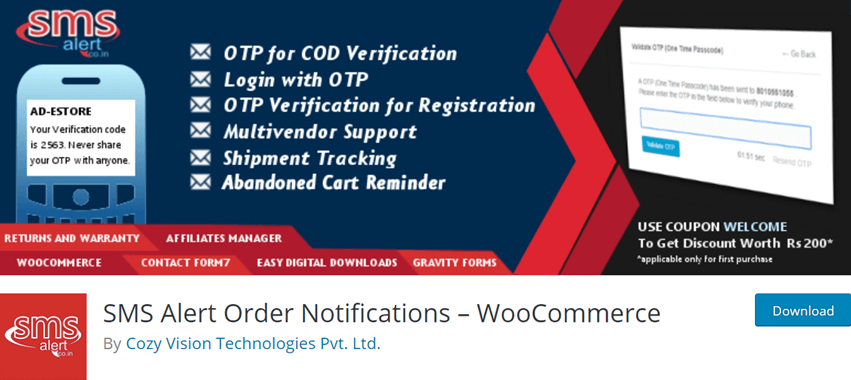 This WooCommerce Plugin notifies the buyers and the admins through an SMS alert. The notification for order status is sent at each stage as soon as it is placed.  Admins have complete control to customize the notifications. Users are notified once the number is registered.
The OTP verification can be set up during the registration. Once registered, the users can log in and reset the password using  OTP. The Automated SMS notification contains all the relevant details for the order. These details can be tailored by the choice of admins. Each order status can have a special template. Multiple user registration using a single mobile number is prohibited.
The plugin supports the feature to automatically shorten the URL. Admins can be notified if the stocks are below the threshold or are completely sold out. There is a provision for a 'Back in Store' notifier.
Total number of users – 6,000+
Price – For India – 1 SMS = 1 Credit / 0.25 Rs and For Other Country customers 1 SMS = 1 Credit / 0.0038$
Screenshot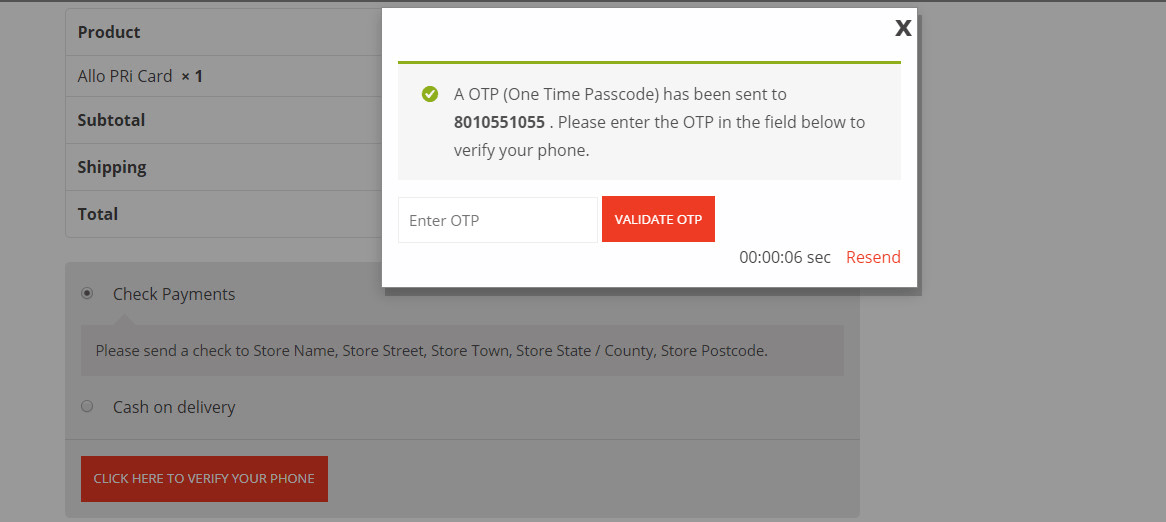 7. WPNotif

WPNotif is a user-friendly and easily installable add-on for WooCommerce where the SMS order notifications can be customized as per the status of the order. Like other wo0commerce SMS notifications Plugins, it can be activated both for the customer and the seller.
The plugin is compatible with WooCommerce PDF vouchers and supports seven SMS gateways such as Talk With Text, Twilio, Nexmo, Clickatell, SMS Global, Hoiio, and Intelli SMS. There is an option to send international SMS. The contents of the messages are completely customizable. It supports a full-fledged translation as it is 100% WPML compatible.
Price – Regular License – $27/Lifetime
Screenshot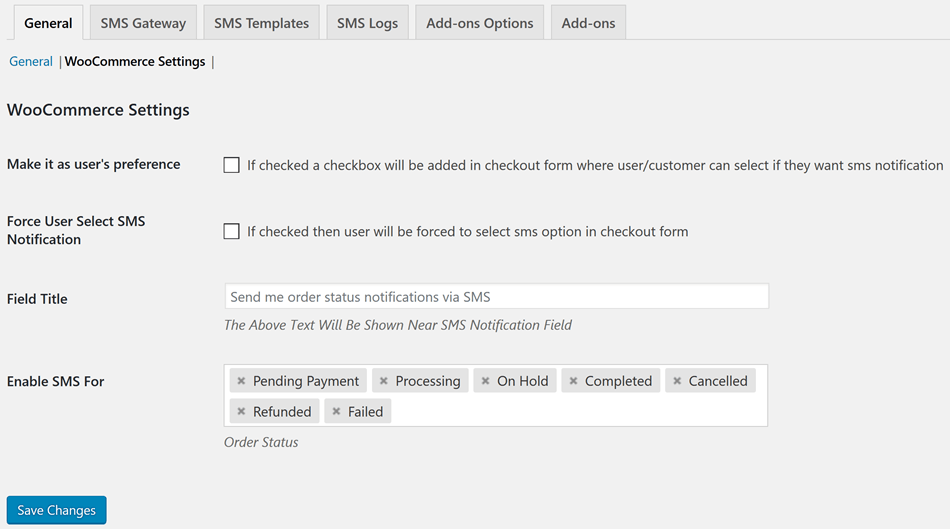 8. MoceanAPI Order SMS Notification for WooCommerce

MoceanSMS tool complements a buyer's shopping experience by keeping him/her notified about purchases and delivery status. The buyer and seller both get notified about the new order status. If there is any change in the order status, the shopper gets an instant update.
There are unique or custom SMS notifications for different statuses of the order. MoceanSMS also supports a custom checkout field that has been appended from Woo Checkout Field Editor Pro.
Escalate your clarity with the customers to a unique level using the Moceansms Notifications. It not only notifies the customers on order status but also keeps the admins informed when a new order is placed.
Total number of users – 400+
Screenshot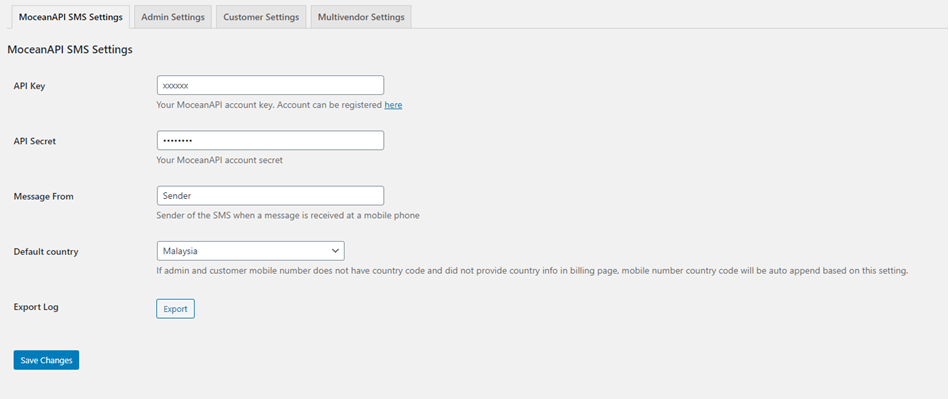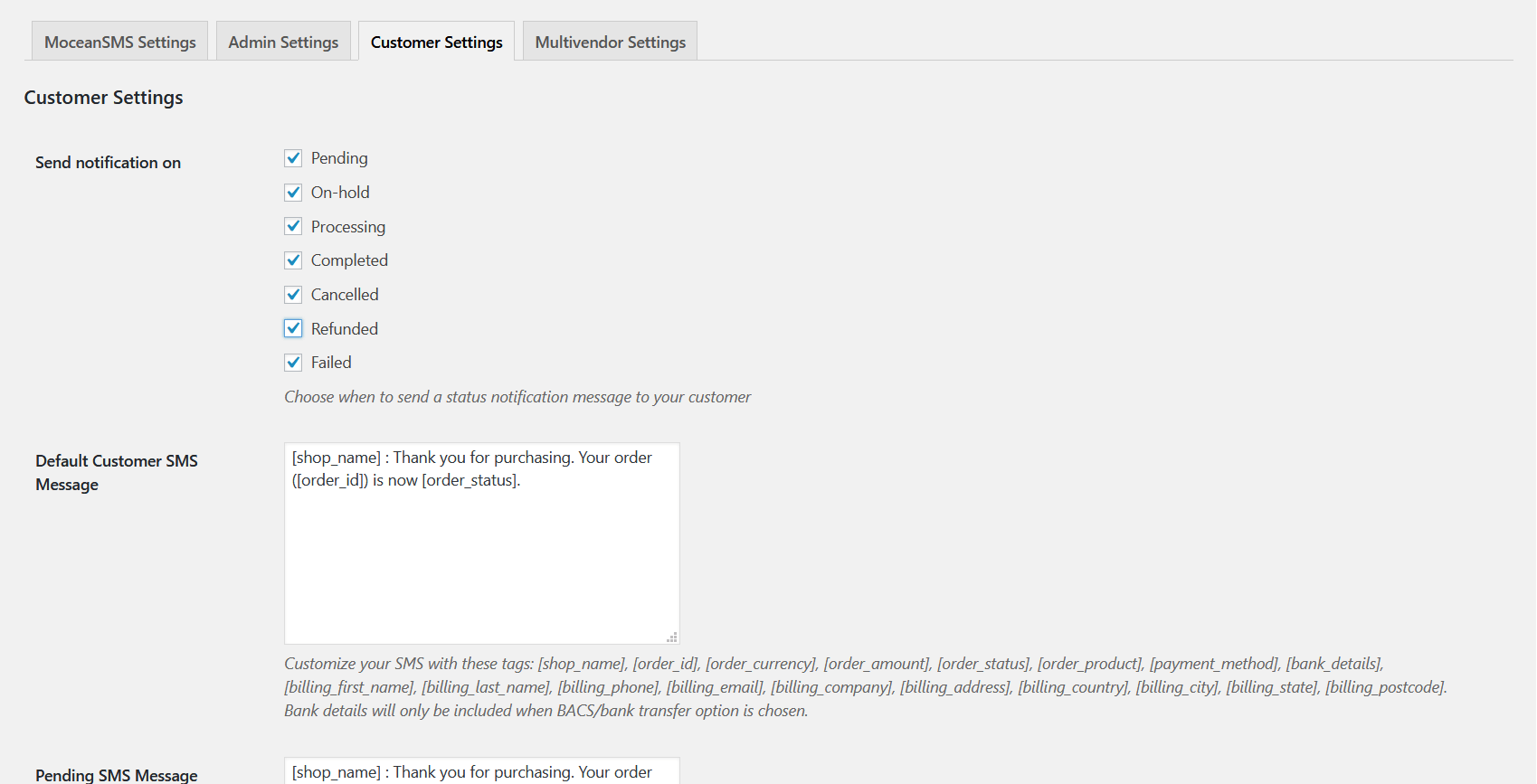 9. WC – APG SMS Notifications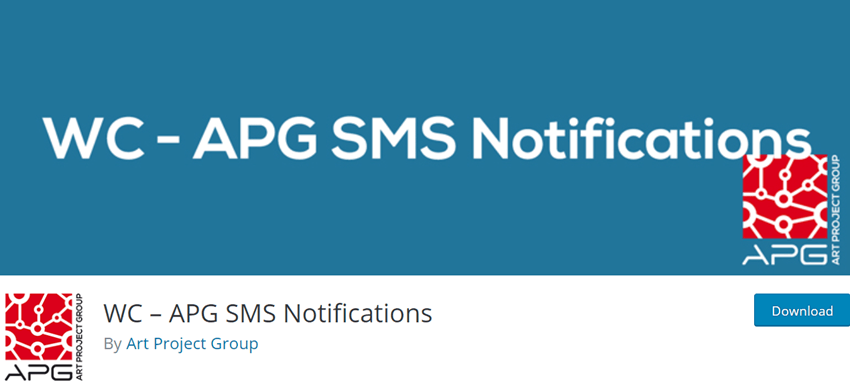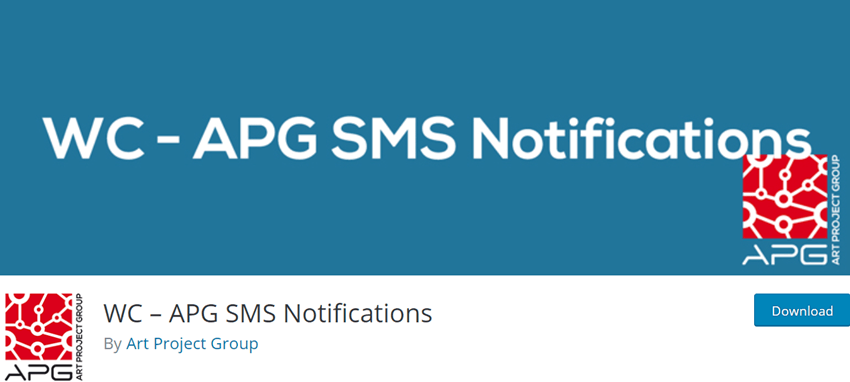 WC – APG is a useful add-on for WooCommerce and holds importance for both the buyer and the seller. The customer gets notified via SMS after he/she places the order and whenever there is a change in the order status, and the buyer gets SMS when a new order is placed. The extension integrates the possibility to send SMS notifications to the customers of your WooCommerce store whenever there is any order status updation. It also notifies you whenever there is a new purchase order.
The SMS notification messages can be modified in the admin panel. The key features are the OTP facility for registration, login, and order confirmation; customized SMS alerts for different order statuses, and many more. WC – APG allows you to send international SMS alerts too. The WPML integrated plugin supports a variety of SMS gateways such as Twilio, Twizo, Clickatell, BulkSMS, and many more.
Total number of users – 2,000+
Screenshot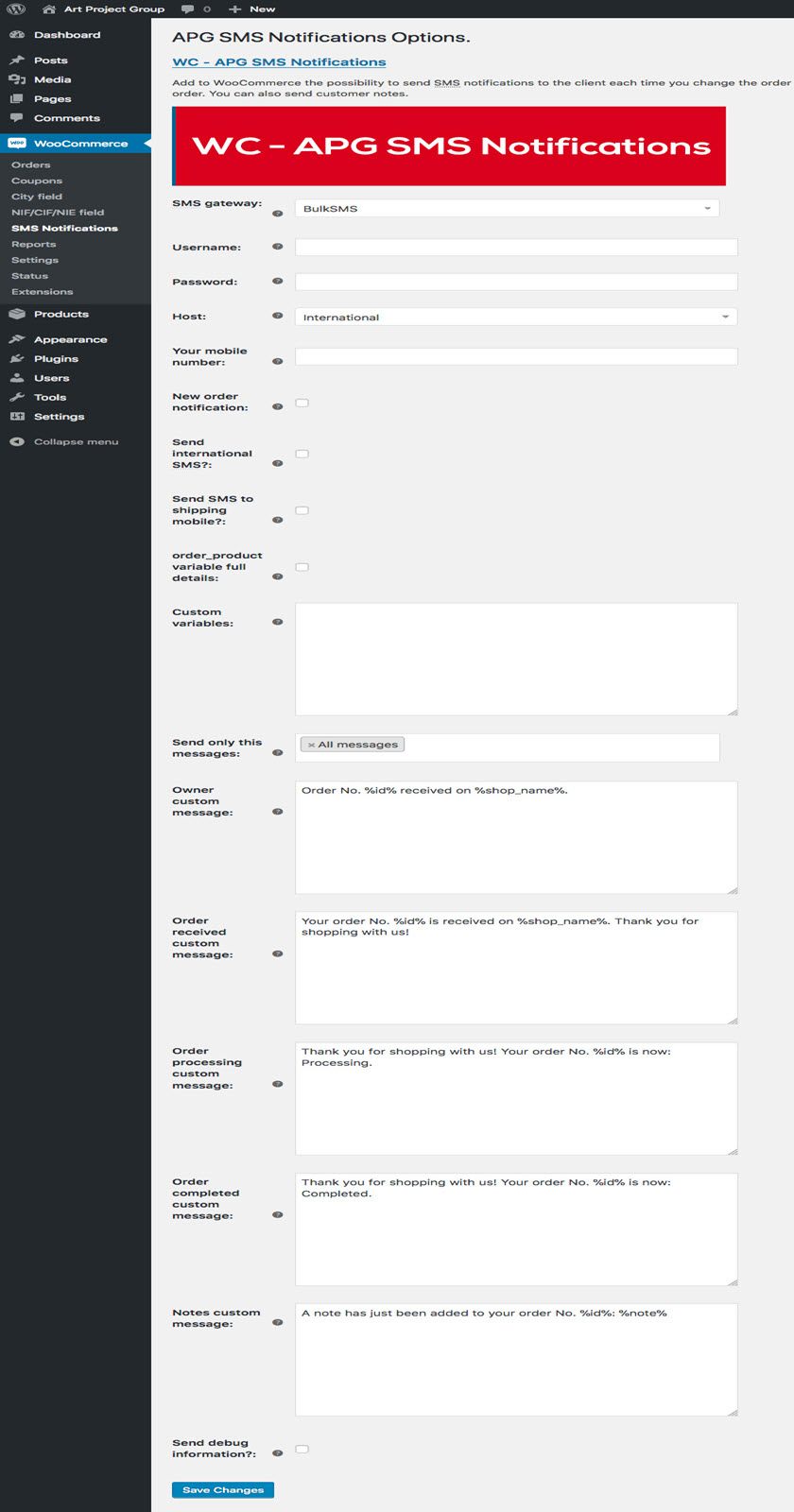 10. Sendinblue Add-on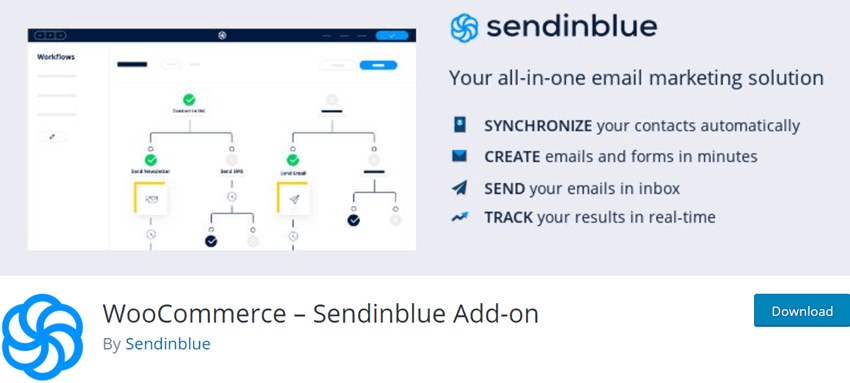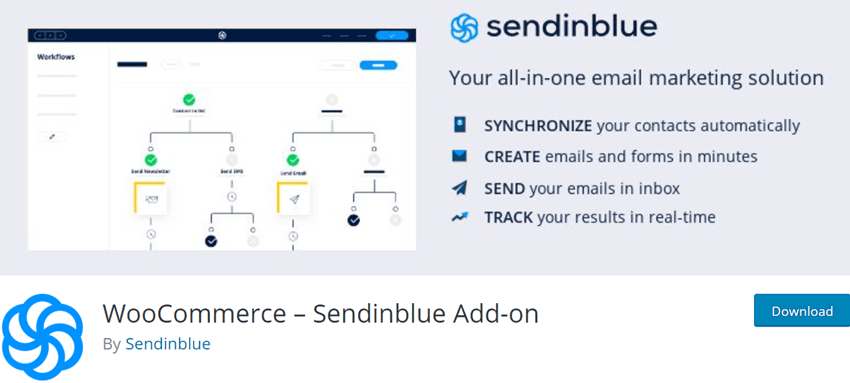 WooCommerce – Sendinblue Add-on is a top-notch WooCommerce plugin that enables you to successfully launch SMS and email marketing campaigns on your WooCommerce store. The plugin helps you enhance your email deliverability and hence, enhances your conversations with your customers. Using this plugin, you can also track the detailed metrics regarding your emails such as the email open, click, and delivery dates.
Features
You can send confirmation emails to your customers and also monitor the delivery, click and open rates of your emails.
Using this plugin, you can send personalized confirmation emails or text messages after every important event such as order confirmation, new order, or shipment of the order.
It also allows you to test your campaign and ensure that everything is in place by sending a test email before the email is delivered to the customers.
You can easily log in to your SendinBlue online account dashboard and directly use WooCommerce order variables from your SendinBlue account.
You can also customize your confirmation text messages by including the name of your customers, order price, or order date.
Total number of users – 10,000+
Screenshot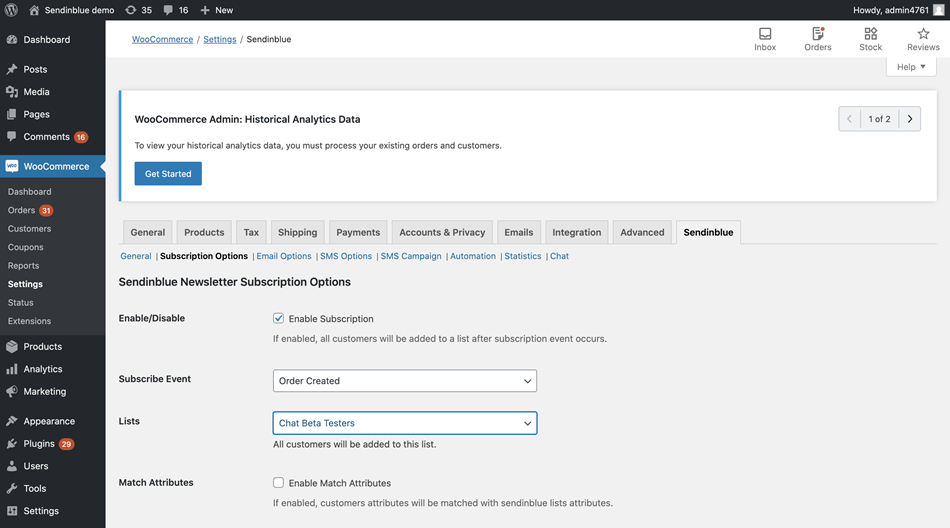 11. WP SMS By VeronaLabs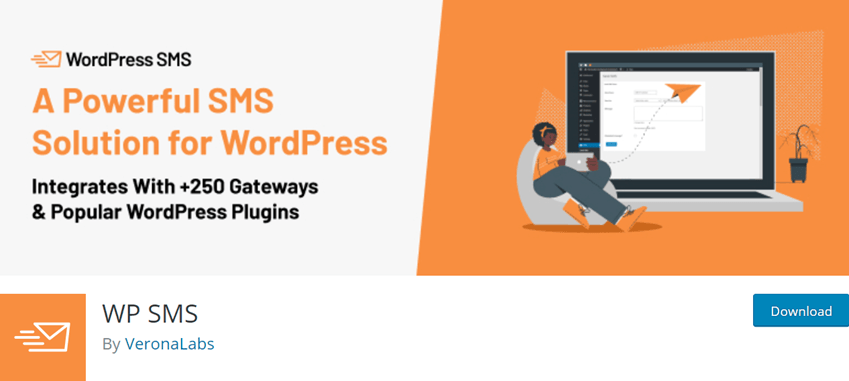 WP SMS BY VeronaLabs plugin provides extensive benefits when it comes to connectivity to the clients. It offers a great hand in informing the users about their order status via SMS, MMS, audio, or Text-to-Voice messages. The SMS notifications can either be sent to an individual Product buyer or a group of customers.
A default group is created into which the contact details and names of customers can be added. Text-to-Voice messages can be sent in any preferred language. Validation for the correct mobile number is done at the time of registration. It provides powerful support to extensions.
The buyers can subscribe themselves through the subscription form available on the website. Supports the history feature that contains all the messages that were successfully sent and received. Users can 'opt out from receiving SMS at any moment.
Total number of users – 8,000+
Screenshot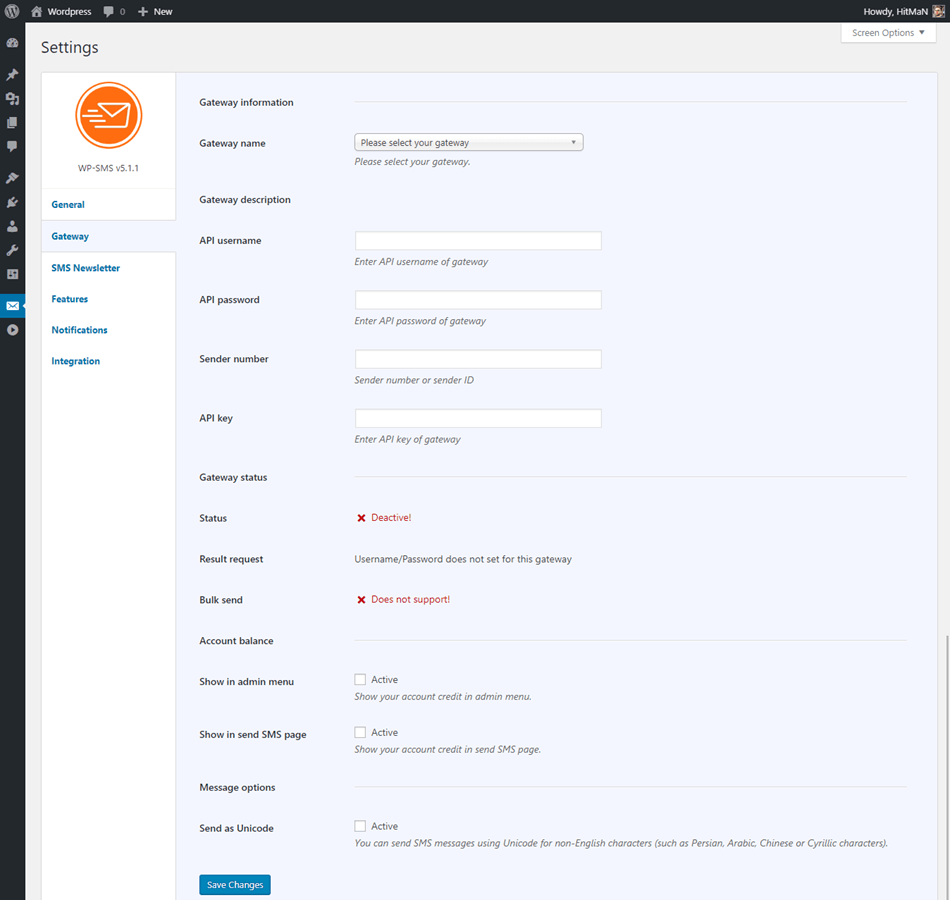 12. WP SMS Plugin for WordPress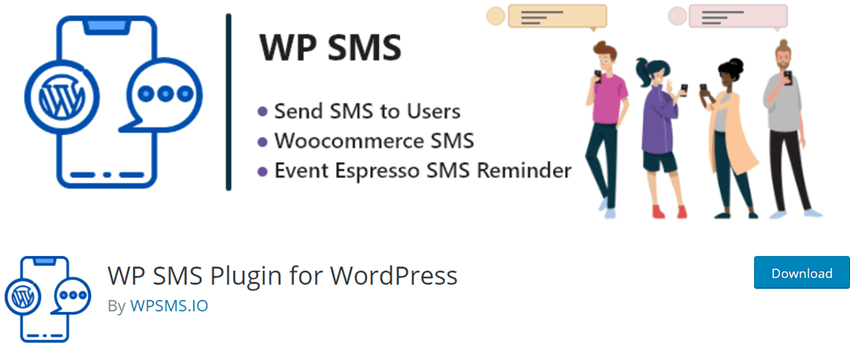 Improve your customer relationship and enrich the transparency by using WP SMS Plugin for eCommerce website built with WordPress. As soon as an order is placed, the admin and the buyer are informed in the blink of an eye. The plugin can be tailored completely by the will of the admin. It is easily installable and user-friendly.
Detailed logs are available for each SMS that is sent. The details in the notifications sent to the customers and buyers can be easily controlled. Provides flexibility for sending SMS. API Gateways for SMS can be easily configured. SMS notifications can be sent for order status change.
SMS alerts can be sent to any number. The buyers can be contacted quickly via SMS. All the order statuses are supported by the plugin. The SMS can be sent from the order page.
Total number of users – 7,000+
Screenshot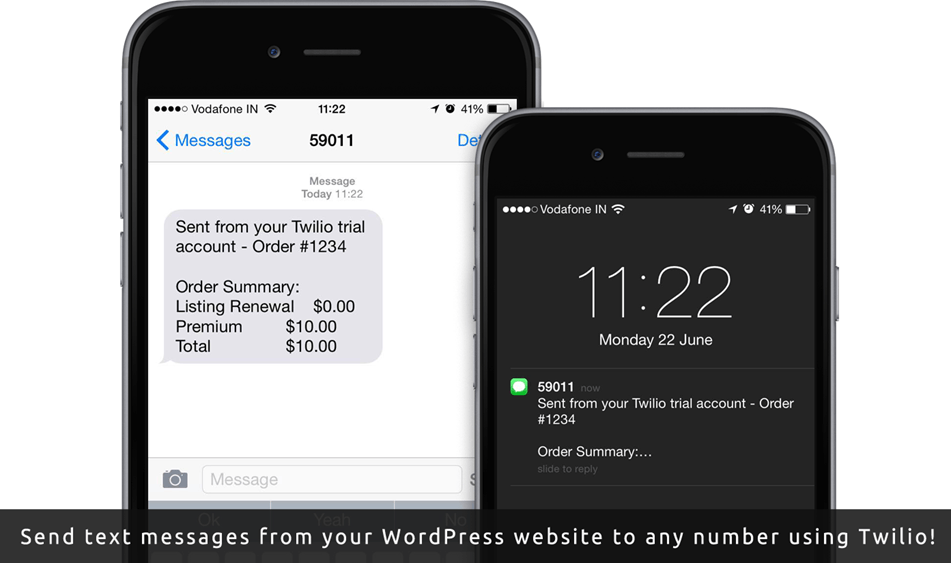 Conclusion – Still confused about which Automated SMS Order Notifications plugins are best for your woocommerce website? If you will ask me for global use we recommend you to go to Twilio as your SMS partner and choose any free plugins which support Twilio or go ahead with Bulkgate. But if you are from India and looking for a cheaper SMS Notification plugin for woocommerce then you should try to go ahead with an SMS alert