6 Best WooCommerce SMS Notifications Plugins 2019
Are you looking panning to add an automated SMS Notification option when someone placing an order in your eCommerce website . And are you looking for the Best WooCommerce SMS Notifications Plugins .
So many people want notification whenever the product gets Placed, shipped or delivered. This maintains more transparency in the delivery system. So many of the below mentioned Plugins support majority of the sms gateways networks like Twilio. Even I will feel happy and connected when I get a notification –  like my order has been placed or any follow up messages.
You may also be interested in live chat and abandonment cart Plugin  
So lets have the list of top WooCommerce order sms notification plugins are as follows:
1. Twilio


The extension has been designed for the free Twilio account holders which is a leading cloud communications service. The plugin enables you to keep your customers updated and inform them about order updates through text messages.
Opt-in to SMS alerts can be done by customers during the checkout process. Now, whenever their order status changes, they will receive an SMS alert. Messages can also be sent on custom order status. The outbound SMS messages are not heavy on your budget and might be as low as 1 cent as per US standards.
Total number of user  – 20,000+ 
Pricing  – Single Site – $49, 5 Sites – $79, 25 Sites – $149

Screenshot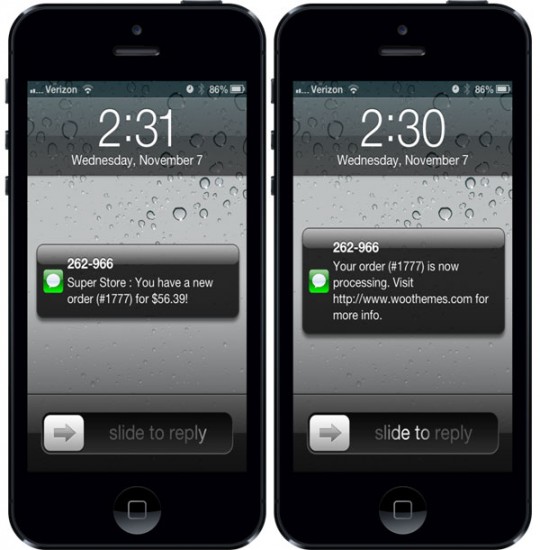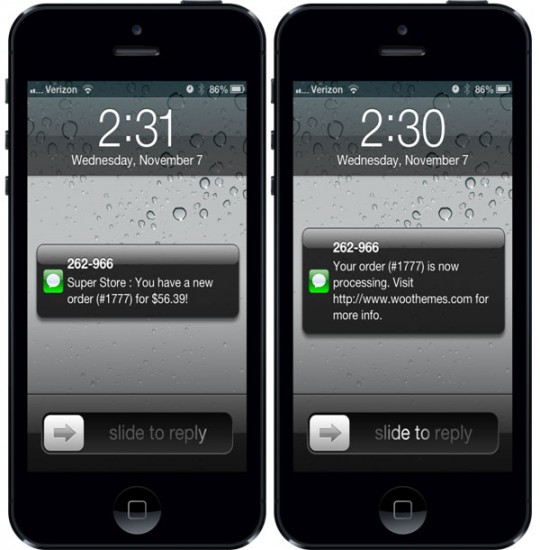 2. YITH WooCommerce Sms Notifications


With YITH WooCommerce Sms Notifications you are empowered to send custom messages to your customers. As and when there is any change in the order status, they get an SMS notification. The various gateways that the plugin uses are Twilio and Clockworks.
Also, if you want notification on each purchase in order to check that everything is getting processed in an streamlined fashion, then it is just few clicks away and you are in full control of your whole sales.
Total number of user  – 20,000+ 
Pricing  – Single Site – €54.99, 6 Sites – € 99,99, 30 Sites – € 149,99

Premium
3. WC – APG SMS Notifications


WC – APG can be activated only with WooCommerce 2.1.0 or a higher version. The extension integrates the possibility to send SMS notifications to the customers of your WooCommerce store whenever there is any order status updation. It also notifies you whenever there is a new purchase order.
WC – APG allows you to send international SMS alerts too. The WPML integrated plugin supports a variety of SMS gateways such as Twilio, Twizo, Clicatell, BulkSMS and many more.
Total number of user  – 2000+ 
Pricing  – $79

Free
4. SMS WooCommerce
SMS WooCommerce is a useful add-on for WooCommerce and holds importance for both the buyer and the seller. The customer gets notified via SMS after he/she places the order and whenever there is a change in the order status; and the buyer gets SMS for each of the new order placed.
The SMS notification messages can be modified in the admin panel. The key features are OTP facility for registration, login and order confirmation; customized SMS alerts for different order status and many more.
Total number of user  – 200+ 
Free
5. WooCommerce Order SMS Notification


WooCommerce Order SMS Notification is a user-friendly and easily installable add-on for WooCommerce where the SMS notifications can be customized as per the status of the order. Like other SMS notifications Plugin, it can be activated both for the customer and the seller.
The plugin is compatible with WooCommerce PDF vouchers and supports seven SMS gateways such as Talk With Text, Twilio, Nexmo, Clickatell, SMS Global, Hoiio and Intelli SMS.
Total number of user  – 490+ 
Pricing  – Regular License – $27, Extended License – $225

Premium
6. MoceanSMS


MoceanSMS tool complements a buyer's shopping experience by keeping him/her notified about purchases and delivery status. The buyer and seller both get notified about a new order status. If there is any change in the order status, the shopper gets an instant update.
There are unique or custom SMS notifications for different status of the order. MoceanSMS also supports custom checkout field that has been appended from Woo Checkout Field Editor Pro.
Total number of user  – 200+ 
Free
Conclusion – We always recommend people to buy Plugins or themes from recommended authors like woocommerce or yith