13 Best WooCommerce Abandoned Cart Plugins 2022
WooCommerce Abandoned Cart Plugins can help you recover abandoned cart sales by 56-77% on your eCommerce website, ultimately increasing revenue. Shopping cart abandonment is a central issue most eCommerce website companies face, and you can reduce losses by sending the best Abandoned cart emails to your customers.  

What are an abandoned cart and its essential details?
An abandoned cart is a terminology used to define the cart's condition, meaning the customers selected the product and added it to the cart but didn't proceed further. When you send an Abandoned checkout email to that customer who did signup and added products to the cart but didn't purchase, those emails are known as Abandoned cart emails. And when the customers proceed to the transaction page and leave it for a specific reason, it is known as a shopping cart Abandonment transaction.
Why do customers abandon shopping carts top 8 reasons behind this?
Extra Delivery Costs: When a customer is looking to finalize the purchase from your store, the shipping cost more than expected or typically charged can ruin the sale. Over half of consumers state this as their reason for Abandoned CART.
Trust Issue: Some customers are pushed away simply by the necessity to create an account to make a purchase. If your WooCommerce store doesn't have an SSL certificate, they may not want to divulge any personal information. This is also the reason for cart Abandoners.
Payment Issue: Customers may not have an account with the specific payment gateways in your store. Some people are suspicious of Paypal, etc., and prefer to use plastic for online purchases. To recover checkout Abandonment, just make sure your site has a variety of payment methods to choose from.
Slow Delivery: Too long a delivery time or an unnecessary delay also plays a significant role in customers leaving your store. They might need a quicker delivery, and the wait time is beyond their limit.
Discount Offers: Websites with a coupon code button see many shopping Abandoned cart sequences. Because customers frequently buy from online stores and know they can save a lot of money if they get a discount coupon. And they search for the coupon code and return only if they can find one.
Just for Enquiry: Some people visit stores to check out products and prices, just as they visit a physical store. They may not want to buy, as of now, so they quickly Cart Abandonment Woocommerce. But sending automated emails to promote your products may convert them later.
Failed Transaction: If the speed of your website is slow or if the shoppers have to re-enter their information, credit card, or shipping information, they may prefer to leave instead.
Most say 50-60% of users leave the cart after adding a product because of shipping costs and taxes. To reduce your cart abandonment will recommend you to get the abandoned cart plugin option to get a Cart abandonment report. Based on the information, you can choose all the reasons behind making the people leave on the cart pages. The most effective way to reduce this is to get Abandoned WordPress plugins that will help you to minimize and reduce the cart abandonment rate and convert them into your regular customer.   You made me interested in the FOMO marketing plugin, email marketing services, and WooCommerce coupon plugin. Now, let's have the list of top WwooCommerce abandoned cart plugins as follows:
1. Retainful
Retainful is an email marketing automation platform with which you can send automated emails to customers at the right time and drive sales on auto-pilot. Recovering abandoned carts is now easy with Retainful. You can automatically send Woocommerce cart Abandonment Recovery emails at regular intervals and persuade customers to return to your store and retrieve their carts. Best abandoned cart email Retainful is packed with pre-built automation templates so you can launch your cart recovery campaign minutes after installation. Sometimes a customer will need the motivation to recover carts, add dynamic coupon codes to your email and encourage customers to return. The key to Abandoned shopping cart email conversion rates is customization. You can customize your emails to your preference using the Drag & drop good Abandoned cart email editor and personalize your emails using shortcodes. How Retainful recovers Abandoned Carts? Retainful will send an email after 1 hour, then after a day, and the third will be sent after two days of cart abandonment. But the choice is yours, you can set the timeline as per your preference and send your emails.

You can send unlimited emails until the customer recovers his cart

. Send unlimited cart recovery great Abandoned cart emails. It just contains an easy-to-use interface managed by anyone without a coding perspective. Although at this moment, you don't have to send reminders to your customers manually, such reminders will automatically be sent once you configure the setting. Upgrade your sales while making your customers aware of the products through emails and texts after a regular time interval. Recover is a highly recommended WooCommerce abandoned cart plugin which makes 10x more sales with Retainful. It automatically triggers cart recovery reminders whenever your customer leaves the cart.   How Retainful Recover The Abandoned Cart? Let you send the email after 30 minutes, then after 6 hours, and the third will be sent after a day of cart abandonment. The third email includes the coupon code for a single-use.
The retainfulWoocommerce cart plugin prepares the fourth reminder if the abandoned cart is not recovered after such attempts.
Such reminders are automatically sent to customers without involving you, saving you a lot of time.
Collect the email address of visitors as anyone comes to the website to send the automatic reminder if something in the cart is available for proceeding checkout.
Provide a link that lets your users reach directly to the cart for the recovery of an abandoned cart.
 You can drive customers to recover carts instantly with an action-based cart recovery link.
Not just cart recovery, the Retainful WordPress cart plugin also helps in improving your sales volume. Gift attractive following order coupons and motivate customers to buy repeatedly at your store.
And the best thing about Retainful is that you can send unlimited cart recovery emails and coupons without any limit.
Use Retainful's dashboard to measure your online revenue, know how your email campaigns perform, and make the best Abandoned cart strategy.
Retainful offers easy integration with WooCommerce and Shopify. And expert developer support is what makes Retainful extra special.
Total number of users – 3,000+ Price – Starter – $19/Monthly (2000 Contacts), Growth – $49/Monthly (5000 Contacts), Professional – $199/Monthly (25000 Contacts)
Screenshot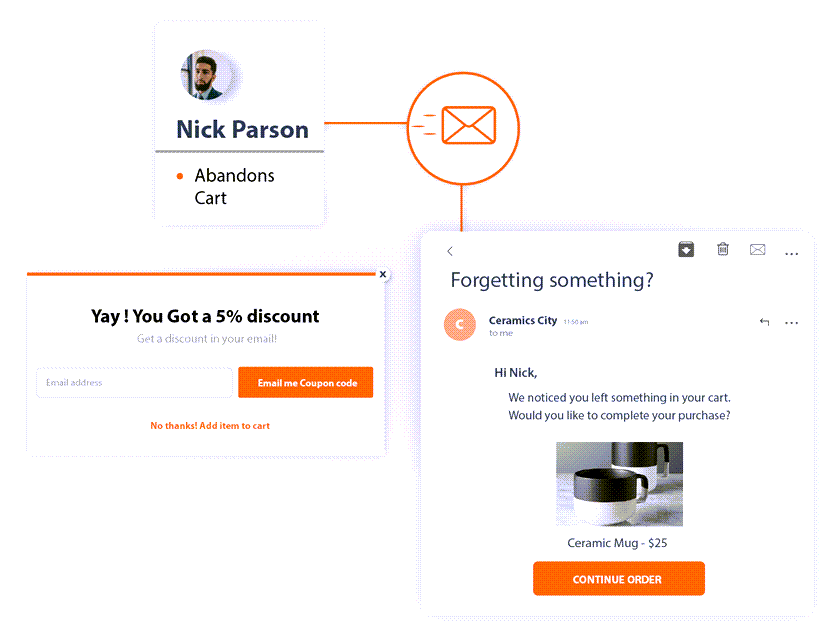 2. WooCommerce Cart Abandonment Recovery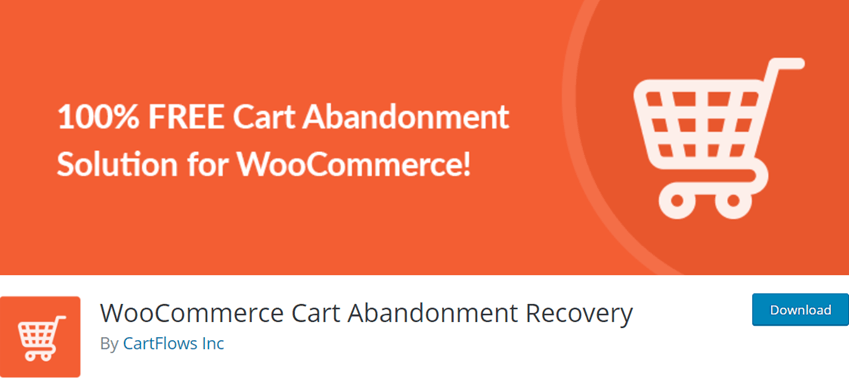 WooCommerce Recover Abandoned Cart is the most popular Abandoned Cart plugin, especially if you're on a budget. It is such an extensive and feature-enriched WordPress shopping cart plugin for recovering woocommerce shopping cart abandonment quickly. Send automatic woocommerce abandoned cart email to the customer who won't proceed with checkout after adding the product to the cart. Collect the email address when someone visits your site and send exclusive offers and discounts to purchase from your WooCommerce store. By installing this fantastic WordPress extension, you can recover the lost revenue or become stagnant after the digital shopping cart Abandonment of cart. Everything is on display on your WordPress dashboard. It captures the user's email address on the checkout page. And then, you can automatically send cart recovery emails on specific schedules as you set. You can customize the emails to reflect your brand. Multiple email templates are also there for you to choose from. You can use the email sequences for feedback capturing, order completion, or offering a discount to entice users to buy from you. You can include coupons as an incentive in your recovery email. Elementary Features That Recover Cart Abandonment Are Listed Below –
Email Series – Generate a well-organized series for email distribution that lets your visitors and users proceed with checkout. Follow up the checkout with standard emails automatically sent in-between time intervals.
Email Sequence – Send the first email after one hour, the second after 24 hours, and the third after 72 hours, reminding customers to complete purchases. The third email includes the coupon code with limited validity and a discount of 5%.
Link Access For Checkout – Prepare an appropriate link for the checkout that will take your customer wherever they leave the process.
Follow-up Emails – Send your customers standard emails while generating from various available templates that will help you in woocommerce abandoned cart recovery.
Moreover, recovery reports and analytics can tell you how many carts have been successfully recovered.
It can be conveniently integrated with most marketing automation tools.
Total number of users – 200,000+ Price – Annual License – $239/annually (30 Site), Lifetime License – $999/One-Time (30 Site)
Screenshot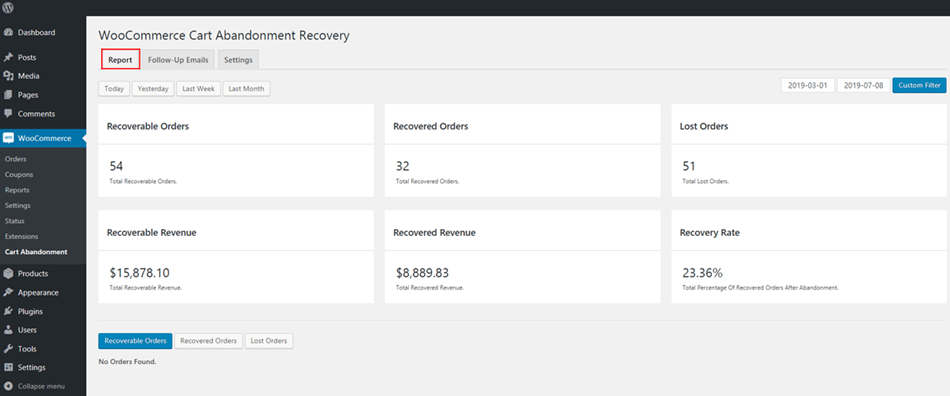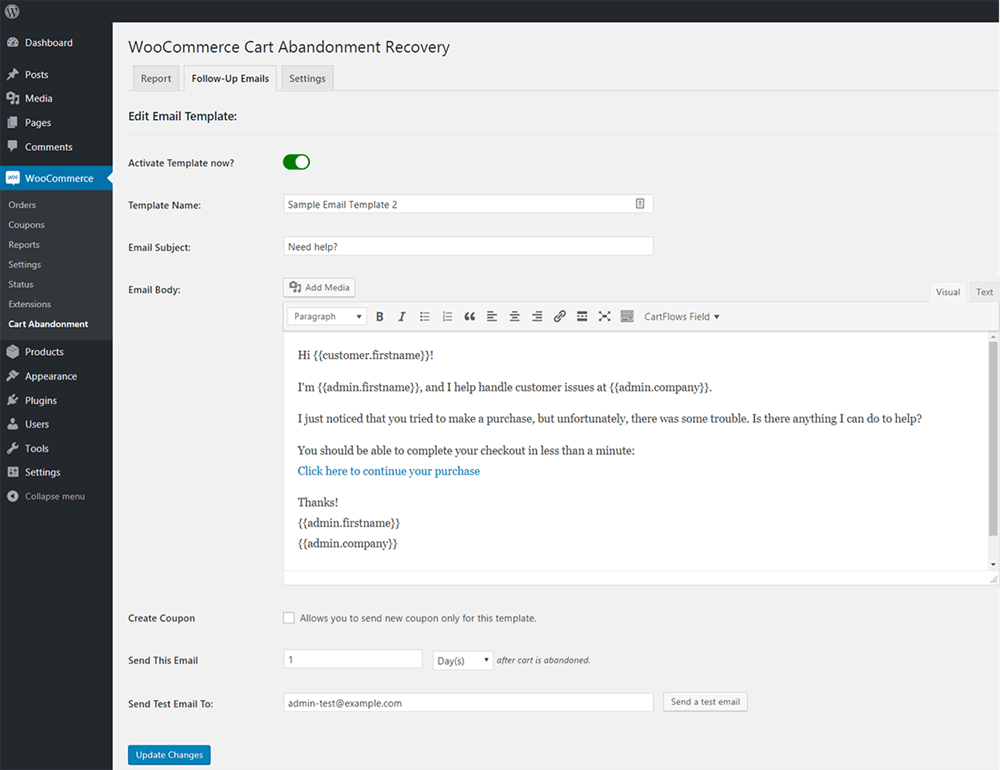 3. Automate Woo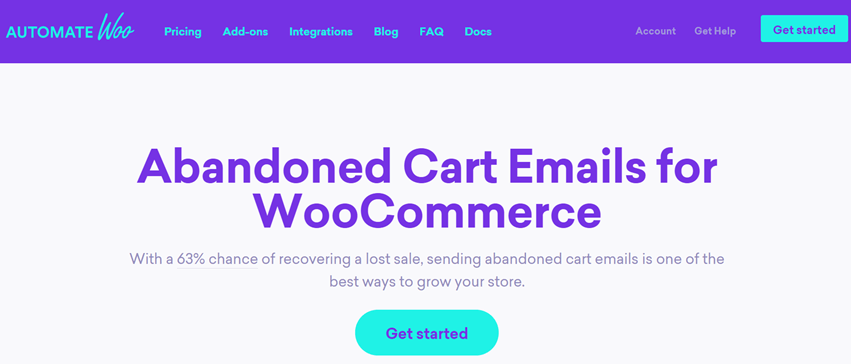 AutomateWoo enables your WooCommerce store to send automated emails to those customers who acquire the abandoned cart on their account. Automatewoo Woocommerce boosts your stagnant revenue with a few easy steps of recovering abandoned carts. Automate Woo Plugin is a well-integrated that assists you in automating such emails to the customer while scheduling it anyway. Make sure to collect the email address of your visitors and customers where you may send emails with the necessary coupon code and discount. Woocommerce Automatewoo effortlessly manages the entire cart abandonment with systematic email marketing that proceeds checkout. Key Features –
Elegant Templates – From the available templates of emails, just create your own with modifications that suit your brand.
Multiple Users – Track and email your unlimited users to recover the cart abandoned without involving you all through this.
Incentives and Campaigns – Let you send offers, including personalized coupons, via emails for proceeding checkout for such products that are retained in abandoned carts.
Activity Log – Through Automatewoo WordPress Plugin, make an analytical report on the clicks and conversions by tracking the user's activity and recording the same in the form log on the website. Improve users' experience while monitoring such activities.
One of the three impressive features of the plugin is to send abandoned Cart Reminders, which is achieved through the most effective way – Automated Facebook Messenger Campaigns.
Facebook Messenger is a popular means of social reach in the present-day scenario, and you get the power to recover cart abandonment in the most impactful way possible.
Price – 1 Site – $99/annually
Screenshot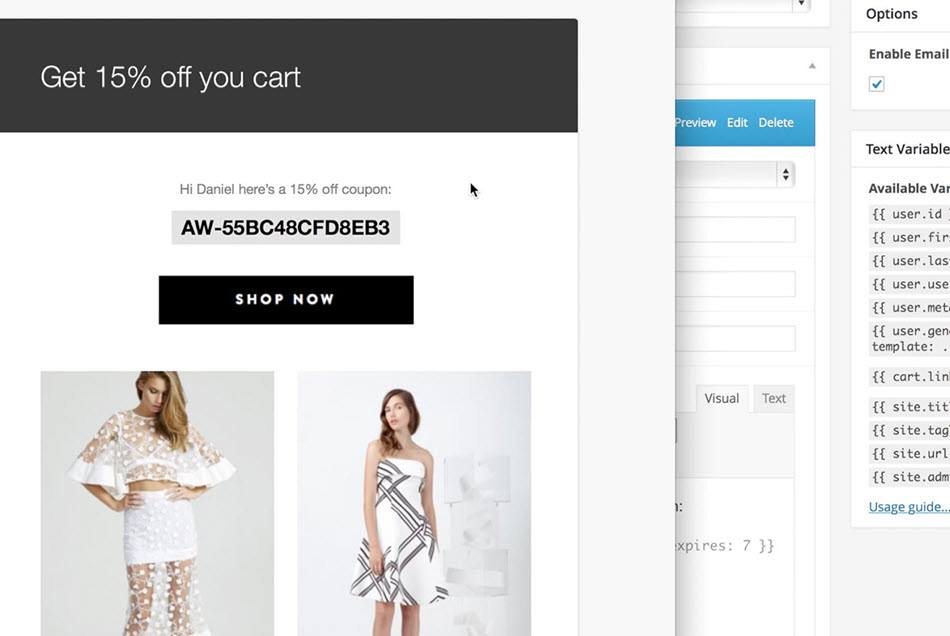 4. Caddy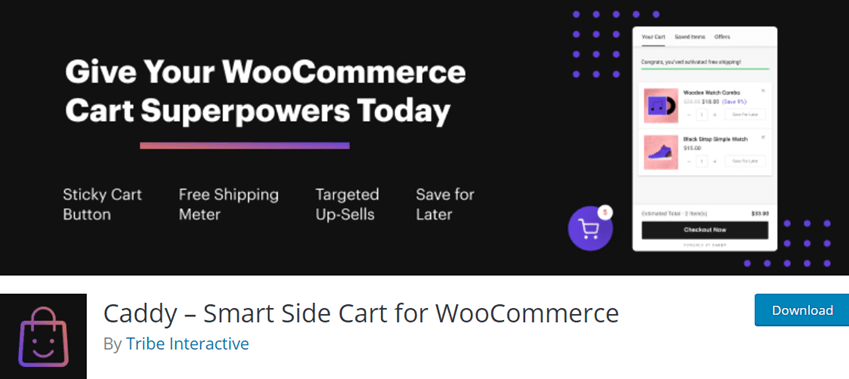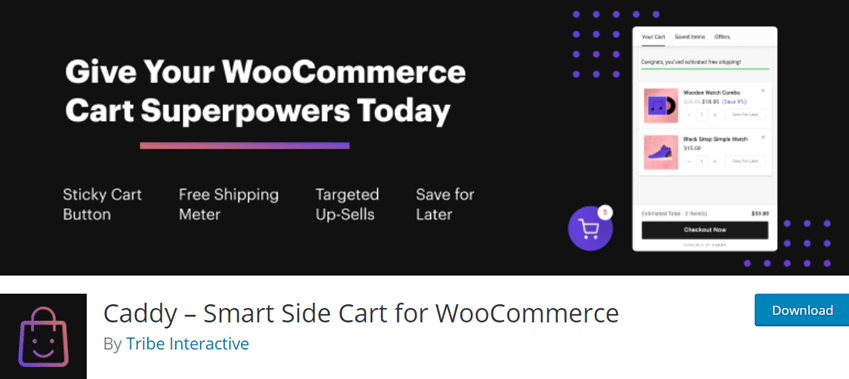 Caddy – An extension for Abandoned Cart of WooCommerce assures fast recovery by sending automated woo commerce abandoned cart emails effortlessly. Clear the cart with strategic email scheduling to remind your visitors and customers for checkout. Set an automated email structure configuration with many email templates available to be customized easily. Layout the email standard that matches your website's existence and a valid coupon code for a one-time purchase. Just fetch the detail of visitors once they come to your WooCommerce Store and record the email address too for sending email notifications. Boost the stagnant revenue accumulated as the cause of online shopping cart abandonment. Caddy lets your visitors return to your site for the clearance of products with the final checkout process that increases sales opportunities. Create an Abandoned cart email strategy to generate quality offers and coupon codes on different products that anyone easily picks out of the cart and purchases the same. Send emails with a valid link that directly arrives at your visitors right where they skip the shopping and back out from the site. Caddy provides a better user experience while availing the scheduled reminder for purchasing the product they want earlier with better discounts. The WordPress shopping cart plugins customize the email's sender, subject, and content. Additionally, you can target single or multiple users at a time to send out those emails, thus a big-time saviour. You can also create custom discount coupons and send them via email to the users to allure them users to finish the transaction.   Total number of users – 700+ Price – Premium Edition – $79/annually (1 Site)
Screenshot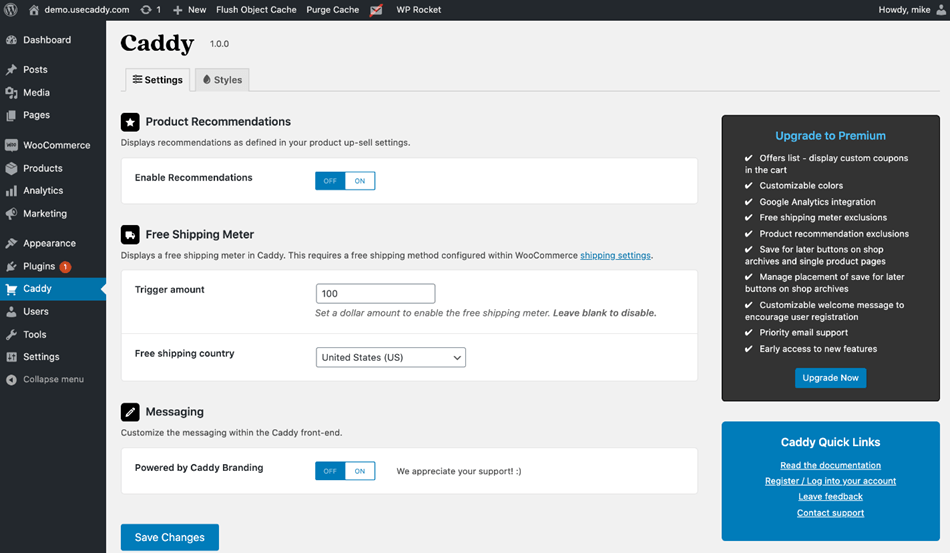 5. ELEX WooCommerce Abandoned Cart

  ELEX WooCommerce Abandoned Cart Plugin is an intuitive and lightweight Plugin that assists your online store in recovering digital shopping carts abandoned promptly. Let you identify the customers who place the product in the cart but won't checkout yet for any reason. With this Elex DHL plugin, you will target an audience and send them emails at a specific time interval. Moreover, insert offers and discount coupons into the email to attract the audience who doesn't proceed because of the high price. Now, get access to immense order reporting in a graphical format that lets you know how many woocommerce recover abandoned carts, the total conversion, and the abandoned amount collected. Core  Features –  
Configure a duration under which you can say the order is being abandoned and then send best cart recovery emails to recover it.
Allow your customer to unsubscribe by placing an unsubscribe button in every email if they don't want to proceed with their purchase.
Send exclusive discounts in an email at a time interval to remind them about abandoned products they left in the cart, this is one of the best cart Abandonment solutions.
Total number of users – 1000+ Price – Premium Edition – $79/annually (1 Site)
Screenshot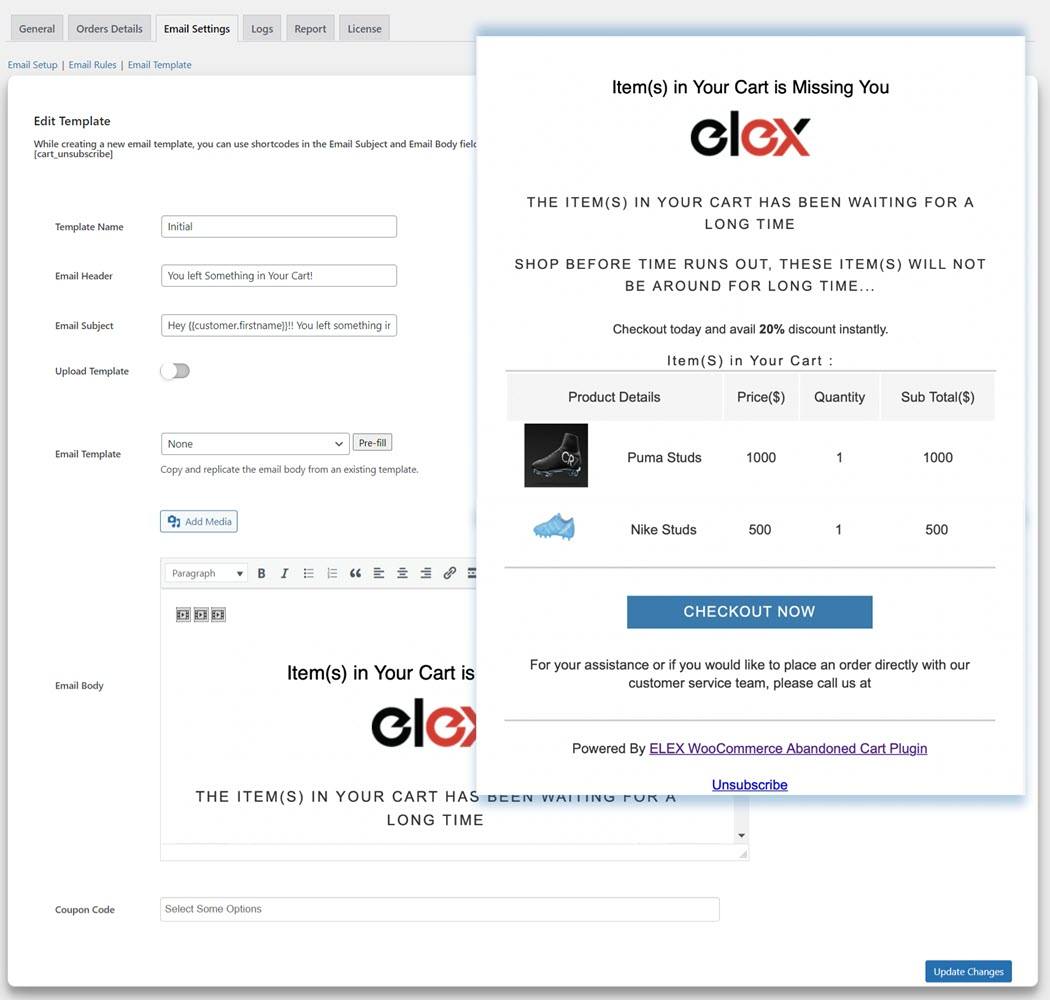 5. Cart Lift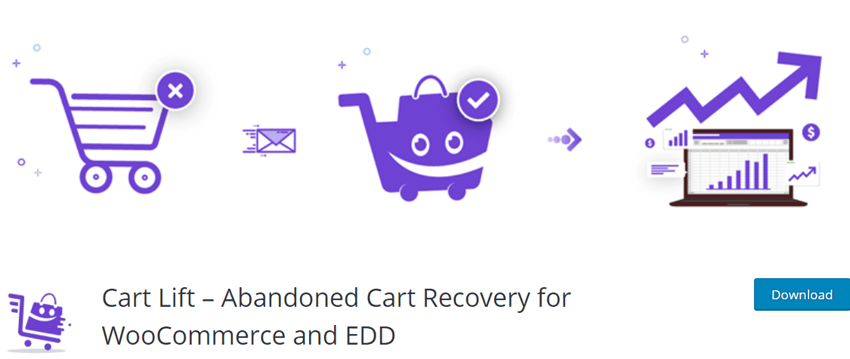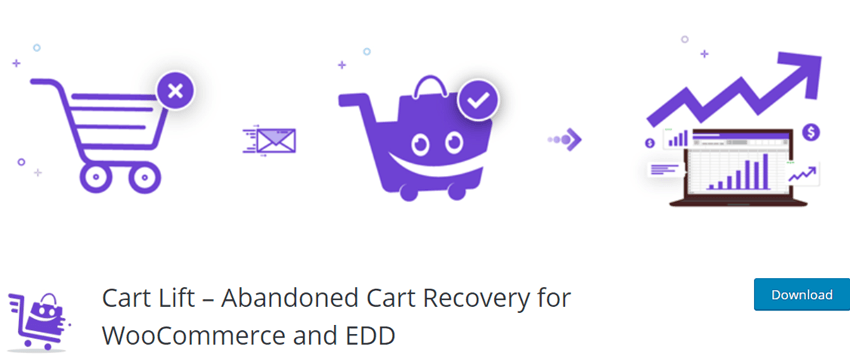 Cart Lift is an essential best woocommerce cart plugin for the WooCommerce store that easily lets you manage cart abandonment and flow your revenue quickly. Notify your visitors via abandoned cart message to complete the shopping at perfect discounts. If your online store doesn't get excessive payment due to visitors leaving your site with an abandoned cart, you must install Cart Lift. WordPress abandoned cart plugins remind such visitors to return to proceed with checkout and purchase. Track the email address whenever someone visits your site and then send automated emails with the assistance of Cart Lift. Now, enable the campaign to recover such abandoned carts and access the stagnant revenue within a few minutes.   Elementary Features –
Sets an email strategy and follows up with an appropriate abandoned cart campaign idea that effortlessly recovers the abandoned cart.
Layout abandoned checkout emails while making modifications over available templates that match your WooCommerce brand's pursuits.
Offer your customers more excellent discounts and coupon codes that let them purchase such products they left on their abandoned cart on the account.
Please provide links to the visitors that take them where they left their purchase and make it convenient to shop.
Access tracking and automatic email on a specific time interval which admins fix on the back-end.
You can recover your lost sales with Cart Lift. After a cart gets abandoned, Cart Lift triggers to set up recovery emails and prompts the customers to finish the transaction.
The unique feature of Jilt is that it sheds off the excessive data accumulated on cart abandonment to its servers, hence maintaining the site's speed.
The plugin manages complete email scheduling as well.
You can use Cart Lift for any platform, like WooCommerce and Easy Digital Downloads. Please connect to the 24x7 support team for any further help.
Total number of users – 100+ Price – Basic – $79.99/annually (1 Site), Advanced – $149.99/annually (5 Site)
Screenshot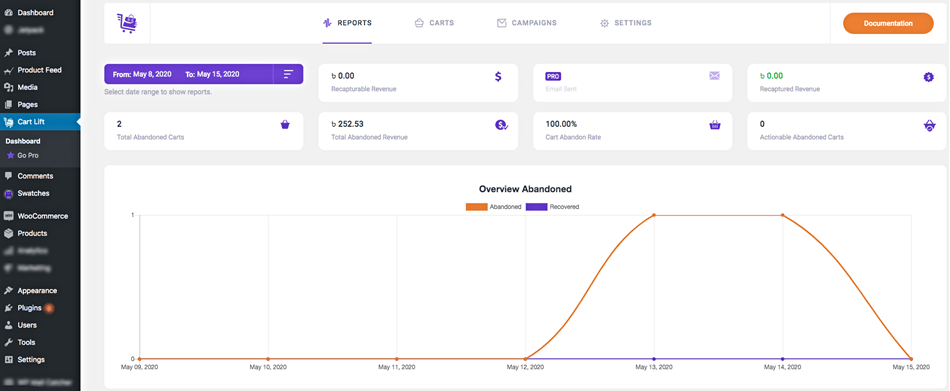 6. Abandoned Cart Lite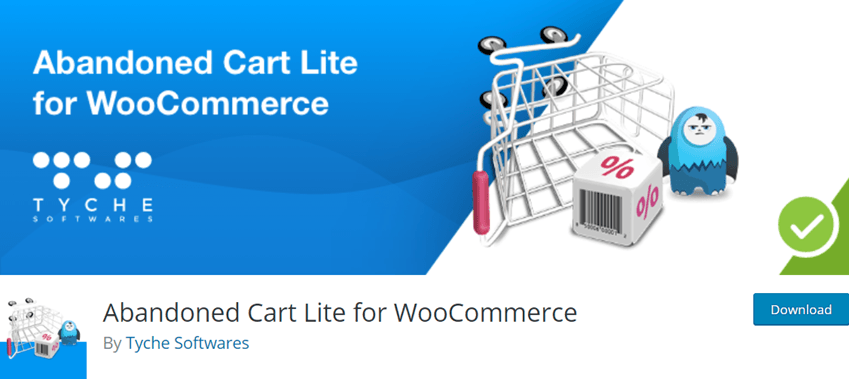 Abandoned cart lite is one of the best WooCommerce abandoned cart plugins that helps you reduce the abandonment rate on your store by sending automatic creative abandoned cart emails notifications to your visitors and customers who have added the products to their cart but have not completed the purchase. Thus, the Woocommerce cart abandonment recovery plugin helps you recover lost sales and increase your revenue. Abandoned Cart Lite for WooCommerce allows you to recover deserted carts from your WooCommerce shop. Abandoned cart lite works in the background of your website and enables you to recover cart abandonments in just one click. Features
The cart abandonment plugin woocommerce automatically identifies the abandoned cart information. It also identifies the product abandoned by the users and then sends email notifications or Facebook messages to the users reminding them of their abandoned orders.
It allows you to create unlimited email templates for sending email notifications to users. You can also choose the interval or send emails to your customers or visitors.
It also allows you to check your Abandoned cart pro values and recovered order values. Thus, You can quickly evaluate and analyze the cart abandonment rate on your WooCommerce site.
Every time an order is recovered, the plugin sends an email notification to the admin, Informing them of the cart recovery.
Woocommerce cart recovery plugin lets you add custom variables and personalize your email by entering customers' names, product descriptions, etc.
This plugin can also track order information such as the product and its value to help you get statistics on the abandoned order's value vs the recovered order's value.
Total number of users – 30,000+ Price – 1 Site – $119/annually,  5 Site – $199/annually,  Unlimited Site – $249/annually
Screenshot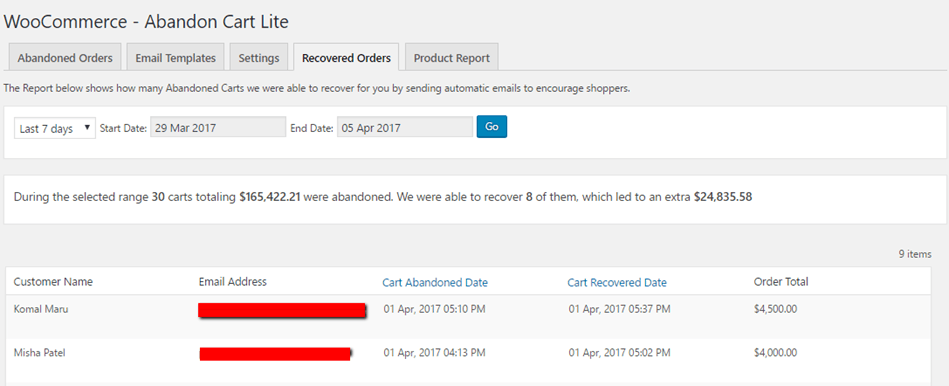 7. Abandoned Cart Recovery

  Abandoned Cart Recovery Is a simple and powerful WooCommerce abandoned cart plugin by Addify. Abandoned checkout recovery helps you recover abandoned carts by creating multiple follow-up emails And signing them to your customers or visitors at regular intervals reminding them of their abandoned cart products. The WooCommerce extension also allows you to include coupons and incentives in your clever abandoned cart emails so that the customers may get attracted to your store. Abandoned checkout recovery email increases your conversion rates and overall revenue. Features:-
The plugin comes with a beautiful built-in analytic dashboard that allows you to track your store's shopping cart recovery performance.
It also automatically maintains a list of all the abandoned carts, recovered carts, and pending orders with full details on your WooCommerce store.
Using this plugin, you can create multiple email templates. Moreover, you can send the best Abandoned checkout emails manually or schedule them for sending automatically.
It also allows you to customize the email body and email templates and include multiple coupons for increasing conversions.
The plugin allows you to enable or disable recovery email notifications for all the pending orders on your store. You can also help with abandoned cart recovery emails for guest users.
The plugin is perceptive and sets a cut-off time if the cart is abandoned. In that case, it allows you to manually contact those visitors through customized emails that act as a reminder to complete their purchase.
Price – 1 Site – $59/annually 
Screenshot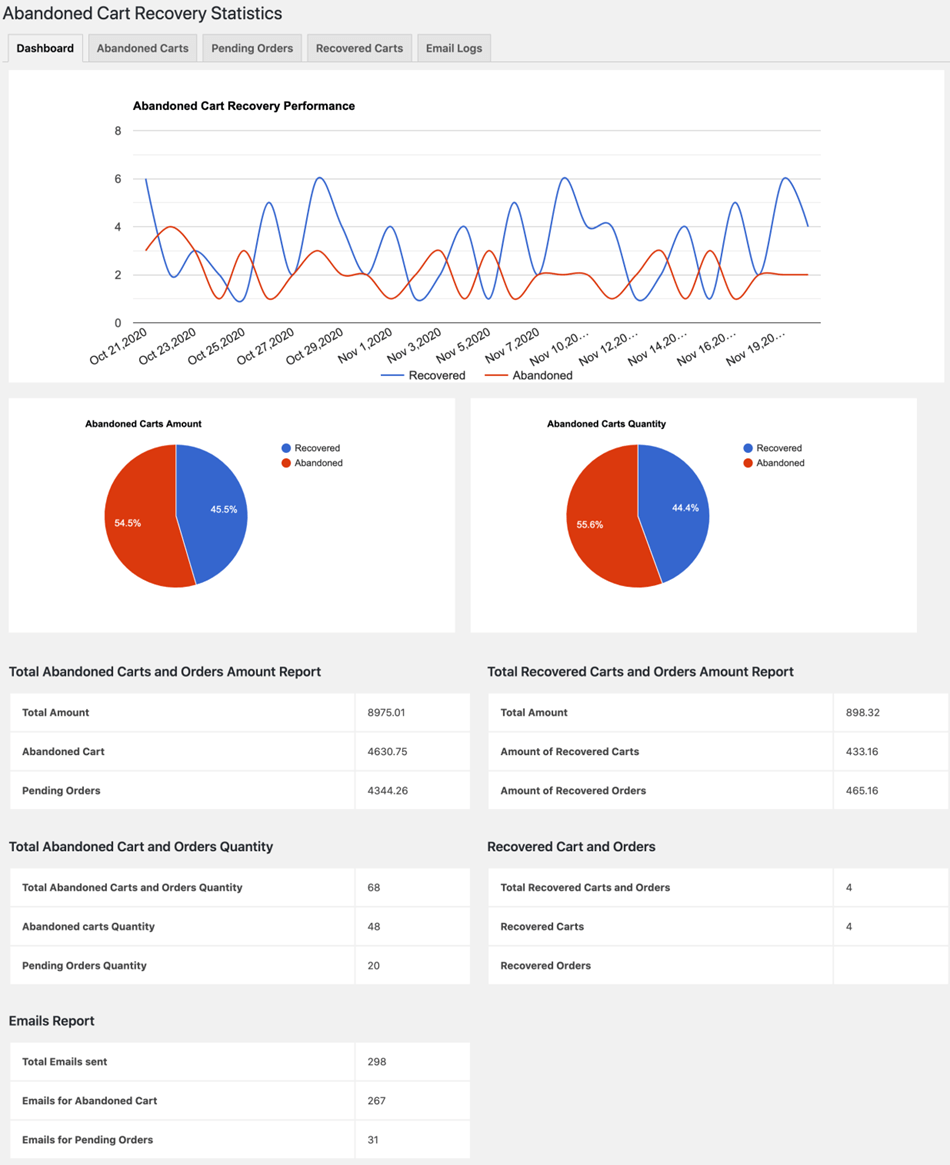 8. YITH Woocommerce Recover Abandoned Cart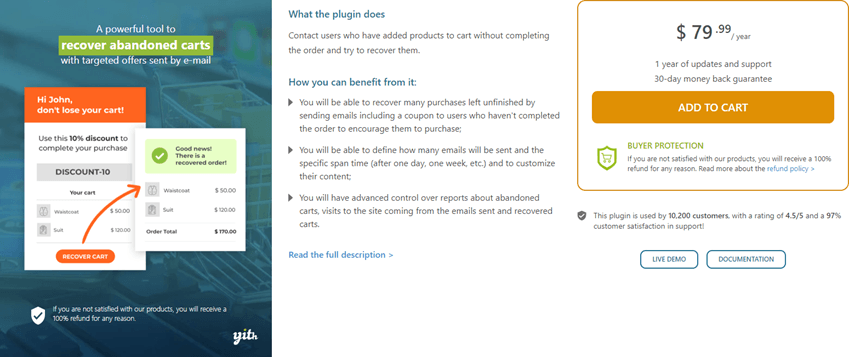 YITH WooCommerce recover abandoned cart allows you to send emails and contact customers who abandoned their products in your cart and left your store without completing the order. Thus, it helps you to recover abandoned purchases by allowing you to send email notifications along with coupons and offers. Using the YITH Woocommerce Recover Abandoned Cart Premium plugin, you can customize your emails and schedule them to be sent to your customers or visitors. Features
It automatically creates a list of all the abandoned carts and contact and encourages them to complete the purchase.
The plugin allows users with a specific WordPress role and non-registered users to recover their carts.
The admin automatically receives an email notification every time YITH Abandoned Cart is recovered and converted into a purchase.
You can easily create different kinds of emails, customize them according to your needs and personalize them by adding the users' information and their cart details. You can also add coupons to the emails to encourage purchases.
YITH recover Abandoned Cart provides you advanced reports regarding visits from sent emails, the number of abandoned carts, the conversion rate of abandoned carts, and the number of abandoned carts recovered.
The plugin is active in the background and facilitates the recovery of lost customers by sending email notifications to guests and logged-in users and prompting them to revisit the abandoned carts for recovery.
It works even if the guests are not registered users, a remarkable feature.
Price – 1 Site – $79.99/annually 
Screenshot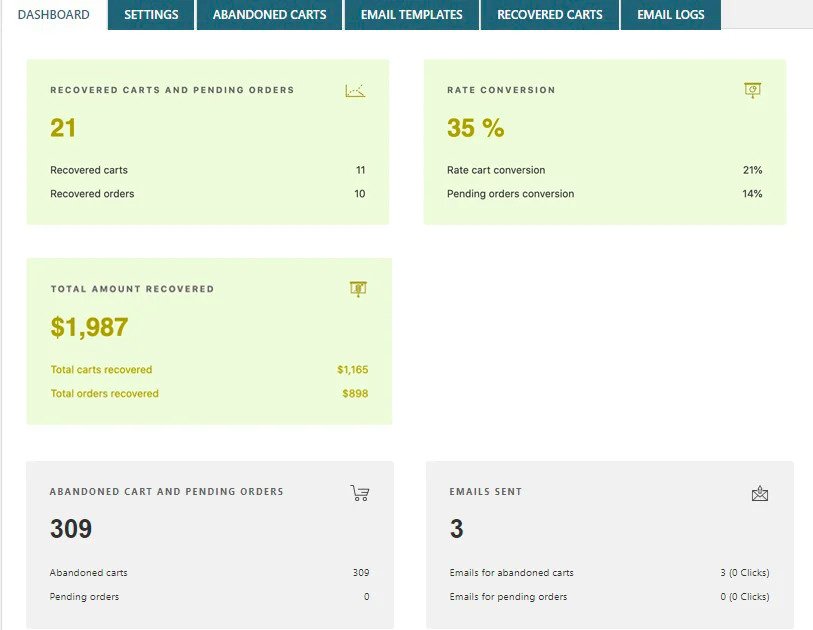 9. WooCommerce Recover Abandoned Cart

  As the name says, this extension plugin helps boost your e-commerce business by recovering shopping cart abandonment online. The plugin scans all the carts made by potential customers, and if the cart gets abandoned, it automatically sends an email to that visitor. Thus, it reminds them to get back and complete their transaction. The site Abandonment email templates are customized and generalized as the purpose may be. It is a comprehensive email marketing solution and efficiently handles the complete open cart Abandoned cart email program. The multi-purpose plugin has excellent cart recovery attributes and infuses a pre-made add-on using javascript tracking code and Rejoiner's Rest API. You can maximize your revenue through cart recovery and reduce the cart abandonment rate by 15% by sending multiple timed emails to the users. Cart Reports sets up a live metric on the customer's cart, opened or abandoned. The outstanding features are its extensive track reports and dashboard widgets that display instant records. The cart list is categorized as Open, website abandonment, and Converted carts, which can be filtered based on customer, cart status, etc. You can email the customers accordingly.   Price – Regular License – $49/Lifetime (1 Site)
Screenshot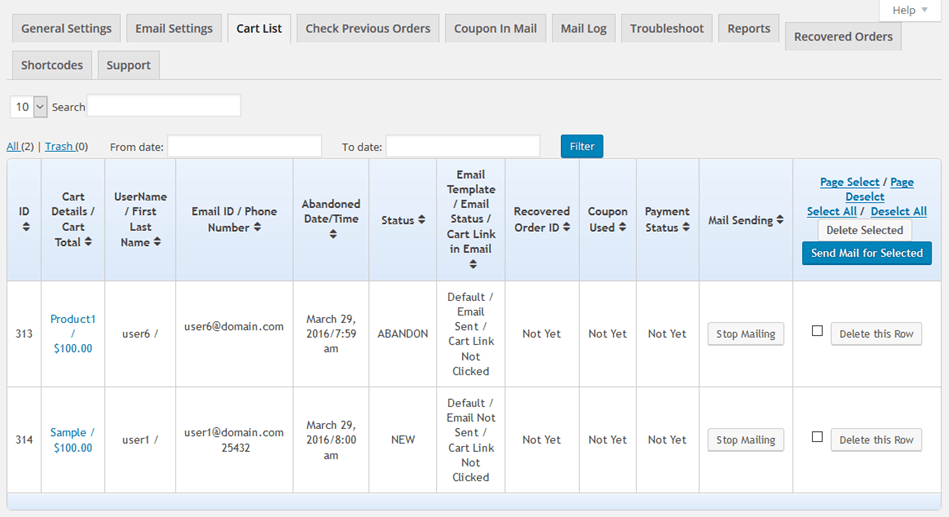 10. Moosend Website Connector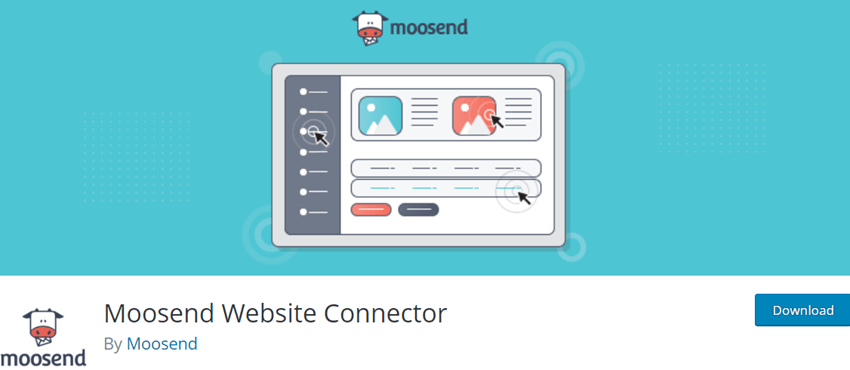 You can track your customers' behaviour and ghost visitors using the Moosend website connector. It helps you improve the conversion rate by decreasing digital cart abandonment and giving product recommendations to customers with one click.
Moosend helps you relate to your users' actions as soon as they log in to your website. Users' activity is also getting automatically tracked if visitors have logged out. This helps you track page views and add-to-cart events and keep track of successful purchases. Also, the shopping cart plugin for the website allows you to relate to loopholes in your website and makes automation targeted features based on how your visitors behave. You can see which visitors enter post-purchase, and you can assign tags to them to send them a personalized abandoned cart active campaign.
This shopping cart abandoners plugin allows you to get your customer's email, phone number, email, etc., to build your newsletter. You can better understand your ongoing campaigns by getting to know the number of page visits, successful purchases, and add-to-cart events.   Total number of users – 1,000+ Price – Pro – $96/annually (1000 Subscriber)
  Screenshot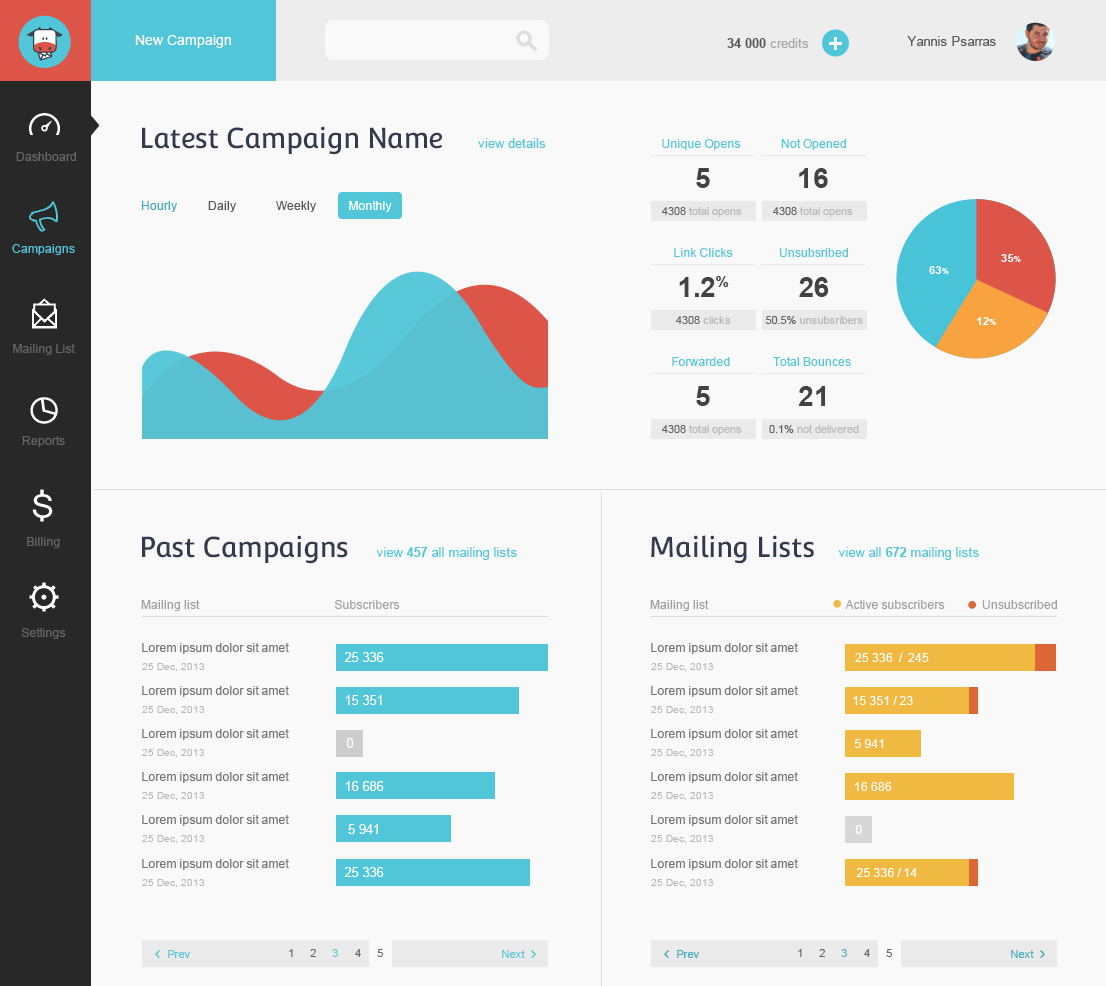 11. Sendinblue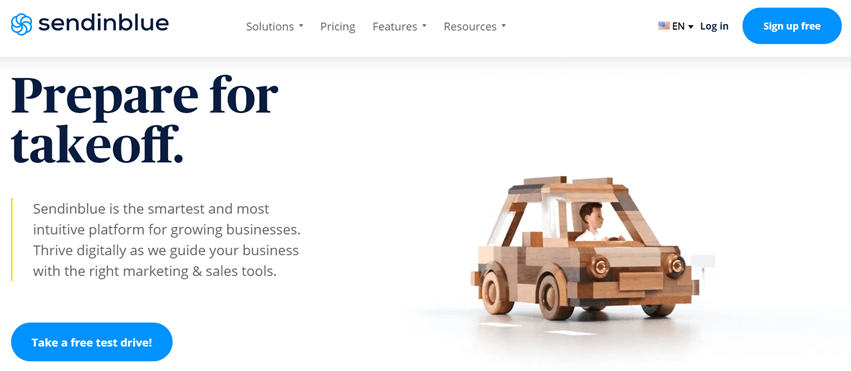 Sendinblue WooCommerce Add-on lets you integrate the automated email functionality whereby you are allowed to notify your customers via email. Connect your online store with every particular visitor while retrenching their email through the signup process. Send the offers and related information about shopping and establish a reliable connection with your customers to make them permanent and ongoing. Although, if you owned Woocommerce Sendinblue, you must take care of another existing extension to manage other functionality. Moreover, the Sendinblue Woocommerce plugin is a lightweight and easily navigable Add-on for WooCommerce products, efficiently managing the email functionality and providing hassle-free reachability to every visitor and customer. Elementary Features of Send in blue Woocommerce –
Design Emails – Deliver the most extensive emails while utilizing this Sendinblue for Woocommerce extension to design the responsive email and actual graphic content. Such emails engage more customers to the website.
Delivery Status – Quick update whenever your designed emails reach the customers' inbox, as it is integrated with professional SMTP.
Reporting on Dashboard – Sendinblue Abandoned cart Woocommerce enables you to showcase the metrics of the entire template, such as reviewing total clicks, delivering status, email counting, and opening such emails. Get access to detailed information through the dashboard of Sendinblue.
Price – Lite – $25/Monthly (10,000 Email), Premium – $65/Monthly (20,000 Email)
Screenshot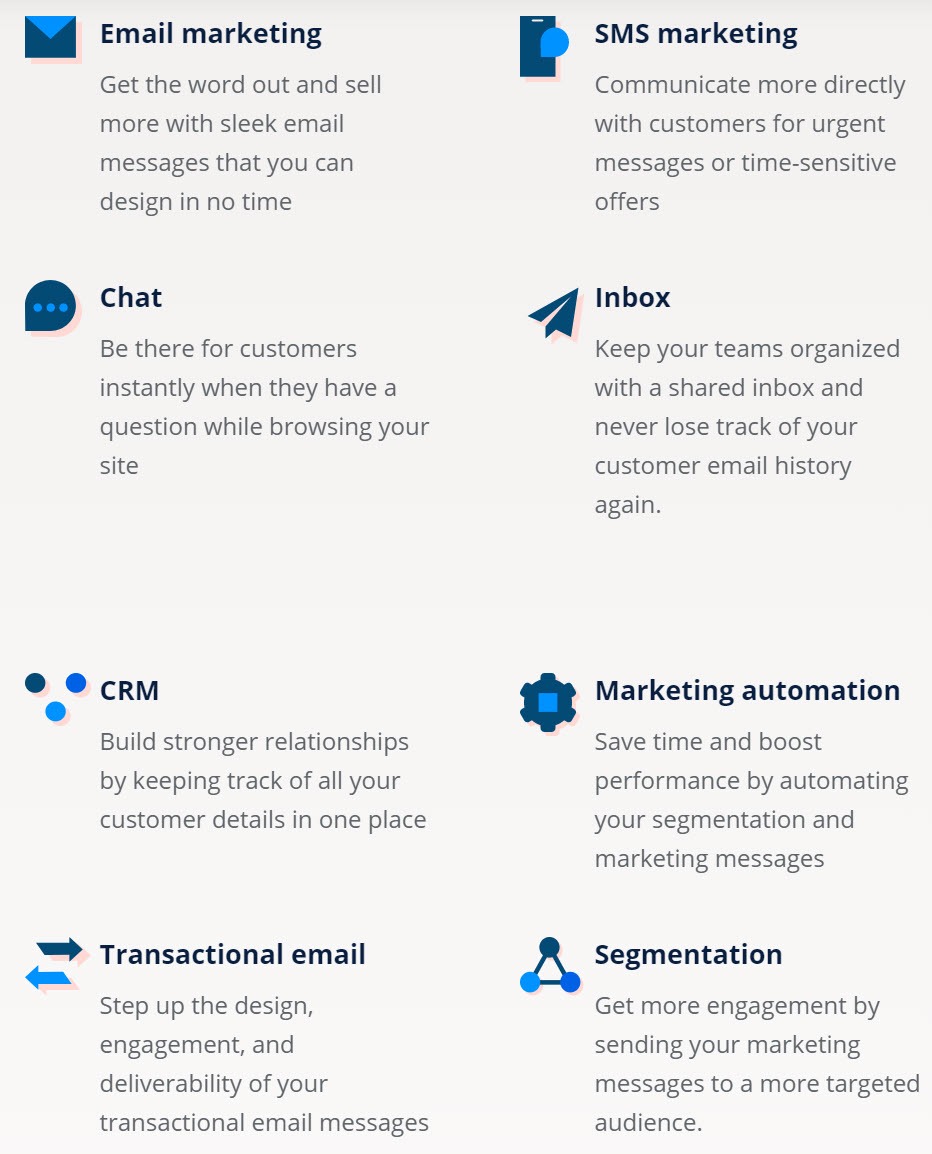 12. MailPoet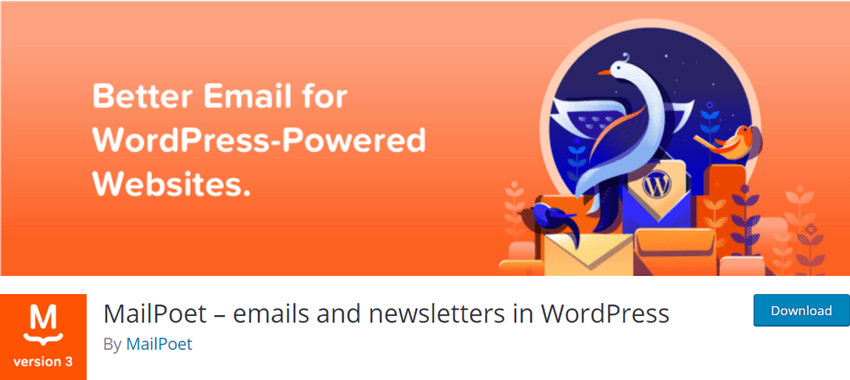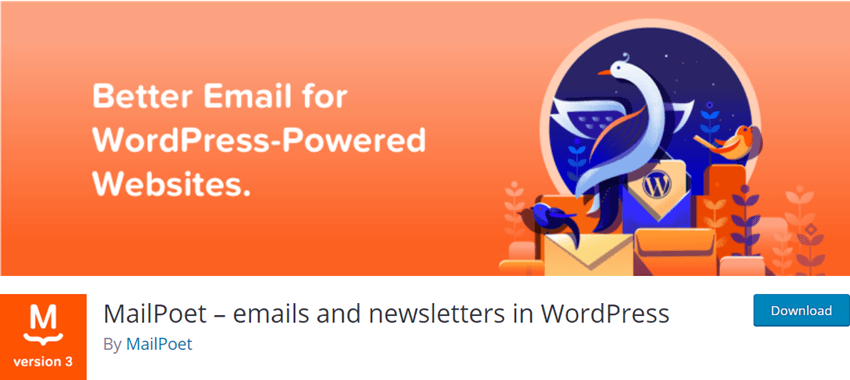 Mailpoet Woocommerce is an email and newsletter plugin for WordPress that enables visitors to subscribe to your newsletter without leaving your website. Mailpoet plugin comes with beautiful and professional-looking templates that allow website owners to create beautiful emails from scratch. Thus, this Woocommerce Mailpoet plugin will enable you to create emails that work seamlessly across all devices. Features
Mailpoet plugin WordPress allows you to manage your subscribers' lists in WordPress
You can create and send newsletters with WordPress.
You can also add the newsletter subscription form to your WordPress website using MailPoet.
Mailpoet premium plugin gives you insightful stats on your audience engagement on your website.
You can also send new post notification emails to your subscribers using automatic emails.
You can also create and send automated welcome emails to your website's visitors.
Total number of users – 200,000+ Price – 1000 Subscriber – Free (1 Site),  10,000 Subscriber – $750/annually
  Screenshot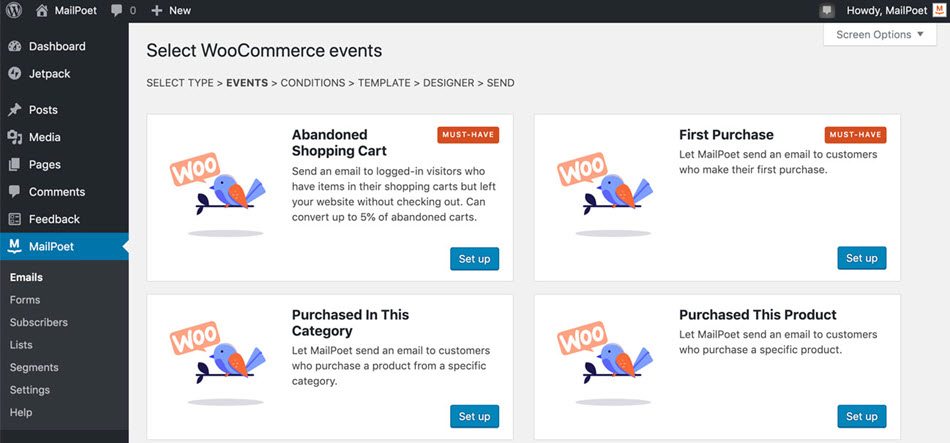 Conclusion – Are you still confused about which WooCommerce Recover my Cart Abandoned plugin you should choose? Mostly We recommend Jilt and Retainful to increase your income. Rest Plugins are good, but we trusted Jilt and have already used it on my client's website.