8 Best WooCommerce Subscriptions Plugins For Recurring Payments 2023
WooCommerce Subscriptions Plugins can increase your website income through Recurring revenue. Using these Plugins, you can easily sell subscription-based products or Services with a recurring payments option.

Subscription functionality inside the eCommerce website will surely increase your revenue. These plugins allow you to collect subscriptions on downloadable, virtual, and physical products at a fixed interval. Like Your Payment may be an option that should vary from day, weekly, monthly or annual.
These facilities can also be seen on Amazon, where you can subscribe to any Product automatically, the order will place, and you can accept payment with recurring options. These are the kind of hassle-free shopping.
An important feature you should look into WooCommerce Subscriptions Plugins for recurring payments Before Buying.
Payment Gateway Supported – Should Support Major Payment Gateway
Ability To Manage Product subscription For customers Means customers shop to be able to Upgrade Or Downgrade Order easily
Automatic email For Expiration Prompts
Automatic / Manual Billing
Billing Cycle Length Management
Stop, Pause, Cancel Or Suspend Subscription
Log For All Payment On Customer dashboard
Free Trial And Coupon Option
Subscription Expiration Prompts
You may also be interested in Membership Plugins, Paypal plugins, and Fomo Plugins.
So let's have the list of top subscription Plugins for WooCommerce to collect recurring payments as follows.
1. Webtoffee Subscriptions

The best way to gain recurring revenue is through subscriptions. WebToffee offers a powerful WooCommerce Subscriptions Plugin which supports recurring billing. It is designed with all the essentials for an easy subscription. There are a variety of subscriptions available with varied prices, duration, attributes, and monetary schedules as per the requirements.
Each subscription provides a flexible renewal scheme that can be done weekly, monthly, half-yearly, or yearly. The users are offered free trials for a few days, weeks, months, or sometimes for a year. All the standard payment methods for payment are supported, and a recurring discount voucher can be offered to customers when they renew their subscriptions regularly.
The subscription renewals can be synchronized for all users on the same day to make management more effortless. Users can be charged as per subscription usage. There's a special configuration for generating automatic emails for different subscription statuses. These include emails and reminders to the customers and owners on cancellations, expiry, reminders, and renewals.
Feature 
A self-dependent Plugin that automatically initiates rebilling of the failed subscription payments so that the owner never suffers a loss
The availability of various subscription products gives the users a handful of choices.
The customers are free to choose their subscription schedules, which can be weekly, monthly, quarterly, or yearly.
Easily accept recurring revenue on your woocommerce store.
Price – 1 Site – $89/annually,  5 Site – $129/annually,  25 Site – $199/annually
Screenshot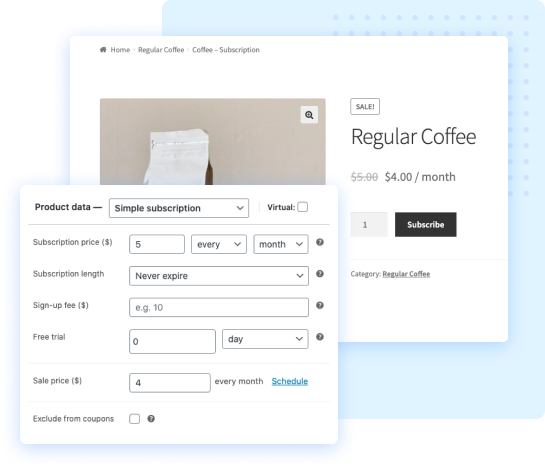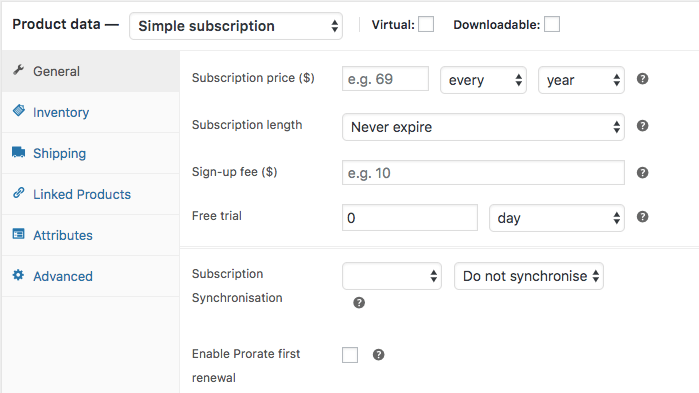 2. WooCommerce Subscriptions

A great tool with unique features to manage variable subscriptions simultaneously. WooCommerce is a user-friendly tool that facilitates fast and easy ways to handle a store's subscription.
The feature-rich WooCommerce subscription plugin supports over 25 payment gateways for automatic recurring payments and all WooCommerce payment gateways for manual renewal payments. The customers get an amazing user experience because they do not have to depend upon you to make any changes in their plan, and they can do it themselves.
With this plan, you get a helping hand with the record-keeping and statistics of your store, such as the number of active subscribers or revenue generated through the subscriptions.
Feature 
A self-dependent Plugin that automatically initiates rebilling of the failed subscription payments so that the owner never suffers a loss
The presence of automatic renewal notifications is a huge relief to the customers as they are always well informed.
The availability of various subscription products gives the users a handful of choices.
Customers can have multiple subscriptions in a single transaction. In the case of a synchronized subscription, there's always an option to prorate the payment.
Price – WooCommerce Subscriptions – $199/annually (1 Site),  All Products for WooCommerce Subscriptions – $79/annually (1 Site)
Screenshot
3. YITH WooCommerce Subscription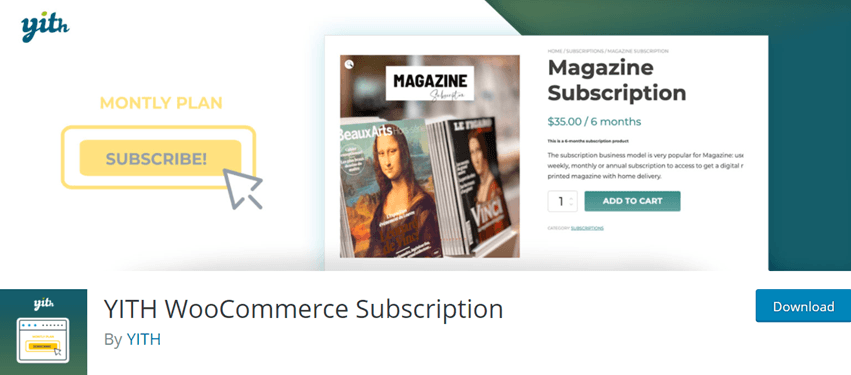 With the Recurring payment plugin, you can create multiple subscriptions and then charge a monthly or daily fee from your customers instead of selling these subscriptions to them for products and services such as podcasts, hosting, tutorials, learning courses, videos, reviews, and more.
This Plugin helps you create a steady customer base and income; at the same time, the customers also get the opportunity to pay in instalments. Users have the advantage of paying a fixed fee for the products they subscribe to. This Plugin supports multilingual websites and is compatible with almost all multilingual plugins.
You can also set a trial mode for your customers in which they can access your store products for a limited time for free. This will attract potential future registrations for your online store.
Feature
The Plugin supports multiple payment gateways. Users are blessed with the automatic renewal feature.
A single user can have various subscriptions. Besides that, if the gateway is the same, he can have multiple subscriptions in a single transaction.
Based on the payment gateway, the admin can schedule payment dates.
Customers are free to have varied products in the subscription
One best features is the 'Pause Notification' feature. The users can enable it only when they have time.
Total number of users – 10,000+
Price – 1 Site – $199.99/annually
Screenshot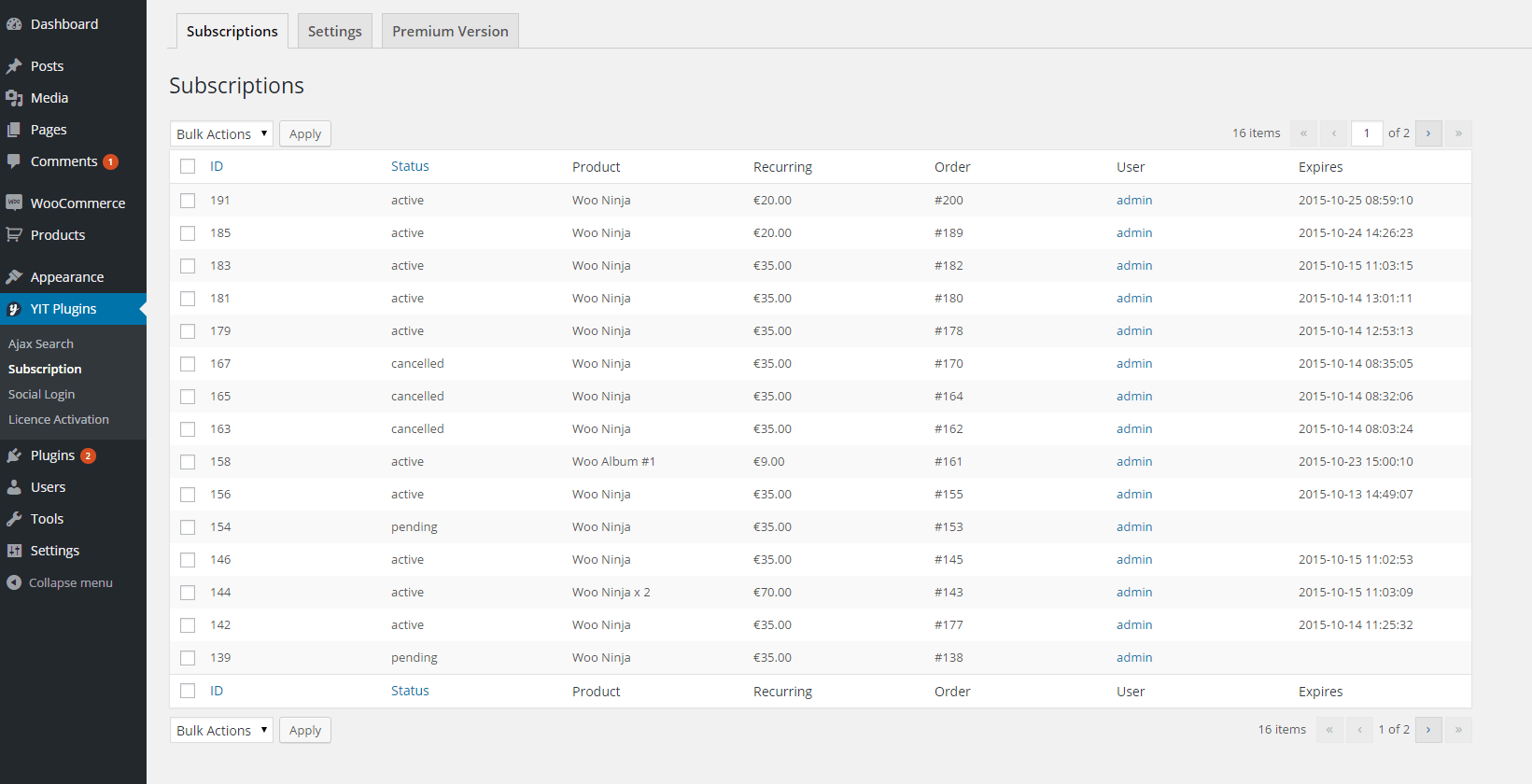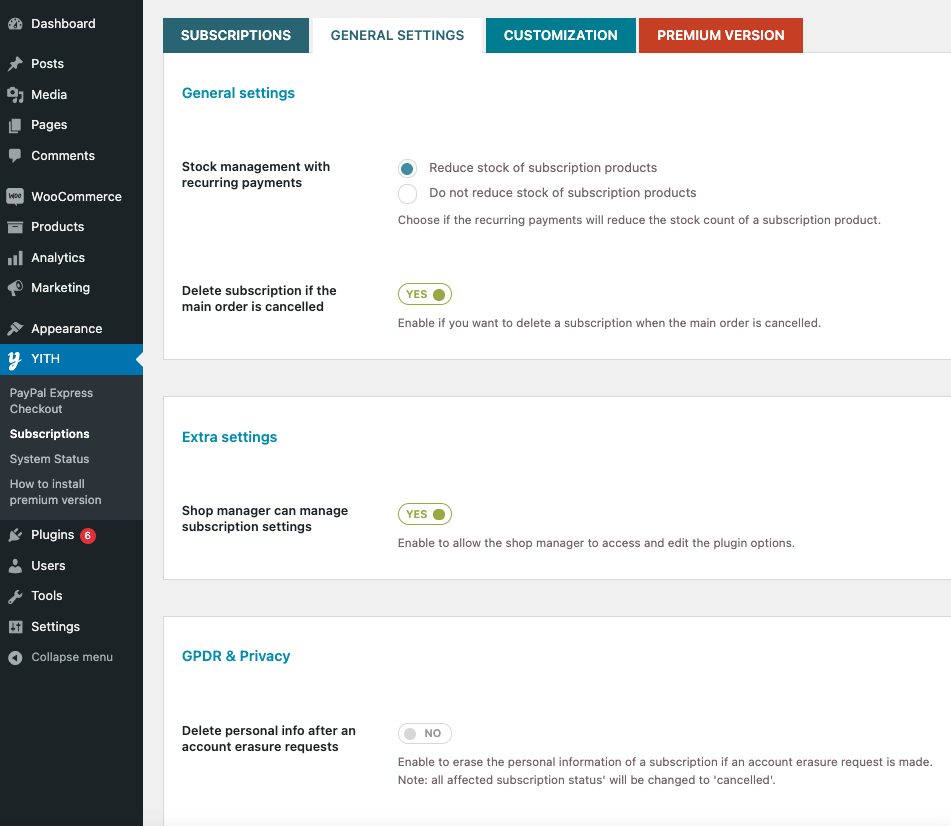 4. WP Simple Pay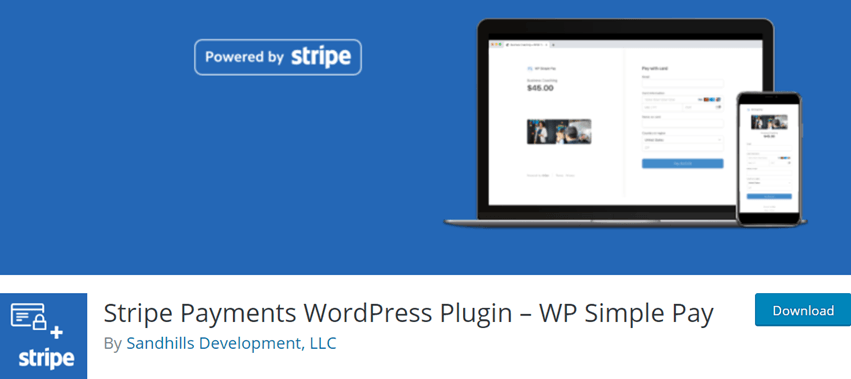 Stripe Payments WordPress Plugin – WP Simple Pay is a standalone payment and subscription plugin for WordPress that helps you to connect Stripe with your WordPress account easily and makes it easy for you to accept payments on your online store. Also, WP Simple Pay is a user-friendly plugin that takes hardly a few minutes to set up and is free for all users. The Plugin enables you to set up a payment form on your WordPress website and also allows you to accept credit cards in your store.
Features
Simple payment collection- The Plugin enables you to accept payments for your services or donations on your WordPress website in the easiest way possible.
Mobile friendly- It is also optimized for small screens and, thus, is mobile friendly. It allows users to check out their orders and make payments through their mobile phones and tablets, and they can also use Apple Pay or Google Pay to make payments.
Top-notch security-. The Plugin is best known for providing top-notch security to all users. It uses Stripe's ultra-secure servers that help your website load faster, keeps your database size small, and ensure safety.
Subscription integration- Using WP Simple Pay, you can easily create subscription plans using this WordPress subscription plugin for your users and allow them to sign-up for recurring payments. You can also generate trial periods, instalment plans and set initial setup fees.
Payment Form Builders- the Plugin comes with a simple and easy-to-use drag and drop builder that allows you to customize your payment forms. You can also create as many custom fields as you want for each Stripe payment record, such as numbers, drop-downs, checkboxes, dates, and more.
Coupon Codes- Using WP simple pay, you can give your customers discounts that have been created in your Stripe account for both one-time and recurring payments.
Total number of users – 10,000+
Price – Personal – $99/annually (1 Site),  Plus – $149/annually (3 Site),  Professional – $249/annually (Unlimited Site),  Ultimate – $499/One Time (Unlimited Site)
Screenshot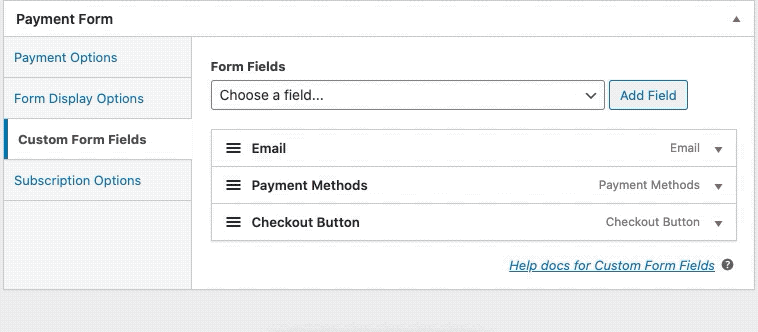 5. Easy Digital Downloads Subscriptions

Recurring Payments by Easy Digital Download is the best subscription plugin for WooCommerce. It enables you to create subscription plans for your customers, thus, allowing them to make one-time and recurring payments on your WooCommerce store. The Plugin takes the load off you by automating the process of billing on your store so that you don't have to worry about sending requests or invoices to your customers every month or every year; hence, it reduces the risk of late and missing payments.
Features
The Plugin supports all the major payment gateways, including Stripe, Authorize.net, Stripe Pro, PayPal Commerce Pro, Payfast for Easy Digital Download, NETbilling gateway, Paddle Payment Gateway, and more.
It helps you easily set up recurring payments on your WordPress website, including weekly, monthly yearly and half-yearly payments, thus increasing the conversions and revenue on your site.
It also sends automated emails to your customers reminding them of their subscription renewal, informing them when the renewal is processed, when a renewal payment fails, and more.
The Plugin also generates beautiful and easy-to-understand renewal revenue reports that help you track your recurring revenue in a hassle freeway.
It also allows you to sell multiple recurring digital products, as the customers can maintain any number of individual subscriptions to each subscription.
Price – 1 Site – $199/annually,  5 Site – $329/annually,  Unlimited Site – $419/annually
Screenshot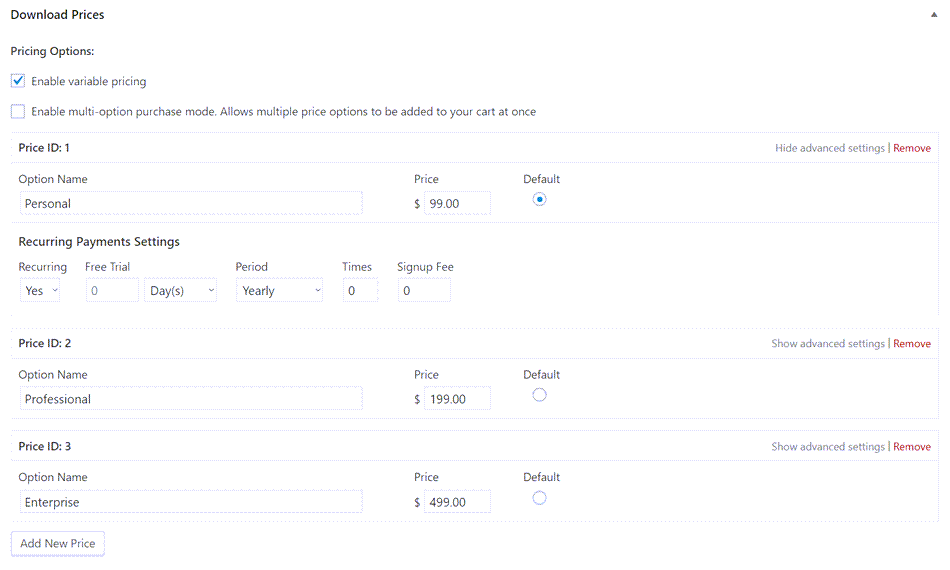 6. SUMO Subscriptions

SUMO Subscriptions is a fantastic and exhaustive plugin that creates Recurring Payments for a WooCommerce Subscription System. This Plugin has four built-in payment gateways and is also compatible with the Free Trial feature that allows the customer to test a product. Besides, in case of a failed subscription renewal, the Plugin restarts the renewal process for completion.
Customers also manage their payment methods and opt for a change in the next renewal.
Supports the latest versions of WooCommerce and WordPress
Availability of free as well as Paid Trial versions to increase the customer base
Multilingual support with the presence of WPML
Supports complete as well as semi-automatic options for billing.
It is highly customizable.
Price – Regular License – $49/Lifetime (1 Site)
Screenshot
7. Subscriptio

Subscriptio is a comprehensive subscription plugin for woocommerce users to sell subscriptions and activate recurring revenue features for WooCommerce. It can be used to sell e-learning packages, online memberships, magazine memberships, and more.
Subscriptio allows you to set the subscription time length, payment cycle, free trial length, and many more. It even sets the subscription order flow and sets the chronology for each purchase.
The subscriptions can be paused, resumed, or cancelled by the owner of the customer; or can be deactivated for the customer.
Feature 
Customers can have multiple subscriptions, and there is no limit on quantity.
The subscriptions are available for intangible as well as tangible products.
Users can have multiple subscriptions in a single transaction.
Regular reminders for Payments are sent to the customers.
There is a feature to mark the subscription as overdue, and the grace period display is optional.
Price – Regular License – $69/Lifetime (1 Site)
Screenshot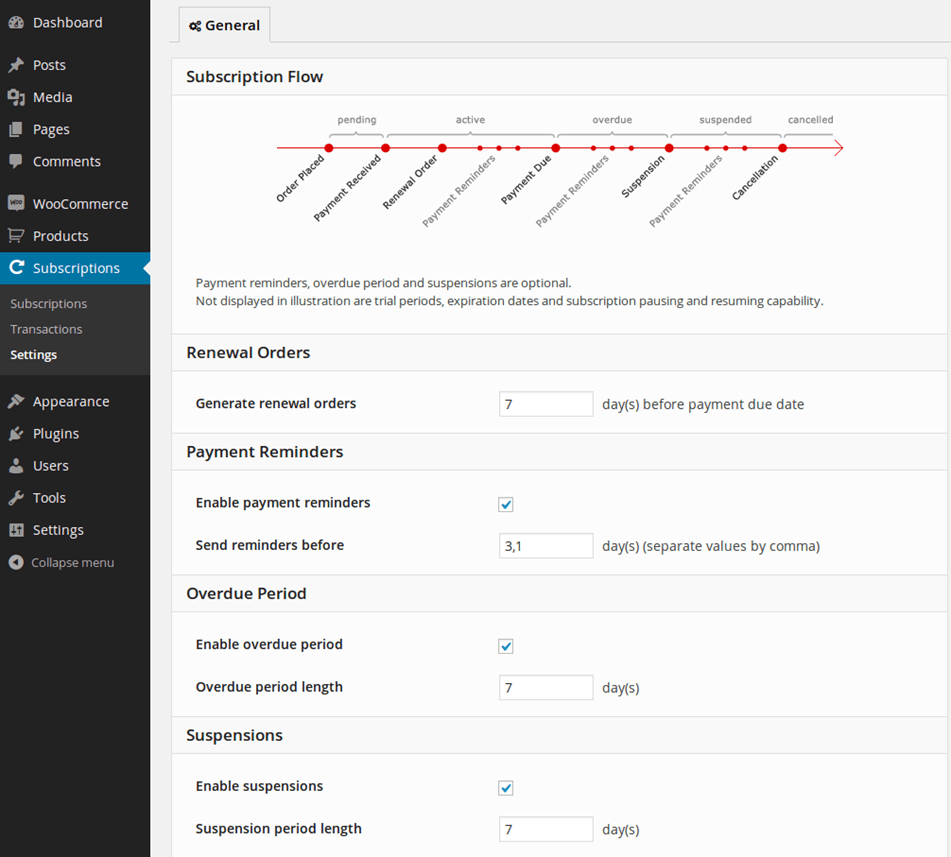 8. WooCommerce Renewals

WooCommerce Renewals offers a simplified process for all time-bound payments or recurring payments. The tool is compatible with all payment gateways. The Plugin provides a beautiful experience to the customers by letting them handle all renewals from its "My Account section". It also allows customers to cancel a subscription at any point in time and go for renewal at the revised price rate. Even a full order with multiple products can be reordered at a revised product price.
All the renewals are processed manually with WooCommerce Renewals.
Feature
Admins have the privilege to set special prices for renewals.
It is compatible with all the standard payment gateways like Stripe and PayPal.
The subscription setup is pretty easy and feasible.
Automated expiry notification that protects the users from the last-moment rush
Price – $49 per year & $149 one time
Screenshot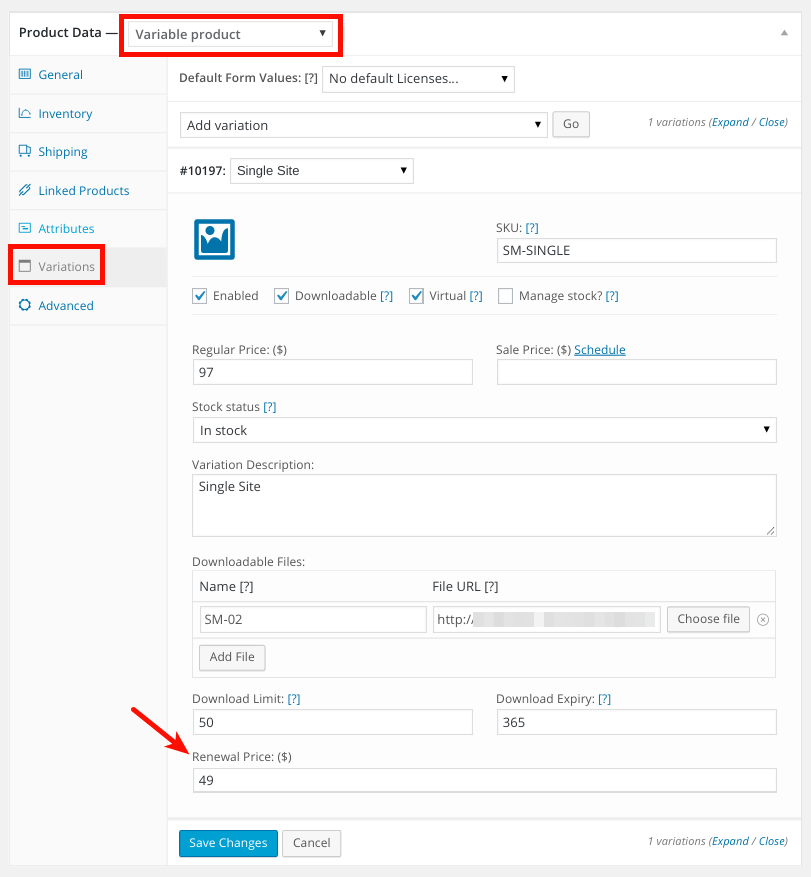 Conclusion – Which Subscriptions management Plugin Is worth it for you? If you are looking for a free WooCommerce Subscriptions Plugin, Yith will be the perfect option. For Premium Version, my recommendation will be Either Webtofee, WooCommerce, OR Yith. Always choose a plugin that most developers trust because it will help you manage payment.