9 Best Page Builder Plugins for WordPress 2023 (Compared)
Designing any page or website will be difficult for anyone who doesn't know to code. So for you, we have collected Best Page Builder Plugins for WordPress and compared them So that you can make a beautiful landing page.

Page Builder Plugins will allow you to create beautifully designed pages or posts for you with their visual drag and drop builder from scratch. Most of these page builders have pre-made templates that will help you import pre-made designs. By importing pre-made designs, you can build any layout in just a few clicks.
These page builders have many premium plugins that function inbuilt means they have incorporated many addons supported by different premium Plugins and are too costly. Like images Portfolio, columns with proper padding and margins,  animations, video, buttons, pricing table and testimonial, woocommerce support, .etc. This means your work is getting done at a lower price.
You may also be interested in Fomo Plugins, Page Caching Plugins, and Live chat Plugins.
So let's have the list of top WordPress drag and drop page builders are as follows:
Comparison Between Thrive Architect vs Divi Builder vs Elementor vs Brizy vs Beaver Builder vs Visual Composer
1. Elementor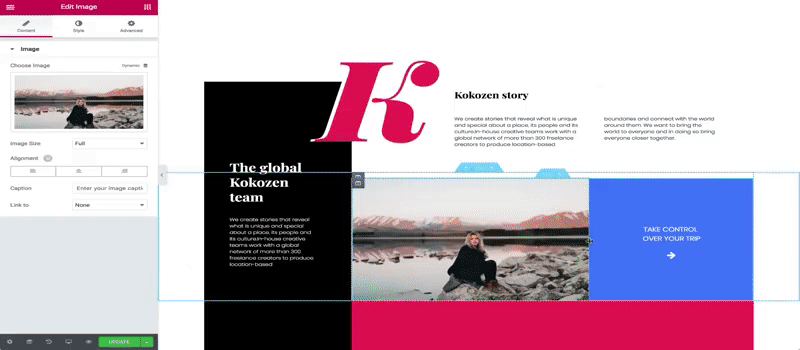 Elementor Page Builder is a live WordPress page builder plugin without any design limit. It delivers high-end page design and advanced capabilities. It has an instant drag and drop builder, instant page load and instant live edit. The page can be edited and simultaneously seen how it will look in the frontend. Live design and this plugin feature inline editing. It has many pre-built templates and blocks. Its features are:
Marketing Automation and CRM integration.
Image and Video sliders are available.
Heading- Eye-catching headlines can be added.
Social Icons- Social Icons to web 

pages

 such as Twitter and Facebook can be added.
Image Gallery- Images can be displayed in an aligned grid.
Counter- Stats and numbers can be shown in an escalating manner.
Progress Bar- An escalating progress bar can be added.
Menu Anchor- Any menu can be linked to an anchor.
Total number of users – 5M+
Price – Essential – $49/annually,  Advanced – $99/annually,  Expert – $199/annually,  Studio – $499/annually,  Agency – $999/annually
Elementor Website Builder For WordPress - Build Stunning Websites Free & Easy
Screenshot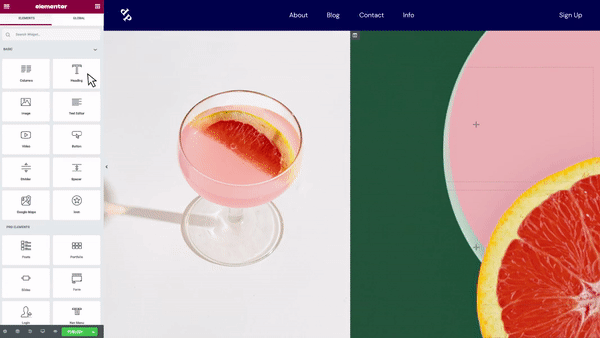 2. Brizy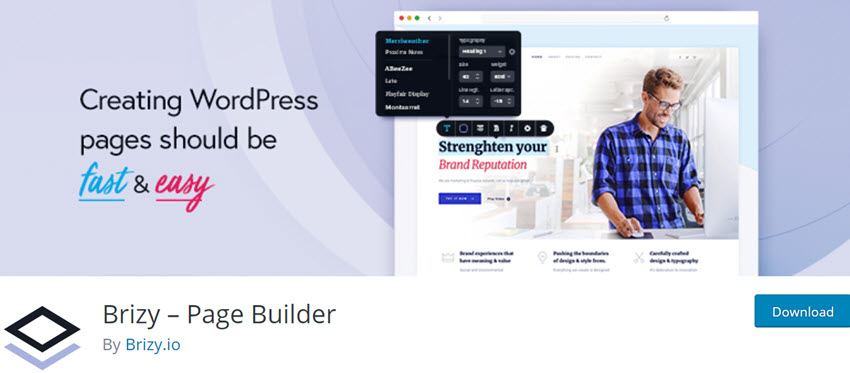 The most popular and user-friendly WordPress page builder, Brizy, helps users make WordPress pages fun. It is simple, powerful, and non-distracting. It has all the essential design elements and tools which make WordPress page building easy. Videos can be added to the website by simply pasting the Vimeo and YouTube link. Google Maps can be easily integrated with this Plugin by simply adding the address. It has the following features:
Global Styling Options- With this feature, the user can change all the similar colours in the website with a single click.
Pre-made Blocks- Many pre-made designs can be customized and added to the

page

.
Advanced Functionality- Slider, Smart Forms, and Contact Forms can be built using this

Plugin

.
It is mobile-friendly.
Intuitive Drag and Drop- Content elements, columns, and rows can be easily moved with the intuitive drag and drop

builder

.
Undo/Redo- In case of any mistake, the settings can be undone.
Auto-Save- All the progress made while building the

page

 is backed up locally in real-time.
Design Elements- Icons, Videos, Maps, Images, texts, and buttons are already there on the website for creating a

page

.
Total number of users – 90,000+
Price – Personal – $49/annually (3 Site),  Studio – $99/annually (Unlimited Site),  Lifetime – $299/OneTime (Unlimited Site)
Find Out How Brizy Makes Building WordPress Pages Superfast!
Screenshot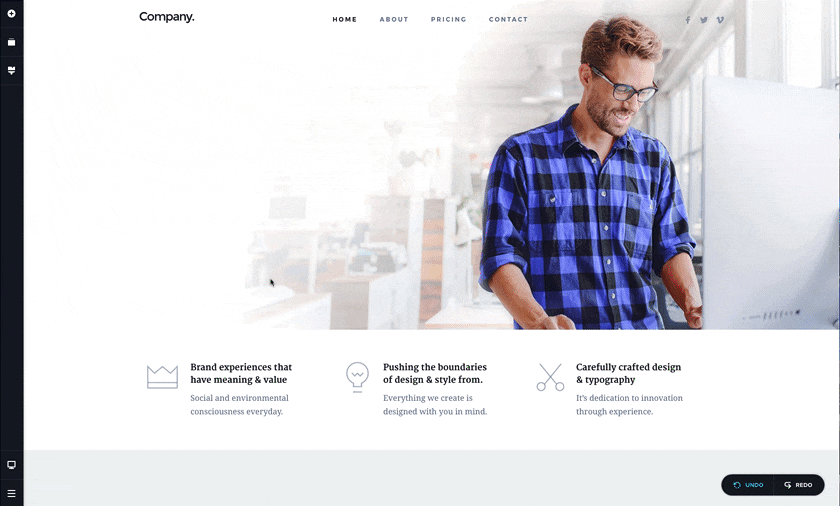 3. Beaver Builder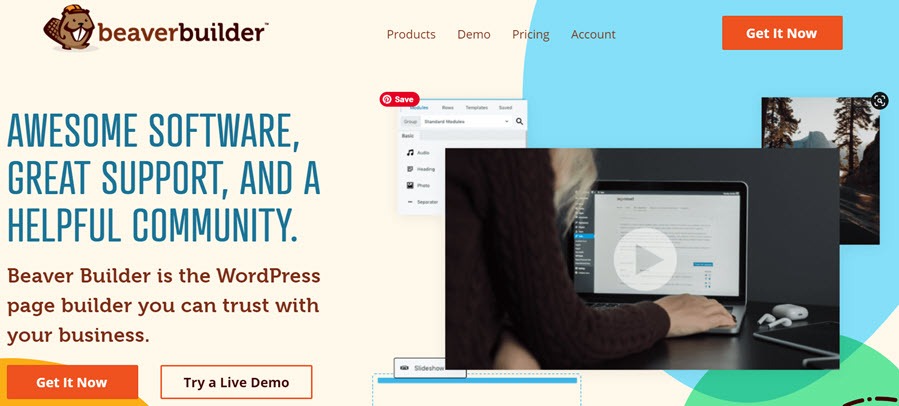 Working on the frontend of the WordPress website then, you need a WordPress page builder plugin which is a flexible drag and drops page builder. It provides world-class support and unlimited site licenses. It has many pre-designed templates, which makes work easier and faster. Images and text can be positioned precisely column-based layouts can be built in minutes. It gives the users complete control over their content. Its features are:
Live Front end editing- The 

Plugin

 has an intuitive 

page

 

builder

that works on the page's front end in real-time.
CSS classes- The users can add their CSS classes and IDs.
Content Modules- Photo, Text-Editor, HTML, Video, Audio, and Sidebar.
Widgets and Shortcodes- The 

Plugin

 has many widgets and shortcodes which can be used.
Beaver supports custom post types which means it is developers friendly.
It is mobile-friendly and has responsive layouts.
Complete

page

layouts, modules, and rows can be saved, exported, and reused.
Own custom modules can also be done.
Total number of users – 200,000+
Price – Standard – $99/annually (Unlimited), Pro – $199/annually (Unlimited),  Advanced – $399/annually (Unlimited)
Beaver Builder WordPress Tutorial for Beginners (Page Builder Demo)
Screenshot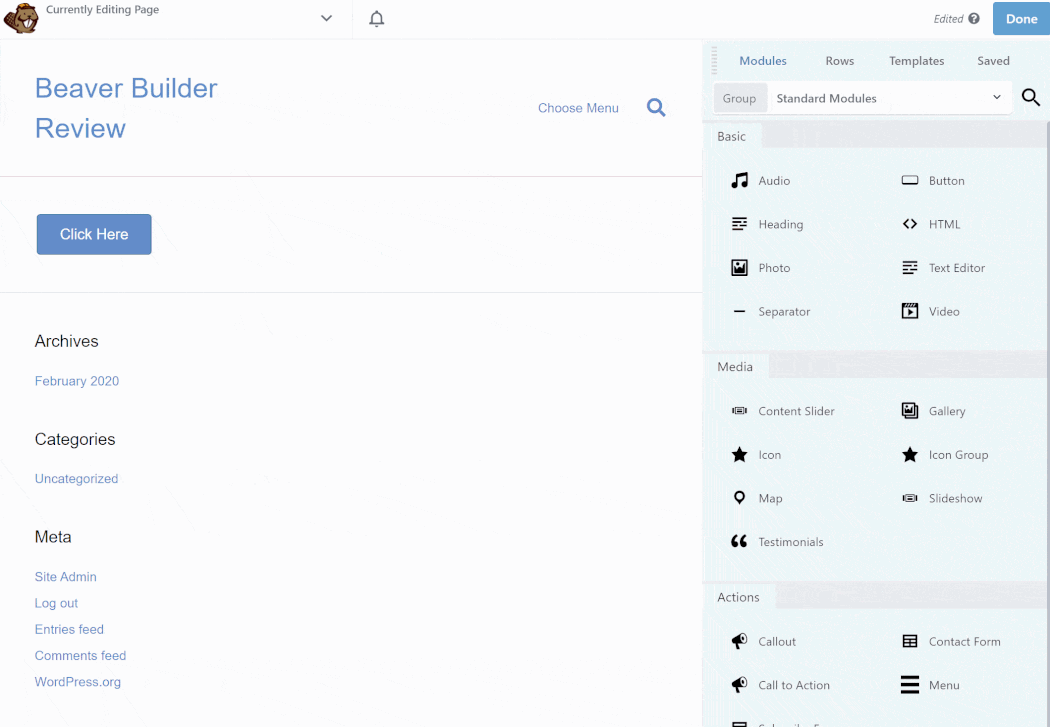 4. Divi Builder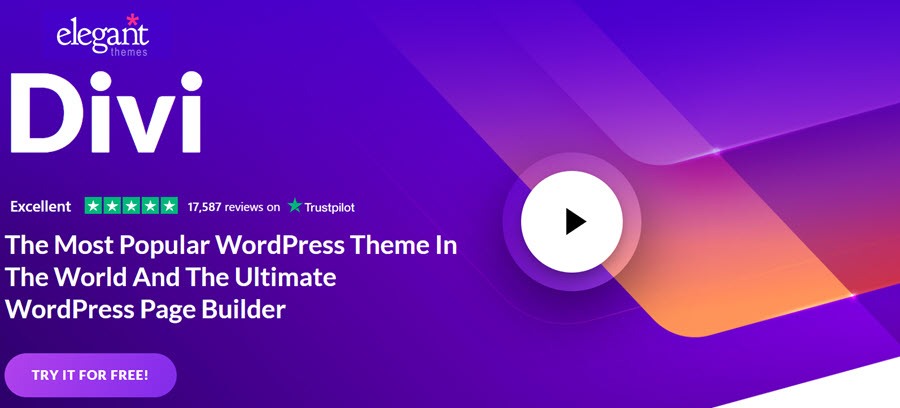 Divi Builder is a Visual Drag and Drop WordPress Page Builders Plugin for any WordPress theme. Using this Plugin, stunning websites can be built in no time. Moreover, it does not require any coding skills. This Plugin has the most advanced page builder in the market, so the users have complete control over the page content and layout. It is compatible with any theme, and it fits with any shape and size of the website. There are many new and exciting page builder layouts that the users can explore. The features which make this Plugin unique are:
Simple Configuration Options: Many configuration controls enable users to design their layout without needing any coding.
Add Custom CSS- The 

Plugin

supports custom CSS, which can be applied to individual parts of individual modules.
Duplicate Any Element- This feature helps to save a lot of time by enabling the users to duplicate any element on the

page

.
Advanced Column Structures- Creative layouts can be created by creating and combining columns and adjusting rows column structures with just a few clicks of the mouse.
Lock an item to disable its editing functions- Any section, module, and row can be locked so that a client or the user does not modify it by mistake.
Copy and Paste Items can be copied and pasted from one

page

 to another.
Collapse 

Builder

Chunks- Sections or rows can be collapsed for a more organized high-level content view.
Price – Yearly Access – $9/annually (Unlimited),  Lifetime Access – $99/OneTime (Unlimited)
Screenshot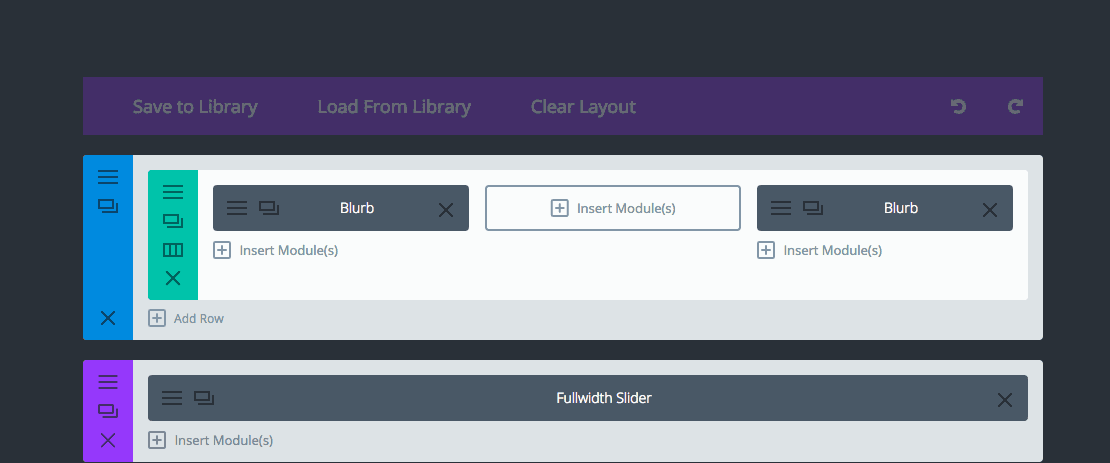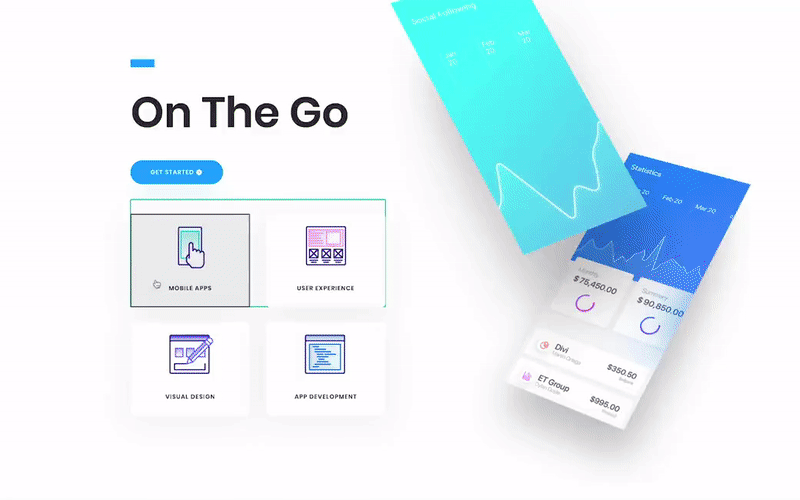 5. ThriveArchitect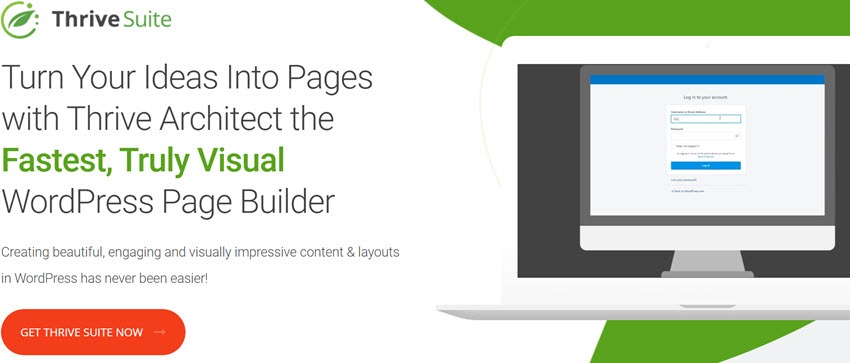 Thrive Architect is the fastest and most conversion-focused visual editor and page builder for WordPress. Using this plugin, beautiful and fantastic content and layouts can be created. It has an instant drag and drops editor, which helps to create layouts easily. There are already built landing page templates to create professional-looking sales pages in no time at all. This Plugin includes customizable buttons, countdown timers, testimonials, and lead generation forms, which easily integrates with the email marketing tools. Its features are:
Ultra-Flexible Column Layouts- The columns can be added, removed, and resized using drag and drop

builder

.
Text and Image Combination- Background Images with text overlay can be added to the very attention-seeking layouts.
Total Font Customization- Many custom fonts are available with the

Plugin,

which helps create the poster and magazine-style text layouts.
Full-Width Layouts- Background can be added across the entire screen width. Vertical split layouts can also be created.
Hover Effects- Hover effects can be added to all elements. Hover effects can also be applied inside a container element on the hover of that container element.
Style Every Detail- Tweaking the roundness of a button corner, adding an outline on one side or adding a subtle drop show effect can be added to the layouts with a live updating preview.

Page

can be previewed on different image sizes.
Price – Pro – $9/annually (1 Site), Premium – $99/annually (Unlimited)
New UI in the Thrive Architect Page Builder Plugin for WordPress
Screenshot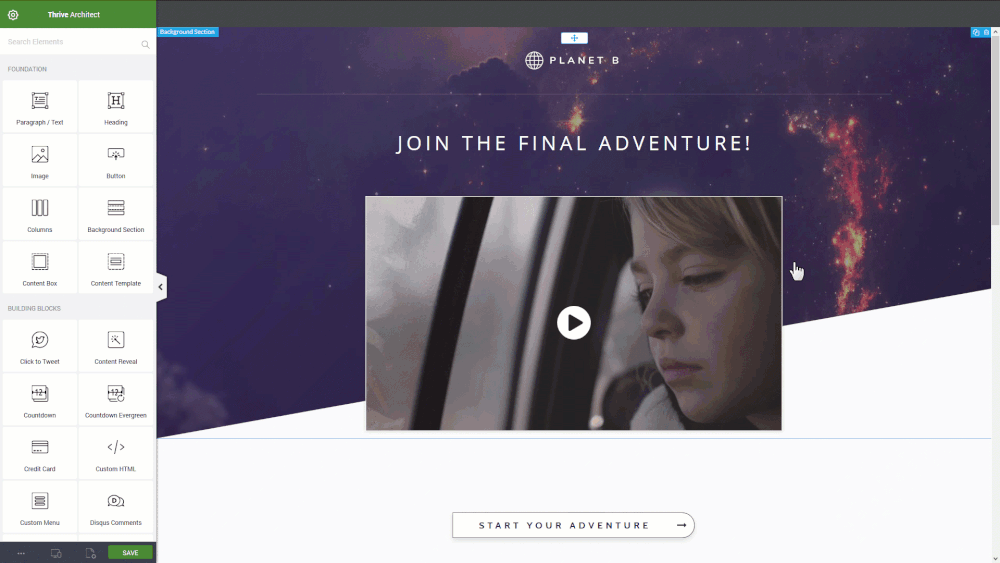 6. WPBakery
WPBakery Page Builder is one of the most famous drag and drops frontend and backend premium WordPress website builders. It has unlimited design options and saves a lot of time. WPBakery Visual composer is entirely responsive, design-ready, and easy to use. This Plugin doesn't require any coding. It has many exclusive third-party add-ons. It is an SEO-friendly page-building tool with many grid design templates and premium content elements. It has the following features:
Front-end Editor- It can be easily seen with the frontend editor as to how content will look on the front end.
Backend Editor- Native content management is supported in the backend.
User Role Manager- User Group Role access can be controlled to the features and options of WPBakery

Page

 

Builder

.
Easily Extendable- Own 

plugins

 can be created for WPBakery 

Page

 

Builder

for themes or sales.
Intuitive drag and drop 

builder

– 

Pages

can be easily created using an intuitive drag and drop

builder

.
 Multilingual- qTranslate X, WPML, and Polylang, this

Plugin

 is compatible with all of them.
Full Width and Height Rows- Full width and height rows can be created with innovative stretching options.
Image Filters- Images can be transformed by applying image filters.
Price – Regular License – $64/Lifetime (1 Site)
WPBakery Page Builder for WordPress
Screenshot
7. WP Page Builder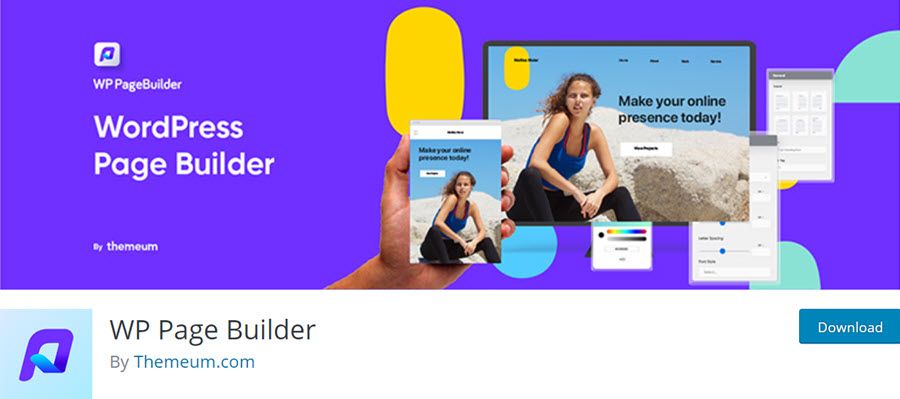 WP Page Builder is a premium category of Page Builder Plugin that lets you create captivating web pages so fast. Although, provides drag and drop alternatives to follow steps for building various pages. You don't need to go through the complex coding and hire an experienced developer. You can independently use available tools in WP Page Builder that enhance the page's appearance. Moreover, it offers you many design options with its handy features that run smoothly on the front end. Overview of the changes lives right there when occurring on the website for creating better pages instantly.
Essential Features –
Fast and Reliable – Create multiple pages with different design patterns quickly with available templates.
Responsive and Optimized Pages – Let you create responsive pages, i.e. mobile-friendly, for the different gadgets' screens. As much as pages got optimized, the rate of engagement is much better.
Elegant Templates – Availability of many templates that are elegantly designed for you whereby you may modify the look and feel accordingly.
Customizing Option – Enables you to customize the page's font, colour, and more simply by drag-and-drop option within a few clicks.
Record Design – Keep the right track of your created design on the Plugin. Save it and later on utilize the same for creating another page layout.
Total number of users – 10,000+
Price – 1 Site – $39/annually,  5 Site – $59/annually,  Unlimited Site – $99/annually
This is WP Page Builder: Free website builder for WordPress
Screenshot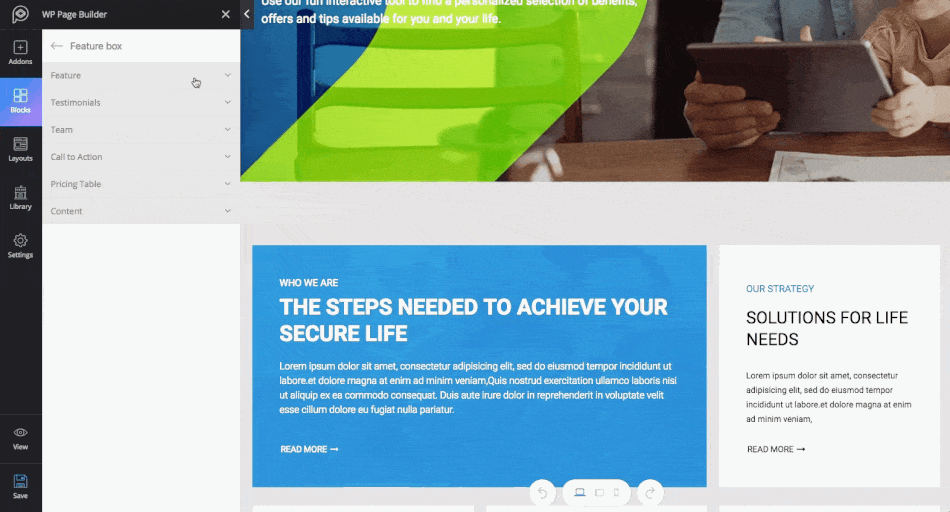 8. MotoPress Content Editor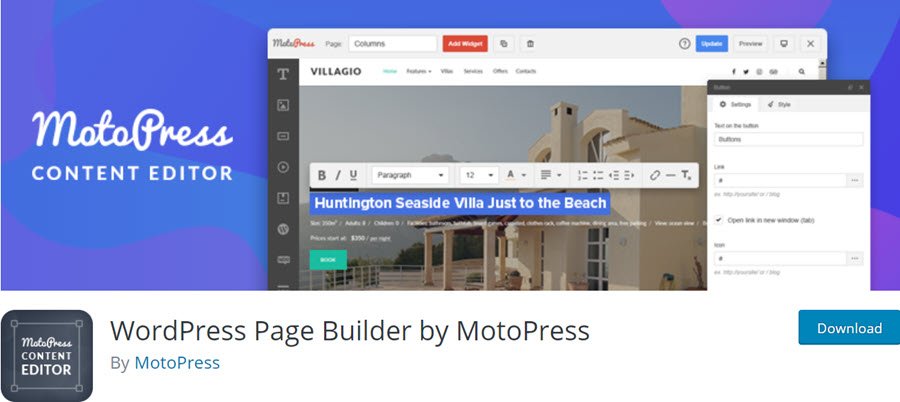 Many times simply using the WordPress editor is not enough. So MotoPress Content Editor helps to enhance WordPress editor and build sites visually. Using this Plugin, responsive pages can be created without any coding. Content elements can be added through a single click, and they can be moved around with the drag and drop feature. This Plugin works with all WordPress themes. Its features are:
Actual frontend editing- The site can be fully customized from the front end.
Fast Loading- The pages can be designed quickly, and the changes can be easily seen.
Straightforward Builder Interface- The website building process can be streamlined with a toolkit of content elements and a builder layout.
Revision History- The changes can be checked, and the needed page version can be restored.
Native WordPress functionality integration- Pages and post settings can be edited right in the visual builder.
Responsive- The website can be optimized for any viewport.
Total number of users – 10,000+
Price – Presonal – $39/annually (1 Site),  Business – $69/annually (5 Site),  Developer – $139/annually (Unlimited Site)
WordPress Page Builder by MotoPress
Screenshot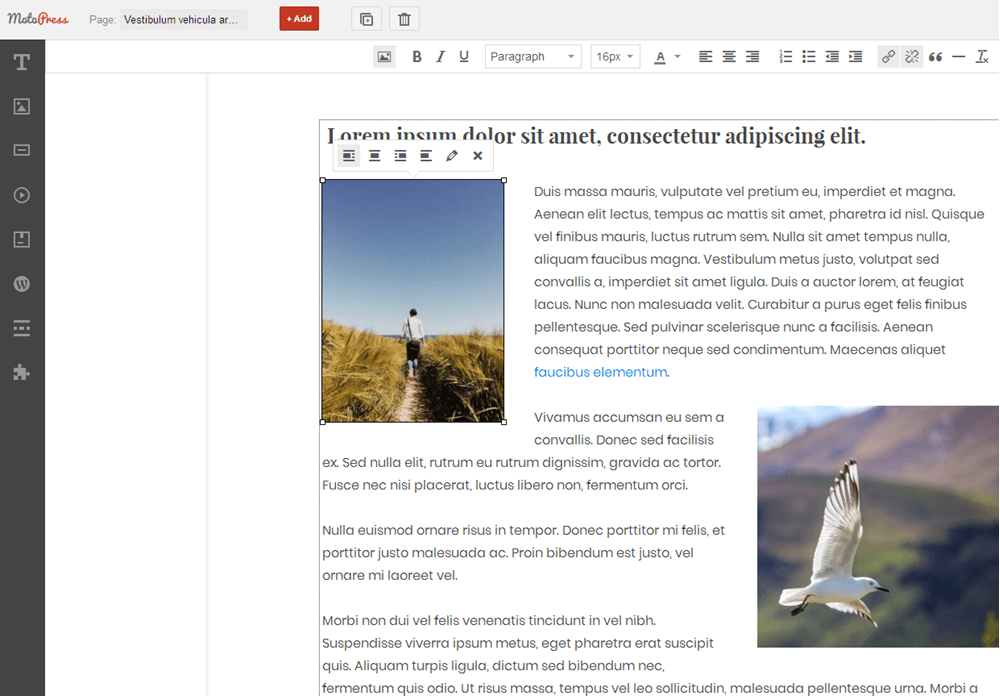 9. Themify Builder

The most popular free WordPress page builder plugin, Themify Builder, helps users create responsive column-based content using widgets. The Plugin ensures that the page is mobile-ready by adapting its contents to mobile devices. It has an intuitive interface. All the widgets that the user can need are already there. Free themes are also available, which works well with Page Builder. Its features are:

It does not require any coding.
Live Editing- Using this feature, contents can be seen, and widgets can be edited in real-time.
History Browser- Using this tool, the changes can be rolled forwards or backwards. Different contents and layouts can experiment this way.
Row and Widget Styles- Attributes like background colour, padding, and column settings can be easily changed using custom CSS classes.
Available in many languages- This 

Plugin

is available in many languages to attract more customers.
Price – 25+ Extra addons for $69!
Themify's Builder Pro - A WordPress Theme Builder
Screenshot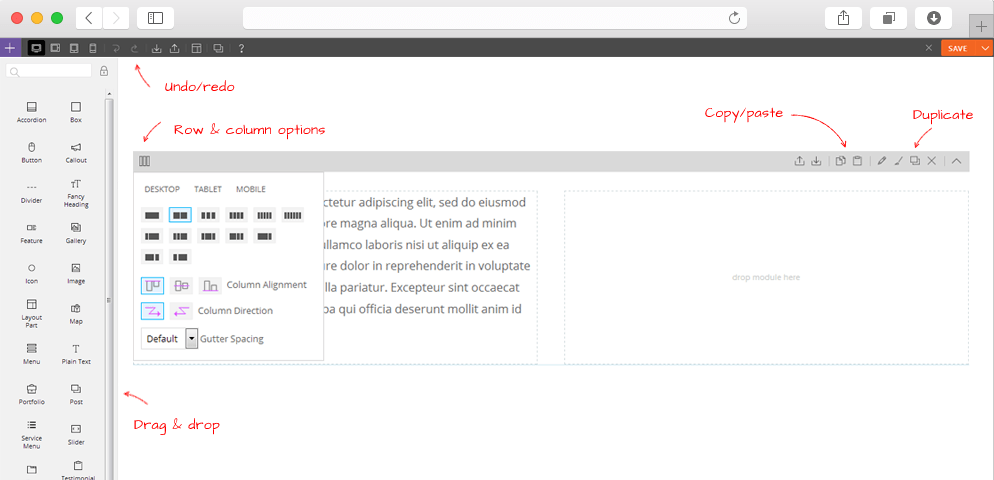 Comparison Between
Thrive Architect
vs
Divi Builder
vs
Elementor
vs
Brizy
vs
Beaver Builder
vs
Visual Composer
| Plugin | Divi* | Thrive Architect* | Beaver | Elementor | Brizy | Visual Composer* |
| --- | --- | --- | --- | --- | --- | --- |
| Type of Page Builder | Drag and Drop | Drag and Drop | Drag and Drop | Drag and Drop | Drag and Drop | Drag and Drop |
| Built-In Template | 30+ | 274+ | 30+ | 100+ | 150+ | 40+ |
| Content Modules/Blocks | 46+ | 36 | 13+ | 100+ | 21+ | 50+ |
| Post Grid Support |   |   |   |  * |   |   |
| Image Grid |   |   |   |  * |   |   |
| Email Collection Template |   |   |   |  * |  * |   |
| Flexible Column Layouts |   |   |   |   |   |   |
| Email Integration |   |   |   |  * |  * |  * (Extra addons) |
| Mobile Responsiveness |   |   High |   |   |   |   |
| Third-Party plugin integration |   |   |   |   |   |  * (Extra addons) |
| Custom CSS |   |   |   |   |   |   |
| Editing Type | Back+ Front End | Back+ Front End | Back+ Front End | Back+ Front End | Back+ Front End | Back+ Front End |
| Installation | 554,000+ | Unknown | 500,000+ | 1 Million+ | 40,000 | 374,900+ |
| Customer Support | Documentation, FAQ, Support Ticket, Email | Free for one year, After that, support coverage fee has to be paid | FAQ, KnowledgeBase, Support Forums, Support Ticket | Documentation, Support Forum | Live Chat, Documentation | With six months support via support ticket |
| Popups |   |   |   |  * |  * |   |
| A/B testing | Only With Divi Leads | Thrive Optimize* |   |   |   |   |
| Free version |   |   |   |   |   |   |
| Pricing | Personal- $89/yr, Lifetime Plan – $249/yr | Thrive Membership – $19/month, $335/year – 5 License, $67/year -Single License | Standard Plan -$99/yr, Pro Pan – $199/yr, Agency Plan – $399/yr | Personal Plan – $49/yr for one site, $99/yr for three sites, $199/yr for unlimited sites | Personal Plan – $49/yr for one site, $99/yr for Unlimited sites, $299 for unlimited sites for a lifetime | $46 One time |
| Money-Back Guarantee |   Within 30 days |   Within 30 days |   Within 30 days |   Within 30 days |   Within 30 days | Need To Follow Envato Inc |
| | Buy | Buy | Buy | Buy | Buy | Buy |
Note – * Means that feature is valid only for Premium Version Only
Conclusion – Many WordPress website builder Plugins will allow you to design any page layout with coding. They are all good, simply saying that a particular one will be the best one then will a kind of partiality to almost all of the plugins. However, some of them have had some extra ad-dons some don't. However, we will try to give you some extra light in the selection.
If you are looking for free WordPress drag and drop page builders plugins, you should choose Elementor,  Brizy, Themify, and Motopress. The free version for all of them has almost the same feature.
But if you are looking for a WordPress Premium template page builder, you should choose between. Thrive, Architect, Divi Builder, Elementor, and Brizy.
Out of that, if you plan to buy a Divi page builder, Divi will give you many things like email collector, drag and drop tool, themes, and social Plugins. At 89$ it will be a great choice.
Same as Divi, Thrive Architect membership also gives you many things. And it's easy too.
So in my suggestion I always trust thrive Products which will be the great option.
Which one do you trust and which one will you buy now? Comment and let me know