10 Best Social Media Sharing Plugins For WordPress 2023
In this article, we will learn which is the Best Social Media Sharing Plugins For WordPress. There are more than 100's of plugins for beginners to choose from. But getting the right and top social media sharing plugins is quite tricky that's why we wrote this article.
Many plugins allow you to show the social sharing button on the top and below the articles or blog posts. Some even support social sharing floating social sharing buttons and some in the sidebar.

But do you know bloated feature if not correctly coded then it may slow down your website speed that we only recommend elite author themes and plugins? So we need to find the plugin that is best suitable for performance and engaging traffic.
1. Monarch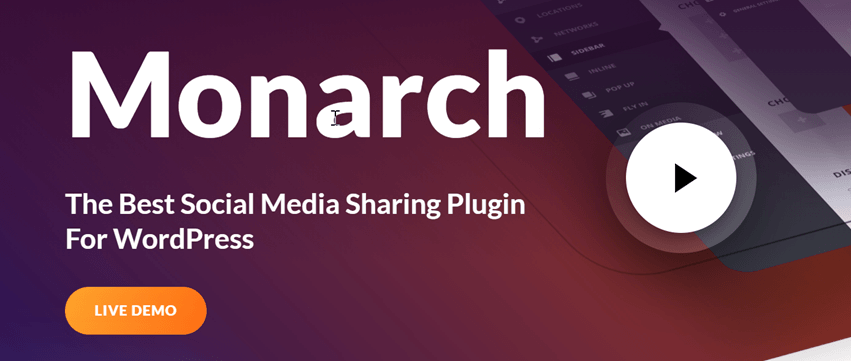 Monarch is one of the most famous and best social media sharing plugins for WordPress. This plugin was created by an Elegant theme developer who created Divi, one of the most famous and best themes ever created. Monarch is well-coded will get speed when you consider response time.
Features:
Floating Sidebar – A floating sidebar is very effective when asking for the best social media sharing plugin for WordPress engagement. You will get a unique hover vertical orientation social sidebar.
Above & or Below Content – You can add a sharing button above and below the content or add it to both the location.
On Images & Videos – Now, using monarch, sharing images and video content is relatively easy. Just hover over the content, and you will see a sharing button Automatic Pop-Up – Trigger sharing button when required. You can set an automatic popup of the sharing button. You can even make a popup when the user reaches the below of the blog post.
Automatic-Flyin – You can even trigger the share button when the user is about to leave the page or blog post.
Automatic Pop-Up & Fly-In Triggers
Social Sharing- You are provided with more than 20 social sharing networks that you can add to your website.
Mobile-Friendly- Monarch Opti-in form and dashboard are responsive, i.e. they work well on every device.
Others- It comes with many more features like Timed Delay, Bottom of Post, After Commenting, Upon % Scroll, After Purchasing, and After Inactivity Monarch.
You will also get a 20% discount on the first elegant theme. First purchase
Price – Yearly Access-$89/yearly (100 Website),  Lifetime Access-$2499/Lifetime (100 Website)
Screenshot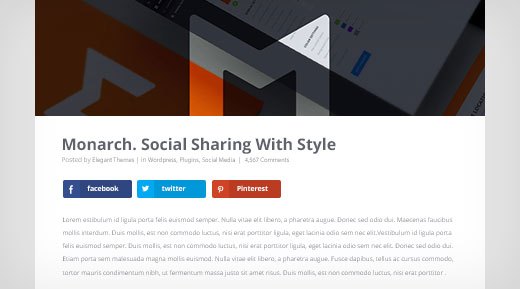 Setup And Configure Of Monarch Plugin
2. Novashare

Novashare is one of the best Social Media Sharing Plugin WordPress, which the elite author creates. This plugin was created by keeping the idea to increase your website traffic by getting more shares.
With the help of this plugin, it's pretty easy to get your content to go viral. You will get so many things if you go with this plugin, For example  – 10 Kinds of theme templates, Multiple social displays, 8 Content lockers with the functionality of intelligent targeting, and much more.
Features
Using the 35 animation effects, you can show your Social Flat Box in unique ways.
You can increase your social visibility by locking the desired content.
Ten themes are available for social buttons.
You are also provided with eight custom locker themes.
3 Pre-defined templates for mobile display, which are entirely customizable.
Smart Targeting.
With this plugin, you also get Social Share Statistics.
Your visitors can share your page directly via Emails through the Email share feature.
This plugin is compatible with WooCommerce, BuddyPress, and Jigoshop.
Responsive themes and column layouts.
Price – Personal-$29.95/yearly (1 Site),  Business-$69.95/yearly (3 Site),  Unlimited-$149.95/yearly (Unlimited Site)
Screenshot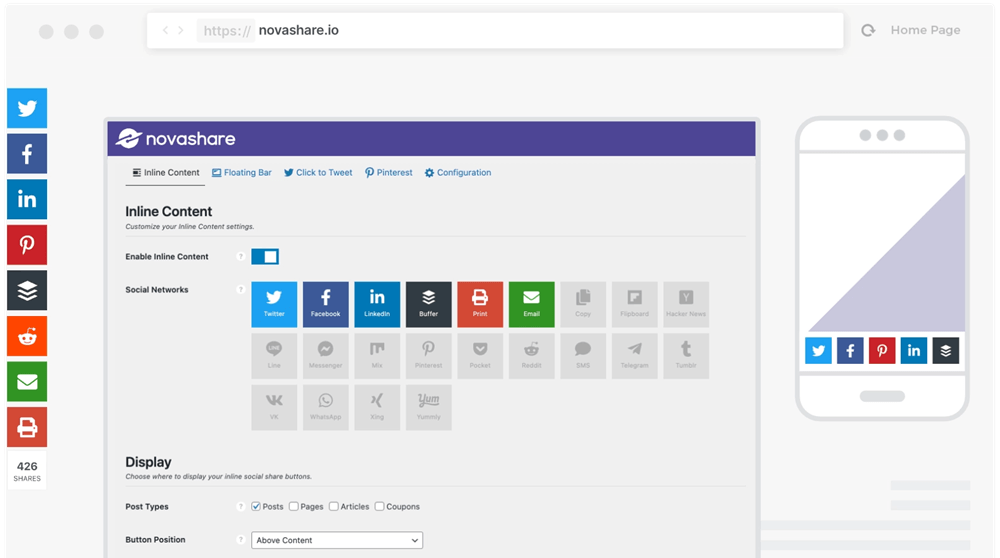 3. Social Warfare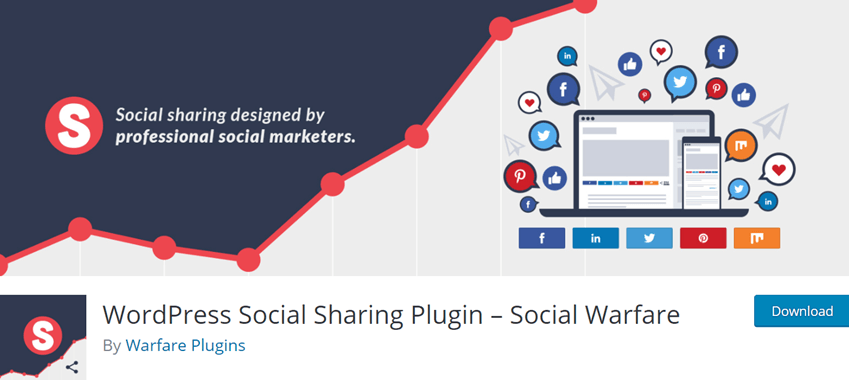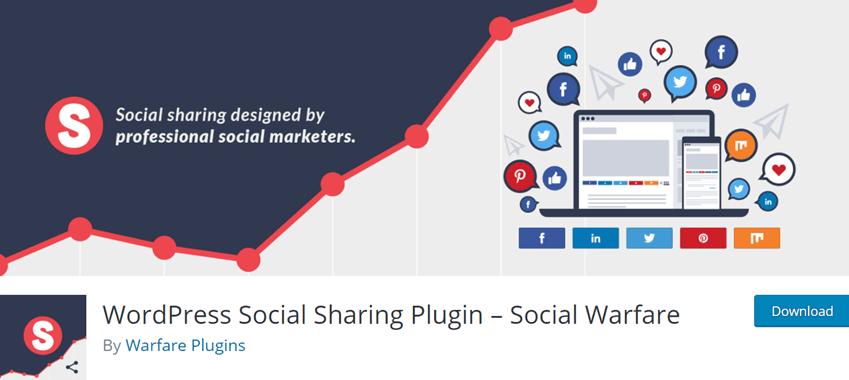 Social Warfare plugin is the second most famous and best social media sharing plugin for WordPress that drives a lot of traffic on your website. It provides gorgeous and fast share buttons that look good on every screen size and resolution. You can choose from a variety of top social network sharing buttons such as Google+, Facebook, Twitter, LinkedIn, Pinterest, etc.
Features:
Design – Its looks quite beautiful with amazing animation when you hover over the social media icons.
Lightning Fast – It provides you with a lightweight and fast load time. Plus, it doesn't slow down your site.
Developer Friendly – As a developer, you always want to play with codes and try to make modifications. You can easily edit their code without messing it up.
Simple Setup- Social Warfare eases the process of setting social share buttons. They provide you with a setup that is easy and simple to use.
Fantastic customer support- If you have queries or questions or encounter some trouble, the team is always available for support.
Share Recovery- While changing your domain name or moving to SSL, you don't have to worry about losing your social share counts.
Content protection- The Frame Buster by Social Warfare plugins protect your data from any content hijackers who place their advertisements on your content without asking for permission.
Control how people share your content- It ensures that the way people are sharing your content will drive traffic back to your website with custom images, descriptions, and titles.
Extra feature – These plugins have lots of extra features, such as custom tweets, Twitter cards, Responsive, and socially shared numbers of sharing tracking available.
Total number of users – 50,000+ 
Price – 1 Site-$29/yearly,  5 Site-$89/yearly,  10 Site-$139/yearly, Unlimited Site-$349/yearly
Screenshot

Configure and Setup Social warfare plugin
4. Social Rocket

Social Rocket for WordPress gives your website a decent look lightning-fast speed with beautiful sharing buttons. With this plugin, you will get to subscribe to the email and social followers counter. The developer of this plugin claims that more than 30,894+ sites trust it.
Features
Compatible with over 50 social media networks.
Adds attractive and easy social contact buttons for your website.
It enables you to get in touch with your visitors through the most popular messaging apps such as Phone, SMS, WhatsApp, Viber, Facebook Messenger, Email, or Skype.
Works effortlessly with any WordPress theme.
It comes with 55+ share button templates and a personal template builder.
Automate mobile setup and mobile display.
Automatically adds a floating sidebar below the content bar.
Total number of users – 30894+ 
Price – 1 Site $22/once
Screenshot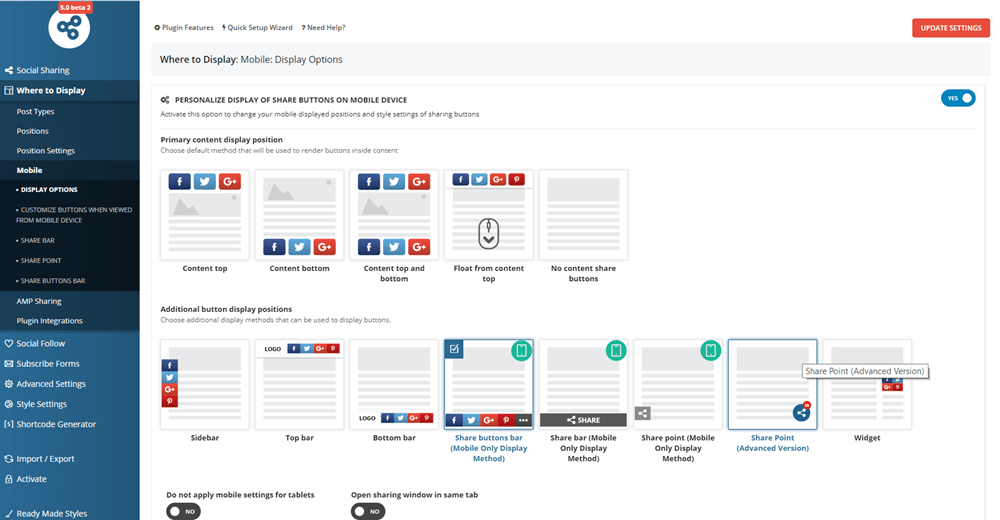 5. Simple Social Buttons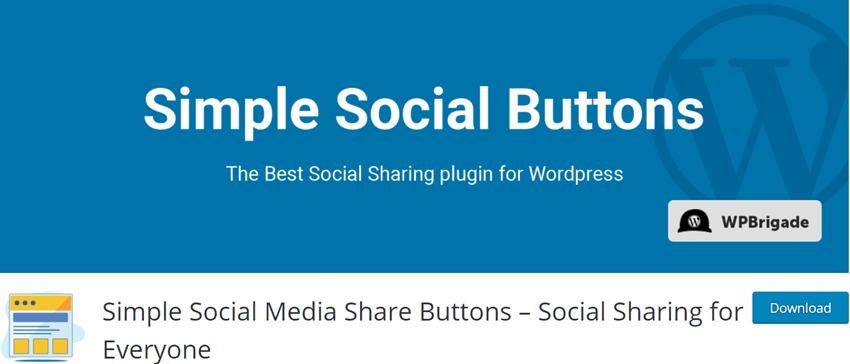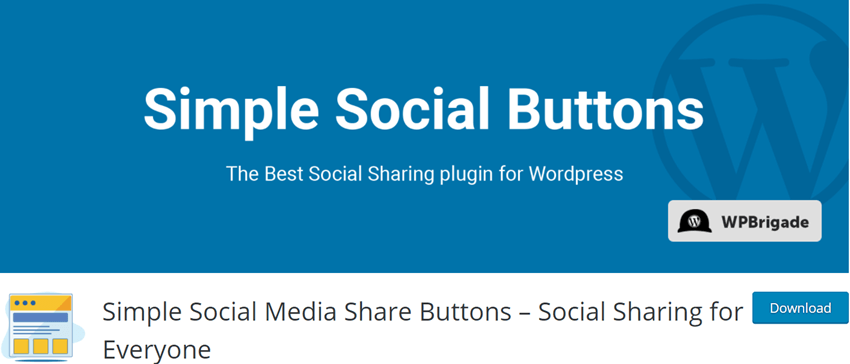 Simple Social Buttons allow you to add social media sharing buttons to your WP website with many customizable options. This social sharing plugin lets you decide whether to place such buttons on your website. Ability to add social media buttons on static or front pages, custom post types, and tags archive.
Simple Social Buttons placement on different locations –
Inline – Add social sharing buttons above or under the post content or in between, hide it on mobile devices, including various stunning animation features.
SideBar – This allows you to set your Social buttons on the left & right sidebars with animations and hide it on mobile devices.
These buttons allow displaying the share count of your post. You can customize the colour only if you upgrade to Pro.
Premium version includes –
Fly-ins – Let you adjust your social Fly-ins on the bottom, left & right with animations and hide them on mobile devices.
On Media – Lay down social share buttons wherever you want with animations and hide the same on mobile devices.
Popups – Establish social share buttons on Popups and trigger them on activities like scrolling of pages, exit, or intent. Hide those popups on mobile devices.
Availability to showcase the share count of posts and customize the colour with all of the above-mentioned social buttons.
Total number of users – 40,000+ 
Price – Personal-$27/yearly (1 Site),  Studio-$79/yearly (10 Site), Agency-$199/yearly (Unlimited Site)
Screenshot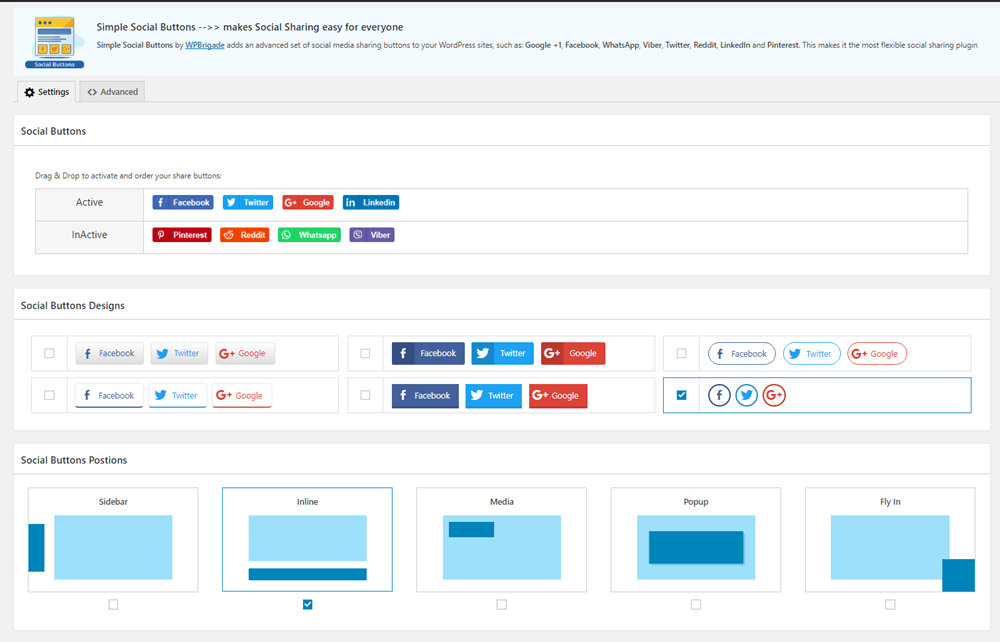 6. Ultimate Social Media Icons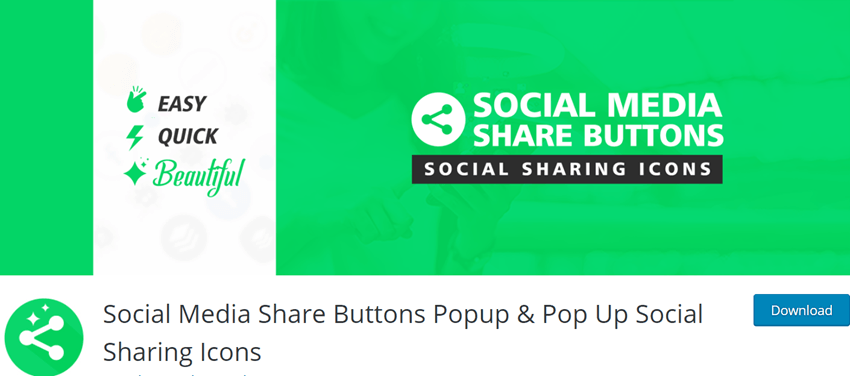 Ultimate Social Media Icons plugin is a simple and quite easily configured plugin. This plugin has six built-in social sharing buttons: Twitter, Facebook, Pinterest, Google Plus, Reddit, LinkedIn & Email.
With four kinds of different skins. You can display the sharing button below the content and above the content.
Features
You can display your Social sharing buttons before content, after content, or both.
Google Analytics tracking is also available.
Four different skins are available.
Lighting-fast loading speed.
You can easily create a media share button popup using the ultimate social media icons plugin.
You can display your number of counts next to social network icons.
Total number of users – 200,000+ 
Price – Non Commercial Site-$29.98/Bianullay,  Commercial Site-$39.98/Bianullay, 
Screenshot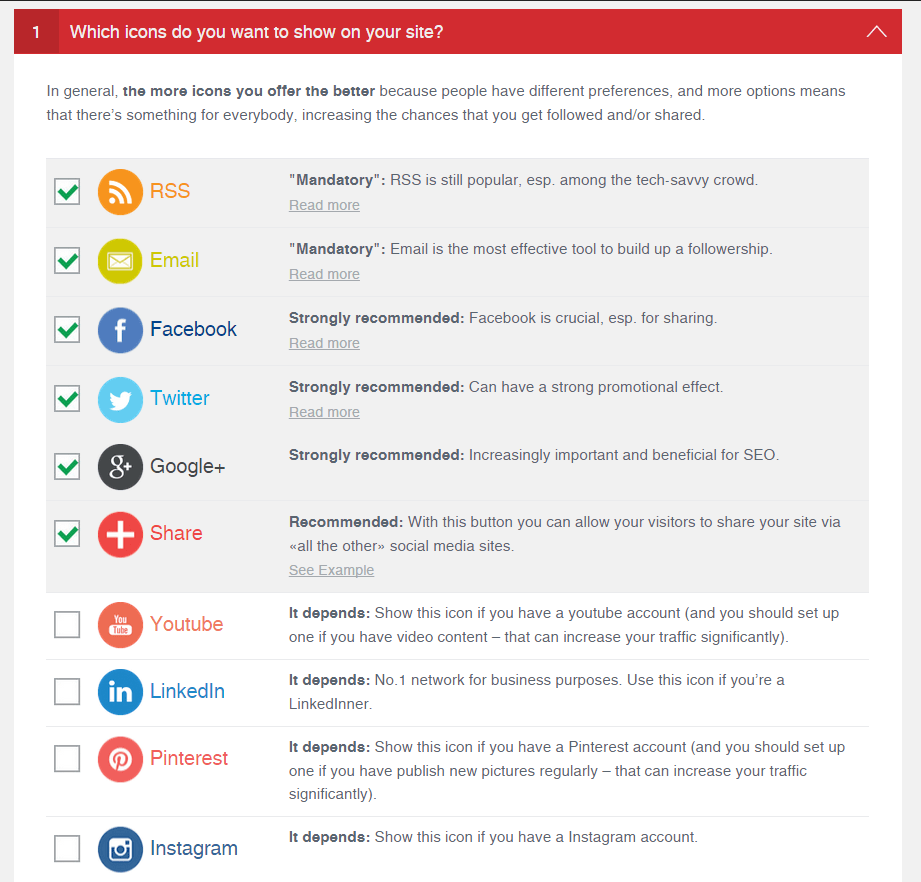 7. AddToAny Share Buttons

The AddToAny sharing plugin increases your website sharing, social engagement, and website traffic.
This plugin supports Google, Whatsapp,  Facebook, and Tumblr. It also has more than 100 sharing website apps. This plugin has been famous since 2006.
Features
You don't require any signup, login, or account to manage.
It comes free.
This plugin supports WooCommerce, multisite networks, multilingual sites, and accessibility standards.
Share buttons are responsive and work seamlessly on mobile devices as well.
It is highly customizable and developer-friendly.
It can be translated into multiple languages.
Total number of users –500,000+ 
Screenshot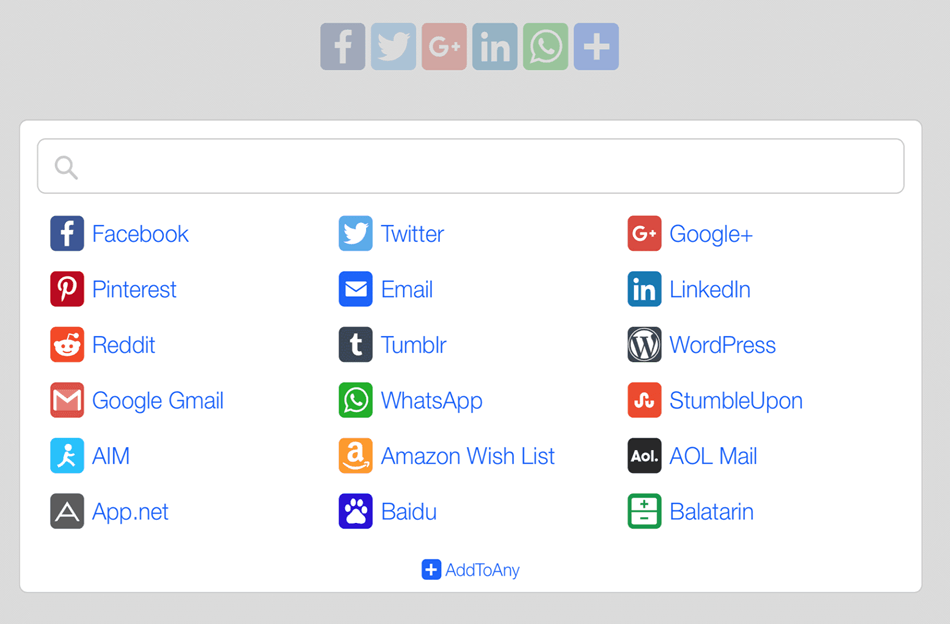 8. MashShare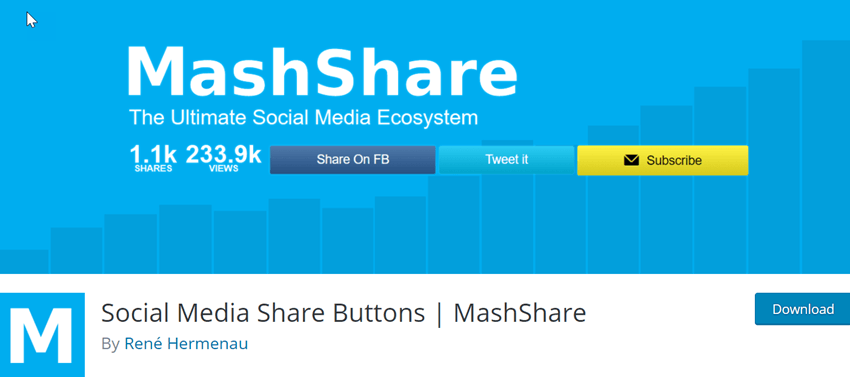 MashShare is a free social media plugin that is highly customizable and has an excellent professional design.
The free version of this plugin supports a significantly fewer number of options. If you want Whatsapp Linkedin, you need to go with the plugin's premium version. They support only Facebook and Twitter with subscribe buttons.
Features
It provides you with the total Social Media share count.
Easy and effective Social Media Share Buttons.
Developer Friendly.
Highly Customizable.
You are also provided with shortcode options.
High-Resolution Social Media Share Button Icons.
Multi-Language supported.
Three different styles for share buttons.
You can get your desired Social Media Sharing button with one click.
Use transparent font Social Media Icons in place of Social Media Icons images.
Total number of users –40,000+ 
Price – 1 Site-29/Euro/yearly,  5 Site-39/Euro/yearly,  Unlimited Site-49/Euro/yearly
Screenshot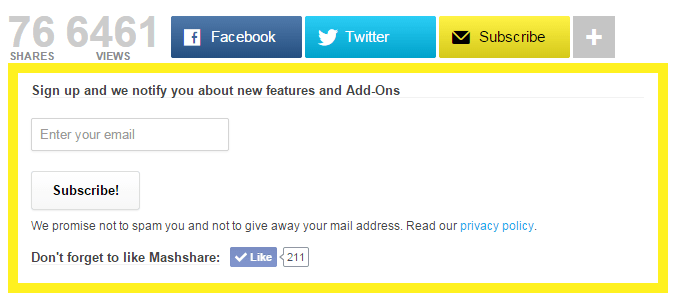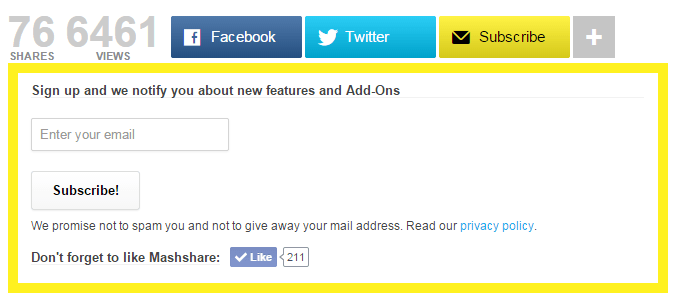 9. Socialsnap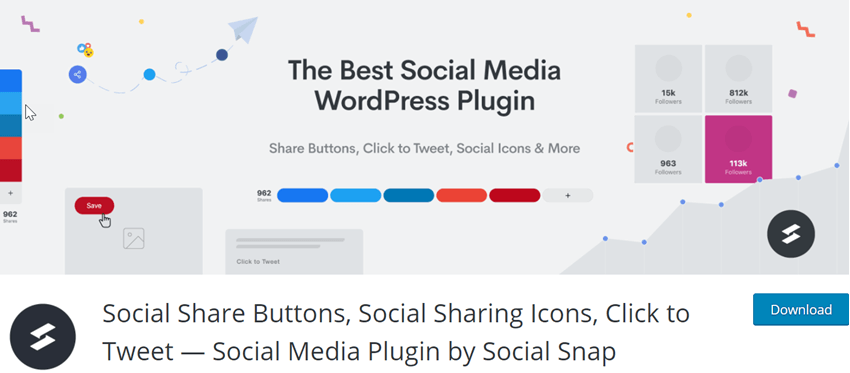 Social Snap is an admired social sharing plugin that assists to interact with organic traffic on your website. This will spread the impact through the power of social media and establish a secure connection to your followers and customers. Enables a way for your visitors, either new or old, to share your content in their locality which extends your visitors to the website.
Nowadays, everyone is available on social media platforms, it becomes easy to communicate with them while using such social snaps. This is well-designated with an easy-to-use interface for those looking for a social sharing plugin with enriched advanced features. Social Snap provides them with the product of a high-end UX/UI experience.
It is a highly customizable plugin, so you will be able to modify it as per your website requirement. Selection of major social media networks to your site being possible, you can easily add social share buttons Facebook, Twitter, LinkedIn, Email, and more. Social Snap also allows you to select the placement where you want to visible these social share buttons on your site. With the Pro-Social Snap version, there is the accessibility to locking the social content, social login, auto-post, and boosting the old post.
Total number of users –20,000+ 
Price – Plus-$27/yearly (1 Site),  Pro-$69/yearly (3 Site), Agency-$209/yearly (15 Site)
Screenshot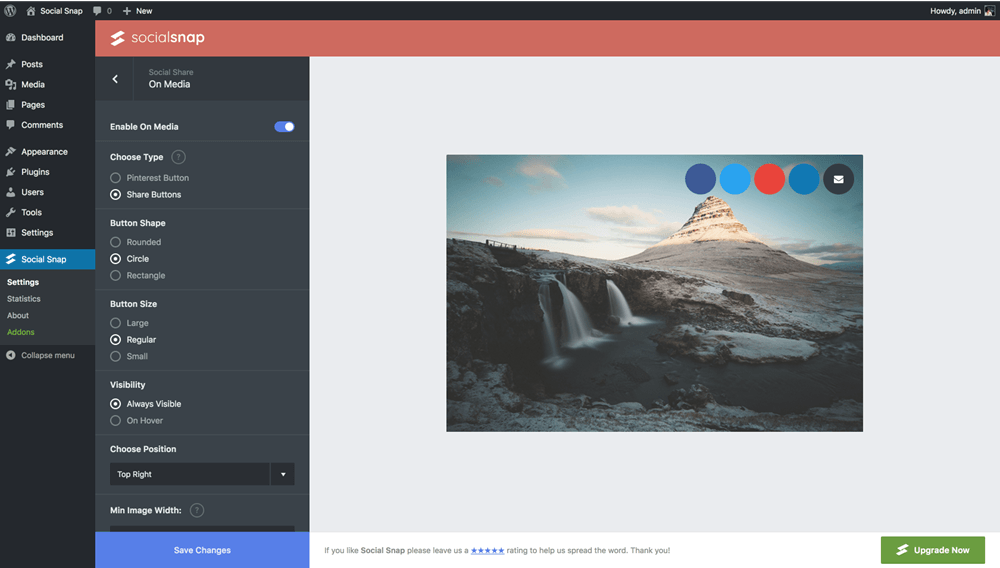 10. Social Media Follow Buttons Bar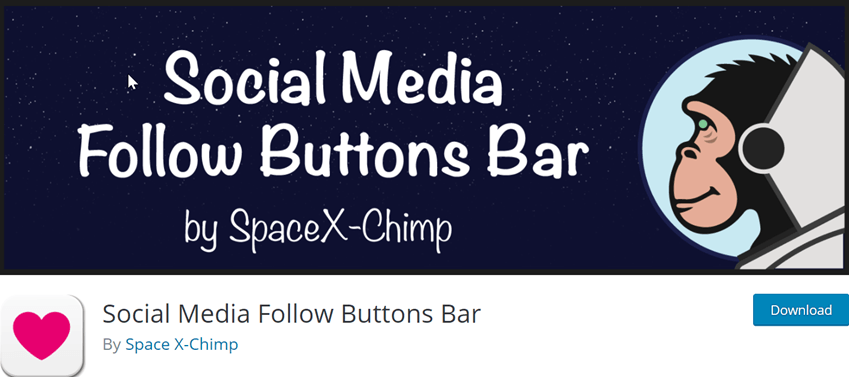 Social Media Follow Buttons Bar By Space Monkey plugin makes your website ready for the user so that they can share your content over more than 100's social websites. For example, Pinterest, Reddit, Facebook, Twitter, etc.
This plugin supports WooCommerce, amp mode, as well as you can enable it as a vertical/floating sharing button.
Features
Icon Customization options.
Compatible with Gutenberg Editor, myCRED, WooCommerce, BuddyPress, BBPress, and Multisite.
Around 100 Social Sharing services.
It enables you to customize icon size, background colour, logo colour, and share counter.
You get to arrange/rearrange the order of social icons.
Icons can be adjusted according to the width of your mobile phone.
Plugin configuration is simple, and you are also provided with screenshots whenever required.
Sassy Social Share's team ensures optimal loading time and efficient performance.
The best part is that you don't need to pay even a single penny for the plugin. It comes free.
You also get 24/7 support from the team for all your queries and doubts.
Total number of users –20,000+ 
Price – Personal-$29/yearly (1 Site), Business -$69/yearly (5 Site), Enterprise -$199/yearly (15 Site)
Screenshot

Conclusion: If you are still confused, I will make your selection easy. If you want to go premium plugin, then go ahead with the monarch is marvellous and one of the best social media sharing plugins for WordPress. It has all the features required to get you more traffic. If you want free, then you try the social warfare plugin.