9 Best Facebook Pixel Plugins For WordPress 2022
Are you looking for Premium or free Best Facebook Pixel Plugins For WordPress? Facebook advertisement is the best way to generate conversion at a lower price and you can easily reach billions of people.

Marketing was so difficult earlier that people were seeing the old pre-made template of ads. But with the modern enhanced technology, you can easily reach your desired customer with desired custom products ads via Facebook. Before I explain to you the list of Best Facebook Pixel Plugins For WordPress we will try to know more about a Facebook pixel. These plugins get easily integrated with WooCommerce & an easy digital download Plugin.
What is a Facebook pixel?
Facebook Pixel is a technology launched by Facebook to create an enhanced custom ad for your website audience on Facebook.  You can easily track conversion rates as well as this custom ad data can be used to create relevant ads.
How does Facebook pixel work?
Facebook pixel work by placing tracing the cookies of your computer or mobile browser And showing the same relevant ads from your website products which he saw some time before. Which helps a lot to increase conversion. For example – Just now I visited a mac laptop product I left the products and changed my mind. Facebook used those data and will show you the same mac laptop in which you were interested.
Benefits of using Facebook pixel?
Custom Ads – No need to sponsor or promote a particular page Facebook will automatically create custom ads and will serve them to your customer
Conversion analytics –   You can easily track and measure conversion rates on your website.
High Conversion – Conversion Rate increase almost 1.5 times than normal conventional ads.
Setting up the Facebook pixel code inside your WordPress website is a bit difficult for beginners. If you are a developer please visit this page to get code and use this plugin and paste inside the header section of it and you are ready to rock.
To decrease your effort of break heads we deiced to write down the list of Facebook pixel plugins so that beginners can do it easily and can easily get integrated with WooCommerce & EDD  which is as follows:
1. PixelYourSite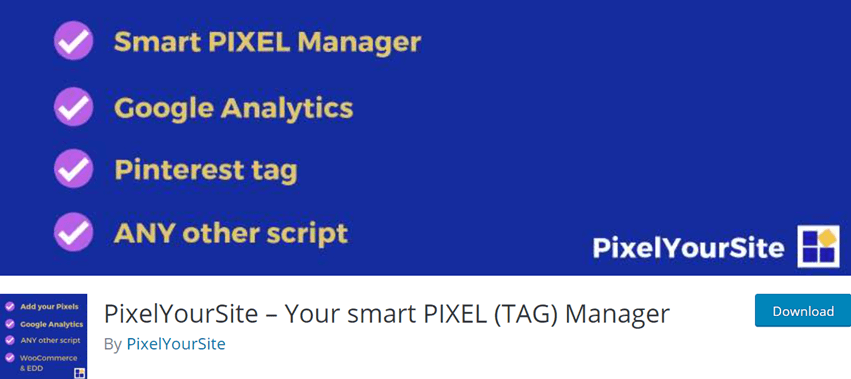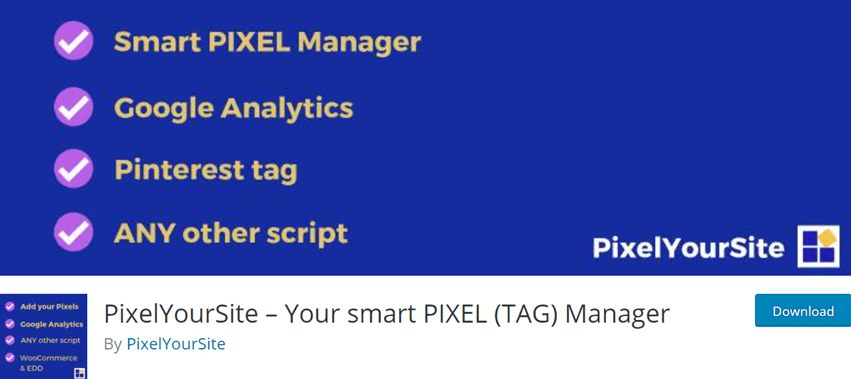 PixelYourSite is the best Facebook Pixel plugin for WordPress. It is extremely helpful for those who are doing Facebook ads as it is a very powerful tool. PixelYourSite is an effective WordPress extension that integrates the Facebook Analytics and Facebook Ads functionality of your website. Let you track the essential activities such as comments, form submission, search, downloads, and more. No coding is required it will configure pixels easily for arranging events. Install within just one click and automatically fire events i.e. related to e-commerce. Integrated with Easy Digital Downloads and Facebook Conversion API. To escape ad blockers and browser limitations just send events from Conversion API and the browser. And let Facebook save that event from the server. So that if browser event failed, Facebook utilize that Conversion API event.
PixelYourSite provides signal events feature that allows you to track key actions of events. Configure these signal events to track custom conversion or the custom audience as well. Share the details of customers including name, address, phone numbers, and email with robust security for more conversion. Facebook pixel code can be inserted on any page of the site with the help of PixelYourSite. The plugin is e-commerce ready as it is automatically integrated with WooCommerce. This helps to customize all the necessary standard events. The site can be easily customized for Facebook Custom Audience. The events can be delayed. This helps to save money on re-targeting bouncing visitors. The pixels can be turned on/off based on user roles.
Total number of users – 200,000+ 
Price – Starter-$150/yearly (1 Site), Advanced-$189/yearly (10 Site), Agency-$500/yearly (100 Site)
PixelYourSite Free WordPress Plugin: Facebook Pixel, Google Analytics, Pinterest Tag
Screenshot
2. Woopt

WooCommerce Pixel Manager is a robust yet simple extension that lets you organize an online store on Facebook. Optimize the conversion rate while tracking visitors to whoever comes to your Facebook Page. Such a feature-packed extension tracks with a higher accuracy rate and detects the fault in the configuration of the online store. Hereby, you get a warning to fix such faults along with eligible guidance or fix itself seamlessly. Enable tracking along with Google Consent that lets you secure the entire database.
Core Features –
Integrated well with Google Analytics and various Ads like Google Ads, Facebook Ads Pixel, Twitter Ads, and more.
Enhance conversions of any e-commerce site with Facebook CAPI.
Eliminate faulty data reporting like counting payments i.e. failed for any reason.
Prevent tracking of admins and shop managers to measure accurately.
Collect dynamic audiences with Facebook Remarketing Events and Facebook Pixel.
Available filters to tweak the outcomes of the extension.
Total number of users – 30,000+
Price – Starter-$89/yearly (1 Site),  Business-$189/yearly (5 Site), Agency-$289/yearly (10 Site),  Agency Plus-$389/yearly (25 Site)
Screenshot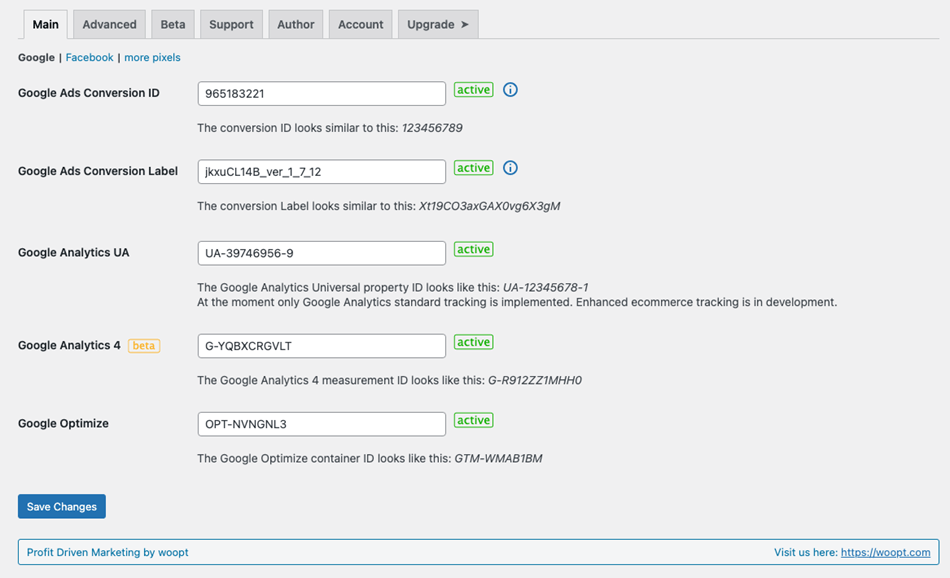 3. Facebook for WooCommerce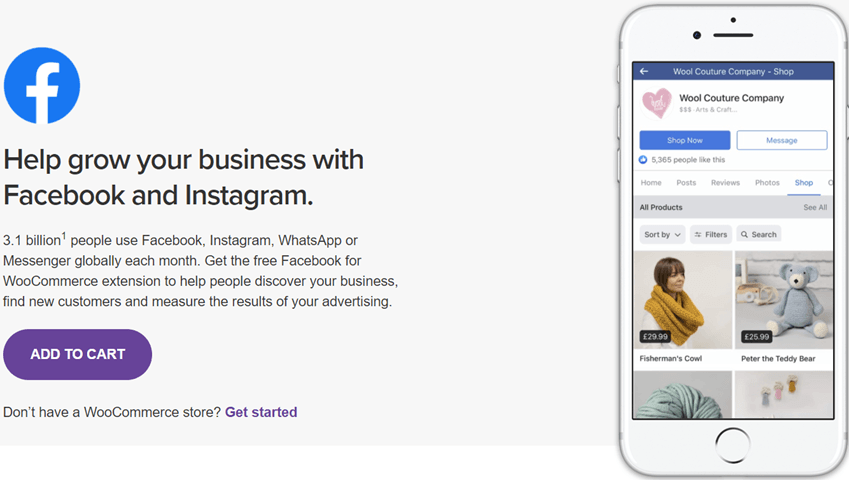 Facebook for WooCommerce is a well-defined extension that connects your e-commerce store with Facebook. Hereby, create an online store on Facebook or Instagram while customizing its overall appearance. Let your know-how audience react to your posts and the source of their reachability thereon. Run ad campaign to get more traffic and measure its performance through Conversion API. Instant growth of business while starts selling your products just right on Facebook.
Woopt help e-commerce website in tracking their visitor or customer data which help you in optimizing your website and marketing strategy.
This plugin is the simplest to set up in comparison to the others, yet it covers all basic functionality in the free version and all expert functionality in the pro version. (like dynamic remarketing events)
This plugin is developer-friendly. Easy to set up and lots of filters to customize it very flexibly.
It's made by performance marketers for performance marketers. Data accuracy is high and as a result campaign optimization is one of the best (if not the best).
This plugin has 4.8 ratings which consider being best of all similar woocommerce conversion tracking plugins.
Screenshot
4. Facebook for WordPress

Facebook for WordPress is a reliable and secure extension that enables your e-commerce site to access Facebook Pixel on its page. Track the interaction of your audience while they are on your Facebook page. Keep an eye everywhere, whether they view content, lead purchase events, Add to cart, or proceed checkout. Supports Conversion API from where you can send events and analyze the activity of your visitors. Collect more audience while sending such events directly from the server of your page with Conversion API. The plugin is compatible with other WordPress plugins including Easy Digital Downloads, Caldera Forms, Formidable Forms, MailChimp for WordPress, Gravity Forms, Ninja Forms, WPForms, and more.
While installing an effective Facebook Pixel, track the journey of your customer how they convert into a reliable customer. Utilize such conversion experience to run ad campaigns for your audience and make them interested in being your customer. Facebook for WordPress contains built-in supports of most popular plugins including WooCommerce, Ninja Forms, Easy Digital Downloads, Gravity Forms, and more.
Using Facebook for WordPress, you can install a Facebook Pixel on your page. It helps you track the actions of your website's visitors. It helps you understand your visitors better so that you can secure a conversion. The plugin is compatible with Conversion API so that you can send events directly from your page's server.
Total number of users – 500,000+
Screenshot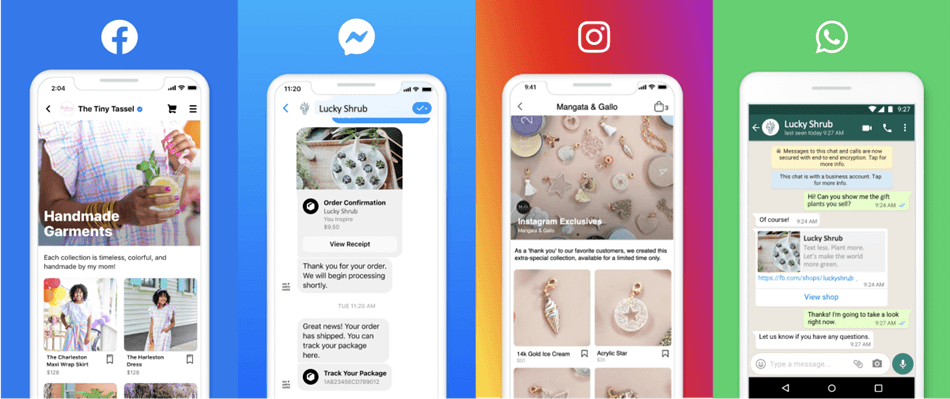 5. Pixel Caffeine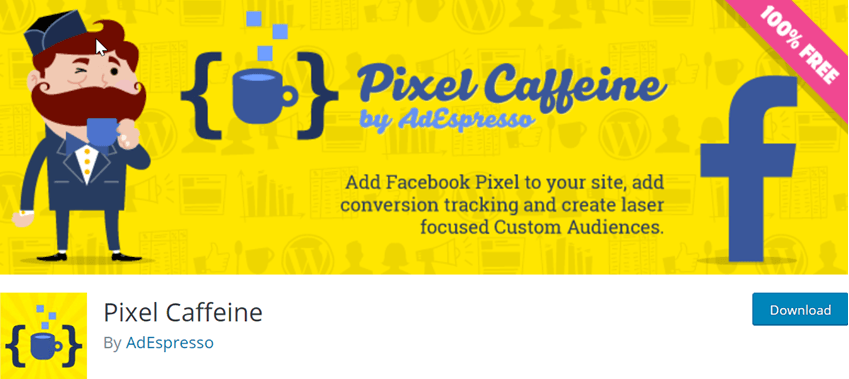 Pixel Caffeine is the easiest and most powerful Facebook plugin which helps to manage Facebook Plugin and Facebook Product Catalog. Pixel Caffeine provides the best Facebook Pixel functionality even without spending any money. Such a free and lightweight extension assists your online store so well while connecting it to Facebook. Let you enhance the reachability of your web store within just a little configuration that takes a maximum of 5 minutes. And you all done manage your online store on Facebook. Provide easy shopping without leaving the page where your customer gets access to the product description, add it to the cart, and instant checkout.
Install Pixel Caffeine to insert Facebook Pixel and Product Catalog on the Facebook page for better ROI. Track your audience and get to know the source from where they arrive at your shop. Enhance their shopping experience while analyzing their conversion journey of being an ultimate customer. Also, let you sync your Facebook Ad Account to Pixel Caffeine for better conversion rates.
It has the support of WooCommerce and Easy Digital Downloads. It is very easy to install and has advanced custom audiences. Audiences can be created based on referring sources, standard/custom events categories/tags of content, and many more options. Visitors can be automatically tracked based on what they have viewed. Then with advertisements on Facebook and Instagram, they are re-targeted. It also does product catalogue management.
Total number of users – 100,000+
Pricing  – Base Plan – $49, Premium Plan – $149, Elite Plan – $299, Diamond Plan – $499
Pixel Caffeine - Facebook Pixel For WordPress Made Easy
Screenshot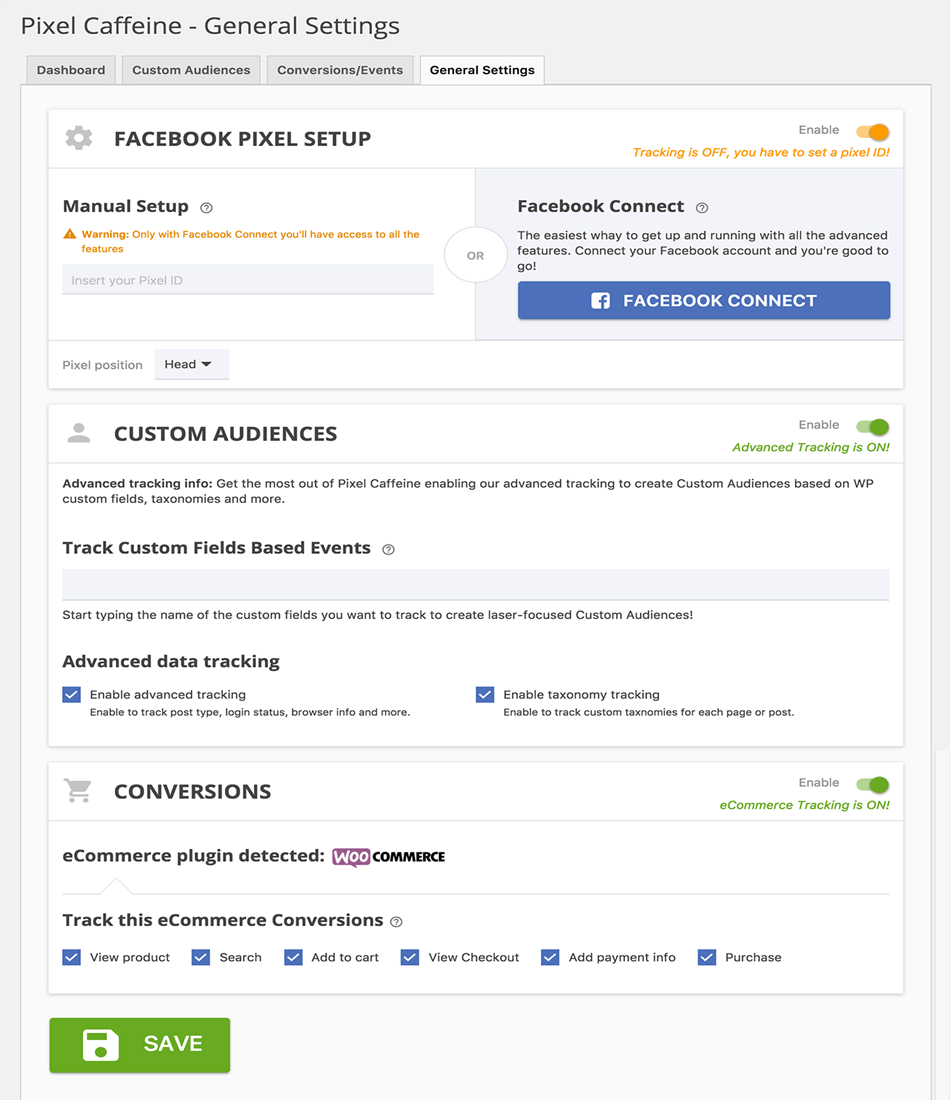 6. Facebook Pixel & Meta Tag Manager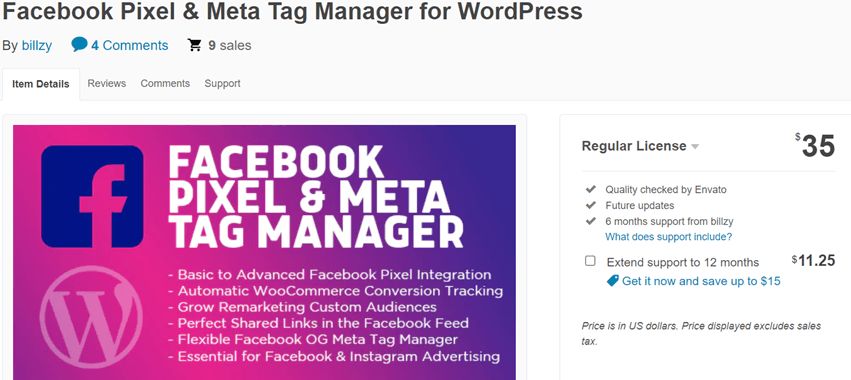 The Facebook Pixel & Meta Tag Manager for WordPress enables you to implement Facebook Pixel tracking codes and OG meta tags on your WordPress site. It helps you take your Instagram and Facebook advertising to new heights. It also manages OG meta tags on your site that ensure your link looks perfect when shared on Facebook. The plugin manages Facebook Pixel across all pages, post kinds, taxonomies, and more for conversion and remarketing audience monitoring pixels. It is fully compatible with custom post types, archive pages, and custom taxonomies. The plugin is fully customizable and you can easily customize pixels & metadata on different posts, pages, categories, or items individually or in bulk.
With Facebook Pixel for WooCommerce, You can create an extensive online store that is fully customizable as well as mobile-responsive. Allow your customer to continue shopping on their smartphones when they visit Facebook Page. Moreover, connect messenger to keep the conversation with your customer even they leave your site. Hereby, you get access to millions of users and let them convert into your reliable customer by providing them with an excellent shopping experience. While utilizing Facebook Pixel, get every essential data of your users that trace their activity on your page. Tracking can be disabled by user type. The user's duration on-page can be tracked. The search term can be easily tracked. Tracking can also be done based on tags, categories, and Meta Key.
Price – Regular License-$35/Biannually, Extend license-$125/Biannually
Screenshot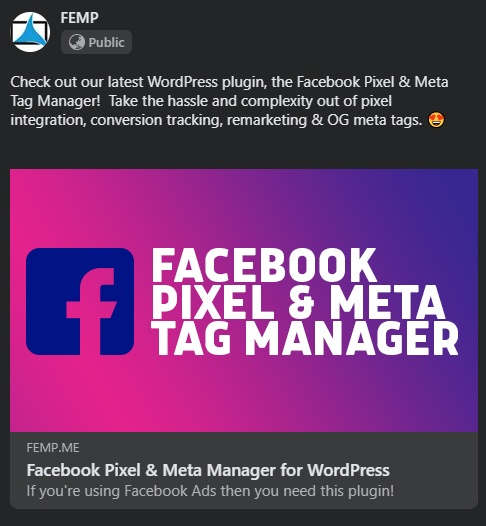 7. Give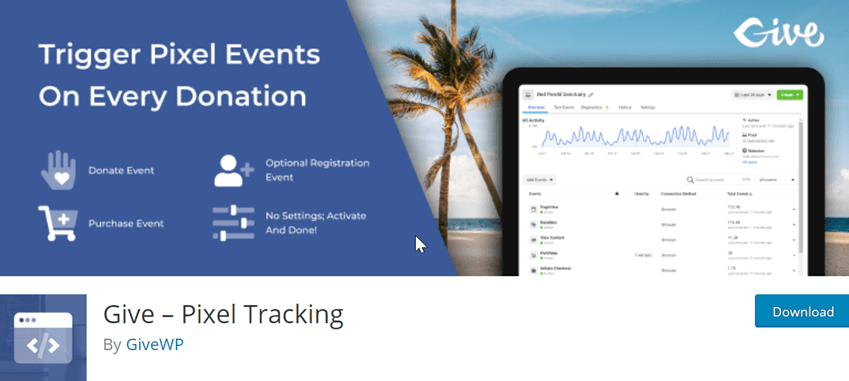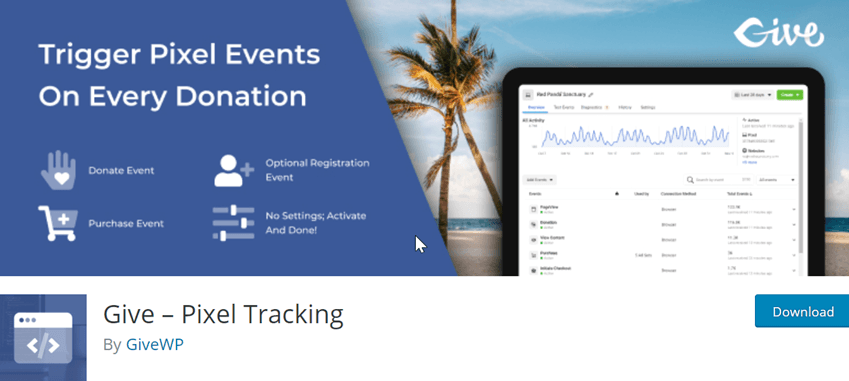 Give – Pixel Tracking is an intuitive and lightweight extension that enables your website to access more audience who converts as a potential donor. GivePixel Tracking helps the users to add a Facebook pixel to the site without taking much time.  As Facebook Pixel lets you connect audiences from different targeted locations with the help of Facebook Ads. Give pixel Tracking provides an easy way to add events and track the activity of your donors. With this feature enriched add-on, automatically trigger events such as donate event and purchase when any successful donation is made. Provide a Complete Registration event with user registration or user's account created. This add-on completely works with a Facebook Pixel available on your website unless it doesn't function at all.
It helps in Facebook Re-targeting as well as conversion tracking. Facebook conversions can be tracked and powerful re-targeting audiences can be built. Conversion events can be sent to Facebook. This way it helps to automatically optimize ad campaigns. Searches are automatically tracked on the WordPress site.
Total number of users – 100+
Screenshot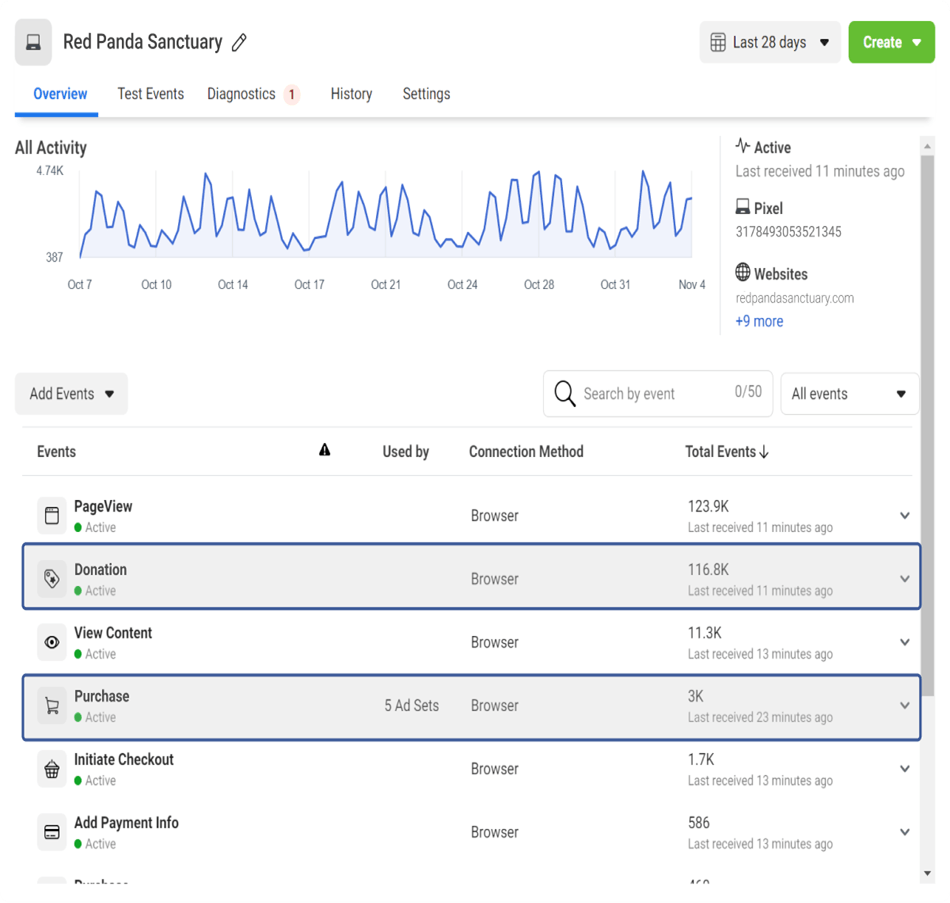 8. Remarketable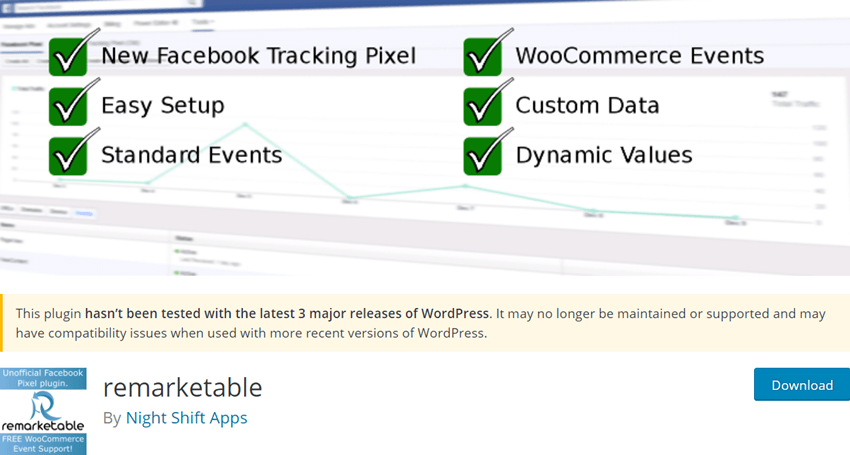 Remarketable is a well-oriented Facebook Pixel Plugin that enables you to create a professional store on your website. While inserting pixels on your Facebook Store you get access to tracking activity and the response of your audience. Easy to configure and get started promptly by just copying and pasting the Facebook Pixel ID on the setting of this plugin. It's all done where you easily access Dynamic Product Ads of Facebook. WP Facebook Pixel plugin helps the user to add a new Metabox to each post or page. This way events can be added very easily to specific pages. It has an excellent support team which helps to save a lot of hours. The title can be tracked. The ViewContent Event can be delayed.
Core Features –
Let you add events on different pages while adding a meta box into each page or post.
Get a wide range of audiences that boost your sales with the help of Facebook Ads that target audience.
Connect your e-commerce site with Facebook and enable your audience to continue shopping even without going to another web page.
Easy tracking of your audience anywhere on the Facebook page enables you to detect the actual source of conversion.
Total number of users – 3,000+
Screenshot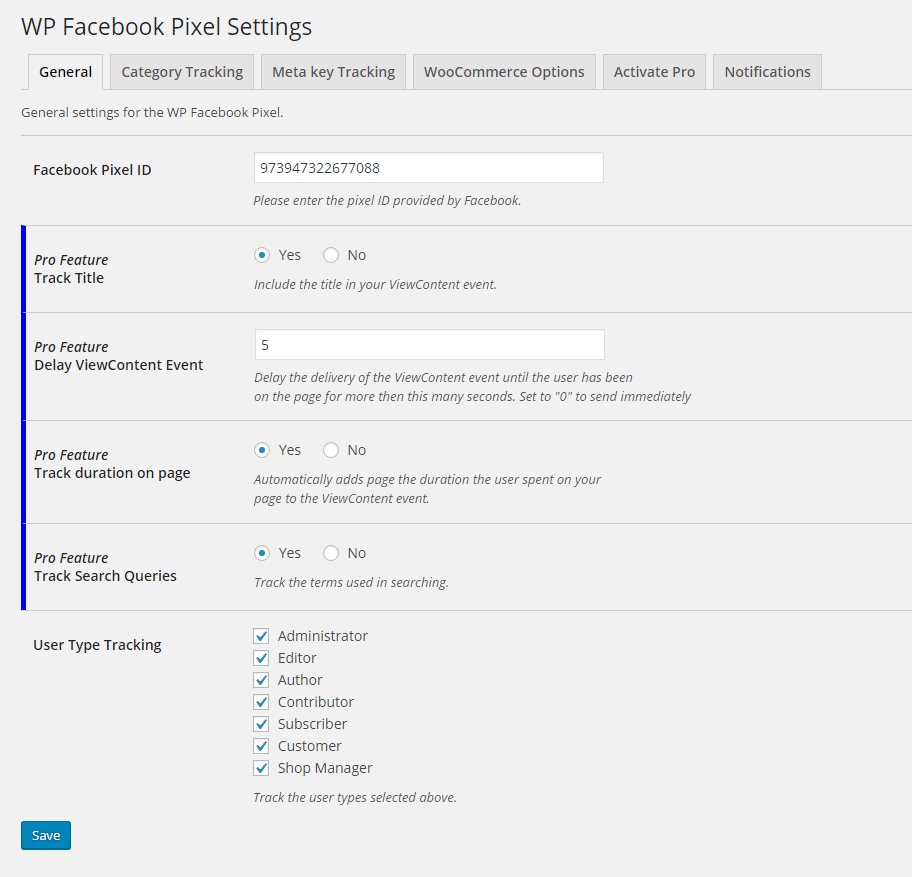 9. Advanced Social Pixel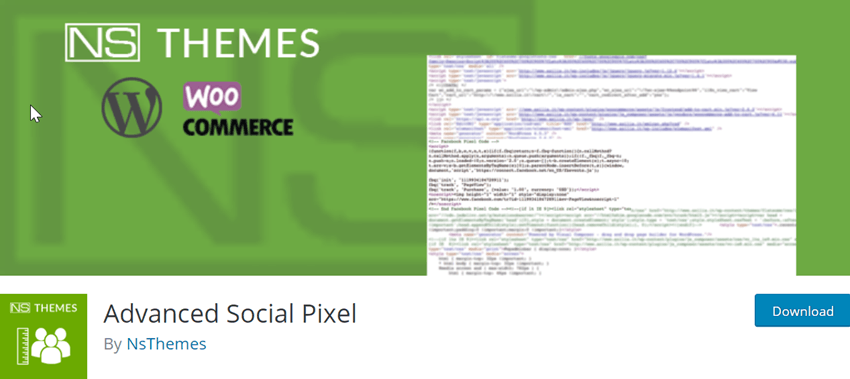 Advanced Social Pixel is a Facebook Pixel plugin that allows you to implement pixel technology that is compatible with your WooCpommerce and WordPress Website. The plugin comes with an extremely easy setup and helps you in retargeting campaigns on Facebook using the Facebook pixel. It comes with an amazing feature that increases the quality of your audience by firing the pixel by delay and by scroll. The plugin also leverages profile data to enhance the matching and dimension of your audiences.
Total number of users – 1,000+
Screenshot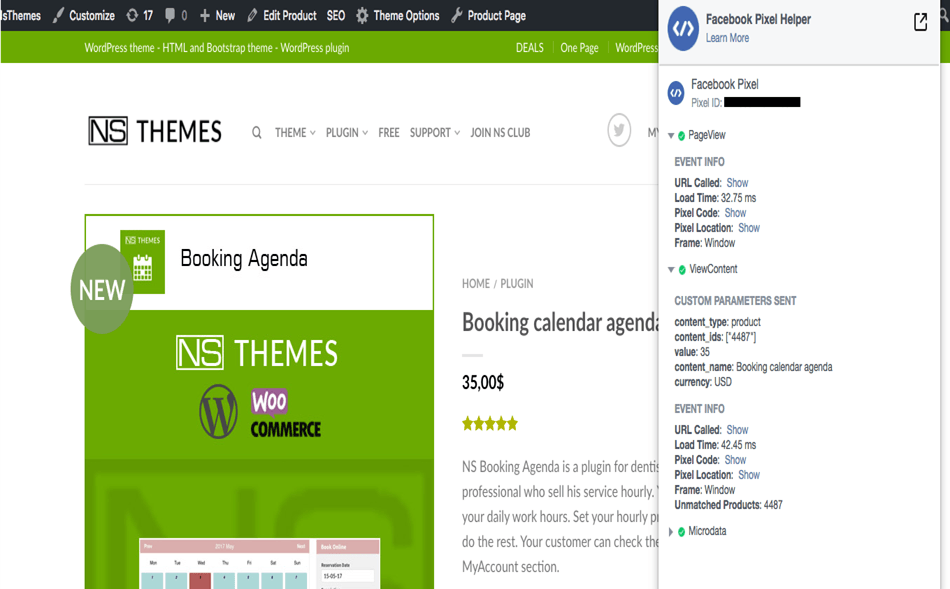 Conclusion
Are you still confused about which is the Best Facebook Pixel Plugins For WordPress? Don't get confused my friend here the choice is quite simple and there is no comparison with the plugin Pixelyoursite. If you want free Best Facebook Pixel Plugins For WordPress then you can try pixelyoursite. But if you want a premium version I will recommend you to use pixelyoursite pro that is the best option. It's worth buying the premium version because it will help you to get more sales by integrating with woocommerce