7 Best WooCommerce Checkout Field Editor Plugins 2023
The current checkout page built with WooCommerce requires lots of information to be filled by customers, resulting in cart abandonment. So customizing the default checkout fields of the checkout page is reasonably necessary sometimes. You can easily remove default checkout fields, rearrange checkout fields, change labels, remove fields from shipping and billing sections, and add new custom fields can easily be done with the help of recommended WooCommerce Checkout Field Editor Plugin.

The checkout page is a vital communicable asset for any e-commerce website. A place where your visitors become your reliable customer by placing their orders and confirming purchases. By default, provide a better shopping experience by customizing complex fields available on checkout pages. WooCommerce offers multiple ranges of Checkout Field Editor Plugins that let you ease the checkout process. Such plugins come up with comprehensive options to simplify any checkout fields on billing or shipping sections. All you need to do is install any suitable Checkout Field Editor plugin on your WooCommerce store and configure it easily however you require it.
Increase revenue and sales on your eCommerce websites by availing of an easy and quick checkout option that contains evaluating fields. A custom checkout field is different to reach your audience effortlessly and convert them into reliable customers. Default checkout fields are already available on the checkout page, but you can modify such fields with WooCommerce Checkout Field Editor Plugin. You have standardized the checkout experience by enabling customized checkout fields on online stores. Such plugins let you add, edit, enable or disable any fields in minutes. Allow your customers to easily fill out checkout forms in minimum time and let them continue future shopping on your website.
WooCommerce Checkout Field Editor Plugins are beneficial for E-commerce websites –
Improve conversion rates on your online store as customers quickly fill out the optimized checkout forms within a minimum time.
Reduce abandoned carts if you have simple checkout fields on the checkout page. Customers can leave products in the cart if they have to fill complex checkout fields, i.e., time taking.
Create custom checkout fields or modify the field type according to your website.
Enable or disable custom checkout fields anytime with a simple click.
Let's have the list of top WooCommerce Checkout Manager plugins for customizing your WooCommerce checkout page fields.
Table of Content
1. Checkout Field Editor by WooCommerce

Checkout Field Editor is a robust Checkout Field Editor plugin that lets you modify fields available on the checkout page. You can edit, add or even remove any fields from the checkout page according to your necessity. The quick and easy configuration takes little time after installing this plugin. Checkout Field Editor enables editing checkout fields of the Billing and shipping section on WooCommerce websites. Moreover, add or customize the order notes if enabled on the website.
Core Features –
Columns – Modify the name, type, label, placeholder, position, validation rules, and display options of columns of available checkout fields.
Custom Types – Support custom types such as text, password, text area, select, multi-select, data picker, heading, checkbox, and radio.
Core Fields – Let you edit the core fields of the Shipping and Billing sections.
Disabled Fields – You can disable any fields with the available Disable or Remove button and tick the required checkboxes.
Reset – Disable all the settings to a default one by simply resetting such fields.
Price – Regular license – $49/annually (1 Site)
Screenshot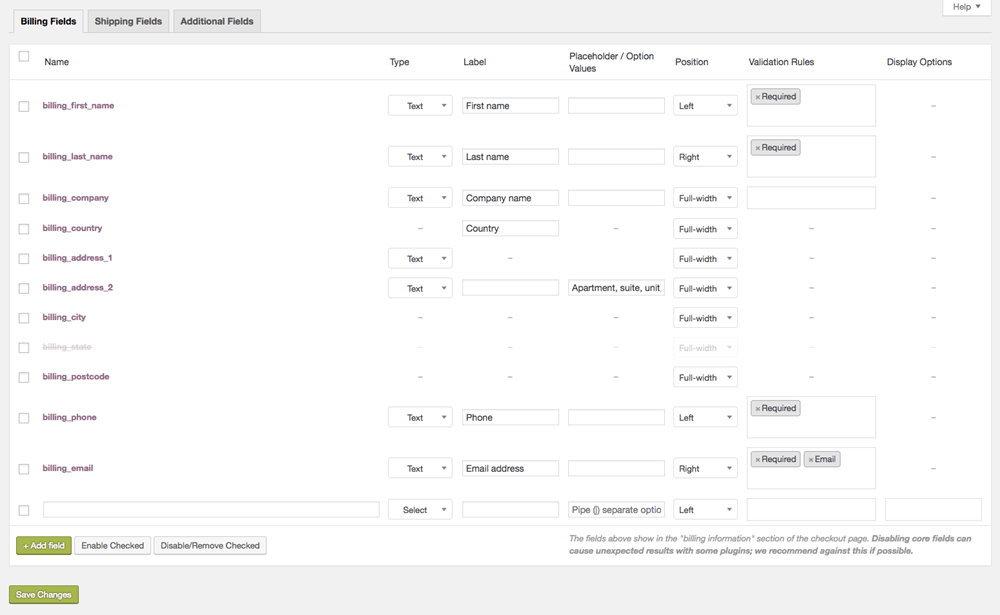 2. Checkout Field Editor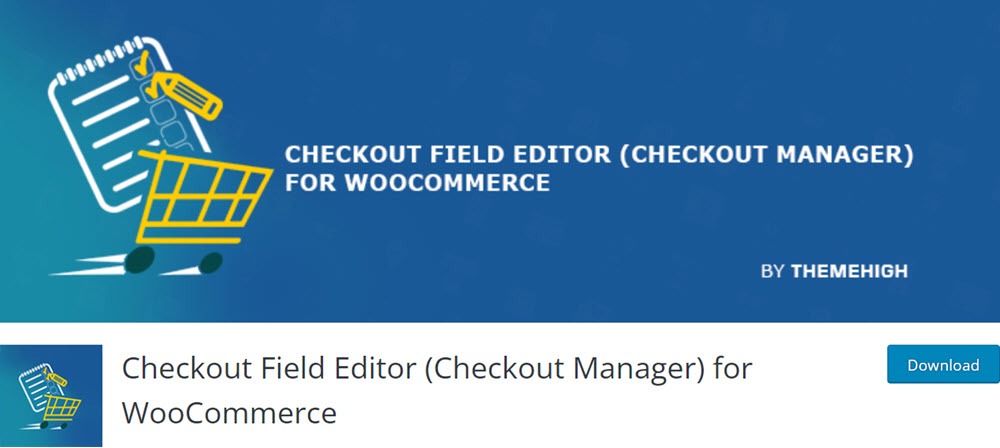 WooCommerce Checkout Field Editor is a lightweight and easy-to-use checkout manager plugin for editing the checkout page functionality from the admin panel. Let you add specific fields on your checkout page within just a few clicks. The user-friendly interface lets you edit checkout fields of any WooCommerce site, i.e., existing by default. Provide your customers better checkout experience by enabling hassle-free checkout fields on different available sections of the website. This fantastic extension allows the addition of custom checkout fields for different sections, including Shipping, Billing, and Additional. You can easily edit, delete or disable any default checkout field if necessary.
Elementary Features –
Let you generate thirteen different types of checkout fields, i.e., customizable and enable more data collection of your users.
Enable or disable custom checkout fields whenever required simply by opting checkbox option available thereon.
Move or relocate your checkout fields to a different location by utilizing the drag and drop option.
Enable Custom CSS to style custom checkout fields and validate the same for better engagement.
Total number of users – 400,000+
Screenshot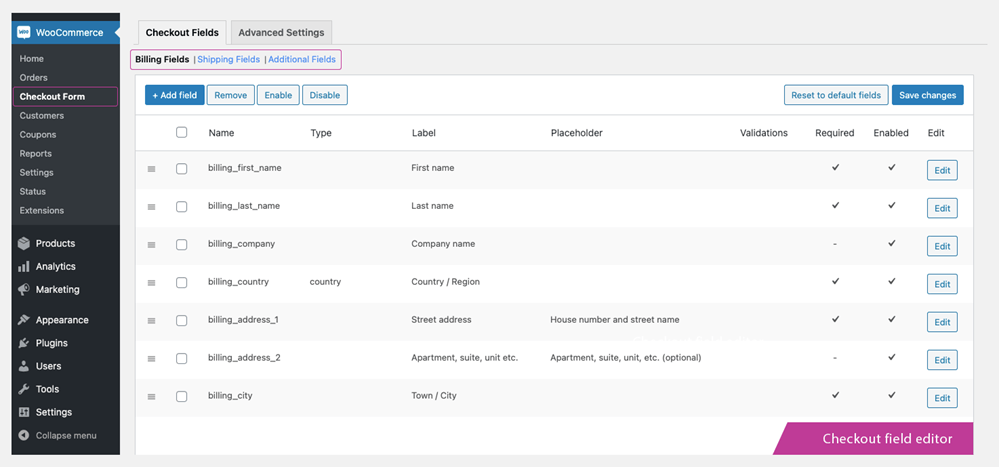 3. Checkout Fields Manager for WooCommerce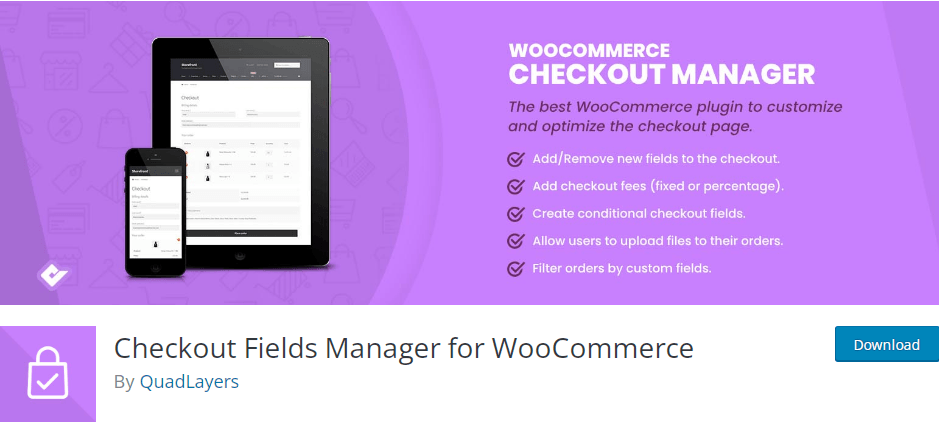 Checkout Fields Manager for WooCommerce is a beginner-friendly Checkout Manager Plugin that lets you edit and customize the checkout fields available on your WooCommerce store. Although this smart checkout field editor plugin is easy to configure and provides better outcomes in simple steps. You can ease the checkout process by making your customers' checkout fields easy to fill. Increase revenue and sales by availing easy checkout with minimum filling option available thereon. Reduce the abandoned cart and take little checkout time for your customer to return for their next purchase.
What can you do with this plugin?
Simplify checkout fields that are available by default with customized fields.
Let you customize the checkout field of the shipping and billing forms.
It provides the option to enable or disable any checkout fields with a simple click.
Insert and define the type of fields, whether mandatory or not.
Edit, delete and re-position the checkout field however you require.
Total number of users – 53+
Price – 1 Site – $25  (Last updated in september 2020)
Screenshot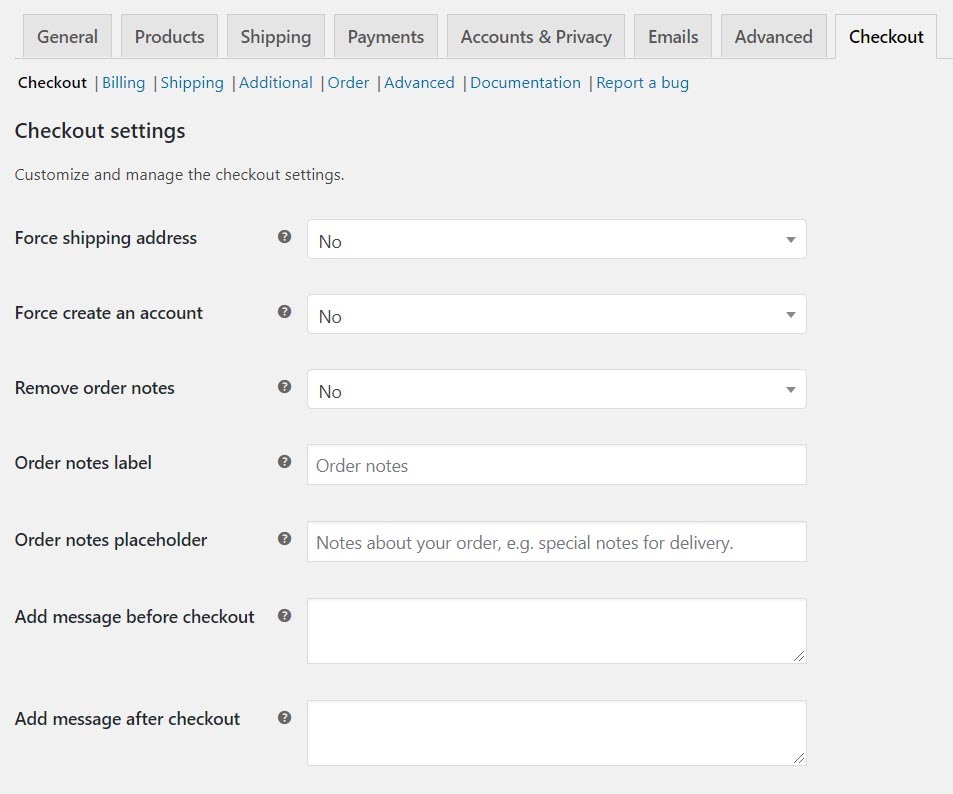 4. Checkout Field Editor and Manager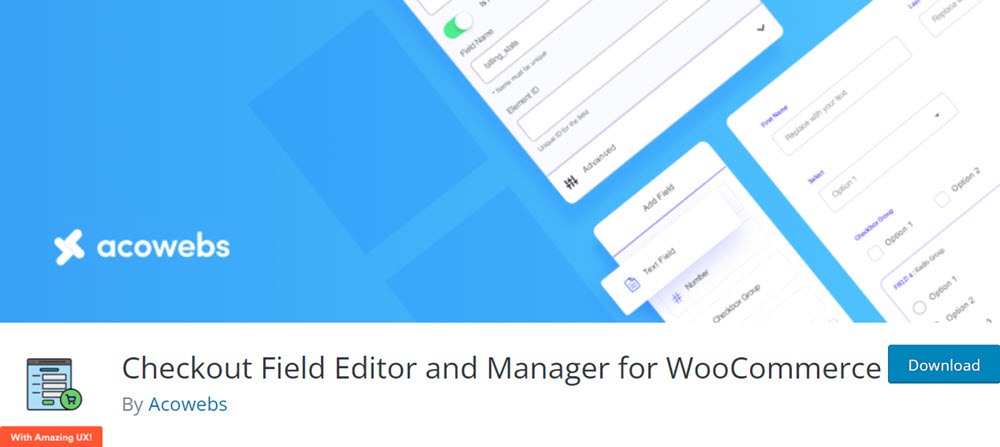 Managing your checkout fields is easier with the WooCommerce checkout field editor and manager plugin in your WooCommerce store. You can modify, add, or hide the checkout field and use the drag and drop feature to edit checkout fields easily for your WooCommerce custom checkout.
Many modifications to your checkout field include adding new fields, changing field order, editing the default field, etc. This plugin enables you to adjust the width of the column on the checkout page customers can view order detail, and email of order information can also be sent to customers. It supports both polylingual and multilingual WPML.
You can create a new section in 13 different positions on the checkout fields with a pro. Changes like editing, deleting, etc., can be made in the custom section. You have to pay extra based on the field selected. There are multiple field types available, like checkout fields and sections. You can choose conditions based on types of products, user role, shipping method, etc.
Total number of users – 10,000+
WooCommerce Checkout Field Editor
Screenshot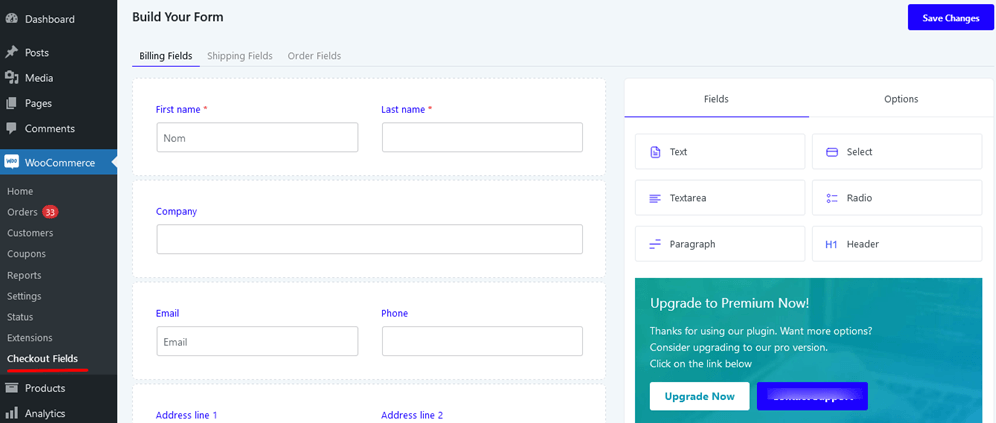 5. YITH WooCommerce Checkout Manager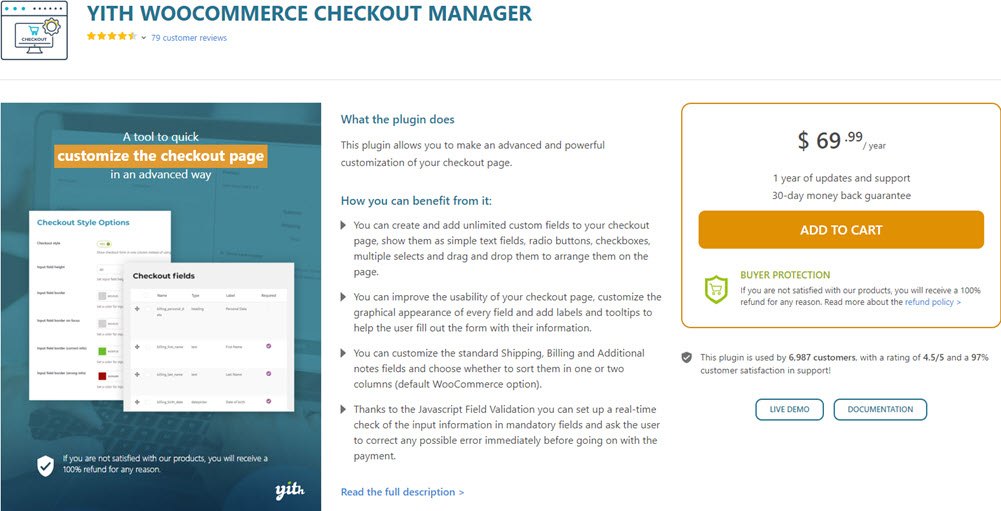 YITH WooCommerce checkout manager is an advanced custom Checkout Field Editor plugin for your checkout page. This plugin can increase the customized visual appearance and add labels to your checkout page. It helps you add unlimited custom fields to create a nice-looking custom page. Radio buttons, simple text fields, checkboxes, drag and drop options, etc., can also be added to the checkout page.
Improving your checkout field is easy with the help of a few clicks using this plugin. You can manage error messages and set different styles to insert data. This plugin also helps you add or remove fields, select the radio button, and easily add or remove the text box.
Real-time checking of essential inputs using JavaScript can be done, and users can change inputs in real time before payment. Billing, standard shipping notes fields, etc., can be sorted into two different columns. This plugin is a valuable tool to make your WooCommerce checkout page user-friendly and handy.
Price – Regular License – $69.99/annually (1 Site)
Screenshot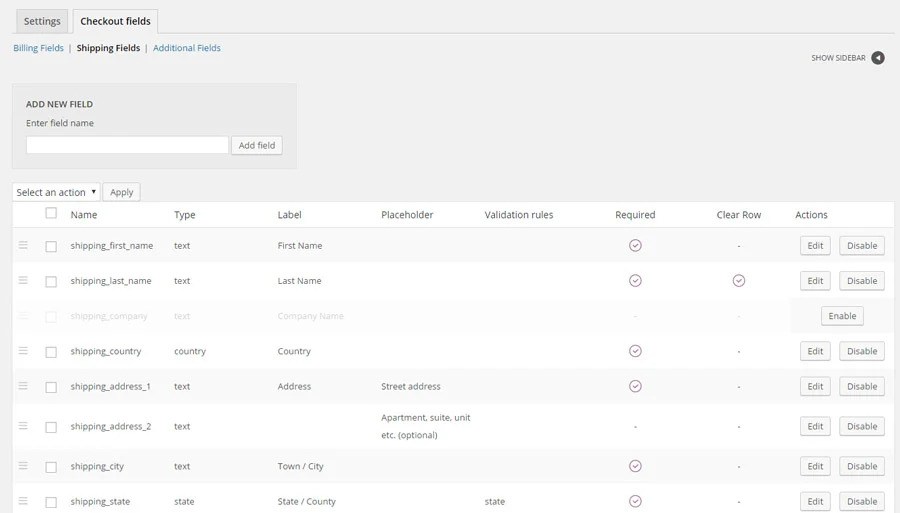 6. Woocommerce Easy Checkout Field Editor

To edit, delete, and add fields in the checkout form, use WooCommerce Easy Checkout Field Editor Plugin. This plugin supports many custom fields. Fields on the custom page can be rearranged using drag and drop admin UI. Field data and order emails can be sent to customers and displayed on the admins' page using this.
There are many features available to make checkout easy. You can choose to hide/show fields and address pages based on their value. This paid WooCommerce checkout field editor plugin helps you show field details in the order page, emails, and confirmation and view order page. It can easily add a new shipping address form, and you can manage and edit the default checkout field.
To improve the user experience, date time picker, date picker, etc., can increase transparency. Many fields can be customized based on your requirements, like text, password, paragraph field, heading, footer, etc. You can also add your email address, phone no, and a drop-down query section.
Price – Regular License – $19/annually (1 Site)
Screenshot

7. Checkout Field Editor By Themeparrot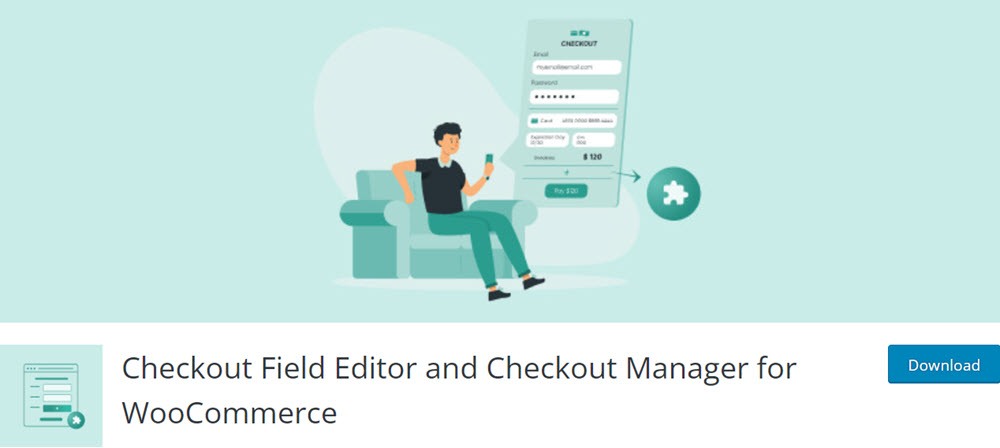 Checkout Field Editor By Themeparrot is a free WooCommerce Checkout Fields Manager plugin that allows you to add custom fields on checkout pages. Custom drag and drop option is available to edit the checkout field. In addition, there are many custom fields available, wherein you can select more than three sections for checkout- shipping, payment, and billing. You can also get additional information about your customers during the checkout process by gathering additional information.
This is a highly customizable plugin and allows you to change add validations, change the label, add additional CSS, and rearrange the WooCommerce checkout field. It's a lightweight plugin with more than eight field types available. You can add text, telephone, email, etc. The header and footer can also be customized with custom HTML tag insertion. You can give a list of options to choose from using a drop-down menu. A dedicated text area can be given to you to enter descriptions of products that need a detailed explanation.
Total number of users – 50+
Screenshot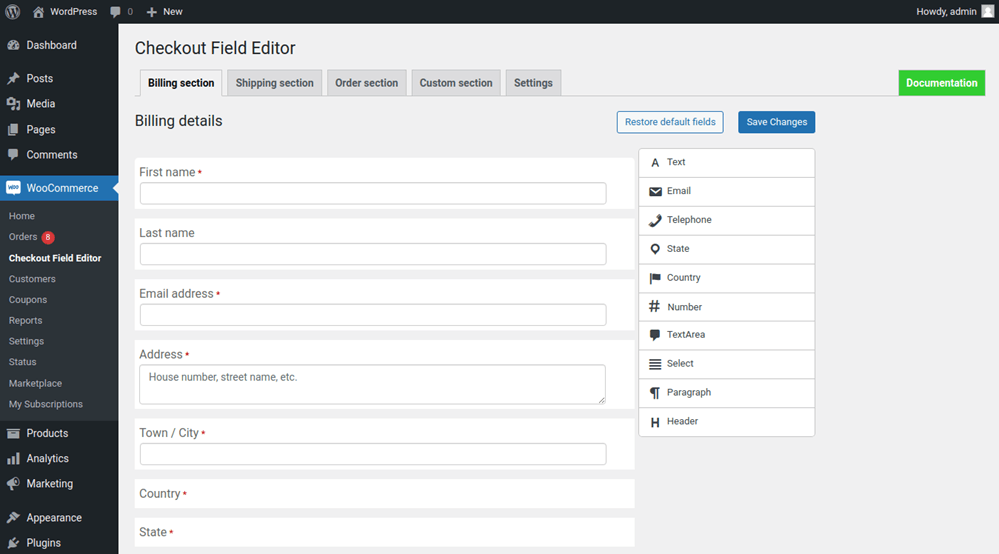 You might be interested in Express Checkout Plugin, Translation Plugin and email marketing services.