16 Best Classified WordPress Themes 2023
Are you planning to create online classifieds or listings websites and looking for Best Classified WordPress Themes? Using these you can turn your normal website into real estate, auto/car, Pc, Travel,  Jobs, events and food classified sites. Believe me or not OLX and justdial website is making millions of $ just from their website ads.

These classified themes are highly customized to meet all kinds of needs like you can set up payment integration Authorize.net or PayPal membership option, auto-delete old posts settings. These classified ads themes are highly responsive on all devices and support google map-based search using google Maps API. Your website visitor can add reviews to all the posted ads posted on your website.
The best part of these Classified Ads themes is the Prebuilt demo layout. This means you can import any kind of design with your particular in just a few clicks. You can also combine these ad posting themes with woocommerce if you want sale something on your website like an eCommerce website.
You may also be interested in  Job listing theme, car dealer theme and freelancer marketplace theme
So let's have a list of top WordPress classified advertising themes are as follows:
Table Of Content
1. ClassifiedEngine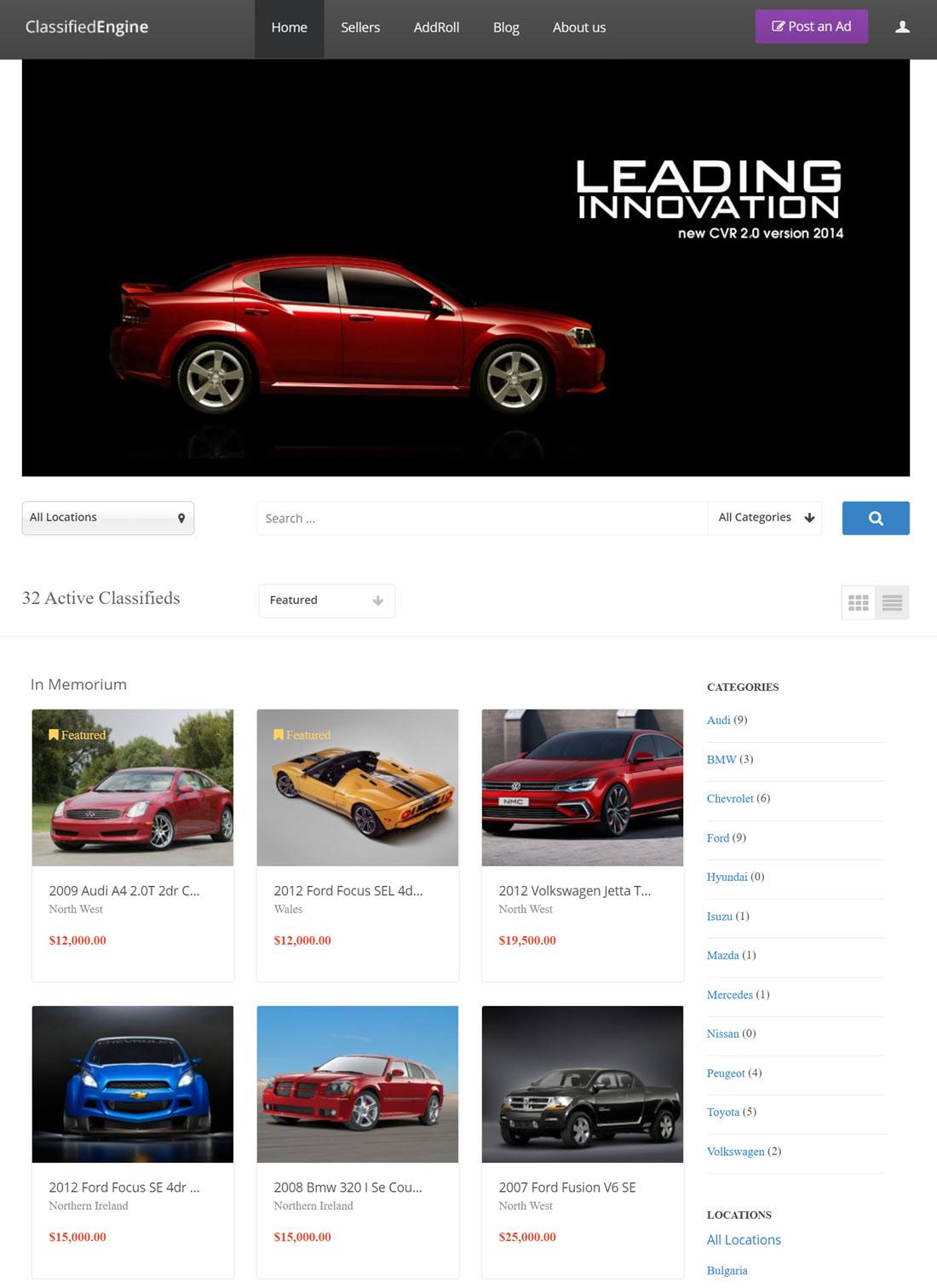 ClassifiedEngine comes with a variety of essential features including Easy Ad Searches and seller dashboard support. A complete theme package i.e., responsive as well enables the website to load smoothly and looks great on different screen sizes. Supported with multiple reliable payment gateways. With the slider in ads, you may visualize the image conversely.
Designed elegant dashboard for sellers where listing management, renew ads while expiration, and profile accessibility. Extreme support for paid ads as well as free ads. Flexibility to create ad packages on your term and then consider their monetary value accordingly. ClassifiedEngine is SEO-based and includes Bootstrap technology that ranks well on search engines. WooCommerce support and constant updates accessibility enhance the user experience of your classified Ads website. The key features include a full-size search box placed on top, custom logo, rich color pallet, location filter aided by map and support for category filter.
Price – Single Theme – $89/annually,  Full Package – $169/annually,  Standard Package – $149/annually
2. Classifieds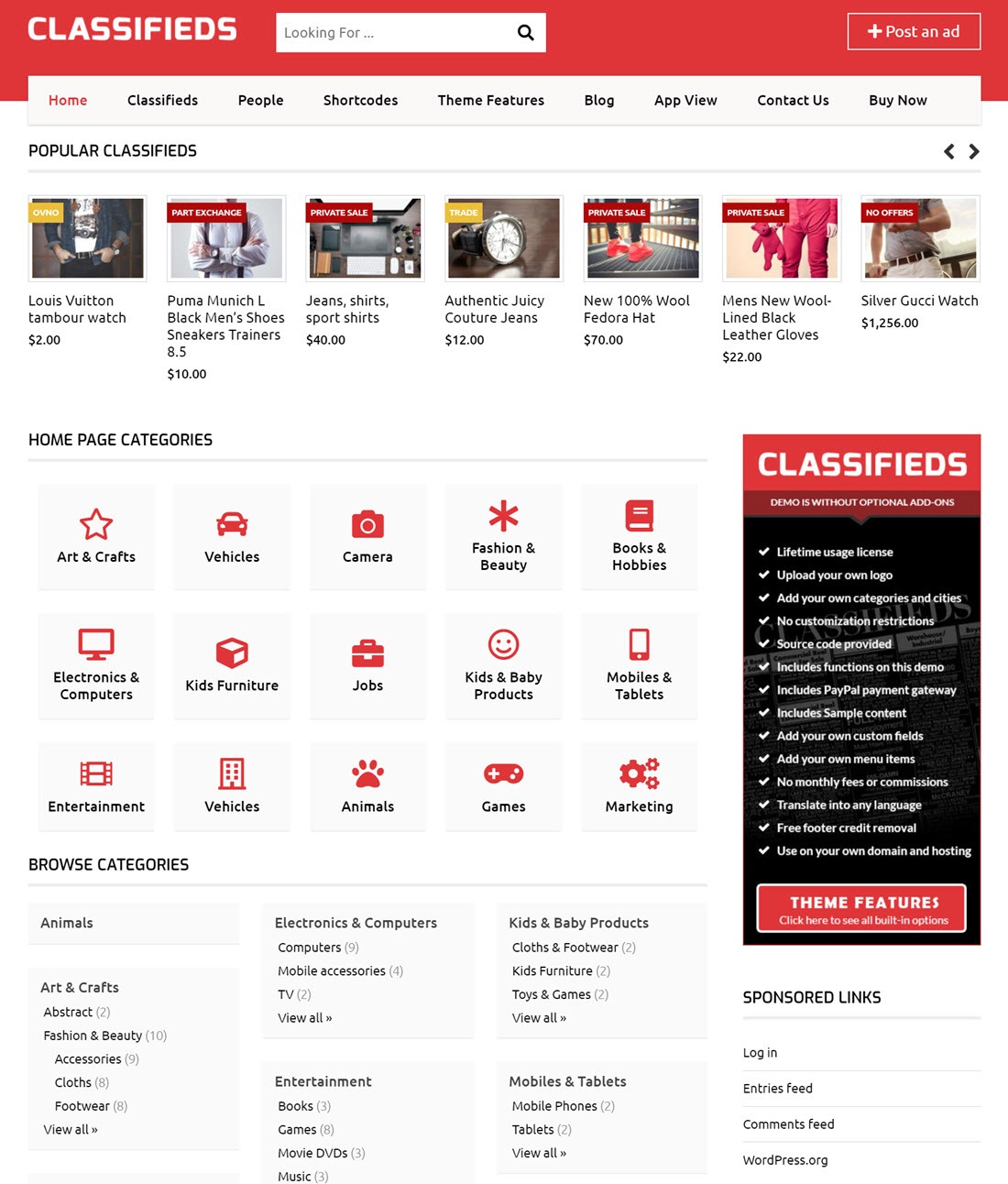 Classifieds enrolled with minimal and comprehensive layouts from where you can select according to your term of ad portal website. The contemporary WordPress Classified Theme offers a minimalistic approach to showcase the seller's product & services and your ads. You can seamlessly publish the content and edit it too with its powerful front-end control. Design your Ad listing website with specified homepage layouts, detailed pages, category pages, and more. Enhance functionality while combining it with several essential components to manage ads more efficiently. Classifieds child theme and Directory parent theme availability makes it a more functional and quick live option.
Classifieds – let you create a mobile-ready website with stunning homepage pre-designed layouts in just one-click demo installation. Category page list filter and Category Icon enable your visitors to search whatever they exactly looking for and enhance user experience. Creating a functional ad page for contacting the seller is just a click away. It also includes a good range of extensions and add-ons such as Tevolution and classifieds plugins. The seller also gets the liberty for listing management, profile display and public display of contact numbers. There is also the provision of sending email notifications on successful listing and sale of ads.
Price – 1 Site – $89/annually,  5 Site – $189/annually
3. ClassiPress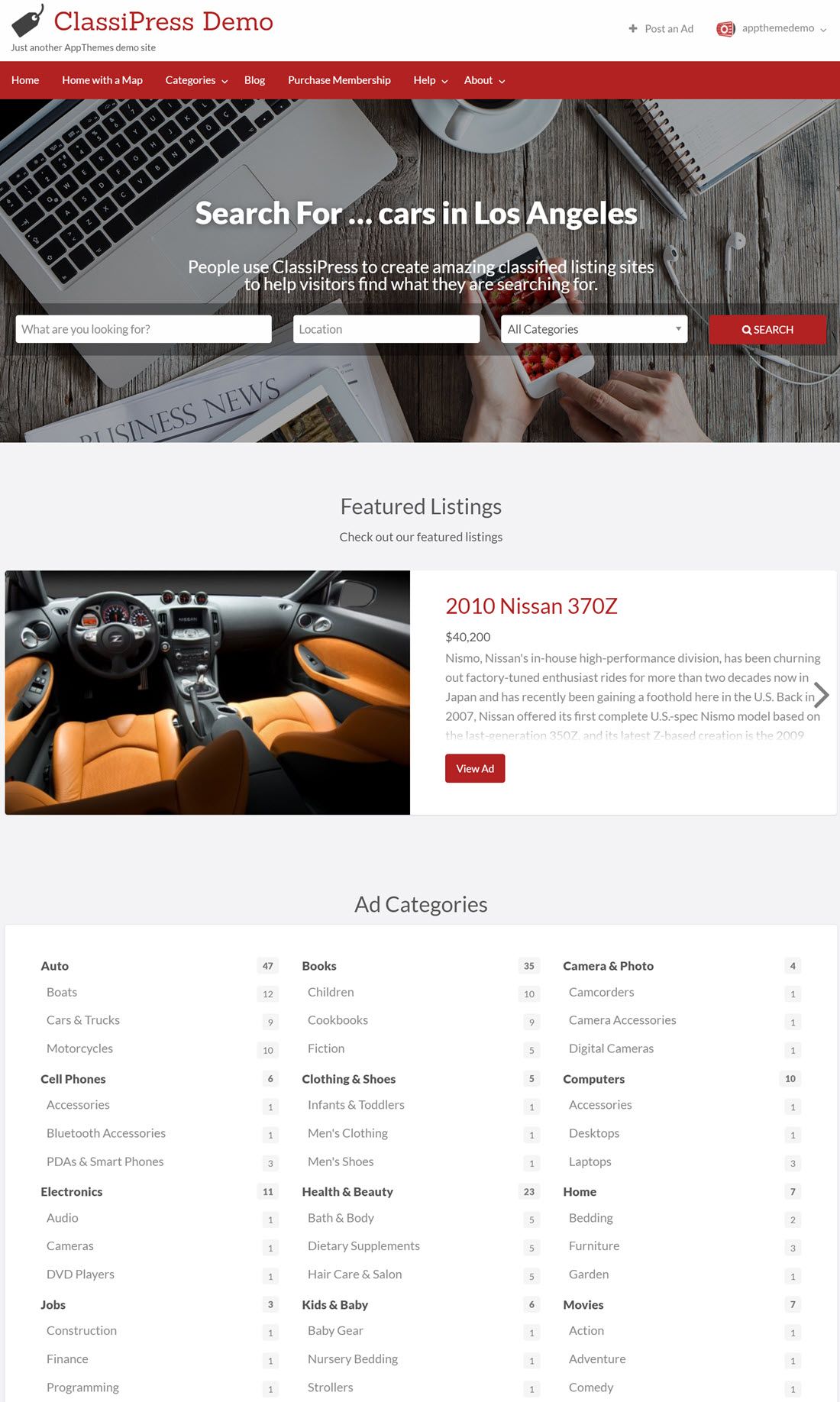 ClassiPress integrates essential features that let you aggregate classified ads (free and paid) and sell effortlessly while going online. Ad Package Module variants enable you to get your ad that is customized on your term. Easy to use form builder lets you insert custom fields and forms as per your requirements. Provides you full control over customization, lets you design header and footer followed by relevantly matching color and font accordingly.
ClassiPress provides a range of widgetized areas where you can easily add or remove widgets whenever required. Membership package is greatly influencing your customer that permits them for unlimited ad posting during the tenure. Locating a Listing is also quite easy with the Google Maps integration. Classified offers you many monetization options – pricing packages with multiple listings, publishing single listing, featured listings etc.
Price – Standard – $69/annually,  Club – $199/annually (All Theme)
4. PremiumPress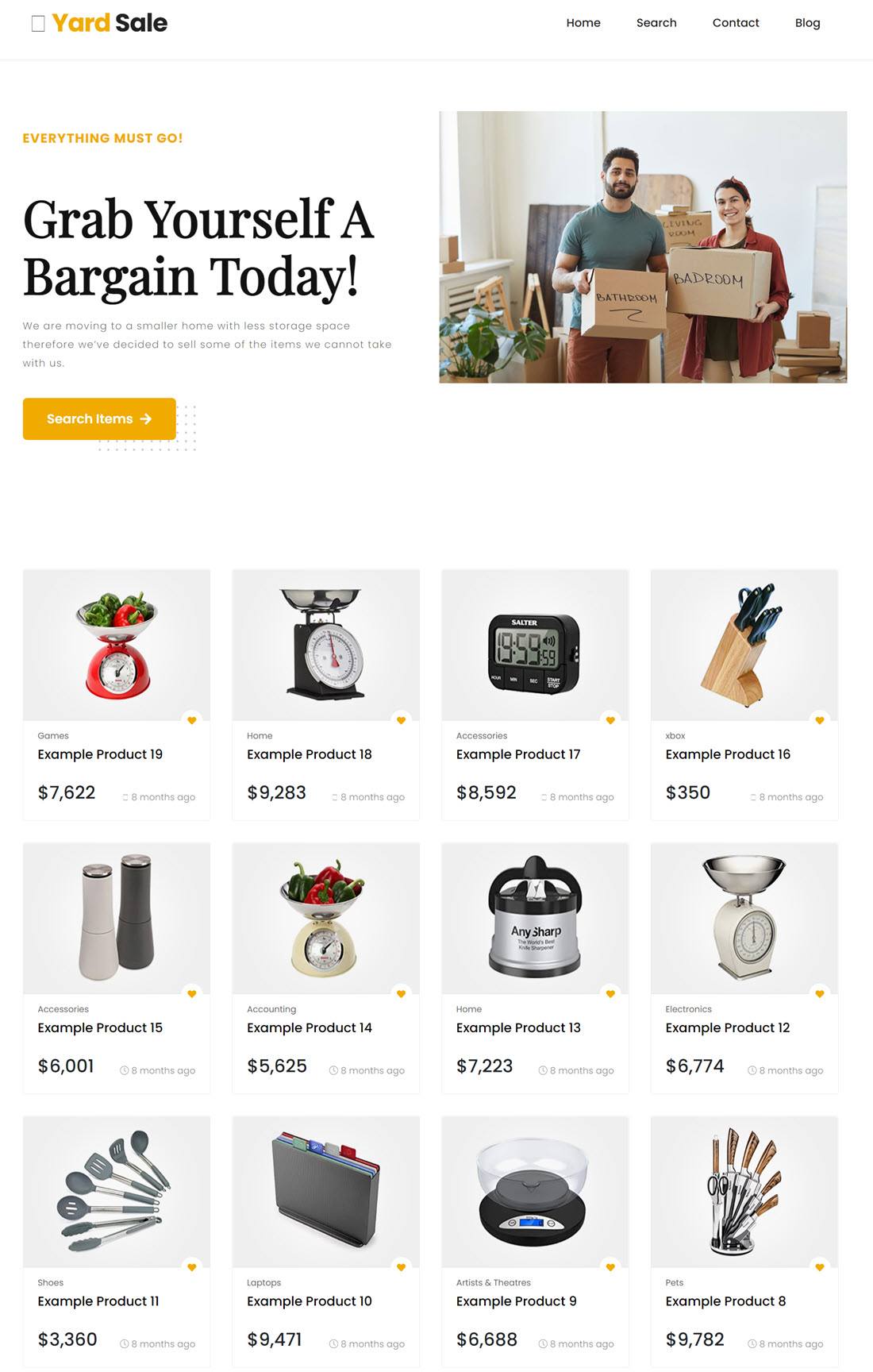 PremiumPress lets you create a customized classified website while utilizing this multi-purpose WordPress theme. Here you get retina-ready templates for various ad listing niches. A feature-packed theme comes with free Elementor Plugin access. Coded elegantly with 100% open source enable customization however required. Build a functional ad listing website with your terms & conditions. Design membership programs followed by a pricing table and describe free and paid classifieds subscription plans as well.
Other Relevant Features –
Advanced Ajax Search and custom search filtration option.
In-built support for Photo Galleries, music, videos, YouTube, and more.
Integrated Email and other notification ailments.
Supports Zip or postal Searches.
Let users create a listing of their favorite classifieds to review later.
Built-in instant messenger app for establishing reliable communication.
Price – User License – $59/annually,  Extended License – $179/annually
5. Classified Ads Theme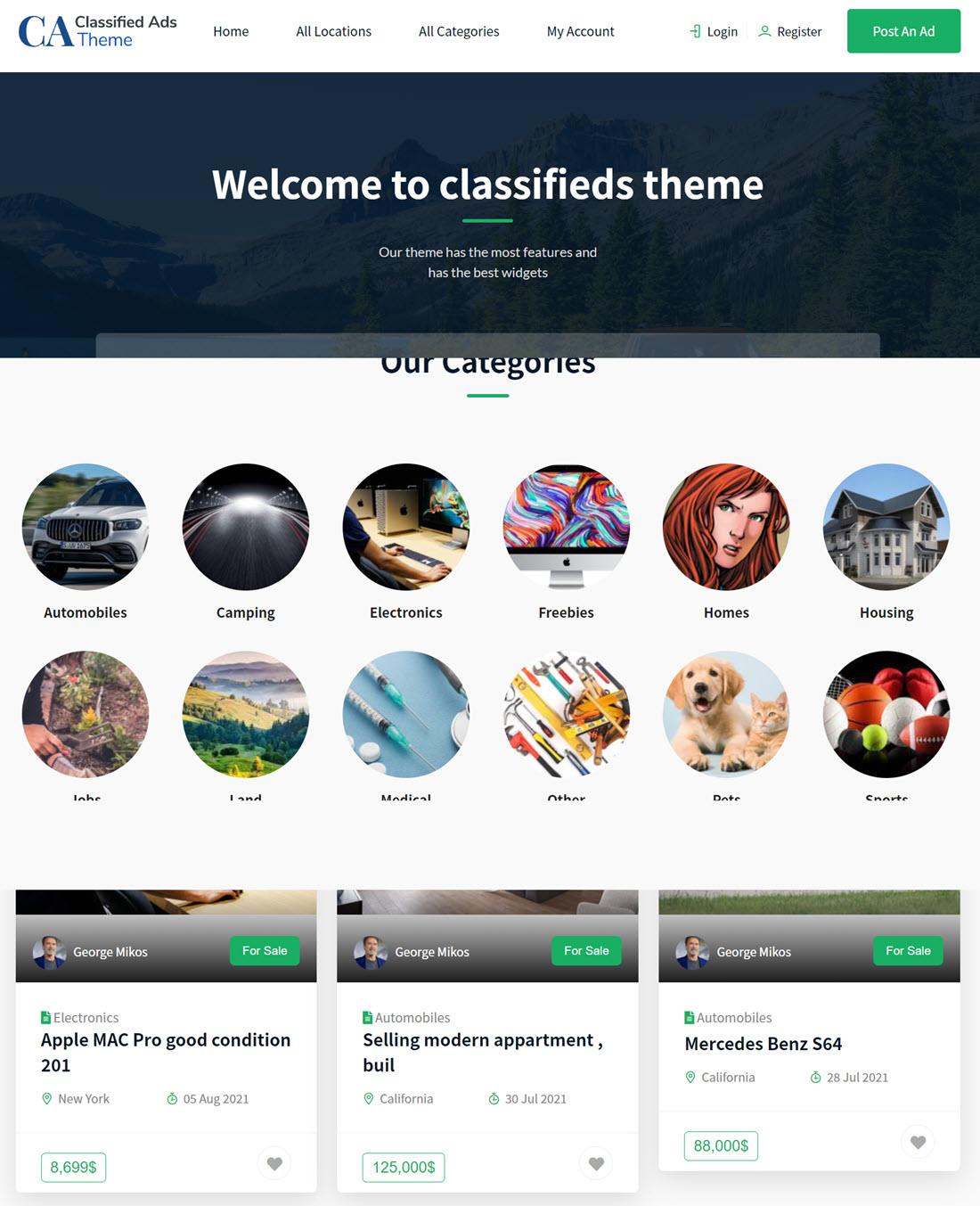 Classified Ads Theme is a classified ad WordPress theme from AppThemes and carries its specialty of hosting single-purpose websites. Classifieds has been solely designed for listing adverts and works on the powerful Directory framework from Templatic.  The latest version 3 has come up with amazing new features and brushed-up core functionality. It offers a homepage that can be fully customized, five unique color schemes and two different layouts. Its three core monetization options are fixed-rate, percentage, or category based.
Classified Ads Theme is an engaging solution for both beginners and experts to create a classified website with all the elements present then and there. A classified ads type of website can be crafted out of your blog using custom input fields such as PC Ads, food ads, real-estate ads, car ads and more. You get the opportunity to create a global listing website with its 200 preloaded countries and 4,000 states or a simple localized one.
Price – Basic – $149/OneTime,  Pro – $299/OneTime,  Pro Custom – $1399/OneTime,  Enterpreneur – $5299/OneTime,  Enterpreneur Plus – $6399/OneTime
6. Classicraft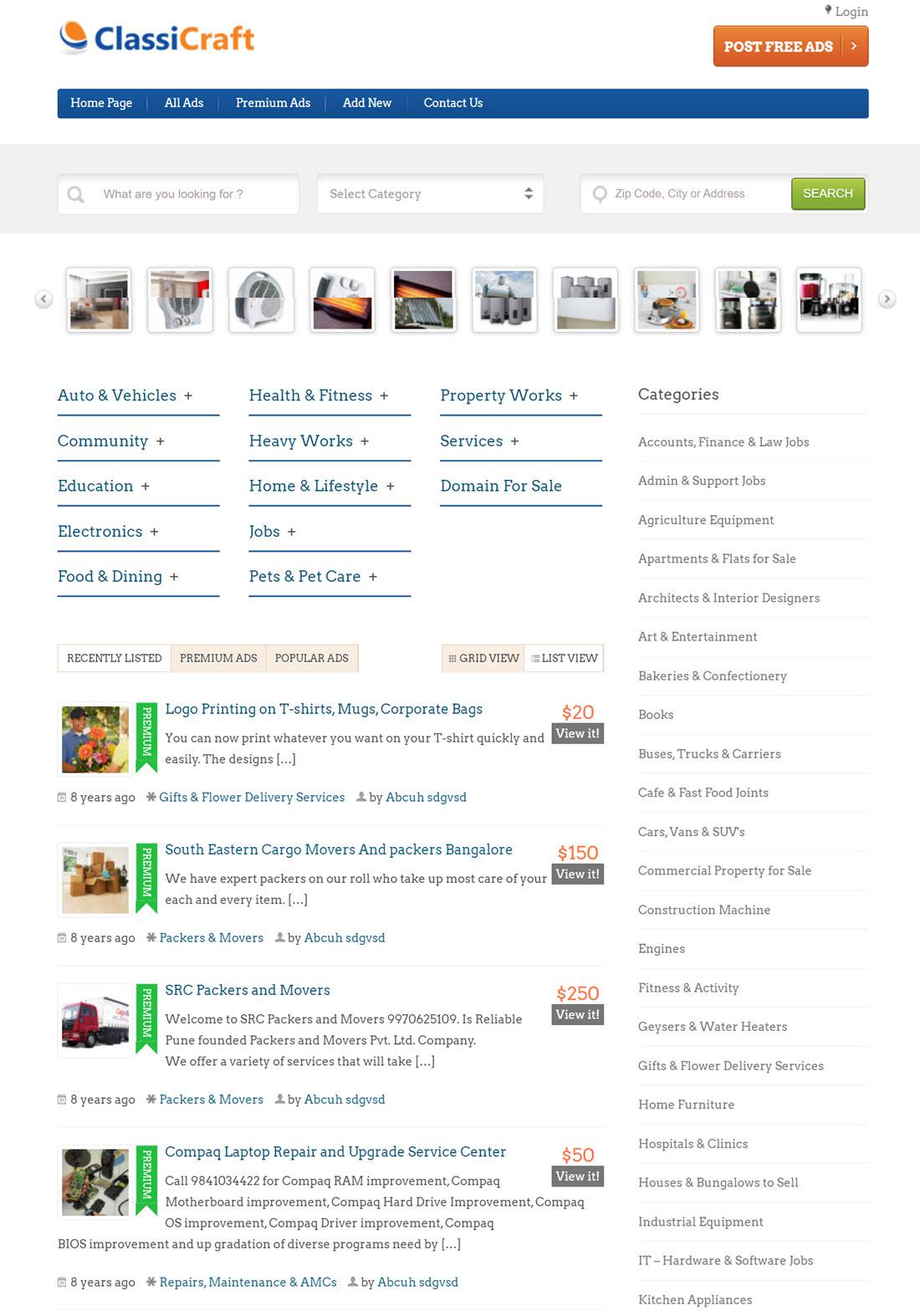 ClassiCraft Theme allows you to earn money by designing a functional classified website in minutes. Required no coding, all you do is start is creating an ad listing site and post distinctive niche-related ads posted thereon. While Ad posting on classifieds generates massive traffic on the website. Let you create a responsive website with the unique functionality of the theme. ClassiCraft integrates an easy-to-use interface where anyone easily posts ads on your Classified website whether free or paid. Let you collect payment for ads either in the recurring or one-time subscription.
Core Features –
Homepage crafted with essential tools to show top and recent ads by category.
Embed reliable payment gateways including PayFast & PayPal.
Supports each currency type with smooth and secure payment access.
Separate admin panel for each ad submitter.
Price – License – $97/annually (1 Site)
7. GeoDirectory Framework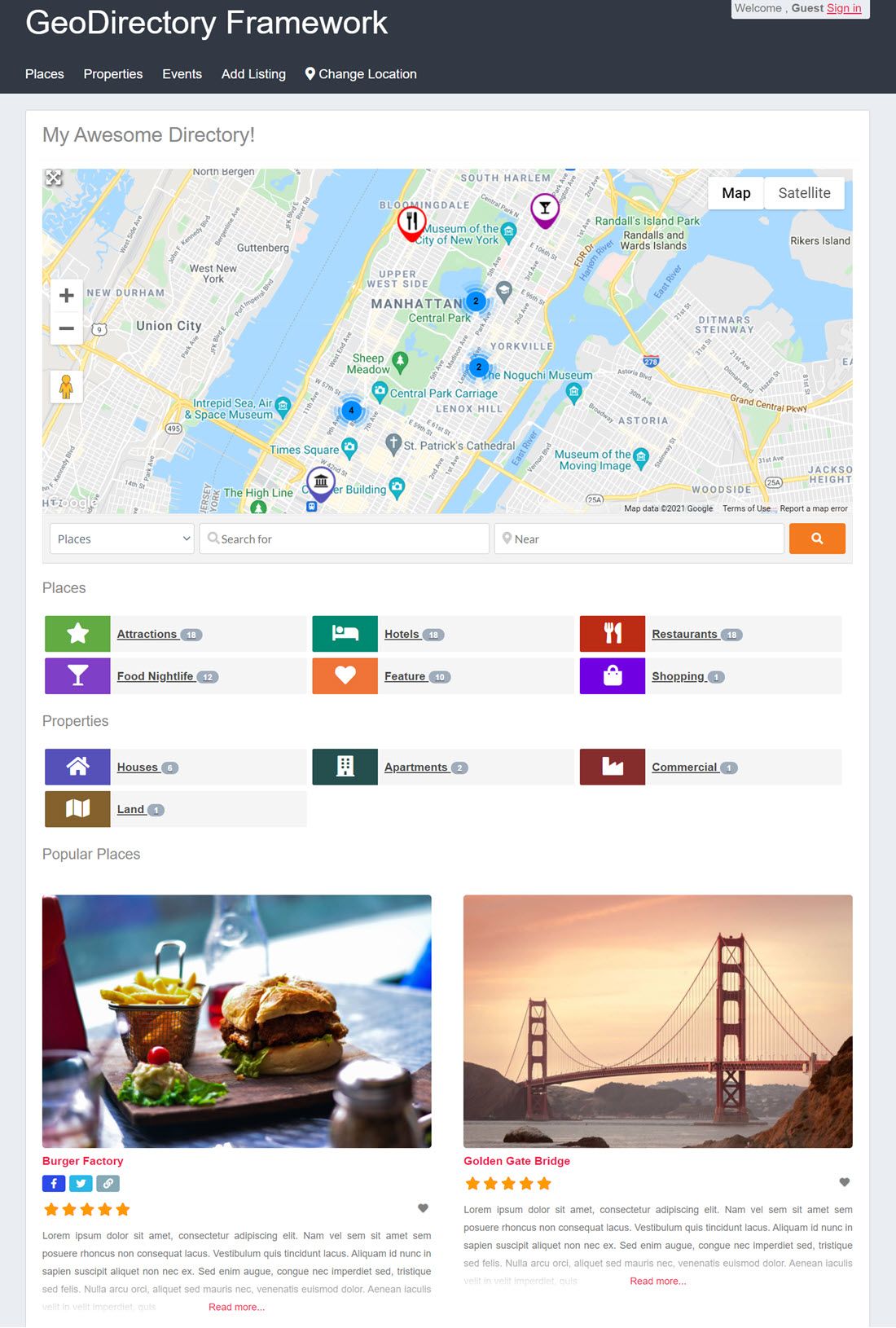 ClassiCraft is a classified ad listing theme that can beautifully host many websites such as electronics, education, pets, job, property, vehicles and more. The theme aims to create highly profitable classified ad interface niches such as OLX, Quikr, or Craigslist. Revenue generation is facilitated through integration with the payment module – PayPal. ClassiCraft through its multipurpose template helps you create classified websites across various niches and subsequently generate revenue through versatile business ideas.
ClassiCraft builds stylish and trendy classified websites. The theme from ThemeForest integrates Google Maps as its centralized feature and displays all the listings on its sizeable homepage Google map. The exact location of the listing can be further traced by the zoom effect or multi-field search form. Listing identification is facilitated through the map marker icons.
Price – 1 Site – $39/annually,  5 Site – $49/annually,  Unlimited Site – $89/annually
8. AdForest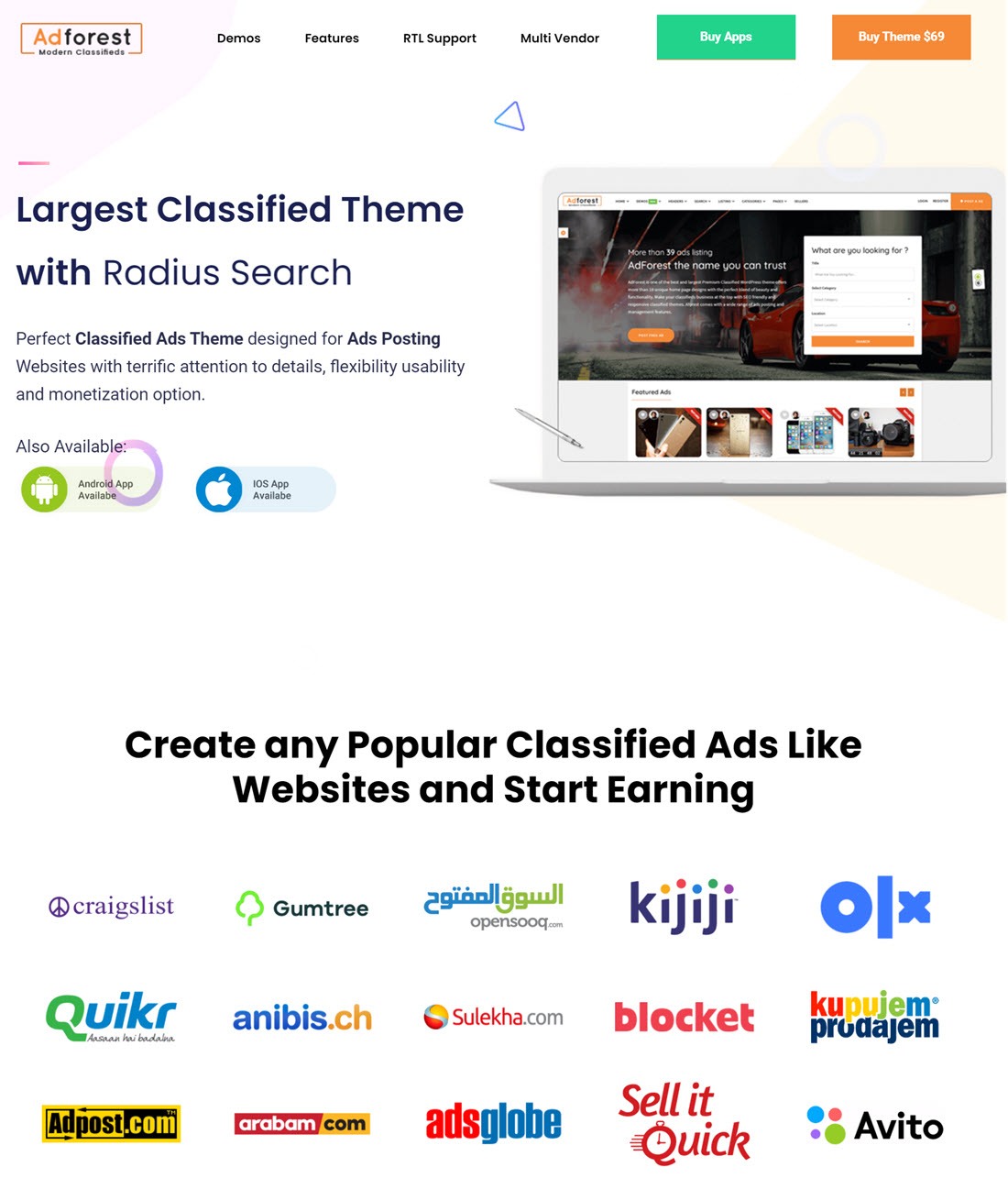 AdForest is a modern classified theme that tends to be a solution hub with unlimited variations. Provides the fastest browsing experience to your users as it is finely compatible with WordPress 5.0 and PHP 8.0. Easily enable the creation of a multi-vendor store online like Amazon and Flipkart. Monetize your skills by creating a multi-functional classified ads webpage and earning commission from each seller. Supported with Google Adsense let your users post ads ranging from promoted to featured ads. Elementor integration enables flexible customization with live preview action.
Key Features –
99+ Elementor Widgets Availability.
Unlimited colors, typography, and reCAPTCHA 3 Support.
10+ custom header styles.
Let you import Ads in XML, CSV, or XLS files.
Convenient payment acceptance from multiple payment gateways access.
HTML5, JQuery3.1, and CSS3 integration.
Price – Regular License – $69/OneTime (1 Site)
9. Knowhere Pro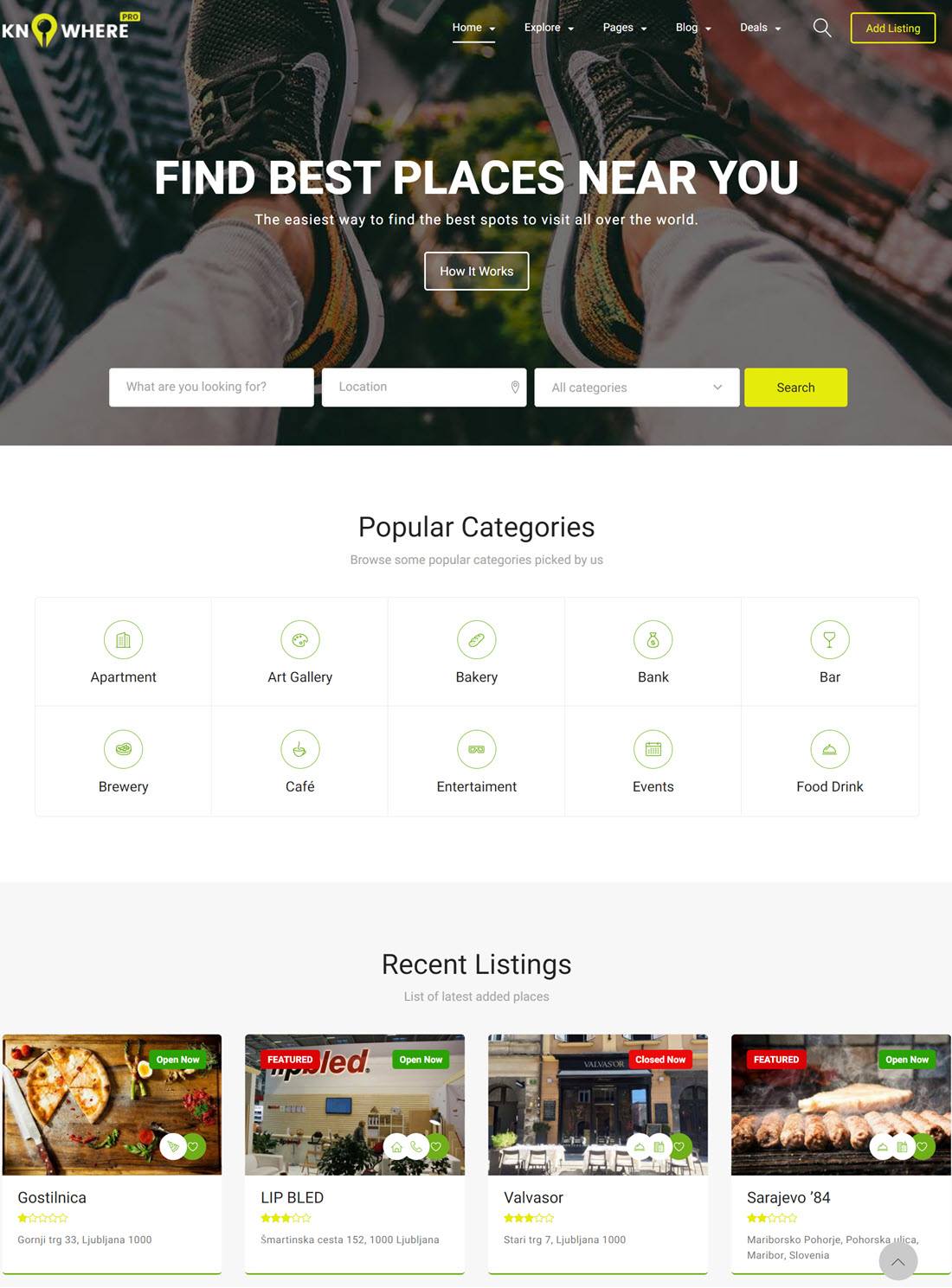 Knowhere Pro is designed with a clean and minimal design theme crafted with BootStrap 3 grid layouts. The SEO-ready theme lets your classified website rank well on multiple search engines. Integrated with custom classified Add-on and 4+ demo content. A fully functional and flexible customization theme with GDPR compliance. Knowhere Pro is integrated with essential tools that you need to furnish multi-purpose niches website in a few minutes. 2 blog pages modules, Job Manager tools, 404 pages, and embedded Twitter Feed.
Full control on customization with Elementor extension support without any additional cost. 4 different variety of category templates and essential inner page templates with visual composer support. Sticky headers, a drop-down menu, Ajax Pop-ups, and multiple typography designs, all let your Ad listing website more presentable. The multi-purpose composite directory theme can host many websites such as museums, galleries, hotels, restaurants, cafes, bars and many others.
Price – Regular License – $59/OneTime (1 Site)
10. Listify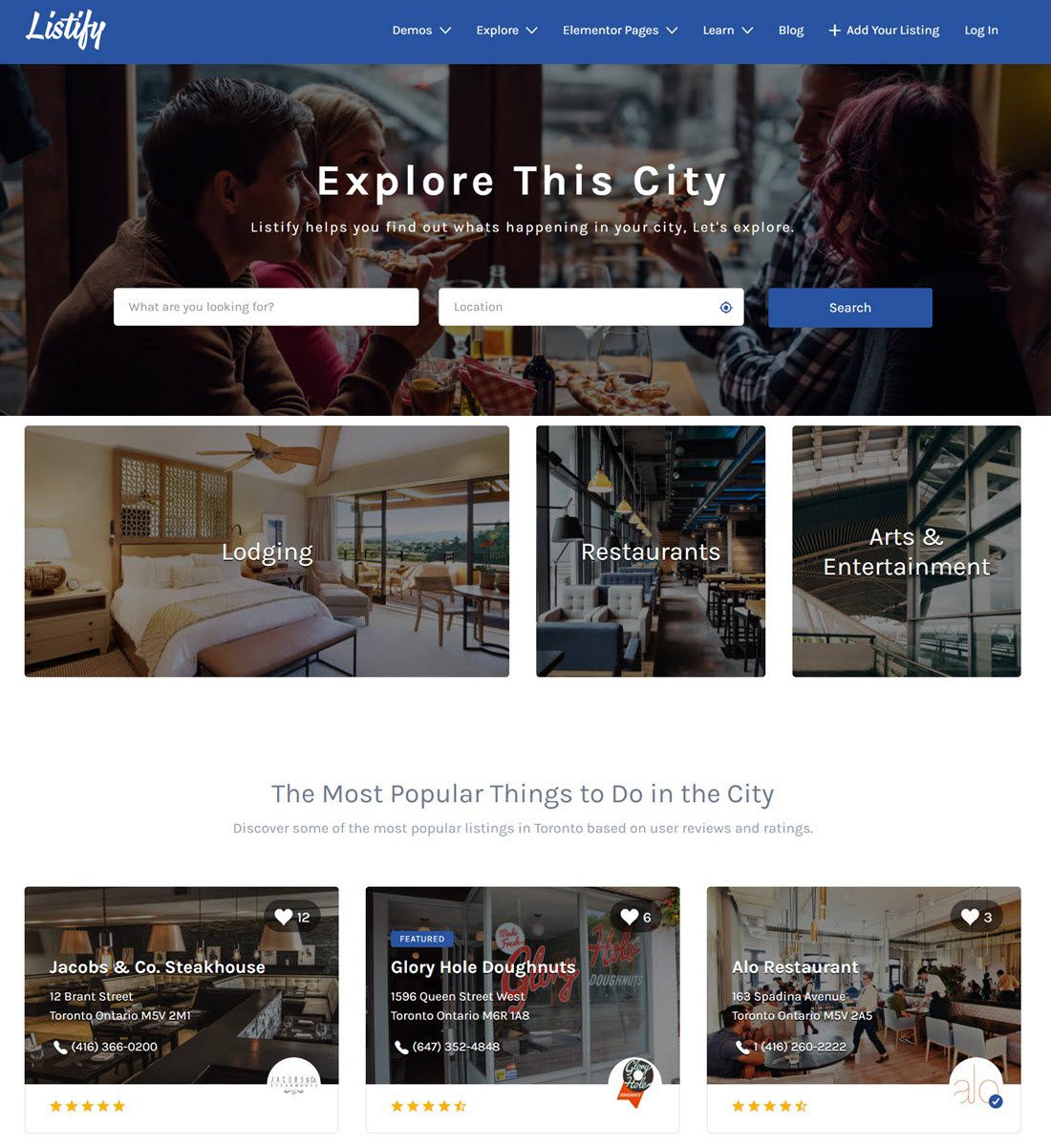 Listify is designed so well with modern technology best suite for multiple niches such as real estate, tourism, automobile, and anything else. Comes with sleek features and popular plugins support. Let you design the appearance of the ad listing websites with proper management tools to displays the latest ads to the audience. An easy-to-use interface enables users to add advertisements so easily while tapping with the mouse. Listify enables you to create a stunning website in no time and no coding as well with live demo content. Let installing such demo content in one click and then customize it however your website required. Providing a range of tools to display branding.
Listify seamlessly created with WordPress Customizer that eases the customizing of the overall look and feel of the website. Enhance your site visibility with a Geo-location setup. A various monetization options available that allow you to introduce your subscription plan.
Price – Regular License – $69/OneTime (1 Site)
11. DWT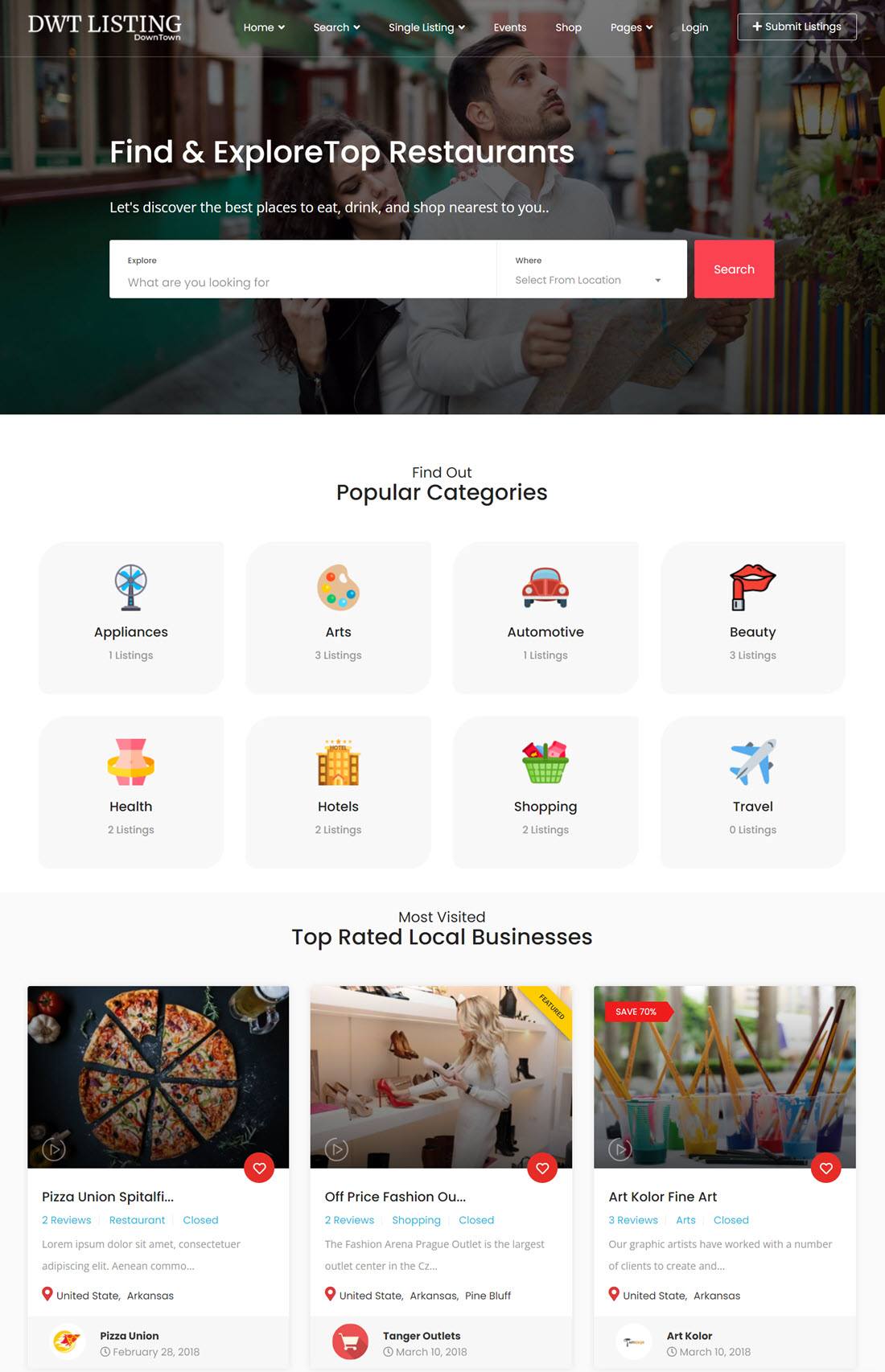 DWT is a robust and modern WordPress Theme for classified ad listing websites. Create an outstanding website for various niches including restaurants, appliances, arts, beauty, travel, and shopping. A highly responsive theme adapts different resolutions on different devices and browsers as well. Online shop accessibility provides back to top option for users. DWT integrates essential equipment that makes your classified website outstanding such as Owl carousel, blog post 7 Contact Form widgets, breadcrumbs bar, instant search on the header, Google Maps, Background image parallax, and many more.
Key Features –
Bootstrap technology and constant updates accessibility.
Translation-ready and shortcode-ready website theme.
Sign-in and registration functionality for users.
Front-end submission disables and enables back-end listing submission.
Coded with SEO-friendly URLs help your classified website to rank well.
11+ ready-to-use web demos with a single click import.
Price – Regular License – $59/OneTime (1 Site)
12. Classima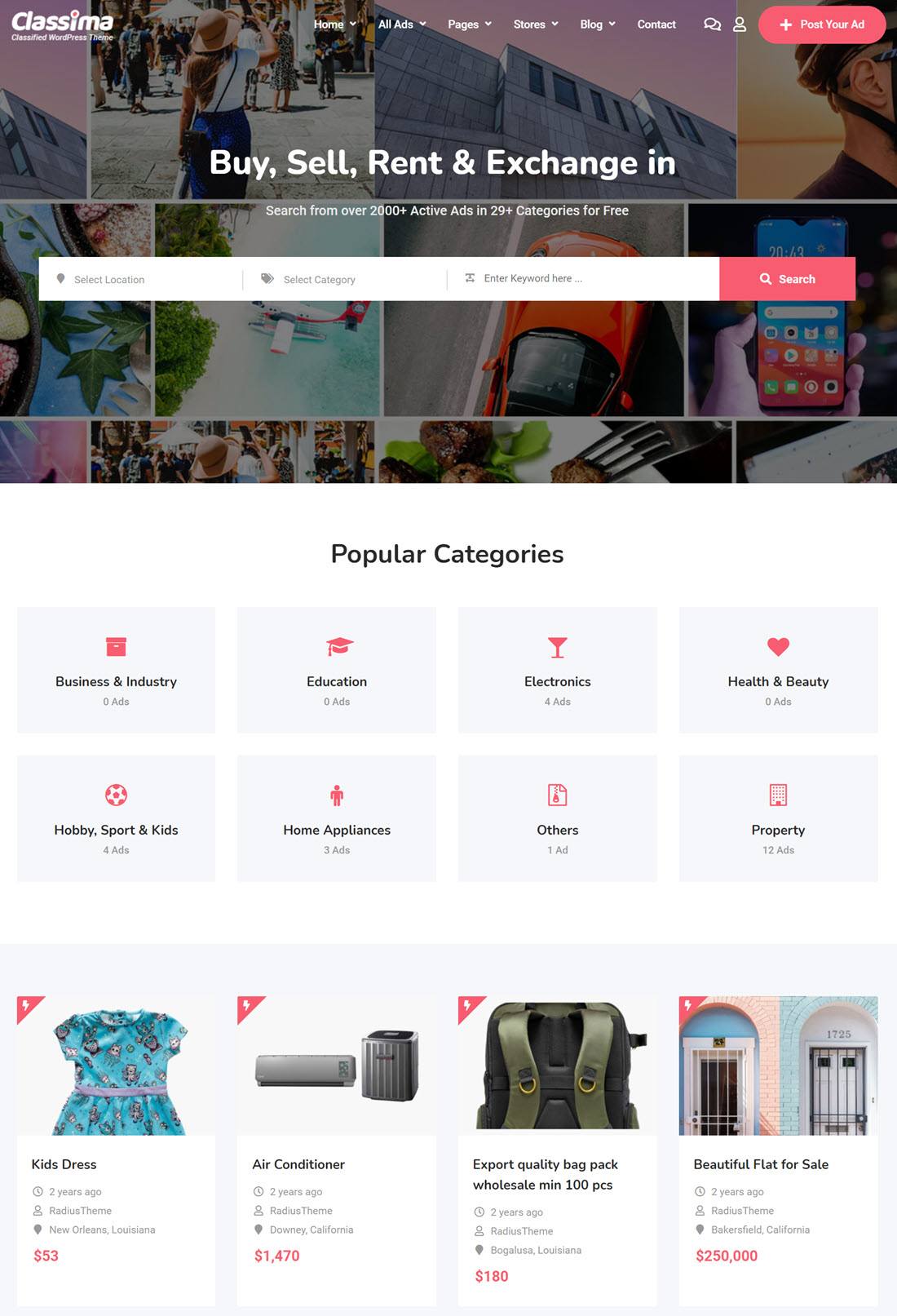 Classima is a feature-enriched Classified WordPress Theme with live chat and WooCommerce Payment support. Comes with Android & IOS app accessibility that improves user performance. Create a stunning classified website in minutes with this well-documented and SEO-based theme. Trending 7 homepage layouts equipped with required accessories to manage ad posting. Let you import any of these demo homepage layouts in just a single click and design it with a modern page builder. A clean and classy classified theme is the best for every niche with Gutenberg blocks that enable users to post ads easily.
Core Features –
4 header layouts with 5 variants of custom styling.
2 blog layouts and 800+ Google Fonts access.
Design gallery and control the image size as per your classified site need.
reCAPTCHA Support.
Price – Regular License – $39/OneTime (1 Site)
13. Lisfinity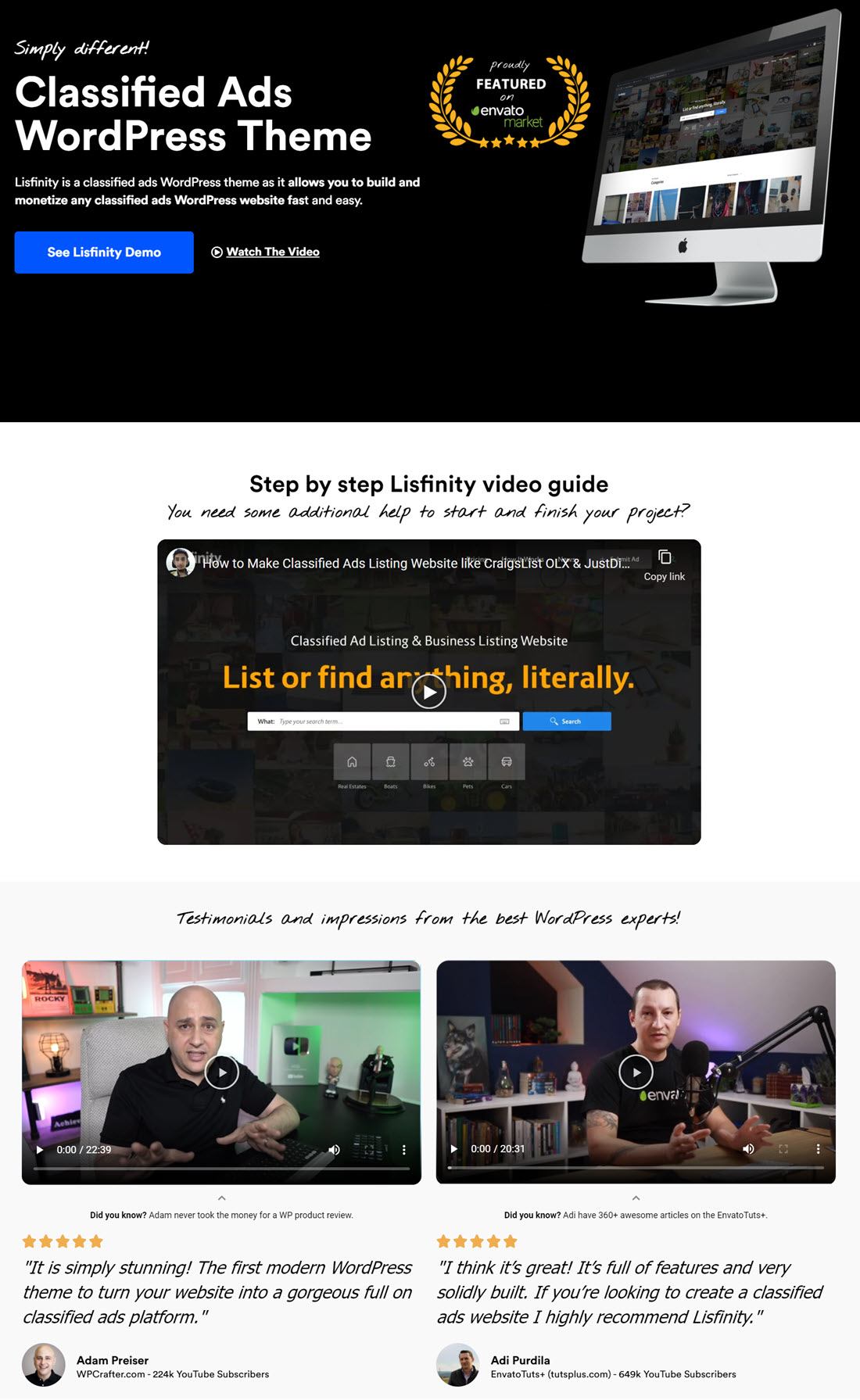 Listifinity is the best Classified Ads Theme that lets you create and monetize your classified ads website in minutes. This theme is built-in with every required feature that assists anyone to create a website without being tech-savvy. A beginner-friendly theme integrated SEO-approach and well-coded with the latest HTML and CSS technology. Drag & drop custom fields editor lets you create and customize categories as well as Fields however your classified site is required. Listifinity integrates advanced search options on the homepage, search page, and detailed search page with Search Builder software.
Prepare your pricing packages for posting Ads and promotions. Separate free Ad publishing and premium one's criteria with accessibility concerns. Designate a premium profile with unique pages and discounted rates. Accept payment while integrating multiple payment gateways.
Price – Regular License – $59/OneTime (1 Site)
14. Avtorai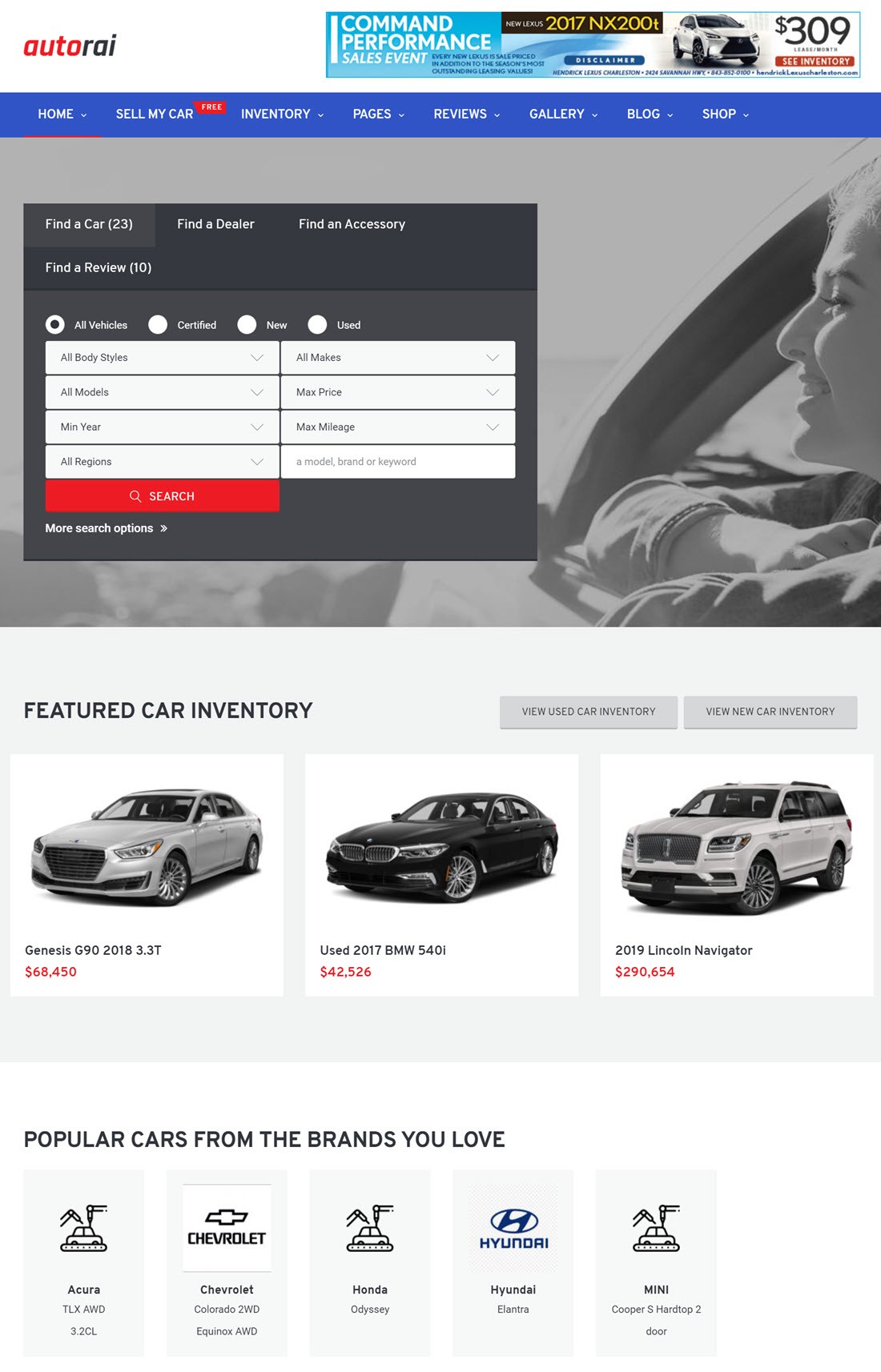 Avtorai is yet another classified ad theme with16 pre-defined homepage layouts to create your intuitive classified website. The latest release. It gives you fresh options such as easy installation of the demo websites for a versatile range of classified and listing websites. The radius search tool allows the visitors to get the closest listing.
The theme integrates with WooCommerce Bookings and offers reservation facilities to visitors. Knowhere Pro also features a cookie consent plugin and is GDPR compliant. Avtorai flaunts the best bunch of varied templates that can be further customized to publish any type of listing and serve any category of audience.It is a ThemeForest presentation configures your website to get maximum monetization options to collect payments from the website visitors via multiple ways such as fee for submitting a listing or charging an up-gradation fee for free listing service etc.
Price – Regular License – $64/OneTime (1 Site)
15. ListingHive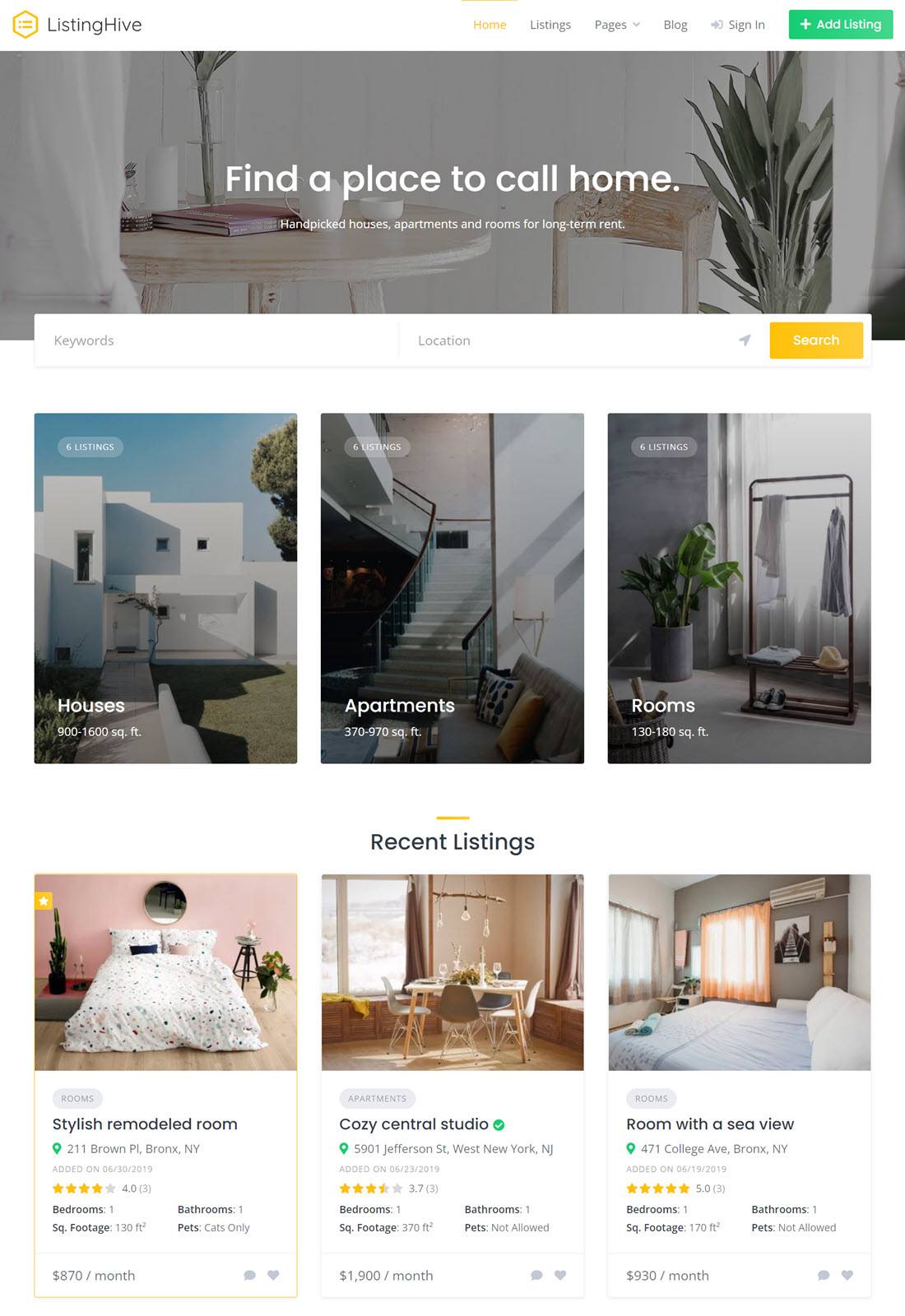 ListingHive is one of the best-classified ads themes and gets you covered when you want to create your presence online and allow the users to list their services for sale after signing up or create an online directory classified theme where regional businesses can be listed. The listing submission process has been further simplified with the front-end submission forms.
ListingHive enables you to create SEO-optimized Classified websites. You get the power of PremiumPress add-ons to add new pages using Elementor. The theme features PayPal integration, both free & paid listings, multi-language support, searches based on Google maps and zip codes, membership packages, and 1 click installation.
Total number of users – 4,000+
Price – Free
16. Classified Ads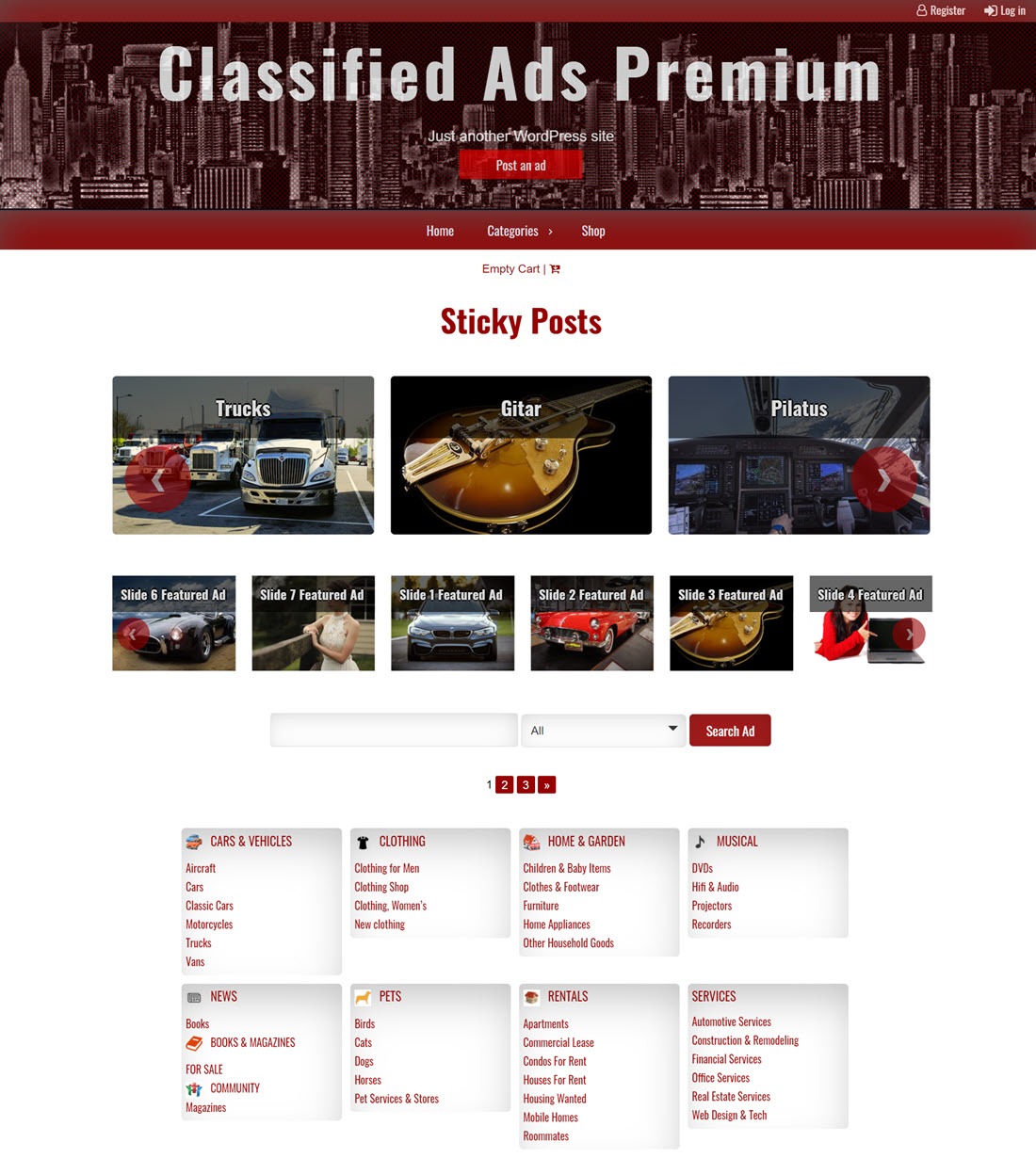 Classified Ads is a responsive multi-purpose HTML5 free ad posting theme that helps you to create your site for Classified Ads. Through PayPal integration, you can publish ads and collect the revenue in the PayPal account which you can access anytime. The theme is responsive and displays the latest listings on the main page. There are separate templates for blogs and listings which can be accessed on the blog page and "View Listing" pages respectively.
If you want to sell or advertise any kind of product, then Classified Ads can be the right choice for you. The homepage of the theme is highly comprehensive and integrates an easily navigable menu system and category links, making the theme extremely user-friendly. Google Maps integration and geo-location feature facilitates easy location of the nearby listings.
Total number of users – 400+