15 Best Job Board WordPress Themes 2021
Are you planning to start a business related to the job listing and need Best Job Board WordPress Themes? Using These themes any recruiting agency can easily hire people from your website. Using the recruiting website you can connect the job posting companies to the candidate. So many companies are hiring people from Monster and LinkedIn.

Before we start going into deep let me explain to you the feature of Job listing WordPress themes. You can have 3 interfaces one is for administrators, the other is for hiring companies or agencies and the last one is for the candidate. And there will be a different dashboard for candidates for Resume submission and applying for an available job based on their interest. And other is for employees so that they can hire people based on their own interests.
Now the main concept behind these job portal websites is a money-making concept. When the companies both their job you can either make it free or charge them. Or you can charge them by saying if you will choose our premium membership option and get more resumes. So many of the themes support woocommerce integration for payment acceptance. For extending your theme functionality you can get wpjobmanager or Hire a theme expert customizer.
You may also be interested in  freelancer marketplaces and Job listing Plugins
Let's have the list of top recruitment WordPress theme are as follow:
Table Of Content
1. Job Board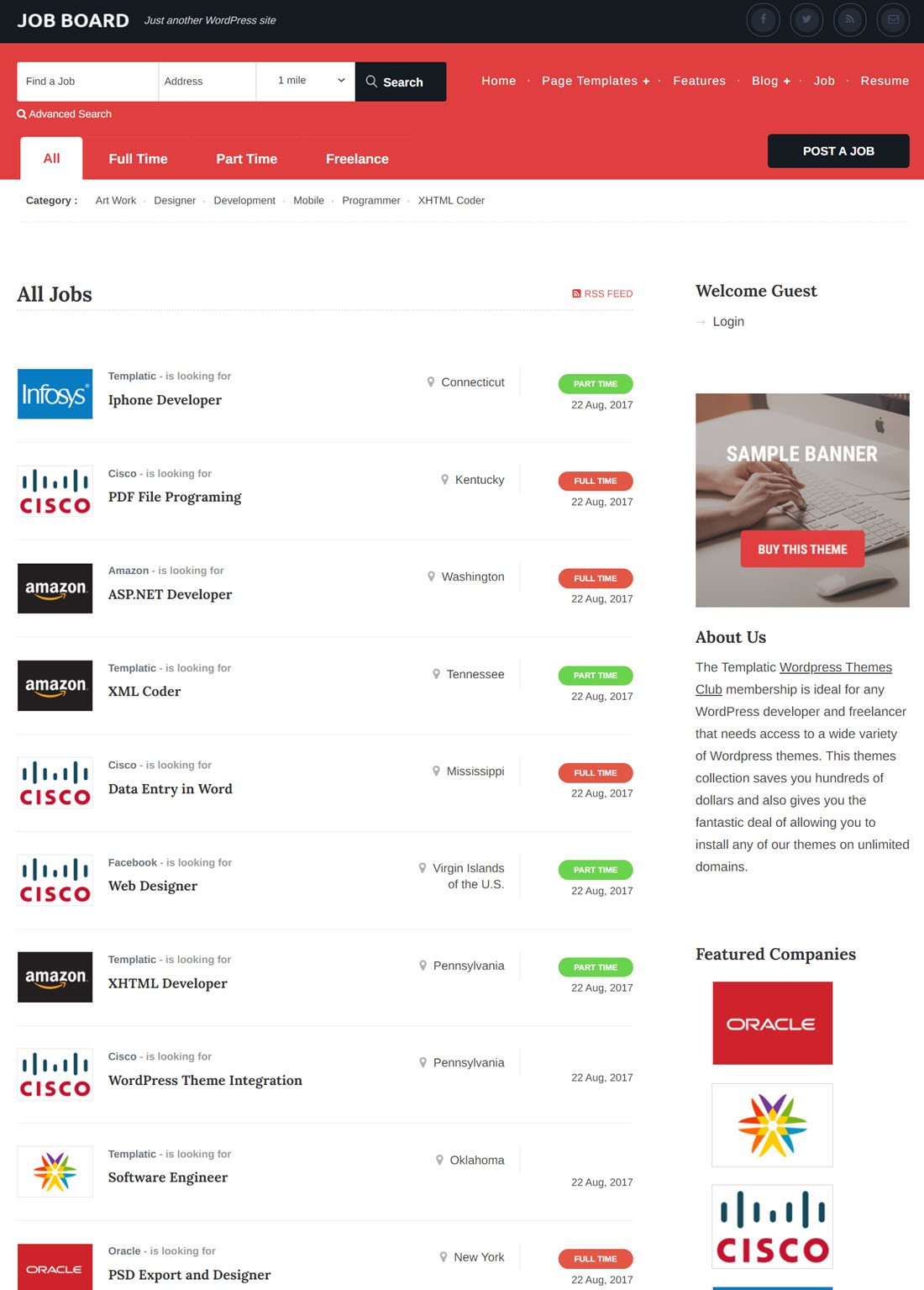 Creating your own job directory website is not a distant dream with Job Board. This thoughtful theme offers every element that a visitor requires right at its homepage. It helps the users find relevant jobs by title, area, and proximity. Also, the jobs can be further categorized, uncategorized, and listed along with the company logo, job title, and the date they were posted. In short, getting your fully functional job portal online such as Indeed, Career Builder, etc is a matter of minutes and suits your budget as well.
Price – 1 Site – $59/OneTime,  5 Site – $99/OneTime
2. JobEngine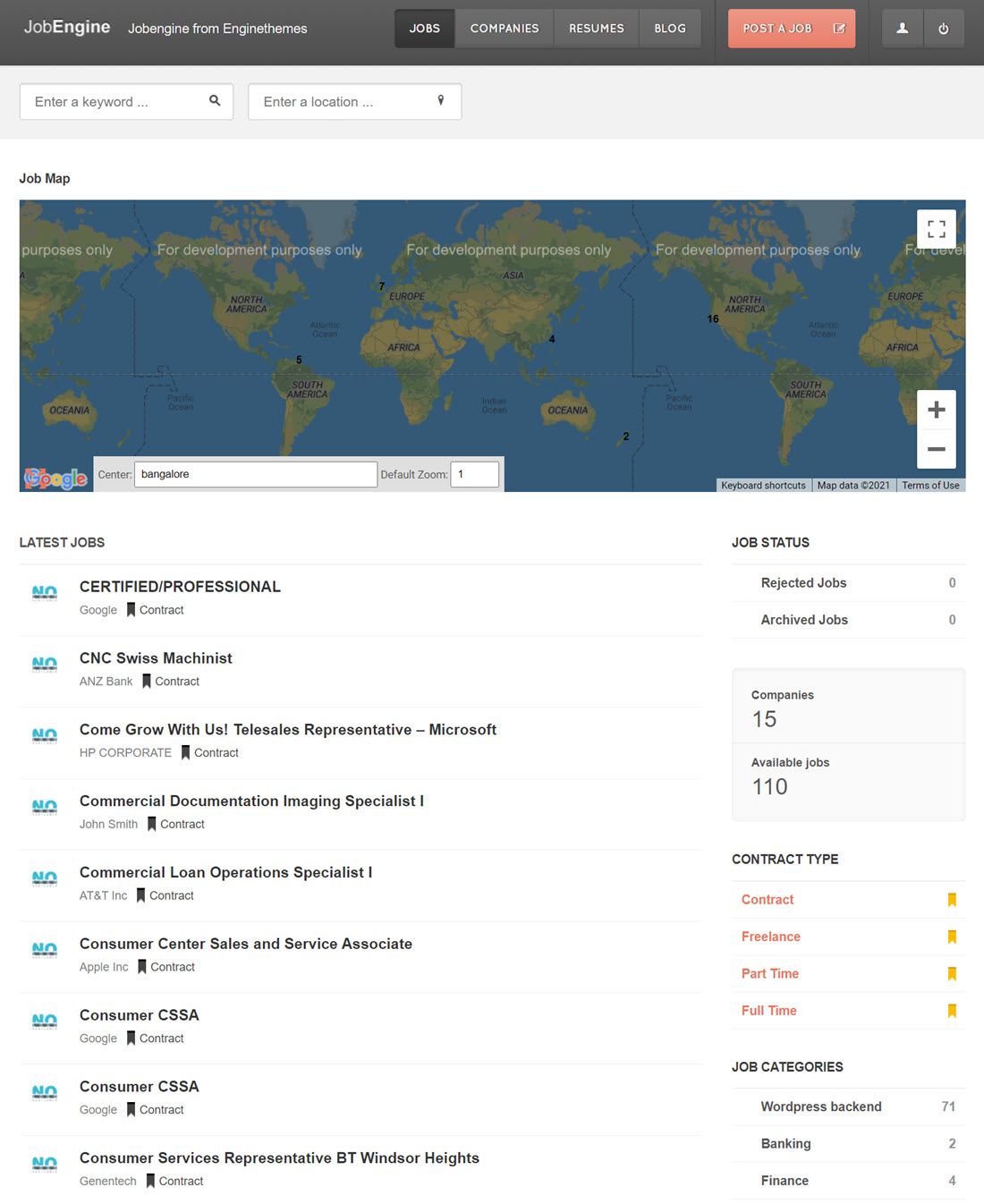 JobEngine is a job portal theme that can host seamless job listings websites. The theme is way ahead of a mere job board software but an excellent job portal template. It helps in easy conversions through job script seekers. You can charge a fee for posting jobs, feeding sponsored jobs, and charging a commission for each project. JobEngine helps you create a freelance marketplace through an Escrow System, bidding, and multi-payment API interface.
Price – Single Theme – $89/annually,  Standard – $169/annually,  Full Package – $199/annually
3. JobRoller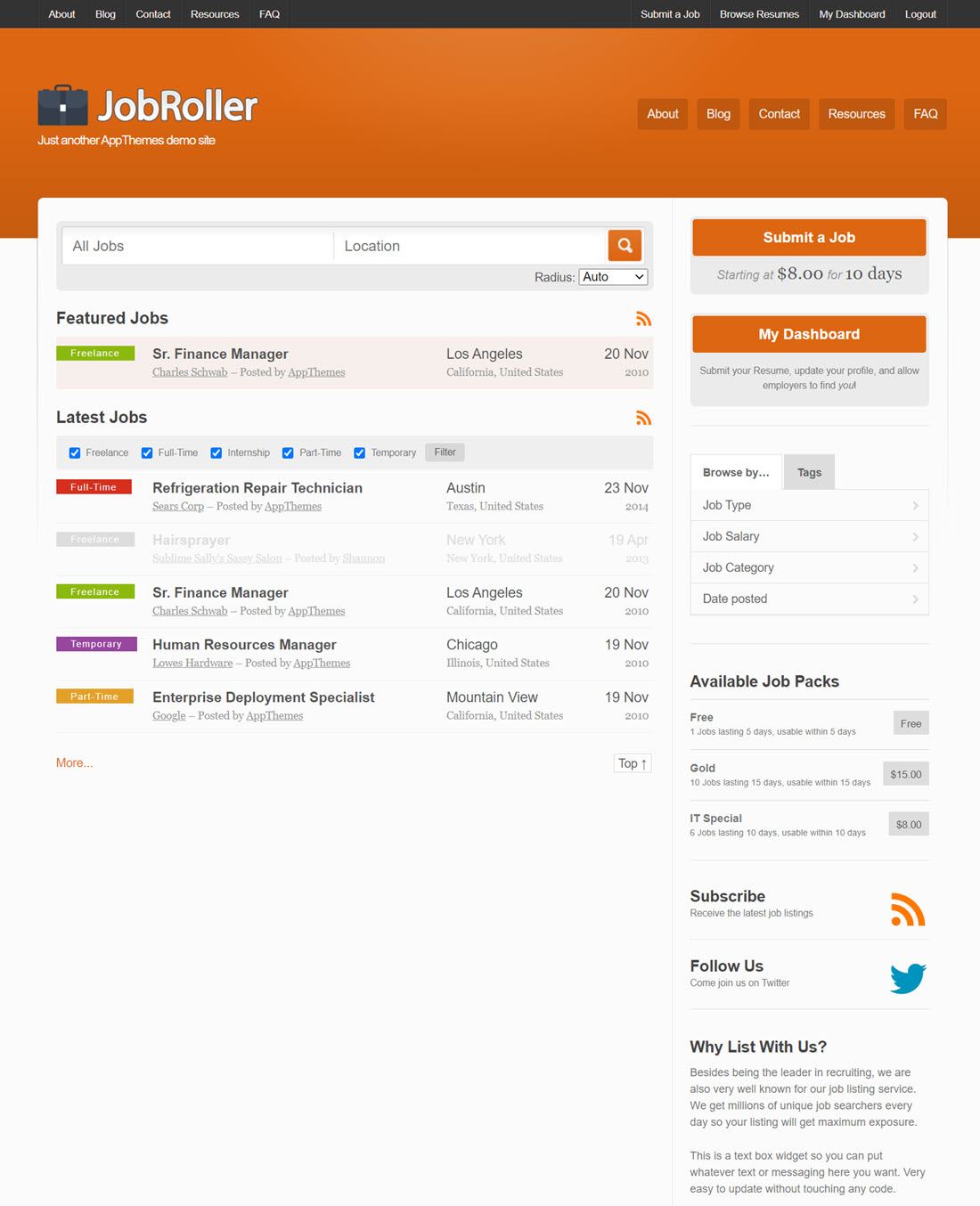 JobRoller is a user-friendly and easy to operate job board theme that helps you sell job listing space and accept new resumes in a very short span of time. The feature-rich theme offers unique portals for recruiters/employers and potential employees. In short, you can have your recruitment business up and running in no time.
Price – Standard – $99/OneTime,  Club – $199/OneTime
4. JobMiner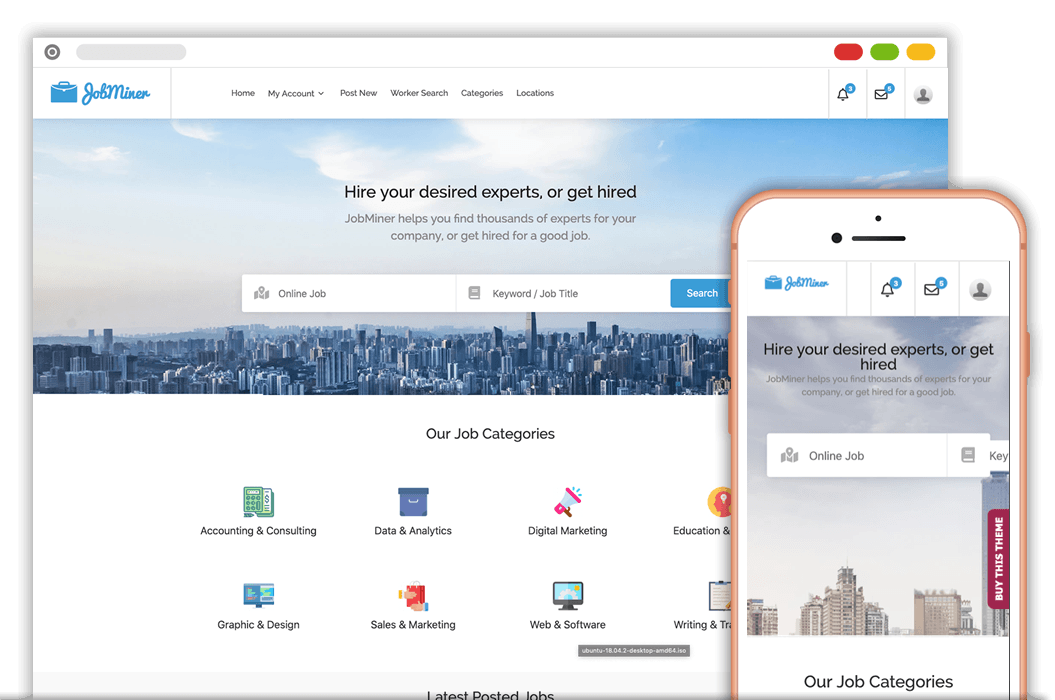 Price – Basic – $399/annually (Unlimited Site),  Professional – $499/annually (Unlimited Site)
5. PremiumPress Job Board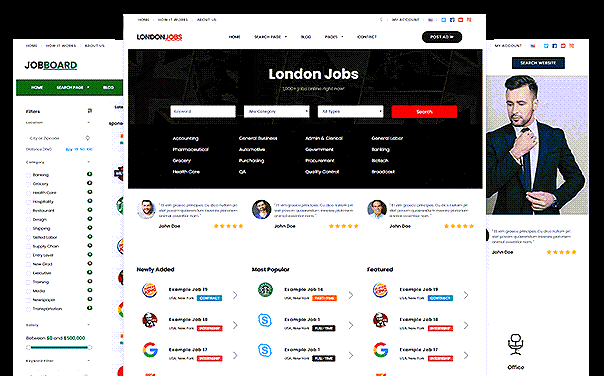 Price – Single Theme – $89/annually (Unlimited Site),  All Theme – $359/annually (Unlimited Site),  Developer License – $539/annually (Unlimited Site)
6. JOB Portal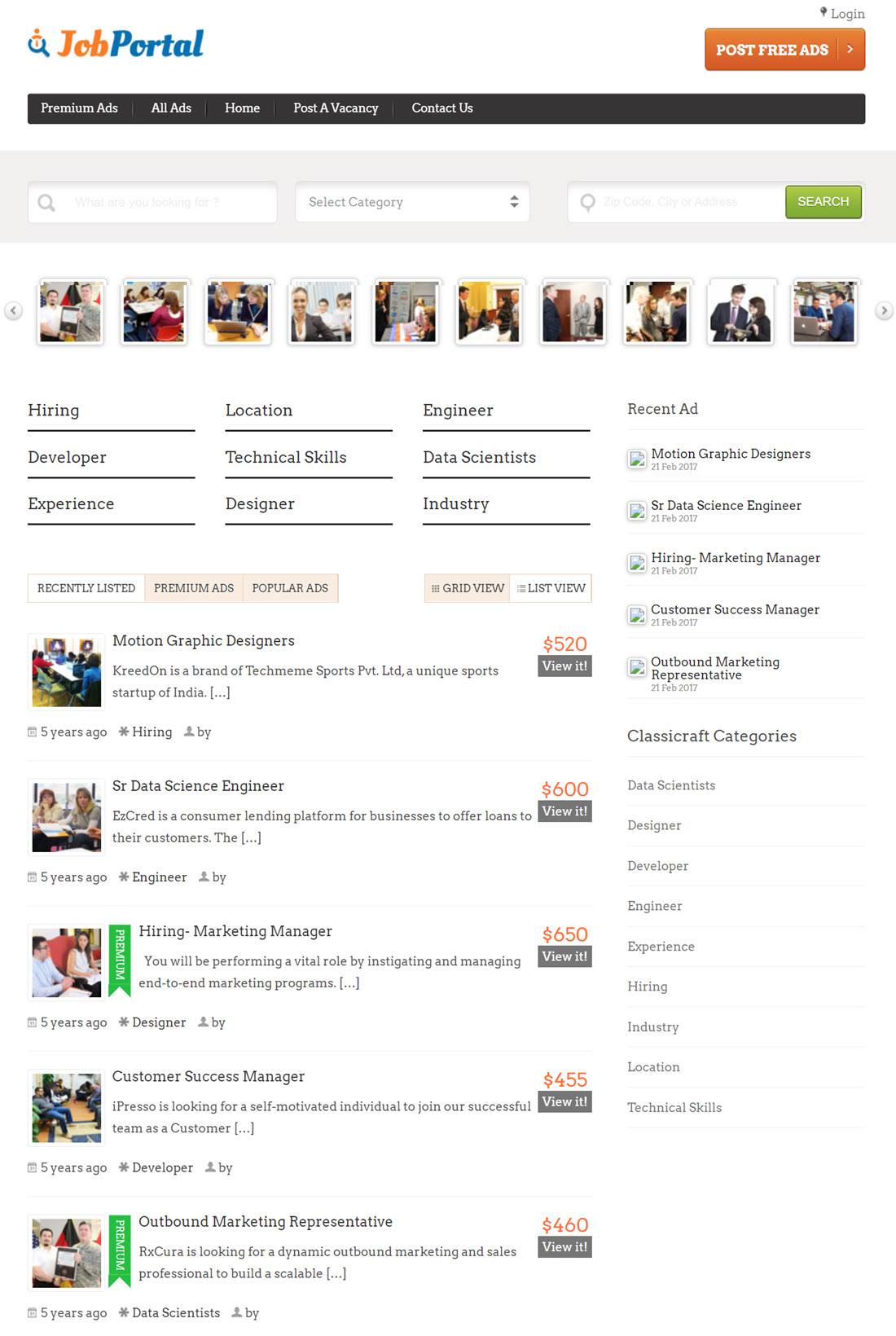 A professional job Portal theme that integrates senior-level expertise with tons of pre-made templates. Job Portal Manager Support offers a robust support system to the theme that gets the power of plugins. Augmented search features help to shortlist both employers and prospective employees.
Price – Regular License – $79/OneTime
7. Cariera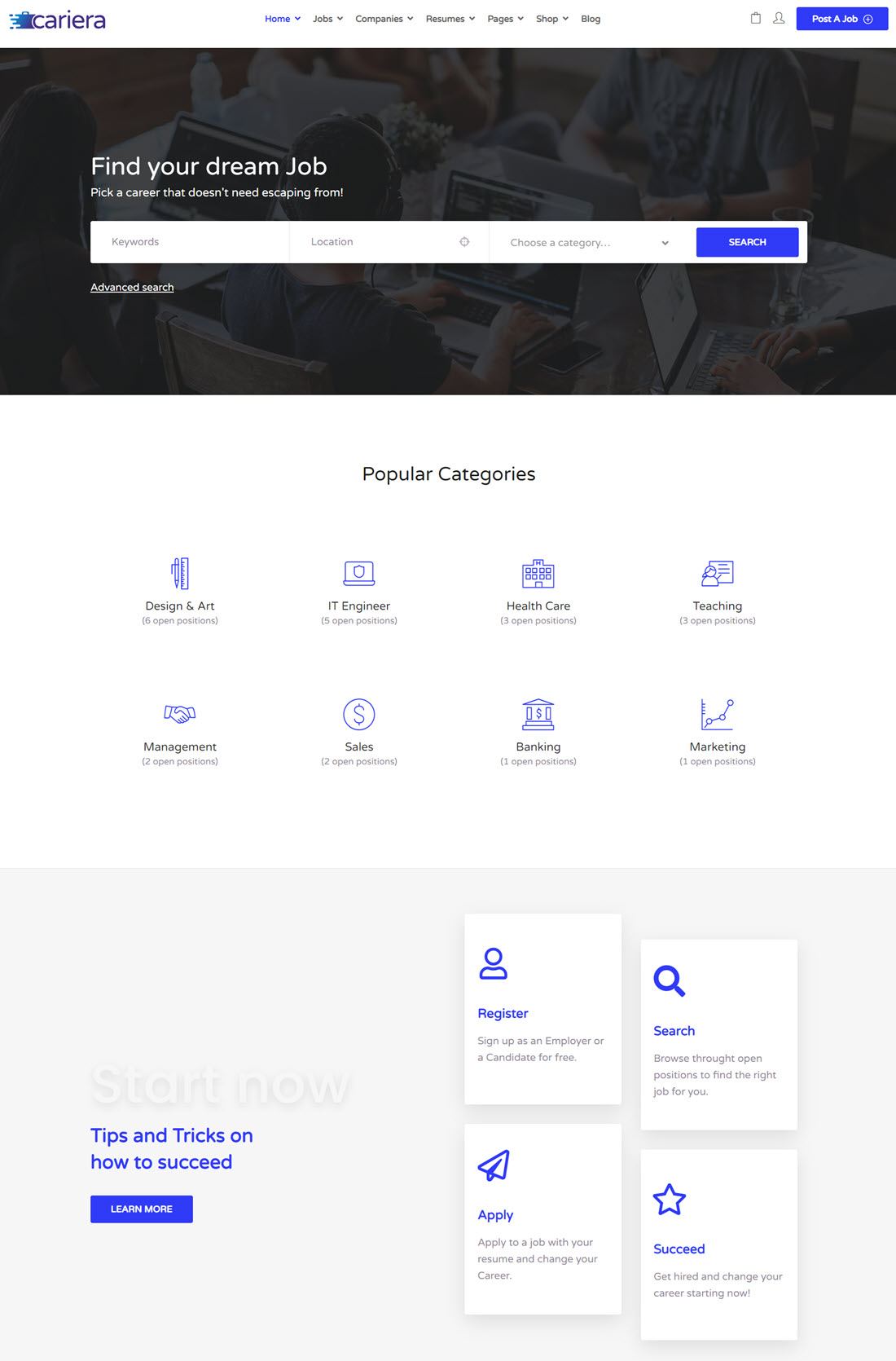 Cariera is an expert theme to host job boards, stats, and listings. It features 4 unique List Layouts and 2 Grid Layouts; auto-location built-in function, and full compatibility with WP Job Manager Regions and custom VC Elements. An intuitive theme that fulfills the needs of both employers and the candidates. Plugins like Resume Manager, Applications, and WC Paid listings are integrated.
Price – Regular License – $79/OneTime (1 Site)
8. Nokri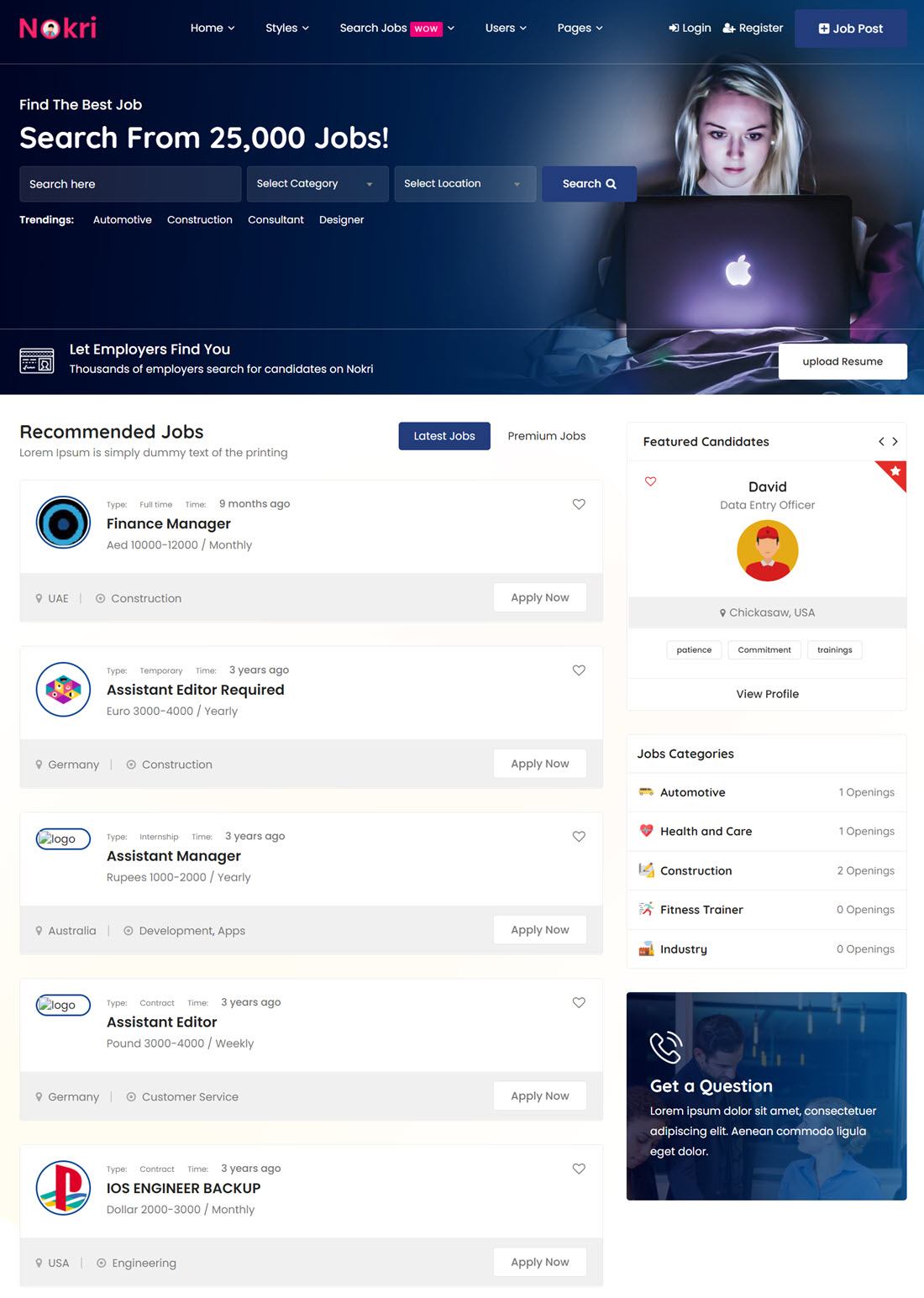 Nokri has a new perspective towards job listings by not simply bombarding your website with the featured jobs but classifying themes first as urgent jobs, private jobs, spotlight jobs, etc. This business-oriented job portal template is user-friendly for job-seekers and allows the admin to make money in several ways.
Price – Regular License – $69/OneTime (1 Site)
9. WorkScout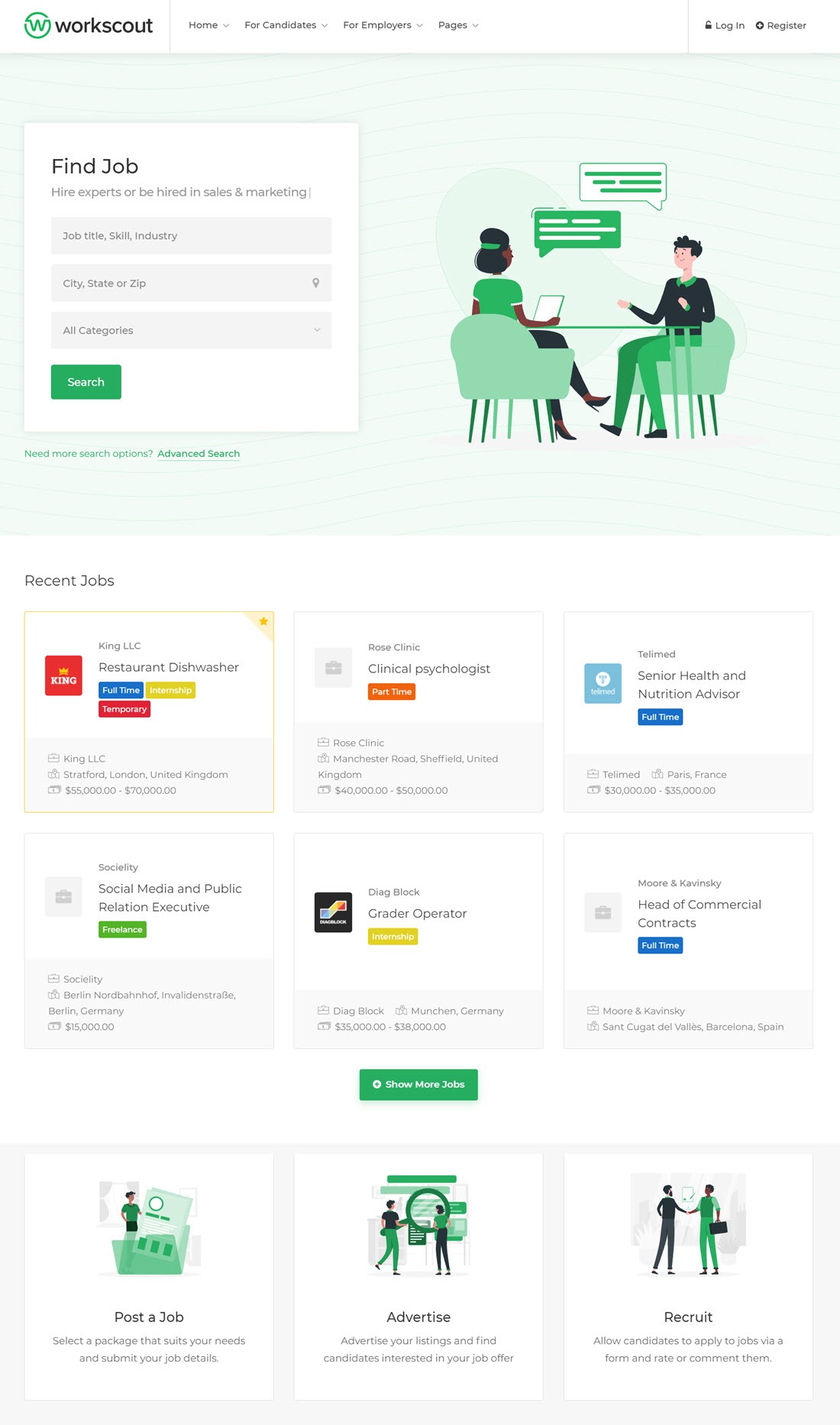 WorkScout is an all-purpose professional website builder theme ideal for all job offices, recruiters, hirers, agencies, and consultancies. The latest version 1.5 features revamped job list layouts, resume list layouts, and category boxes. It has also categorized the job search with the new job details and jobs in popular locations.
Price – Regular License – $69/OneTime (1 Site)
10. Front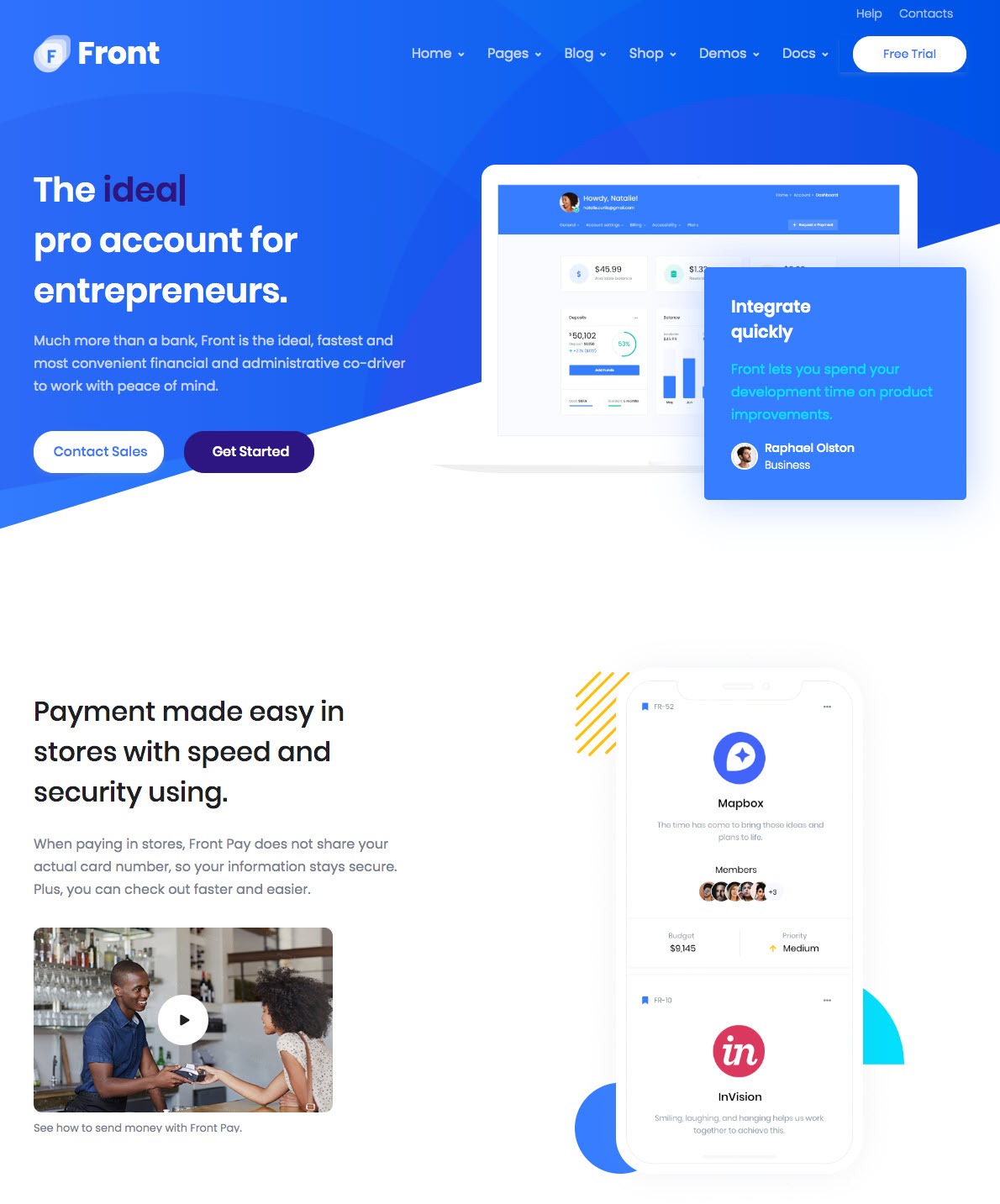 Front Theme from Themeforest, an exemplary choice for those who want to design a job board website with a professional touch. The power to create a high converting employment portal is easy with Jobseek and you can build both an independent jobs board website and the one catering to the recruitment needs of agencies and consultancy.
Price – Regular License – $89/OneTime (1 Site)
11. Careerfy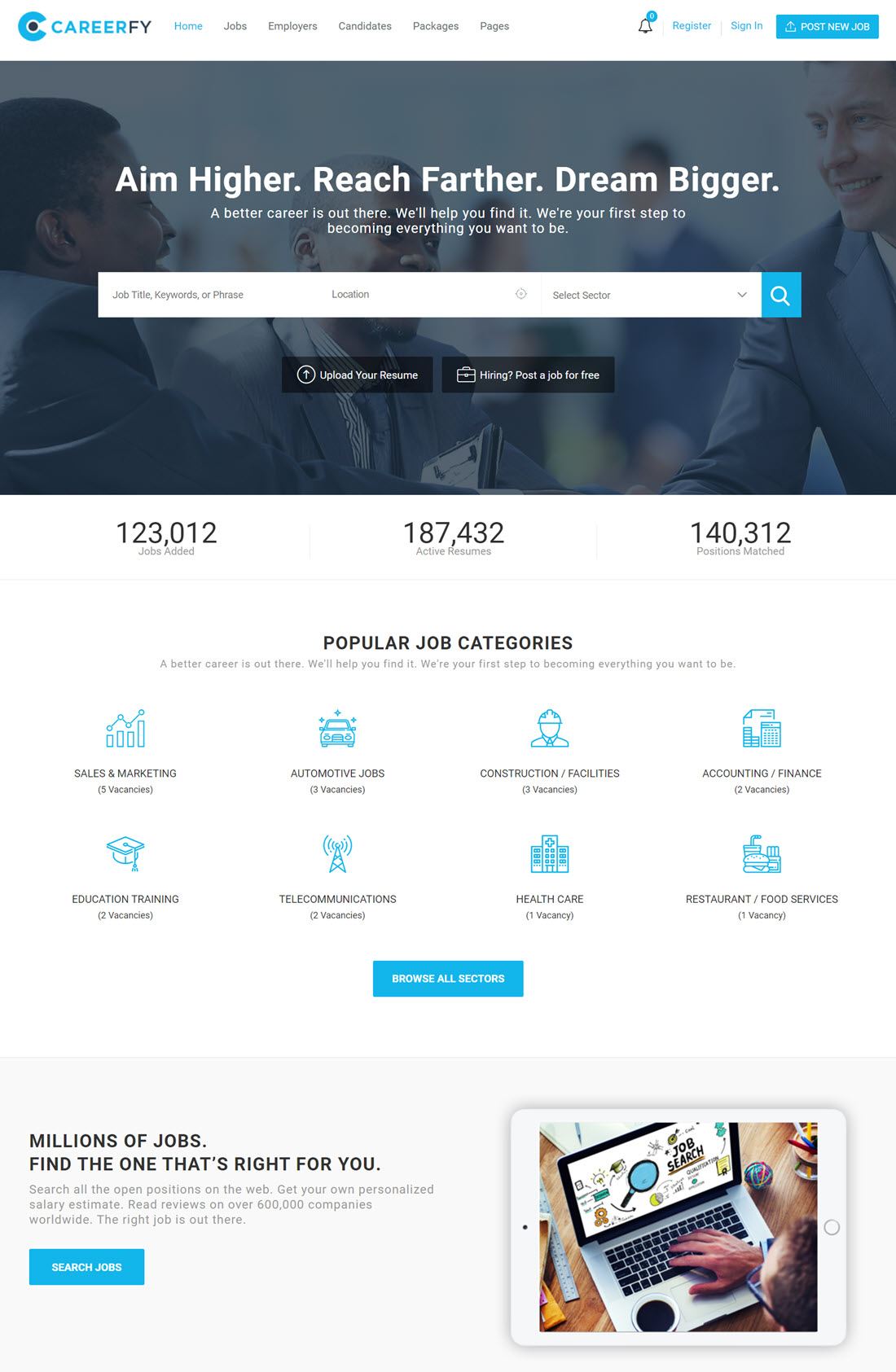 JobCareer is an intelligent job board responsive WordPress theme that imparts a seamless experience while designing a job listing website. It offers an immense plethora of features to suit the needs of HRM, career opportunities, and job posting websites. JobCareer flaunts a simple job script and the best job portal template for heightened conversions.
Price – Regular License – $89/OneTime (1 Site)
12. Jobmonster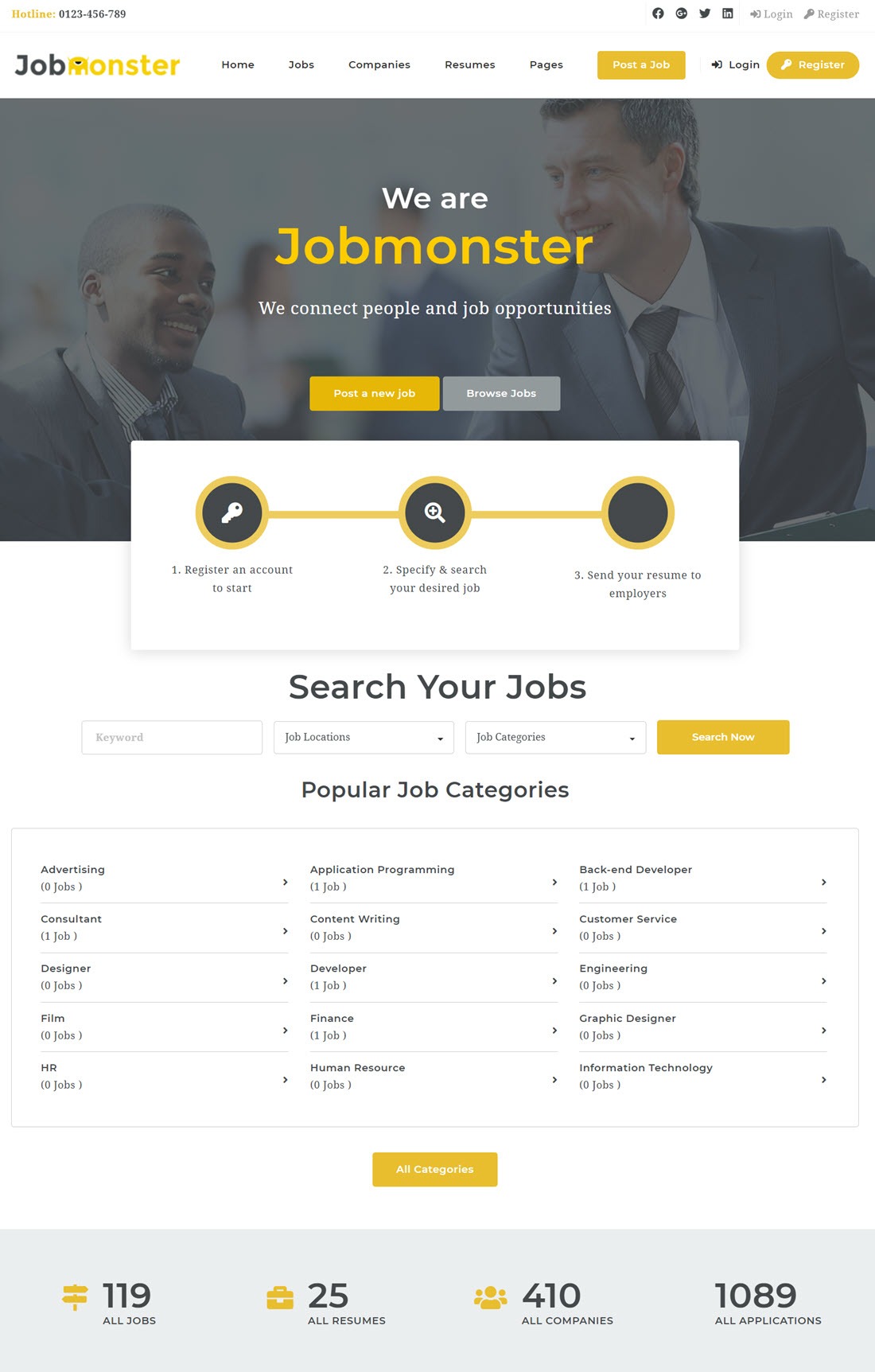 An excellent theme that strengthens the employer-candidate interaction. Jobmonster prompts the admin to first review every job before it gets published, hence there is no clutter or substandard entry. The clients are being updated through email or Facebook notifications. You can also decide on the number of job posting plans as a client.
Price – Regular License – $55/OneTime (1 Site)
13. WorkBucket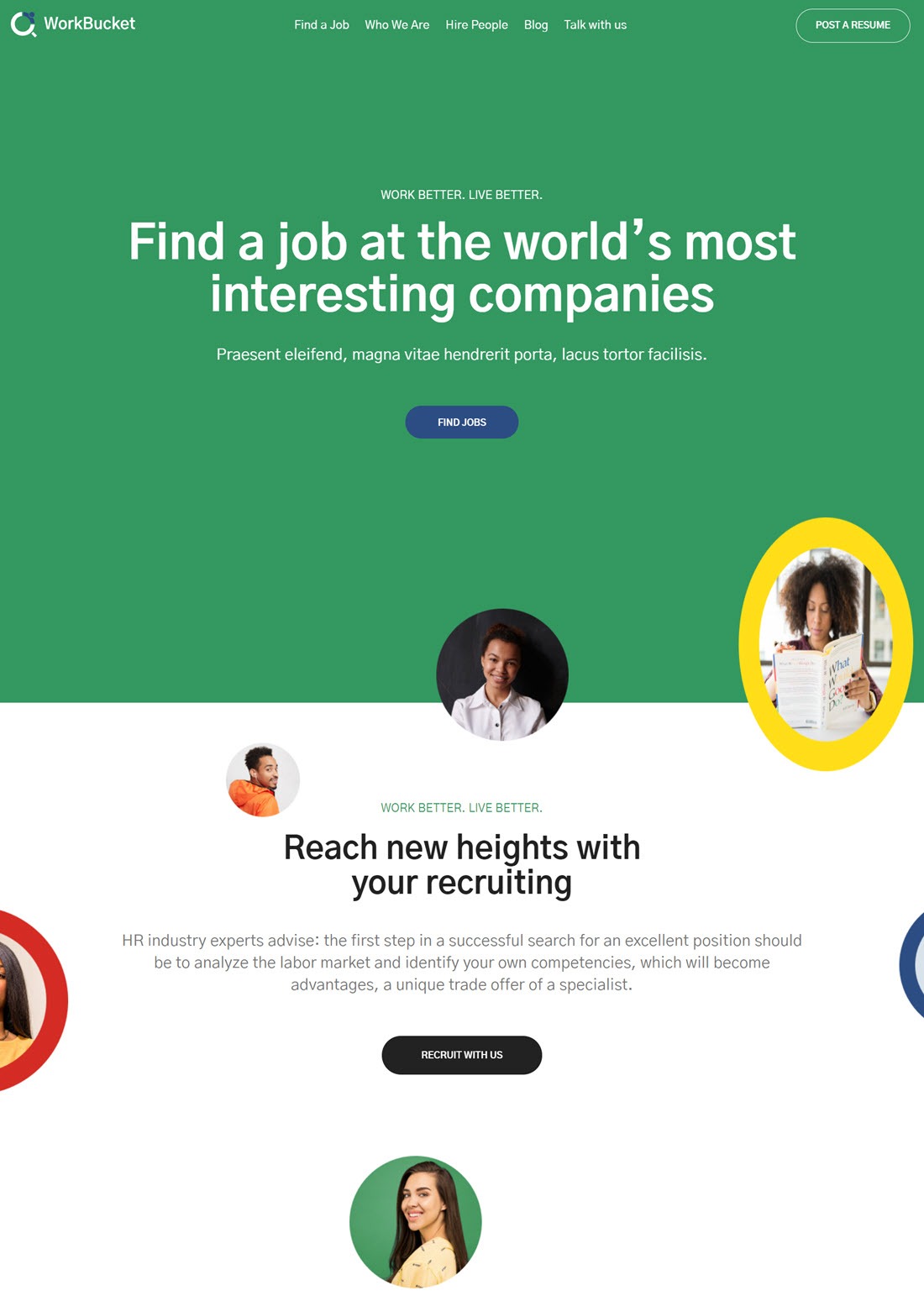 The WorkBucket is meant for the recruiters who want to create a job directory website for those who are looking for relevant jobs. You can also create an inventory site for consultancy because the theme is integrated with the post listing feature. An ideal theme for Job Recruiters, Consultancy, Hirers, and Placement Agency. The right spot for the job seekers indeed.
Price – 1 Site – $59/OneTime,  5 Site – $128/OneTime
14. Onjob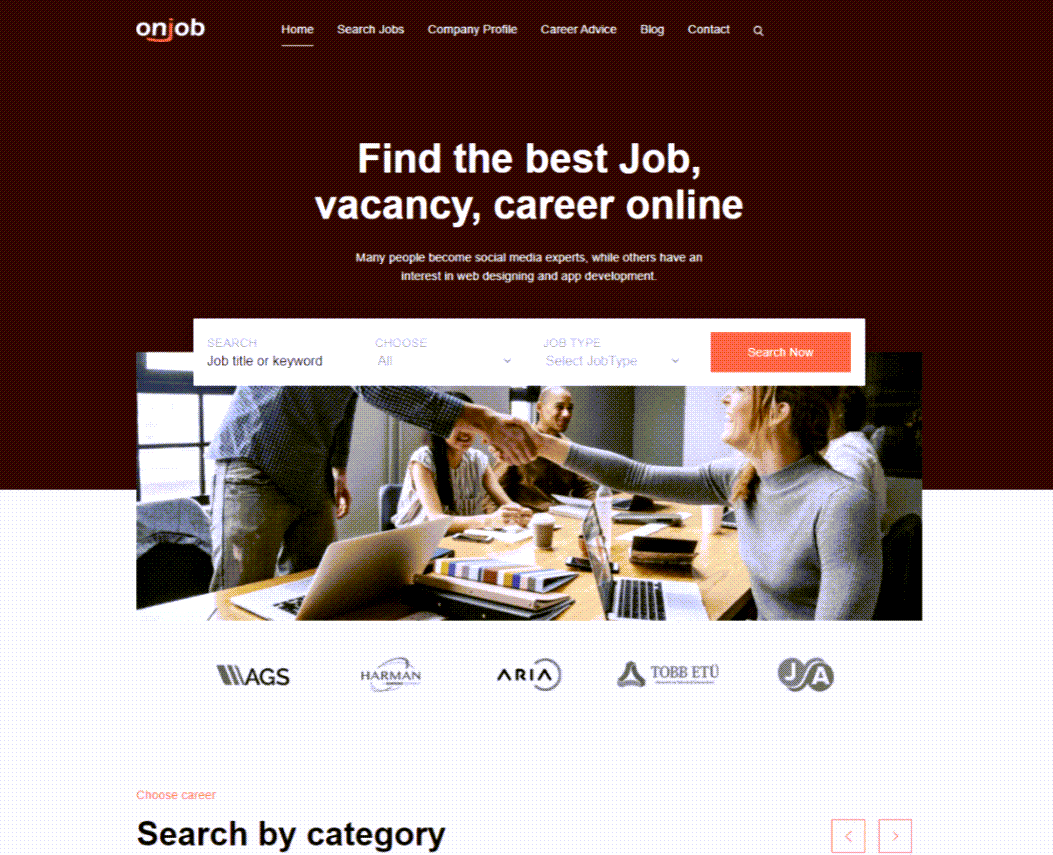 Onjob augments the conversion as it diminishes the restrictions in terms of location and device. Additionally, the parallax scrolling effect prompts the visitors to revisit the site. The Image swoop module helps to highlight your best services and the Job Board Plugin creates a smooth Job portal for the recruiters and consultancy.
Total number of users – 60+
15. Robojob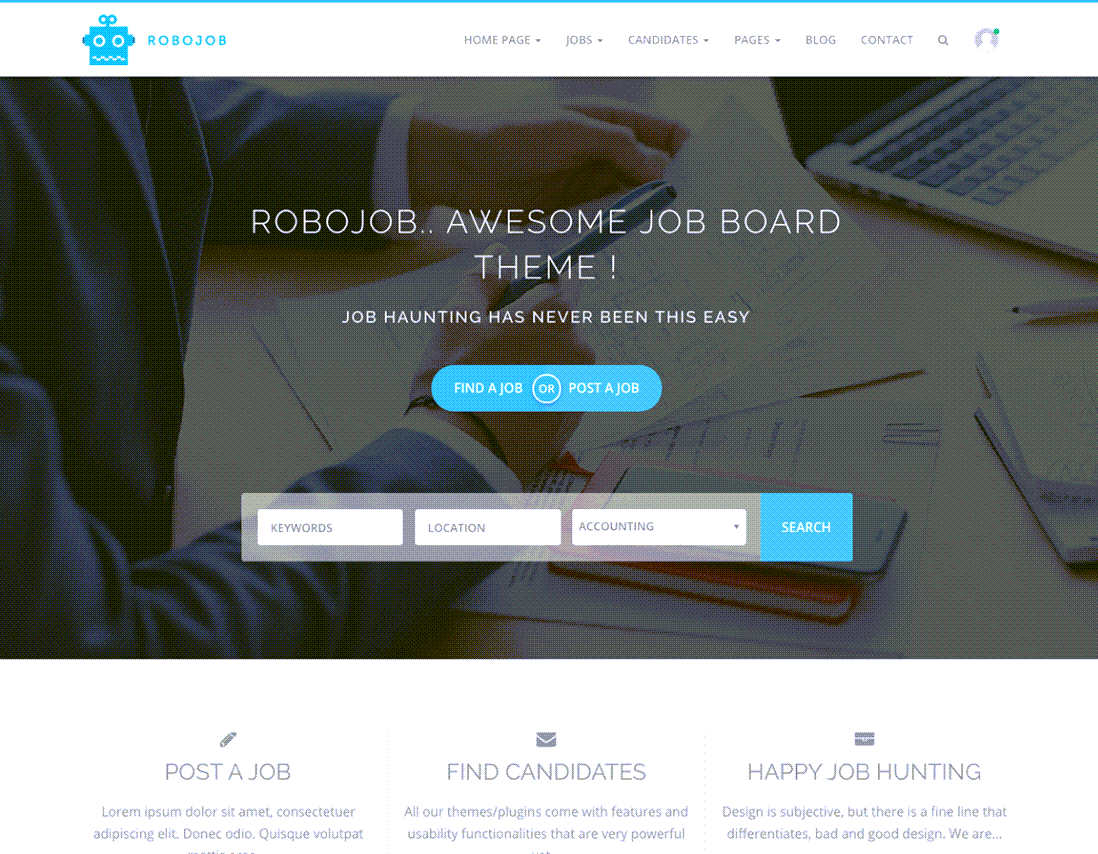 RoboJob is a comprehensive job listing theme that offers a complete solution to recruiting agencies and human resources. It's an option-rich and user-friendly theme presented by Themeforest for both recruiters and candidates' perspectives. The theme features front-end submission forms, registrations, job postings, and application forms through custom forms.
Total number of users – 500+
Pet Sitter is an exclusive theme for those who want to post pet-related employment opportunities. The design, icon, and pet-centric terminologies make it an intuitive theme to build a job board site for animal workers and pet lovers. The built-in WP Job Manager plugin helps to create an employment listing website with ease.
As the name suggests, Babysitter serves the purpose of those who intend to list job vacancies related to child care, baby daycare, or any other child-centric employment. The theme offers an excellent option if you want to write blogs about parenting, nursing, or child care. It is useful for nannies and babysitters.