15 Best Job Board WordPress Themes 2023
Are you planning to start a business related to the job listing and need Best Job Board WordPress Themes? Using These themes any recruiting agency can easily hire people from your website. Using the recruiting website you can connect the job posting companies to the candidate. So many companies are hiring people from Monster and LinkedIn.

Before we start going into deep let me explain to you the feature of Job listing WordPress themes. You can have 3 interfaces one is for administrators, the other is for hiring companies or agencies and the last one is for the candidate. And there will be a different dashboard for candidates for Resume submission and applying for an available job based on their interest. And other is for employees so that they can hire people based on their own interests.
Now the main concept behind these job portal websites is a money-making concept. When the companies both their job you can either make it free or charge them. Or you can charge them by saying if you will choose our premium membership option and get more resumes. So many of the themes support woocommerce integration for payment acceptance. For extending your theme functionality you can get wpjobmanager or Hire a theme expert customizer.
You may also be interested in  freelancer marketplaces and Job listing Plugins
Let's have the list of top recruitment WordPress theme are as follow:
Table Of Content
1. Job Board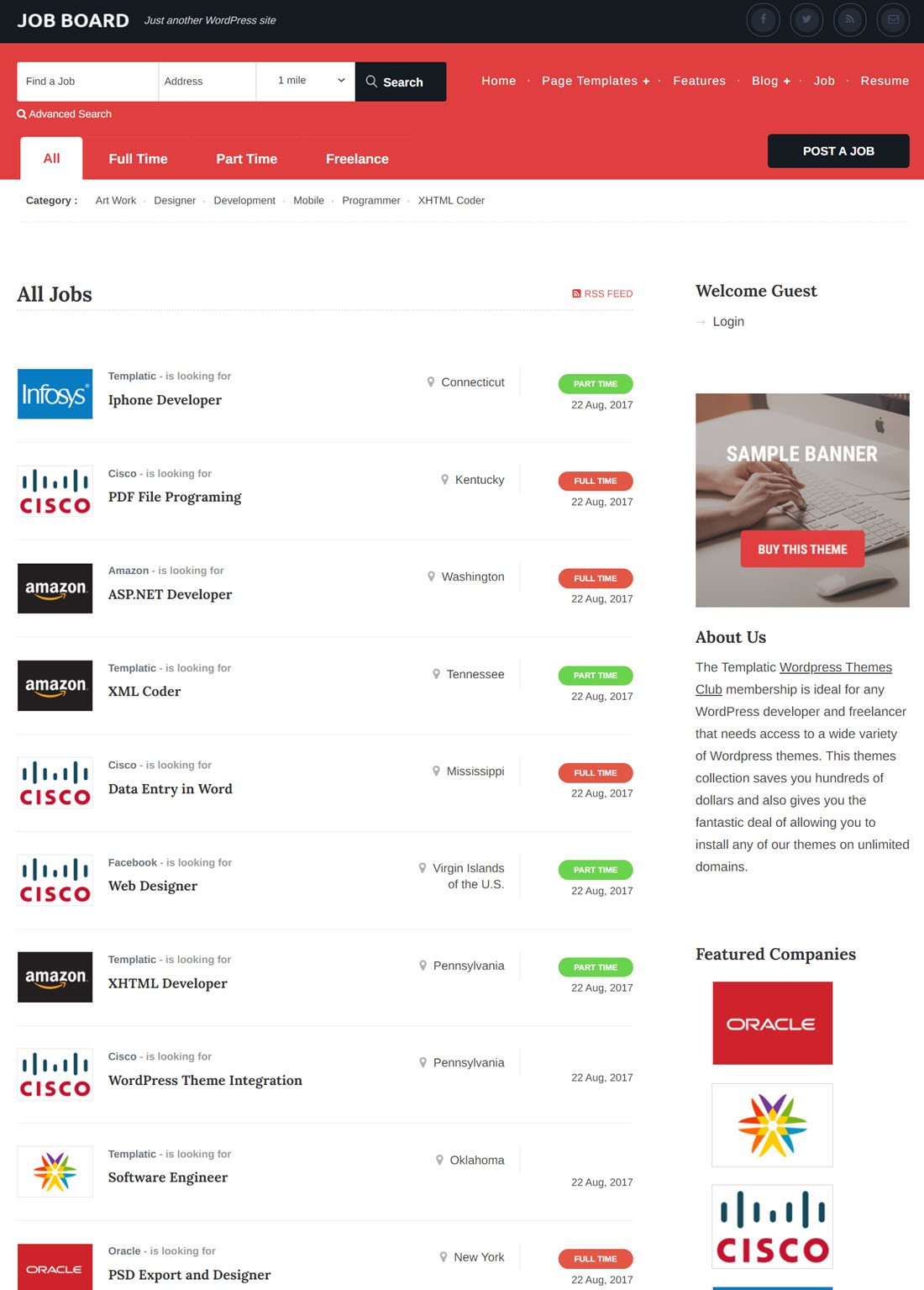 JobBoard is an exclusive WordPress Theme for creating a comprehensive website for job listing, job market, and job directory as well. Provides you a complete package of responsive templates that stand out on any device without doing any coding configuration. Perfectly compatible with modern browsers and let you customize the design however you need. Gives you the flexibility to utilize HTML templates or even lets you create your own CMS preference. Twitter Bootstrap support and Bootstrap 3. x compatibility.
JobBoard provides 12+ Page templates including Homepage, About Page, Blog Page, Post a job/Resume page, and many more. Optimized-well with HTML5 and CSS3.  Contains Google fonts, Dropdown Menu, Google Maps, Custom Banner where you can select anyone that is marked up to the standard of the website. This thoughtful theme offers every element that a visitor requires right at its homepage. It helps the users find relevant jobs by title, area, and proximity.  In short, getting your fully functional job portal online such as Indeed, Career Builder, etc is a matter of minutes and suits your budget as well.
Price – 1 Site – $59/OneTime,  5 Site – $99/OneTime
2. JobEngine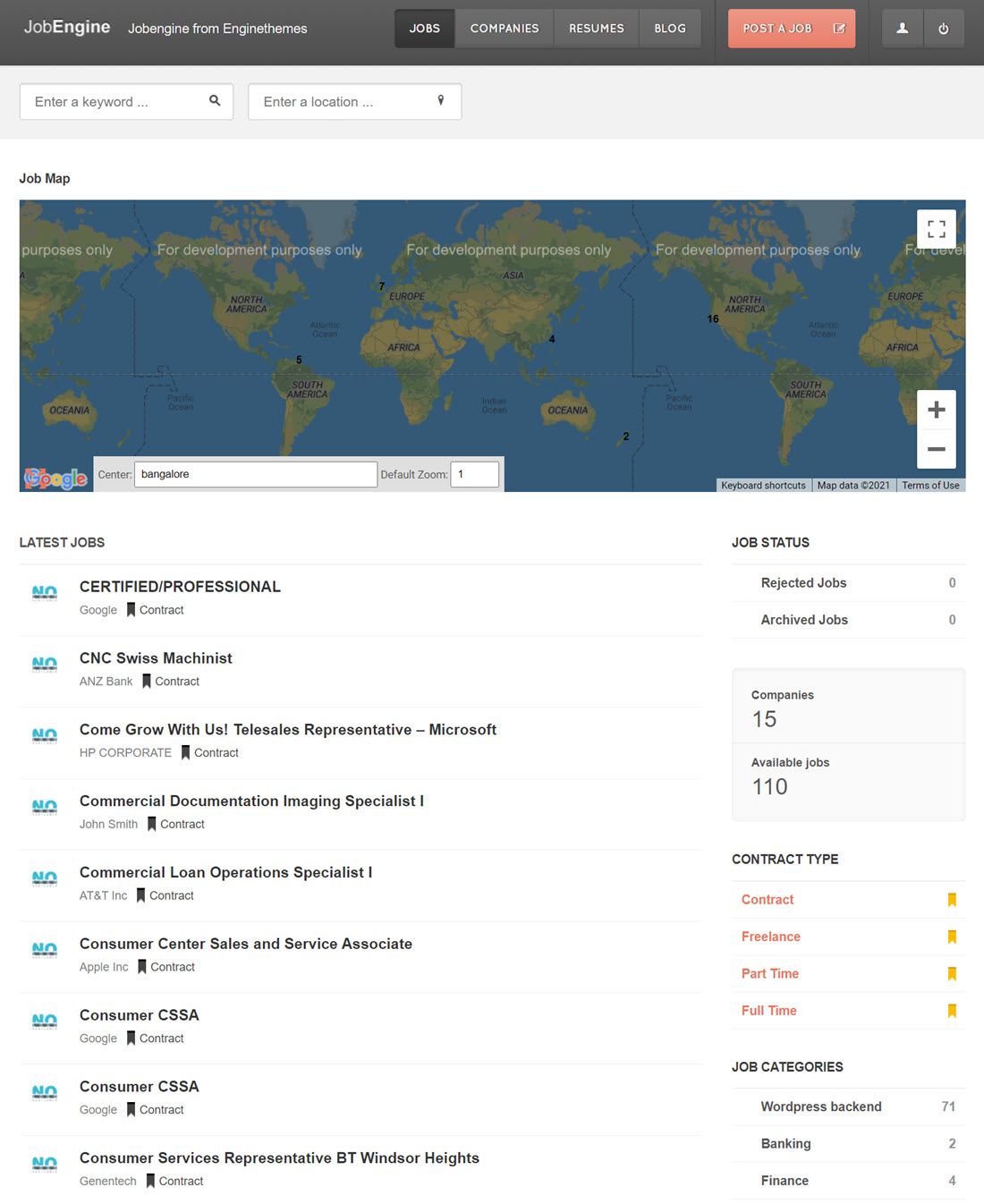 JobEngine featured everything you require to create extensive portal websites. With its easy-to-configure and easy-to-use interface it has enhanced the user experience so well. Let you build an outstanding job-portal website with configured Wizard and live the same in minutes. Design your job board sites however you require with adaptive color schemes and smart design tools. Moreover, it will provide extinguishing Front-end administration right on your website's homepage. Save a lot of time while you won't ever go on the WordPress dashboard for accepting or rejecting any submission.
Integrated Features –
Well-Integrated frontend with PayPal, Google checkout, and 2checkout.
Consisting built-in translator and installed up to six different languages.
Enable one-click weekly update and lifetime support along with unlimited licenses.
Responsive on multiple devices and adapt modern browsers that engage more visitors.
JobEngine helps you create a freelance marketplace through an Escrow System, bidding, and multi-payment API interface.
Price – Single Theme – $89/annually,  Standard – $169/annually,  Full Package – $199/annually
3. JobRoller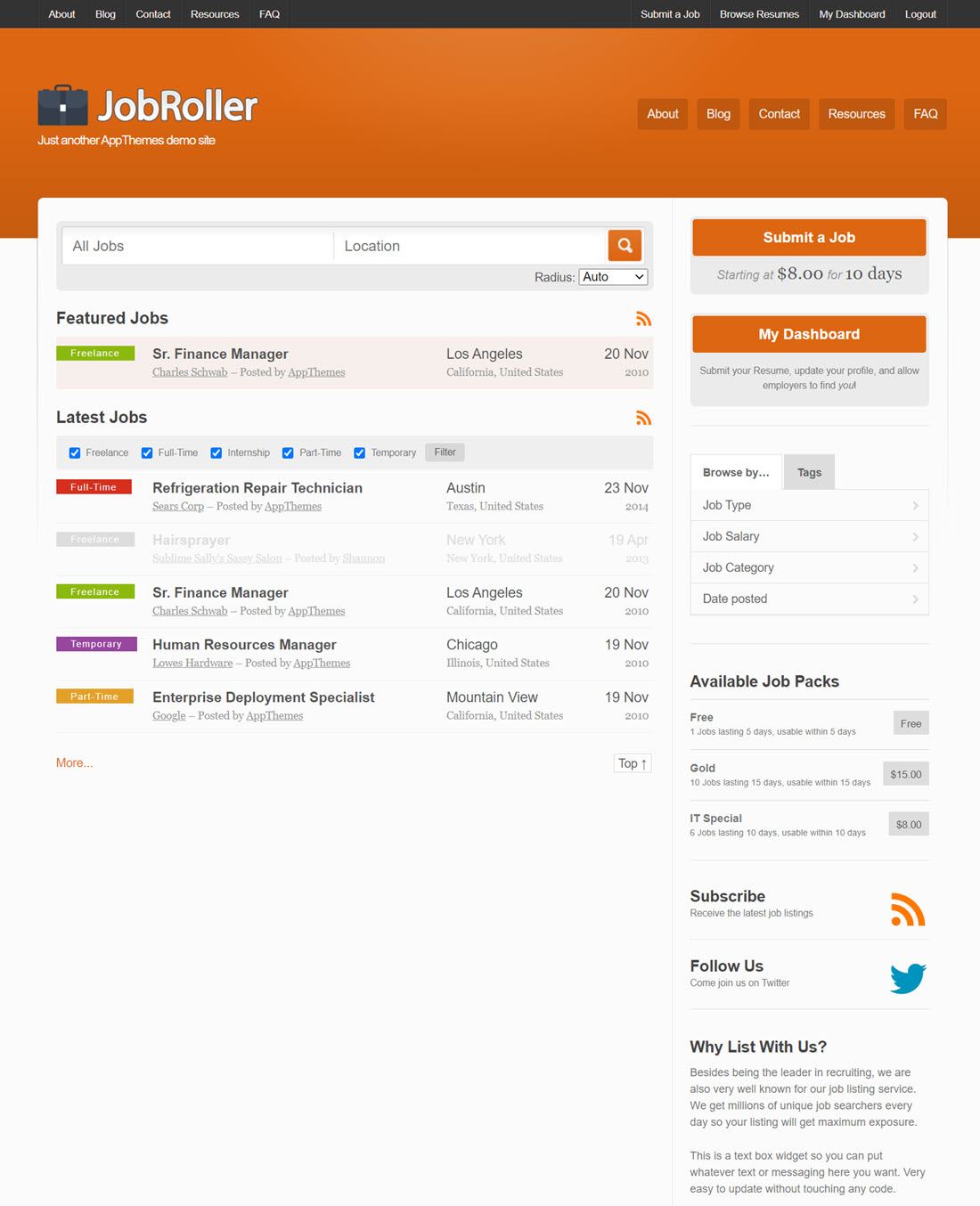 JobRoller emerges with a user-friendly interface where you get a plethora of responsive templates for any job board-related website. You may be able to live such websites within very few minutes to an hour of duration even without any coding skills. WPML compatibility enables your website to provide service for a global audience. Easy front-end customization along with AJAX and jQuery accessibility. Integrated well with social media platforms and SEO-friendly establishments that enhance Google rankings.
Core Features –
Enable exclusively required plugins and child themes access.
Robust API.
Facilitates different color schemes.
Transaction logging automatically updates PayPal and other transactions to trace sales.
Comprehensive blog section designation that enables content marketing functionality as well.
Provide 5+ job types and allow you to create more effective job types as much as you require.
Price – Standard – $99/OneTime,  Club – $199/OneTime
4. JobMiner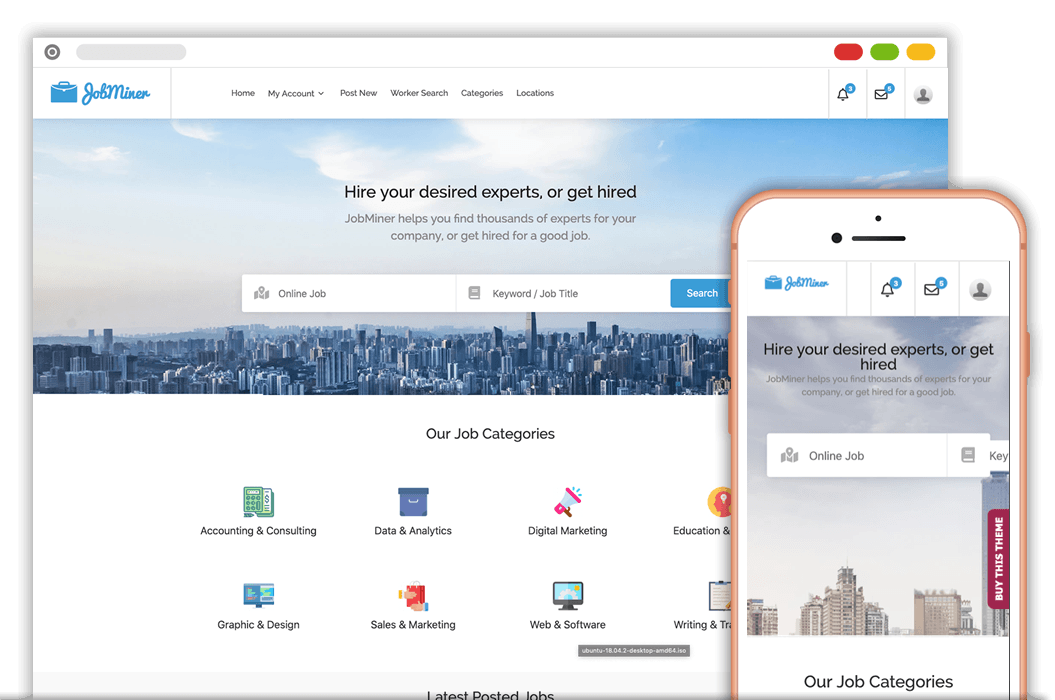 JobMiner is a full-fledged WordPress theme for job portal websites where you can promptly launch your websites. Layout the extremely captivating job portal websites in just a few minutes of clicks. Consisting of various monetization tools that enable levied fees for job listing, company fees, membership subscription fees, and more. Beginner-friendly that lets you easily configure with the assistance of tutorials and consistent customer support. With JobMiner Theme, enhance user experience while accessing radius search with zipping/Postcode.
Essential Features –
Integrated with several payment gateways like Stripe, Scrill, CCAvenue, PayPal, and more. (Pro Version)
A credit system that works with virtual token intact to backend. Provide specific token wallets to admins and let them define the package or membership accordingly.
RTL support and establish private messaging functionality i.e., end-to-end encrypted.
Price – Basic – $399/annually (Unlimited Site),  Professional – $499/annually (Unlimited Site)
5. PremiumPress Job Board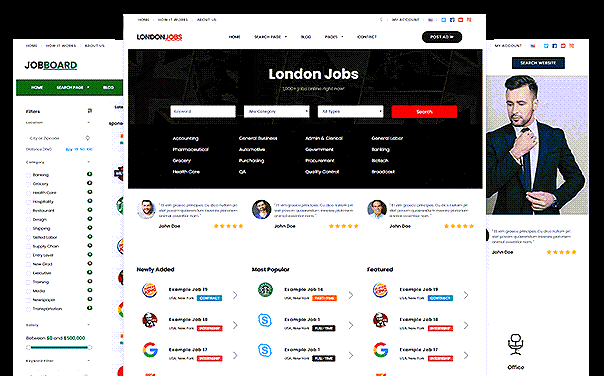 PremiumPress Job Board is a well-versed WordPress theme to layout extinguishing job portal websites in minutes. While utilizing its comprehensive features and beautifully pre-designed templates, you can easily live such a website. Build websites that look great everywhere whether on multiple devices or modern browsers. Let you control the frontend and backend with an effective admin panel. Here you will find everything you need to reach an audience globally and get job seekers with automated marketing campaigns.
PremiumPress provides one-click demo installation along with its core features like multi-device responsiveness, Retina-ready, SEO-optimized, RTL support, and many more. Supports popular extensions and WordPress 5.X. Color schemes are available; moreover, let you create your own if necessary. Well coded with PHP and MySQL i.e., secured and reliable. Enriched CMS functionality with multiple custom layouts for homepage, inner pages, blog section, and more.
Price – Single Theme – $89/annually (Unlimited Site),  All Theme – $359/annually (Unlimited Site),  Developer License – $539/annually (Unlimited Site)
6. JOB Portal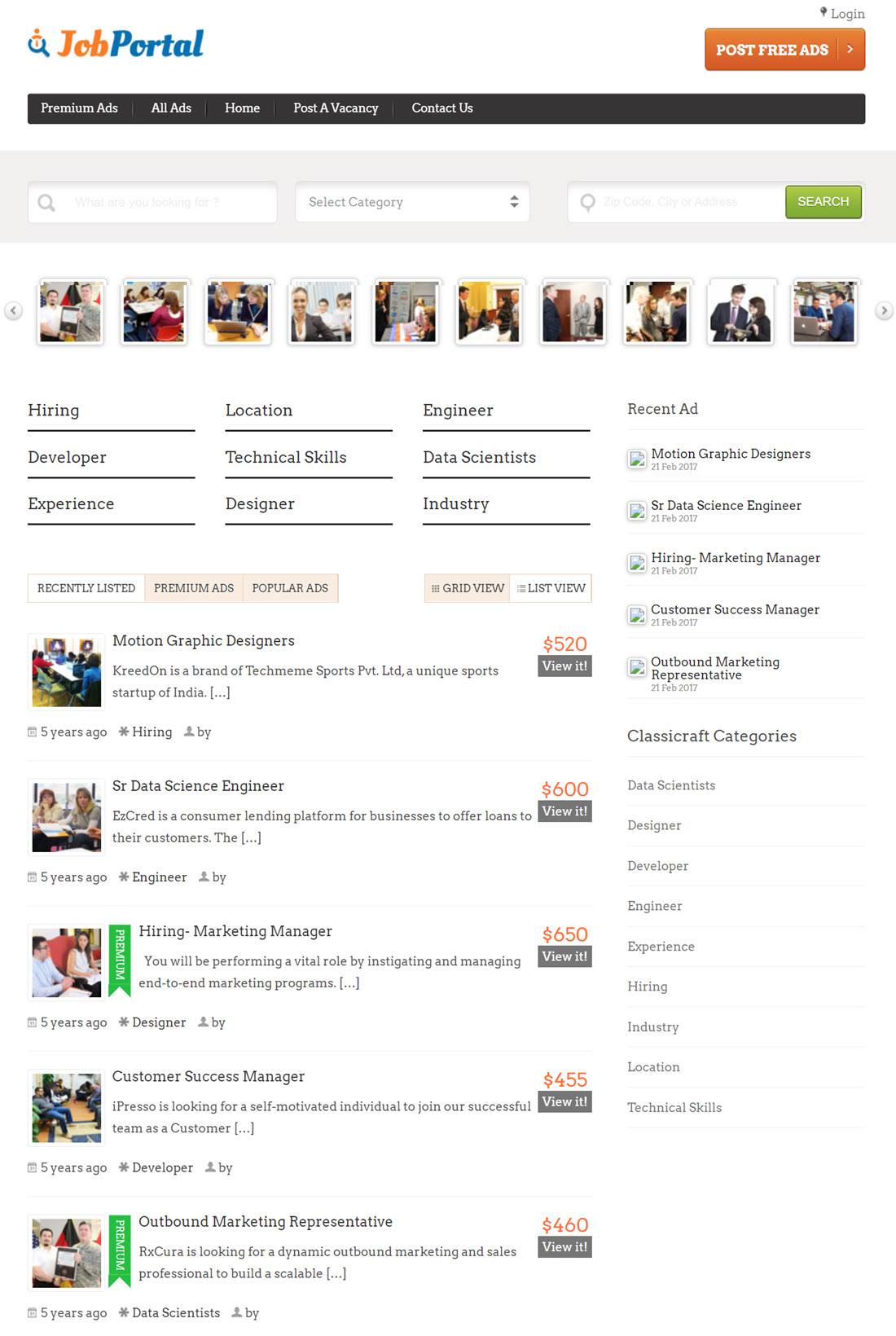 Job Portal theme enables customization of available templates easily with WordPress Customizer. Saves a lot of time with pre-configured features and a beginner-friendly interface that anyone can access. A robust front-end and back-end administration where you access full-control action while designing. Drag and Drop page builder enables prompt customization of page layouts. Job Portal templates and designated websites are highly responsive on all screen sizes with great adaptive nature.
Elementary Features –
Let you customize the appearance of the various section including Color, Logo, Fonts, etc.
Megamenu and off-canvas menu layouts.
Speed-optimized and translation-ready websites.
One-click dummy content import.
Extensive 4 column layouts with HTML and JS animation effects.
Enable automatic theme updates right on your dashboard once you install this theme.
Compatible with cross browsers including Mozilla Firefox, Google Chrome, Safari, and more.
Price – Regular License – $79/OneTime
7. Cariera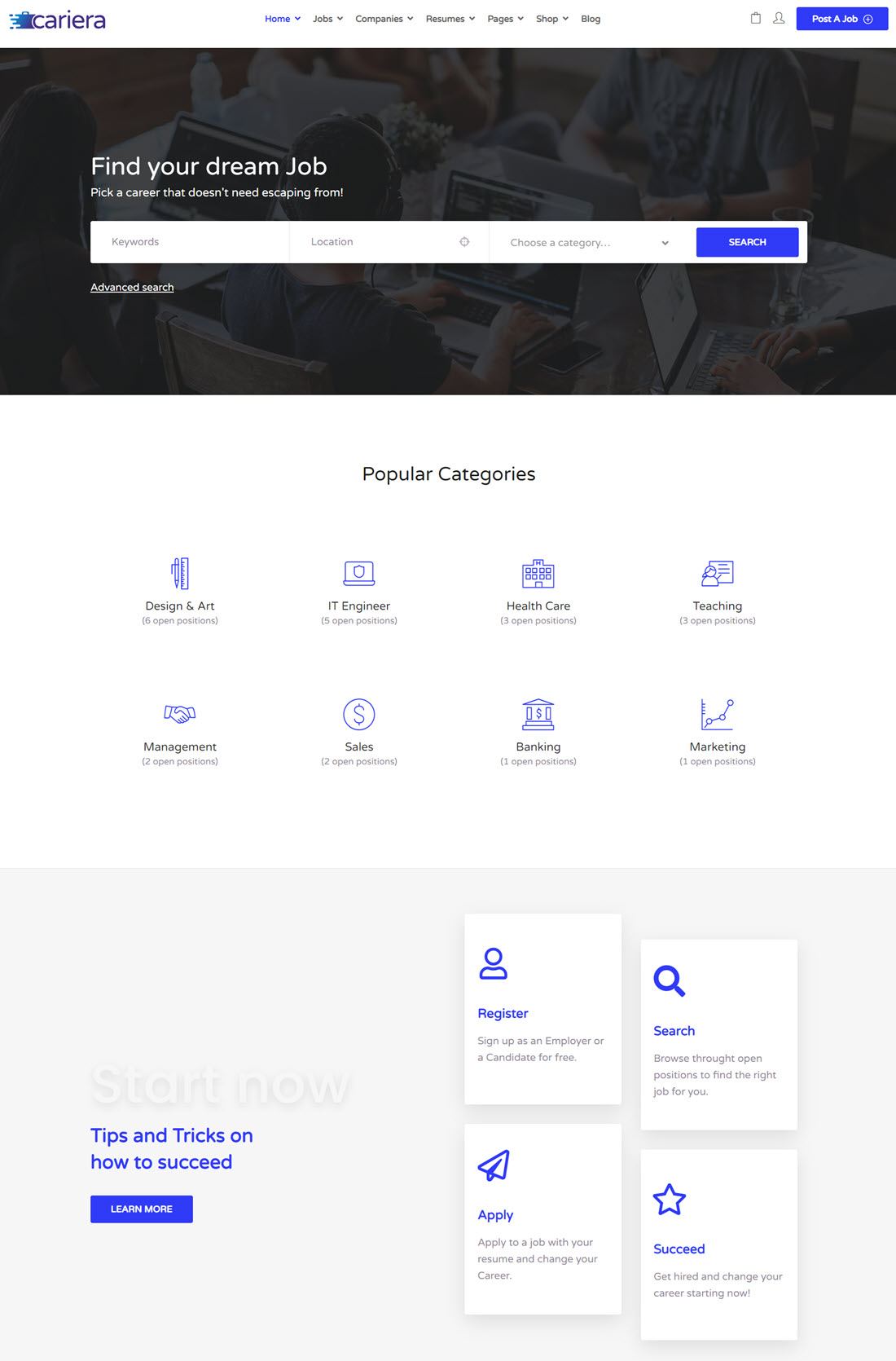 Cariera is integrated so well with required features that ease both approaches either finding jobs by candidates or Employers who are hiring employees with relevant skills. Hereby, you get advanced stats, premium job layouts, and a comprehensive dashboard for various defined user roles accordingly. Allow combining Slider Revolution extension to create captivating galleries and sliders that grab more reachability on the website. Cariera enables customization of every single aspect of layouts such as color scheme, fonts, headers, footers, and sidebars. Elementor-ready enables easy customizations while designing job board websites.
Core Features –
Cross-browser compatibility and responsiveness on various screen sizes.
Supports core plugins like Applications, WC Paid Listings, Bookmarks, Job Alerts, Resume Manager, and Job Tags.
Support Google Map and Leaflet Map.
Support contact Form 7 for companies and candidates too.
Price – Regular License – $79/OneTime (1 Site)
8. Nokri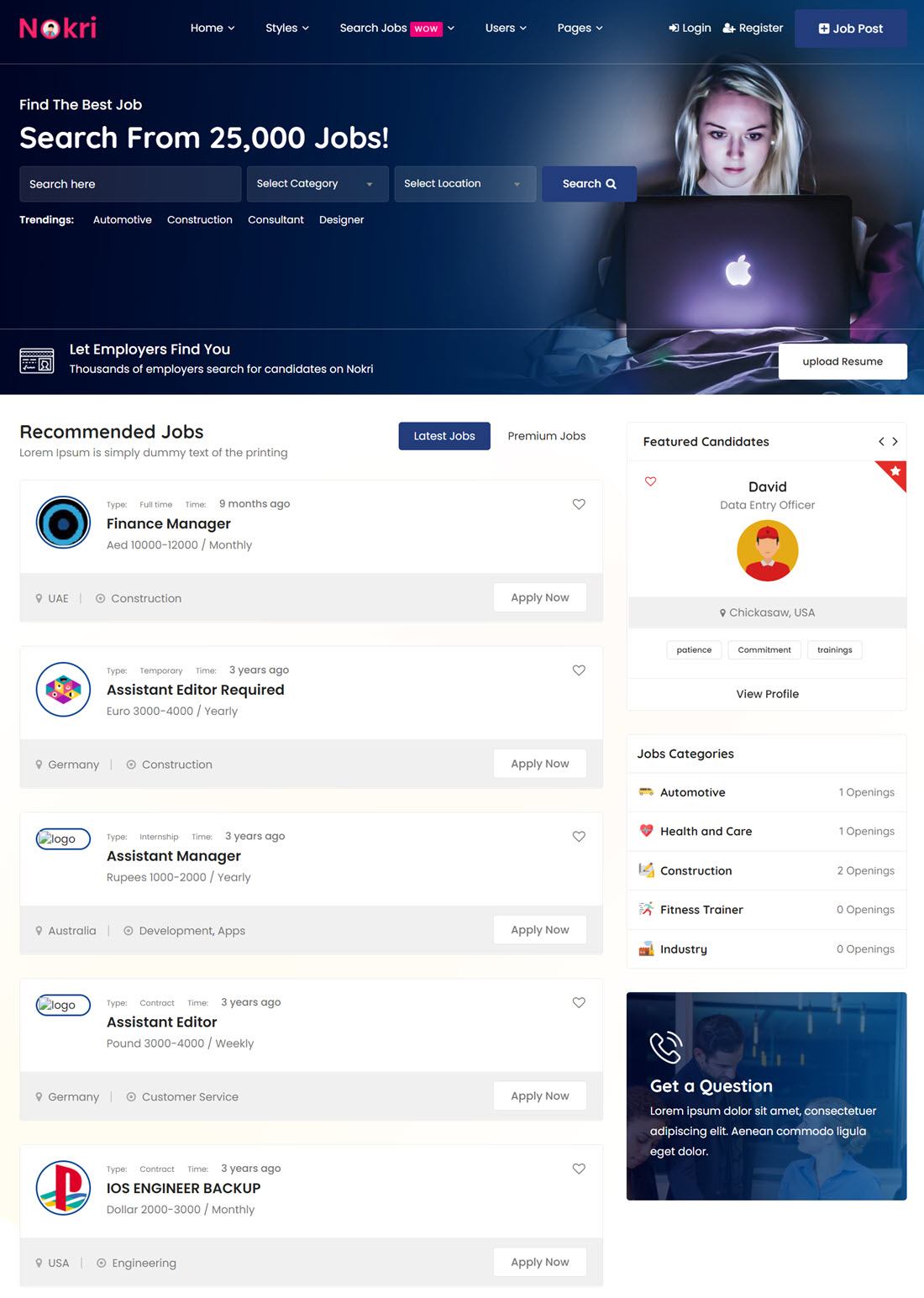 Nokri is a versatile theme for job board websites that enable advanced job search by utilizing suitable filters. Availability of widgets-based search where let your users can add, remove or arrange filters however you need. Enable designing extensive job portal websites with a built-in Elementor page builder that access tons of customizing options. Nokri enables creating multiple job post packages that are administrated well with Admin control.
Elementary Features –
Intuitive homepage templates i.e., are highly responsive and stand out so elegantly everywhere.
RTL support lets you connect the global audience with different language accessibility.
Install demo content in just one click and then customize the same however you need.
Multi-currency front-end access.
Integrated with well-defined Email templates for implementing various actions.
Let employees to bookmarking several job posts for the future.
Price – Regular License – $69/OneTime (1 Site)
9. WorkScout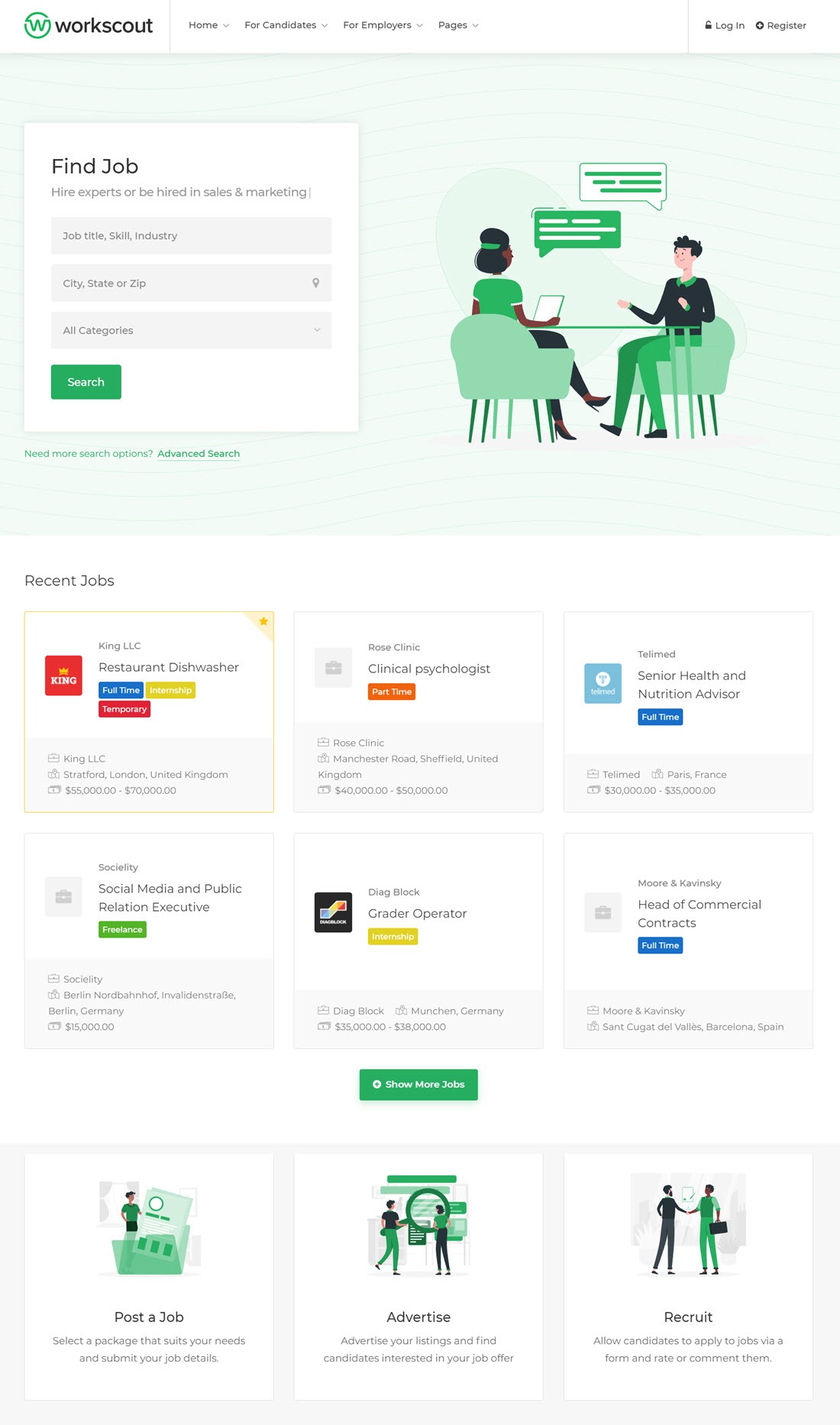 WorkScout is a well-documented WordPress Theme for Job board websites that augment reachability and engagement with its amazing features. Furnished with every essential feature that you require to live websites instantly. Supports WP All Import extension that let you import database from .csv or .xml files. WP Bakery Page Builder accessibility leads to an easy drag and drops option while designing any page of the website. WorkScout inherits the mobile-responsive attribute that enables outstanding website experience on different devices whether it be on notebooks, laptops, smartphones, and tablets.
Unique Features –
Enable location auto-complete while anyone typing a location in the search field.
Allow social login from different popular networks like Facebook, Twitter, and Google.
Supports Google reCAPTCHA and AJAX Search Results.
Private messaging from where recruiters and job seekers contact each other. 
Price – Regular License – $69/OneTime (1 Site)
10. Front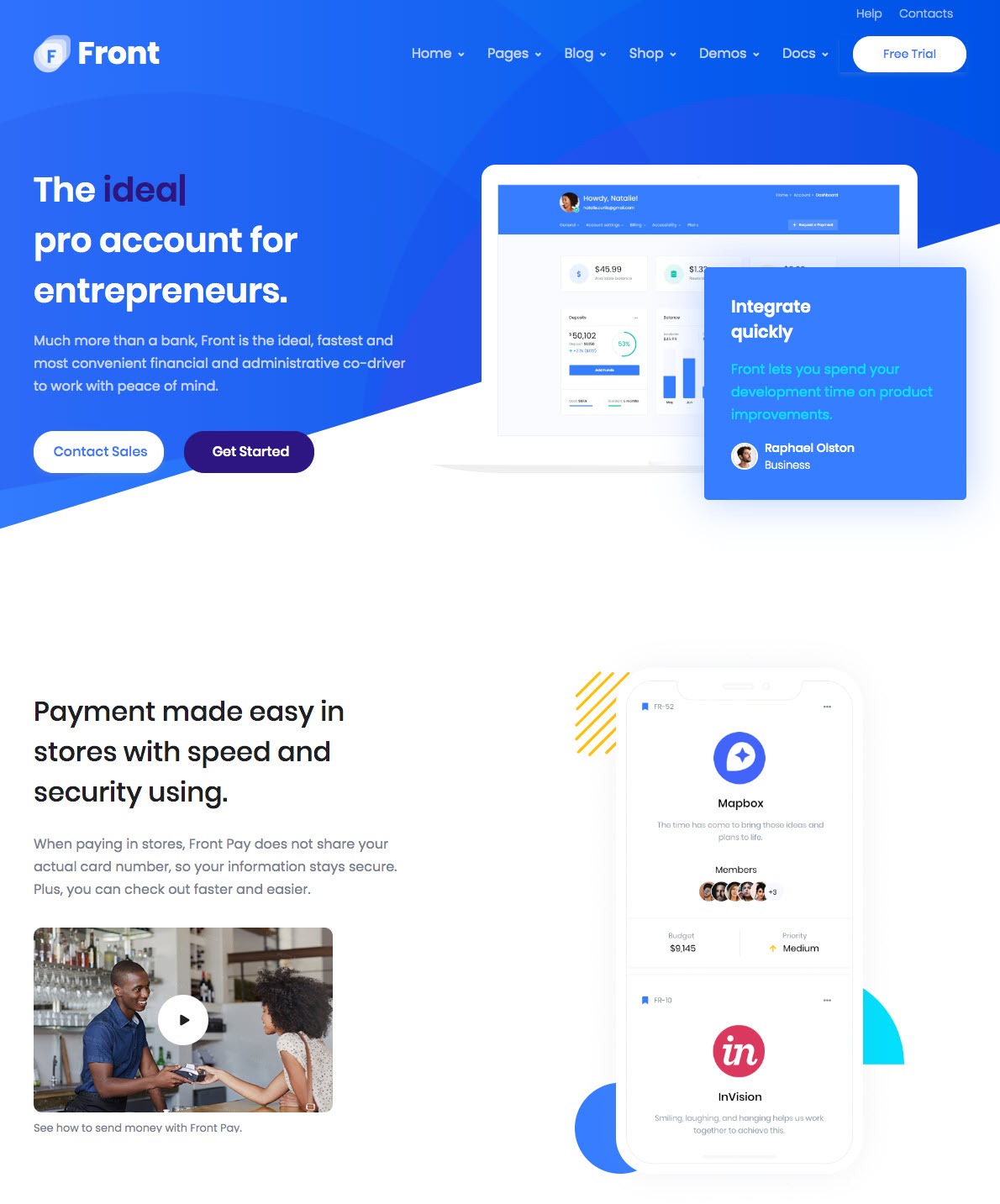 The front comes up with the Mobile-first approach that's responsive layouts look professional on every device. Compatible with cross-browsers that assist recruiters as well as candidates to find whatever they are seeking. Such a clean-coded WordPress theme enables fast accessing the entire website within 0.7 seconds. Build a well-optimized website with SEO-friendly and fast downloading experience. Gutenberg-ready where you can easily customize the beautiful homepage and other sections as well even without any coding skills. Provides one-click demo content installation that lets you kickstart your web designing process for elegant job board websites.
Get Features All You Need –
Built-in Bootstrap 4, SASS, and Underscores.
Availability of tons of Gutenberg blocks, header, and footer layouts.
Provides premium images.
Customize the appearance of job portal websites with intuitive color schemes and Google fonts.
Price – Regular License – $89/OneTime (1 Site)
11. Careerfy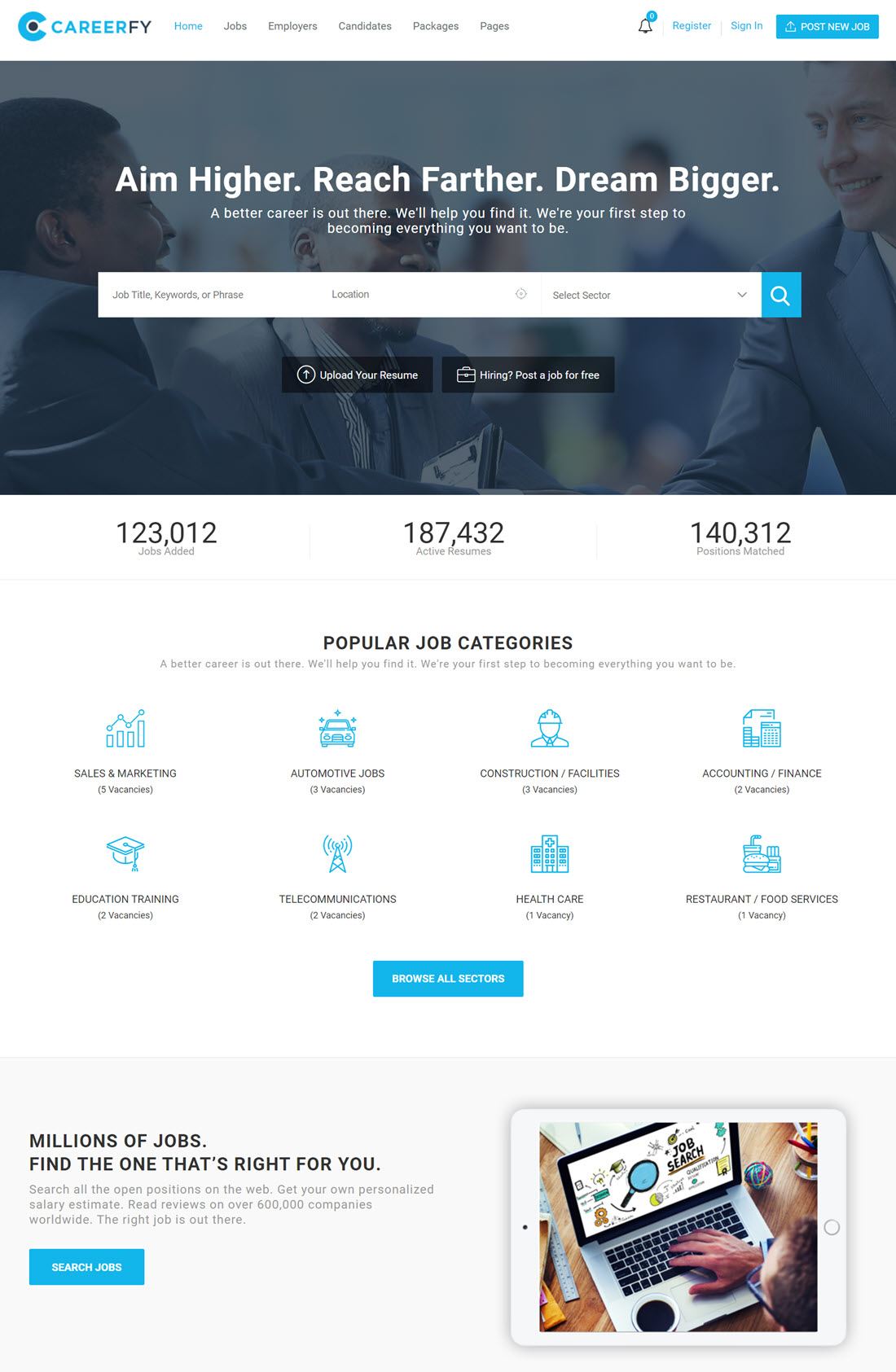 JobCareer is an intelligent job board responsive WordPress theme that imparts a seamless experience while designing a job listing website. It offers an immense plethora of features to suit the needs of HRM, career opportunities, and job posting websites. JobCareer flaunts a simple job script and the best job portal template for heightened conversions.
A professional job Portal theme that integrates senior-level expertise with tons of pre-made templates. Job Portal Manager Support offers a robust support system to the theme that gets the power of plugins. Augmented search features help to shortlist both employers and prospective employees. As the name suggests, Babysitter serves the purpose of those who intend to list job vacancies related to child care, baby daycare, or any other child-centric employment.
Price – Regular License – $89/OneTime (1 Site)
12. Jobmonster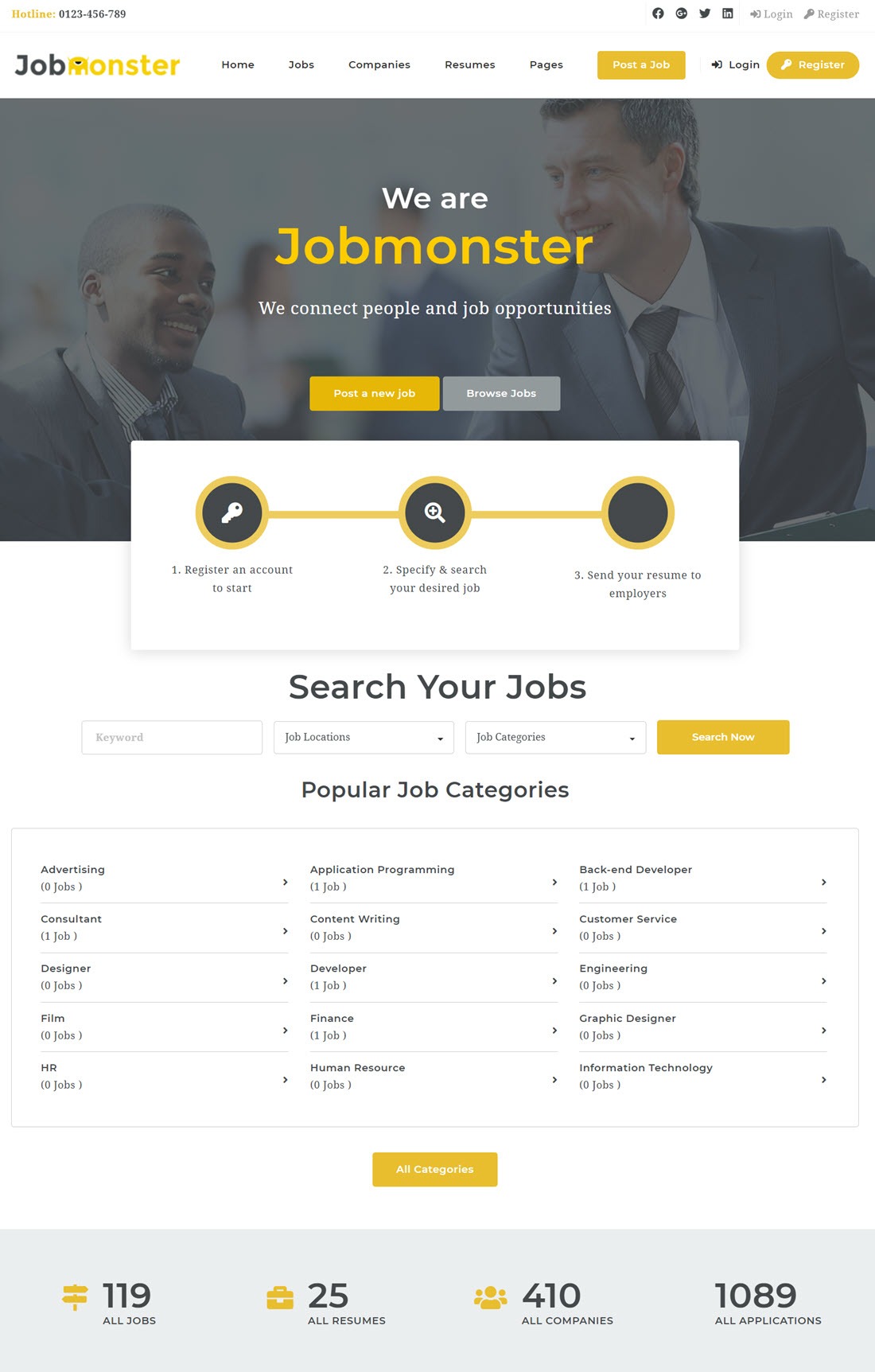 Jobmonster is an expert theme to host job boards, stats, and listings.It is an all-purpose professional website builder theme ideal for all job offices, recruiters, hirers, agencies, and consultancies. It features 4 unique List Layouts and 2 Grid Layouts; auto-location built-in function, and full compatibility with WP Job Manager Regions and custom VC Elements. An intuitive theme that fulfills the needs of both employers and the candidates. Plugins like Resume Manager, Applications, and WC Paid listings are integrated.
An excellent theme that strengthens the employer-candidate interaction. Jobmonster prompts the admin to first review every job before it gets published, hence there is no clutter or substandard entry. The clients are being updated through email or Facebook notifications. You can also decide on the number of job posting plans as a client. The theme offers an excellent option if you want to write blogs about parenting, nursing, or child care. It is useful for nannies and babysitters.
Price – Regular License – $55/OneTime (1 Site)
13. WorkBucket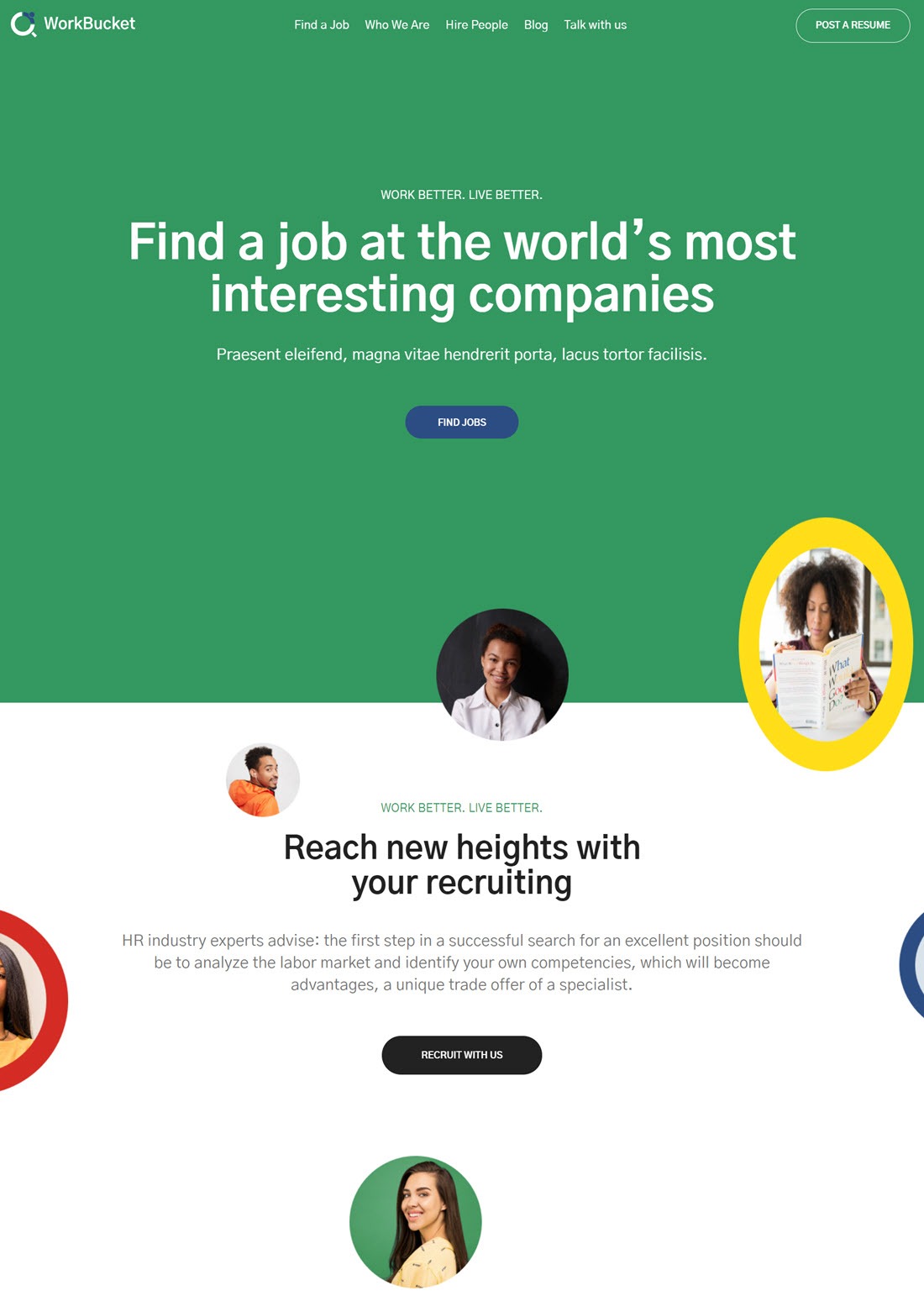 The WorkBucket from templatemonster, an exemplary choice for those who want to design a job board website with a professional touch. It is meant for the recruiters who want to create a job directory website for those who are looking for relevant jobs. You can also create an inventory site for consultancy because the theme is integrated with the post listing feature. An ideal theme for Job Recruiters, Consultancy, Hirers, and Placement Agency. The right spot for the job seekers indeed.
It is a user-friendly and easy to operate job board theme that helps you sell job listing space and accept new resumes in a very short span of time. The feature-rich theme offers unique portals for recruiters/employers and potential employees. In short, you can have your recruitment business up and running in no time. The latest version 1.5 features revamped job list layouts, resume list layouts, and category boxes. It has also categorized the job search with the new job details and jobs in popular locations.
Price – 1 Site – $59/OneTime,  5 Site – $128/OneTime
14. Onjob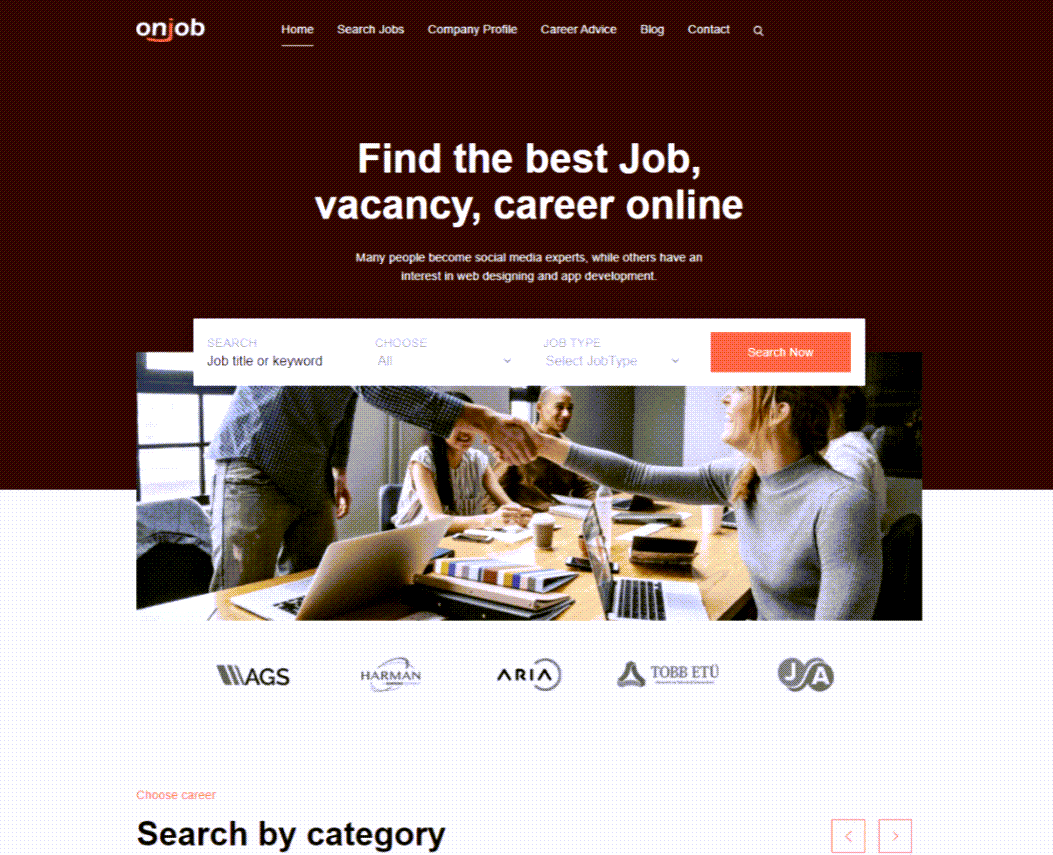 Onjob is a job portal theme that can host seamless job listings websites. The theme is way ahead of a mere job board software but an excellent job portal template. It helps in easy conversions through job script seekers. You can charge a fee for posting jobs, feeding sponsored jobs, and charging a commission for each project.  This business-oriented job portal template is user-friendly for job-seekers and allows the admin to make money in several ways.
Onjob augments the conversion as it diminishes the restrictions in terms of location and device. Additionally, the parallax scrolling effect prompts the visitors to revisit the site. The Image swoop module helps to highlight your best services and the Job Board Plugin creates a smooth Job portal for the recruiters and consultancy. It has a new perspective towards job listings by not simply bombarding your website with the featured jobs but classifying themes first as urgent jobs, private jobs, spotlight jobs, etc. Creating your own job directory website is not a distant dream with Job Board. Also, the jobs can be further categorized, uncategorized, and listed along with the company logo, job title, and the date they were posted.
Total number of users – 60+
15. Robojob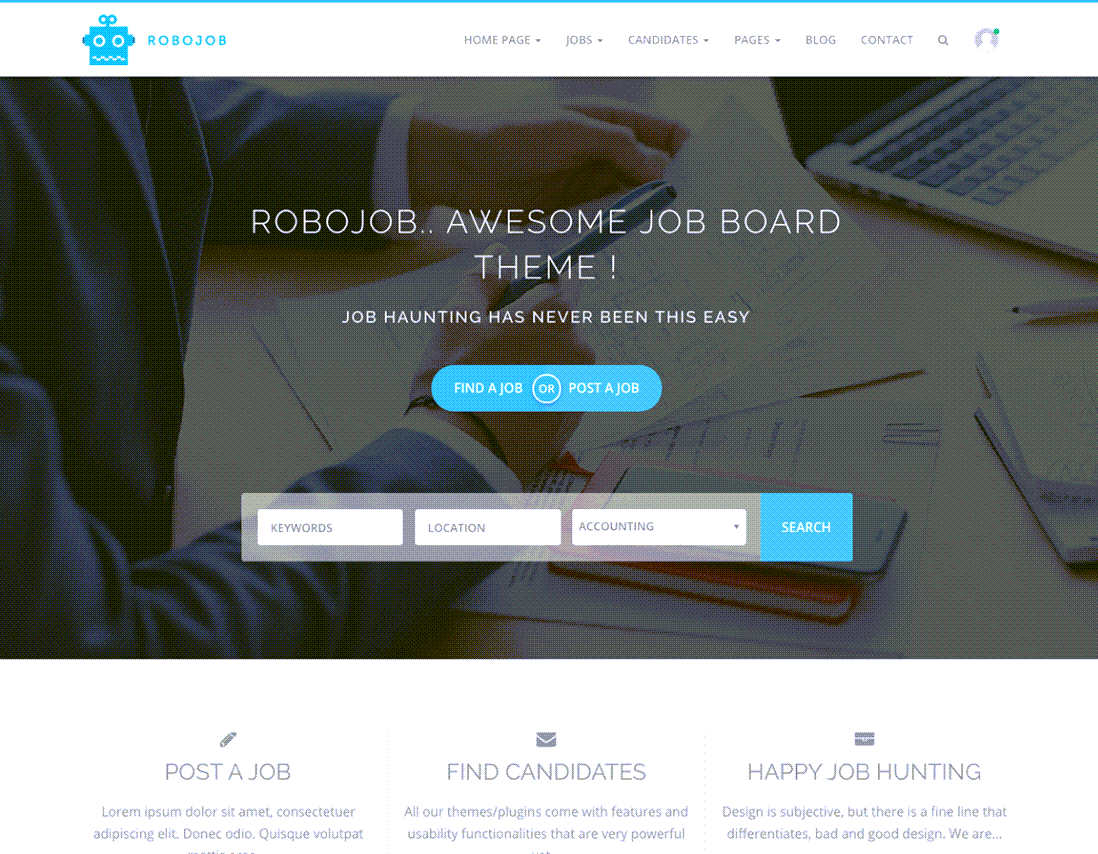 RoboJob is a comprehensive job listing theme that offers a complete solution to recruiting agencies and human resources. Robojob is an exclusive theme for those who want to post pet-related employment opportunities. It's an option-rich and user-friendly theme presented by Themeforest for both recruiters and candidates' perspectives. The theme features front-end submission forms, registrations, job postings, and application forms through custom forms.
The design, icon, and pet-centric terminologies make it an intuitive theme to build a job board site for animal workers and pet lovers. The built-in WP Job Manager plugin helps to create an employment listing website with ease. The power to create a high converting employment portal is easy with Jobseek and you can build both an independent jobs board website and the one catering to the recruitment needs of agencies and consultancy.
Total number of users – 500+