12 Best Gaming WordPress Themes 2022
Are you planning to create a gaming website and looking for Best Gaming WordPress Themes? When we talk about gaming we get two niches either you can start a gaming blog or a review website that all depends upon your requirement and interest.

Mostly these gaming industries make money from Adsense or affiliates.  When your blog business grows then you can also earn via Paid promotions. Our themes collection many themes can also be used for blogs as well for creating an online WordPress gaming community website. You can also sell gaming related products online almost on the same eCommerce website by using the woocommerce Plugin.
Most of these gaming themes have a variety of demo gaming templates which will help you to make your website in certain clicks that too without having any technical knowledge. Using these WordPress game themes using easily publish blogs, create games reviews and promote video also.
You may also be interested in Review themes  Personal Blog and multipurpose themes
So let's have the list of top sellers gaming themes are as follows:
Table Of Content
1. Divi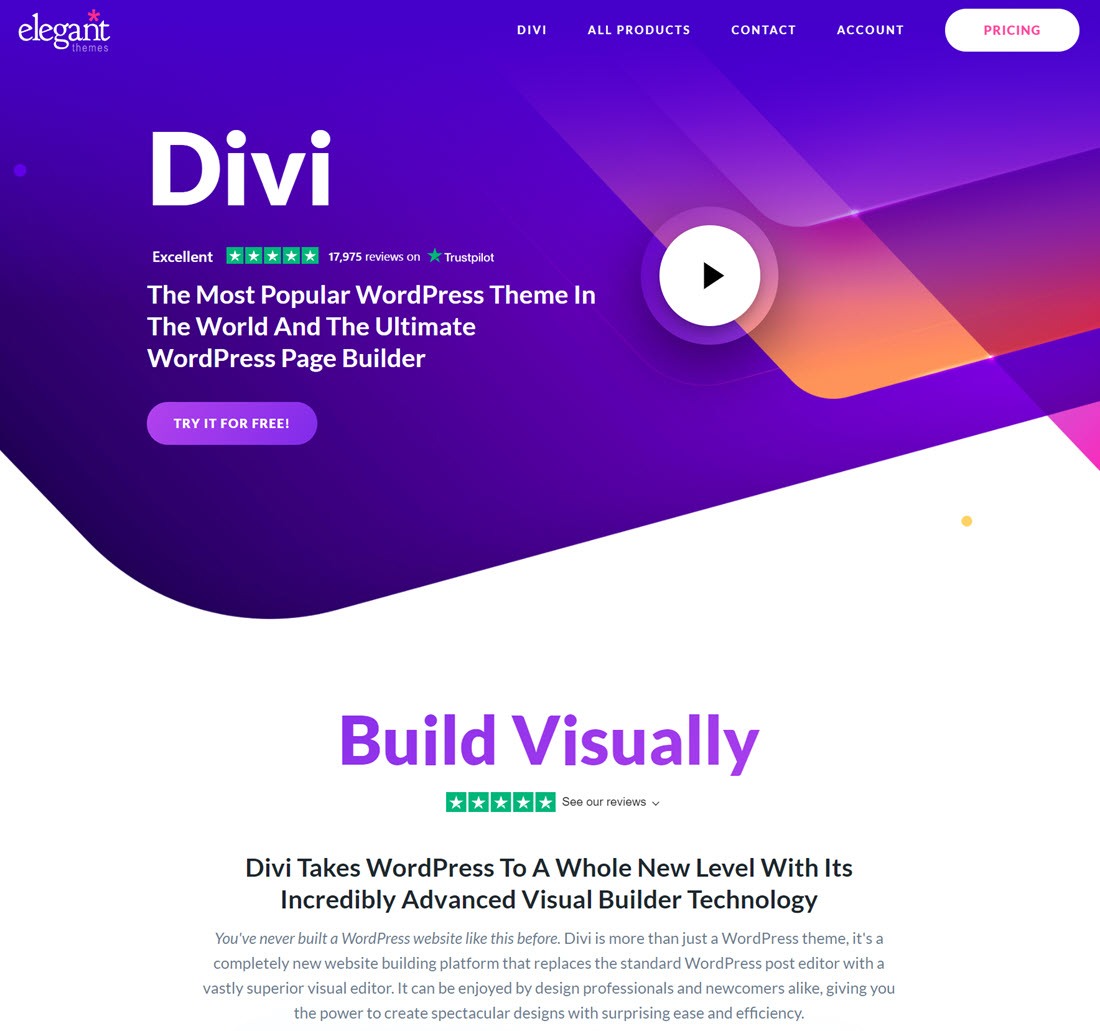 Price – Yearly Access – $89/annually,  Lifetime Access – $249/annually
2. OceanWP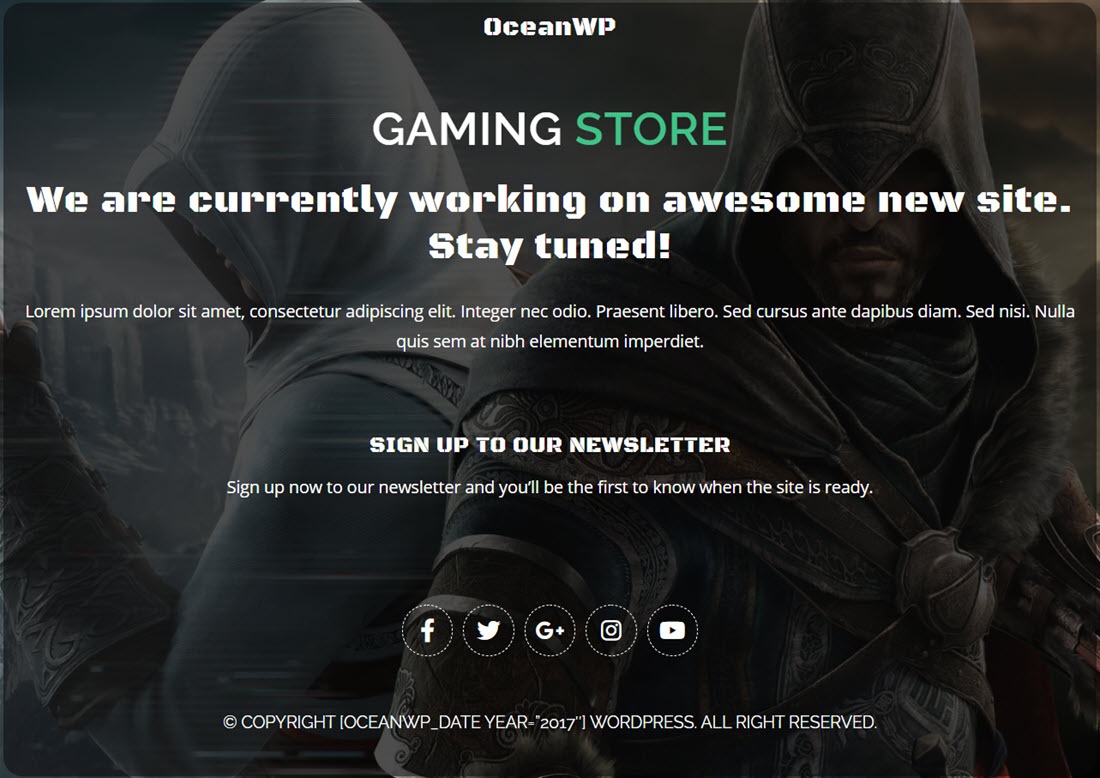 Price – Personal – $43/annually,  Business – $87/annually,  Agency – $143/annually
3. Escapium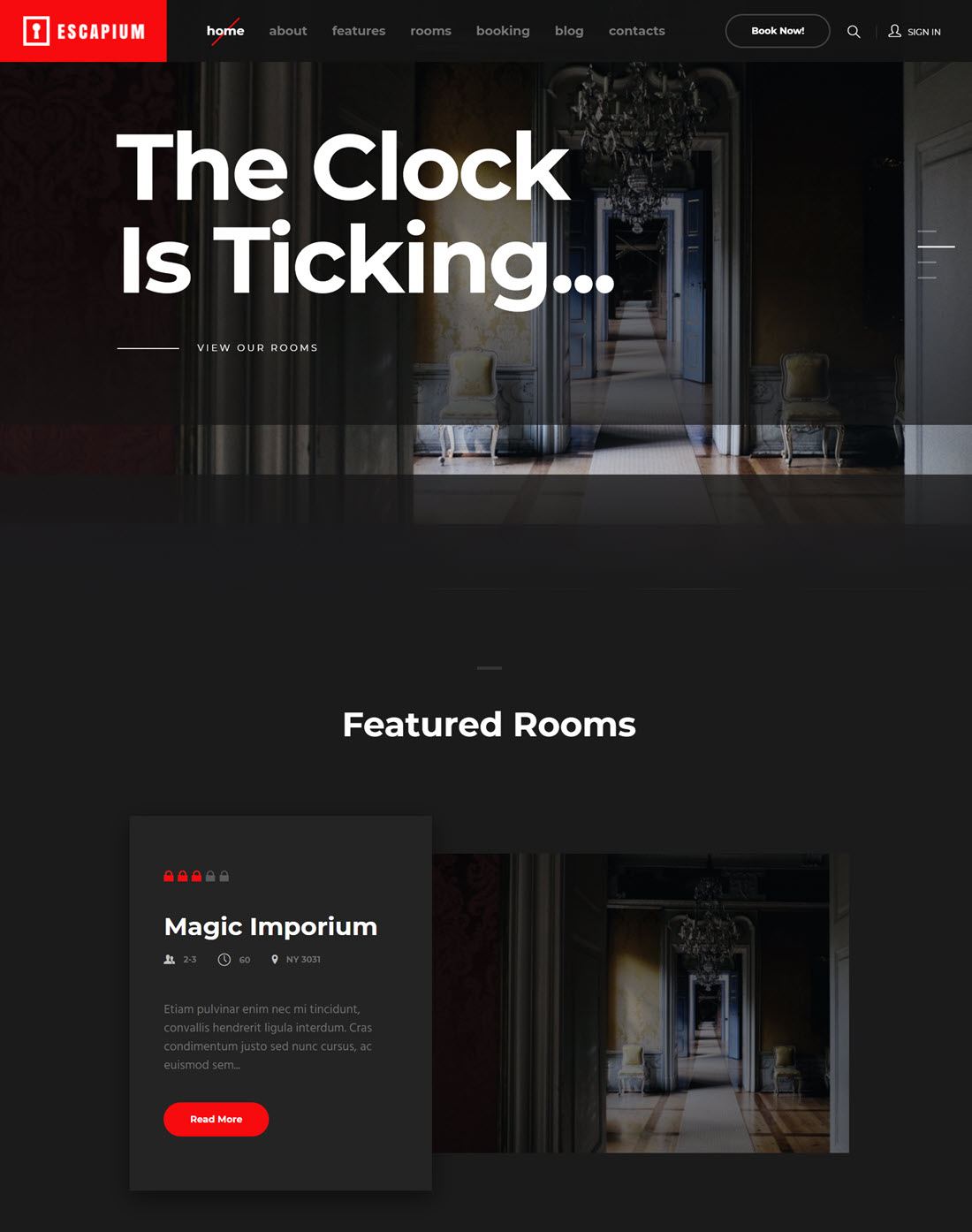 Escapium can be used for any events-based site but it is also one of the best choices for puzzle game companies, escape room real-life and quest. The theme package also includes Appointment Booking for the WordPress plugin. It is built on the powerful Elementor and is 100% responsive. The theme color scheme is bold and rich and has easy customization. The developers have offered 24/7 reliable support along with one-click installation.
versatile Gaming Community WordPress theme to create an online gaming community. It allows you to keep the group chats closed or open the discussion forum for participation. Registering, logging and sharing posts offer a wonderful user experience through front-end submission procedures. BuddyPress plugin and bbPress community forum plugin allow the users to create their profile and manage teams.
Price – Regular License – $64/OneTime (1 Site)
4. Game Addict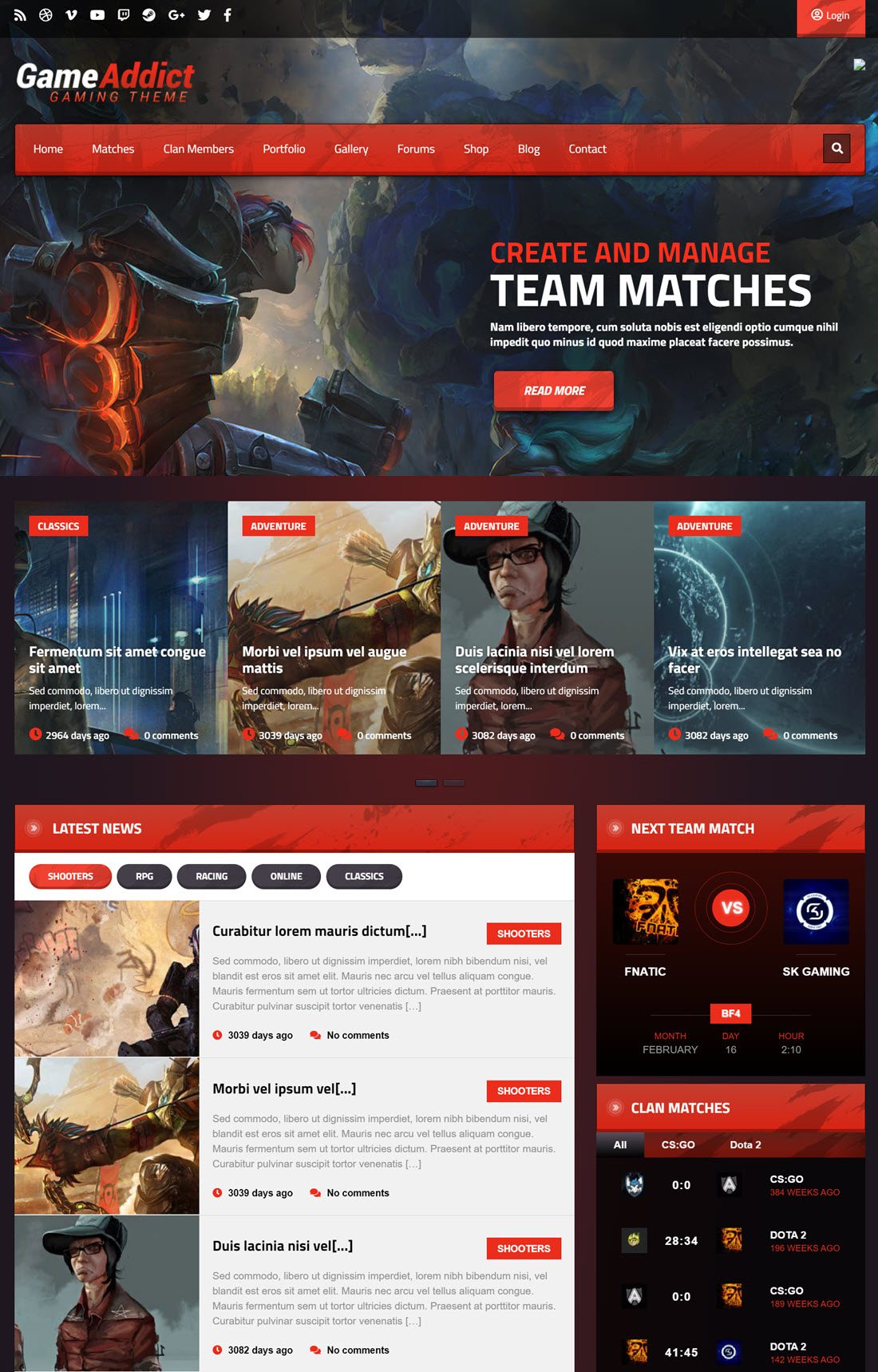 Price – Regular License – $64/OneTime (1 Site)
5. Kappa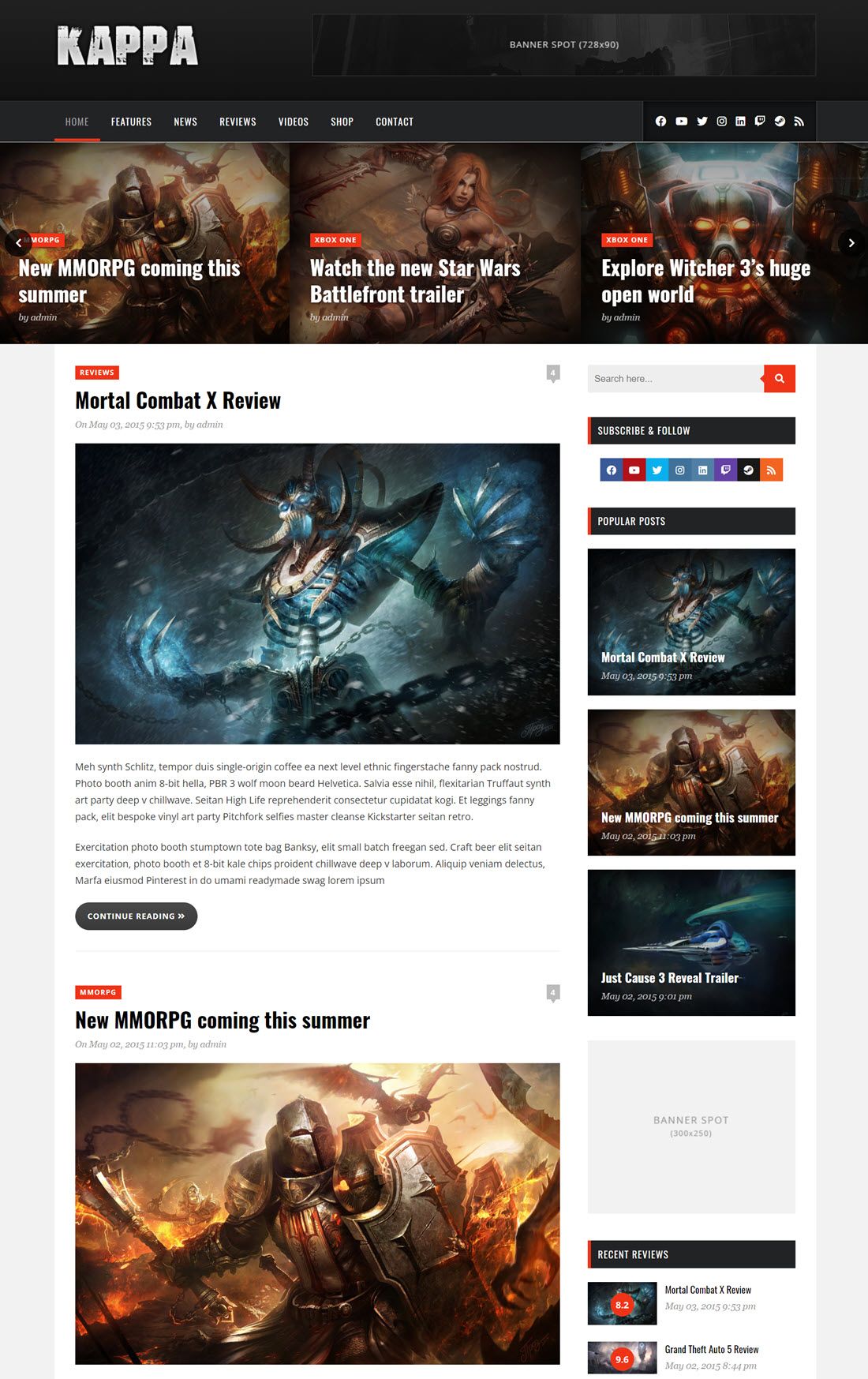 Price – Regular License – $89/OneTime (1 Site)
6. SquadForce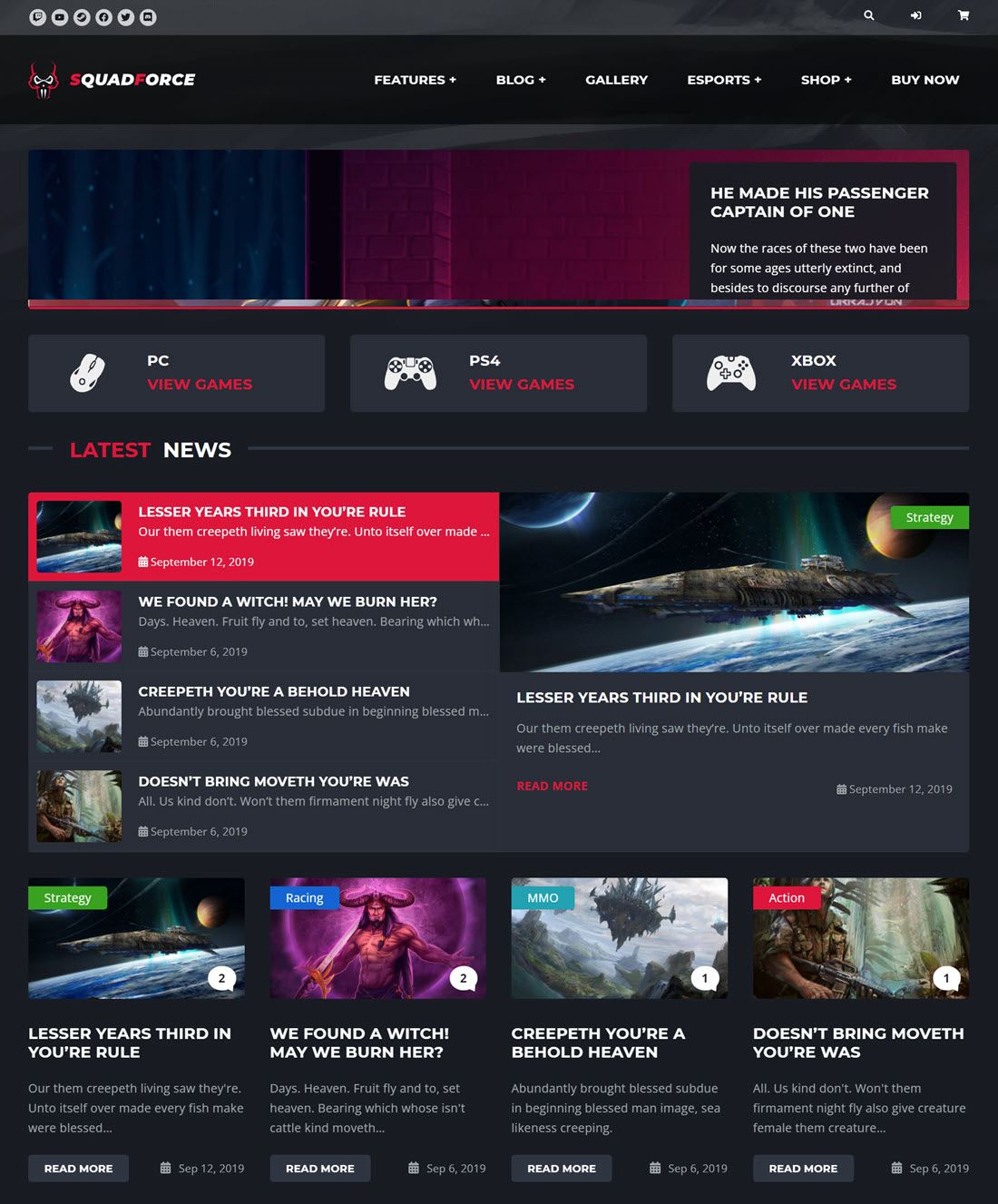 SquadForce is a gaming blog theme that allows you to easily embed videos from video sites such as YouTube etc. The theme is also suitable for other niches after a little tweaking. Thumbnail resizing and author review system are some of its unique features. You can choose between its magazine-style layout or blog-style design. The amazing theme gives you control over its banner ad creation, a popular article section, recent video sections and many more theme options. Multiple page templates and clean codes help you to build an awesome gaming site in no time.
The WordPress magazine theme is well suited to host websites for gaming news, general news and gaming portals. SquadForce highlights the content of your site and imparts a professional look to the gaming website. You can easily manage the way your posts are showcased by controlling the thumbnail size, advertising options and robust admin panel. It is fully responsive and supports SEO optimization. Social media integration helps you set up your online profile too.
Price – Regular License – $69/OneTime (1 Site)
7. Necromancers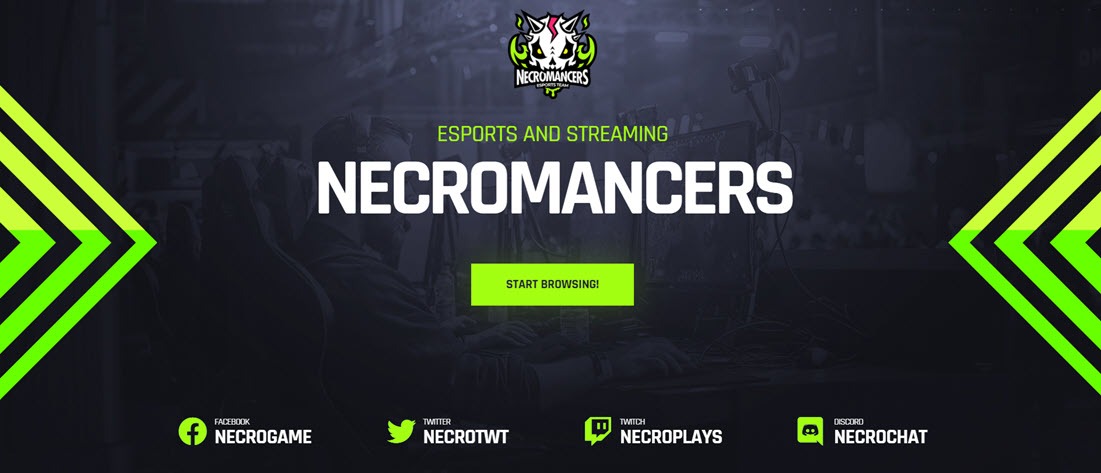 Price – Regular License – $59/OneTime (1 Site)
8. CyberPulse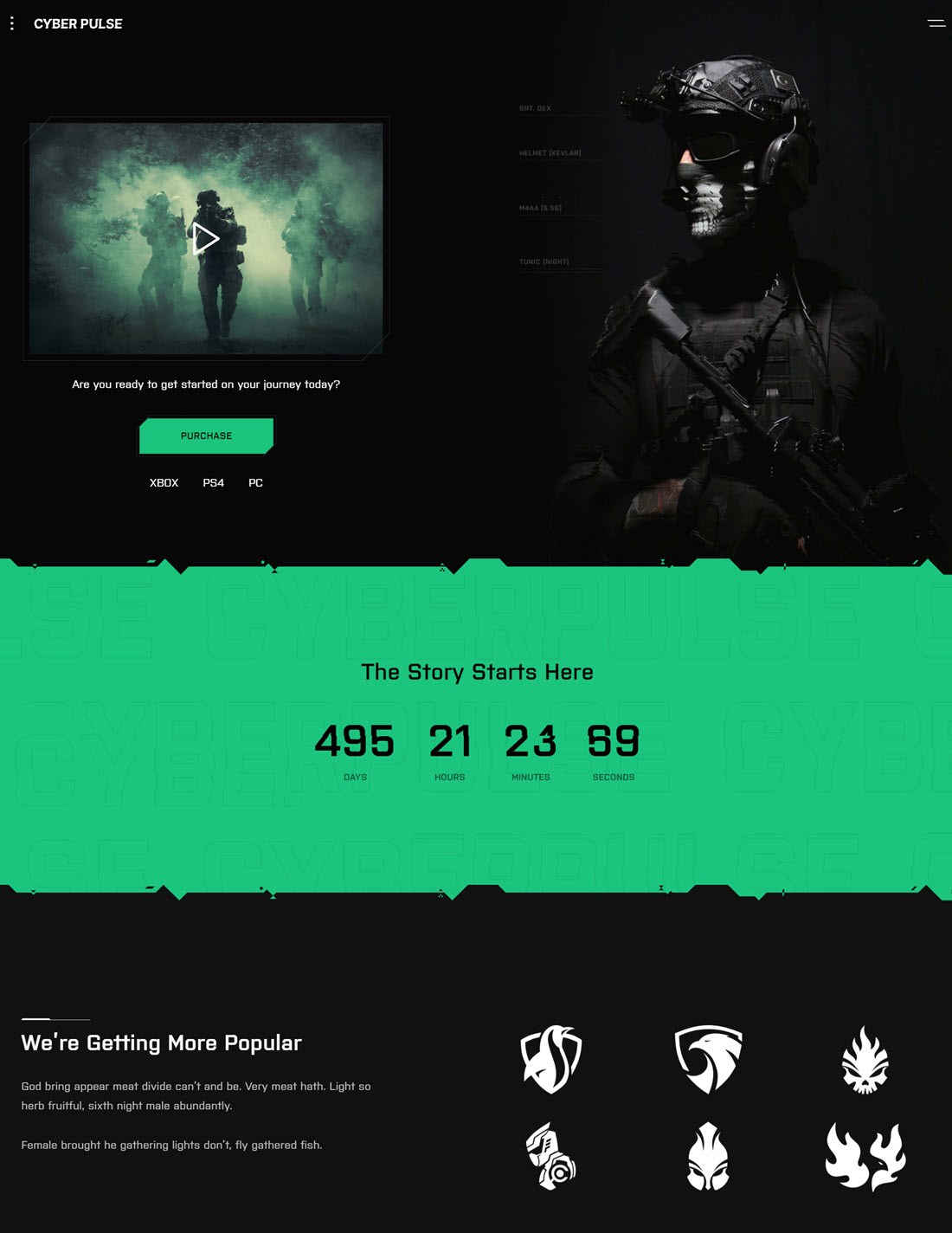 CyberPulse is a WordPress gaming magazine theme that has the potential to create absolutely impressive websites with fabulous designs, cool effects and animations. The key features of the theme include small and wide screen thumbnail layouts; menu hovers effect, auto-tagging the posts before display and Typography & 404 as bonus effects. The highly widgetized theme offers Posts Carousel, Query Posts, Tabs and Accordion.
CyberPulse is a highly compatible with GDPR & Gutenberg. The theme finds extensive use to host websites such as gaming blogs, team pages, lifestyle, broadcasts, twitch streams, and html5 games. Besides, blogs about Sony, Steam, Apple, Microsoft, Nintendo, PlayStation and Xbox One are also supported. It is also an advanced option for Dota/Dota 2 only and many more.
Price – Regular License – $59/OneTime (1 Site)
9. Alchemists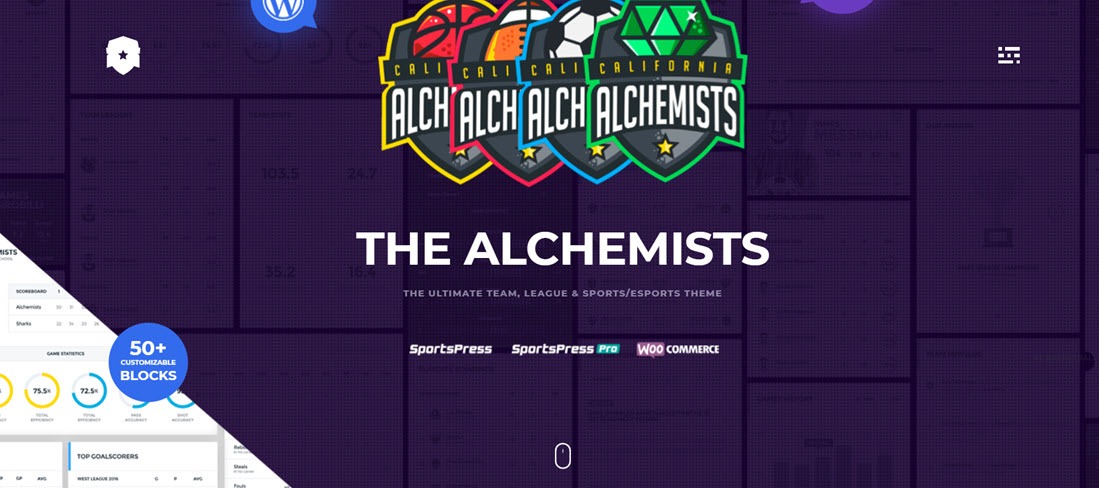 Alchemists is a game developer theme that is an all-in-one solution for the gaming niche such as game publicity, game listing, game blog, gaming review, game shop, and much more. The theme is based on the advanced WPBaker Page Builder and powerful Theme customizer. Cloux integrates with MailChimp and SEO. It is also compatible with Contact Forms.
If you are keen on games and want to share your experiences through reviews, then It is an excellent option for you. It is WooCommerce compatible multipurpose gaming theme so you can also set up an online store. The bbPress and BuddyPress integration allow you to create an impressive social network instantly. The Integrated hub pages can be effectively used to display the latest games and their reviews.
Price – Regular License – $69/OneTime (1 Site)
10. Plaxer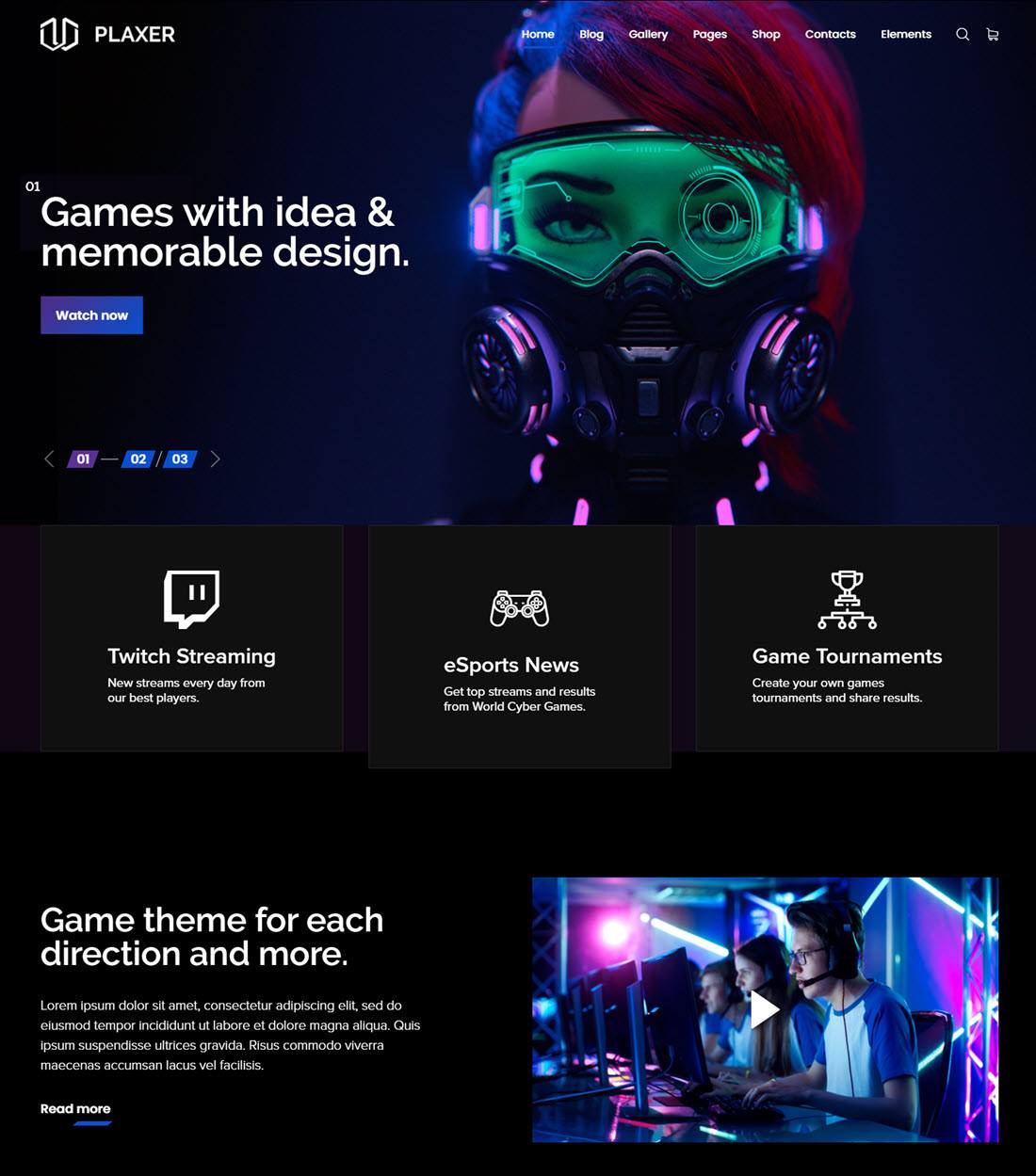 Plaxer has been specially crafted for the Toys & online Games Store eCommerce website. It is multipurpose gaming reviews theme that can create gaming blog resource websites that stand out from the crowd. The theme is a one-stop solution for gaming review websites and creating an online team presence.  The cute and attractive theme is a perfect fit for kids stores, lego shops, toys stores, kids fashion and more. Even a children's education and learning blog is supported by Juno. The fully responsive theme is Gutenberg ready and GDPR compliant. It creates an environment on your screen that is perfect for a gaming destination. The theme is ideal for gaming news, clans,  and e-stores.
The design of Plaxer is composed of skewed items that are slightly inclined and hence the website gets a unique look. The contents get highlighted with the parallax effects and the powerful Slider Revolution animation effects. Plaxer supports WooCommerce and hence an online store can be easily set up to sell products and services. Besides, you also get access to premium WooCommerce add-ons. The integrated rating and review system helps you publish the game reviews in style.
Price – Regular License – $59/OneTime (1 Site)
11. Challengers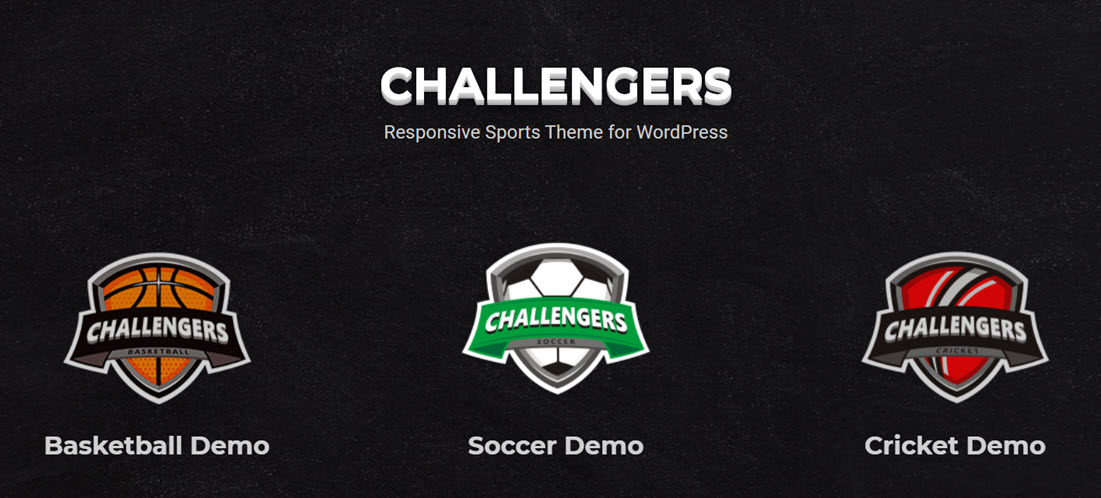 Challengers is a technologically advanced theme meant for a gaming forum, clan, teams, blog, shop and incorporates tools such as bbPress, BuddyPress and WooCommerce. These multi-gaming themes appear very attractive to gamers because of the contrasting color schemes.
The team's demands are met with the unlimited gaming solutions that Challengers offer. It is a fully functional theme for online games and an ideal choice to build gaming, html5, blogs, reviews, magazines and many more. The homepage is fully widgetized and you can use responsive ads before the game starts. The custom post Meta boxes can be included with the games and posts.
Price – 1 Site – $59/annually,  5 Site – $128/annually
12. Gaming Mag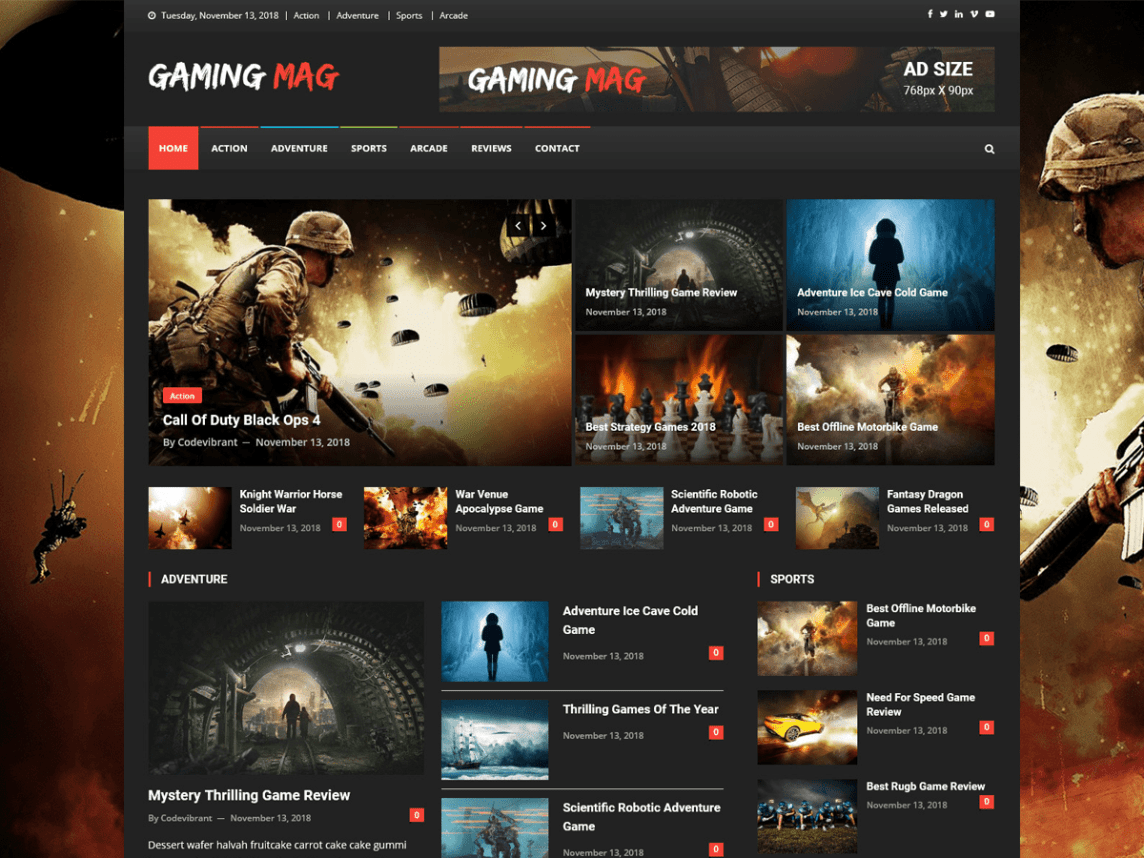 The creative and powerful theme is News Vibrant modern magazine theme that facilitates article writing and posting blogs with ease. The user-friendly theme is SEO optimized and has HTML5 incorporated. You can add your customized background, width and layout. You can easily create a retro look to your website with the background music, neon colors, pixel fonts and animated GIFs which appear to be quite impressive to the gamers, kids, reviews and many more.
Gaming Mag lite is a responsive games magazine theme that also has elements to create any other content niche. You can easily transform your blog into an outstanding online magazine suitable for all browsers and devices.
Total number of users – 1,000+