14 Best Hosting WordPress Themes 2023
Are you planning to start a web hosting company and looking for Premium or Free Best Hosting WordPress Themes? Using this hosting template you can easily create a professional beautiful website for your company.

Most of the themes in our collection support the integration WHMCS platform. WHMCS is one of the most famous hosting automation tools to automate billing and provide support to your clients. Using this platform you can manage domain registrars, tax, automatic payment management to speed up your work. This is trusted by so many big companies like Cpanel, Plesk, resellers club.
So many themes are so advanced at they provide facilities to search domains and buy domains also. These templates can be used for creating any kind of website design like shared, cloud, or managed hosting provider or a domain seller.
You may also be interested in the FOMO plugin and Lead Generation plugin 
So let's have the list of top WHMCS WordPress themes are as follows:
Table Of Content
1. Zomex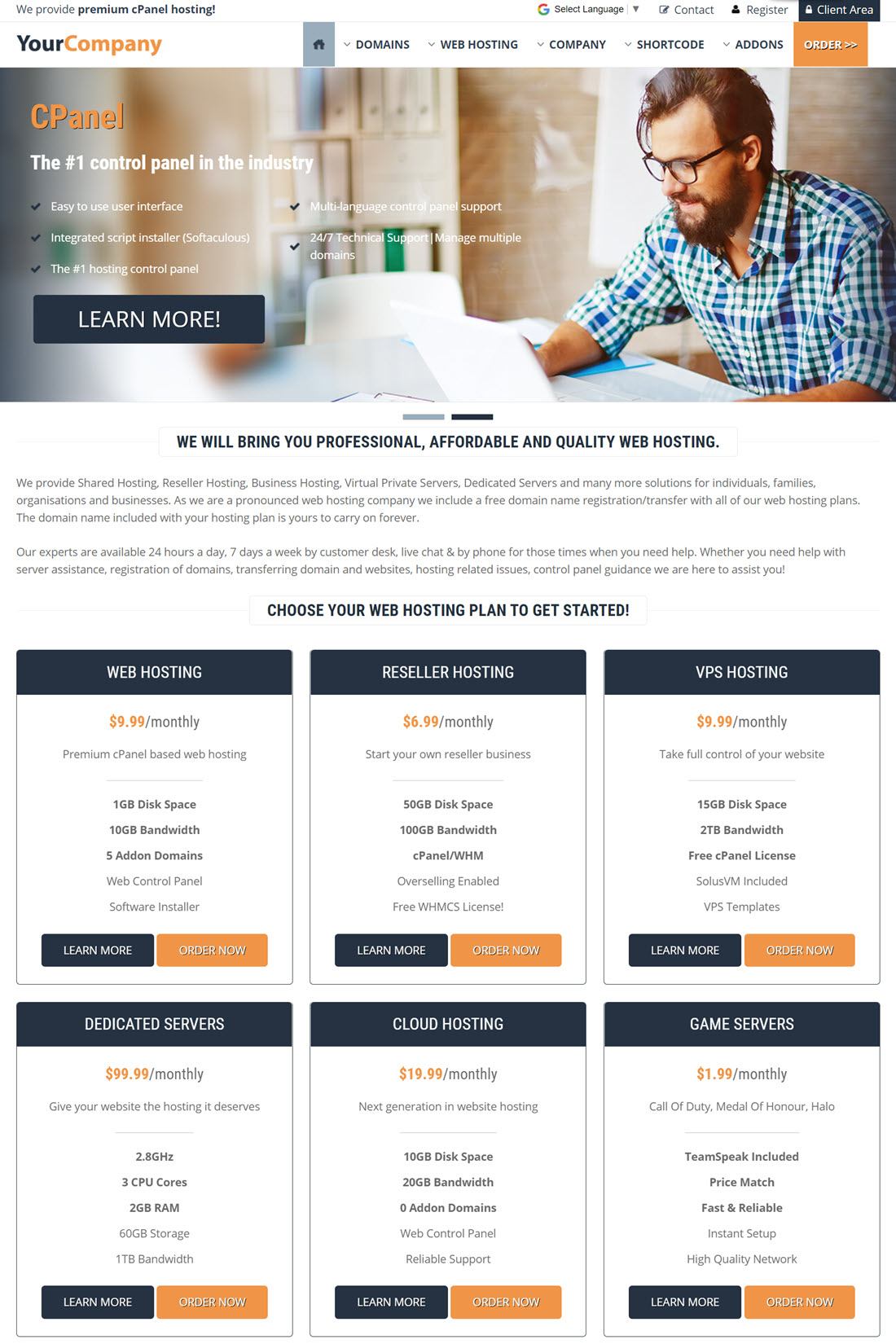 Zomex is a premium WordPress theme that lets you launch your hosting business with a great impression. Zomex is a well-known name when it comes to high-end templates and support teams. The wizard panel – its template settings area is feature-rich and can have your professional business setup in no time.Hereby, you can find the out-of-the-box solution while creating a website for hosting businesses or even web development spaces as well. Highly responsive themes are available that look great on different devices and adjust according to the screen sizes. Intuitively integrated with WHMCS v8.3.2 that provides an automated synchronization option that lets you customize and configure however you need.
Core Features –
Provides up-to-date technologies such as CSS3, animations, media quires, jQuery, and HTML5.
Supports WordPress v5.7.2.
Avails elegant pre-designed layouts for plan i.e., composed with data tables and pricing tables.
Enables customization of header and footer with intuitive widgets.
Avails shortcode generator and block-based content to enhance the appearance of the websites.
Price – 149$ Per Theme
2. Hostiko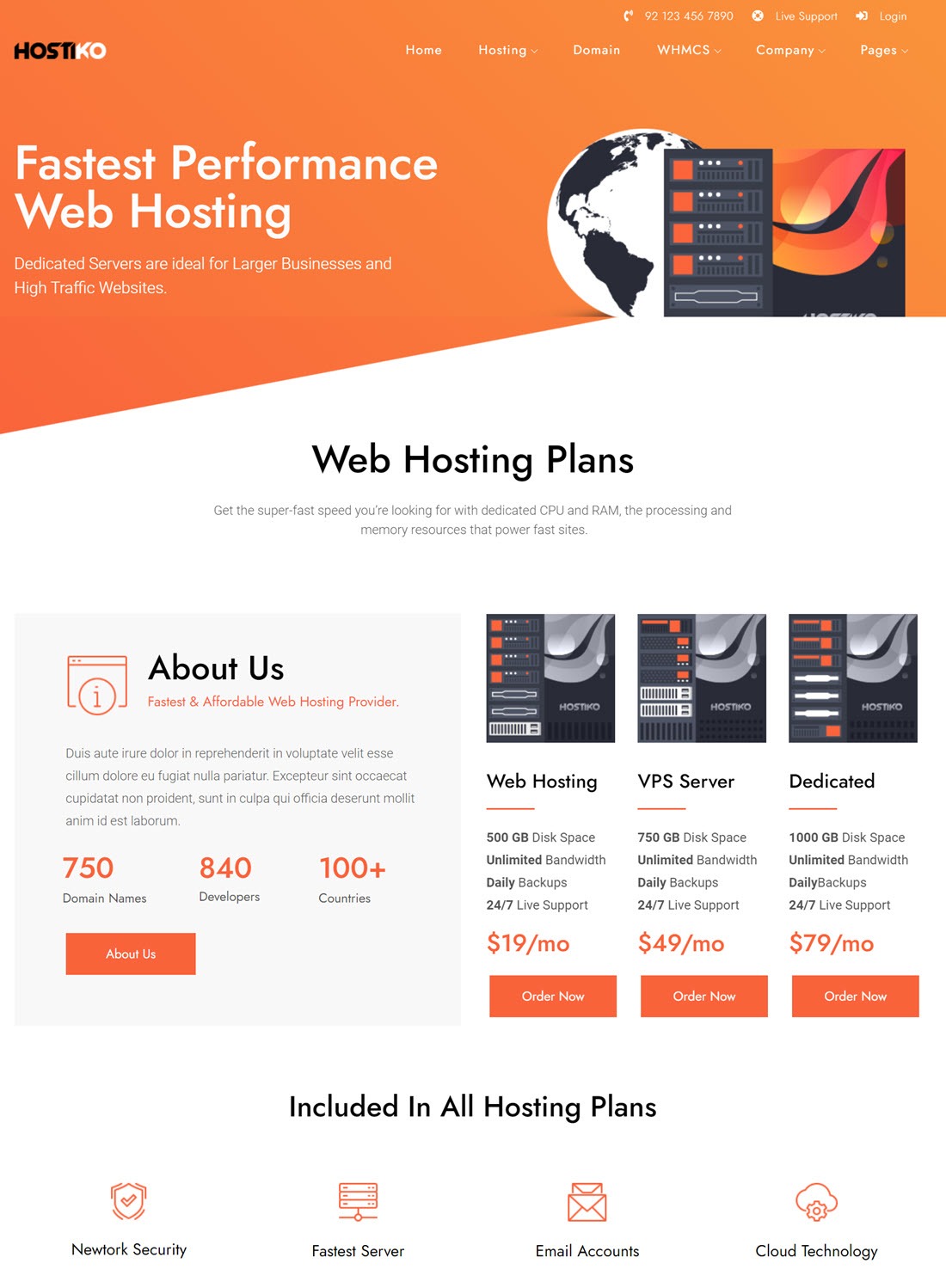 Hostiko is an integrated solution for various web hosting businesses. Offers intuitive WHMCS 8.x templates that can be customized according to the necessity of your hosting business. Get access to a complete WHMCS layouts package whether for displaying demo, sliders, and support system as well. It develops HTML5 templates, PHP templates, WHMCS templates, and many WP themes. It Is cross-browser compatibility and offers a fully functional domain search integration.Inscribed-well with premium plugins such as Elementor, WP Bakery, Slider Revolution, ACF, WCHMS, and Contact Form 7. Create elegant web hosting websites effortlessly with this feature-packed WordPress theme.
Availability of interactive VPS Slider.
Let you add a domain checker alternative where users can analyze the domain value and status by just entering the URL of any website.
Provides pre-designed table layout to display plans and price comparison intuitively.
Six customizable header and footer styles.
Avails mega-menu accessibility with pre-formatted styles.
Price – Regular License – $39/OneTime (1 Site)
3. HostStar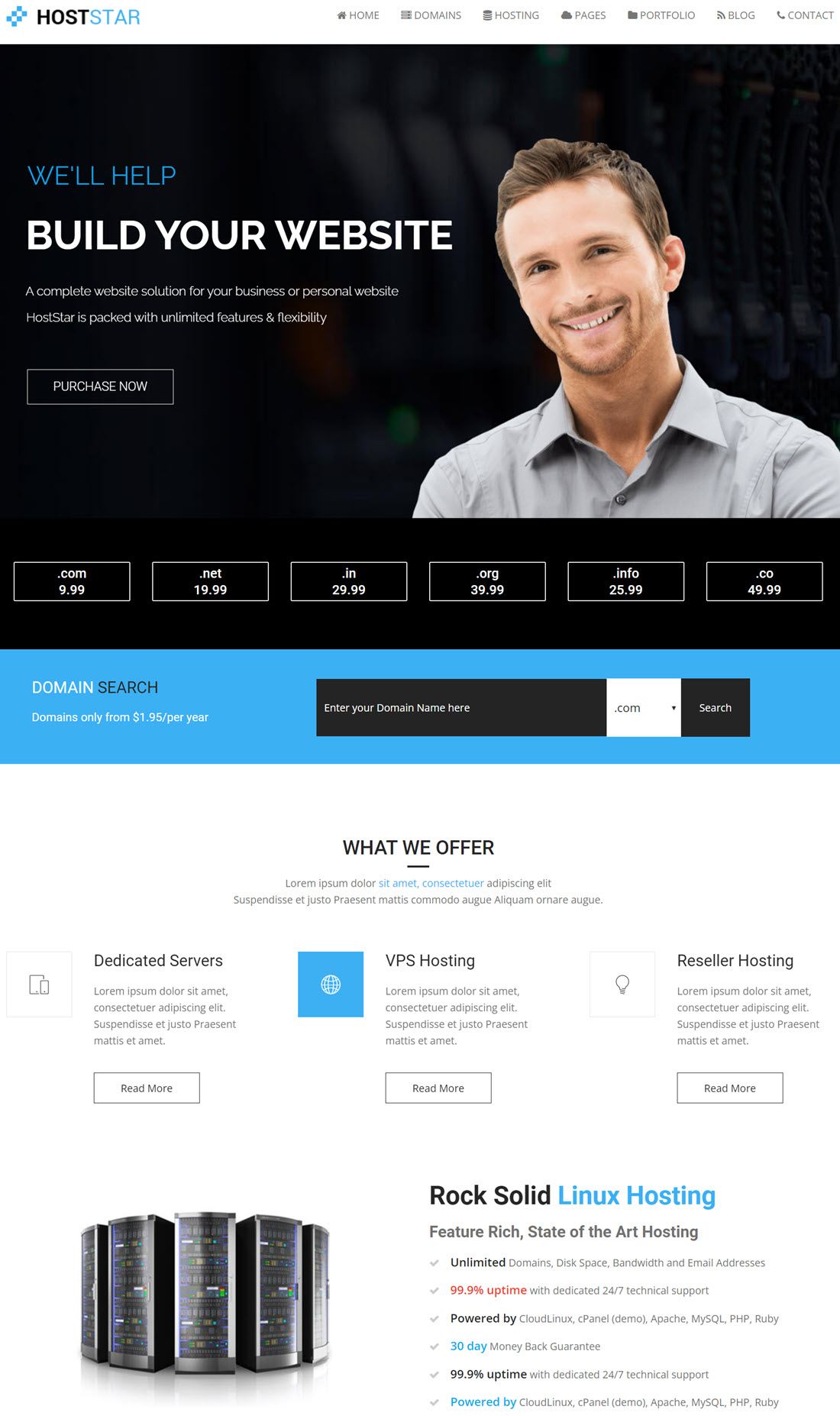 HostStar is an extinguishing theme for SEO, web designing, and web hosting businesses. Introducing intuitive WPBakery Page Builder support where you can easily create complex page layouts in minutes. The compatibility of the current version of HostStar is with WordPress 5.8x. Designed so intuitively where anyone can create a live professional website within half an hour i.e., ultra-responsive on multiple devices. Includes essential features like WHMCS templates, Aweber, WPBakery Page Builder, Revolution Slider, and many more.
HostStar enables an infinite browsing experience to site visitors that engage more audience thereon. Avails a parallax scrolling effect that lets you insert and appear full-screen images and animations. You can add an off-canvas menu on your hosting websites that easily navigate your users on any device so conveniently. It is one of the best WP themes designed for hosting and technology sites. Its 100% integration with WHMCS is through the WHMCS-BRIDGE plugin. MegaHost has another star feature Elementor page builder which can let you design and customize through the various available options. It offers some professional features such as 3 skin choice colors, a home page slider, a testimonial section, social sharing, and informative pages
Price – Regular License – $24/OneTime (1 Site)
4. ZionHost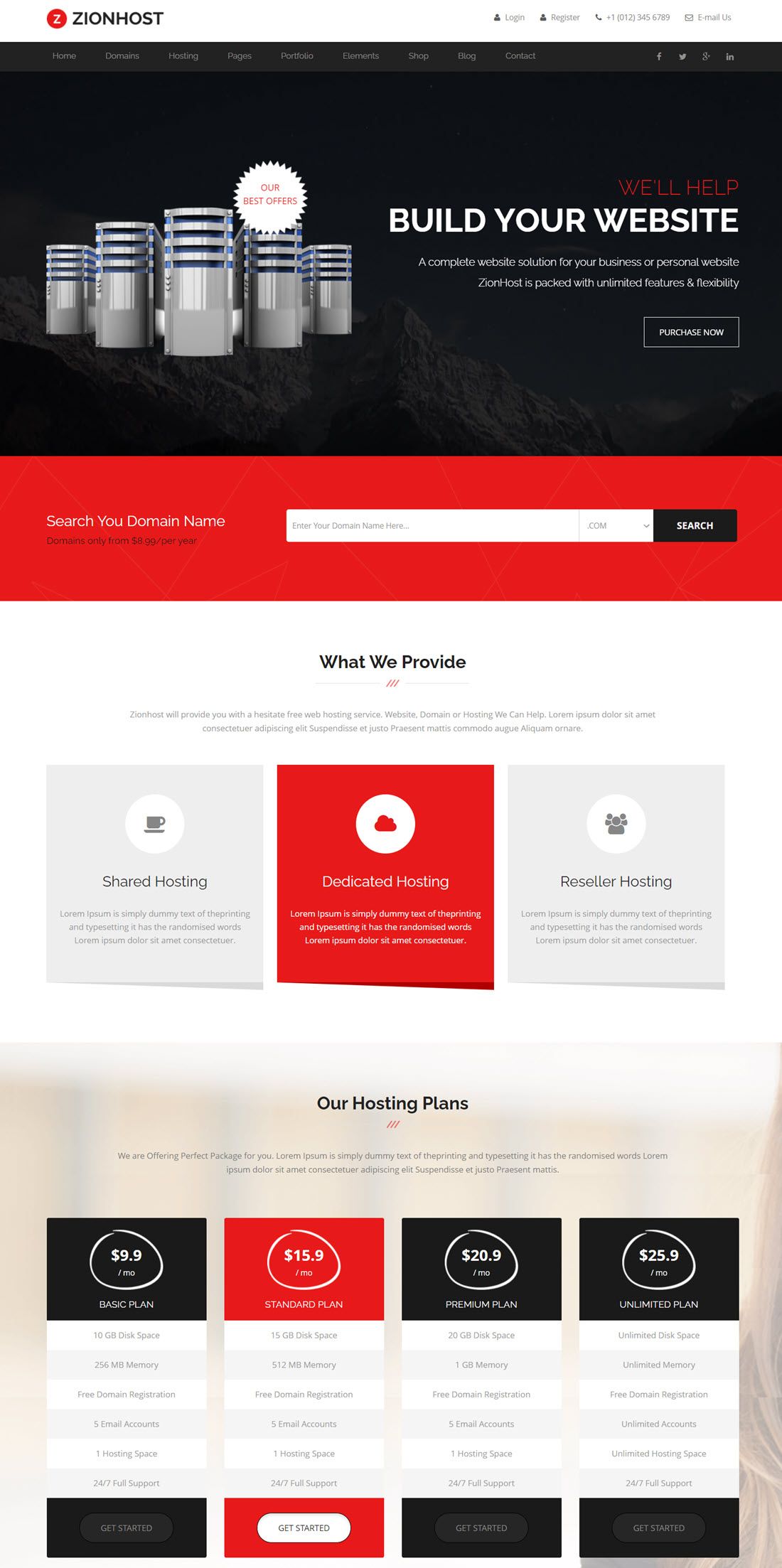 Zion Host is nicely integrated with WPBakery Page Builder where you can create an extinguishing WordPress site in a few minutes for hosting business. Bundled up with many intuitive features including Drag and Drop interface that assist you through the journey of creating and making it live appearance as well. Let you designate a professional hosting website within just one-click installation of all preview pages. Introduce a complete package of WHMCS templates along with its essential tools.
Key Features –
Compatible finely with the latest version of WordPress.
Supports multi-lingual features.
Design elegantly your hosting site with effective revolutionary sliders.
Packages of various styling accessories such as home styles, portfolio styles, blog styles, header styles, footer styles, and contact styles.
Provides enhanced browsing effects, lazy load effects, and smooth scrolling effects.
Price – Regular License – $27/OneTime (1 Site)
5. MaxHost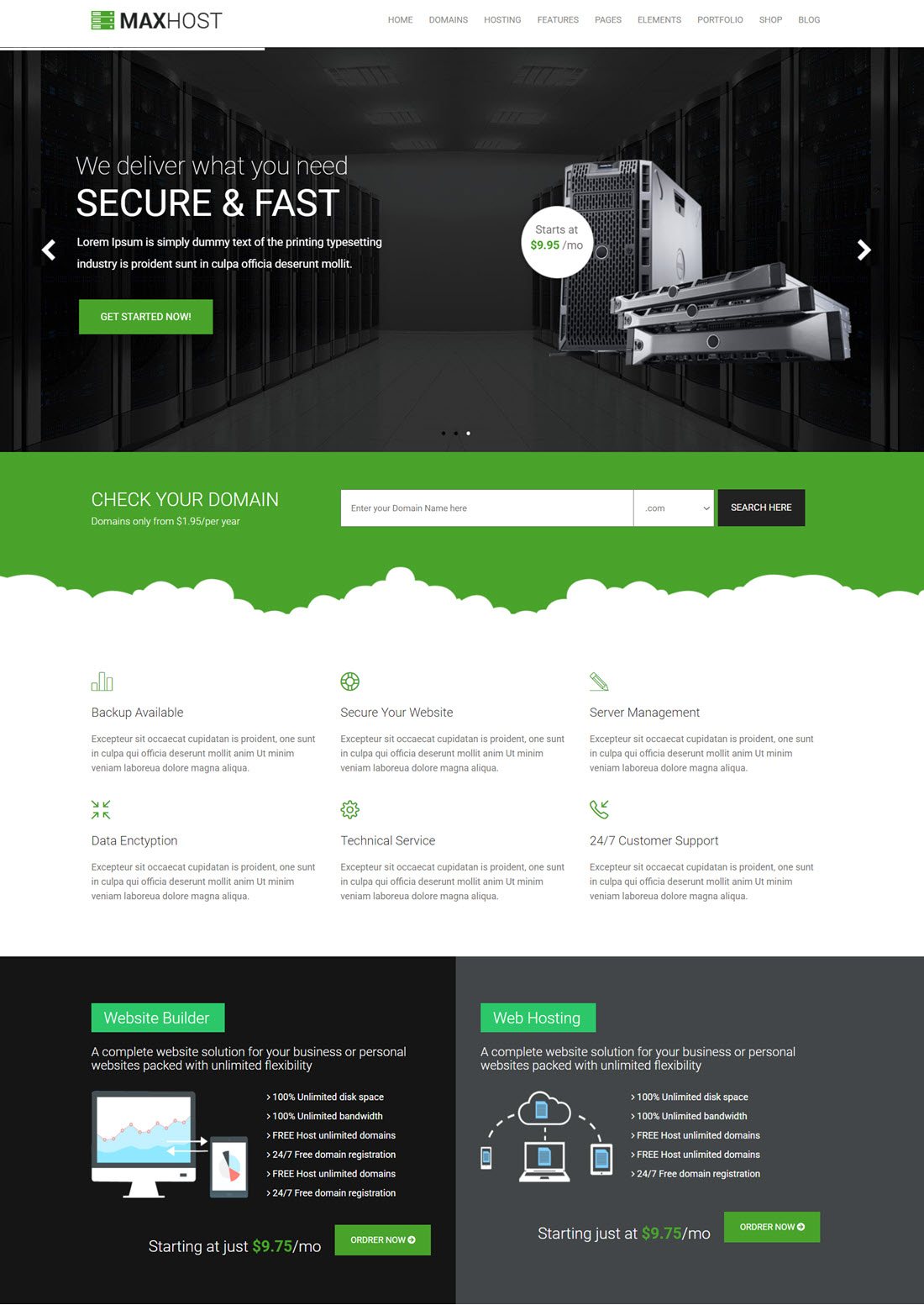 MaxHost is supported by the latest version of WHMCS and creates an informative manifesto to encourage the web hosts for displaying their products and services in the most engaging manner possible. This responsive theme looks great on all screen sizes and offers 15 different WHMCS pages all with their unique PSDs. AceHost supports an array of features such as Bootstrap 3.2, W3C validation, and social figures. The pages are content-rich and imposing and have excellent documentation backup.
MaxHost is both a corporate and web hosting theme. The responsive theme offers 7 layouts, inner pages, slideshows, rich color variations, and a customizable design. FoxuhHost helps you design instant websites for web hosting, hosting, portfolio, classic, creative blog, corporate, and one page. It is a feature-packed and responsive WordPress theme. If you want to create a simplified process wherein the visitors sign up and purchase the web hosting plans, then Spark can make it possible. The clean demos that it offers prompt the visitors to register with you and then search and register their domains too. It offers some of the best features such as WHMCS Bridge Plugin which is a packet of caching, SEO tiles, IP address resolution patch, and visual integration alongside purchasing possibility of domain .com, .net, .org.
Price – Regular License – $39/OneTime (1 Site)
6. Zipprich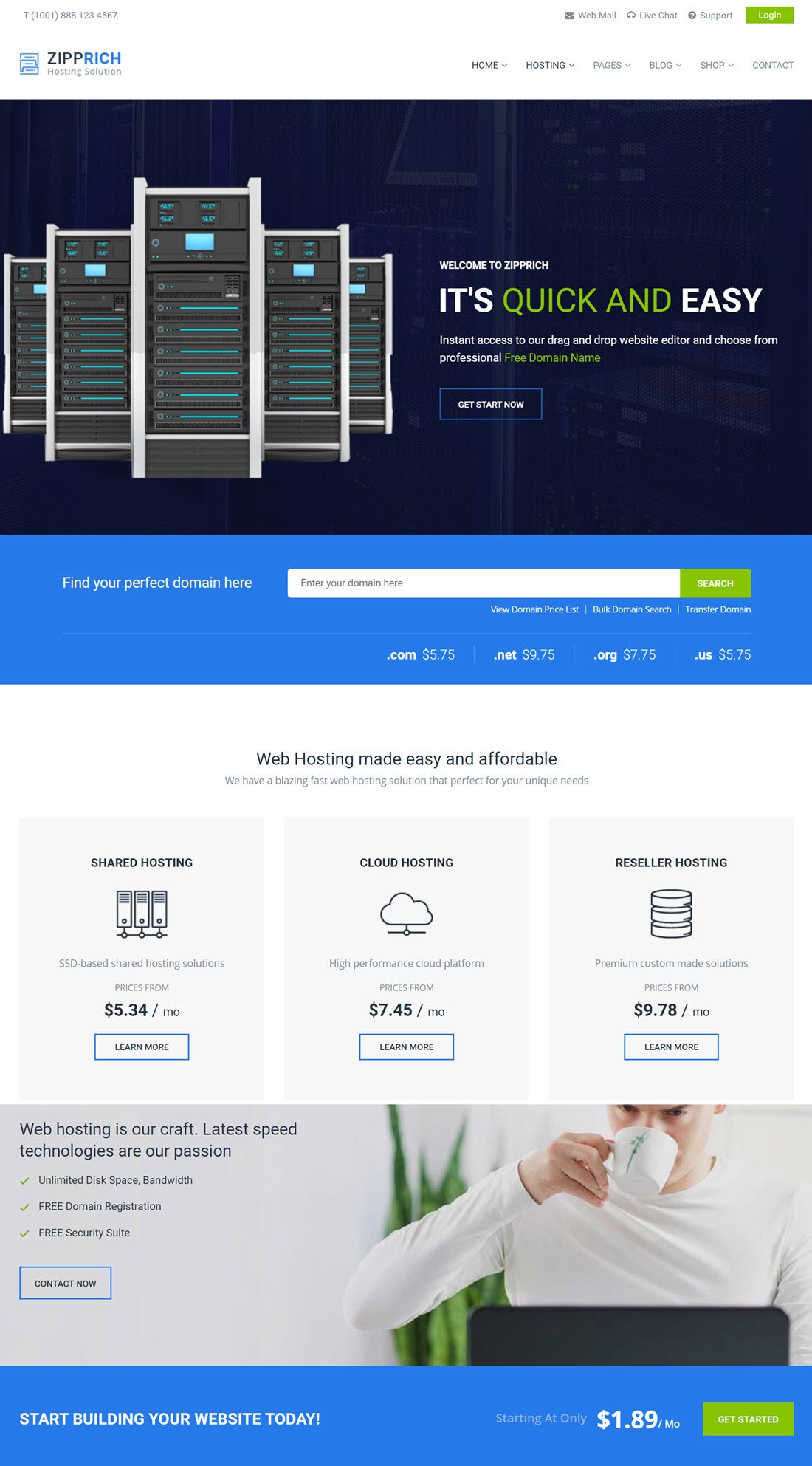 Zipprich is a feature-rich hosting theme with WHMCS support that imparts a quick domain search and domain purchase capability to you.If you are looking to dive into the online hosting business, then Zipprich will be an ideal choice.  It is ideal for Hosting Websites, Software, and Hosting Providers. The key features on the theme are the Elementor Page builder plugin along with its premium add-ons, live domain search, domain & hosting purchase, and support from WeForm, Contact Form, and MailChimp newsletter integration. The theme is SEO optimized.
The step-by-step site setup is a matter of the past with the WordPress theme – Zipprich. With the one-step process of theme activation you are good to go, you can start syncing listings, images, descriptions, testimonials, blog posts, and much more. Even the theme adds customizable dummy elements to your site which you can modify later. The strategic design of the homepage is appealing to a larger audience. It is an exclusive WP WHMCS Theme relevant for Web Hosting Companies. It integrates the powerful Visual Composer Page Builder and Revolution Slider as beneficial features. The dedicated theme is a preferred choice for hosting, multi-purpose, and domain sale sites and has layouts for shared and dedicated hosting.
Price – Regular License – $49/OneTime (1 Site)
7. Multi Host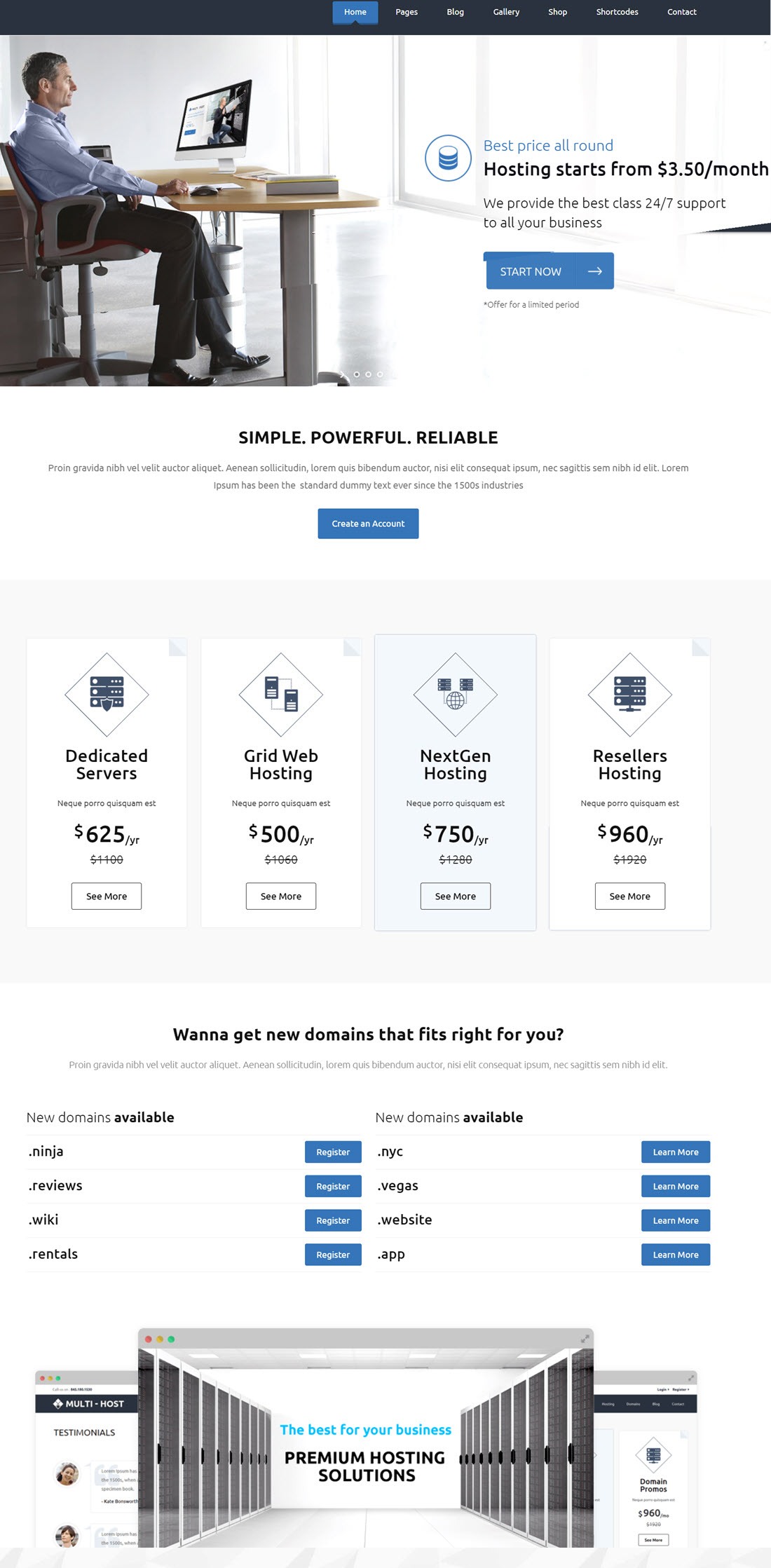 Multi Host is thoroughly into technology and web hosting businesses. You can kick start your site with the one-click demo import. Also, the pre-built designs can be chosen to further enhance the quick process. The theme allows the users to sign up on your website and compare the prices of different products using the price slider. it is a robust and contemporary Hosting theme by Themeforest. The multi-purpose theme is a suitable choice for a domain registrar, website hosting, and hoster network. An excellent choice for company deals like shared hosting, cloud hosting, etc. UnlimHost makes a perfect combo with Firewall, SSL certificate, good bandwidth, etc.
This robust hosting template is designed for web designers, web hosting services, software companies, App developers, and internet service providers. The built-in pricing table of the template helps you to showcase the cost of the domain name based on categories and hence offers a high level of transparency. The Lead capture form collects customer queries on DNS with their email IDs. This can later boost your email marketing in the long run. It is a modern-day Isometric and Web Hosting theme. The theme is suitable for IT Businesses that provide shared or dedicated hosting services along with web design and networking. Hostinza draws its uniqueness through the isometric illustrations and Elementor page builder plugin.
Price – Regular License – $59/OneTime (1 Site)
8. Hostinza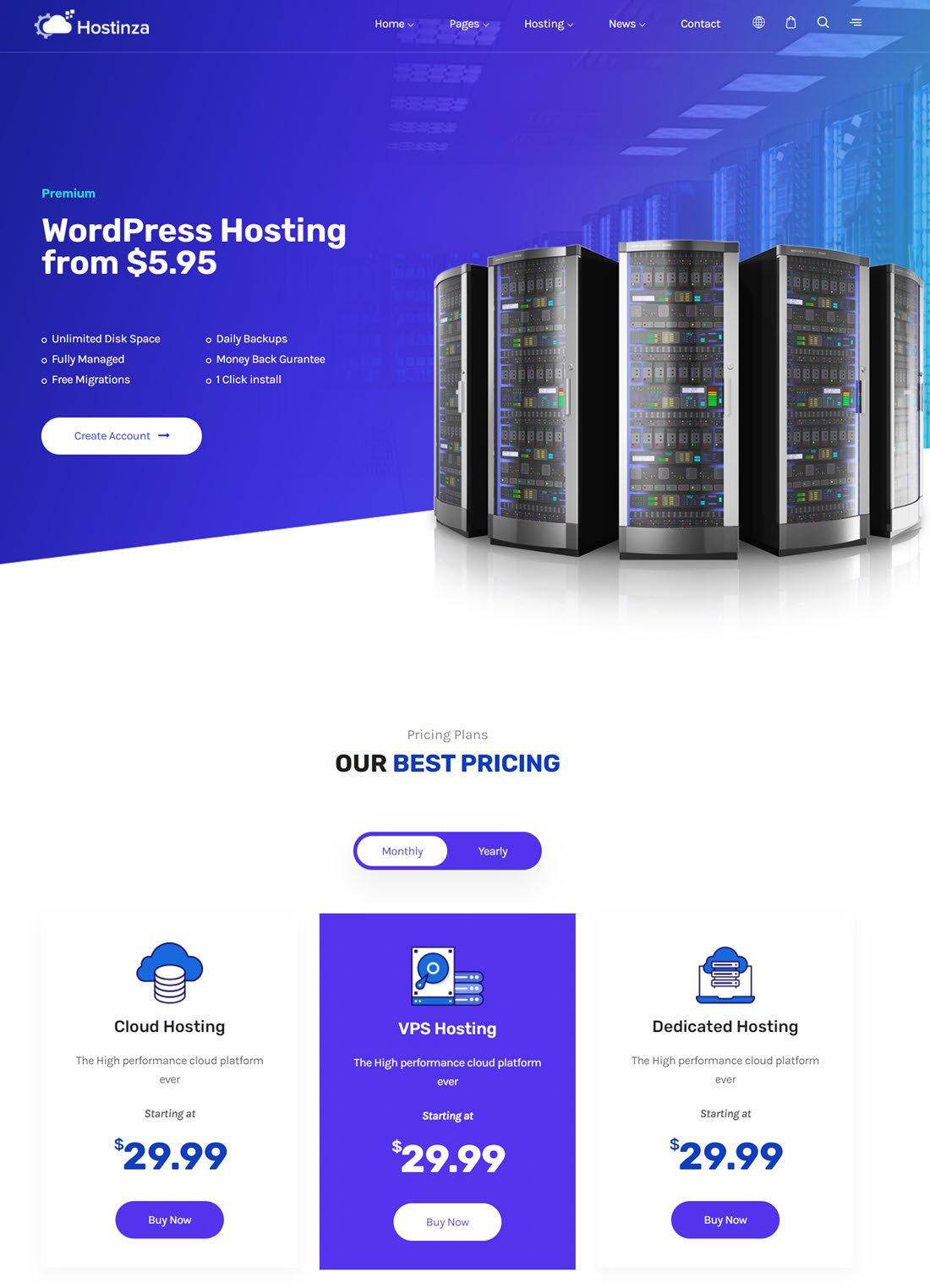 For those that live and breathe web hosting themes, Hostinza is a sleek, isometric contemporary WordPress theme for those who live and breathe web hosting. This theme is ideal for IT organizations that provide shared and dedicated hosting services. Although, let you maintain web design and networking. Front end page builder Elementor with Revolution Slider. The Hostinza theme is entirely responsive and looks great on all screens, from desktops to tablets, iPods, iPhones, and smartphones. The built-in pricing tables display the cost of different server configurations.
Core Features –
Truly SEO-friendly, as well as offers codeless layout development.
Provides visual editing interface.
Sections, blocks, components, and powerful impressions supply you with all the reasons to launch a website with numerous different alternatives.
The demo selections for Hostinza Theme Panel are not as restricted as others.
Price – Regular License – $49/OneTime (1 Site)
9. Horn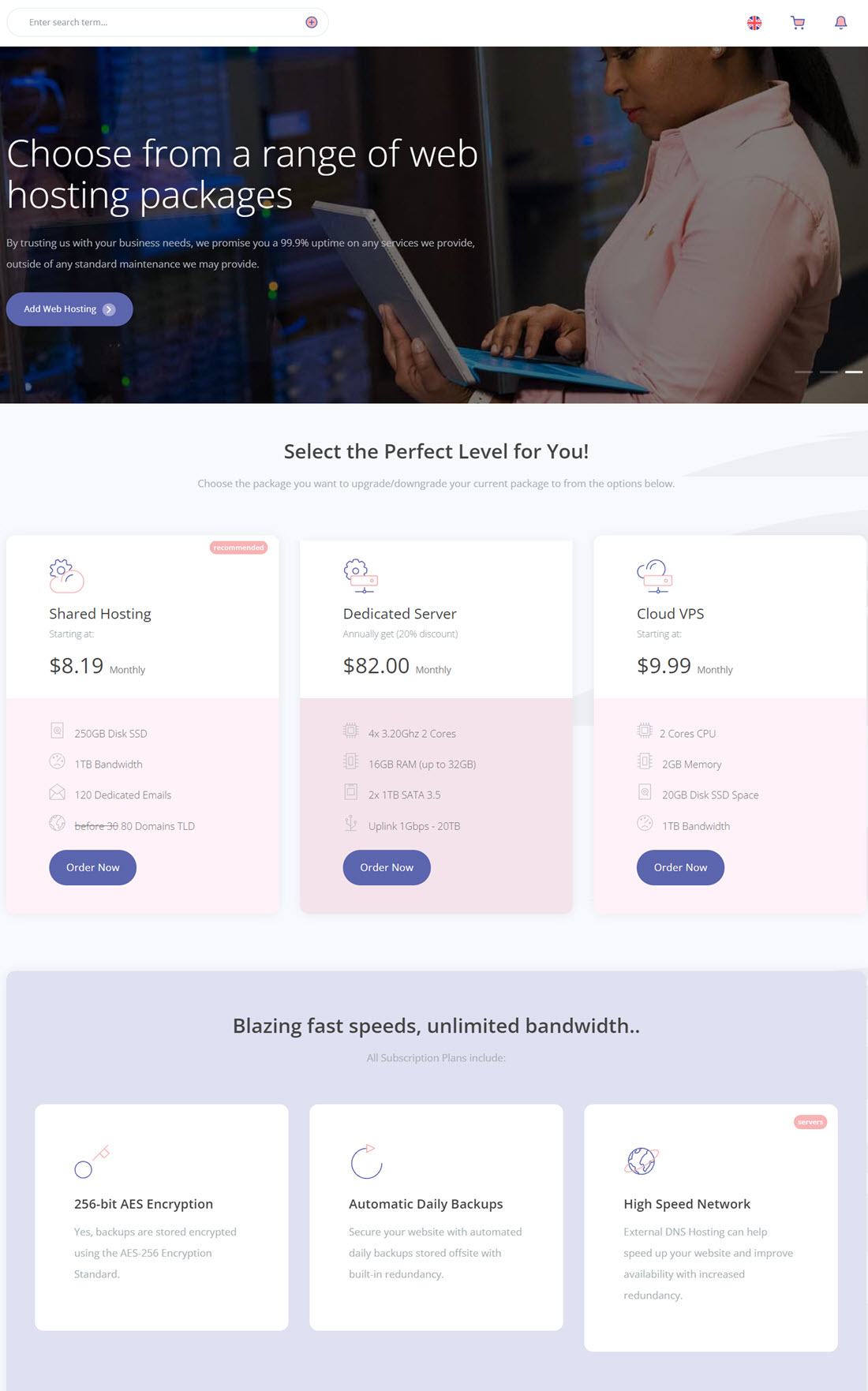 Horn theme includes the most recent version of WHMCS and an Order Form Template. It is a flexible Hosting and WHMCS theme designed for a domain, hosting business, and technology business. The theme carries all the essential elements required for a hosting services company such as domain search and registration functionality. Web hosting, business, multi-purpose websites, domain selling websites, online businesses, personal blogs, and similar sites are all catered for. Horn is entirely responsive and 100 percent compatible with all devices, whether big, medium, or tiny.
Integrated Features –
Simple and easy to customize themes containing a drag and drop interface.
Provides full-width responsive pricing tables.
Let you designate a responsive layout from available templates.
Compatibility with modern browsers.
Bootstrap Toolkit Framework and is WHMCS v8.3.1 Ready.
Price – Regular License – $29/OneTime (1 Site)
10. Phox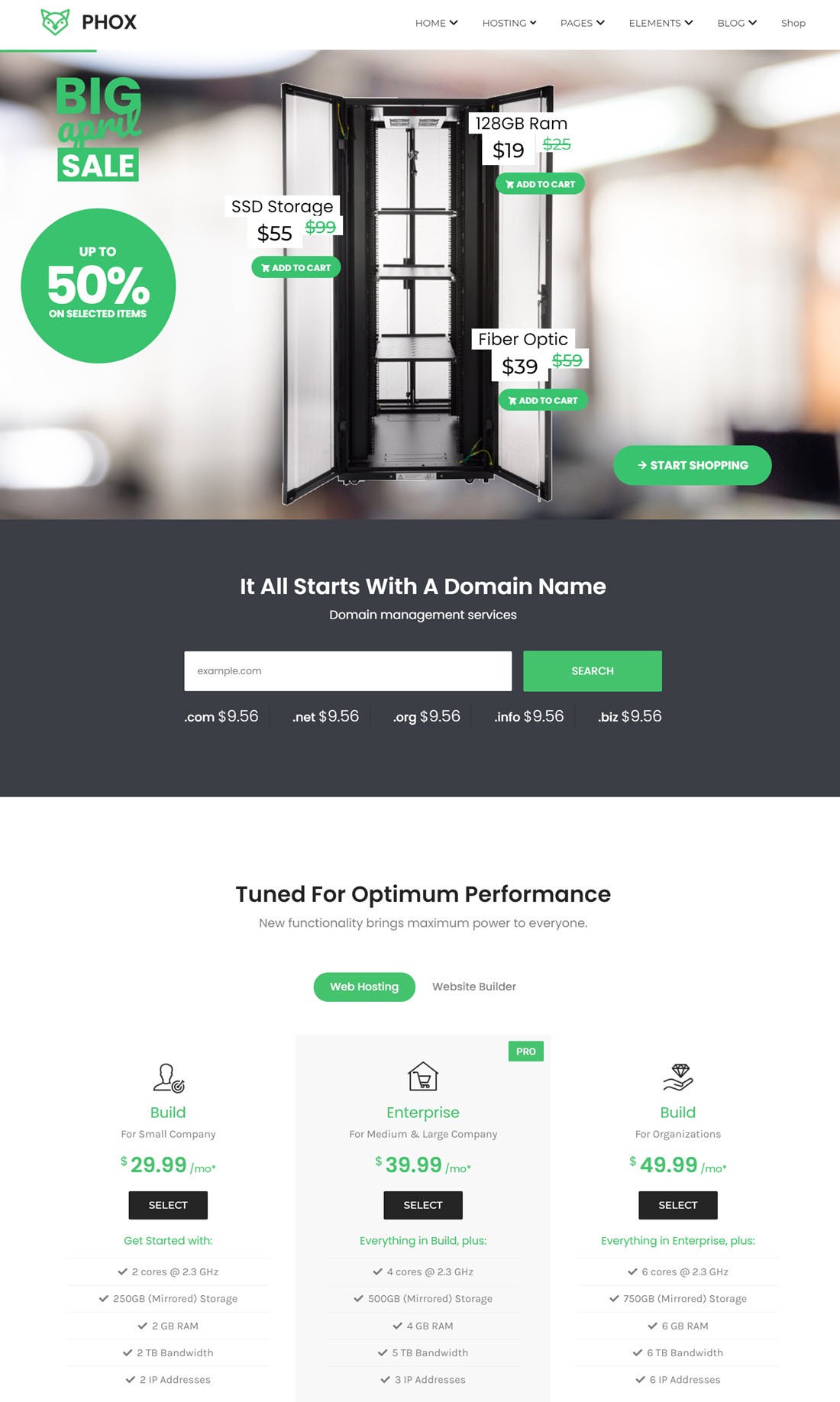 Phox is a fantastic option for hosting companies of all sizes. When you utilize the drag and drop page builder in Phoenix, you can quickly and easily construct a website that stands out from the crowd—designed to be responsive and retina-ready, as well as SEO-friendly. Additional features include Advanced Domain Search and the ability to pick from over 20 pre-designed website designs for a rapid start. It also integrates the pricing table to display the cost of several hosting packages and server configurations.
Integrated Features –
Contains over 15 Elementor widgets that are ready to use.
There are over 20 different hosting website templates included.
Admin Panel that is both innovative and powerful.
Access Advanced Domain Search functionality to enhance the reachability thereon.
Supports WHMCS Bridge and is finely compatible with WPML.
Compatible with WooCommerce.
Price – Regular License – $49/OneTime (1 Site)
11. Techno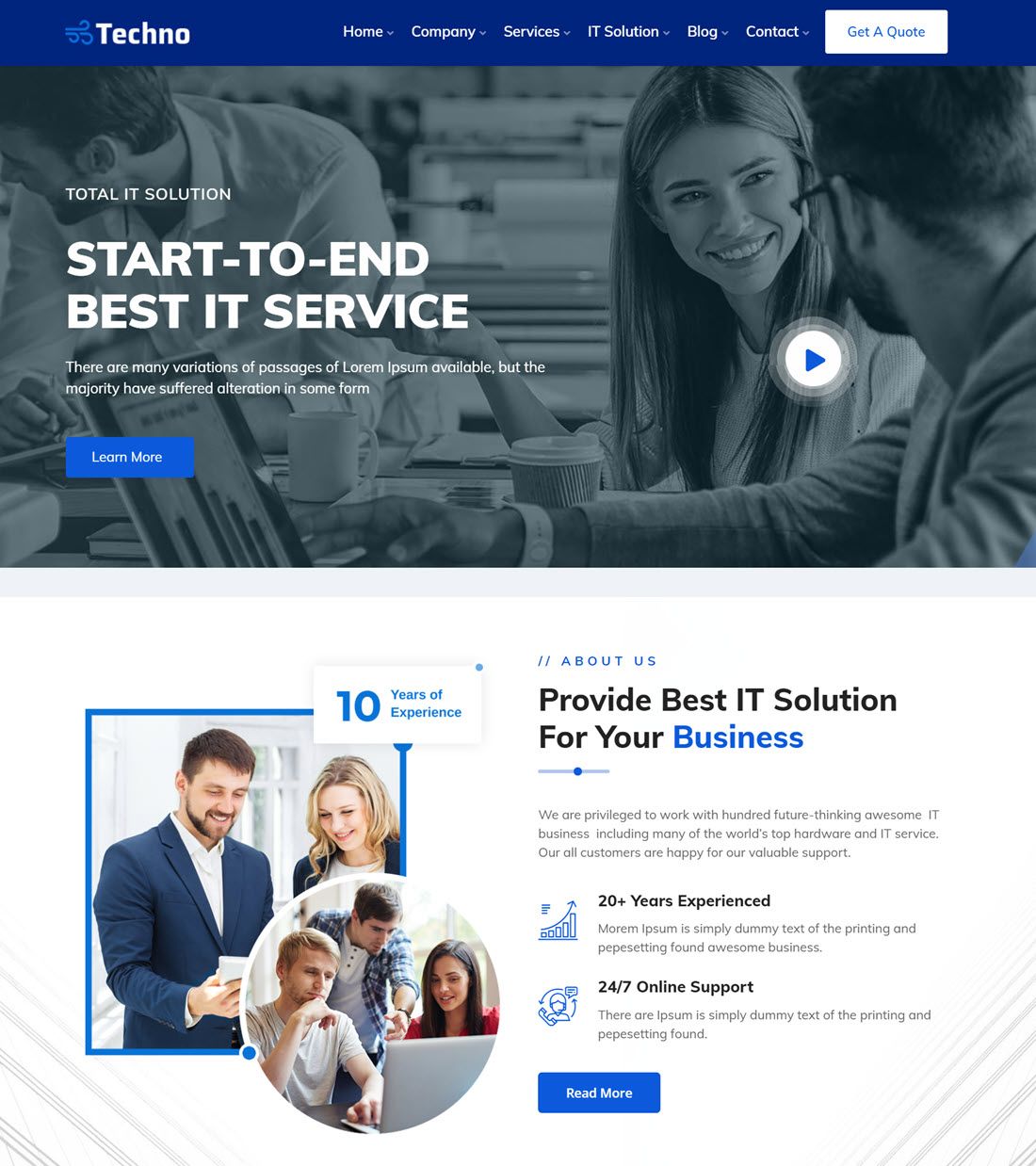 Techno is a fully-equipped WordPress multi-purpose theme in addition to electronic stores and marketplaces, checkout, education, portfolios, and advertising agencies. Website builders like Divi, Elementor, and SiteOrign are all compatible with Techno's built-in page layout. This theme is created for all kinds of web design and development organizations.
You can use this theme for a wide range of different types of websites, including those specializing in information technology, business solutions, IT companies, big data, the internet of things, portfolios, startups, SEO Optimizers, and digital marketing.
Essential Features –
Avails beautiful templates with flexible customizing ability.
Enable Drag and Page Builder.
Utilizes recently updated Bootstrap Version.
Let you design intuitively with different amazing footer and header styles.
Customize the color of the entire element however you required.
Price – 1 Site – $69/annually,  5 Site – $138/annually
12. Delton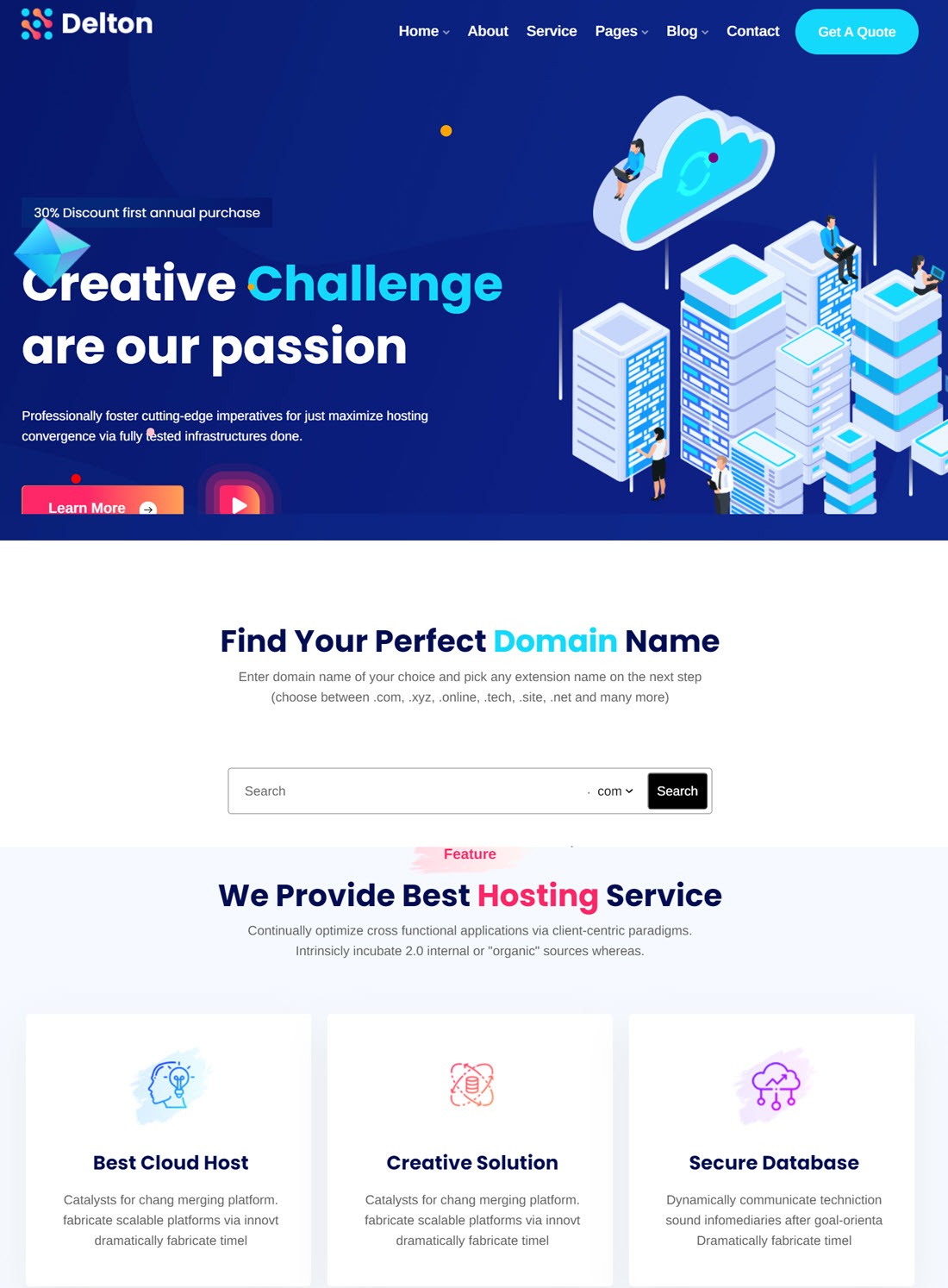 Delton is a WordPress theme for domains and hosting that is easy to customize effortlessly. The templatemonster presentation, Delton is an advanced theme for web-hosting, technology, and software companies.  This amazing hosting theme is well-suited for a wide variety of organizations, including domain registration and management, hosting and security, corporations, hosting providers, software and technology, and many more. The ability to code is not required to make changes to the theme. Delton provides several modern and one-of-a-kind demonstrations available for viewing. Create an intuitive website i.e., fully responsive on multiple devices. Let you utilize the latest up-to-date WordPress and Bootstrap versions.
There are more than five different home pages included with Delton, in addition to an Elementor page builder. A completely responsive theme that includes an Admin Panel and other essential features. Some of its most notable features are supported for Ajax search and Retina-Ready display. Being fully customized with WHMCS Bridge enhances the domain search and registration functionality process.
Price – 1 Site – $45/annually,  5 Site – $114/annually
13. WEB HOST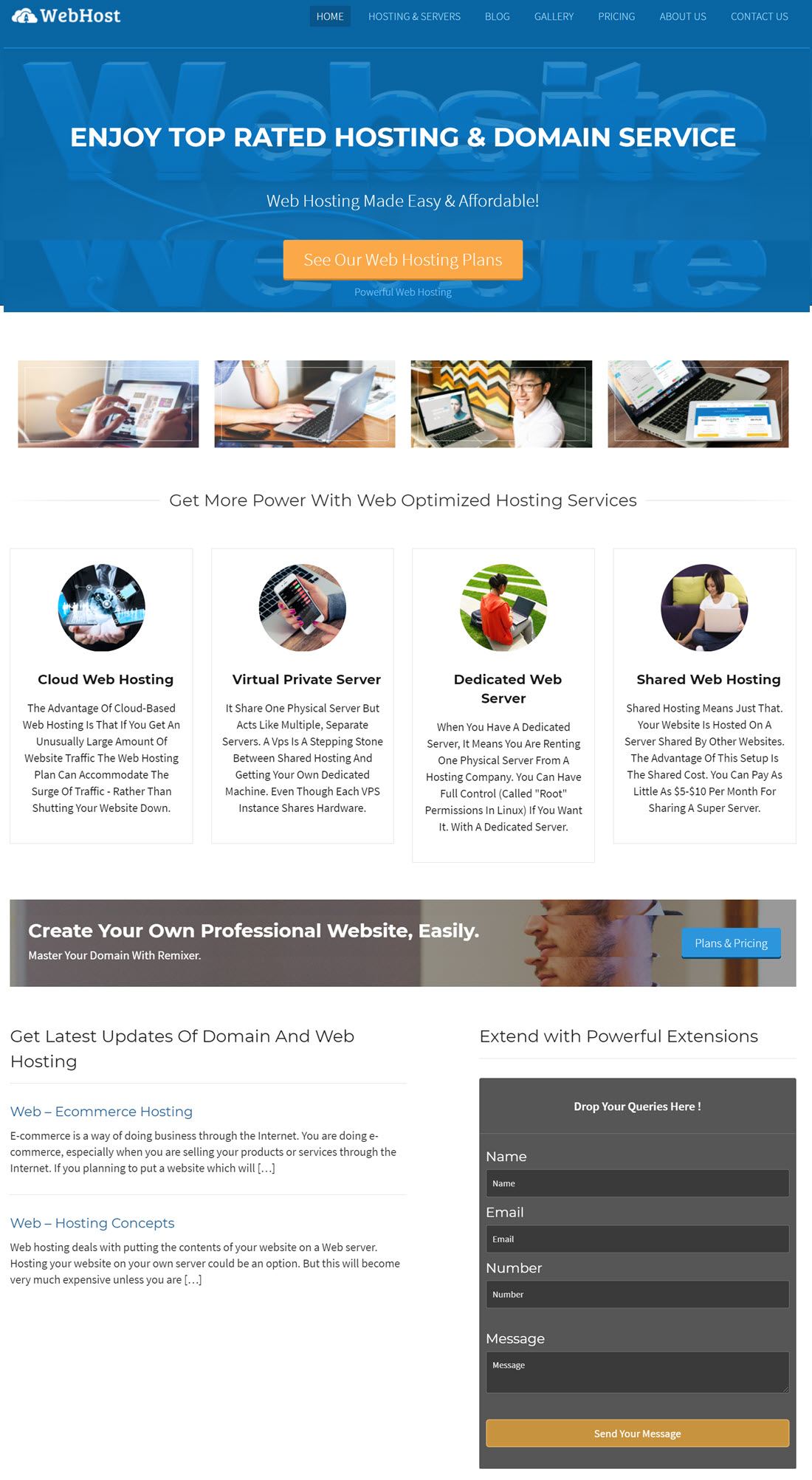 Web Host consists of a clear and simple template as an extensive hosting theme. Provides you the ability to modify and customize it that matches your organization's specific needs. This hosting theme lets you host with the intention that works on all devices and web browsers, including retina displays.
The best option for anybody looking to start a good web hosting and domain registrar company from scratch. You can make full use of all of the great possibilities that Webhost gives and maximize your results. The built-in pricing table of the theme enables you to show the cost of a domain name based on the categories it belongs to, making it more efficient and popular with consumers.
Price– Regular License – $79/OneTime (1 Site)
14. Divi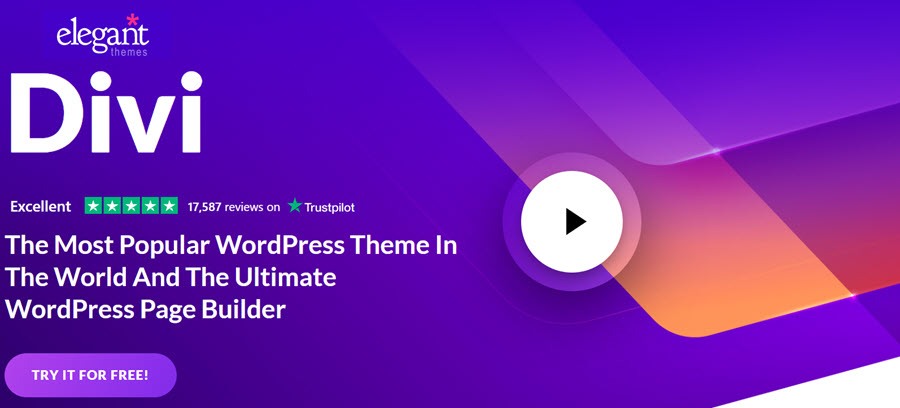 Divi is a versatile hosting theme that combines a classic theme with the Divi Builder (which also comes in a different plugin version). The Divi theme is one of the most popular themes to create a website. It has revolutionized the process of designing websites through its powerful drag-and-drop interface. The pre-built layouts that can be imported seamlessly, parallax effects, diverse modules, and WooCommerce integration the top-notch features. You may use Divi as a "standard" theme, setting up your header/footer/layouts using the Divi Customizer. Or, as of Divi 4.0, you may utilize the Divi Theme Builder to build your whole site visually.
The Divi Builder is one of the intuitive features of this prominent WordPress hosting theme. A visual page builder embedded into your theme. While the Divi Builder allows you to create 100% unique designs. You don't have to input anything since it comes with an extensive template collection. You may import pre-made designs and completely alter them using the Divi Builder.
Price– Yearly Access – $89/annually (Unlimited Site),  Lifetime Access – $249/OneTime (Unlimited Site)