11 Best Product Review Plugins for WordPress 2022
Are you looking for Premium or Free Best Products Review Plugins for WordPress? Adding reviews to your post or products helps a lot of you to read about user minds and get feedback. Nowadays most e-commerce websites have the functionality to add reviews which will help you to create better products and services.

Most people read products review before they buy the products. So for adding reviews on products you need Best Products Review Plugins for WordPress. Even When you are writing a blog or article you need Author Review Plugins. So that they can give you feedback and review comes in google.
People love giving feedback on the purchases they make, the restaurants they visit, or the movies they see. They then tell their family and friends who decide on their purchase based on their feedback. This system has cropped up into e-commerce as well. There is an abundant number of sites providing reviews on different products and services and about 92% of people have admitted referring to these websites before availing of any service and purchasing anything. This gives a boost to the economy of online shopping sites.
So let's have a list of Best Products Review Plugins for WordPress.
1. Starfish Reviews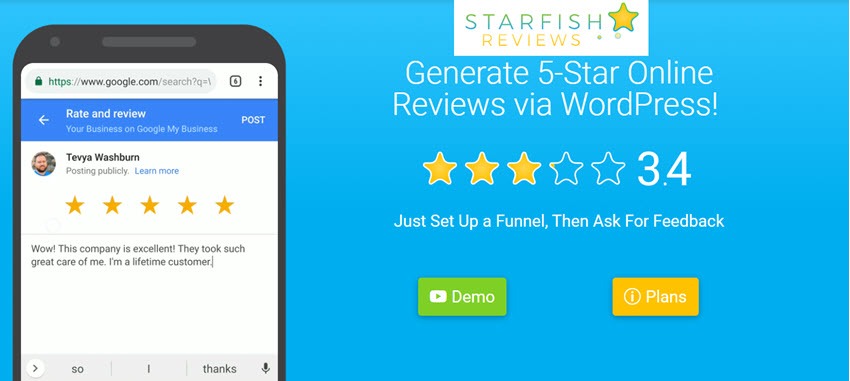 Starfish Reviews is an elegant plugin that lets you establish a review system for your recognized e-commerce platform. Nowadays everyone becomes very alert before purchasing anything, especially while doing online shopping. Customers want to know about the product or brand as well from others for getting assurance of better quality. And to eliminate such confusion about quality the owner owns the review section for every product available on the website. Starfish Reviews provides the best review functionality for any kind of business that has an online presence. Help your e-commerce website flourished well by having a lot of handy features. Allow your customers to share their experience on the section for reviews available thereon that helps others to know about the quality of products and services.
Core Features –
Contains a simple UI that lets you control the activity and data of your users right there on the Website.
Easy to install and manage the configuration while customizing the network for your site.
Send reminders to your customers by email for review on products or services whichever they purchase or render respectively.
Enlarge your customer lists on the website by providing reviews appropriately for every particular product available thereon.
Improve rating system and allow customers to add a file in the review section along with comments that are more helpful for other buyers.
Price – Business – $3.99/Monthly (1 Site),  Marketer – $7.99/Monthly (10 SIte),  Webmaster – $15.99/Monthly (100 SIte)
Screenshot
2. Customer Reviews for WooCommerce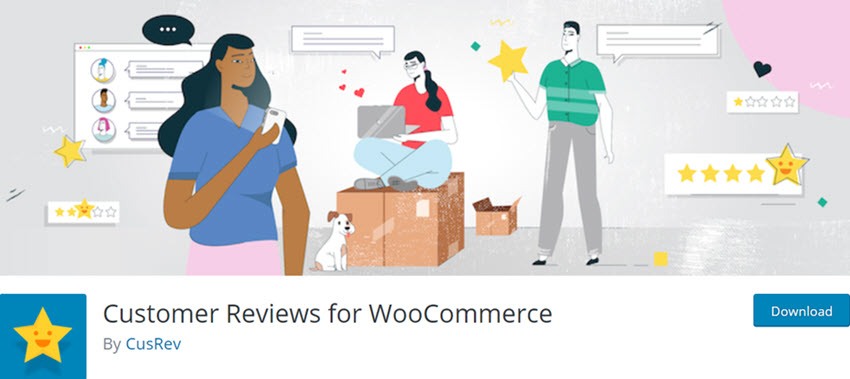 Customers Reviews For WooCommerce is a topmost review plugin that is intuitively designed with a view to engaging more visitors on the site. Although, manage the review of products and services so easily within a few configurations. No matter what kind of services or products you offer your customers, once in a while you need to make assure your customers how it actually looks before placing an order online. If you place an intuitive review section on every product page separately it will assure new visitors about the quality as described by other customers who had bought it before. And thereby such reviews significantly lead to more sales on your website.
Elementary Features –
Friendly-Reminders – Let you send reminders via email to your customers as soon as they complete their purchase for leaving a review and share their shopping experience. Send reminders whenever you want either in a day or a week afterward purchasing.
Integrate Google Reviews – An XML feed creation along with products as well as its reviews that enables Google Shopping. Display rating with stars on Google Search that results in meaningful Google Shopping.
Import Reviews – Allows import or export reviews from WooCommerce to CSV file and vice-versa.
Total number of users – 40,000+
Price – professional – $49.99/annually
Screenshot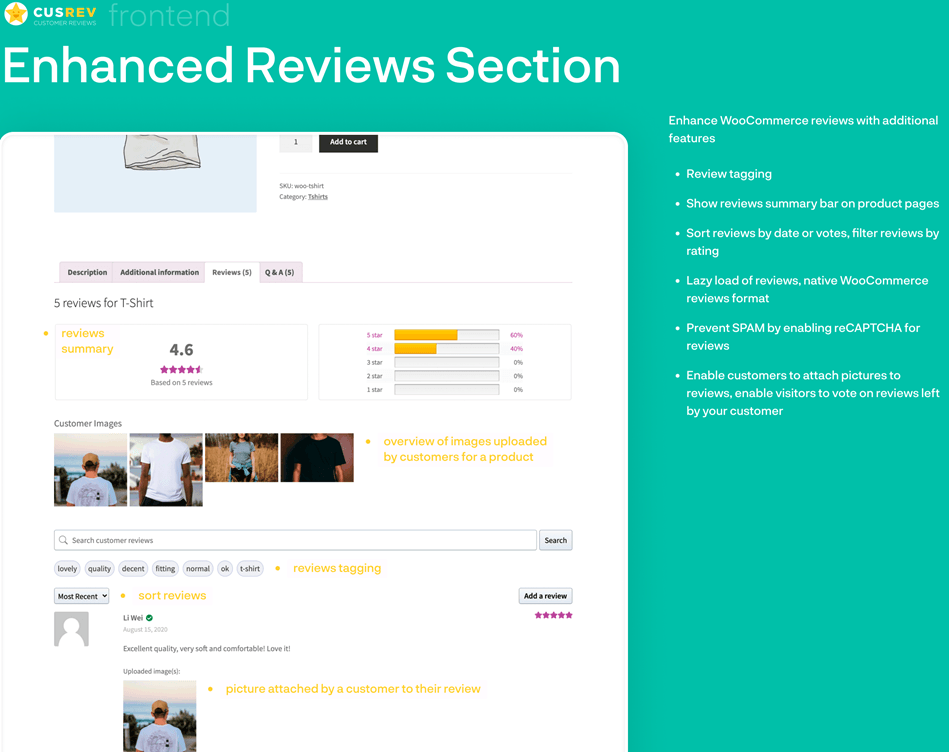 3. Widgets for Google Reviews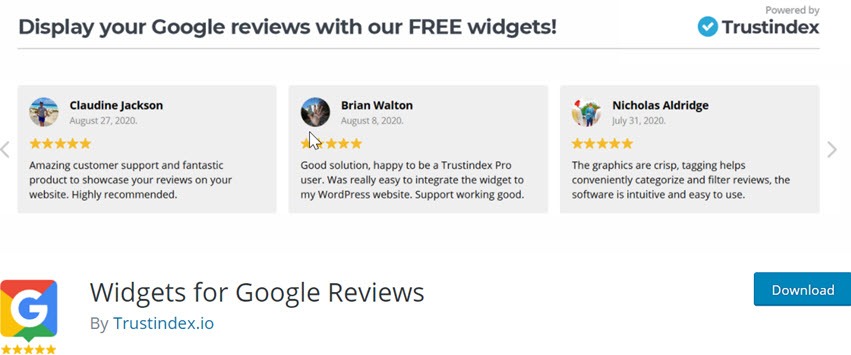 Goole Reviews – A well-diverse and so lightweight extension for a product review that assists your business to gain more and more conversions promptly. Just display the reviews that your customers share while shopping from the site. Although, enhance conversion rates effortlessly as an audience find your products genuine and nice quality when they read the feedback of such products on the review section. Google Reviews assures reliability among audiences that makes your website a trustworthy platform for online service. Moreover, hereby you get access to intuitively designed widgets that let you create an elegant layout for reviews sections.
Essential Features –
Easy Embedding – Easily design elegant layout with the assistance of pre-existing layouts and widgets for review. Select any one among it whichever is best suited to your profession.
Display Selectively – Let you hide negative ratings and show reviews that contain 4 or 5 stars.
Combine Reviews – If you want to display reviews at one place that is available on different platforms. Then Google Review enables you to integrate such reviews and display them wherever you want for better engagement.
Collect And Manage – Enables you to send emails for collecting reviews from your customer that are publicly available on the website. Although, also alert you with email whereby you can instantly reply to your customer.
Total number of users – 30,000+
Price – Single – $65/annually (1 Site), Pro – $125/annually (5 Site), Ultimate – $349/annually (Unlimited Site)
Screenshot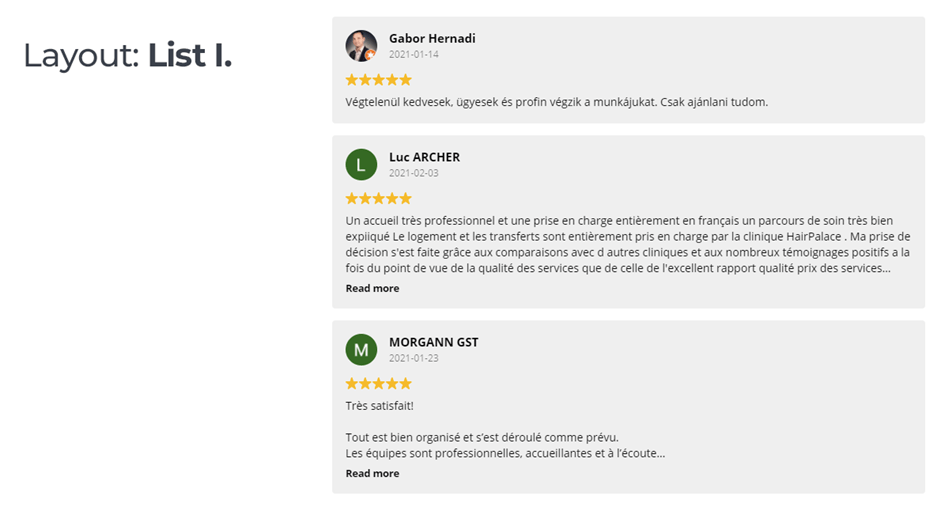 4. WP Business Reviews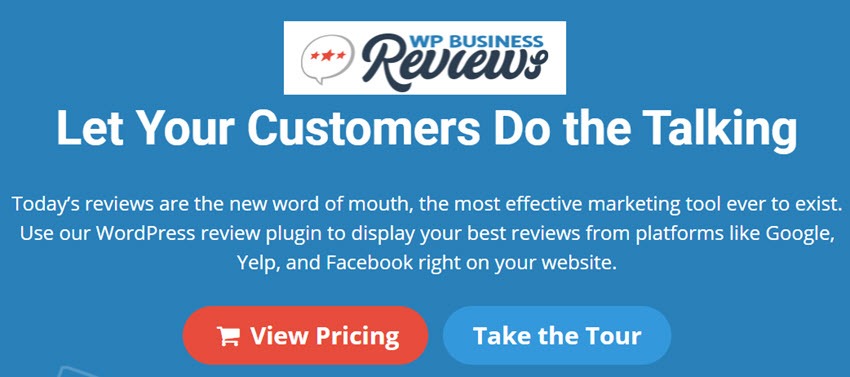 WP Business Reviews is so elegantly designed for presenting reviews of products and services that have been sold from your e-commerce site. An organized extension contains essential features that you require to manage the review for products available on your online store. Grab the attention and reliability of the quality of products as others share their experience after utilizing it well. WP Business Reviews work as an extreme tool for marketing that rapidly increases the conversion effortlessly. Let you integrate your review section with a different layout for accessing reviews to the website. Present an eye-catching appearance while displaying reviews that are inserted by your customers including stars, scoring, photos, videos, and more.
Key Features –
Let you add reviews from different popular platforms such as Zomato, Yelp, Google, and Facebook manually.
Immediately send reminders via email to your customer for sharing their feedback of the product's quality and service they enjoyed while shopping with you.
Allows to filter reviews as you want to display on the review section. If you want to show reviews with the image first or top-rated feedback then you can easily sort this out with configuration.
Price – Basic – $69/annually (1 Site),  Pro – $99/annually (5 Site),  Agency – $199/annually (15 Site)
Screenshot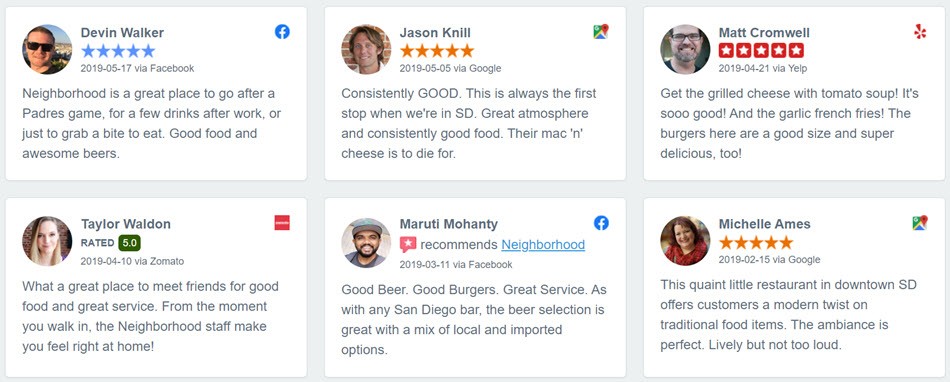 5. Ultimate Reviews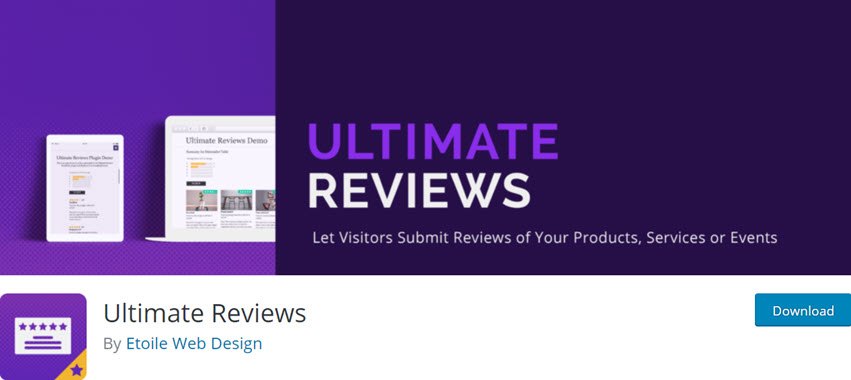 Ultimate Reviews is one the best WooCommerce Review Plugins for WordPress. Which will help you to add reviews on Reviews on Your ECommerce website Products with ratings as well. This plugin will allow your website user to add reviews on all products on your website. You can easily set up this complete review system by using a review shortcode.
Some of the features of this plugin are as follows.
You can easily manage Reviews except or decline them.
It gives the functionality to add extra appearance and value to your review field.
Different kinds of rating options are available like points or percentages.
You can easily set design to and custom CSS for your design.
Total number of users – 1,000+
Price – 1 Site – $47/lifetime,  5 Site – $127/lifetime,  10 Site – $197/lifetime
Screenshot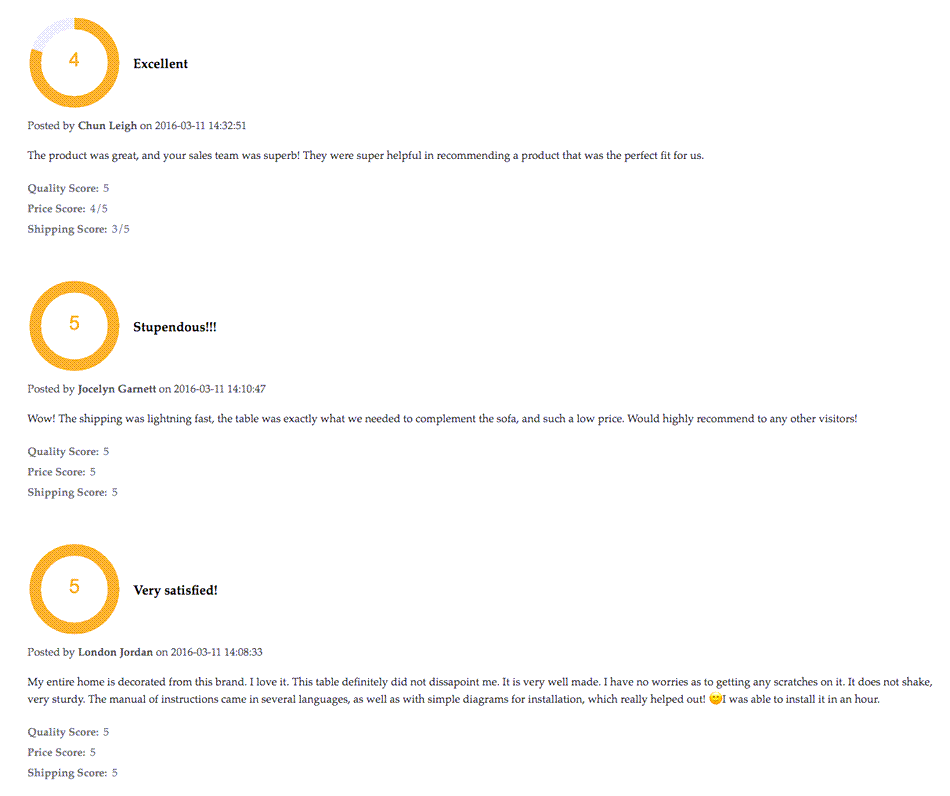 6. ReviewX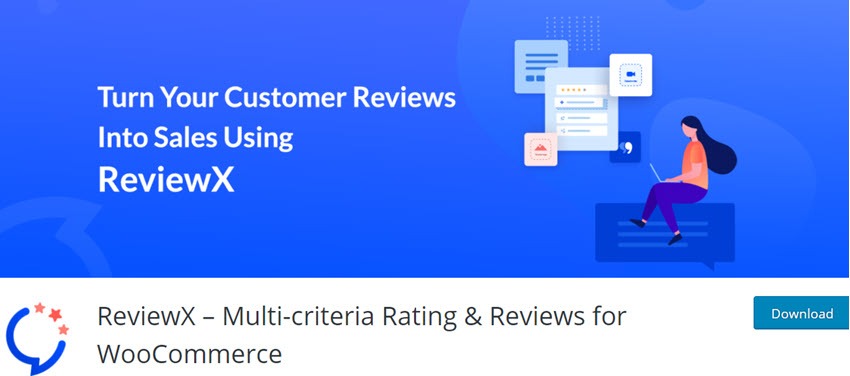 ReviewX is a well-integrated review plugin for WordPress that comes up with a lot of beneficial attributes that help your business to grow rapidly. Although, you may be able to establish proper review functionality for collecting feedback as well as displaying it wisely on the website. Show reviews for products available on your e-commerce website in various forms like star review, scoring, image, videos, and content. Selectively display well-presented content for review that helps your visitors to make a decision very well. The more you transparent your reviews the more you get more reliable customers in long run.
Core Features –
Enables to display reviews in multiple criteria that let your customers access descriptive feedback on any product page and make an appropriate decision thereafter.
Manage numerous reviews along with sorting, filtering, and search alternative that enables you to present your reviews in a more appropriate way.
Customize the look and feel of the review section that matches the pre-existing appearance of the website. You may modify the theme color, font, style, and more with flexible customizing widgets.
Enable rating on Google Search for your WooCommerce products that significantly boost web traffic and enhance ranking as well.
Send effective email logs for revealing the status of customers whenever anyone subscribes, unsubscribe, or cancels the products or services anytime.
Total number of users – 9,000+
Price – Individual – $69/annually (1 Site),  Small Business – $149/annually (Unlimited Site),  Agency – $299/Lifetime (Unlimited Site)
Screenshot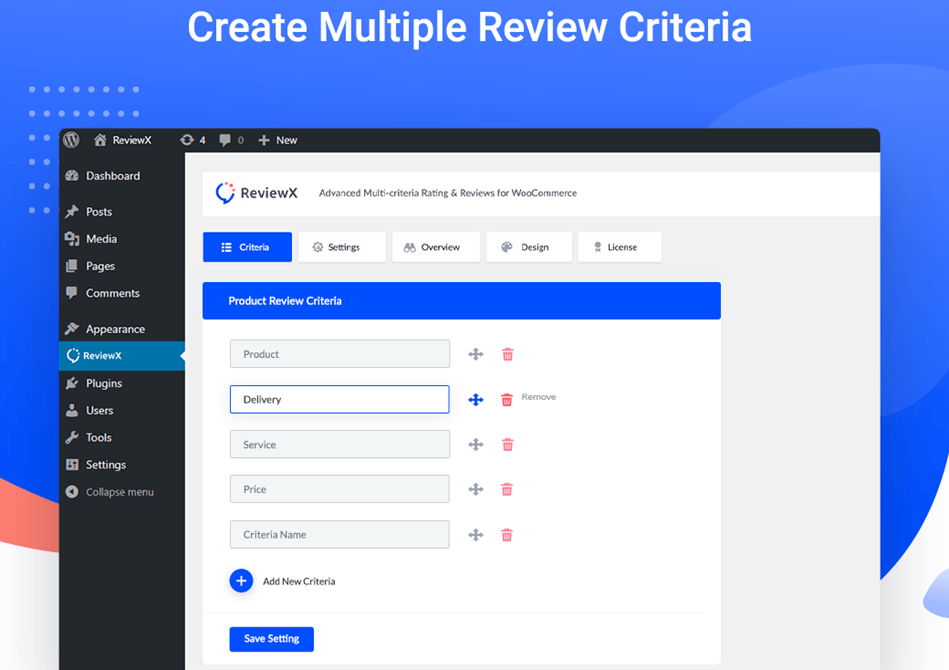 7. Starcat Review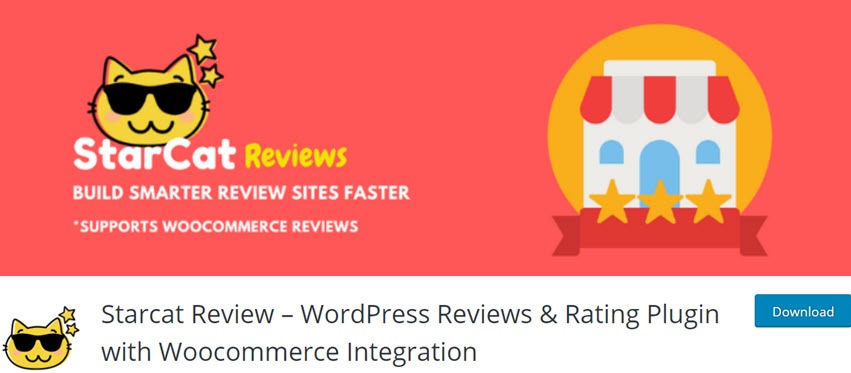 Starcat Review is one of the best WordPress product reviews plugins and rating plugins with Woocommerce Integration. Using this plugin, you can easily create and include the product review system on your blog posts, custom post types, pages on your WordPress website, and your WooCommerce store. With this plugin, you can also choose the location where you want to place your reviews on your website. this allows you to create reviews for a website with affiliate links and complete product ratings on your WooCommerce store.
Features
This plugin allows the authors to create editorial reviews in posts and pages. You can include either user reviews or author reviews or both on your post and pages.
You can choose the location where you want to place your reviews. it can be placed on blog posts, custom posts, pages, and even your WooCommerce store.
Starcat review also allows you to enable or disable the reviews on individual pages or posts.
Using this plugin, the admin can easily reply to the reviews of the users.
You can also ask the users to use Google ReCaptcha to submit their reviews.
Total number of users – 100+
Price – Free
Screenshot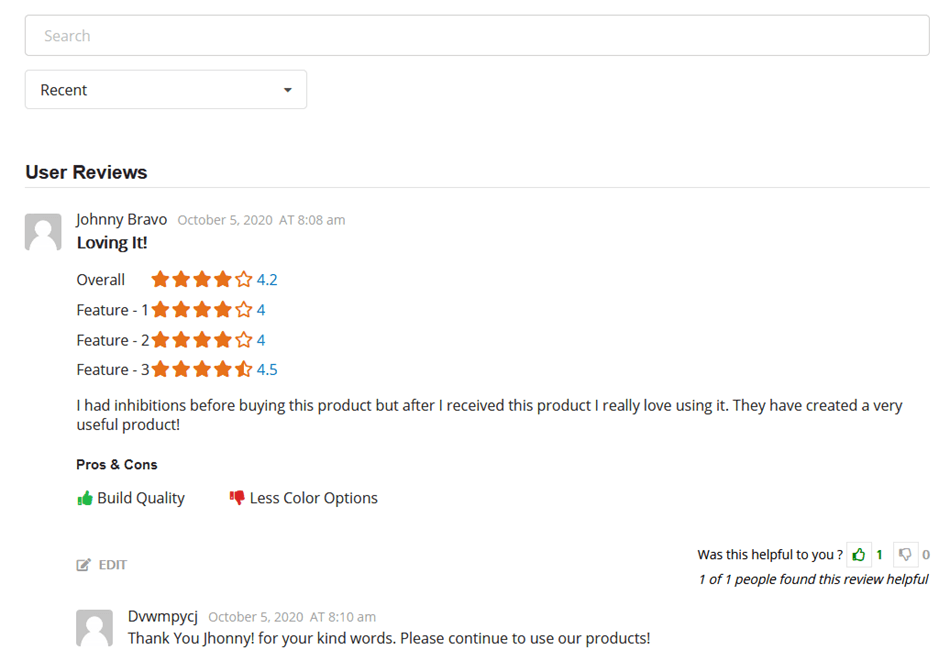 8. Reviewer WordPress Plugin

Reviewer is one of the best Best Author Review Plugins for WordPress which provides a powerful user review system and also a beautiful summary box for a full review post. It allows the users to insert comparison tables into their posts, custom post types, and pages in an easy way. It has a very flexible structure. It also offers a wide variety of themes that can be easily customized.
Reviews are important for any WooCommerce website and can be easily be generated by Yith WooCommerce  Advanced Reviews Plugin. Review from the customers who bought the products from your website is really helpful. When you visit websites like Amazon and Alibaba mostly you will see the review before you buy them even some time you feel like you should read some more information from another website. And they focused on the review system to make it more and more strong to get more sales. This Plugin is awesome because it has so many features like graphical representation of reviews. And there is an option to upvote and downvote bad comments or reviews
Its other features are:
It has different rating modes- Bar line, five stars, etc.
It has great back-end features.
It collects the visitor's name and email.
It is split up into seven parts-ratings, reviews, thumbnails image, pros, and cons, etc.
It has nine templates with different styles to offer.
The users can upload their images.
Administrators can manage the user reviews completely.
There are unlimited color options.
Price – Regular license – $29/Lifetime (1 Site)
Screenshot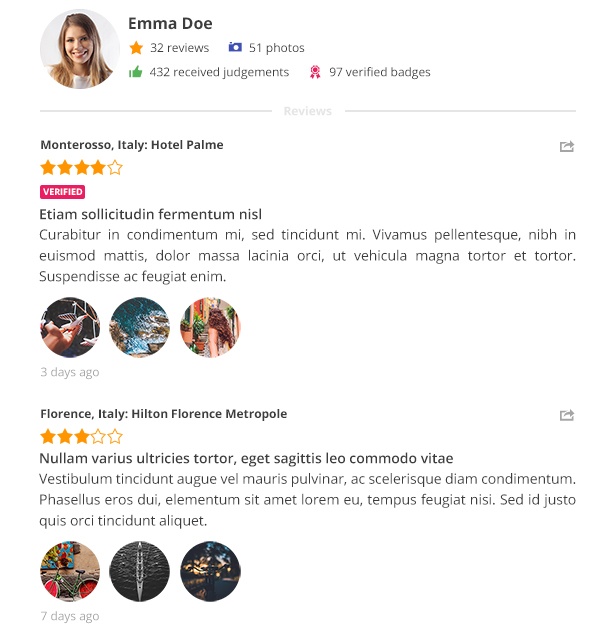 9. Site Reviews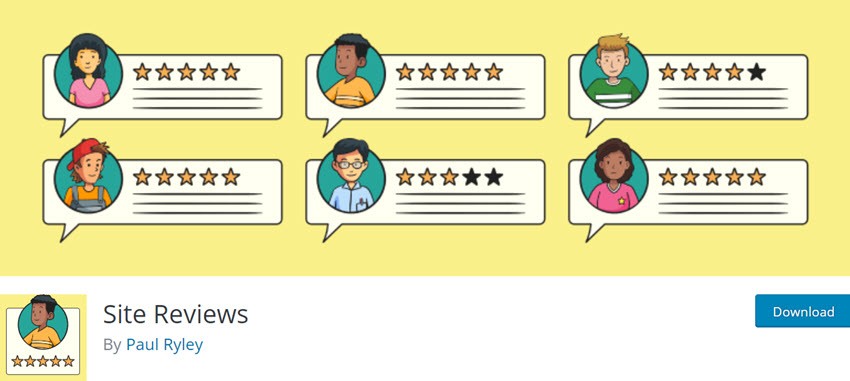 Site reviews is a simple and powerful WordPress reviews plugin that allows the users to give ratings and reviews on your WordPress website. It comes with full documentation and hence is easy to set up and use. Using this plugin, you can easily pin the best reviews, ask the users to log in to submit reviews, Send custom notifications whenever the user gives a new review, and a lot more.
Features
The plugin allows you to create multiple categories where you can assign the reviews. It also enables you to assign the reviews to multiple pages, posts, custom posts types, and WooCommerce products.
You can set approval requirements before the submission of reviews by the users on your WordPress website. also, you can block reviews by Specific names, emails, phrases, and words.
The plugin allows integration with WPML and Polylang and thus supports multiple languages. It also supports Networks or multisite websites.
You can also send custom notifications every time one or more reviews or ratings are submitted on your website.
The plugin allows you to pin the best reviews on your WordPress website so that they are shown on the top of your website.
Total number of users – 30,000+
Screenshot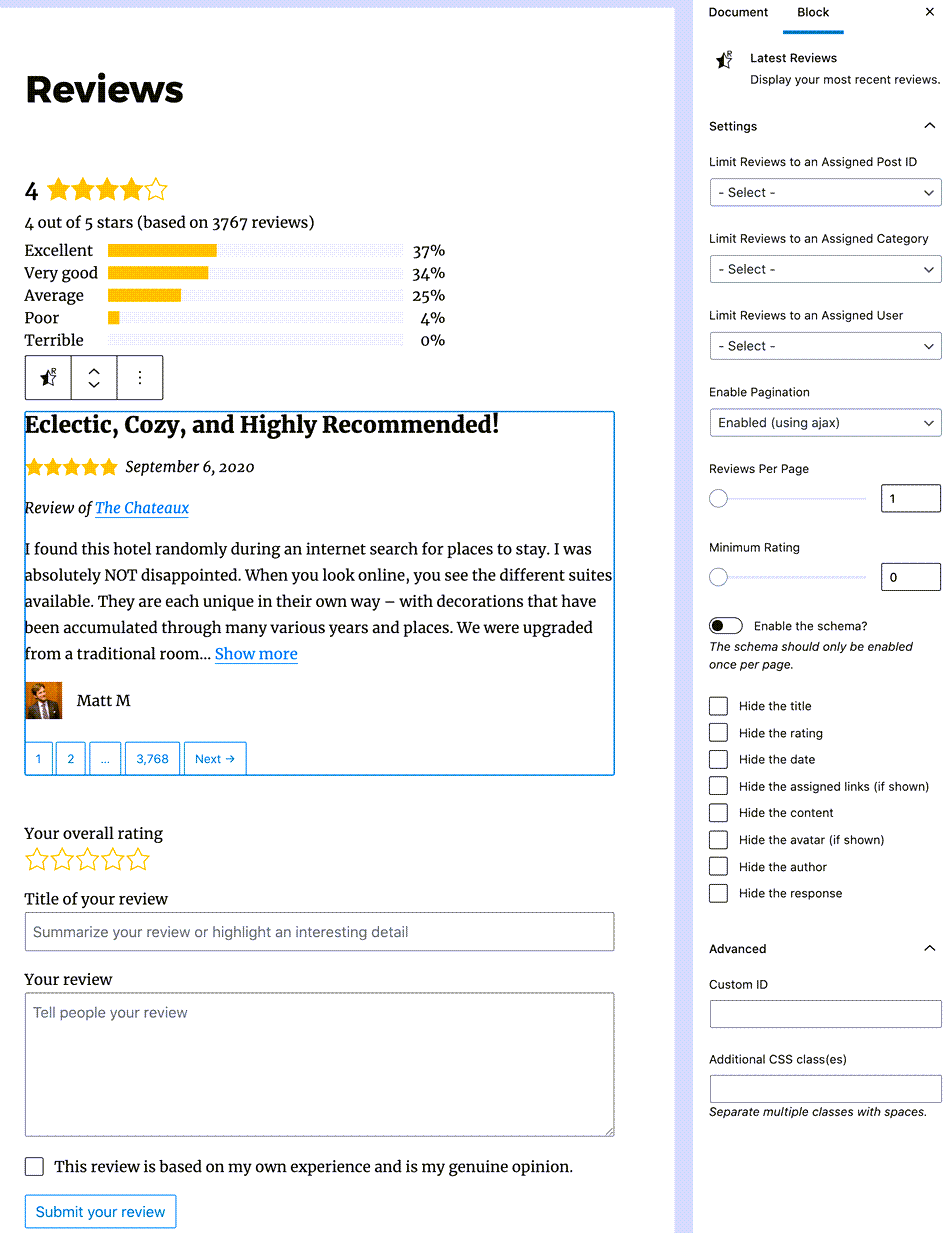 10. YITH WooCommerce Advanced Reviews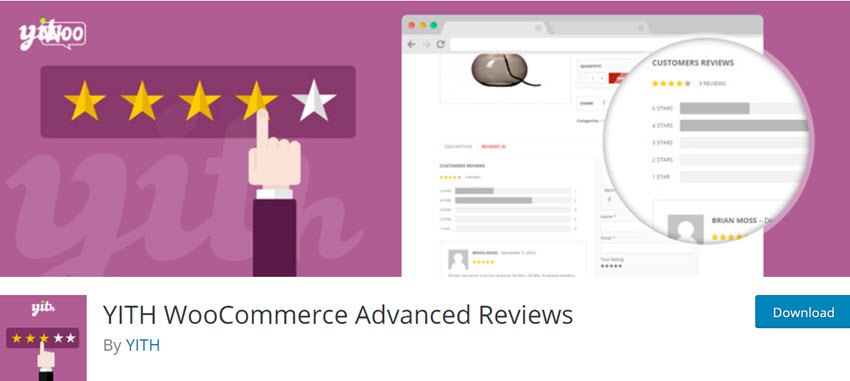 YITH WooCommerce Advanced Reviews is one of the best WordPress product reviews plugins that enables you to add a histogram table to the reviews of your products on your WordPress website. It also enables the users to attach images along with their reviews. The plugin offers you away from more than just the traditional display of the rating and reviews of your products. It also allows the users to add the title or attachments along with their reviews.
Features
Using this plugin, customers can easily add images and one or more attachments to their reviews. The customers can also choose to add a title while writing a review for your products on your WordPress website.
It also allows you to choose the number of files that can be appended for an individual product review.
The plugin is highly customizable and thus, you can tweak around the settings as per your business requirements.
You can add a review summary bar along with the statistics of the number of times a product was rated on a scale of 1 to 5. Thus, it makes it easier for the users to decide while purchasing the products.
It allows you to completely manage the reviews as you want. You can filter out the most significant reviews and highlight them to make them more convenient for the users.
Total number of users – 5,000+
Price – 1 Site – $79.99/annually
Screenshot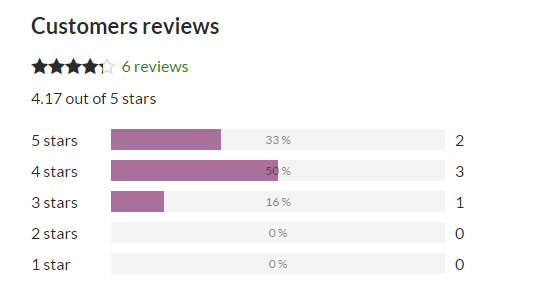 11. WooCommerce Product Reviews Pro

Planning to increase sales on your website? How will you do that? that is a tough job, isn't it? But trust me it's not a tough job. You can easily increase your website revenue ultimately to the peak. You can do it easily by providing social proof on your website. More than 60 % of customers read products review before they buy the products.
WordPress by default is missing with this option and it's really important to increase sales when you are using the online website. People mostly compare the review of small prices with larger prices and see are they still worth buying.
Similarly in WordPress, we check review support and rating before we install any plugin. So just to help in creating an eCommerce website like Amazon review the WooCommerce Product developer launched WooCommerce Product Reviews Pro To achieve your Goal.
Pricing  –  Single Site – $79,  5 Sites – $129,  25 Sites – $179
Screenshot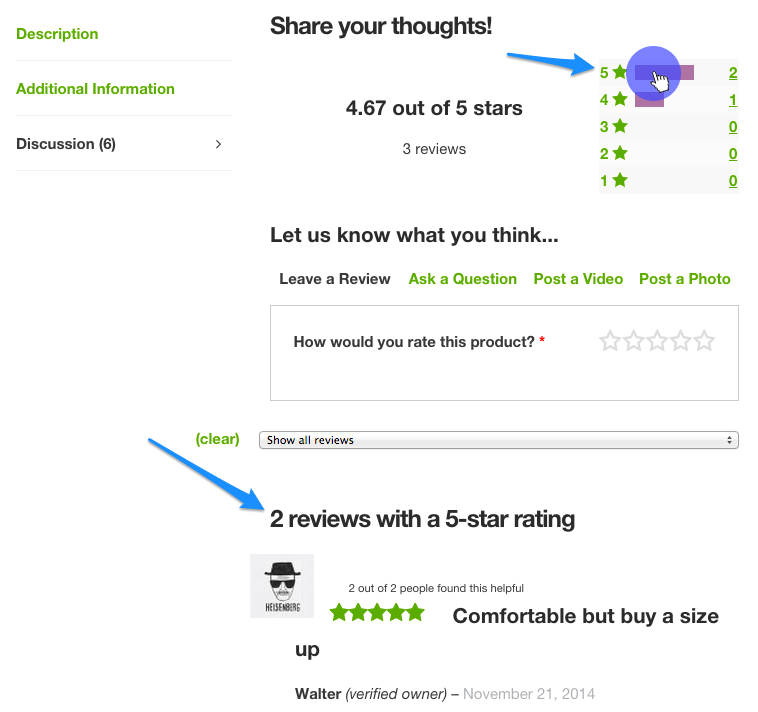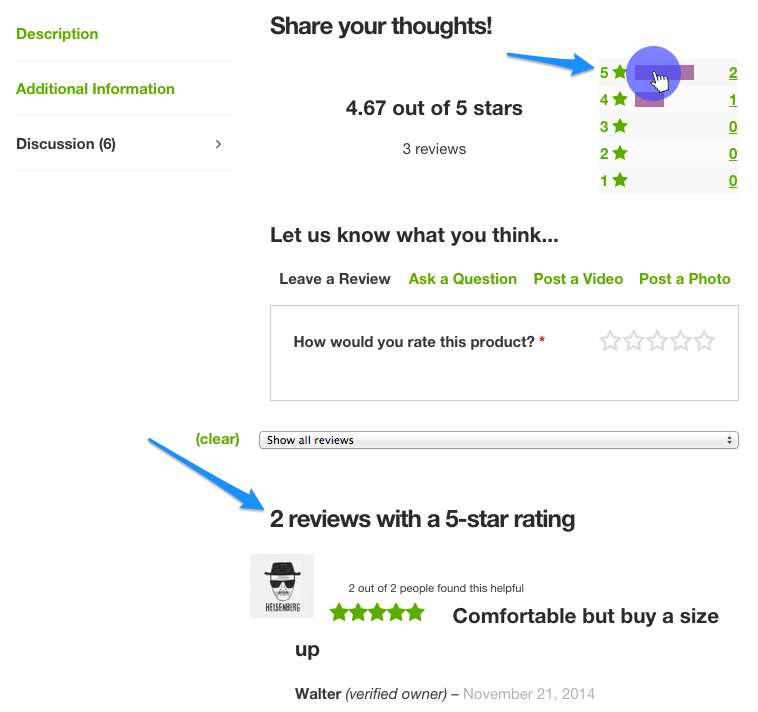 Conclusion – Still confused about which is Best Products Review Plugins for WordPress?  Trust me my friend selecting the good review plugin was even difficult for me. But after doing a lot of research I was able to find it out. If you are looking for free Best Products Review Plugins for WordPress then I will suggest you go for wp product review lite. But if you want to build an awesome review system then spending money isn't a bad idea. So for the premium one, I will suggest you buy Yith woocommerce advanced reviews that are worth spending money on because it supports google rich snippet too.