14 Best WordPress BuddyPress And BbPress Themes 2023
Are you planning to create a dating site, community, forum social network Website, or any kind of Membership website? This website can easily be created using BuddyPress WordPress Themes and bbPress WordPress themes.

Buddypress can be used to create social networking with the community while bbPress can be used for creating forums or discussion websites. However, they have some extra addons and plugins to enhance their functionality. Your social networking website with BuddyPress will be almost similar to functionality like  Pinterest, Facebook, And Twitter. They are highly customized that's why they have millions of users worldwide.
And when we talk about support forums then quora yahoo answers will come to our mind. Those almost similar types of forums can be created using BbPress themes. These communities are beneficial for the e-Learning LMS website too. You can add woocommerce Plugins or addons for accepting payments or sponsorship.
However, for high customization, you can hire an expert on Normal level and Expert level 
You may also be interested in the Question answer forum and dating themes
So let's have the list of collections of top Premium and free BuddyPress, BbPress Forum, Membership & Community WordPress Themes are as follows.
Table Of Content
1. Reign BuddyPress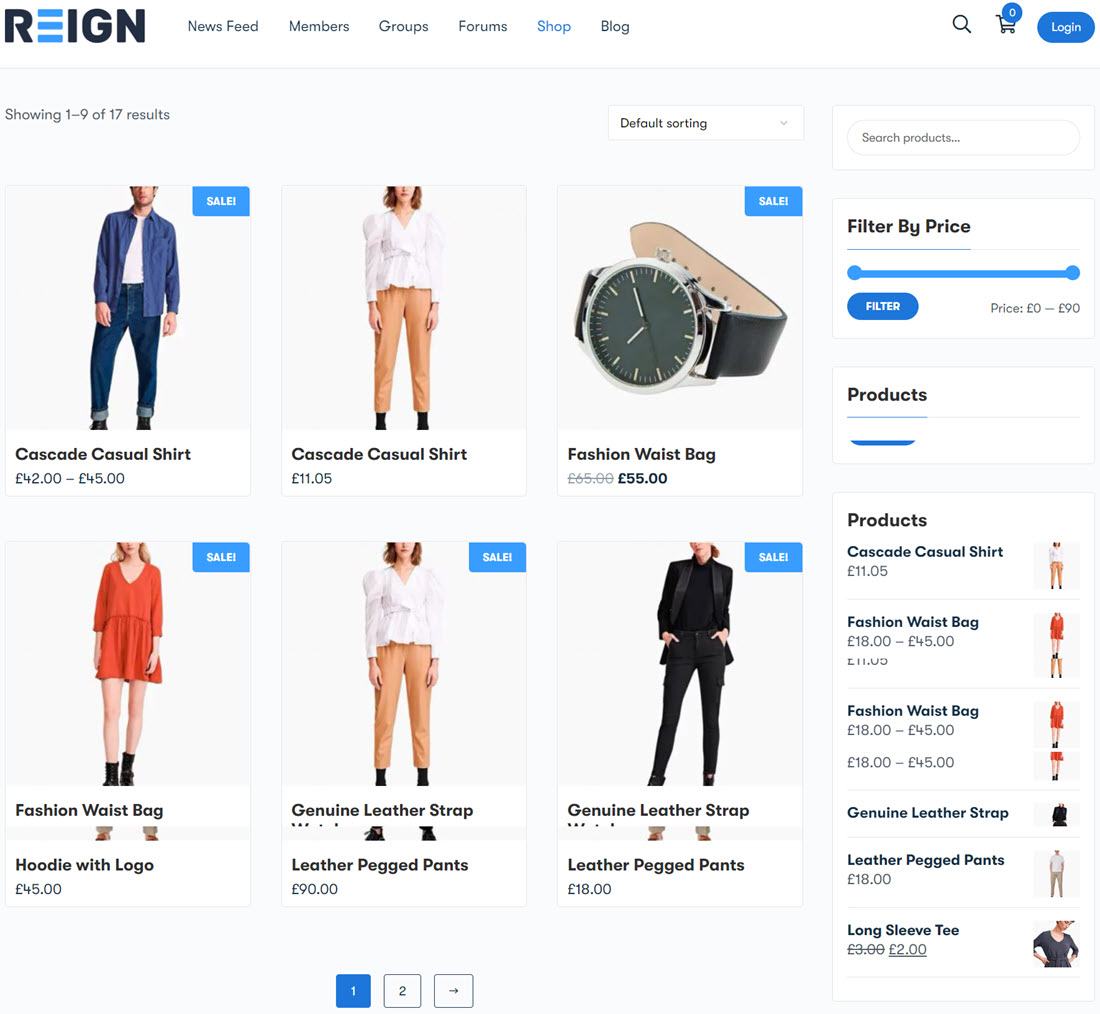 Reign – A perfect community BuddyPress theme for creating so extinguishing websites easily. Let you create a community website that is similar to social media platforms. Enable your users or members to create profiles, add connections, and more socializing alternatives. If you require to create a promotional platform for promoting community, co-working space, alumni, etc. then this theme is so essential stuff for you. Installing a demo is just one click away, and you access demo content that explains everything you need to know like necessary extensions, widgets, customizing options.
Core Features –
Install the entire demo content in just one click.
Ease the upgrading theme with child theme availability.
One-page accessibility lets you create a separate menu thereon.
Live customizer allows you to design your site with amazing colors.
Avails extensive formats for blogs, posts, and custom post types.
Configure post type for enabling social share option.
Price – 1 Site – $69/annually,  5 Site – $129/annually,  20 Site – $199/annually
Screenshot
2. KLEO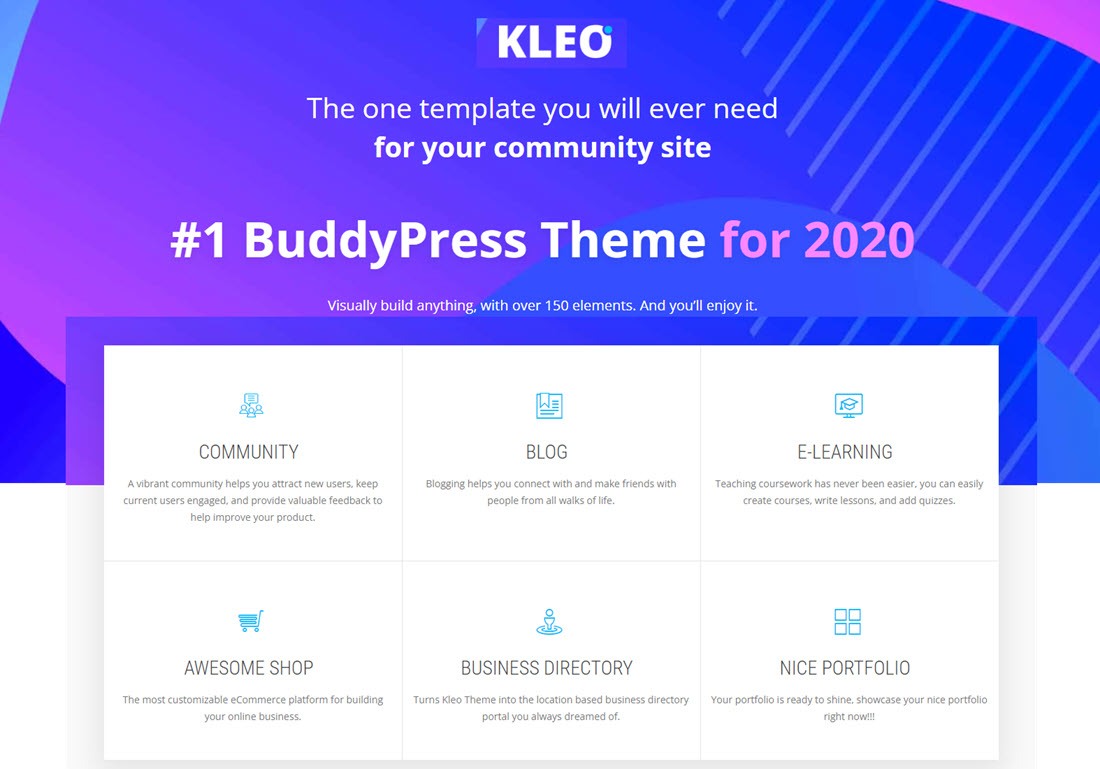 Kleo powered by the BuddyPress plugin has already ranked as one of the most popular themes in the Themeforest market niche. The contemporary features of Kleo are a great fascination for BuddyPress users. Kleo theme offers a lot of easy-going features like multiple header variations, discussion boards, community widgets, and more.
Provide Avatars to define the user roles for individual, group, and group members respectively. Elementor Page Builder lets you create extensive pages with a drag and drop option.
The theme flaunts templates for all occasions right from social networking to BuddyPress profile search and geo-directory plugin support to incorporate location-wise assistance to your society.
The comprehensive theme also facilitates adding a store, blog, bbPress Forum, BuddyPress tutorial, or e-learning features to your social networking platform.
Price – Regular License – $59/OneTime (1 Site)
Screenshot
3. Vikinger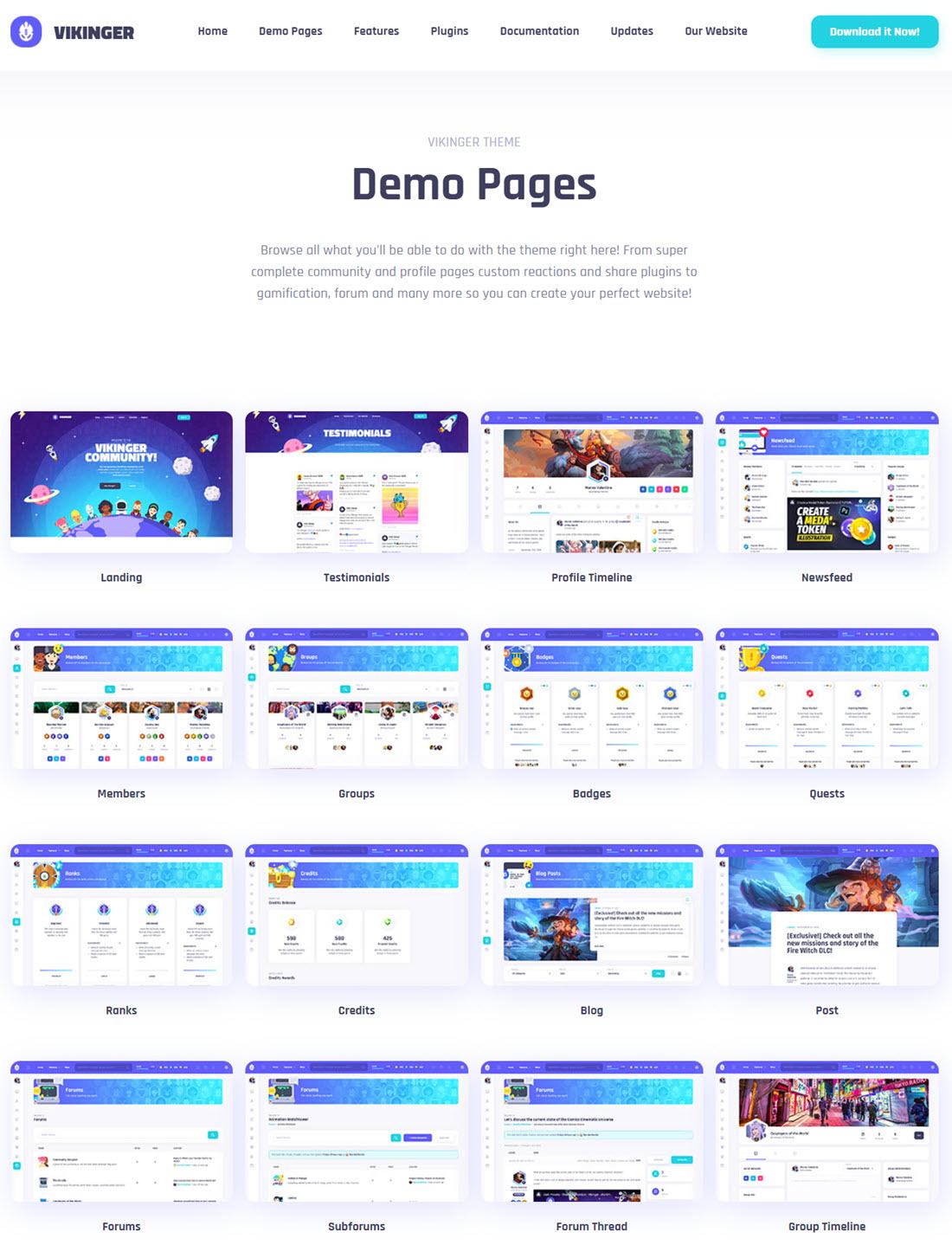 Vikinger is an incredible WordPress theme that lets you upgrade your BuddyPress plugin's accessibility. The ThemeForest presentation, Vikinger is integrated with the latest 4.0 version of BuddyPress and bbpress features. This amazing theme lets you create a community-based website where your visitors access social media experience thereon. Let them easy profiles creation, share, and connect to others socially. Enable addition of exclusive community pages including newsfeed, group directory, and individual profile page. Ensures Gamification system to add badges, credits counters, ranks, and quests while customizing the entire interface of the site.
Essential Features –
Integrated well with the shortcodes for BBPress Forum to create extensive forums.
Insert and customize images, subforums, and relevant topics to share with the community.
Install pre-designed website in just one click and customize the same as per necessity.
One-click demo page access.
Provides membership-ready templates for restricting contents and defining membership logins.
Price – Regular License – $69/OneTime (1 Site)
Screenshot
4. OneCommunity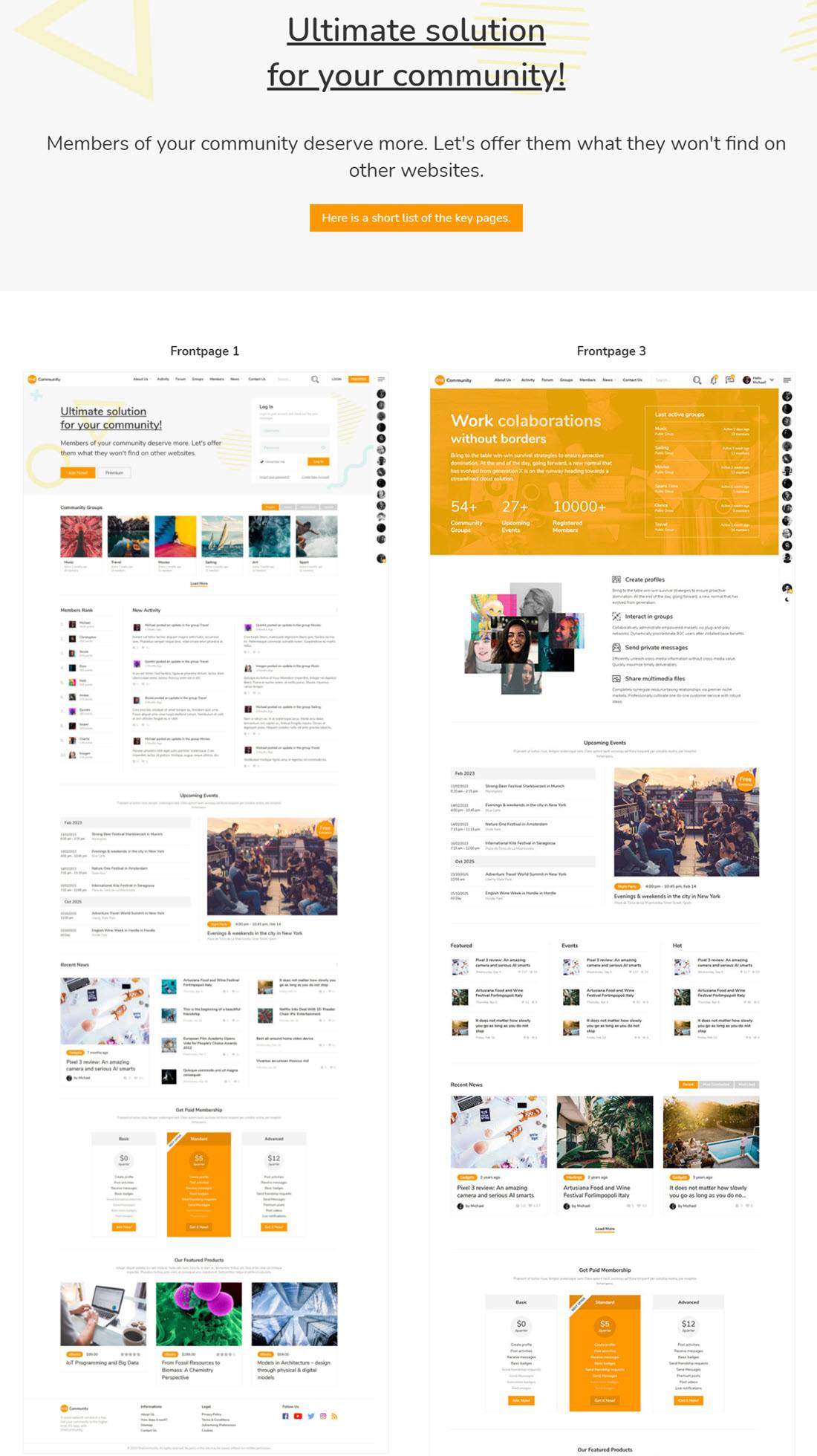 OneCommunity is a quite extensive WordPress theme bundled up with extinguishing social pages layouts and templates. If you need to layout a community website the OneCommunity is the best solution for you. Hereby, you may design websites for multiple communities such as institutions and companies. Nicely compatible with the latest BuddyPress Version i.e., 9.x. Integrated bbPress and BuddyPress Forum Editor.
Essential Features –
More than 40 Intuitive social pages are available that are designated so elegantly.
Avails multi-device responsive layouts with RTL support.
Customize the themes easily with API accessibility.
Provides multiple content blocks to restrict content for guests and members accordingly.
Integrated with essential stuff for designing community websites such as like buttons, layouts to display achievements and badges, and much more.
Price – Regular License – $59/OneTime (1 Site)
Screenshot
5. Olympus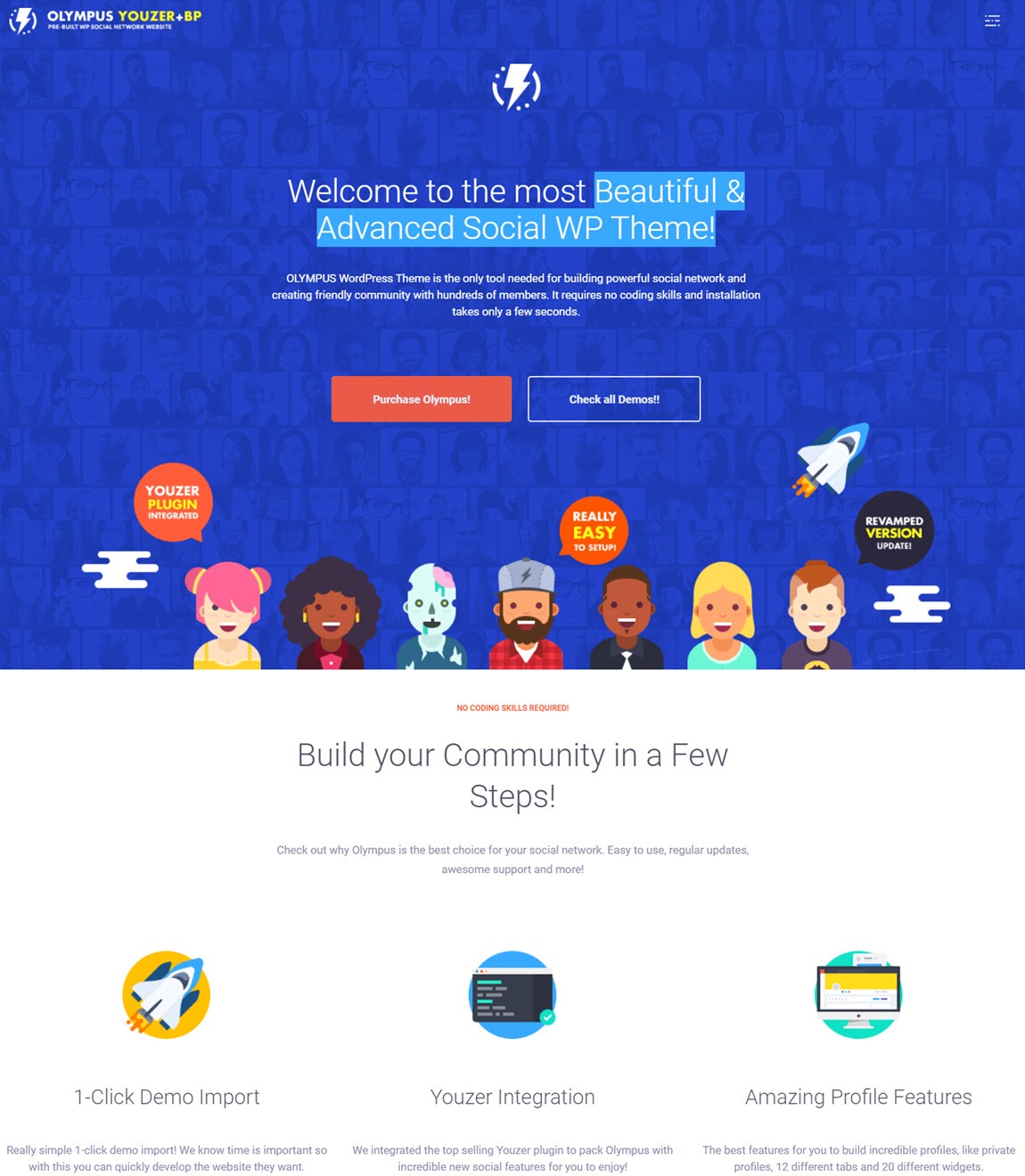 Olympus, the responsive Community and Social Network Theme is well designed and shows wonderful BuddyPress compatibility. The theme also includes bbpress and RT media. A secure, clean and amazing site can be created using the responsive theme WhiteDot. The theme is compatible with plugins from major developers like BuddyPress, bbPress, LifterLMS, WooCommerce, and many more.
Olympus can build wonderful social networking options such as member profiles, video albums, photo galleries, creative web development, and many more. Other features of the theme are SEO optimization, WP bakery Page builder, and blog with sorting panel. It is an Intranet/Extranet Theme compatible with BuddyPress 3.0+ and bbPress plugin. The user-centric theme is highly customizable and extends immense support to community networks, associations, extranets & intranets of both Government and business-oriented niches. Project manager, Slack notifications, and many more.
Price – Regular License – $68/OneTime (1 Site)
Screenshot
6. Armadon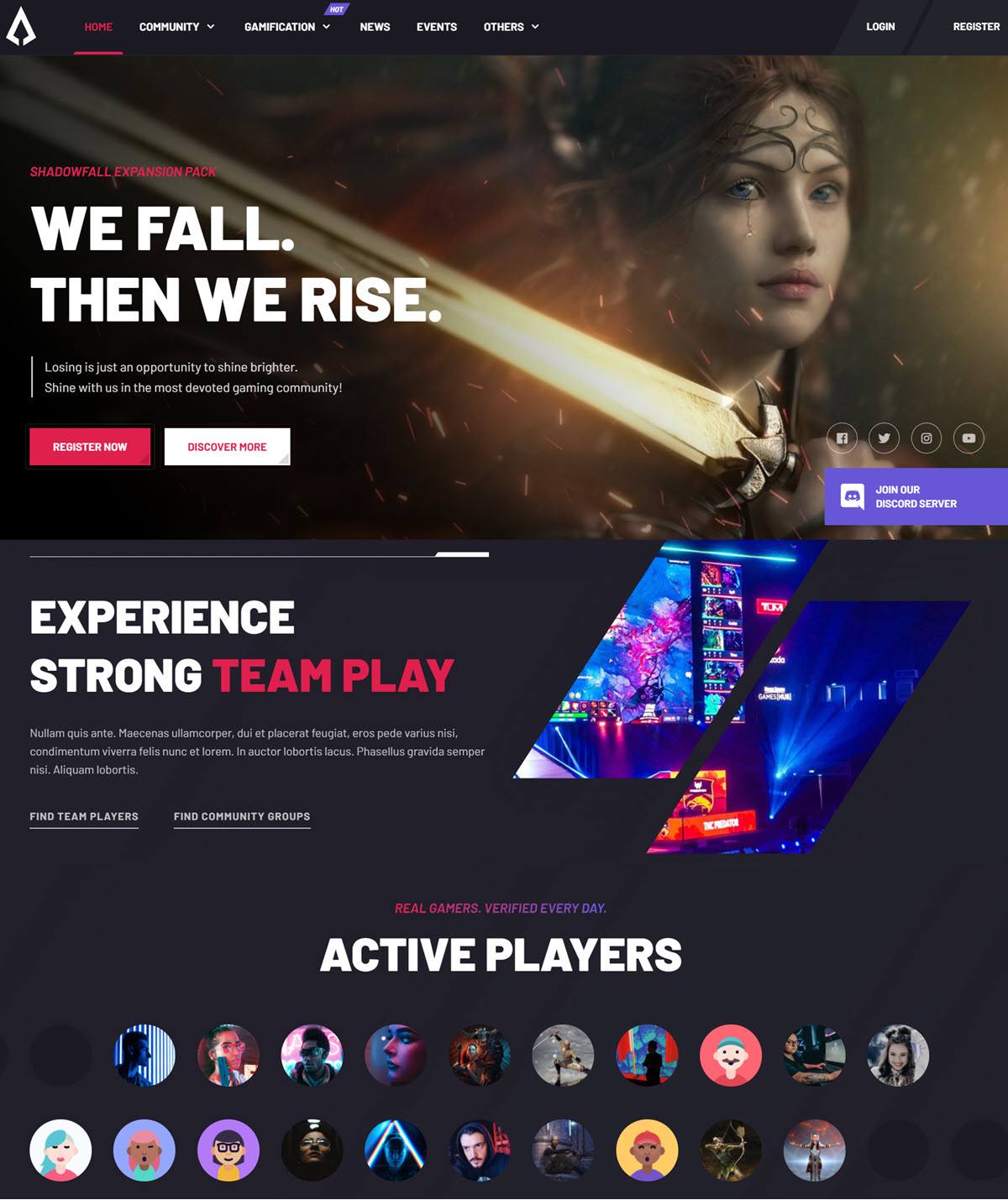 Armadon is a uniquely integrated BuddyPress theme that can be utilized for multi-purpose website creation. Whether you need to create a website for professional blogging, business directory, community, extinguishing portfolio, Armadon is the best alternative in the world of WP Themes. Contains interactive features to create a stunning website in minutes with amazing pre-made templates. Engage more visitors on such sites as it showcases its interface i.e., actually looks like a Facebook and other social media.
Social networking for schools, sports teams or company is an easy job with the theme. Other features are blog section, inner pages – groups, bbpress forums, etc. Events Manager compatibility, live chat, easy installation, widgetized, SEO optimization, bbpress documentation, and many more.
Price – Regular License – $48/OneTime (1 Site)
Screenshot
7. Join Up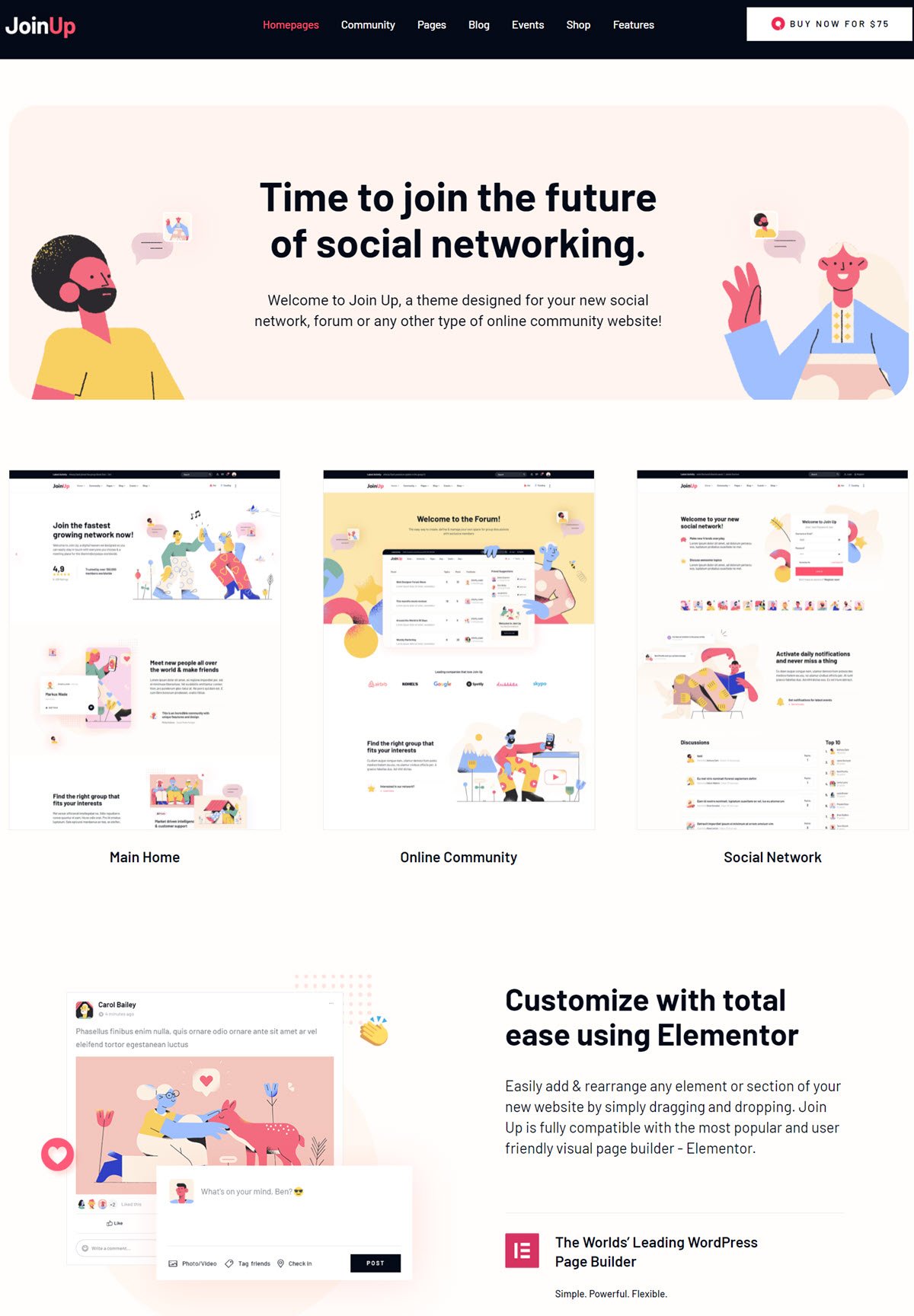 Join Up is a networking and community theme built in the peripherals of the BuddyPress plugin. The theme offers a wide array of demos that suits different occasions like social networking, online community, magazine websites, and many more. The online community-related features promise full support for the BuddyPress and bbPress WordPress plugins such as user profile, user registration, etc.
The BuddyPress ready template allows the users to connect through forums, friends, status updates, private messaging, chats to create a fully operative community portal. You can create a user-friendly and unique website with the "Layout Manager" to create a custom layout, custom header & footer. HTML 5 and CSS3 help you create comprehensive styles.
Price – Regular License – $75/OneTime (1 Site)
Screenshot
8. Disputo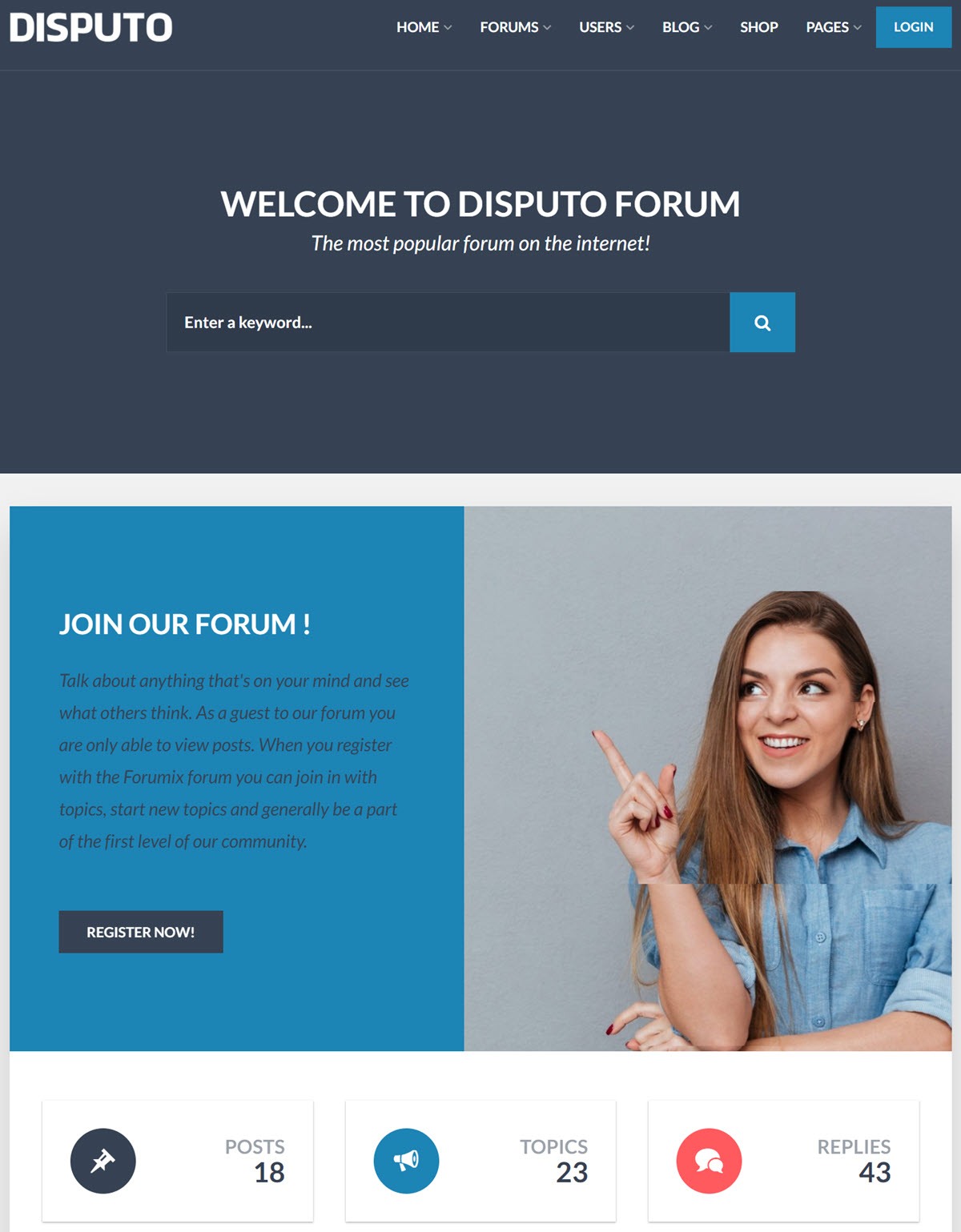 The theme has been exclusively designed for the bbpress forum plugin and holds the potential to take the bbPress forum to an entirely new level. The theme has been further fortified with private messaging, like & dislike rating system, social media sharing buttons, Facebook comments, MailChimp integration, and other supportive features. Forum is yet another responsive theme for the bbPress plugin. The theme carries a trendy and fresh design and is apt to host a bbPress forum or bulletin board website. Readability has been enhanced due to the subtle color scheme of the Forum. A detailed bbPress documentation with other add-on features is also available.
The theme can also host public community, intranet, and extranet websites. BuddyApp has an HTML landing page as a bonus feature. Besides, it also offers the top features of BuddyPress and bbpress- community tools, forums, and editor. The live notification tool won't let you miss any messages from your group.
Price – Regular License – $49/OneTime (1 Site)
Screenshot
9. Socialize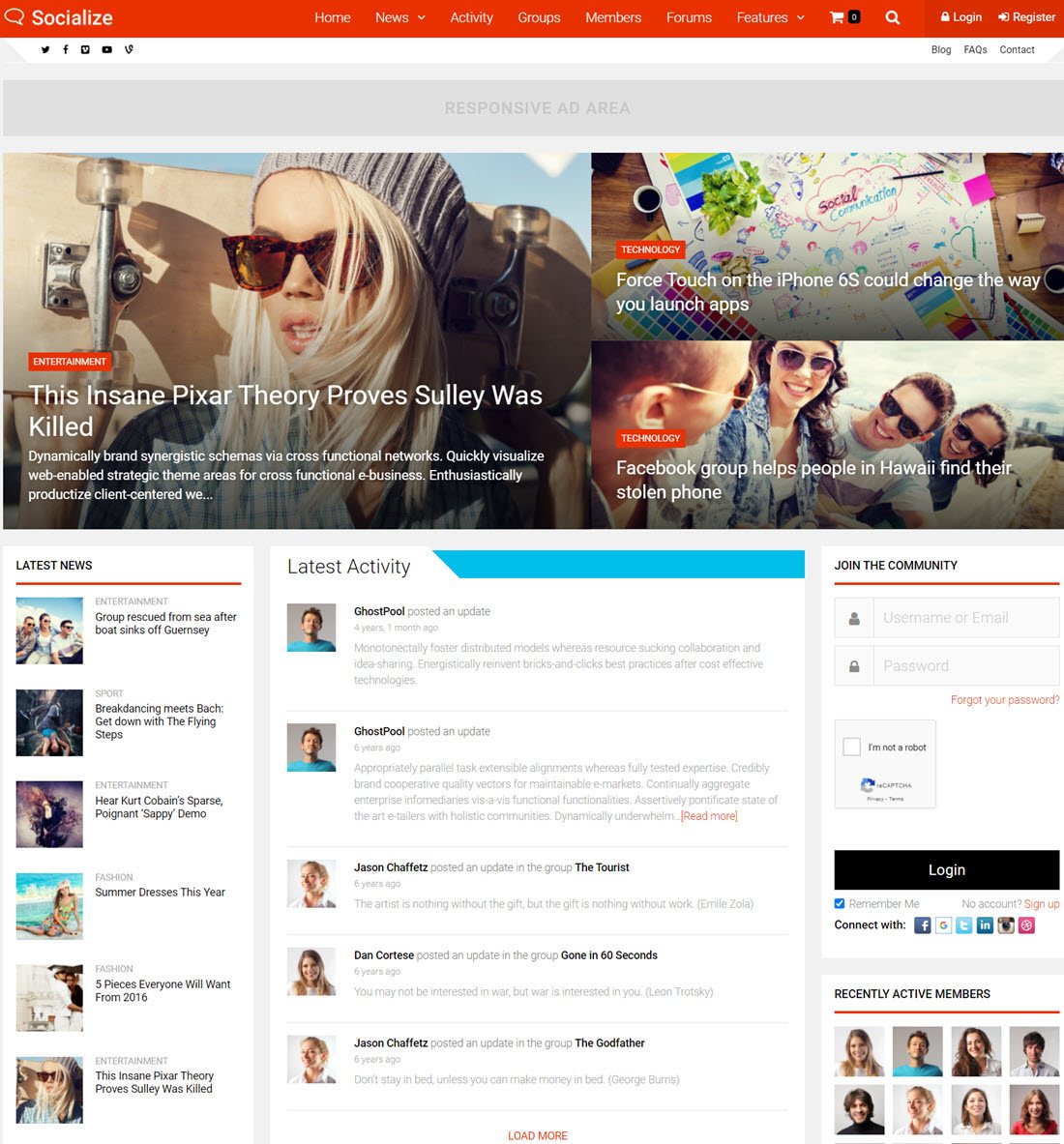 Socialize is an exclusive BuddyPress Theme and hence amalgamates well with BuddyPress features such as activity streams, private messaging, extended profiles, friends connections, user groups, notifications, etc. The theme has been fortified with some extra features such as integration with WooCommerce, profile search, social media sharing buttons, Facebook comments, MailChimp newsletter integration, and many more.
The well-polished presentation from ThemeForest supports both the popular plugins – BuddyPress and bbpress. Amazing layouts and customized pages can be created with the Visual Composer. The built-in color presets offer color options that you can choose to best suit your brand. The key features include a BuddyPress Media Ready interface, SEO optimization with clean coding, WPML, and WooCommerce compatibility.
Price – Regular License – $199/OneTime (1 Site)
Screenshot
10. ForumEngine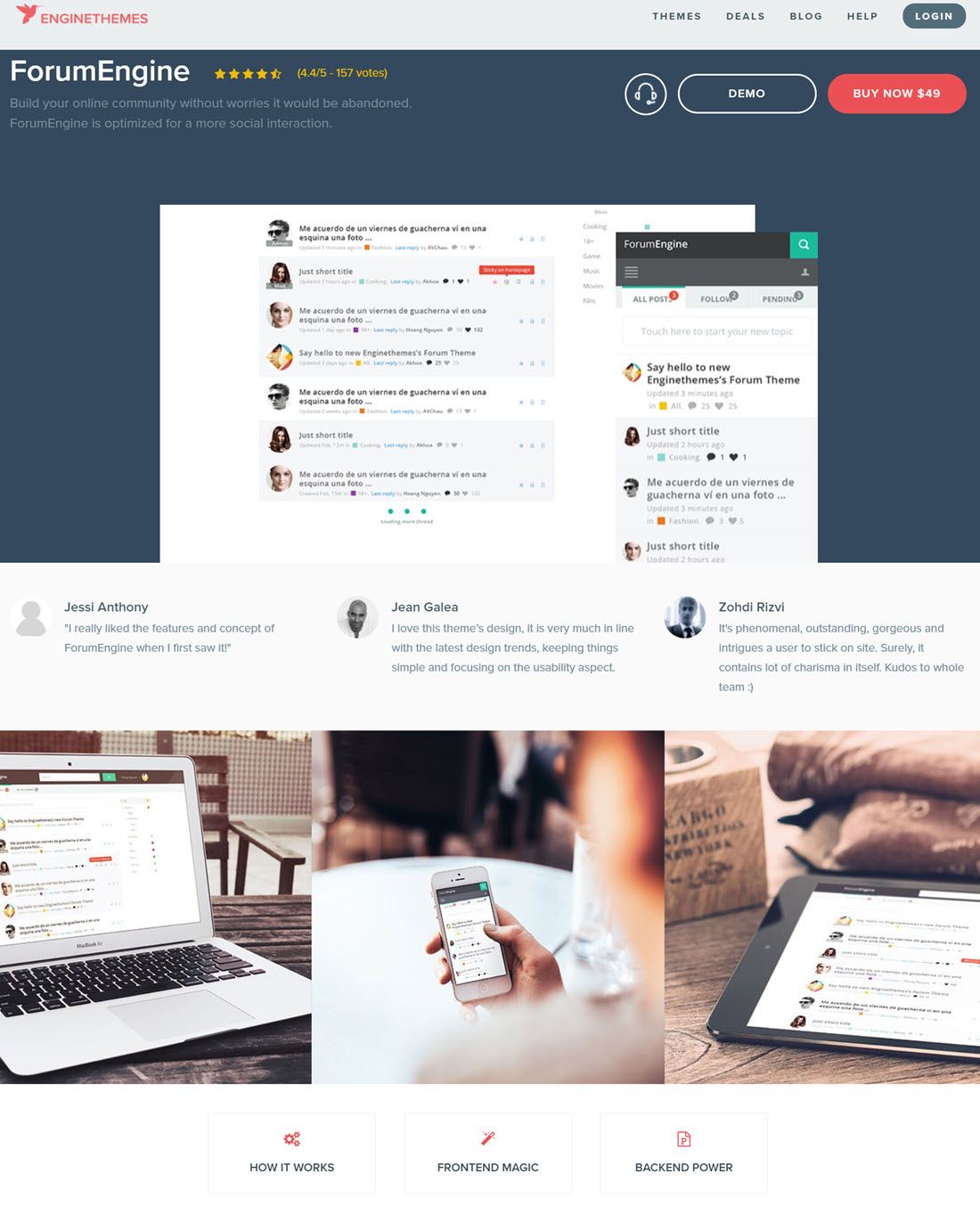 ForumEngine is a professional and Premium BbPress Theme, Custom Community features the latest Bootstrap version, 3 pre-made color schemes, slideshow integration, and numerous customizable options. The theme supports plugins such as BuddyPress, WooCommerce, and bbPress
The robust and easily customizable theme creates social interaction communities that can hardly be abandoned. With an immensely smooth theme options panel and setup wizard, you need not struggle to have your site up. The SEO forum features a highly customizable front-end wherein you can change the style and look of the homepage to suit your brand. The general information fed in the admin panel can also be tweaked as per your requirements.
Price – 1 Site – $49/annually,  Unlimited Site – $109/annually
Screenshot
11. ForumPress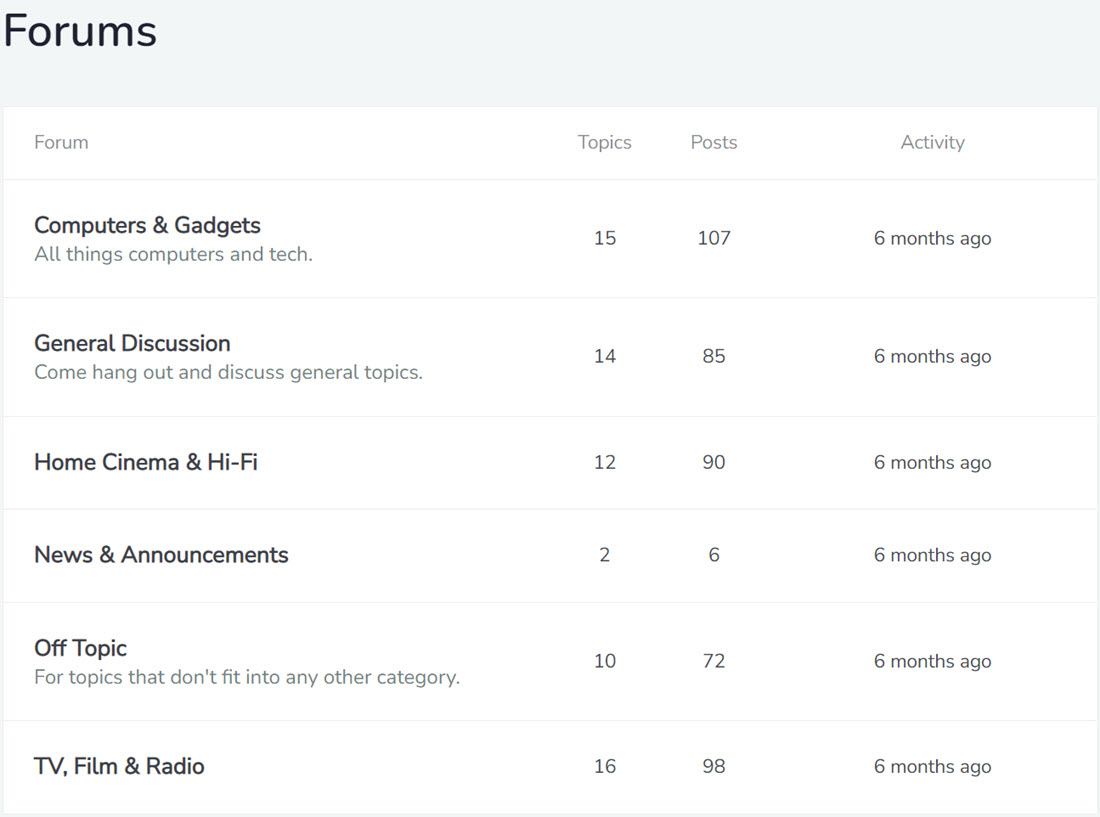 ForumPress is a professional and minimalist forum theme. Users can use bbPress to create a forum in any niche they want with a complete bbPress integration. A highly rated bbPress-compatible forum theme with over 20,000 users who use it to create different forums within their site and organize them by topic. The most important feature is the 'Activity Reporting' menu, which allows users to choose whether to display numerical values for the number of questions, comments, and time since the last activity or not. Users can quickly determine where they will have the most success when posing their questions by looking at the map.
Tonic features a unique design based on a Gridiculous boilerplate. You can display your gallery through the jQuery carousel and tiled view. The theme supports both BuddyPress and bbPress.
Price – ForumPress WordPress Theme – $99/annually
Screenshot
12. BuddyX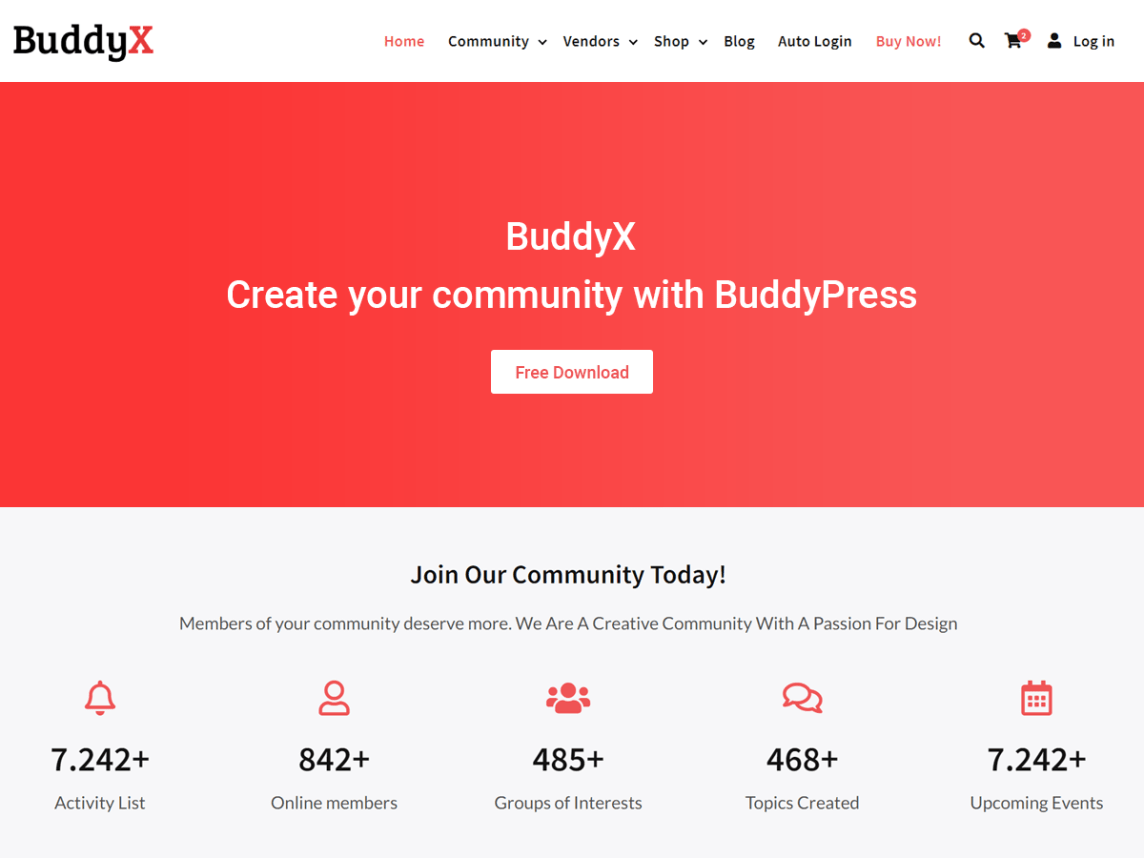 BuddyX is a great theme for membership and community websites. Create an elegant community-based website with member profiles, send private messages, create groups, accessibility. With BuddyPress compatibility designate a fast-loading and fully responsive website in minutes. This extreme theme is composed of essential features such as SEO-friendly, RTL-ready, and multilingual supports.
WooCommerce, WC Vendors, Learn Dash, Learn Press, and Gamipress are all supported by BuddyX. Completely customizable and integrates seamlessly with page builders like Elementor and Gutenberg. Ideal for integrating BuddyPress into social learning, marketplace, and blogging websites. Built with the most up-to-date progressive web content and optimization practices. Thoroughly tested with the most recent version of Buddy Press as well as popular Buddy Press addons. Wbcom Designs is the company that created it and also maintains and supports it.
Total number of users – 3,000+
Screenshot
13. Customify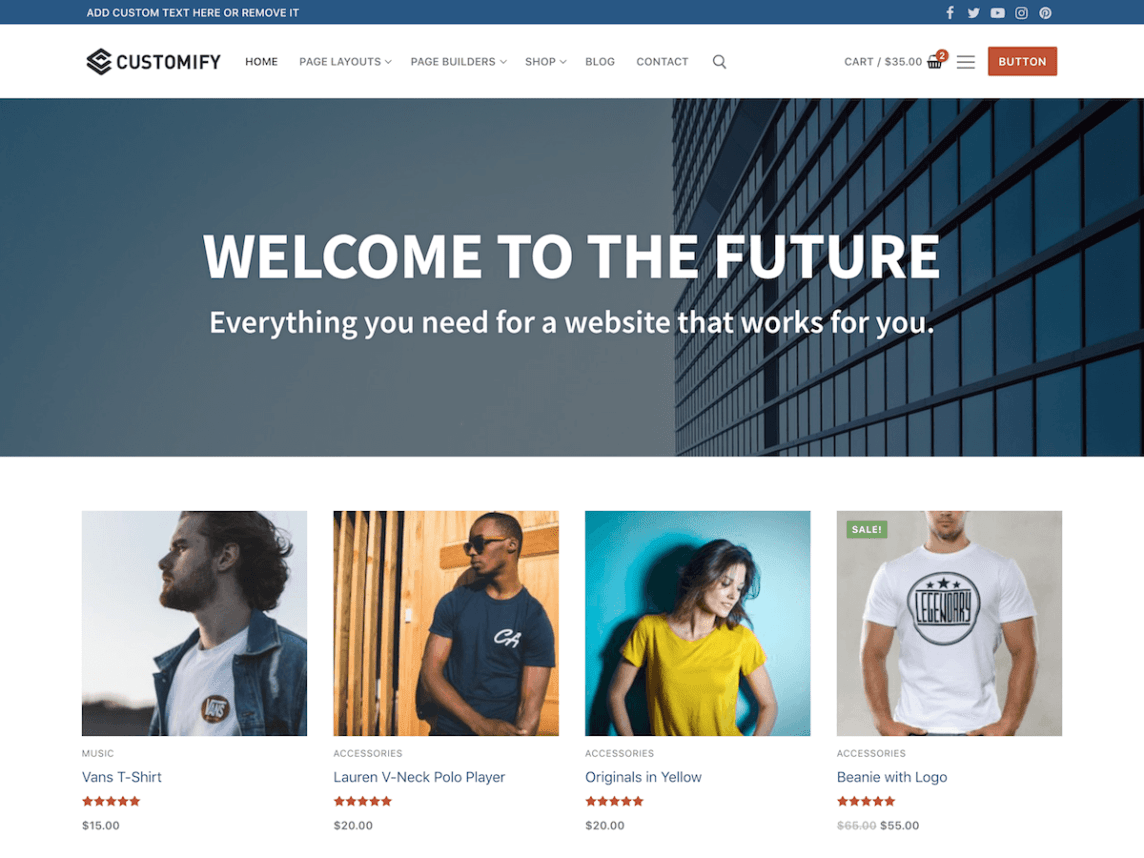 Customify is a perfect WordPress theme for BuddyPress and BbPress accessibility. Contains a powerful styling platform that gives complete design control over the appearance of the community website. There are several Site Templates are available that can be used to give any WordPress site an authentic look right away.  Customify is featured so elegantly with Visual Composer, Elementor, and Beaver Builder to get the most intuitive of design customization. Now you can easily build your website and provide it with socializing features thereon.
New users are not required to make any performance or SEO optimizations from their own. The new codebase is built to reflect modern standards in performance and search engine optimization, the Customify theme works flawlessly compatible with other WordPress optimization plugins. The multi-purpose free BuddyPress theme can host many websites like discussion forums, social networking, corporate, portfolio, agency, and many other niches and works well with page builders like Elementor, Divi, Thrive Architect, etc.
Total number of users – 50,000+
Screenshot
14. Emmet Lite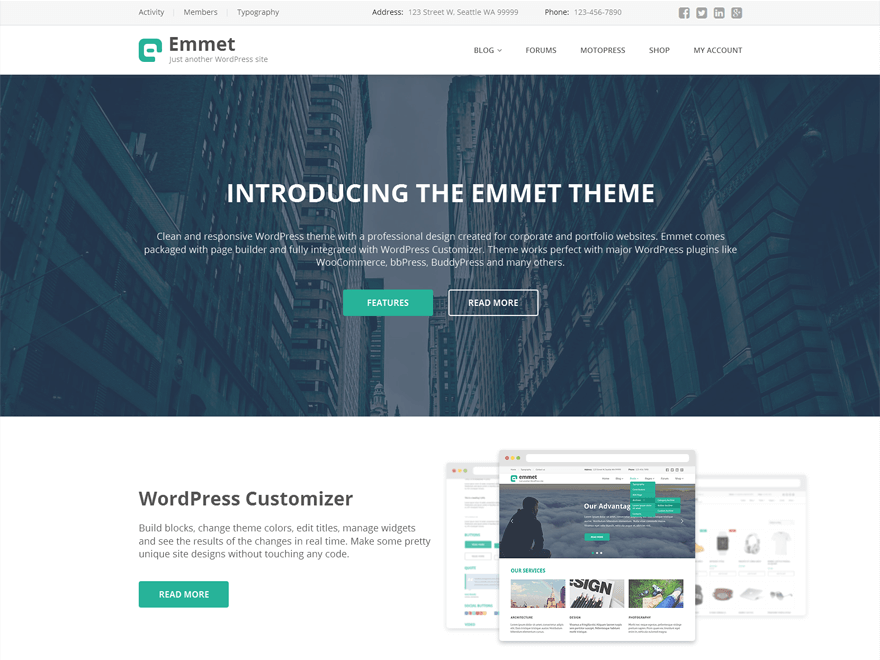 Emmet Lite is a free WordPress theme compatible with BuddyPress extensions. Utilized by thousands of freelancers and agencies around the world. Everyone appreciates a simple one-page design that is free of clutter and unnecessary plugins. Hereby, you access a pre-built contact form that can be customized by changing the titles, descriptions, and email addresses, among other things. The form is protected by Google's ReCAPTCHA technology, ensuring that the website has the most up-to-date spam protection technology. Anyone who requires a more complex form can use their form shortcode to replace the default form.
Core Features –
Availability of a variety of page templates including landing pages, blog pages, and many more.
Provides widgets area in multiple formats for full-width or section.
Let you customize the header, sidebar, footer, and menu section.
Total number of users – 3,000+
Screenshot