8 Best Forum Plugins for WordPress 2023
Are you looking for Premium or Free Best forum plugins for WordPress? There are many kinds of forums you can build on your WordPress CMS such as a social forum where you make friends and do some discussion, or you can create a Q&A forum. Were you can ask question answers from forum members and have some discussions.

Forums are the best way to engage your visitors, attract them to make some comments, and motivate them to ask questions. So many people are confused about whether they should use a Forum theme or Plugins. So in my suggestion, if you want to start a small forum for discussion, you should use plugins, but if you want to have discussions on a large scale, you should use the theme. Many forums are already exiting the market, like Reddit, Stack Overflow, or Yahoo question. You can also create a similar website using the below-mentioned plugin even if you look into WordPress websites. WordPress website has a discussion forum where you can ask questions related to WordPress.
So to help you and decrease your effort, we decided to write the list of Free Best forum plugins for WordPress. The best-selected ones:
Table Of Content
1. wpForo Forum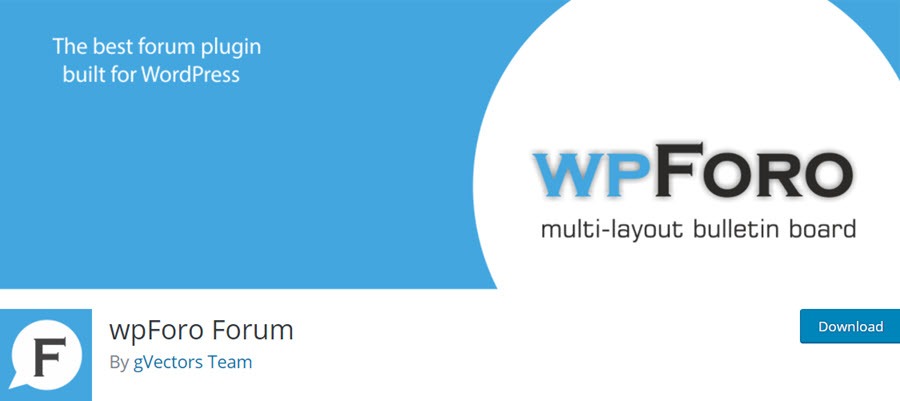 wpForo is a free Best forum plugin for WordPress, which is a full-fledged yet light and easy solution for WordPress websites extension that lets you create a descriptive discussion board. Such a discussion board connects different people to discuss different topics and more. An integrated solution for any WordPress site where you access essential plugins facilities like Ultimate Members and BuddyPress to tackle Membership and Profile builder functionality. You quickly create a professional forum while utilizing responsive and pre-designed templates. wpForo takes only 5 minutes to install and configure. Then you are ready to design an efficient community however you like.
Essential Features –
Allow users to create their profile and then let them select the category on which they want to discuss.
Drag and drop accessibility that lets you navigate efficiently to configure and create.
Available different social media buttons that the user will easily share in one click.
Let your members get ratings and badges on their answers given to the asked questions.
The built-in Forum User group system is compelling and integrated with BuddyPress. With the Go2wpForo tool, migration becomes very easy.
The topic and post can also be moderated from the front end. The forum styles have different colours.
There is a drag and drop forum management system in the wpForo plugin.
Total number of users – 30,000+
Screenshot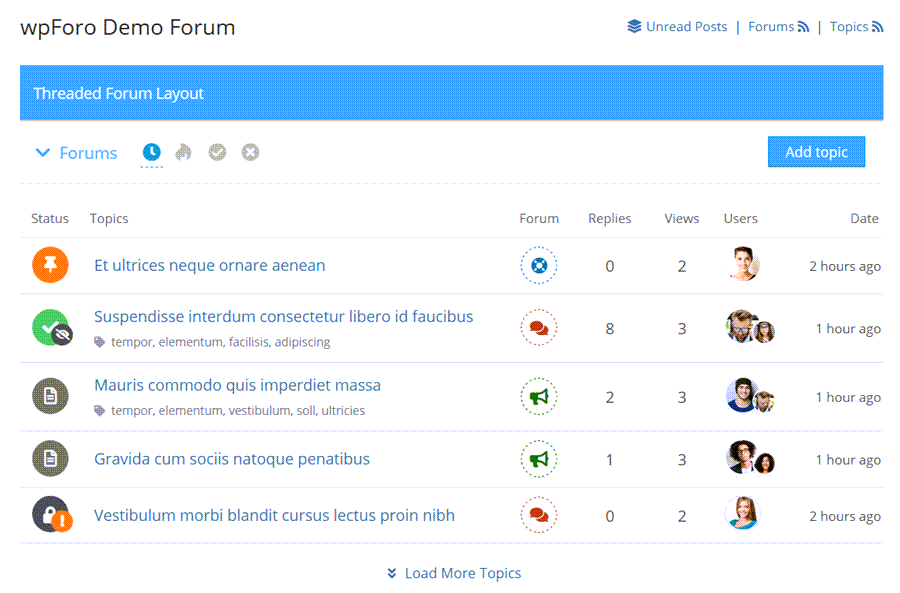 2. Asgaros Forum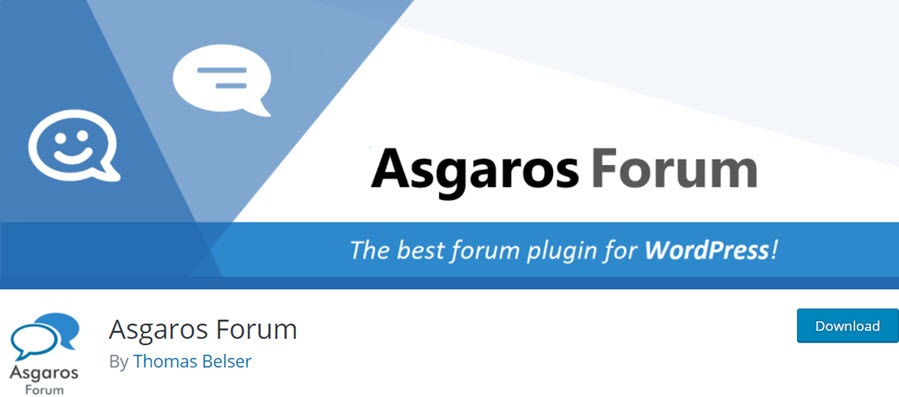 Asgaros Forum is intuitively designed to create a discussion board on your WordPress Site to minimize the doubts of your customers. If the users want to extend their website with a lightweight and feature-rich discussion board, then the Asgaros Forum plugin is the perfect solution. It perfectly integrates into WordPress and is fast and easy to set up. It has a simple structure, and content can be managed easily. It has a powerful editor, and notifications are sent. Such a robust yet straightforward integration where you quickly access forum functionality in minutes. Insert a shortcode anywhere to add the Forum wherever you like to display. Let them upload any answer, search for any question-and-answer responses, and message to other available members.
Essential Features –
Manage the topic and post efficiently that comes from wider audiences.
A statistic page is available that lets you keep an eye on the performance of the Forum.
Admin tools let you search for available users and ban irrelevant ones.
Accept guest postings or either turn this off when required.
It supports multiple files to upload in the post. A shortcode needs to be added to the page to add to the Forum.
It is compatible with multiple sites and mobile-ready themes that anyone can quickly initiate the conversation with their mobile device.
Enable users to be a member of your Forum while creating profiles thereon.
The user creates profiles and is then added to the member's list. Uploads, messaging, and the user can also do searches. It is compatible with Multisite.
Total number of users – 20,000+
Screenshot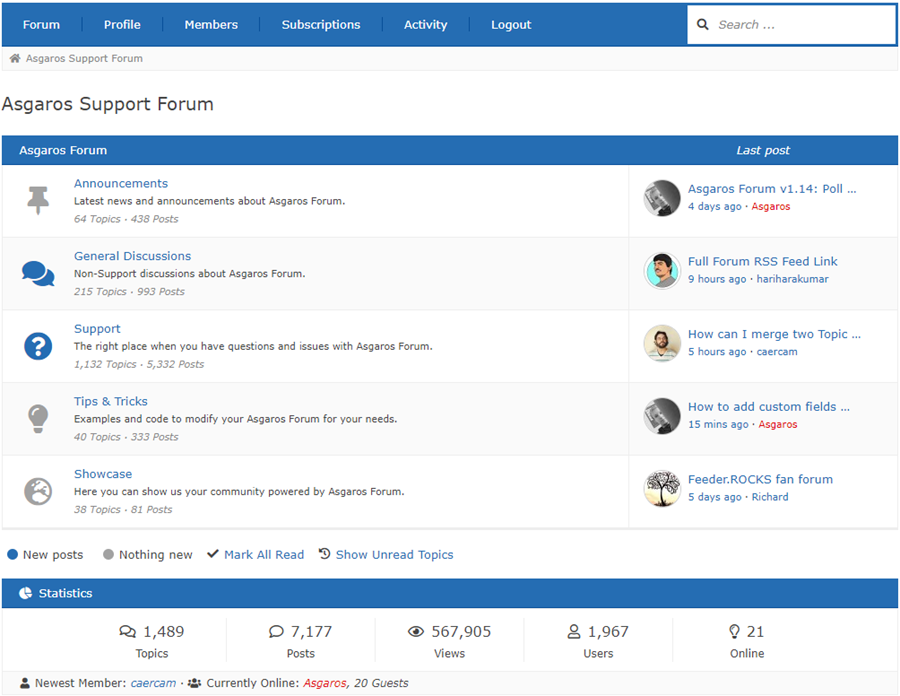 3. bbPress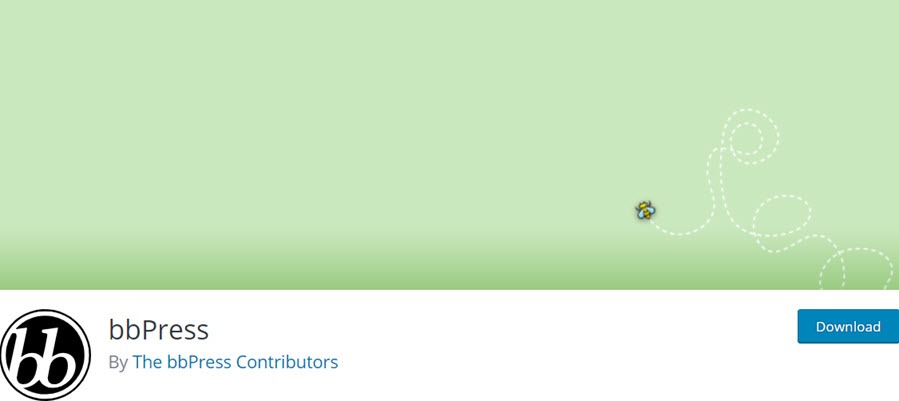 bbPress is an elegant WordPress forum plugin that comes with many customizing options. Such a free extension that provides you with time-to-time updates. You can create forums as you require to match the standard of your website. Let you create an extensive frontend however you want to display it. An intuitively integrated responsive discussion board where users share their views by their personal experience. Allow users to signup thereon and create a profile to participate in the discussion. Notify them with email while their question and answer get responses to quick reply.
Essential Features –
Provide visual editor, insert keyboard shortcut and adjust colours with the assistance of customizing tools.
A bundle of templates is available to enhance the look and feel of the Forum.
Availability of responsive and modern themes that won't afwon'tthe speed of the website.
Support of Akismet eliminates spam by detecting users' activity on the forums.
This plugin helps manage forums, topics, and posts right from the dashboard. The front end has a slight build and an unbloated interface.
bbPress is focused on ease of use, ease of integration, web standards, and speed.
Total number of users – 200,000+
Screenshot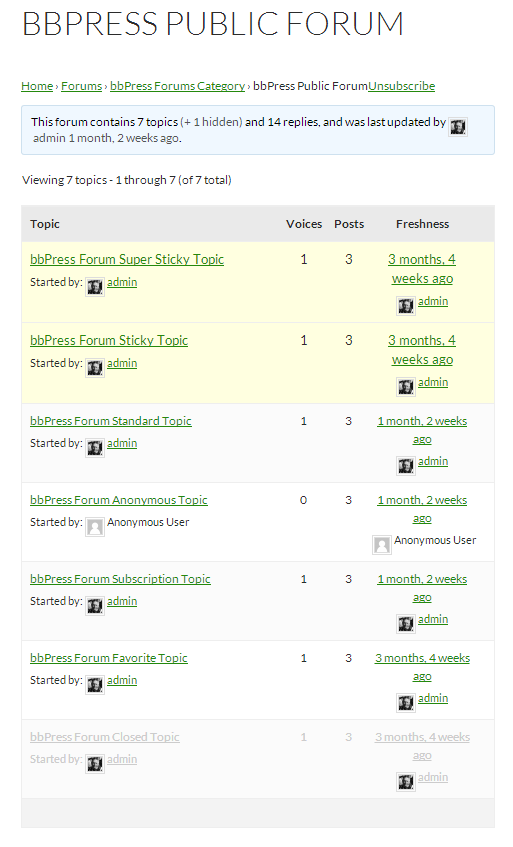 4. BuddyPress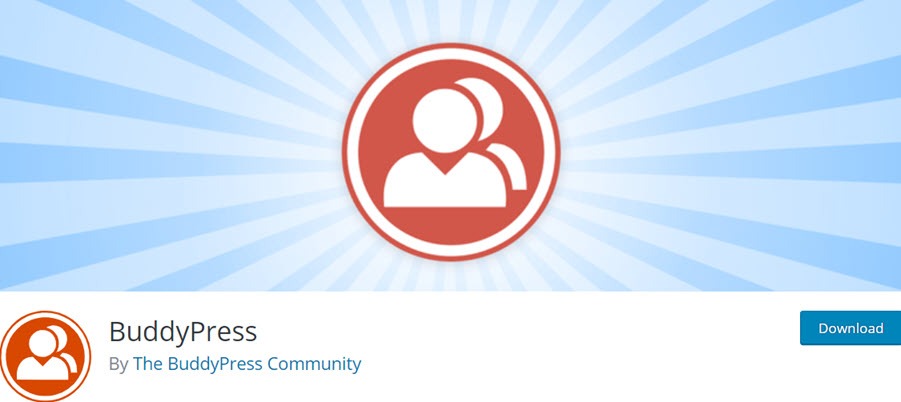 BuddyPress is a well-integrated extension for establishing a robust social network. WordPress's extensive plugin system has incredible add-on features. Buddypress has been typically aimed at developers and site builders. Such an easy-to-use interface lets you create various discussion centres for various niches. No matter your WordPress site's concern, add a discussion board according to your necessity. The company, sports teams, schools, institutions, and more enable them to create social connections by building a comprehensive platform with BuddyPress extension. Assist the developer and any site builder in creating a community with a compatible theme API. Let you customize styling to enhance its appearance.
Elementary Features –
Let users create profiles, join groups, chat individually, and more.
Supports multiple sites and manages it all from a single dashboard.
Compatible with existing themes and plugins.
Allow users or members to favourite any post and topic, comments, delete mentions, send friends requests, etc.
Admins and users both get notified while anyone interacts. An admin may send messages to the whole community.
BuddyPress is a modern, robust and sophisticated social network software.
This plugin helps to convert WordPress into a social network, including forums.
Total number of users – 200,000+
Screenshot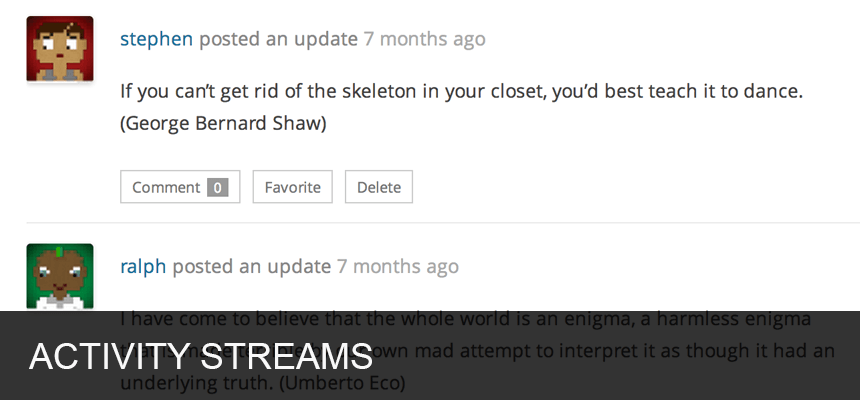 5. Sabai Discuss

Sabai Discuss is a feature-enriched extension for accessing forums for streaming discussion where you may connect audience widely. With the help of the Sabai Discuss WordPress plugin, you can easily create a question and answer forum, which will be almost similar to Yahoo Answer and Stack overflow. Let you create an extinguishing forum and establish a compelling question and answer tool. Provide a variety of layouts that let you turn your website as similar to Quora and Reddit. Allow readers to vote answers up or down and display answers accordingly to users. The SEO-friendly interface lets your question and answers be available on different search engines, making your site more engaging. Restrict users while it tracks any faulty behaviour by blocking them forever.
Integrated Features –
Available widgets and shortcodes that let you design forums frontend so well.
Insert a search bar that enables users to get the topic quickly with an intelligent suggestion.
It consists of pre-written emails for users automatically sent to them for notifying whenever necessary.
This plugin also helps build a discussion forum, knowledge base, and helpdesk portal for WordPress.
It has a fully flat and responsive design. Questions and answers can be searched by category, keyword, and a user-friendly autosuggestion feature.
Custom fields can also filter questions and answers. Search and filter forms can be built by a visual form editor.
Price – Regular License – $24/annually (1 Site)
Screenshot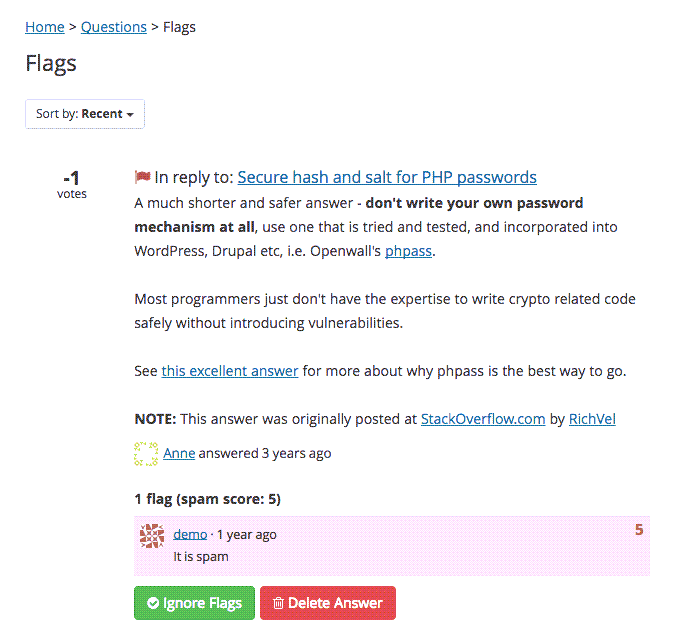 6. Discussion Board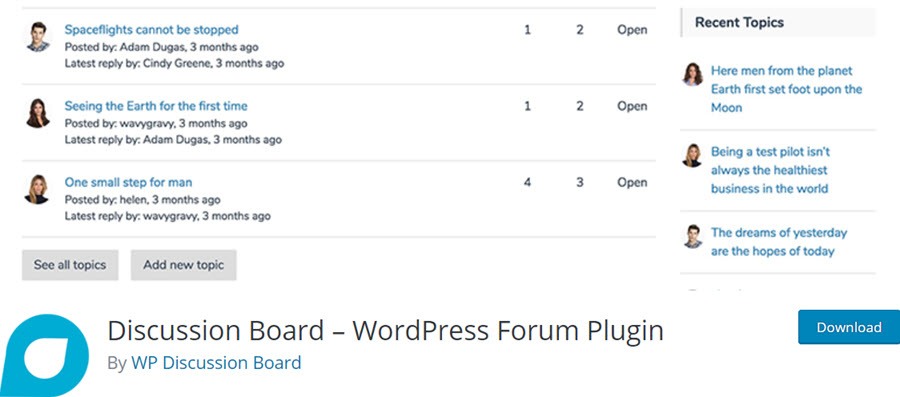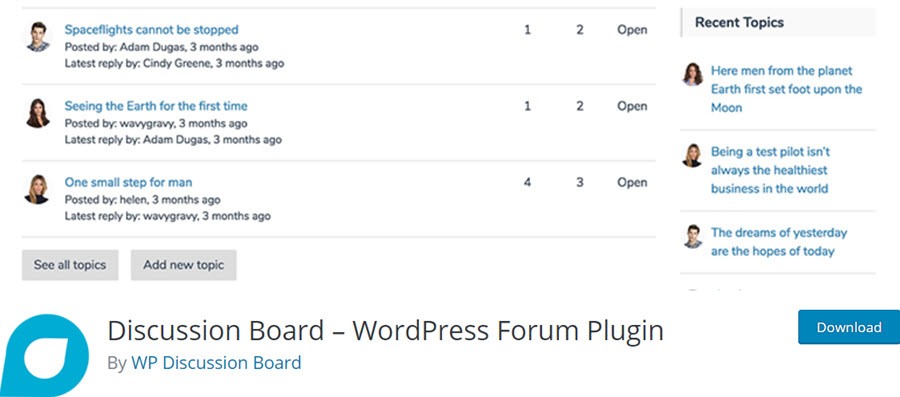 The Discussion Board plugin helps to add a forum to the website easily. It can be installed with just a single click. The user from the frontend can do registration and login via a simple form. Users can post new topics. These modern forums can be placed anywhere on the website, and it can be set as to who can view the Forum and who can post it.
The required roles for the users can be specified to post new topics or view topics. Possible spamming is reduced by applying restrictions over registrations and limiting the frequency that the users can repost. Colours can be updated through Customizer. The plugin works with any theme.
Total number of users – 2,000+
Screenshot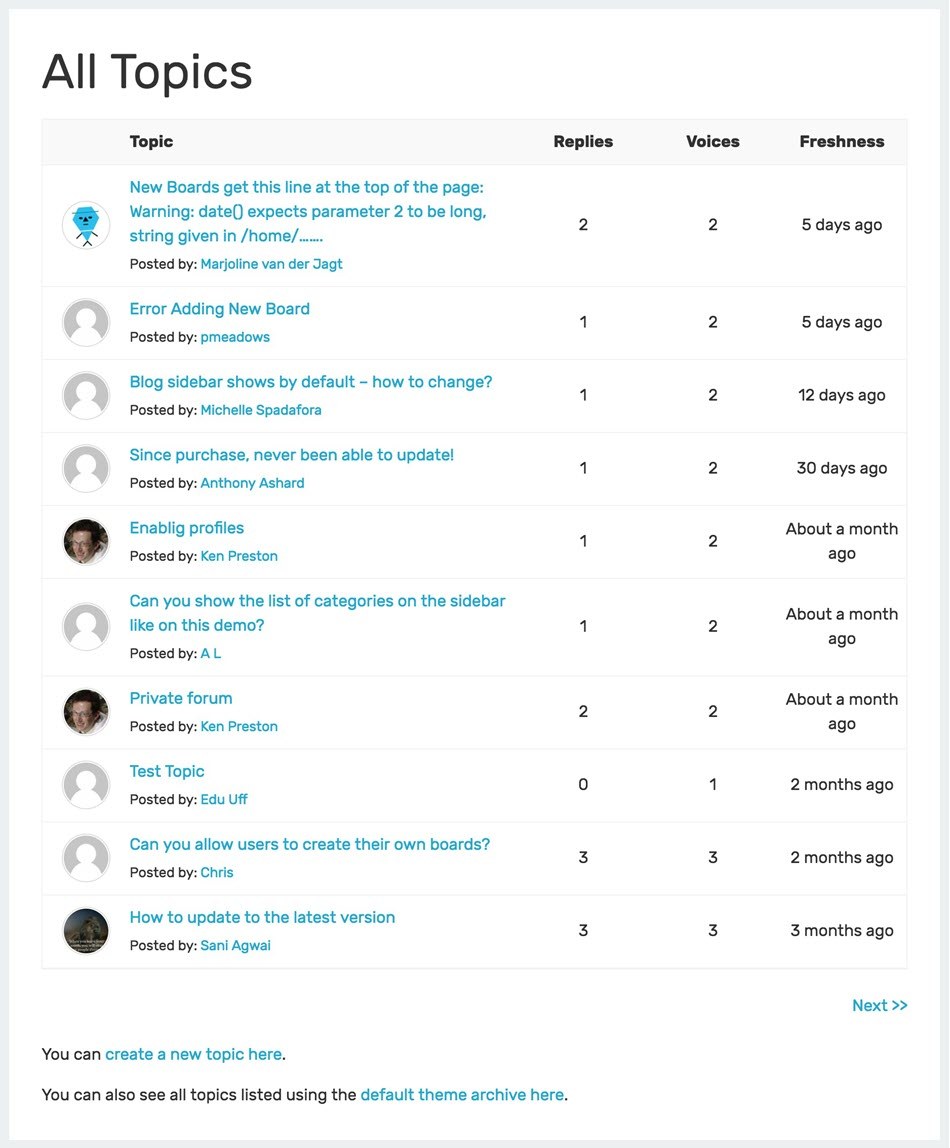 7. PeerBoard Forum and Community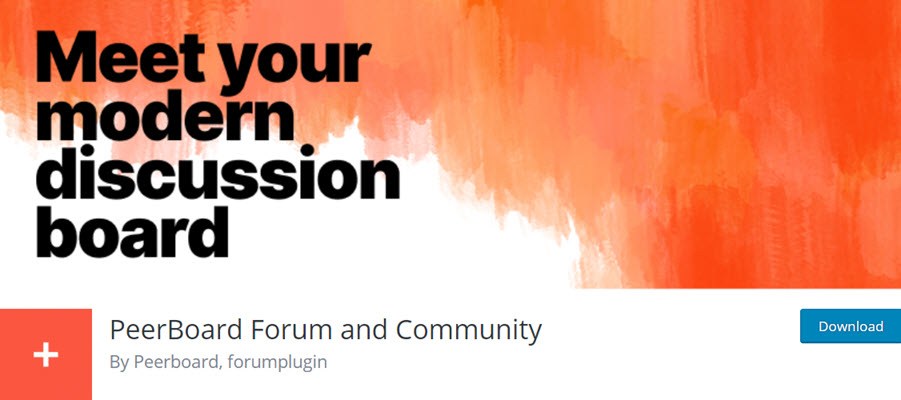 To build a complete Question and Answer system for WordPress sites like Stackoverflow and Quora, DW Question and Answer forum can be used. Shortcodes, multi-languages, reCaptcha, and email notification systems are supported by this plugin. The voting system which comes with this plugin helps the best answers to rise to the top, and the trolls and people with questionable answers go to the bottom. It is GDPR ready. The questions can be submitted, filtered, ordered, or deleted. Using keywords, there can be instant searches. The questions and answers can be made private or public. There are sticky questions as well.
It also has excellent add-on features and can be used extensively through WordPress. It does not have a lot of bloats. This Bbpress plugin has an essential customization tool for making keyboard shortcodes, enabling visual editors for users while writing, and adjusting colours. It is considered the best WordPress forum plugin. It has a responsive and modern forum layout and styles. It has a multi-layout forum design. It has built-in forum SEO functions and cache systems. It has been built for both small and substantial forums/communities. It integrates easily with bbPress since both the plugins have come from the same development teams. Using this plugin, users can make profiles, join groups and send private messages. Friendship requests can be sent, and special groups for schools, companies, and sports groups can be made.
Total number of users – 100+
PeerBoard Forum and Community — WordPress Plugin
Screenshot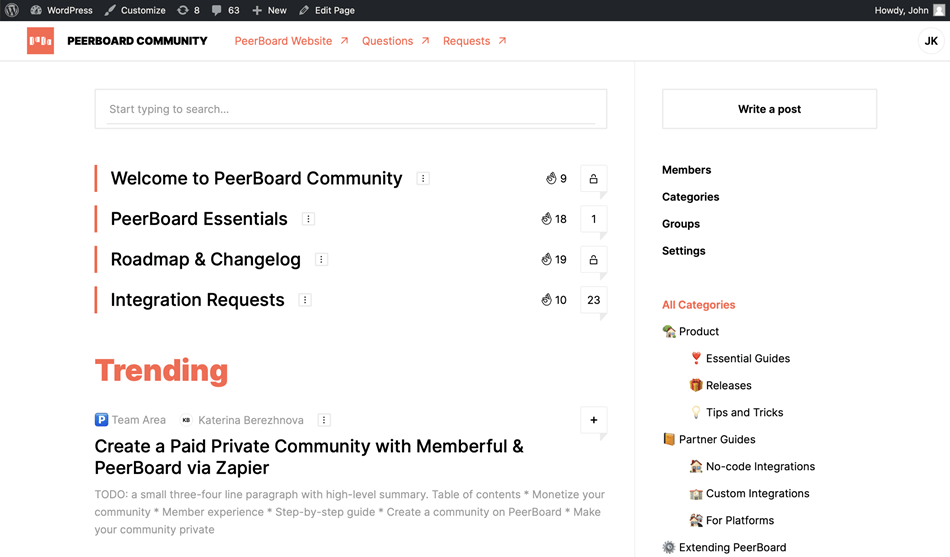 8. Website Toolbox Forum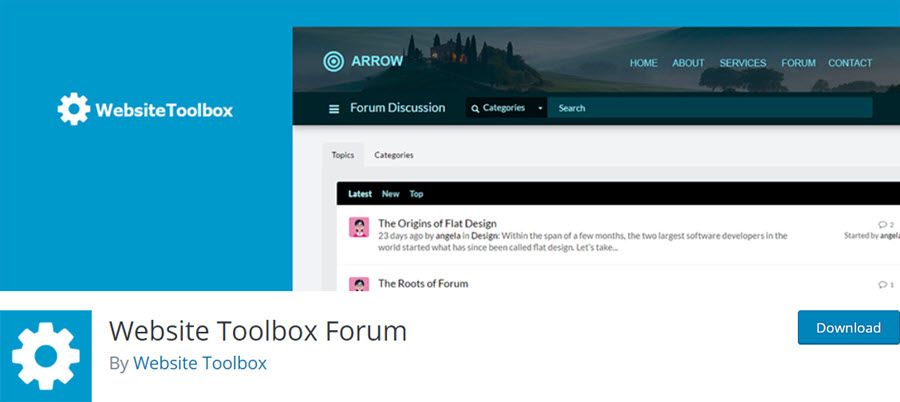 Website Toolbox forum plugin for WordPress helps convert the WordPress site into a social network. It has profiles, friends, an activity wall, unlimited forums, email alerts, etc., which makes it suitable for clubs, schools, companies, gaming sites, dating sites, etc.
It is entirely compatible with all WordPress themes and plugins. With the help of shortcodes, just anything can be changed, and the social network pages can be styled as wanted. It is compatible with Multisite, and many more features can be added through extensions. Questions and answers can be posted from the front, comments can be left, and questions can be tagged by auto-suggest.
Total number of users – 200+
Conclusion – Still confused about which is the Best forum plugins for WordPress. Don't won't make your choice more simple and easy. The Discussion Board  Is suitable for all kinds of forums like question and answers forums or discussion forums. You can check the plugin's documentation, and you can even try the accessible version of it here.