9 Best Authorize.net Plugins For WooCommerce 2021
Are you looking for Best Authorize.net Plugins For WooCommerce? Authorize.net is the most secure payment mode for accepting payments online. Using this payment mode on your Shopping Cart can easily accept payment using credit, debit card, and eChecks securely.

For more secure payment we always recommend getting SSL for your website. So many plugins accept payment without SSL also but SSL means high security and your money is safe.
You may also be interested in FOMO plugins and other woocommerce Plugin
The List of Plugins follows as :
1. WooCommerce Authorize.net

Authorize.Net provides advanced accessibility of payment procedures with a trustworthy and secure network. Allow your users to experience good while paying with more than one alternative in just a few seconds. As simple as the checkout and payment process, the customers take much interest to purchase and continue in the future. Enable to pay conveniently with credit cards, debit cards, and other payment accessories that are available worldwide. Save the information that is entered into the customer's account once at the checkout gateway for future payments. Refunds also occur instantly as soon as requested by customers. Supports smooth subscriptions and pre-order of WooCommerce Products.
SkyVerge Authorize.net Plugins For WooCommerce imparts the most integrated experience of checkout with WooCommerce with the default benefits of security and reliability of Authorize.Net. Customers need not leave the site during the checkout process. It also features a numerical input method for security code and card type. Besides, during the decline of payments, a detailed message is displayed rather than a generic message.
Price – 1 Site – $79/annually
Screenshot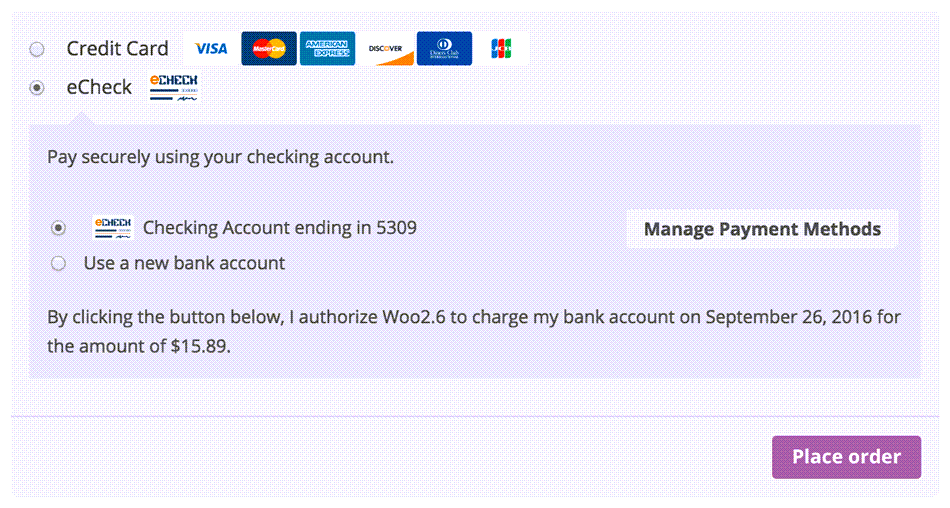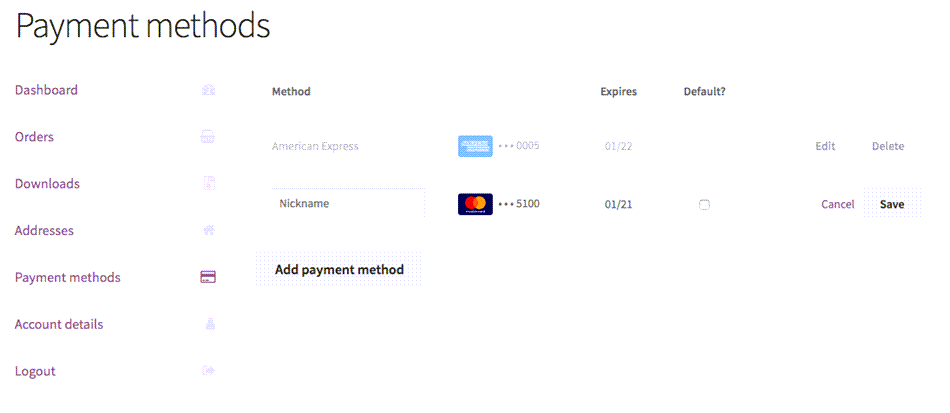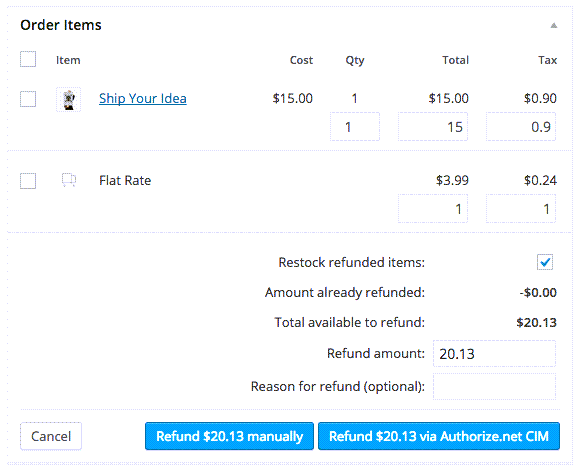 2. YITH WooCommerce Authorize.net Payment Gateway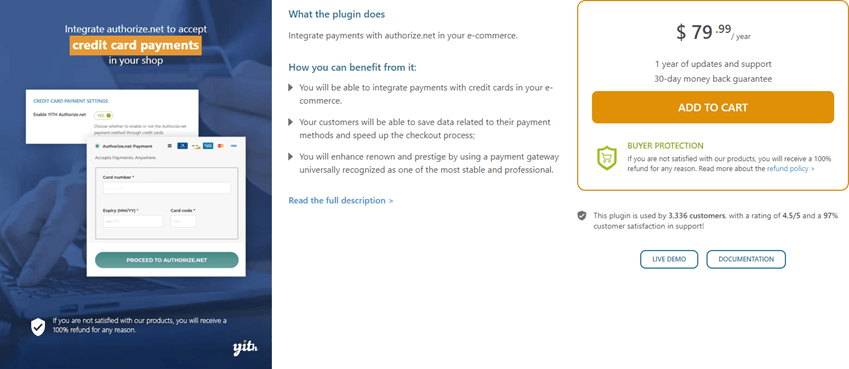 YITH WooCommerce Authorize.Net is an intuitively designed extension for WooCommerce products that let your customer ease the payment process that is accessed so fast.  Allows paying for purchase within the Authorize.Net payment gateway. The plugin is an extension of the payment possibilities of WooCommerce default payment modes on your Shopping Cart that facilitates the payment with credit cards by using the services offered by the Authorize.net network.
Beneficial Features –
Access Payments within enhanced security of wide available networks.
Pay via credit cards for any purchase of E-Commerce products.
Once you follow up the payment anywhere for such payment, it automatically saves your data and lets you pay fast next time while utilizing the saved payment method as default.
A most reliable payment gateway that assures you to enjoy amazing features such as quick refunds, Echeck accessibility, transaction alternative either from API or redirect mode.
Price – 1 Site – $79.99/annually
Screenshot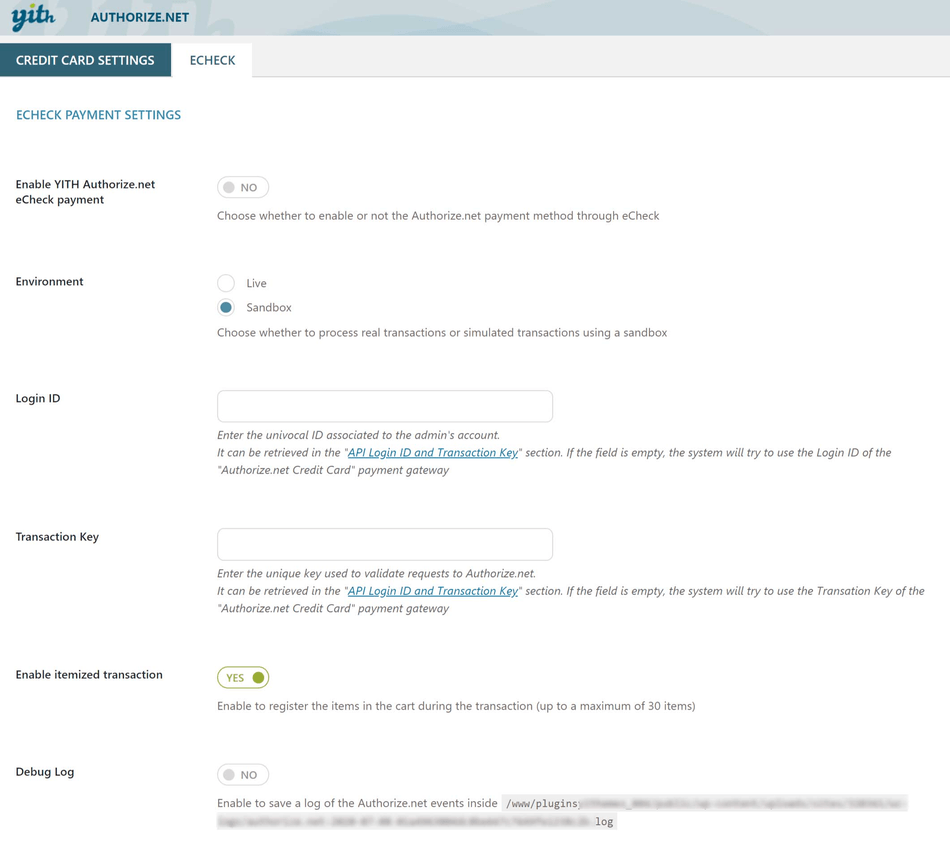 3. ELEX WooCommerce Authorize.net Plugin

ELEX WooCommerce Authorize.net Plugin lets you establish a secure and reliable payment gateway that accepts a variety of payment modes such as credit cards, debit cards, e-check, and more. Although, it keeps your customer on the same page of checkout without redirecting anywhere else and allows payment accessibility. Enjoy the benefits of Authorize.net payments which enables the refund directly within the dashboard of WooCommerce. Just test the user experience before installing this extension and then configure it as per requirement.
Core Features –
Advanced Security – Provides you end-to-end security while enabling SSL configuration to ensure the reliability of any particular transaction that occurs. Also, let you customize the fields of the checkout form.
Checkout Seamlessly – Ensures trustworthy checkout procedure and accepts the various payments from available cards widely either national or international.
Dashboard Availability – Manage the transactions very well while enabling the information on the dashboard. Refunds and transactions processing will immediately display on the dashboard within one click.
Customize Redirection – Let your customer redirect to the thank you page that has been created by you after the successful checkout.
Price – 1 Site – $79/annually,  5 Site – $119/annually,  25 Site – $199/annually
Screenshot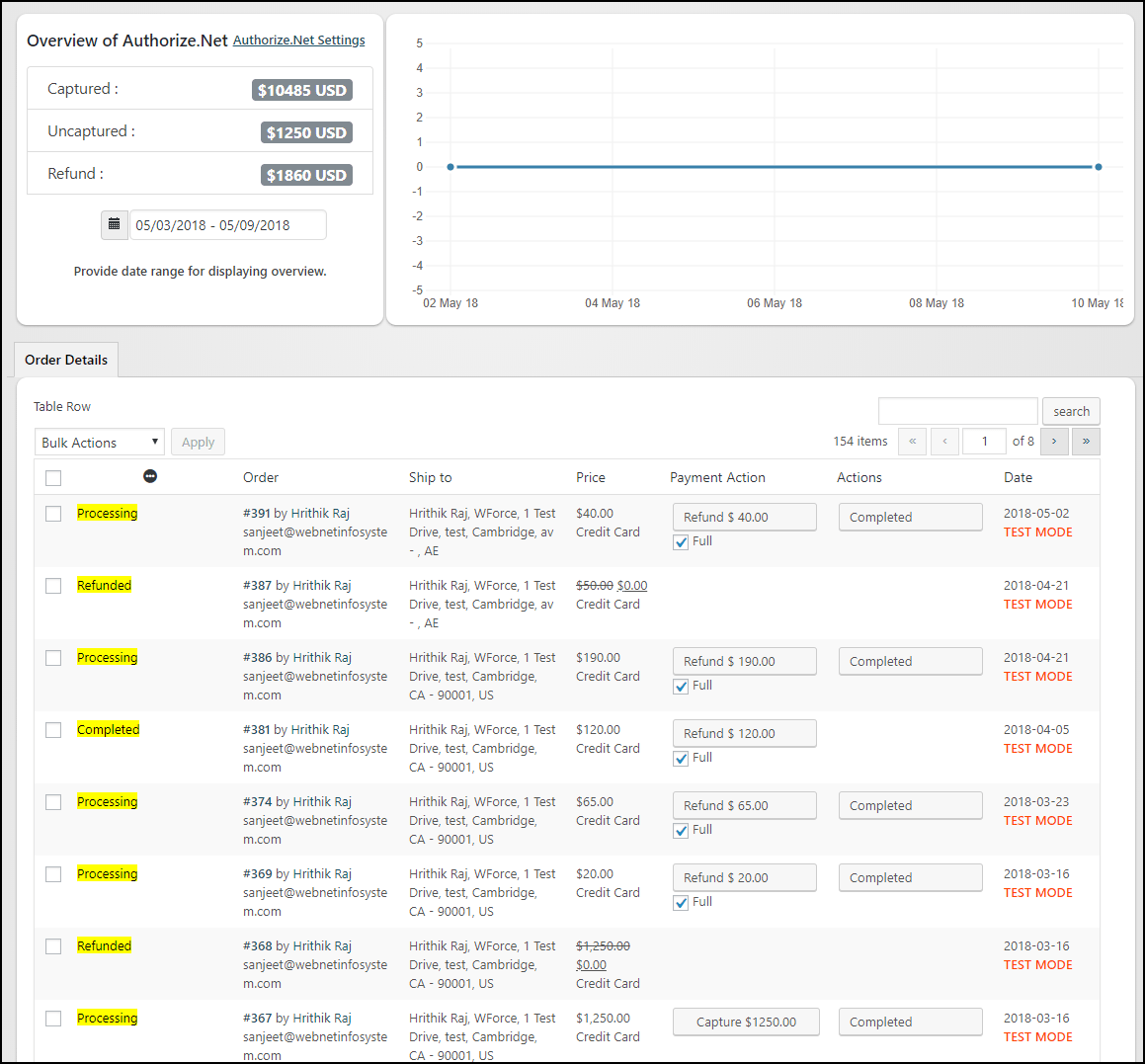 4. Authorize.net Payment Gateway
Easy Digital Downloads is an extensive add-on that is integrated with the Authorize.net account and allows payment from credit cards. Once someone enters the credit card details on the checkout page then it directly completes the entire transaction without leaving the site. Hence, this Add-on resulting a better user experience and lately enhance the conversion rates effectively. While you install Easy Digital Downloads along with the WooCommerce Authorize.net extension, you get access to the smooth functioning of payment on your e-commerce store.
Just enable advanced security throughout the checkout process and refunds promptly. Accepts different payments for purchasing through cards and e-checks that are widely available. Save the data of users while entering once to purchase and let you use that data for future shopping. Supports another WooCommerce extension that was previously installed on the website for different functionality. Easy Digital Downloads plugin is compatible with multiple languages available worldwide. Contains an easy-to-use interface that works smoothly for payment gateway and more.
Price – 1 Site – $89/annually,  5 Site – $129/annually,  Unlimited Site – $209/annually
Screenshot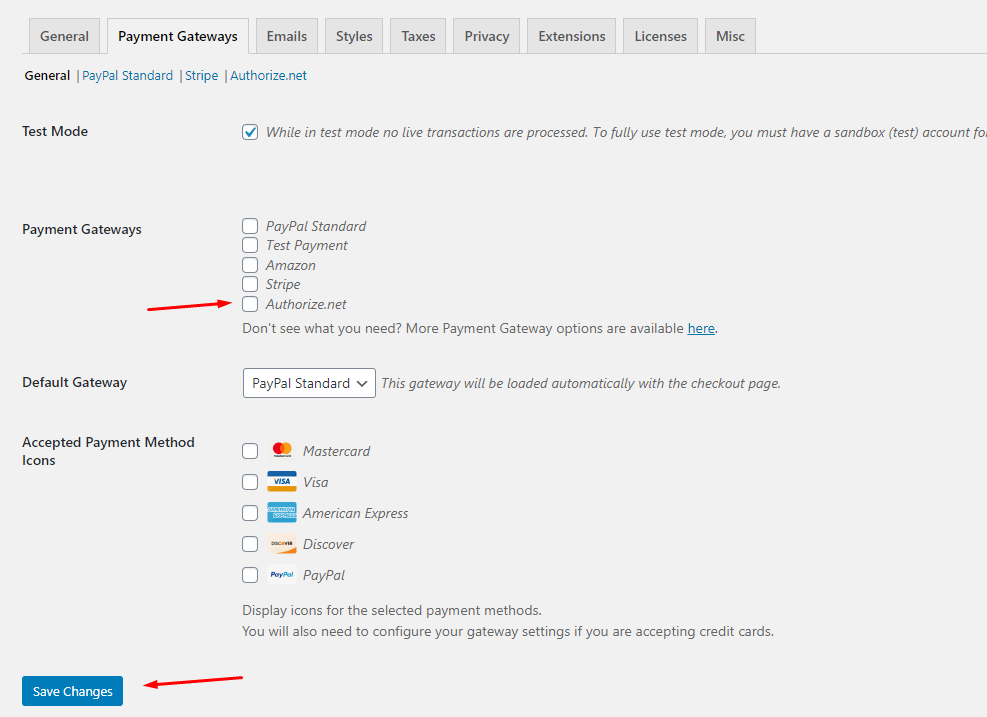 5. Authorize.net Payment Gateway For WooCommerce By Eshan Varma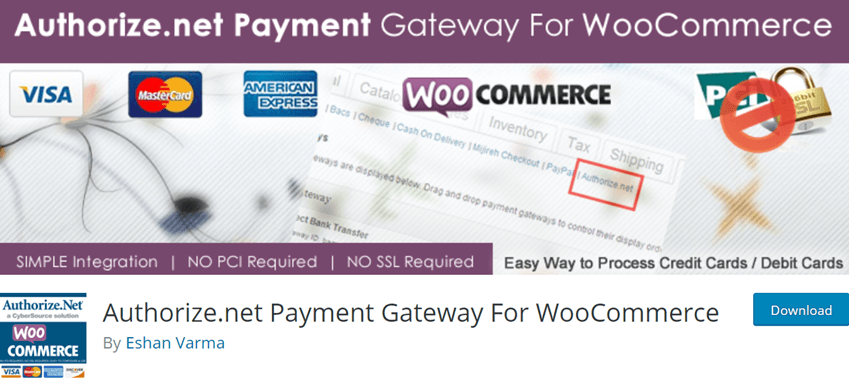 Authorize.net Payment Gateway for WooCommerce lets you create smooth functionality of payment on the website that provides e-commerce merchandising widely. Let your customers shop online and pay online while utilizing secure payment accessibility. Although hereby accept payment via credit cards and debit cards of Visa, Discover, MasterCard, or other variants conveniently. Easily install the extension and configure the essential requirements shortly within a few clicks. Available the facility of the secure payment process and refunds appropriately if necessary. Configure the default saving of accessed cards and other payments accessories that can be easily processed whenever the next purchase occurs. Streamline the smooth workflow of payment while establishing the payment gateway integrated with Authorize.net.
Authorize.net Payment Gateway for WooCommerce is one of the widely used and safest gateways to accept plastic money on your WooCommerce store. It does not require SSL and PCI and hence opts for easy installation and configuration. All payments are processed on the secured platform of Authorize.net and also have the "Authorize Only"  mode available nowadays.
Total number of users – 7,000+
Screenshot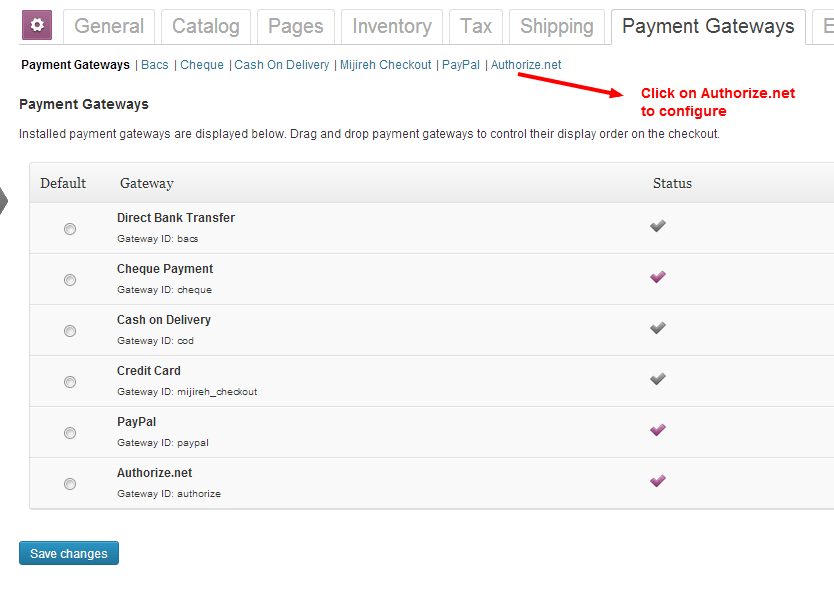 6. Authorize.Net Payment Gateway For WooCommerce By Pledged Plugin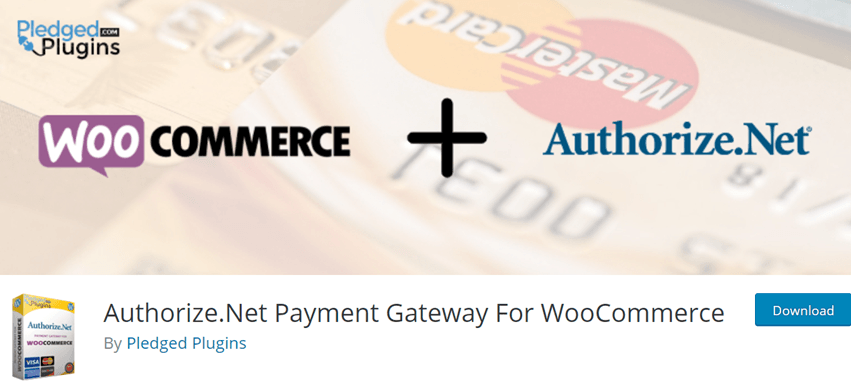 Authorize.Net Payment gateway enables you to organize systematic payment modules for your website which is available its existence everywhere. A complete solution for payment gateway wherever you provide accessibility to the secure network along with zero complexities. Easily install Authorize.net within one click and allow credit cards for payment just right on the checkout page instantly. Facilitates you to configure the acceptance of cards whichever you want to accept or restrict for payment. Access the process of refunds either fully or partially directly through WordPress Dashboard without visiting the account of Authorize.Net. Select the availability of sending receipts through the Authorize.Net account to your users.
Through Authorize.Net Payment Gateway you can accept credit cards from any corner of the globe and then this plugin auto-sweep the deposit amounts to your merchant bank. An excellent choice for a beginner eCommerce Entrepreneur as well. The plugin facilitates the processing of payments in a secured manner without redirecting your customers to the payment gateway.
Total number of users – 7,000+
Screenshot
7. WP Payment By WPSuperiors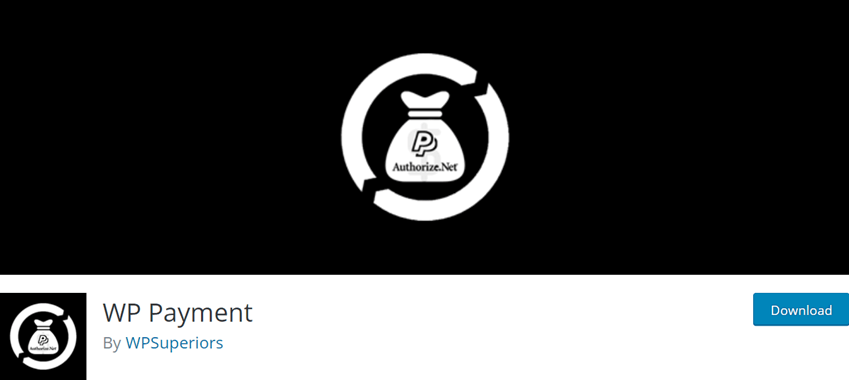 WP Payment is a well-organized WordPress extension for Payment Gateway that enables you to set up the payment processing efficiently. While accessibility to a reliable payment gateway such as Authorize.Net, Stripe, and PayPal enable your customers to pay with a variety of currencies worldwide. Allow your users to experience the best security for payment and save the data which once used for shopping for recurrent purchases later on. WP Payment accepts payments in USD Currency only and is integrated with the shortcodes facility. Send the email to notify both parties either user or admin.
This clean-coded and seamless plugin integrate the Authorize.Net payment method to WooCommerce. By tweaking the gateway URL, you can also use the plugin as an eProcessing Network. The easily customizable plugin supports USD payments and does not store details of Credit Cards. as the plugin integrates AIM, MD5 Hash is not required.
Total number of users – 70+
Screenshot
8. GiveWP Authorize.net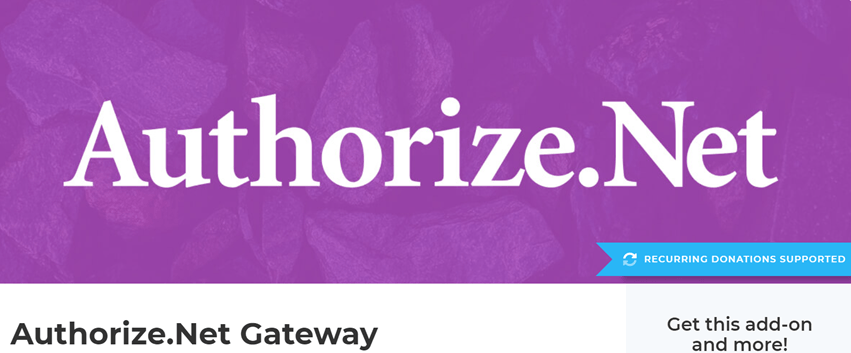 GiveWP is Simple WooCommerce Authorize.net Plugins For Donations. You can accept donations through the Authorize.net gateway easily. The online donation is paid via credit cards Visa, MasterCard, Discover, and a few other variants. The plugin enables us to accept secure donations/ payments through any page of the site. Authorize.net – Simple Donations plugin lists details of all donations and customizes Thank you messages for the donators. The dynamic amount can be charged from the customers instantaneously after form submission.
this plugin can accept both one-time payments and donation payments. Besides, version 0.3 has the advantage to accept recurring payments options too. You can also update the payment button in the admin panel. Authorize.Net Gateway – An Addon that lets you accept credit card payment by your customer for shopping on your e-commerce website. Let your customers process the payment via credit cards without redirecting elsewhere to complete that request. Provides the top-notch security of the data that is entered into the account of Authorize.net and saves it as default for future payments. It redirects the customers to the Authorize.net page while concluding the payment and a complete Instant Service notification service option controlled by Authorize.Net.
Price – Basic – $149/annually (1 Site),  Plus – $216/annually (1 Site),  Pro – $299/annually (5 Site)
Screenshot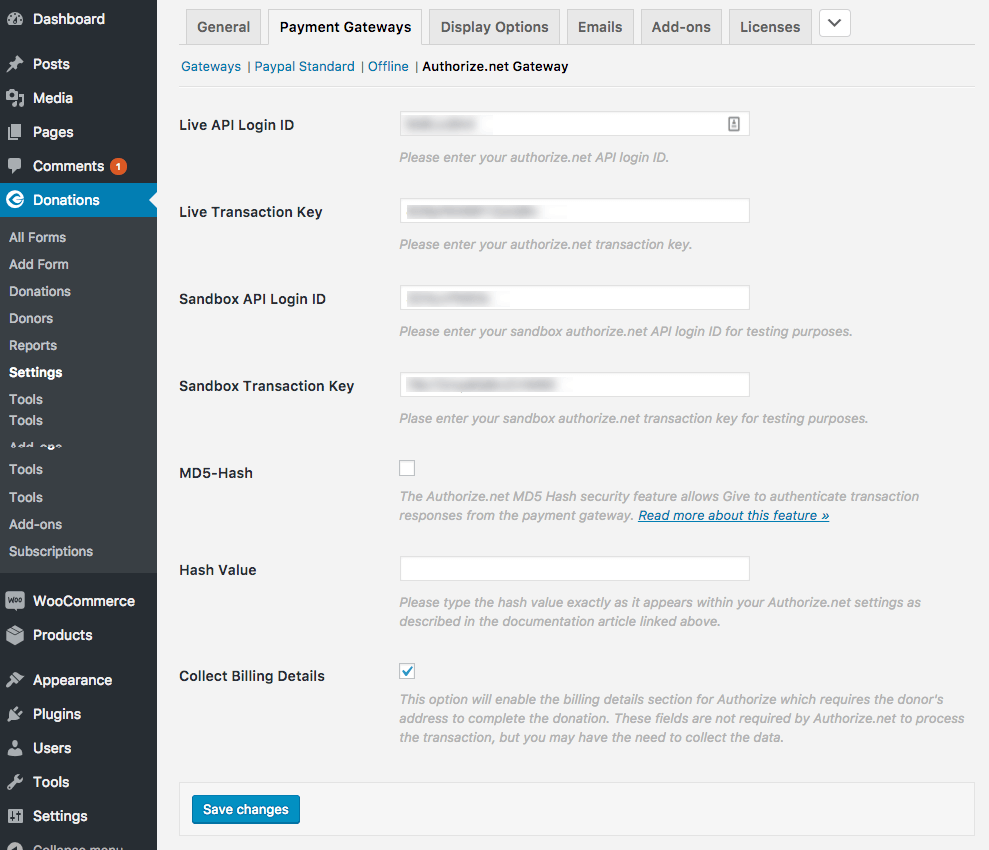 9. Authorize.net Payment Terminal

Authorize.net Payment Terminal facilitates you to establish a secure and reliable way whereby your customers pay instantly through different accessories widely available. Integrated with PayPal and API that let your customers pay and save the relevant data for future payments. Easy to install this payment gateway and allow configuration as the necessity of the website. Availability of recurring billing alternatives that comes along with trial period access. Introduce the option to cancellation of subscription and process refunds as soon as requested. Send email to inform such processing details on registered email.
Redirect the customers to a different page once the payment is done to impress them for the next purchase. Enhance the comeback chances of your customers as enhance the experience of users through the integration of Authorize.Net. Accept the national or international transaction smoothly from anywhere and administrate the entire process with dashboard availability.
Price – Regular License – $20/Lifetime
Screenshot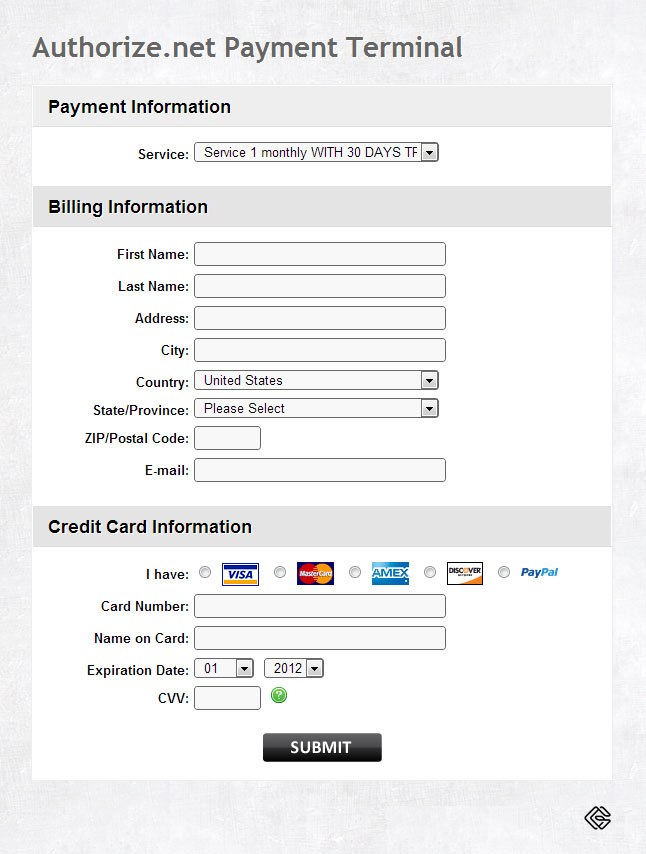 Conclusion –  In our suggestion We recommend using payment plugin only from verified sellers like woocommerce or yith. However, in our Research, we have found that one specific plugin is recommended the authorize.net it had recommended that is woocommerce-Aim as their official plugin for accepting payment in woocommerce stores.