7 Best Push Notification Plugins For WordPress 2019
In this article, we will be learning about premium and free Best Push Notification Plugins For WordPress for desktop & mobile push notification system. As a way, we are receiving notification on our mobile platform in the same way you can send a notification to all your website visitor who subscribed to your push notification alert.
All the visitors who visit your site do not return. Email messages are the old ways to promote your website content. Now we have better options than that option that pushes notification. You can automatically tell your website subscribers that you have published new content. That notification will be having a custom message and can send any time. Mostly when the visitors visit your website they get the option to either allow or block the popups box. Once they click on "Allow " that means they are subscribed to your notification
What is Web push notification how does it work?
It is the kind of message that is sent by a website owner about his new post or its product to his website visitor. It appears on our browser, mobile etc.  Basically, they use to call back your visitor on the website either to buy products in the case of an eCommerce website or to read a blog in the case of a blogging website.
Now we will learn about push notifications example and how they work?
Whenever you visit any website You will get a notification popup that you can block or allow.


Once you accept it then you are ready to receive the flash messages.
Now once the owner of the website publishes a post or want to say anything new about the website like flash sales then you will get a notification like this.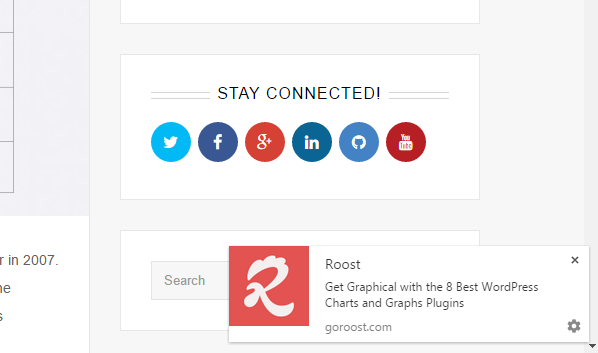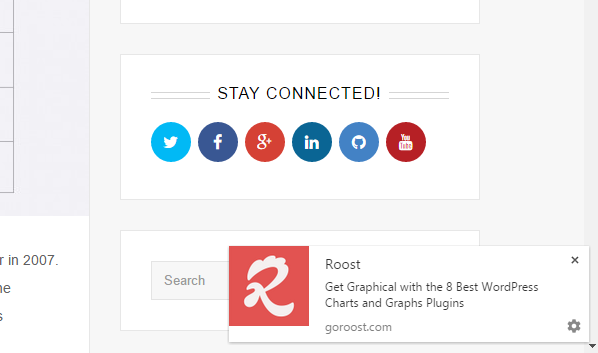 Benefits of using Push Notification
Now we look into the real benefits of using push notification.
Increased Traffic –   You can tremendous amount of traffic in just one click just by sending push notifications to your website subscribers. 
Highly Cost-effective – You can save 1000's of the dollar when you choosing the right tool for your subscribers like PushEngage. email marketing or any other campaign needs lots of investment And that is a lot of life. You can even target your customer based Geolocation.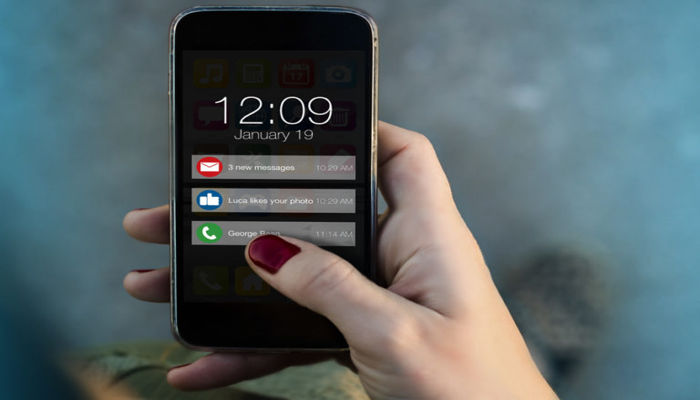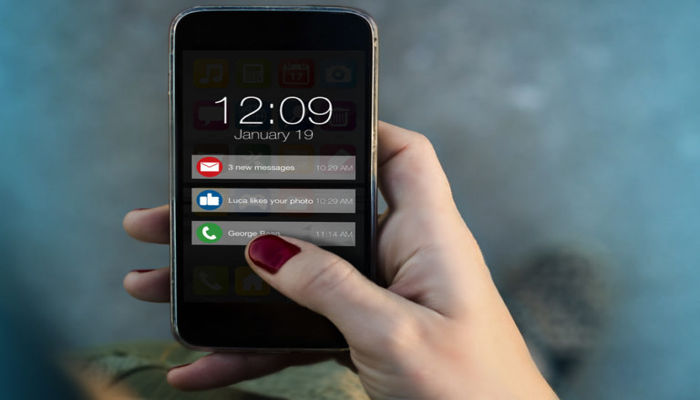 CTR value increase – On average click-through rate for push notification is around 10 – 40 % which is much higher than email marketing. When we talk about email marketing the ctr value is 3 – 5 %. Because so many people every day gets 100's of email.
Deep analytics – You can get detailed behaviours of customer retention, Bounce rate ctr etc.
Easy and Quick Setup – You can easily set up this in your website without having lots of technical knowledge.
Boost sales – If you are running the eCommerce website then it will help you a lot to increase sale. Any time you can run a flash sale and notify your user.
The negative effect of Push notifications
Initially when you start doing this service on your website and when people start subscribing to your feed then the owner take this as they are the boss. They keep on spamming the visitor with continuous notification. Once you start doing so people get frustrated and they start unsubscribing them. So the final say is don't abuse such a feature.
Now let's have some Best Push Notification Plugins For WordPress for desktop & mobile push notification system list are as follows:

1. PushEngage
PushEngage is one the Best Push Notification Plugins WordPress for desktop & mobile push notification system which offers the user to send push notification directly without having to leave the WordPress dashboard. Automatic notifications are sent at the time of publishing a new post. It is very easy to install and use by just adding the API key.
Features
It supports multiple browsers.
Users can be reached even when they are on the website.
It reduces unsubscribes by old notification capping.
It supports multiple languages.
It sends automatic notifications by RSS feed.
The notifications can be scheduled as per want.
Messages can be personalized using custom segments based on geography or where the visitor has signed up for the form.
It provides multisite and multiuser login with access control.
Supported Browser – Chrome, Firefox, Chrome for Android, Samsung internet browser and safari
The real result of push engage service 

Learn How PushEngage Works
PushEngage Introduction - A Leading Web Push Notifications Platform
Total number of user – 3,000+

Price – Free – $0, Business Plan – $25,  Premium Plan – $50, Enterprise Plan – Custom

Free
Premium
2. PushAssist
PushAssist is the second Best Push Notification Plugins WordPress which is trusted by thousands of WordPress and WooCommerce site owners, marketers and developers worldwide. It is comprehensive push notification for WordPress blogs and websites.
It helps the website to re-engage customers with targeted push notifications. Using this plugin all the required libraries are automatically installed in the website post account verification. It works by sending the visitors the option to receive push notification which if chosen makes them loyal readers.
Features
It gives instant notifications.
It automatically sends notifications on new and updated posts.
It allows the user to use their own GSM keys for push notifications.
It works for both HTTP and HTTPS websites.
It provides easy to use rest APIs available through secure HTTPS to send and receive data.
The site logo can be added to the push notification.
Total number of user -- 400+

Price – Free – $0, Starter Plan – $9,  Business Plan – $25, Elite Plan – $299
Premium
Free
3. Speedy Push
Speedy Push is an open-source easy to use plugin which has been highly recommended for WooCommerce. The websites using this plugin sends web push notifications on the desktop and mobile devices to visitors who allow notifications even when they are not using their websites or their computer is switched off.
Features
It can send unlimited push notifications and can have unlimited subscribers.
It has easy Google Analytics integration.
The expiration date for notifications can be chosen.
Different types of registration screens can be chosen.
Real-time or scheduled push notifications can be sent.
It has widgets for statistics.
It has Google Chrome desktop and mobile support.
All subscribers IDs are saved in the database.
It has a cookie cleaner for testing the registration template on site.
Notifications can be sent with cute emojis.
Total number of user – 84 
Pricing – Regular License – $35, Extended License – $500

Premium
4. One Signal
One Signal Free Web Push Notifications plugin is very widely used. It is a complete solution for WordPress blogs and websites. The user can opt-in to receive push notifications whenever a new post is published even if they have left the website.
This plugin makes it easy to configure delivering notifications at present intervals, customize the opt-in process and target notifications to specific users.
Features
It supports Firefox and Chrome on both HTTP and HTTPS websites.
The notifications can be seen delivered in real times.
The opt-in for the visitors can be customized as when webmasters want them to receive the option.
Automatic notifications can be sent every time a new post is published.
Notifications can be scheduled to be delivered at some specified time.
Different types of messages can be seen to see which works the best and subsequently more effective messages can be sent.
Total number of user – 100,000+

Price – Free Plan – $0, Growth Plan- $9/month, Professional Plan – $99/month, Enterprise- Custom
Free
Premium
5. Roost Web Push
Roost is a plugin by Roost which allows websites to send notifications for their updates and new posts. It supports Chrome and Safari.
Features
It offers the Bell which is on-site notifications and provided in all browsers.
It gives notifications in Chrome and Firefox.
It automatically sends notifications to readers while creating a new post.
The user can decide when and how the subscription prompt is shown to visitors.
It provides a chart with detailed metrics about the visitors right into the WordPress dashboard.
The post notification can be scheduled conveniently.
It also has manual post mode.
The categories which should trigger a filter can be chosen.
The notification headlines can be customized.
Total number of user – 600+ 
Free
Premium
6. PushNifty
PushNifty is considered one of the smartest way to re-engage visitors once they have left the site. These days our mailboxes are filled with spams and junk emails. Nobody reads them but Pushnifty notifications are very attention-grabbing.
Features
They are easy to opt-in.
Loyalty purchase can be increased using Customer Retention.
It helps the sales by teaming with conversions.
It reveals quickly which push formats work best.
With it, notifications can be sent at the right time to the target audience.
It uses a cloud-based onboarding process that takes less than 15 minutes.
The plugin is highly scalable.
It comes with push templates.
The notifications can be scheduled conveniently.
Total number of user – 1,000+ 
Pricing – Starter Plan – $4, Basic Plan – $19, Plus Plan – $49

Premium
7. PushCrew
PushCrew plugin lets the user talk to theory subscribers in an easy and amazing manner using push notifications on the browser. If a user installs the PushCrew plugin then PushCrew Smart Code is automatically inserted into the WordPress website.
This plugin helps users to get amazing returns on communications as the opt-in and click rates increases drastically. It is simple and easy to use and helps to boost the economy of e-commerce websites.
Total number of user -- 2,000+

Price – Startup – $0, Premium Plan  – $25, Business Plan – $75 , Enterprise Plan – Custom

Free
Premium
Conclusion – Still confused about which is the Best Push Notification Plugins WordPress. Relax my brother I will give you a simple suggestion. If you want to spent only once then go with a speedy push. But if you want to spent and create a better impact on visitor then go ahead with PushEngage that is the Best Push Notification Plugins WordPress. If you want completely free then go ahead with one signal which has lots of negative effects that I will be talking about in my next blog.