10 Best Stripe Payment Gateway Plugins For WooCommerce 2023
Planning to accept payments online and looking for Best Stripe Payment Gateway Plugin For WooCommerce? By adding this plugin, you can easily accept payments on your woocommerce website via credit card, debit card, or international card. Stripe provides a low transaction fee option and gets a warm welcome from the developer community owing to its flexible Application Program Interface (API).  

ECommerce WordPress website without a stripe WordPress plugin payment gateway is like a boat without sails. They thrive in co-existence. With about 94 payment gateways for your WP website supported by ECommerce, it is enough to give you a head spin. Cherry-picking can be pretty cumbersome here. No worries, our informative blog will help you choose the right Stripe WordPress plugin for your WordPress website.   Most of the strip is used by the membership WordPress website. Let's say you are running a yoga studio, Fitness consultation, church, Charities, consultants, or Coach. Then you must accept recurring payments that can easily be done with WordPress Stripe Payment Gateway Plugin. If you are looking best membership plugins, then you can find them here.   Why should We use strip payment mode on your WooCommerce website?
Setting up and integrating is relatively easy.
When we talk about charges, Stripe takes only 2.9% + 30¢ per successful card charge and no other hidden charges.
Easy payment for customers.
Used by most prominent tech companies like Woocommerce, elegant themes etc.
And the best part of the strip is that it doesn't add any technical knowledge to integrate.
Even you can create a subscription method like monthly or yearly automatic for your customers.
  Below here, we have compiled the top Stripe Payment Gateway Plugins For WooCommerce, which are as follows:    
1. WP Simple Pay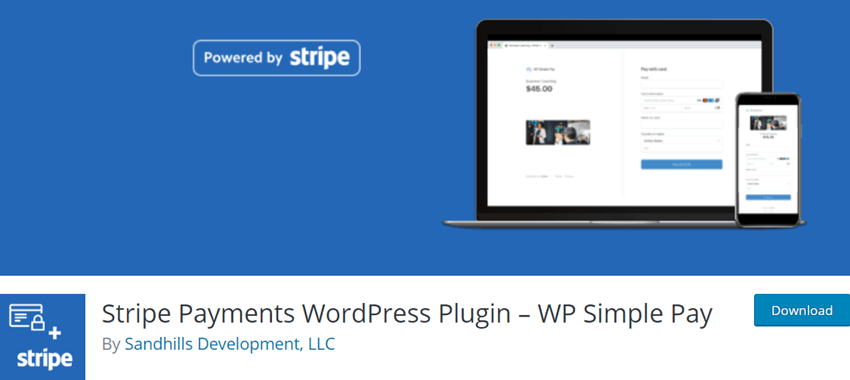 WP Simple Pay is an amazing woocommerce Stripe Payment plugin that lets you establish the simple and secured payment functionality accompanied by Stripe. An integrated plugin comes with many features required to manage payment acceptance widely. If your website deals with online payment for any service rendered and product distribution, WP Simple Pay is a must-have plugin for you. You don't need to go through the cart and checkout configuration. All you need to do is set up the payment form, and everything about payment processing will automatically continue right there.
Moreover, to work with WP Simple Pay, you don't have to install any other addons or extensions. This WordPress Stripe Payment plugin supervises every payment activity on its own smoothly. Reasons to select WP Simple Pay –
Presents drag-and-drop features to create custom fields, whichever is required to keep on your payment forms, such as coupon codes,  subscription plans, and more.
It consists of three different display types, i.e., overlay, embedded, and Stripe Checkout Payment Form. Select any one of these, whichever is best suited to your site.
You can utilize Stripe as the checkout page for payment, however, you cannot modify the configuration as it configured itself accordingly.
Set the payment structure with flexibility to pay by your visitors either payment at once or at their convenience, along with great discount offers.
They offer a 100 % refund of paid money within 30 days in case you are not satisfied with the service – and an honest approach.
Remarkable features include coupon/voucher codes, stripe subscription, easy pricing, Table Integration, unlimited payment forms, etc.
Easy, simple payment form which can easily connect Stripe with WordPress.
Now your customer can also avail of Google Pay and Apple Pay on the checkout payment page.
Easy setup of Subscription plans, fees, instalments, and recurring payments.
  Total number of users – 10,000+ Price – Personal – $99/annually (1 Site), Plus – $149/annually (3 Site),  Professional – $249/annually (Unlimited Site),  Ultimate – $499/Lifetime (Unlimited Site)  
  Screenshot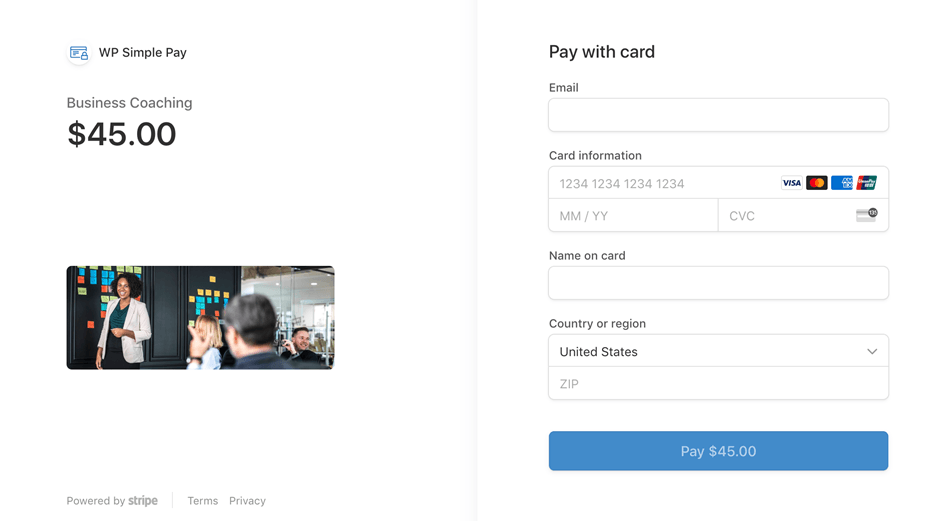 2. Easy Digital Downloads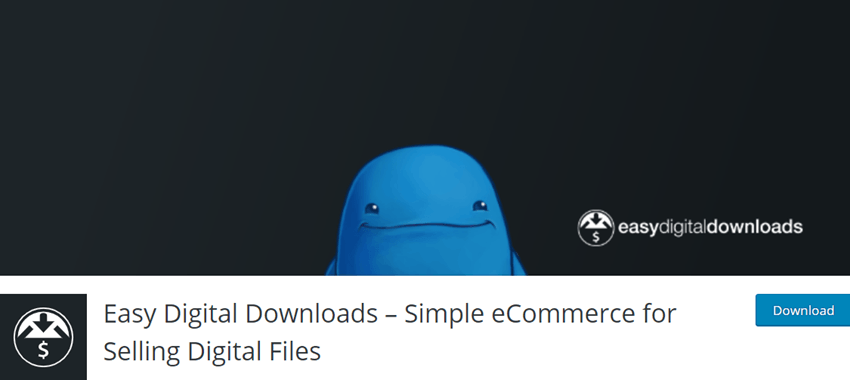 Easy Digital Downloads is one of the top woocommerce Stripe Payment plugins for your eCommerce websites, where online payment is an essential part. Let your users easily and more conveniently pay for their purchase and the service rendered. You can easily access your customers to pay securely via stripe processing. Ensures best offers to them which lets them easily purchase anything from your website. Easy Digital Downloads contain easy-to-use functionality whereby you can configure and customize the payment form within a few clicks. Although, Stripe integration eases credit card payment accessibility without any complexities. Essential Features –
Enrich Revenue – While accessing with attributes like on-site checkout, subscription option, and card accessibility provides you with a comprehensive way to make more revenue than ever before.
Checkout On-site – Allow your users to securely pay the amount directly on the website right there they purchase, even without redirecting elsewhere to complete the payment process.
Accept Digital Wallet – As Stripe accepts payment from different popular digital platforms such as Microsoft, PayGoogle Pay, Apple Pay, and others. Assure your users to save the payment details as default for future payments.
It gives a hassle-free experience of recurring and annual payments on your WordPress website without creating any shopping cart. A quick and easy solution for business owners, beginners, developers, and consultants.
Easy to accept credit cards while selling digital products.
  Total number of users – 50,000+ Price – Personal Pass – $99/annually, Extended  Pass – $199/annually,  Professional Pass – $299/annually,  All Acess Pass – $499/annually (Unlimited Site)  
  Screenshot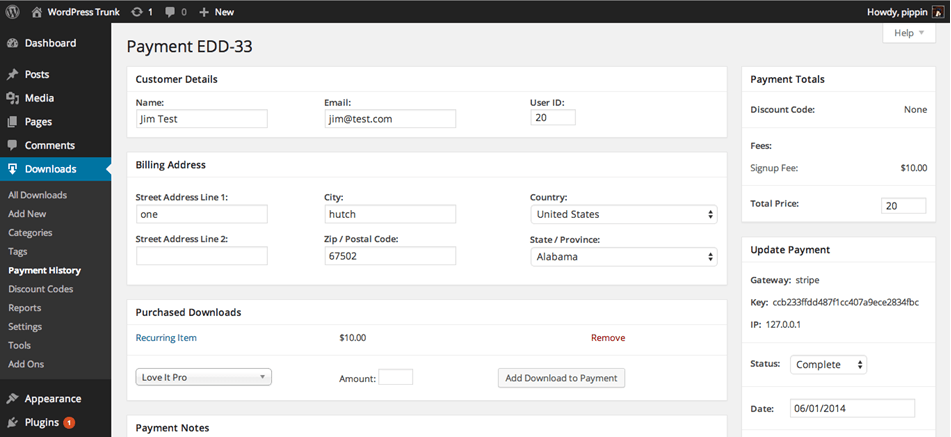 3. WooCommerce Stripe Payment Gateway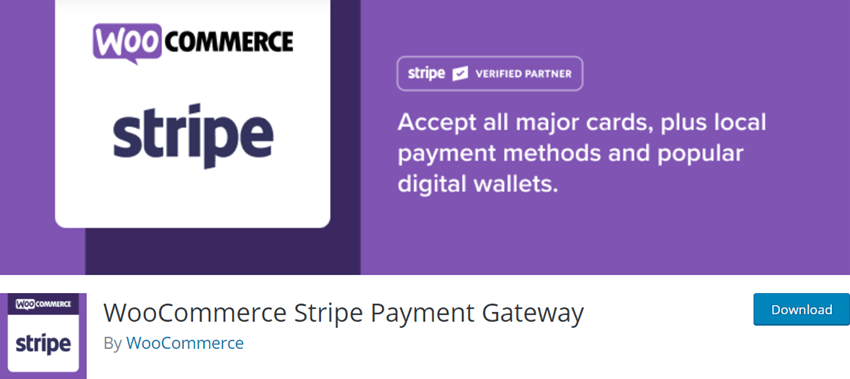 WooCommerce Stripe Payment Gateway Plugin lets you arrange systematic payment processing for purchasing and rendering services from the website. Accept payments through the digital platform while accessing the Stripe Payment plugin. Although, this WordPress plugin is lightweight and easily adjustable with another existing plugin. Provide your users with a better experience in making a payment with cards and other digital wallets. Let them ease payments and refunds within just one click right there, and it will be processing soon. Essential Features –
Payments Accessibility – Assures more secured payment through debit cards, credit cards, and other digital payments such as Google Pay, Stripe Checkout Payment Pages, Apple Pay, and more.
3D Secure – Allow your users to pay with cards while ensuring 3D security along with Strong Customer Authentication. Don't leDon't lose your customers either from outside India.
Subscription Extension – Establish a more smooth functionality of payment with a subscription extension that automates similar repeating payments for the products whichever can subscribe and sell.
Dashboard – This enables you to track the payments and record the same on your site, which assists well in monitoring the transactions at just a glance on the available dashboard.
Transaction Logs – Save the transaction log, particularly in a file, enabling you to view the path and log file whenever necessary to settle any disputes shortly.
Stripe payment forms Can easily be added to your Ecomerce site without having coding knowledge.
  Total number of users – 800,000+ Price – Free  
  Screenshot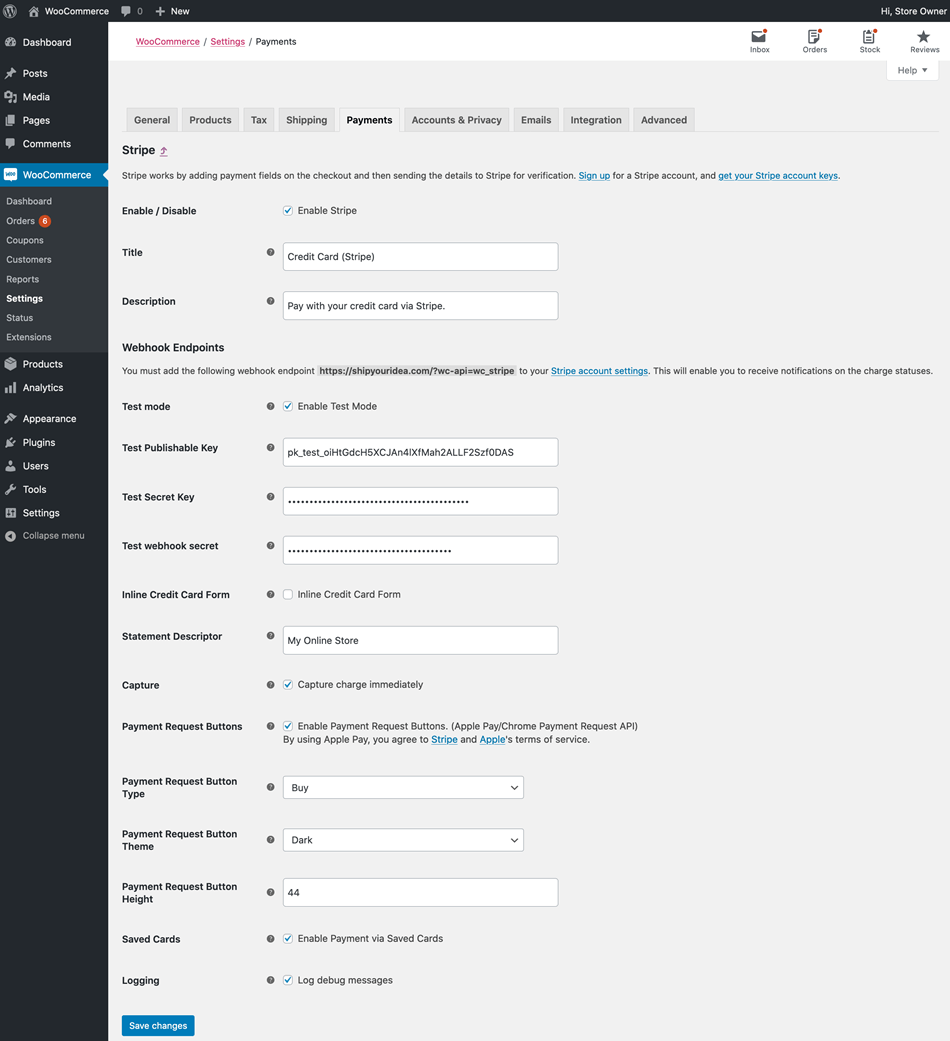 4. Accept Stripe Payments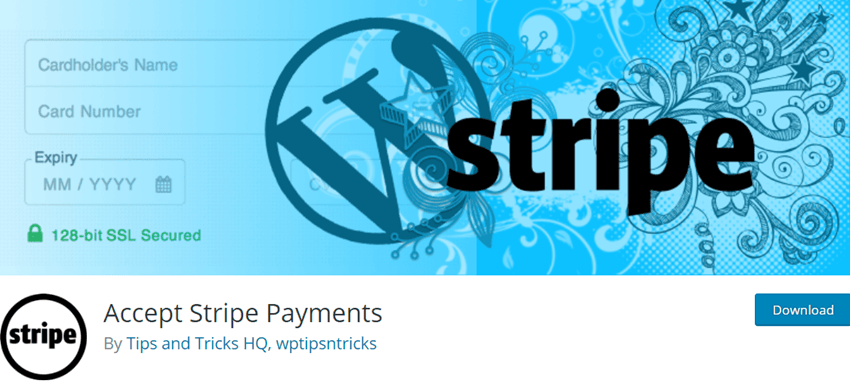 Yet another free WordPress Stripe Plugin that helps you to start accepting credit cards with Stripe on your WordPress website. Embedded with shortcode buttons allow you to add a BUY NOW button easily and hence a time saver. A device-friendly plugin is compatible with laptops, desktops, mobiles, or tablets. The WordPress admin panel allows you to check the history of all your payments on the orders menu of your plugin. This Stripe payments plugin will be the ideal choice for those looking for a free Stripe Payments plugin that can create simple Stripe payment buttons on your website. We hope this blog will help you find the best stripe payment plugin for WordPress and give you a secure payment experience. WooCommerce powers almost 28% of the online stores, with an outstanding 48 million downloads. You can sell not only products but also subscriptions to appointments. WooCommerce only supports payments through PayPal. Installation is free and accessible from the ECommerce site under the WordPress plugin repository. Many free and premium WooCommerce plugins are also available that can upgrade your ECommerce site.  
Total number of users – 40,000+  
Screenshot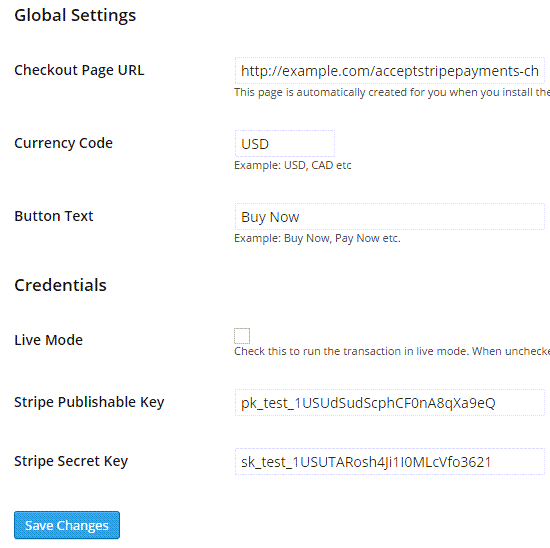 5. WebToffee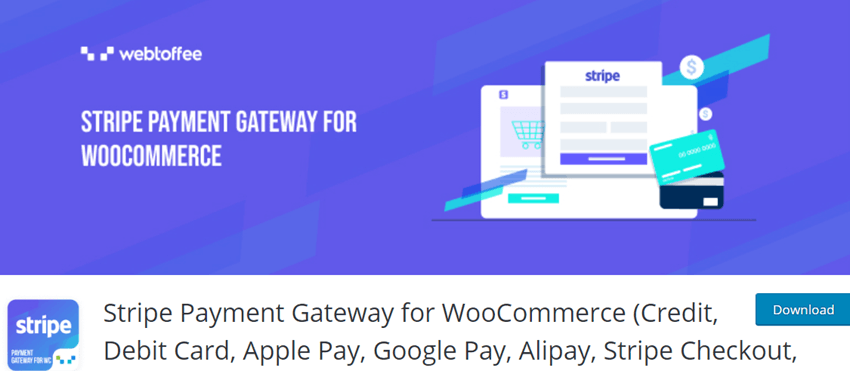 Stripe Payment Gateway for WooCommerce Plugin is a freemium plugin. Extensively using the stripe payment gateway to accept payments online through Debit cards, Credit cards, Apple Pay, and Alipay. This means a frictionless experience for the customers as they do not have to leave your website. An integrated overview of stripe payments, ease of partial or full refund, the benefit of currency conversion to the customers, transaction receipt to the customers by email, and application of flat rates for Apple Pay payments are the added advantages. A Single site subscription costs $59, valid for 1-year support and a 30-day money-back guarantee. You are also eligible for a 50% discount on extending the subscription after one year. You can continue using the product even if you do not wish to extend it. The biggest reason to choose Stripe is that it comes for free and accompanies no hidden costs. You will be charged only when you start making money. Your money gets transferred to your bank account on a 7-day basis. A big-time saver as it saves previous payments as customers, and they can check out using the same card on their next purchase. You can easily set up Locale Currency on your site. Easily accept MasterCard, Discover, Diners Club, Sofort, Giropay, Visa, SEPA, and American Express using this stripe plugin.  
Total number of users – 10,000+ Price – 1 Site – $59/annually,  5 Site – $89/annually,  25 Site – $189/annually  
  Screenshot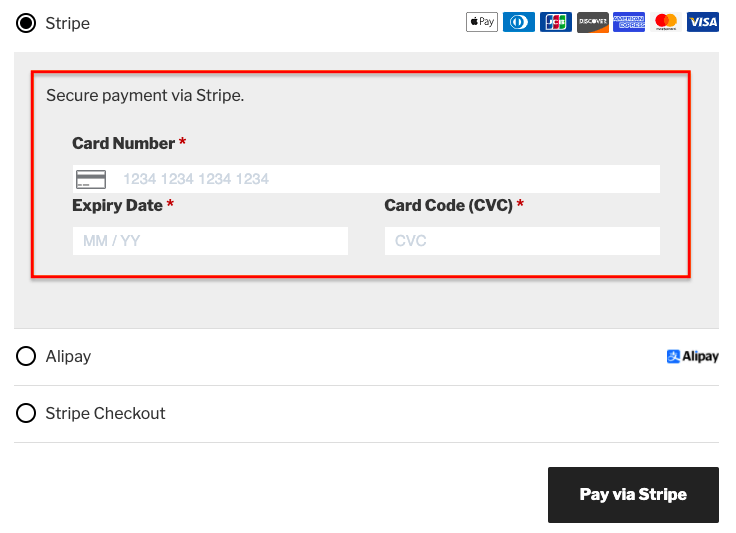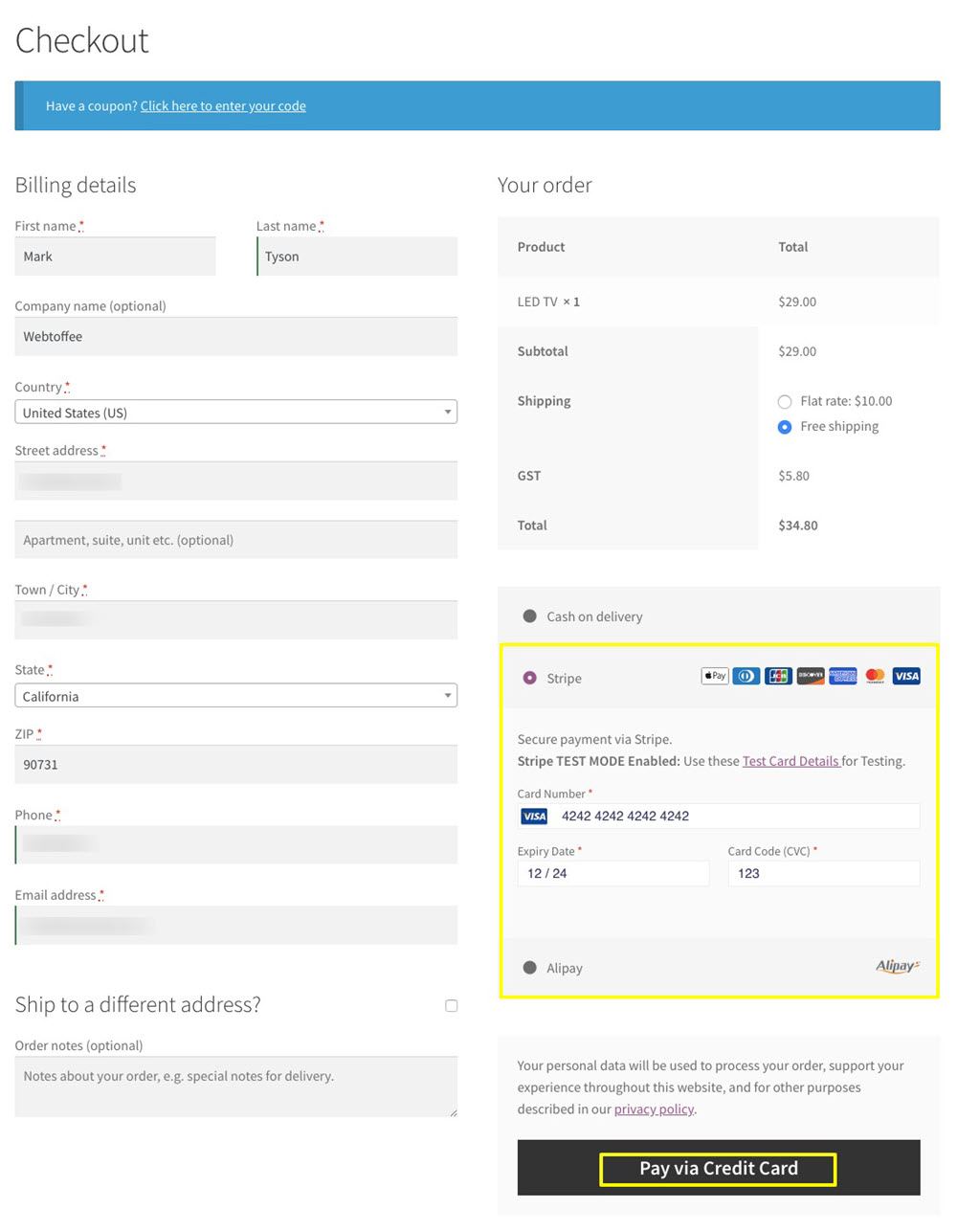 6. GetPaid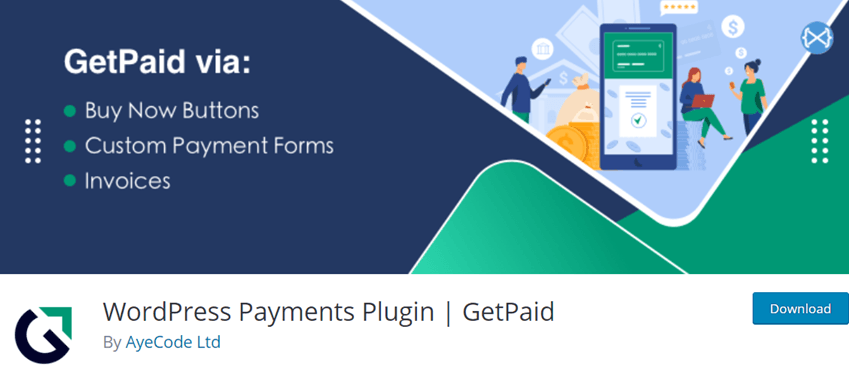 GetPaid is a free Stripe Payments plugin for WordPress which lets you accept credit card payments online by streamlining the on-site checkout with more security and authenticity. An extensive and lightweight Plugin utilizes for hassle-free payment processing and saves the logs of each transaction. Ensure your reliable customers access end-to-end encryption while making payments with credit and debit cards. Although, it accepts payments widely from the different regions of the country and outwards. It supports multi-currency and multi-language, which lets you engage more customers from foreign countries and ultimately increases profitability. Why GetPaid is the Best Payment Gateway? 
Integrated with the most trusted payment processing, i.e. Stripe enables your website to accept digital payments via Google Pay, Apple Pay, and more.
Enables single and recurring payments with the same security and authentication.
Allow your users to manage the subscription of products or any online service right there. Let them subscribe or cancel anytime without redirecting elsewhere.
Remember the details of login once any customer makes a profile there and also avails you the right way to save the payment details as default for future payments.
Payment Confirmation Details can be customized for drag and drop Payment Form Builder.
Easily accept MasterCard, Discover, Diners Club, Sofort, Giropay, Visa, SEPA, and American Express using this WordPress Stripe Payment Plugin.
  Total number of users – 4,000+ Price – Unlimited Domain – $99/annually, 100 Domain Lifetime – $495/Lifetime  
  Screenshot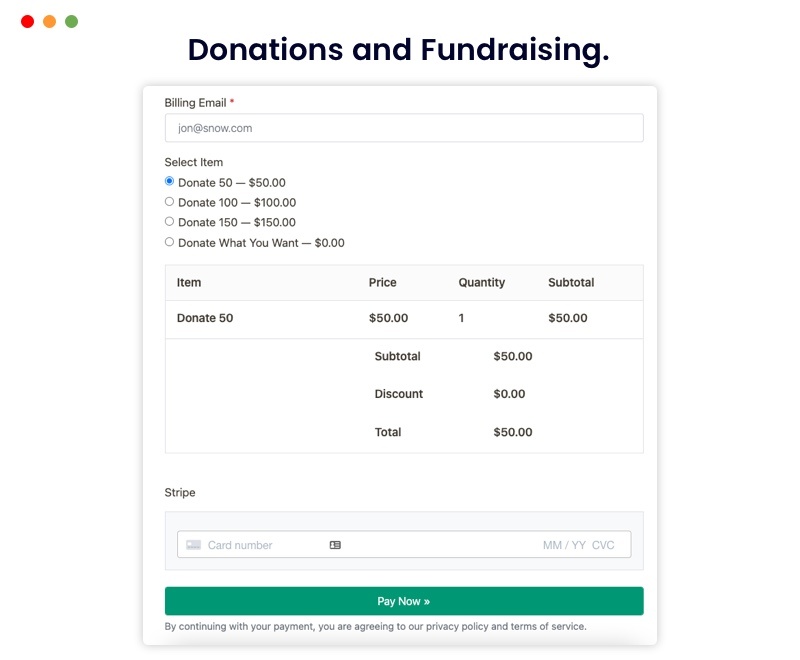 7. Tribulant

Stripe payment gateway Plugin for WordPress enables you to accept credit card payments on your WordPress site with the help of the WordPress Shopping Cart module. It allows the payment to be handled and charged legitimately on your charging page. Here are some of the highlights of the WordPress Shopping Cart Plugin :
Adaptable configuration: This means that the module provides you with flexible design techniques so that you can easily fill in details related to your Stripe and name the payment technique varying.

Stripe Dashboard: they furnish you with a stunning merchant dashboard when you utilize the Stripe payment gateway. This allows you to see every one of your exchanges, clients, and so on.

Fast checkout: the checkout facility provided is much faster and more accessible as it consistently keeps the clients on your site while they fill in the details of their credit card to be prepared and charged.
  Price – Single Domain – $15/annually, Unlimited Domain – $45/Lifetime  
  Screenshot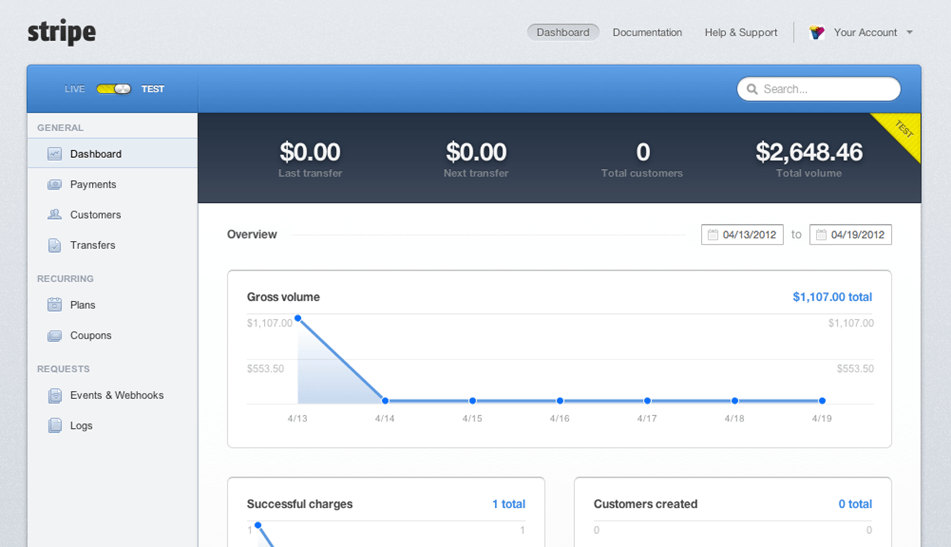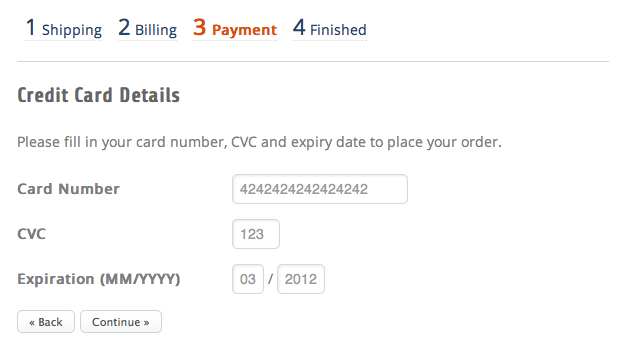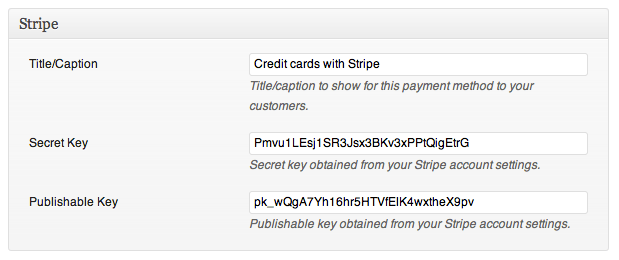 8. YITH-WooCommerce-Stripe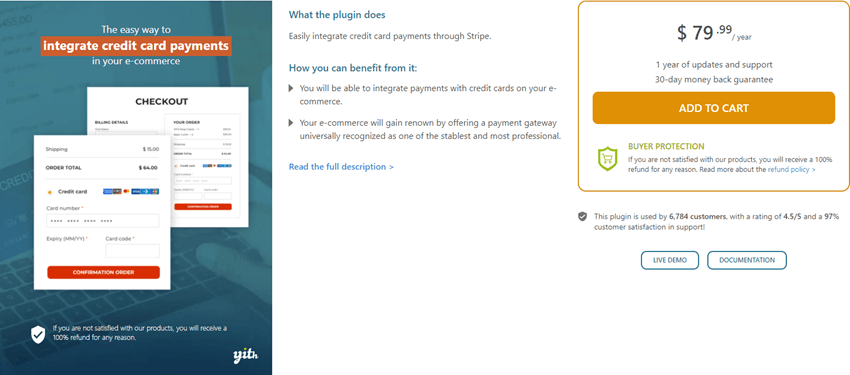 YITH WooCommerce allows the integration of credit card payments into your website so that you don't have to refer to any other site for payment. Processing payments using a credit card is speedy, simpler, and quicker, which helps customers make more purchases. You can also save your time and devote it to other things of priority. This plugin has made it possible to support payments from many countries, making it easy for you to grow your business. Stripe is a WooCommerce augmentation that can incorporate a new payment gateway into the ECommerce website and ease up the payment process through credit cards directly on the stripe.com interface. The interface works on touch ID rather than credit card or shipping details, offering a smooth transaction procedure. Available in the USA, Canada, UK, Australia, Belgium, France, Germany, and many other countries. Being coherent with WooCommerce, this plugin helps you to create an online store that can online accept payment through the API of Stripe. Added features are protection against fraud, flawless security features, tracking partial or full refunds, and access to international customers through basic currency conversion. To integrate credit card payment for your e-commerce site, you can use Stripe. It helps your site to gain more popularity, look professional, stable, and universally recognized by offering a payment gateway. Credit card payment helps build brand image and customer loyalty.
Price – Single Site – € 69,99  
  Screenshot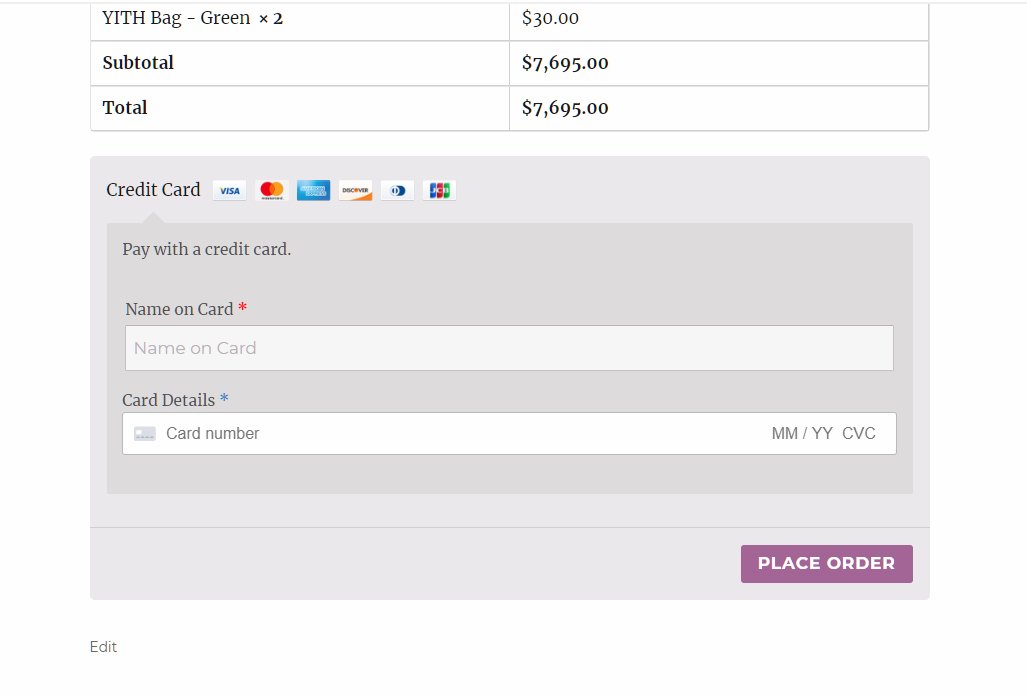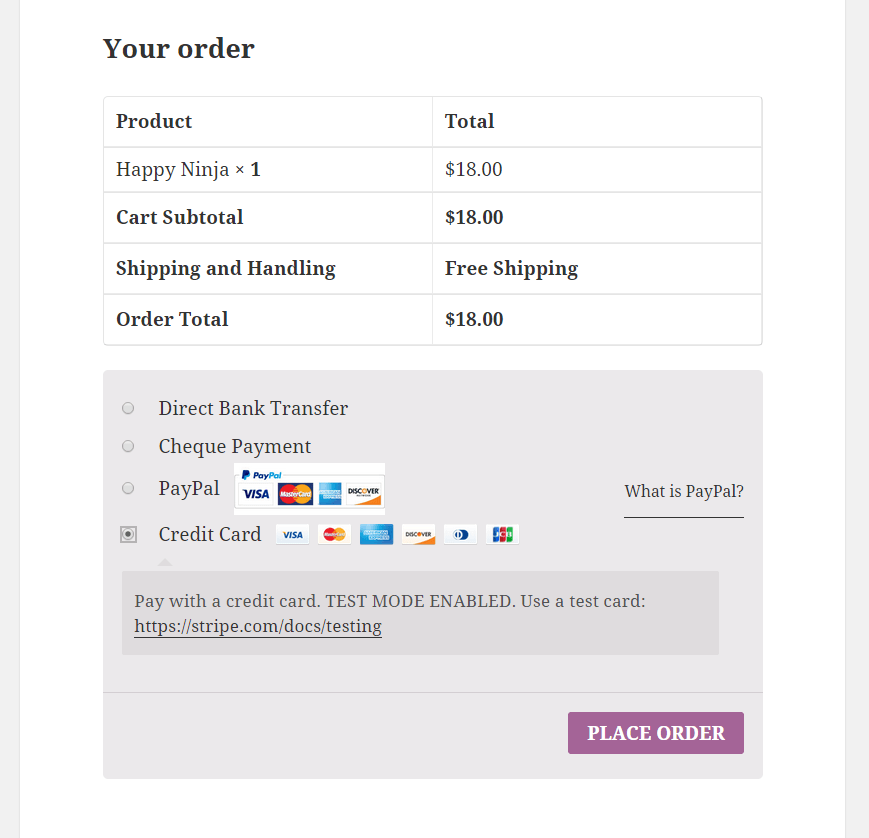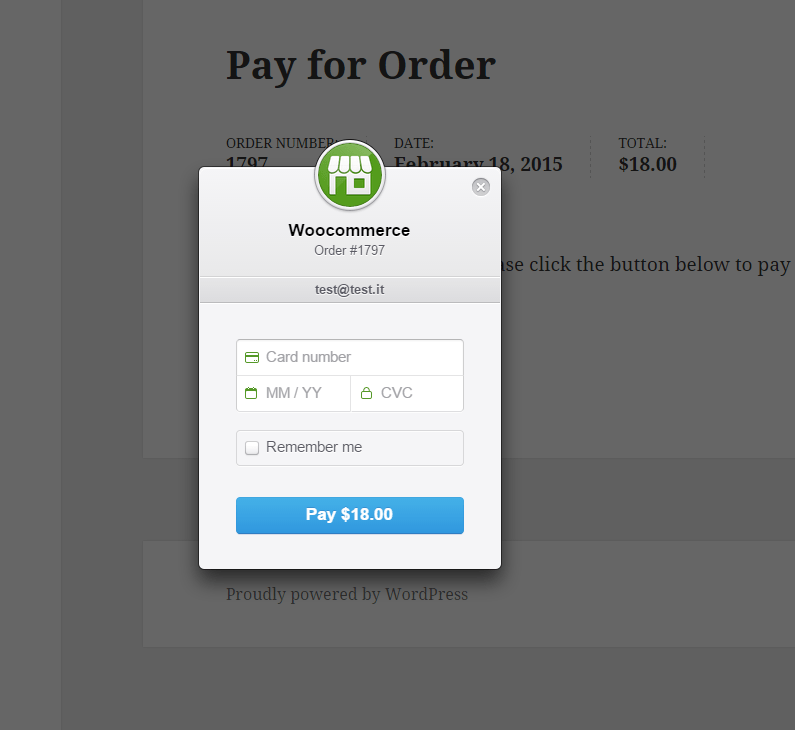 9. GravityForms

Now, let's GravityForms a standard design, that is, using a form plugin alongside while using Stripe for WordPress. Using Gravity form addons, you can easily accept payments online through your website contact form. If you ask, why use this form plugin? Because it provides adaptability to include your custom fields in the process of checking out.
It allows us to capture credit card payments when the form is submitted spontaneously.

It helps you to arrange your form so that the users created with the user registration plugin are only made after payment is finalized.

Payment subscriptions are repeated with setup and arranged Stripe.

With the help of a one-time credit card payment, the products could be sold in just a few minutes.

It works fine with User Registration,  Recurring Payments, Products and Services, and WordPress post.
This plugin can accept payments through all Google Pay, Apple Pay, major debit, and credit cards.
There are no hidden fees included with this plugin, and frauds can easily be detected using machine learning which covers all stripe networks.
  Both Recurring and One-time payments can be made using Stripe.
Note – Gravity Forms Stripe Add-On Only available with pro and elite license   Price – Basic License – $59/annually (1 Site),  Pro License – $159/annually (3 Site),  Elite License – $259/annually (Unlimited)  
10. WP Full Stripe

Stripe payment gateway is the one-stop solution for all your payment problems. It is a payment plugin that can also be used to buy subscriptions for your WordPress site. Stripe is a powerful payment processing platform that provides users with many payment processing tools. It is a robust and popular plugin helpful for subscription businesses, marketplaces, and in-person retailers. The dual advantage is accepting the payments and creating subscriptions from your WordPress site. Integrates payment forms into any page and does not involve any third-party payment website involvement.
This plugin is helpful for you if you want to collect payment for your services. It is beneficial for you if you are in an online, professional, or consulting service. There is a donor platform if you want to accept donations. This plugin is a reliable plugin to sell your products. You can get paid for selling physical goods, providing information about products, and selling software. Customers' credit cards are automatically saved so that you can charge them later in subscription-based products.
To add the payment for a seamless checkout experience and give invoices easily to customers with a few clicks, you should use this plugin. The payment forms are fully customizable, and the plugin supports every theme. Incorporated shipping address forms, accurate subscription pop-up buttons, ease of language selection, multiple payment forms on one page, and payment security are some of the key features. Because of its reliability, security, and user-friendly setup, customer-facing business stripe has become very popular among users across the globe. You can integrate any form on your WordPress website with Gravity Forms Stripe Add-On. Creating a Stripe account is easy, you need to integrate Gravity Forms and start making payments on your website.
Price – Regular License – $49/Lifetime (1 Site)  
  Screenshot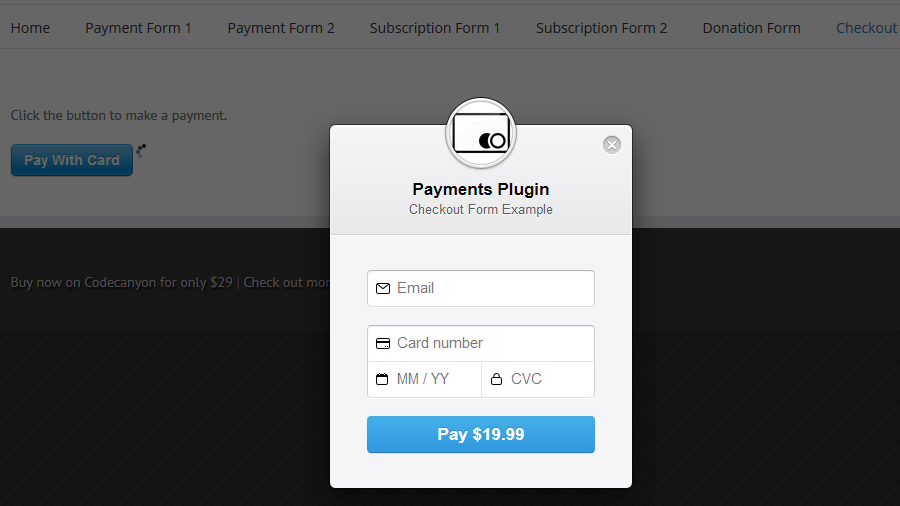 Conclusion – Still confused about which is the perfect Stripe Plugin to accept payment online? Don't geDon'tfused, my friend, if you are looking for free, then I will recommend you choose wpsimplepay. But if you are looking for a premium, go ahead with a wpsimplepay pro that is worth buying. To sell a digital product, you must choose easy digital downloads.   You may also be interested in USPS Shipping Plugins, Abandoned cart plugins, and Fomo Plugins.