6 Best Stripe Payment Gateway Plugins For WordPress 2020
Are you looking for Premium or free Best Stripe Payment Gateway Plugin For WordPress ?  By adding this plugin you can easily collect payments on your WordPress eCommerce website via credit card or debit card or international card easily . Stripe provides a low transaction fee option and gets a warm welcome from the developer community owing to its flexible Application Program Interface (API).
ECommerce WordPress website without a stripe WordPress plugin payment gateway is like a boat without sales. They thrive in co-existence. With about 94 payment gateways out there for your WP website supported by ECommerce, is enough to give you a head spin. Cherry-picking can be  quite cumbersome here. No worries our informative blog will help you choose the right Stripe WordPress plugin for your WordPress website.
Most the strip is used by membership WordPress website . If you are looking best membership plugins then you can find it here .
Why We should use only strip payment mode in your WooCommerce website ?
Setting up and integration is quite easy .
When we talk about charge stripe takes only 2.9% + 30¢ per successful card charge . No other hidden charges .
Easy payment for customers .
Used by most of the big tech companies like Woocommerce , elegant themes etc etc .
And best part of strip is that it doesn't need to add have any technical knowledge to integrate  .
Even you can create subscription method like monthly or yearly automatic for your customers .
Below here we have compiled 6 Best Stripe Payment Gateway Plugins For WordPress which is as follows:
1. WP Simple Pay


Gives a hassle free experience of both recurring and annual payment on your WordPress website without creating any shopping cart. A quick an easy solution for business owners, beginners, developers and consultants.They offer a 100 % refund of paid money within 30 days in case you are not satisfied by the service – an honest approach. Remarkable features include coupon/voucher codes, stripe subscription, easy pricing, Table Integration, unlimited payment forms etc.
Total number of user  – 10,000+ 
Pricing  – Personal Plan – $49 (For single site), Business Plan – $99 (up to 3 sites), Elite Plan – $249 (up to 25 sites) – All plans are billed annually

Free
Premium
Screenshot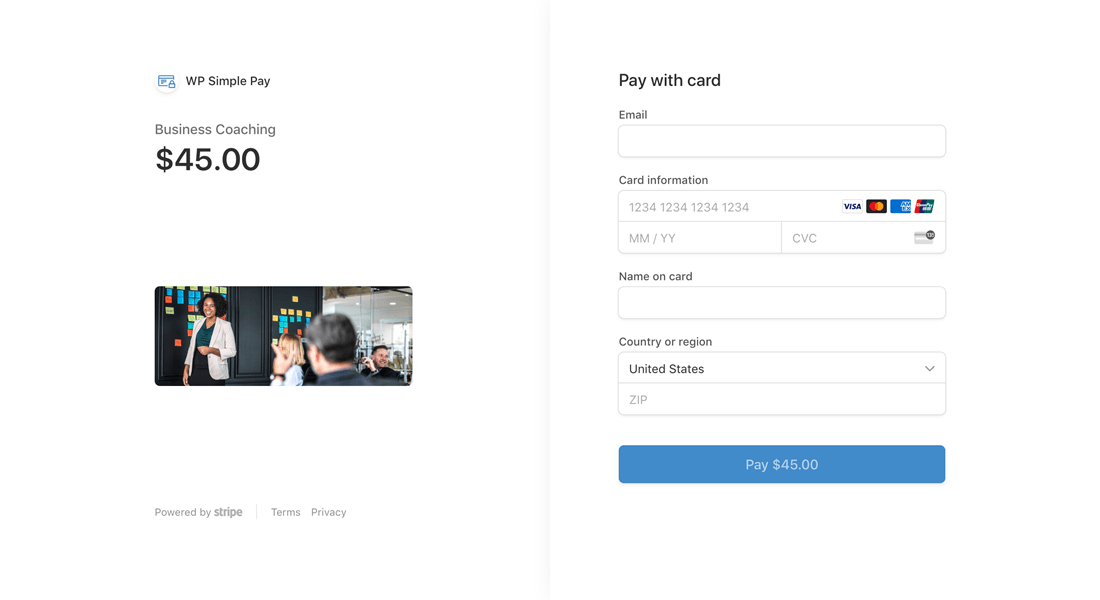 2. YITH WooCommerce Stripe

Stripe is a WooCommerce augmentation that can incorporate a new payment gateway into the ECommerce website and ease up the process of payment through credit card directly on stripe.com interface. The interface works on touch ID rather than credit card or shipping details, hence offering a smooth transaction procedure .Available in USA,Canada,UK, Australia,Belgium, France,Germany and many other countries. Being coherent with WooCommerce, this plugin helps you to create an online store which can accept payment into it through API of stripe.
Added features are protection against fraud, flawless security features,tracks partial or full refund and access to international customers through basic currency conversion.
Cost ranges from $59-$189 depending on the license you buy.
Total number of user  – 2,000+ 
Pricing  – Single Site – € 69,99, 6 Sites – € 119,99, 30 sites – € 169,99  

Screenshot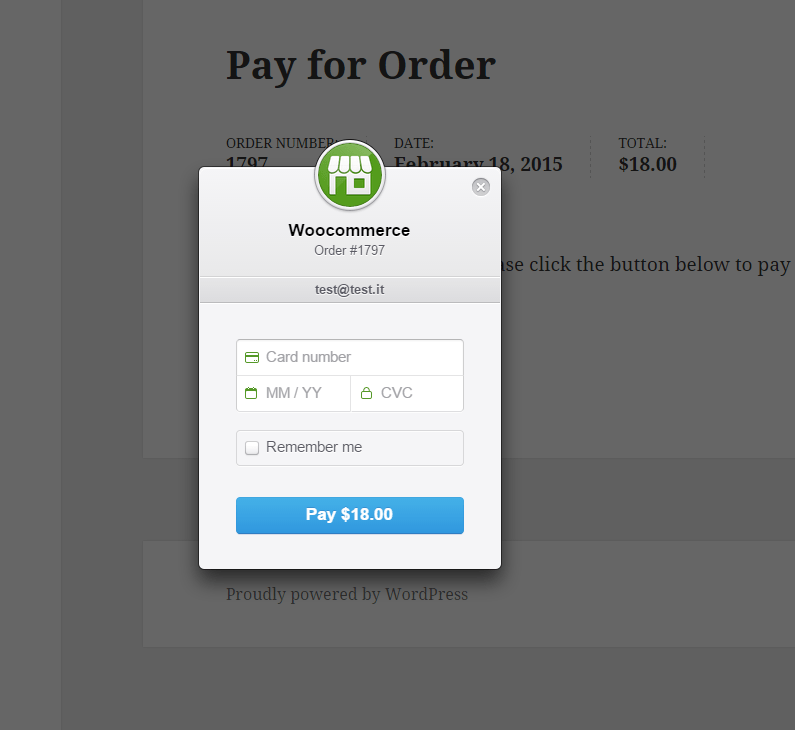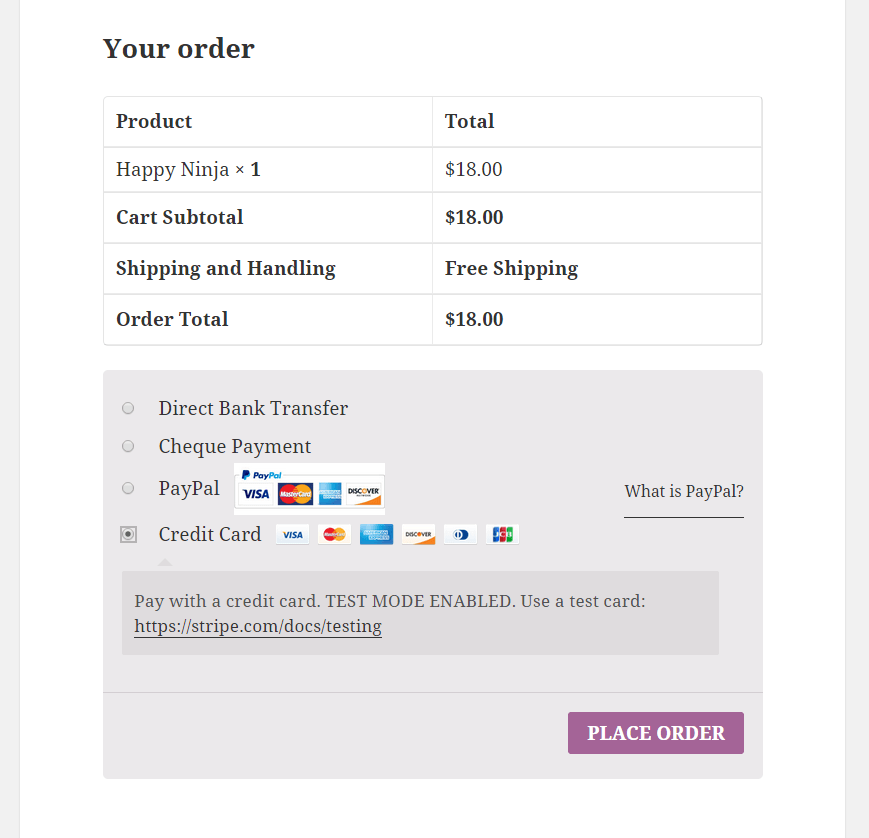 3. WooCommerce Stripe Payment Gateway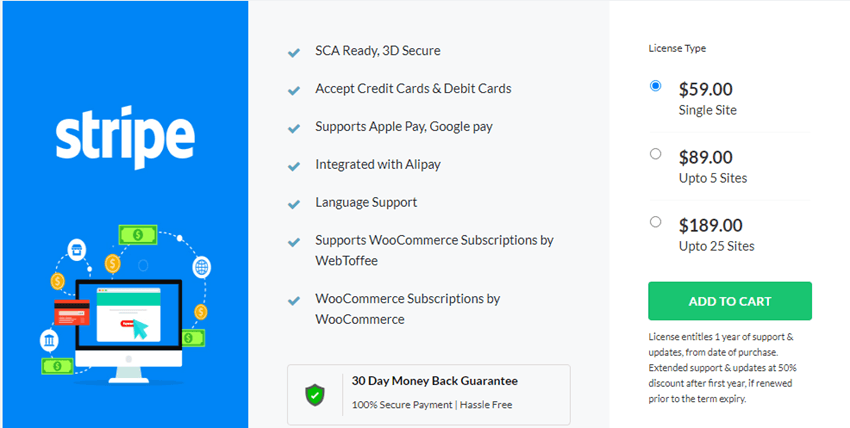 Extensively uses the stripe payment gateway to accept payments through Debit cards,Credit cards, Apple pay and Alipay. This means a friction-less experience for the customers as they do not have to leave your website.
An integrated overview of stripe payments,ease of partial or full refund, benefit of currency conversion to the customers, transaction receipt to the customers by email and application of flat rates for Apple Pay payments are the added advantages.
A Single site subscription cost $59 valid for 1 year support and 30 day money back guarantee. You are also eligible for a 50% discount on extending the subscription after 1 year. You can continue using the product even if you do not wish to extend it.
Pricing  –  Single Site – $59, 5 Sites – $89, 25 sites – $189
Premium
Screenshot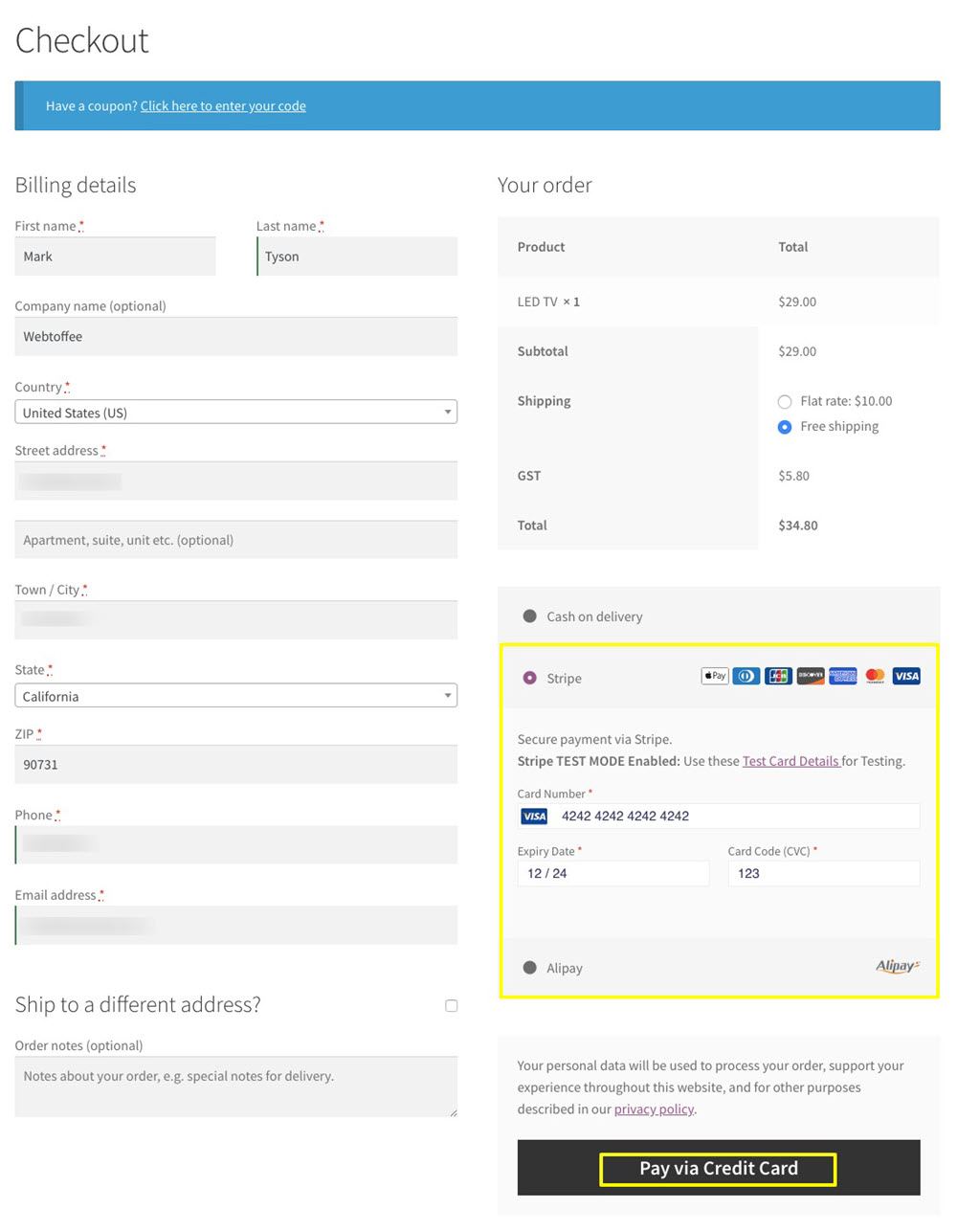 4. WP Full Stripe

Dual advantage of accepting the payments and creating subscriptions as well, from your WordPress site. Integrates payment forms into any page and does not involve any third party payment website involvement. Compatible with WordPress 4.0.0+ version and the latest version 4.9.4.The payment forms are fully customizable and the plugin supports every theme.
Incorporated shipping address forms, an accurate subscription pop up button, ease of language selection, multiple payment forms into one page and payment security are some of the key features.
At a simple pricing of $39 you can install the plugin on 1 website. The extended license cost $184 per year..
Total number of user  – 2,900+ 
Pricing  – Regular License – $39, Extended License – $184 

Premium
5. WooCommerce Stripe

Considered as the best ECommerce plugin for WordPress, WooCommerce powers almost 28% of the online stores with an outstanding number of 48 million downloads. You can sell not only products but also subscriptions to appointments.
WooCommerce only support payments through PayPal. Installation is free and easy from the ECommerce site under the WordPress plugin repository. Many free and premium WooCommerce extensions are also available that can upgrade your ECommerce site.
The biggest reason to choose stripe is that it comes for free and accompanies no hidden costs. You will be charged only when you start making money. Your money gets transferred to your bank account on a 7 day basis. A big time saver as it saves previous payments as customers and they can check out using the same card on their next purchase
Total number of user  – 500,000+ 
Free
Free
Screenshot

6. Stripe Payments


Yet another free plugin that accepts credit cards via stripe on your WordPress website. Embedded with short code buttons allow you to add a BUY NOW button with ease and hence a time saver.
A device friendly plugin that is compatible with laptops,desktops,mobiles or tablets.
The WordPress admin panel allows you to check the history of all your payments on the orders menu of your plugin. Stripe payments is the best choice for those who are looking for a free stripe plugin than can create simple Stripe payment buttons on your website.
We hope that this blog will help you find the best stripe payment plugin for WordPress and give you a secured payment experience.
Total number of user  – 10,000+ 
Free
Documentation
WordPress Stripe Payments Plugin Checkout Test and Demo
Conclusion – Still confused which is Best Stripe Payment Gateway Plugin For WordPress . Don't get confused my friend if you are looking for free then i will recommand you to choose wpsimplepay . But if you are looking for premium then go ahead with wpsimplepay pro that is worth buying .